This deliciously tender Slow Cooker Shredded Pork with Pineapple has flavours that make it perfect for stuffing into tacos and adding your favourite toppings.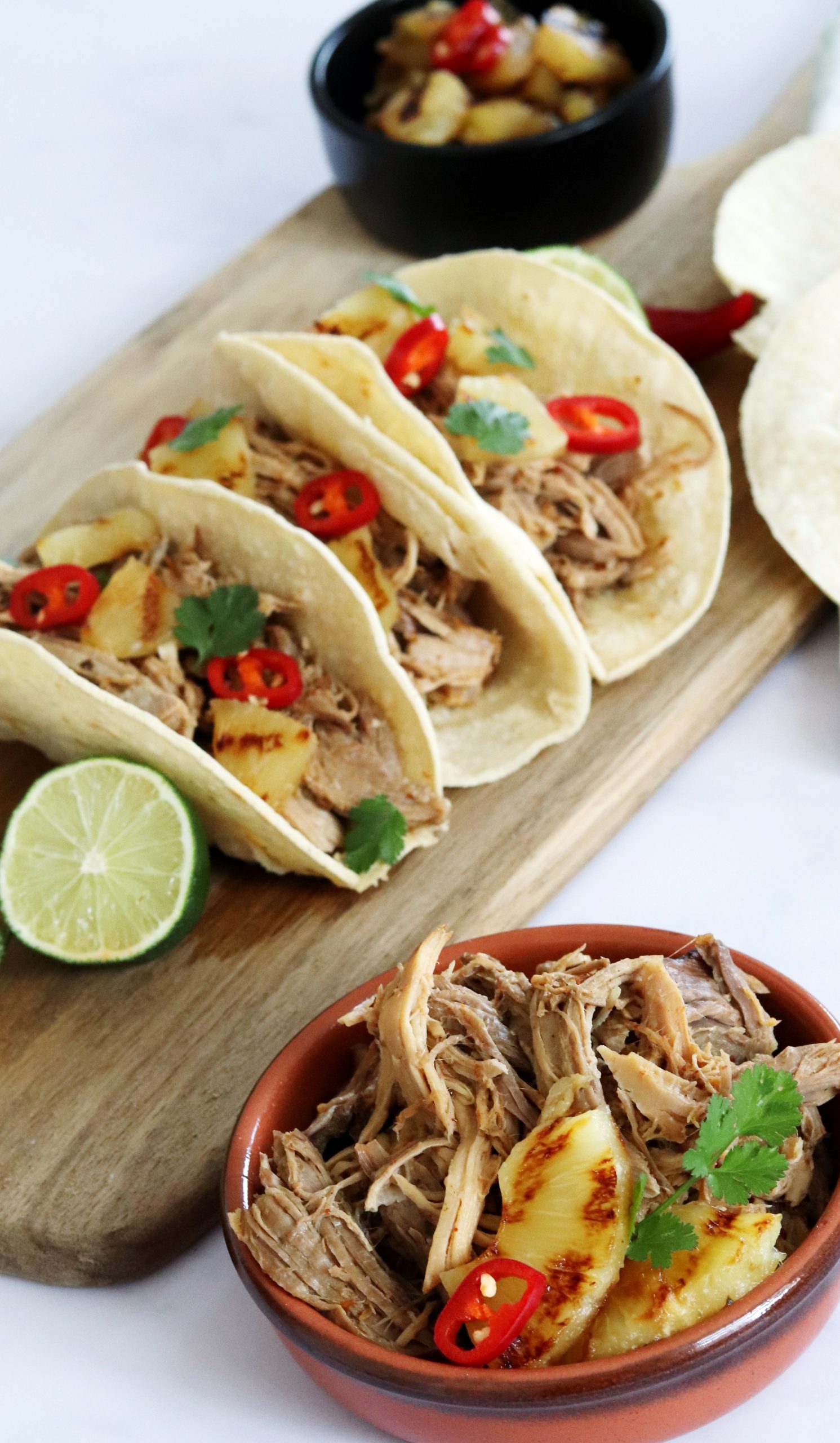 Pork is so versatile and delicious
Something you may, or may not know about me; is my love of obsession with pork. I am constantly looking for ways to celebrate my favourite meat.
What better way than to seek inspiration from one of my favourite cuisines – Mexican!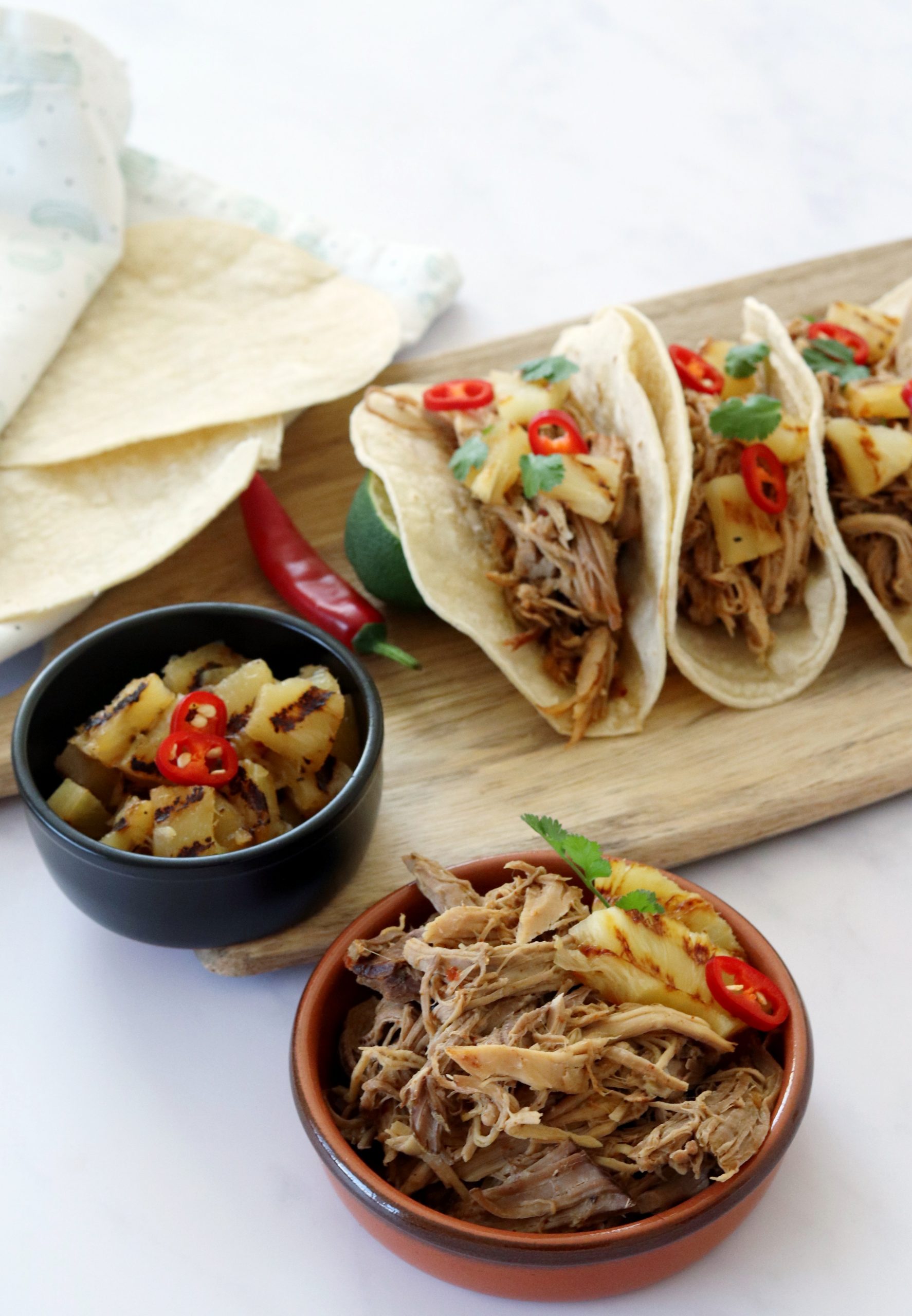 Pork & Pineapple – a delicious flavour combination
Pork and pineapple is a combination I have loved for as long as I can remember. When I have a gammon steak, I have to have grilled pineapple with it.
The sweet flavours of the pineapple compliment the pork so well which is where I started when coming up with my Slow Cooker Shredded Pork with Pineapple.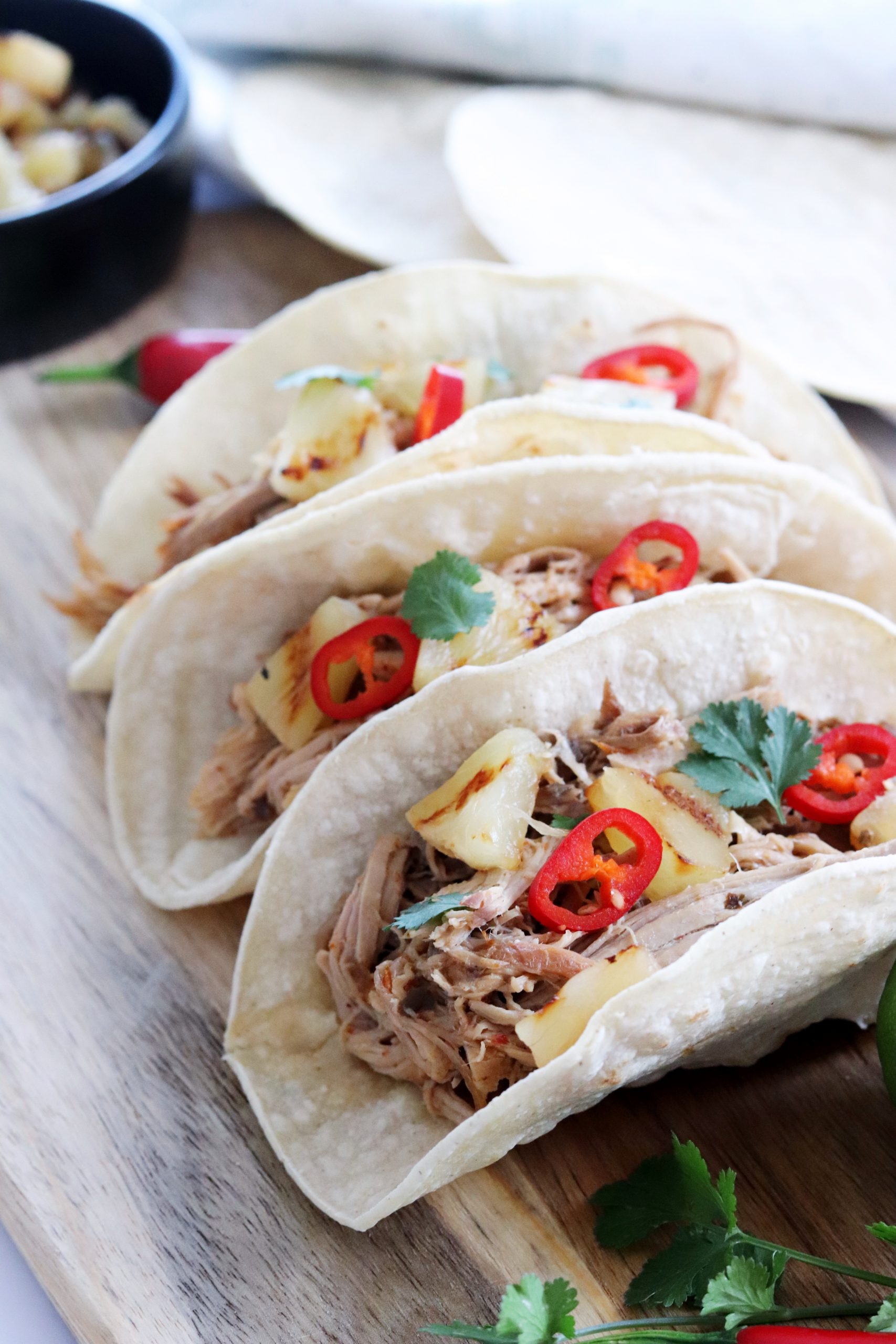 Taking inspiration from tacos al pastor
Tacos al pastor are some of my favourite tacos. They are spit roasted pork usually cooked on vertical spit alongside pineapple. Absolutely delicious.
This Slow Cooker Shredded Pork with Pineapple is definitely inspired by tacos al pastor. However it is intentionally different.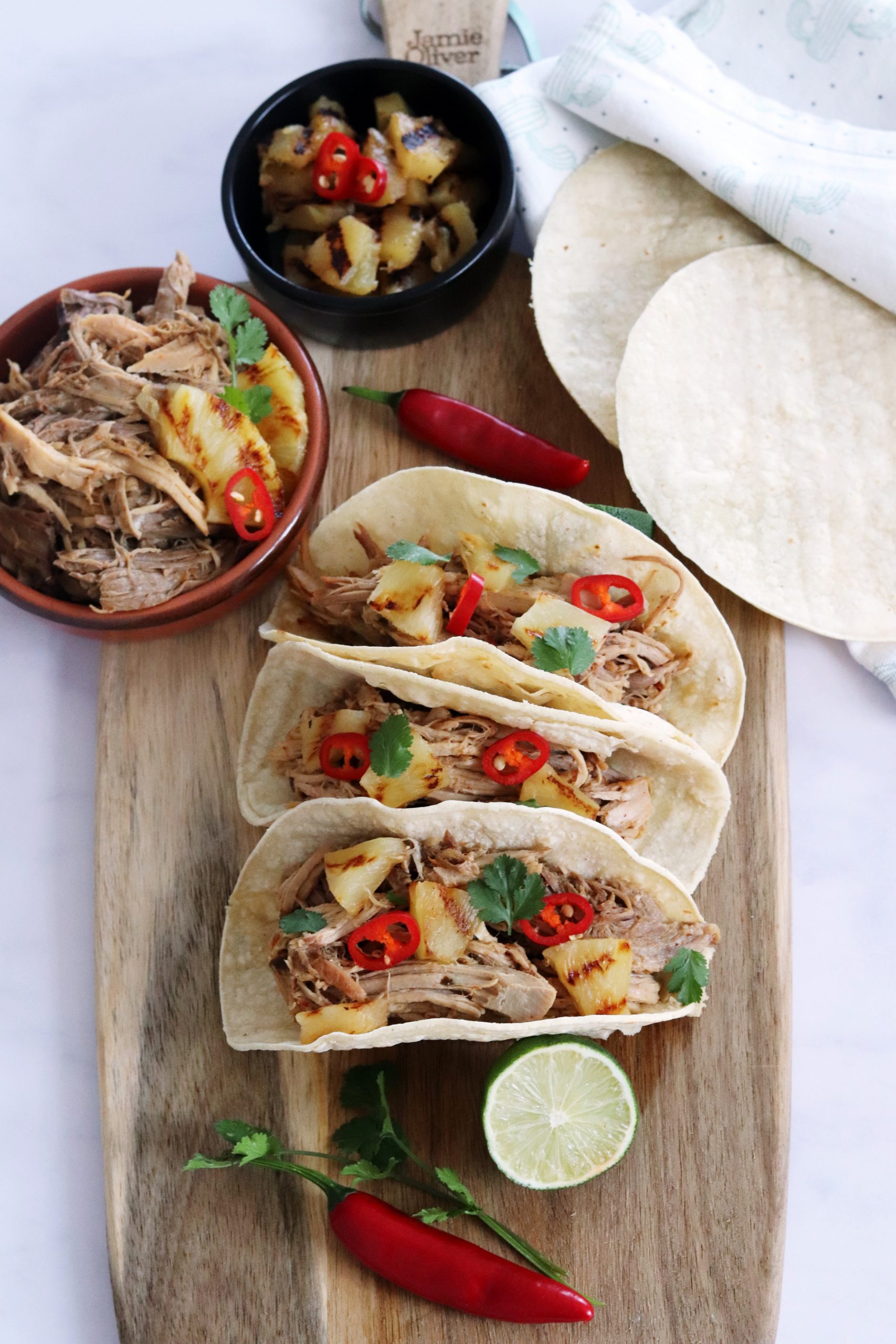 Advantages of slow cooking
I really love using my slow cooker.
You can leave it to it while you get on with other things. This is great for busy lifestyles. You can put the ingredients in the slow cooker before you leave for work.
Then when you get home in the evening you have a delicious meal nearly ready to eat! What could be better than that?
Another advantage of a slow cooker is how tender the meat is after a longer cooking time. The pork with literally fall apart after hours of cooking.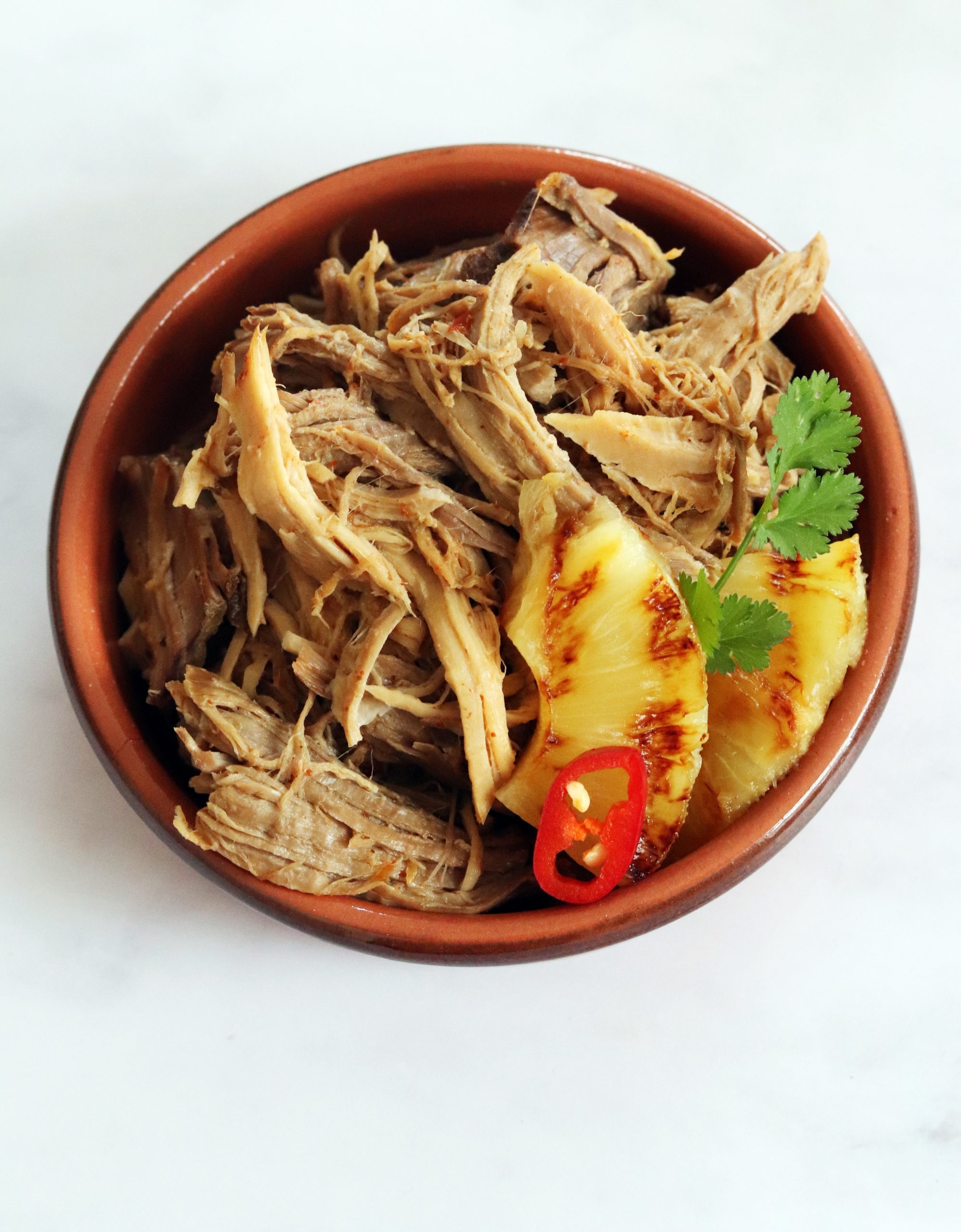 How long can you cook the pork for in the slow cooker?
If you would like this to cook all day, set your slow cooker to low. When you set your slow cooker to low, it will be nearly impossible to overcook the pork.
If you want to cook the pork a little quicker, then set your slow cooker to high. But don't leave it on high all day or else it might start to dry out!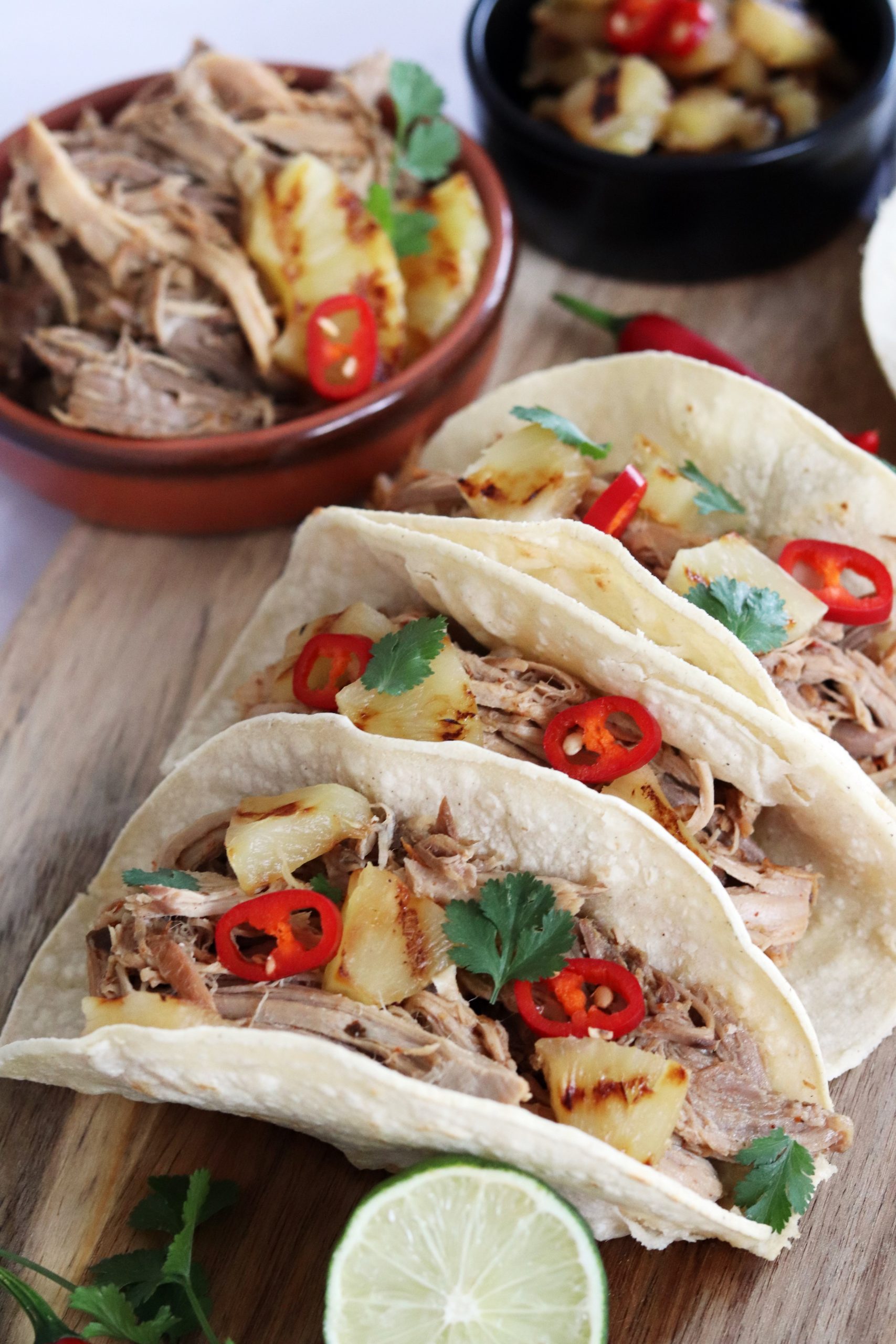 Which cut of pork is best to use?
For slow cooking, I prefer to use pork shoulder that is sometimes known as pork butt.
It is a more affordable cut of pork that really lends itself to being slow cooked. Another reason I like to use it is because it becomes really tender and falls apart.
I usually buy a pork shoulder joint, however if you can't find this you could use shoulder steaks as an alternative.
You can also use pork shoulder in my Slow Cooker Cuban Pork and Slow Cooker Pulled Pork.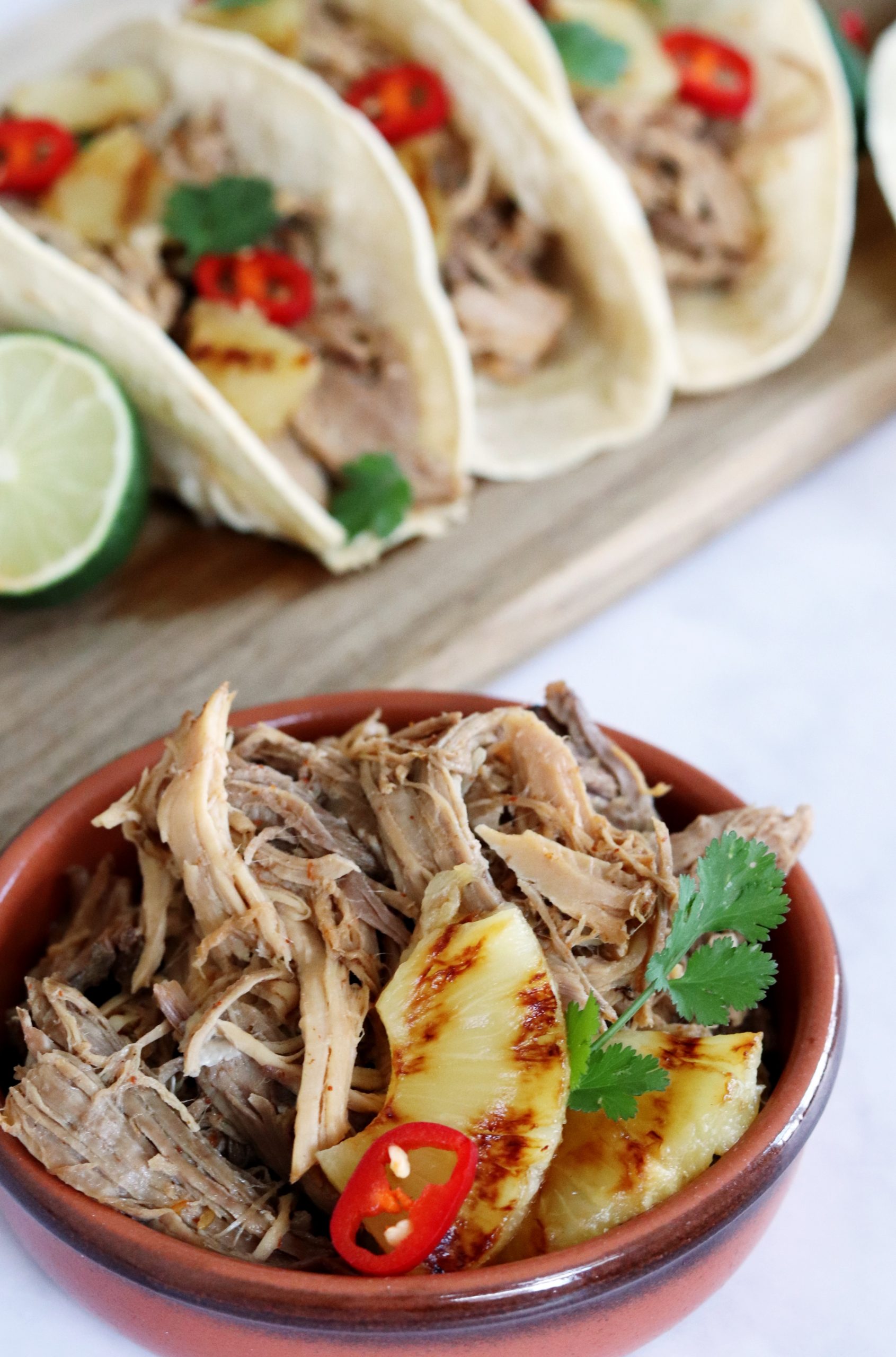 Why use tinned pineapple instead of fresh?
Fresh ingredients are fantastic, but with this recipe I chose to use tinned pineapple.
This is firstly because of ease, but mainly because I wanted to use the juice as well as the pineapple and a tin made this easier.
You may think that the pineapple juice will make the pork too sweet, but it really doesn't. It helps keep the meat really succulent.
If you would prefer, you can use fresh pineapple. I think fresh pineapple is juicier so you wouldn't miss the pineapple juice. Instead, I would just add a little more water so 100-150ml of water.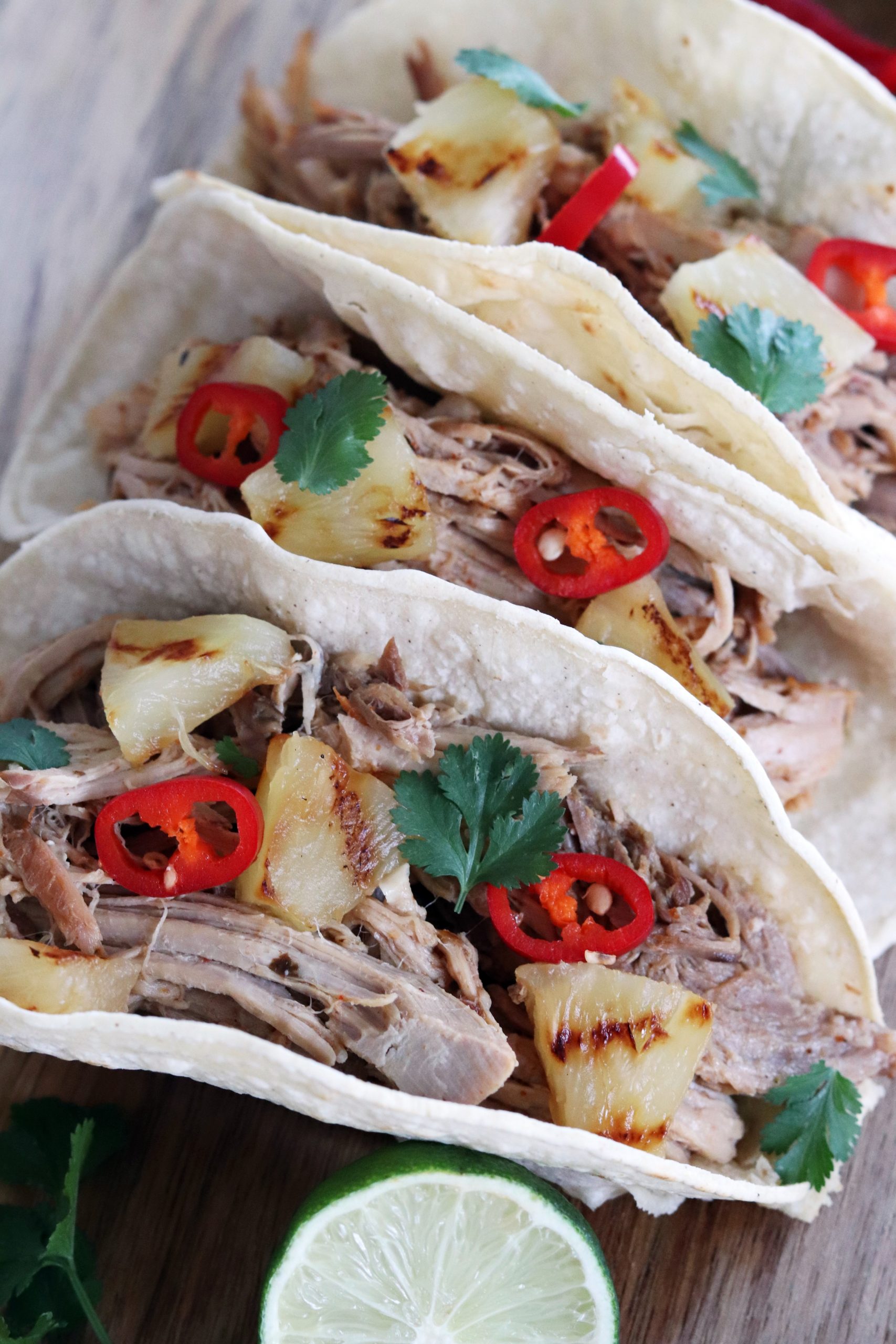 A Mexican influence
Bringing in the Mexican influence, I added some ancho chilli. It doesn't add heat at all, but a depth of flavour that works really well.
So rest assured that this is suitable for children and people who don't like any spice! If you do like heat, you can obviously add more chilli.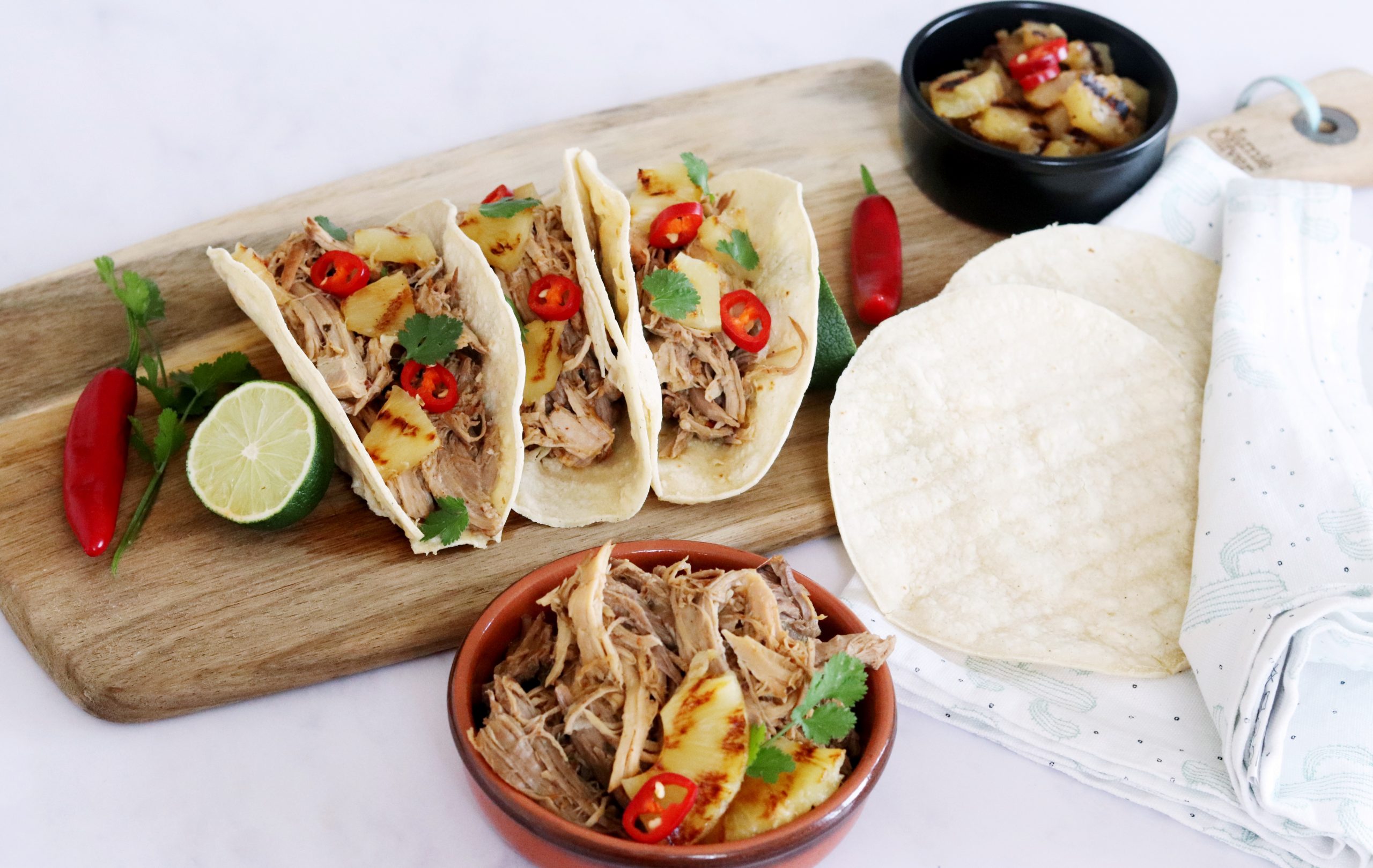 How to serve Slow Cooker Shredded Pork with Pineapple
I have used this Slow Cooker Shredded Pork with Pineapple as a tasty filling for tacos because who doesn't love tacos?!
If you want to serve this with tacos too, I would recommend using the small corn tortillas you can now buy in most supermarkets (or online from Mexican food specialists). For generously filled tacos, you should have enough for 8 tacos.
If you prefer you can grill the pork at the same time as the pineapple. Some people like Mr Curly prefer to not have juices running down their hand when they eat tacos. This is also a great way of reheating any leftover pork.
For me this works as a filling dinner for two people or a starter for at least four.
Tacos aren't your only option though! This Slow Cooker Shredded Pork with Pineapple can be eaten simply with rice, in a tasty burrito or even just with salad.
It is so versatile that you could really enjoy it with whatever you fancy!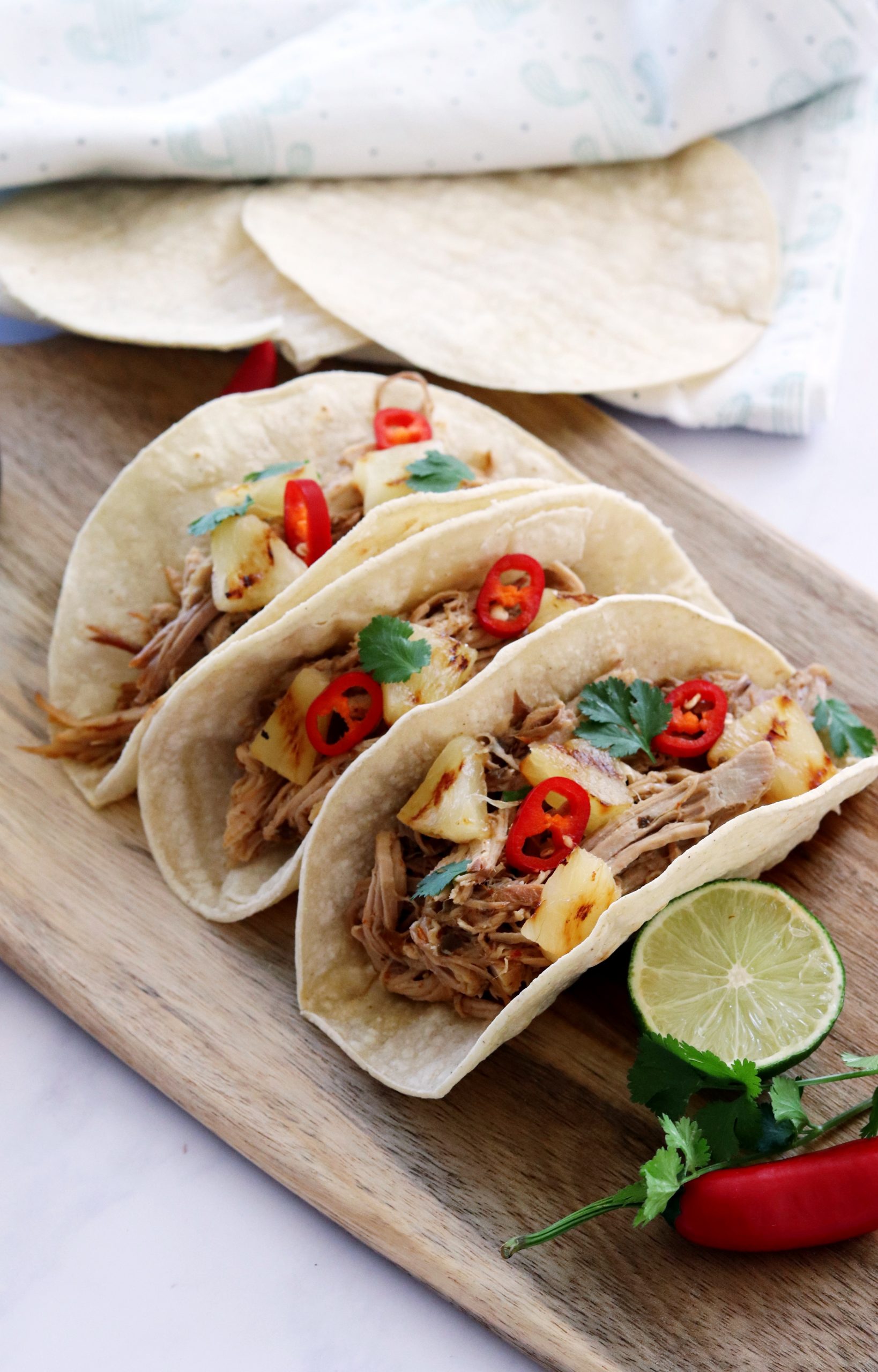 other recipes you might like
Pin for later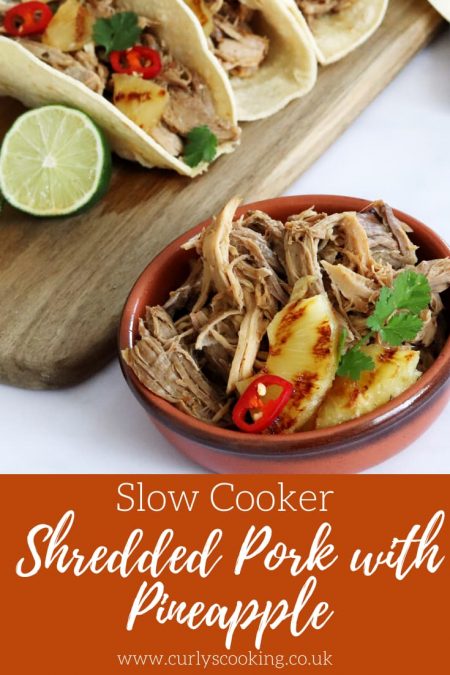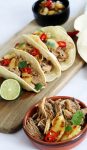 Slow Cooker Shredded Pork with Pineapple
This deliciously tender Slow Cooker Shredded Pork with Pineapple has flavours that make it perfect for stuffing into tacos and adding your favourite toppings.
Total Time
5
hours
5
minutes
Ingredients
700

g

pork shoulder

150

ml

pineapple juice

1

tsp

sea salt

½

tsp

ancho chile powder

½

tsp

ancho chile flakes

¼

tsp

black pepper

50

ml

water

432

g

tin of pineapple rings
Instructions
Add the pork shoulder to the slow cooker along with all of the ingredients apart from the pineapple. Lie a few slices of pineapple on top of the pork and leave set the rest aside.

Cook on high for 4 - 4½ hours. After the pork it cooked, remove it and the pineapple from the slow cooker. Shred the pork using two forks and add back to the slow cooker.

Cook the shredded pork on high for a further 30 minutes.

While the pork is finishing cooking, grill the pineapple for a couple of minutes on each side until you have dark grill marks

If serving in tacos, fill the tortillas with the shredded pork and top with the grilled pineapple, coriander and sliced chills.
Recipe Notes
If you're serving this with tacos it makes 8 good sized tacos which I would serve for 2 people as a main course or 4 people as a starter.
Alternatively cook for 6 - 7 hours on low.
Nutrition Facts
Slow Cooker Shredded Pork with Pineapple
Amount Per Serving
Calories 178
Calories from Fat 63
% Daily Value*
Fat 7g11%
Cholesterol 71mg24%
Sodium 668mg29%
Potassium 412mg12%
Carbohydrates 5g2%
Protein 21g42%
Vitamin A 75IU2%
Vitamin C 4.6mg6%
Calcium 20mg2%
Iron 1.4mg8%
* Percent Daily Values are based on a 2000 calorie diet.