Soft and delicious cookie bars studded with Guylian praline chocolate. If you're a praline chocolate fanatic like me, you will love these Guylian Cookie Bars!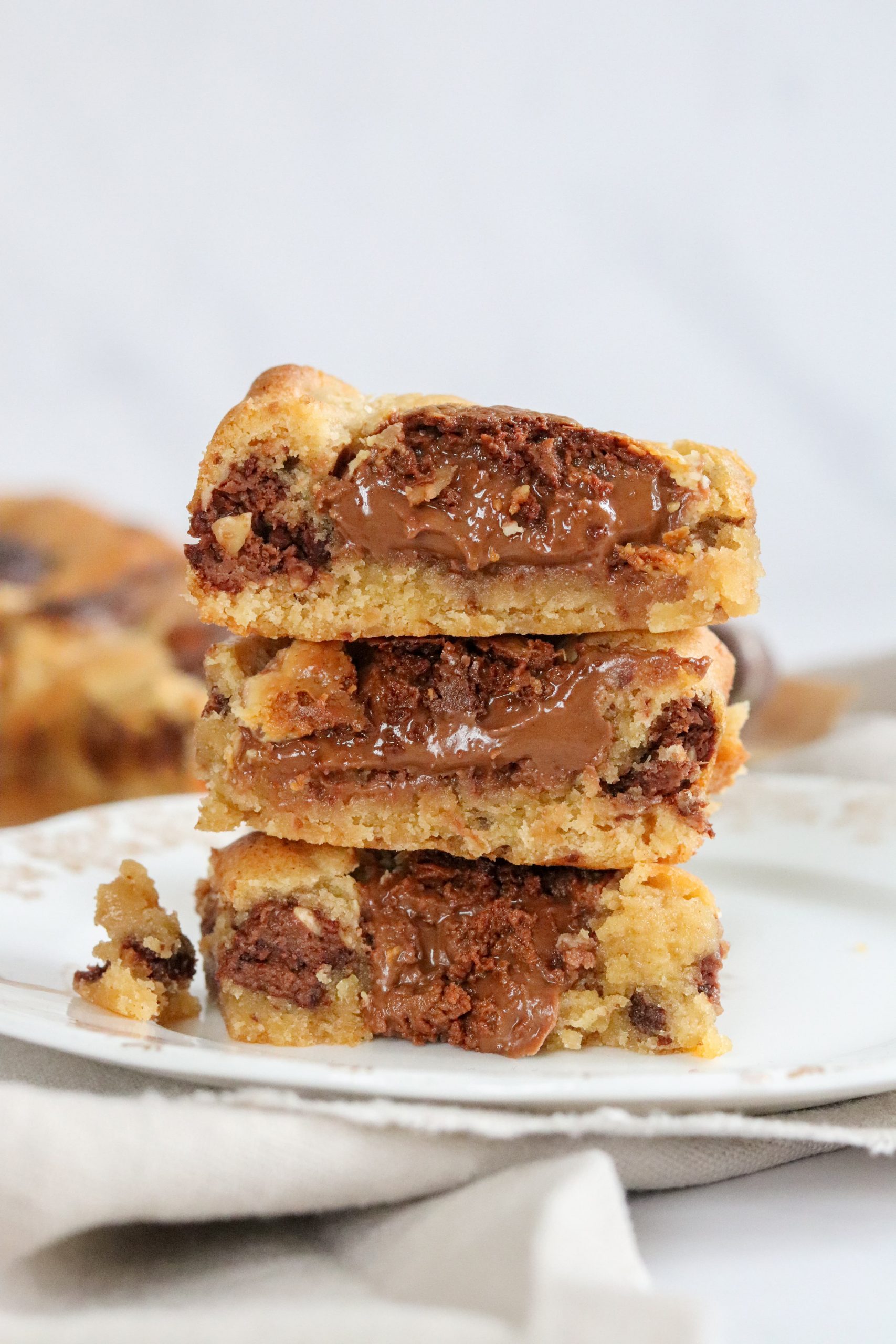 What are Guylian?
Guylian is a well known Belgian chocolate brand. They are most well known for their roasted hazelnut praline seashell shaped chocolate; however they also make other chocolates such as truffles and chocolate bars.
It is said that the founders took inspiration to shape their chocolates like sea shells like those found on the Belgian coast. They thought this would be a lovely souvenir for tourists that had come for their holiday.
My love for Guylian chocolate almost certainly came from my Mum. It is her favourite chocolate which has been passed onto me. Mr Curly now buys me a box for Christmas, Valentine's Day; or just because.
If you haven't heard of Guylian chocolate before, I am genuinely sad for you. If you can buy them where you live I really suggest you go in search of them!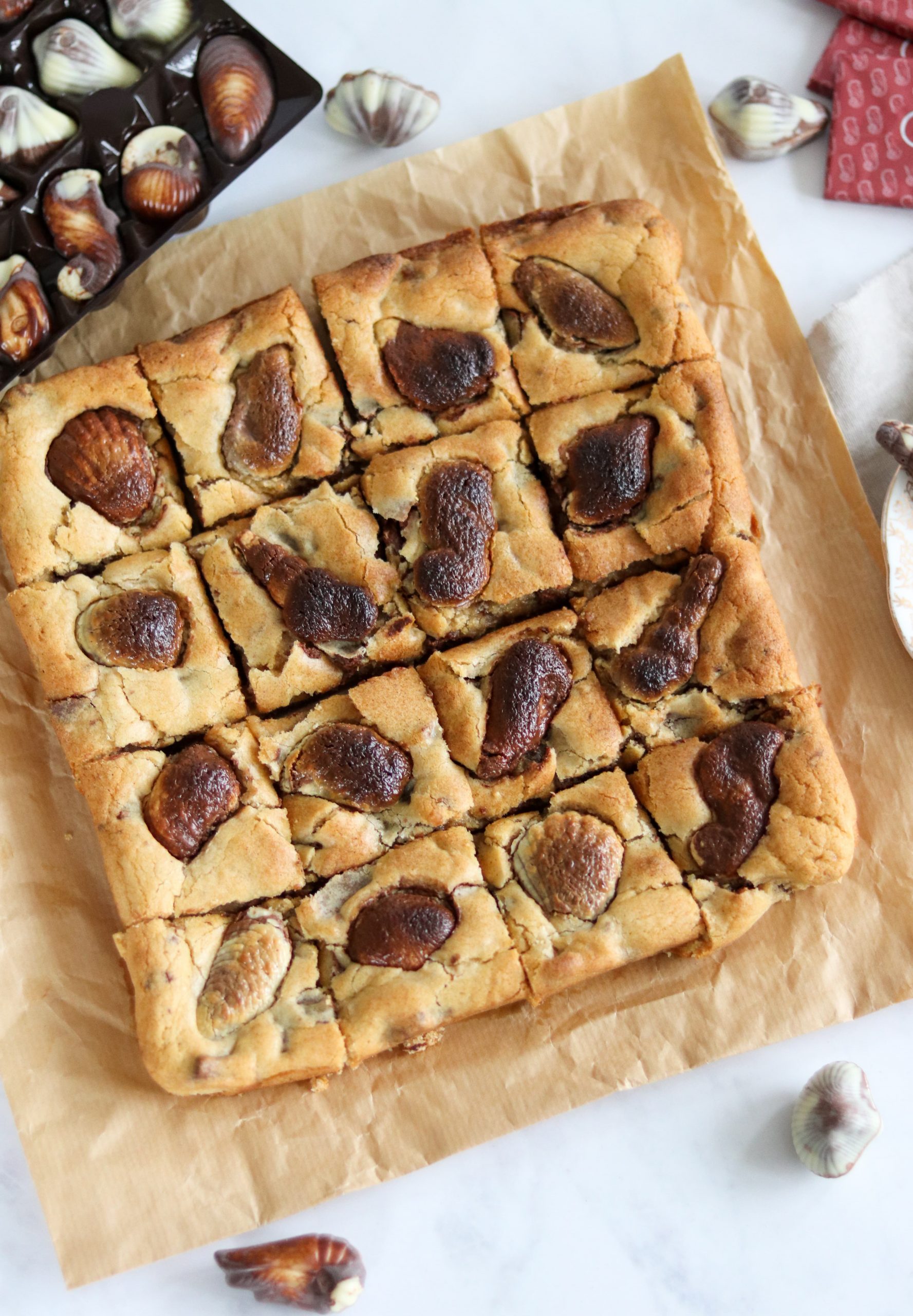 what are cookie bars?
Cookie bars are a wonderful, wonderful thing. As the name suggests, they are cookie dough baked as a traybake and cut into squares.
They're double to three times the thickness of standard cookies and are honestly one of my favourite things to bake.
They're easier, quicker and bigger than a standard cookie. What is not to love?!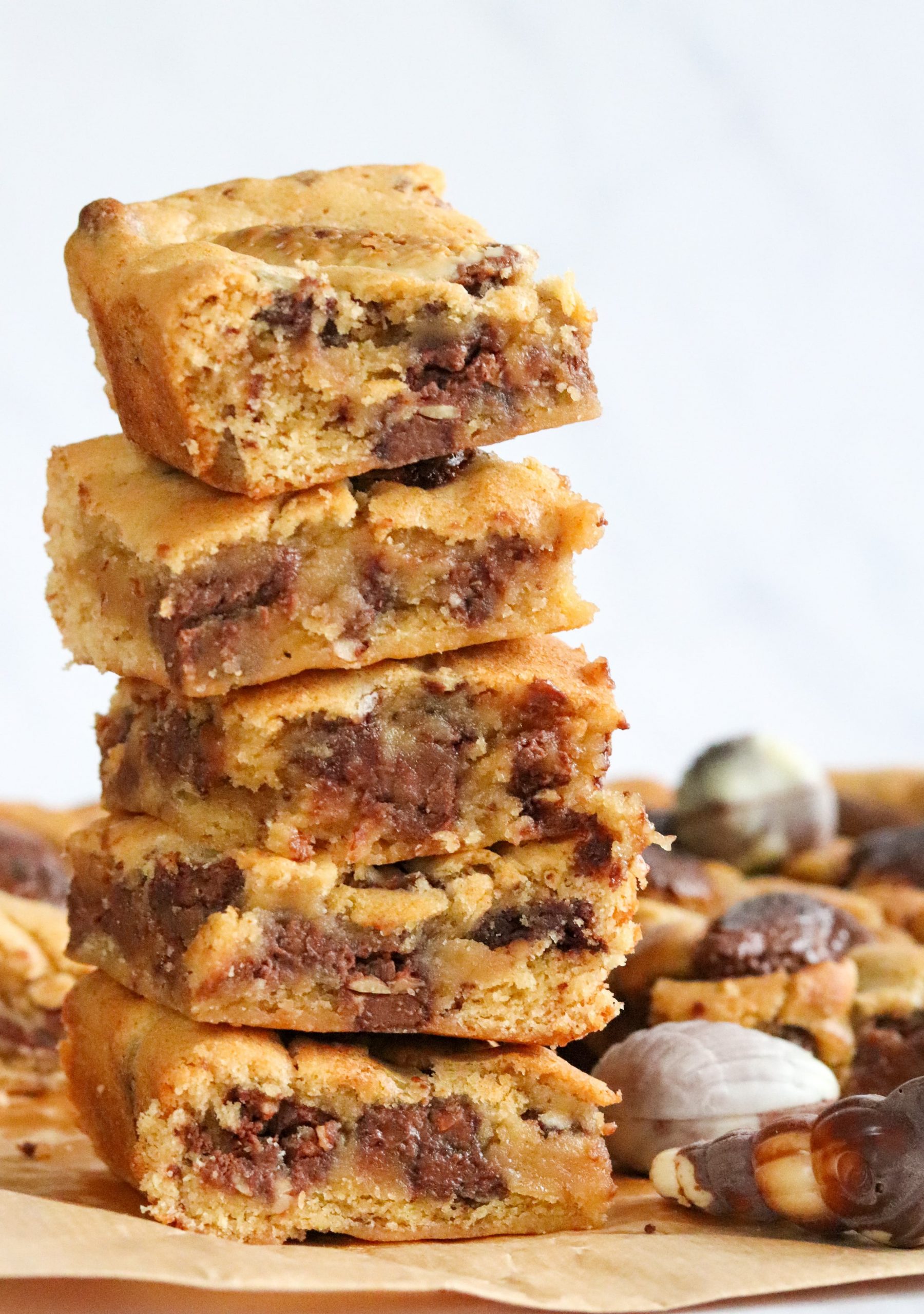 Why make cookie bars and not cookies?
Although I love cookies and they are easy to make; cookie bars are even easier!
Instead of forming individual cookies and baking them on numerous baking trays; you add all of the mix to a square tin. It couldn't get any easier!
As well as being quicker, it also means you have less washing up. Both are advantages for busy lives when all you want it something chocolatey.
When they're baked, you then just cut them up and enjoy. Really easy and so tasty.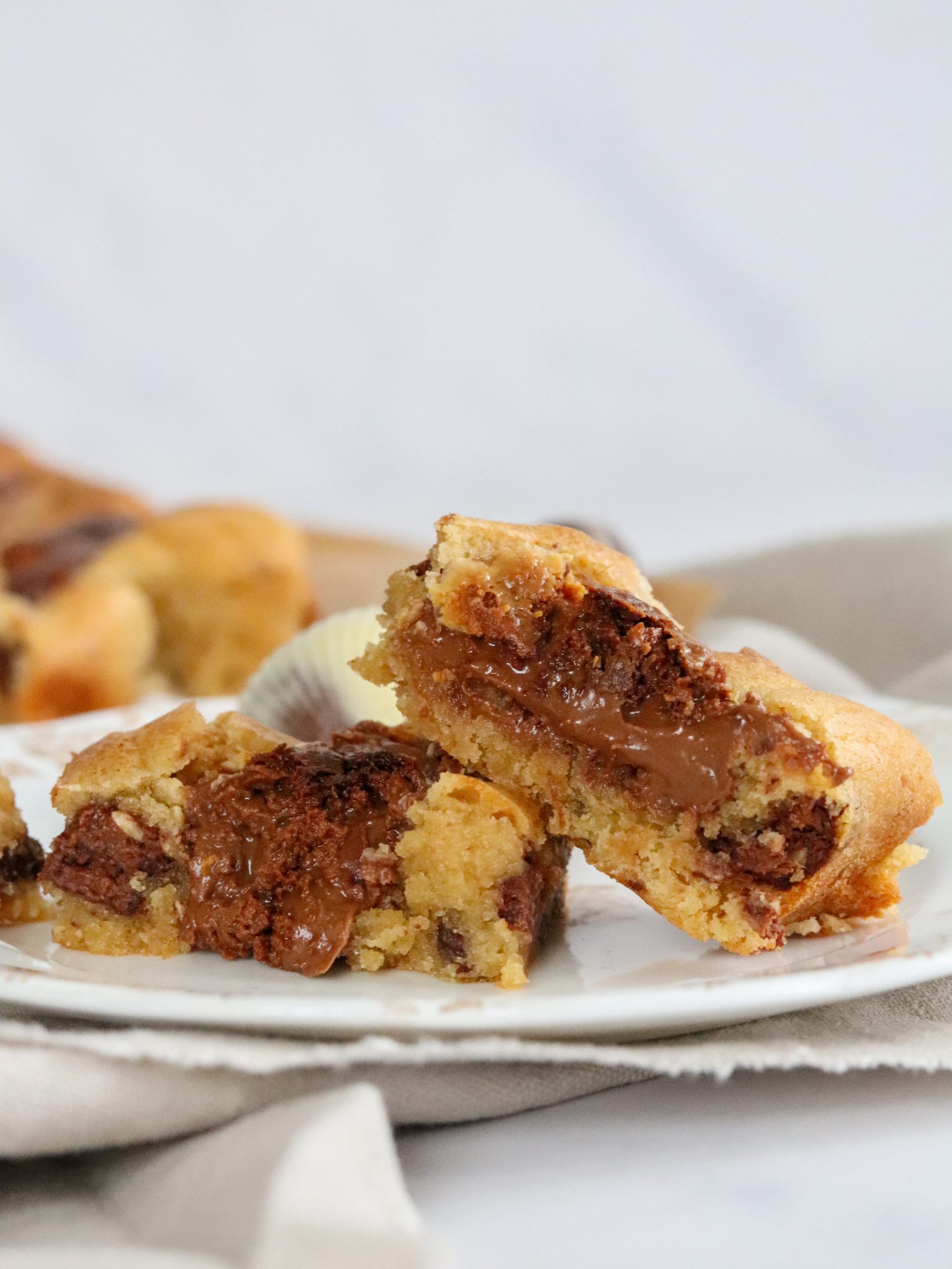 Do you prefer soft or crisp cookie bars?
I definitely prefer soft cookies. Always have and always will.
With these Guylian Cookie Bars, you can pick whether you like them super soft, soft or crisper. I know some people like to eat raw cookie dough.
Although that isn't for me, you can bake these for 15-16 minutes and they will be super gooey in the middle. I like to bake them so they are still soft but they hold together when you cut them.
If you prefer a crisper cookie that is completely firm, then I would bake these bars for 23-25 minutes.
However you choose to bake them, the cookie bars at the edge will naturally be crisper and chewier. The bars in the middle that haven't touched the edge of the tin will be softer. Which would you choose?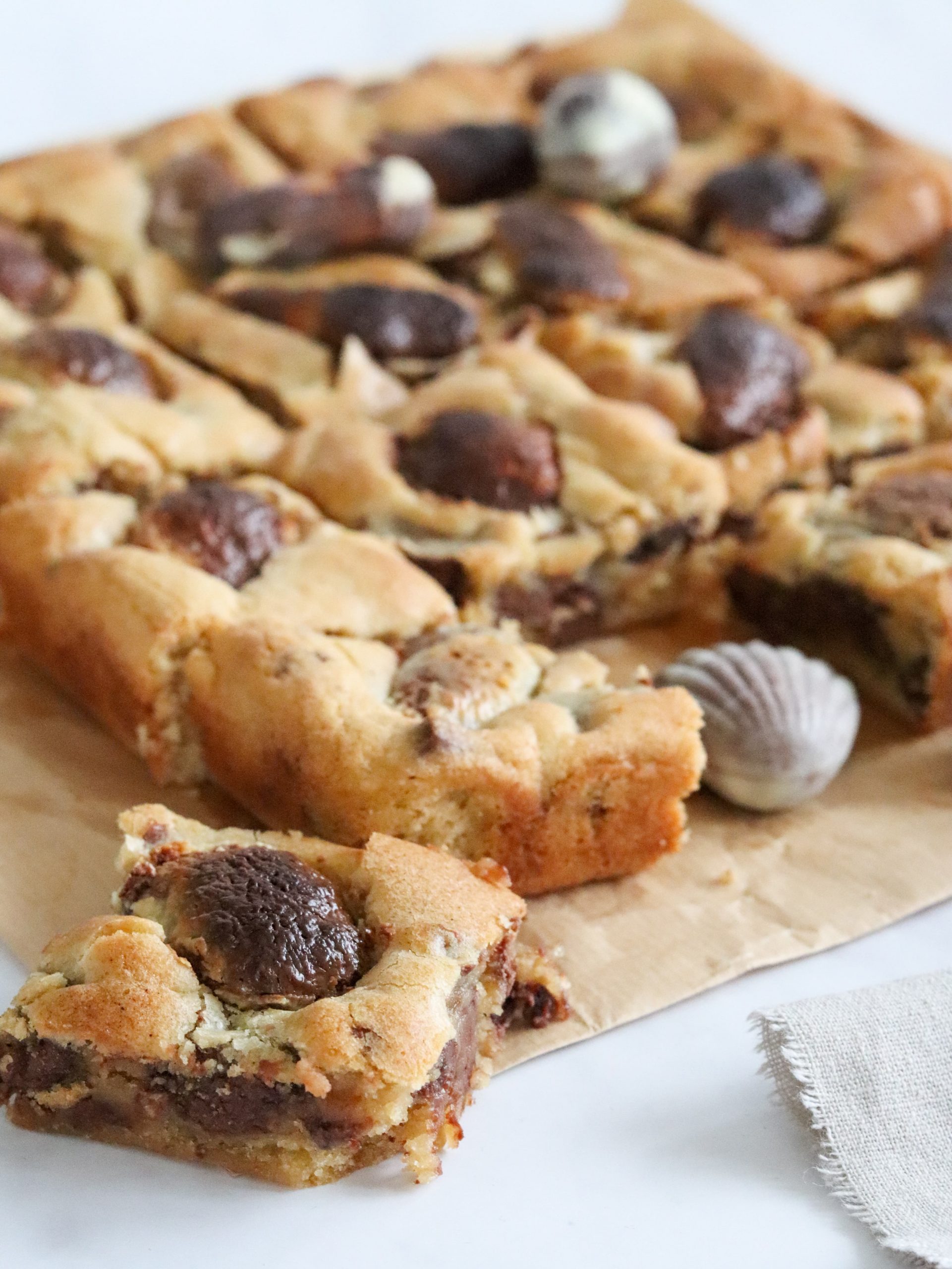 which guylian chocolate should I use?
Well according to my Mum, Guylian is too good to use in baking. But she definitely changed her mind when she tried these cookie bars!
I used Guylian hazelnut chocolate bars in the cookie dough. If you can't get hold of these, or don't want to use them; you can just use chocolate chips.
If you do want to go all out, you can use the Guylian seashells in the cookie dough as well as on top. They will definitely be delicious if you do choose to do this!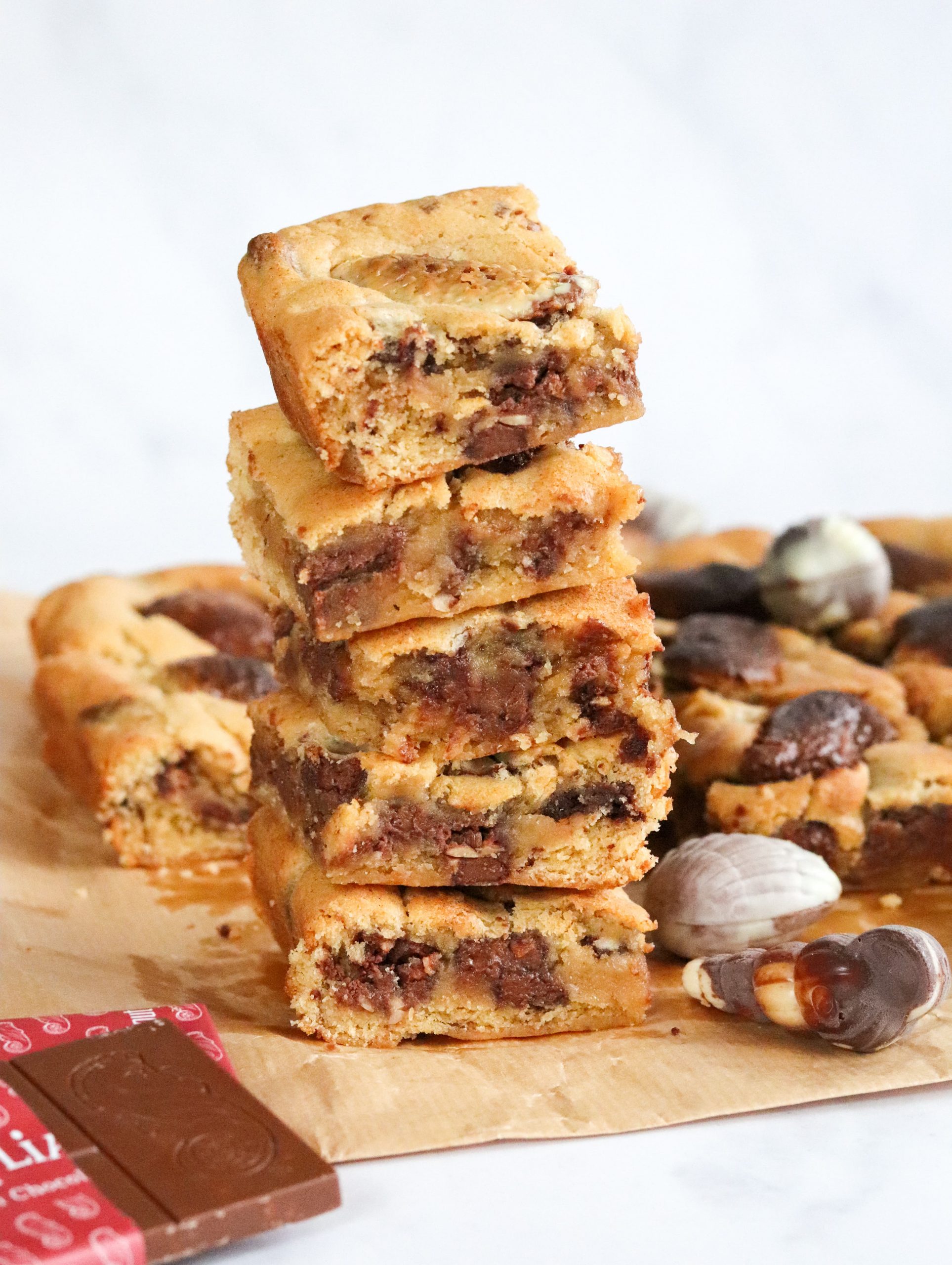 do you have to use guylian chocolate?
Although Guylian chocolate is absolutely delicious, it isn't the cheapest chocolate to buy.
Quite a few supermarkets have their own version which look and taste very similar. These can be up to half the price of the branded chocolate and work just as well.
Since this recipe is in no way sponsored by Guylian I have no problem saying you can use whichever chocolates you like.
If Guylian chocolate isn't your thing (sorry, what?!), then check out my Chocolate Orange Cookie Bars or Maltesers Cookie Bars.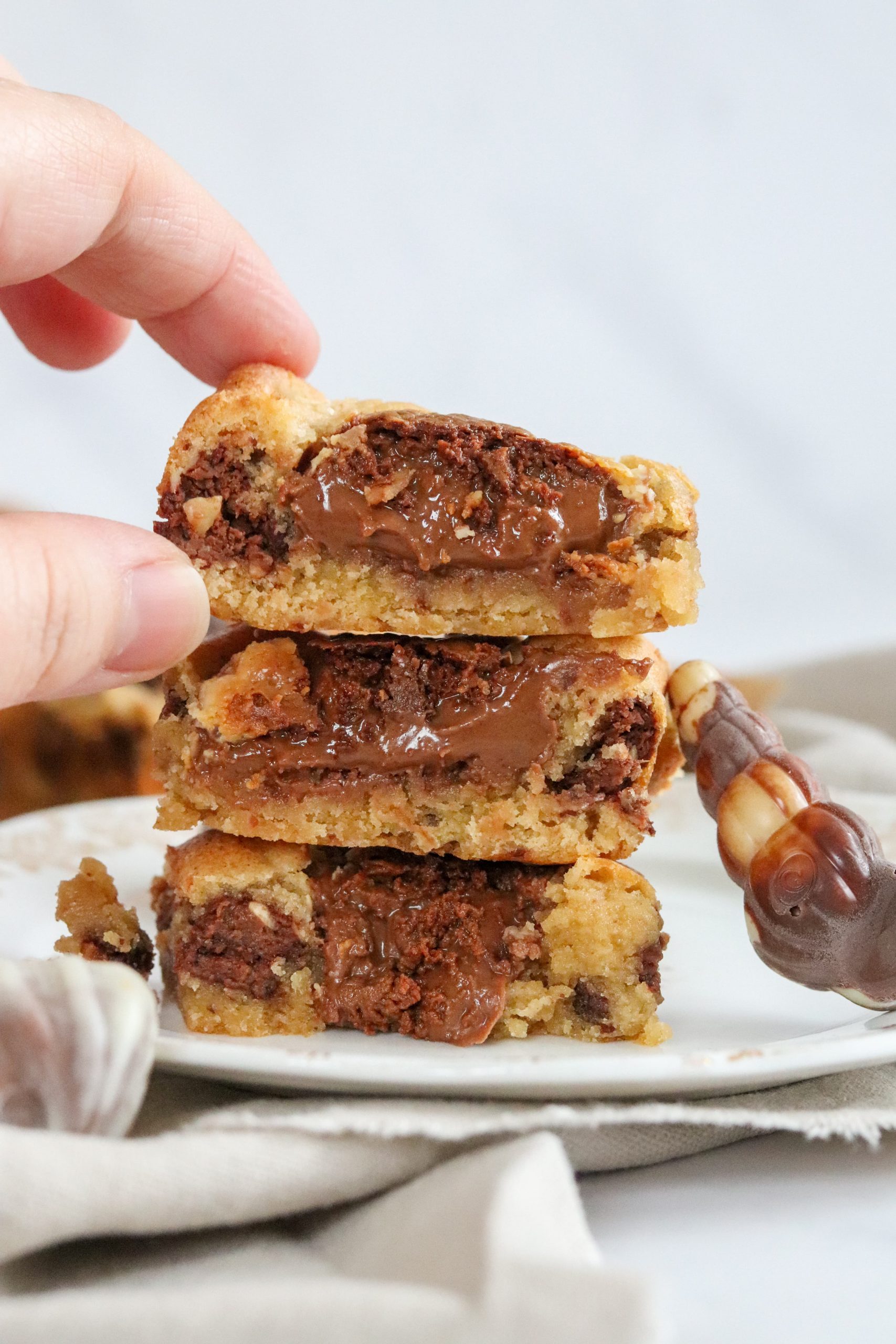 how to stop your cookie bars getting too brown
In a perfect world, the Guylian seashells on top of the cookie bars would look as good as they do straight from the packet. However this isn't the case!
They become slightly darker and may blister slightly when they are baked. I don't mind how this looks and it doesn't affect the taste at all.
However if you notice the seashells are getting a bit too dark, you can loosely cover the tin with foil part way through cooking.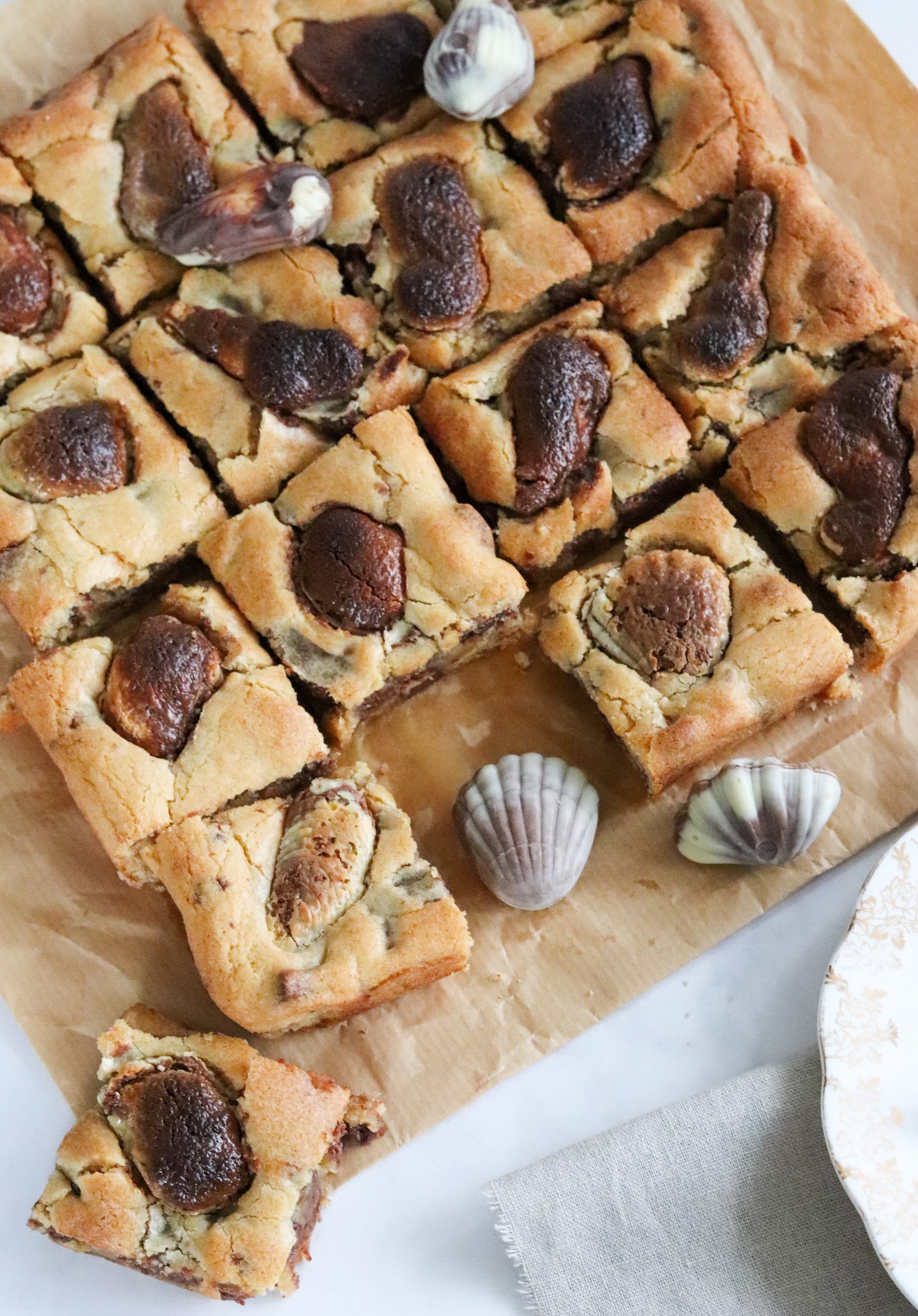 how many cookie bars does this recipe make?
I wanted to make it so that these cookie bars had a whole Guylian seashell per square. This is why I cut the bars into 16.
Obviously you can cut the cookie bars as big or small as you like. You could definitely cut them into smaller pieces if they were for children.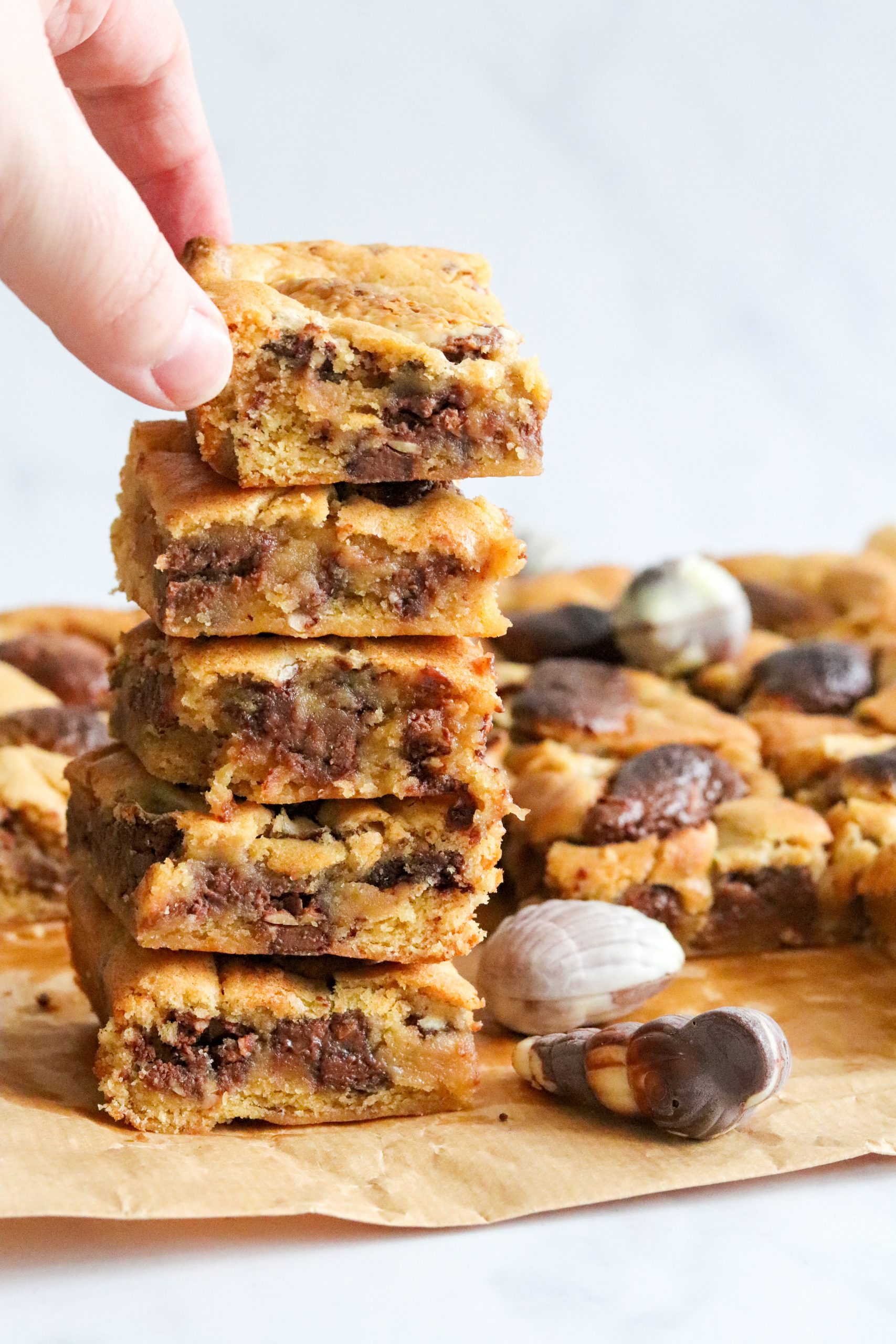 how long do they keep for?
These Guylian Cookie Bars will keep in an airtight container for 3-4 days.
They will become slightly firmer the longer they are left but they are still delicious. If you have baked them so they are gooier, this will help them keep for softer for longer.
If you want to keep them for longer I would recommend freezing them.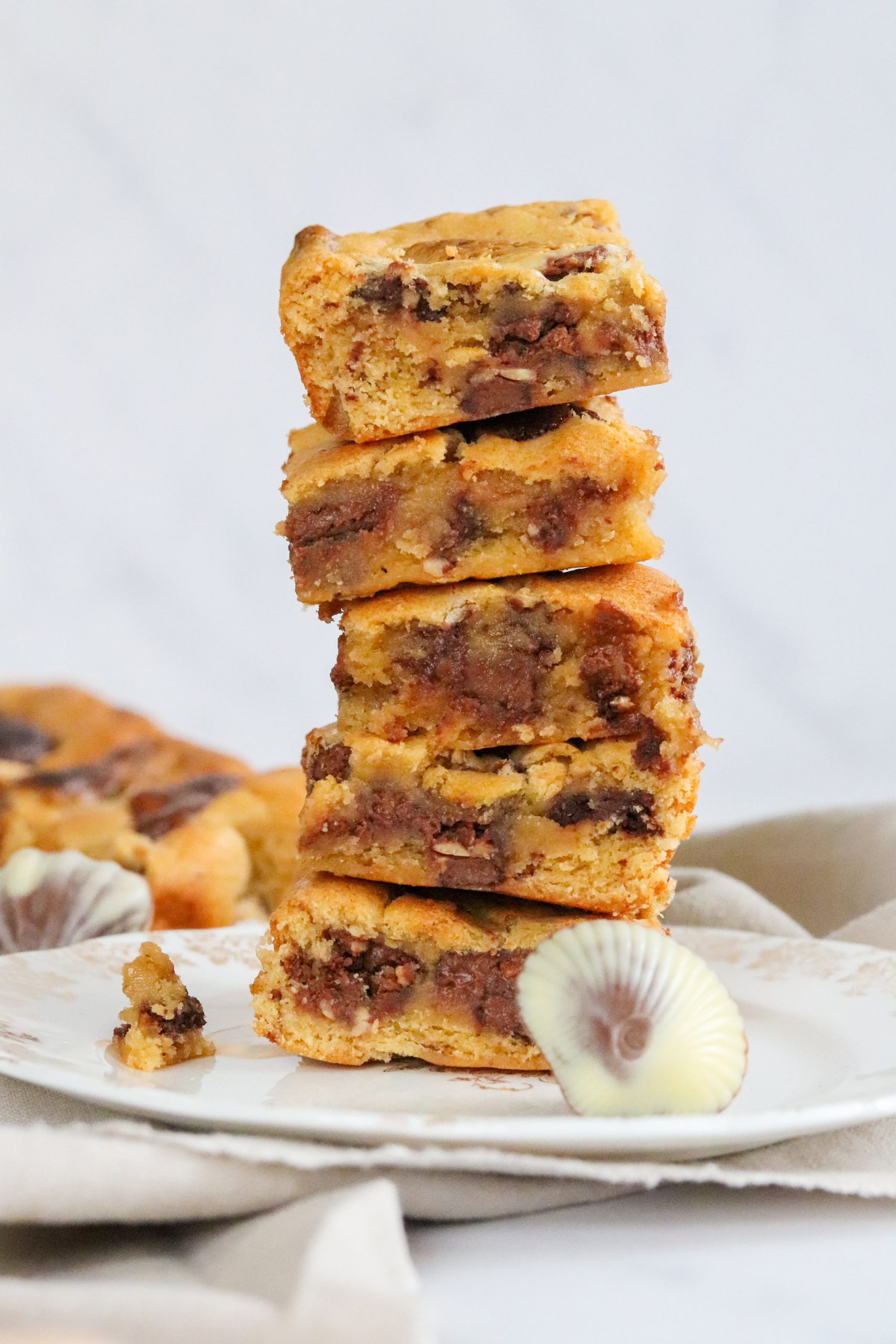 how to freeze guylian cookie bars
Cookie bars freeze really well. I would cut them and let them cool completely before freezing.
Next, line up the cookie bars on a baking tray and put them in the freezer for one hour or so. Once they are firm, transfer them to a container or bag and freeze them completely.
By partially freezing them on a baking tray first, it should make it easier for you to separate however many you want to defrost. Leave them to defrost for an hour or so before eating.
They can be frozen for up to three months.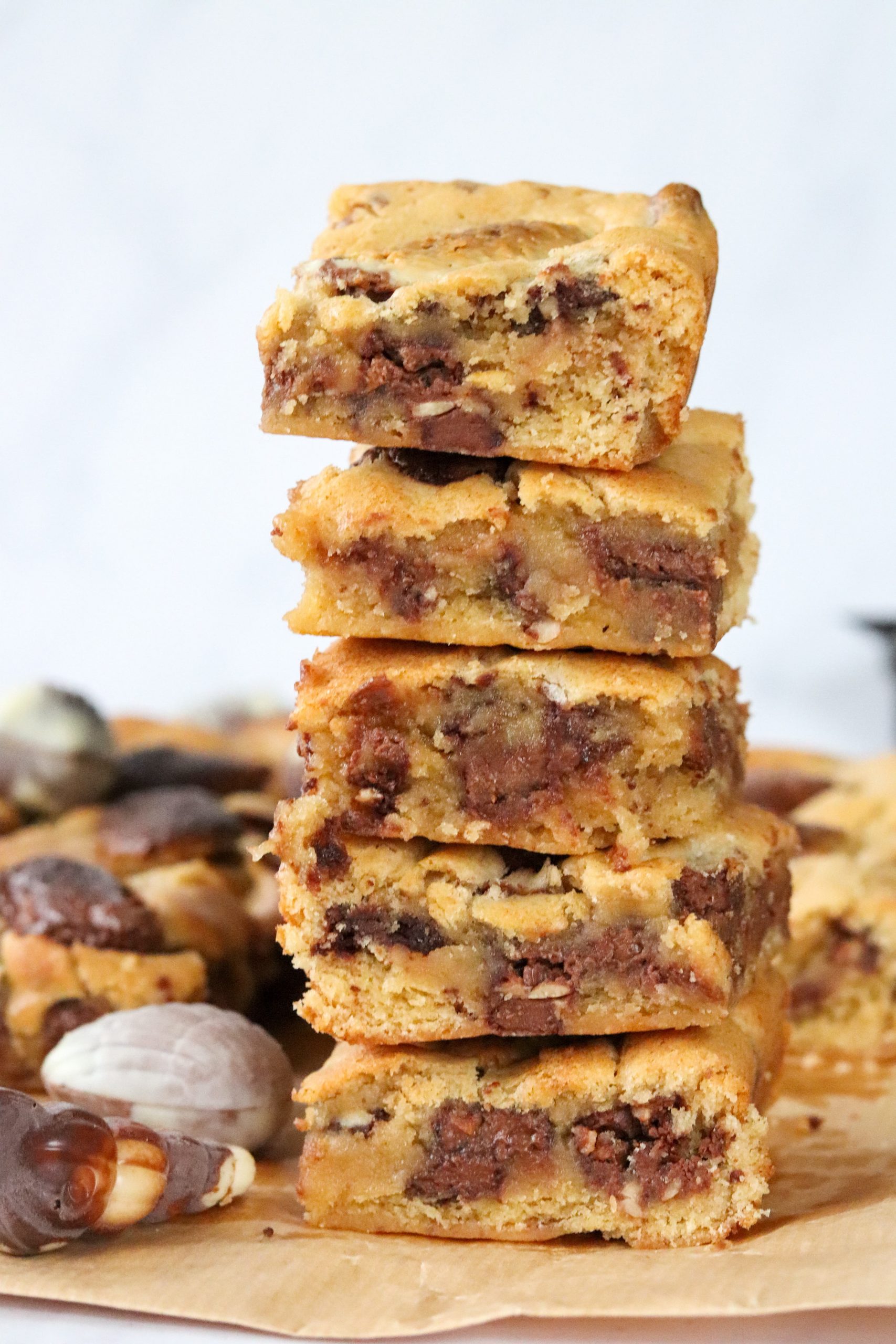 other recipes you might like
Pin for later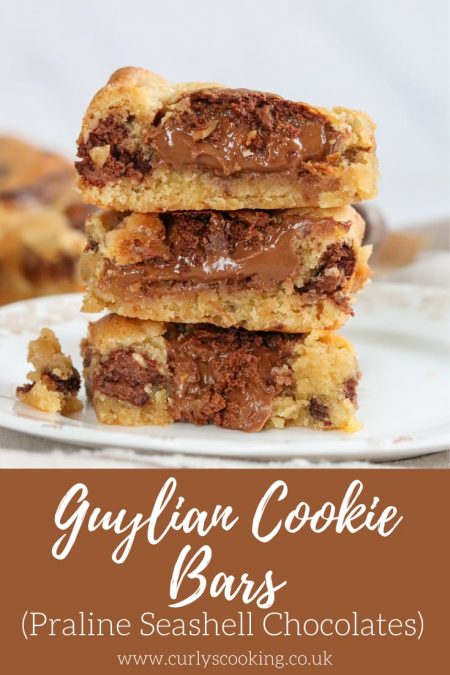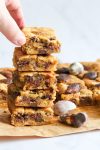 Guylian Cookie Bars
Soft and delicious cookie bars studded with Guylian praline chocolate. If you're a praline chocolate fanatic like me, you will love these Guylian Cookie Bars!
Ingredients
125

g

margarine

100

g

light brown sugar

125

g

caster sugar

1

egg

¼

tsp

vanilla extract

225

g

self raising flour

½

tsp

salt

200

g

Guylian chocolate
To finish
185

g

Guylian Seashells

(16 seashells)
Instructions
Preheat the oven to 170ºC (fan assisted, 190ºC non fan) and line a 20x20cm tin with baking paper

Cut up the Guylian chocolate bars and set aside

Cream the butter and the sugars together until light and fluffy

Add the egg and vanilla and mix until combined

Add in the flour, salt and chopped Guylian chocolate and mix until combined

Tip all of the mix into the prepared tin and smooth the top until it is level. Place the Guylian Seashells at regular intervals across the cookie dough

Bake in the oven for 18-20 minutes for a soft cookie and 23-25 minutes for a firmer cookie

Allow to cool in the tin for 10 minutes before leaving to cool completely on a wire rack. Cut into 16 equal squares
Recipe Notes
Keep in an airtight container for 3-4 days.
Nutritional information is given as a guide only and may vary.
Nutrition Facts
Guylian Cookie Bars
Amount Per Serving
Calories 297
Calories from Fat 63
% Daily Value*
Fat 7g11%
Cholesterol 10mg3%
Sodium 152mg7%
Potassium 30mg1%
Carbohydrates 24g8%
Protein 2g4%
Vitamin A 295IU6%
Vitamin C 1mg1%
Calcium 11mg1%
Iron 1mg6%
* Percent Daily Values are based on a 2000 calorie diet.