Soft and gooey cookie bars crammed with Maltesers, who wouldn't want one of these Maltesers Cookie Bars?! The Maltesers Bunnies make these perfect for Easter – or any time of year.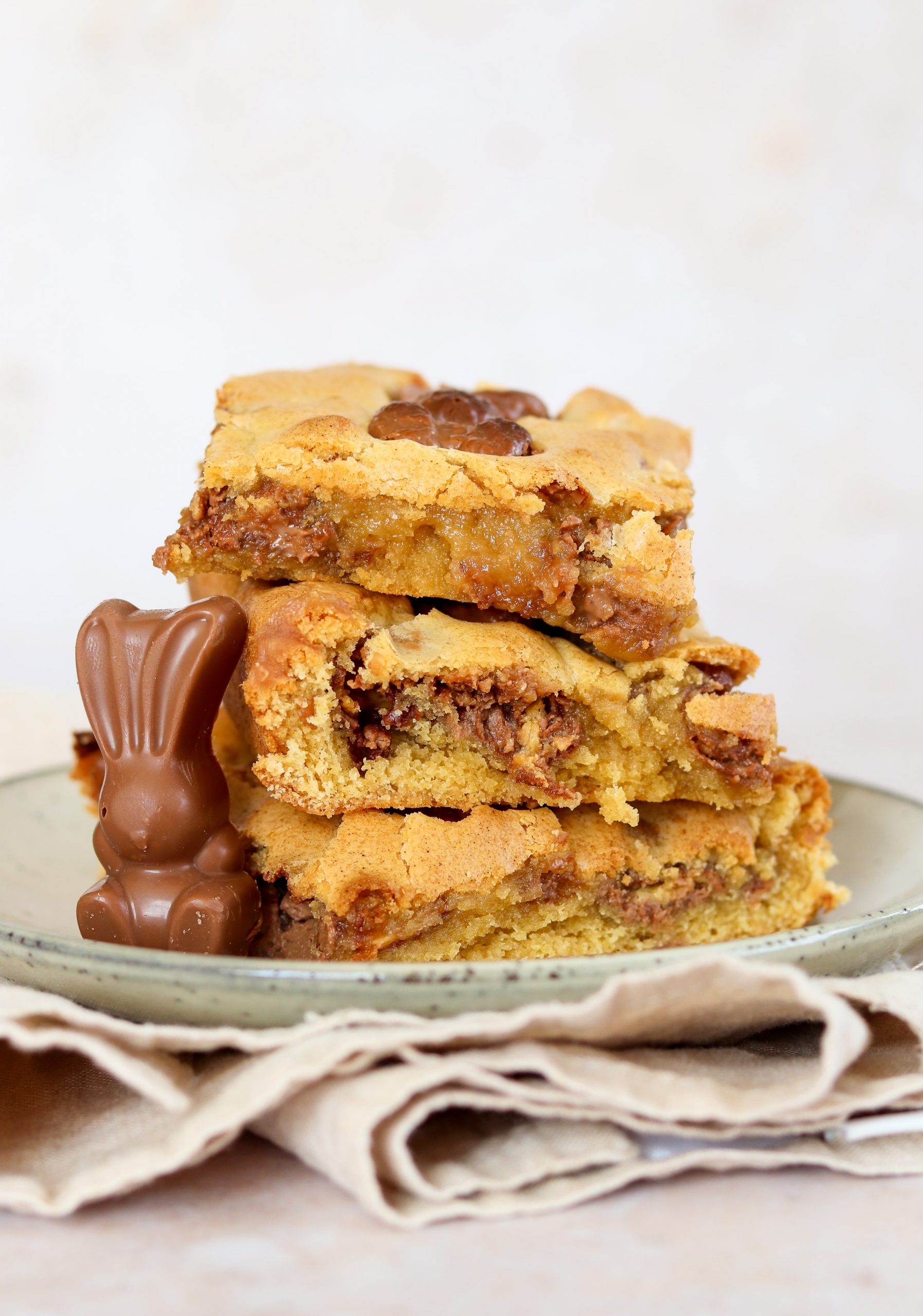 What are maltesers?
If you aren't from the UK, you might not know what Maltesers are. They were originally sold in the UK, but you should be able to find them in Europe, Australia, New Zealand, Canada and very recently the US.
They are small milk chocolate covered malt balls. One common question is what is in the middle of Maltesers, is it honeycomb or biscuit?
Maltesers themselves describe it as a malt flavoured honeycomb structure rather than honeycomb itself.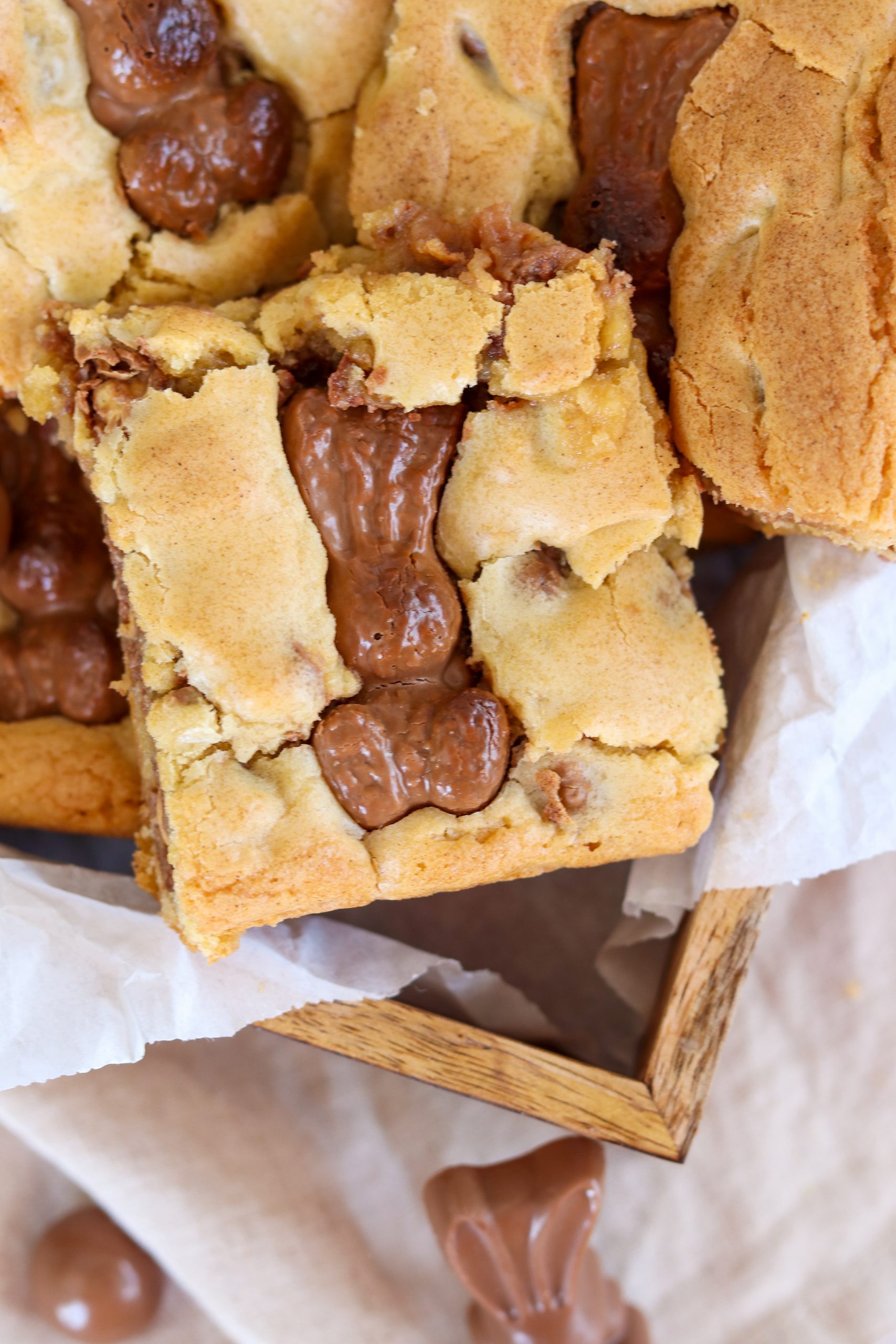 Who doesn't love Easter baking?
Easter is my favourite holiday to bake for. I love all of the different Easter chocolates which are calling out to be baked with.
I love the little Maltesers Bunnies you can buy at Easter so I had to turn these into something yummy!
But it would truly be a crime to only bake these at Easter! They are too delicious to just save them for one time of year. Maltesers are available year round so that means these should be baked year round too!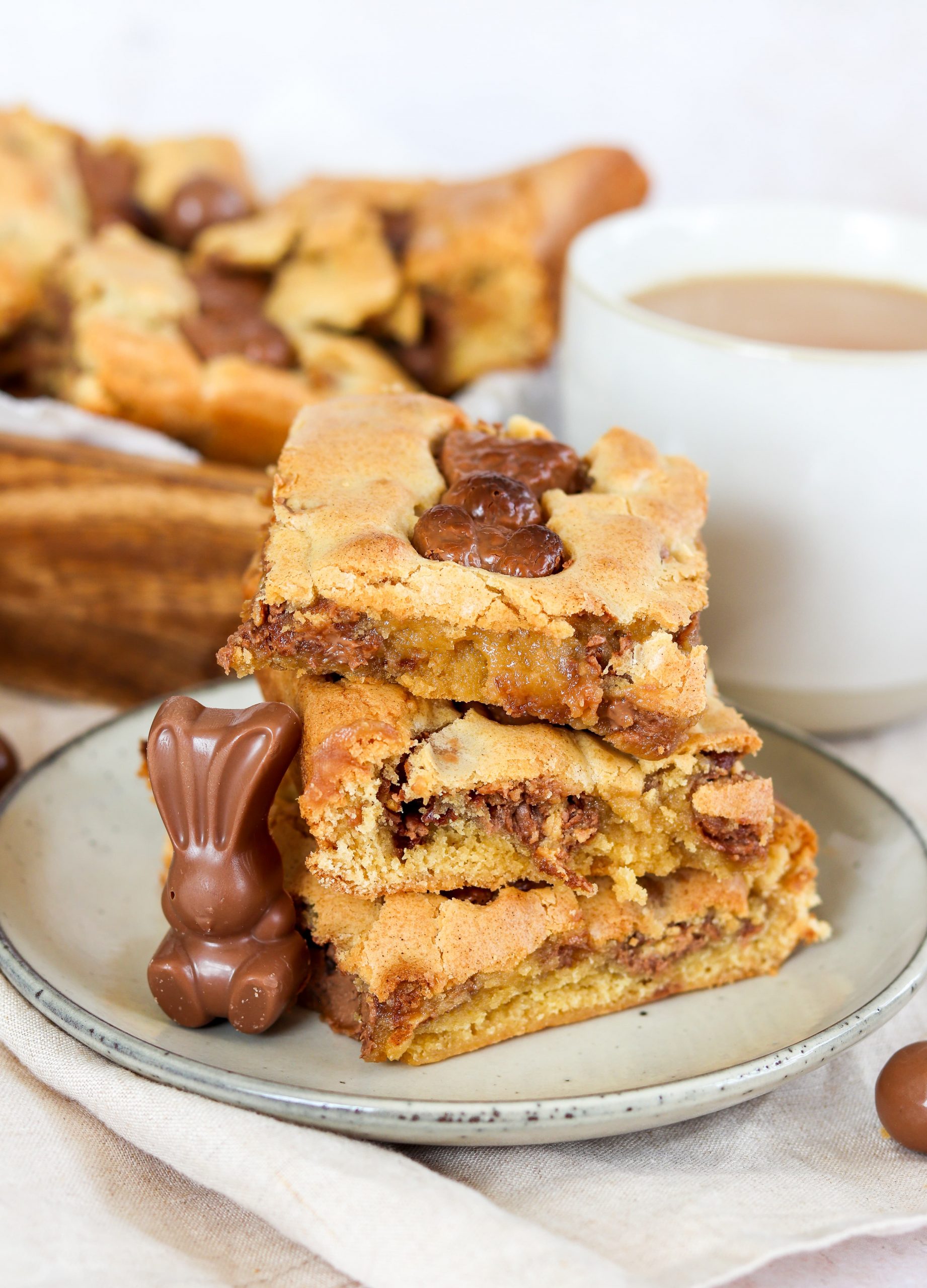 What are cookie bars?
Cookie bars are like eating a thick, delicious cookie. Who wouldn't want that?!
I absolutely love cookies. But I am also occasionally a lazy baker. Cookie bars are all the deliciousness you want from a cookie but quicker and easier!
Instead of scooping out cookie dough into little balls, you just tip it all into a tin. This saves time and makes it so incredibly easy. You are much closer to getting your cookie fix!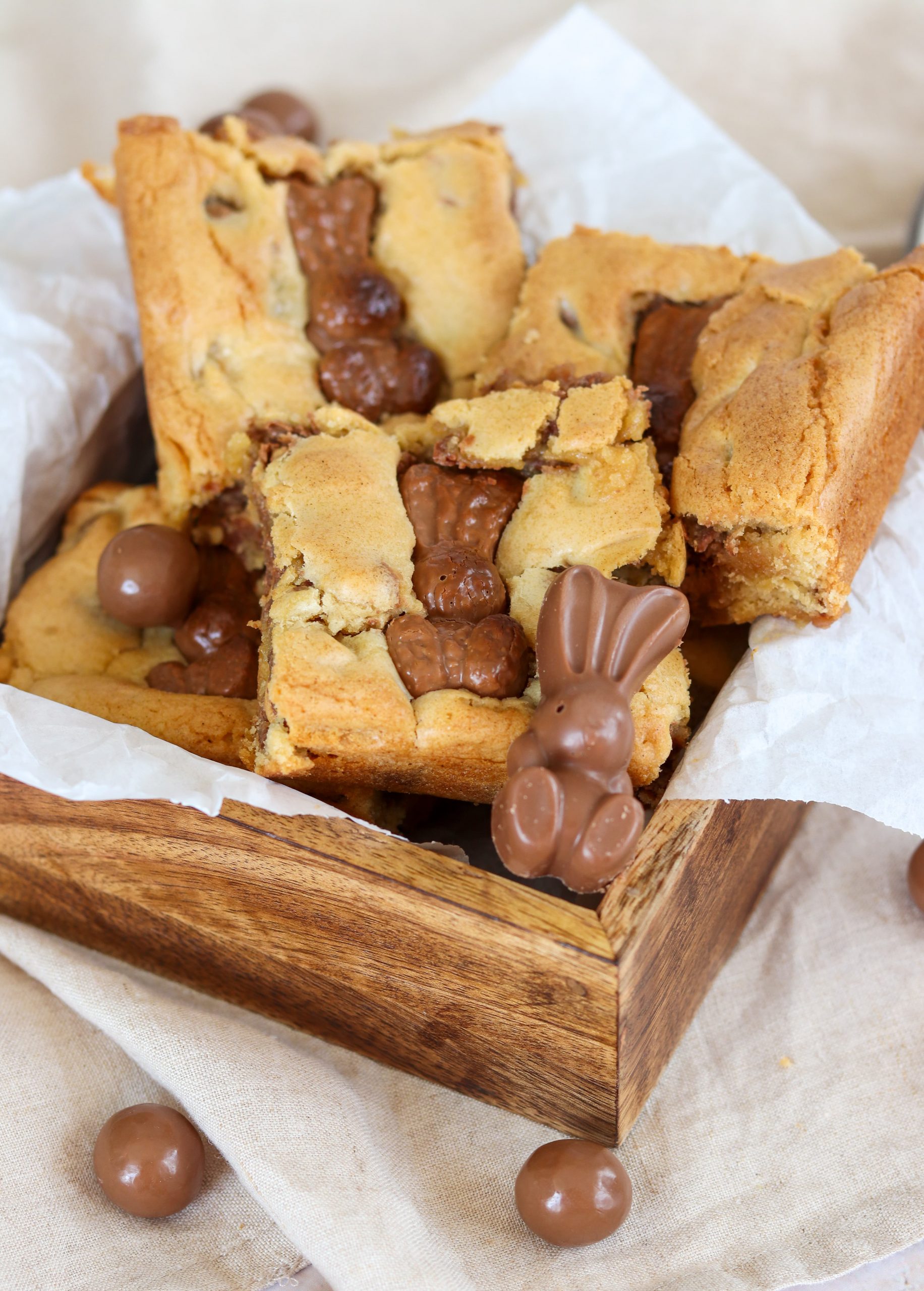 Do you have to use Maltesers?
Absolutely not! These Maltesers Cookie Bars are a variation of my Chocolate Orange Cookie Bars so you can really use any chocolate you fancy.
If you aren't making these at Easter, you will struggle to find the Maltesers bunnies. Unless it is Christmas and then Maltesers do a festive reindeer!
But you can definitely make these without the themed Maltesers treats. You can either leave the top as it is, or scatter over a few more Maltesers before baking.
Maltesers now offer chocolate bars and buttons which are available all year that would work really well in these Cookie Bars.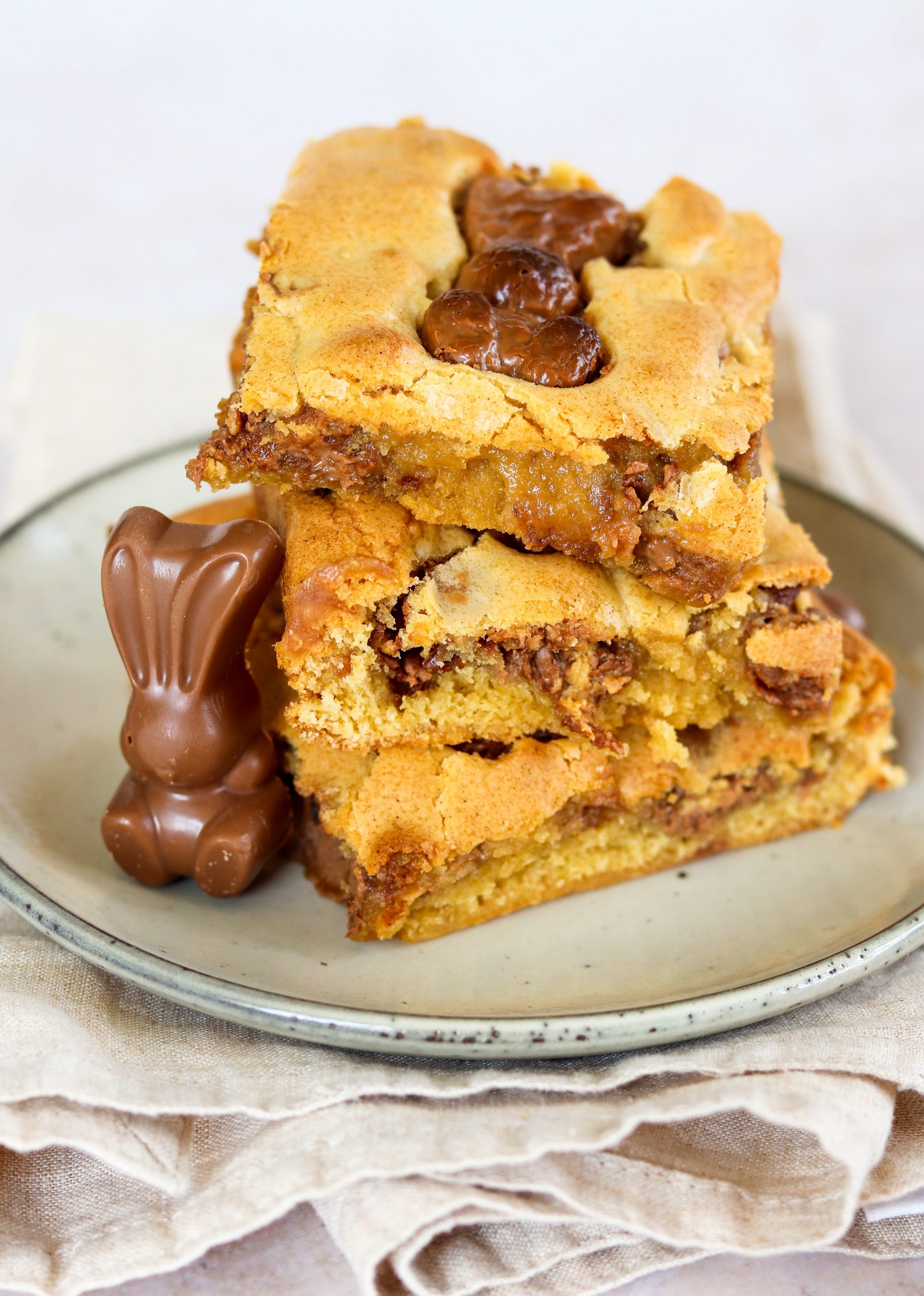 Gooey or crisp cookie bars?
I prefer my cookie bars like my cookies; gooey in the centre. If you like yours like this too, bake them for 18 – 20 minutes. If you prefer a firmer cookie with crisper edges, bake them for 23- 25 minutes.
I wholeheartedly recommend baking them so they are soft in the middle. It really is the best way to eat them. But I do love a soft cookie rather than a crisp cookie.
If you bake them so they are soft, the edges are a little firmer so these pieces are good for people that prefer a little bit of crispness.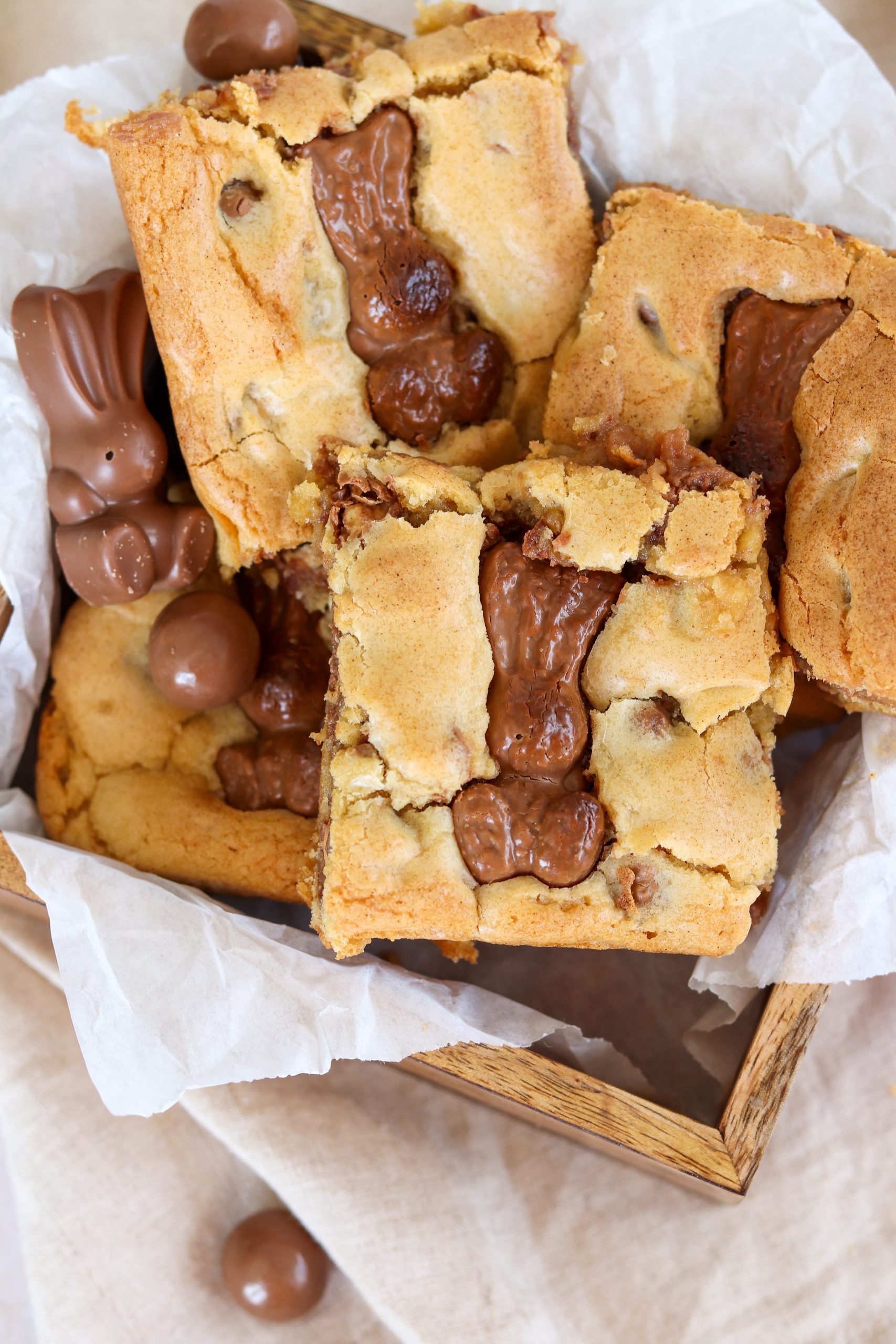 Cookie bar baking tips
Before you make these Maltesers Cookie Bars, there are a few things I should mention. The Maltesers Bunnies may turn slightly dark when the cookie bars are baking.
If they start looking too dark, loosely cover the tin with foil part way through cooking.
Another thing to note is that the Maltesers inside the cookie bars get chewy once they are baked. I like this and so do my family and friends, but I wanted to mention it because I know some people wouldn't like a chewier texture.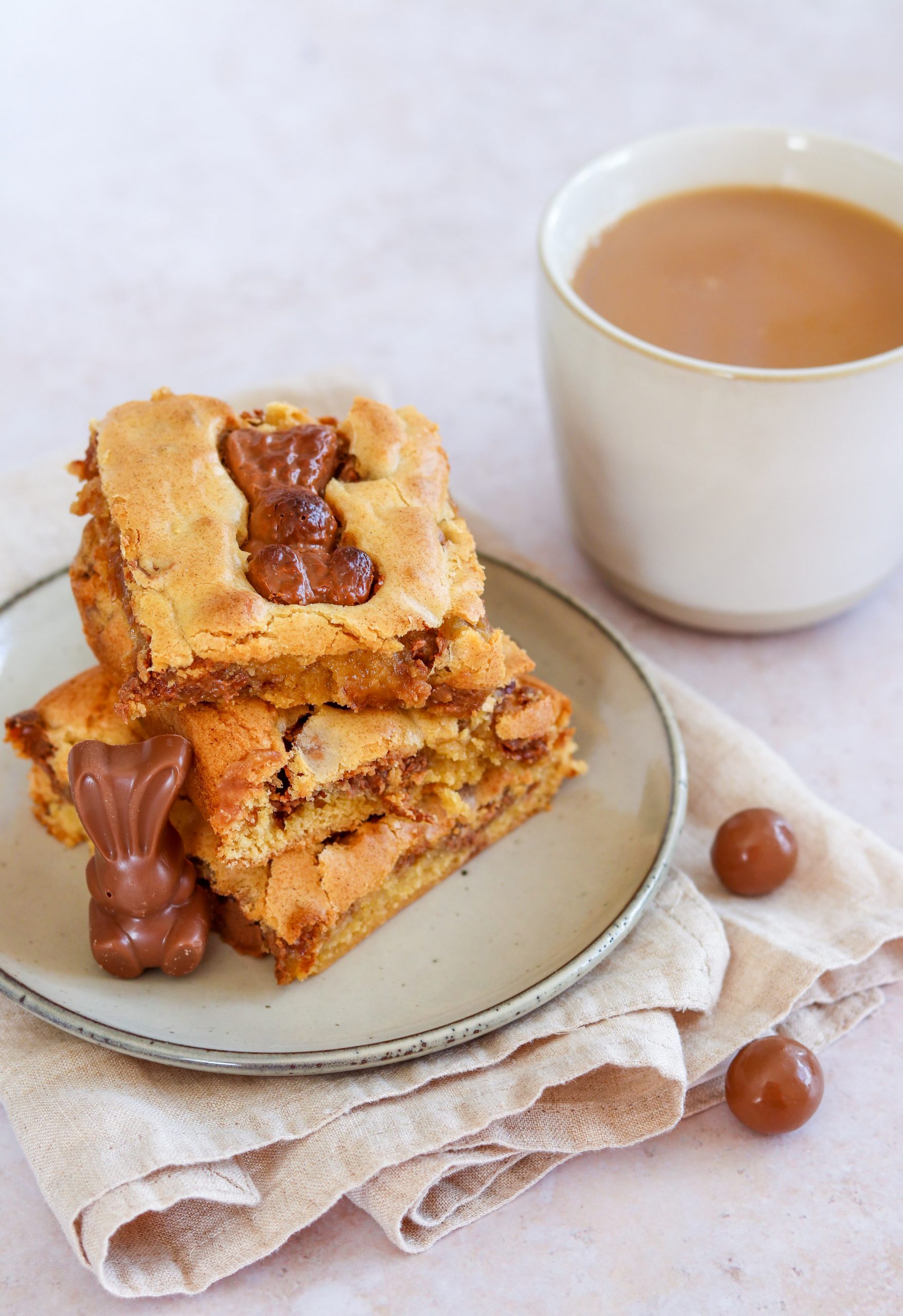 How many people do these cookie bars serve?
One person with a spoon? Ok, maybe not.
For the photos, I didn't want to commit bunny murder so I left them whole. This would make 9 generous portions. For serving, I did cut them in half again because a whole square would be a quite large and I do try to practise self-restraint occasionally.
However, the choice is yours depending on how hungry you're feeling!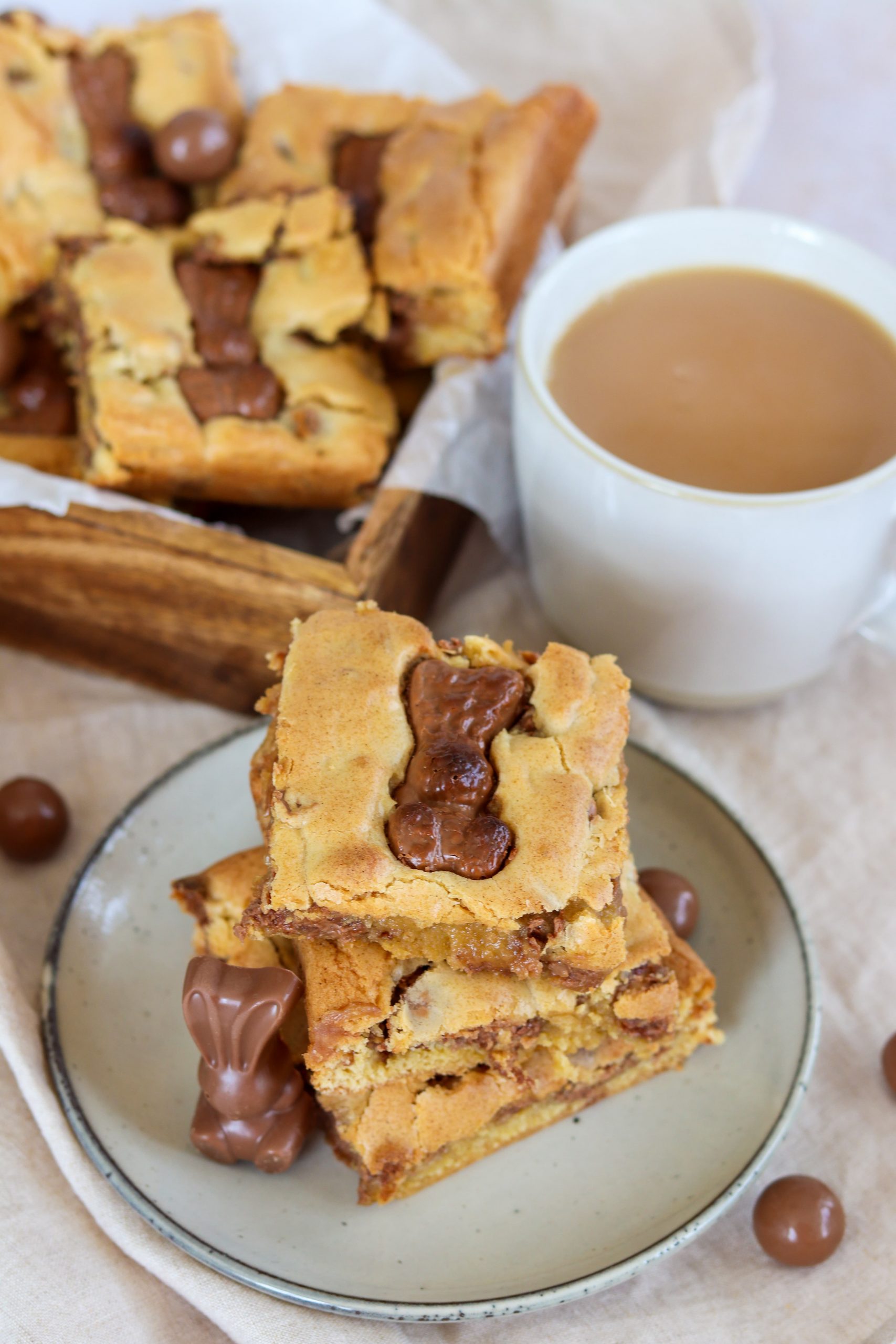 How long will these Maltesers Cookie bars keep for?
These Maltesers Cookie Bars will keep in an airtight container for 3-4 days.
They will become slightly firmer the longer they are left but they are still delicious. If you have baked them so they are gooier, this will help them keep softer for longer.
You can heat them in the microwave for 10-20 seconds to revive them slightly and bring them back to their gooiness if you would like.
If you want to keep them for longer I would recommend freezing them.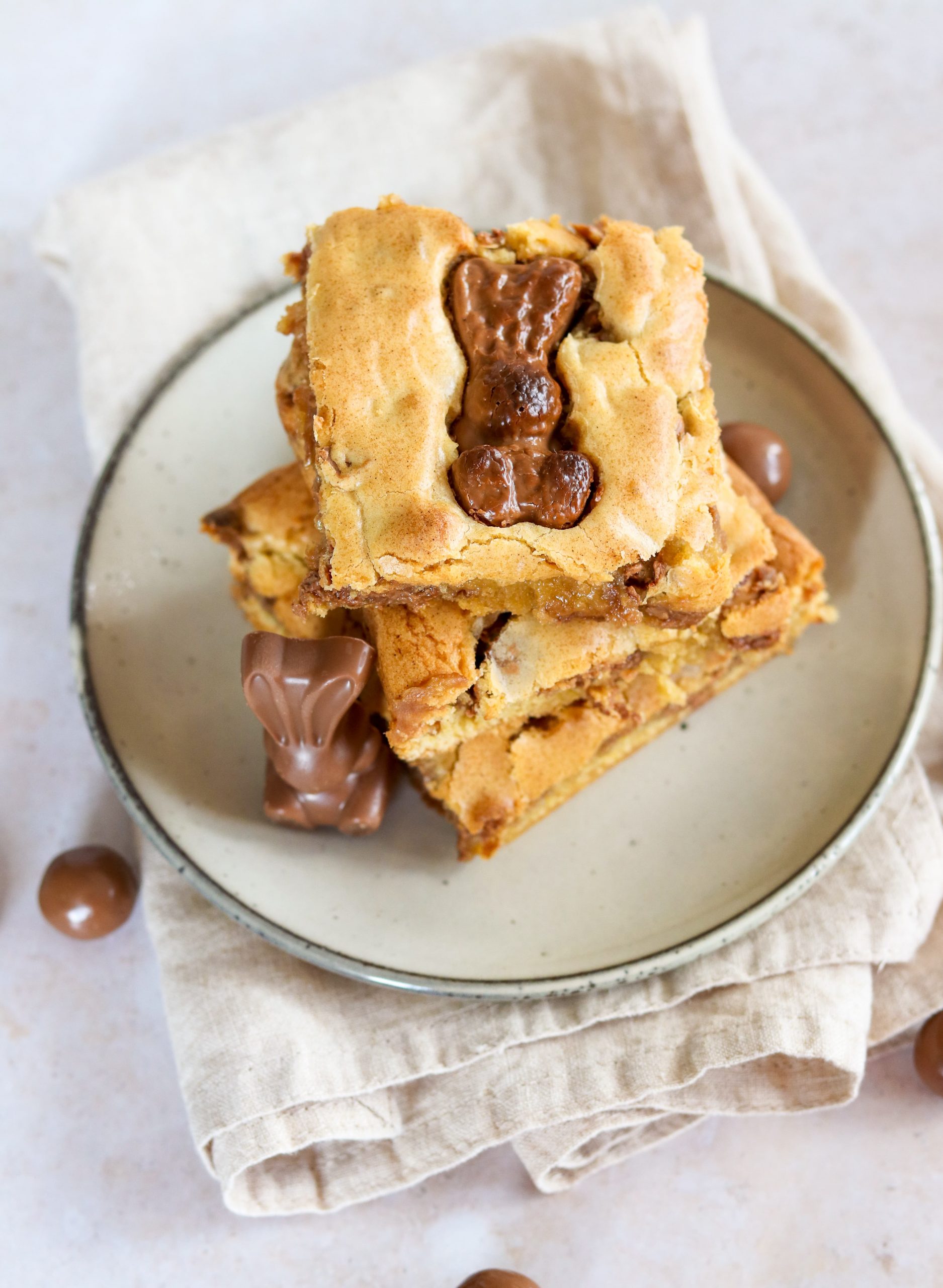 how to freeze cookie bars
Cookie bars freeze really well. I would cut them and let them cool completely before freezing.
Next, line up the cookie bars on a baking tray and put them in the freezer for one hour or so. Once they are firm, transfer them to a container or bag and freeze them completely.
By partially freezing them on a baking tray first, it should make it easier for you to separate however many you want to defrost. Leave them to defrost for an hour or so before eating.
They can be frozen for up to three months.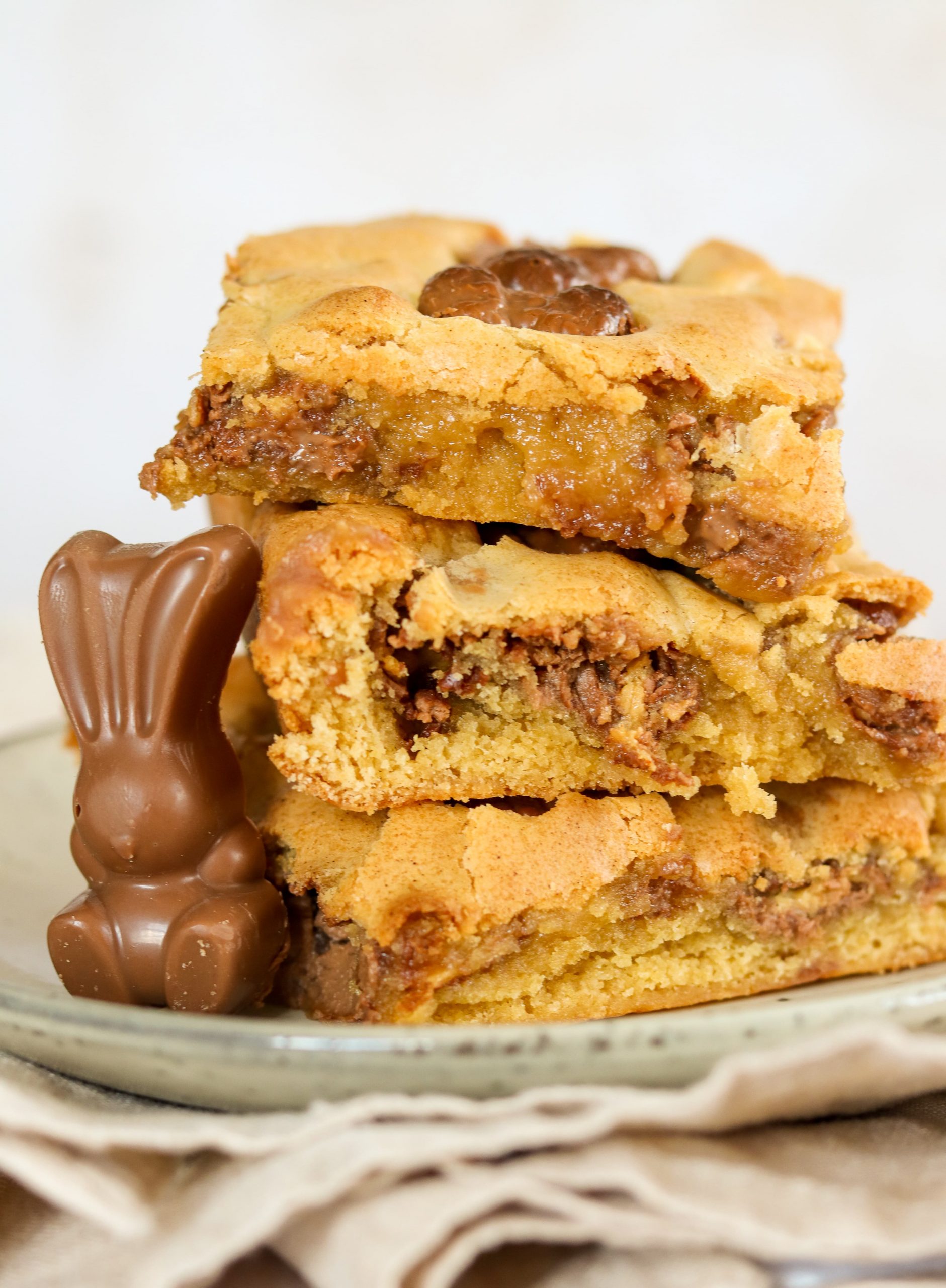 Other recipes you might like
Pin for later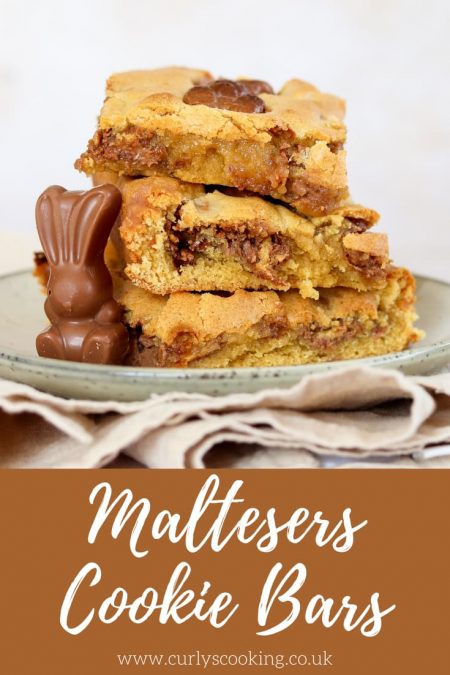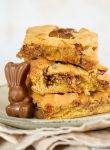 Maltesers Cookie Bars
Soft and gooey cookie bars crammed with Maltesers, who wouldn't want one of these Maltesers Cookie Bars?! The Maltesers Bunnies make these perfect for Easter – or any time of year.

Ingredients
125

g

margarine

100

g

light brown sugar

125

g

caster sugar

1

egg

¼

tsp

vanilla extract

225

g

self raising flour

½

tsp

salt

200

g

Maltesers
To finish
9

Mini Malteser Bunnies

(2 packs)
Instructions
Preheat the oven to 180ºC (fan assisted, 200ºC non fan) and line a 20x20cm tin with baking paper

Cream 125g margarine, 100g light brown sugar and 125g caster sugar together until light and fluffy

Add 1 egg and ¼ tsp vanilla extract and mix until combined

Add in 225g self raising flour, ½ tsp salt and 200g Maltesers and mix until combined

Tip all of the mix into the prepared tin and smooth the top until it is level. Place the 9 Malteser Bunnies at regular intervals across the cookie dough

Bake in the oven for 18-20 minutes for a soft cookie and 23-25 minutes for a firmer cookie

Allow to cool in the tin for 10 minutes before leaving to cool completely on a wire rack. Cut into 18 equal squares
Recipe Notes
Keep for 3-4 days in an airtight container.
Nutritional information is given as a guide only and may vary.
Nutrition Facts
Maltesers Cookie Bars
Amount Per Serving
Calories 233
Calories from Fat 54
% Daily Value*
Fat 6g9%
Cholesterol 9mg3%
Sodium 135mg6%
Potassium 26mg1%
Carbohydrates 21g7%
Protein 1g2%
Vitamin A 260IU5%
Calcium 10mg1%
Iron 0.2mg1%
* Percent Daily Values are based on a 2000 calorie diet.