Not only are these Easy Traybake Halloumi Burgers quick, easy and delicious; but they are also made using just one baking tray! The perfect no hassle midweek meal.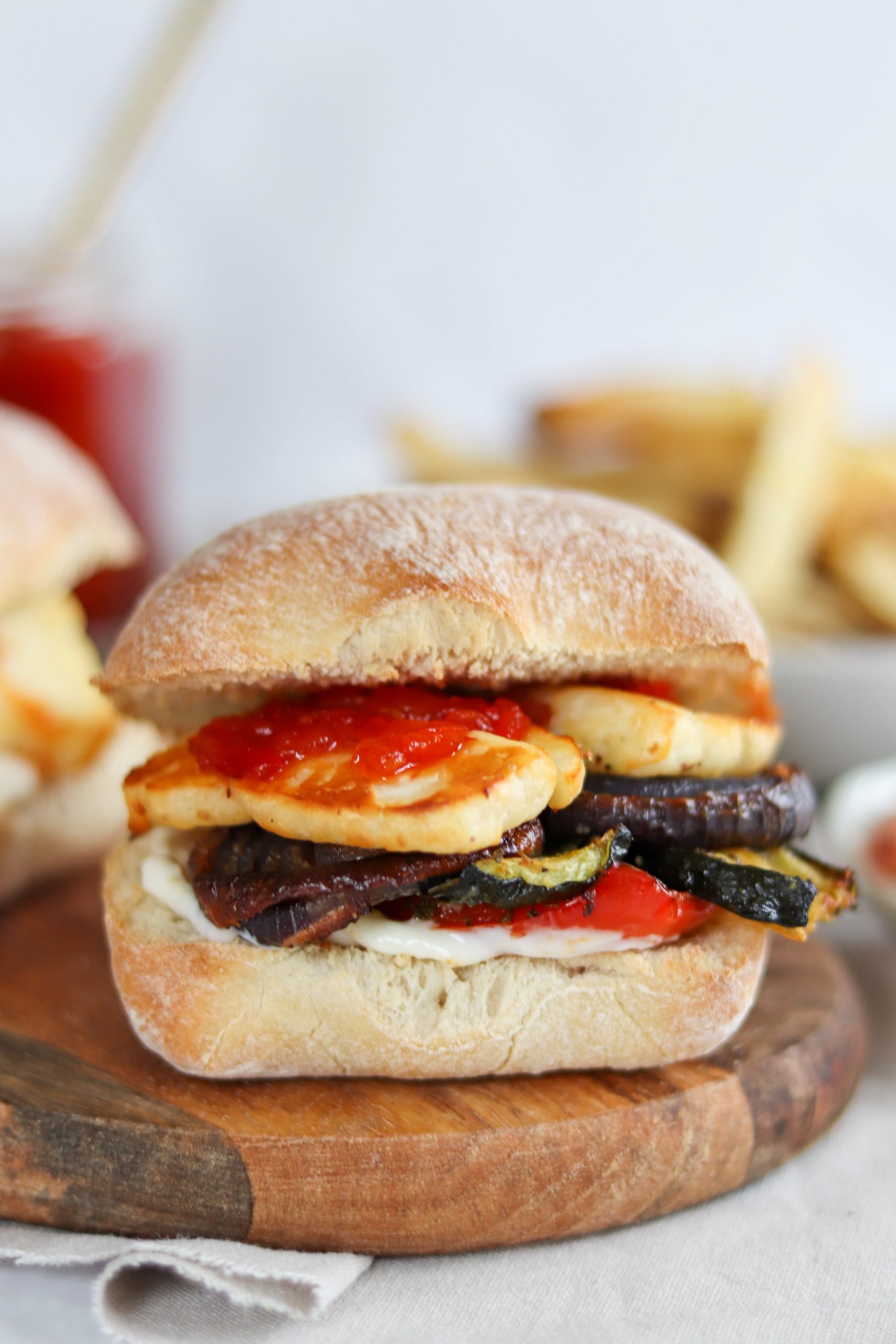 what are easy traybake halloumi burgers?
As the name might suggest, these are halloumi burgers with everything cooked on a baking tray in the oven.
Super easy, barely any hands on time and very little washing up. What could be better?!
These halloumi burgers are the perfect midweek meal when you want to cook something fresh and delicious but don't want to spend lots of time cooking.
They are also a great vegetarian meal that the whole family can customise to their tastes and enjoy.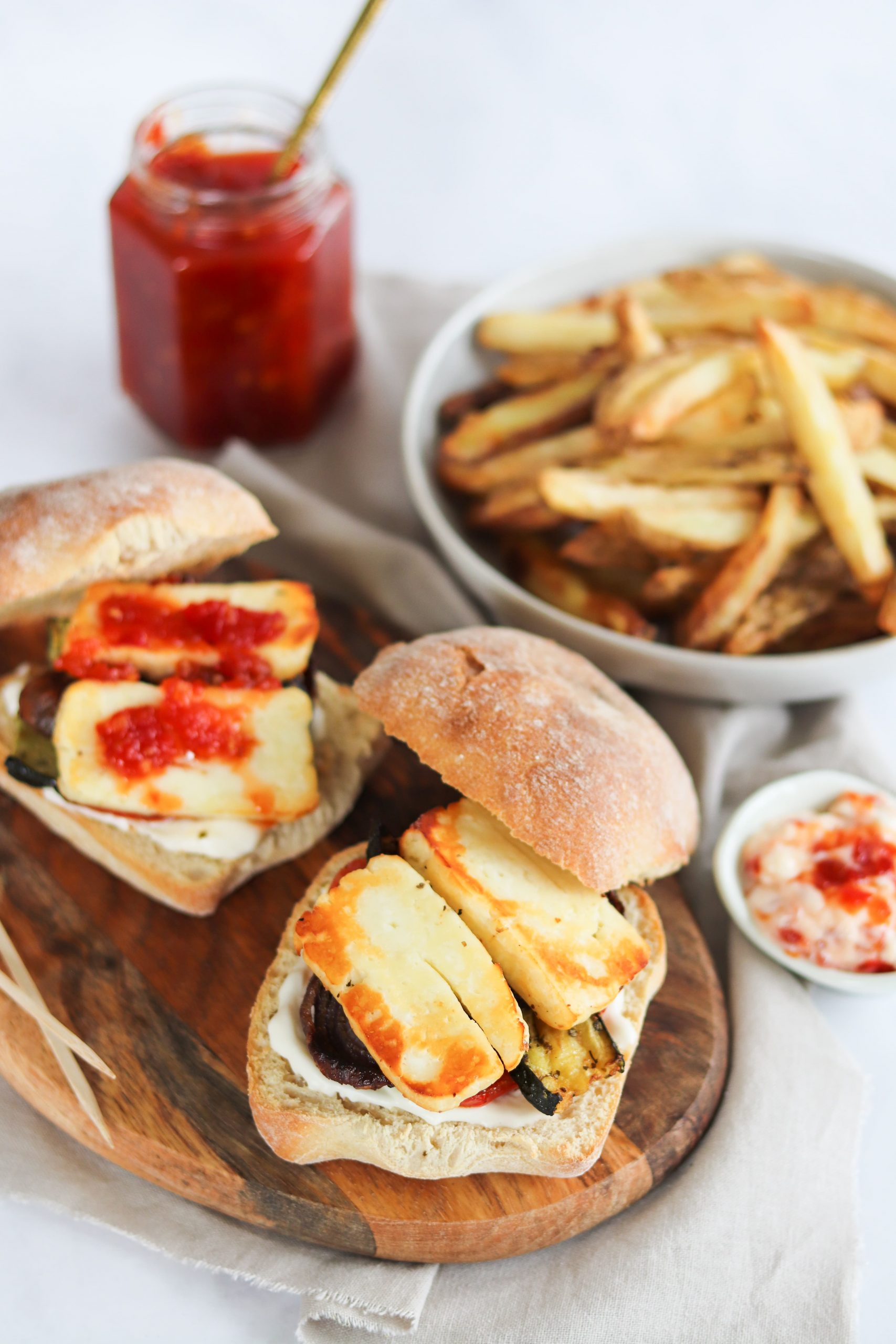 what is halloumi?
Now I know most of you will have heard of halloumi. It has become even more popular in recent years.
Halloumi is a semi-hard cheese from Cyprus. It can be a mixture of sheep and goat's milk as well as cow's milk. It has a deliciously salty taste and an almost rubbery texture which is even more delicious when cooked.
One of the reasons it has become so popular is that it has a high melting point which makes it perfect for being grilled or fried as it holds it's shape. Although you can eat it without cooking it, it is so much better cooked!
It is also high in protein which makes it a great option to use for vegetarian recipes.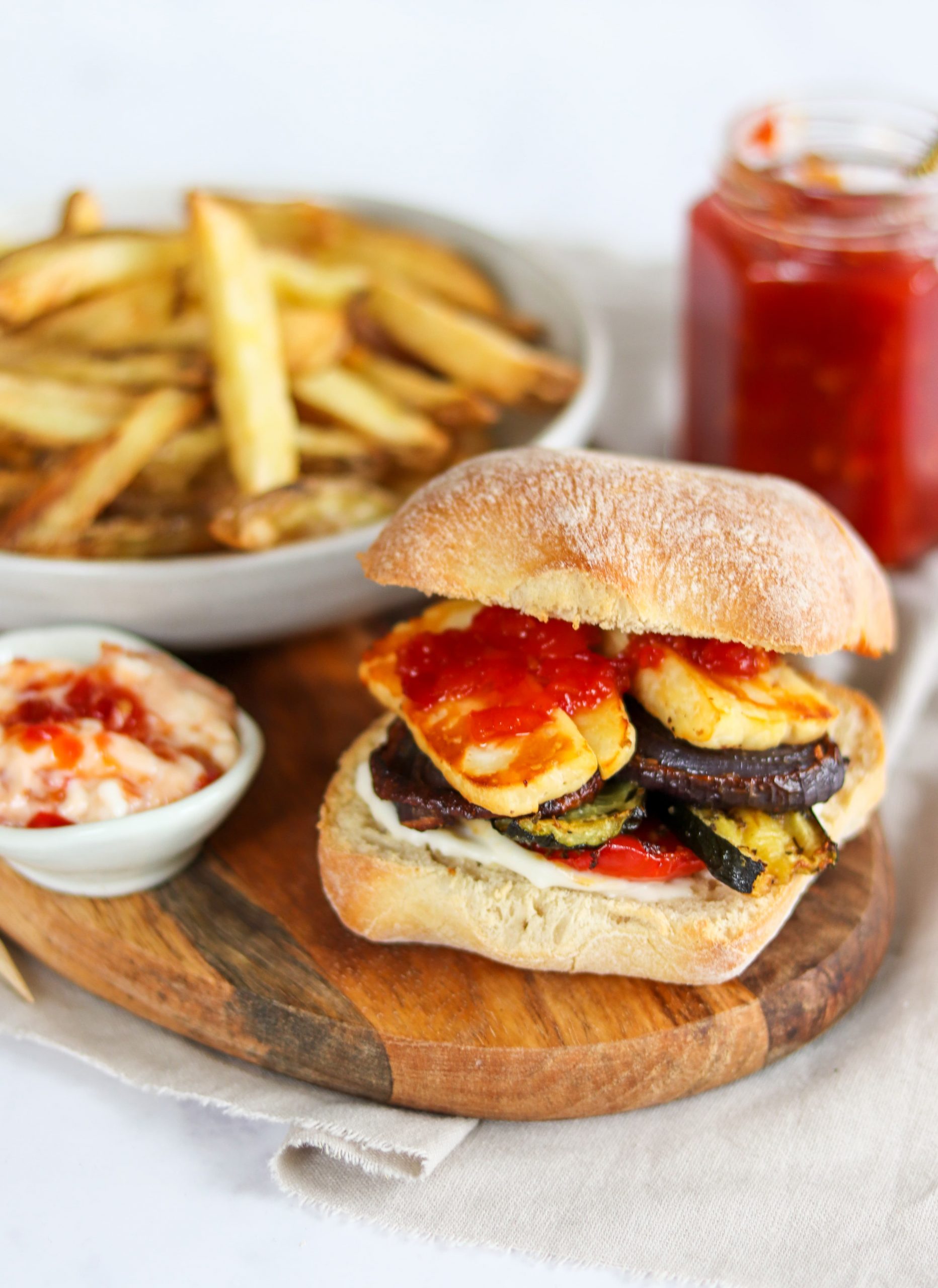 which vegetables can be used?
I used vegetables I really like when they are roasted. Peppers and courgettes are perfect for roasting I think. And although I don't eat red onions, I knew they would go perfectly in these burgers.
Just because I have used these vegetables, you don't have to. You can use whichever you like.
If you don't have red onions, you could use standard yellow onions. You could use whichever coloured bell peppers you want. You could use any variety or zucchini or summer squash you like.
Mushrooms would be another great alternative vegetable to add to these burgers.
You can always add lettuce and tomatoes to these burgers to make them even more full.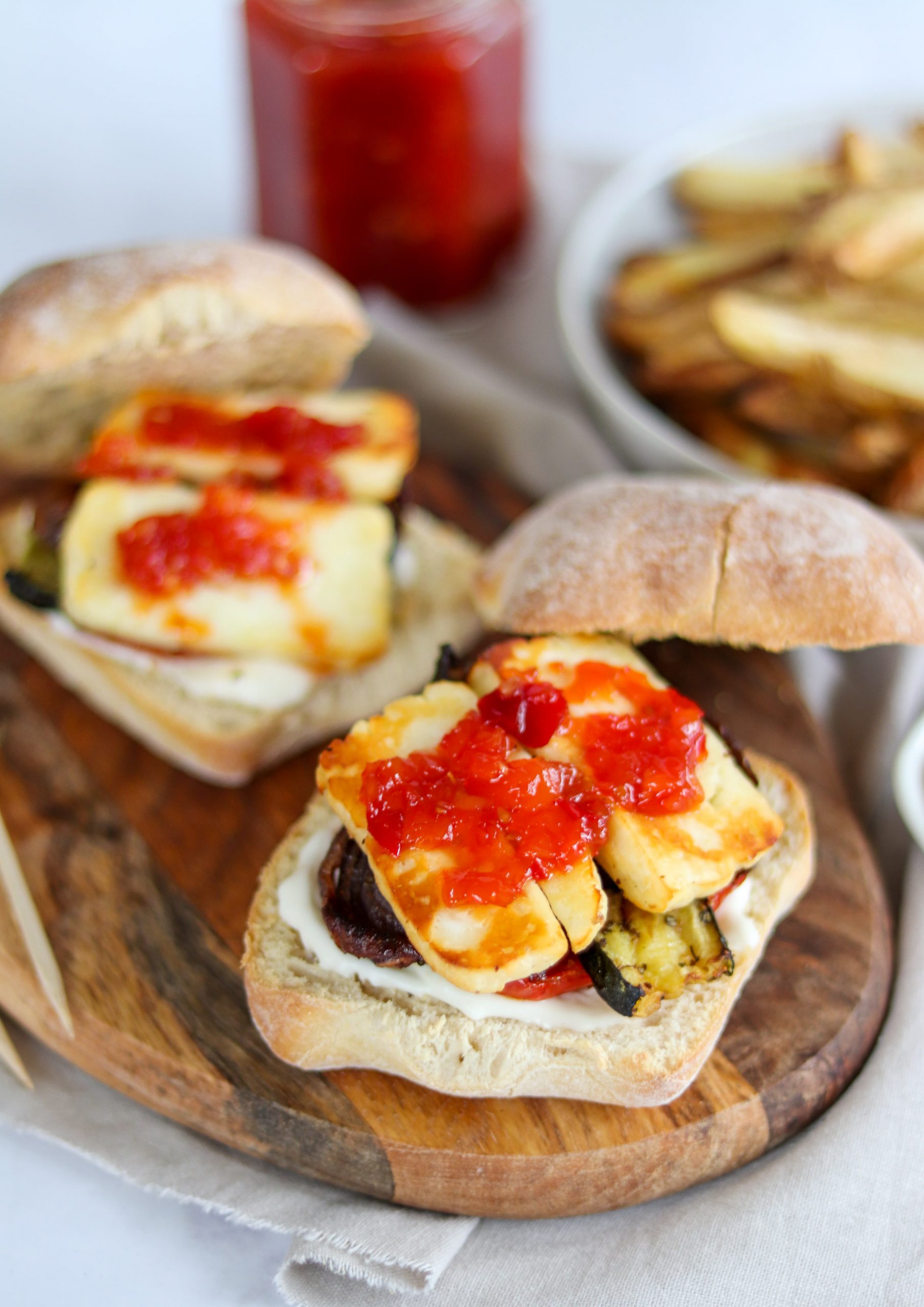 other ways to cook these halloumi burgers
Although these burgers are called Easy Traybake Halloumi Burgers, you can cook them in different ways.
I chose to cook them on a baking tray as this is suitable for year round cooking. It is also so easy!
Another way that would be delicious to cook the vegetables and halloumi would be to grill them. This could be inside using a grill or outside on the BBQ.
Grilling gets lovely charred lines on the vegetables and the halloumi and a delicious flavour. However it is a little bit more hands on as you need to watch the food to make sure it doesn't burn.
Whichever way to choose to cook the vegetables and halloumi, it will be delicious!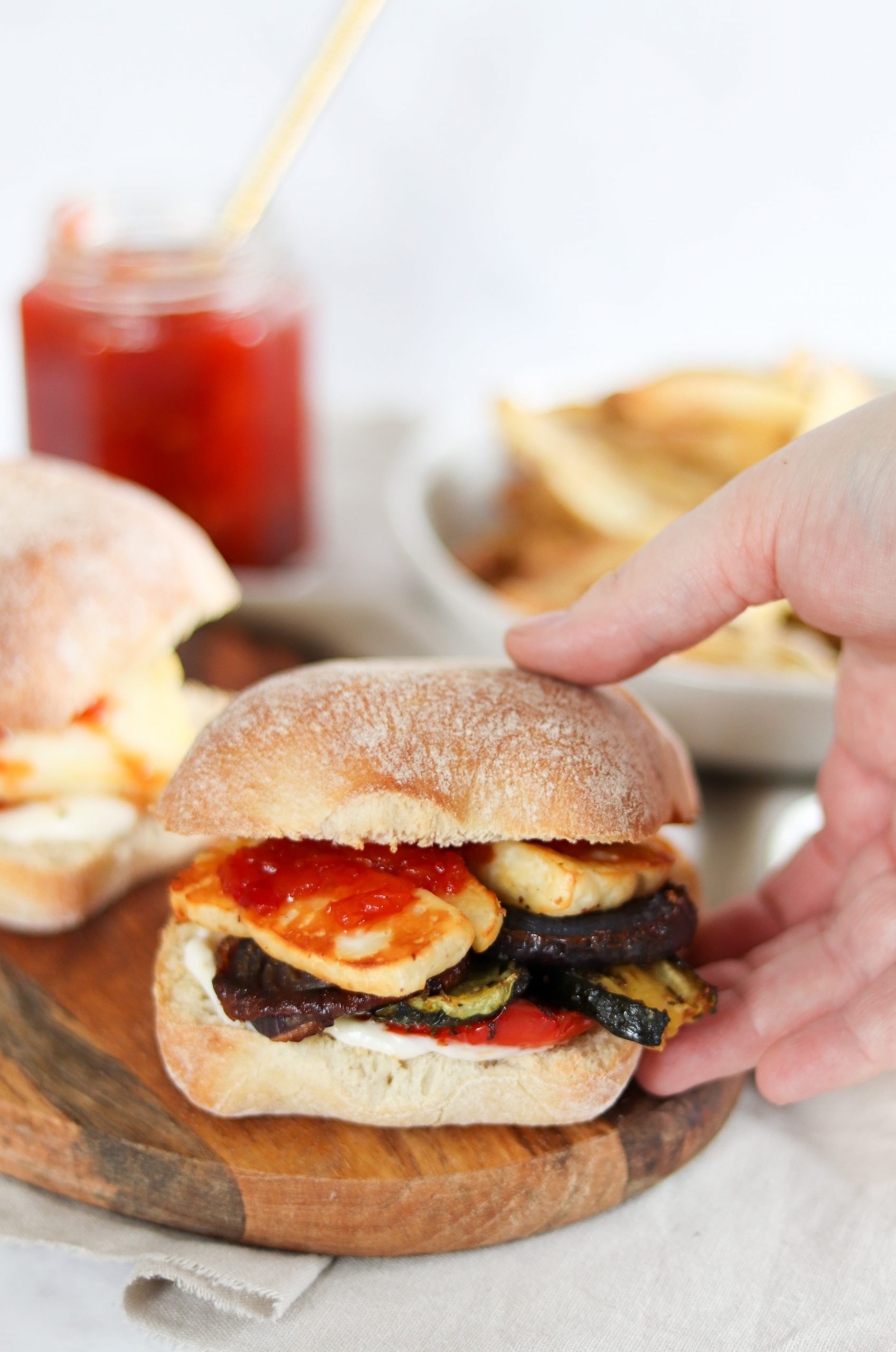 which bread rolls are best to use?
I like to use ciabatta rolls for these burgers. They are a bit firmer than other bread with a lovely chewy crust.
If you don't want to use ciabatta rolls, you could make my Bread Rolls. They're very easy to make and would soak up the juice and sauce well.
You could also make my Easy Flatbreads if you would prefer instead of rolls. These are really quick and easy to make.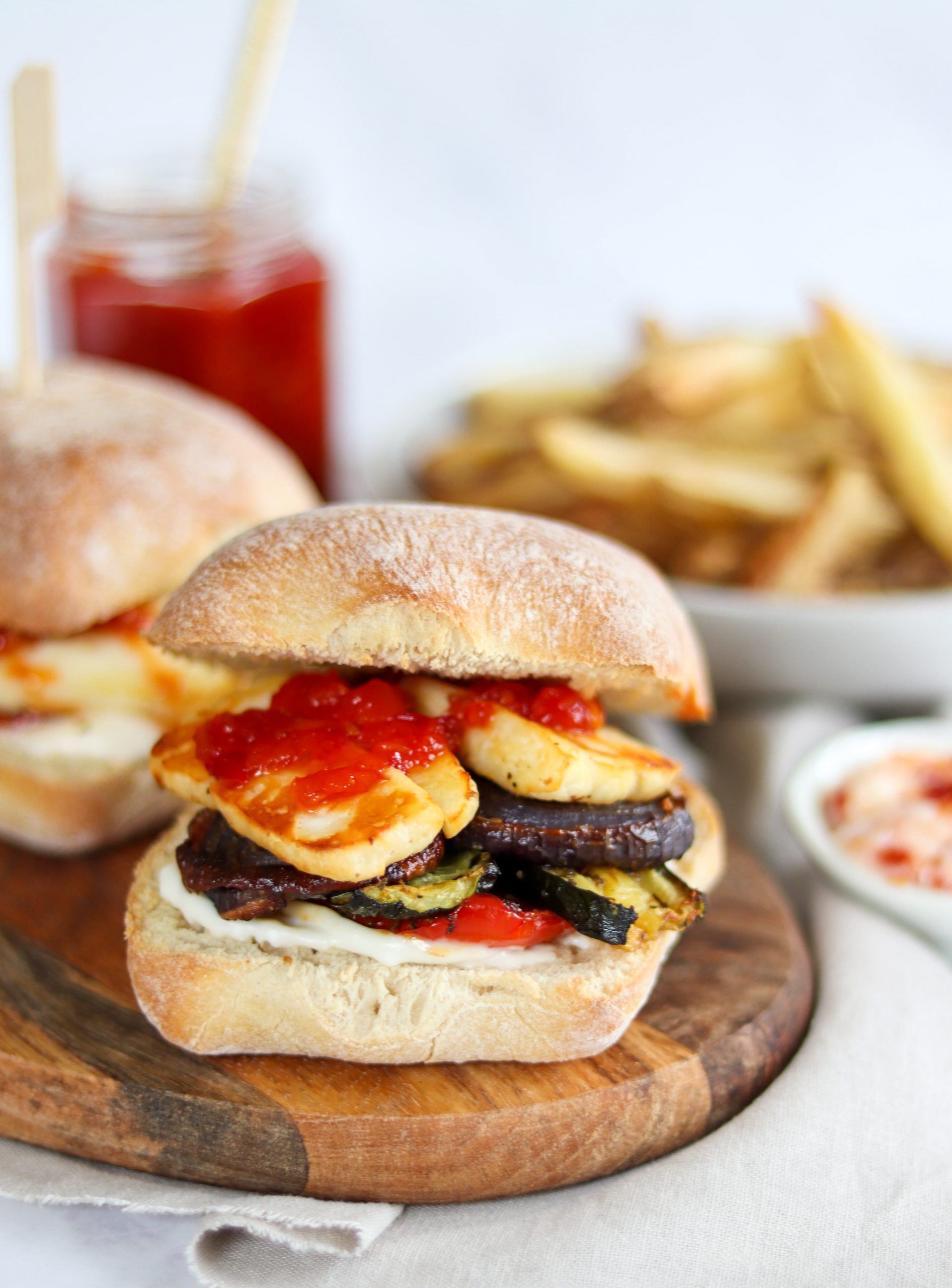 which sauces to add to the burgers
I am a huge fan of sauces when it comes to burgers. For these Easy Traybake Halloumi Burgers I like to spread mayonnaise on the bottom and then spoon Sweet Chilli Sauce on the top.
If you don't have a jar of my Sweet Chilli Sauce in your fridge, you can of course use your favourite shop bought chilli sauce or sriracha.
If chilli sauce isn't your thing, you could use my Hazelnut Pesto. This would work really well with the roasted vegetables and give it a Mediterranean feel.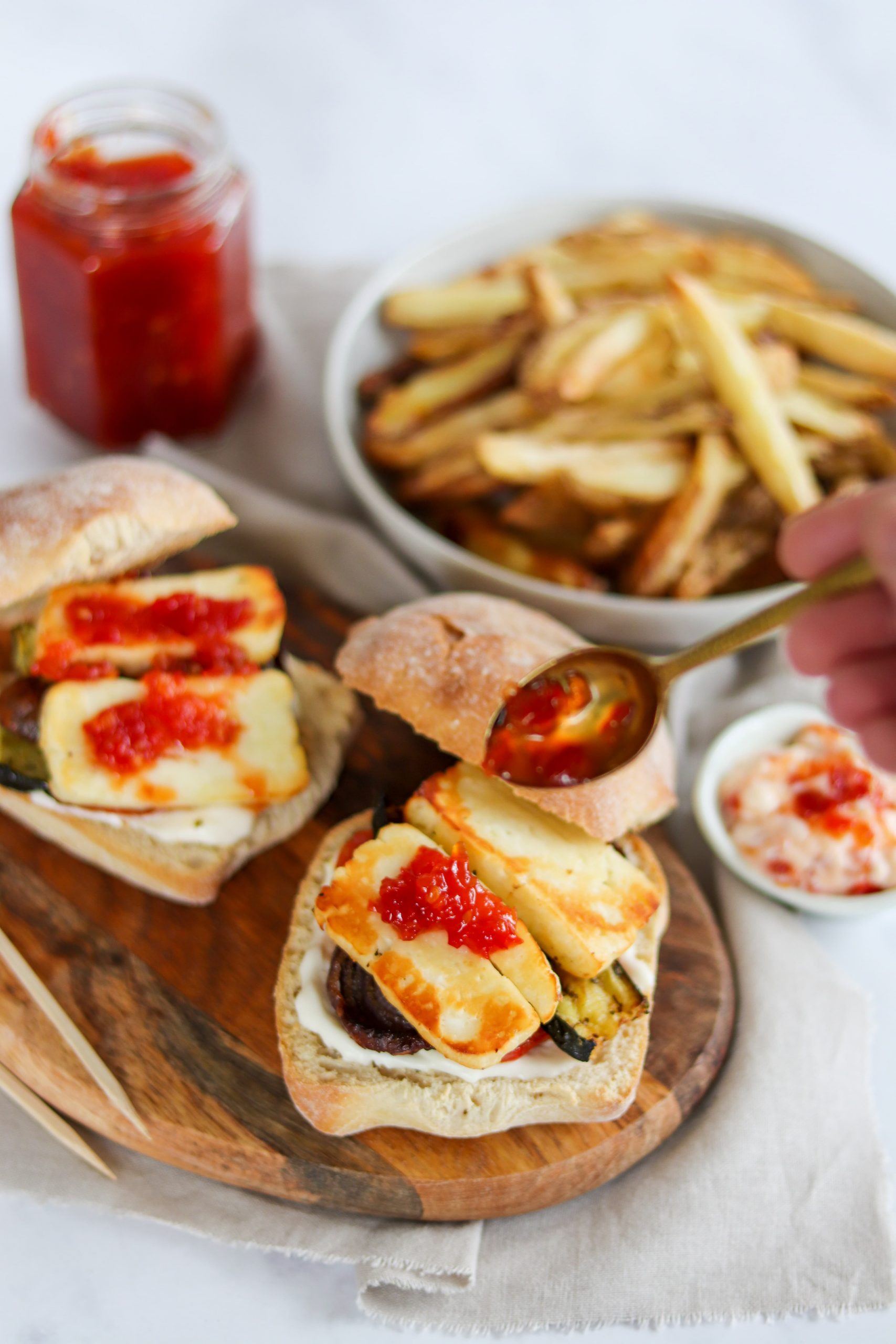 what to serve with these Halloumi burgers
These burgers are the perfect meal for any time of year. What you want to serve with them may change slightly depending on the time of year.
When it is colder, you might want to serve these with Roasted New Potatoes or Baked Chipotle Wedges. If you want to keep it super simple serve with chips, either frozen or homemade. More vegetables is never a bad thing so Roasted Parmesan Tenderstem Broccoli would work really well too.
When it is warmer, you might want to serve these burgers as part of a spread. Easy Couscous Salad would be a great dish and you could make a simple salad with Balsamic Tomato Salad.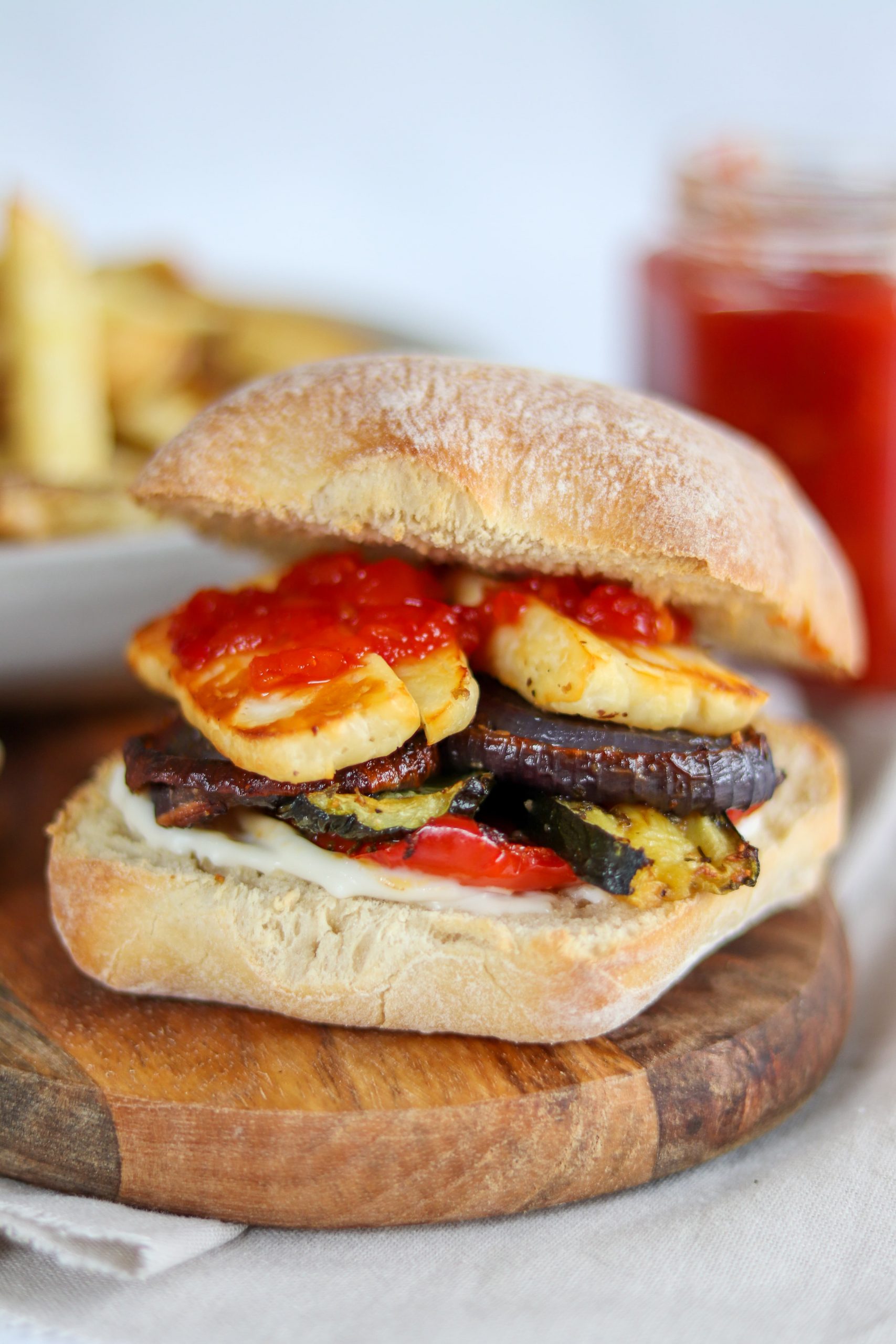 how to make these halloumi burgers gluten free or vegan
These Easy Traybake Halloumi Burgers are incredibly easy to make gluten free. All you need to swap is the roll. Use your favourite gluten free bread roll and you're ready to go!
To make these vegan you need to find a vegan alternative to halloumi. And obviously you would just need to swap standard mayonnaise to vegan mayo; or leave it out altogether.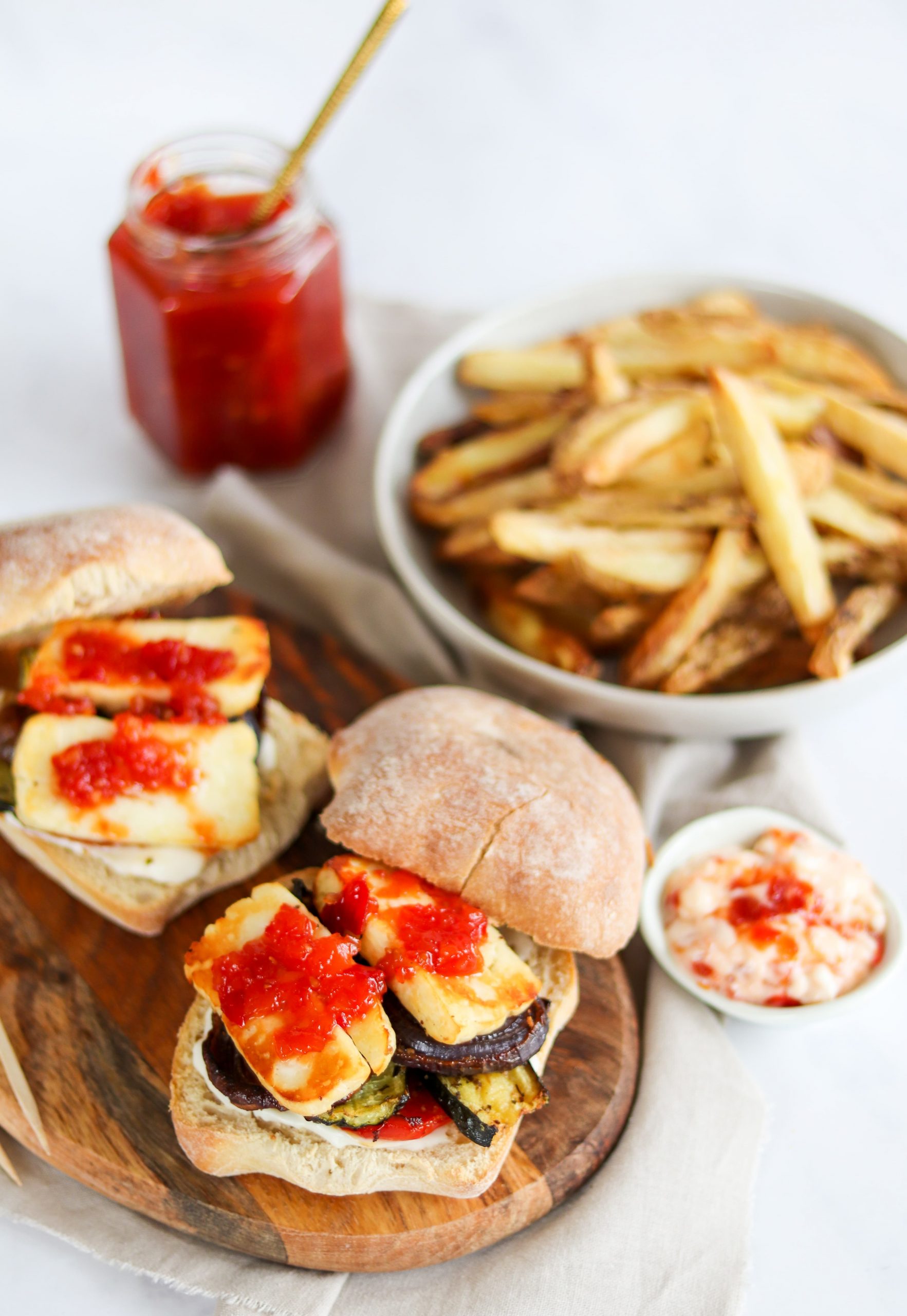 Can you make these halloumi burgers in advance?
I wouldn't really recommend it. You could prepare the vegetables in advance if you wanted to, ready to roast when you are ready.
But you really need to eat the halloumi as soon as it has been cooked. It hardens when it cools which isn't as nice texture wise in my opinion.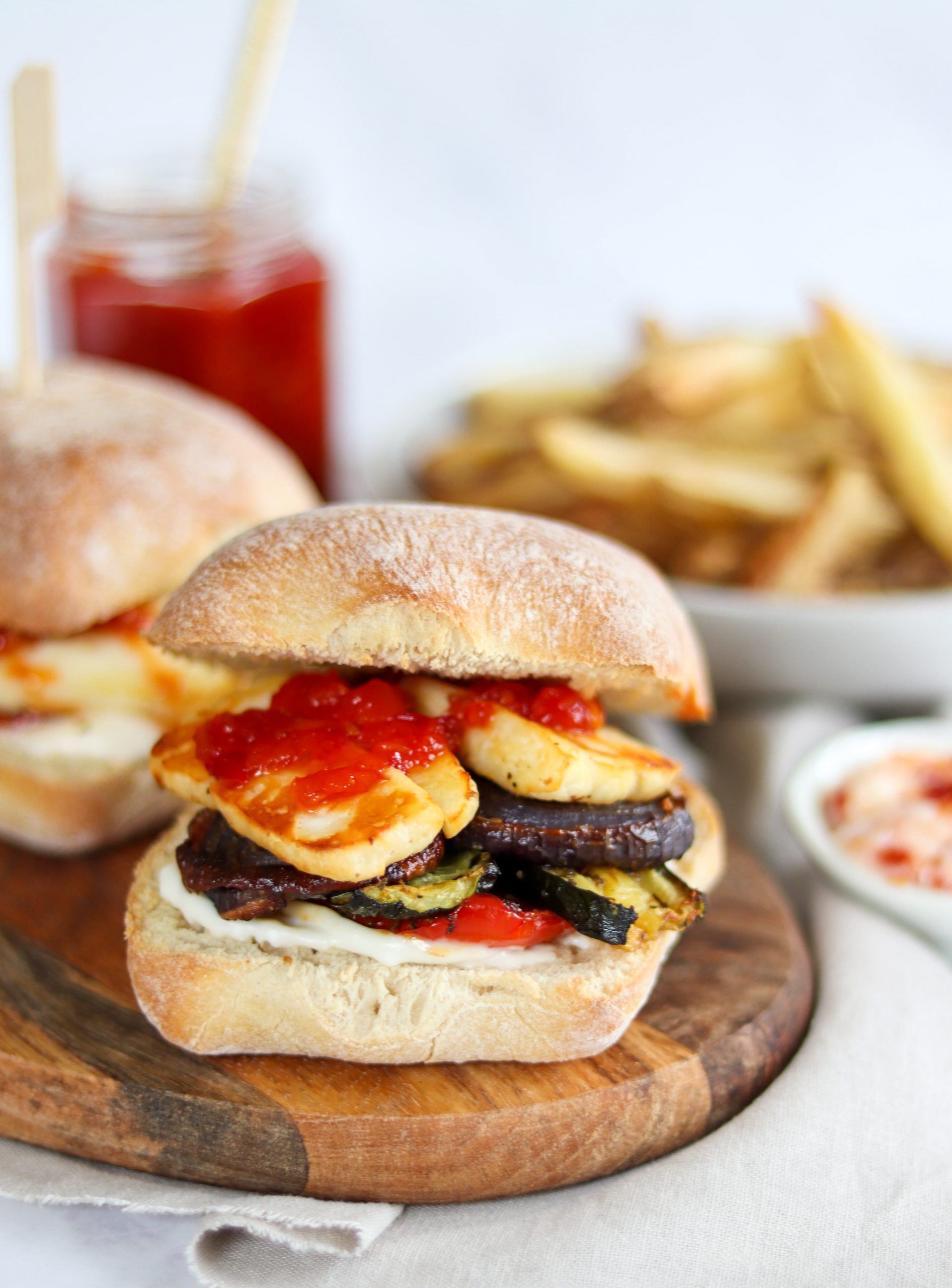 other recipes you might like
Pin for later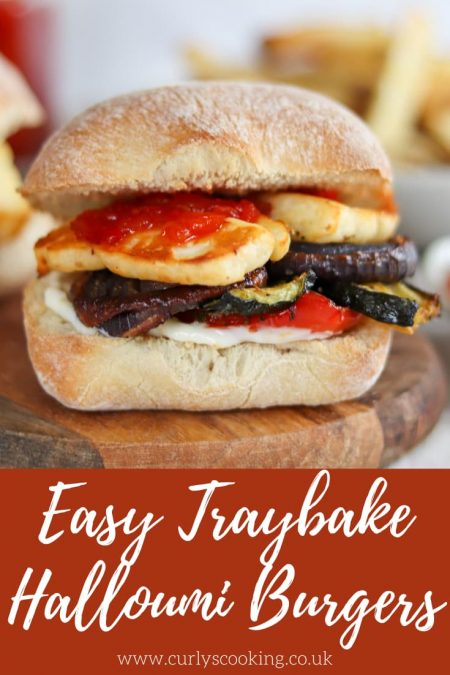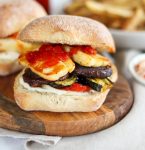 Easy Traybake Halloumi Burger
Not only are these Easy Traybake Halloumi Burgers quick, easy and delicious; but they are also made using just one baking tray! The perfect no hassle midweek meal.
Ingredients
1

red pepper

quartered

1

courgette

(zucchini) sliced

2

red onions

sliced

2

tsp

olive oil

½

tsp

sea salt

pinch

black pepper

¼

tsp

garlic granules

¼

tsp

dried oregano

225

g

halloumi

(1 block)

4

ciabatta rolls

sweet chilli sauce

mayonnaise

(optional)
Instructions
Preheat the oven to 180°C (fan assisted, 200°C non fan)

Prepare the vegetables and add them to a bowl along with the 2 tsp olive oil, ½ tsp salt, pinch of pepper, ¼ tsp garlic granules and ¼ tsp dried oregano

Toss the vegetables until they are completely coated with the oil and other ingredients

Line the vegetables on a baking tray and cook for 10 minutes

Turn the vegetables and put them back in for 5 minutes

Slice the halloumi into eight. Shuffle the vegetables to make room for the halloumi and cook for 10 minutes or until the halloumi is your preferred level of crispness. Turn the halloumi half way through

Cut the ciabatta rolls in half and place them cut side up in the oven to crisp slightly for a couple of minutes

Spread the ciabatta with mayonnaise if using. Stack up the vegetables followed by two slices of the halloumi per roll. Spoon/drizzle over sweet chilli sauce
Recipe Notes
Nutritional information is given as a guide only and may vary.
Nutrition Facts
Easy Traybake Halloumi Burger
Amount Per Serving (1 g)
Calories 363
Calories from Fat 153
% Daily Value*
Fat 17g26%
Sodium 1248mg54%
Potassium 273mg8%
Carbohydrates 35g12%
Protein 19g38%
Vitamin A 1031IU21%
Vitamin C 51mg62%
Calcium 585mg59%
Iron 1mg6%
* Percent Daily Values are based on a 2000 calorie diet.