Deliciously creamy chicken and vegetables covered in a layer of crisp potatoes. This Creamy Chicken & Potato Bake is the perfect one pot dinner.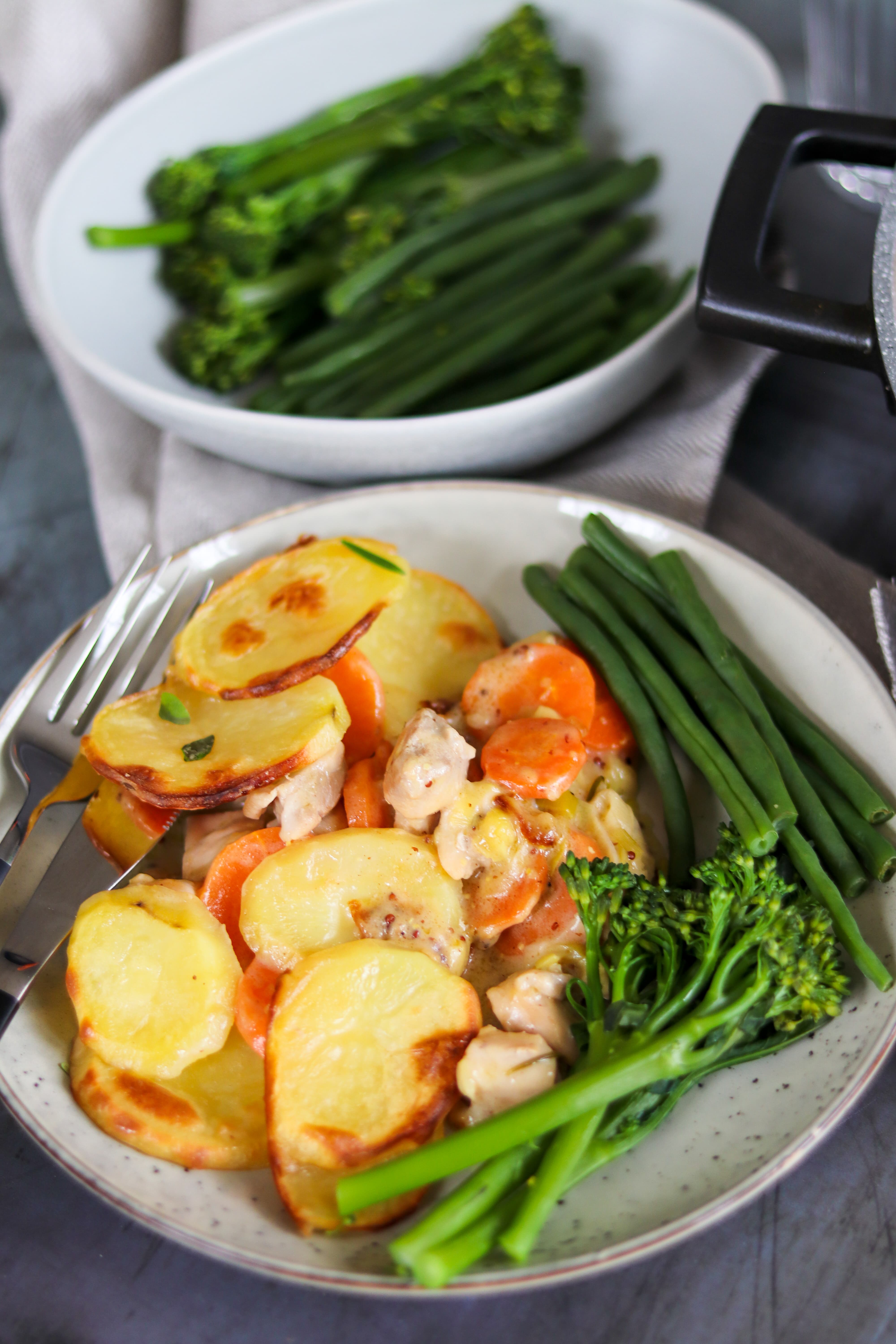 What is a creamy chicken & potato bake?
As the name may suggest, this Creamy Chicken & Potato Bake is chicken and vegetables in a creamy sauce topped with a layer of sliced potatoes.
I did start off referring to this as a pie, but people can be quite fussy and particular when it comes to pies. Some people say for something to be called a pie it has to be completely encased in pastry. So involving no pastry at all might not have been popular!
It is also not dissimilar to a traditional British hotpot. Think of it as a creamy chicken hotpot instead of the usual lamb version.
Although the idea isn't a new one, my version came about by making it up as I went along with what I had in the fridge. Some of my favourite meals start off like this. I then have to make it again and write down the quantities!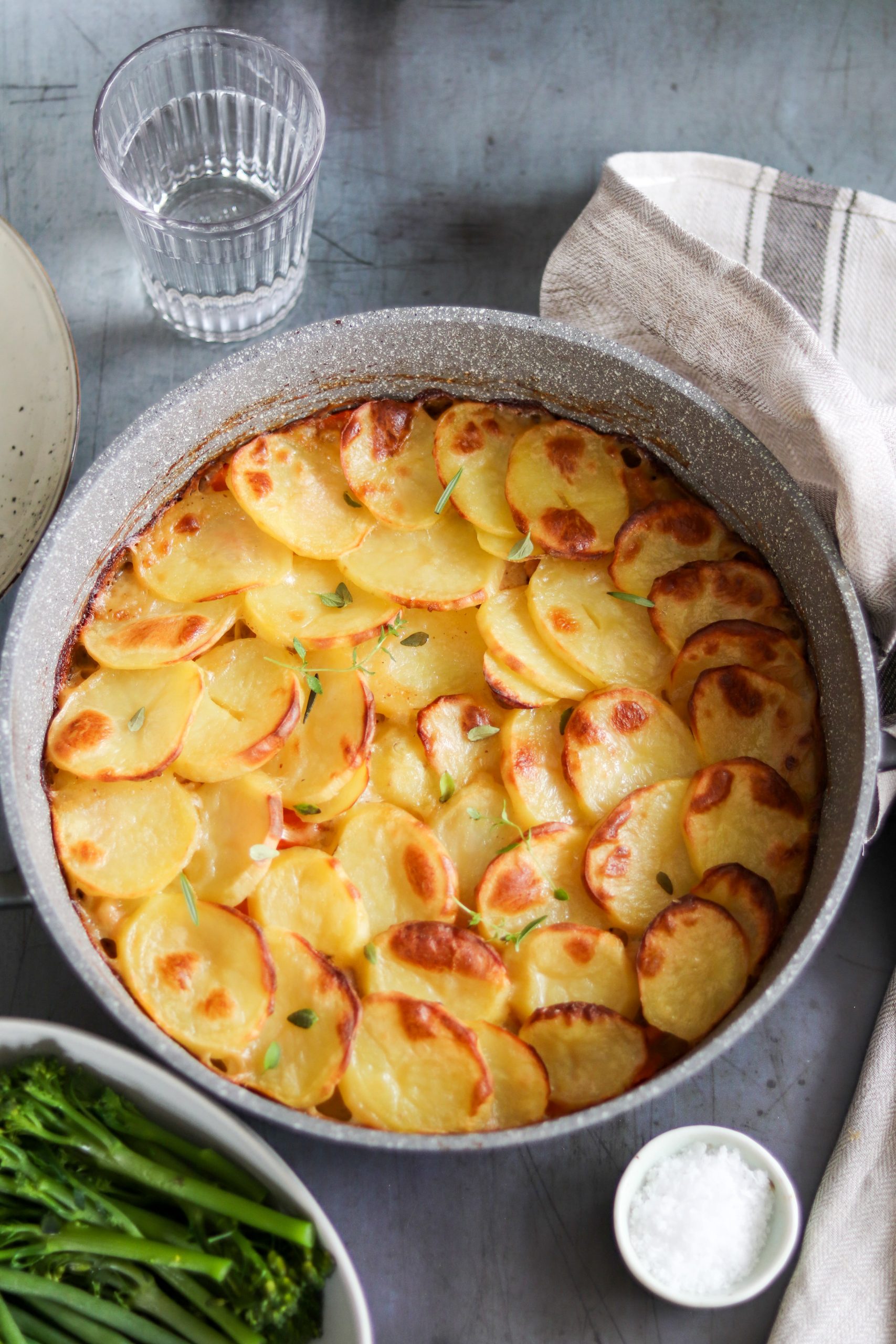 A delicious one pot meal
I love one pot meals. You don't have to juggle multiple pans and there is less washing up!
When you have a busy lifestyle, the last thing you want is to create lovely meal and then spend as long washing up the whole list of pots, pans and utensils it took to make.
In the recipe I say to start by peeling the potatoes and keeping them in water. If you want to reduce the washing up further, just prepare them when the filling is made and put them straight onto the pie.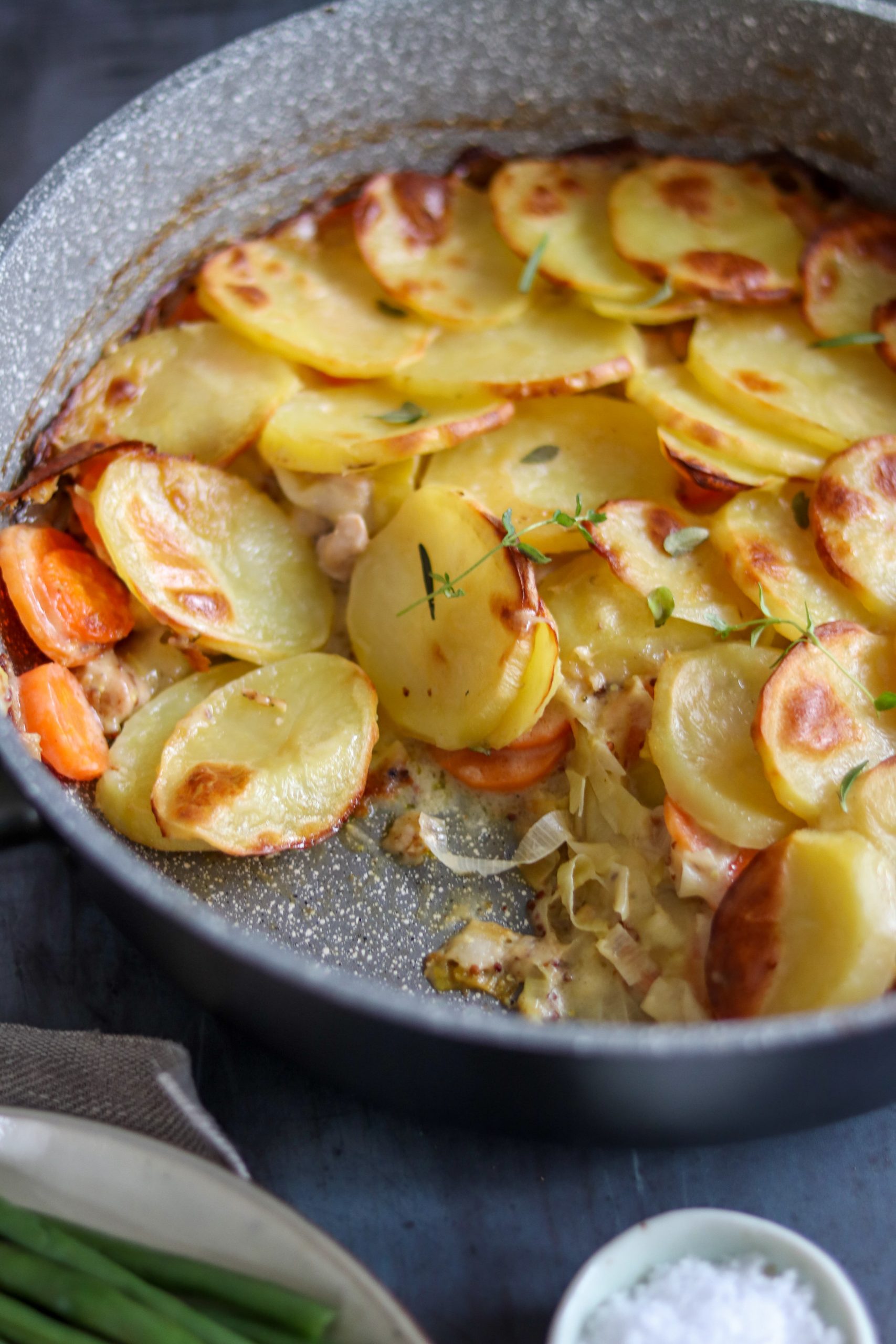 which cut of chicken is best to use?
I prefer to use chicken thighs for meals like this where it is going to be cooked for a little longer. Thighs have more moisture which means they are much less likely to dry out when cooking.
You can of course use chicken breasts if you would prefer. These would work really well too. I would just make sure you don't cut the chicken too small and take it out of the pan as soon as it is lightly brown.
You aren't looking for the chicken to be fully cooked at the first stage. This is just to lightly sear the meat and it will continue cooking completely in the oven.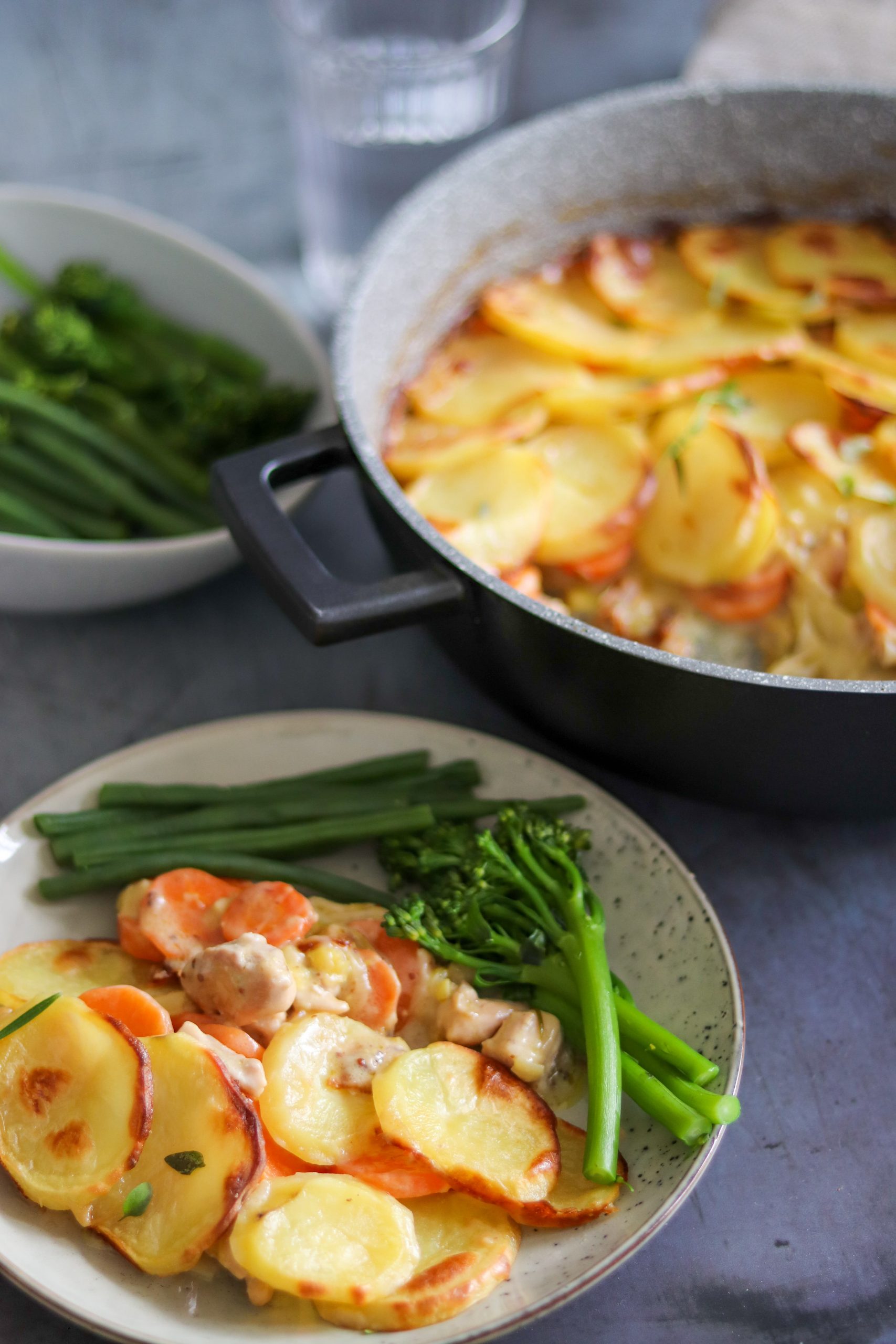 Can you use leftover cooked chicken?
Absolutely, leftover cooked chicken would be perfect for this Creamy Chicken & Potato Bake. Approximately 350g of cooked chicken would be enough for this recipe.
Shred the cooked chicken and add it to the pan when you re-add the vegetables to the sauce.
which potatoes are best to use
When it comes to potatoes, there are three main categories; waxy, floury and all rounders. For this Creamy Chicken & Potato Bake, waxy and all rounders work best.
Waxy potatoes are much better at holding their shape when cooked which is what you want for this recipe. You don't want the potatoes to start breaking apart as they cook.
I prefer to use red potatoes as they keep their shape and are very widely available. If you're in the US, Yukon Gold potatoes would be a good option.
You could use a waxy new potato if you prefer but I would make sure they are a large variety because you don't want to be constructing a mosaic with tiny potato tiles.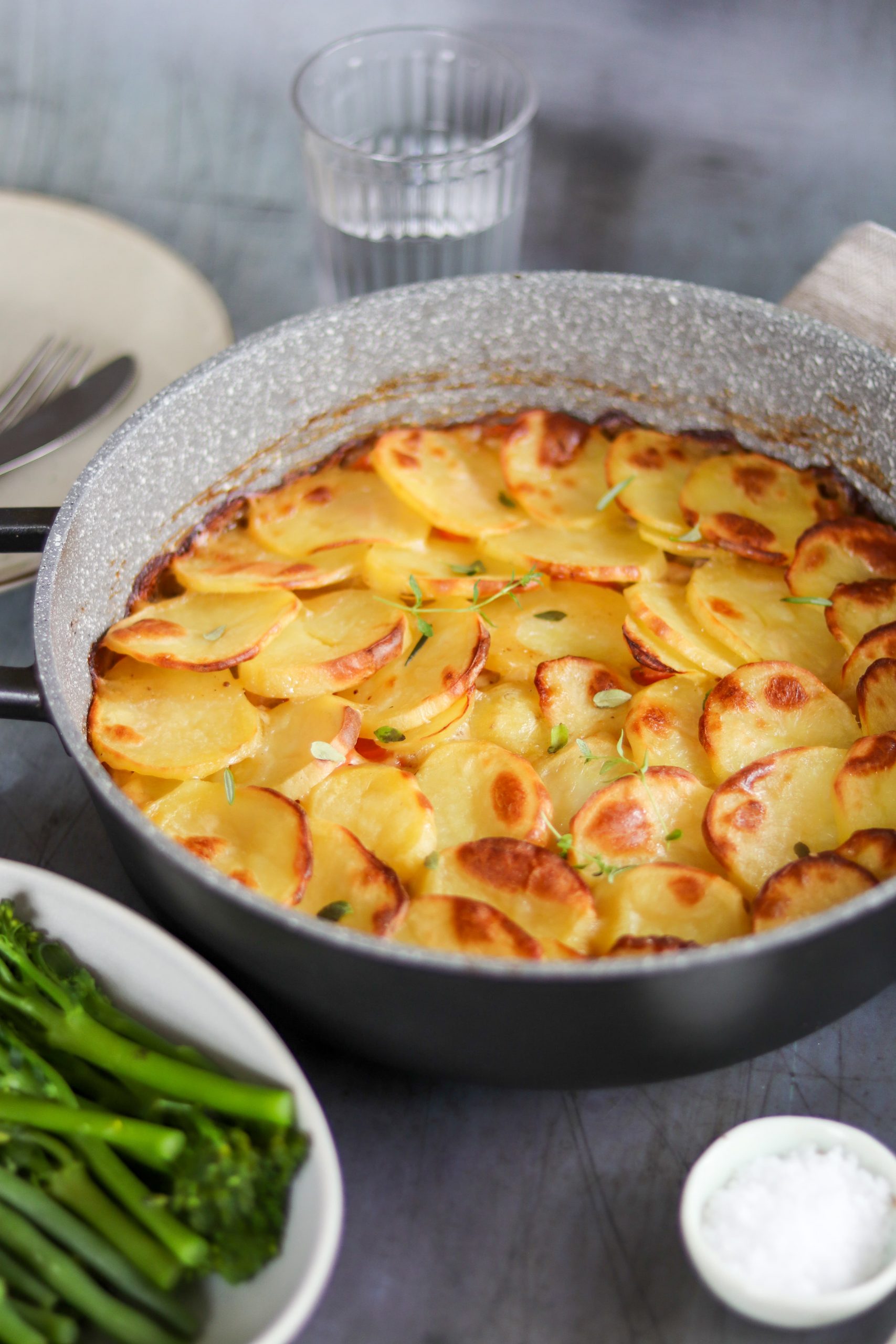 how to prepare the potatoes for ths chicken & Potato Bake
It is completely optional whether you want to peel the potatoes or not. Although I say to peel them in the recipe, I have made this with both peeled and unpeeled potatoes.
I think peeled potatoes give the finished dish a slightly better look; but I more often than not don't peel them.
If you do peel the potatoes when you make this, don't throw away the peelings! Instead make my Air Fryer Potato Peel Crisps; they're delicious and you can eat them whole the bake cooks.
I slice the potatoes with a knife as it doesn't take very long and you can get them the thickness you want easily.
If you have a mandolin and the thickness can be adjusted, by all means use it. I wouldn't recommend using a food processor with an attachment because this cuts the potatoes too finely and they sink into the filling.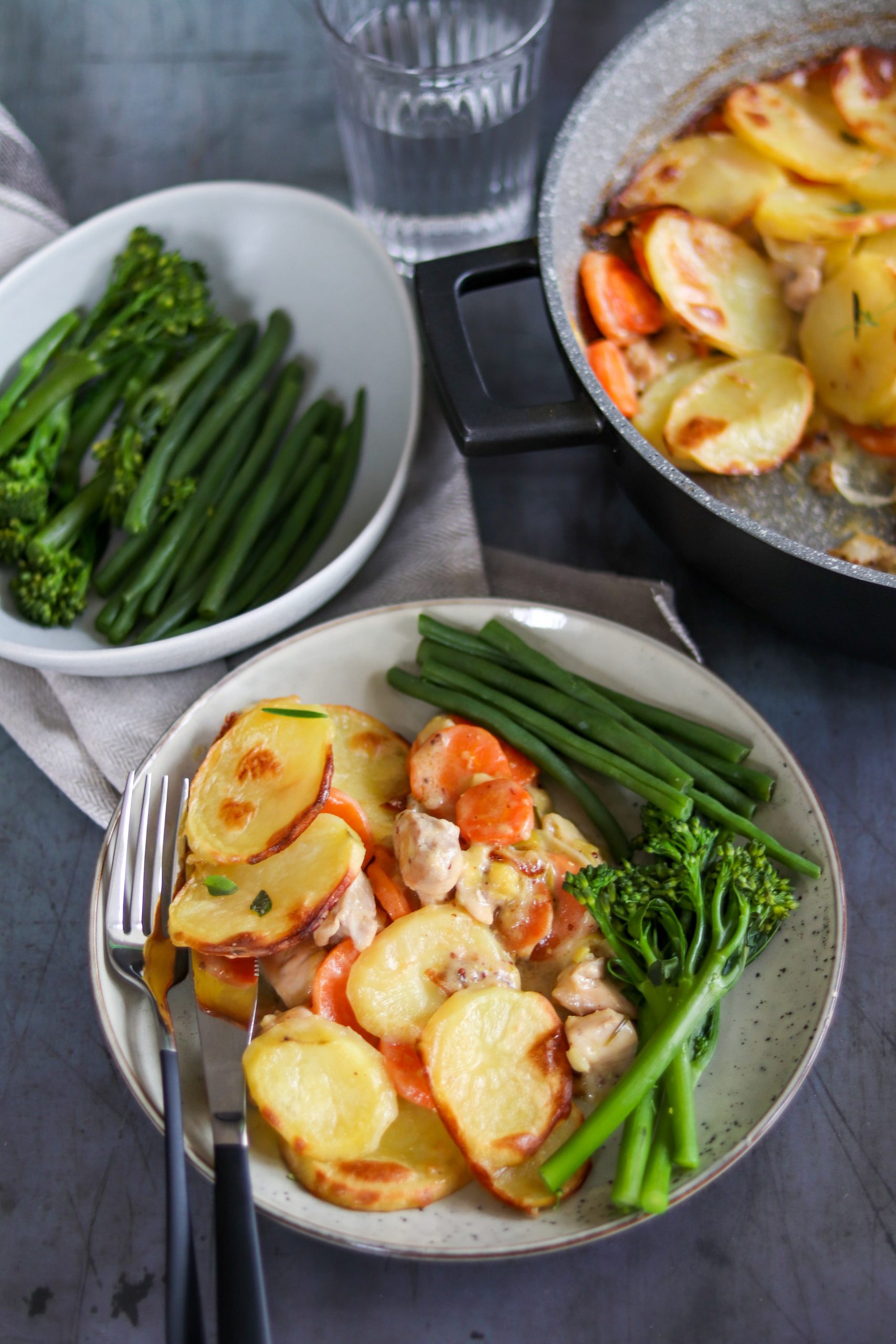 Can you use different vegetables?
Absolutely! Recipes like this are perfect for adapting.
As you can see, I haven't included onions in the recipe. This is because I am not the biggest fan of onions! I am in good company though as Jamie Oliver's wife, Jules, doesn't like them either.
The leeks add enough flavour for me, but you can definitely add a diced white onion if you like. Add this at the same time as you add the leeks and carrots.
You can also add additional vegetables. Mushrooms and peas would work well.
I like to add fresh thyme and rosemary to my filling because they go really well with chicken; but you could use any herbs you like. Parsley or tarragon would be good alternatives.
If you don't have fresh herbs, you can use dried. I would just half the quantity as they can be stronger in flavour.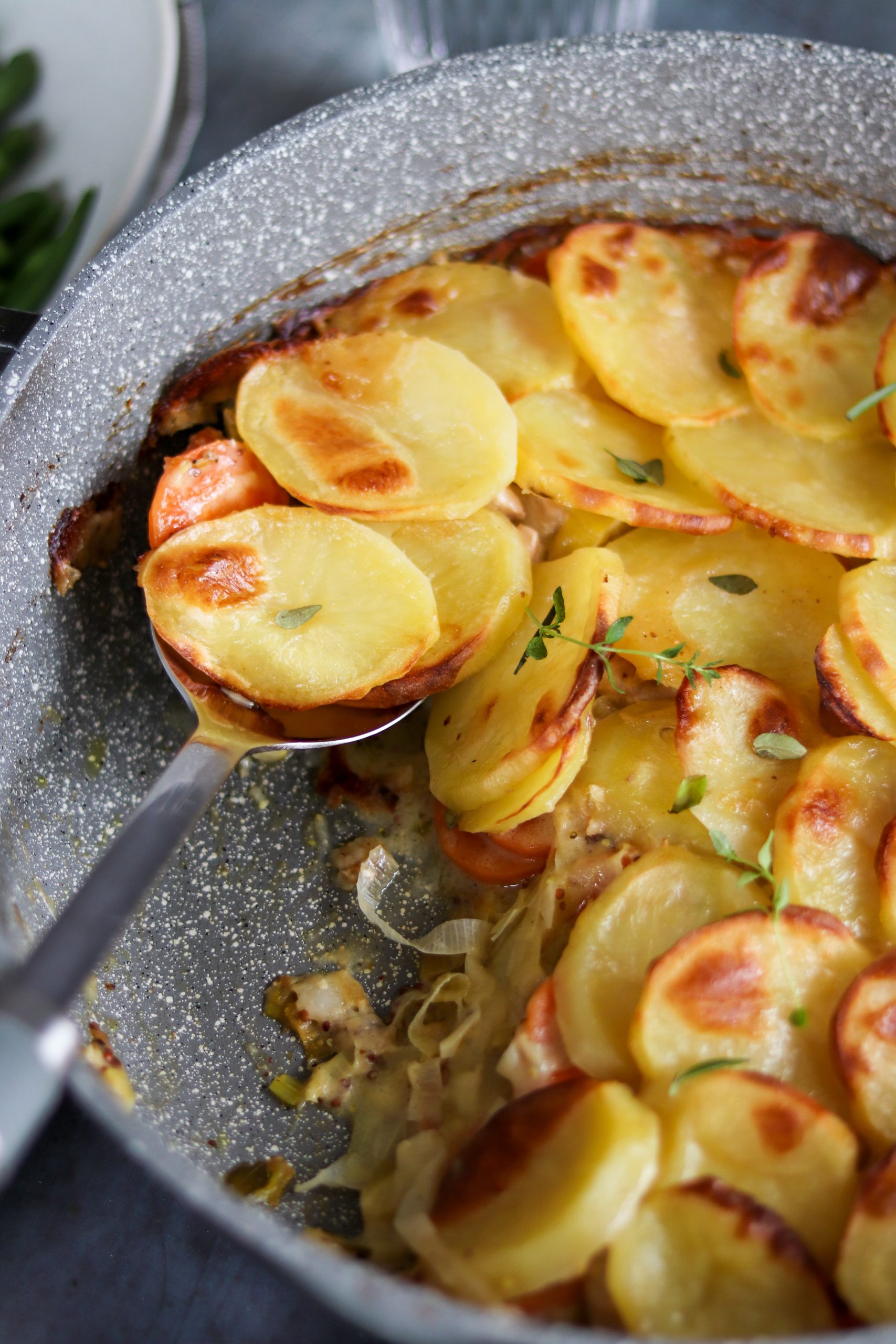 subsituting the sour cream
I have used sour cream because this was originally what I had that needed using up in my fridge. This is a staple in my fridge because we have a lot of Mexican inspired meals.
If you don't have sour cream there are a number of dairy products you can use instead. Creme fraiche, double cream or even milk would all work.
Whatever you use, you want to let it bubble until the sauce is quick thick. If the filling is too saucy, it bubbles up around the sides of the potatoes. This obviously isn't the end of the world, but it looks prettier without this.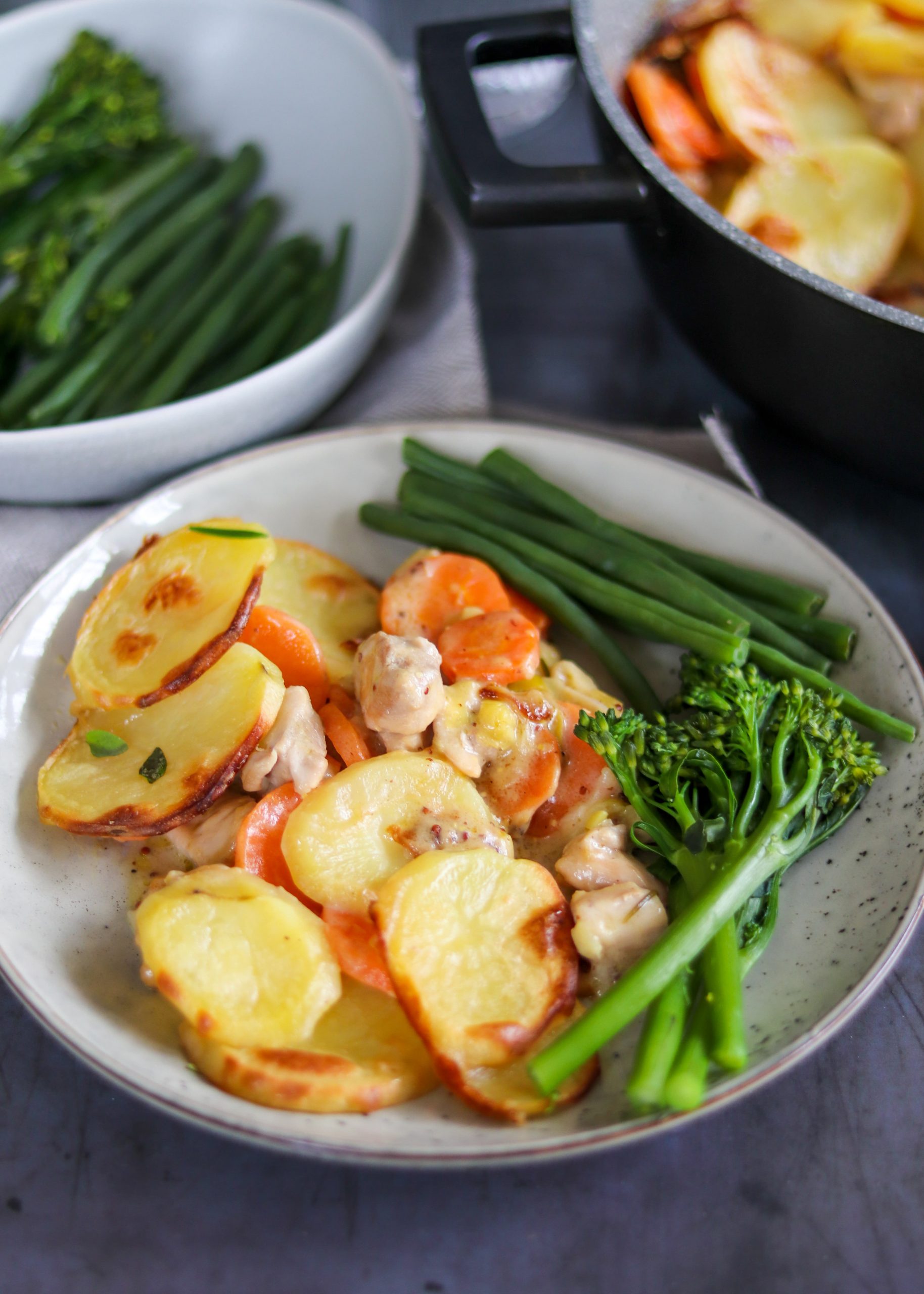 what to do if you don't have an oven proof pan
Don't panic if you don't have an oven proof pan; you can still make this!
Make the filling in a normal pan and then transfer it to an oven proof dish before laying on the sliced potatoes.
I would use quite a large dish. The pan I use is 28cm in diameter so something a similar size would work well.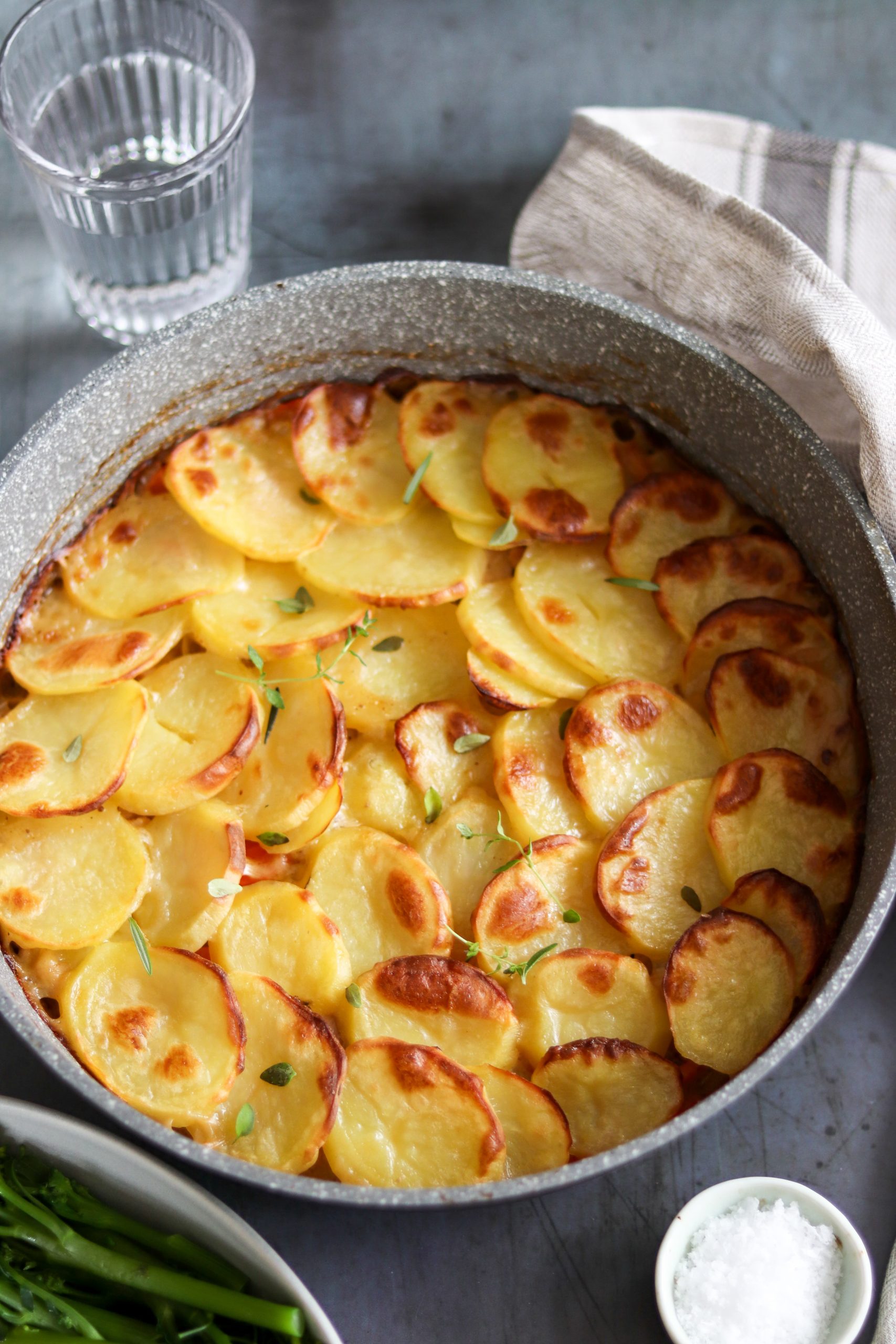 what to serve with this creamy chicken & potato bake
The pie is nearly a complete meal in itself. Personally, I don't think you need to serve any additional potatoes with this.
I do like to serve some extra vegetables alongside though because there is always room for tenderstem broccoli! You could make my Roasted Parmesan Tenderstem Broccoli or just serve steamed vegetables.
If you have any leftovers, keep it in an airtight container in the fridge for up to two days. I would recommend reheating thoroughly in the oven.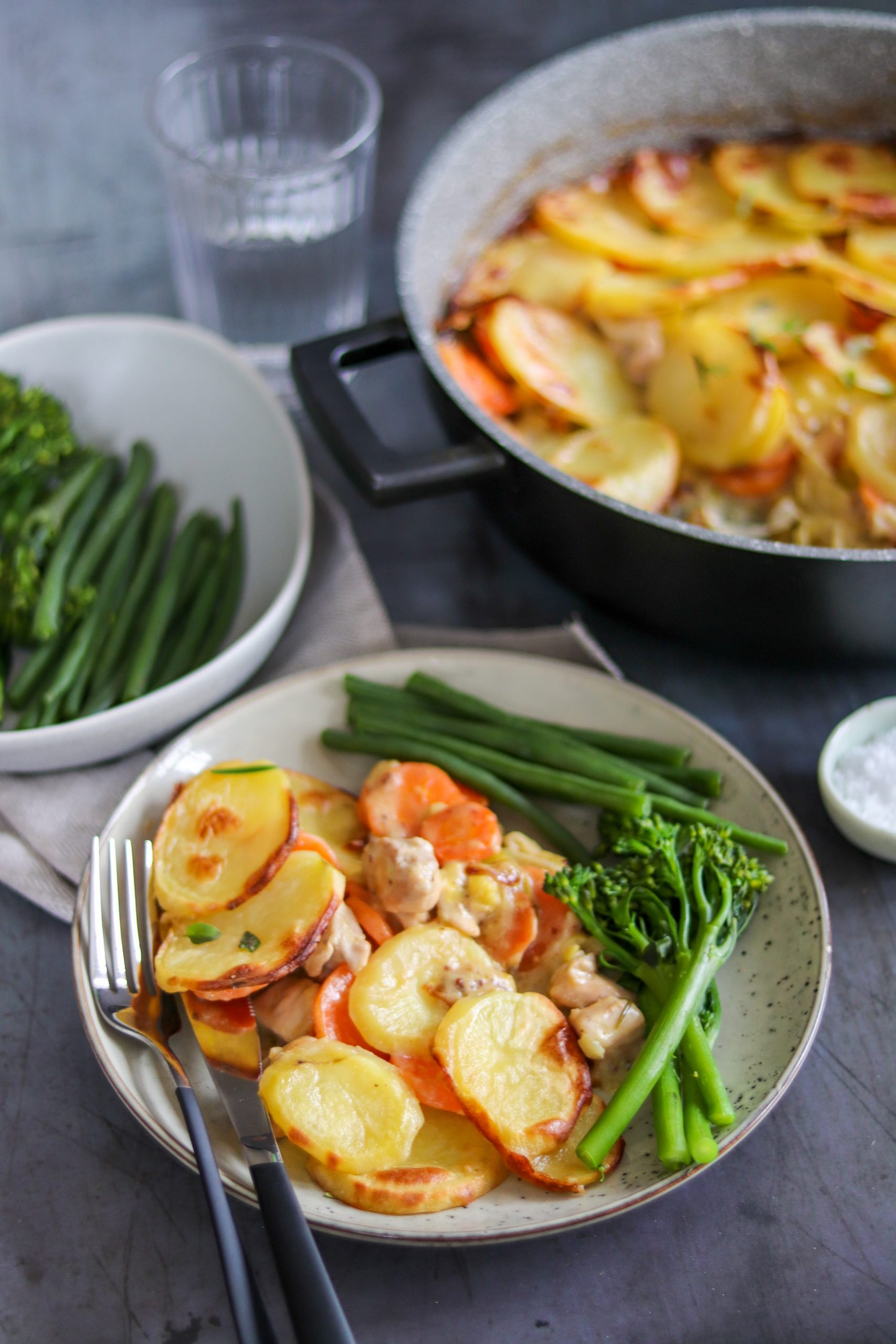 How to make it vegetarian, vegan or gluten free
To make this Creamy Chicken & Potato Bake vegetarian or vegan you would first need to swap the chicken. There are lots of meat replacement products that have a similar look and texture to chicken that would work well as an alternative.
These would not need browning in the pan so you can just add them to the sauce with the vegetables.
To make it vegan and dairy free you would need to swap the sour cream to a plant based alternative. There are quite a few options available now but you could just use dairy free milk if this is what you have.
To make it gluten free, you would just need to use gluten free plain flour to make the roux.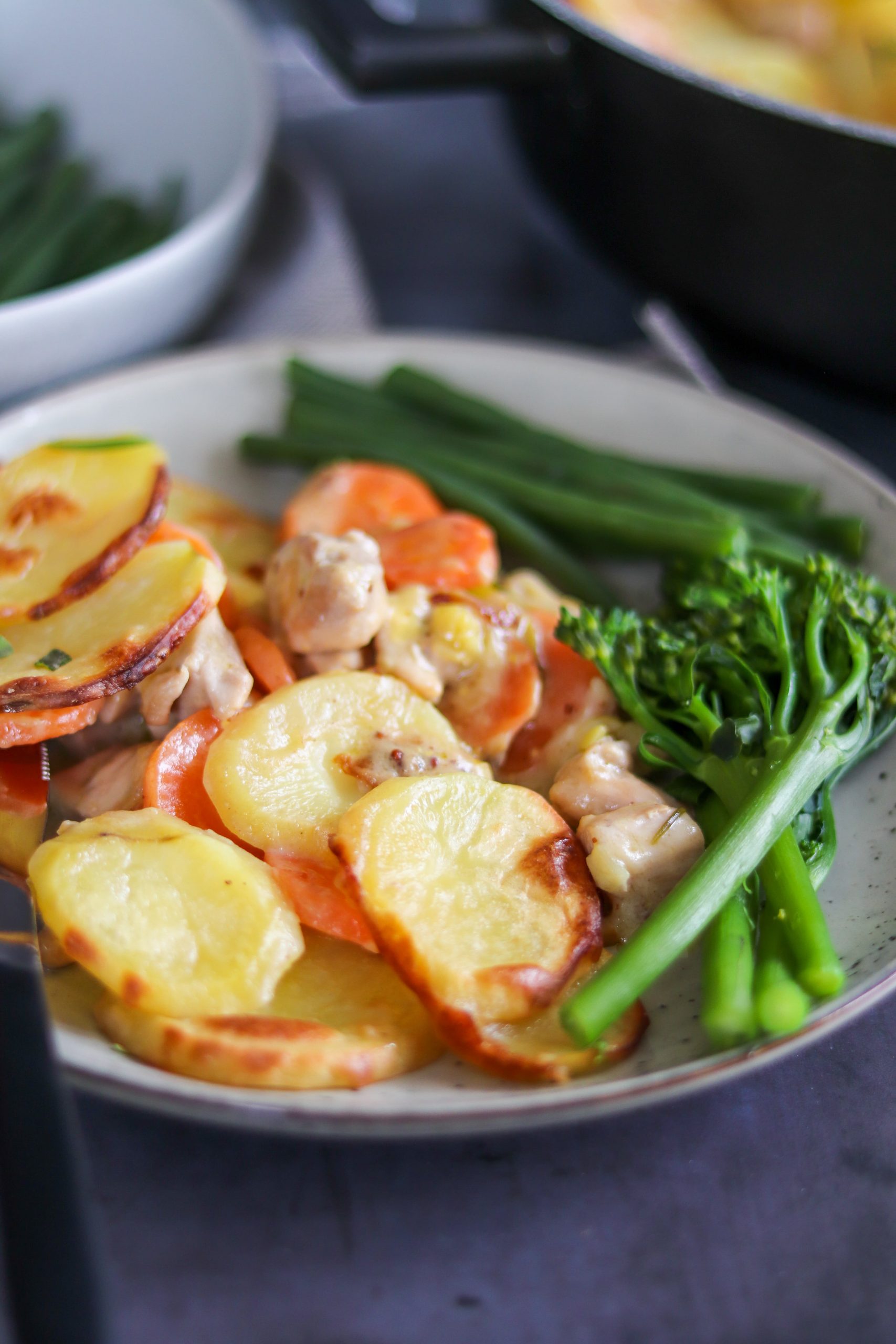 other recipes you might like
Pin for later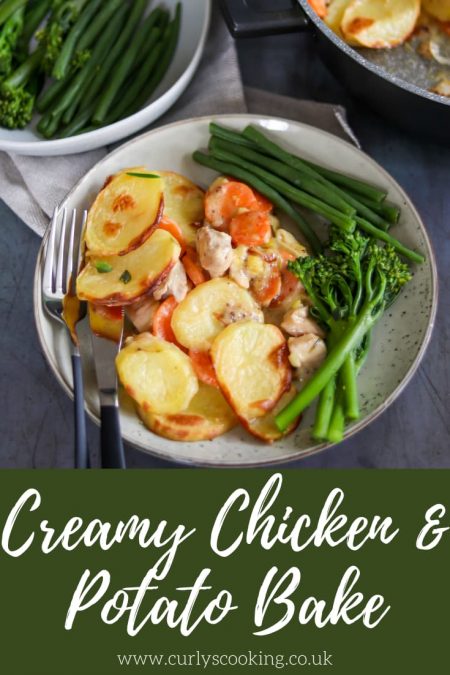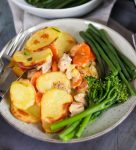 Creamy Chicken & Potato Bake
Deliciously creamy chicken and vegetables covered in a layer of crisp potatoes. This Creamy Chicken & Potato Bake is the perfect one pot dinner.
Ingredients
2

tbsp

olive oil

600

g

chicken thighs

deboned, skin removed and diced

3

medium

carrots

peeled and sliced

1

leek

washed and sliced

3

tbsp

plain flour

350

ml

chicken stock

100

ml

sour cream

½

tsp

Worcestershire sauce

1

tbsp

wholegrain mustard

1

tbsp

fresh rosemary & thyme

1

tsp

sea salt

⅛

tsp

black pepper
For the potato
500

g

waxy potatoes

peeled and sliced in 5mm thickness

1

tsp

olive oil

½

tsp

sea salt
Instructions
Peel 500g potatoes and set aside in a bowl of cold water

Preheat the oven to 180°C (fan assisted, 200°C non fan)

Prepare 600g chicken thighs by removing the bones and skin if they aren't already. Chop into bitesize pieces

Heat 1 tsp olive oil in an oven proof pan on a medium/high heat. Add the chicken and cook for around 5 minutes until the chicken is lightly browned

Remove the chicken from the pan with a slotted spoon and set aside. Add 3 sliced carrots and 1 sliced leek and sweat for 3 – 4 minutes slightly softened

Remove the vegetables from the pan and add to the chicken. Turn the heat to medium/low and add 1½ tbsp olive oil and 3 tbsp plain flour

Stir until the flour and oil form a roux. Cook for 1 minute, stirring constantly

Slowly add the 350ml chicken stock. Add a small amount at a time and only add more when it has been absorbed

Once all of the chicken stock has been absorbed, add 100ml sour cream, 1 tbsp wholegrain mustard, ½ tsp Worcestershire sauce, 1 tbsp fresh rosemary and thyme, 1 tsp sea salt and ⅛ tsp black pepper. Stir to combine and cook for 2 minutes

Add the chicken, carrots and leek back into the sauce and stir through before turning the heat off. Flatten the top so it is even

Slice the potatoes into roughly 5mm thick slices. Layer in circles to completely cover the top of the chicken filling

When the filling is completely covered, drizzle with 1 tsp olive oil and ½ tsp sea salt

Bake in the oven for 30-40 minutes until the potatoes are soft when poked with a sharp knife and they are golden brown
Recipe Notes
I used a 28cm oven proof pan.
If you do not have an oven proof pan, prepare the filling in a standard pan and transfer to an oven proof dish before adding the potato topping.
Nutritional information is given as a guide and may vary.
Nutrition Facts
Creamy Chicken & Potato Bake
Amount Per Serving
Calories 623
Calories from Fat 351
% Daily Value*
Fat 39g60%
Cholesterol 163mg54%
Sodium 1241mg54%
Potassium 1208mg35%
Carbohydrates 36g12%
Protein 31g62%
Vitamin A 8302IU166%
Vitamin C 17mg21%
Calcium 88mg9%
Iron 3mg17%
* Percent Daily Values are based on a 2000 calorie diet.
Linking to