This Honey Rum Drizzle Cake is the perfect reminder of holidays in the Canary Islands. Ron Miel gives this cake a lovely flavour without being too boozy! A delicious summer cake.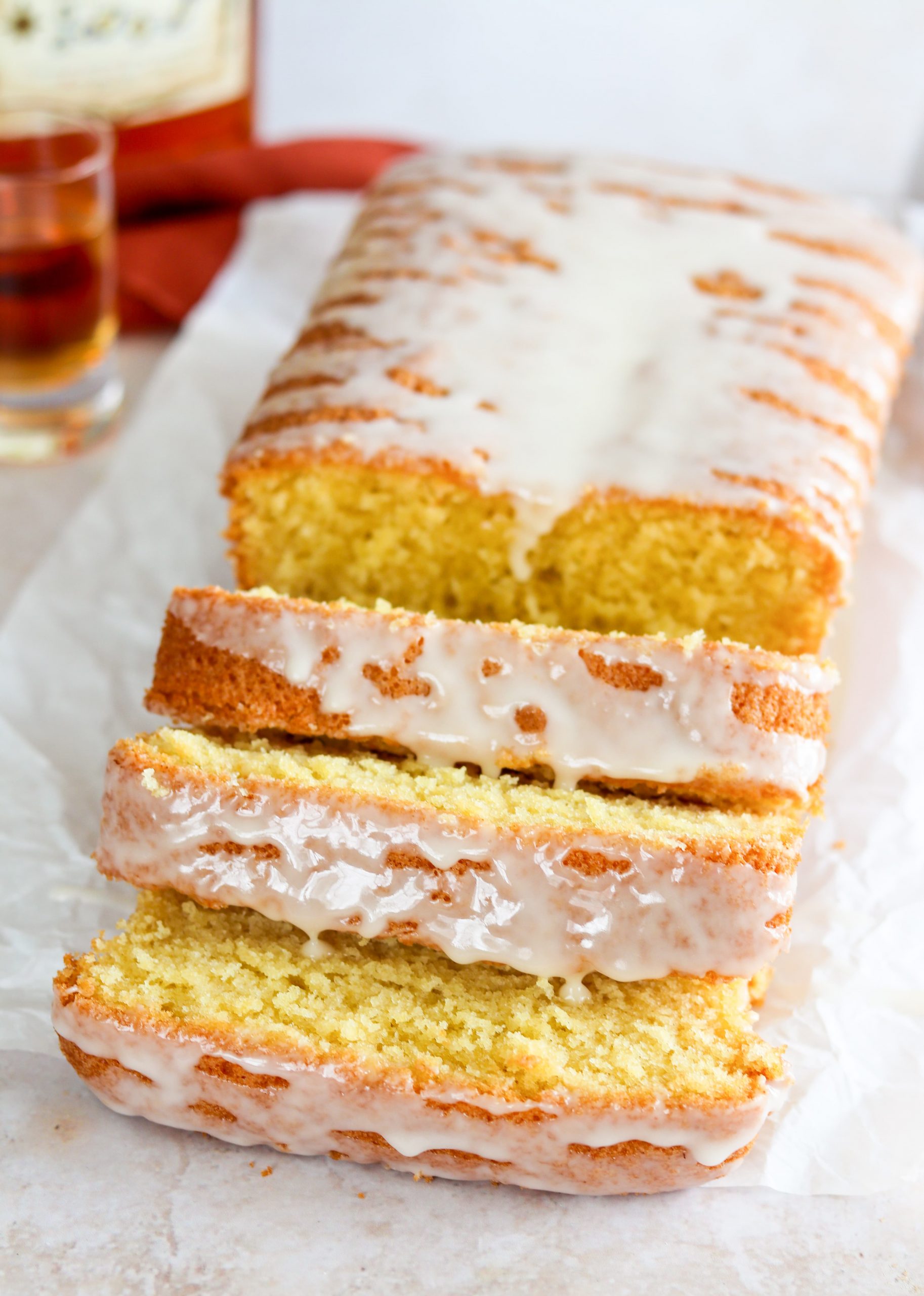 What is ron miel or honey rum?
Ron miel or 'honey rum' is a type of rum made from liquor or cane molasses found in the Canary Islands. It is known as honey rum because the final rum must have a volume of at least 2% honey.
It has a sweet intense flavour due to the honey used to produce it. it varies from 20-30% alcohol which lends itself to be drunk as a shot.
If you haven't visited any of the Canary Islands, you probably won't have heard or tried honey rum before. It is often offered as a shot after meals in restaurants.
There are lots of different brands and in my experience, although some are slightly better than others, they are very similar.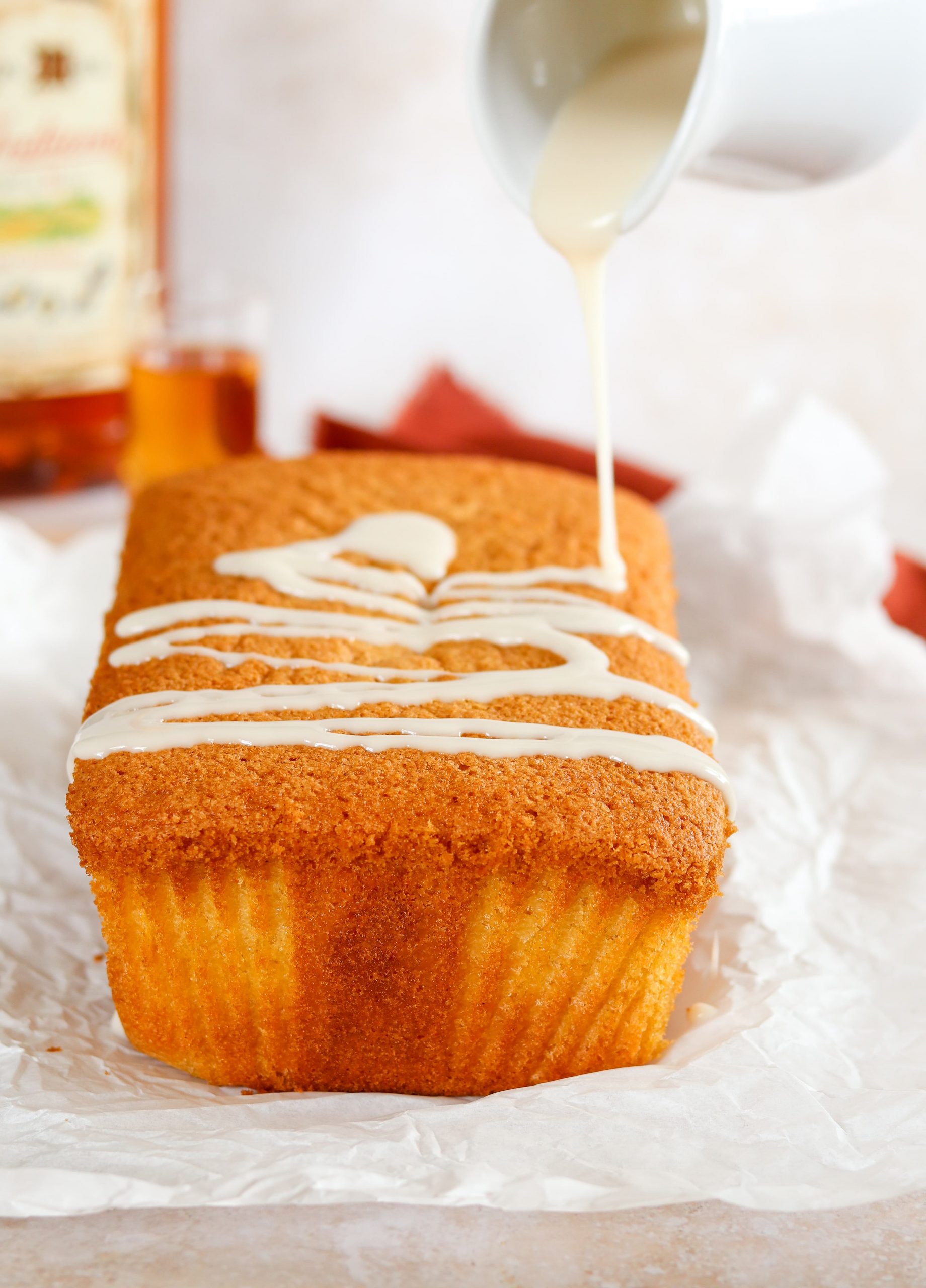 Where can you buy honey rum?
I am very lucky because my parents have a villa in Fuerteventura which means I can bring a bottle of honey rum back.
It is very reasonably priced in the Canaries; this could have something to do with how many different brands are available!
Up until recently, I hadn't found anywhere here the UK you could buy it. But that has thankfully changed now! You can buy honey rum from quite a few online spirit retailers as well as from Amazon.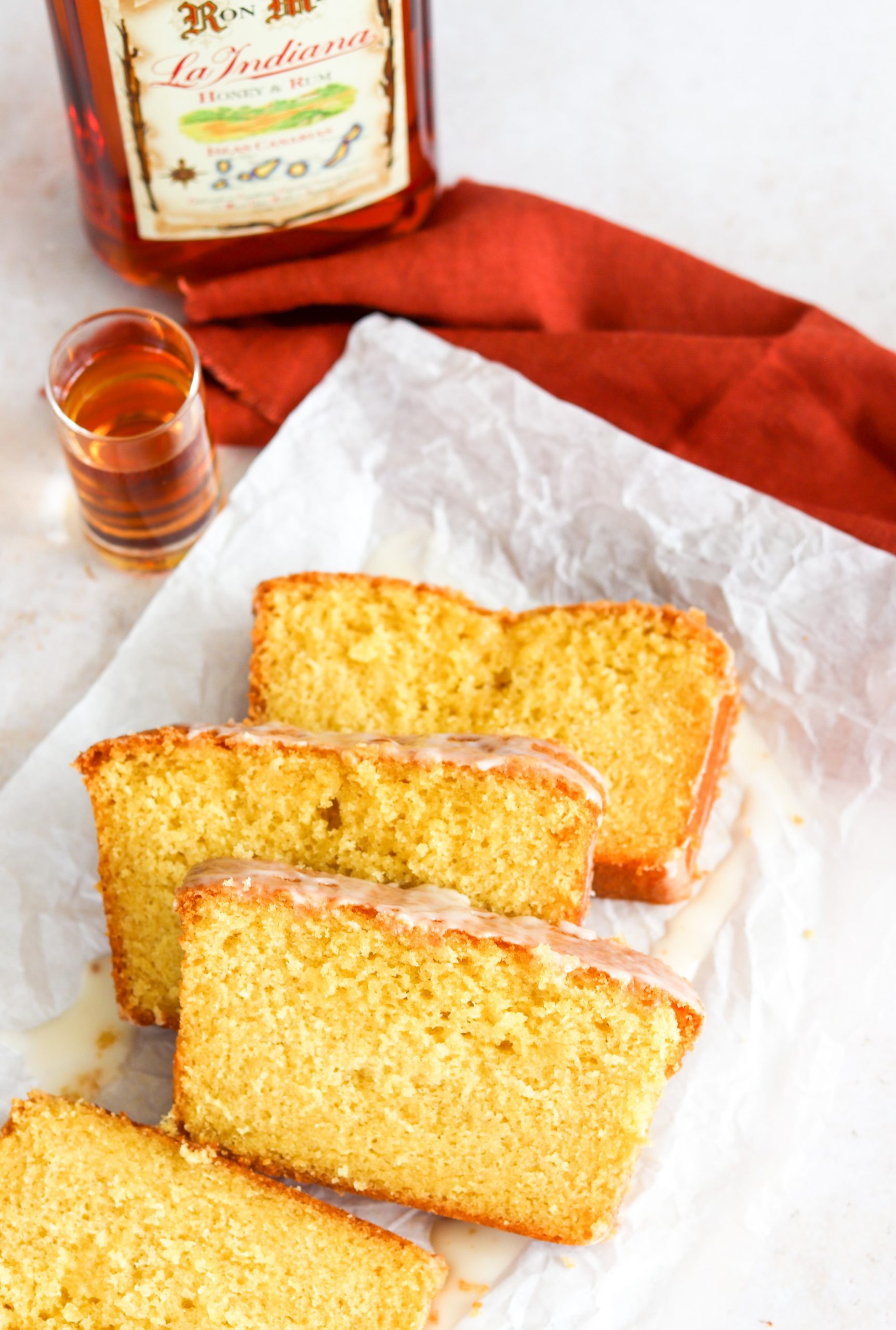 What to do with your honey rum when you're back from holiday
So you've had a lovely holiday in the Canaries. You've enjoyed lots of shots of honey rum so you've decided to bring a bottle home to remember a brilliant holiday.
You get home and shots after dinner every night aren't as socially acceptable. So what do you do with your honey rum? Make a Honey Rum Drizzle Cake of course!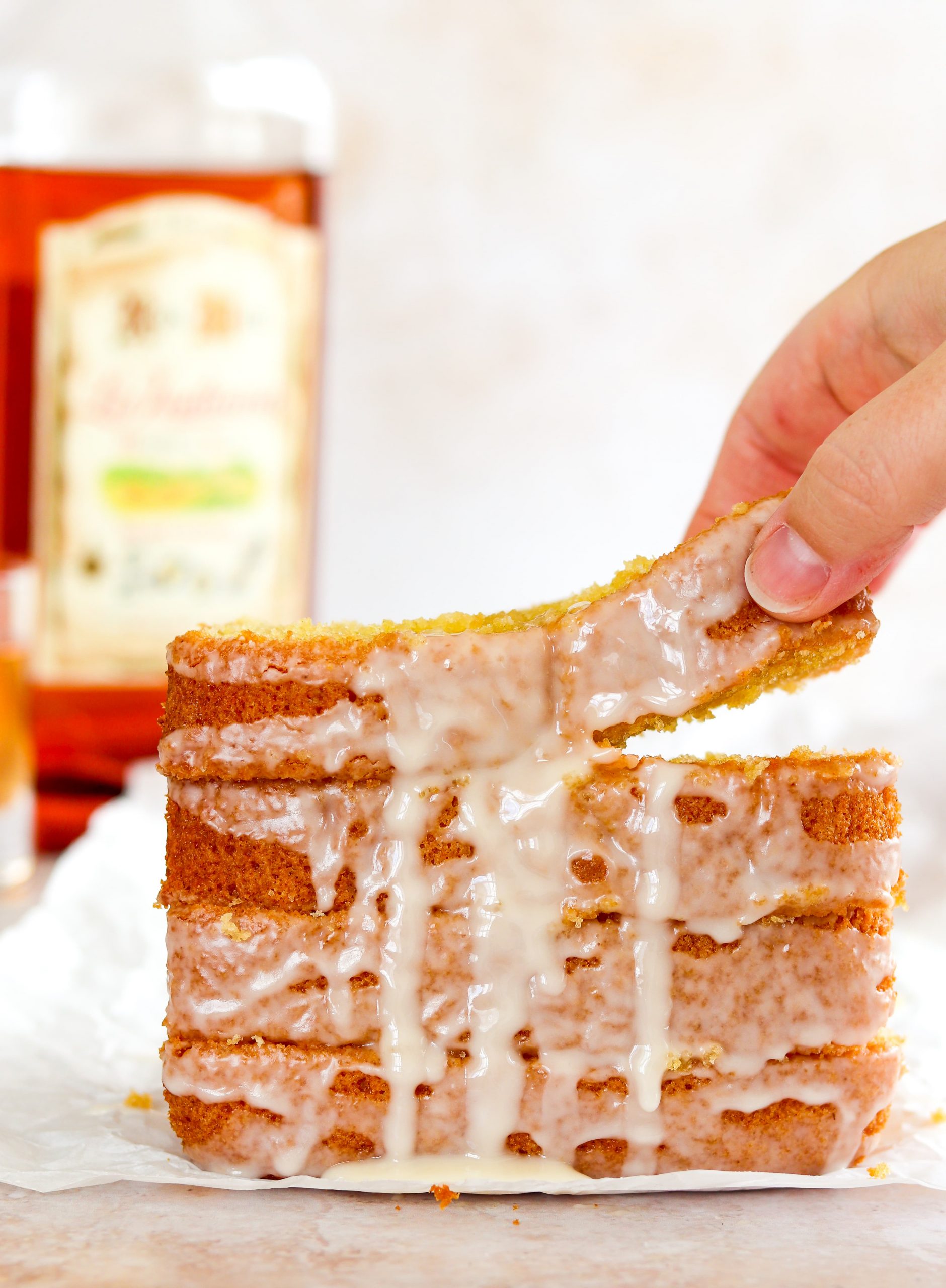 What is honey rum drizzle cake?
This recipe is a super simple sponge recipe which incorporates delicious honey rum into the cake batter. This not only flavours the sponge but keeps it lovely and moist too.
The drizzle is equally as easy and is a simple mixture of more honey rum and icing sugar (confectioners sugar). This sweet, delicious glaze provides even more wonderful honey rum flavours to the cake.
Although I have used honey rum in both the cake and the glaze, it isn't overpowering. The honey rum isn't as strong as other liqueurs which allows the flavours to really shine.
If you are looking for something a little more punchy, try my Gin & Lime Drizzle Cake.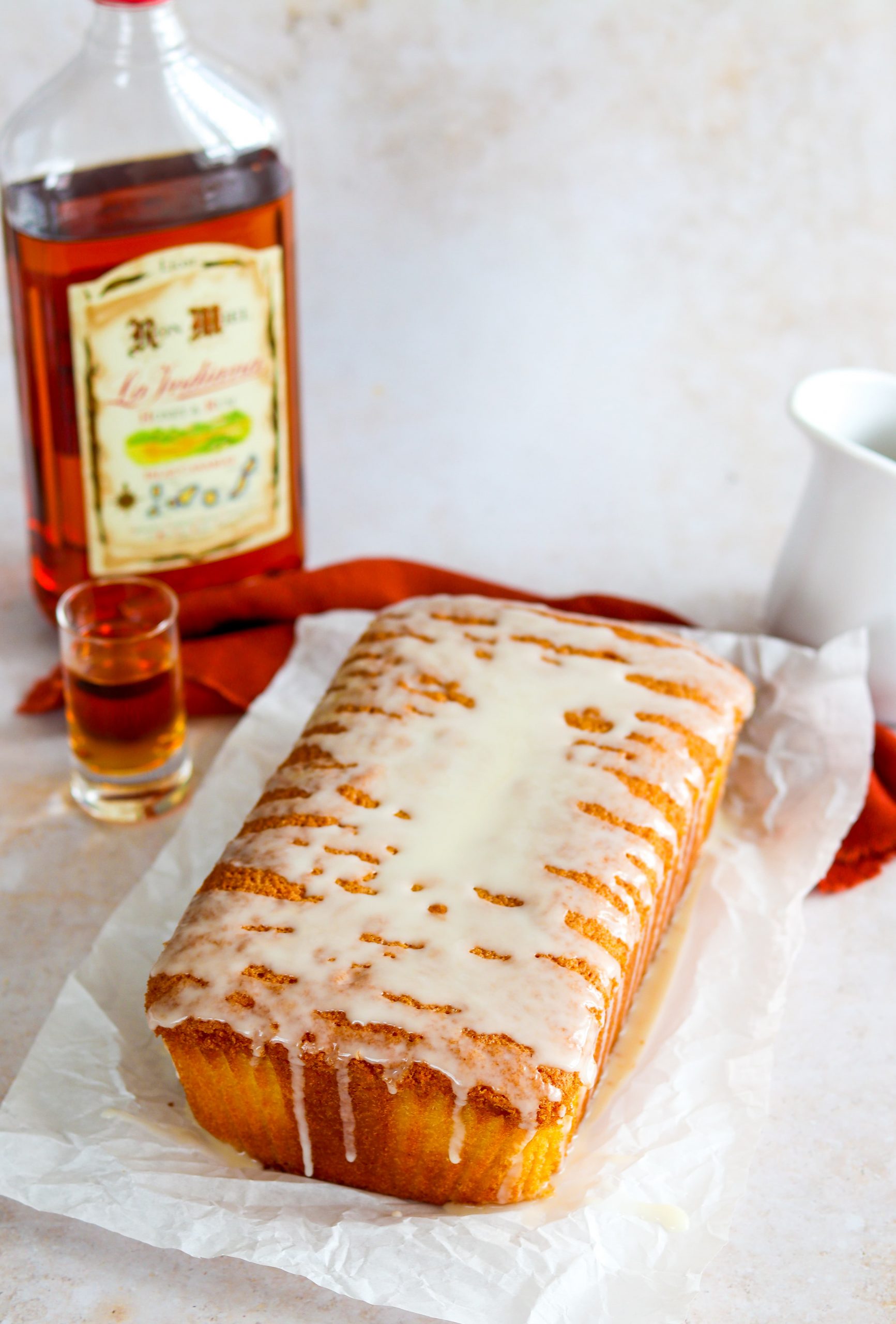 Can you use other types of rum?
Although I haven't tried it myself, you could use a more commonly found rum for this cake. You wouldn't have the sweetness that honey rum brings though.
Other rums have a higher alcohol percentage so it would have a stronger flavour in the finished cake. I would use a dark or spiced rum over a white rum.
You can also buy rum liqueurs which tend to have a similar alcoholic strength as honey rum. These can be in different flavours which would add another element to the cake. I have seen a banana and butterscotch rum liqueur which I think would work well.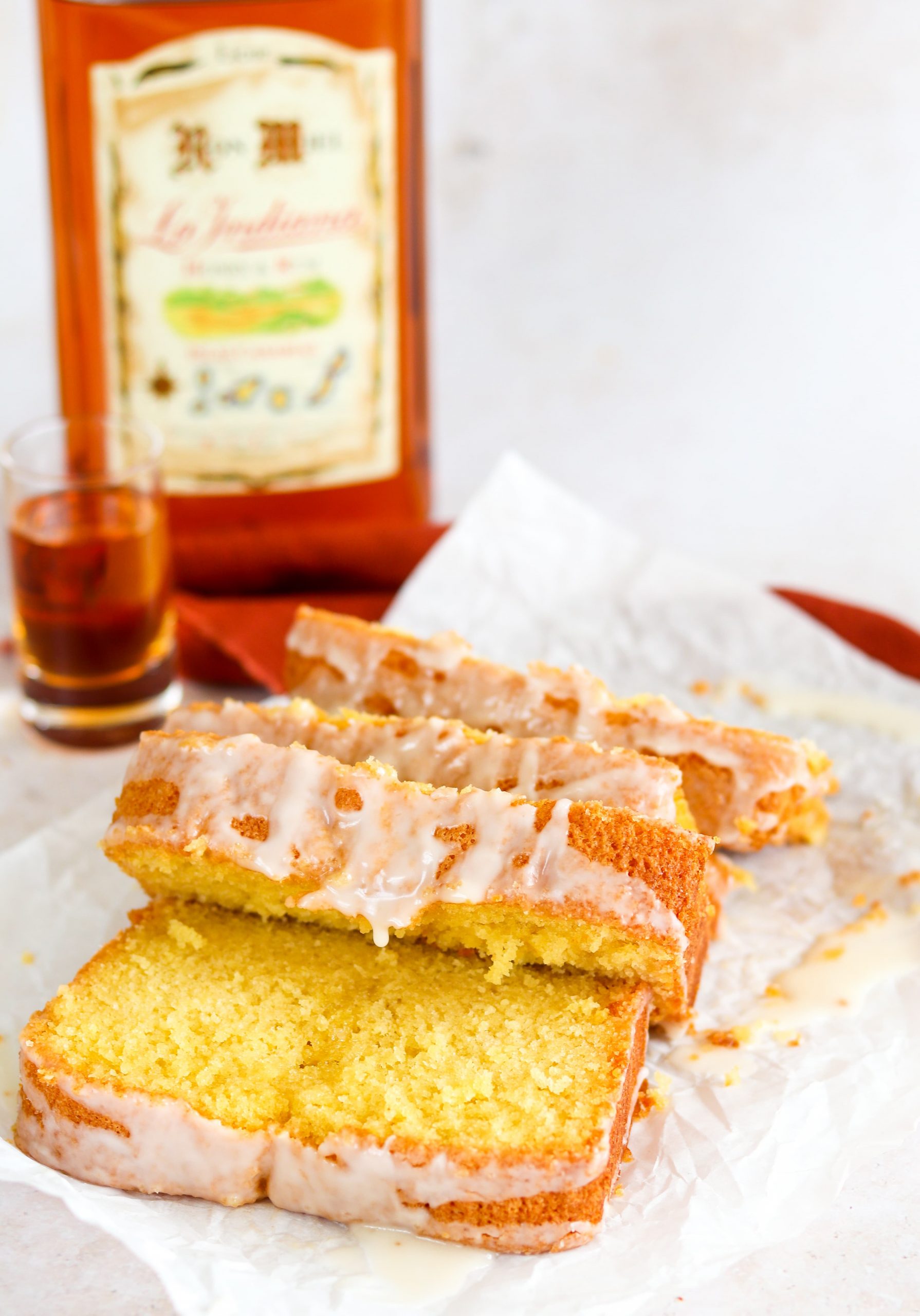 Margarine or butter?
You can use either margarine or butter to make this Honey Rum Drizzle Cake. Both will work just as well so it is down to personal preference.
I tend to use margarine because you can use it straight from the fridge as it tends to be quite soft. This is definitely an advantage because I seem to always forget to get butter out of the fridge in time to soften.
If you do prefer to use butter, you really do need to make sure it is softened before starting to make the cake. When it is softened, it mixes so much easier and faster with the sugar.
If the butter is still a bit cold, it will take a lot longer to cream with the sugar and you could end up with lumps of butter in
Don't be tempted to blitz your butter in the microwave to soften it because you really don't want melted butter!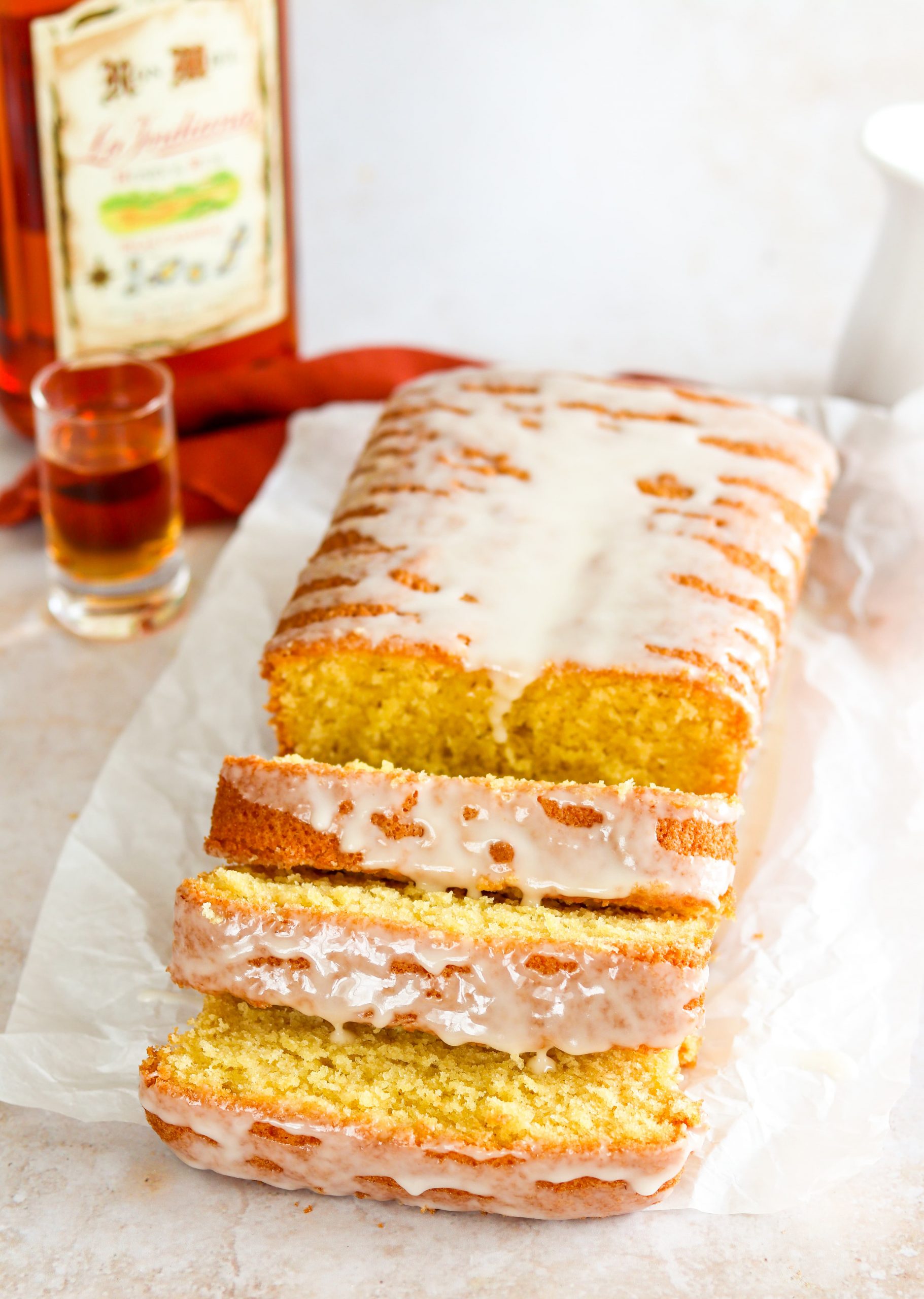 how to get the right consistency for the drizzle
If you have ever made a drizzle with icing sugar before, you will know that it likes to behave differently every time you make it.
Some days you will need 2 tablespoons of liquid to make drizzle of the perfect consistency and other days you will need 3 tablespoons.
This is where it is important to use your judgement. Add a small amount of honey rum and stir before you add more as you may not need the full amount in the recipe.
Also add enough honey rum to get the consistency you like. Some people prefer a thicker drizzle and others would rather it was thinner. As long as it is pourable and you can drizzle it across the cake, then you can make it as you like it.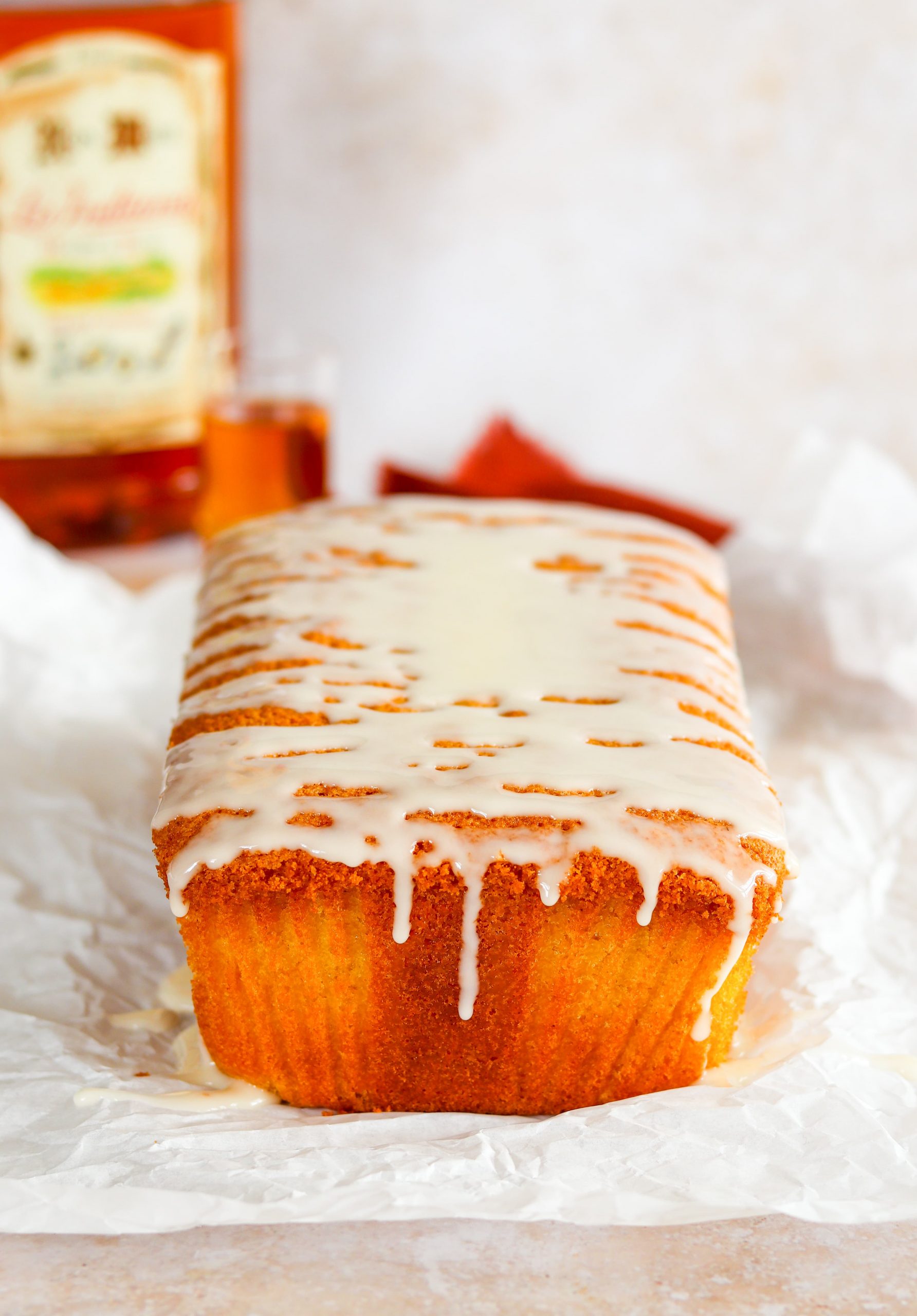 How many does this honey rum drizzle cake serve?
I think you could feed up to 12 people with this loaf cake. How many people it serves does depend on how large you cut the slices of course!
If you were serving this at a party or somewhere there are multiple desserts, you could cut each slice in half again. This would help the cake feed more people but it would still be a good sized piece.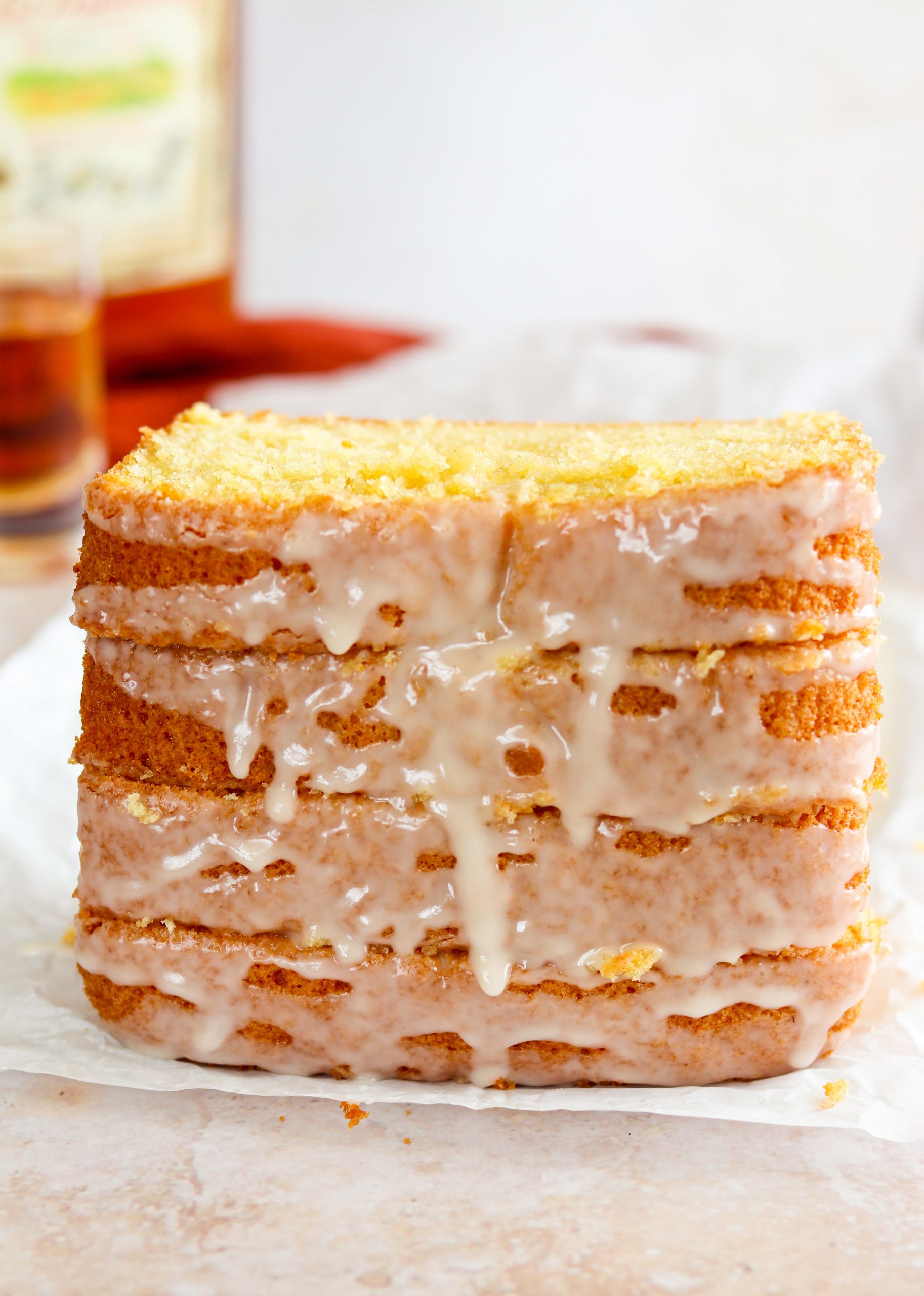 How long does this cake keep for?
This cake will keep in an airtight container for 2-3 days.
If you wanted to make this cake in advance you could freeze it without the drizzle. Wrap it thoroughly in cling film and freeze for up to 3 months.
Allow it to defrost completely at room temperature before adding the drizzle.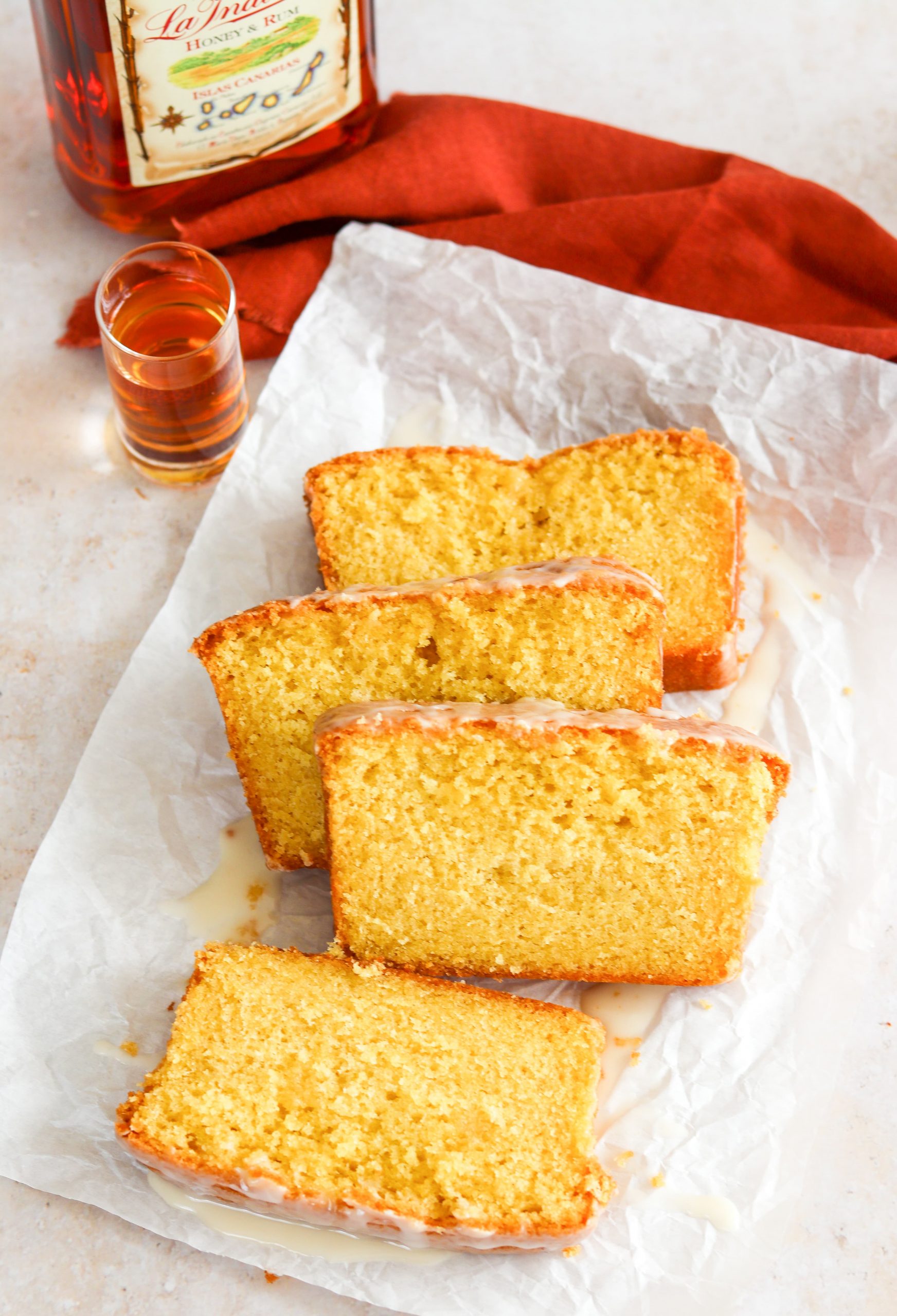 Other recipes you might like
Pin for later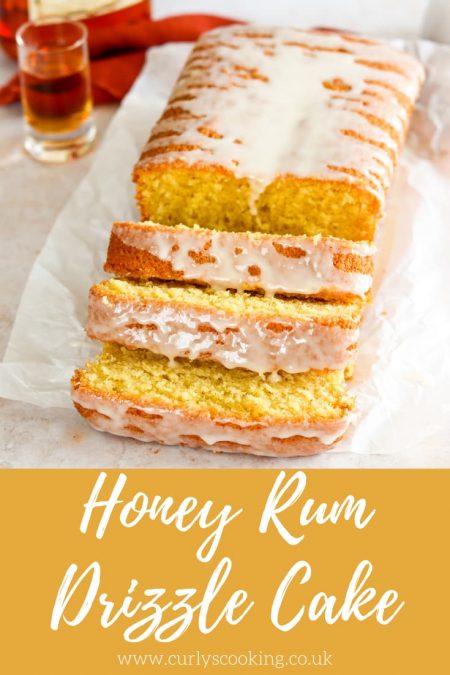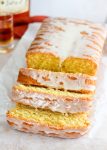 Honey Rum Drizzle Cake
This Honey Rum Drizzle Cake is the perfect reminder of holidays in the Canary Islands. Ron Miel gives this cake a lovely flavour without being too boozy! A delicious summer cake.
Total Time
1
hour
5
minutes
Ingredients
For the cake
250

g

margarine

250

g

caster sugar

4

eggs

250

g

self raising flour

100

ml

honey rum
For the drizzle
100

g

icing sugar

2½ – 3

tbsp

honey rum
Instructions
Preheat the oven to 160ºC (fan assisted, 180°C non fan) and line a 2bl/1kg loaf tin

Cream together 250g margarine and 250g caster sugar until pale and fluffy – approx 5 mins

Add 4 eggs and beat on a high speed until combined

Add 250g self raising flour and mix before adding 100ml honey rum and mixing again until just combined

Pour the mix into the prepared tin and smooth the top slightly

Bake in the oven for 45- 50 mins or until a cocktail stick comes out clean. If the top is getting a little too brown, cover it loosely with foil

Allow the cake to cool slightly in the tin before turning out and allowing to cool completely on a wire rack

Mix 100g icing sugar and 2½ – 3 tbsp honey rum together until smooth

Drizzle all over the cooled cake
Recipe Notes
Nutritional information is given as a guide only and may vary.
Nutrition Facts
Honey Rum Drizzle Cake
Amount Per Serving
Calories 369
Calories from Fat 171
% Daily Value*
Fat 19g29%
Cholesterol 55mg18%
Sodium 218mg9%
Potassium 50mg1%
Carbohydrates 45g15%
Protein 5g10%
Vitamin A 825IU17%
Vitamin C 1mg1%
Calcium 18mg2%
Iron 1mg6%
* Percent Daily Values are based on a 2000 calorie diet.