What is the British summer without a glass (or two) or Pimm's?! And what better way to enjoy it than in these Pimm's Cupcakes?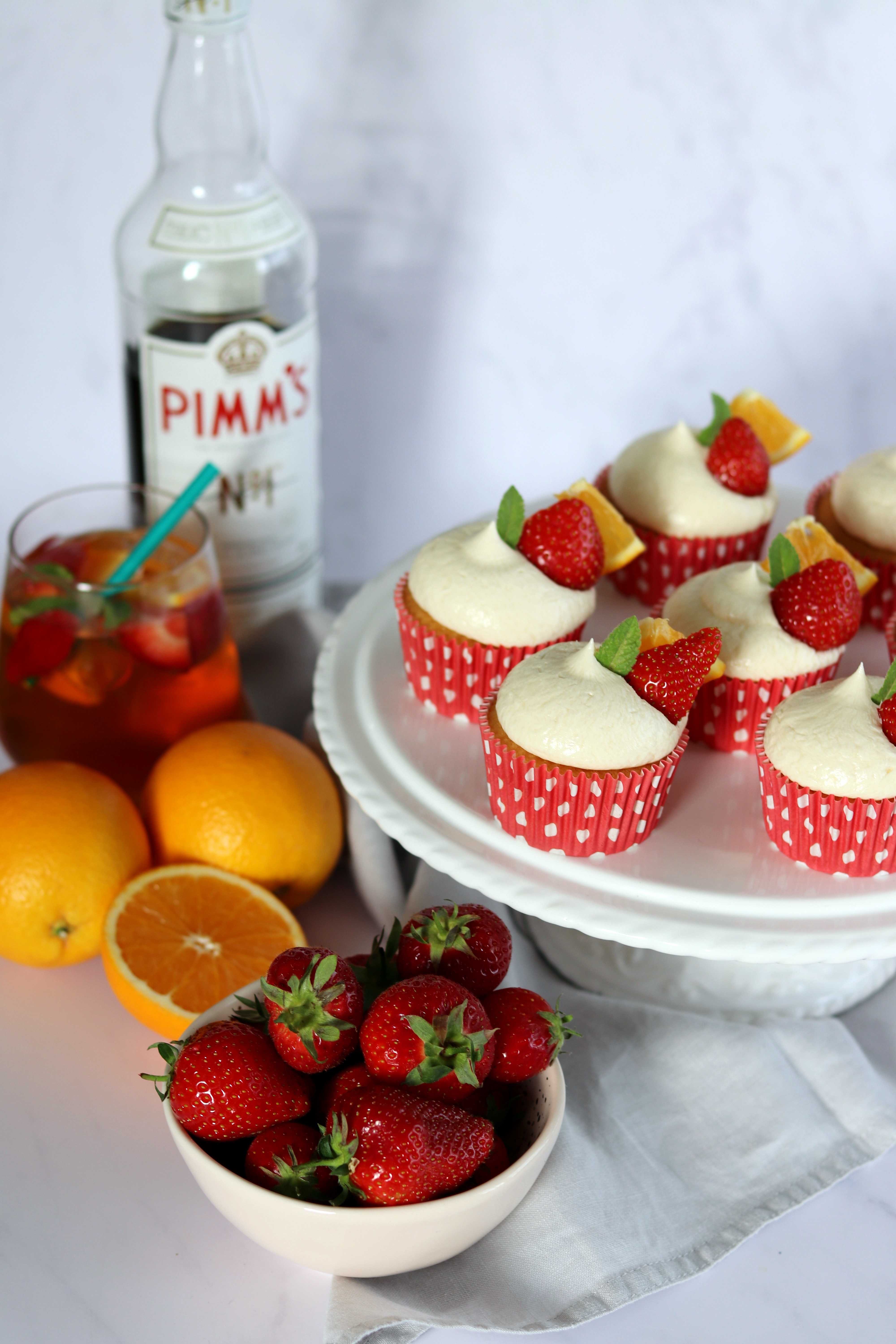 Pimm's means Summer!
Here in Britain we aren't lucky when it comes to weather. Our 'summer' usually consists of a few days where it stops raining and it gets a bit warmer. Having said that some years we haven't even managed to get that, or so it feels.
So for us Brits, when the sun does come out, we make the most of it with some Pimm's! I have just Googled to see how to describe Pimm's for those of you that haven't heard of it – it is a gin based liqueur with subtle tastes of spices and citrus; so there you go!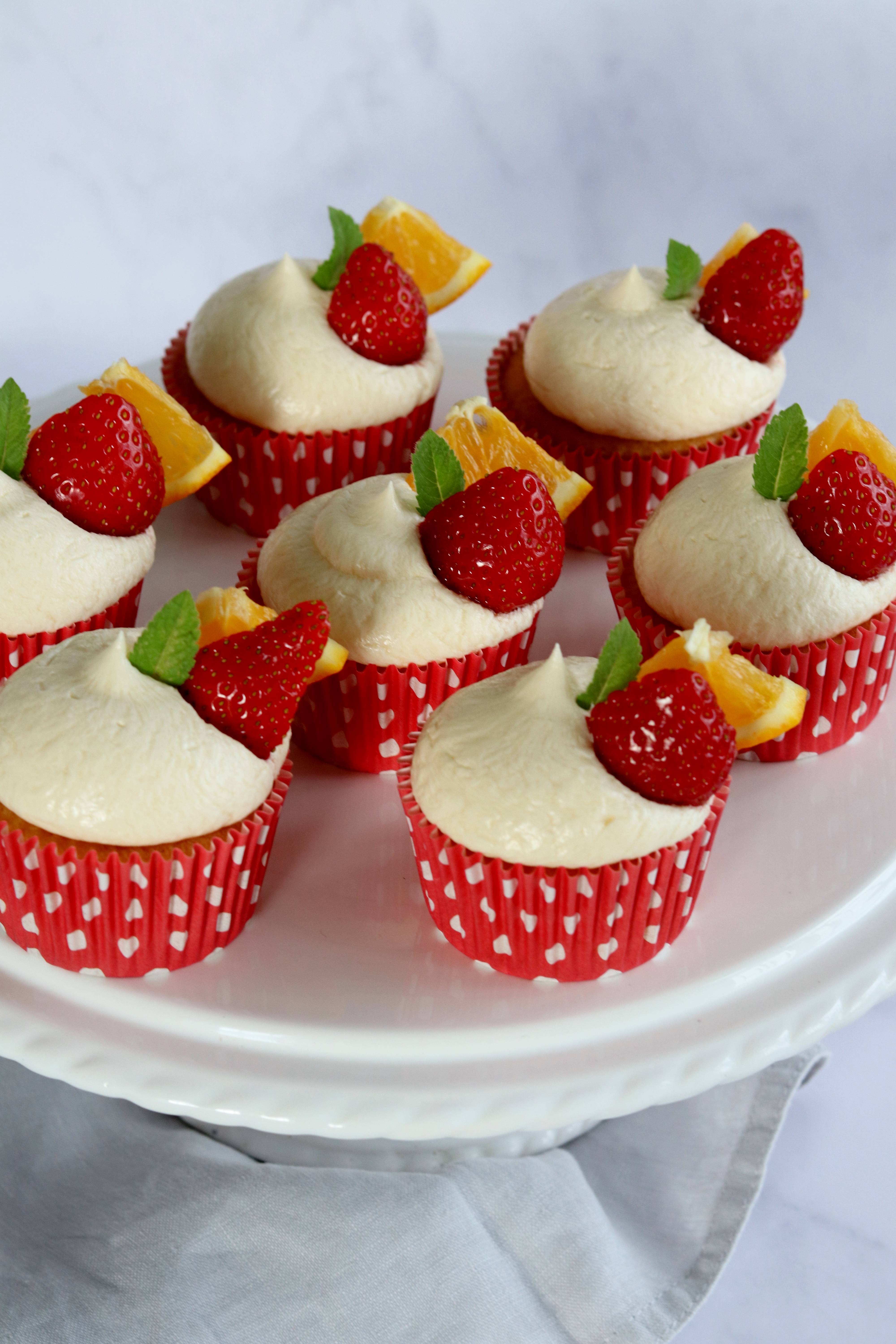 Should you use Real Pimm's or imitation Pimm's for these Pimm's cupcakes?
I love Pimm's, but I also love a bargain! While I was at uni, my friend Zoe and I discovered Aldi's version – Austin's. At more than half the price of Pimm's and just as tasty (if not more so); it has been my drink of choice ever since.
I am all for paying more for quality ingredients, but I don't like buying things just for the name, especially when a substitute is nicer!
You may ask why have I still called these Pimm's Cupcakes and not Austin's Cupcakes? Well I already thought that enough people outside of Britain might not know what Pimm's was without complicating the situation further and naming them after a supermarket own version!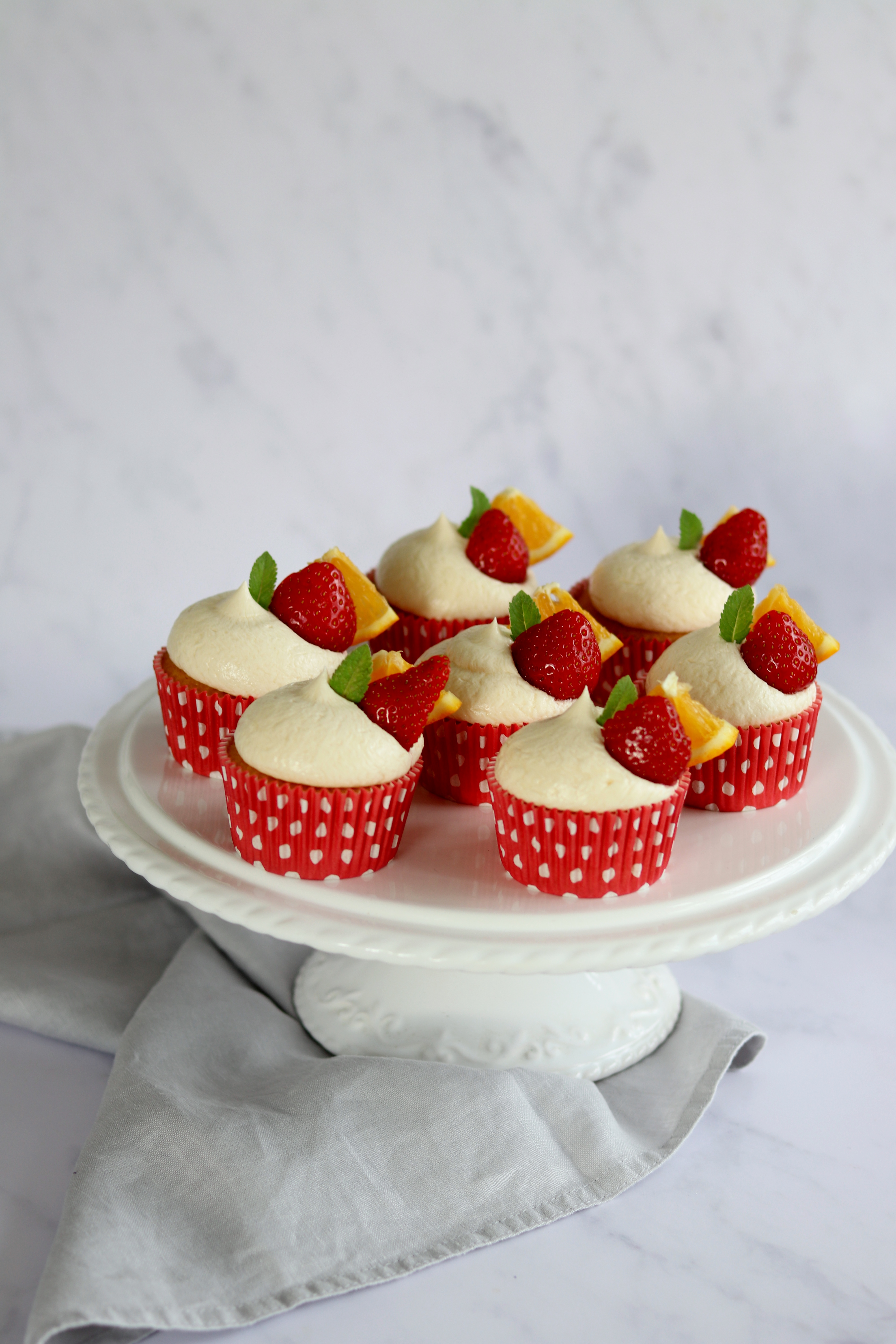 Decorate just before serving
Part of the charm of these cupcakes are the cute Pimm's accompaniment decoration. Adding these to the Pimm's Cupcakes really finishes them off.
I wouldn't recommend doing this in advanced. The juice from the fruit would seep out into the buttercream which would deter from their pretty appearance.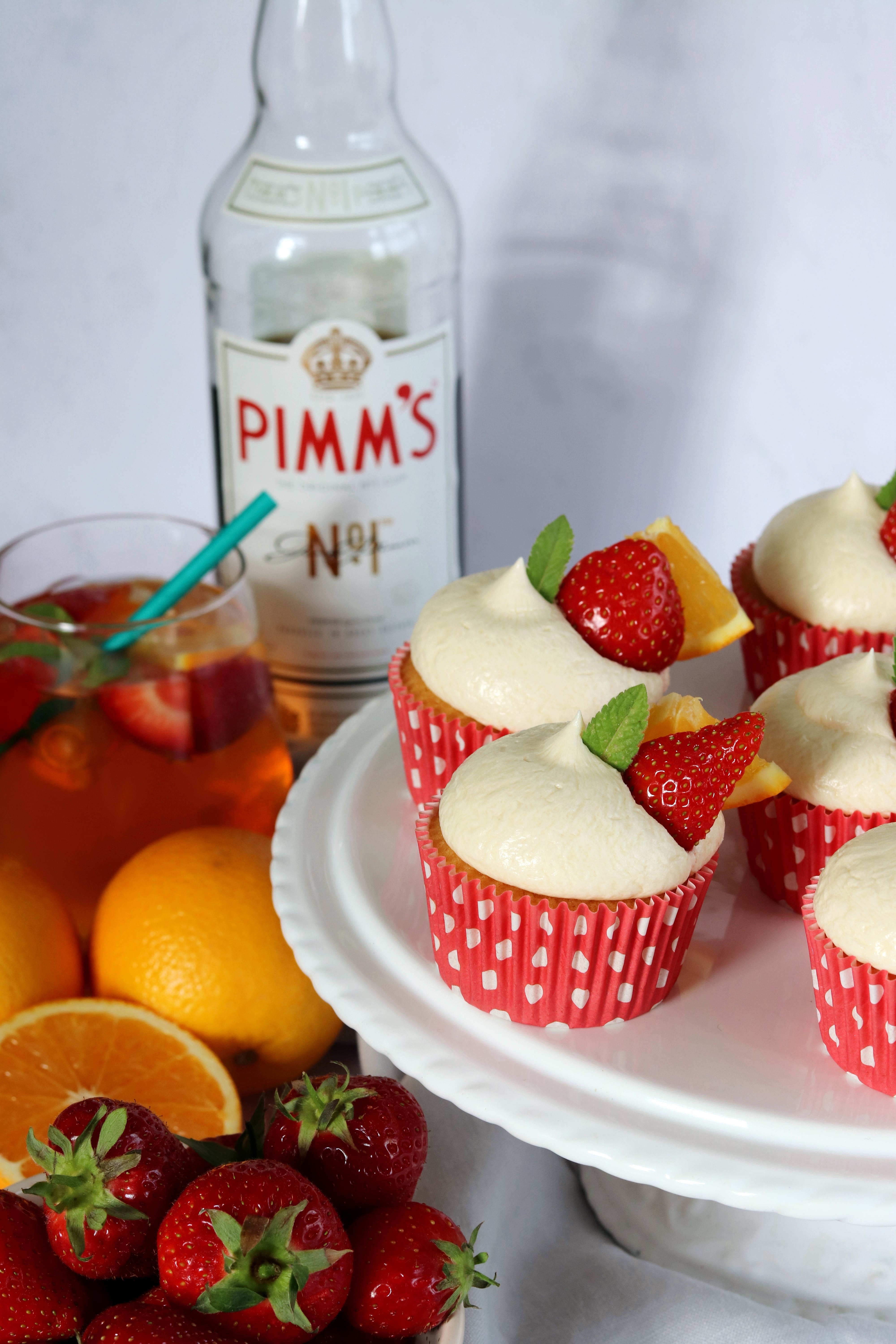 How boozy do you like it?
These Pimm's Cupcakes have Pimm's in both the cake and the buttercream. I have made the buttercream with two and three tablespoons of Pimm's. I prefer to use two as the flavour is more subtle.
However if you love a boozy hit, add an extra tablespoon. Just bear in mind the extra Pimm's will loosen the buttercream slightly.
If you like boozy bakes, check out my Gin & Lime Drizzle Cake.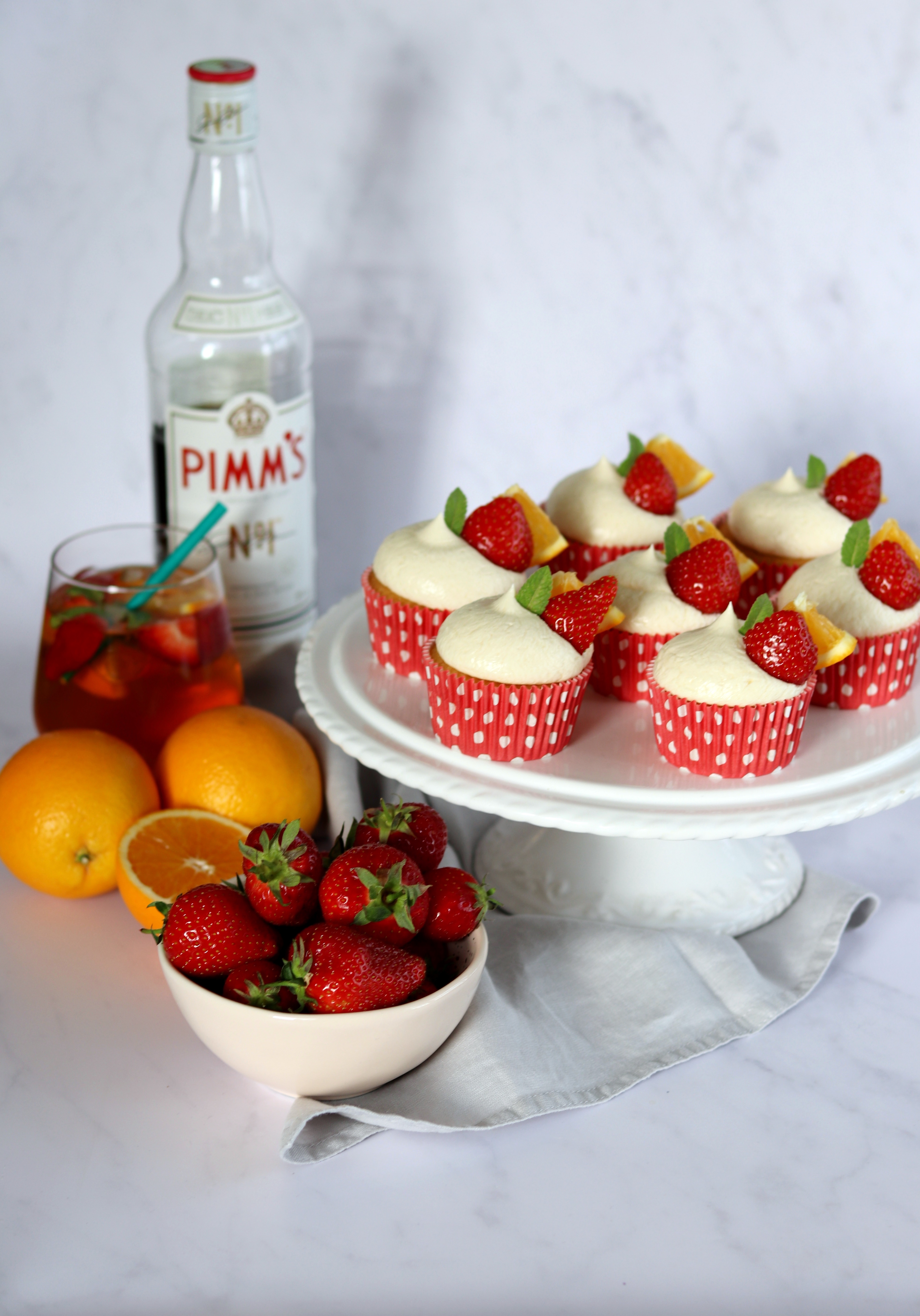 Time for an update
This recipe was first published on my blog back in 2014. Back then blogging was a lot different and things have definitely moved on!
When it came to updating this blog post, I decided the actual recipe needed updating as well as the photographs. So now you will hopefully find not only much better photos, but a better recipe too!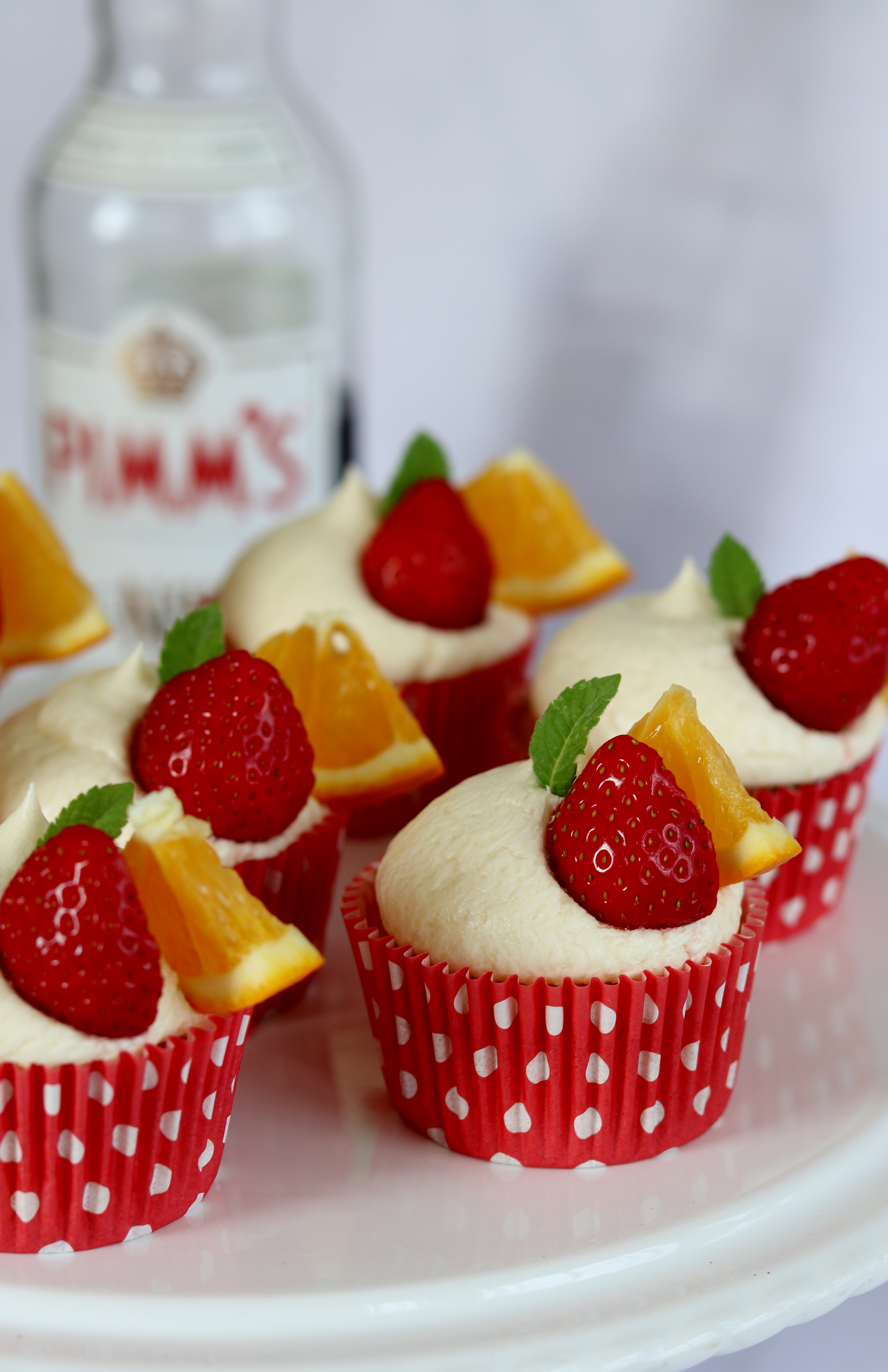 Other recipes you might like
Pin for later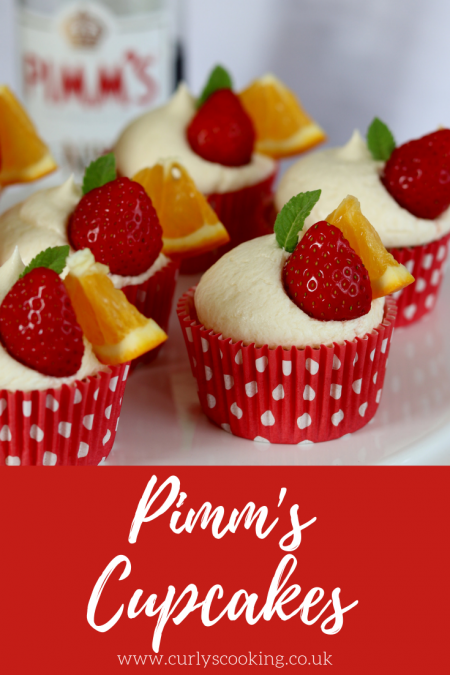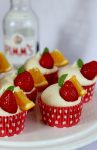 Pimm's Cupcakes
What is the British summer without a glass (or two) or Pimm's?! And what better way to enjoy it than in these Pimm's Cupcakes?
Ingredients
For the cupcakes
175

g

margarine

175

g

caster sugar

3

eggs

175

g

self-raising flour

3

tbsp

Pimm's
For the buttercream
140

g

unsalted butter

(room temperature)

280g

icing sugar

2

tbsp

Pimm's
To decorate
6

strawberries

1

orange

12

mint leaves
Instructions
Preheat the oven to 160ºC (fan assisted, 180ºC non fan) and line a cupcake tin with paper liners

Beat the butter and sugar together for roughly 5 minutes until light and fluffy

Add the eggs and mix again

Add the flour and mix until it is combined before adding in the Pimm's

Spoon into 12 cupcake cases filling each 2/3 full

Bake in the oven for 16-18 minutes. Check they are cooked by piercing them with a cocktail stick, if the stick comes out clean they are cooked

Leave on a wire rack to cool completely

Once the cakes have cooled completely, make the buttercream. Start by beating the softened butter for a minute or two

Add in the icing sugar and beat until mixed. Add the Pimm's and mix until smooth

Spoon the buttercream into a piping bag and pipe onto the cupcakes. Finish with classic Pimm's decorations
Recipe Notes
This will make 12 cupcakes using large muffin liners. If you want to use smaller cupcake cases this will make 18 cupcakes. Check the cupcakes after 15 minutes of baking if you use smaller cases.
Decorate just before serving. The juice in the fruit is likely to seep into the buttercream if left a while.
If you want even more Pimm's flavour in the buttercream, add another tablespoon of Pimm's.
Nutritional information is given as a guide only.
Nutrition Facts
Pimm's Cupcakes
Amount Per Serving
Calories 421
Calories from Fat 198
% Daily Value*
Fat 22g34%
Cholesterol 66mg22%
Sodium 155mg7%
Potassium 70mg2%
Carbohydrates 50g17%
Protein 3g6%
Vitamin A 940IU19%
Vitamin C 9.7mg12%
Calcium 23mg2%
Iron 0.4mg2%
* Percent Daily Values are based on a 2000 calorie diet.