This Easy Couscous Salad is simple to make and really tasty. It makes a perfect lunch or as a side dish for a BBQ or any evening meal.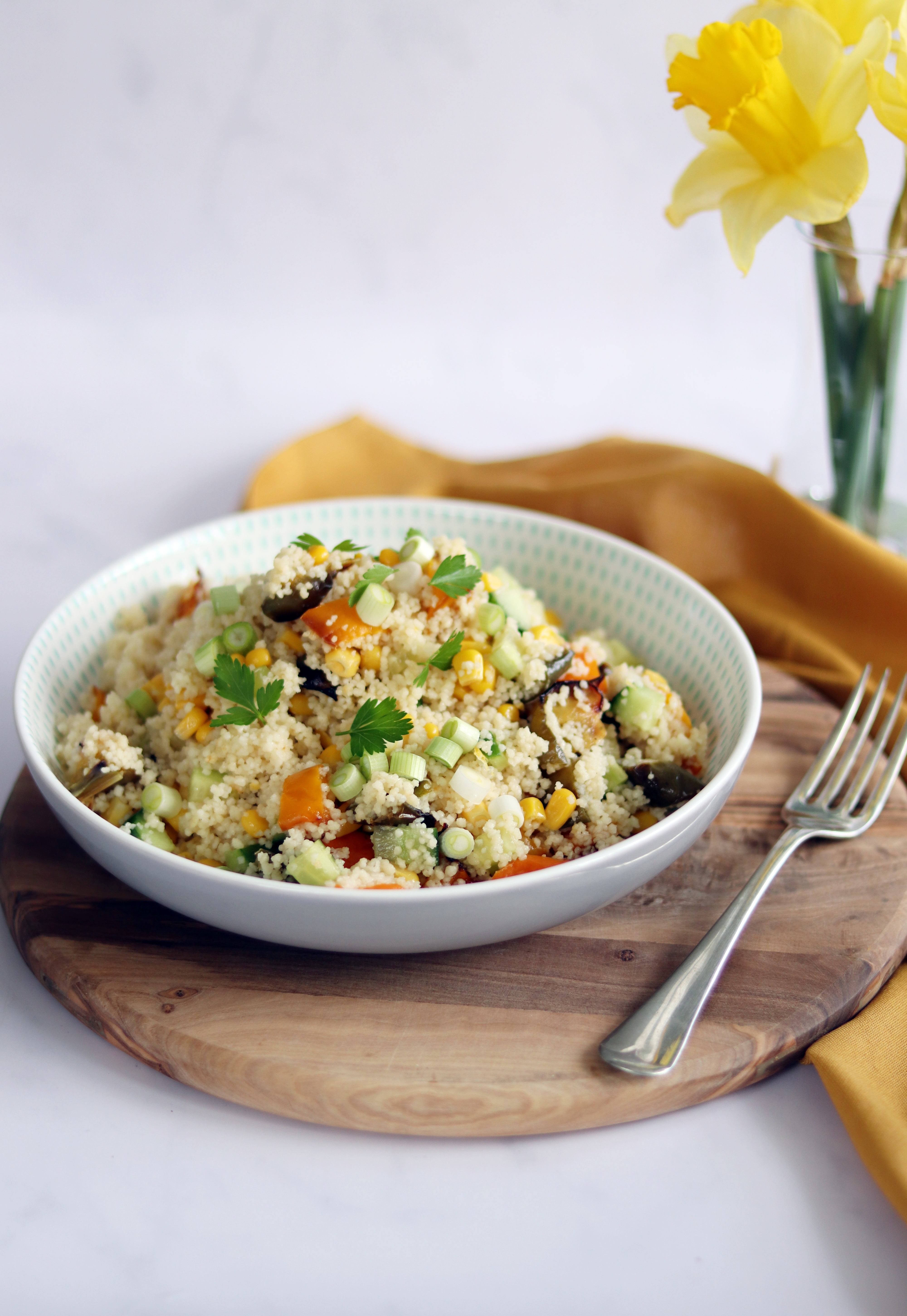 Making couscous couldn't be easier!
Couscous could not be easier to cook. No matter what your cooking abilities are, you can definitely make couscous.
All you need to do is add boiling water to it, cover it and leave it for a bit. What could be easier than that?
This also makes it great for warmer weather when you don't want to be standing over the hob. Pour the water in and leave it to do its thing.
Do not confuse standard couscous with giant couscous. Giant couscous needs boiling like pasta. Try my Giant Couscous, Tomato & Rocket Salad recipe if you want to see the difference.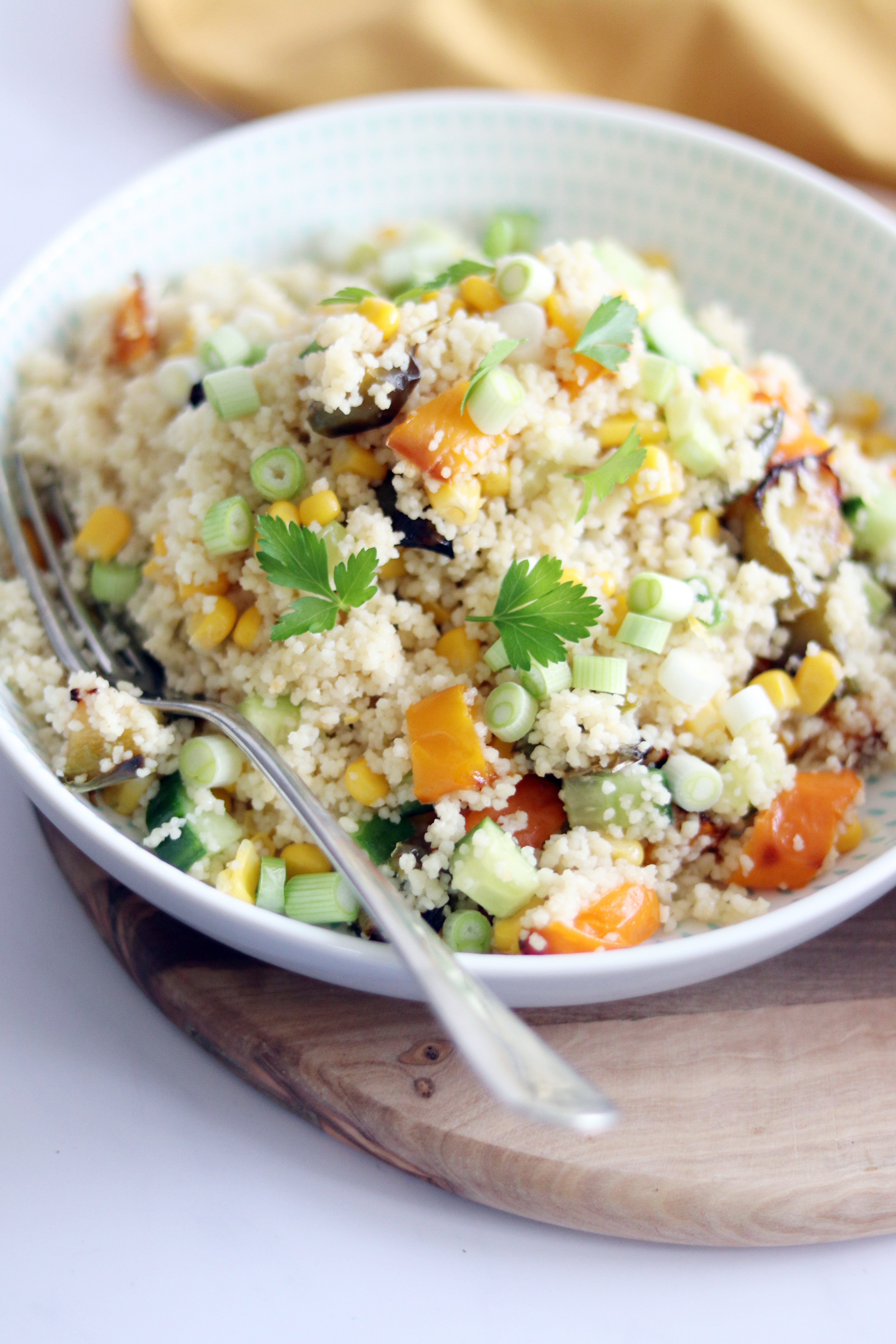 How much water do you need to make couscous?
When I make it I don't tend to measure out how much water I add. If you are used to making couscous you probably won't need to either.
You just need to add boiling water so it covers the couscous by about one centimetre. Don't panic, I have included the amount you need below if you do want to measure it out.
I think it is better to add too little water than too much. If you don't add enough and the couscous is still too hard when all of the water has been absorbed, add a bit more and leave to cover again.
This should leave you with lovely fluffy couscous. On the other hand, if you add too much water you may find the couscous can't absorb any more and it might be a little more wet.
By the time you have added the rest of the ingredients you probably won't notice so it isn't the end of the world.
Don't be tempted to add more couscous in an attempt for it to absorb some of the excess water because this just won't cook.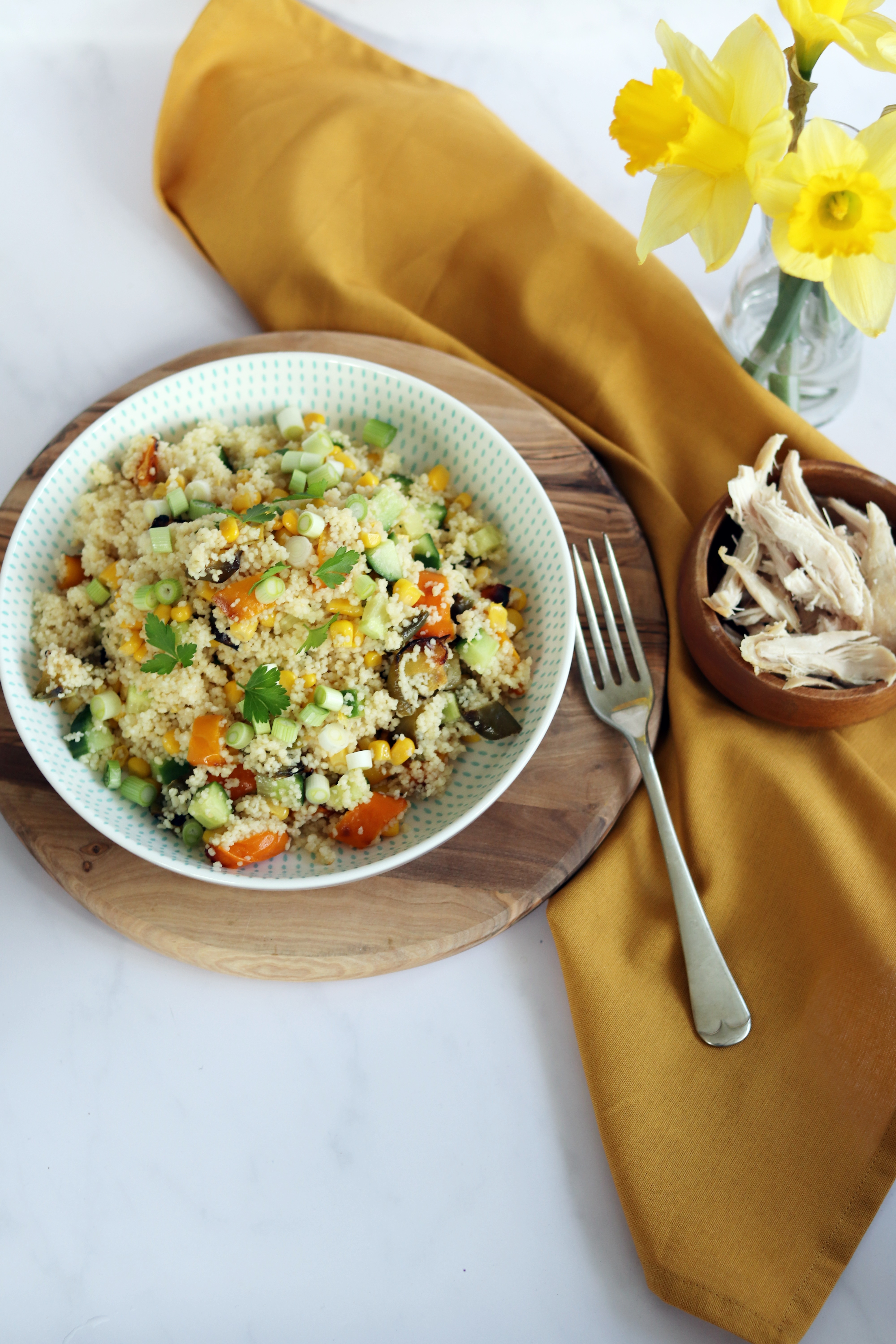 Easy Couscous Salad is very easy to adapt
This recipe is very easy to adapt to your preferences. My Mum, sister and I all make it slightly differently. I like to include cucumber, roasted peppers and sweetcorn in mine.
When I make it, I scatter the spring onions on top as I don't like them but Mr Curly does. I sometimes add diced plum tomatoes. You can really add any vegetables you fancy.
This Easy Couscous Salad is as the name suggests, easy to make. The hardest thing about this recipe is roasting the peppers. If that is too much for you, just dice them up and chuck them in.
If you fancy a couscous recipe with a bit more cooking, try my Za'atar Chicken & Couscous Salad with Tahini Dressing.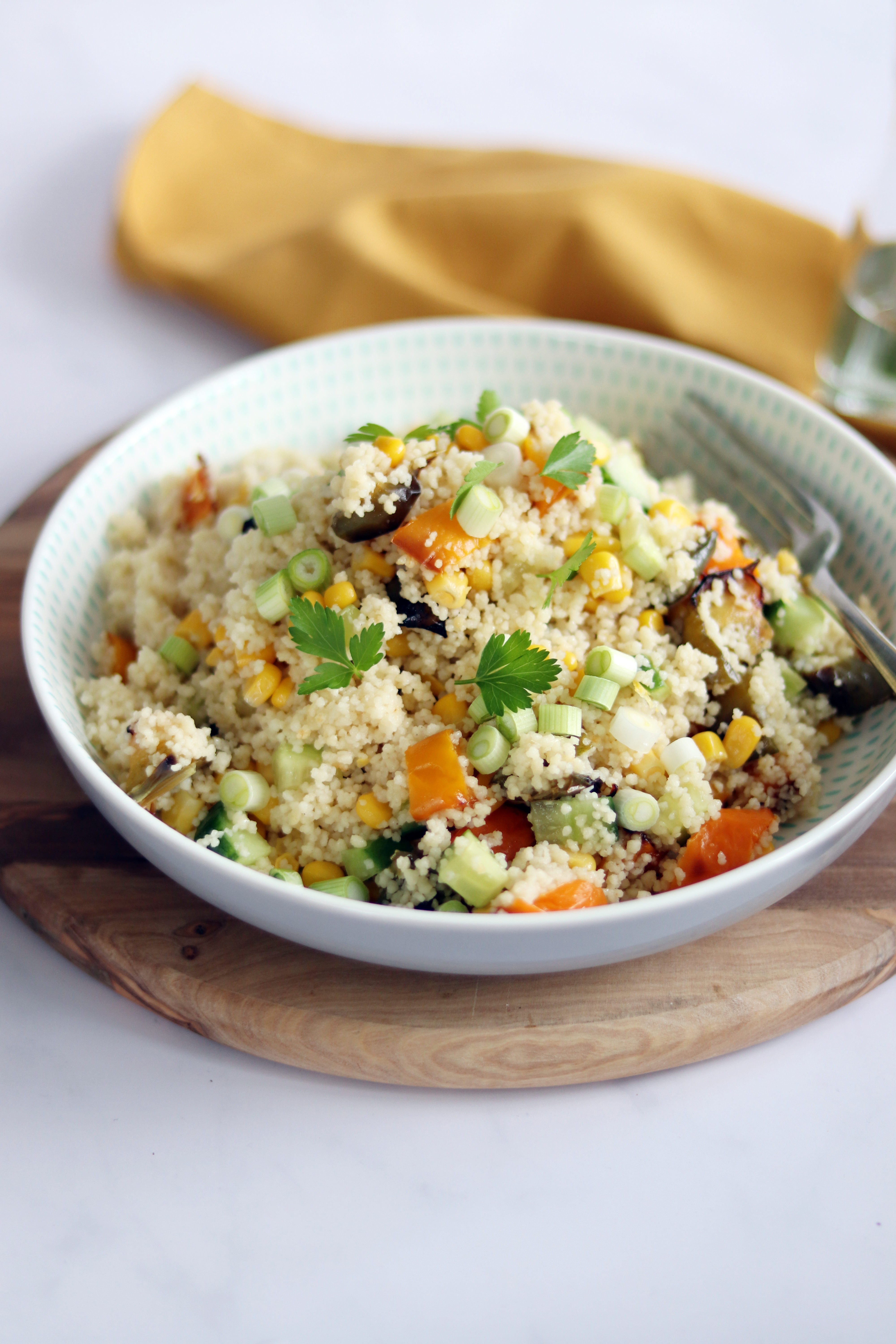 Turn this Easy Couscous Salad into a main meal
This salad is delicious for lunch or as a side dish. It is also easily turned into a more substantial meal that is perfect for dinner.
I like to do this by adding some cooked chicken (leftover roast chicken works really well), chorizo, or grilled halloumi.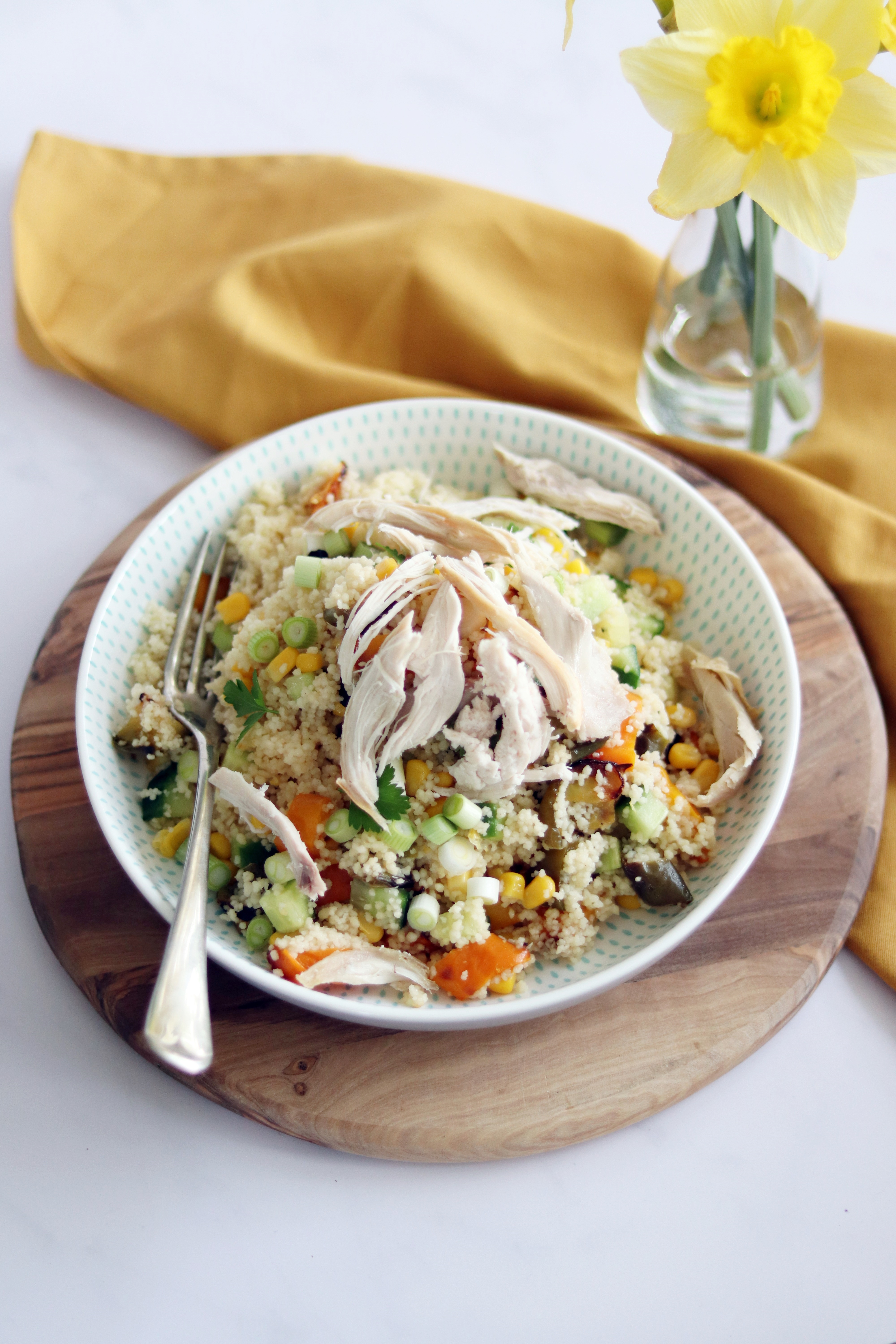 Other recipes you might like
Pin for later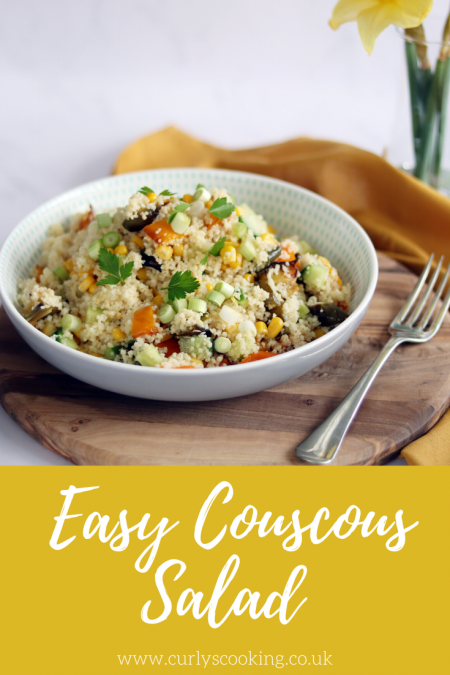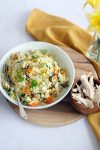 Easy Couscous Salad
This Easy Couscous Salad is simple to make and really tasty. It makes a perfect lunch or as a side dish for a BBQ or any evening meal.


Ingredients
350

g

couscous

750

g

boiled water

1

tbsp

chicken stock

1

tbsp

olive oil

2

large

peppers

340

g

tin sweetcorn

drained

5

spring onions

sliced

300

g

cucumber

diced

20

g

butter

optional
Instructions
Preheat the oven to 180°C (fan assisted, 200ºC non fan). De-seed and slice the peppers. Put them on a baking tray and roast in the oven for around 30 minutes, turning half way. You want them to get slightly blackened

Put the couscous in a large bowl. Add the chicken stock, olive oil and water to the couscous. The water should just cover the couscous by around 1cm. Stir with a fork and then cover with a dinner plate

While the couscous is cooking, dice the cucumber and drain the sweetcorn

After around 15 minutes the couscous should have plumped and cooked. Test it is ready by tasting it. If it is still a little hard recover for a few more minutes

Once the couscous is cooked, add the butter if you are using it and fork through to fluff up the couscous

Remove the peppers from the oven and slice. Add to the couscous along with the sweetcorn, cucumber and spring onions and fork through to mix
Recipe Notes
Keep in an airtight container in the fridge for up to 3 days.
Nutritional information is given as a guide only and my vary.
Nutrition Facts
Easy Couscous Salad
Amount Per Serving
Calories 469
Calories from Fat 72
% Daily Value*
Fat 8g12%
Cholesterol 11mg4%
Sodium 54mg2%
Potassium 391mg11%
Carbohydrates 73g24%
Protein 12g24%
Vitamin A 482IU10%
Vitamin C 68mg82%
Calcium 40mg4%
Iron 1mg6%
* Percent Daily Values are based on a 2000 calorie diet.