These American style Loaded Tater Tots are simply mini hash browns smothered BBQ sauce, cheese and bacon. They are a decadent and delicious addition to a meal or great by themselves.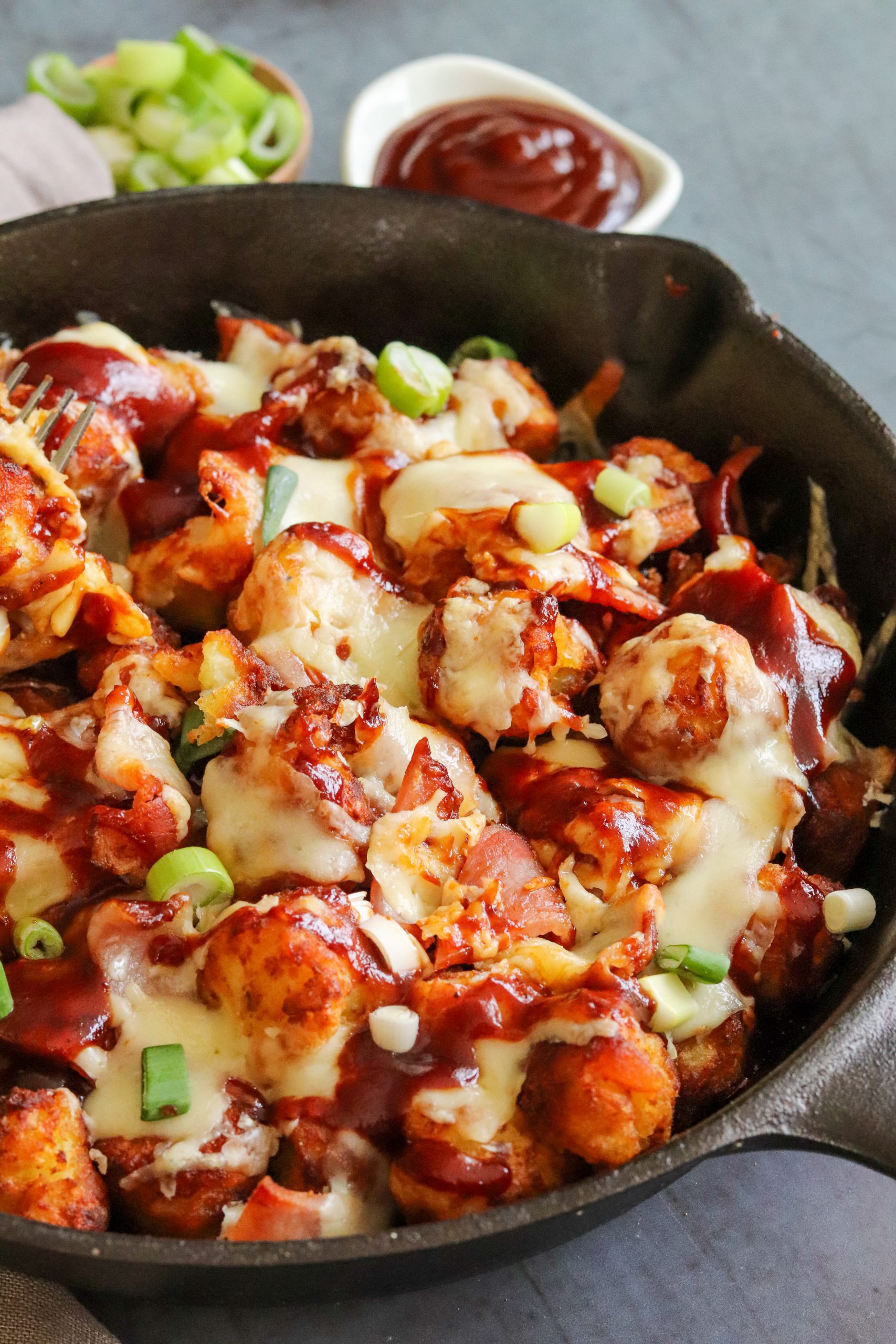 what are tater tots?
If you live anywhere apart from the US, you may have no idea what a tater tot is. They are grated potato formed into small cylinders. Although 'tater tot' is a registered trademark for one specific company, it is used as a generic term.
Here in the UK you won't find 'tater tots' in the supermarkets. However you will find hash browns which are basically tater tots formed into a larger, usually triangle shape.
In recent years, supermarkets have started stocking mini hash browns. These are almost identical to tater tots and perfect for this recipe.
So here is my Loaded Tater Tot recipe using British ingredients you'll find in the UK. They're too tasty for only people in the US to make them!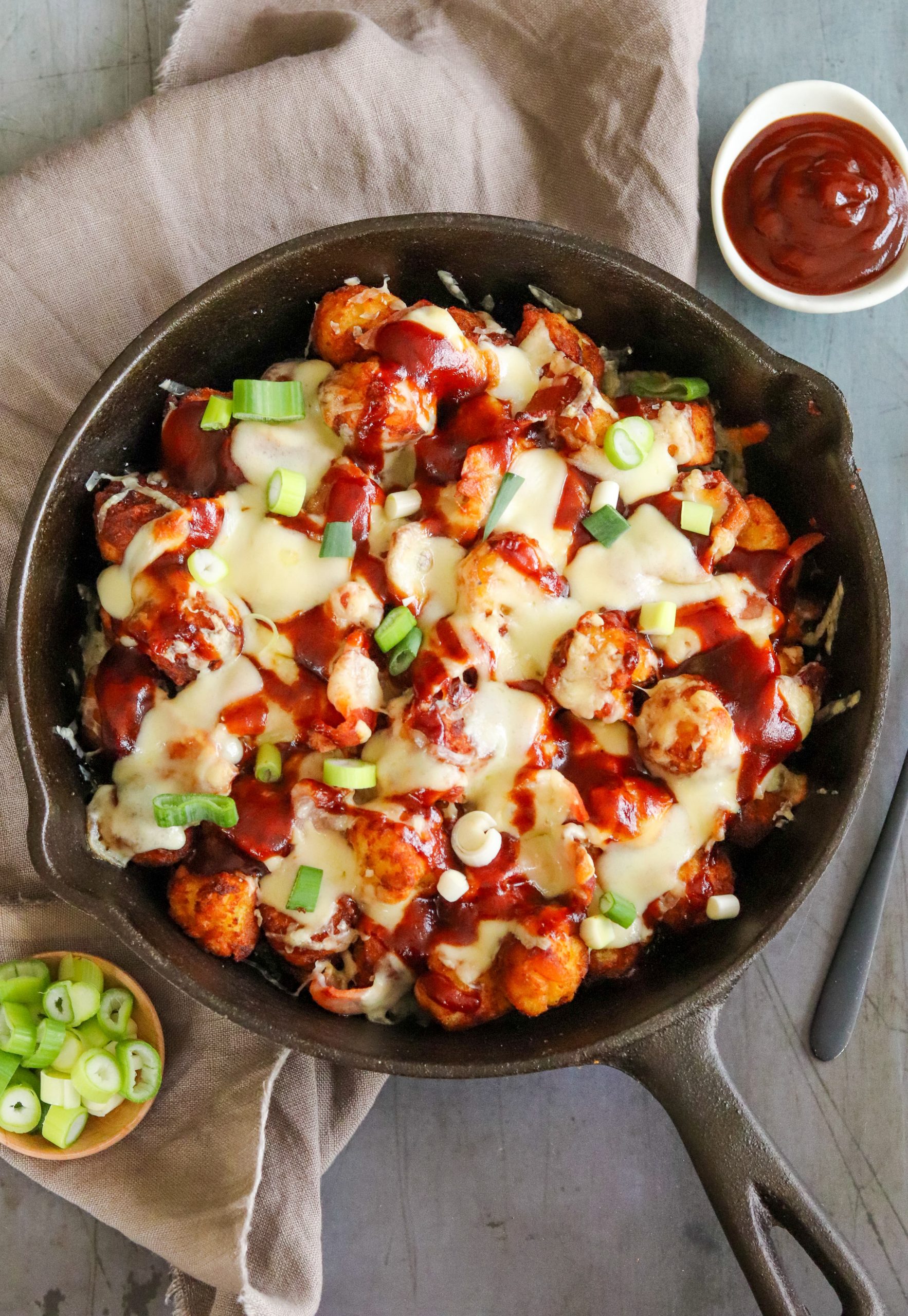 where to buy mini hash browns/tater tots in the uk
Mini hash browns aren't as readily available as standard hash browns, but they are definitely available.
The mini hash browns I buy are from Morrisons. They look as close to an American tater tot as I think you'll find in the UK. An advantage of them is that they are naturally vegan and gluten free.
I have also seen mini hash browns available from Asda and Ocado. Their shapes might be slightly different but they will work just as well.
If you can't find mini hash browns you can absolutely use standard ones and either leave them whole or cut them into pieces once they are cooked.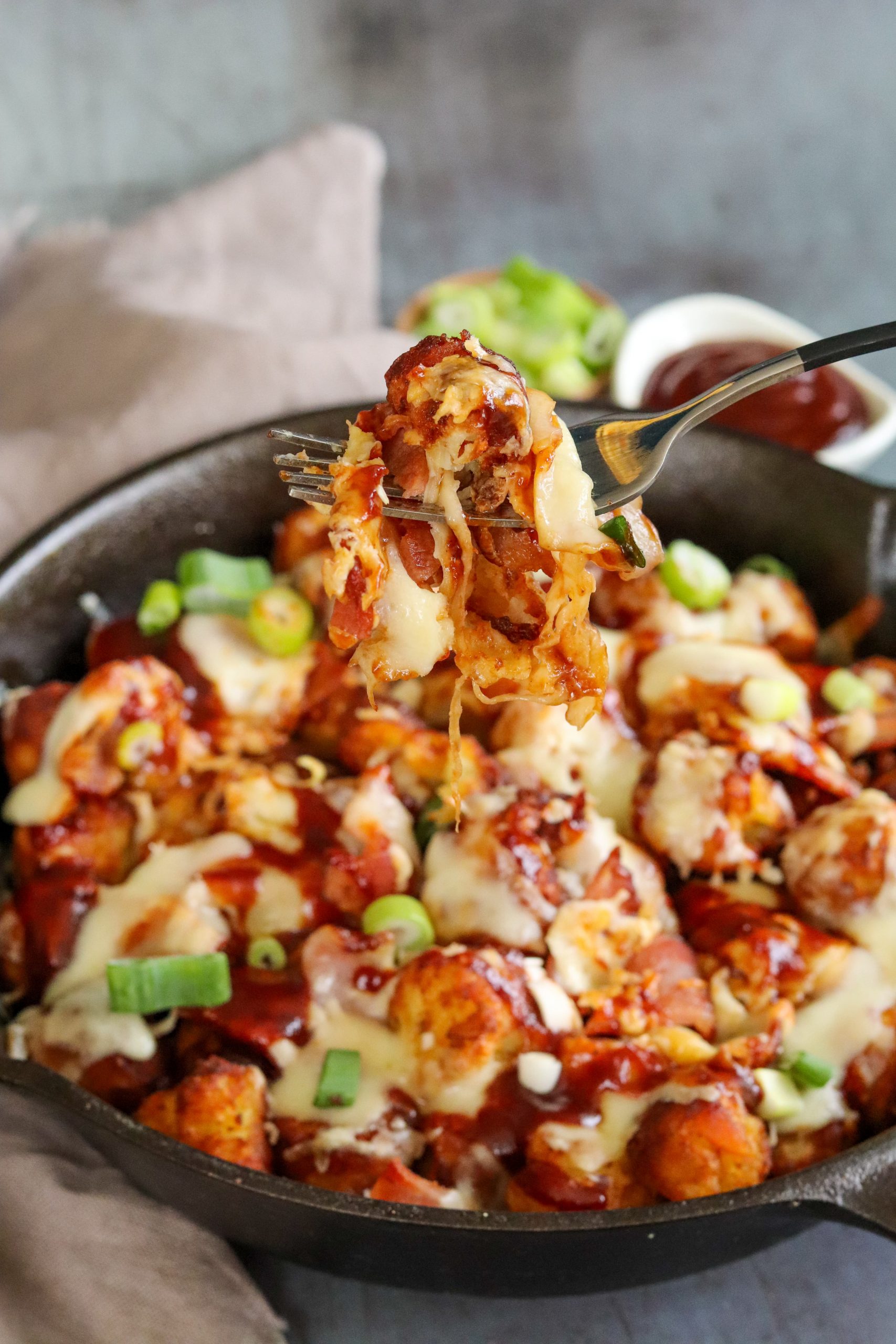 use this recipe as a guide only
This recipe is more of a rough guide than one that has to be stuck to word for word.
Cheese and bacon are ingredients that should be measured by your heart. I have included quantities below but feel free to use more or less.
You could definitely go crazy with the amount of toppings you add and make these fully loaded tater tots.
Also feel free to change up the ingredients. Add some sautéed onions, mushrooms or peppers. Jalapenos would also add a nice kick.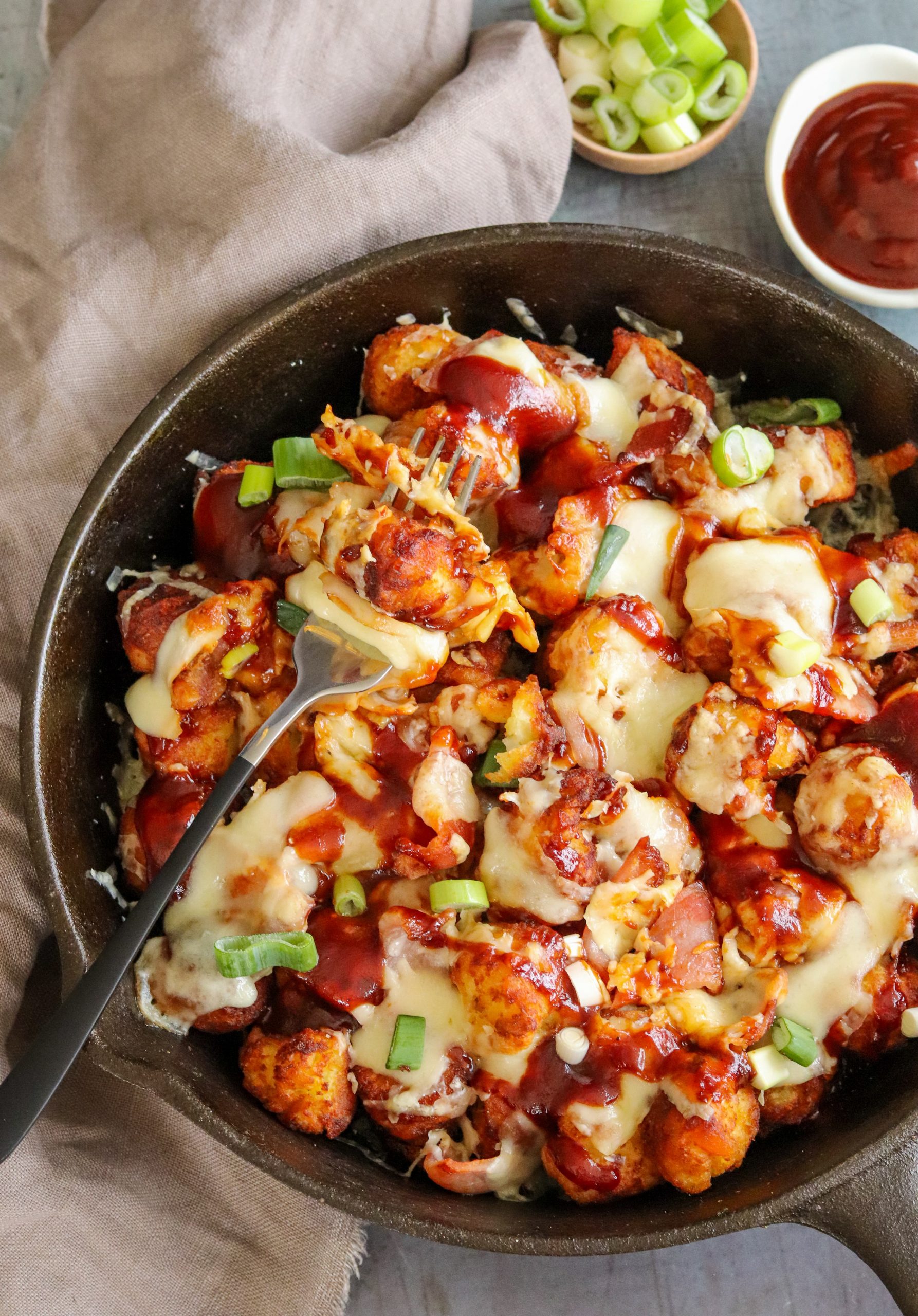 which bacon is best to use?
Usually when I add bacon to a recipe I have a preference. For these tater tots, it really doesn't matter which bacon you use.
Back bacon, streaky bacon or bacon medallions would all work well. Use whichever you usually buy.
I used bacon bacon, but if you are using streaky bacon or medallions you may want to use more than five rashers as they can be a little smaller. But that is up to you.
I will always recommend using smoked bacon, but if you want to break my heart and use unsmoked you definitely can.
If you don't eat pork, you can absolutely use turkey bacon or a vegetarian alternative.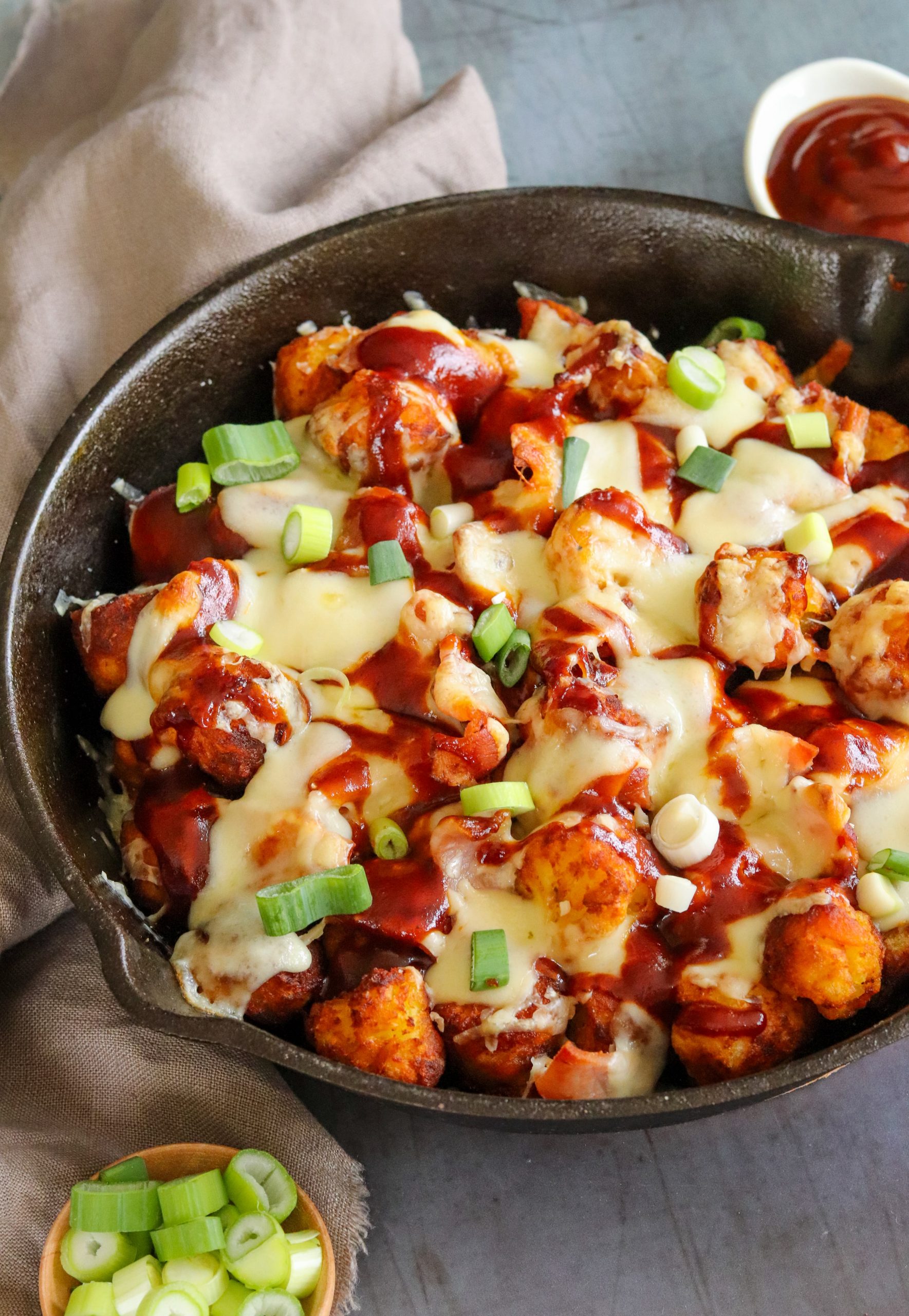 which cheese is recommended to use?
I like to use two different types of cheese for these tater tots. Most of the cheese I use is cheddar because it has a lovely flavour and melts well.
Personally, I like to use extra mature because of it's slightly salty taste, but use whichever you like.
I have also added mozzarella because it provides the most amazing cheese pulls and melts really well. I wouldn't use just mozzarella because it has a very mild flavour.
In most instances I would recommend using a fresh ball of mozzarella; but this isn't one of them. Fresh mozzarella has more moisture which could risk your tater tots becoming less crisp.
Instead I would use grated mozzarella or slices of mozzarella. These have less moisture so will help to keep your tater tots nice and crisp.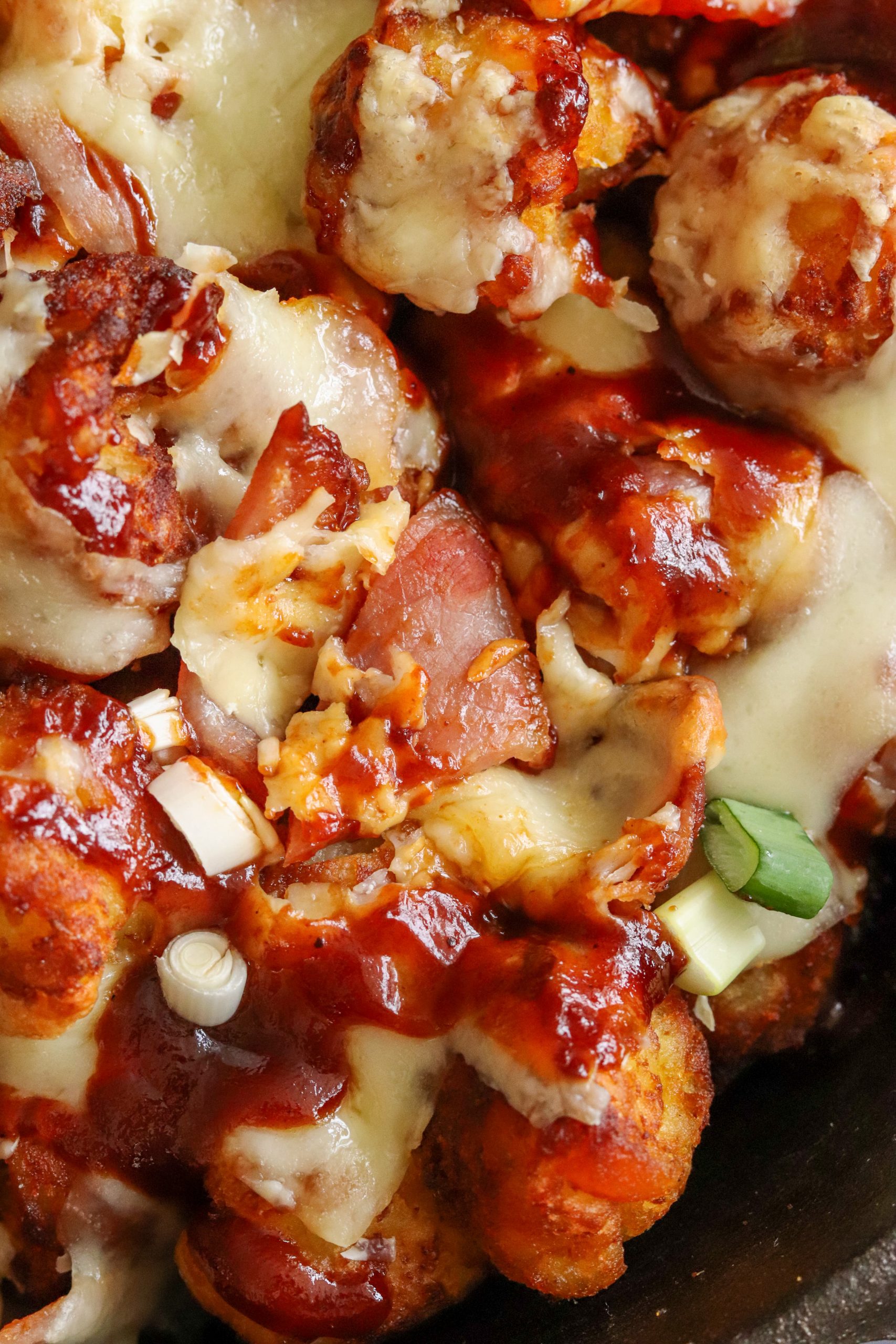 how to make loaded tater tots without an air fryer
You can absolutely make this recipe without an air fryer. You can also make them completely using an air fryer and without the oven too.
If you don't have an air fryer, cook the bacon either on the hob or in the oven. Then cook the tater tots in the oven at 190°C for 15 minutes or until they are deep golden brown.
I like to cook my tater tots so they are more crisp than if I wasn't adding toppings. This is so they stay nice and crisp when all of the toppings are added.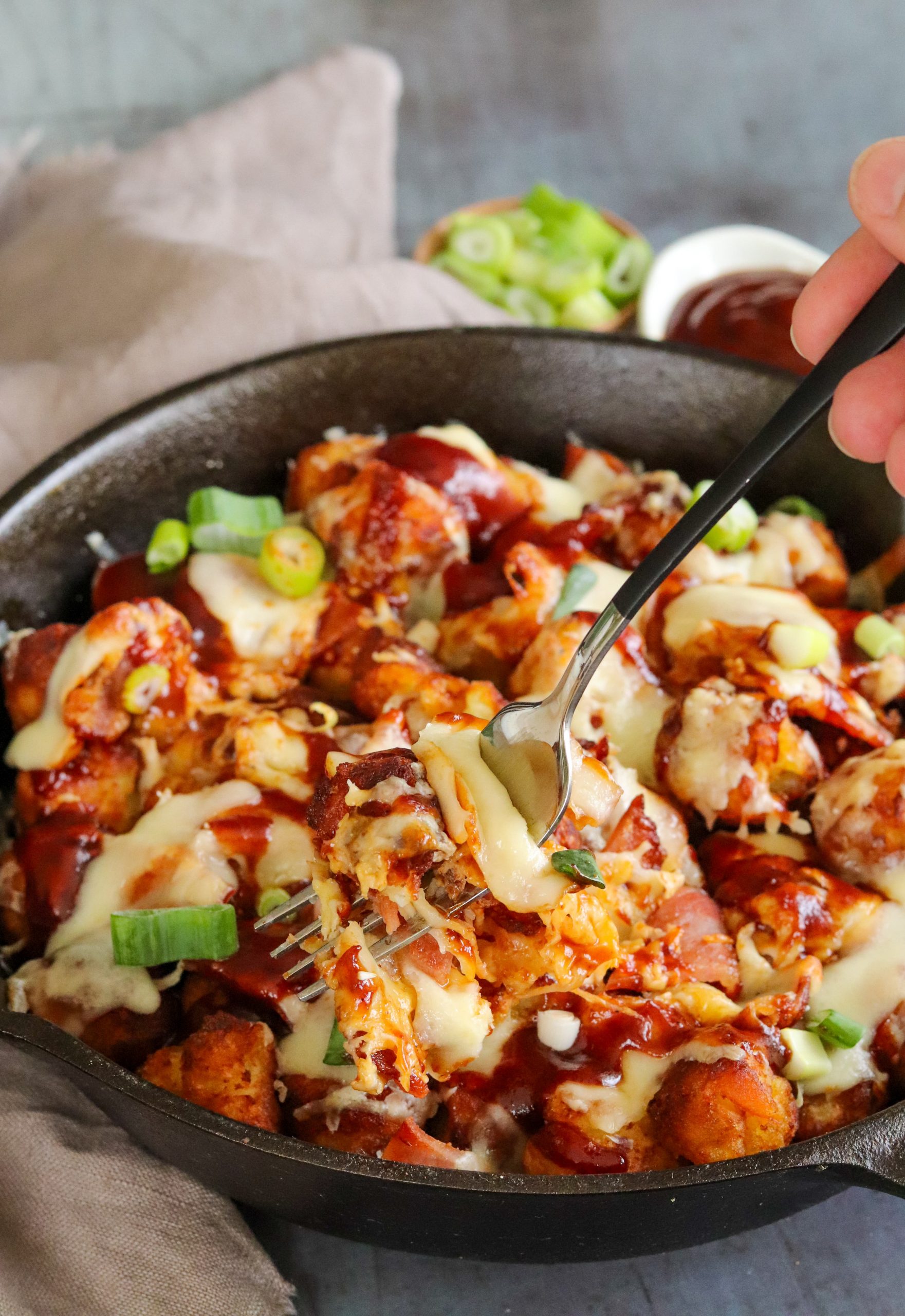 Also if you want to make it all in the air fryer without using the oven, you absolutely can do this. I transfer the tater tots to an oven proof dish before adding the toppings and putting them in the oven because I don't want to lose any toppings in the air fryer basket.
But you could definitely just add all of the toppings to the tater tots and put the air fryer on for 2-3 minutes until the cheese is melted. Just keep an eye on it so the cheese doesn't get too brown.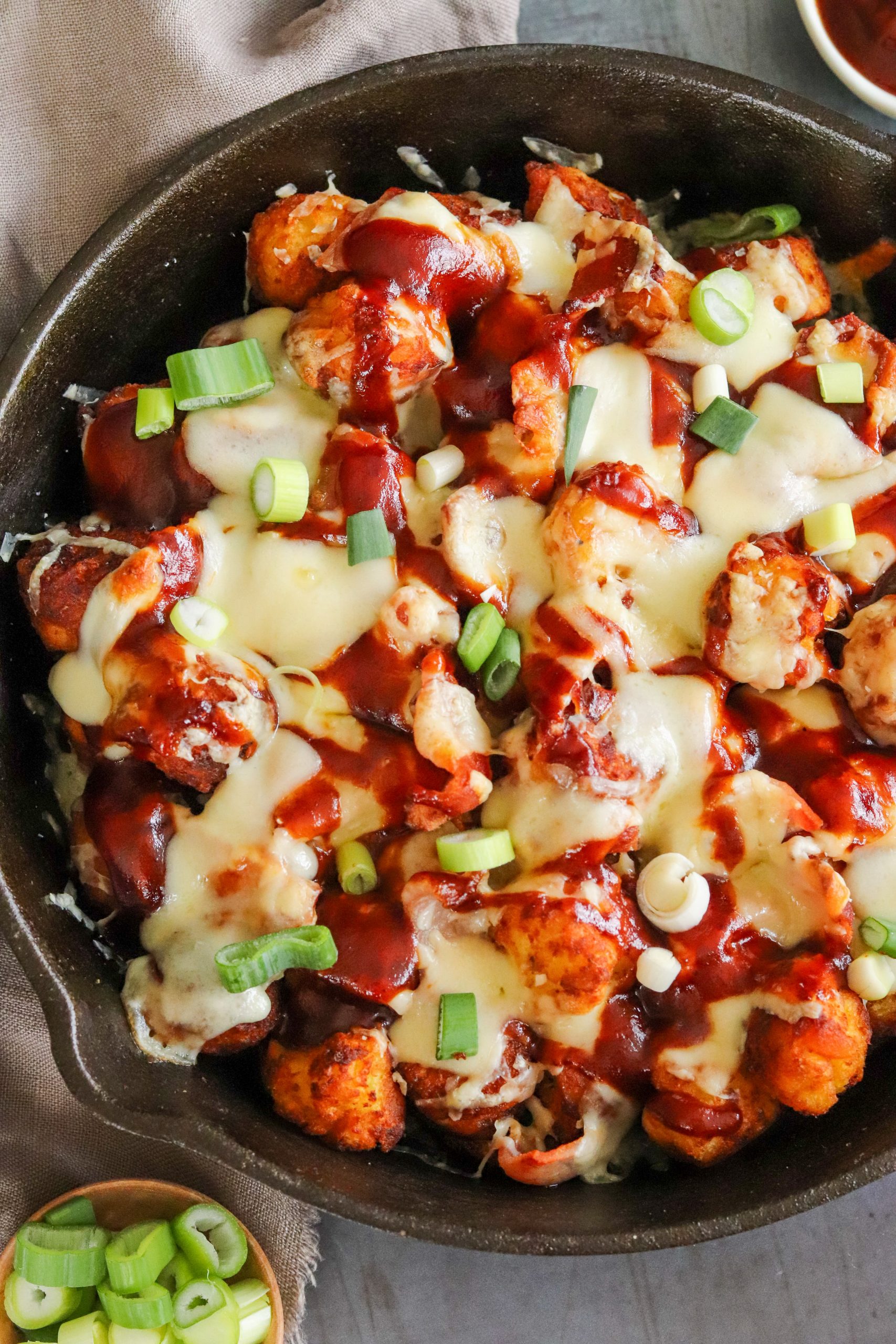 how to make these gluten free, vegetarian or vegan
These Loaded Tater Tots should be very simple to adapt. The mini hash browns I used were naturally gluten free and vegan, but always check the ingredients.
You can either choose to completely leave the bacon out to make these vegetarian and vegan. Alternatively you can use a meat free bacon alternative.
Most BBQ sauces tend to be gluten free and suitable for vegetarians. They may also be suitable for vegans but if they don't specifically state it, I am never completely sure checking the ingredients. Obviously if you are vegan, you will know which is suitable.
If you are using grated mozzarella, check the back of the packet to check it is gluten free. The cheese is usually tossed in potato starch which is gluten free, but it is always worth checking.
To make these tater tots vegan, you will need to swap the cheeses for dairy free alternatives.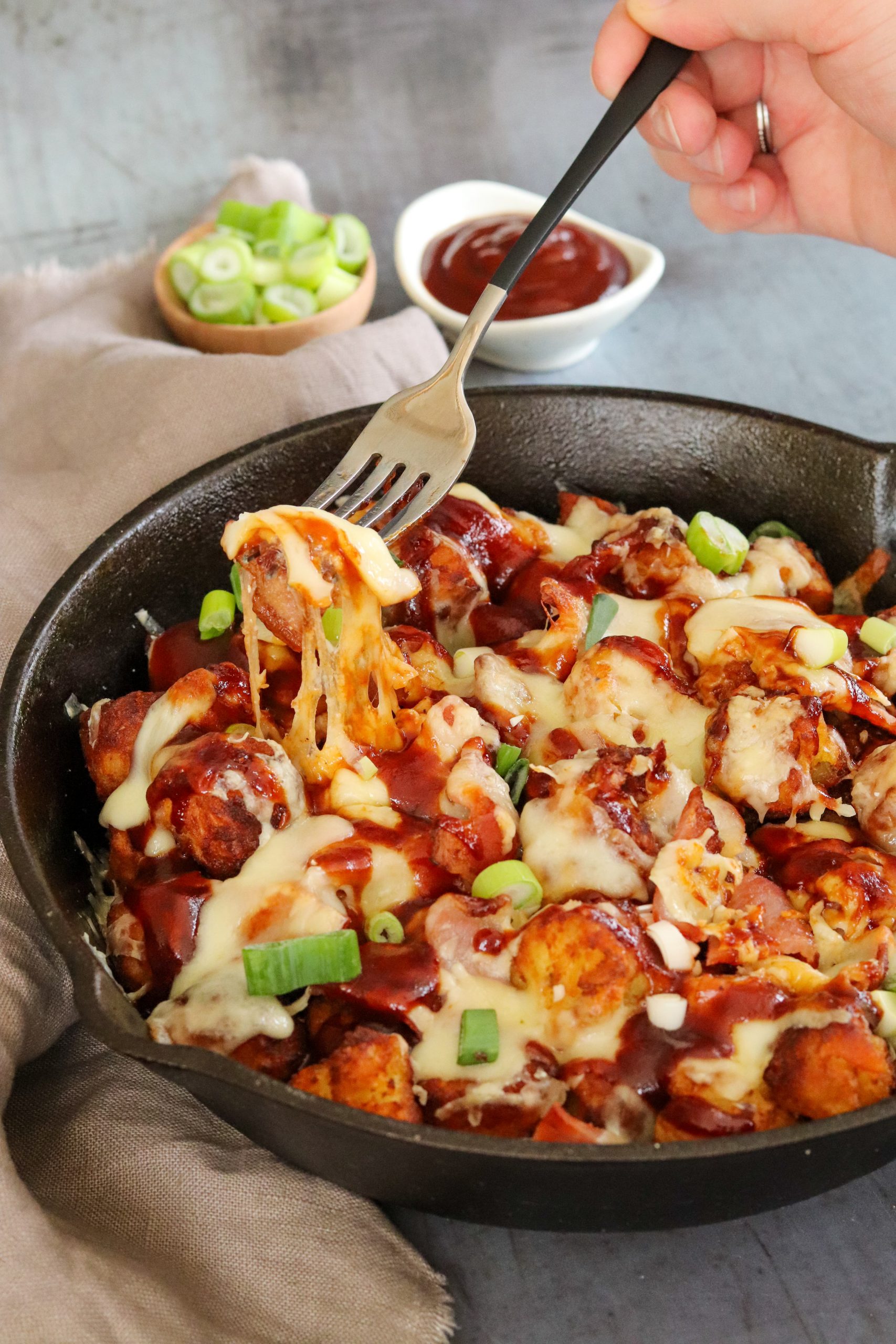 how many people will these loaded tater tots serve?
How many people these tater tots serve depends how you are serving them and how big your appetite is.
If you are just having these tater tots as a meal I'd say they would feed 2-3 people. If you're serving them as a side dish with something like a burger, I would say 4-6 people.
As I said, it all depends how big your appetite is. But this recipe is super easy to either scale up or down to feed more or less people.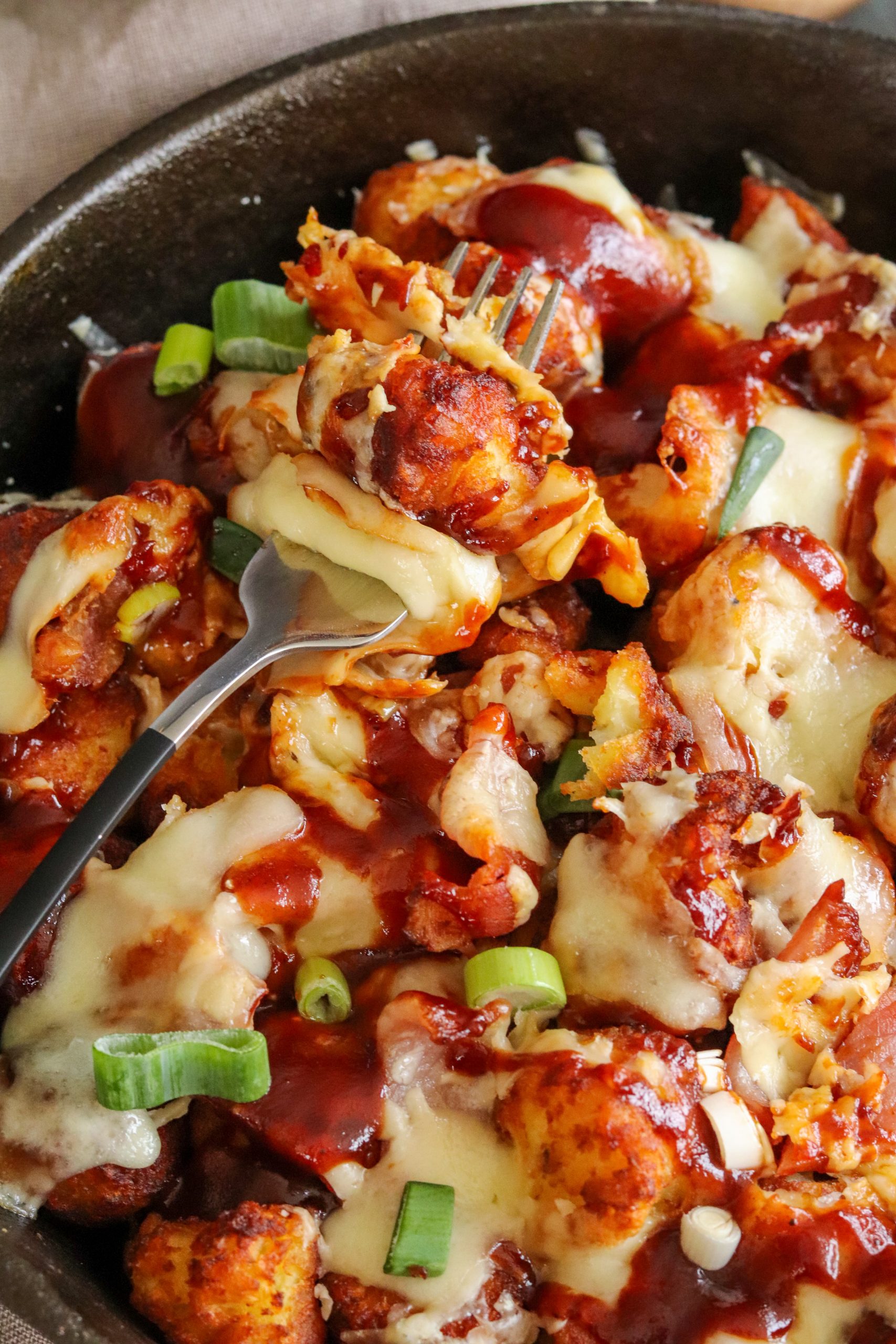 Other recipes you might like
Pin for later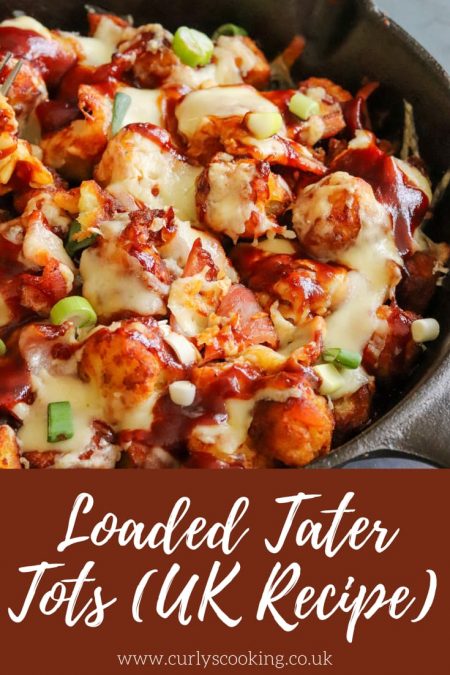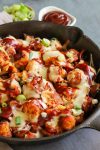 Loaded Tater Tots
These American style Loaded Tater Tots are simply mini hash browns smothered BBQ sauce, cheese and bacon. They are a decadent and delicious addition to a meal or great by themselves.
Ingredients
5

rashers

bacon

750

g

mini hash browns

80

g

cheddar cheese

grated

40

g

mozerella

grated or slices

30

g

BBQ sauce
Instructions
Add 5 slices of bacon to your air fryer and cook at 180°C for 5-7 minutes until it is your desired level of crispness

Remove the bacon and cut into pieces. Set aside

Add 750g mini hash browns to the air fryer and cook at 190°C for 13-15 minutes until they are really crisp

Remove the mini hashbrowns from the air fryer and add them to an oven proof dish. Preheat the oven to 180°C (fan assisted, 200°C non fan)

Scatter over the cooked, chopped bacon

Scatter over 80g cheddar cheese and 40g mozerella

Put in the oven for 5-10 minutes until all of the cheese is melted

Alternatively leave the tater tots in the oven, add the toppings and turn the air fryer on for 2-3 minutes until the cheese has melted.
Recipe Notes
Nutritional information is given as a guide only and may vary.
Nutrition Facts
Loaded Tater Tots
Amount Per Serving
Calories 374
Calories from Fat 108
% Daily Value*
Fat 12g18%
Cholesterol 25mg8%
Sodium 260mg11%
Potassium 58mg2%
Carbohydrates 3g1%
Protein 5g10%
Vitamin A 152IU3%
Vitamin C 1mg1%
Calcium 97mg10%
Iron 1mg6%
* Percent Daily Values are based on a 2000 calorie diet.