Soft potatoes slow cooked with garlic and thyme and covered in melted brie. These Thyme & Brie Potatoes really are something special.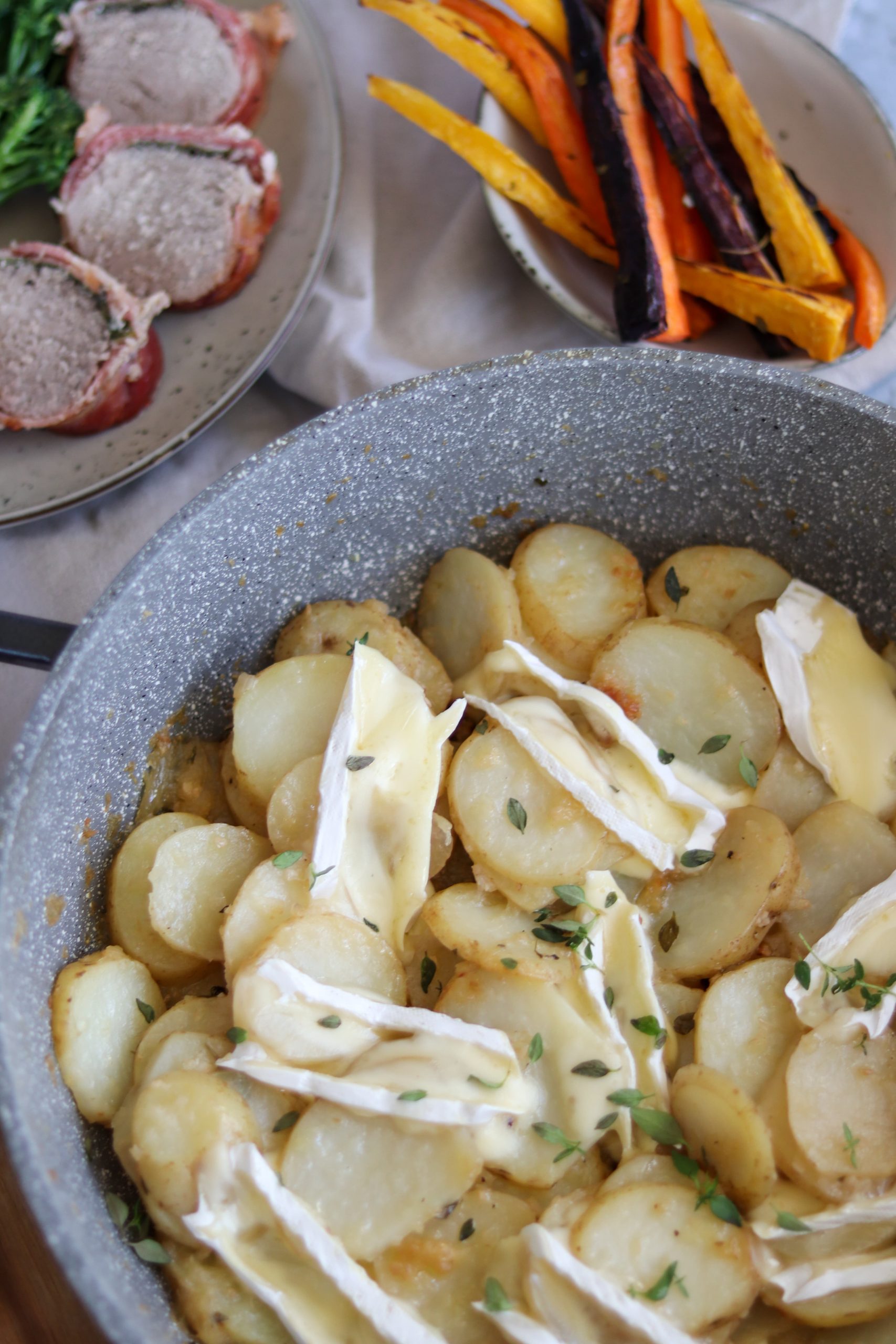 A decadent potato side dish
These Thyme & Brie Potatoes are one of my favourite ways to cook potatoes. They are incredibly delicious and don't require that much effort.
Once you have sliced the potatoes, this recipe is really quite simple and doesn't need much attention. This makes it great to concentrate on the rest of the meal or just put your feet up!
This isn't an everyday dish as the brie does make is a bit more decadent. But it is a delicious side dish for a slightly more special occasion. It is also a great way to use up leftover brie that you may have from a cheeseboard or from Christmas!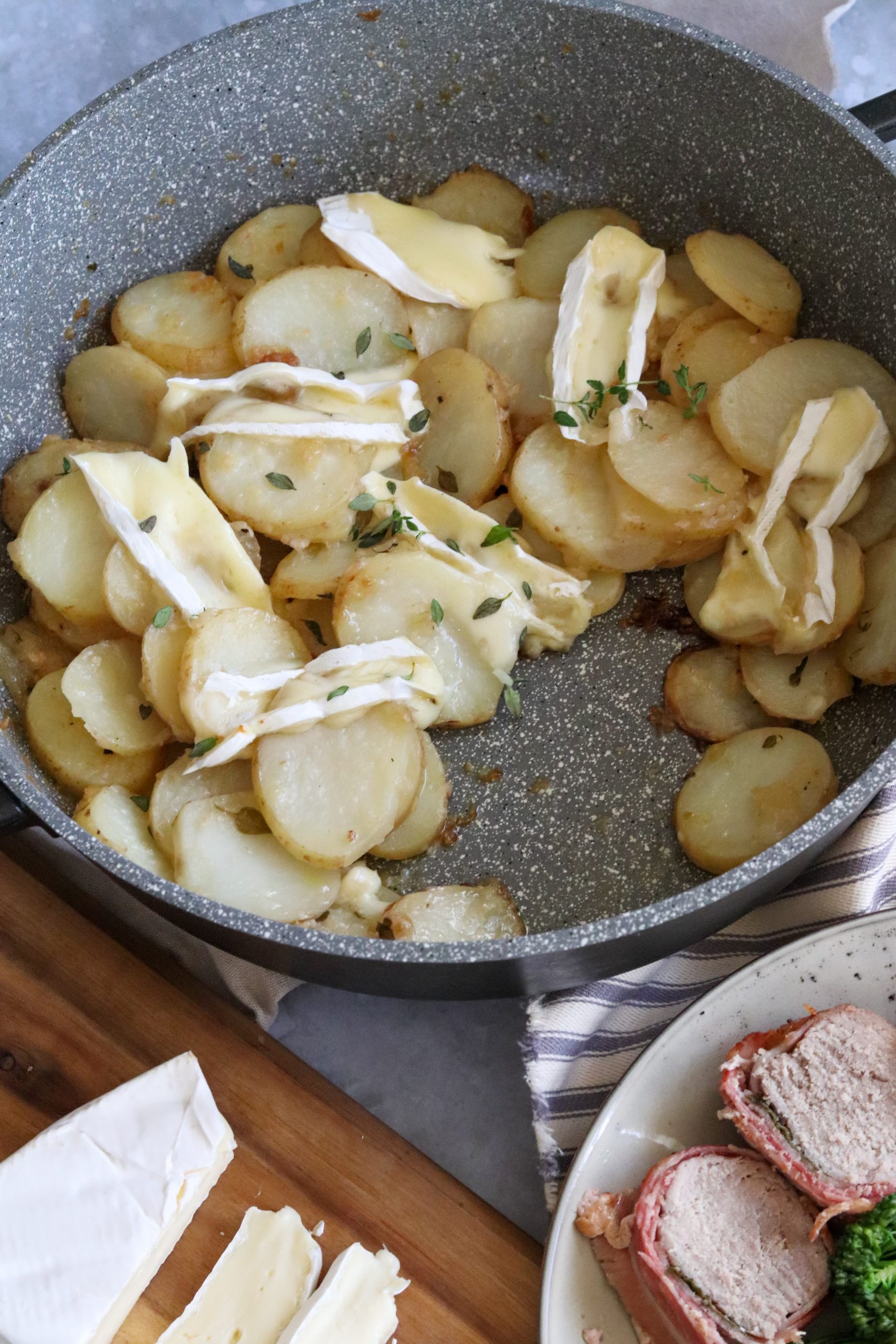 Which potatoes are recommended to use?
The best potatoes to use for these Thyme & Brie Potatoes are new potatoes.
New potatoes are simply any potato that is harvested while it is still young. This is before it's natural sugars and turned into starch. There are lots of different types of new potatoes, but the ones marketed in the UK are all typically firm, creamy and waxy.
It is the waxiness in the new potatoes that work best for this recipe. You need the potatoes to hold their shape and texture when cooking. If you chose a floury potato, there is a risk of it breaking up and turning a bit mushy.
If you don't want to use new potatoes or they aren't in season, I would recommend using a waxy variety such as red potatoes.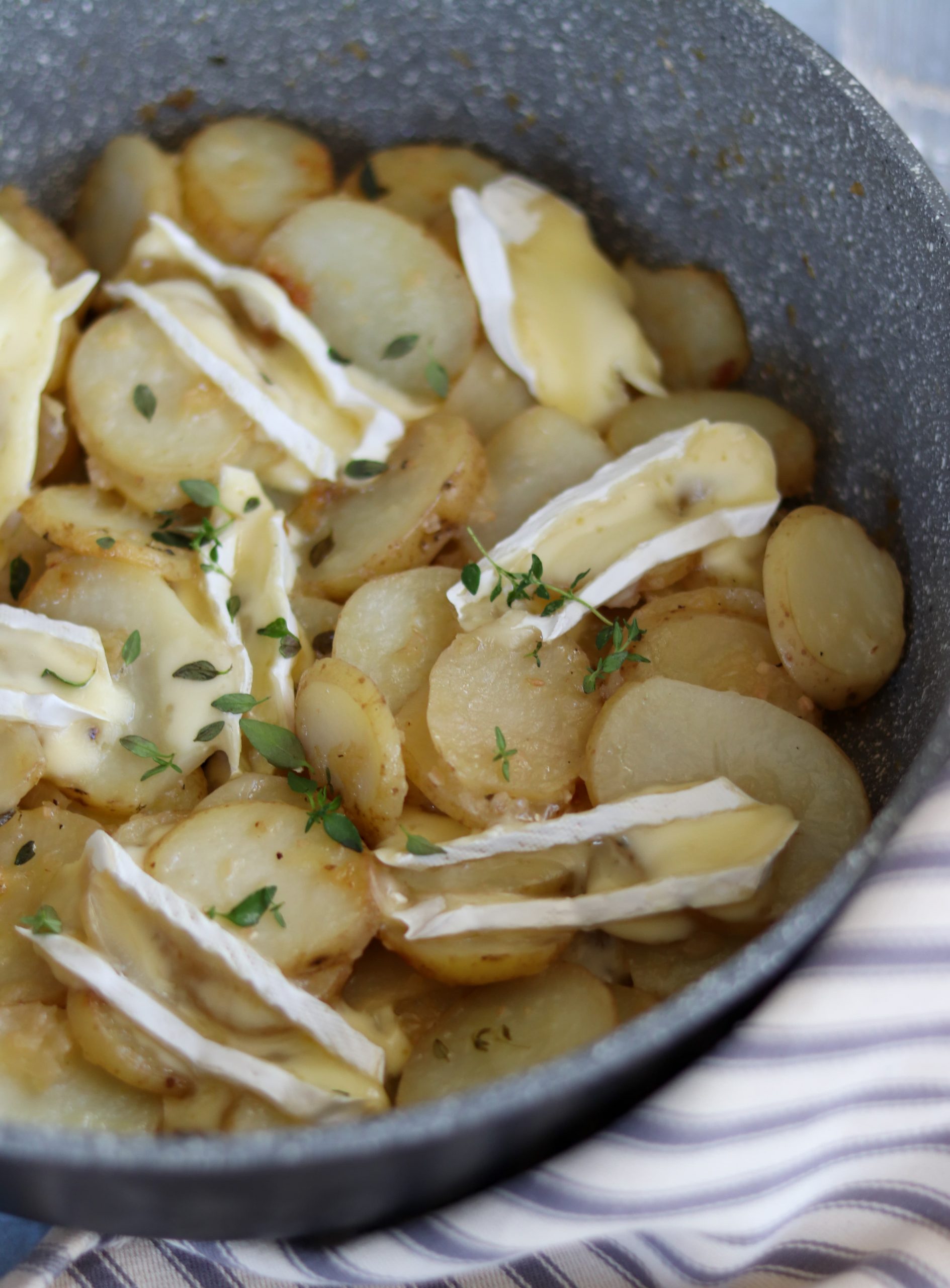 How is best to cut the potatoes?
Although it takes a little bit of time, I really do recommend cutting the potatoes by hand. You want them to be approximately 5mm thick.
If you really want to speed up the process, you could use a mandolin. You can adjust the thickness on a mandolin which isn't as commonly an option on a food processor.
If you use a food processor they are likely to be too thin and wouldn't be the best for this recipe.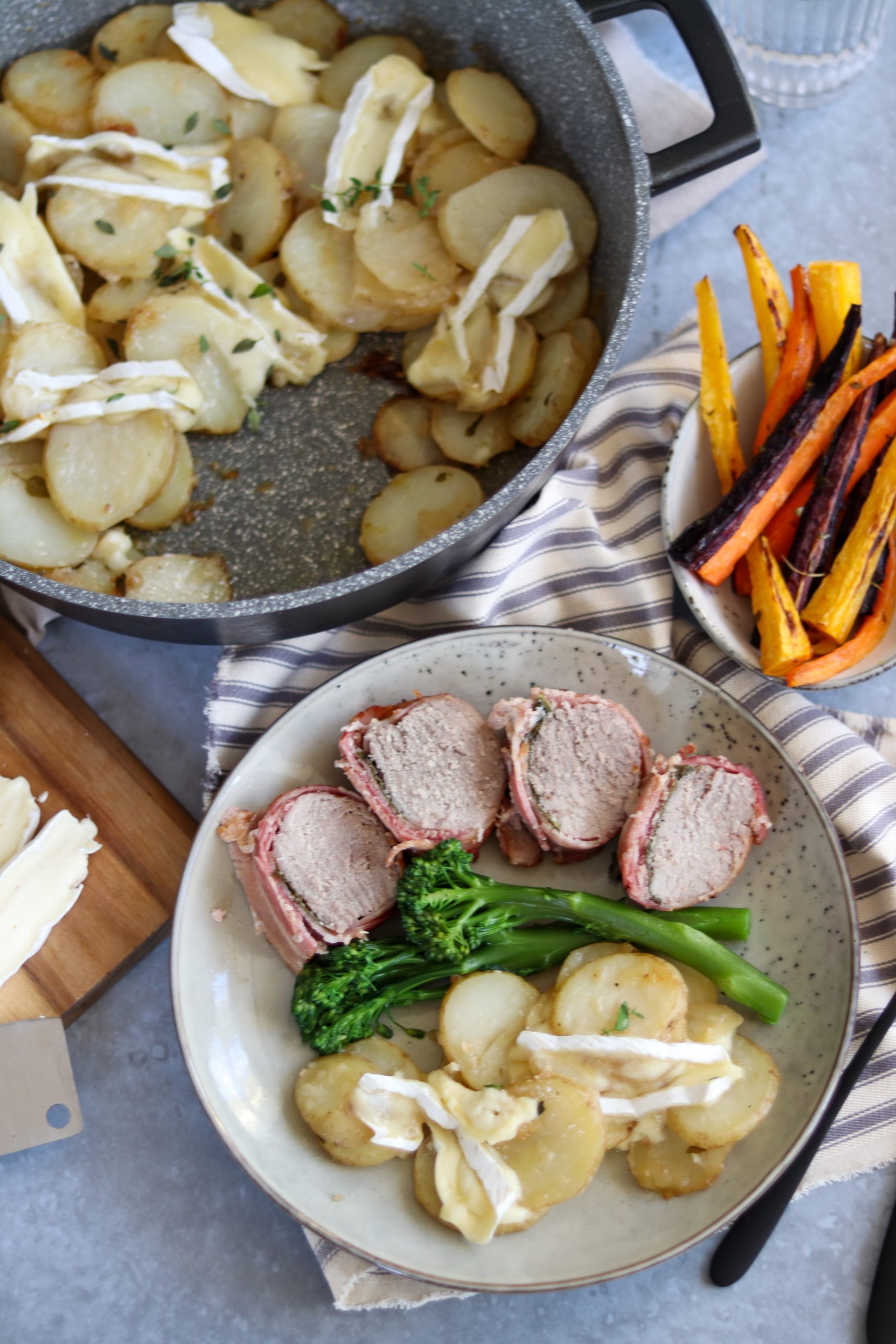 If you don't have brie, use what you like
Although I like to use brie for this recipe, you can use another soft cheese if that is what you have,
The original recipe from Nigel Slater used taleggio. This isn't a cheese that I commonly see, so the first time I made it, I used brie and have ever since.
Brie is a cheese that a lot of people have around Christmas and is also a time when we all tend to have leftovers. Camembert would also work really well for these potatoes.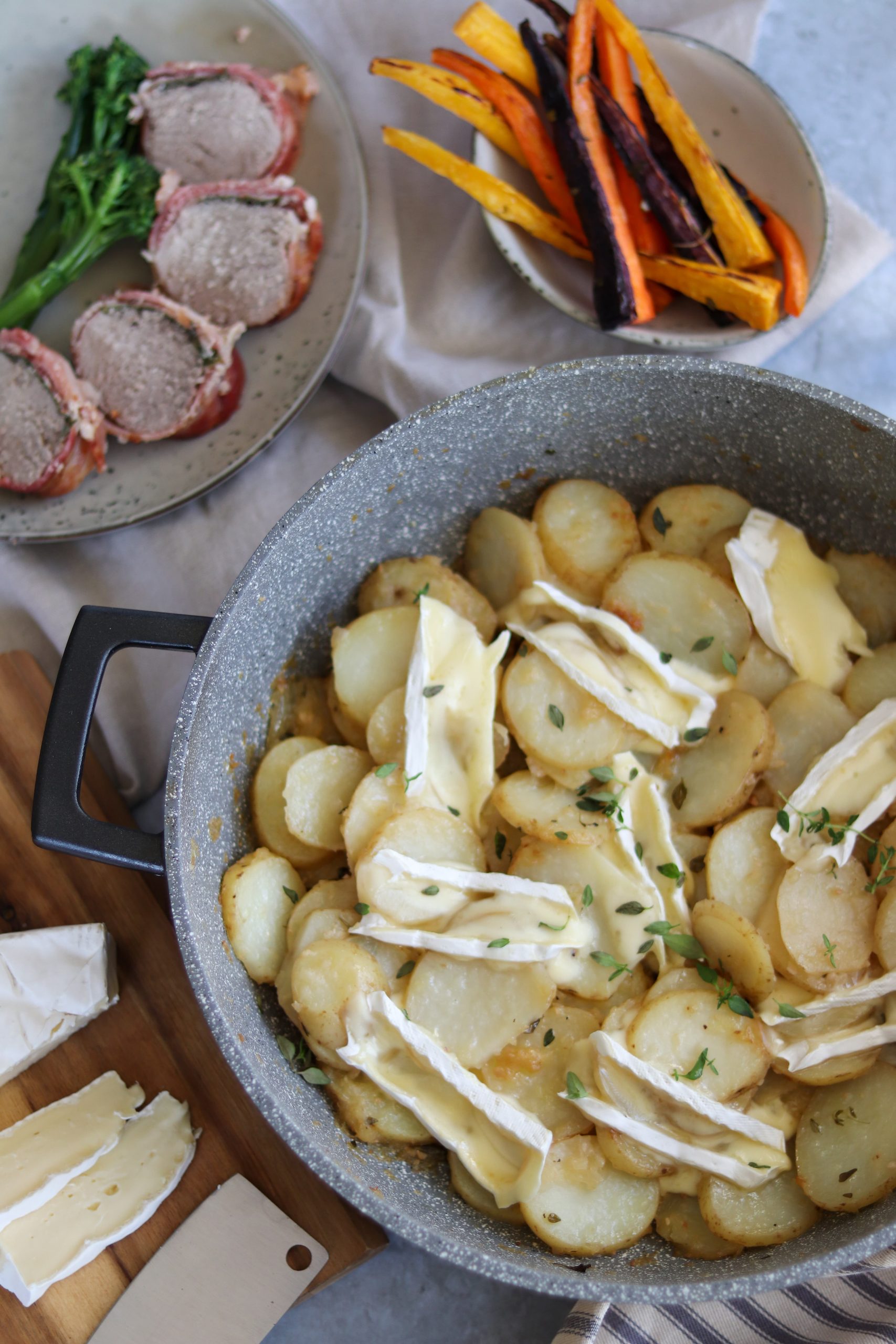 Do you have to remove the rind of the brie?
You don't, and I choose not to. I don't think you can taste it and it isn't something that offends me. I think if you remove it you risk cutting off half of the cheese.
However if you really don't like the idea of the rind, you can remove it.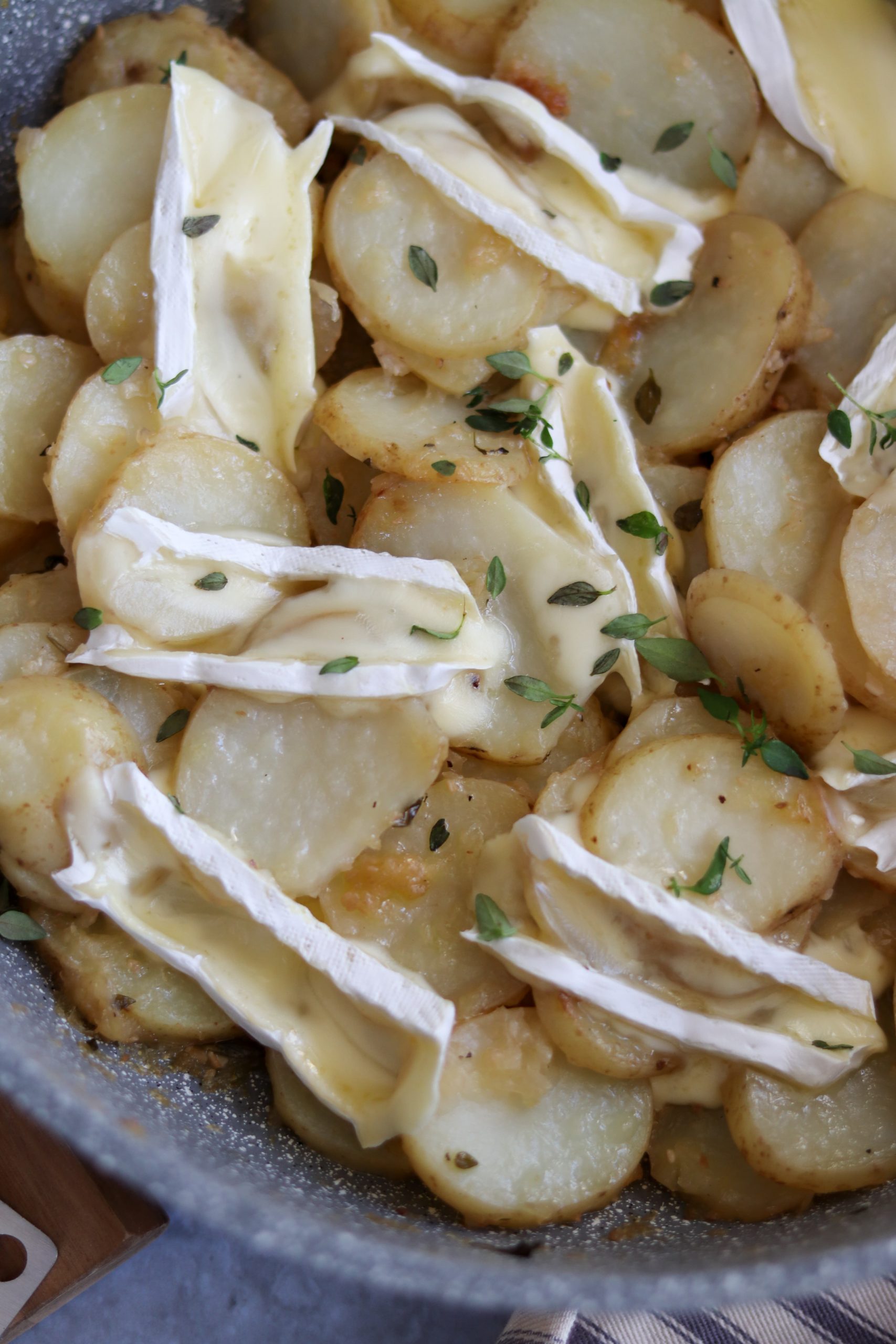 Can you use different herbs?
Fresh thyme works really well in this recipe. It goes so well with the potatoes and the brie.
You could also use sage or parsley as these are soft herbs that would work well. Although rosemary is delicious with potatoes, it is a harder herb and might not work as well. But please feel free to try it and let me know!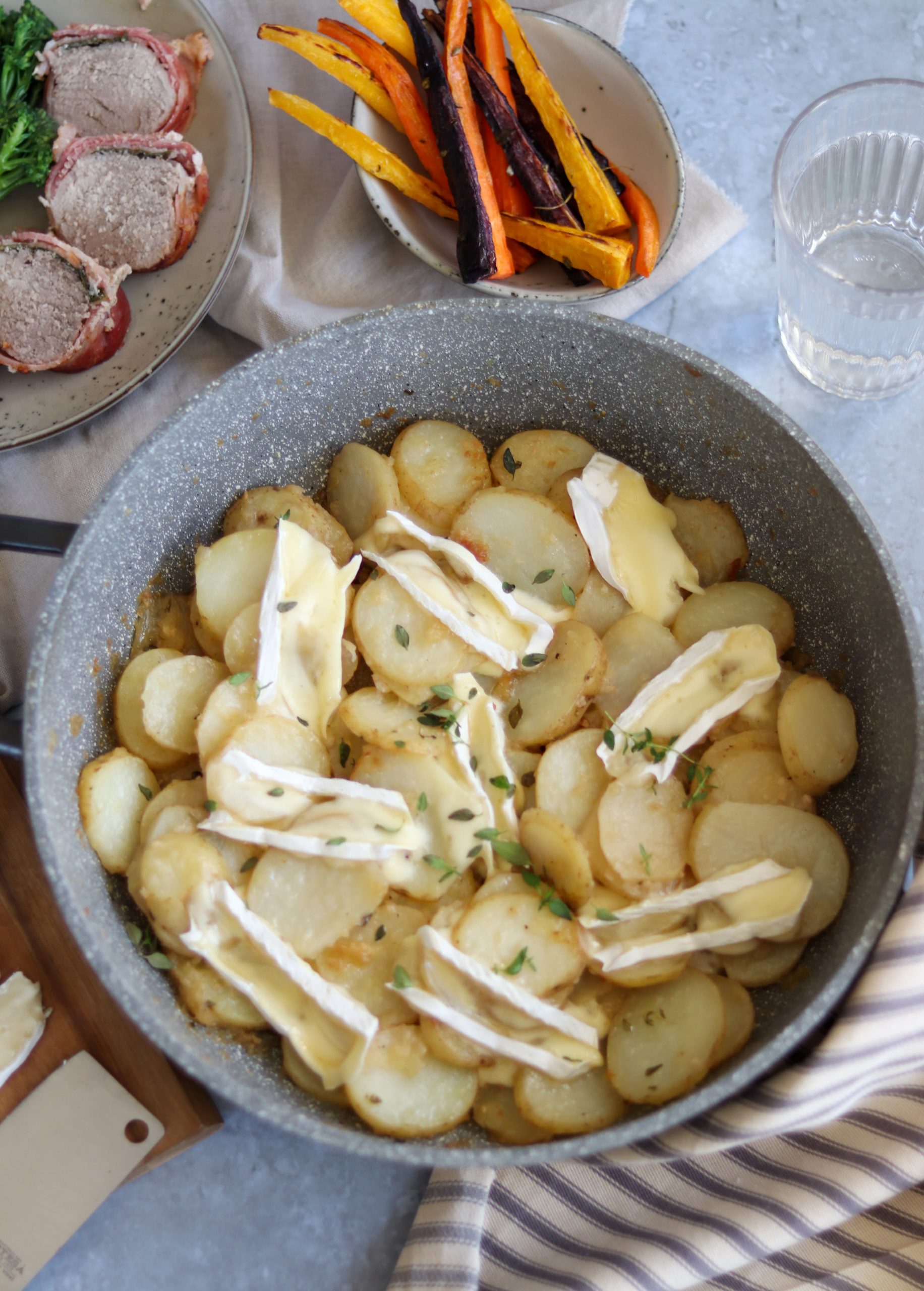 Can you use dried herbs?
Fresh herbs will always be the best option for these potatoes. However if you don't have any suitable fresh herbs, you can use dried.
They tend to be a bit stronger in flavour so use them sparingly so you don't overpower the rest of the dish.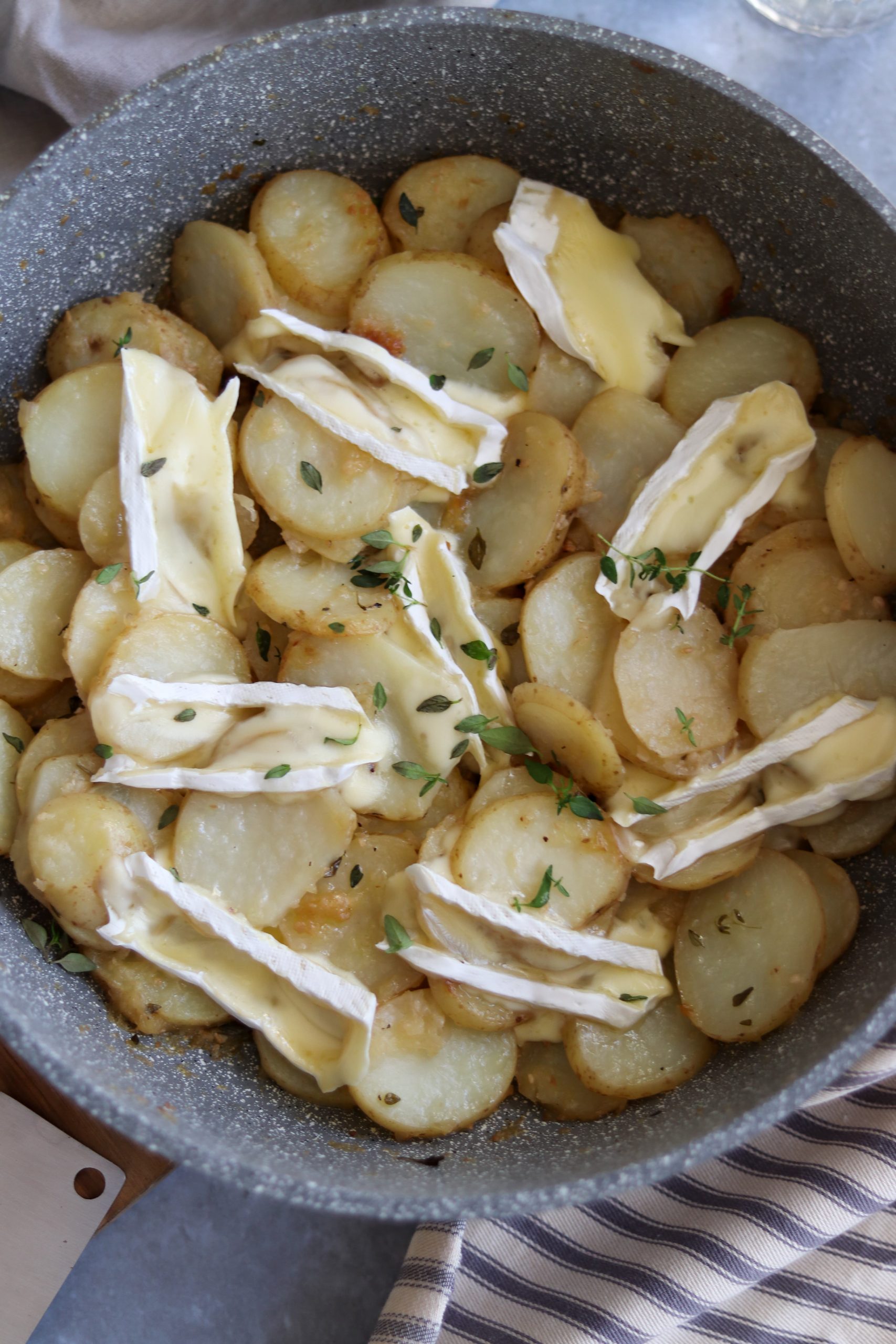 How many people does this serve?
This recipe is enough to serve four people as a side as a normal sized portion. However if you are particularly hungry (like I always am); it could also serve two people.
These Thyme & Brie Potatoes are guaranteed to be very popular so I would always recommend you do a few more potatoes encase people ask for seconds (which they will!).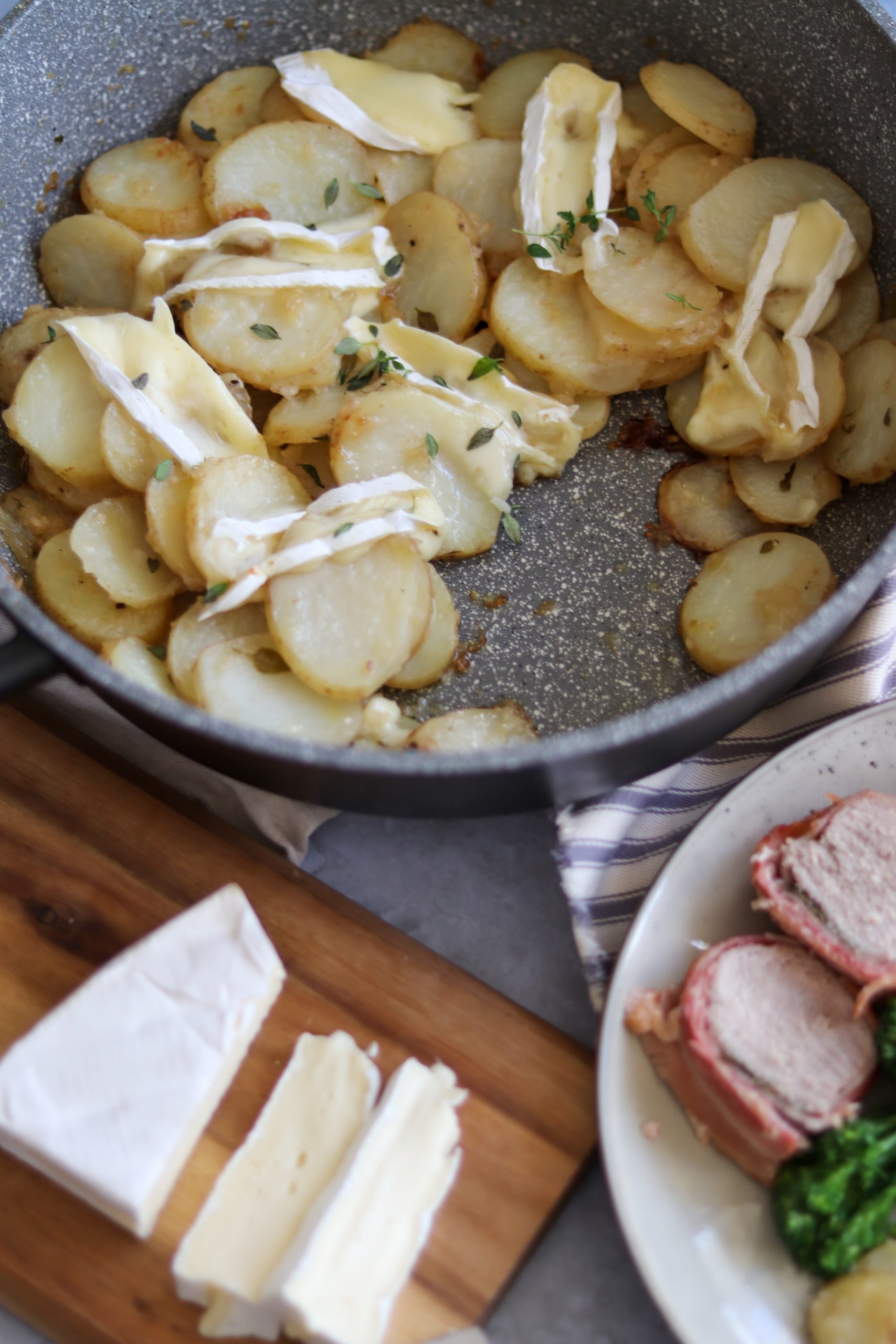 Can these potatoes be made vegan?
These Thyme & Brie Potatoes are naturally gluten free. If you make sure you use vegetarian friendly brie then it is also suitable for vegetarians.
It is quite easy to make these potatoes vegan. Use dairy free spread to replace the butter and use a vegan brie – or a similar alternative.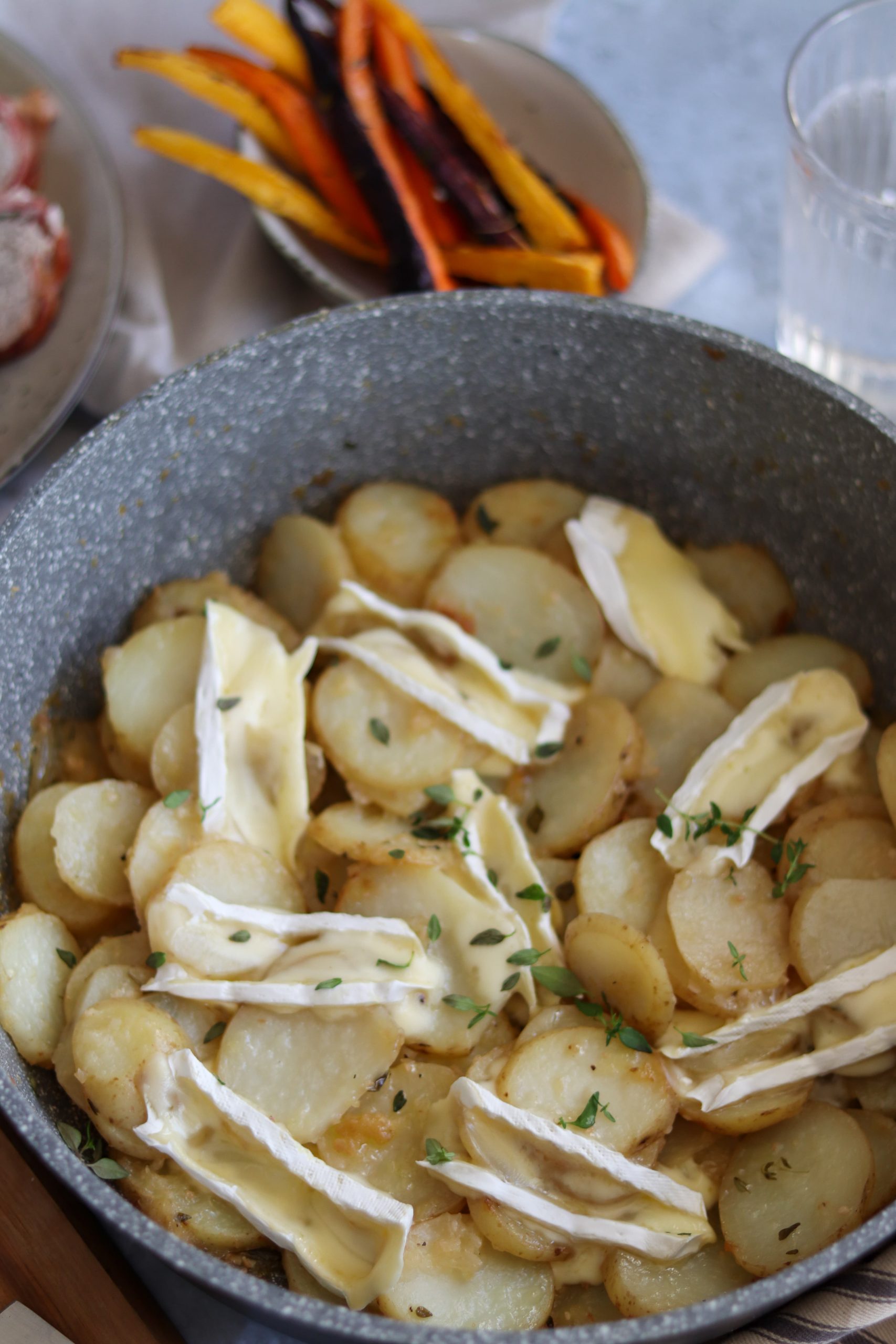 What to serve these potatoes with
These potatoes are so delicious I could eat them by themselves! But they are so delicious with all sorts of options.
I like to serve with with a lovely piece of pork. In the photos you can see I served them alongside Lost in Food's Roast Pork Fillet Wrapped in Bacon with Sage.
They would also be delicious served with my Honey Glazed Ham and Pressure Cooker Red Cabbage with Apple.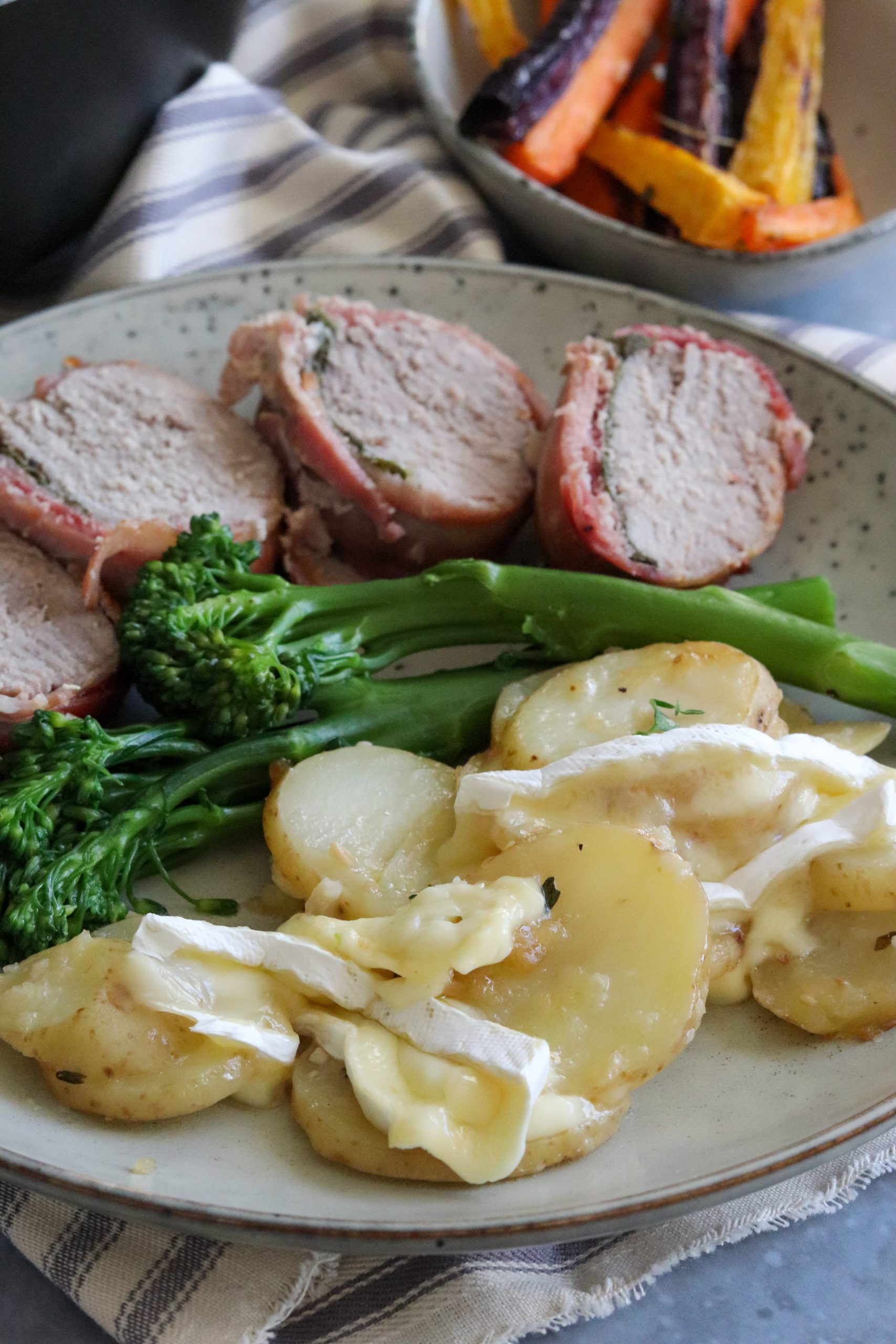 Can these potatoes be reheated?
Technically, yes they can be.
Personally I don't think the brie would reheat very well and this isn't something I have tried. In all honesty, I doubt you will have any potatoes left because you will almost certainly eat them all.
I definitely wouldn't recommend freezing these as potatoes don't seem to freeze well in my opinion.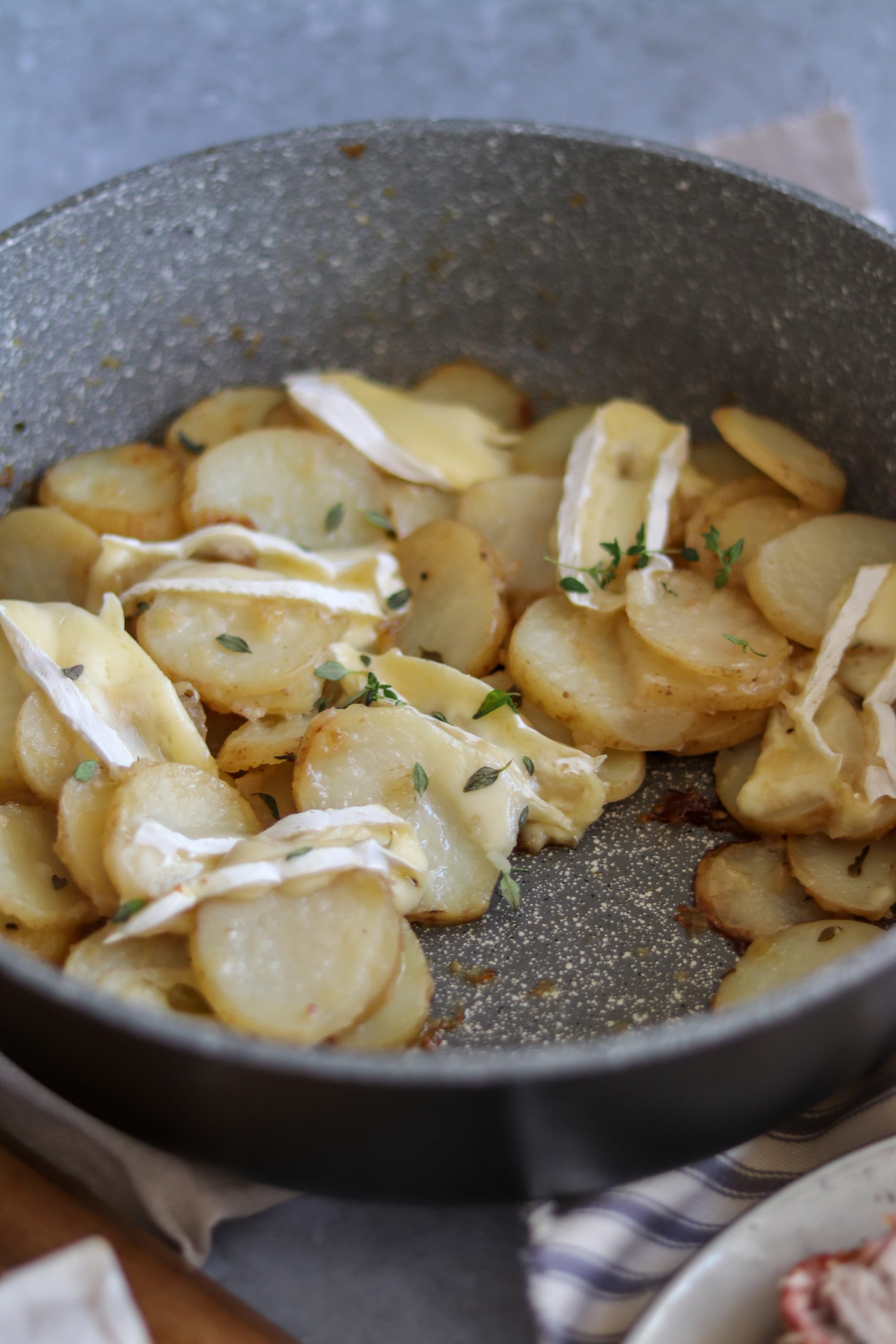 Other recipes you might like
Pin for later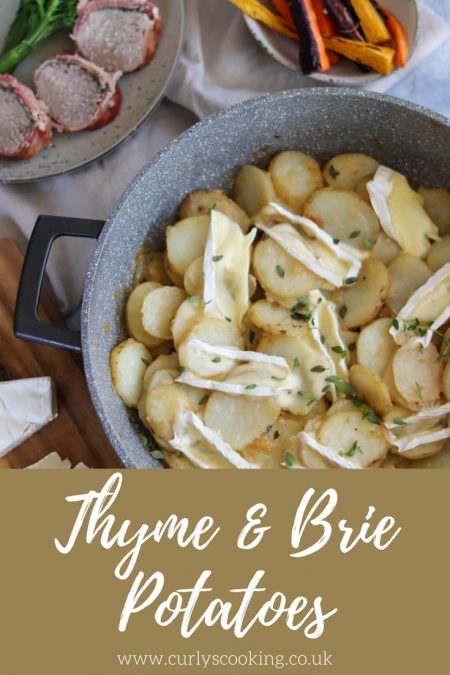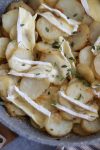 Thyme & Brie Potatoes
Soft potatoes slow cooked with garlic and thyme and covered in melted brie. These Thyme & Brie Potatoes really are something special.
Ingredients
500

g

waxy new potatoes

1

medium onion

finely diced

2

cloves

garlic

finely diced

1

tbsp

olive oil

25

g

butter

1

tsp

sea salt

pinch

black pepper

2

tbsp

fresh thyme

100

g

brie
Instructions
Cut the potatoes into slices approximately 5mm in width

In a large, shallow pan melt the butter and the oil. Once melted add the onions and fry very slowly for a couple of minutes until they are pale and golden

Next add the potatoes, garlic, salt, pepper and thyme leaves. Make sure you stir the potatoes so they are completely covered in the butter and oil. Cover the pan and leave on the lowest heat to cook slowly for 40-50 minutes. Stir them every so often to make sure they don't stick to the bottom of the pan

Test to see if the potatoes are cooked by sticking the point of a knife into them. If the knife goes in easily, they're done if not give them a few more minutes before testing again

Once the potatoes are cooked, lay slices of brie onto the potatoes and cover with the lid for a couple of minutes. Once the brie has melted, serve.
Recipe Notes
Nutritional information is given as a guide only and my vary.
Nutrition Facts
Thyme & Brie Potatoes
Amount Per Serving
Calories 254
Calories from Fat 144
% Daily Value*
Fat 16g25%
Cholesterol 38mg13%
Sodium 784mg34%
Potassium 59mg2%
Carbohydrates 1g0%
Protein 6g12%
Vitamin A 470IU9%
Vitamin C 6mg7%
Calcium 63mg6%
Iron 1mg6%
* Percent Daily Values are based on a 2000 calorie diet.
Linking to