Air Fryer Pizza Fries are a simple and irresistible recipe. These fries have all the delicious flavours you'd expect from a pizza, loaded on top of fries. What will you top yours with?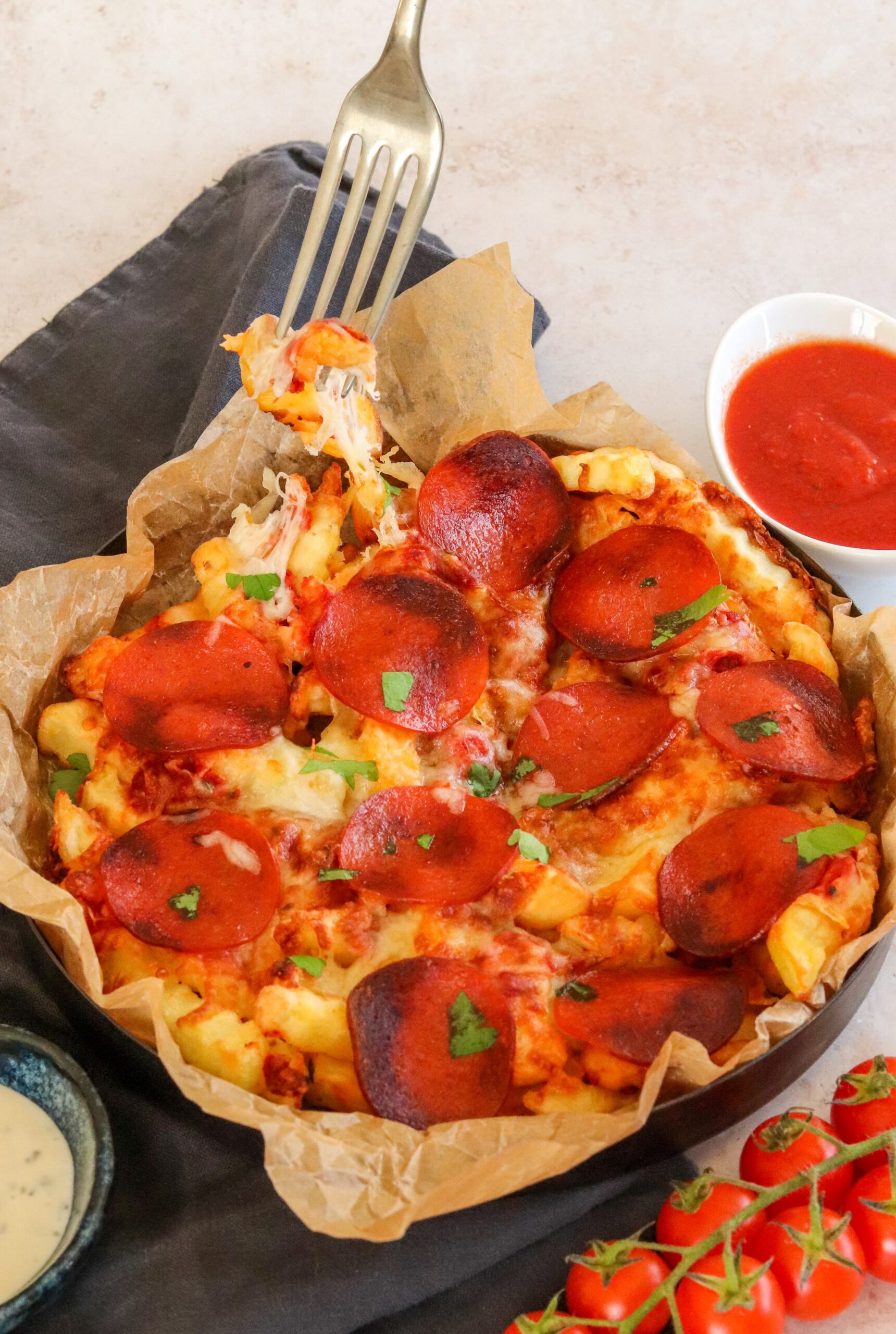 WHY USE AN AIR FRYER AND NOT AN OVEN?
Air fryers cook food quicker than a standard convection oven which is great for saving energy and pennies but also for busy families that want to be able to cook food quickly.
Another advantage is that air fryers are smaller than ovens and grills so you're not heating up a full-sized oven and instead a smaller air fryer. This means you're using less energy because you're heating up a smaller appliance as well as cooking the food faster.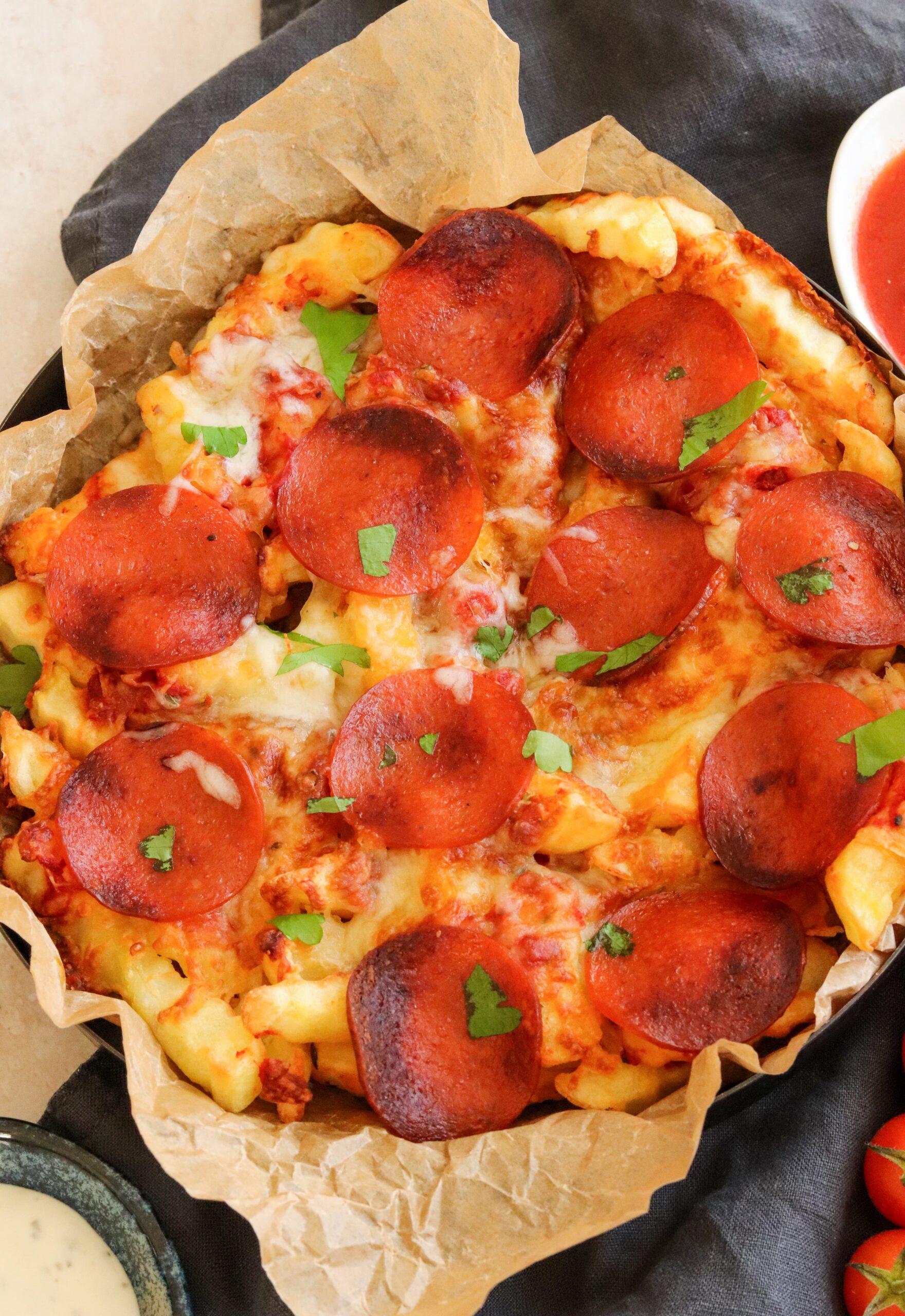 which chips are best to use for pizza fries?
These pizza fries can easily be made with frozen oven chips or homemade chips. Both varieties can be cooked in your air fryer before adding the toppings.
Frozen oven fries are the quicker option and you can use whichever you want. Thick steak fries or crinkle cut chips would be my first choices. However you can also use French fries or even waffle fries if you prefer.
These pizza fries would also be delicious with homemade chips. You can peel the potatoes or leave the skin on if you like.
Whichever chips you use, make sure they are nice and crisp before you add the toppings. This is because the pizza sauce will soften them slightly.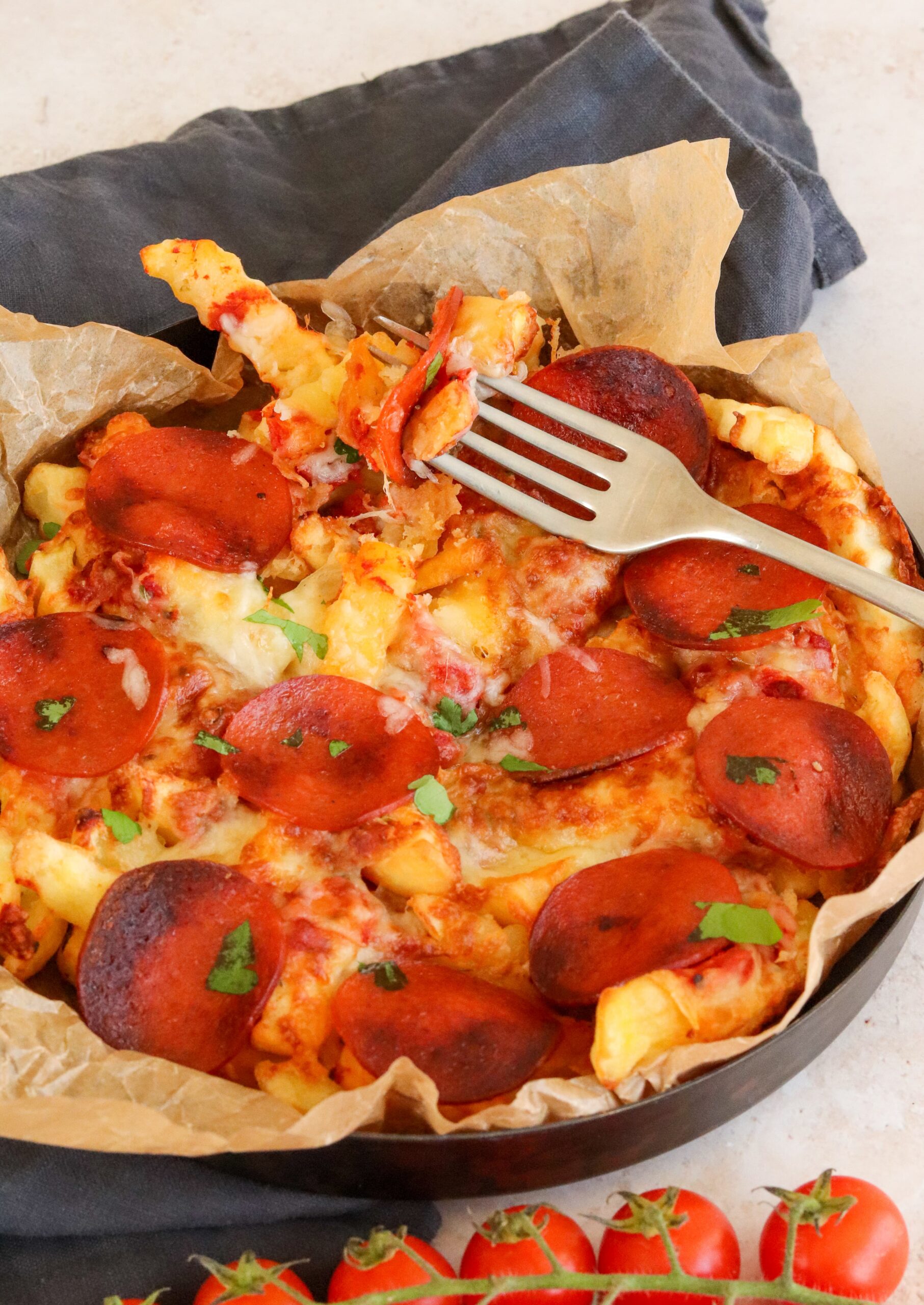 which toppings should you use?
When it comes to Air Fryer Pizza Fries you can be as creative as you like! Use whichever toppings you would usually put on your pizza.
My one word of advice is to try to not pile too many ingredients on top so you don't make the chips underneath too soggy.
I am a huge fan of pineapple on pizza and I have absolutely no shame in admitting that. But I wouldn't necessarily use it for these pizza fries because of it's moisture content.
Make sure you check out my Air Fryer Pizza Bagels as another option.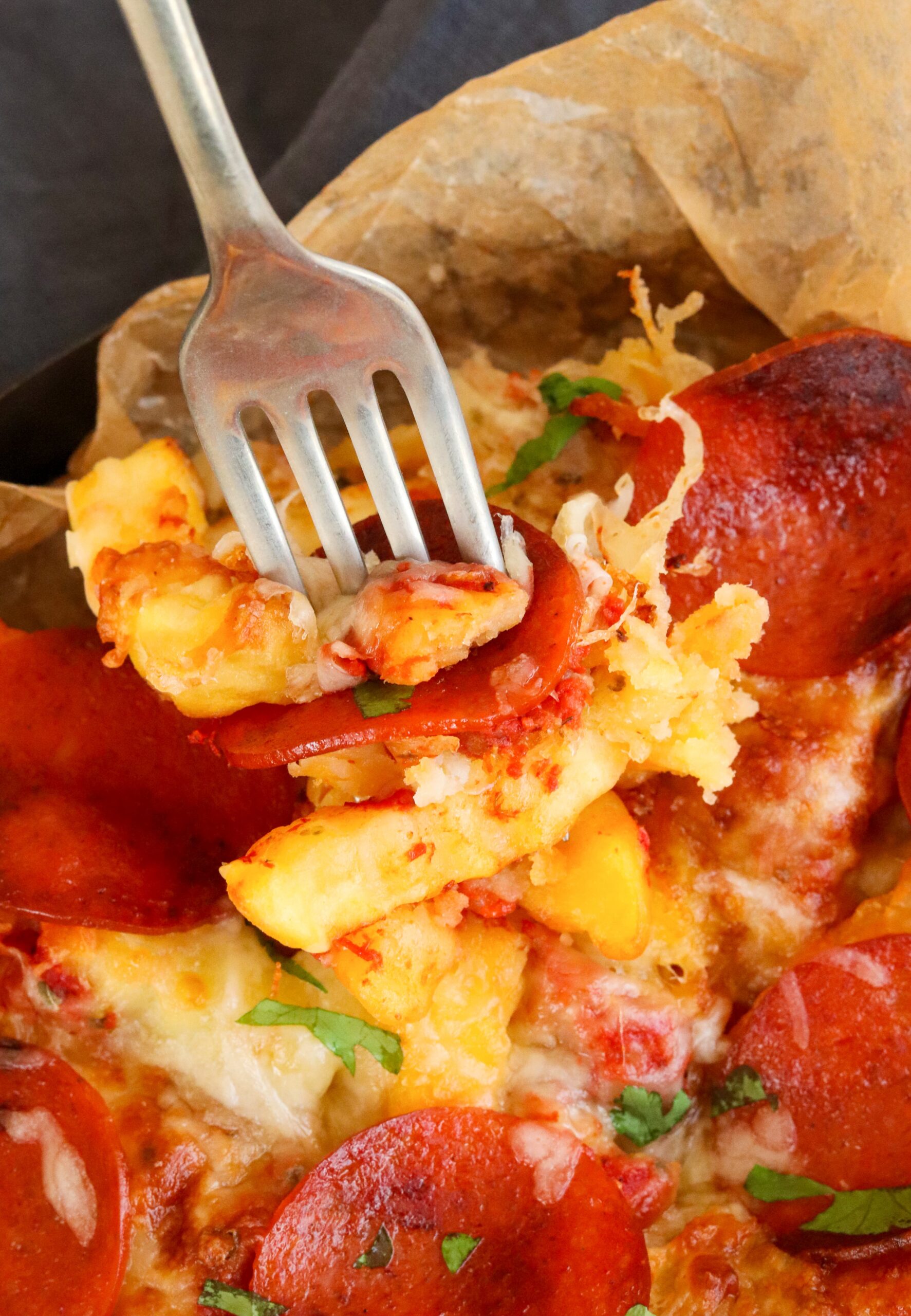 pizza sauce
With these pizza fries, the fries are acting as the base of the pizza so directly on top of them we need some sort of pizza sauce.
I love the Mutti pizza sauce which is Italian tomatoes combined with herbs and is the perfect spreading consistency.
Other good options would be passata which you could add some additional herbs to or marinara sauce. Basically whatever you would use when making a pizza at home will work for these fries.
You can of course make your own pizza sauce which would be a delicious option.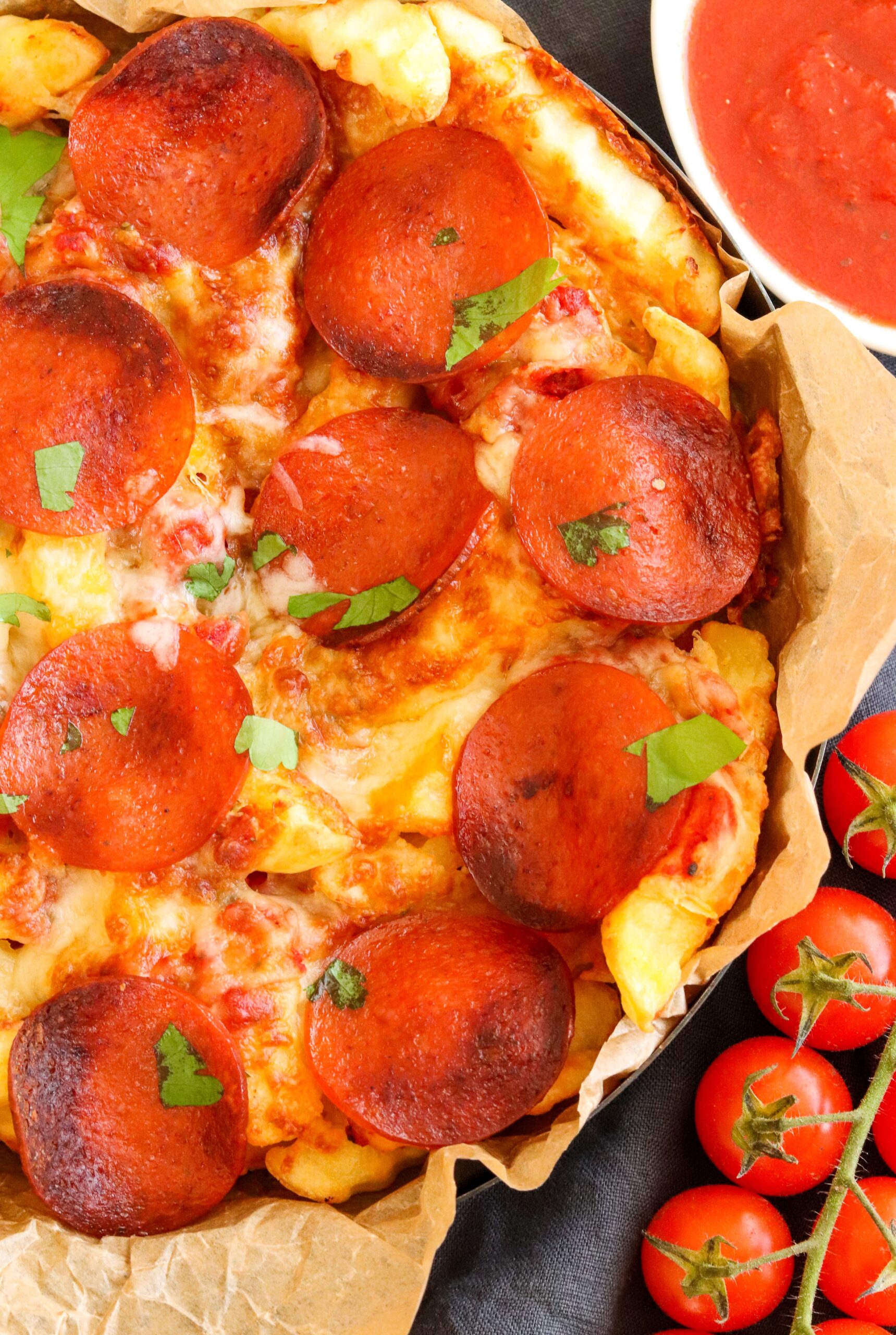 Dried herbs
Although the pizza sauce I like to use includes herbs, I like to add an additional sprinkle of dried oregano. Personally I don't think you should skip the oregano because it really does elevate the flavour.
If you don't have dried oregano you could use basil or mixed herbs. You could also rip up some fresh basil leaves to scatter over the sauce too.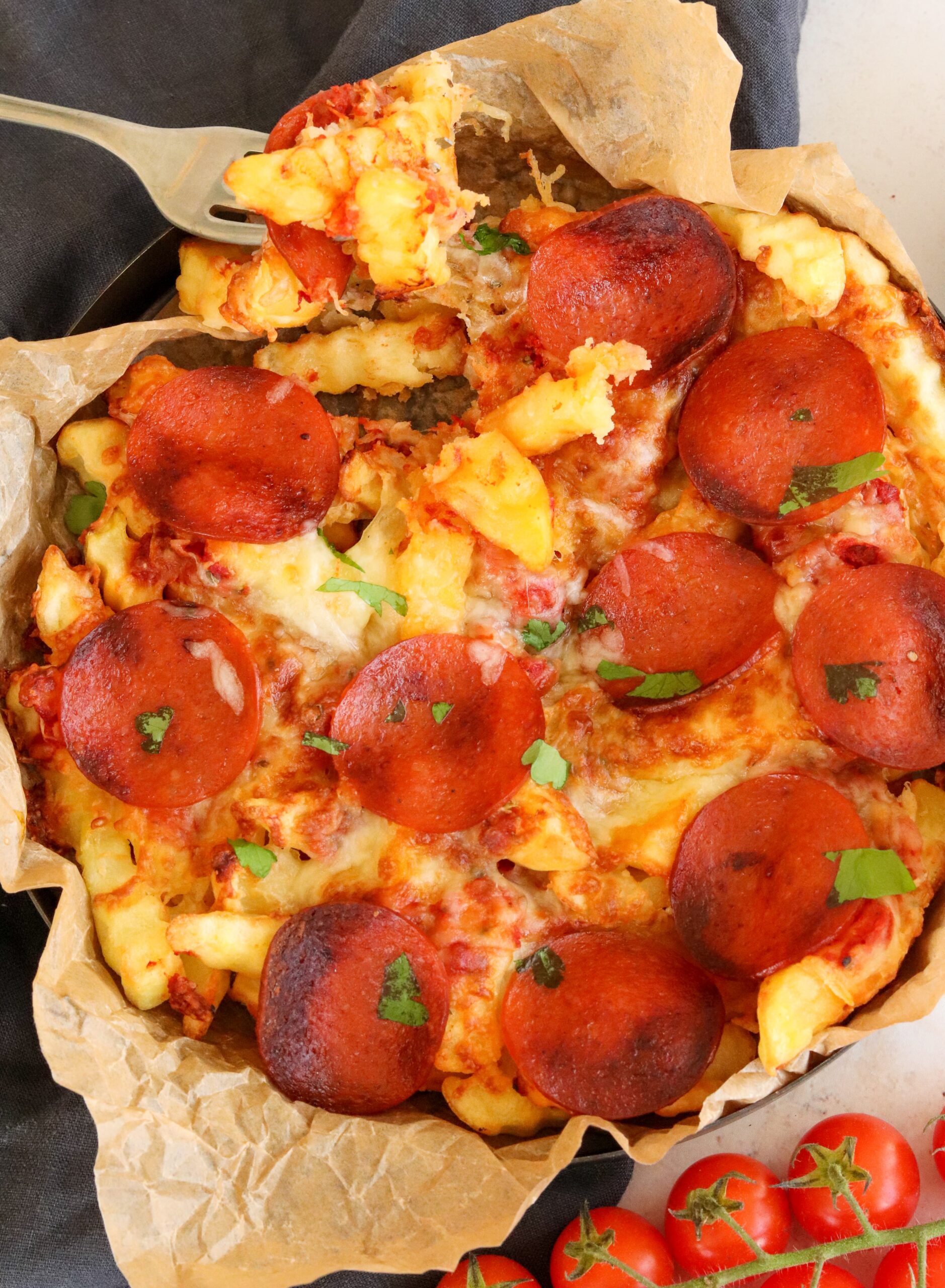 cheese
Cheese is essential when it comes to pizza fries. You don't really need to weigh it out, just add as much as you feel is needed.
I like to use grated mozzarella when any pizza type recipes. I don't usually buy any pre grated cheese but grated mozzarella is dusted with potato starch which makes it drier than fresh mozzarella. This helps keep the chips nice and crisp.
You can use a combination of mozzarella and cheddar, or just cheddar. If you want to make the pizza fries vegan, use your favourite dairy free cheese that melts well.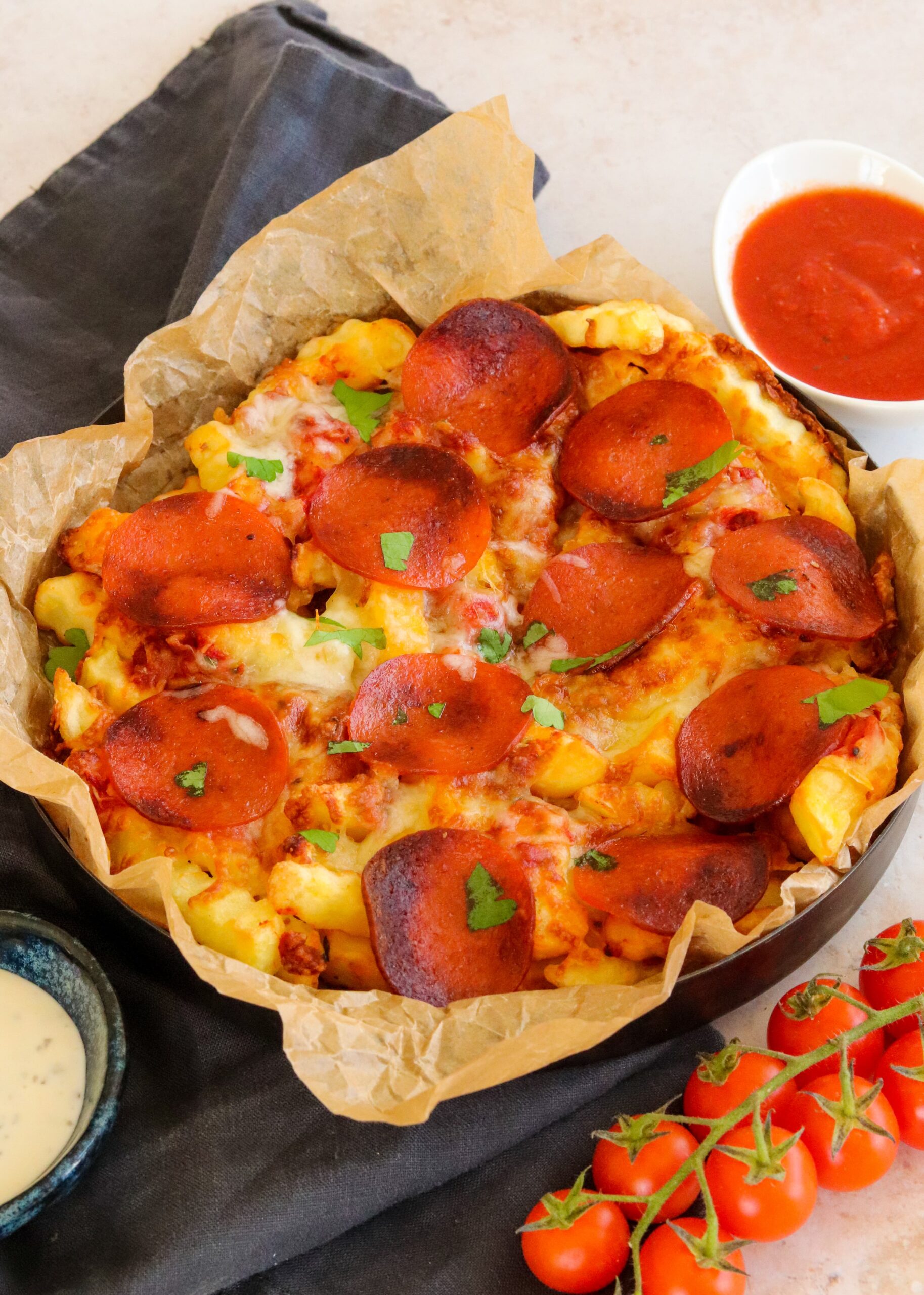 additional toppings
You could just leave the pizza fries with the tomato sauce and cheese if you wanted a simple vegetarian option. I do however like to add some additional toppings.
I more often than not choose to use just pepperoni. Nice and simple but very tasty. You could add some leftover roast chicken, ham or any other cooked meats.
I have used ham before but I would recommend keeping an eye on it as if it is quite thin, it can catch slightly at the edges.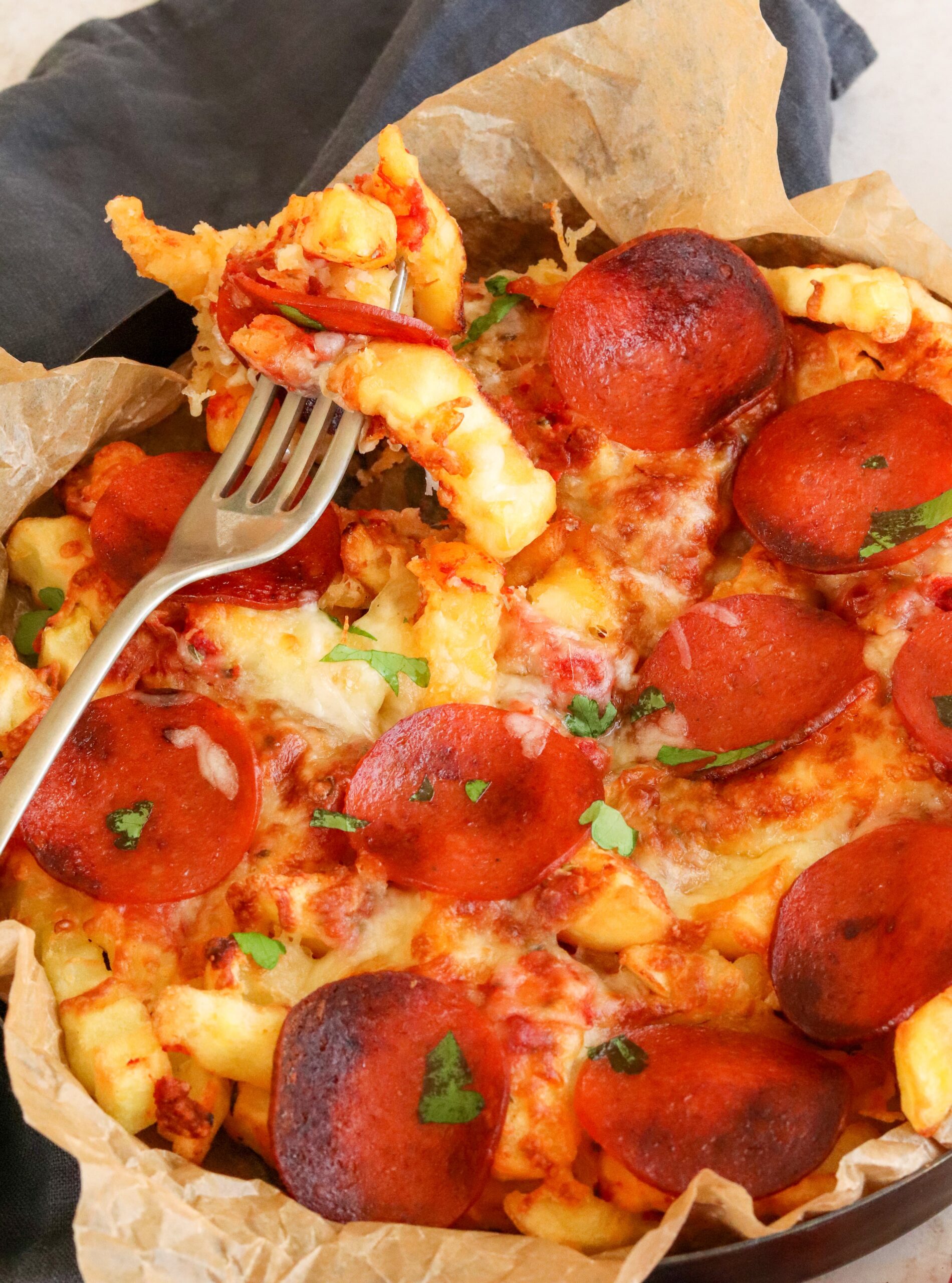 do you need to preheat an air fryer?
That depends on your air fryer, some require preheating whilst others don't. I have a Ninja 7-in-1 multicooker and I have never preheated mine.
If your air fryer does require preheating, check the chips a few minutes sooner than the recipe states. If your air fryer is warm, food is likely to cook a few minutes faster.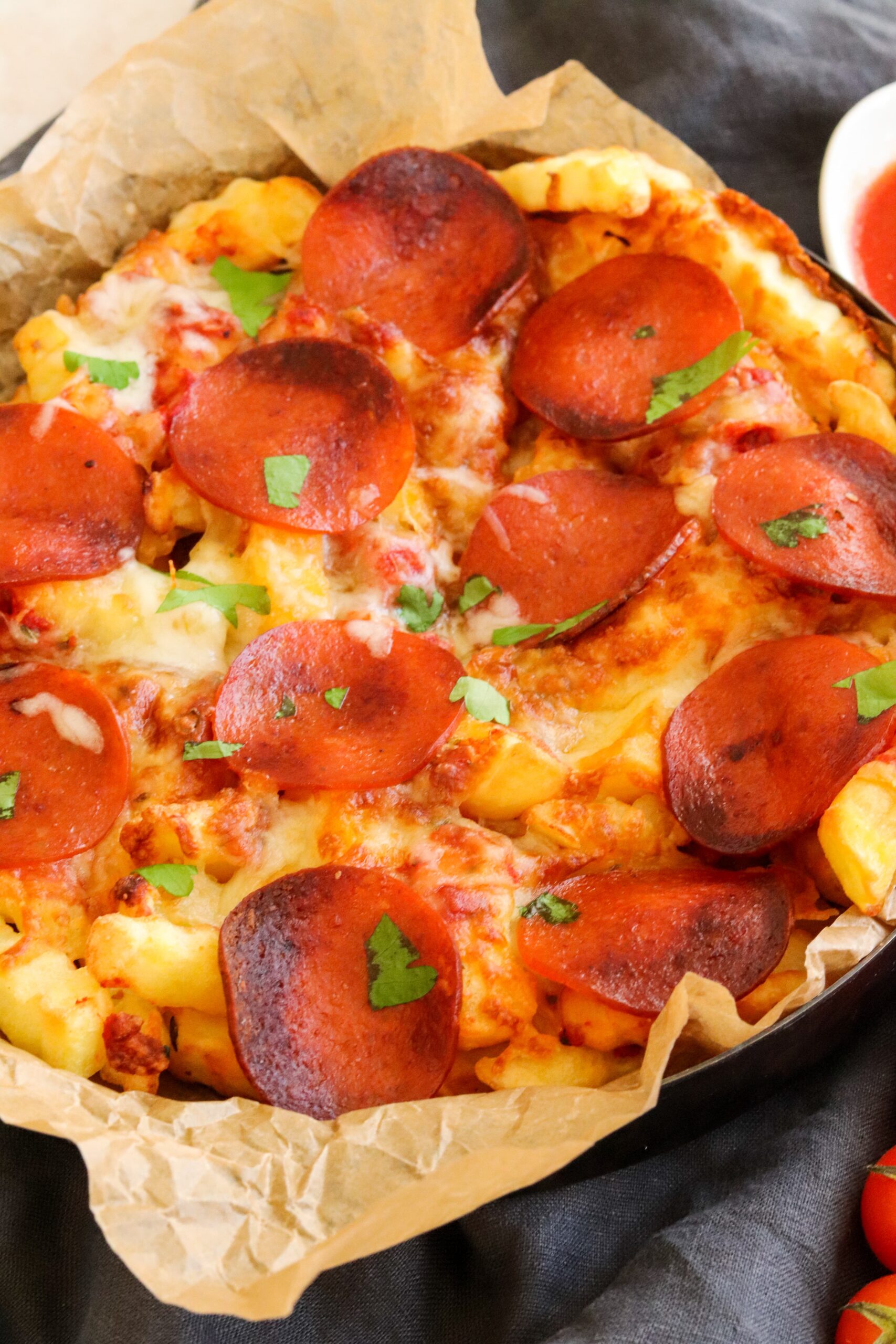 can you use an air fryer liner?
Air fryer liners are a great time saving addition because they are usually easier to wash than the basket of your air fryer.
For these Air Fryer Pizza Fries, I wouldn't recommend using a liner when you are initially cooking the chips. But using a liner would be beneficial when you are cooking the fries with the toppings.
I've written a whole post on whether you should use an air fryer liner, check it out for more information.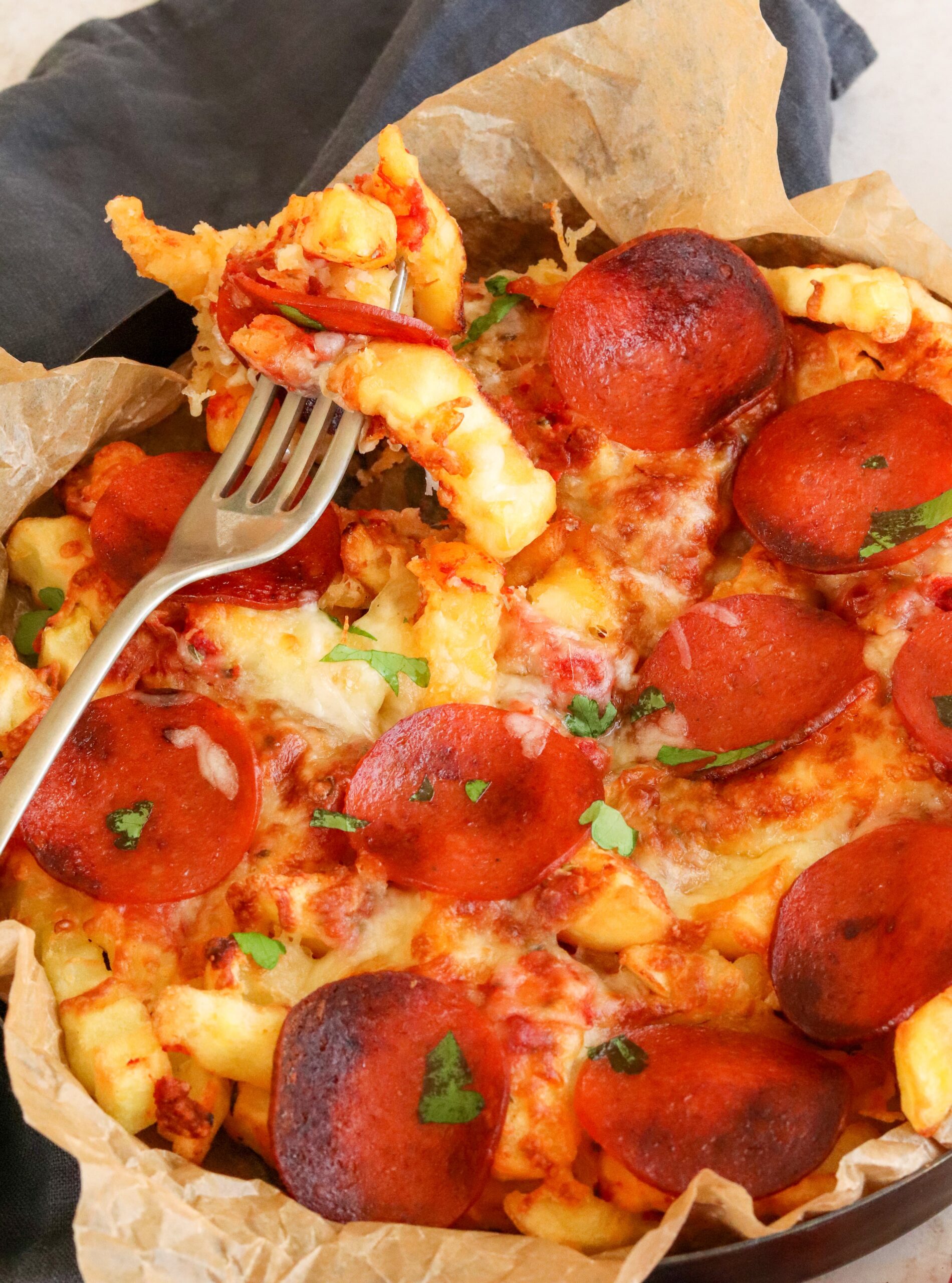 how to serve air fryer pizza fries
These pizza fries can be served as a meal in themselves. However you can also serve fewer of them as a side dish to so many different meals.
A good way to serve them would be with a bacon cheese burger, turkey burger or halloumi burger. My Air Fryer Garlic Bread would be a tasty accompaniment also!
I really recommend making some ranch dip to serve alongside them. The combination is delicious!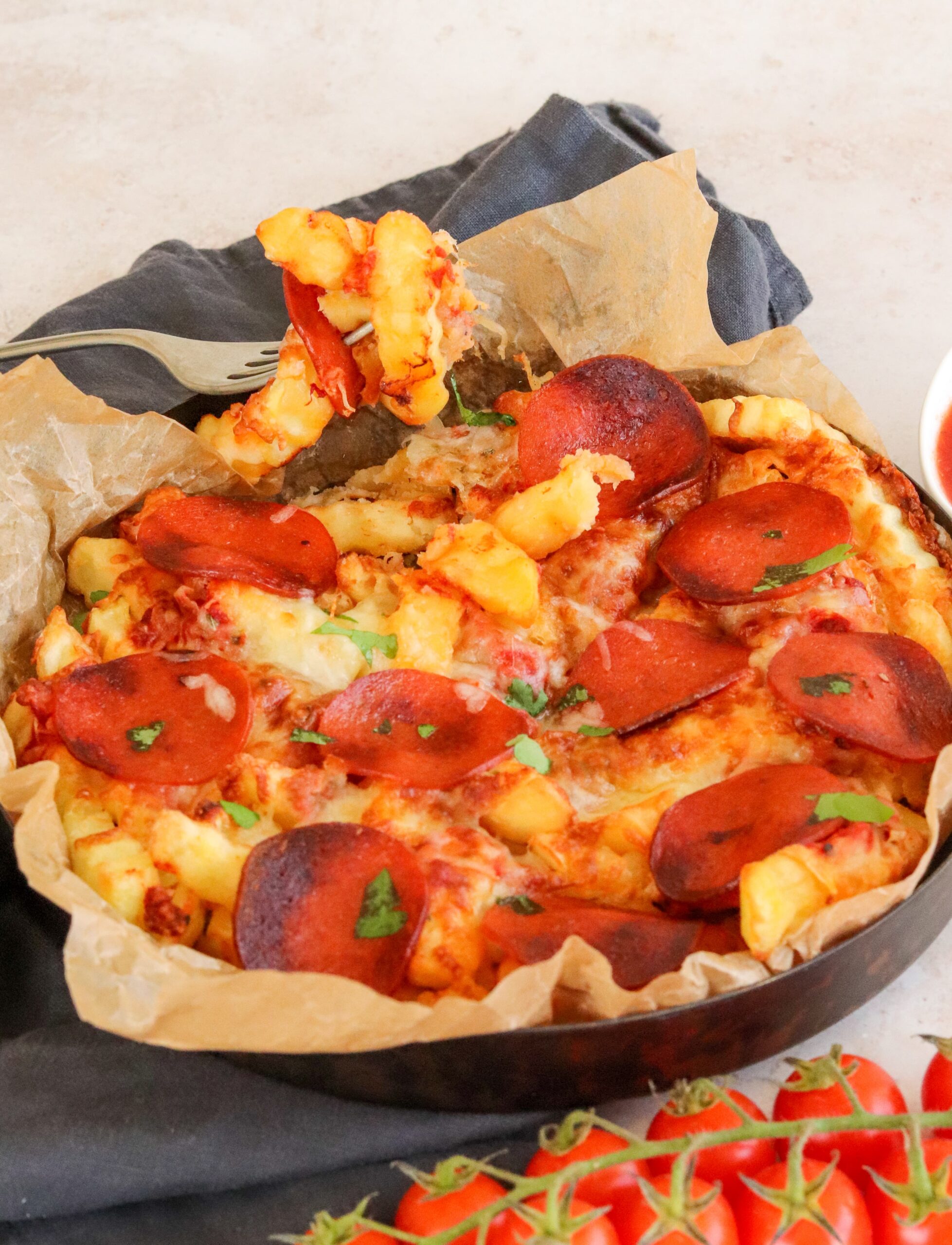 other recipes you might like
Pin for later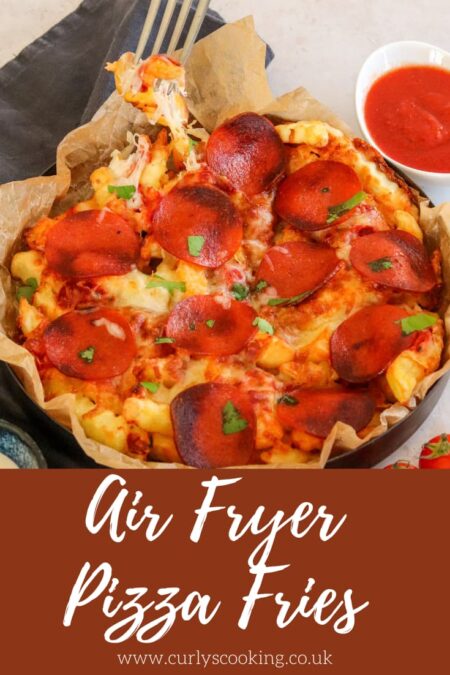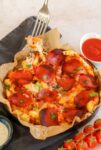 Air Fryer Pizza Fries
Air Fryer Pizza Fries are a simple and irresistible recipe. These fries have all the delicious flavours you'd expect from a pizza, loaded on top of fries. What will you top yours with?
Ingredients
350

g

chips

70

g

pizza sauce

½

tsp

dried oregano

60

g

grated mozzarella

11

slices

pepperoni

(approx 50g)
Instructions
Cook 350g frozen or homemade chips as per the relevant instructions

Once the chips are cooked, spoon over 70g pizza sauce and sprinkle over ½ tsp dried oregano

Scatter over 60g grated mozzarella and 11 slices of pepperoni

Cook for 5-7 mins at 190°C until the cheese is melted
Recipe Notes
Nutritional information is given as a guide only and may vary.
Nutrition Facts
Air Fryer Pizza Fries
Amount Per Serving
Calories 549
Calories from Fat 288
% Daily Value*
Fat 32g49%
Cholesterol 5mg2%
Sodium 620mg27%
Potassium 193mg6%
Carbohydrates 51g17%
Protein 7g14%
Vitamin A 76IU2%
Vitamin C 1mg1%
Calcium 124mg12%
Iron 1mg6%
* Percent Daily Values are based on a 2000 calorie diet.