This Stewed Rhubarb with Port is incredibly simple with only three ingredients. It is delicious served on top of yogurt and ice cream but also makes a fantastic base for crumbles and pies.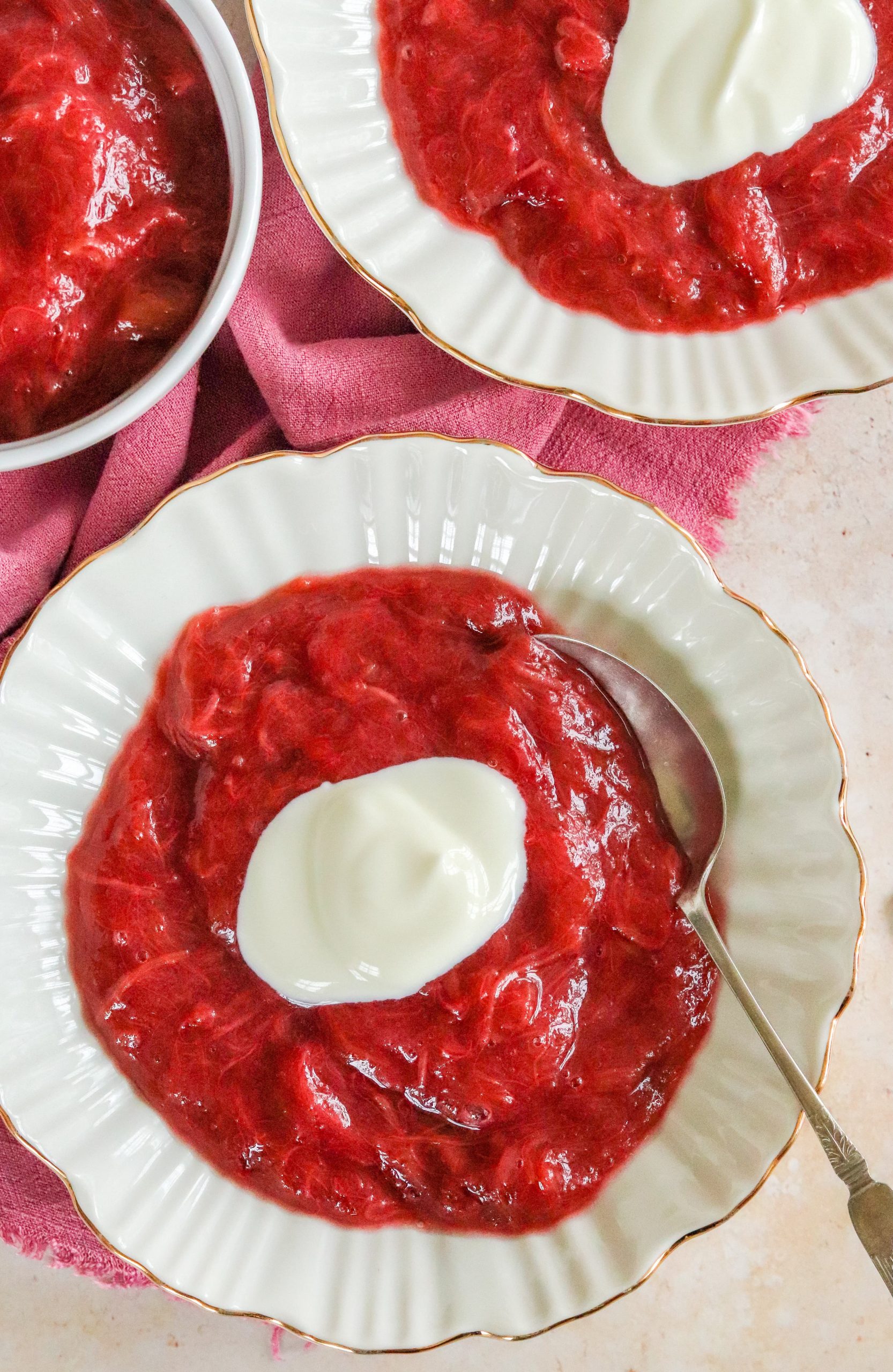 What is stewed rhubarb?
Stewed Rhubarb is such a simple and delicious recipe and a fantastic way to make the most of seasonal rhubarb.
It is as easy as cooking some rhubarb with sugar and a splash of port in a pan. The rhubarb starts to break down and form a delicious, compote like sauce.
After you've made it once, you'll be making batches so you always have some available!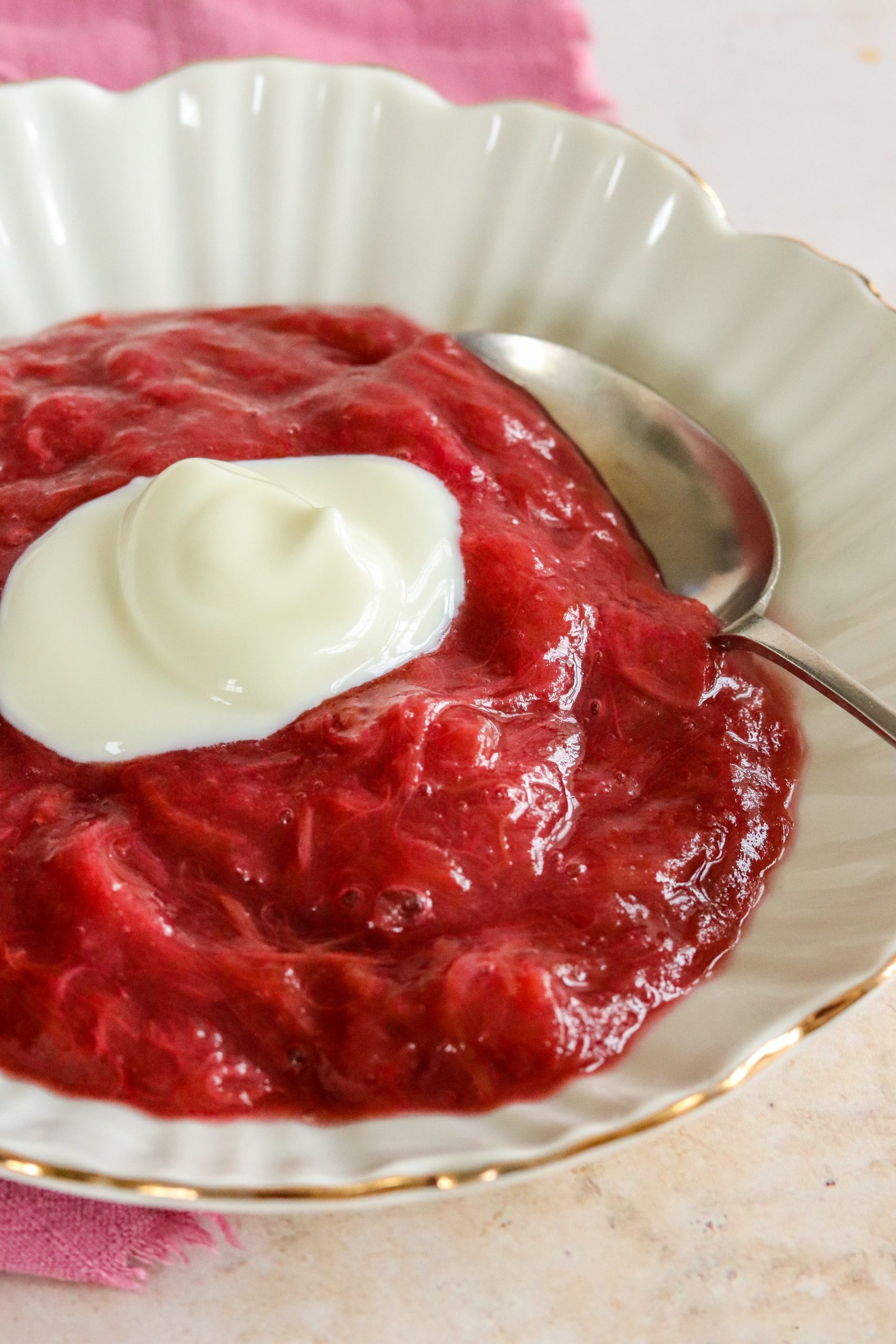 A simple three ingredient recipe
This recipe really couldn't get much easier. The hardest part is preparing the rhubarb which is very simple!
It really is as effortless as adding the rhubarb, sugar and port to a pan and leaving it to gently bubble away.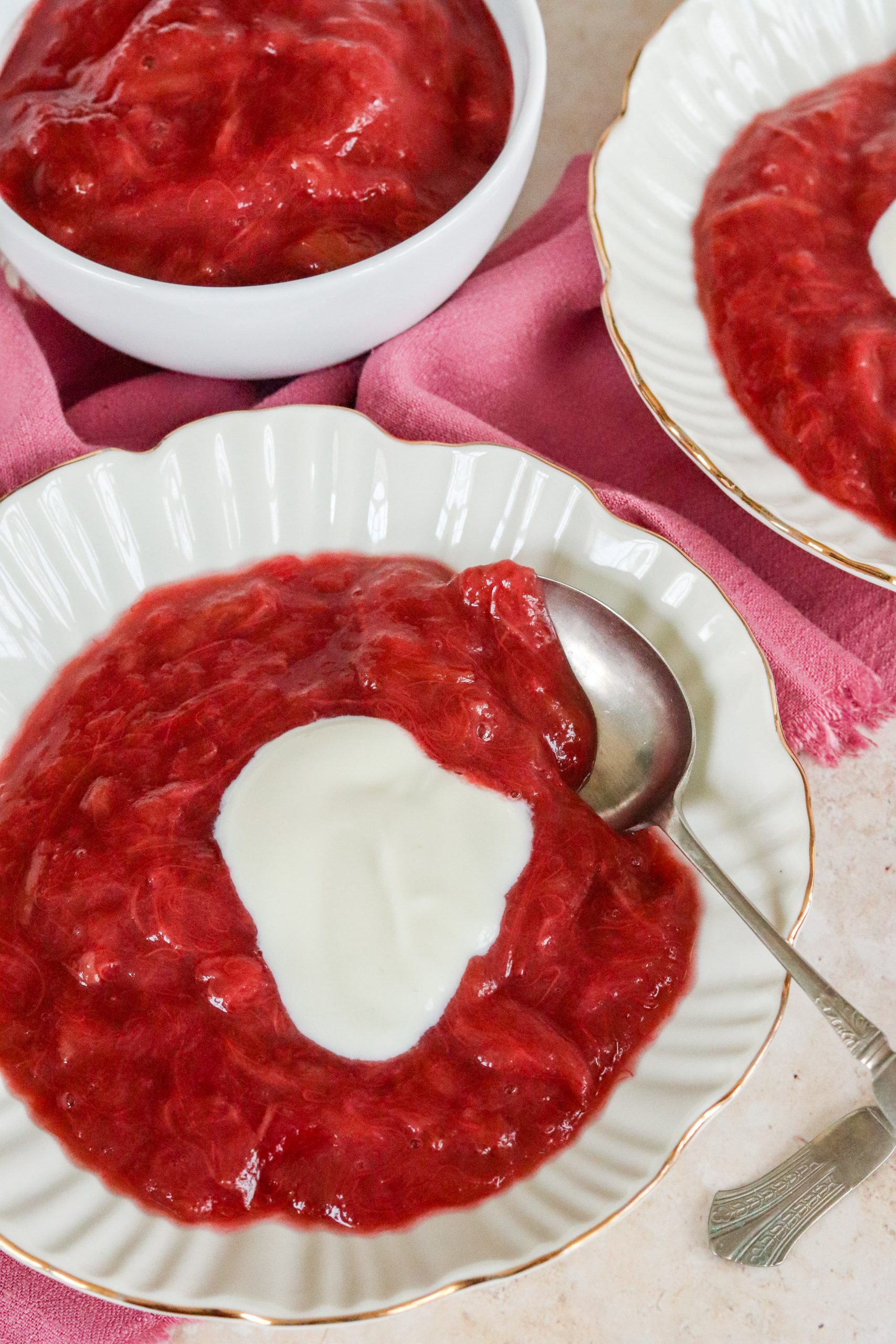 how do you prepare rhubarb?
Rhubarb is really simple to prepare. If you are harvesting it yourself, it is recommended to pull the rhubarb stalks from the plant. This allows the plant to recover more quickly and produce more rhubarb.
If you do cut the stalks, the plant will be fine but it might take a little longer to recover.
When it comes to preparing rhubarb, remove any leaves as these are poisonous. Then cut the other end off too. Give the rhubarb a good wash.
Once you have washed the rhubarb, cut it into pieces. For most recipes, it doesn't really matter how big you cut the rhubarb, but try to cut it into similar sized pieces.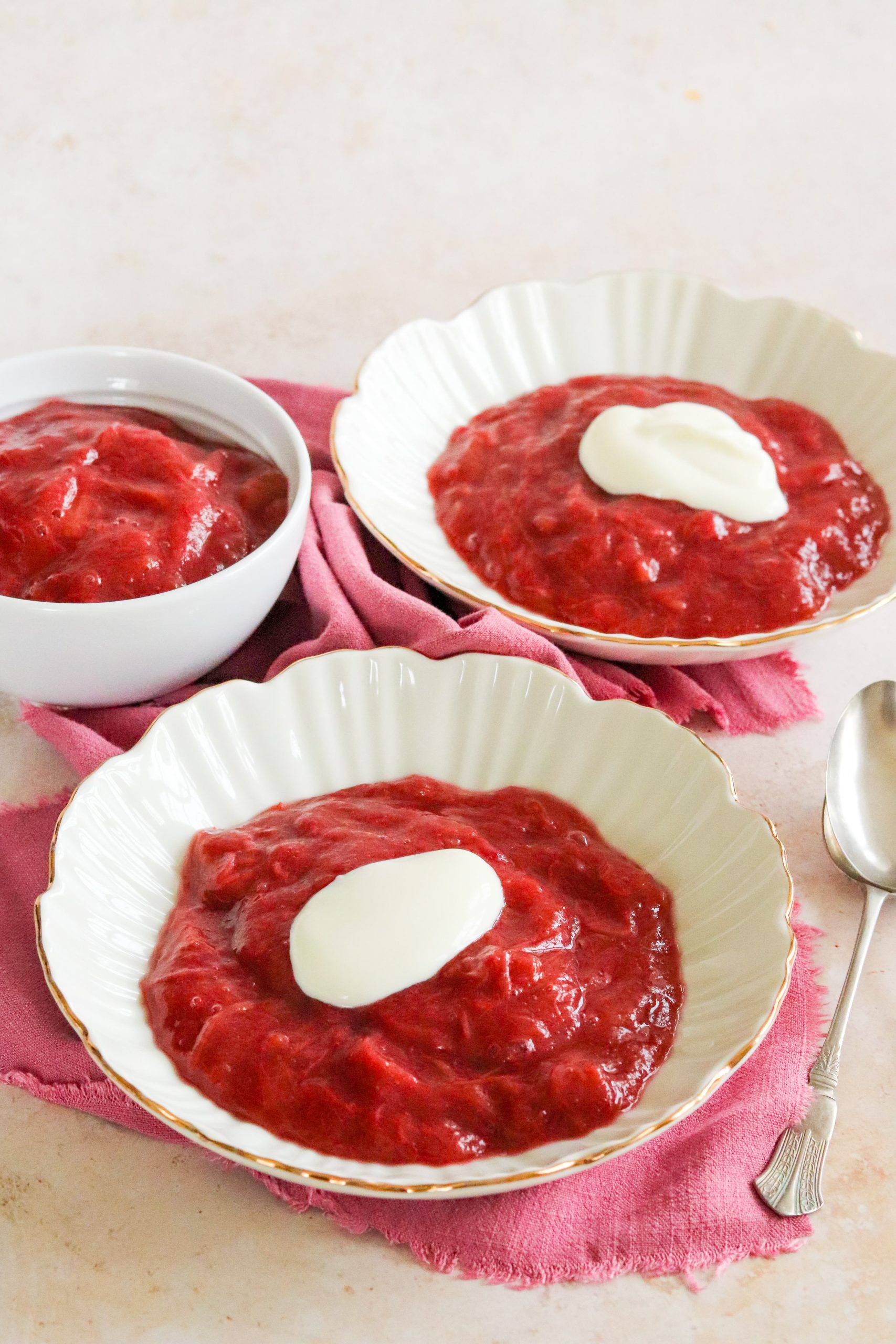 When is rhubarb in season?
There are two different types of rhubarb grown; forced and field grown rhubarb.
Forced rhubarb is grown with limited light to encourage it to grow earlier in the season. This type of rhubarb is available from late December to March. It is usually a lighter, brighter pink colour.
Field grown rhubarb then comes into season in April until September. As it is grown in fields with lots of light, the stems are more green in colour than forced rhubarb.
Some people consider forced rhubarb to be sweeter in taste but either would work well in this recipe.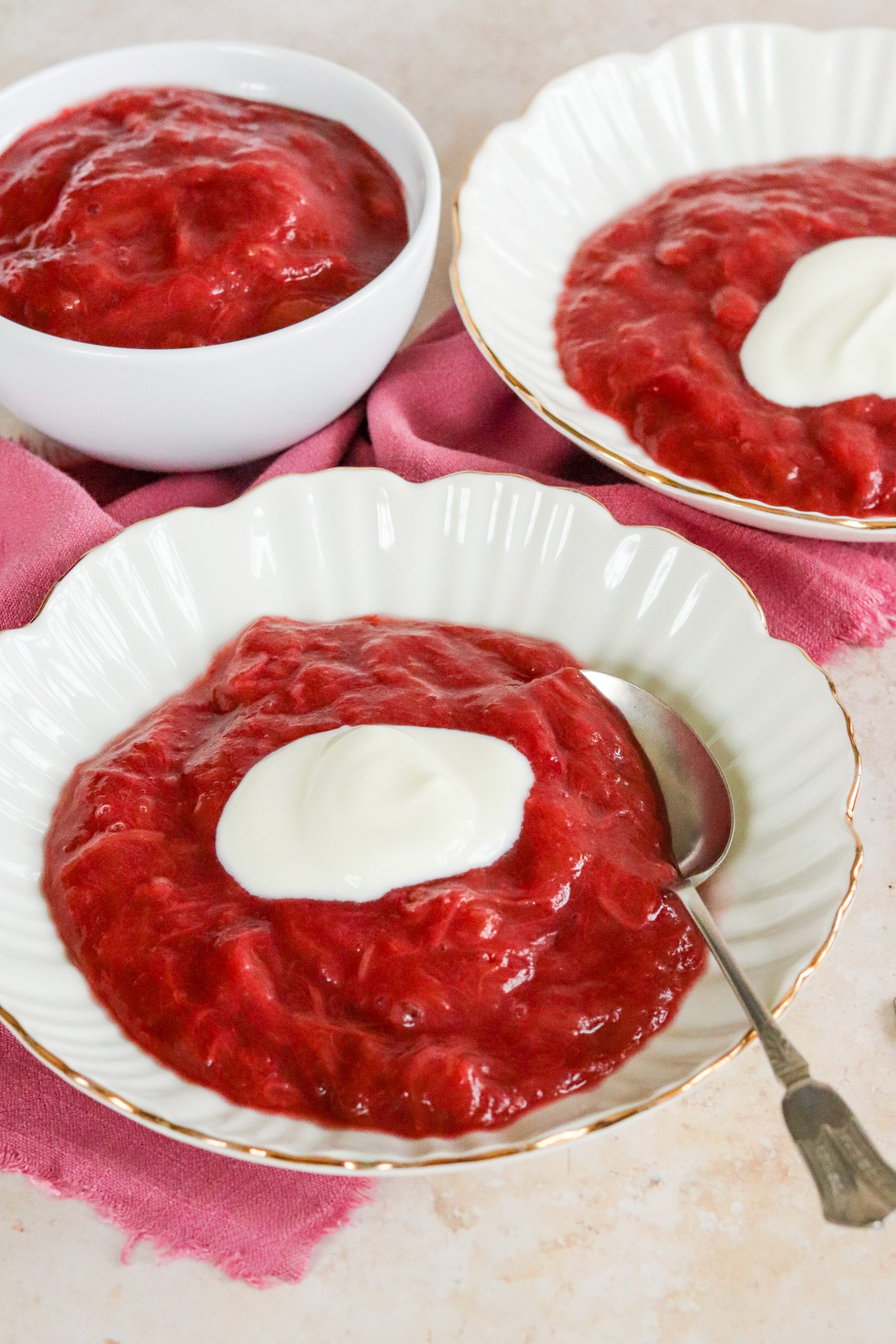 why is my stewed rhubarb not pink?
If the rhubarb you buy isn't forced rhubarb at the start of the season, your stewed rhubarb is unlikely to be a bright pink colour.
Field rhubarb is mainly green with patches of pink and therefore when it is stewed will look a lot less pink. This doesn't affect the taste at all and whichever rhubarb you use, it will be delicious.
If your stewed rhubarb isn't as pink as you would like, you can always add a drop or two of red or pink food colouring. Again this is definitely not compulsory and doesn't affect the taste of the finished rhubarb.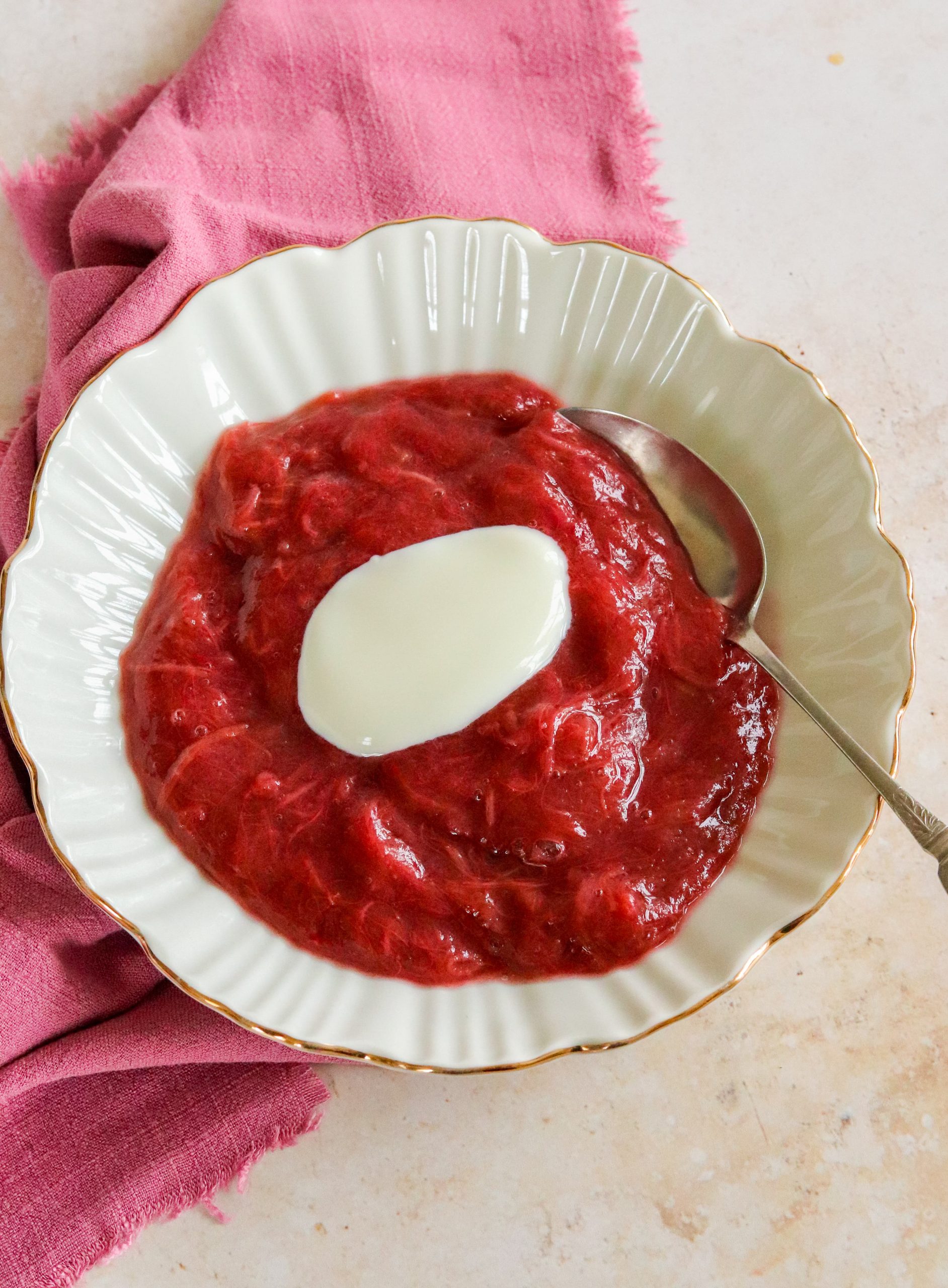 Do you have to add port?
If you don't drink alcohol or would prefer not to add port you can definitely leave it out. I would add one or two tablespoons of water instead of the port.
You could add orange juice instead of port. The flavour would work well with the rhubarb.
How long to cook the rhubarb for
This depends on how chunky you would like your Stewed Rhubarb to be.
Personally I like the rhubarb to break down so you can't really see individual pieces of rhubarb anymore. This can take up to 20 minutes to bubble away on a fairly low heat.
However some people like their stewed rhubarb to have more texture. In which case, it will take a little less time to cook.
Just keep an eye on it, stirring occasionally, until it gets to the consistency you like.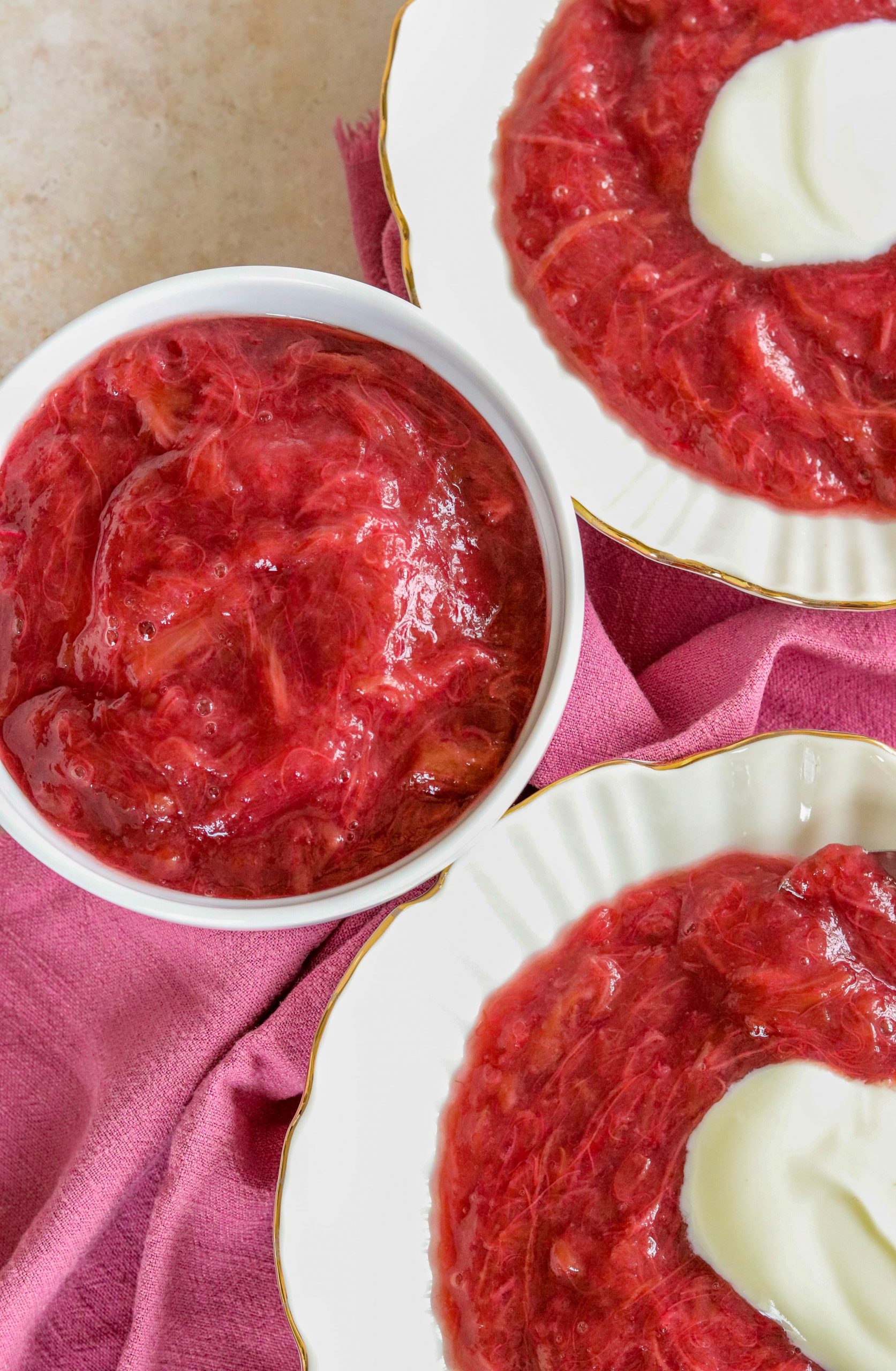 how long will it keep for?
This Stewed Rhubarb with Port will keep in an airtight container in the fridge for up to one week. If you would like it to keep for longer, I would recommend freezing it.
To freeze the stewed rhubarb transfer it to an airtight container and freeze for up to three months. When you want to use it again, defrost in the fridge overnight.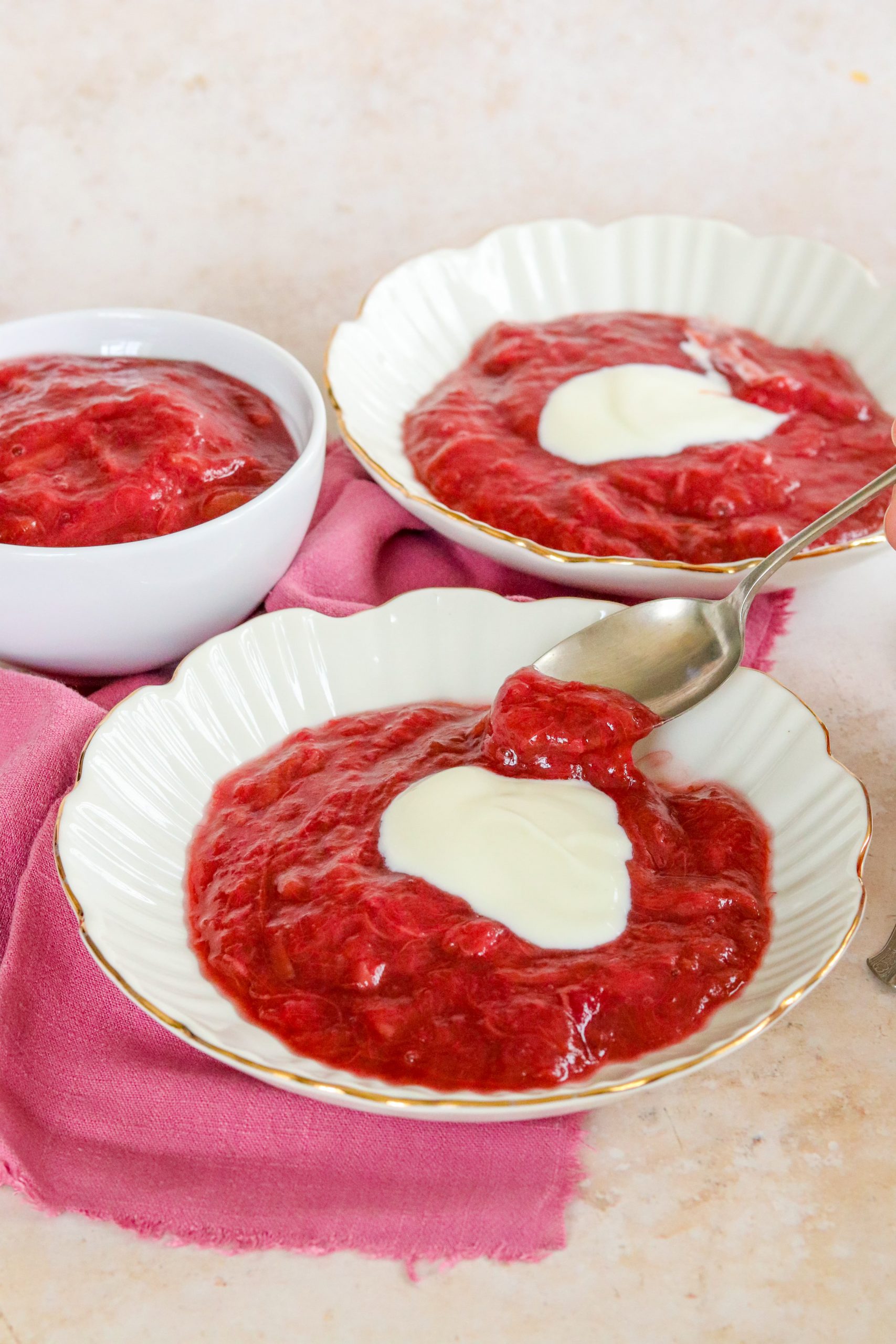 How to serve stewed rhubarb
This Stewed Rhubarb with Port is incredibly versatile and can be used to make so many delicious treats. This is how I prepare my rhubarb for a lot of recipes I already make.
My Oaty Rhubarb & Port Crumble and Mini Rhubarb Crumble Pies both start off by making this stewed rhubarb. You could make a big batch of it and freeze it ready to turn into crumble or pies at a later date.
But this Stewed Rhubarb doesn't have to be used to make something else, it is delicious as it is. I like to serve it with a dollop of yogurt for breakfast. Or spoon it over some vanilla ice cream for a simple and delicious dessert.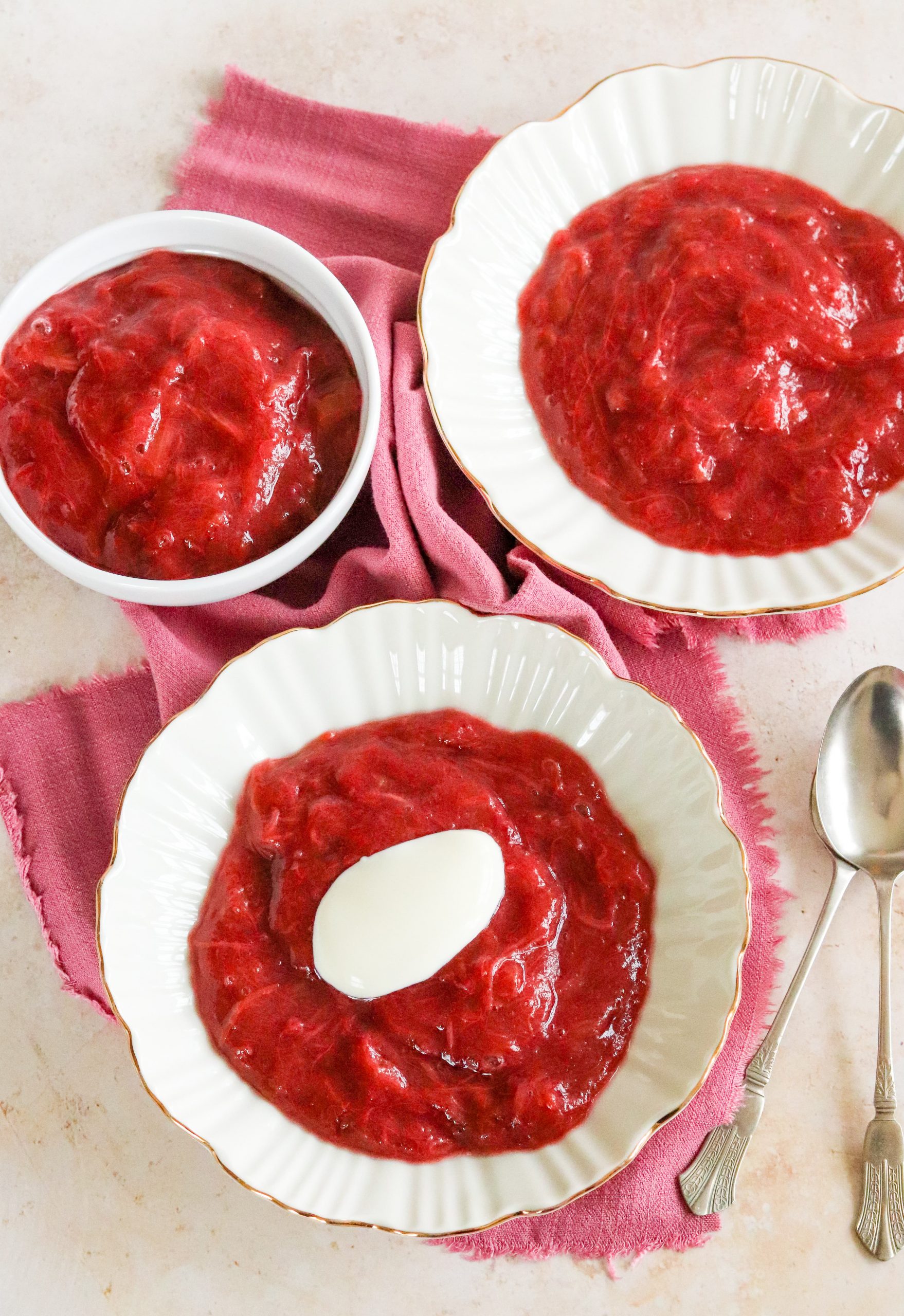 Other recipes you might like
Pin for later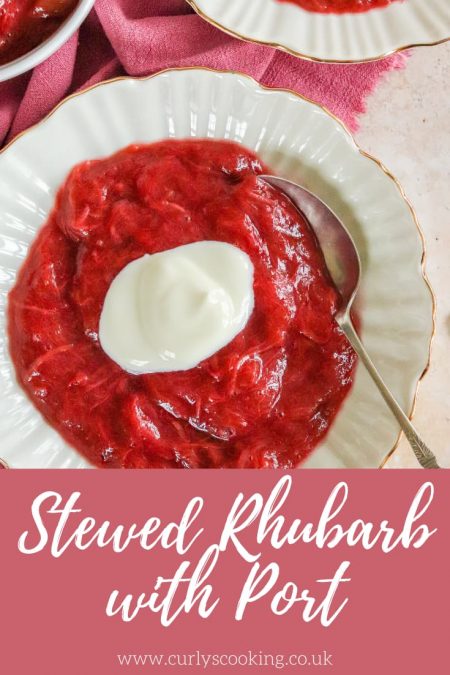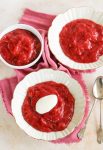 Stewed Rhubarb with Port
This Stewed Rhubarb with Port is incredibly simple with only three ingredients. It is delicious served on top of yogurt or ice cream but also makes a fantastic base for crumbles and pies.
Ingredients
600

g

rhubarb

washed, trimmed and cut into pieces

100

g

caster sugar

3

tbsp

port
Instructions
Add 600g of washed rhubarb cut into roughly 3cm pieces into a pan

Add 100g caster sugar and 3 tbsp port

Cook over a medium low heat, stirring occasionally, for 15 minutes or until the rhubarb is the consistency you want
Recipe Notes
Nutritional information is given as a guide only and may vary.
Nutrition Facts
Stewed Rhubarb with Port
Amount Per Serving
Calories 88
Calories from Fat 9
% Daily Value*
Fat 1g2%
Sodium 4mg0%
Potassium 288mg8%
Carbohydrates 21g7%
Protein 1g2%
Vitamin A 102IU2%
Vitamin C 8mg10%
Calcium 86mg9%
Iron 1mg6%
* Percent Daily Values are based on a 2000 calorie diet.