This Classic Strawberry Pavlova is marshmallowy in the centre with crisp and chewy edges piled high with whipped cream and delicious fruit. If that doesn't scream perfect summer dessert to you, I don't know what will!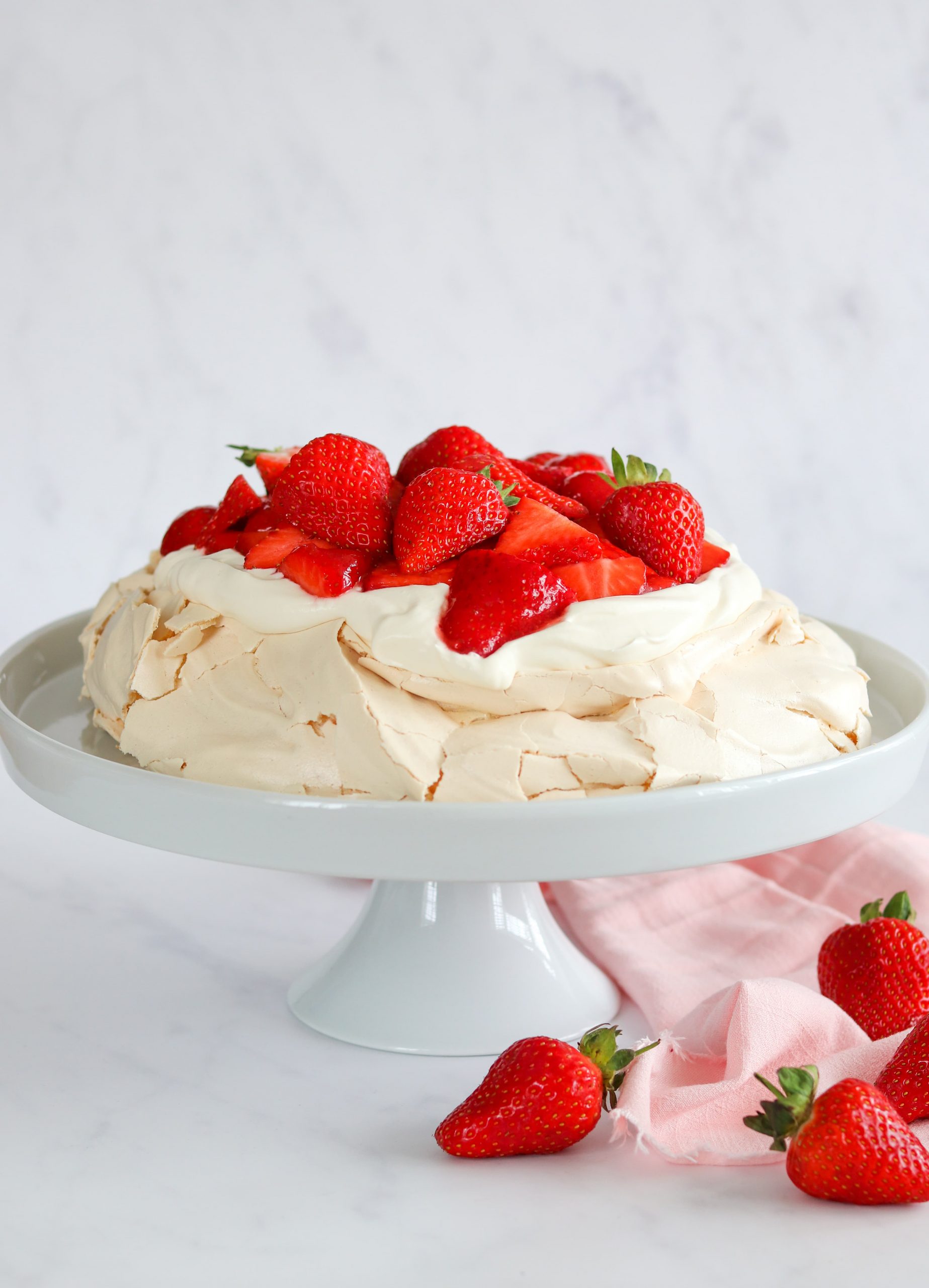 A Classic Strawberry Pavlova is the perfect summer dessert
I don't know about you, but strawberries, cream and meringue scream summer. You can't beat these delicious flavours!
So what exactly is a Classic Strawberry Pavlova? The star of the show is the marshmallow in the centre but crisp on the outside meringue.
This is then piled with softly whipped cream before the beautiful strawberries are added to finish this pretty dessert.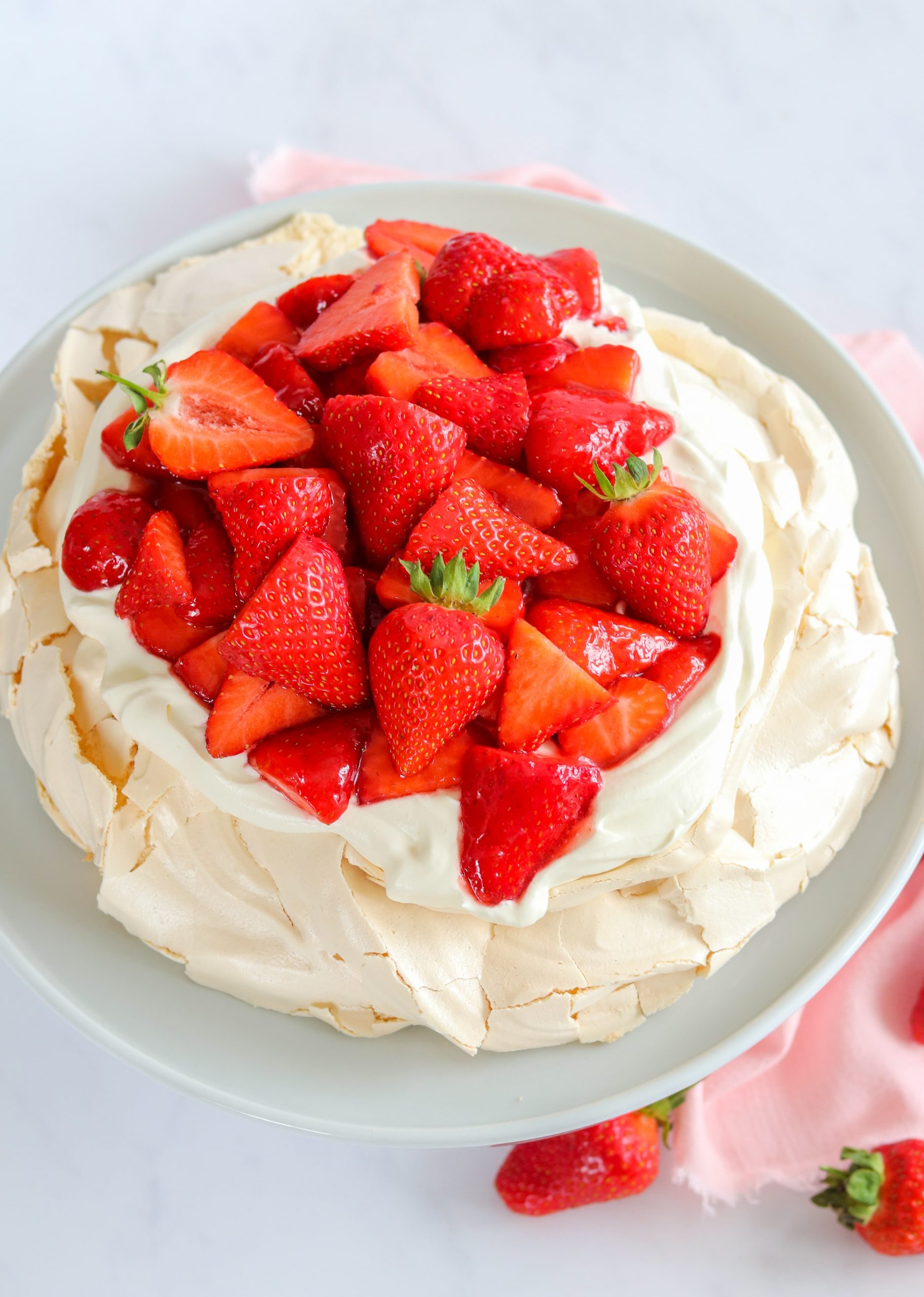 what is a pavlova?
Pavlovas are a meringue based dessert named after Russian ballerina Anna Pavlova. It is said that a pavlova was made in her honour on a tour of Australia and New Zealand in the 1920s.
It has been an area of contention between the two nations ever since who actually can take credit for creating the dessert.
Traditionally a pavlova is topped with whipped cream and then fresh fruit such as kiwi, passionfruit or strawberries.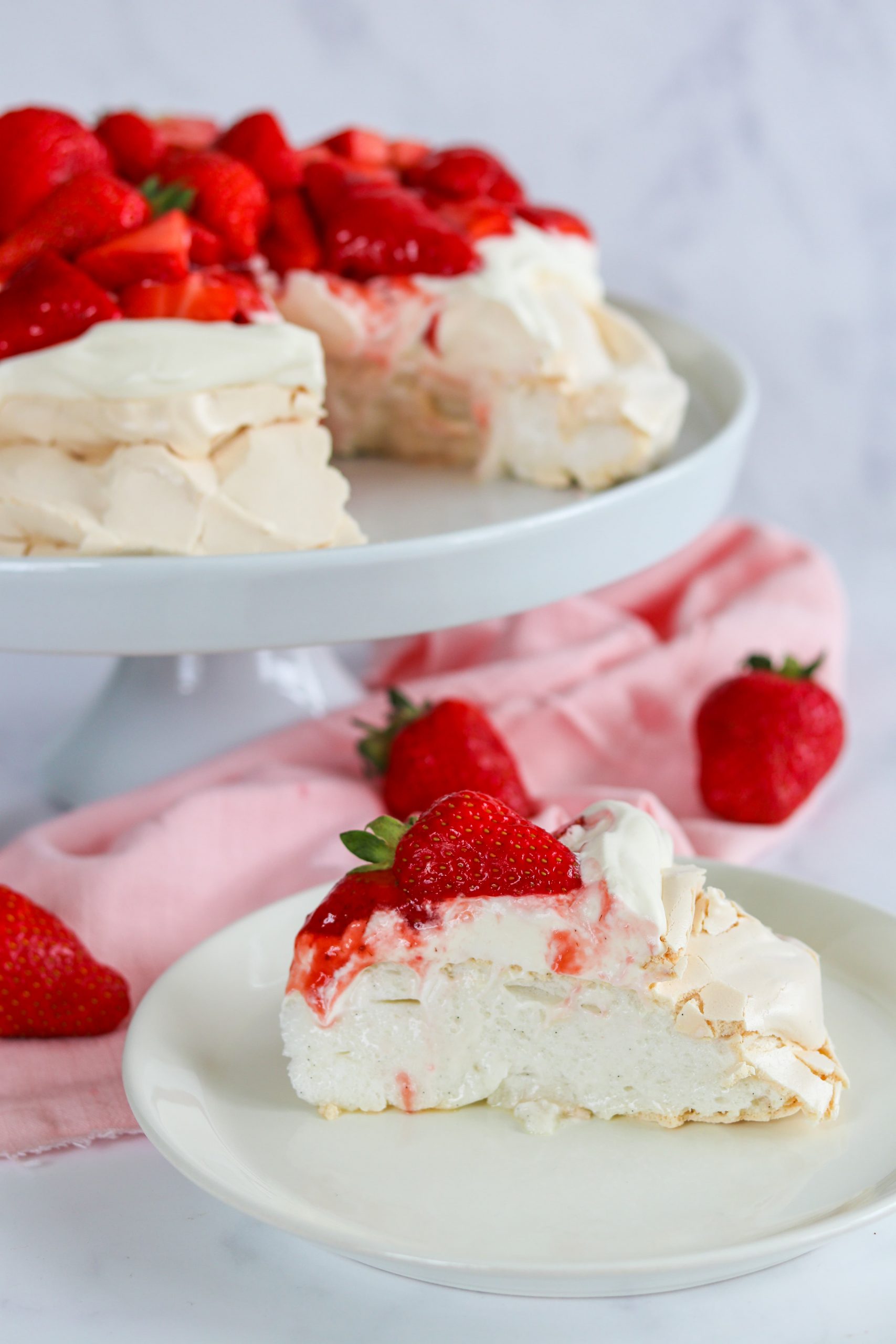 What is the difference between a pavlova and a meringue?
This is a very common and reasonable question to have. Pavlovas and meringues are both egg white based desserts made in a very similar way.
Classic meringues are crisp throughout whereas the meringue base of a pavlova is crisp on the outside but soft and marshmallow like in the middle.
Pavlova meringue tends to be cooked at a slightly higher temperature but for a shorter time than standard meringues. The cornflour and white wine vinegar help stabilise the egg whites which gives a pavlova it's marshmallow texture.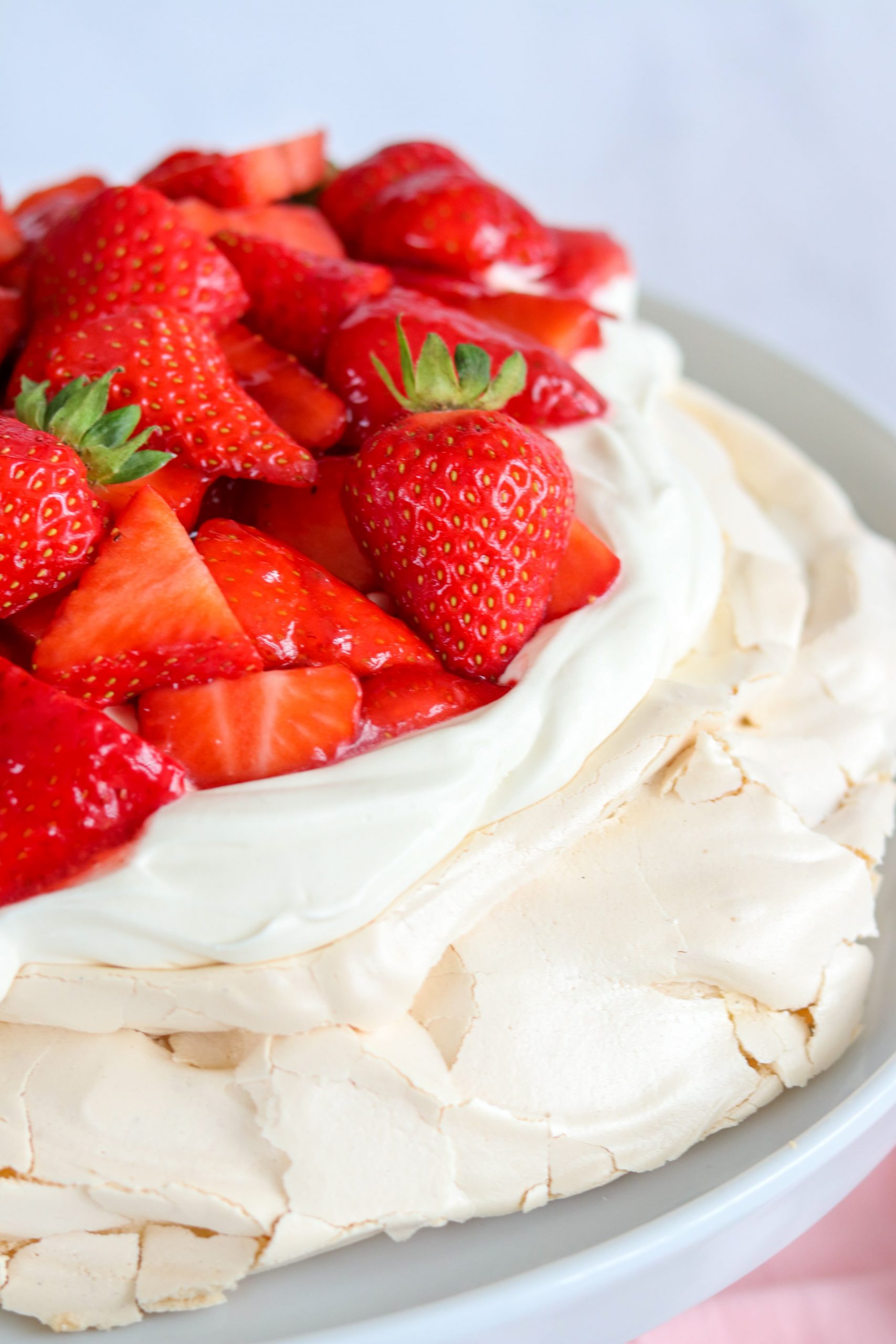 When are strawberries in season?
Although strawberries are available all year round, they are always tastiest when they are in season. They are much more flavoursome and sweet when they are in season.
Here in the UK, strawberries are in season from late May until September. Peak season is considered to be June and July.
In the US, the strawberry season seems to be a lot more varied depending on where you're located.
You can of course still make this Classic Strawberry Pavlova outside of strawberry season, but you do run the risk of the strawberries being a little tart or lacking in flavour. Obviously this isn't guaranteed to be the case but it is worth mentioning.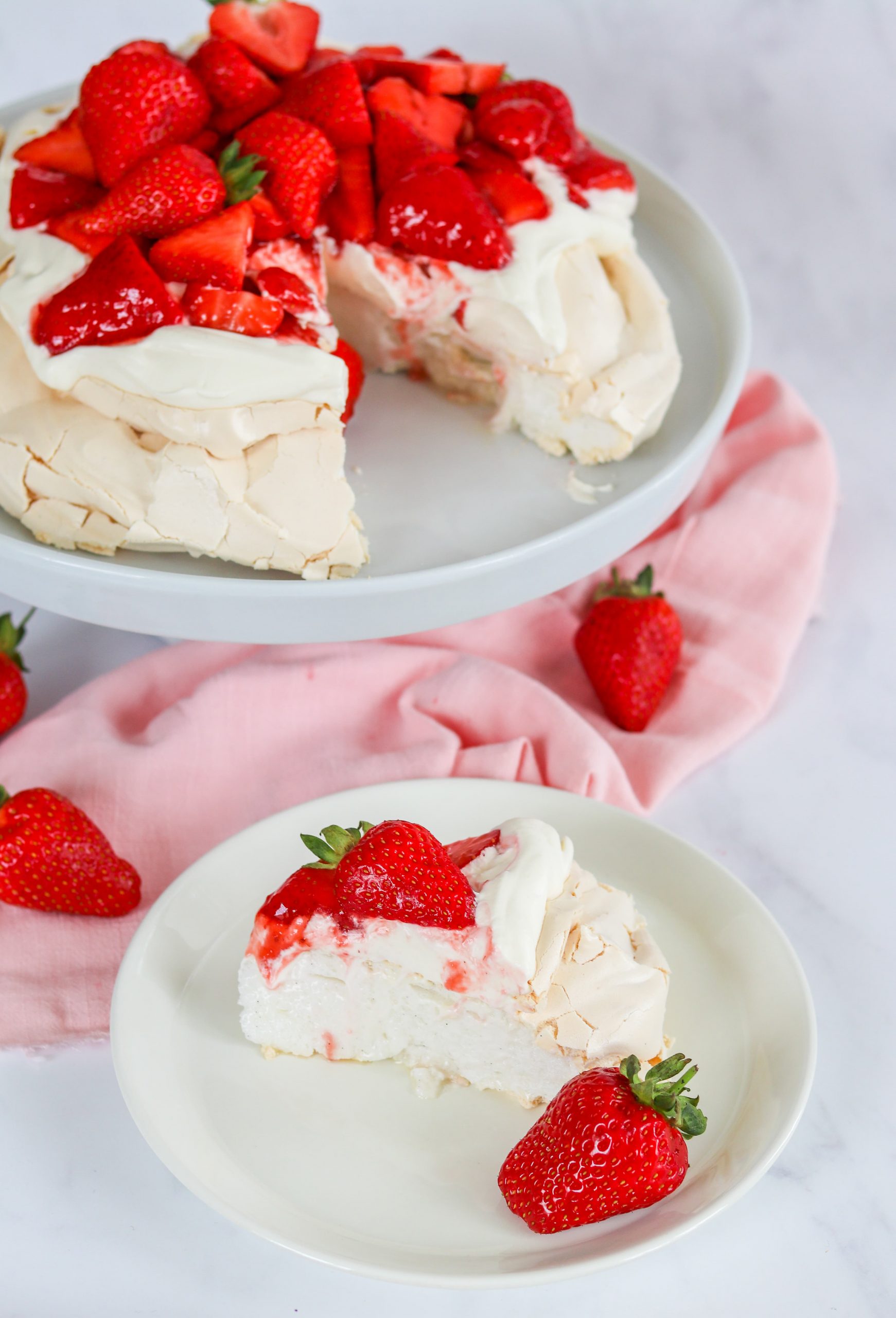 Take extra care with your eggs
Eggs really can make or break a good pavlova. It really is worth taking your time and making sure you follow the steps below.
Make sure your bowl is really clean. Egg whites don't like to whip if there are traces of fat or grease because they don't incorporate the air as well.
Make sure your egg whites are at room temperature. They will whip much easier if they aren't cold!
Be very careful not to get any yolk in the whites. The smallest amount of yolk can stop the whites from aerating.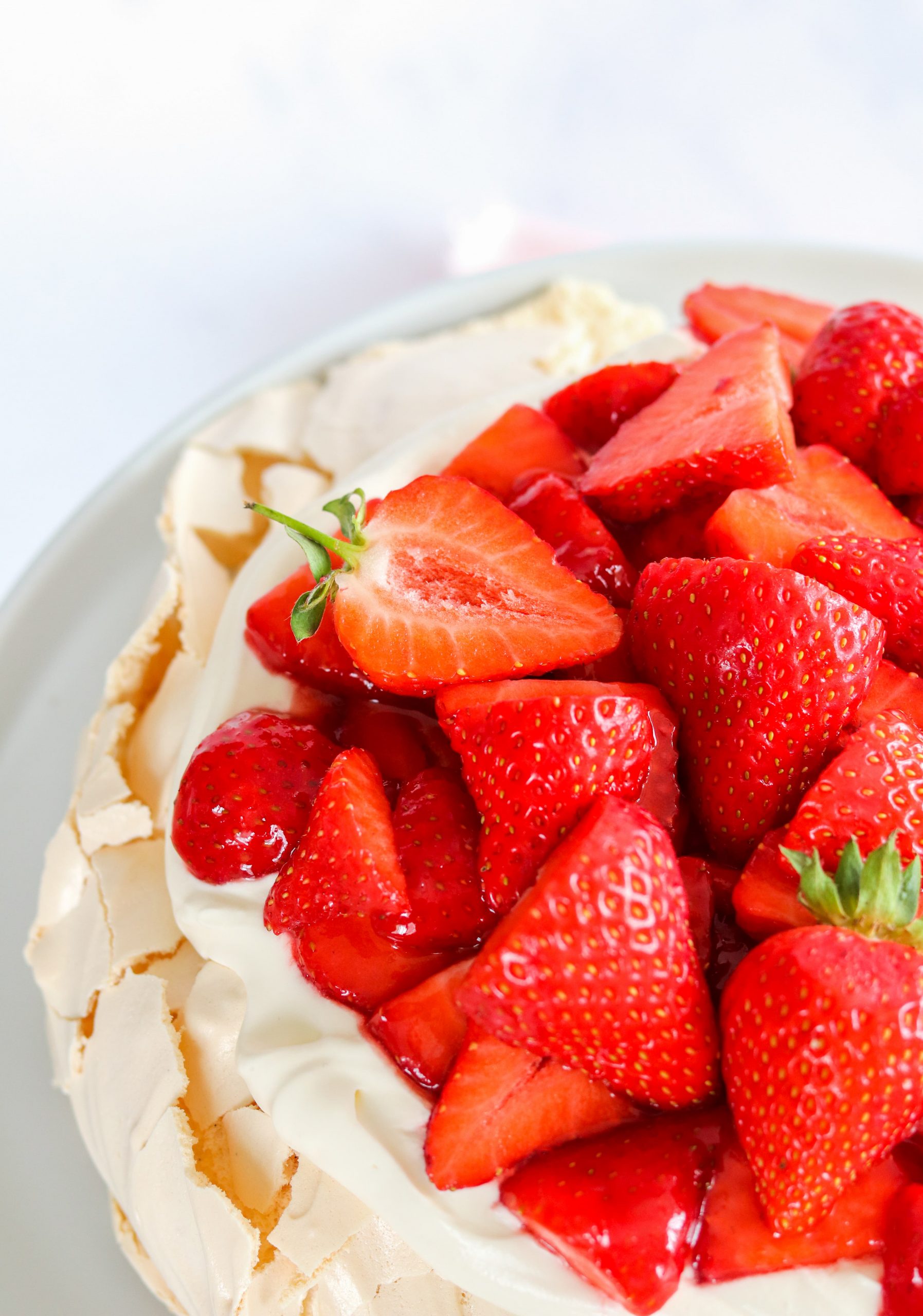 Pavlova making tips
Pavlovas might seem intimidating to some people, but with the right tips you'll be making perfect pavs in no time!
Use caster sugar (superfine sugar) as its finer texture dissolves more easily into the egg whites. Any sugar that isn't dissolved could ruin the texture of your finished pavlova
Make sure the sugar is completely dissolved by rubbing a small amount of meringue between your fingers. If you can still feel grains of sugar, whisk for a little longer
Don't overbeat your egg whites! Beat them until they are firm before starting to add the sugar. If they start to look split and watery you have overbeaten them and you will need to start again with new egg whites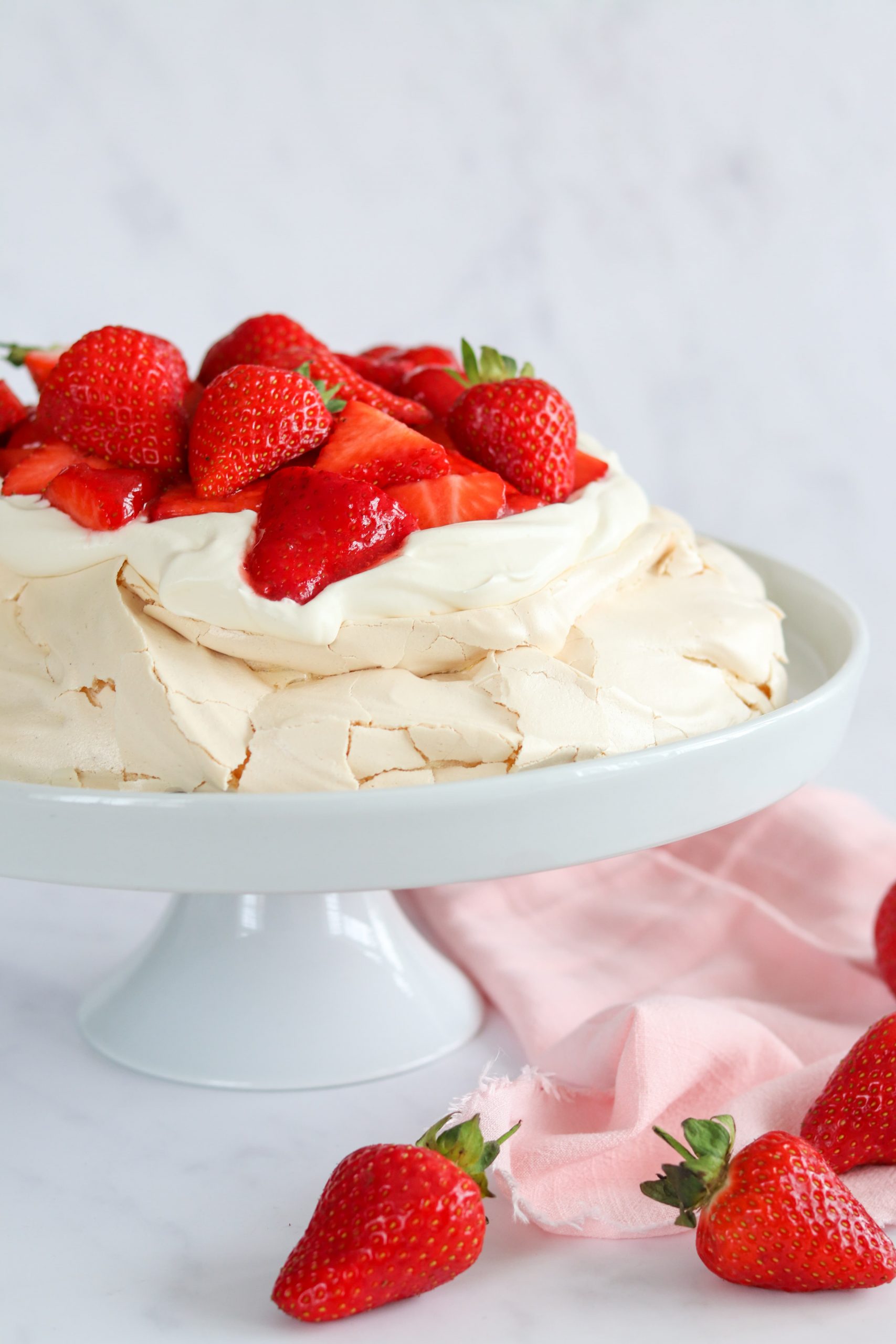 Why coat the strawberries in jam?
This might seem slightly unusual but I definitely don't recommend missing this step!
The jam gives the strawberries a nice shine. Most importantly it also gives them a bit of extra sweetness. This is especially helpful if your strawberries aren't as sweet as you might want them to be!
You can of course use your favourite shop bought jam, but homemade jam would be even tastier.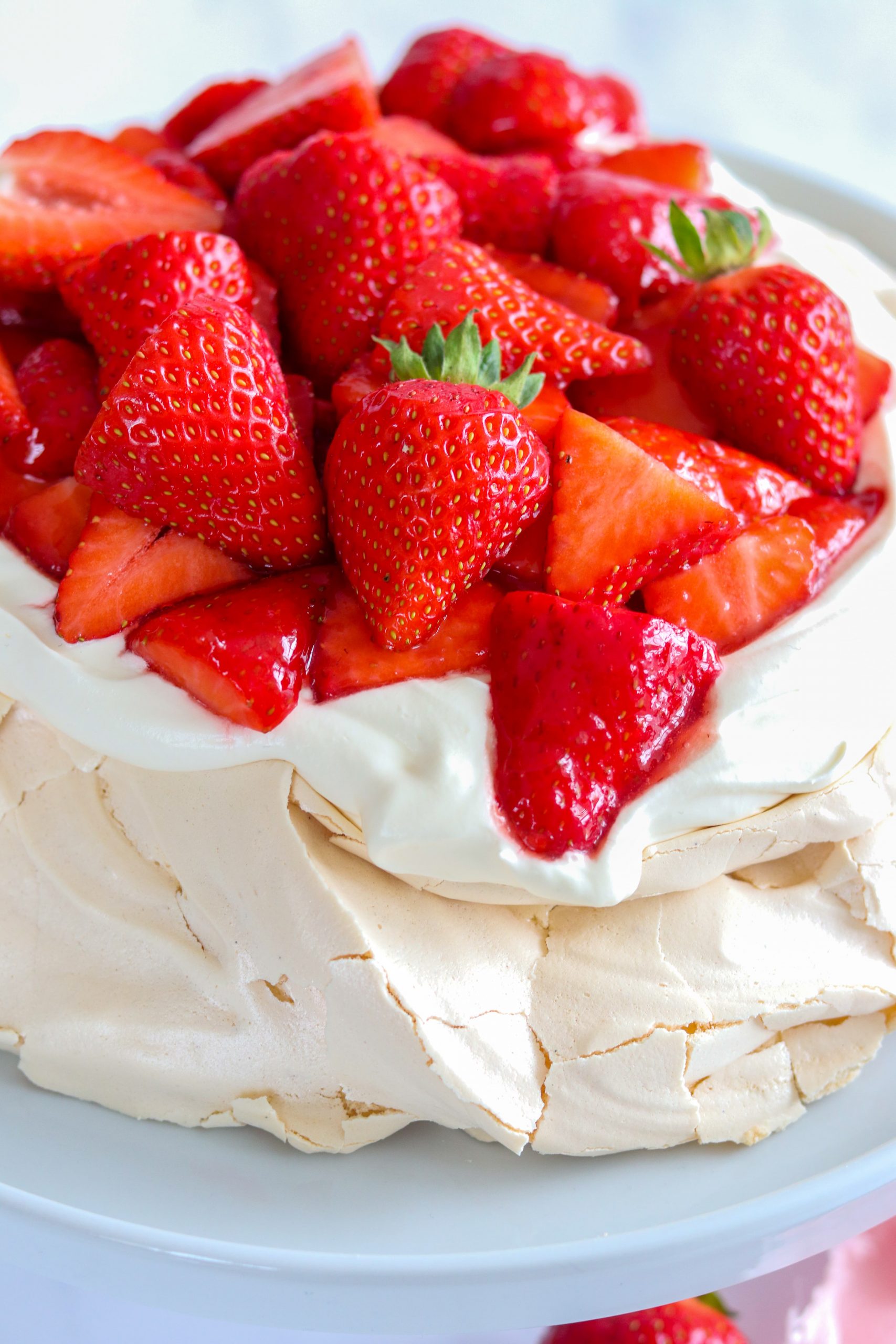 Which cream is best to use?
Double or whipping cream is what you will need for this pavlova
I tend to use double cream as this is what I usually buy. However it is harder to find outside of the UK. It has a high fat content which makes it perfect for whipping.
The only disadvantage of using double cream is that it is easier to overwhip. I always recommend keeping an eye on your cream as you whip it so you reduce the risk of overwhipping.
Whipping cream or heavy cream is more widely found and would work perfectly for this pavlova.
I wouldn't recommend using single or UHT cream for this recipe as they do not whip very well.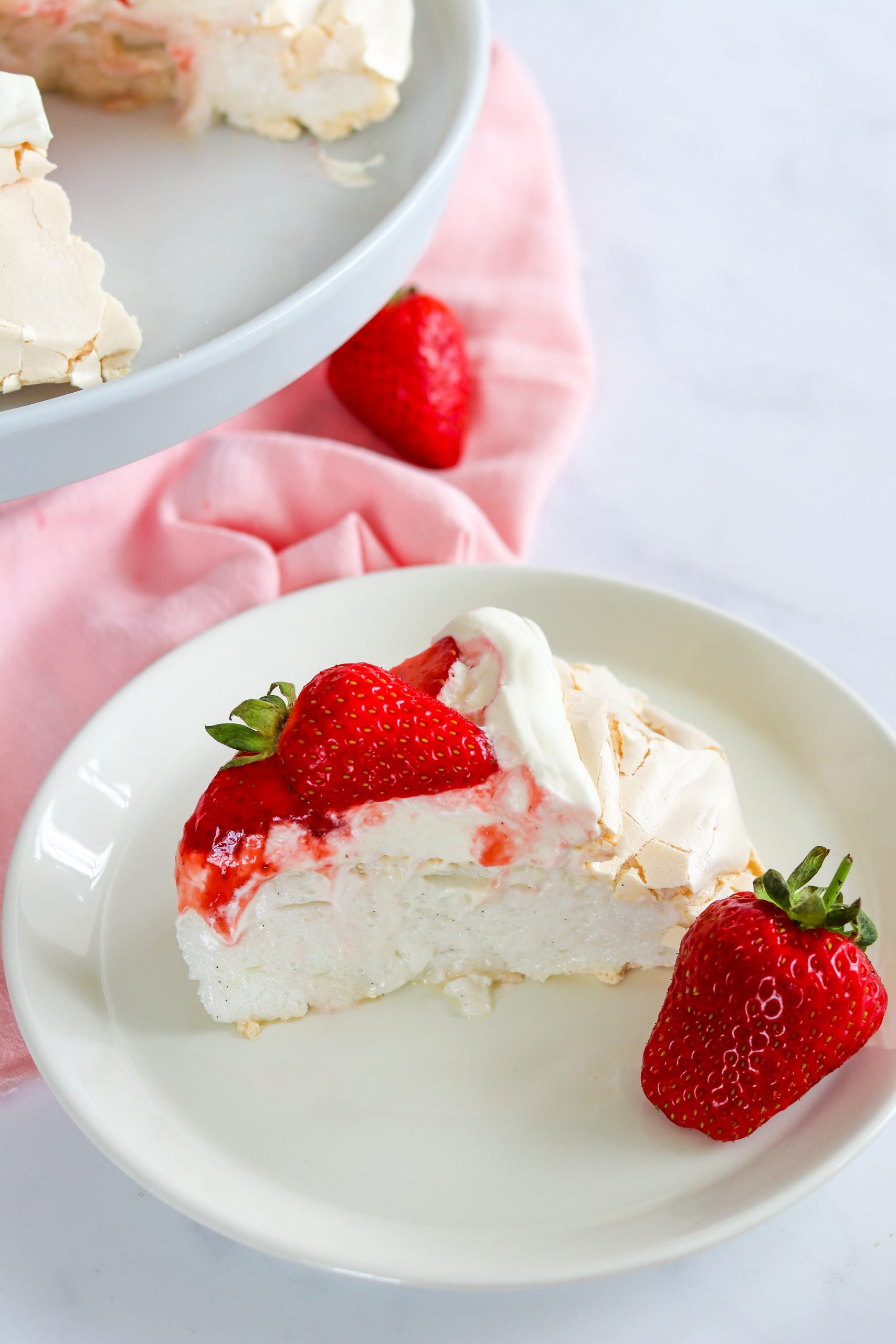 How long will this Classic Strawberry Pavlova keep for?
Pavlova isn't something best suited to being made too far in advance. It isn't recommended to make it more than 24 hours before you are looking to serve it.
This is especially the case once the whipped cream and fruit have been added. The moisture from the fruit and cream can cause the pavlova to start to collapse if you decorate it too far in advance.
Pavlovas are best eaten on the day they are made. However any leftovers can be kept in an airtight container in the fridge until the next day. The edges are likely to have softened and lost some of their crispness though.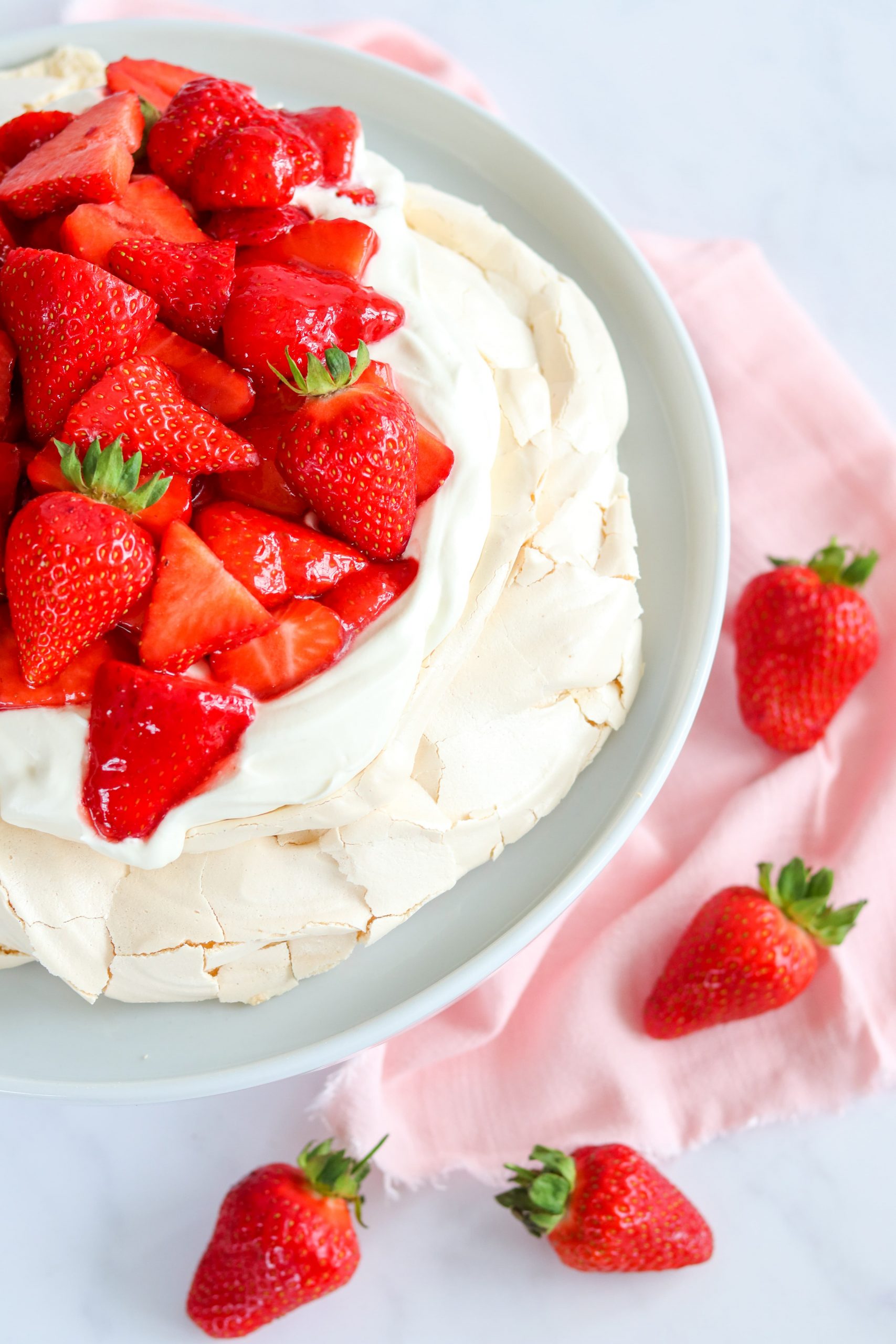 Other recipes you might like
Pin for later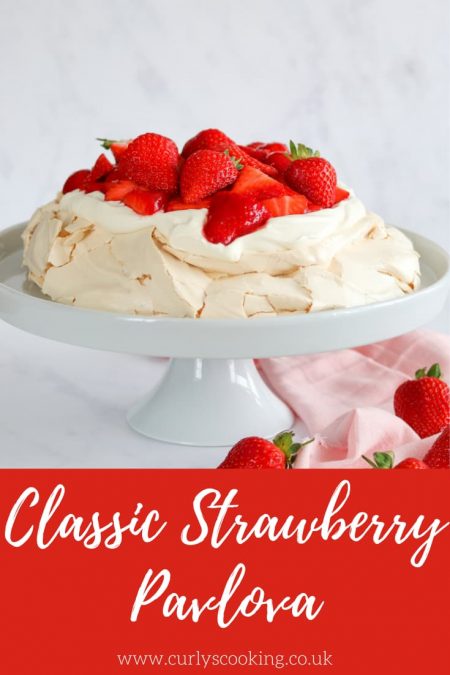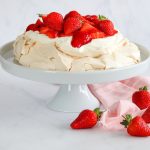 Classic Strawberry Pavlova
This Classic Strawberry Pavlova is marshmallowy in the centre with crisp and chewy edges piled high with whipped cream and delicious fruit. If that doesn't scream perfect summer dessert to you, I don't know what will!
Total Time
2
hours
30
minutes
Ingredients
6

egg whites

(approx 230g)

pinch of

table salt

270

g

caster sugar

1

tsp

white wine vinegar

1

tsp

vanilla paste

2

tsp

cornflour
For the topping
300

ml

double cream

300

g

strawberries

50

g

strawberry jam
Instructions
Preheat the oven to 120ºC (fan assisted 140°C non fan). Draw a 8" circle on baking paper and turn it over onto a baking tray so the pencil won't touch the pavlova

Whisk 6 egg whites with a pinch of salt until stiff peaks form

Gradually add 270g caster sugar a tablespoon at a time. Keep whisking until the egg whites are smooth and glossy with no trace of sugar

Carefully fold in 1 tsp white wine vinegar, 1 tsp vanilla paste and 2 tsp cornflour.

Dab a small amount of mix on each corner of the baking tray to secure the baking paper to the tray. Pile the mix onto the baking tray trying to keep inside the line. Shape it like a cake – you can either flatten the top for a more traditional look or spike the top for a dramatic effect

Bake in the oven for 1½ – 2 hours, you'll know it it's done because it will lift off the baking paper. Turn the oven off and leave the door slightly open. Leave the pavlova to cool completely

Hull 250g strawberries and add them to a bowl along with 50g strawberry jam. Mix and set aside

Add 300ml double cream to a large bowl and whip until you get soft peaks

Assemble the meringue by piling on the whipped cream and smoothing out

Spoon over the strawberries coated in jam

Finish by placing the remaining 50g strawberries on top
Recipe Notes
Leftover pavlova can be kept in the fridge in an airtight container. It is best eaten on the day you decorate the pavlova or the next day.
Nutritional information is given as a guide only.
Nutrition Facts
Classic Strawberry Pavlova
Amount Per Serving
Calories 244
Calories from Fat 99
% Daily Value*
Fat 11g17%
Cholesterol 41mg14%
Sodium 44mg2%
Potassium 102mg3%
Carbohydrates 34g11%
Protein 3g6%
Vitamin A 445IU9%
Vitamin C 18mg22%
Calcium 27mg3%
Iron 1mg6%
* Percent Daily Values are based on a 2000 calorie diet.