This Baked Marbled Chocolate Cheesecake is decadent, rich and oh so chocolatey. It is quite simple to make but a real showstopper!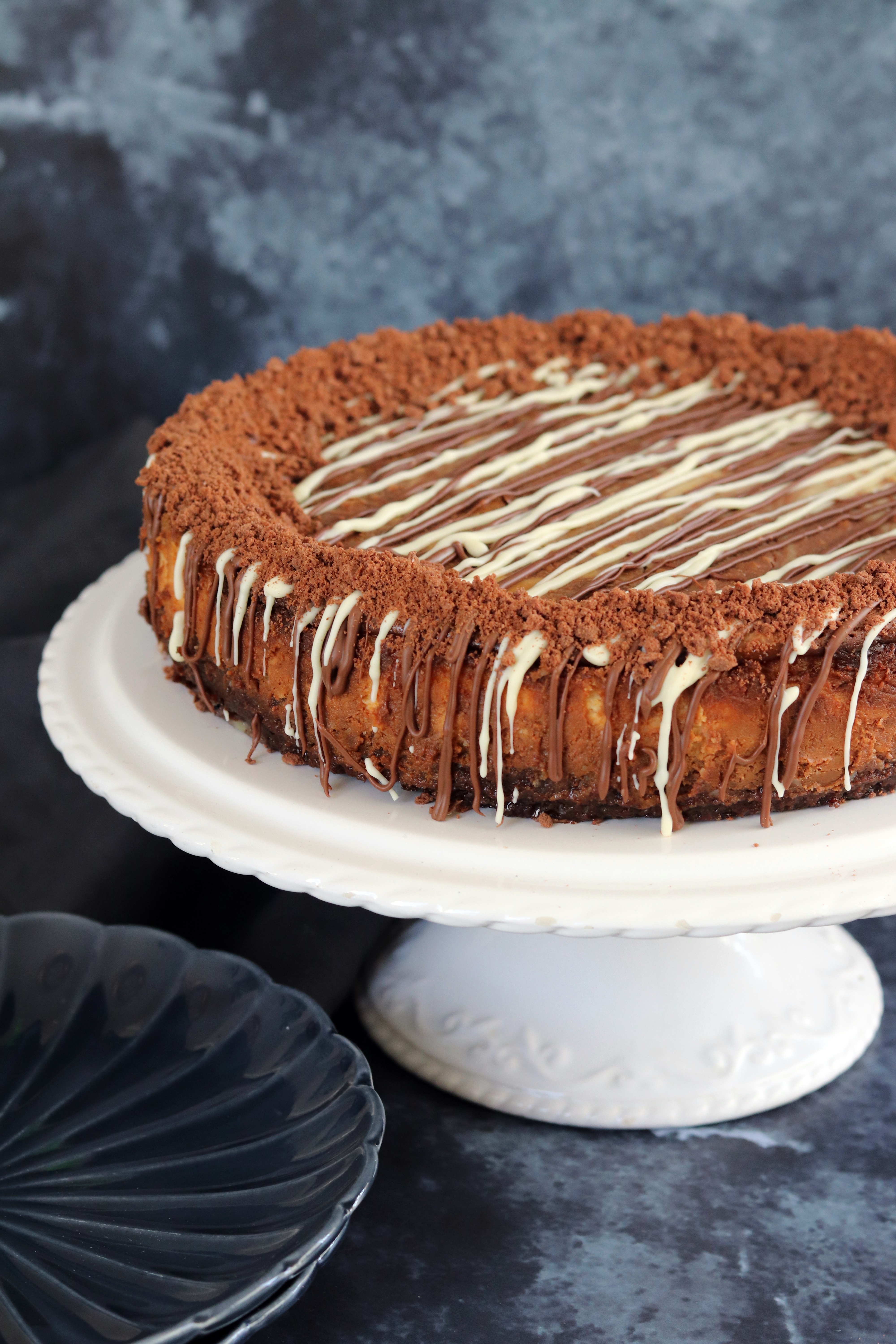 Decadent and delicious dessert
This Baked Marbled Chocolate Cheesecake isn't messing around! It is rich, decadent and delicious. The base is made from bourbon biscuits which are chocolate biscuits sandwiched with chocolate cream.
The cheesecake filling is a mix of chocolate and vanilla marbled together making the perfect combination.
This cheesecake is delicious as it is, but if you want to really elevate it I would recommend adding the toppings. It makes the Baked Marbled Chocolate Cheesecake look as good as it tastes.
The good news is that it is really simple to do! I used piping bags to pip my melted chocolate but you could very easily drizzle it with a spoon.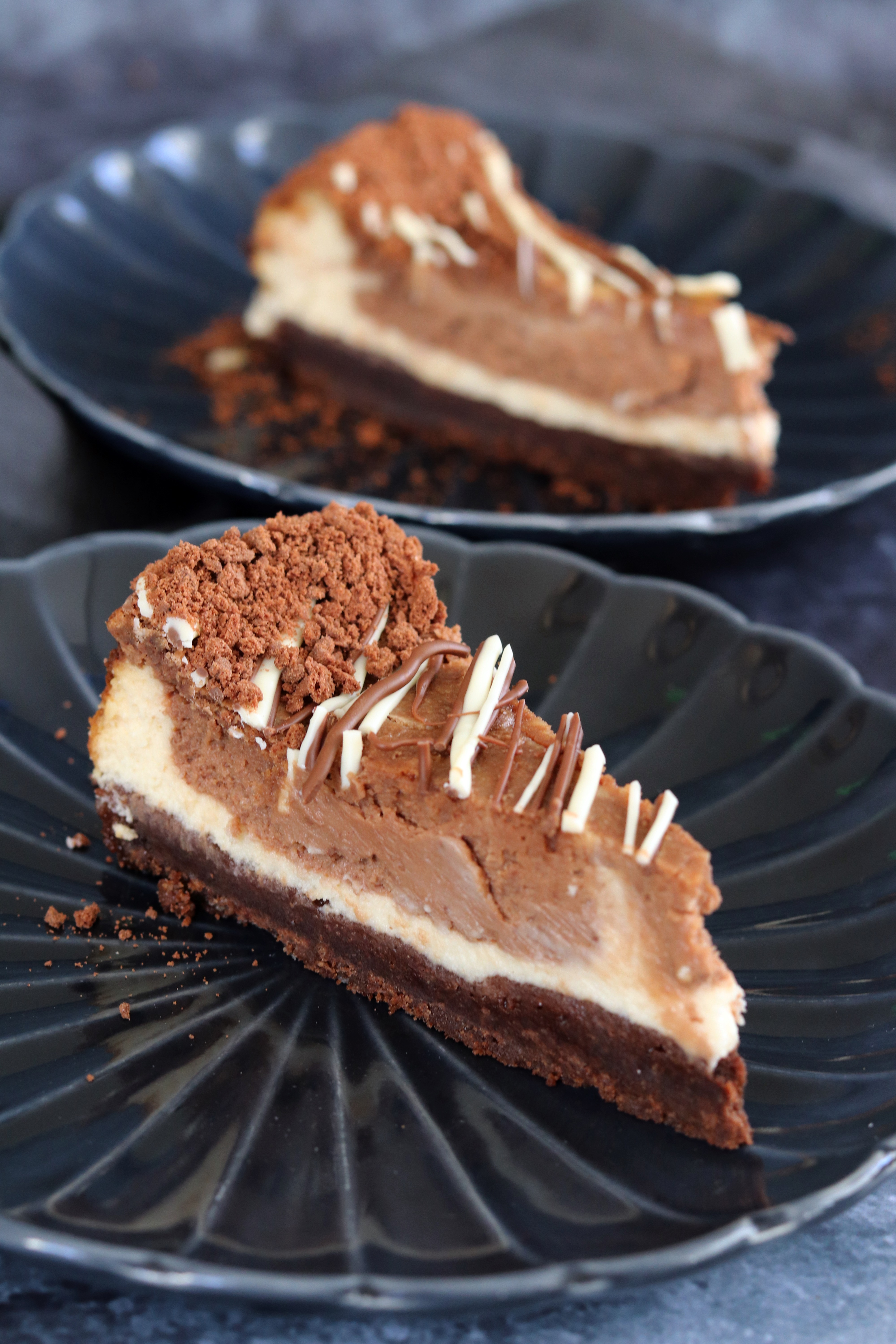 Don't have the equipment? Don't worry!
The instructions for this Baked Marbled Chocolate Cheesecake are based on using a food processor. This is the quickest way to make this recipe, but if you don't have a food processor don't panic!
Before I had a food processor, I would add the biscuits to a sandwich bag and bash them with a rolling pin until you got a fine crumb.
You might not get the crumbs as fine as with a food processor but that't not a problem.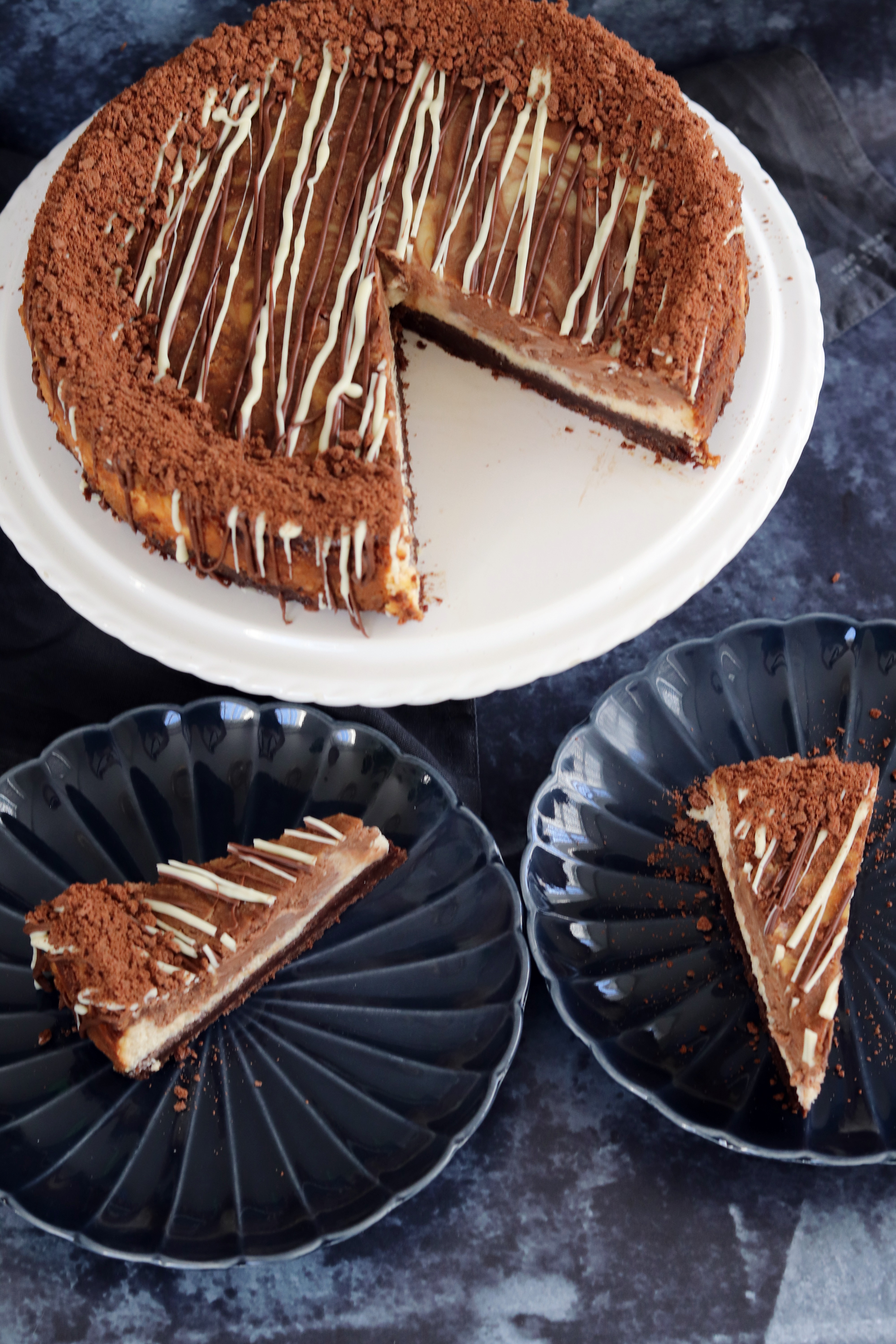 For the cream cheese filling, you could use a stand mixer or hand mixer instead of a food processor. If you don't have any of those, you can use a standard whisk.
You may get a little tired but make sure you use a large bowl and you will get the same results.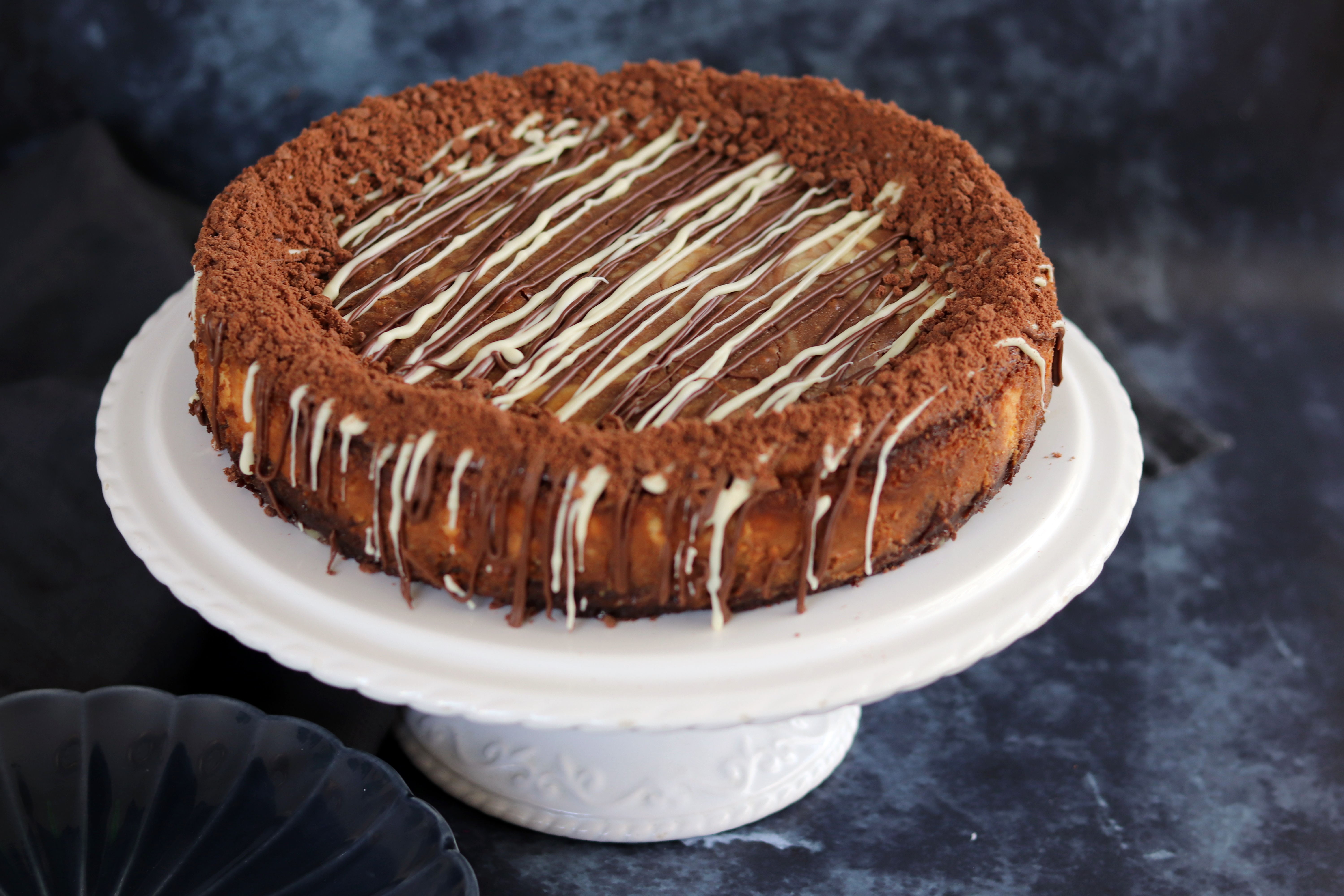 Baked Marbled Chocolate Cheesecake tips
I would recommend baking this cheesecake the day before you are planning on serving it. You then have plenty of time to allow it to cool completely in the oven.
You can then cover it in foil and leave it in the fridge overnight. The next day you can then add the chocolate drizzle and crushed biscuits.
If you prefer your desserts to be a little less sweet, I would recommend tweaking the chocolate. Instead of using all milk chocolate, I would either use all dark chocolate or 100g of dark chocolate and the rest milk chocolate. This will cut the sweetness down slightly.

A long awaited update!
I first made a version of this Baked Marbled Chocolate Cheesecake in 2014. It was one of the very first recipes on my blog and was in much need of an update!
Up until now if I wanted to make a cheesecake I'd always make my New York Cheesecake. It was definitely time to have another tasty cheesecake recipe in my repertoire!
To say I tweaked the recipe is an understatement! So I'm bringing you a new and improved recipe with some much better photos!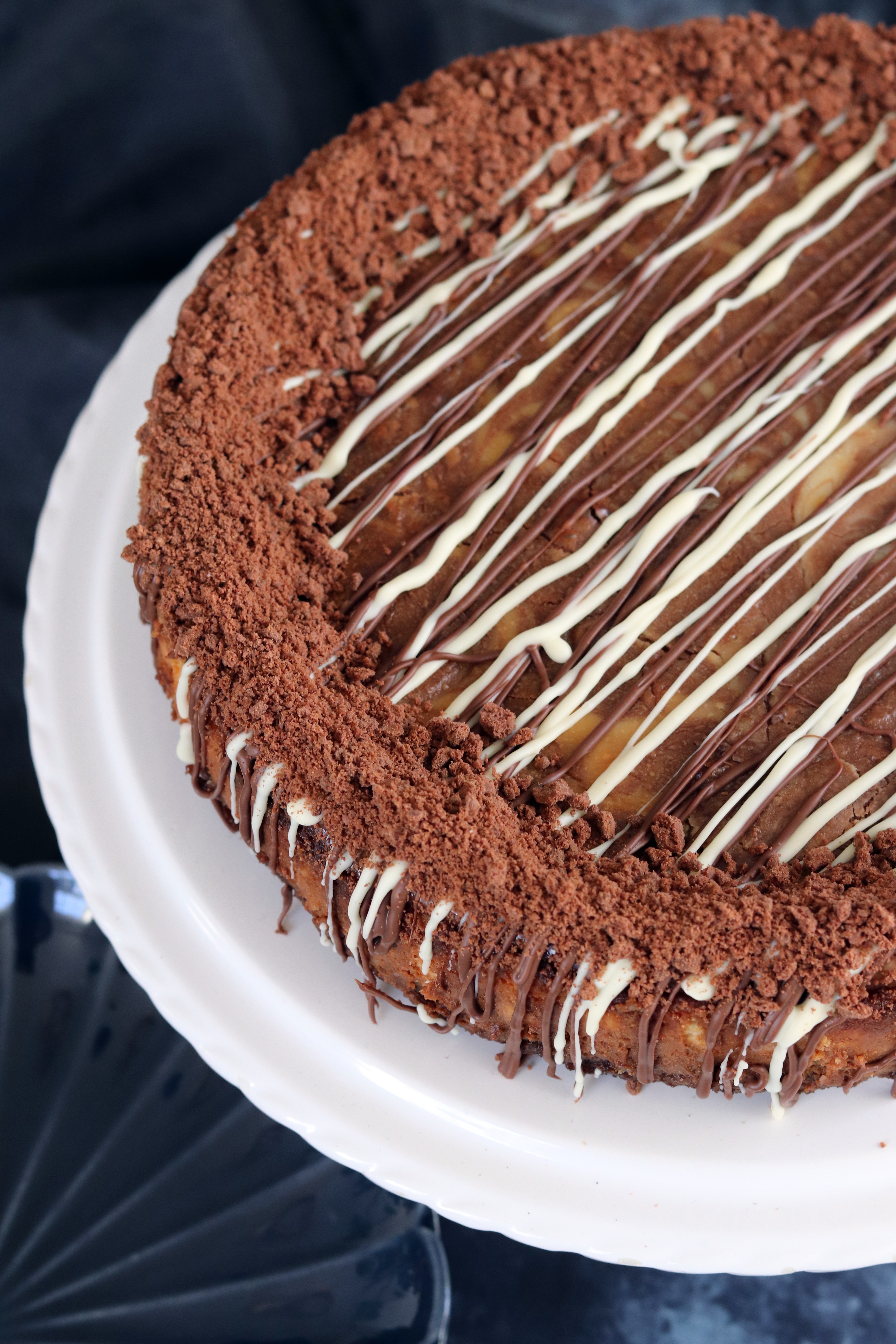 Other recipes you might like
Pin for later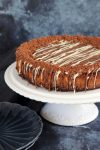 Baked Marbled Chocolate Cheesecake
This Baked Marbled Chocolate Cheesecake is decadent, rich and oh so chocolatey. It is quite simple to make but a real showstopper!


Ingredients
400

g

bourbon biscuits

200

g

unsalted butter

800

g

full fat cream cheese

250

g

caster sugar

½

tsp

vanilla extract

2

eggs

150

g

milk chocolate
To finish (optional)
50

g

white chocolate

50

g

milk chocolate

2

bourbon biscuits
Instructions
Preheat the oven to 160°C (fan assisted, 180°C non fan) and line or lightly grease a 9"/ 22cm spring form tin

Add the bourbon biscuits to a food processor and blitz to a fine crumb

Melt the butter in the microwave and add to the food processor with the bourbon biscuits. Pulse until the butter is mixed through the crumbs

Tip the buttered biscuits into the prepared tin and press to create an even base

Break the chocolate into chunks and melt gently in the microwave in a large bowl. Set to one side

Add the cream cheese to a clean food processor. Blitz until smooth

Add the sugar and blitz again until the sugar is mixed through

Add the vanilla extract and the eggs one at a time, blitzing in between.

Spoon one third of the cheesecake mixture into the slightly cooled melted chocolate and mix to combine

Spoon dollops of the vanilla cheesecake mix on top of the biscuit base

Spoon the chocolate cheesecake mix into the gaps. Swirl the two cheesecake mixes together with a skewer

Wiggle the tin lightly to flatten the top. Bake the cheesecake in oven for 45-50 minutes until the edges look slightly puffed up and the middle has a slight wobble

Turn the oven off and leave the cheesecake to cool completely in the oven

Once the cheesecake is cooled, decorate if you are choosing to. Melt the white and milk chocolate separately in the microwave

Remove the cheesecake from the tin and drizzle the melted chocolate over the top. Blitz up to bourbon biscuits to a fine crumb and sprinkle around the outside of the cheesecake
Recipe Notes
Keep in an airtight container in the fridge for 3-4 days.
Nutritional information is given as a guide only and my vary.
Nutrition Facts
Baked Marbled Chocolate Cheesecake
Amount Per Serving
Calories 447
Calories from Fat 126
% Daily Value*
Fat 14g22%
Cholesterol 24mg8%
Sodium 6mg0%
Potassium 43mg1%
Carbohydrates 22g7%
Protein 1g2%
Vitamin A 278IU6%
Calcium 11mg1%
Iron 1mg6%
* Percent Daily Values are based on a 2000 calorie diet.