Crisp meringues with a squidgy centre covered in deliciously smooth whipped cream and topped with juicy strawberries. This Eton Mess with Meringue Kisses is perfect for early summer when British strawberries are at their best.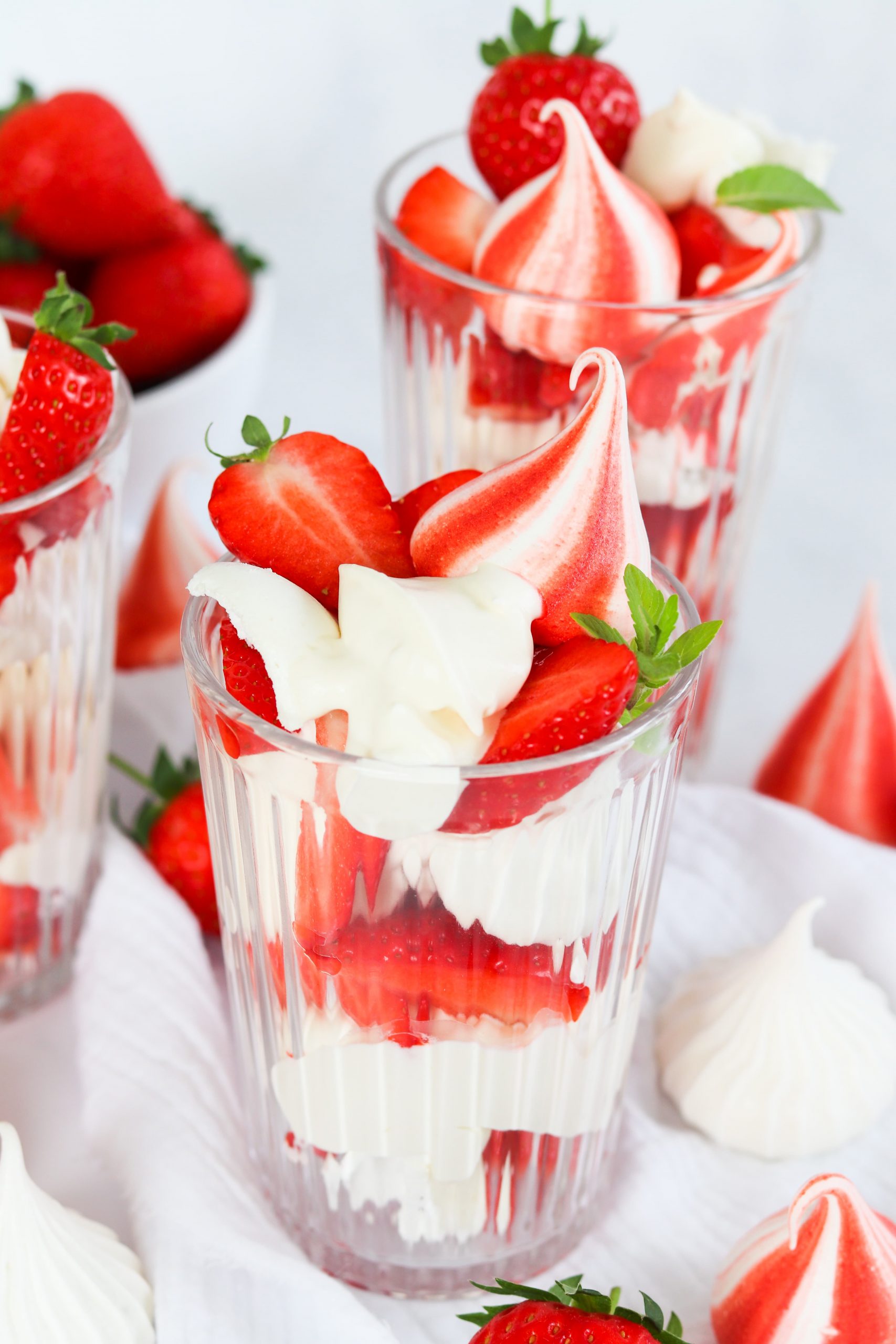 What is eton mess?
Eton Mess is a fantastically British dessert that is so incredibly simple. It is just three delicious ingredients, strawberries, meringue and whipped cream.
First mentioned back in the 19th century, Eton Mess is said to have originated from Eton School where it was served to pupils at their annual cricket match against Harrow School.
The mess aspect of the name is because it isn't the neatest of desserts. It is meant to be something that is almost thrown together in a nonchalant sort of way. This makes it perfect because you don't have to spend ages trying to make it look perfect.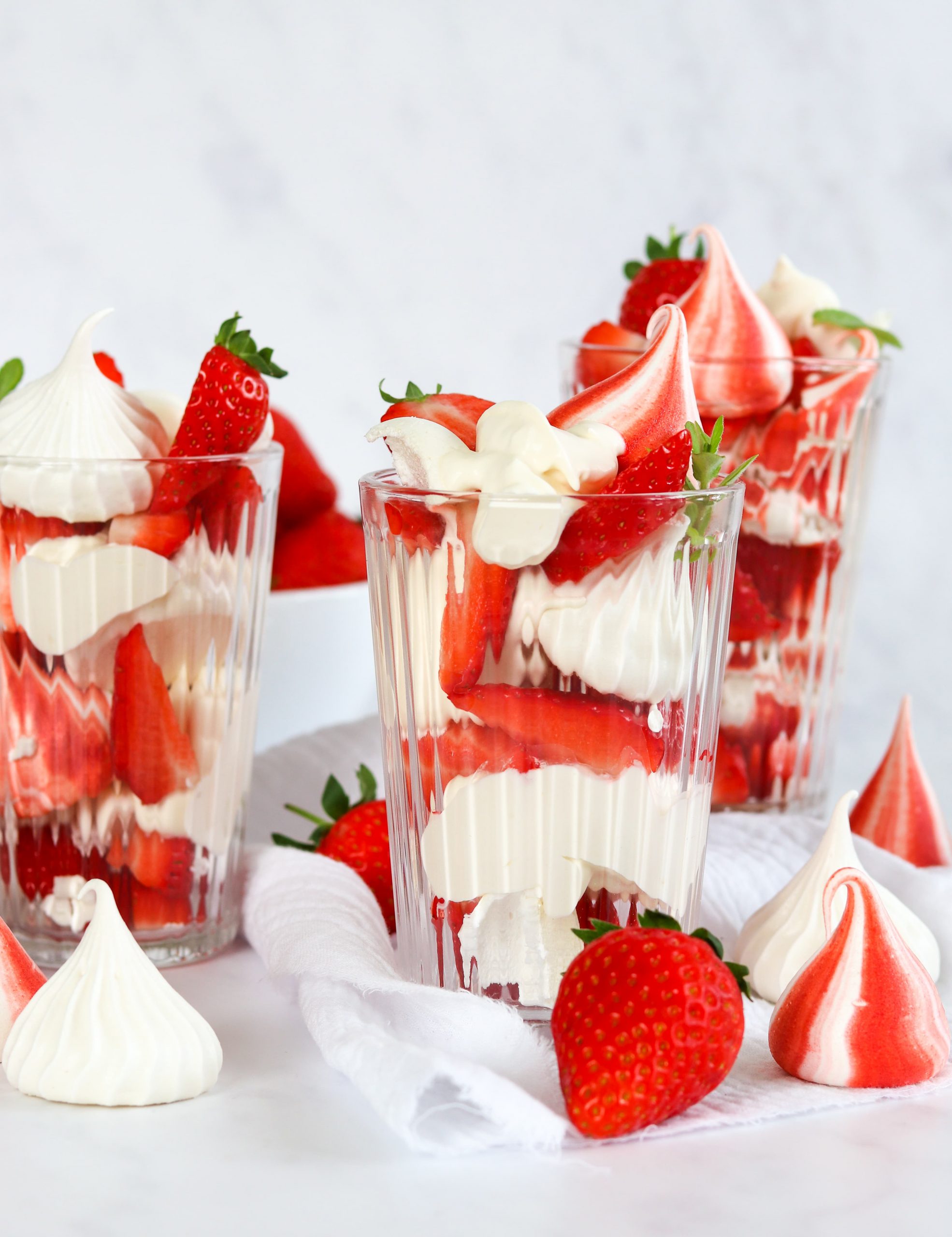 What makes eton mess with meringue kisses different?
Ok so I know I am not reinventing the wheel here! But my Eton Mess recipe uses Meringue Kisses instead of standard meringues.
That's not a huge change, but it is definitely a twist on the original recipe. I know Eton Mess is known for being rustic, but Meringue Kisses definitely help to make it look prettier.
By using Meringue Kisses you can add some more colour to the dish too. I like to colour my kisses so they have a lovely stripe of red. This works so well with the strawberries and lifts the recipe from being white meringue mixed with white cream.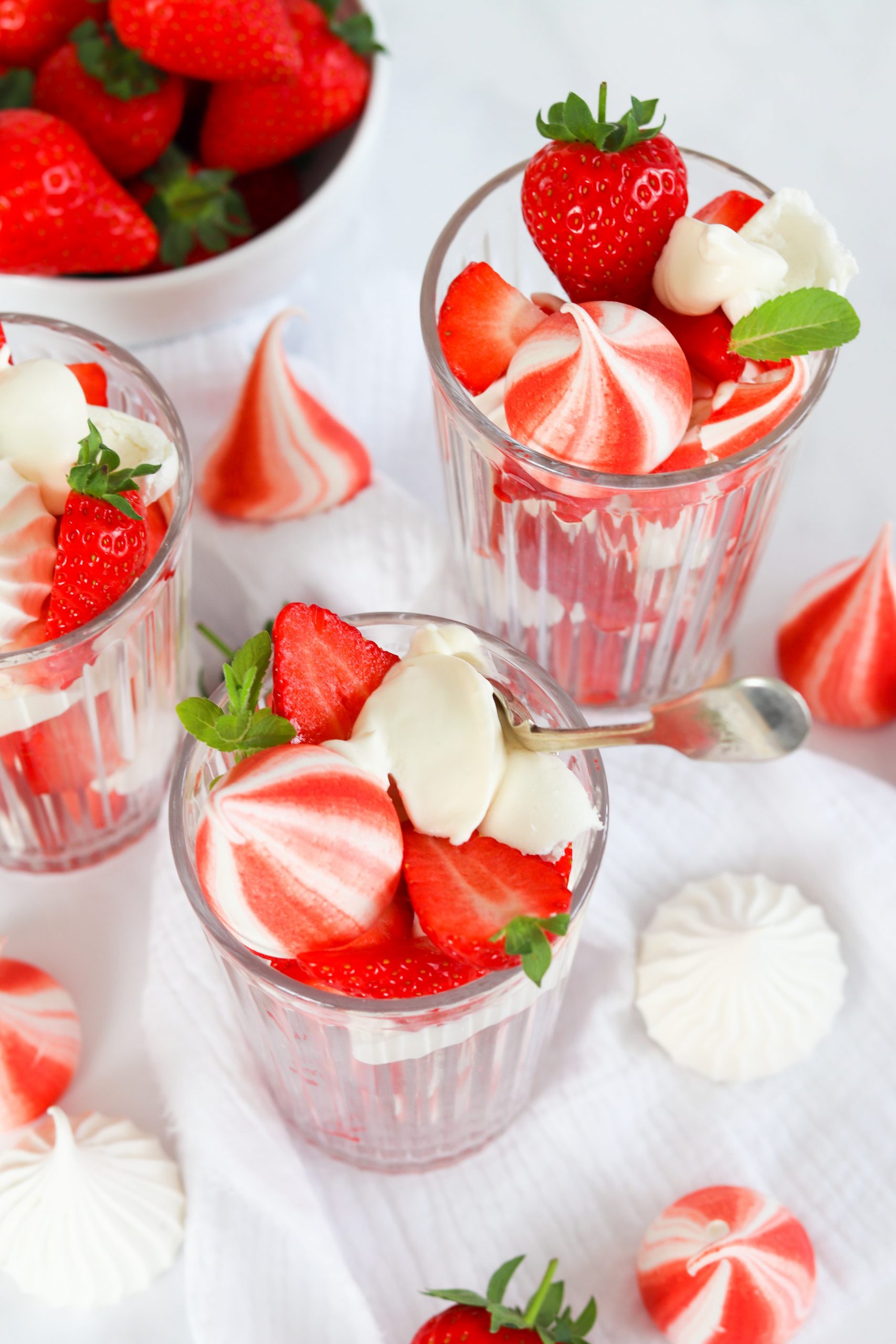 When are strawberries in season?
Although you can buy strawberries year round, it is in early summer that the British strawberries are in the shops. These are the sweetest, most delicious strawberries which don't need much doing to them.
You really will be able to taste the difference between a strawberry when they are in season to other times of the year. So make the most of them from late May to September!
Eton Mess is the perfect way to showcase British strawberries when they're in season. The simple but complimentary flavours of strawberries, meringue and softly whipped cream is a match made in heaven.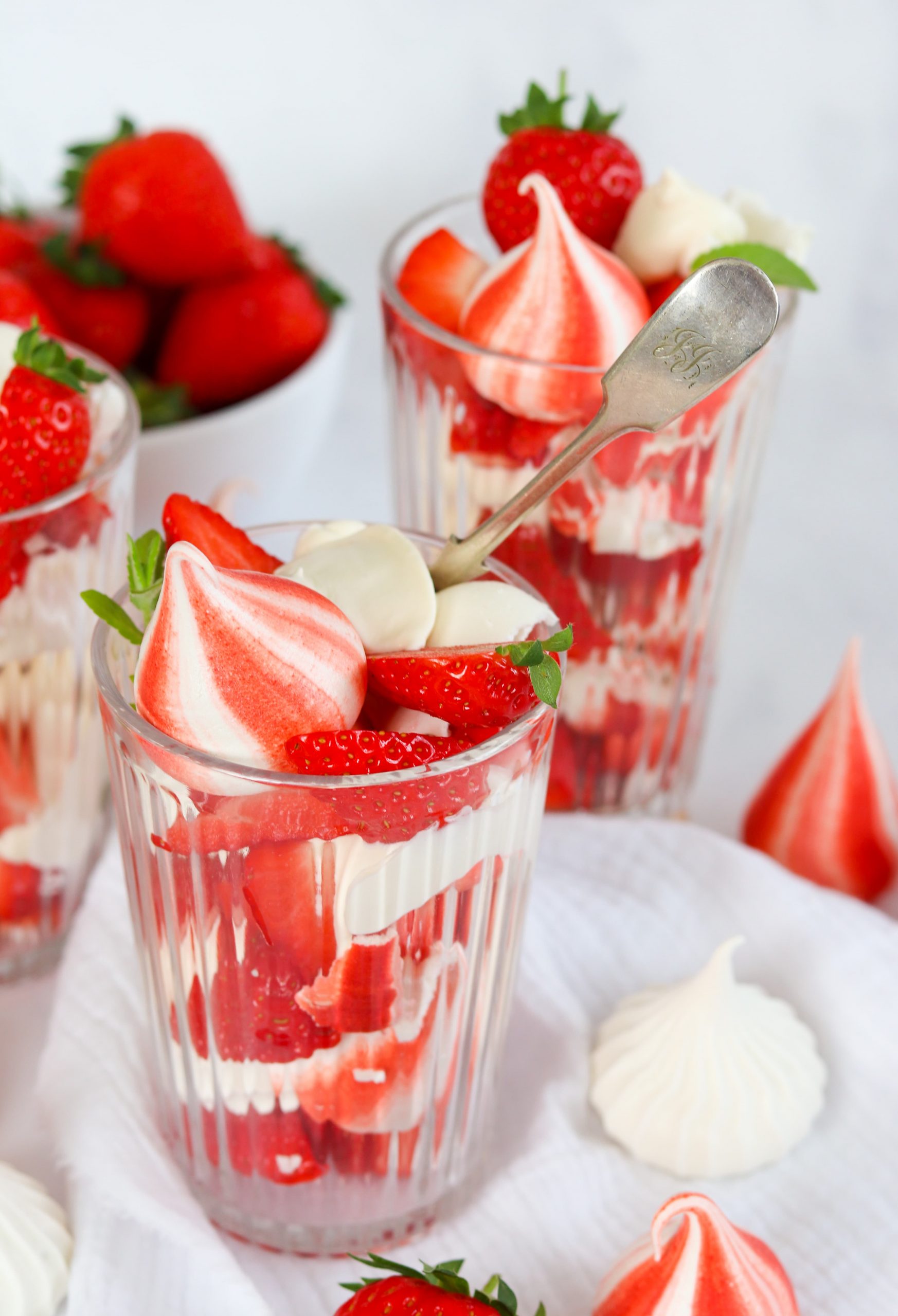 Although it is usually served with strawberries, Eton Mess can be served with any type of summer berries. Raspberries would work really well.
You could also step away from berries entirely and take inspiration from Mary Berry and make a Passionfruit & Banana Eton Mess. But use Meringue Kisses obviously!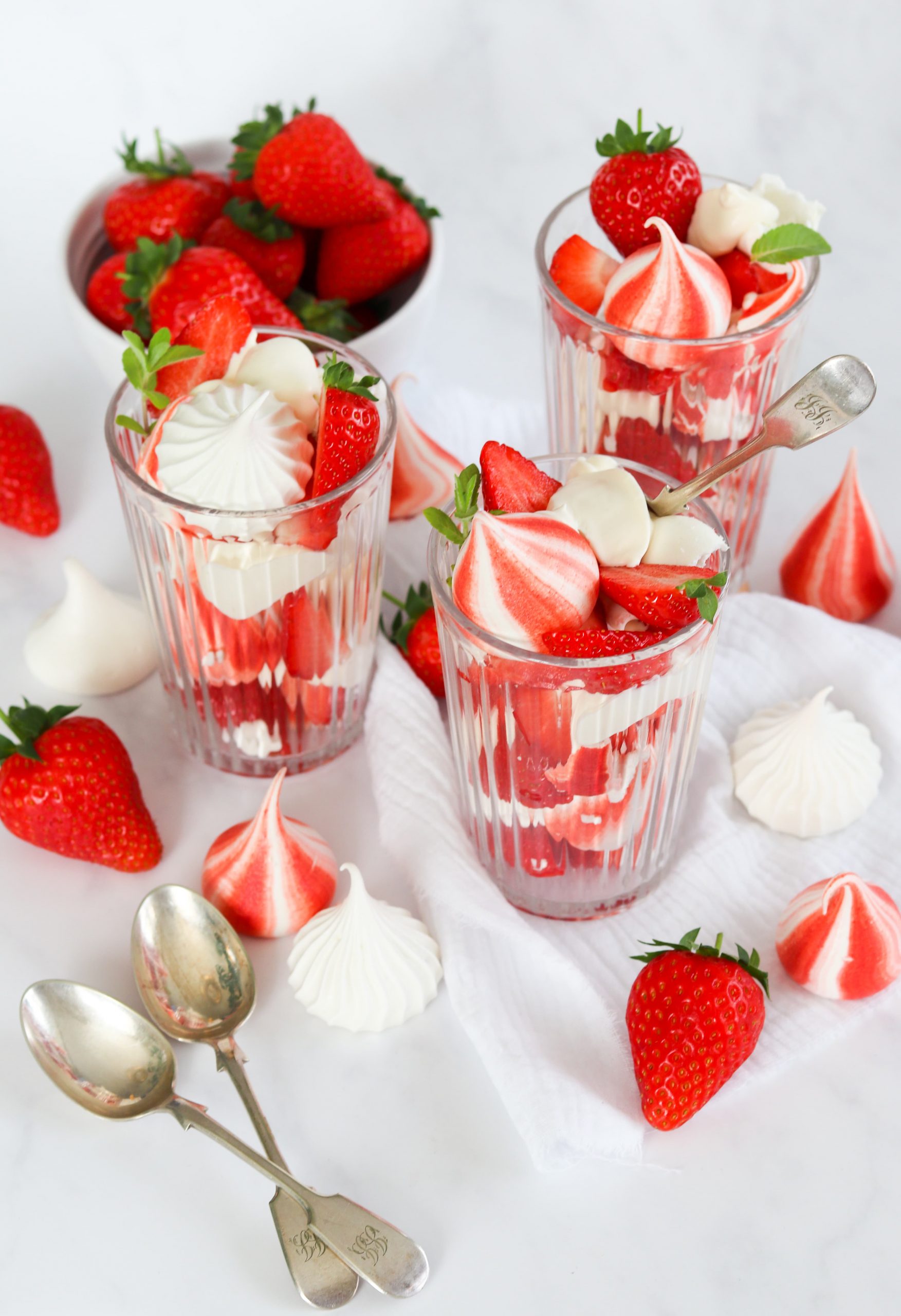 Which Meringues are best to use?
Well obviously I am going to tell you that the best meringues to use are my Meringue Kisses! They're simple to make and make this Eton Mess look so pretty!
I know that this might not be practical if you have unexpected guests and you want to rustle up a delicious dessert however.
You can of course use shop bought meringues. Meringue Kisses aren't as widely sold but you can buy meringue nests or mini meringues. All options would work really well for this dessert.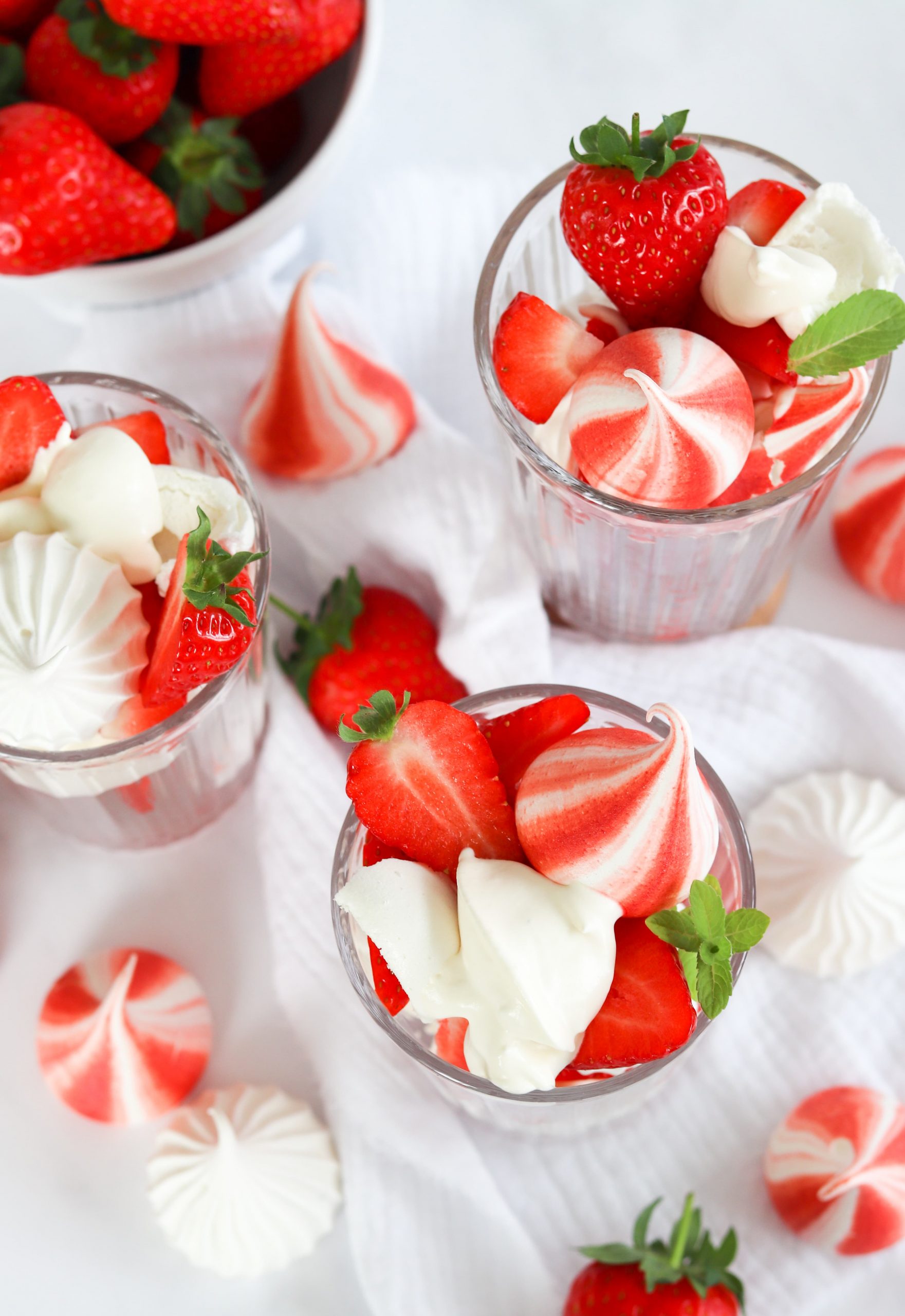 Which cream is best to use?
Double or whipping cream are what you will need for Eton Mess.
I tend to use double cream as this is what I usually buy. However it is harder to find outside of the UK. It has a high fat content which makes it perfect for whipping.
The only disadvantage of using double cream is that it is easier to overwhip. I always recommend keeping an eye on your cream as you whip it so you reduce the risk of overwhipping.
Whipping cream or heavy cream is more widely found and would work perfectly for this dessert.
I wouldn't recommend using single or UHT cream for this recipe as they do not whip very well.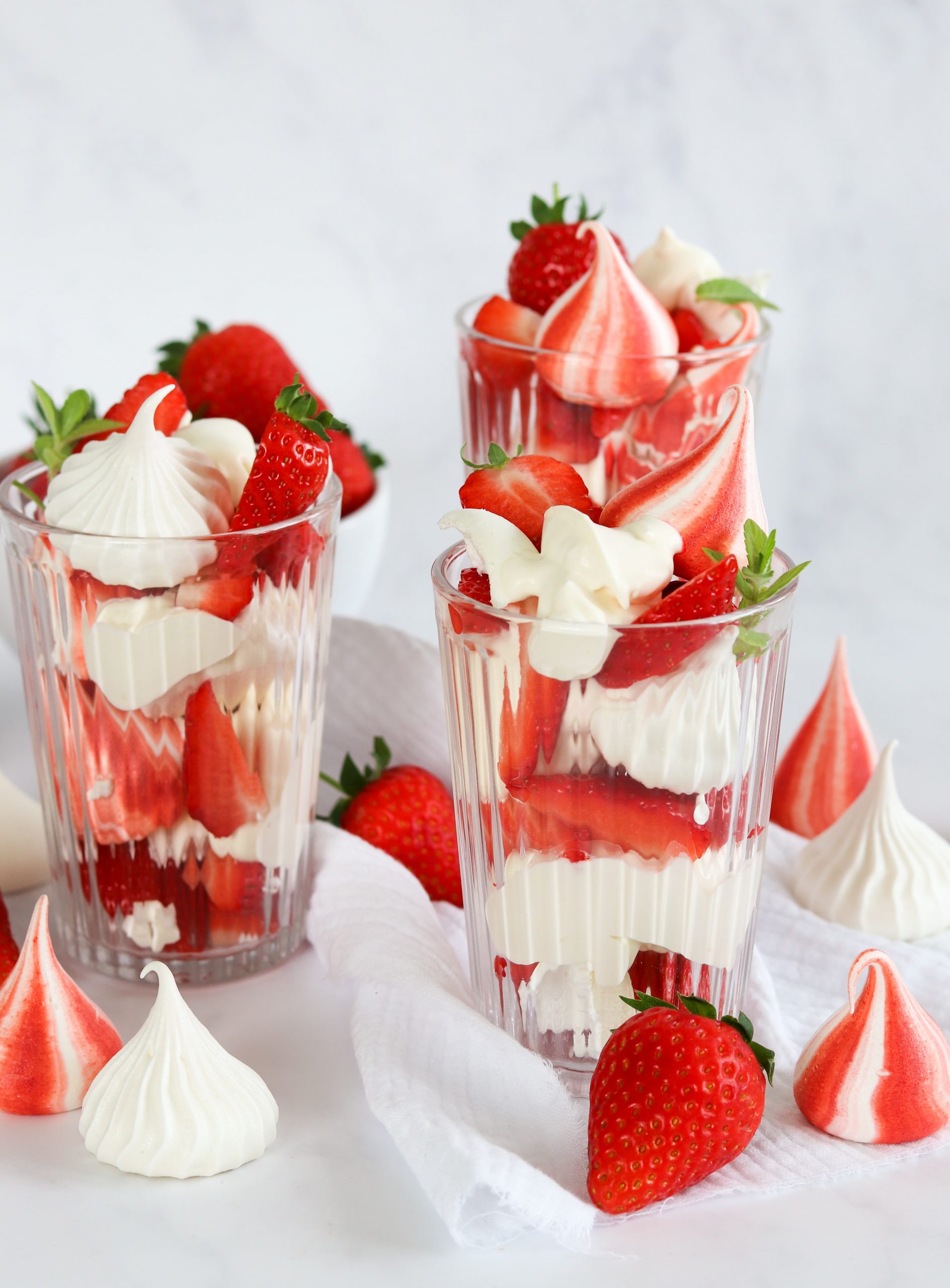 How to assemble your Eton Mess with Meringue Kisses
Personally, I prefer to assemble the desserts into the bowls or glasses you are going to serve it in.
I like to add layers of strawberries, soft whipped cream and meringue. This helps keep all the ingredients intact and means the strawberries don't stain the cream with their juice.
I crush up some of the Meringue Kisses to add texture to the cream, but I also like to leave some whole or nearly whole so they stand out.
You can of course add it all to one big bowl and mix together before serving it. Just make sure you don't stir it too enthusiastically because you don't want the meringues to break up too much.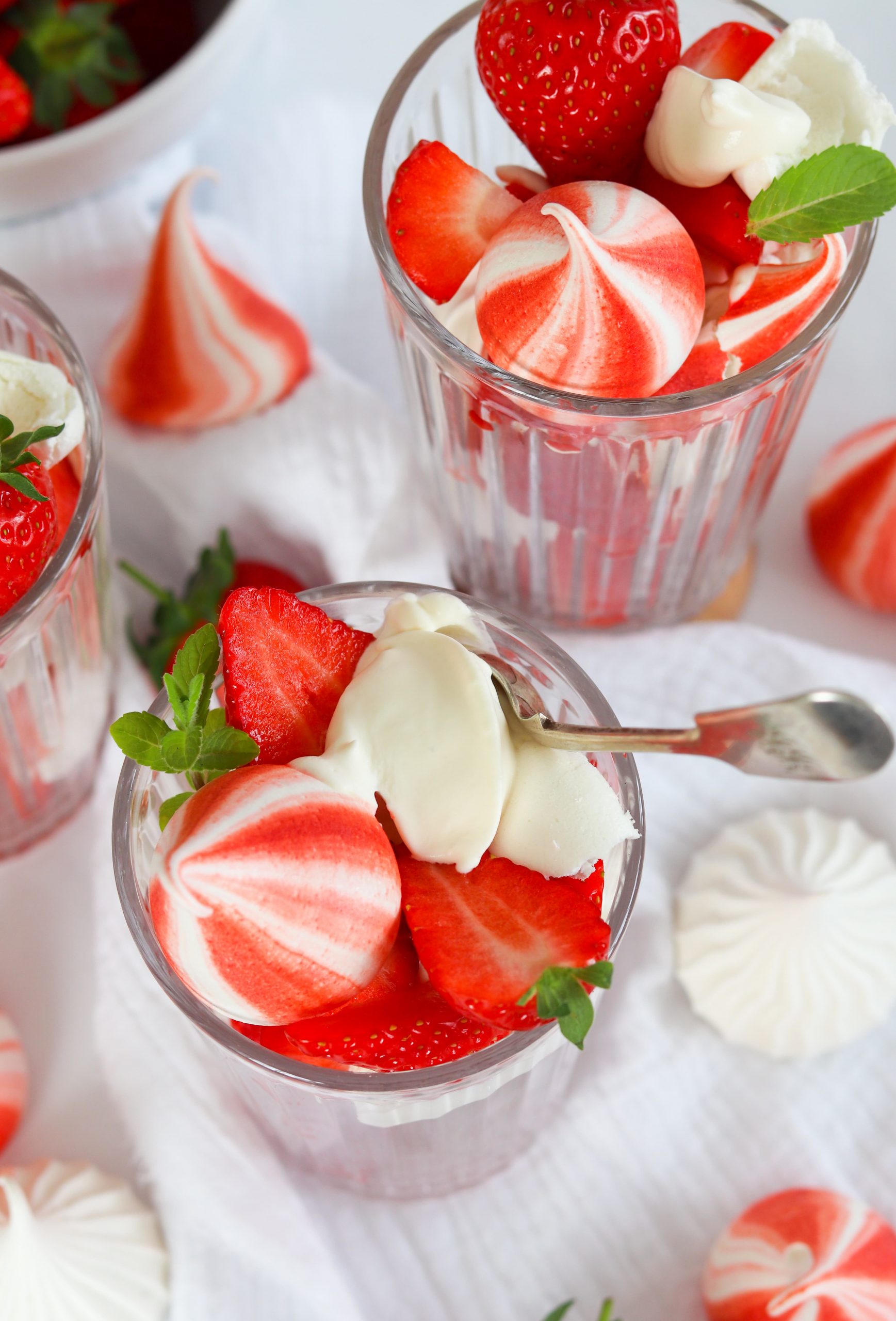 Can you make this Eton Mess with Meringue Kisses in advance?
You can prepare the individual components in advance if you are going to be tight for time when you want to serve it.
I would actually recommend making the Meringue Kisses in advance as although they aren't complicated, they do take a little bit of time.
I think whipped cream is best served as soon after whipping as possible. This is because it does change in appearance slightly as it sits.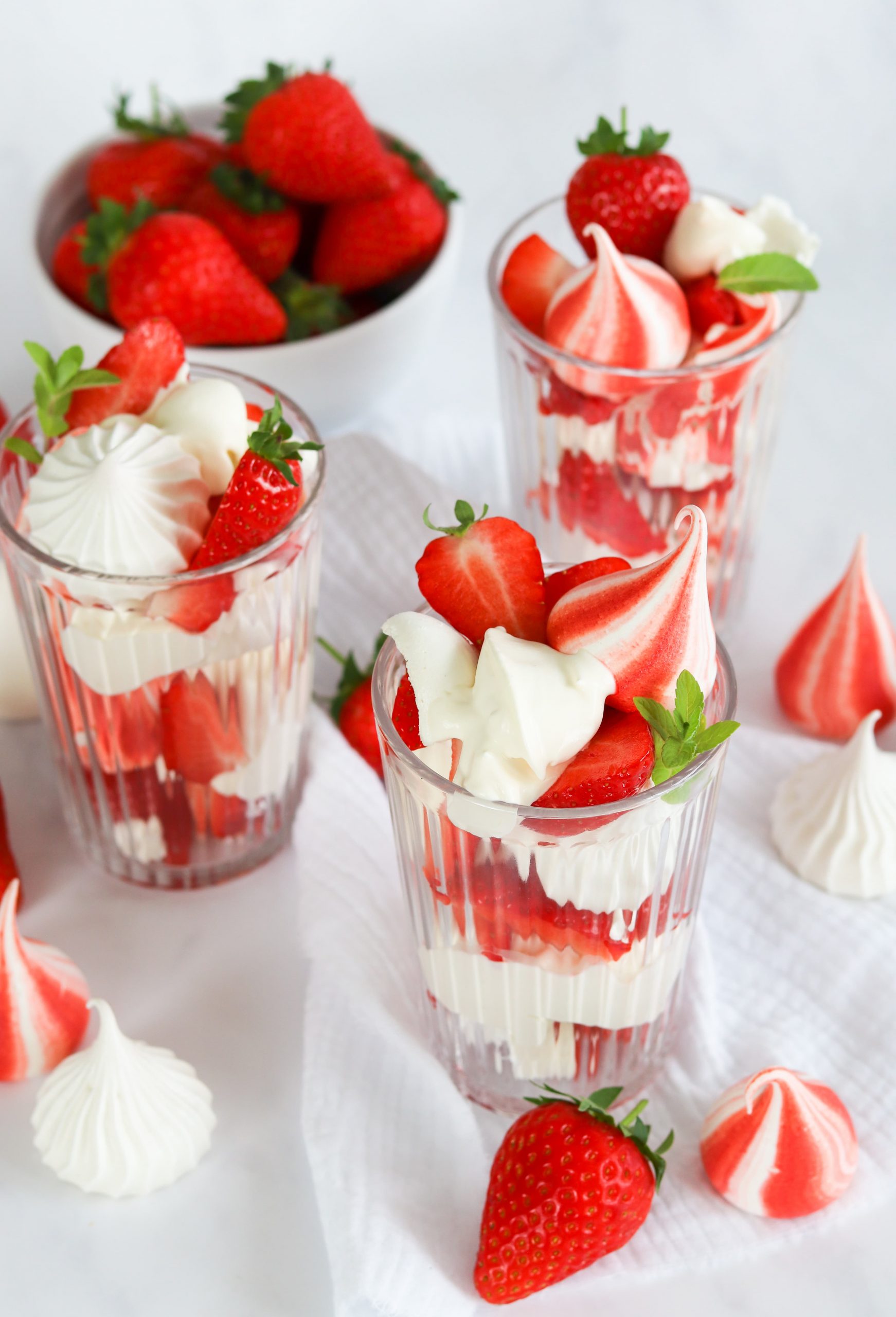 How long will it keep for?
My number one tip is to only make as much as you are going to eat. This is not a dessert that keeps well.
The meringues do not keep well when mixed with the strawberries and cream because they become soft.
Their main reason for being in an Eton Mess is to provide texture, crunch and added sweetness. If you take away their crispness, it just won't be the same.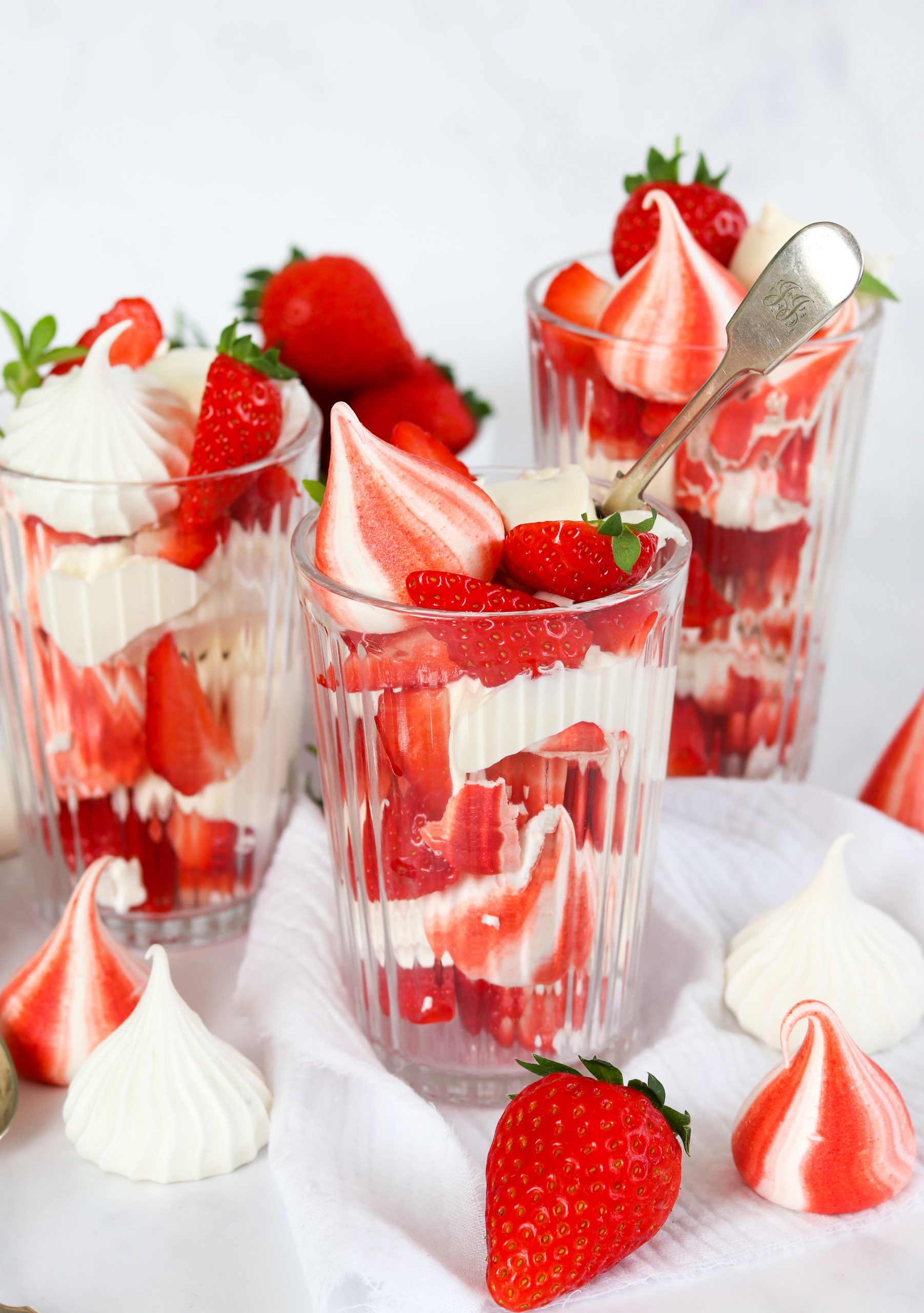 Other recipes you might like
Pin for later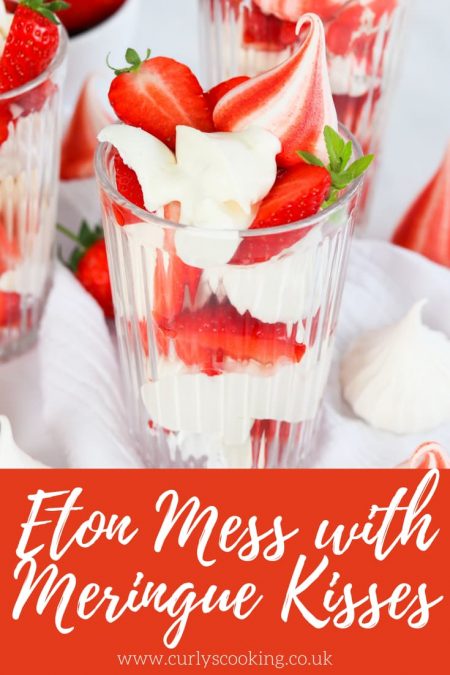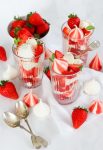 Eton Mess with Meringue Kisses
Crisp meringues with a squidgy centre covered in deliciously smooth whipped cream and topped with juicy strawberries. This Eton Mess with Meringue Kisses is perfect for early summer when British strawberries are at their best.
Ingredients
300

ml

double cream

softly whipped

300

g

strawberries

quartered

150

g

meringue kisses
Instructions
Make the meringue kisses as per the recipe above

Pour the double cream into the bowl of your mixer fitted with the whisk attachment. Whisk on a slow to medium speed for a couple of minutes until it thickens but is still soft

Hull the strawberries and cut them into pieces

Assemble the dish by adding the meringue kisses, whipped cream and strawberries to a serving bowl
Recipe Notes
Nutritional information is given as a guide only and may vary.
Nutrition Facts
Eton Mess with Meringue Kisses
Amount Per Serving
Calories 282
Calories from Fat 243
% Daily Value*
Fat 27g42%
Cholesterol 102mg34%
Sodium 29mg1%
Potassium 171mg5%
Carbohydrates 7g2%
Protein 2g4%
Vitamin A 1105IU22%
Vitamin C 44.6mg54%
Calcium 61mg6%
Iron 0.3mg2%
* Percent Daily Values are based on a 2000 calorie diet.
Linking to