Mince pies but without all of the cutting and assembling. My Mincemeat Pinwheels are really quick, very easy but still everything you want from a mince pie.
There is lots of food that is synonymous with Christmas here in the UK with mince pies being one of them. For those of you that aren't familiar with mince pies, they are shortcrust pastry filled with mincemeat which is a sweet mixture of raisins and other dried fruit with suet. It might sound a little strange but it is very tasty.
I love a mince pie, but making them can be a bit fiddly even using shop bought pastry. Maybe it's just me being lazy, but you have to cut out rounds of pastry and put them in the tin, fill them with mincemeat and then cut out the lids from pastry. I know what you're thinking, this is by no means complicated but when you are making lots of them and with all of the other baking and cooking at this time of year, it can feel like a bit of a chore.
Due to my laziness, I am always looking for new ways to still get my festive mincemeat fix, but in a more simple way. Last year I made Frangipane Mince Pie Slices, and this year I came up with these Mincemeat Pinwheels.
These are so easy it is almost cheeky to call them a recipe. I make them even easier by using shop bought ready rolled pastry. You can obviously buy the pastry in a block and roll it yourself, but rolling pastry has never been a skill of mine.
You can also make your own mincemeat if you plan ahead, but if you haven't already made some, you're too late now so get yourself down to the shop and buy some!
These will keep in an airtight container for at least 3-4 days.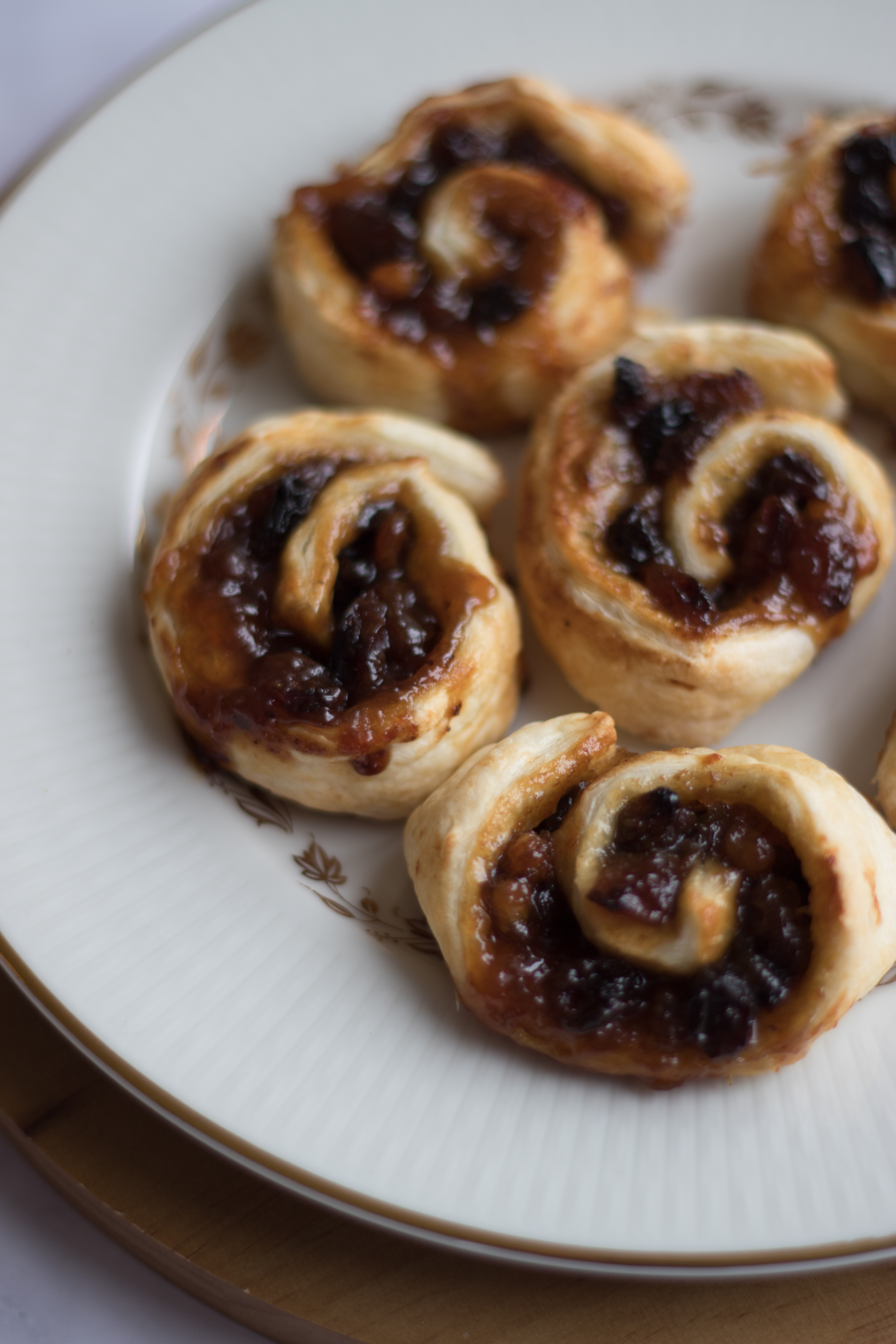 Makes roughly 22
375g puff pastry, ready rolled
260g mincemeat
Orange zest, half orange (optional)
1 tbsp milk or 1 egg
Spray oil
Unroll the pastry and using a rolling pin, roll until it is 2-3mm thick keeping it on the baking paper it comes with
Spread the mincemeat evenly over the pastry leaving roughly one centre of pastry uncovered on one of the long sides
Scatter some orange zest (if using) across the mincemeat
Starting from the long end closest to you, tuck the pastry over as tight as you can. Then using the baking paper roll the rest of the pastry up to create a long roll
Leave to chill in the fridge for 10 minutes
Preheat the oven to 190ºC (fan assisted) and spray 2 trays with oil
Take the pastry out of the fridge and slice into rounds around 1cm in thickness
Place the pinwheels on the oiled baking trays and brush with the milk or egg
Bake for 17-20 minutes until the pastry is golden brown
Allow to cool on a wire rack
Pin for later
Linking to