Mince pies but without all of the cutting and assembling. My Mincemeat Pinwheels are really quick, very easy but still everything you want from a mince pie.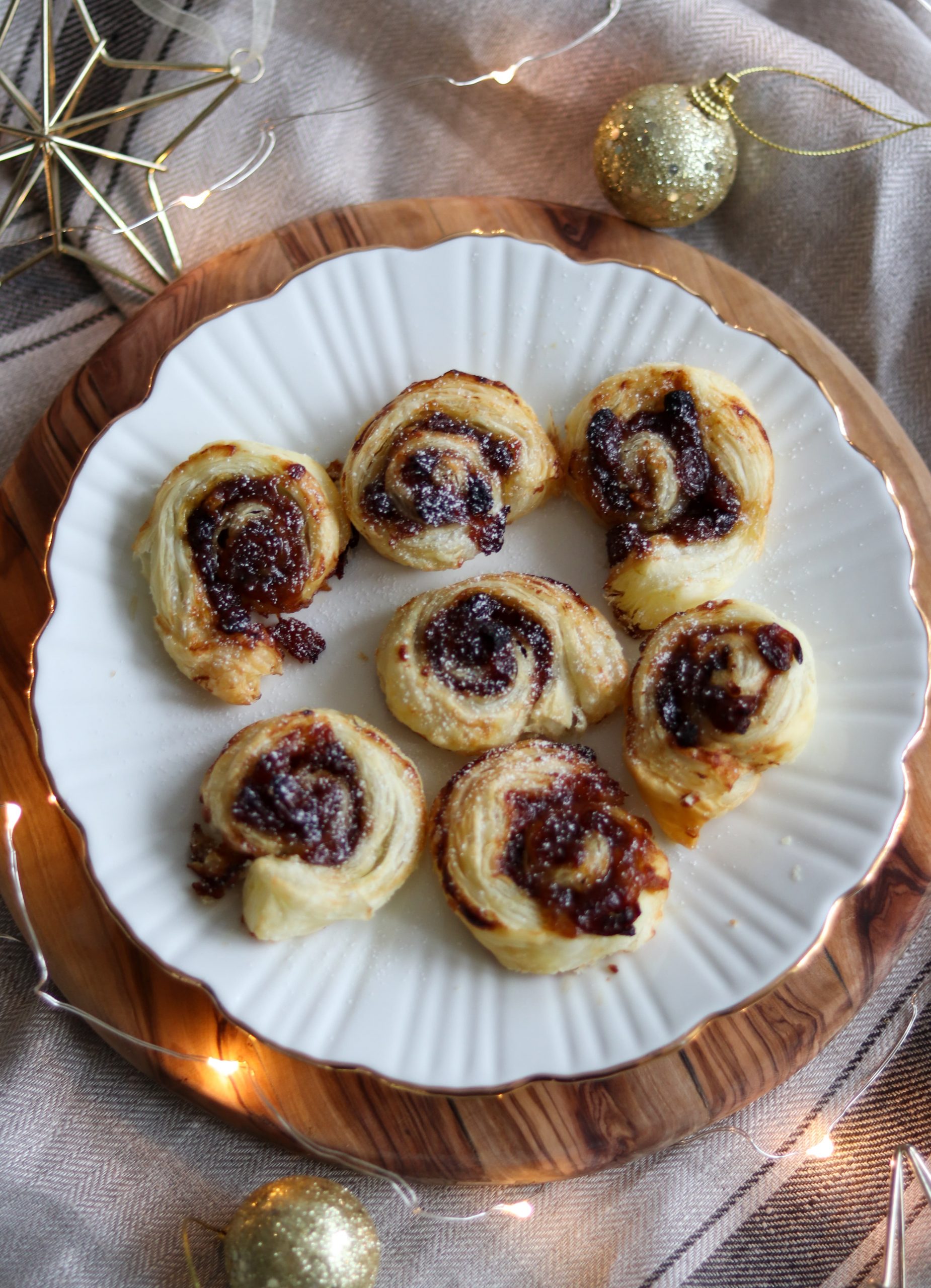 What is mincemeat?
If you're not from the UK, you might not have heard of mincemeat. It is a sweet mixture of dried fruits, spices and spirits.
So where does the name come from? Well back in the 12th century mincemeat was made using meat as a way of preserving it. Over the years the meat has been swapped for the fruit.
So don't panic, despite the name there is no meat in mincemeat anymore and it is really tasty!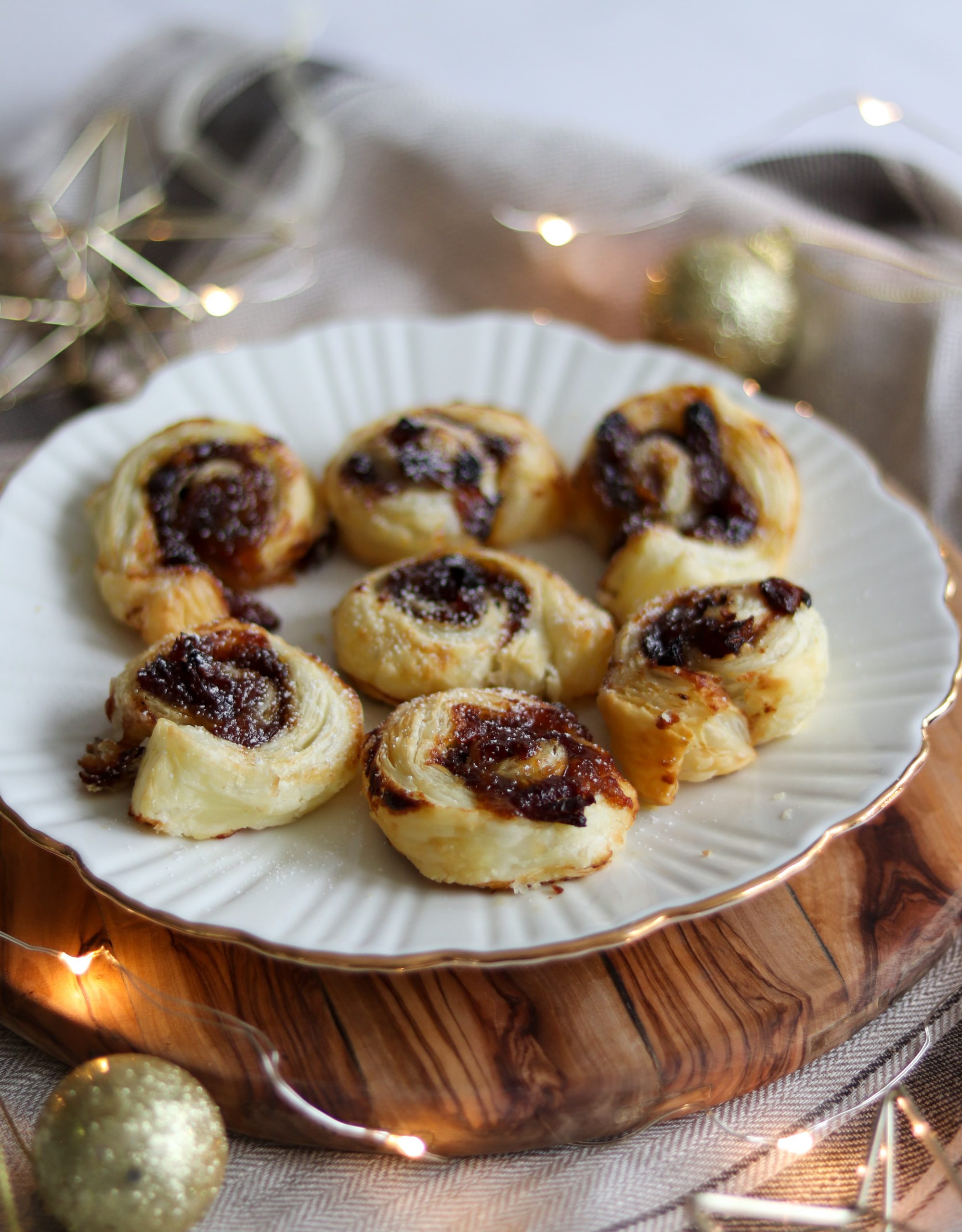 A different take on a mince pie
There is lots of food that is associated with Christmas here in the UK with mince pies being one of them.
For those of you that aren't familiar with mince pies, they are shortcrust pastry filled with mincemeat which is a sweet mixture of raisins and other dried fruit with suet. It might sound a little strange but it is very tasty.
I love a mince pie, but making them can be a bit fiddly, even using shop bought pastry. Maybe it's just me being lazy, but you have to cut out rounds of pastry and put them in the tin, fill them with mincemeat and then cut out the lids from pastry.
Unless you're making my Crumble Topped Mince Pies which are easier and quicker to make.
Due to my laziness, I am always looking for new ways to still get my festive mincemeat fix, but in a more simple way. Last year I made Frangipane Mince Pie Slices, and this year I came up with these Mincemeat Pinwheels.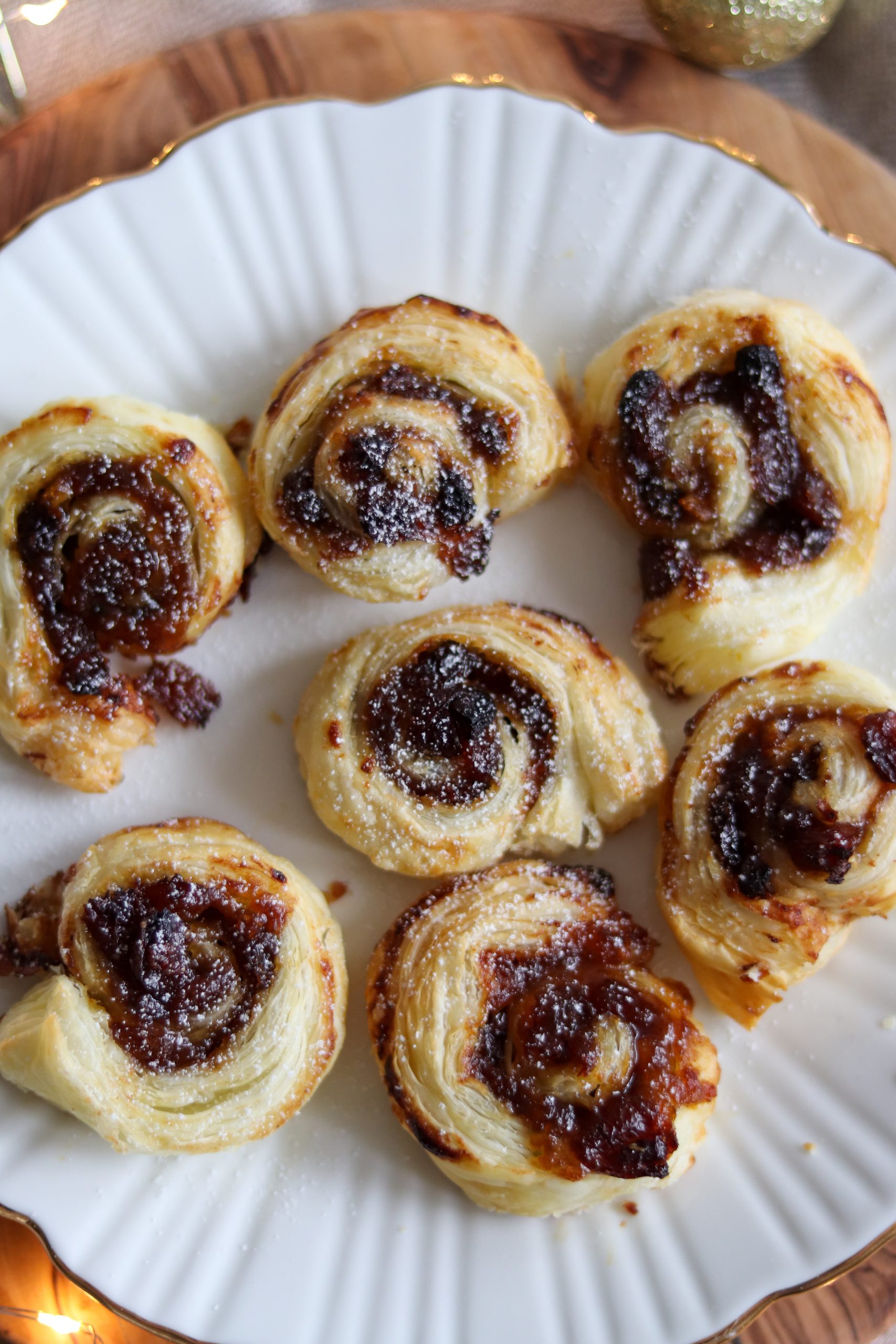 Is it cheating to use shop bought pastry?
Absolutely not! I have lost count of the number of times I have heard chefs say that they don't make their own puff pastry.
Shop bought pastry is good quality and far easier than making your own. Who has time at Christmas to be making their own puff pastry anyway?!
I like to go a step further and not only buy my puff pastry, but to buy the ready rolled pastry. I apparently lack the skills needed to be able to roll a block of pastry into a neat triangle.
You can obviously buy the blocks of puff pastry and roll it out yourself if you prefer.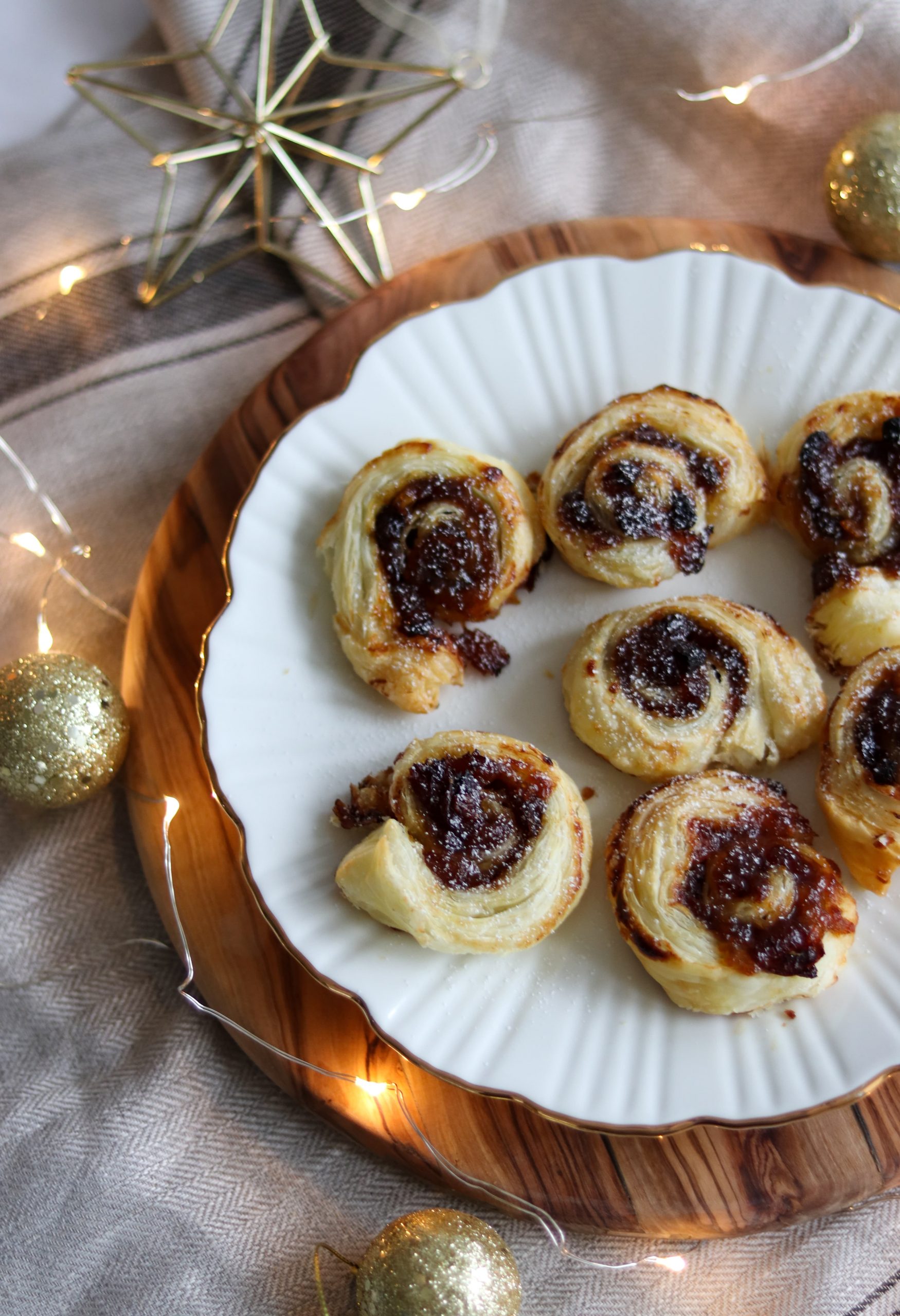 Which mincemeat is recommended to use?
I would always recommend making my Quick Mincemeat because it is so delicious and easy to make. You can make a batch and have it ready to make festive treats.
I don't think there is anything wrong with using shop bought mincemeat. This is what most people tend to do and it is convenient.
I would recommend trying to choose a good quality mincemeat. There are quite a few choices; the fruits and spirits use vary and some may even include nuts. Pick one that appeals to you.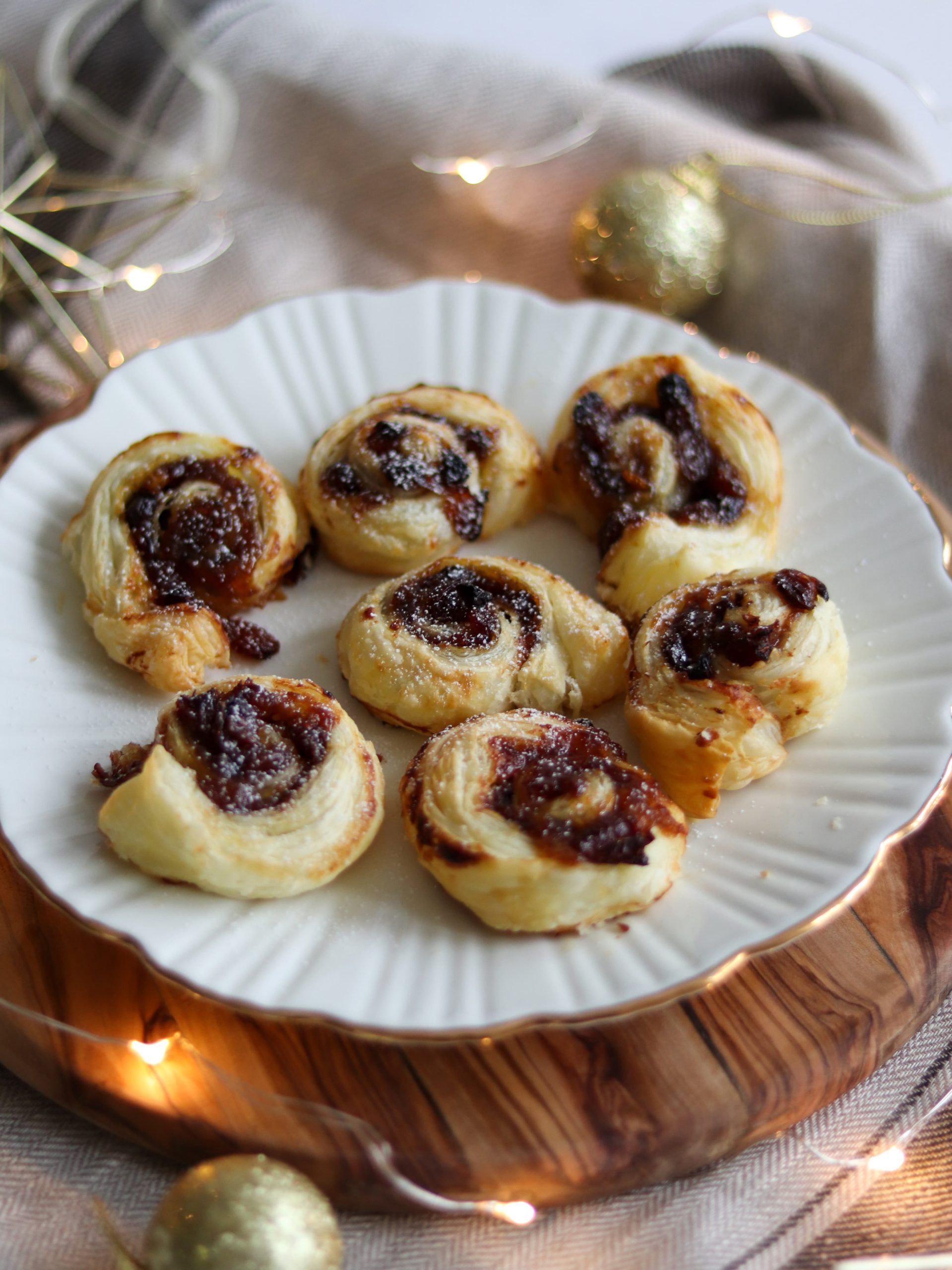 Do you have to chill the pinwheels before cutting?
I do recommend not skipping this step! Just ten minutes in the fridge helps the pastry firm up again. This makes it easier to cut the pastry.
It also means that the pinwheels hold their shape better and don't get too squashed with they're cut.
Is orange zest essential?
If you don't have an orange, you can make these pinwheels without the zest. However I think it adds a lovely lift to the mincemeat which makes it extra delicious.
I really would recommend adding some orange zest if you can.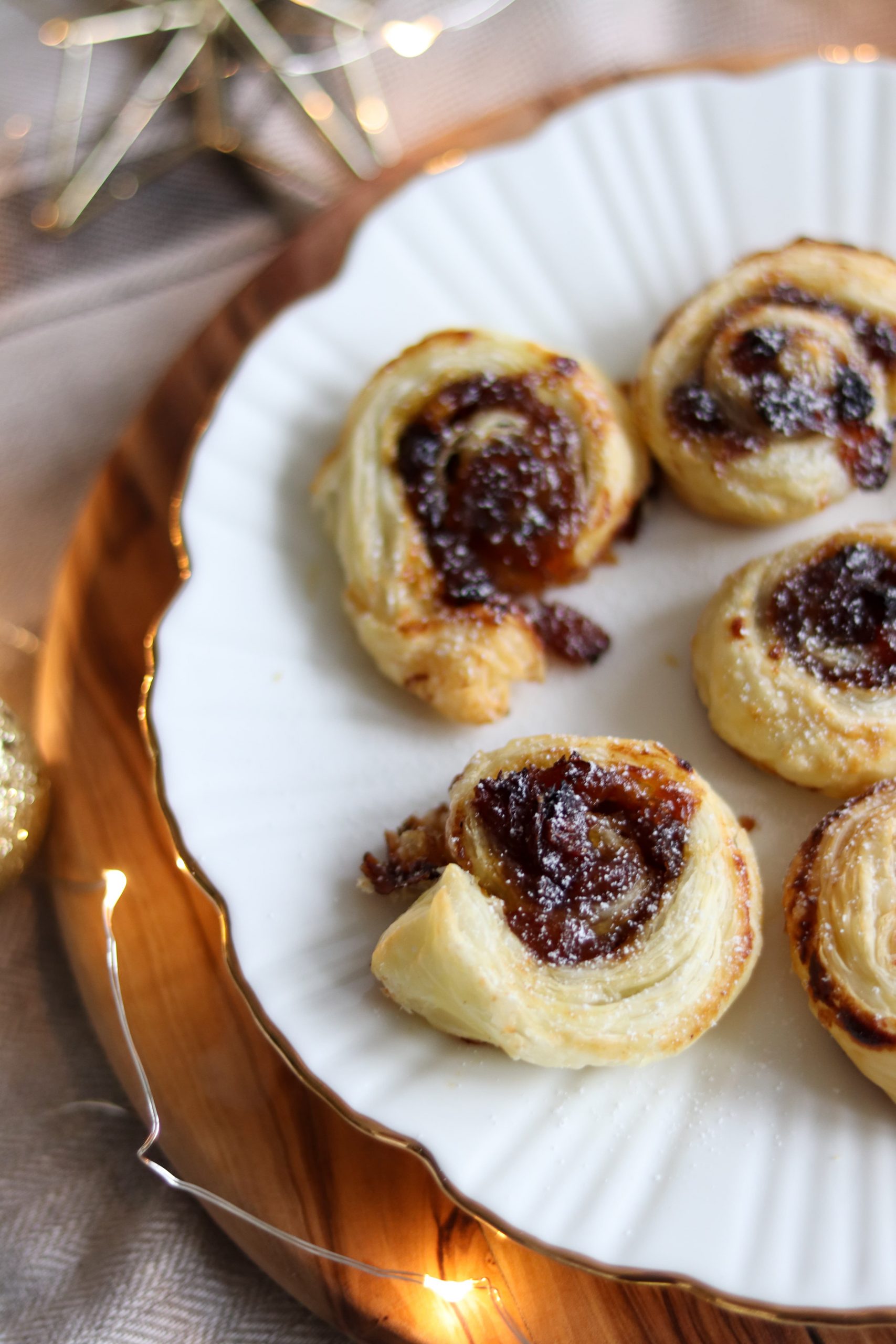 Be careful – mincemeat is sticky!
Mincemeat is so incredibly sticky when it cools which makes is a nightmare to clean off!
You either want to remove the pinwheels from the tray as soon as they come out of the oven or line the baking tray.
If you are not going to line the tray, transfer them to a wire rack to cool as soon as they're baked. The mincemeat will still be warm and won't have stuck to the tray yet.
It is more simple if you line the tins with baking parchment. You can then wait for the pinwheels to cool slightly before transferring them to a wire rack to cool completely.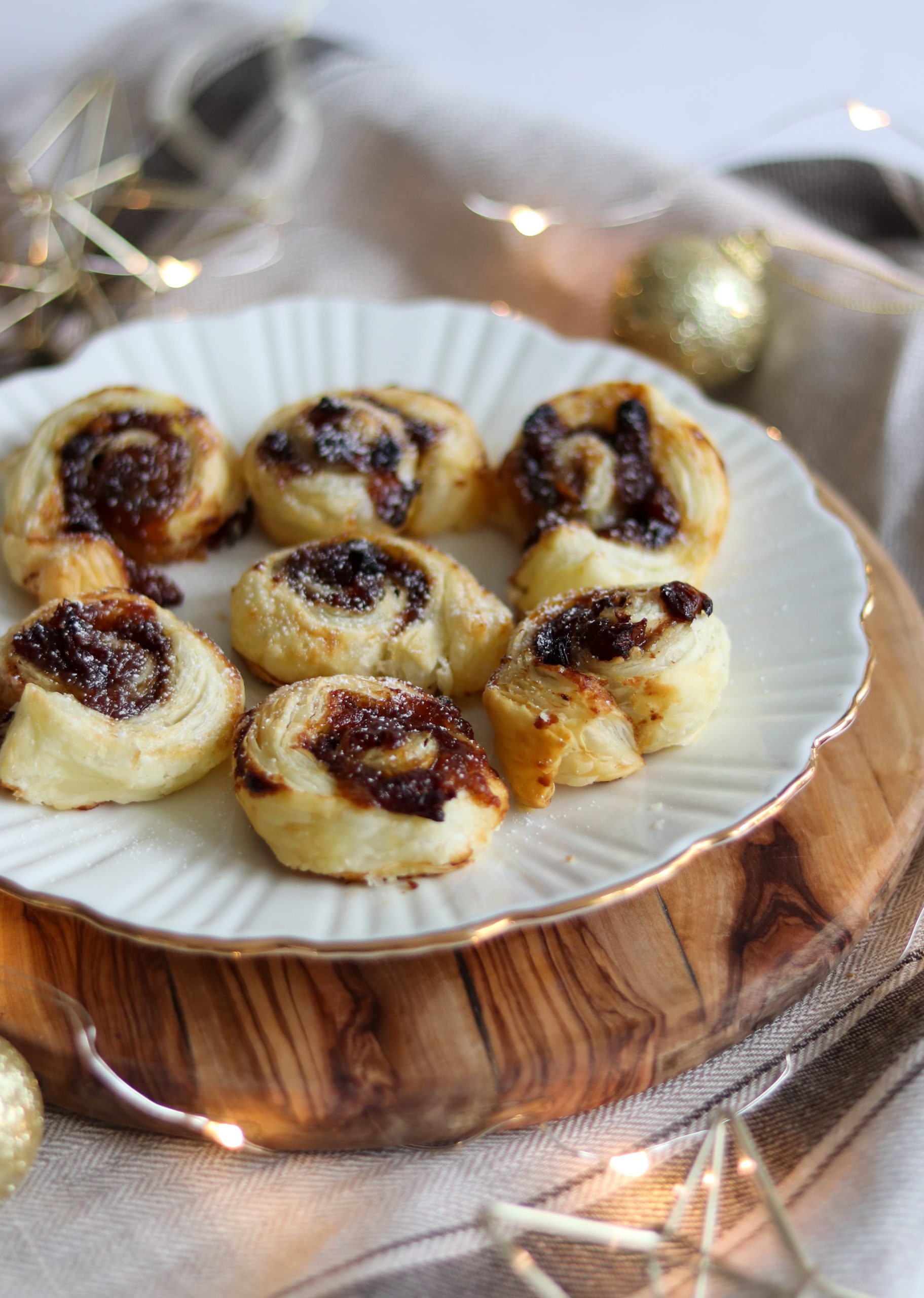 Can these mincemeat pinwheels be frozen?
Yes, they freeze really well.
Cut them and lay them on a baking tray and put them in the freezer. After an hour they should be frozen enough to transfer to a bag or container and frozen until later.
When want to bake them, place the on a baking tray and brush them with milk. Bake them from frozen for 8-10 minutes longer than the recipe states until they're golden and delicious.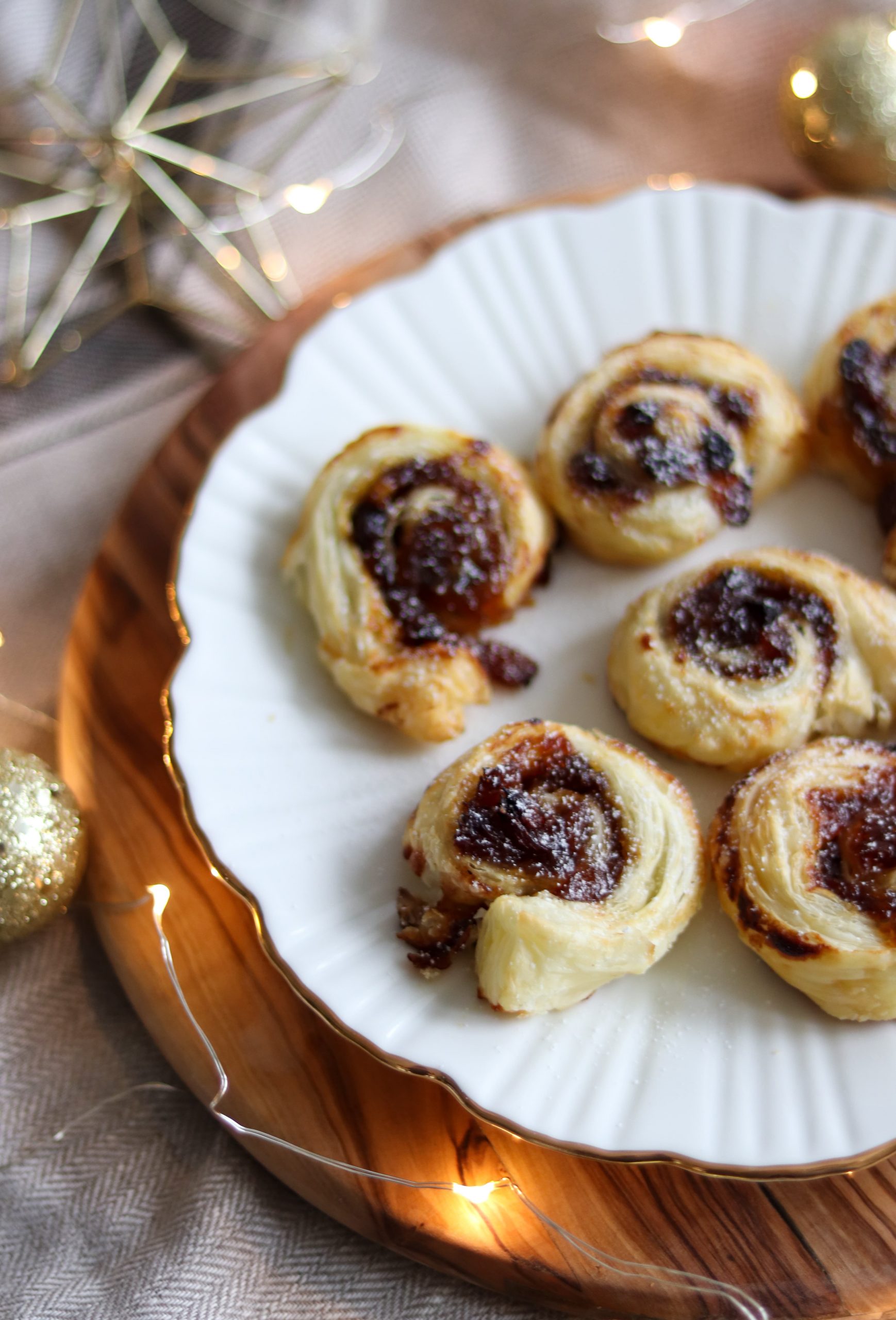 How long will these pinwheels last?
If kept in an airtight container, these Mincemeat Pinwheels will keep for up to five days.
The pastry does start to become slightly less crisp as the days go on as they pastry absorbs the moisture from the mincemeat. They are still delicious though and I don't mind this.
Other recipes you might like
Pin for later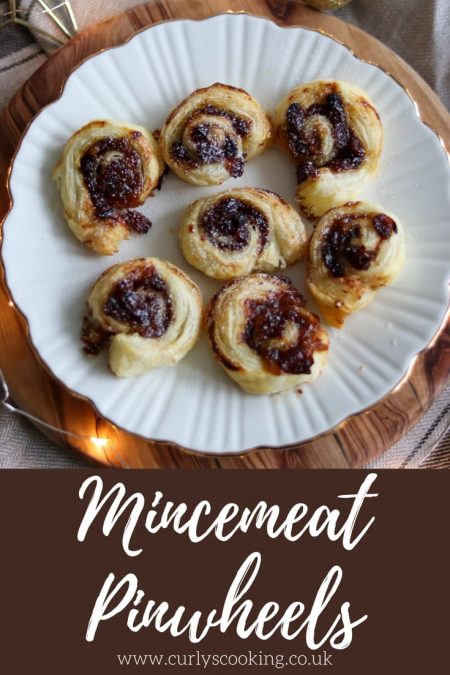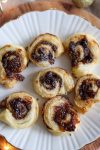 Mincemeat Pinwheels
Mince pies but without all of the cutting and assembling. My Mincemeat Pinwheels are really quick, very easy but still everything you want from a mince pie.


Ingredients
375

g

puff pastry

ready rolled

260

g

mincemeat

½

orange

zested

1

tbsp

milk

spray oil
Instructions
Unroll the pastry and using a rolling pin, roll until it is 2-3mm thick keeping it on the baking paper it comes with

Spread the mincemeat evenly over the pastry leaving roughly one centre of pastry uncovered on one of the long sides

Scatter some orange zest (if using) across the mincemeat

Starting from the long end closest to you, tuck the pastry over as tight as you can. Then using the baking paper roll the rest of the pastry up to create a long roll

Leave to chill in the fridge for 10 minutes

Preheat the oven to 180ºC (fan assisted, 200ºC non fan) and spray 2 trays with oil or line with parchment paper

Take the pastry out of the fridge and slice into rounds around 1cm in thickness

Place the pinwheels on the oiled baking trays and brush with the milk

Bake for 17-20 minutes until the pastry is golden brown

Transfer to a wire rack and allow to cool
Recipe Notes
Keep in an airtight container for 3 days.
Nutritional information is given as a guide only and my vary.
Nutrition Facts
Mincemeat Pinwheels
Amount Per Serving
Calories 131
Calories from Fat 63
% Daily Value*
Fat 7g11%
Cholesterol 1mg0%
Sodium 109mg5%
Potassium 16mg0%
Carbohydrates 17g6%
Protein 2g4%
Vitamin A 7IU0%
Vitamin C 2mg2%
Calcium 4mg0%
Iron 1mg6%
* Percent Daily Values are based on a 2000 calorie diet.
Linking to