Chicken and chorizo in a rich tomato sauce with a subtle warmth. This Slow Cooker Chicken & Chorizo Stew is perfect for a cold winter night served with rice or tortillas and salad and a dollop of soured cream.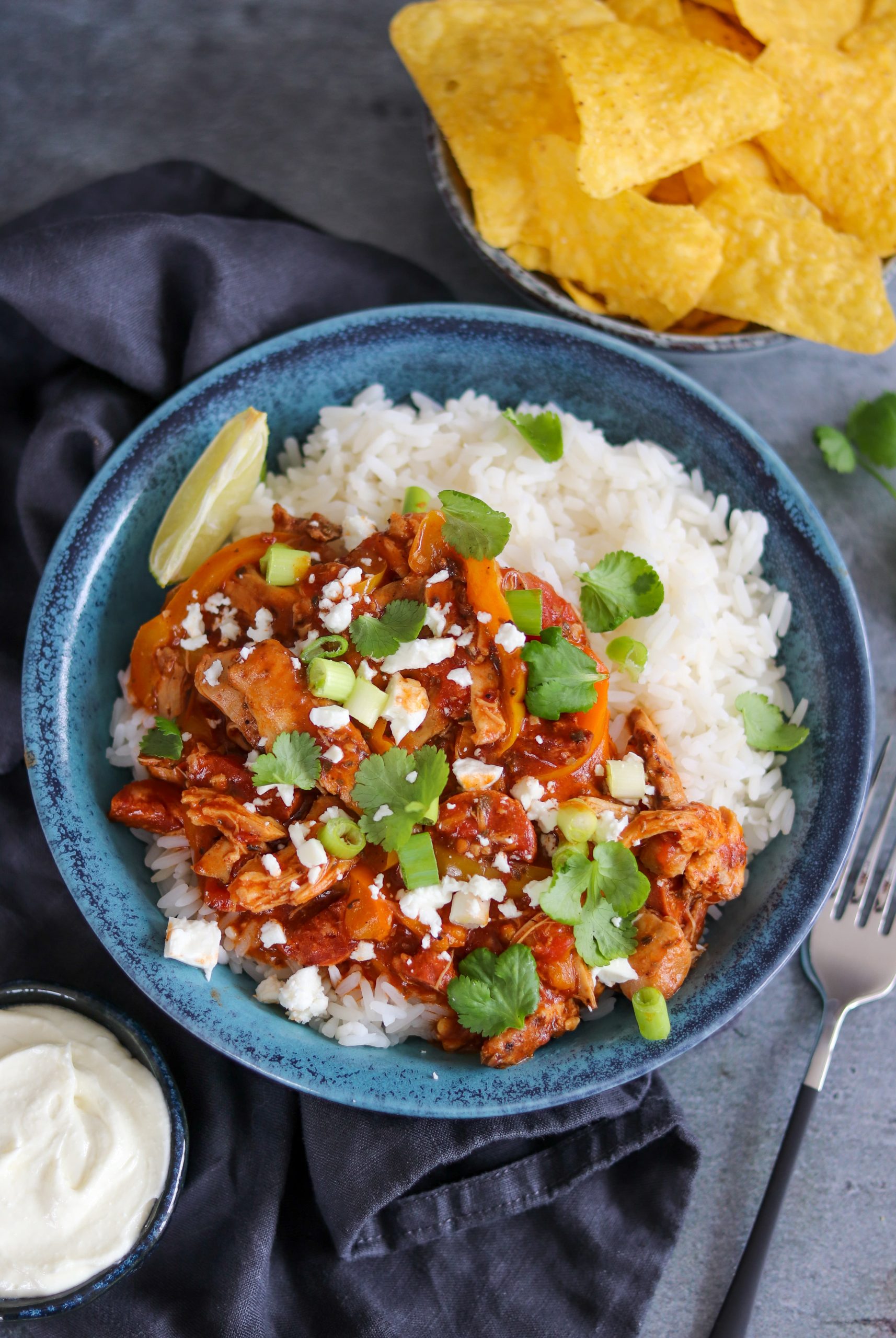 Mexican inspiration
My love of Mexican food is no secret and I am constantly thinking of new recipe ideas. Whether it is adapting traditional recipes, or using Mexican flavors to come up with yummy dishes of my own.
This Slow Cooker Chicken & Chorizo Stew is by no means traditional. It borrows some delicious Mexican flavours to make a comforting and tasty dish. What is lacks in authenticity, it definitely makes up for in ease and taste.
It is quite similar to Chicken Tinga with the addition of chorizo to add another level of smokiness.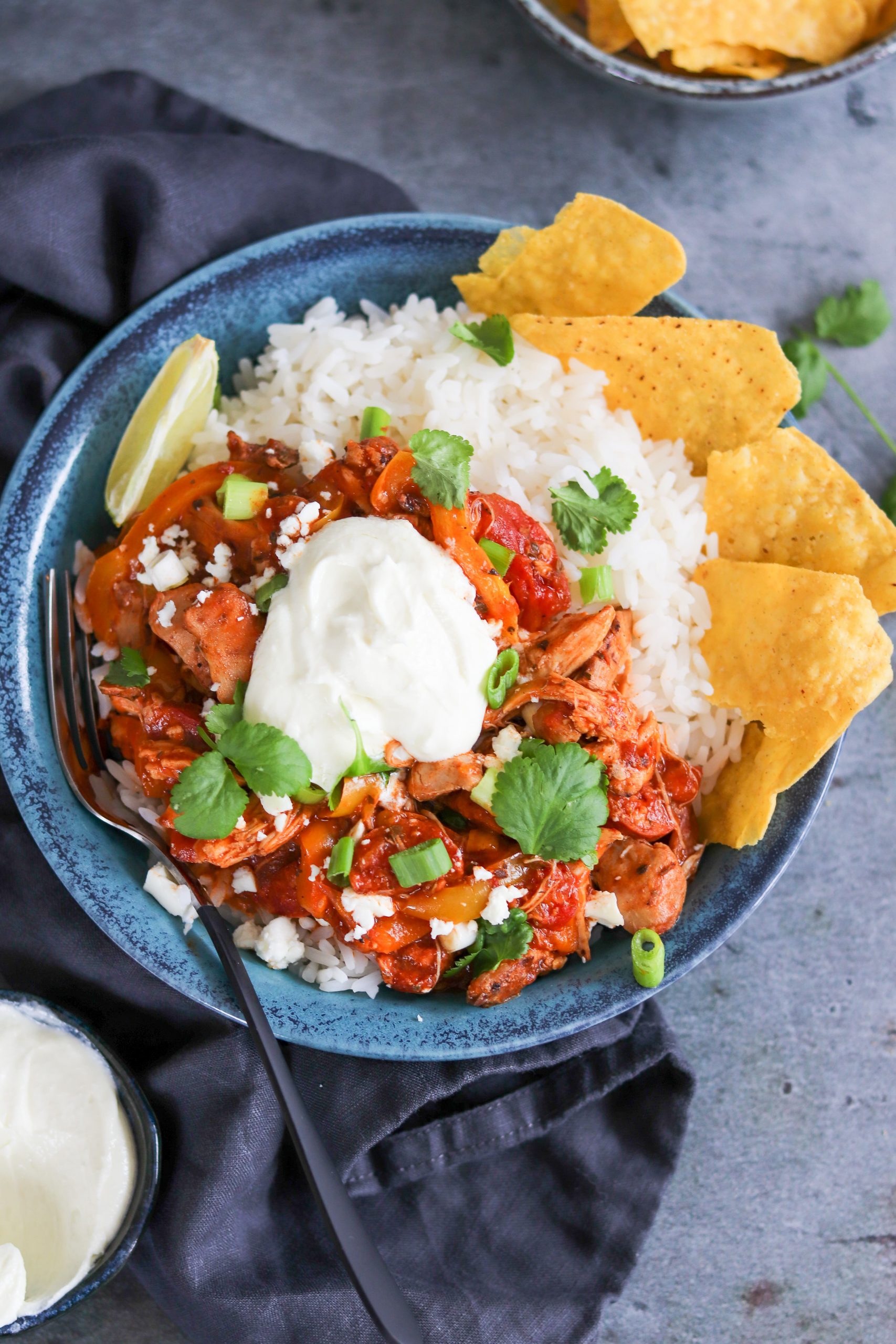 Using a slow cooker
By using the slow cooker, it makes this Chicken & Chorizo Stew even easier. After some quick prep work you can leave the slow cooker to do all of the hard work.
I use a 3.5L slow cooker for this recipe but you can easily double the recipe if you have a bigger slow cooker.
I love using a slow cooker because of how easy they are; but also because of how tender it makes the meat. The long slow cooking means the chicken will just pull apart.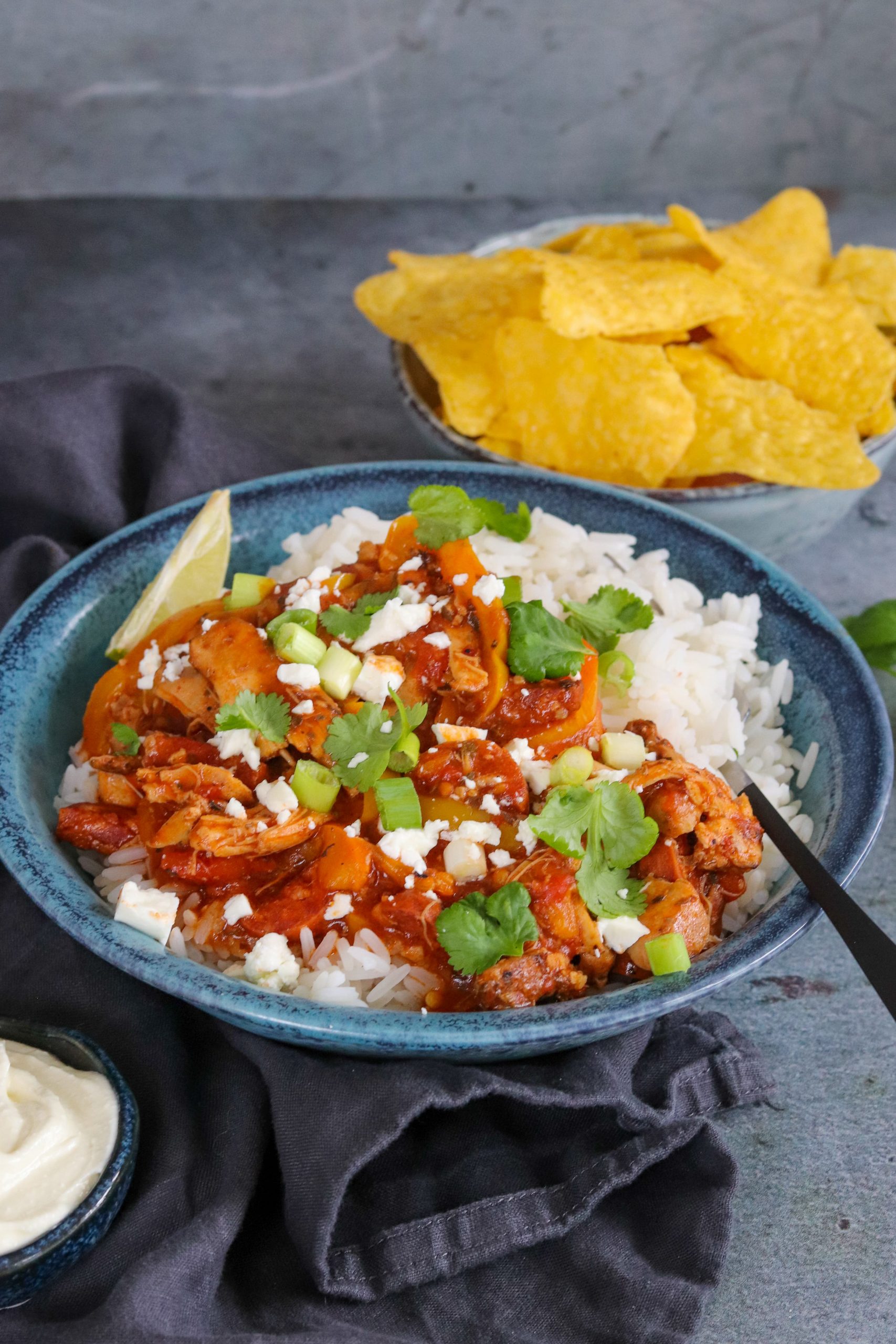 Which cut of chicken is best to use?
You can use thigh or breast meat for this recipe. In general, I prefer thigh meat but this is especially the case when slow cooking.
This is because thigh meat is generally more moist than breast meat. A long cooking time can sometimes lead to the chicken losing its moisture. This is very unlikely to happen in this recipe, but I like to use thigh meat anyway.
I would always recommend using boneless, skinless chicken thighs. This makes it a lot easier to shred the chicken.
Always make sure you check over the chicken thighs for any small bones and remove any excess fat before adding them to the slow cooker.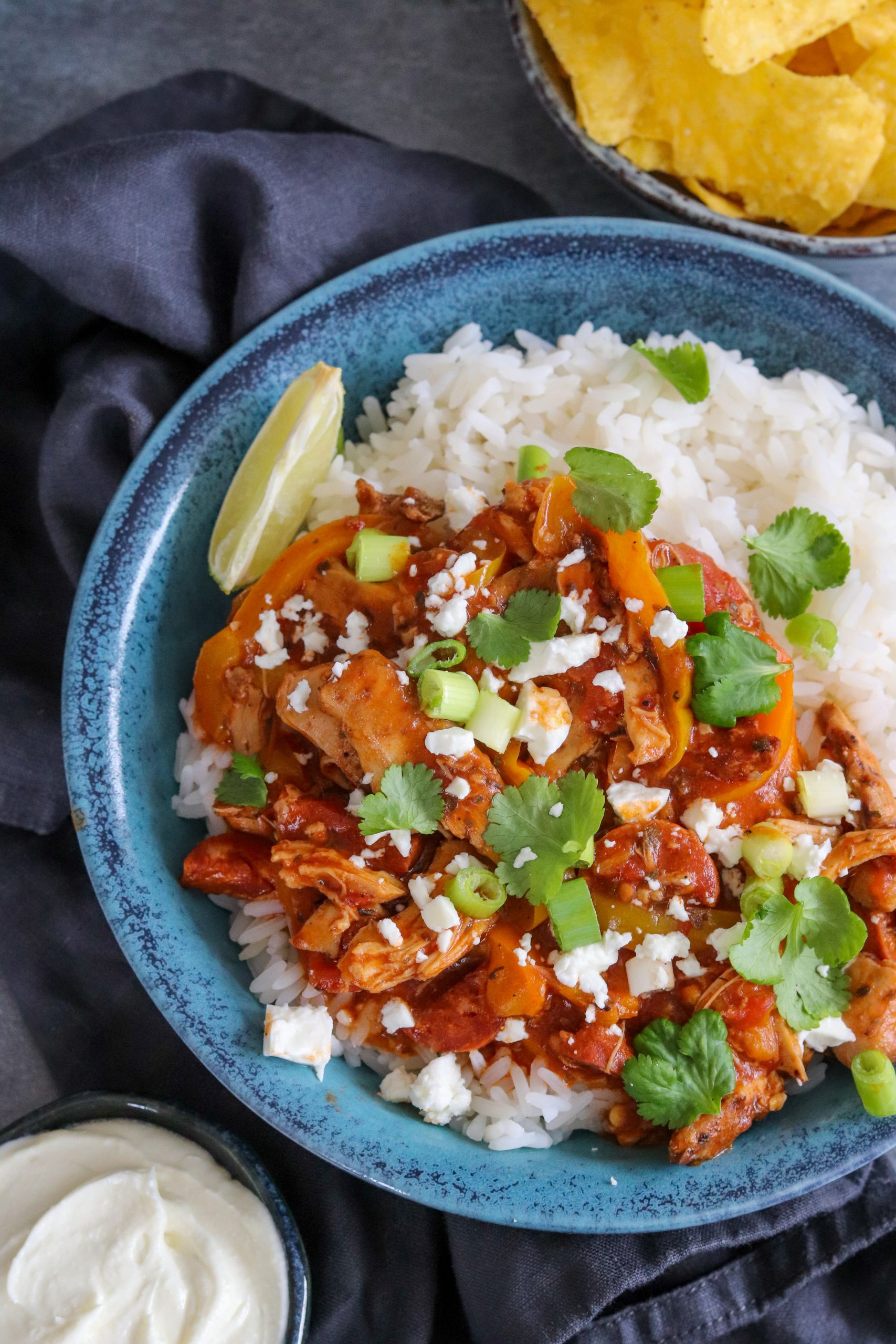 Which chorizo is best to use?
For this recipe you are looking for the Spanish style chorizo that is already cooked and cured. This is usually found in the cold meat section of supermarkets and delis.
This chorizo usually comes as a cured sausage with a casing that needs to be removed before using. It is up to you whether you would like to use standard or spicy chorizo.
I use Spanish chorizo in this recipe as Mexican chorizo isn't very easy to find here in the UK. It also holds it's shape better in the finished dish than Mexican chorizo would.
Spanish chorizo is much more readily available. You can definitely use Mexican chorizo if you'd prefer. Just cook it off before adding it to the pan as the recipe states.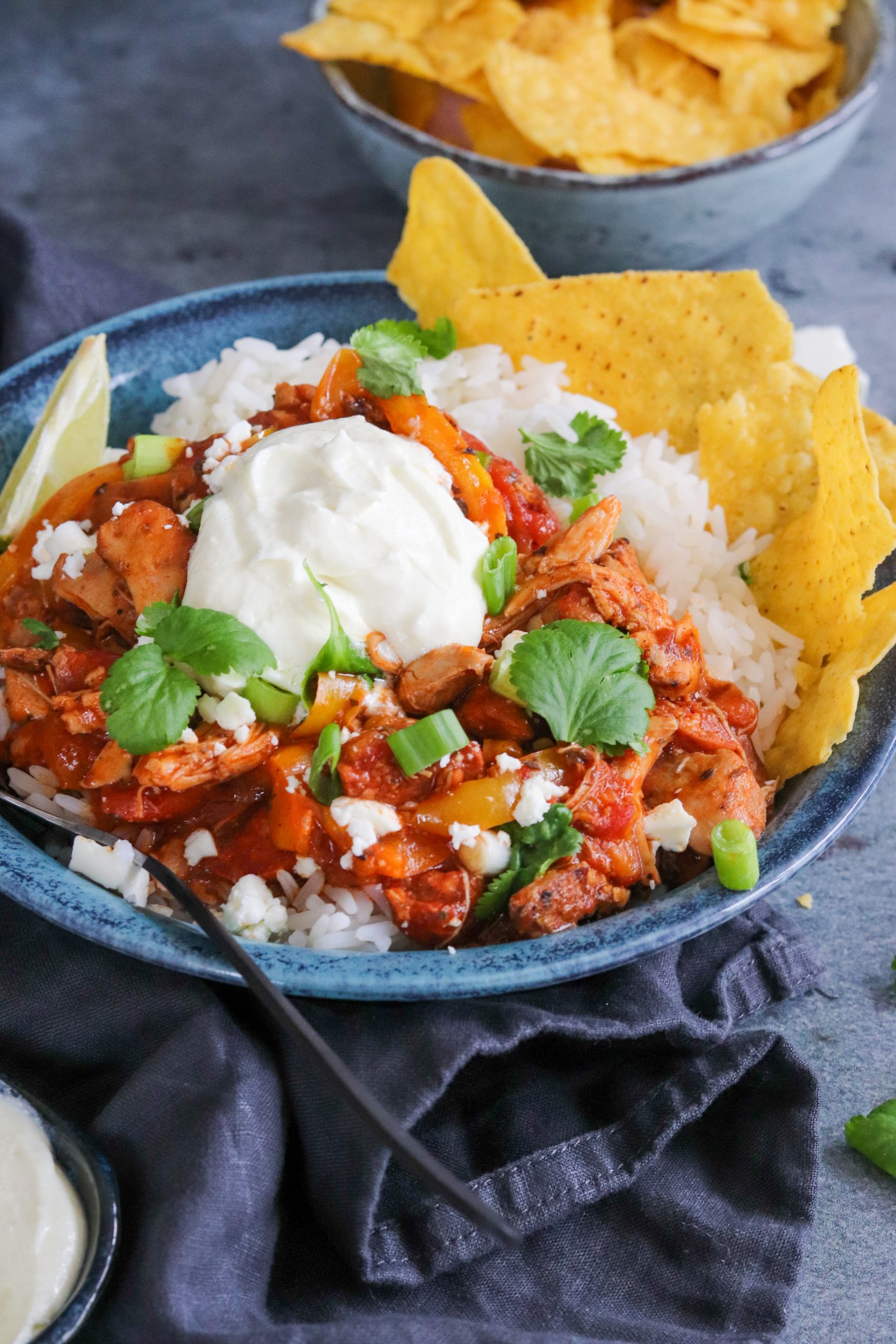 Can I still make this if I don't have all of the chilli powders in the recipe?
Absolutely! Even though I have quite a collection of chilli powders, I realise that not everyone does. So with this recipe I have tried to keep it to chilli powders and flakes that I have seen in supermarkets.
Ancho and chipotle chilli powders have become a lot more readily available in supermarkets in the last few years. If you can't find them in the spices section, make sure you check the Mexican section and the world foods aisle.
If you still can't find them, it isn't the end of the world and you can just substitute it with any chilli powder you have. Bear in mind to use less if it is hot and more if it is very mild.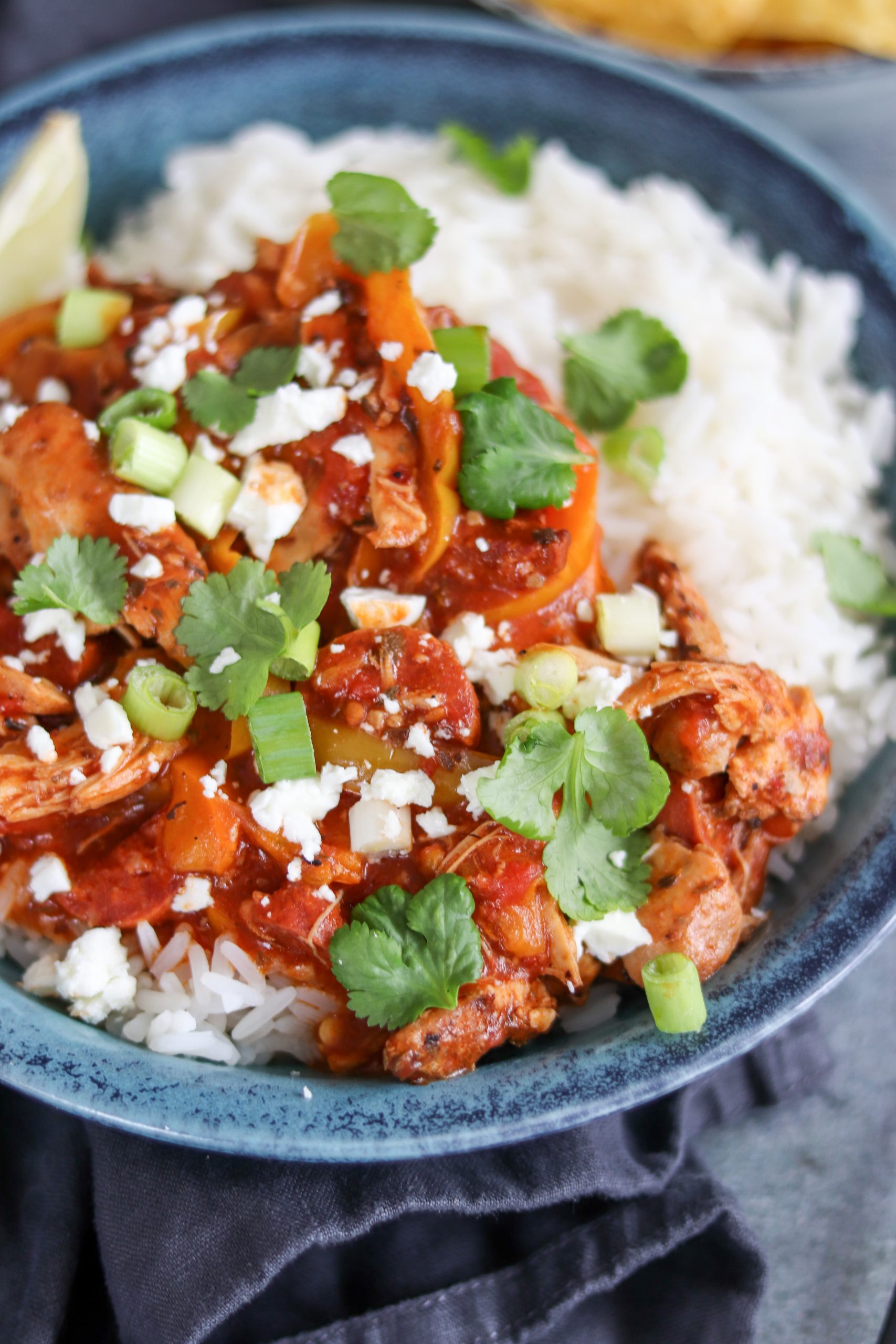 What is mexican oregano?
Mexican oregano is a completely different plant family to the more common known oregano.
It has a more earthy flavour with citrus notes which mean it compliments Mexican cooking really nicely.
Mexican oregano isn't unfortunately readily available in supermarkets. But it is fairly inexpensive to buy online. If you do like cooking Mexican food I would recommend buying some.
However if you don't have any, I would just leave it out altogether. It isn't a flavour that will make or break the final dish, but more a flavour enhancer.
I wouldn't be tempted to simply replace it with standard oregano as it has a different flavour that wouldn't necessarily compliment the rest of the flavours.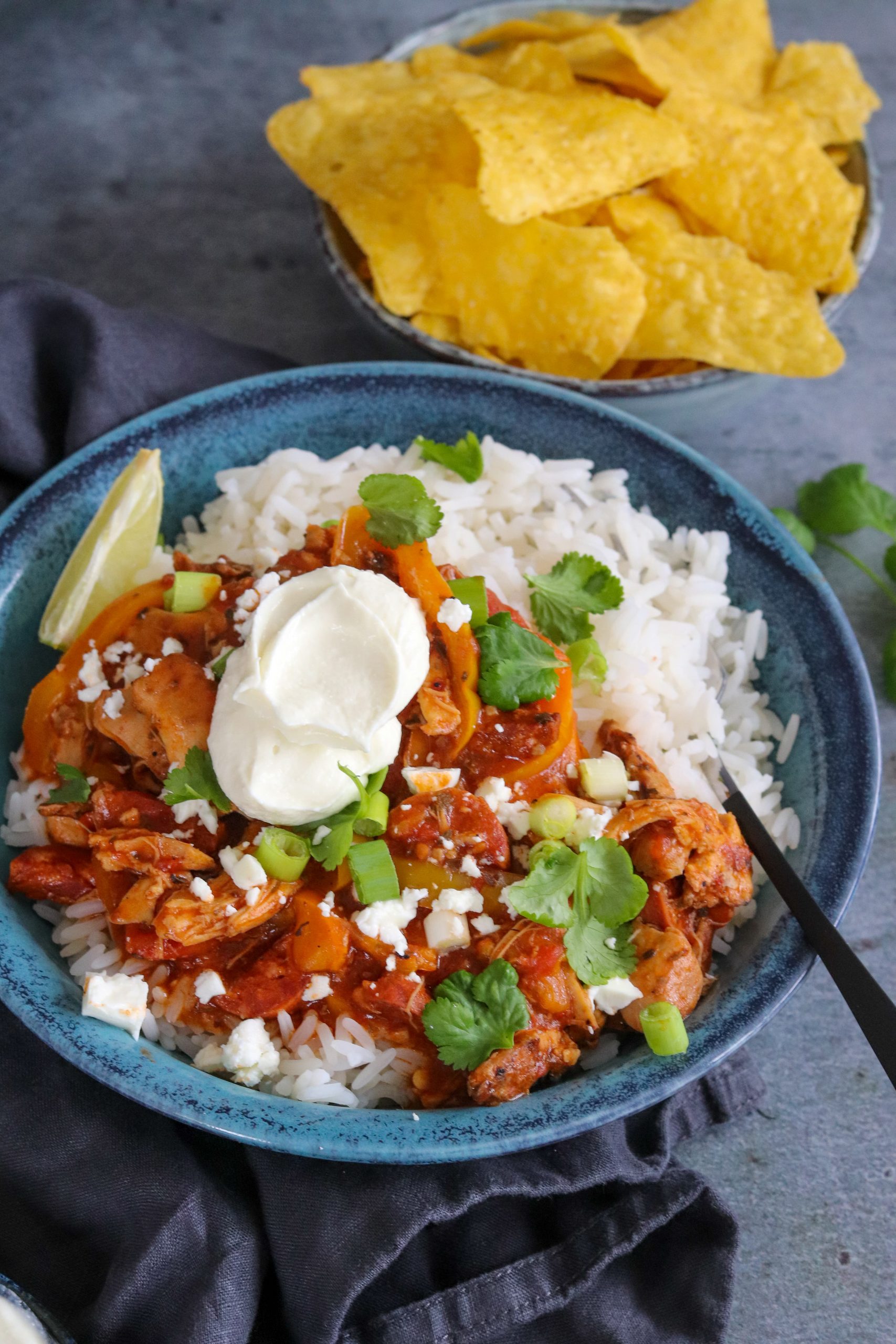 Can you freeze leftovers?
Yes absolutely. I freeze some every time I make this Slow Cooker Chicken & Chorizo Stew.
Make sure you put the leftovers in the freezer within two hours of it finishing cooking. When you want to want to defrost it, put it in the fridge for 8 hours or overnight to fully defrost.
I prefer to reheat it in a pan so I can add some more water if needed. I also like to add some more tomato puree if the sauce needs to be bit richer.
You can heat it in the microwave if you prefer. Whichever way you choose make sure it is piping hot before serving.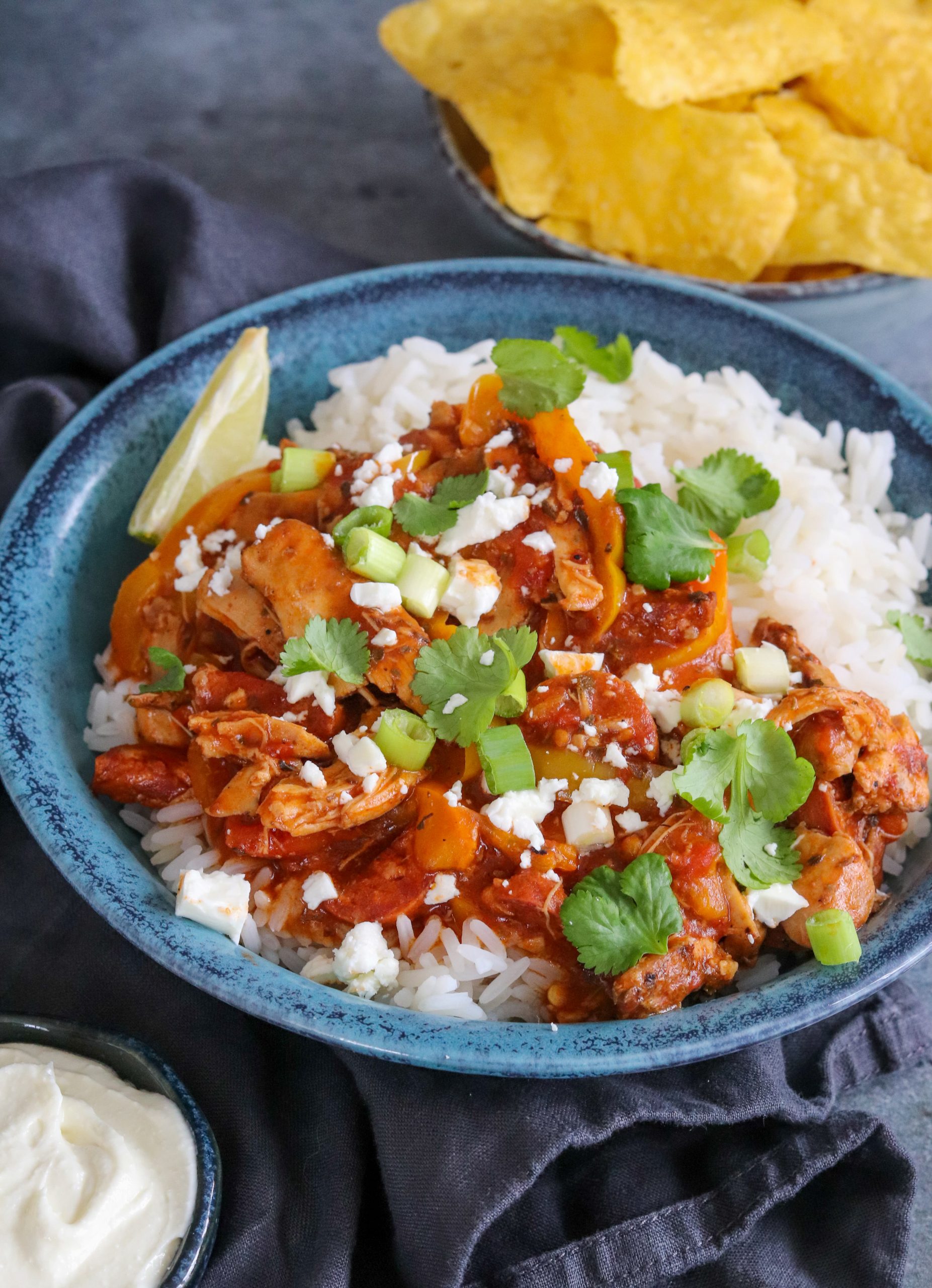 Can I make this without a slow cooker?
Of course!
I would cook it in the same way but on the hob/stove. After adding all of the ingredients I would leave it to cook with the lid on for one hour.
I would then take the chicken out and shred it before adding it back to the pan. Leave the lid off and allow to cook for a further 20 – 30 minutes.
Add some cornflour mixed with water if the sauce is a bit too thin.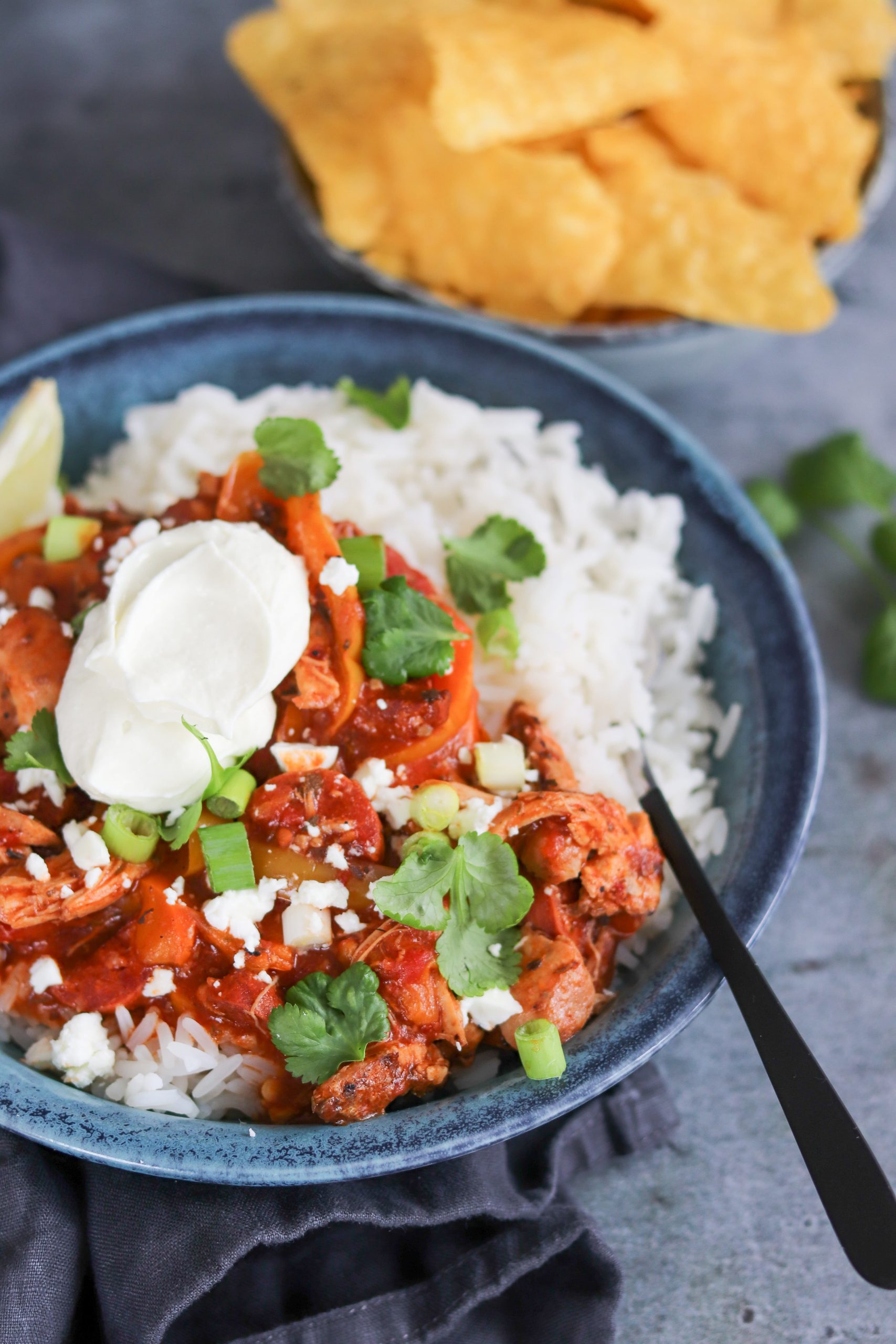 can this be made gluten free, vegetarian or vegan?
As long as you make sure the chorizo is gluten free, then this Slow Cooker Chicken & Chorizo Stew is naturally gluten free.
To make this vegetarian you can use any meat replacement you like. For example Quorn 'chicken' pieces would work well.
You can also buy chorizo style vegetarian sausages which are also usually vegan. If you make sure the 'chicken' pieces you use are vegan, then along with the meat free sausages, this will be vegan.
It is worth noting that Quorn chicken pieces aren't vegan.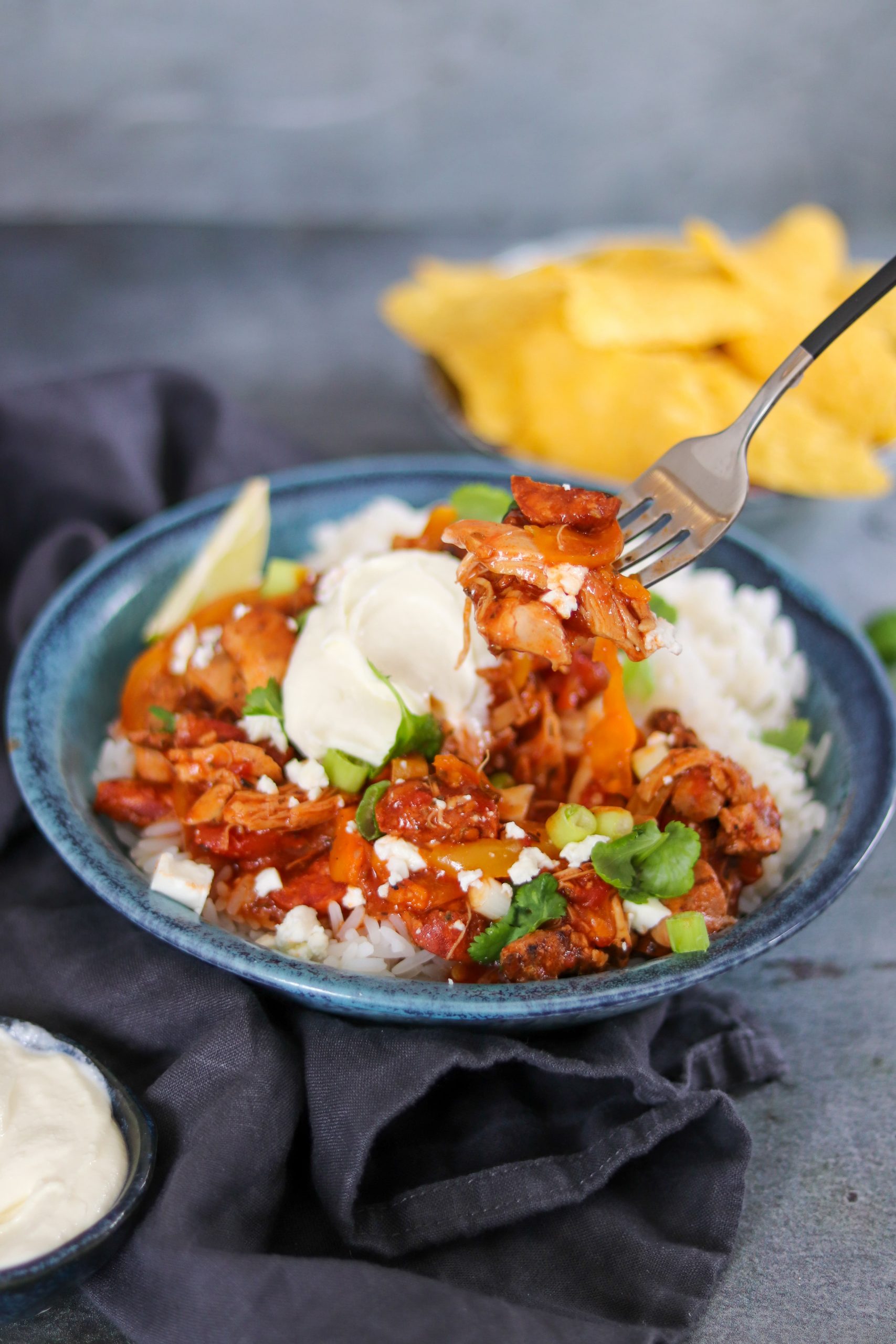 How do you serve this?
I like to serve this Slow Cooker Chicken & Chorizo Stew with rice with some tortillas on the side. I also like to sprinkle over some feta as this is as close as we can get to the traditional oaxaca Mexican cheese.
Sour cream and Chunky Guacamole are popular and delicious toppings you could add.
You could also serve it with some tortillas and salad. Another way to serve this is as my Chicken & Chorizo Nachos – you'll love them!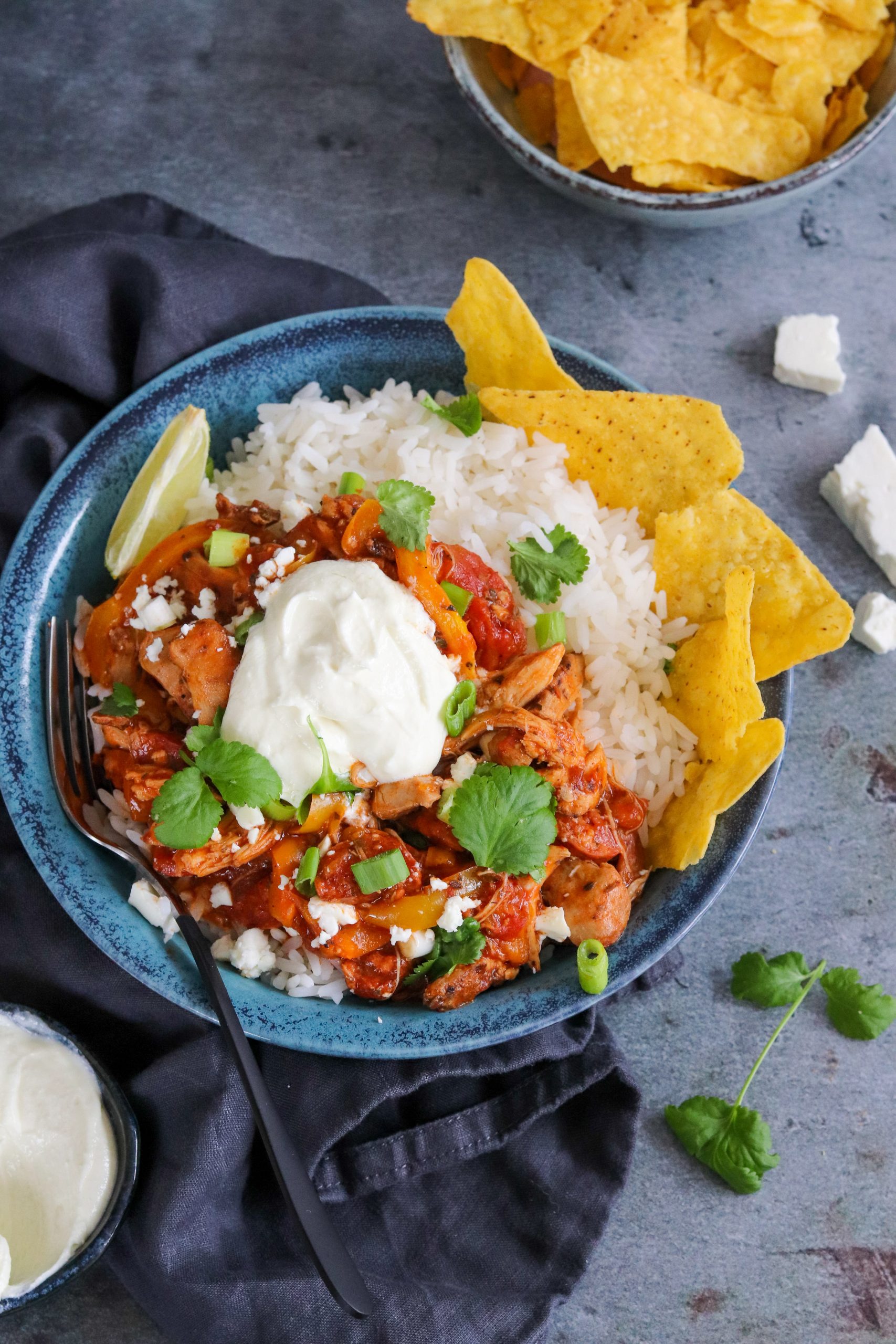 Other recipes you might like
Pin for later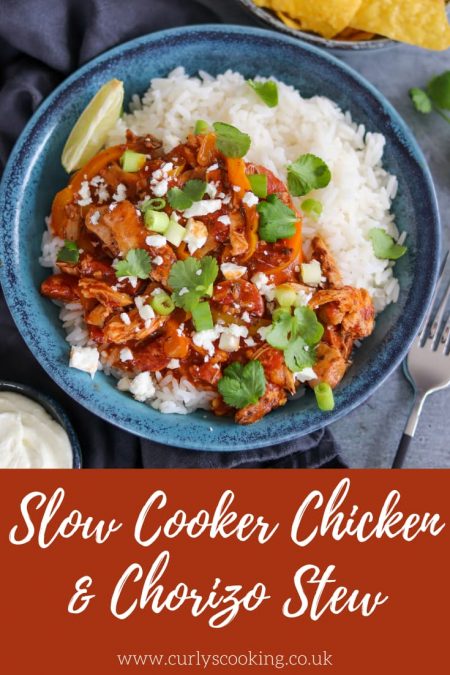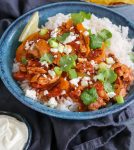 Slow Cooker Chicken & Chorizo Stew
Chicken and chorizo in a rich tomato sauce with a subtle warmth, this Slow Cooker Chicken & Chorizo Stew is perfect for a cold winter night served with rice or tortillas and salad and a dollop of soured cream.
Cook Time
4
hours
30
minutes
Total Time
4
hours
55
minutes
Ingredients
100

g

chorizo

3

peppers

sliced

400g

tinned tomatoes

3

garlic cloves

minced

1

tbsp

tomato puree

500

g

chicken thighs

deboned and skinless

1

tbsp

oregano

1

tsp

paprika

1

tsp

ancho chilli flakes

½

tsp

chipotle chilli powder

½

tsp

garlic powder

1

tsp

sea salt

¼

tsp

black pepper

300

ml

water

1

tbsp

cornflour mixed with 2 tbsp water
Instructions
Remove the 'skin' from the chorizo and fry either in a dry pan or in your slow cooker basin on the hob (you'll know if your slow cooker has this function). You just want the chorizo to get slightly browned and release its oil

Add the sliced peppers to your slow cooker along with the tinned tomatoes, tomato puree, garlic and water and stir everything together

If they aren't already, debone your chicken thighs and remove the skin.

Sprinkle both sides of the chicken thighs with the oregano, paprika, ancho chilli flakes, ancho chilli powder, garlic powder, salt and pepper and then lay them on top of the rest of the ingredients in the slow cooker

Cook for 4 hours on high or 6 on low before removing the chicken. Shred the chicken before adding back to the slow cooker and stirring everything together

If you want the sauce to thicken, add the cornflour and water mix and stir through

Cook for a further 30 mins and serve either with rice, salad or tortillas and sprinkle with chives or spring onions and some feta
Recipe Notes
I use a 3.5L slow cooker
Even if I buy chicken thighs de-boned and skinless, I always check them over to trim of any excess fat, remove any veins and check for any small bones that may have been missed
Nutrition Facts
Slow Cooker Chicken & Chorizo Stew
Amount Per Serving
Calories 433
Calories from Fat 270
% Daily Value*
Fat 30g46%
Cholesterol 144mg48%
Sodium 1138mg49%
Potassium 755mg22%
Carbohydrates 11g4%
Protein 28g56%
Vitamin A 870IU17%
Vitamin C 82.2mg100%
Calcium 74mg7%
Iron 3.2mg18%
* Percent Daily Values are based on a 2000 calorie diet.
Linking to