Delicious lime flavoured yogurt sponge topped with freshly whipped cream and passion fruit. This Passion Fruit Cake with Fresh Cream is a simple but stunning cake.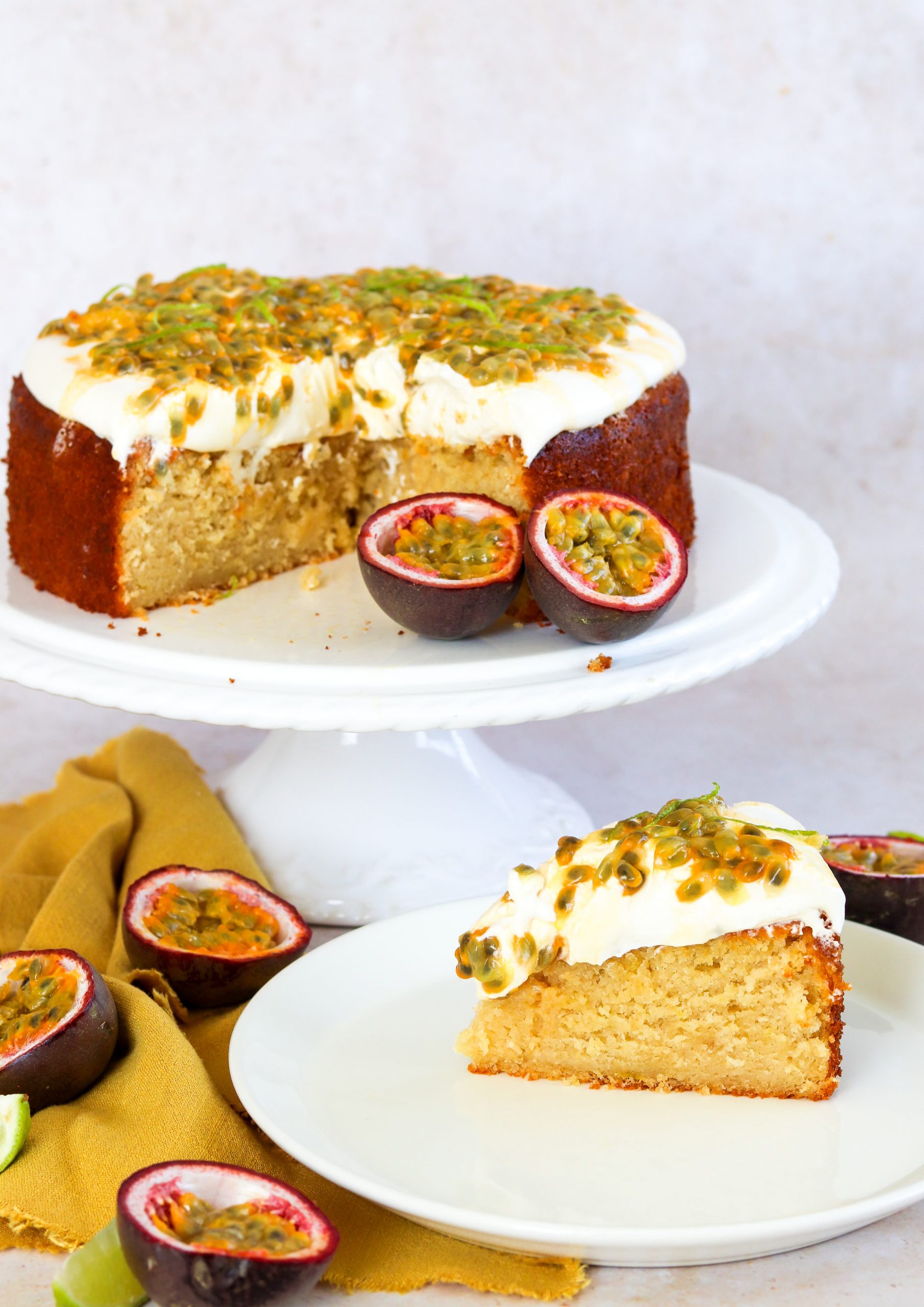 what is this passion fruit cake with fresh cream?
My inspiration behind this cake was a well known cocktail. A passion fruit martini, more commonly known as a p*rn star martini is one of my favourite cocktails. I have incorporated those flavours into cake form – what could be better?!
This sponge cake is flavoured with vanilla and lime as you would find in the cocktail. It is then generously covered in softly whipped cream.
The pièce de résistance is covering the cream with the pulp from passion fruit and scattering with lime zest.
All of the delicious flavours of a passion fruit martini, just without the alcohol! If you're looking for a boozy cake, check out my Gin & Lime Drizzle Cake or Pimm's Cupcakes.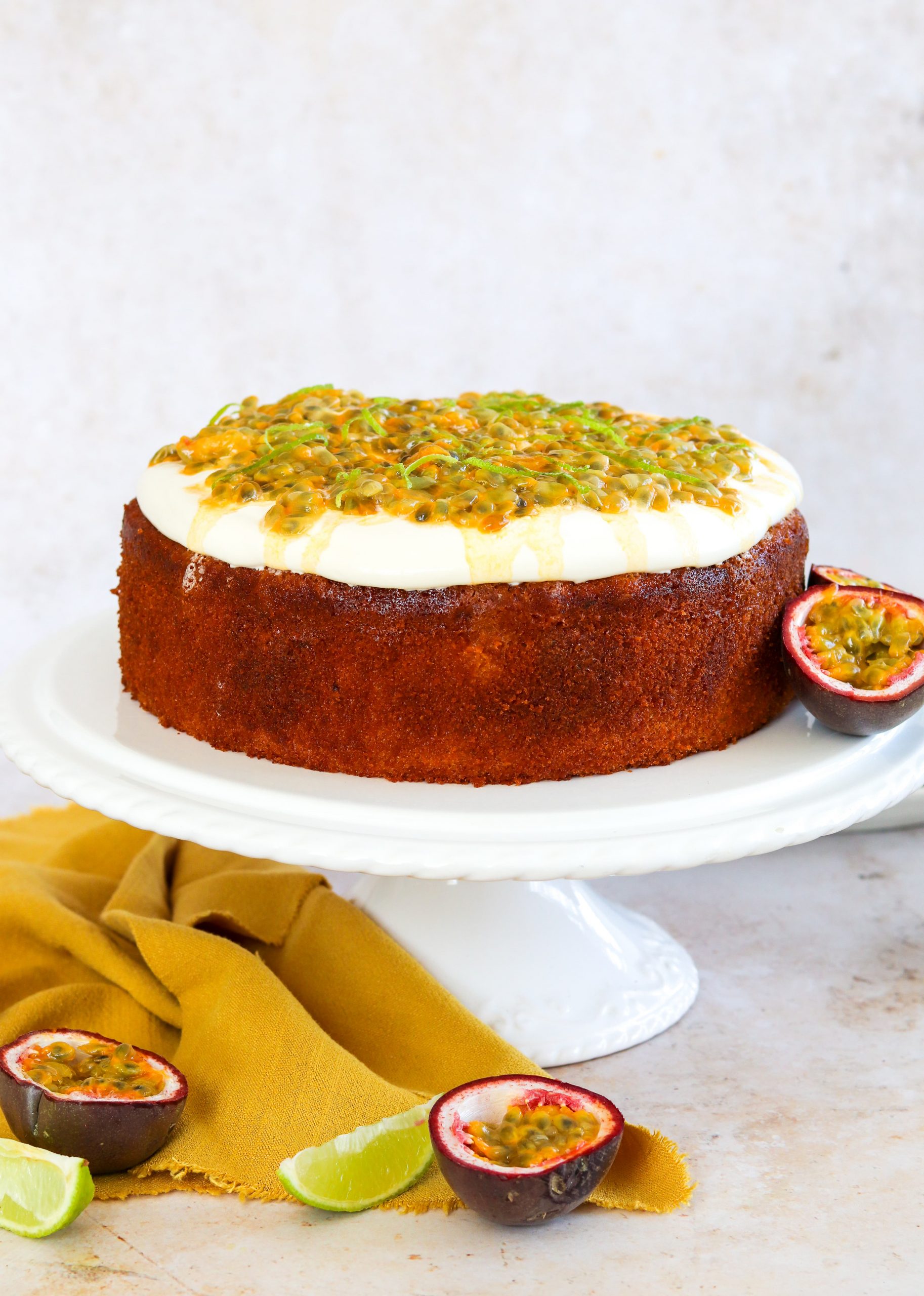 when are passion fruit in season?
Passion fruit is a tropical fruit and typically grown in hot climates. It is grown in these tropical countries year round and exported which means it is available to buy all year.
Although it is available to buy for most of the year, it's actual season is from mid summer to February.
When choosing which passion fruit to buy, look for dark purple fruit that feel heavy. It is a common misconception that they are only ripe when the skins become deeply wrinkled. This is when they are extremely ripe and can be eaten before they get to this stage.
If you haven't eaten passion fruit before, you need to cut the fruit in half and scoop out the insides. It has a very unusual look, but the pulp is edible and the skin is thrown away.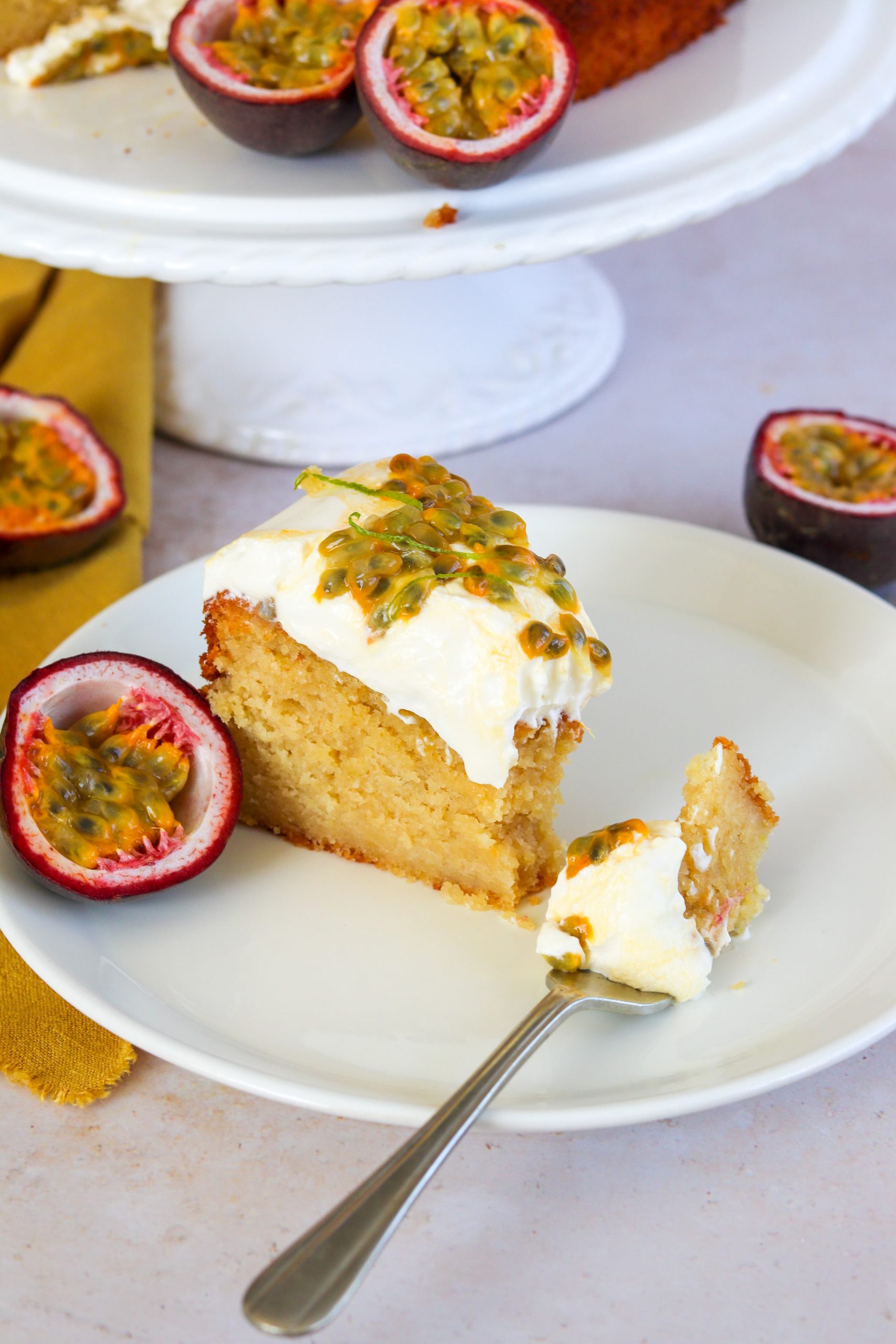 why use yogurt in this passion fruit cake?
I love using yogurt in cake recipes. It gives the cake a more dense texture but also provides a great flavour and moistness.
A traditional sponge recipe like my Vanilla Cupcakes is light and fluffy, whereas a yogurt based sponge has a closer texture, but is really delicious.
I think yogurt works particularly well in this cake because it keeps this thicker cake moist. I wanted a lovely thick cake which had the potential of becoming a little dry if I used a standard sponge recipe.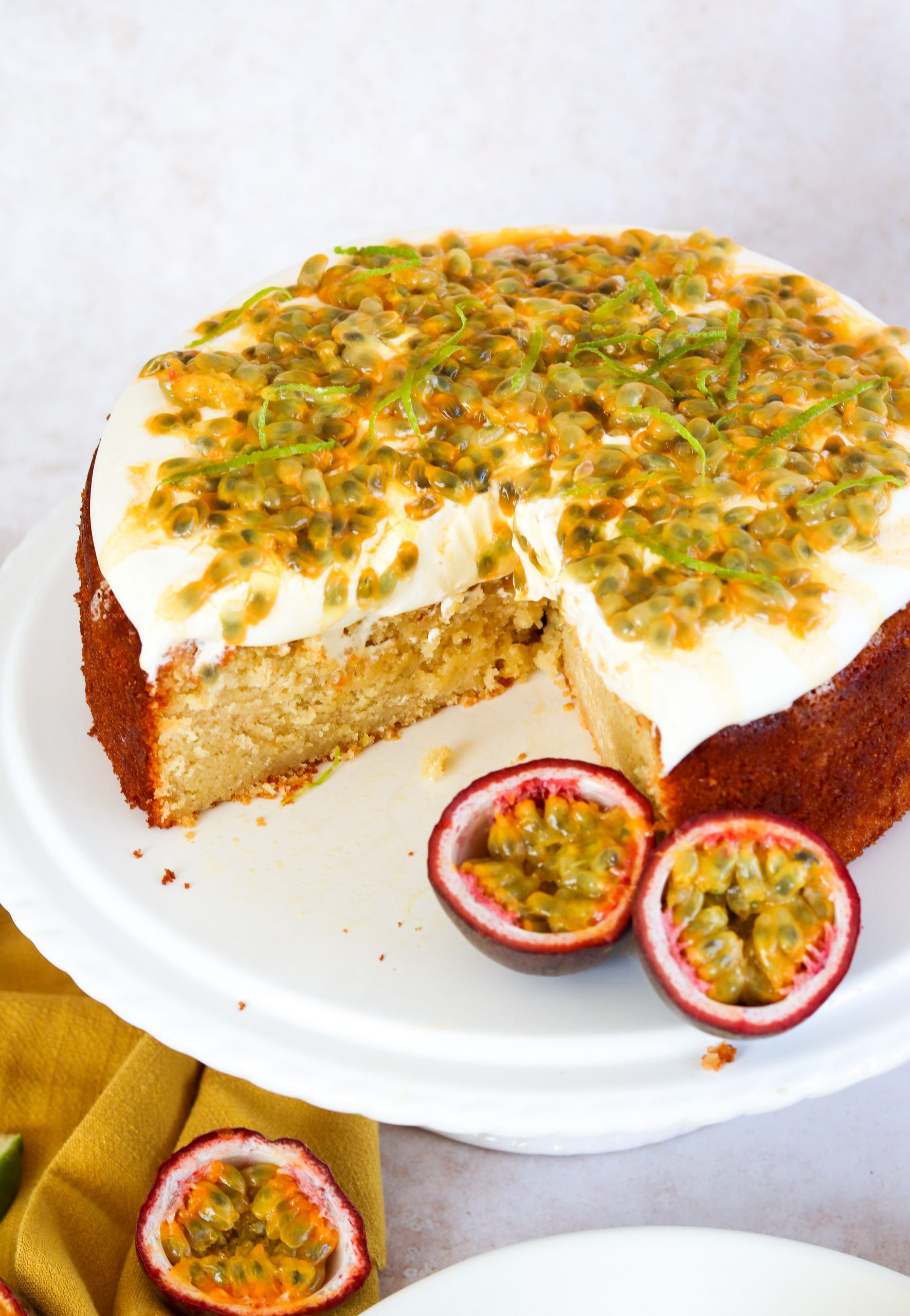 which yogurt is best to use?
You can use natural or Greek yogurt for this Passion Fruit Cake with Fresh Cream. Either will work just as well for this recipe. I have used both and haven't been able to tell the difference.
Likewise, I have used full fat and non fat yogurt for this cake and both work exactly the same. If flavour or texture isn't compromised, I do tend to use the non fat option. However this is personal preference so use which you like.
Usually I would recommend to use a plain yogurt so it doesn't affect the flavour of the sponge. However for this Passion Fruit Cake, vanilla yogurt would work well to enhance the vanilla flavour further if you wanted to use it.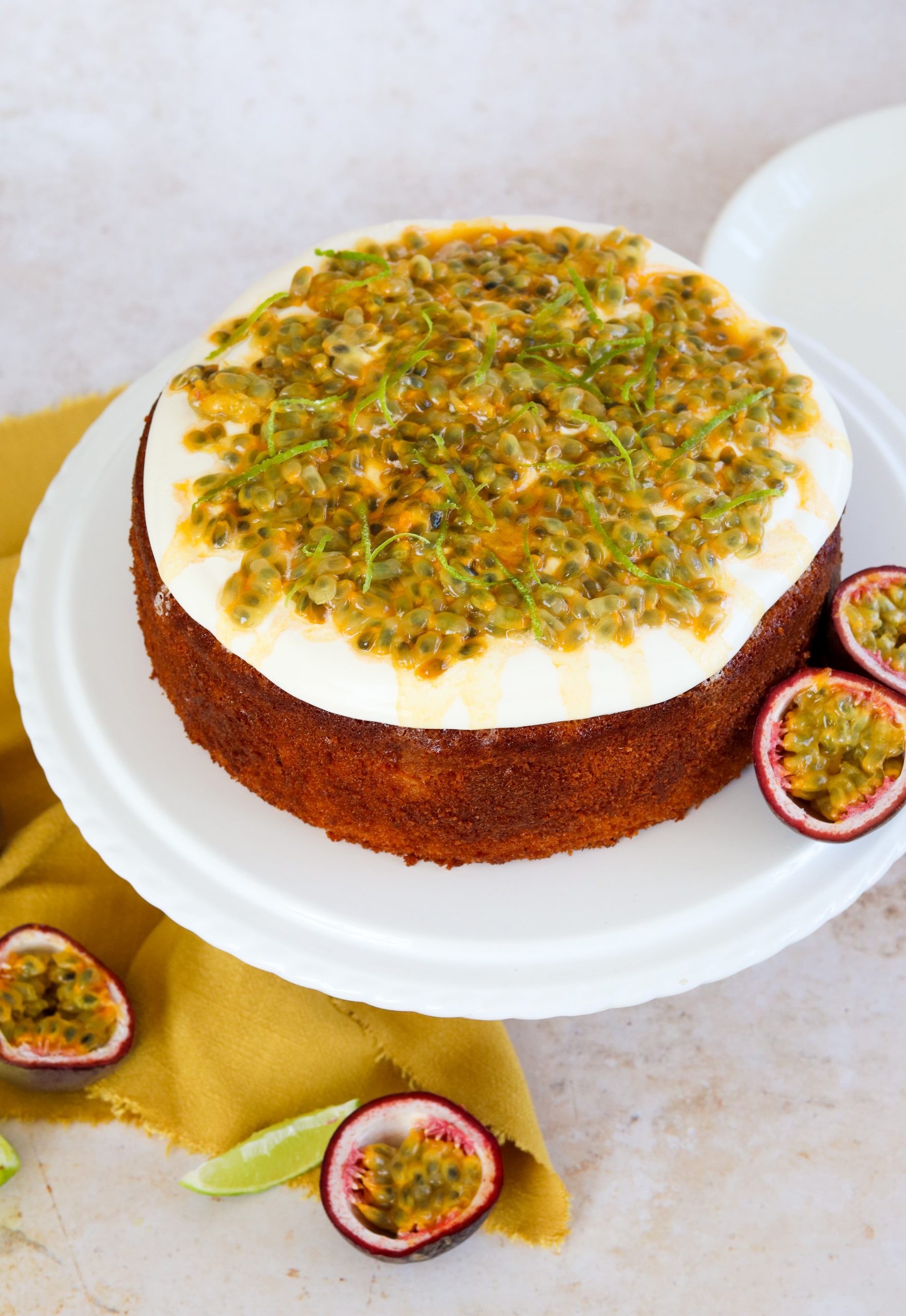 can you use a different tin for this Passion fruit cake?
For this Passion Fruit Cake with Fresh Cream I used a deep loose bottomed 8 inch cake. The depth of my tin is approximately 8.5cm or 3 inches.
Springform tins tend to be quite deep so if you have one of those it will work just as well. If you have a deep 9 inch cake tin instead, you could use this. I would check the cake after 35-40 minutes as it is likely to cook faster as it will be slightly thinner.
If you only have 8 inch sandwich tins, I would split the batter between two tins. Each layer would be quite thin so would probably only take 15-20 minutes to bake. I would put half of the whipped cream in the middle of the cake and then the rest on top.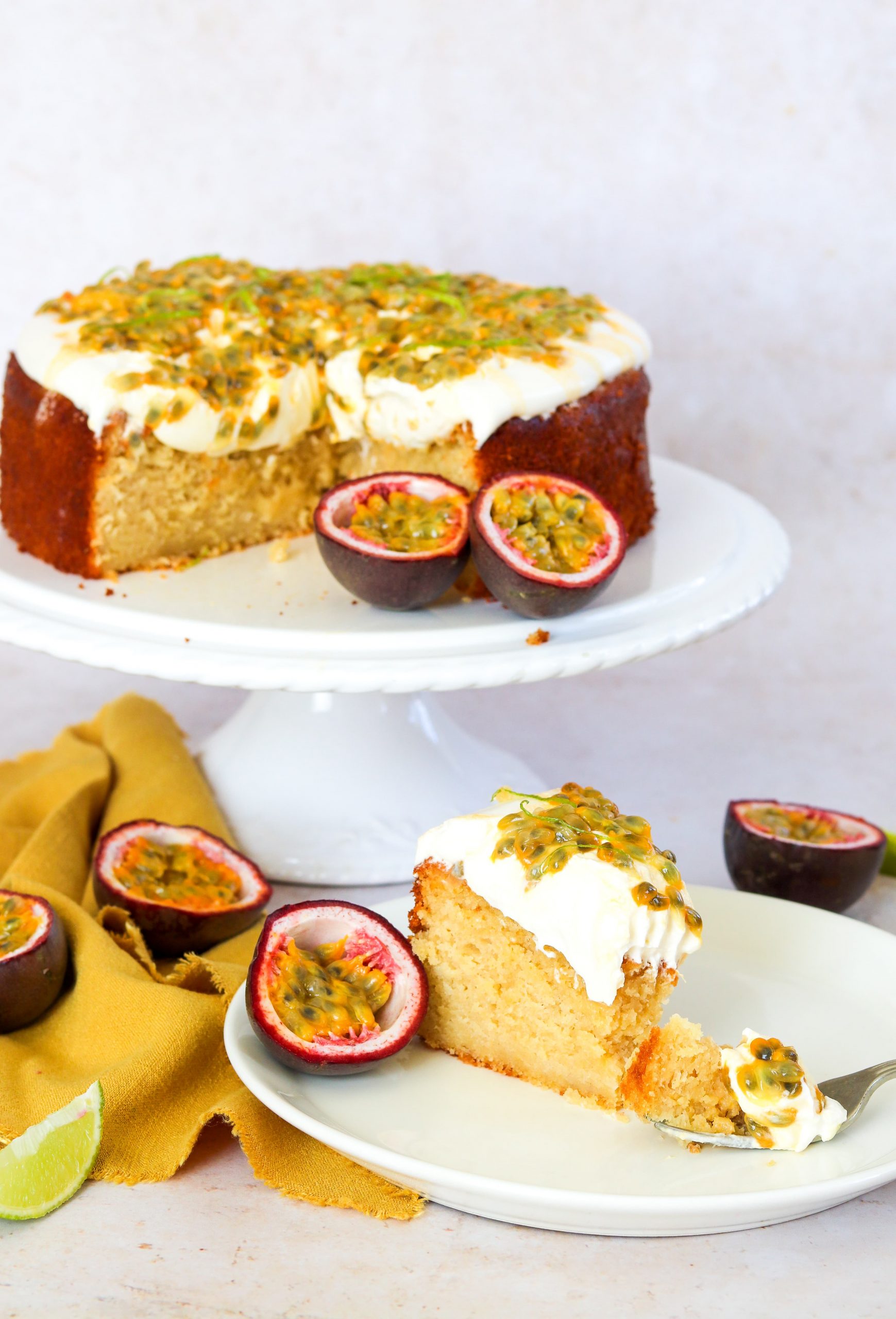 Margarine or butter?
You can use either margarine or butter to make this Passion Fruit Cake. Both will work just as well so it is down to personal preference.
I tend to use margarine because you can use it straight from the fridge as it quite soft. If you do prefer to use butter, you really do need to make sure it is softened before starting to make the cake. When it is softened, it mixes so much easier and faster with the sugar.
If the butter is still a bit cold, it will take a lot longer to cream with the sugar and you could end up with lumps of butter.
Don't be tempted to blitz your butter in the microwave to soften it because you really don't want melted butter!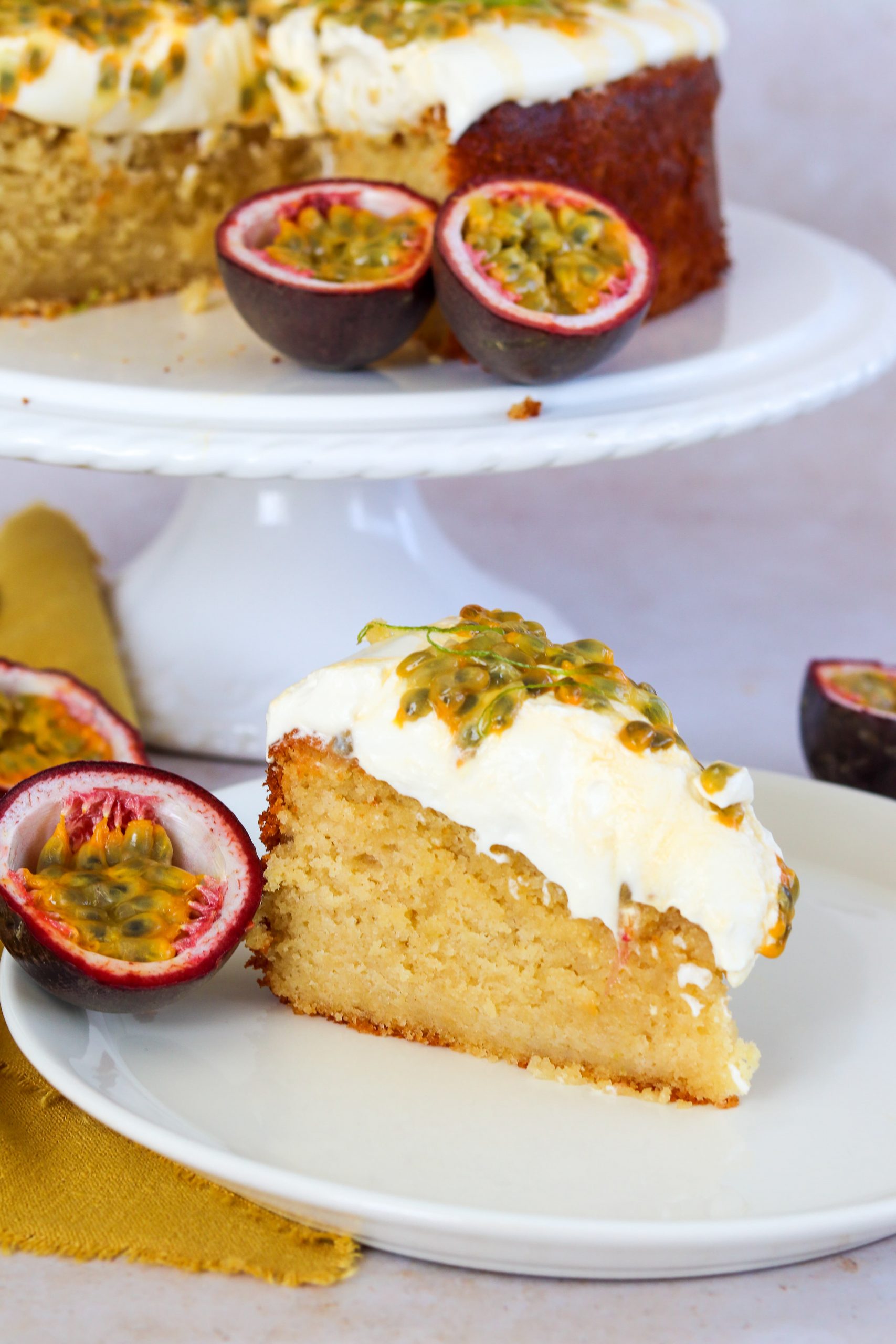 Which cream is best to use?
Double or whipping cream are what you will need for this cake.
I tend to use double cream as this is what I usually buy. It has a high fat content which makes it perfect for whipping.
The only disadvantage of using double cream is that it is easier to overwhip. I always recommend keeping an eye on your cream as you whip it so you reduce the risk of overwhipping.
If you can't find cream labelled double, look for whipping or heavy cream.
I wouldn't recommend using single or UHT cream for this recipe as they do not whip very well.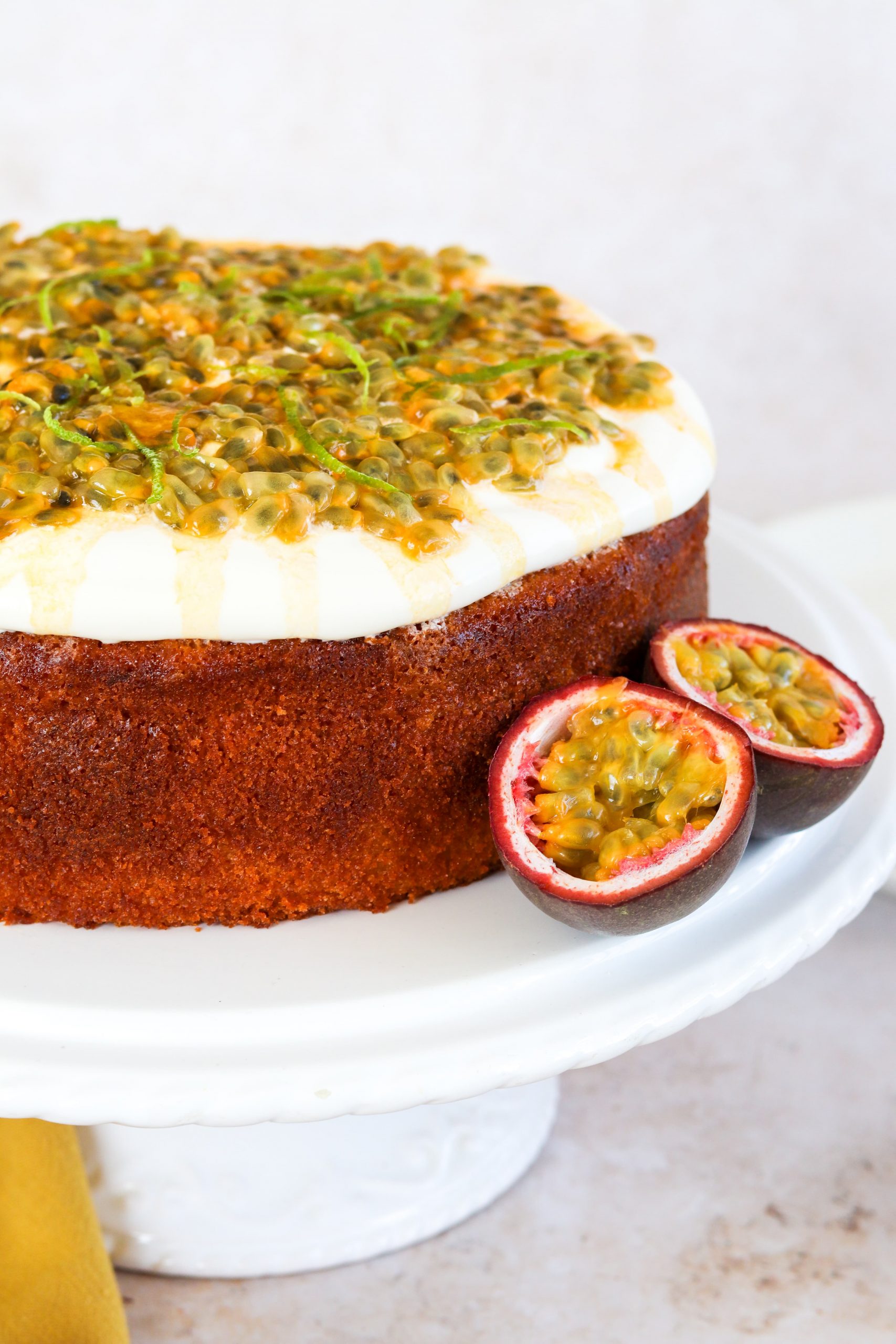 how many people will this passion fruit cake serve?
As I always seem to say, it depends how big you cut your slices. I think this Passion Fruit Cake will serve at least 14 people.
It is quite thick and has a generous amount of whipped cream on top so you don't need a huge slice. But obviously cut the slices as big as you like!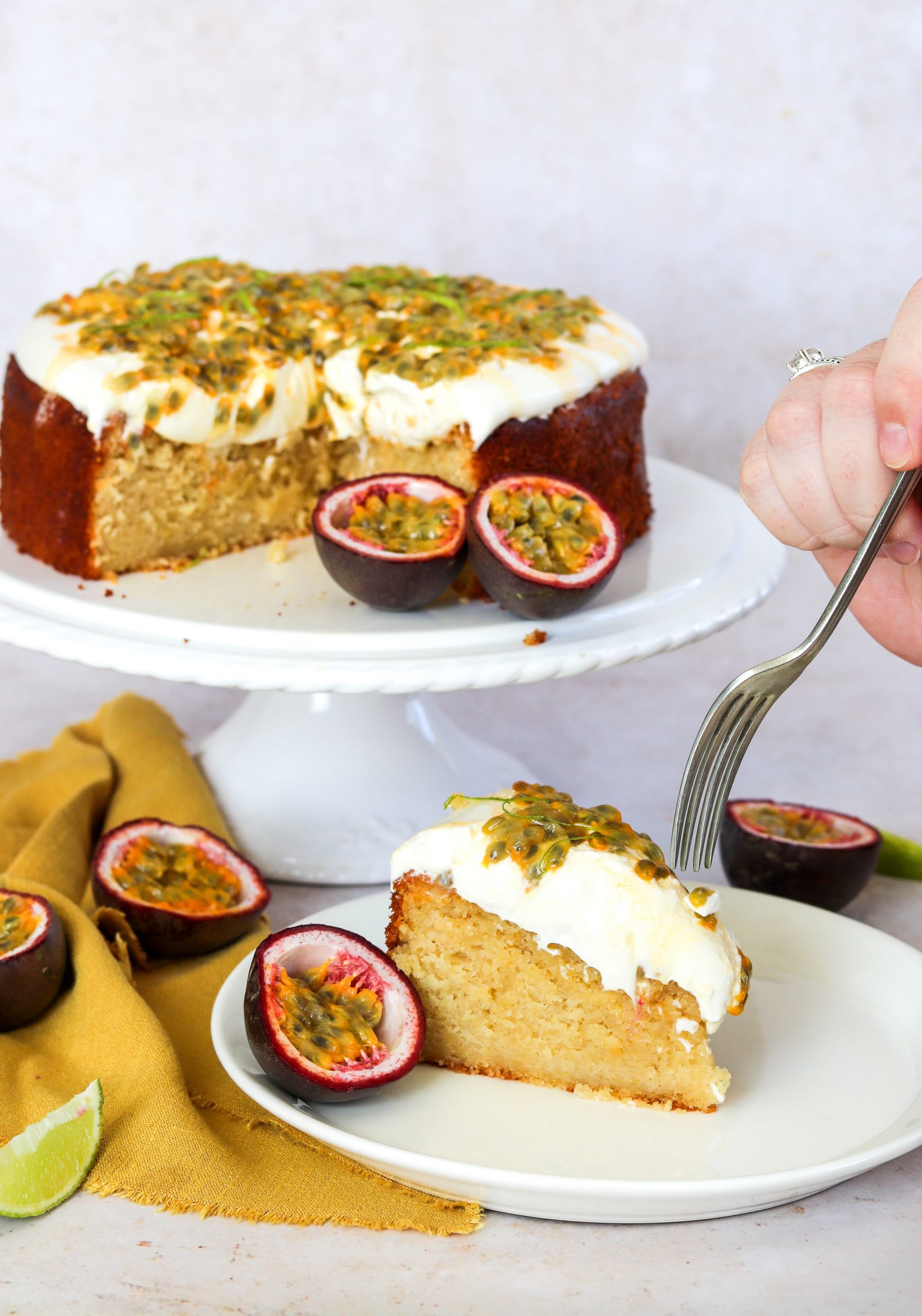 how long will this cake keep for?
As this cake has fresh cream, it has to be kept in the fridge. It will keep in an airtight container for 3-4 days.
If you wanted to make this cake in advance, you could bake the cake and then freeze it without the fresh cream topping.
To do this, bake the cake and allow it to cool completely before wrapping it thoroughly. You can then freeze it for up to three months. When you want to eat it, defrost it thoroughly at room temperature before decorating it.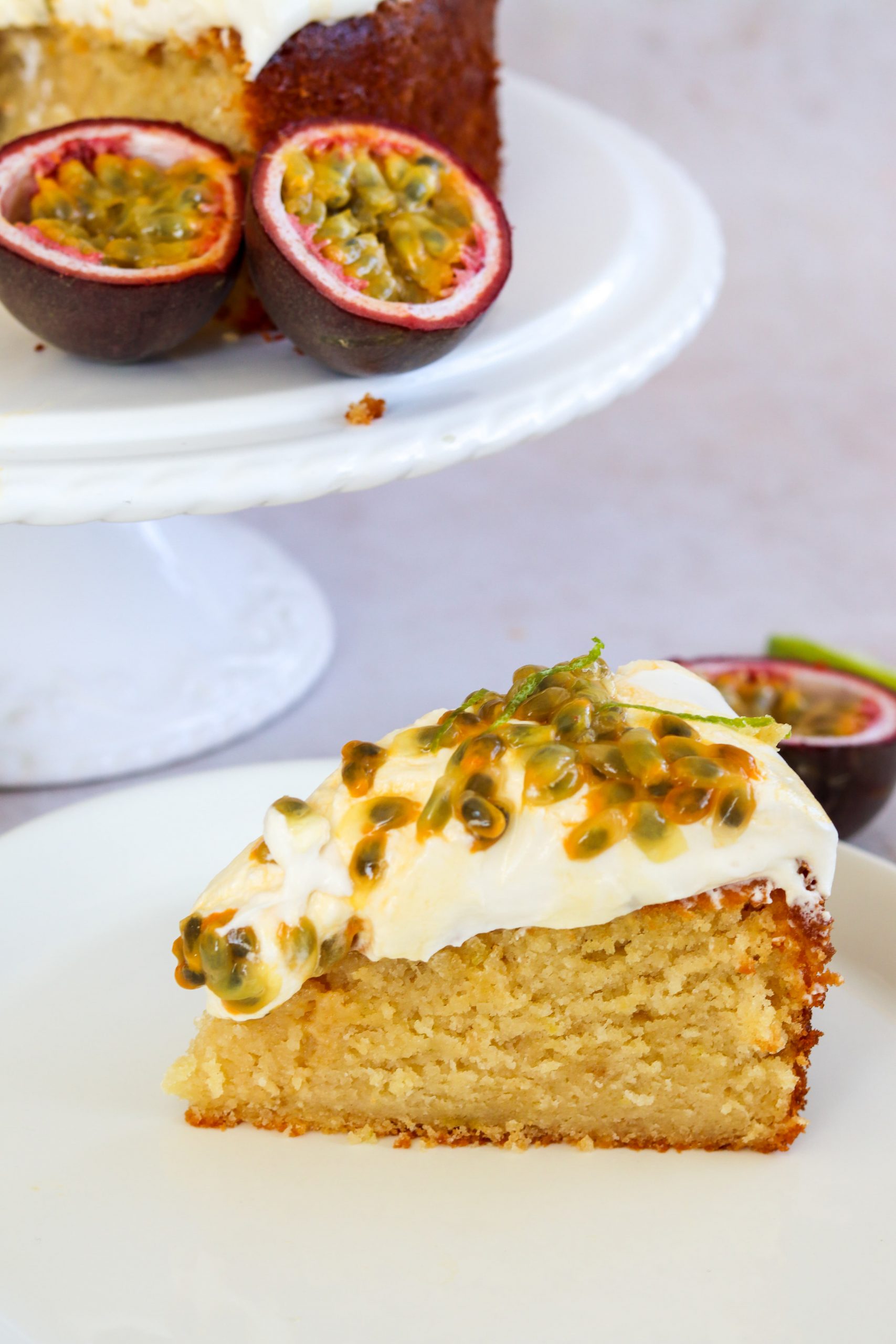 other recipes you might like
Pin for later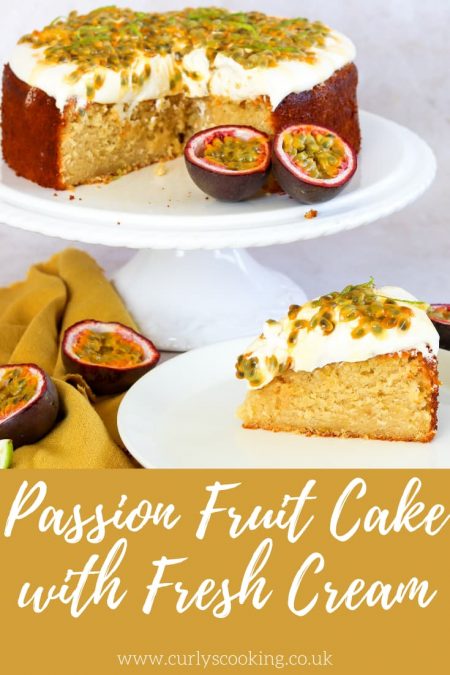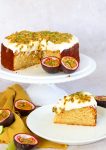 Passion Fruit Cake with Fresh Cream
Delicious lime flavoured yogurt sponge topped with freshly whipped cream and passion fruit. This Passion Fruit Cake with Fresh Cream is a simple but stunning cake.
Total Time
1
hour
10
minutes
Ingredients
250

g

margarine

250

g

caster sugar

150

g

non fat Greek yogurt

250

g

self raising flour

½

tsp

baking powder

4

eggs

1

tbsp

vanilla extract

1

tbsp

lime zest

(approx 3 limes)

2

tbsp

lime juice

(approx 2 limes)
For the topping
300

ml

double cream

5

passion fruit

1

lime zested
Instructions
Preheat the oven to 160°C (fan assisted, 180°C non fan) and line an deep 8" cake tin

Add 250g margarine and 250g caster sugar to a bowl and beat until pale and creamy, approx 5 mins

Add 150g non fat Greek yogurt, 250g self raising flour, ½ tsp baking powder, 4 eggs, 1 tbsp vanilla extract, 1 tbsp lime zest and 2 tbsp lime juice and mix until fully incorporated

Tip the cake mix into the prepared tin and bake for 50 minutes or until a cocktail stick comes out clean

Leave to cool in the tin for 30 minutes before turning out onto a wire rack and leaving to cool completely

Once the cake has completely cooled, add 300ml double cream to a bowl and whip until soft peaks form

Spoon the softly whipped cream over the top of the cake and smooth with a pallet knife

Scoop the pulp from 5 passion fruit over the top of the whipped cream. Finish by sprinkling with the zest of 1 lime
Recipe Notes
As this cake uses fresh cream it has to be kept in the fridge. It will keep in an airtight container for 3-4 days.
Nutritional information is given as a guide only and may vary.
Nutrition Facts
Passion Fruit Cake with Fresh Cream
Amount Per Serving
Calories 395
Calories from Fat 216
% Daily Value*
Fat 24g37%
Cholesterol 76mg25%
Sodium 207mg9%
Potassium 193mg6%
Carbohydrates 41g14%
Protein 6g12%
Vitamin A 1409IU28%
Vitamin C 10mg12%
Calcium 40mg4%
Iron 1mg6%
* Percent Daily Values are based on a 2000 calorie diet.