Light and fluffy vanilla cupcakes piped with sweet vanilla whipped cream and topped with a strawberry. These Vanilla Cupcakes with Strawberries & Whipped Cream are so delicious!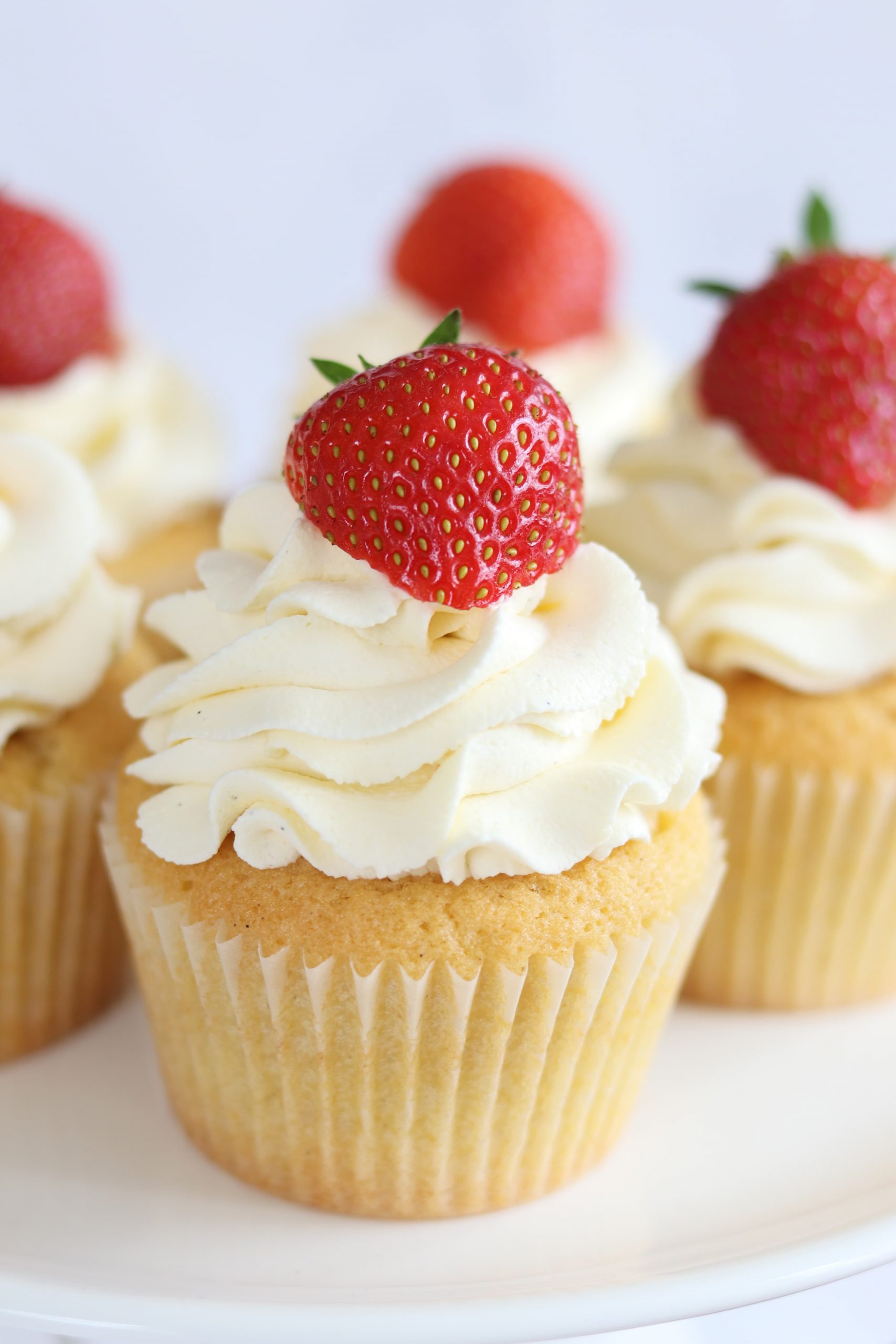 you can't beat vanilla, strawberries and cream
Vanilla, strawberries and cream is such a classic and delicious flavour combination. Here in the UK these flavours scream summer (even if our summer lasts a week!).
There is something very British about strawberries and cream. There's a reason why we all go crazy for it at Wimbledon!
Add in some vanilla to the strawberries and cream combination and you have something anyone will find hard to resist!
These Vanilla Cupcakes with Strawberries & Whipped Cream are a variation of my ever popular Vanilla Cupcake recipe.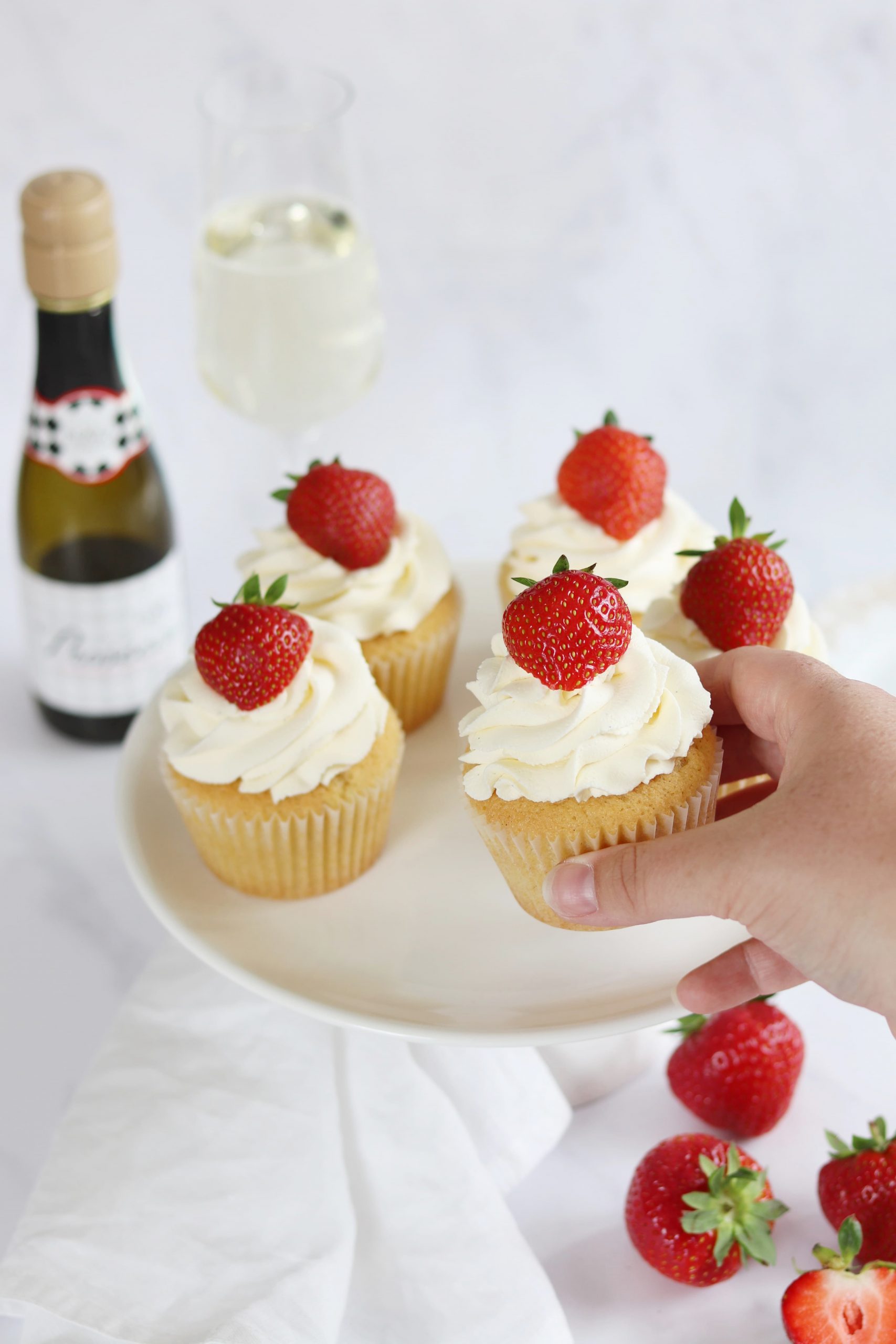 which vanilla should i use?
For the cupcakes, you can use vanilla bean paste or vanilla extract. Whichever you decide to use I would recommend buying a really good quality.
I much prefer to buy pure vanilla extract. This is vanilla extract that it made from a few simple ingredients and doesn't have any unnecessary additives or preservatives. This pure vanilla extract is usually brown in colour.
Pure vanilla extract will provide you with a stronger, deeper vanilla flavour which makes these cupcakes even more delicious.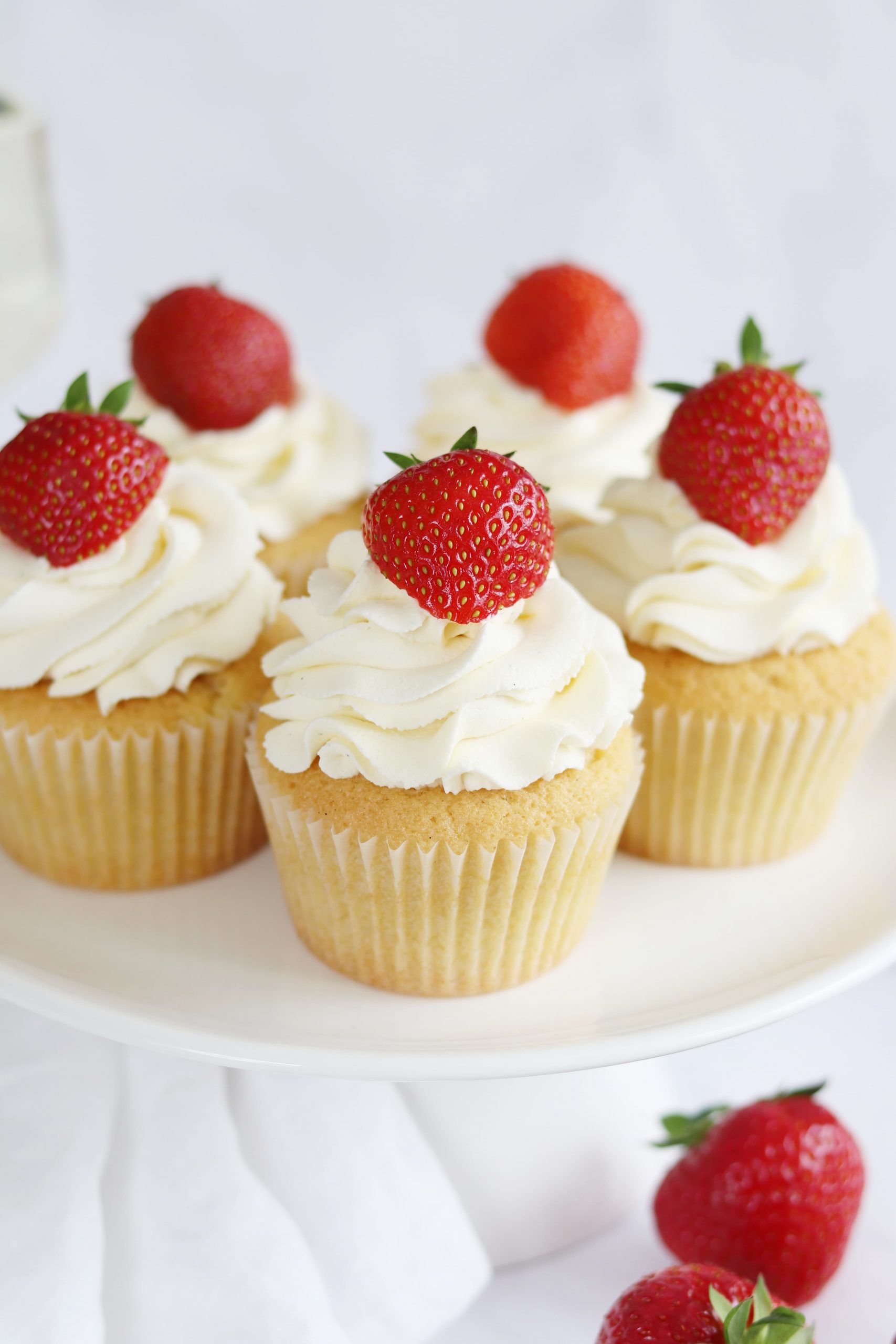 Vanilla bean paste is my favourite to use because of it's delicious flavour, but also because of the small flecks of black it adds to the cake. It is a bit more expensive than vanilla extract however so use which you prefer.
I would try to avoid vanilla essence as this has a lot more artificial ingredients in it. It used to be commonly sold in supermarkets but I have seen this replaced with extract in recent years.
I am not a huge fan of adding vanilla extract to the whipped cream. This is because it's brown colour darkens the bright white of the cream.
This is purely just for aesthetics and they will still taste delicious but I prefer to use vanilla bean paste to keep the cream lovely and white.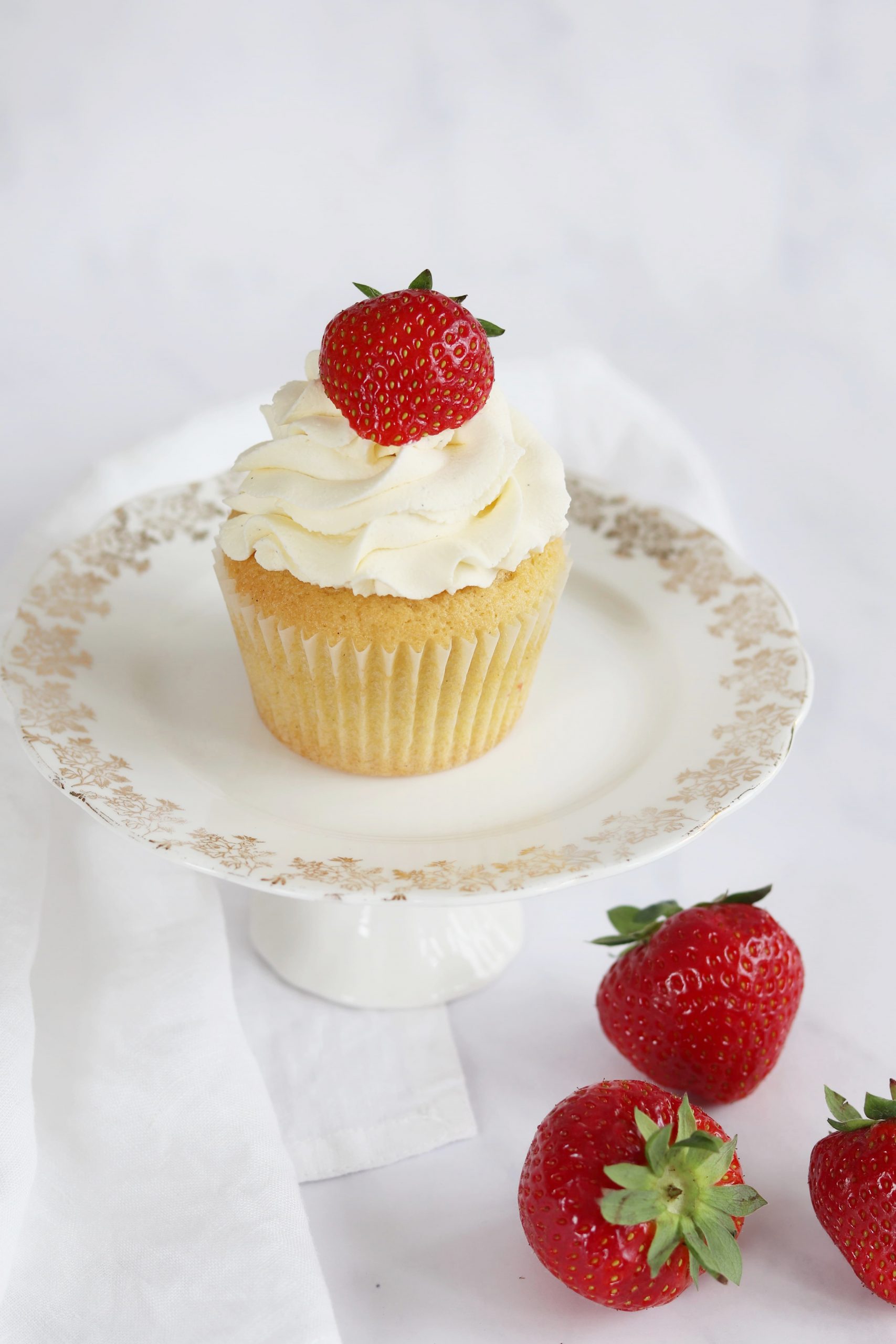 how to get flat topped cupcakes
Domed cupcakes are still delicious, but flat topped cupcakes are always the goal.
Flat topped cupcakes are ideal for two reasons. It is an easy way to see that you have equally sized cupcakes and it makes them easier to decorate.
If you are piping whipped cream onto a flat cupcake, this will always be a bit easier than trying to do the same on a domed cupcake. It will also mean your finished piping will have a more consistent look for all of your cupcakes.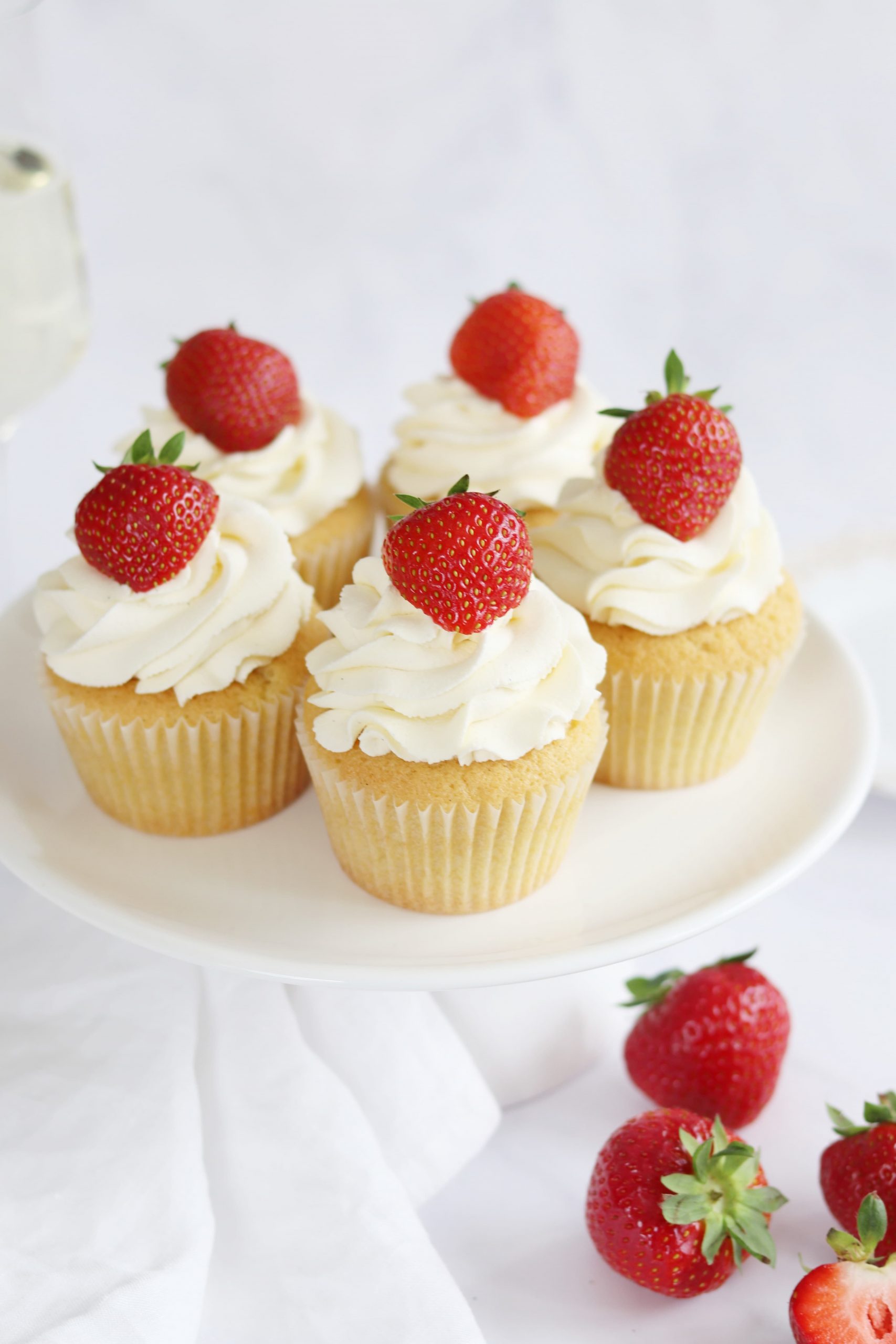 Through my experience, the best way to achieve this is to cook the cupcakes at a lower oven temperature.
Over the years I have baked cupcakes at differing temperatures. A lower cooking temperature means the cupcakes cook more slowly and come out with a lovely flat top.
The other tip is to not be tempted to overfill your cupcake cases. This recipe makes enough batter for 12 large cupcakes. Each case should be approximately three quarters full.
The batter should not reach the top of the cupcake case. If you do this, your cupcakes will almost certainly have a domed top.
I use a mechanical ice cream scoop to help divide the batter up evenly between the cases.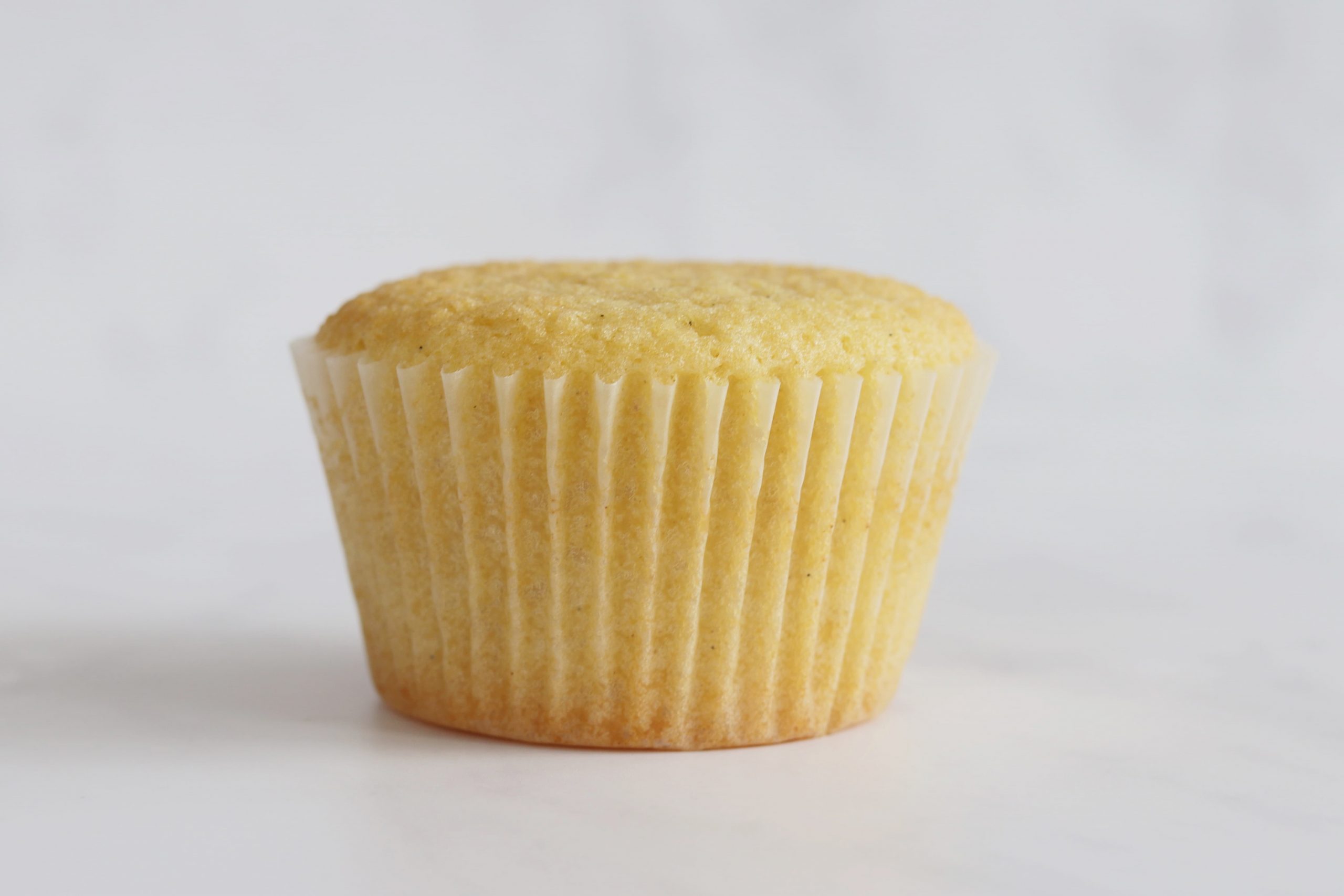 whipped cream instead of buttercream
I haven't kept my dislike of buttercream very quiet over the years on my blog. Flavoured buttercream like on my Chocolate Orange Tray Bake I like.
But standard buttercream isn't my favourite which is why you will see lots of recipes using mascarpone or cream cheese on my blog.
I don't know why it has taken me so long to combine one of my favourite cupcake recipes with an ingredient I love to much – cream.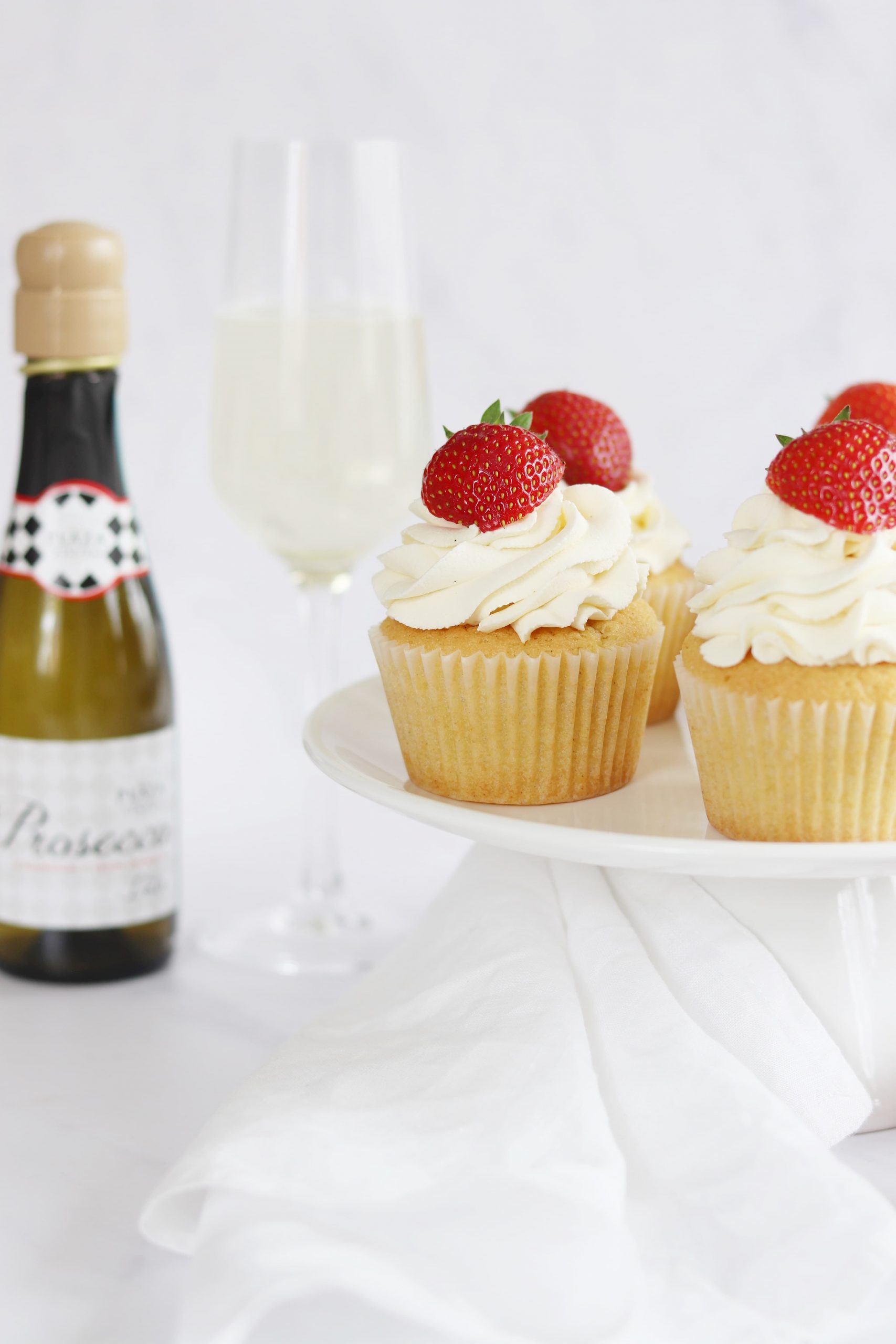 Which cream is best to use?
You can use either double cream or whipping (heavy) cream for these Vanilla Cupcakes with Strawberries & Whipped cream.
You can't use single cream for this recipe because it won't whip. This is because it doesn't have a high enough fat content to whip.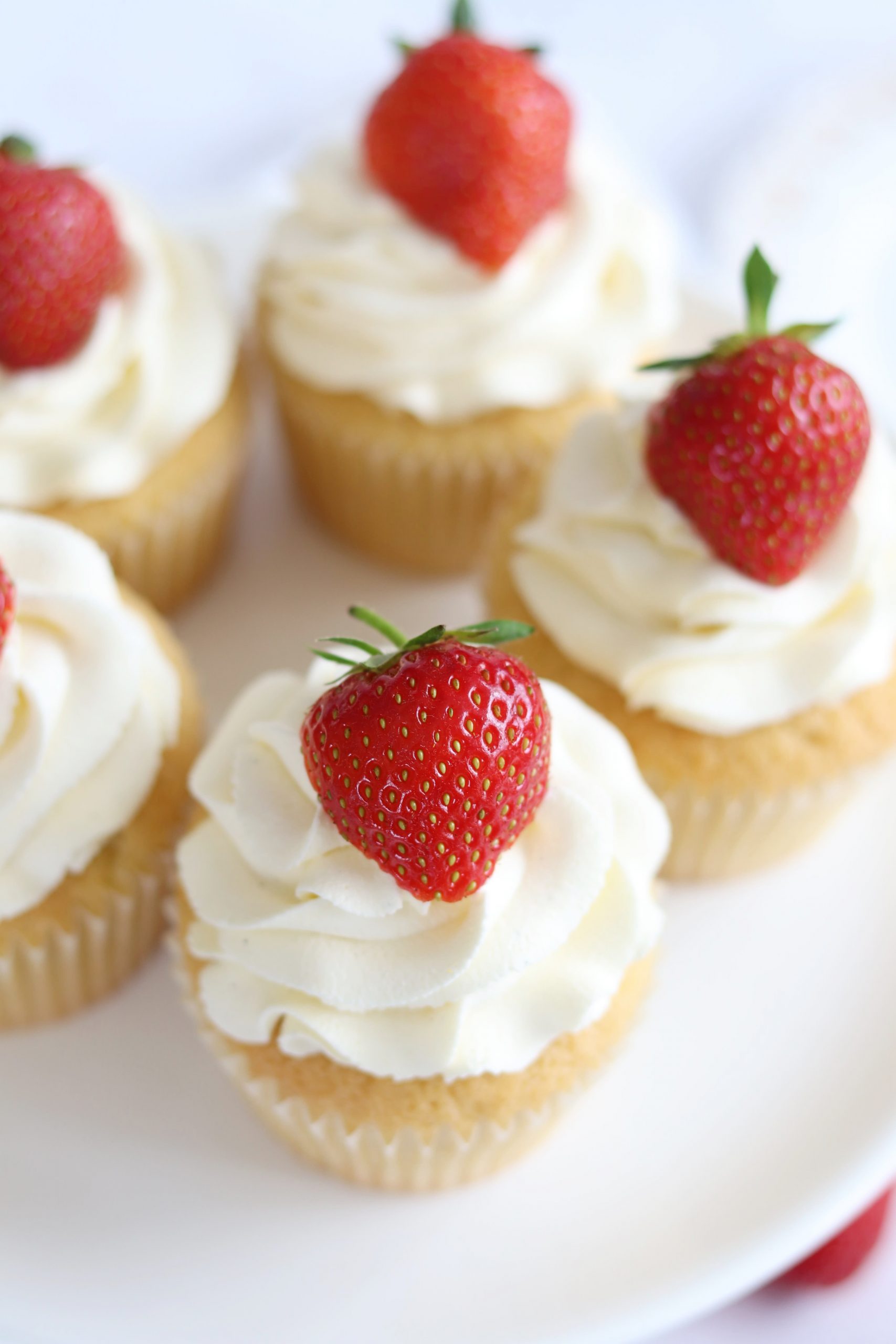 tips for whipping cream
When whipping cream it can be very easy for it to become over whipped.
I prefer to whip cream slowly for a longer time rather than at a high speed. I use my stand mixer and it can take five minutes or so but I don't like to rush it.
It also means that you can see more easily what stage the cream is at. I stop my mixer and check the cream a few times whilst whisking. Don't get distracted and keep an eye on your cream!
You are looking to get soft peaks that stay in place when you lift your whisk out. If they start to fall then you know you need to whisk a little more.
If you whip the cream a little too much it will become grainy. If this happens you can try to rescue it by adding a few more tablespoons of cream.
However if you whisk it so much it starts to look like butter I'm afraid you might just need to start again.
margarine or butter?
When I am baking cakes that require the fat and sugar to be creamed, I tend to use margarine.
This is because you can use it straight from the fridge and don't have to wait for it to come up to room temperature like you do with butter.
I have been using margarine in my cakes for years now and I have never had any complaints about their texture or flavour. You can absolutely use butter if you prefer but make sure it is unsalted butter.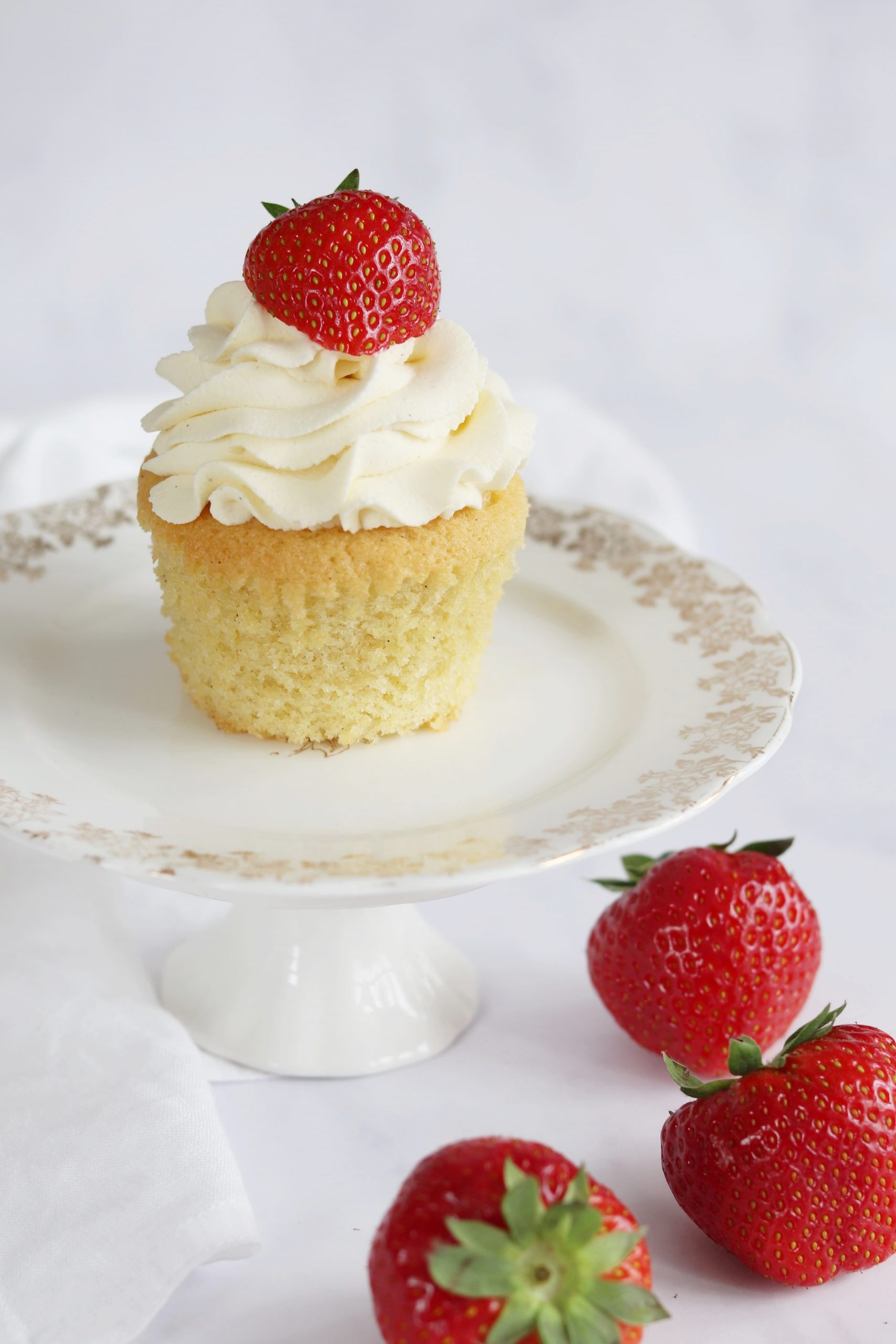 how to decorate these cupcakes
You can decorate these cupcakes however you would like.
I like to pipe on the whipped cream using a closed star tip piping nozzle. You can use any piping nozzle you like.
If you don't have a piping bag and nozzle, you can use a sandwich bag. Fill the bag with the whipped cream and cut off one of the bottom corners. You can then use this to pipe your cream onto the cupcakes.
If you don't want to pipe at all that is absolutely fine. You can easily spread the cream onto the cupcakes using a butter knife.
I like to keep these Vanilla Cupcakes with Strawberries & Whipped Cream simple with just half a strawberry as the decoration. Chocolate shavings would be a nice addition. There is also nothing stopping you adding sprinkles.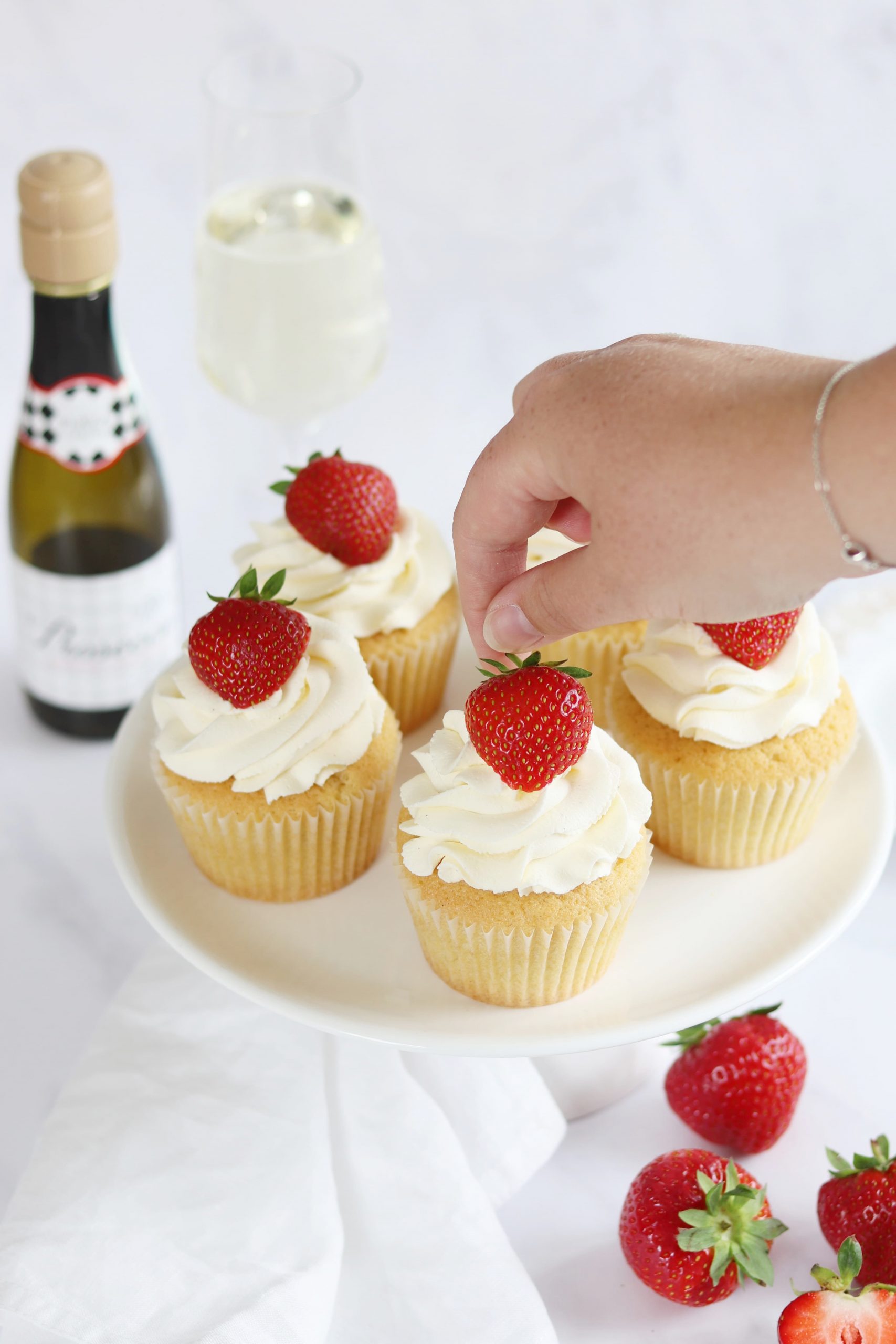 HOw many cupcakes does this recipe make?
This recipe makes 12 large cupcakes. I like to use muffin cases for all of my cupcakes as I like quite a large cupcake.
If you want to make smaller cupcakes you absolutely can. Just make sure you still only fill them two thirds of the way. Also reduce the baking time so you don't over bake them.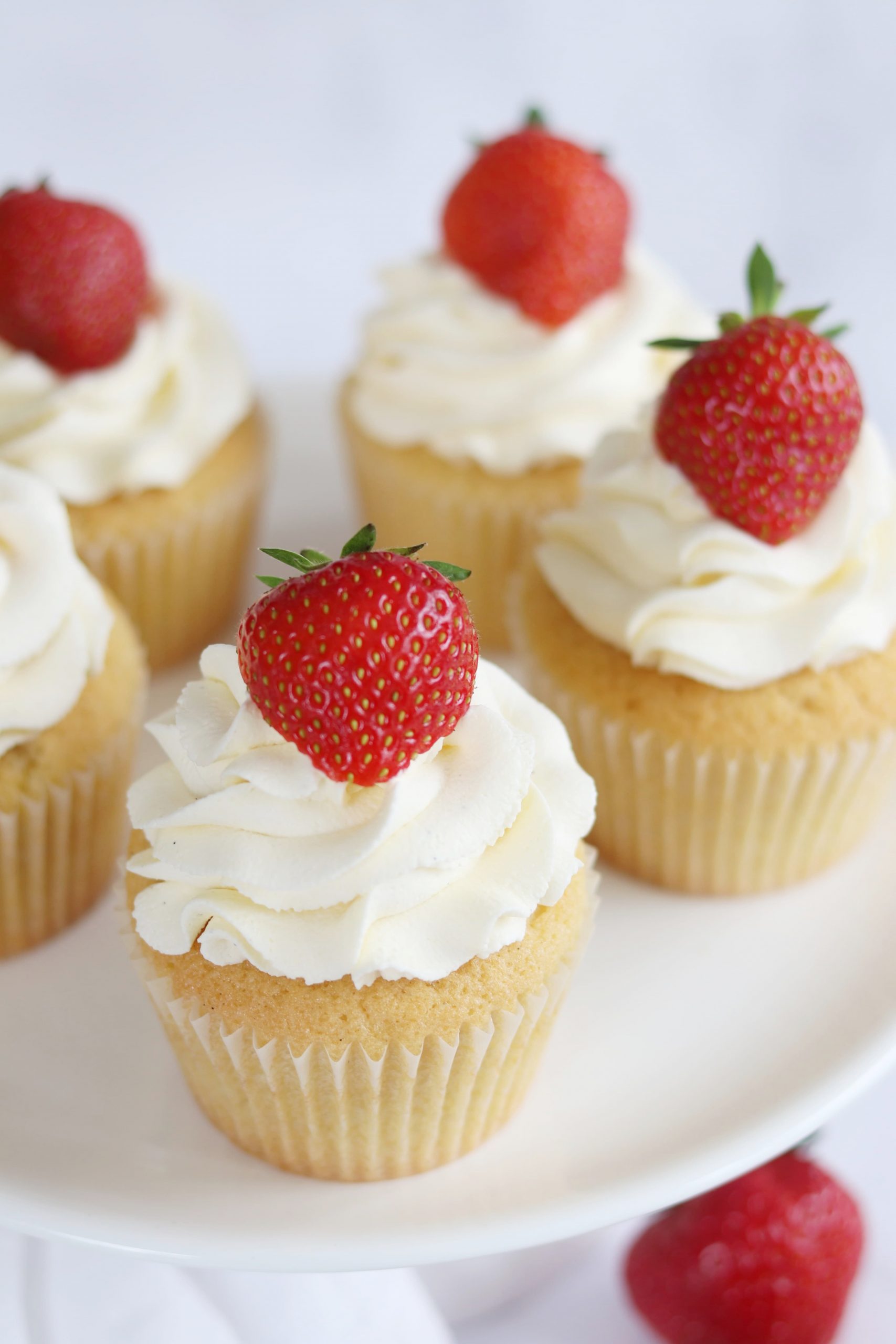 Vanilla Cupcakes with Strawberries & Whipped Cream Baking tips
These cupcakes are really simple to make, but there are a few tips that will make them even easier.
When you are creaming the margarine and sugar together, make sure you do this for around five minutes until it turns pale and fluffy. This helps create a light and fluffy finished cupcake.
To make sure my cupcakes are as even in size as possible, I like to use a mechanical ice cream scoop. You can then plop an even amount of cupcake batter into each cupcake case.
Bake the cupcakes until they are light in colour. They should be a light yellow colour and not brown. Test they are cooked through with a cocktail stick.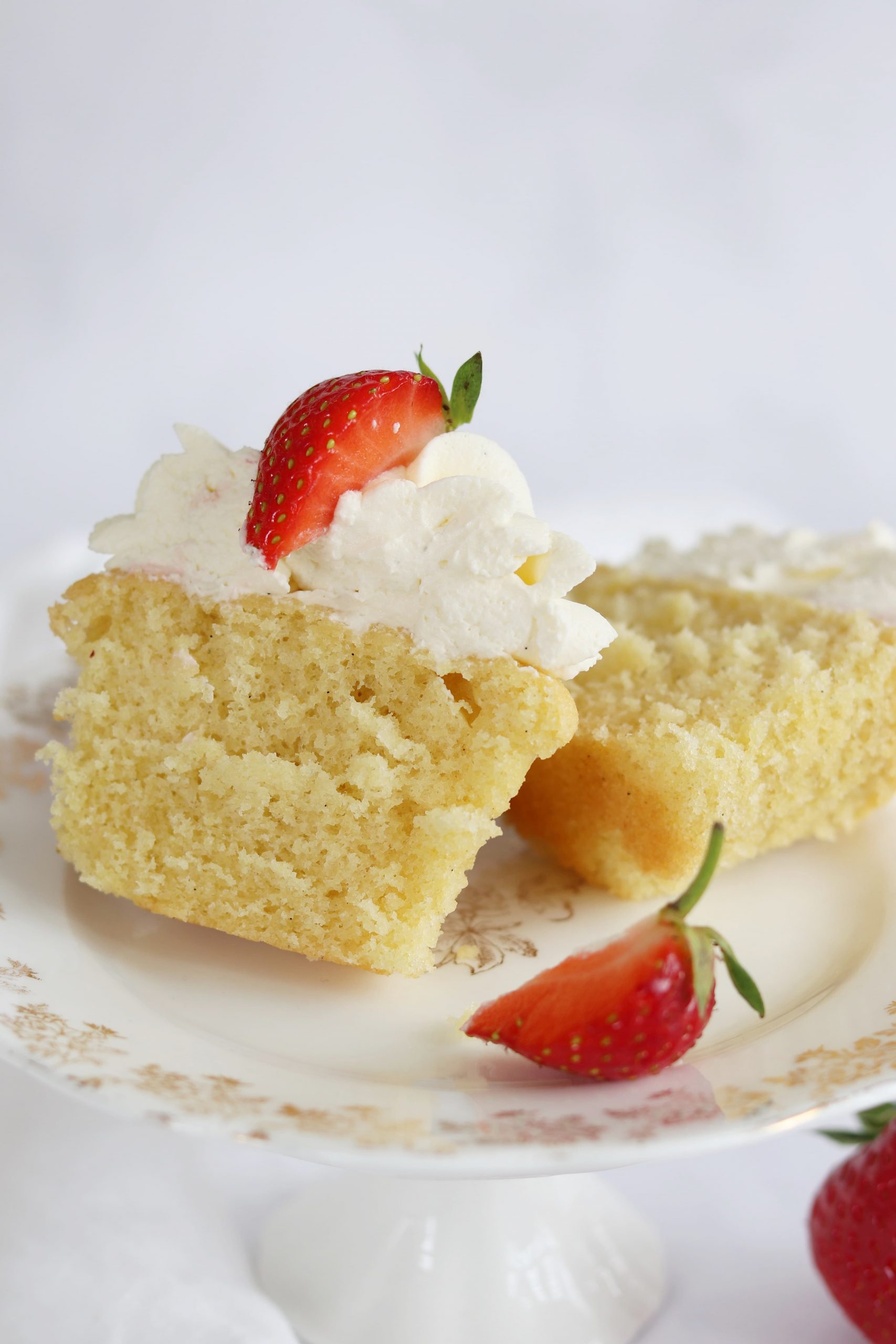 make the most of seasonal strawberries
You really cannot beat a juicy British strawberry. Here in the UK they are in season from June to September.
That is the British strawberry season and when I would recommend you make the most of them. You can buy strawberries year round but they will be imported from different countries.
I always find that British strawberries are juicier and more full of flavour so I would always prefer to buy these.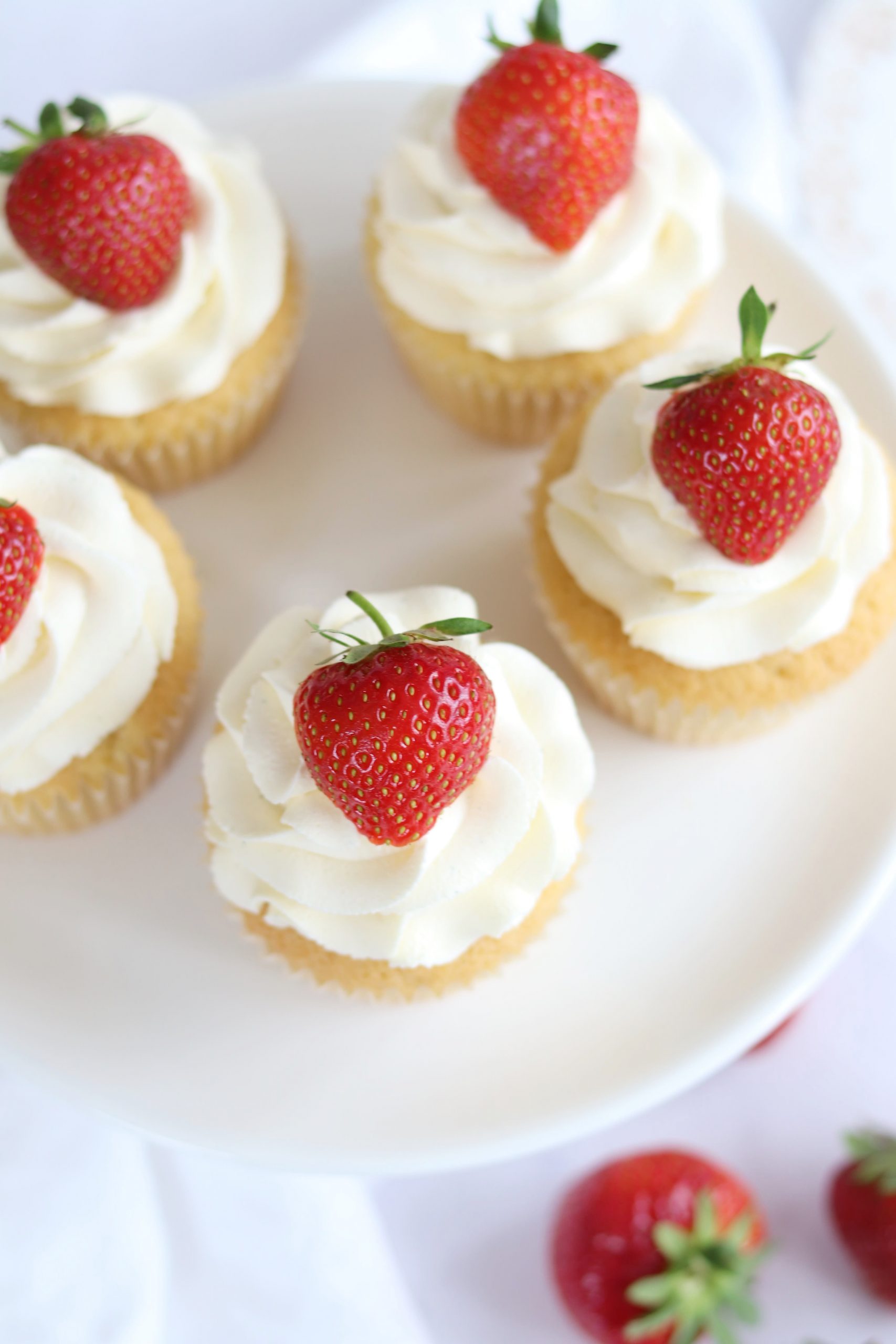 what to use if you can't get fresh strawberries
If you can't buy strawberries or they are out of season and you would prefer not to buy them you could use a different fruit.
Raspberries, blackberries or any berries would work well on top of these cupcakes.
I wouldn't recommend using frozen strawberries as an alternative for the fresh. They won't have the same appearance or taste.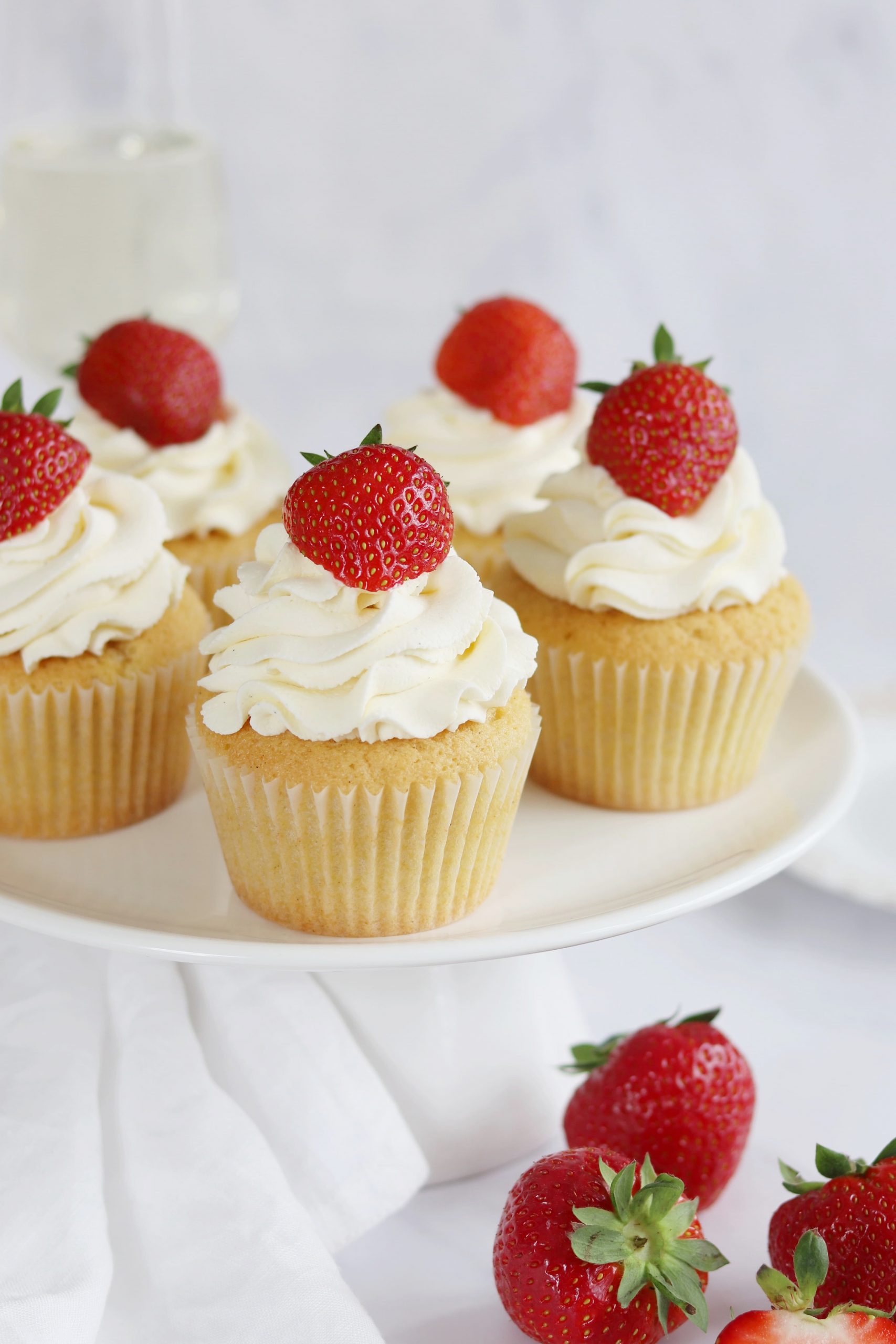 how long will these cupcakes last for?
As these cupcakes have fresh cream, they need to be kept in an airtight container in the fridge.
They will keep for three to four days in the fridge.
Other recipes you may like
Pin for later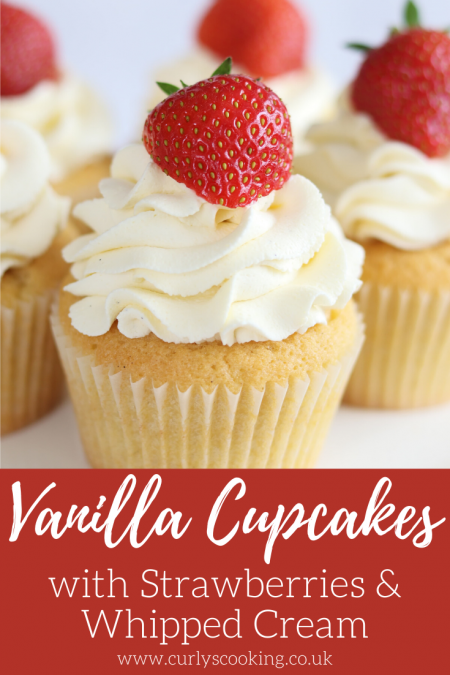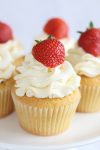 Vanilla Cupcakes with Strawberries & Whipped Cream
Light and fluffy vanilla cupcakes piped with sweet vanilla whipped cream and topped with a strawberry. These Vanilla Cupcakes with Strawberries & Whipped Cream are so delicious!
Ingredients
For the cupcakes
175

g

margarine

175

g

caster sugar

3

eggs

1

tsp

vanilla bean paste

175

g

self raising flour
For the whipped cream
300

ml

double or whipping cream

1

tsp

vanilla bean paste

2

tbsp

icing sugar
Instructions
Preheat the oven to 160ºC (fan assisted, 180ºC non fan) and line a cupcake tin with paper liners

Beat the butter and sugar together for roughly 5 minutes until light and fluffy

Add the vanilla bean paste and eggs and mix again

Add the flour and mix until it is combined. Spoon into 12 cupcake cases filling each 2/3 full

Bake in the oven for 15-18 minutes. Check they are cooked by piercing them with a cocktail stick, if the stick comes out clean they are cooked

Leave on a wire rack to cool completely

When the cupcakes have cooled, make the whipped cream. Add the cream, vanilla and icing sugar into a bowl

Whisk until it is thick enough to hold it's shape

Spoon into a piping bag and pipe onto each cupcake. Finish with half a strawberry
Recipe Notes
Keep in an airtight container in the fridge for up to 3 days.
Nutritional information is given as a guide only.
Nutrition Facts
Vanilla Cupcakes with Strawberries & Whipped Cream
Amount Per Serving
Calories 355
Calories from Fat 117
% Daily Value*
Fat 13g20%
Cholesterol 41mg14%
Sodium 154mg7%
Potassium 36mg1%
Carbohydrates 27g9%
Protein 3g6%
Vitamin A 581IU12%
Calcium 13mg1%
Iron 1mg6%
* Percent Daily Values are based on a 2000 calorie diet.
Linking to