Funfetti Cake is an American favourite. Layers of vanilla sponge speckled with sprinkles covered in delicious buttercream. It is perfect for birthdays – especially for children!

What is Funfetti Cake?
If you are not from America, you will be forgiven for not knowing what Funfetti Cake is. It is a sponge cake, heavily flavoured with vanilla with sprinkles in the cake mix.
The cake batter is quite loose as the recipe includes quite a lot of liquid. This helps create a lovely moist cake that has a denser but absolutely delicious texture.
With it being an American recipe, I think it is slightly sweeter than cakes we may be used to here in the UK. I have adapted a recipe by Sally's Baking Addiction for my version of a Funfetti Cake.
I have reduced the sugar and tweaked the method to make it slightly more familiar for us Brits.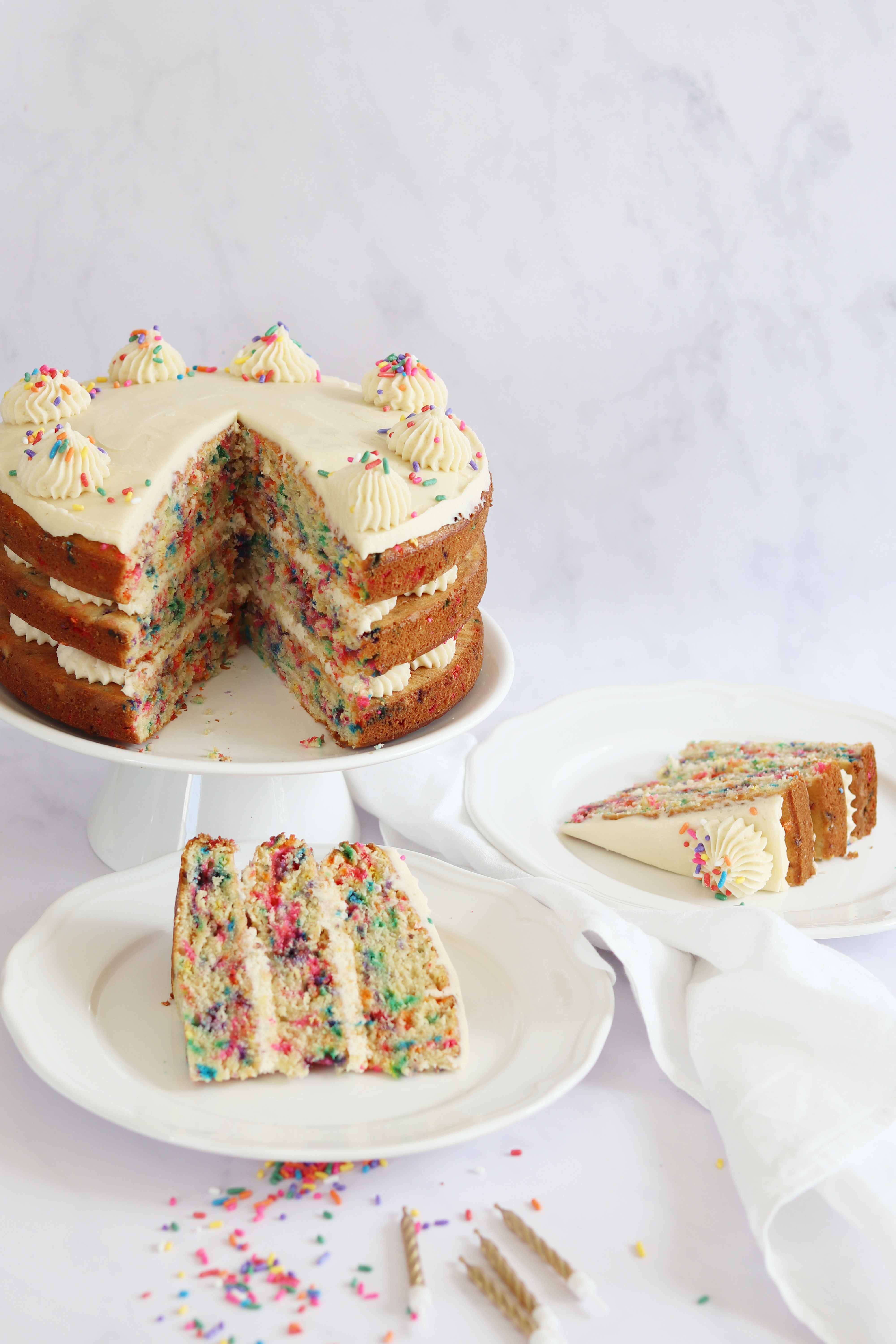 Which sprinkles are best to use?
The most import thing about this cake and the question I get asked the most is; which sprinkles should I use?
If you don't get the right kind of sprinkles they will disappear into the cake and you won't have the fantastic flecks of colour that you want.
Before making a funfetti cake, I didn't realise there was a difference between the types of sprinkles! The long thin strips we used to call hundreds and thousands growing up are generally referred to as sprinkles.
Then you have the small coloured balls which are called nonpareils which I tend to use more for decorating because I prefer how they look. This recipe requires sprinkles as the nonpareils bleed their colour.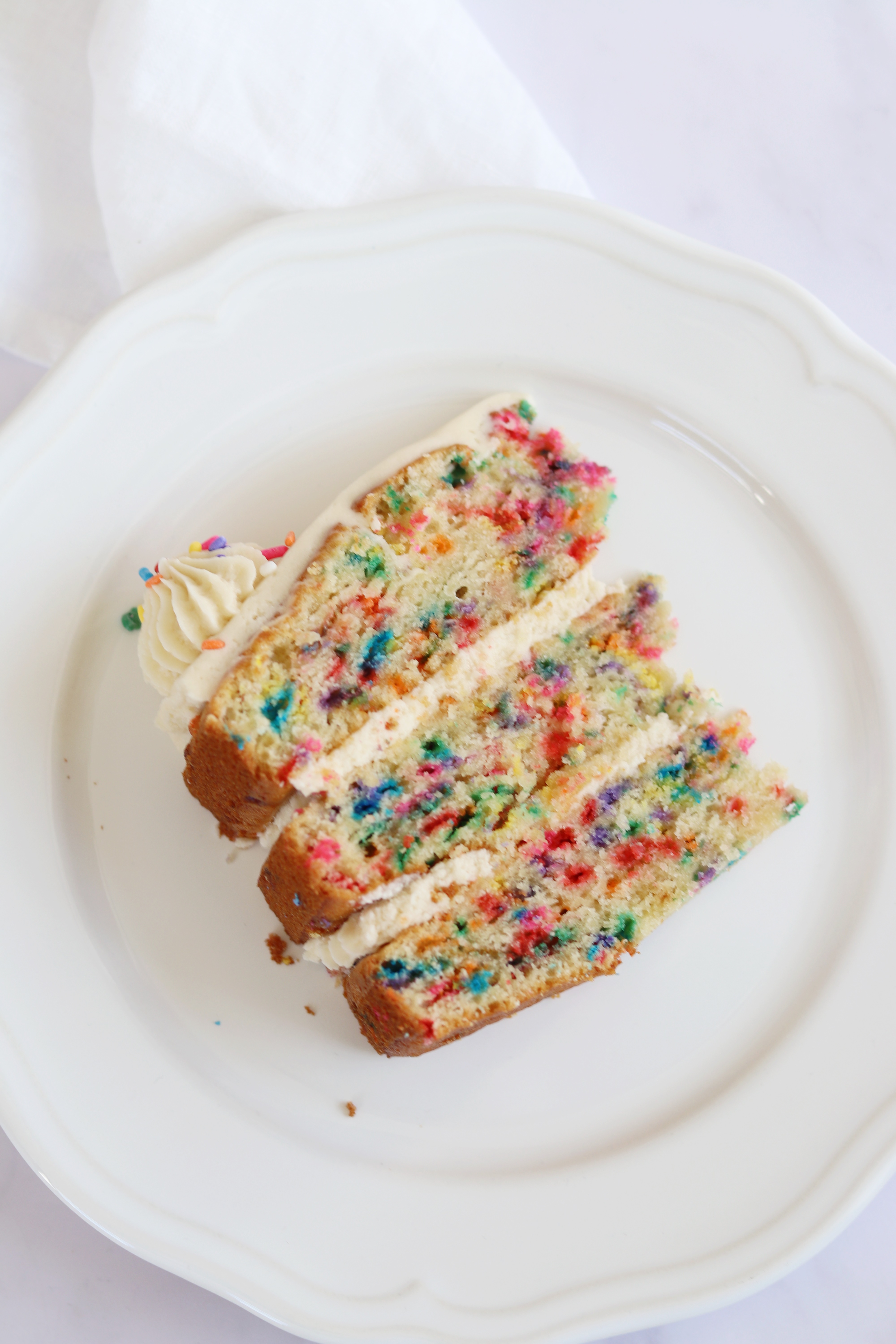 As well as making sure you use sprinkles and not nonpareils, you need to make sure they aren't made with natural colourings.
Although usually natural colourings would be what most people would prefer, in this case they don't work.
The natural colours aren't bright enough so their colour disappears into the cake when baking. This completely defeats the purpose of a Funfetti Cake!
So you need to make sure the sprinkles have artificial colours and to be bright to start off with so the colours stay once the cake has baked.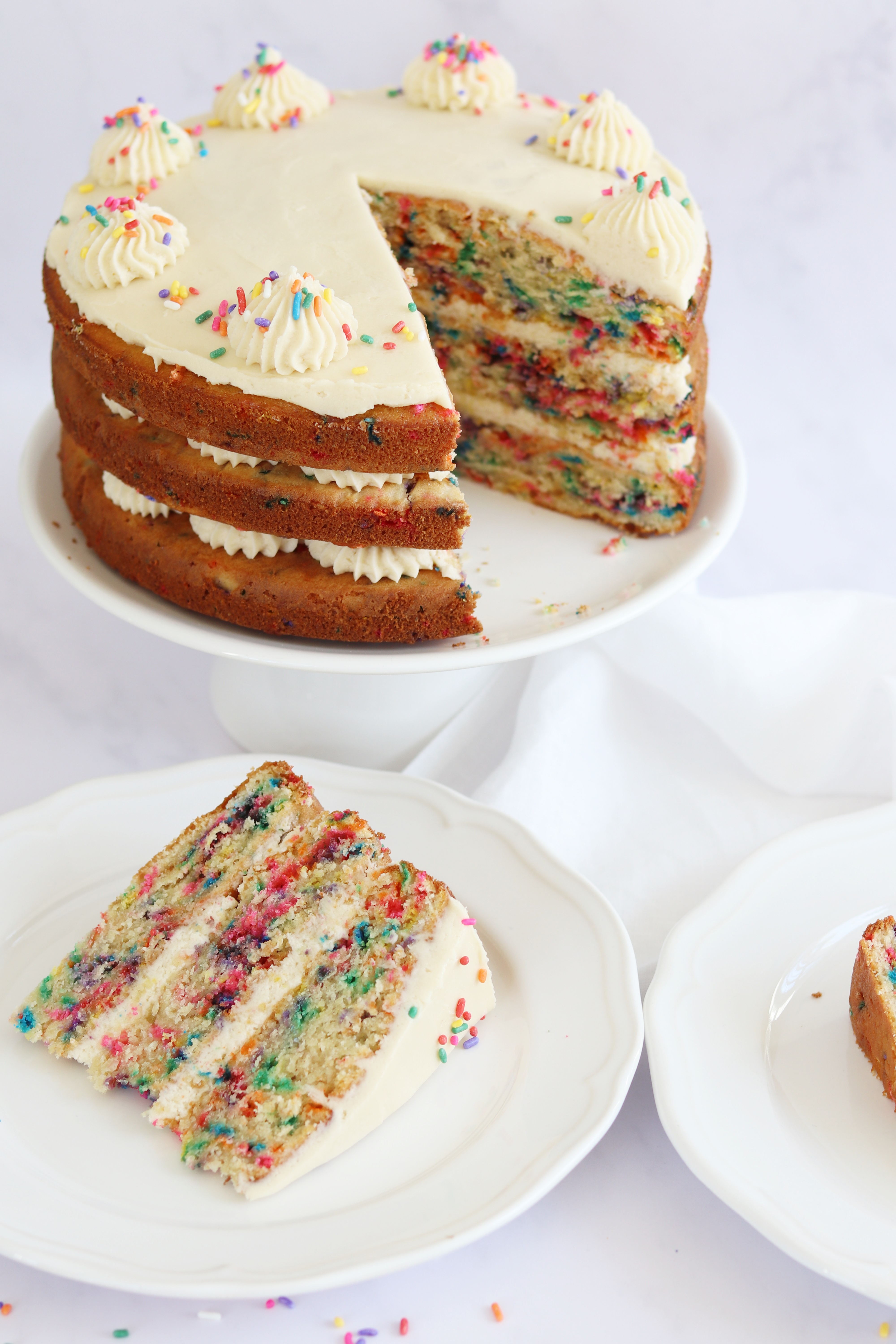 Which tins are best to use?
I tend to make this Funfetti Cake with three, eight inch (20cm) loose bottomed cake tins. This gives you the look that you can see in the photos. However it isn't the only way you can bake this cake.
If you have deep cake tins (these are usually spring form), you could bake the batter in two eight inch tins. You would need to adjust the cooking time as it would take slightly longer to cook.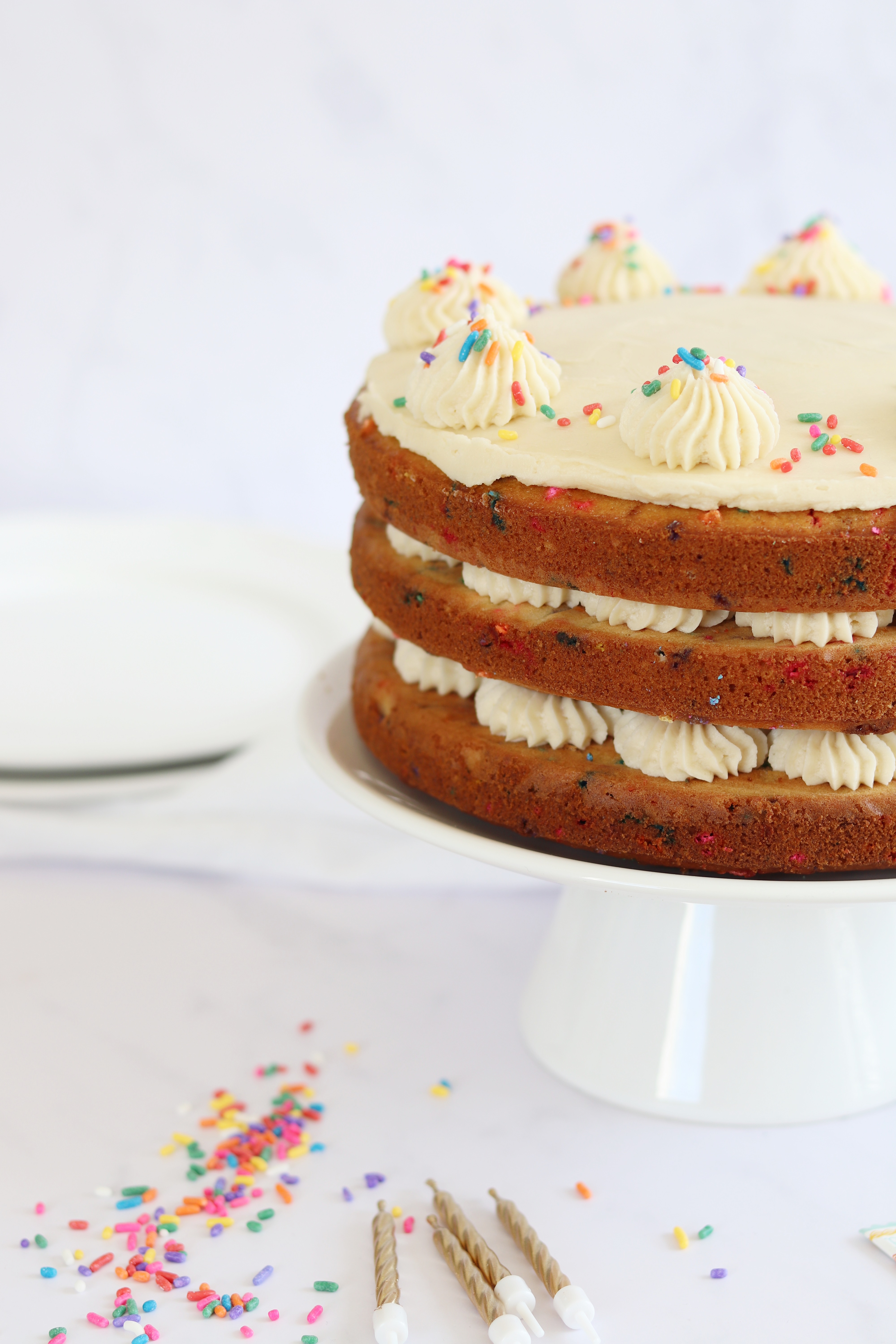 You could also use this recipe to make cupcakes. I haven't tried made cupcakes myself, but I think the recipe would make at least 18 large cupcakes.
I would bake them for 14 minutes before checking whether they are cooked with a cocktail stick.
If you are baking a two layer cake or cupcakes, you will probably want to reduce the amount of buttercream you make. I would recommend 150g butter and 300g icing sugar with a couple of tablespoons of milk.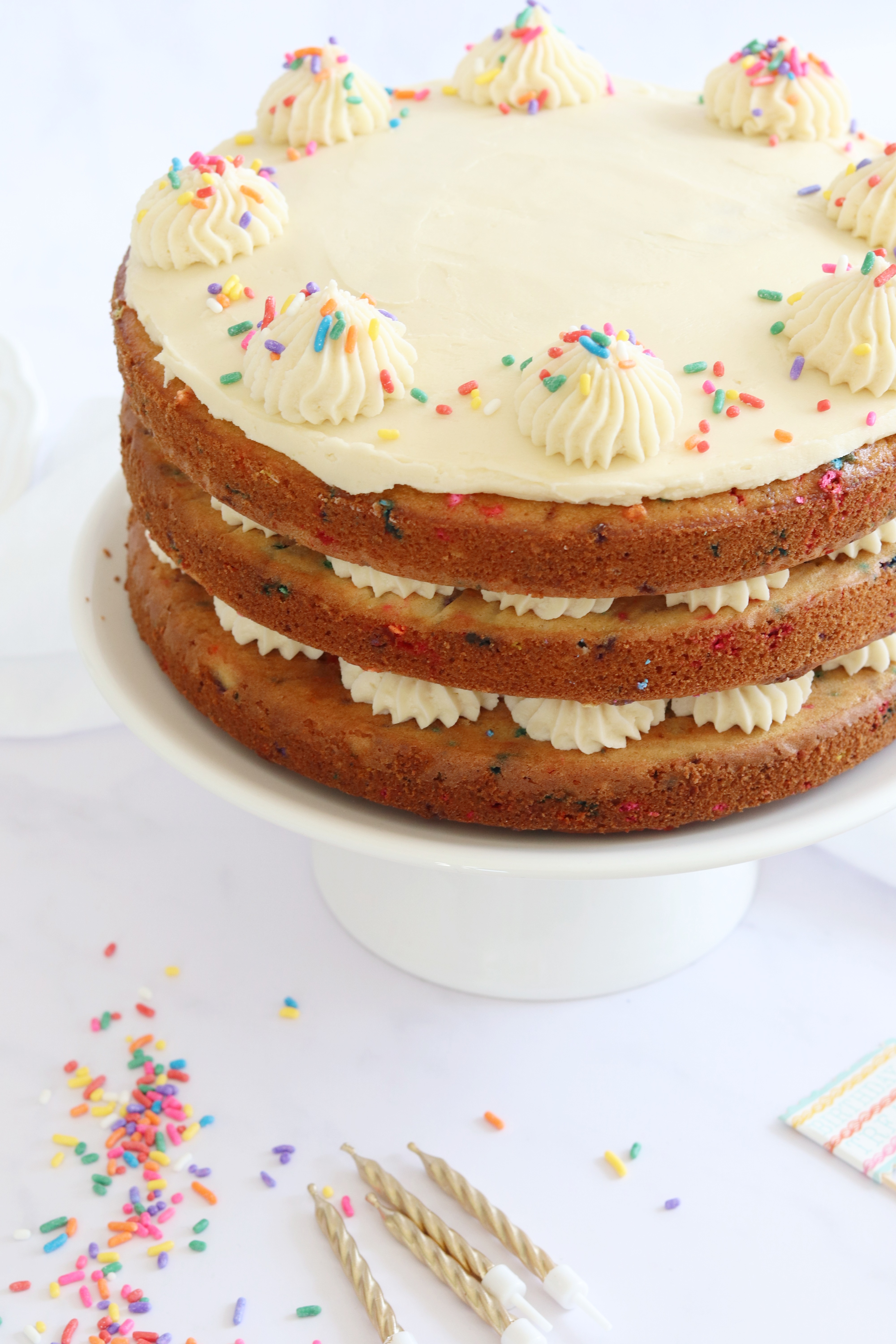 Funfetti Cake baking tips
When you add the sprinkles to the cake batter, fold them through as gently as possible. I do this with a spatula rather than with the mixer.
You want to mix them as little as possible so the colour doesn't bleed out into the cake batter.
When you are baking the cakes, keep an eye on them to see how they are colouring. If the cakes are starting to look a little brown, cover them loosely with foil. These cakes have a slight shine to them.
Don't be fooled into thinking this means they aren't cooked as with some other cakes. Always test them with a cocktail stick rather than relying on look alone.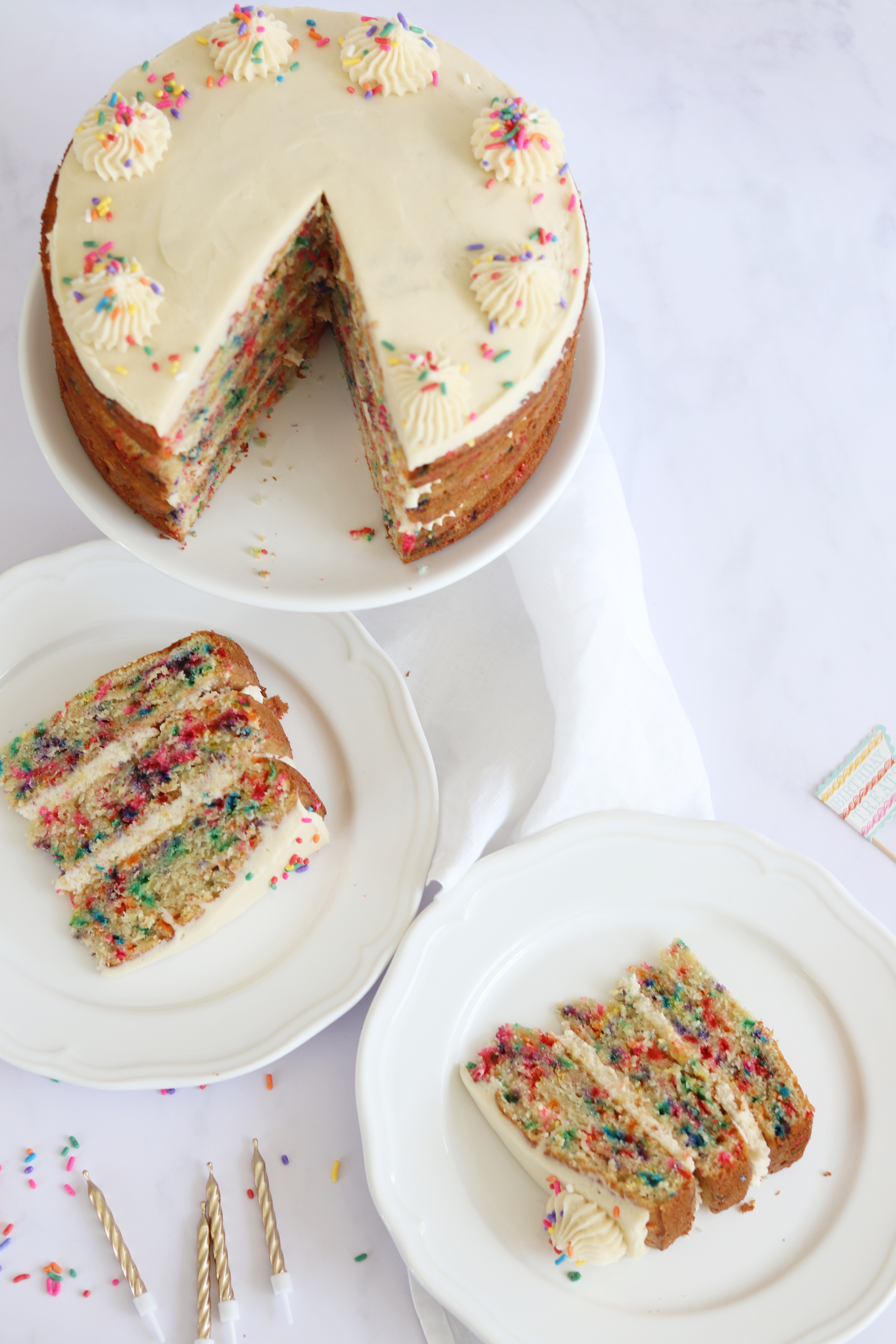 How to decorate your Funfetti Cake
There are so many ways you can decorate your Funfetti Cake. I don't like a lot of buttercream so I choose to leave the sides naked.
I also like leaving them like this so you can see the sprinkles in the sponge and the nicely piped buttercream.
If you would like to cover the sides of the cake, I would recommend giving the cake a crumb coat first. This is a thin layer of buttercream which traps the crumbs into the cake.
This means the crumbs are less likely to get into the final layer of buttercream and give you a better look to the final cake.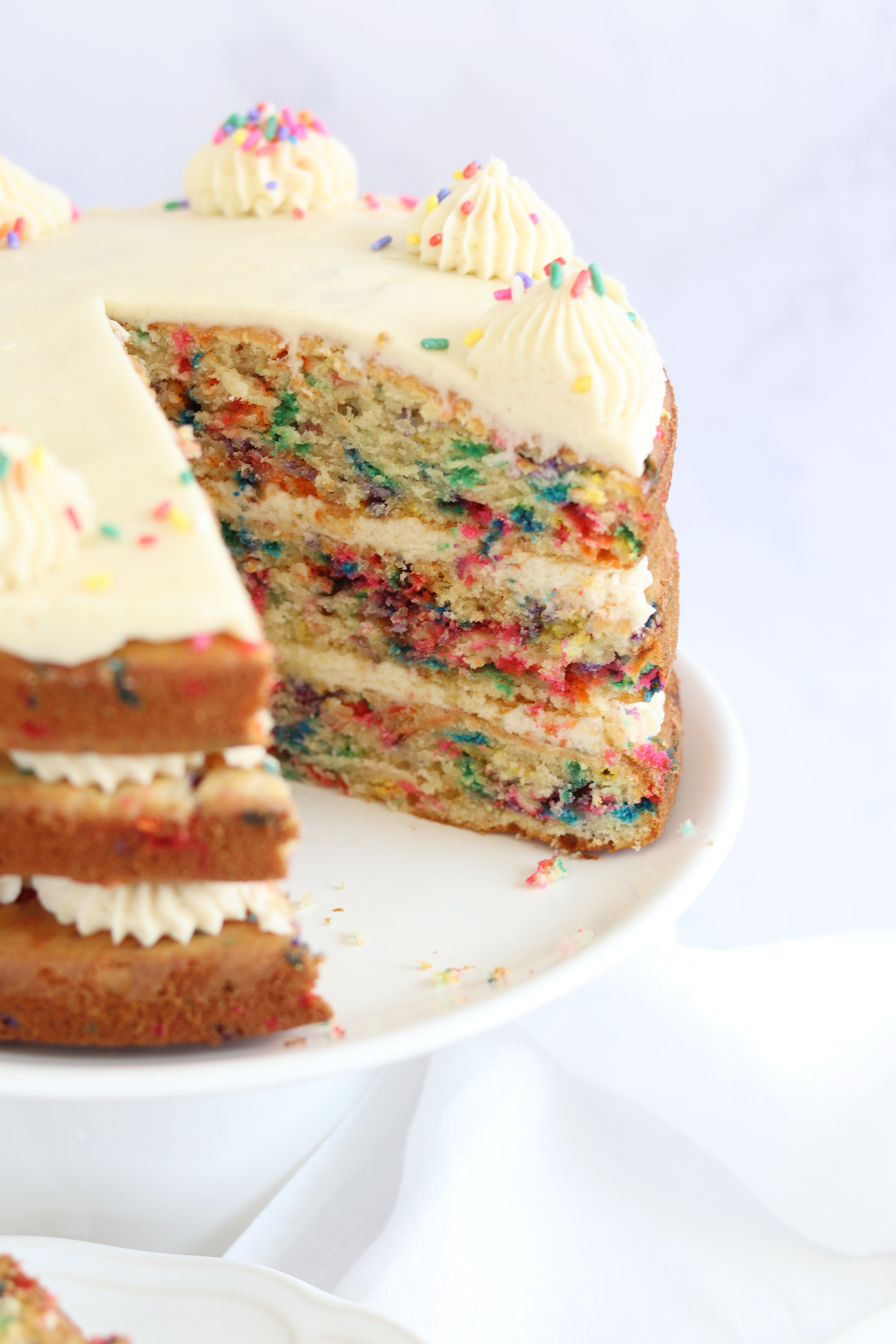 You can be as over the top or rustic as you like when decorating this cake. It isn't essential to level the cake layers if you don't want to.
You also don't need to pipe the buttercream, you can spread this on with a pallet knife.
One thing I do think is essential when it comes to decorating this cake is that you need to have some sprinkles! You can't have a Funfetti Cake without any sprinkles!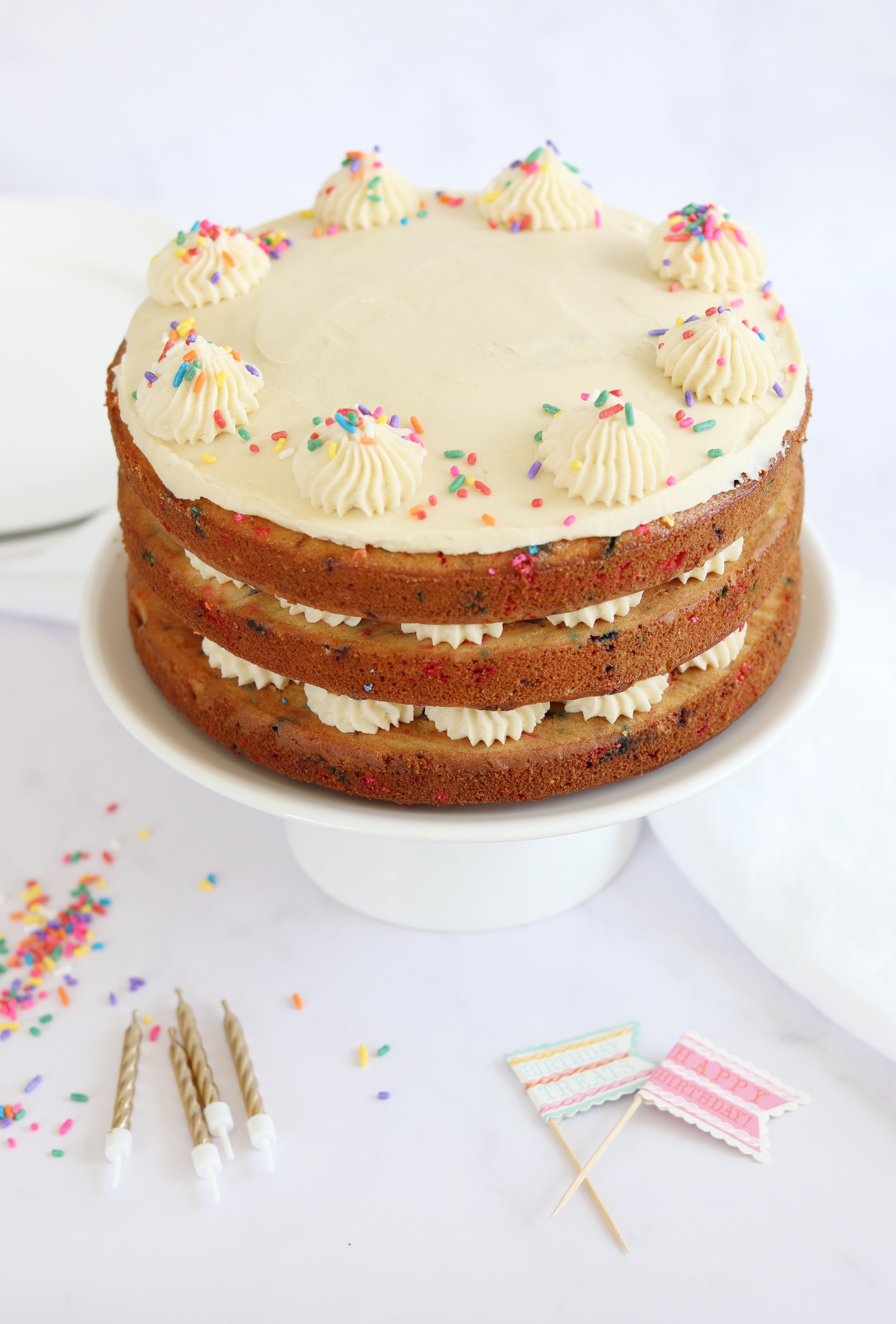 Other recipes you might like
Pin for later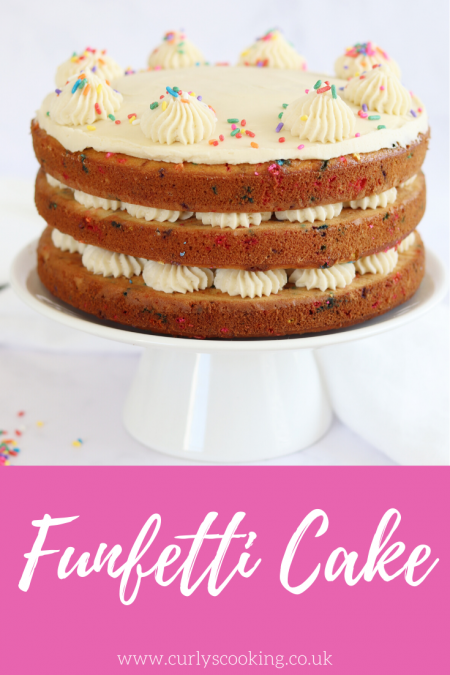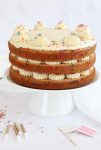 Funfetti Cake
Funfetti Cake is an American favourite. Layers of vanilla sponge speckled with sprinkles covered in delicious buttercream. It is perfect for birthdays – especially for children!


Ingredients
For the cake
230

g

margarine

300

g

caster sugar

2

large

eggs

420

g

plain flour

1

tsp

baking powder

½

tsp

bicarbonate of soda

1

tsp

salt

120

g

non fat yogurt

360

ml

milk

1

tbsp

vanilla extract

180

g

sprinkles

not nonpareils
For the buttercream
200

g

unsalted butter

400

g

icing sugar

3-4

tbsp

semi skimmed milk
Instructions
Preheat the oven to 160ºC (fan assisted, 180°C non fan) and line three 8 inch loose bottomed cake tins

Add the margarine and sugar to your mixer and beat until light and fluffy

Crack in the eggs and mix again

Add the flour, baking powder, bicarbonate of soda and salt and mix briefly

Whisk the yogurt, milk and vanilla extract together in a jug before pouring into the cake mix. Mix until completely combined

Gently fold in the sprinkles being careful not to overmix because the sprinkles will bleed their colour

Pour the mix evenly into the three prepared cake tins

Bake in the oven for 25-30 minutes . If the cakes start to become too brown, cover them loosely with foil. The cake is done when a cocktail stick comes out clean

Leave to cool in the tins for 20 minutes before turning out and allowing to cool completely on a wire rack

When the cakes are completely cooled, make the buttercream

Beat the butter in your mixer until soft, you don't want any lumps of butter left

Add in the icing sugar and mix. Add in enough milk to get a a smooth consistency

If you want to make sure your cake is as flat as possible, level off two of the cakes. Leave your flattest cake for the top layer

Lay one of the cakes upside down on your cake board or presentation plate. Pipe or spread a layer of buttercream evenly over the cake

Lay the next layer of cake upside down on top of the icing and spread the buttercream out again

Lay the final layer layer the right side up on top of the other cakes. Spread a layer of the buttercream on the final layer and pipe a few decorations on. Finish with a few sprinkles
Recipe Notes
Keep in an airtight container for up to 4 days.
Nutritional information is given as a guide only and my vary.
Nutrition Facts
Funfetti Cake
Amount Per Serving
Calories 430
Calories from Fat 171
% Daily Value*
Fat 19g29%
Cholesterol 45mg15%
Sodium 280mg12%
Potassium 105mg3%
Carbohydrates 61g20%
Protein 4g8%
Vitamin A 721IU14%
Vitamin C 1mg1%
Calcium 58mg6%
Iron 1mg6%
* Percent Daily Values are based on a 2000 calorie diet.