If you love Tenderstem Broccoli as much as I do, you will definitely love my Roasted Parmesan Tenderstem Broccoli. It is so addictive!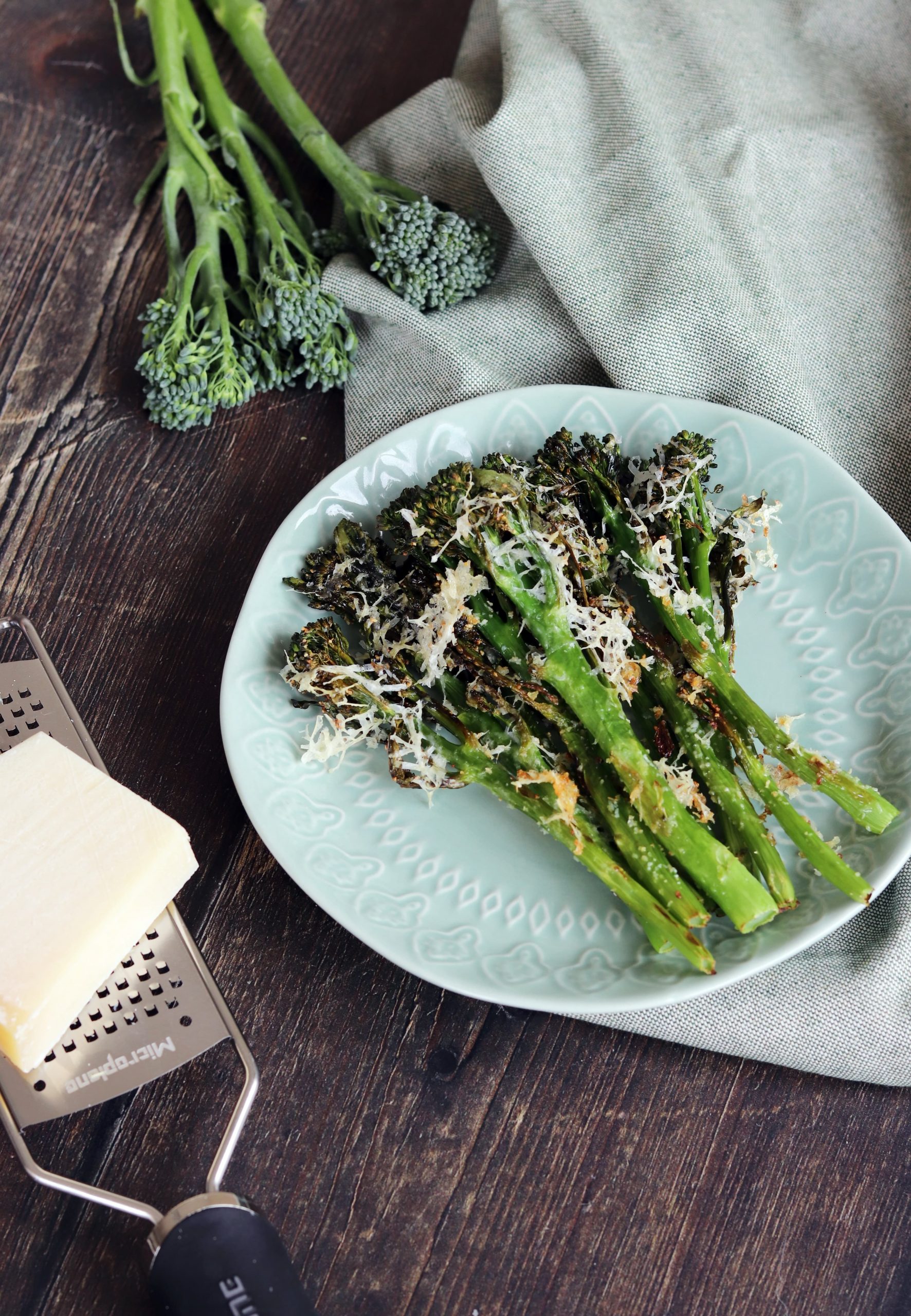 Tenderstem broccoli love
I have never kept my love for Tenderstem broccoli or broccolini hidden. It is my favourite vegetable that I eat at very opportunity.
On more than one occasion I will eat a bit plate of it for my lunch – which is what I did at the weekend when I took the photos for my Roasted Parmesan Tenderstem Broccoli.
There is no denying it, I am obsessed with Tenderstem broccoli. I've always liked broccoli but like turned into an obsession just over a year ago when I was buying around five packs of Tenderstem a week.
What is tenderstem broccoli?
Tenderstem broccoli or broccolini is a hybrid of broccoli and Chinese kale. Being a hybrid of two superfoods, Tenderstem broccoli is packed full of so many nutrients and vitamins.
Up until as recently as ten years ago, Tenderstem broccoli was grown in warmer climates. Now, 50% of the Tenderstem broccoli consumed in the UK is grown in the southern counties of Hampshire and Sussex.
Although you can buy Tenderstem broccoli year round, it is in season in the UK from June to November.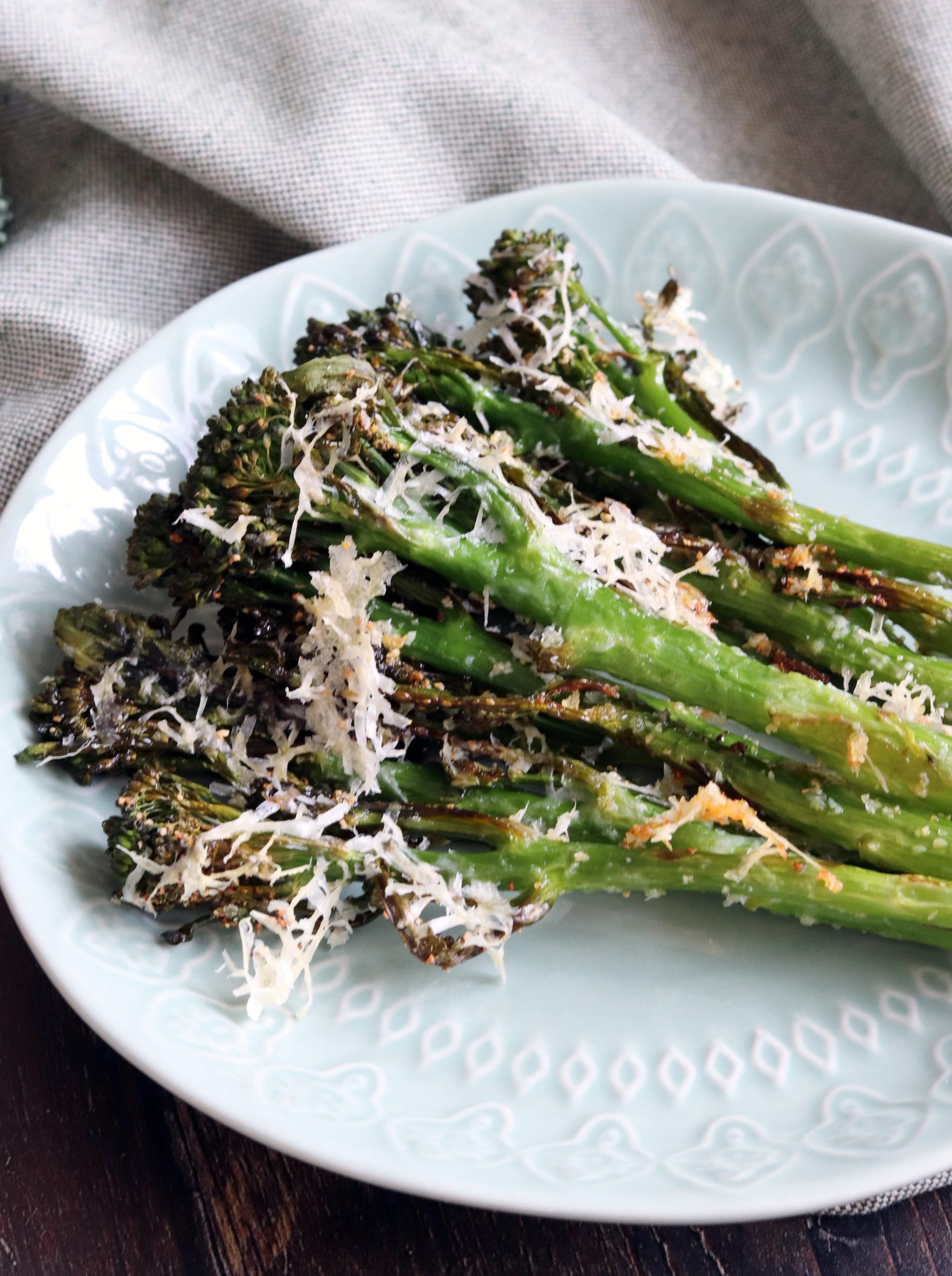 New ways to prepare Tenderstem broccoli
Usually I just steam the Tenderstem and it is always delicious. But I did want to think of other ways to make it even more exciting.
The first was my Tenderstem Broccoli with Oyster Sauce & Garlic. I then came up with this recipe – Roasted Parmesan Tenderstem Broccoli.
We now have this Roasted Parmesan Tenderstem Broccoli weekly in my house. It is definitely one of our favourites! You can also use your air fryer to make Air Fryer Parmesan Tenderstem Broccoli.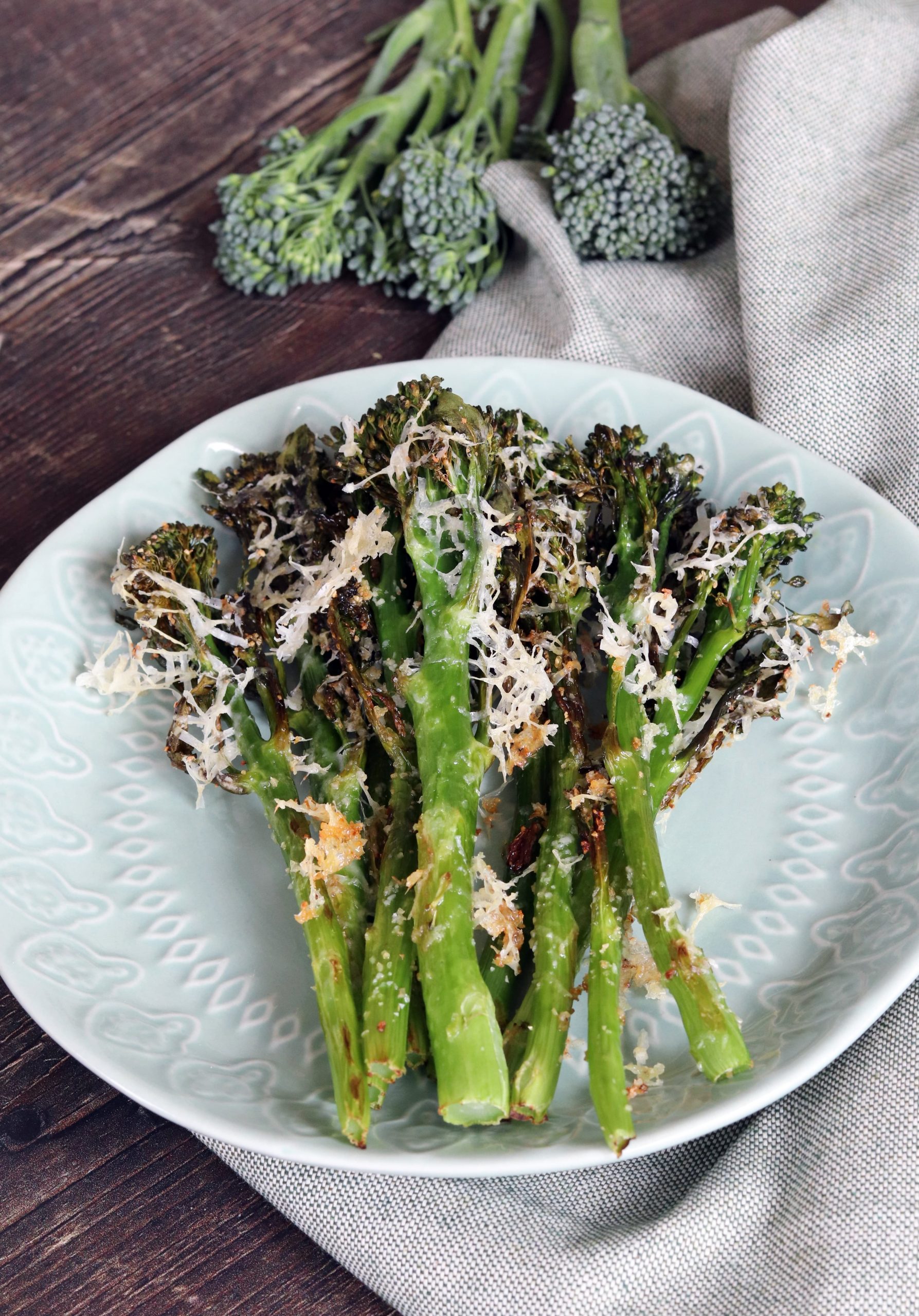 Can you use standard broccoli?
Yes you could use standard broccoli for this recipe if you can't get hold of Tenderstem broccoli.
Cut the broccoli into florets leaving as much of the stalk on as possible. Cut your florets relatively thin so they don't take too long to roast in the oven.
Simple but delicious
As I said it really is quite simple, but it is really tasty so a win win in my opinion! The Tenderstem gets lovely and crisp and the Parmesan adds a salty flavour which goes well with the garlic.
Tenderstem does vary; sometimes you can get quick thick stems whilst other times it can be really skinny. If you have particularly thick stems, I would cut them in half to help keep the cooking time low.
Adjust the time you roast it in the oven accordingly because you want the stems to be tender but you don't want the tops to get too brown!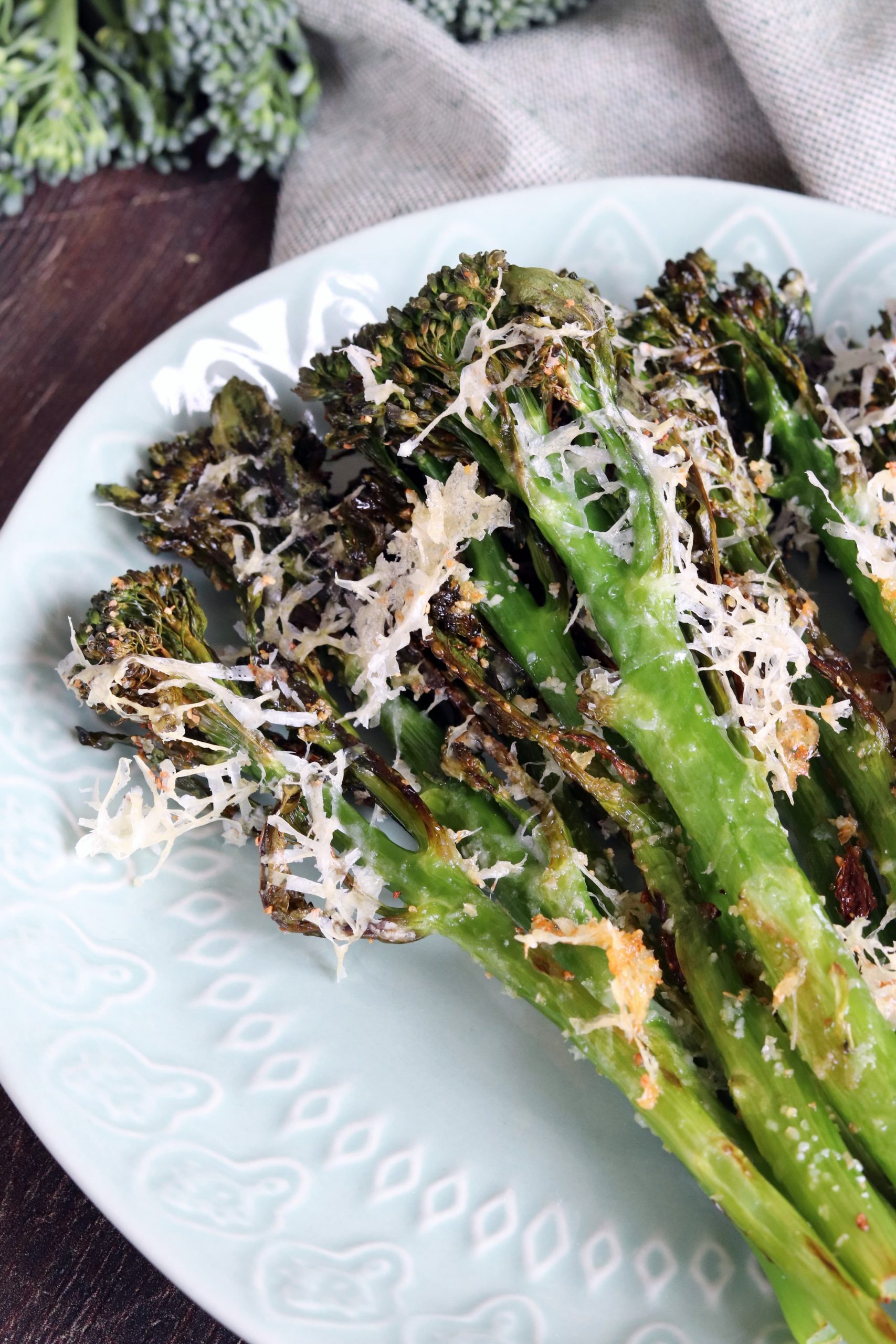 Make this vegetarian or vegan
You may think this Roasted Parmesan Tenderstem Broccoli is vegetarian already, but unfortunately it is not. Parmesan cheese is unfortunately not vegetarian because it contains animal rennet.
Instead of Parmesan, you can swap to a vegetarian alternative which would work just as well. You can also buy vegan versions of Parmesan cheese too so everyone can enjoy this dish.
This recipe is also gluten free which makes it a great option to have in your repertoire.
What do you serve this with?
This Roasted Parmesan Tenderstem Broccoli is the perfect side dish for so many recipes. We have it almost weekly with pork and my Brussles Sprouts with Bacon & Garlic.
While you've got the oven on, you could also make my Roasted New Potatoes.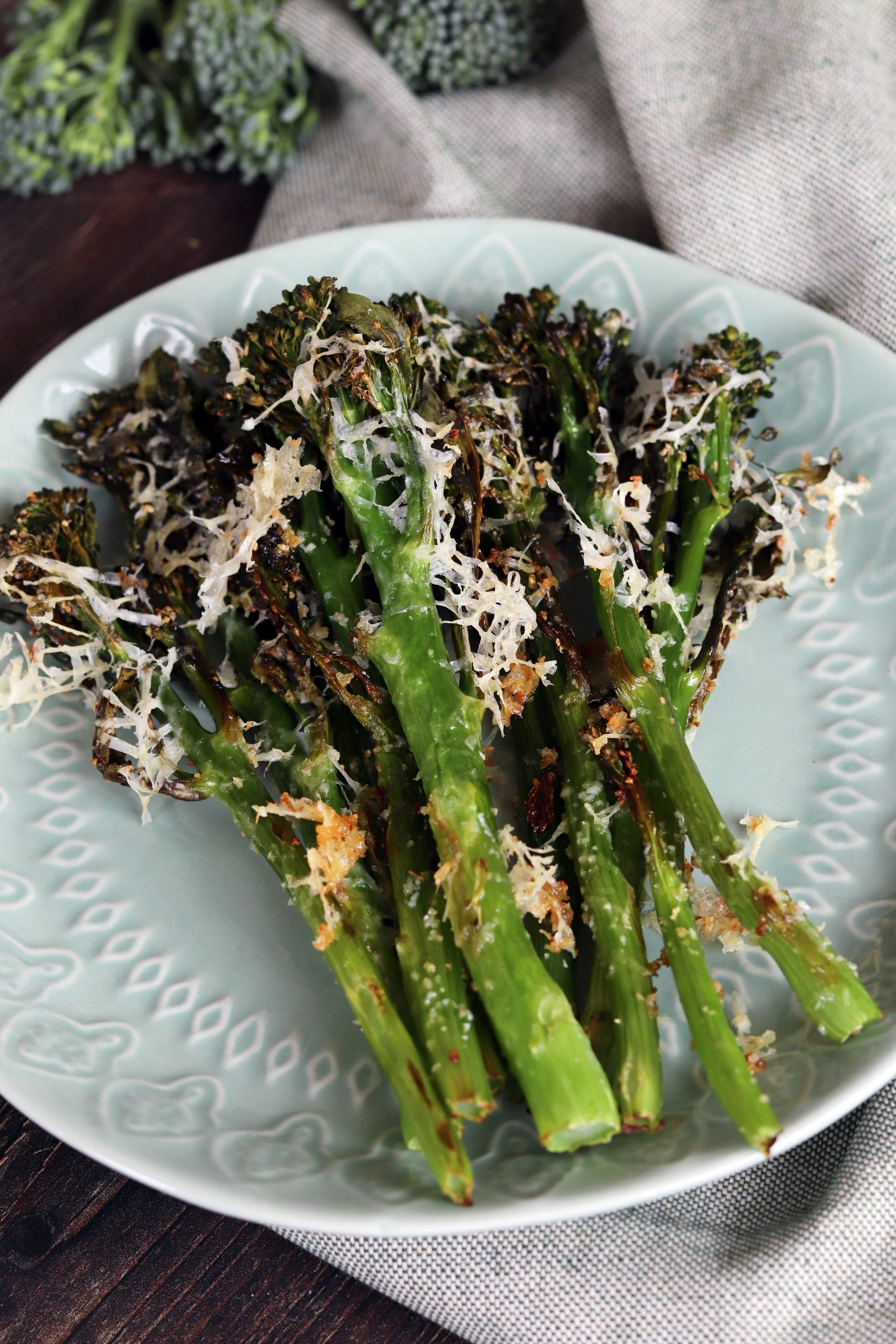 Can you make extra for leftovers?
Although this Roasted Parmesan Tenderstem Broccoli is best straight from the oven, you can make extra for leftovers.
Store it in an airtight container for up to two days. Although you could eat it cold, personally I wouldn't like to.
In the past I have heated it up in the microwave along with other leftovers I am having for lunch. This will make it softer than when it was roasted. If you prefer you would reheat it in the oven for a crisper texture.
This would be a good idea to make in advance as part of meal prepping for your lunches for the week.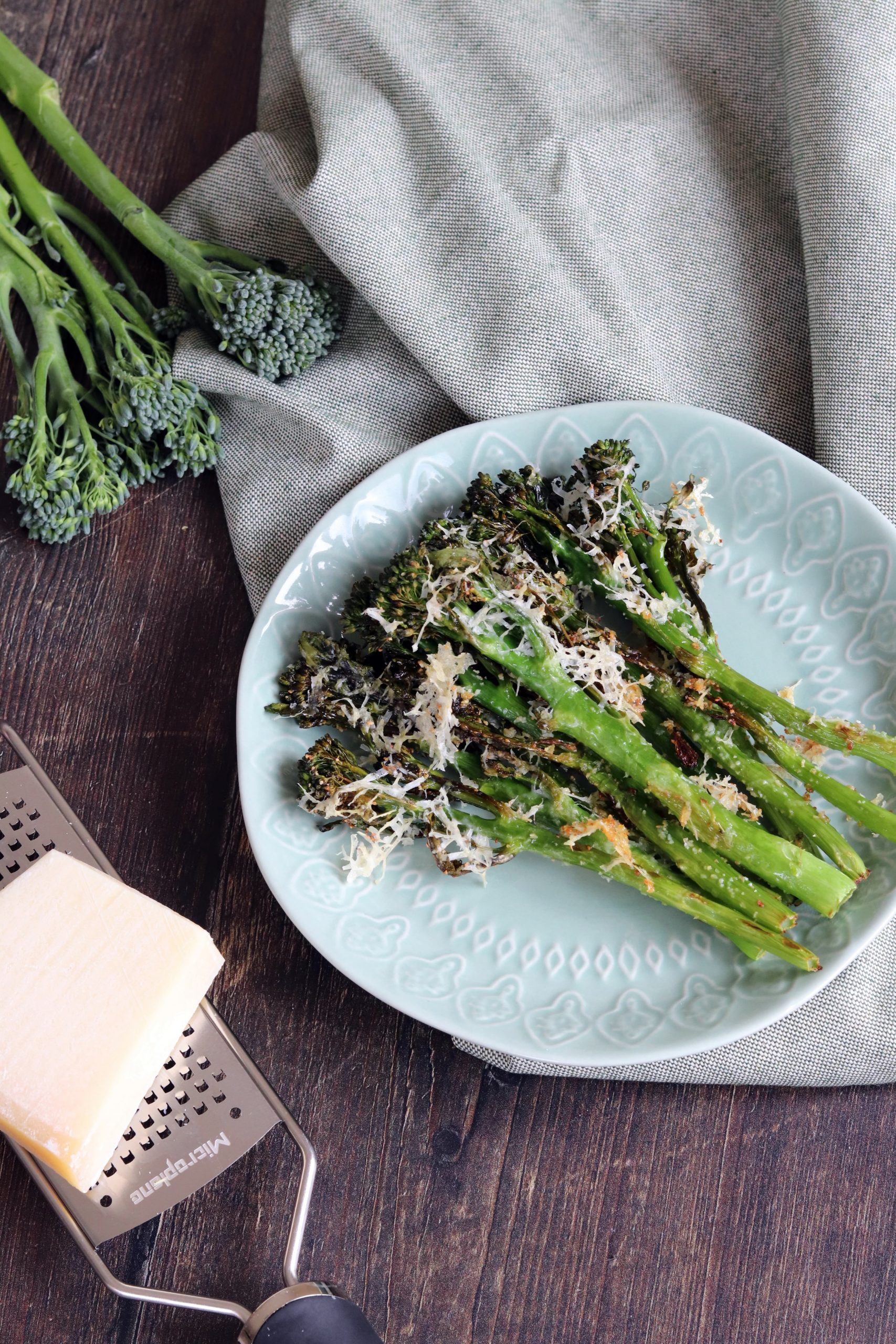 Other recipes you might enjoy
Pin for later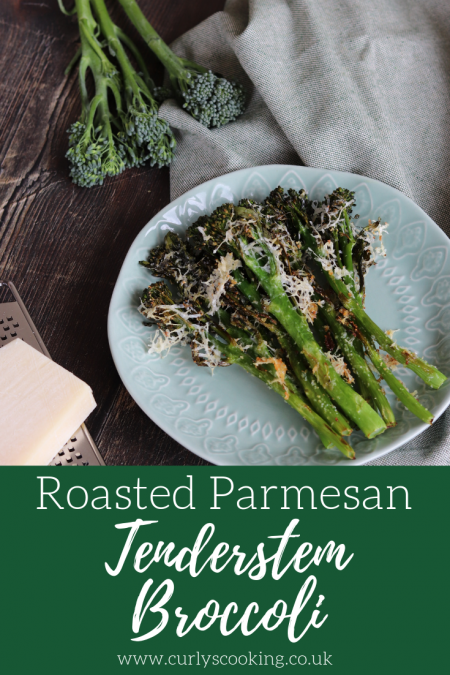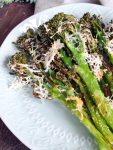 Roasted Parmesan Tenderstem Broccoli
If you love Tenderstem Broccoli as much as I do, you will definitely love my Roasted Parmesan Tenderstem Broccoli.
Ingredients
200

g

tenderstem broccol

1 ½

tsp

vegetable oil

½

tsp

sea salt

¼

tsp

garlic granules

15

g

Parmesan

grated
Instructions
Preheat the oven to 180ºC (fan assisted or 200ºC non fan assisted)

Lay the Tenderstem broccoli in a single layer on a baking tray

Drizzle over the oil and turn the broccoli over so it is completely covered in the oil

Sprinkle with the salt and garlic granules

Roast in the oven for 8 – 12 minutes (depending on the thickness of the stalks) turning over half way

Sprinkle over the grated parmesan and put back in the oven for 3 minutes until the parmesan has melted
Recipe Notes
Instead of using olive oil, you can use spray oil if you would prefer.
Nutrition Facts
Roasted Parmesan Tenderstem Broccoli
Amount Per Serving
Calories 55
Calories from Fat 36
% Daily Value*
Fat 4g6%
Cholesterol 5mg2%
Sodium 701mg30%
Protein 2g4%
Vitamin A 60IU1%
Calcium 89mg9%
* Percent Daily Values are based on a 2000 calorie diet.
Linking to