This Raspberry Jam Swirl Cake not only tastes great but is really easy to make. The raspberry jam and vanilla go really well together in this deliciously moist cake.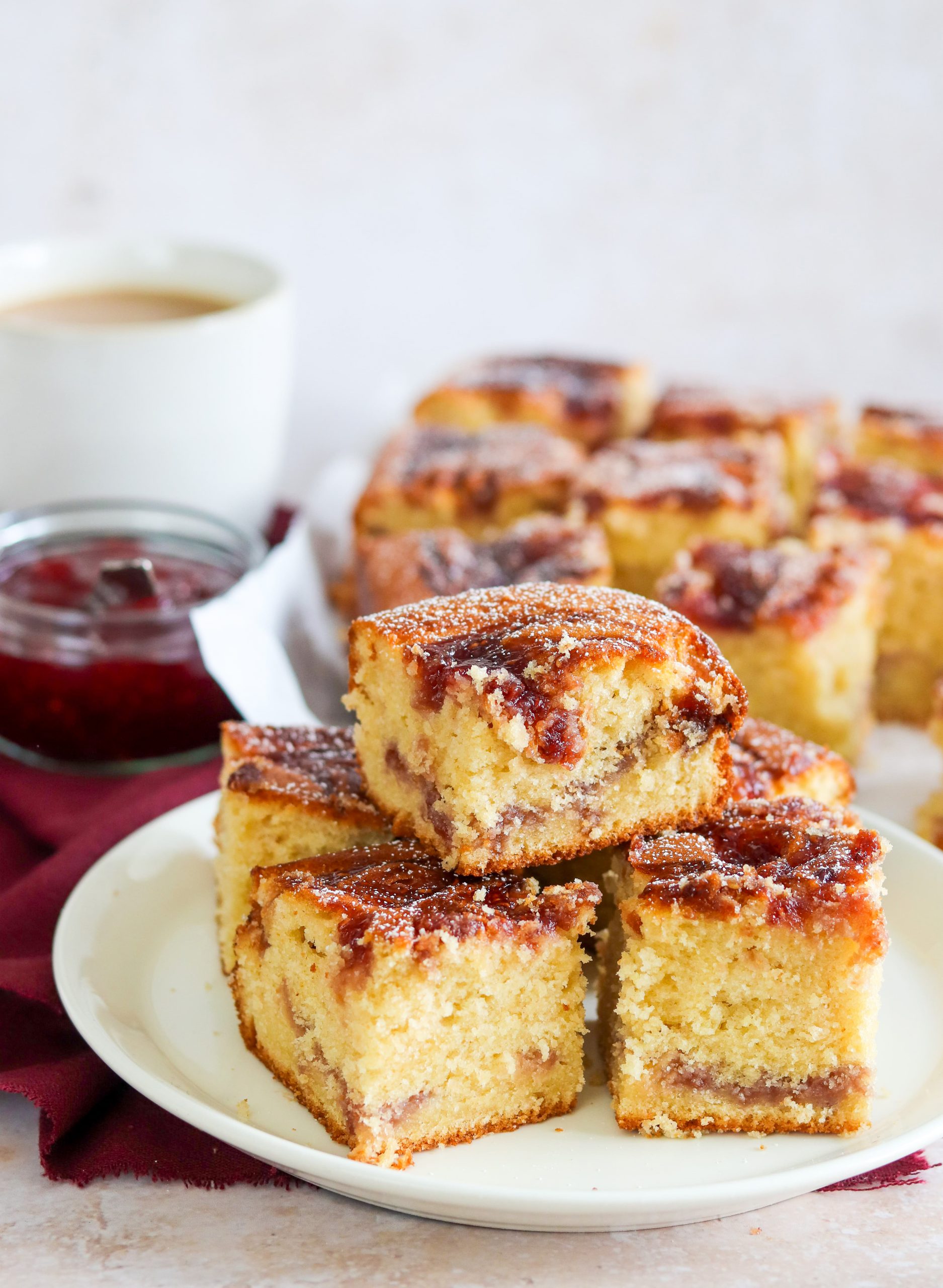 What is a raspberry jam swirl cake?
This cake is a delicious, yogurt based sponge flavoured with vanilla. It is then swirled with raspberry jam.
The raspberry jam works so well with the vanilla and yogurt sponge. It adds a lovely fruitiness very quickly and easily to the sponge.
It is such a simple cake to make which makes it great to whip up whenever you fancy a nice piece of cake.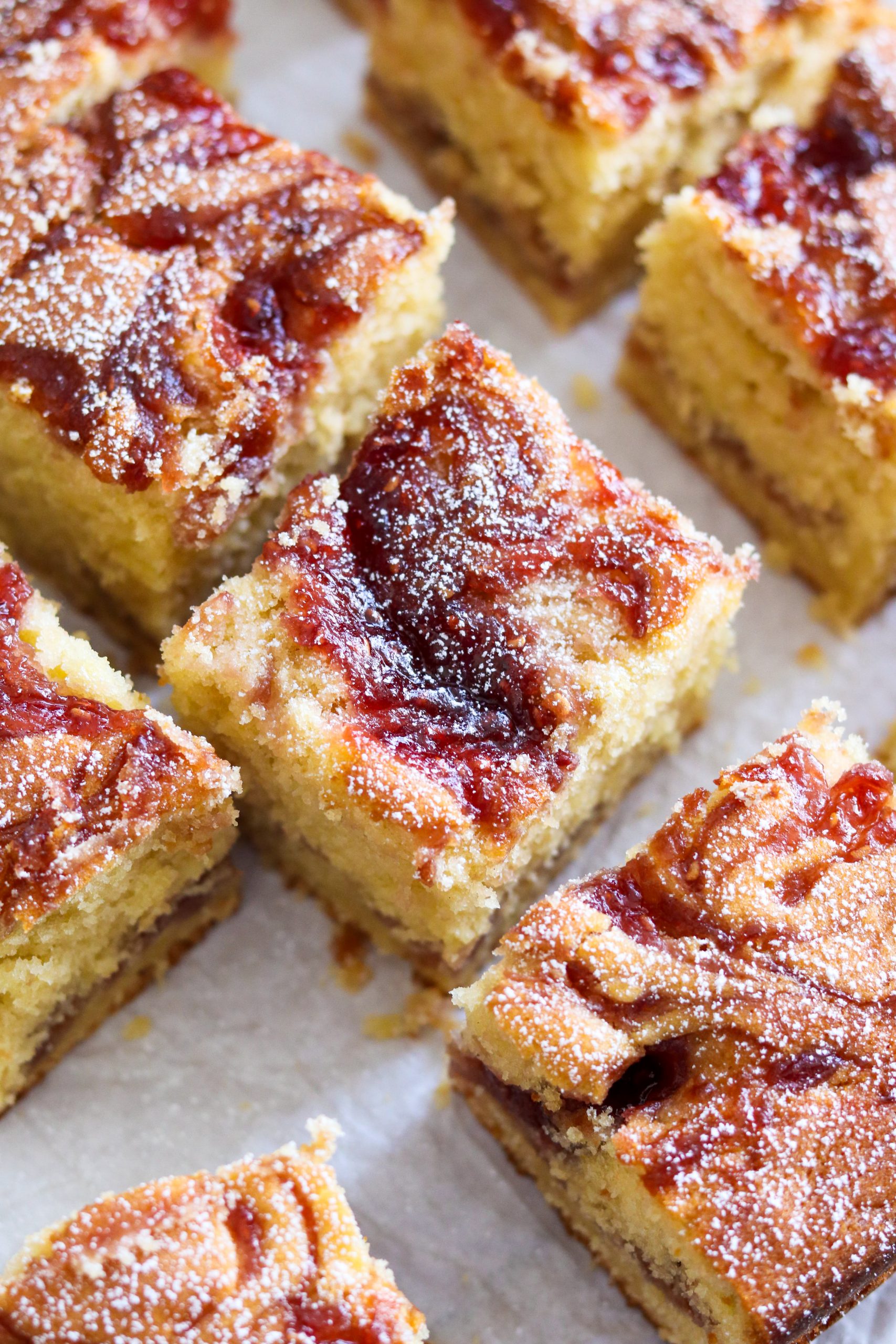 Why use jam instead of actual raspberries?
I really like to use jam in baking. It definitely has it's advantages!
Although fresh fruit is delicious and is very hard to beat, jam offers an alternative that can be just as tasty.
Raspberries are at their tastiest when they are in season. But by using raspberry jam, you can make this cake year round and not just when raspberries are in season.
Raspberries also don't seem to keep for too long and they can be a little pricey. Using jam is another way to combat these slight inconveniences.
These reasons, plus the fact you probably have some raspberry jam in you cupboard; means using jam is a great option. The jam also helps provide extra moisture to the cake which fresh raspberries wouldn't necessarily do.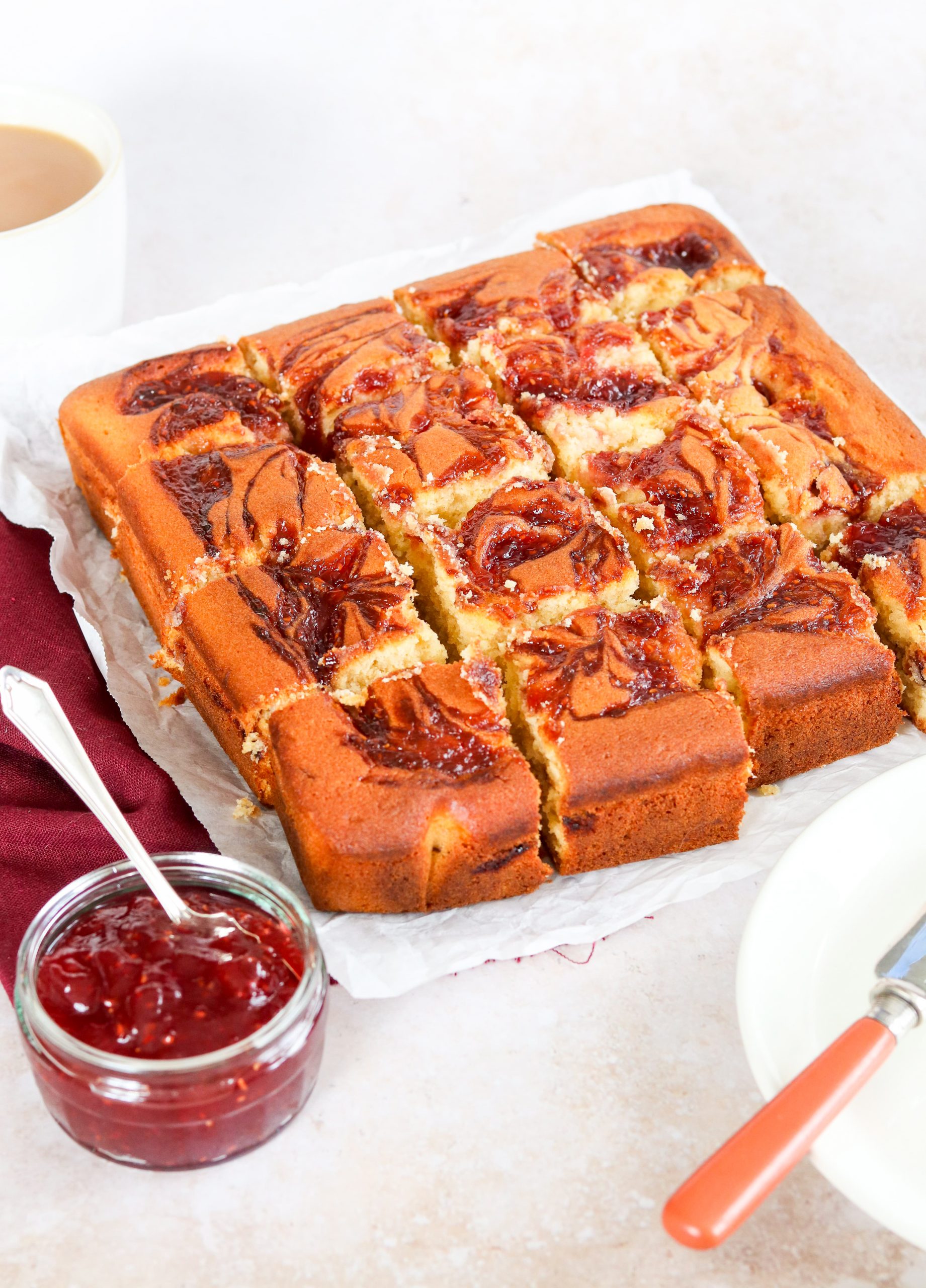 Which raspberry Jam is best to use?
I would recommend using a really good quality jam. It will make a difference to your finished cake.
Use your favourite jam that you would like to eat. This can be seeded or seedless; whichever you prefer.
You could also go one step further and make your own Raspberry Jam. This would ensure you have the most delicious jam possible.
But that is a little bit more time consuming so I definitely won't judge you if you use a shop bought jam.
You can also use a different jam if you prefer. Strawberry Jam and Blueberry Jam would work really well with the vanilla in the cake.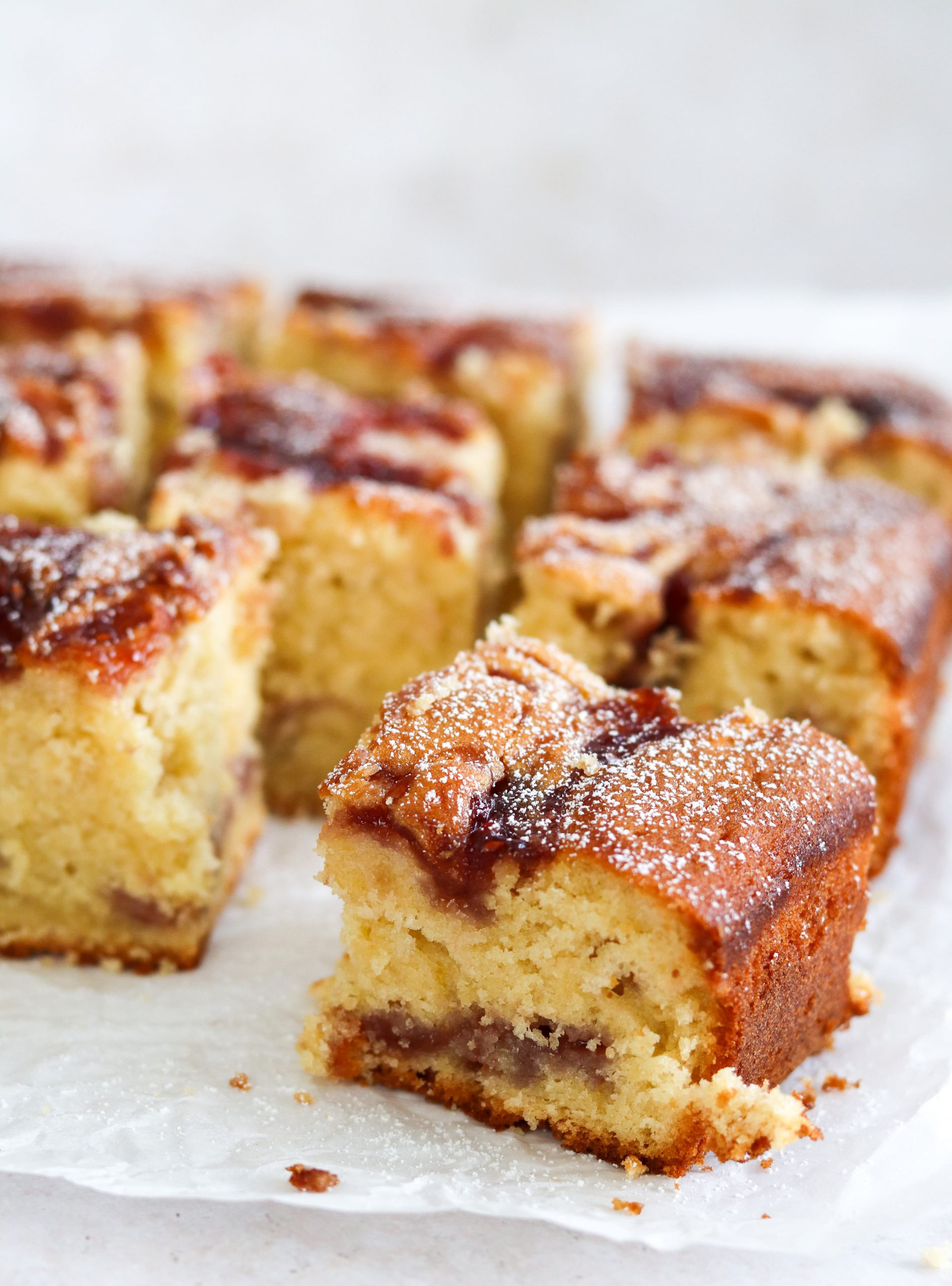 Which yogurt is recommended to use?
I love adding yogurt to cakes. The cakes are slightly more dense than something really fluffy like Vanilla Cupcakes. Although cakes with yogurt might not be as fluffy, they are really moist and delicious.
You can use whichever plain yogurt you prefer. Greek yogurt is usually slightly thicker than natural yogurt, but either work really well in this cake.
I have also used both full fat and fat free yogurt in this Raspberry Jam Swirl Cake. Both work just as well as each other and I haven't been able to tell the difference.
You could get away with using vanilla yogurt if you wanted to, but I wouldn't use any other flavour.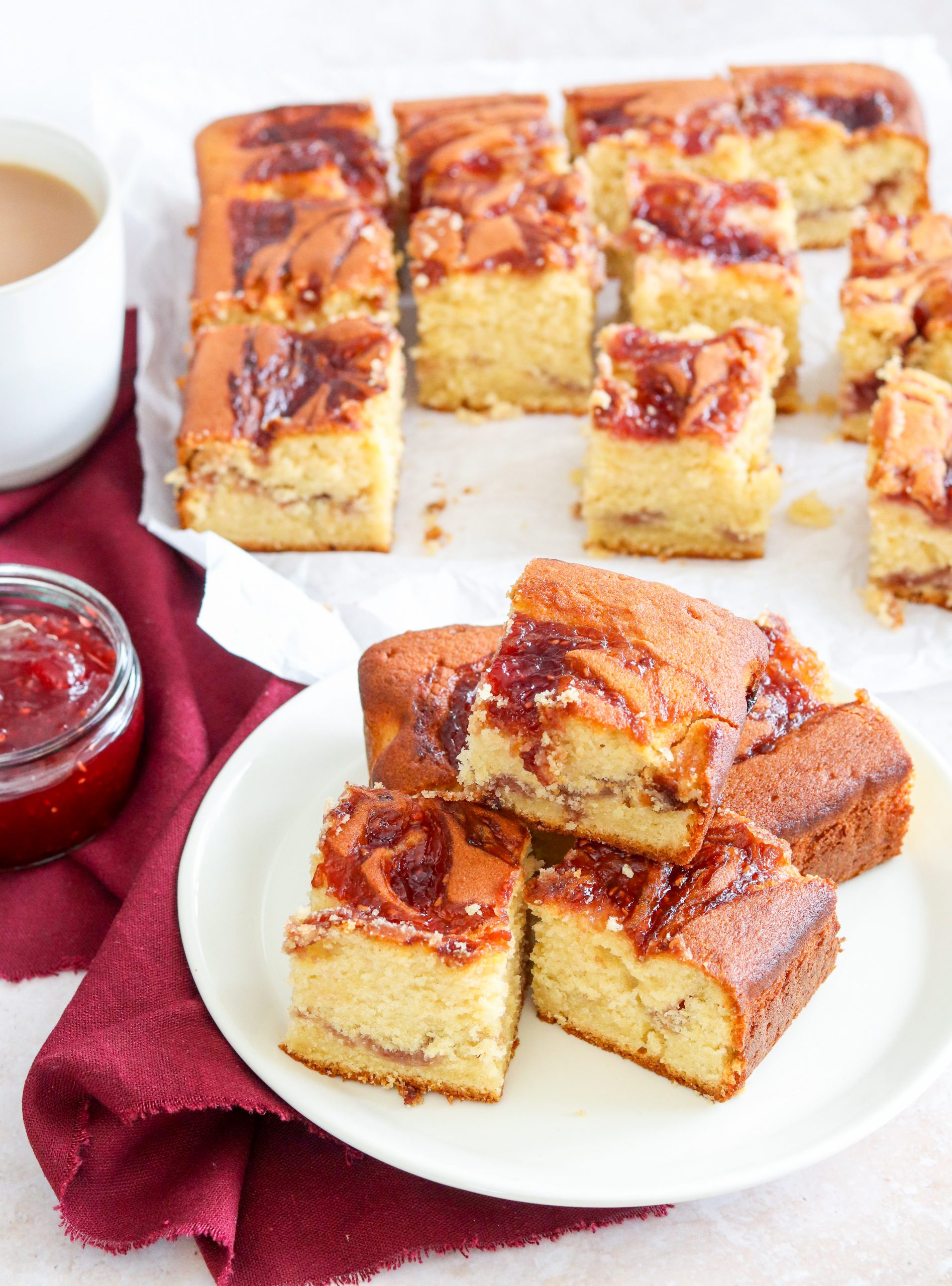 What kind of vanilla should you use?
You can use either vanilla extract or vanilla bean paste. I have used both for this cake, so use whichever you prefer.
Whichever vanilla you decide to use, try to buy a good quality vanilla. If you can, aim to buy pure vanilla extract as this has very few ingredients and doesn't have any additives or preservatives. This is usually brown in colour.
Pure vanilla extract will provide you with a stronger, deeper vanilla flavour which makes the cake even more delicious.
I would avoid using vanilla essence or flavouring if you can. These are more artificial in taste and won't give you as good a flavour.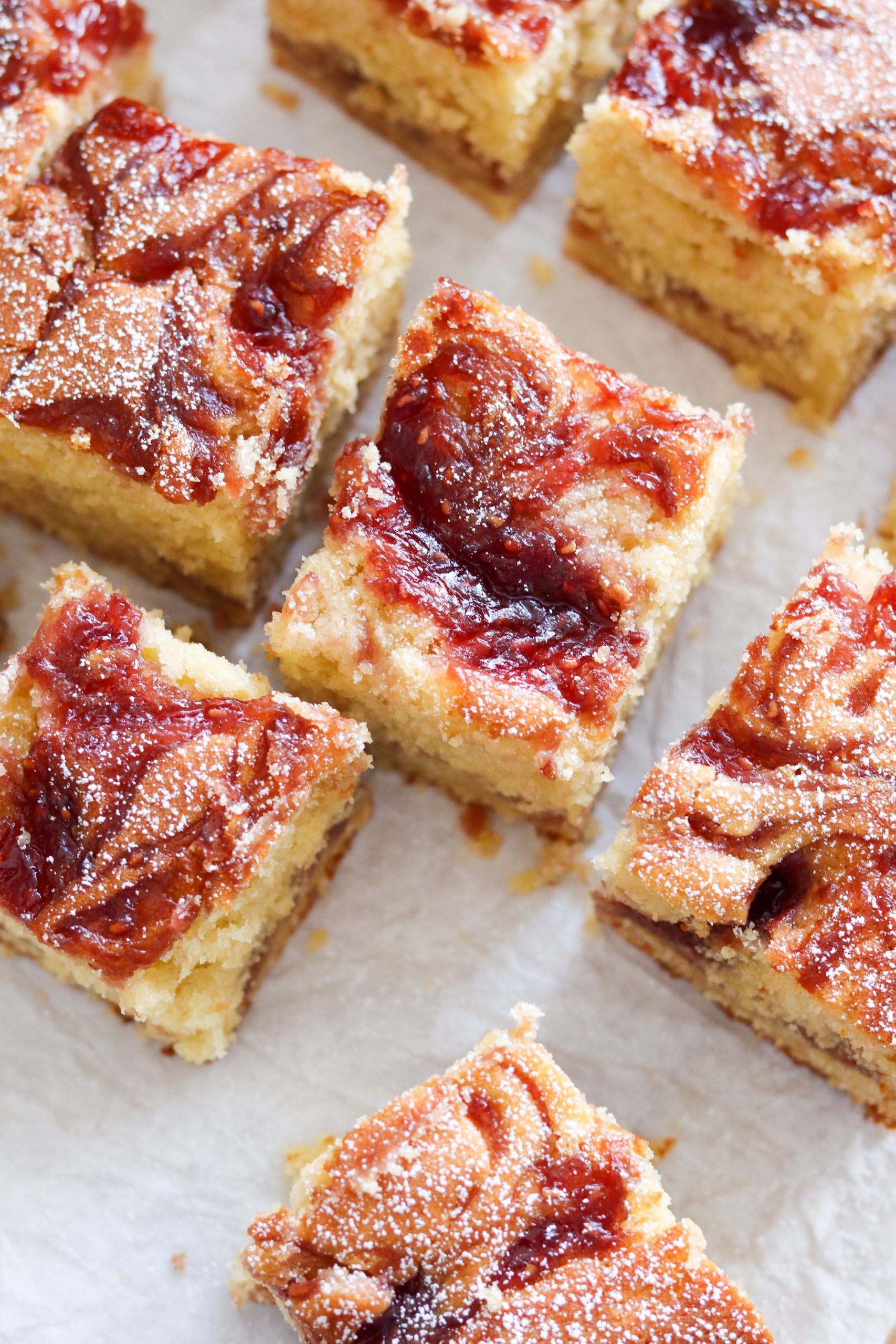 Butter or margarine?
When I am baking cakes that require the fat and sugar to be creamed, I tend to use margarine.
This is because you can use it straight from the fridge and don't have to wait for it to come up to room temperature like you do with butter.
I have been using margarine in my cakes for years now and I have never had any complaints about their texture or flavour. You can absolutely use butter if you prefer but make sure it is unsalted butter.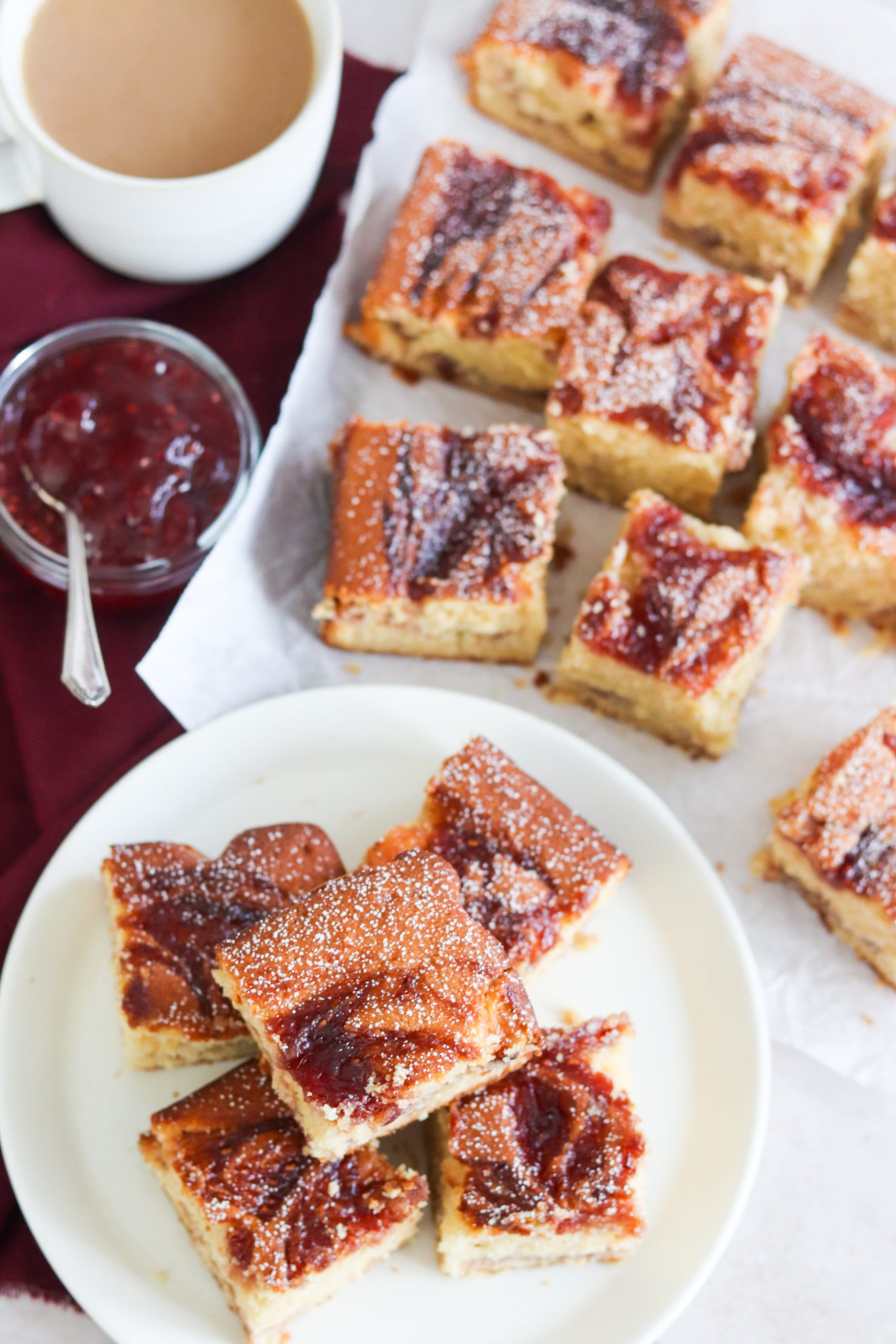 how to swirl the jam in the cake
Jam can be a little firm straight from the jar which isn't the easiest to swirl. I recommend adding it to a small bowl and stirring it a few times to soften it up. This makes it much easier to swirl.
I then drizzle the jam across the sponge before using a skewer or a butter knife to drag it through the cake batter.
Don't worry about dividing the cake batter in half precisely. The jam you add to the middle of the cake doesn't have to be exactly in the middle. It is just to add moistness throughout the cake.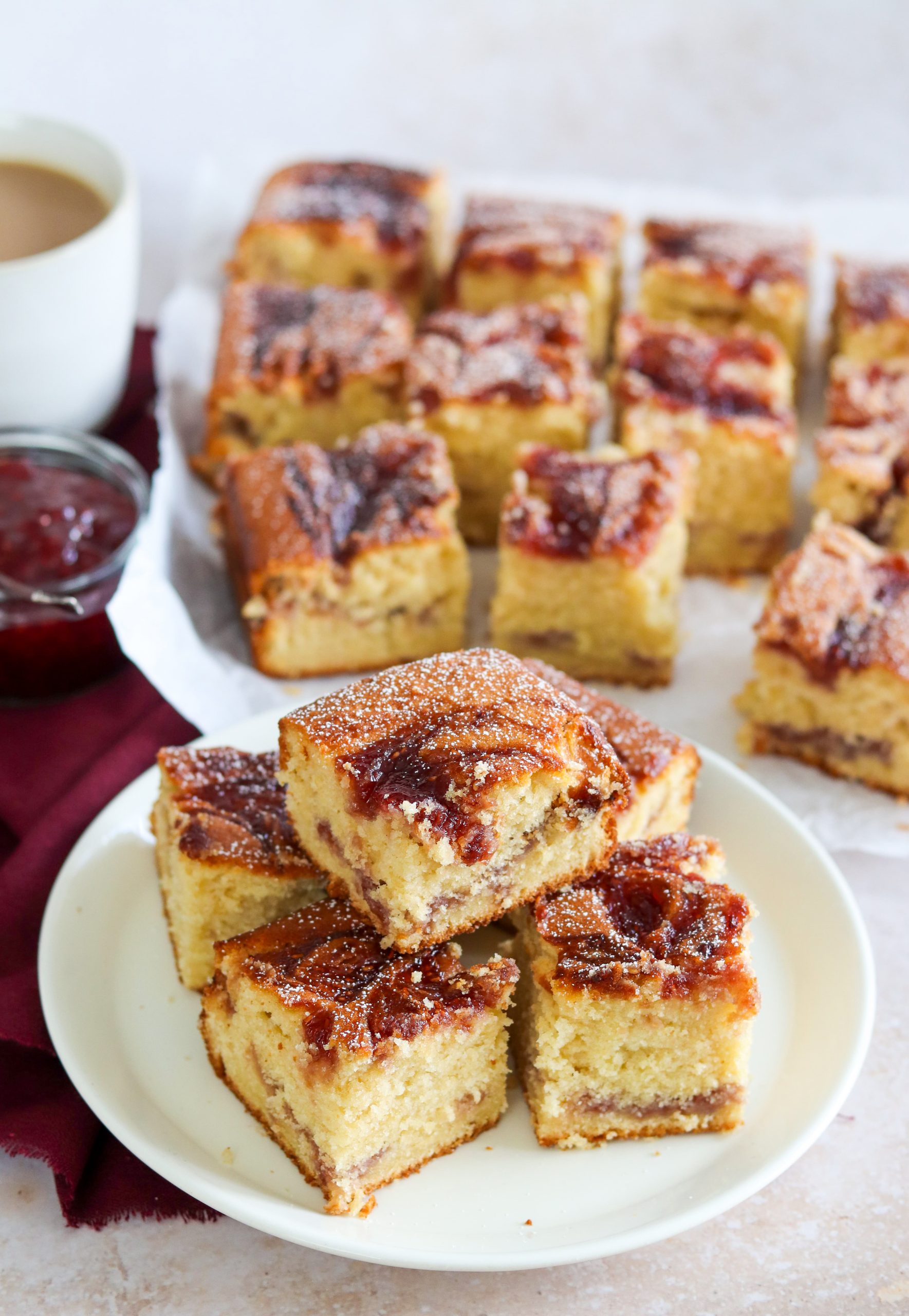 How many people does this cake serve?
As I use a square 20x20cm (8inch) tin, this Raspberry Jam Swirl Cake is quick thick. I tend to cut it into 16 pieces because I think this is a good size for a mid afternoon snack.
You can of course cut the cake into larger pieces. If you cut the cake into nine larger pieces, you could definitely serve this as a dessert.
how long will this raspberry jam swirl cake keep for?
This cake will keep in an airtight container for 3 days.
If you did want it to keep for longer, you can freeze it. Wrap it thoroughly in cling film (plastic wrap) and freeze it for up to three months. You can either freeze the whole cake or small portions.
When you want to defrost the cake, leave it at room temperature for a few hours.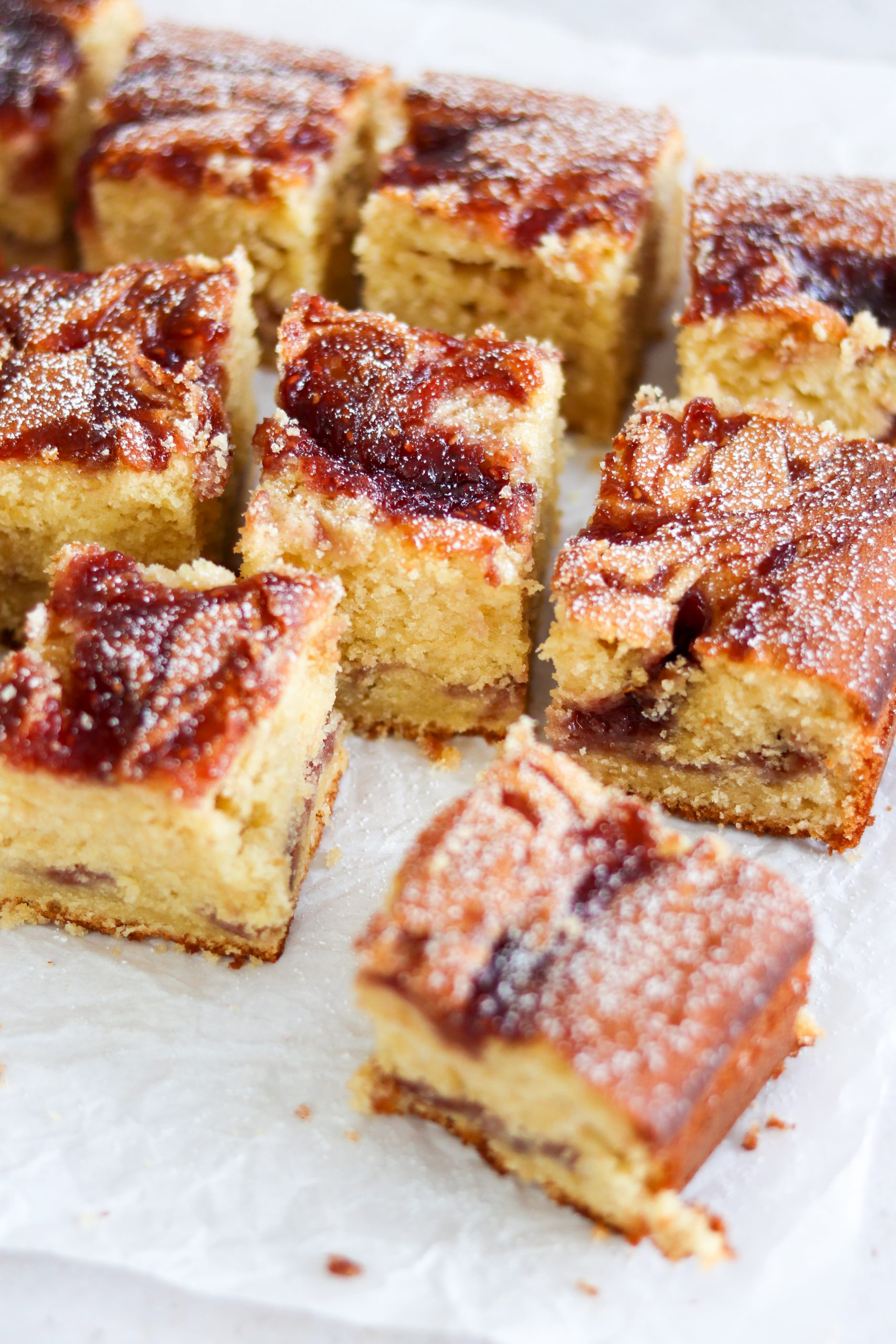 Other recipes you might like
Pin for later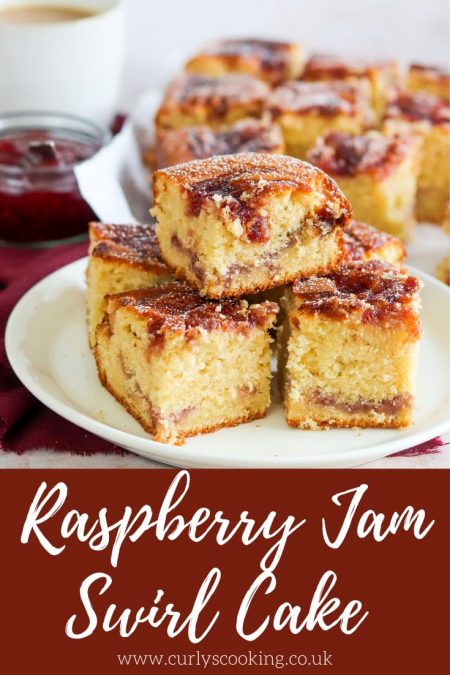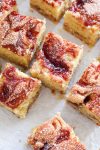 Raspberry Jam Swirl Cake
This Raspberry Jam Swirl Cake not only tastes great but is really easy to make. The raspberry jam and vanilla go really well together in this deliciously moist cake.
Total Time
1
hour
10
minutes
Ingredients
300

g

margarine

265

g

caster sugar

4

eggs

2

tsp

vanilla extract

330

g

plain flour

2

tsp

baking powder

pinch

salt

160

g

low fat yogurt

200

g

raspberry jam
Instructions
Line a 20x20cm tin and preheat the oven to 170ºC (fan assisted or 190ºC non fan)

Cream 300g margarine and 265g caster sugar together until light and fluffy – approx 5 mins

Add 4 eggs and 2 tsp vanilla extract and mix to combine

Add 330g plain flour, 2 tsp baking powder, a pinch of salt and 160g low fat yogurt

Pour half of the cake mix into the prepared tin and smooth out

Using 100g raspberry jam, add dollops on top of the cake and then run a knife or skewer through the jam to create a swirl pattern

Add the rest of the cake mix before smoothing out and repeating the same process as before with another 100g raspberry jam

Bake for 50-55 minutes until a cocktail stick comes out clean

Leave to cool slightly in the tin before allowing to cool completely on a wire rack. Once cooled cut into 16 equal squares
Recipe Notes
Stir the jam in a bowl to make it a runnier consistency before adding to the cake.
Keep the cake in an airtight container for 3 days.
Nutrition Facts
Raspberry Jam Swirl Cake
Amount Per Serving
Calories 334
Calories from Fat 153
% Daily Value*
Fat 17g26%
Cholesterol 42mg14%
Sodium 202mg9%
Potassium 121mg3%
Carbohydrates 42g14%
Protein 4g8%
Vitamin A 740IU15%
Vitamin C 1mg1%
Calcium 51mg5%
Iron 1mg6%
* Percent Daily Values are based on a 2000 calorie diet.