Summer is all about salads so having a tasty dressing is essential. This Honey & Mustard Dressing is delicious drizzled over so many salads and is really easy to make.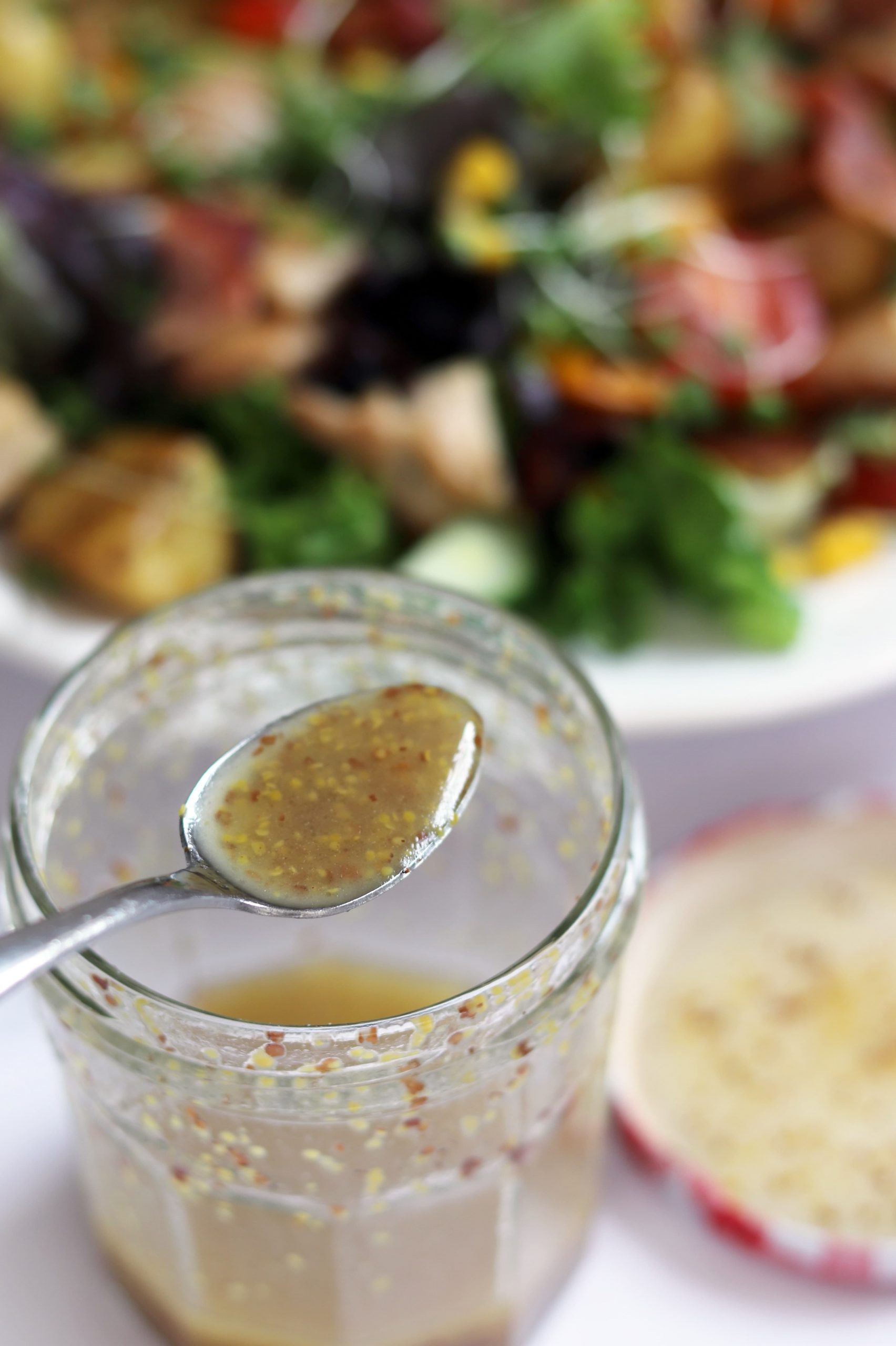 Who doesn't love a salad in the summer?
When the weather is warm we find ourselves craving lighter and fresher dishes that take minimal effort. But every tasty salad needs an equally tasty dressing in my opinion!
A good salad dressing can elevate even the most simple salad and turn it into something really tasty.
Why not just use a shop bought dressing?
Despite having the best of intentions, sometimes shop bought salad dressings are packed full of fat which isn't great. They also tend to contain preservatives and other things which bring no nutritional benefits.
By making dressings yourself, you know exactly what is going into it and can leave out all of the unnecessary 'stuff'.
You can also tweak the dressings to match your tastes which you can't with shop bought dressings.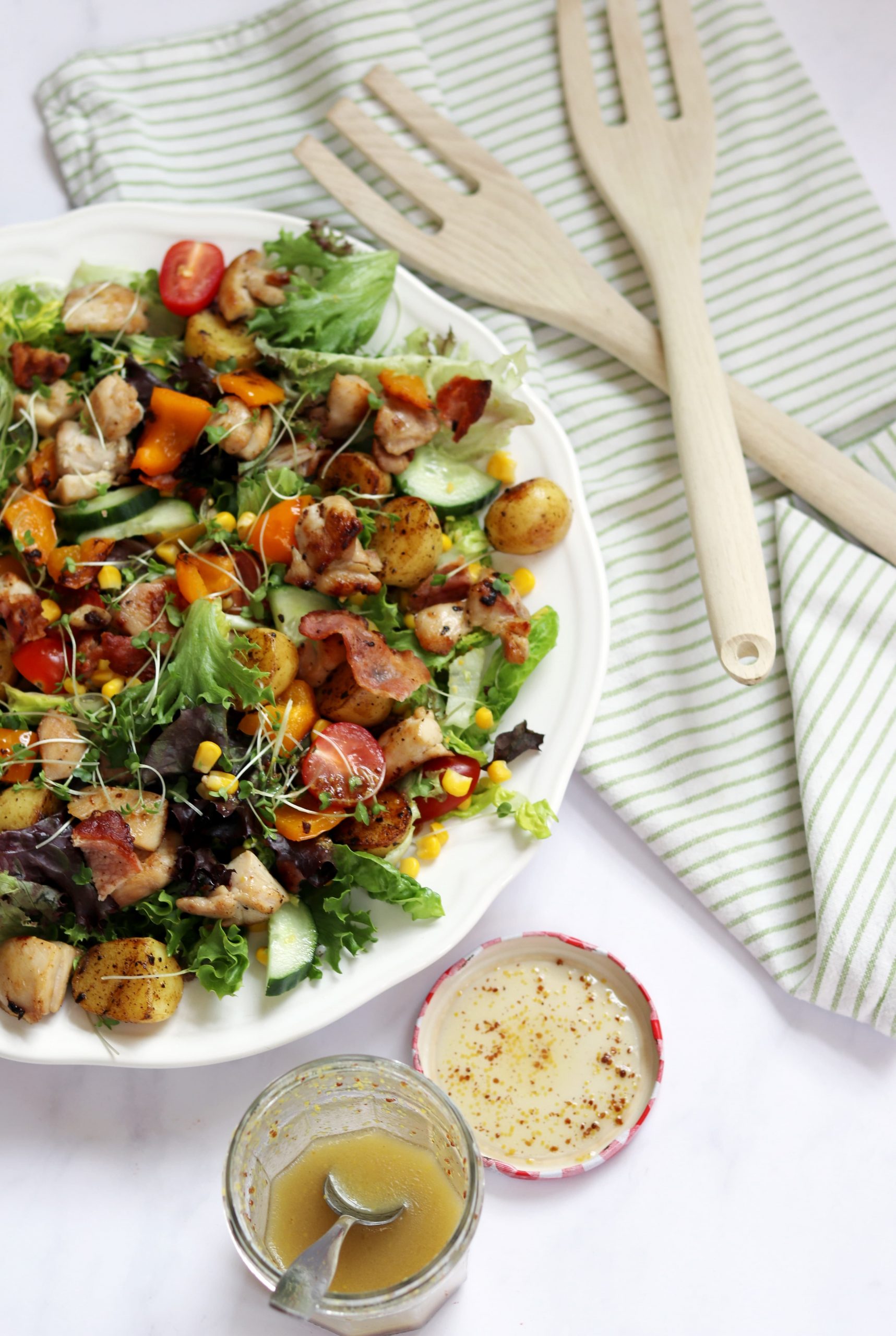 Salad dressings are so quick and easy to make
Making your own salad dressing couldn't be easier.
It is literally a case of adding the ingredients to a jar and shaking them up; anyone can make this.
Within five minutes you can have your very own salad dressing without any hidden, unnecessary ingredients.
This Honey & Mustard Dressing would go so well with a number of salads. One of my favourite salads to drizzle this over is my Simple Chicken & Bacon Salad.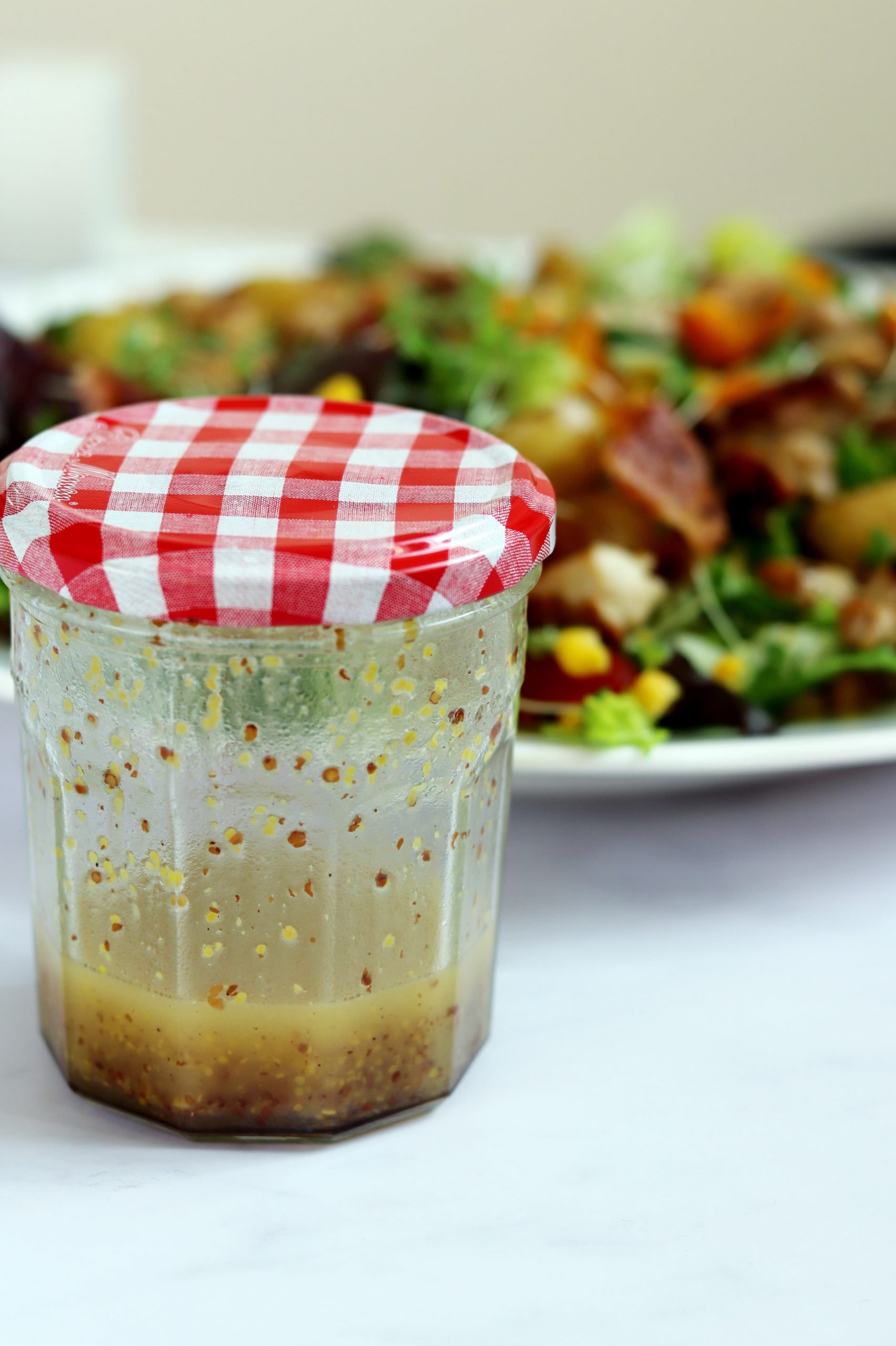 Olive oil provides healthy fat to your diet
This Honey & Mustard Dressing may not be low in calories, but the olive oil provides healthy fats. This fat is monounsaturated fat which is often referred to as a healthy fat.
Although as with all fats, it should still be consumed in moderation; it will offer more benefits than shop bought dressings can.
Which olive oil is best to use for salad dressings?
When it comes to salad dressings, extra virgin olive oil is your best option. As you aren't cooking with it, you can appreciate the delicate flavours more.
However if you don't have extra virgin olive oil, you can use a good quality olive oil. The mustard provides has quite a strong taste so you won't miss the extra virgin olive oil too much.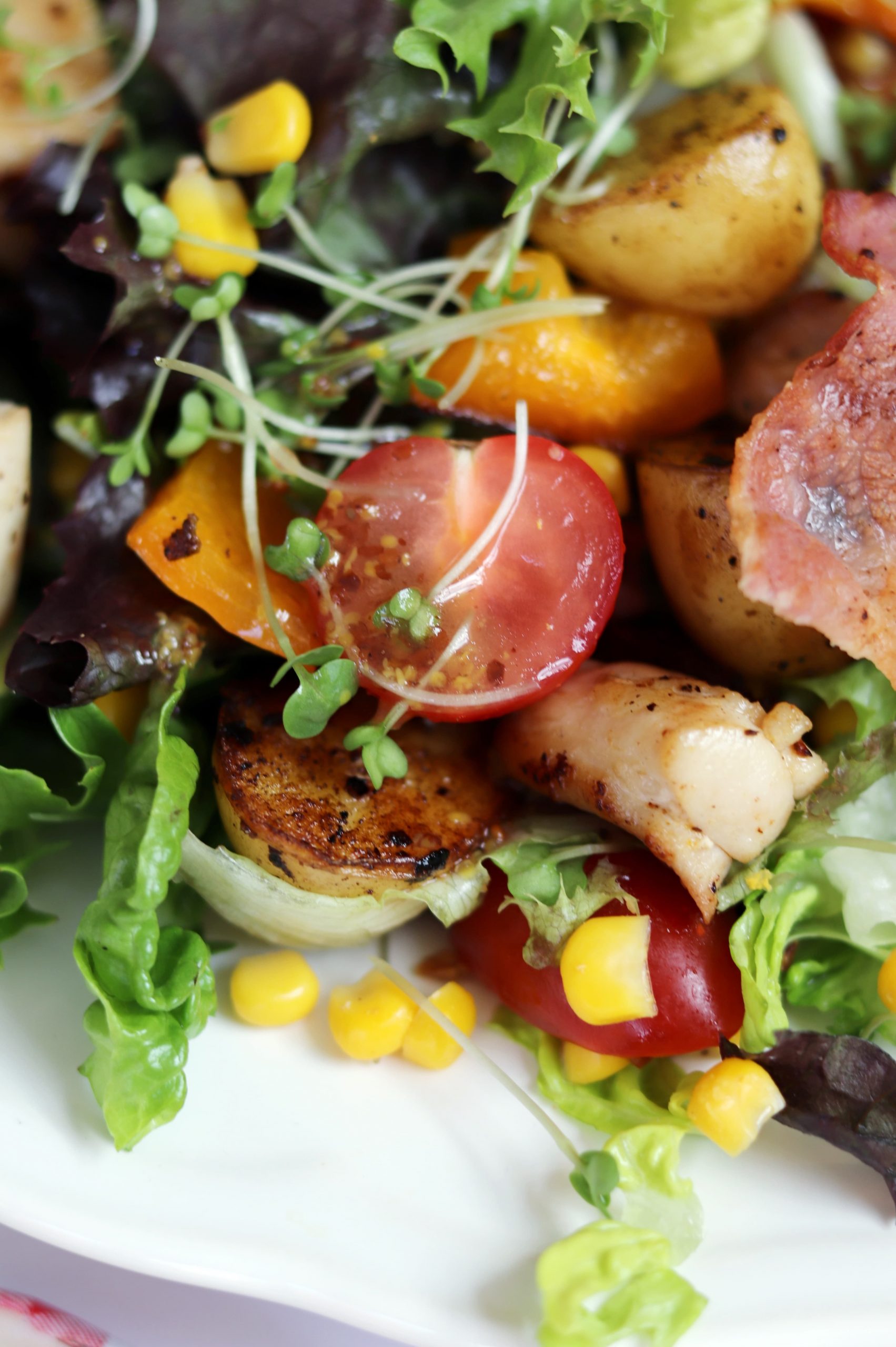 What is whole grain mustard?
Whole grain mustard is mustard that has been ground just enough to form a paste, but not enough to fully break down the mustard seeds. It has a thick, coarse texture unlike other types of mustard.
When making whole grain mustard, wine is used instead of vinegar that is used in other types of mustard. The seeds used are brown and black instead of the yellow ones commonly used in other mustard.
Whole grain mustard is my favourite mustard to use in cooking. Have a look at some other recipes using whole grain mustard:
Can I use a different mustard?
If you don't have whole grain mustard, I would recommend using Dijon mustard. Start by adding half a tablespoon and taste. Add more if you would like a stronger mustard flavour.
Dijon mustard would make the dressing more emulsified and therefore creamier. You wouldn't have the lovely mustard seeds however.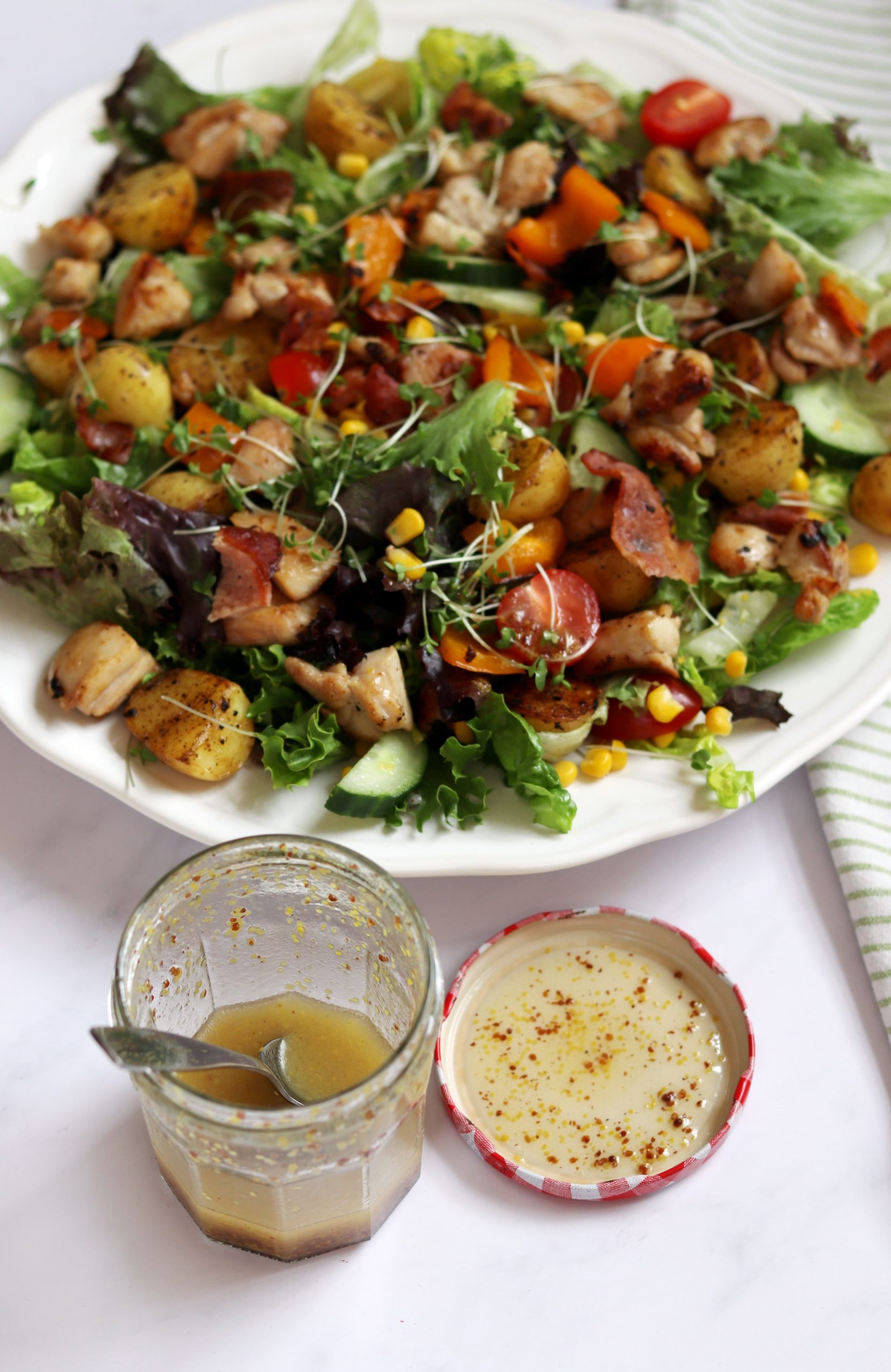 How is best to mix salad dressings?
My preferred way of making salad dressings is in an old jam jar. Once I've finished the jam, I wash out the jars and keep them for a number of different things.
Making salad dressings is the main one though!
What is really great about using a jam jar is that you can make the salad dressing in them and then store any leftovers in them in the fridge.
I add all of the dressing ingredients to the jar and make sure the lid is on tightly. Then give it a good old shake. Hey presto – there's your dressing!
How long can I keep this Honey & Mustard Dressing for?
If you haven't used all of this dressing, keep it in the jar in the fridge. It will keep for 2-3 days.
Make sure you give it another quick shake before using it. This is because the oil is likely to separate slightly, but this is nothing a quick shake won't fix!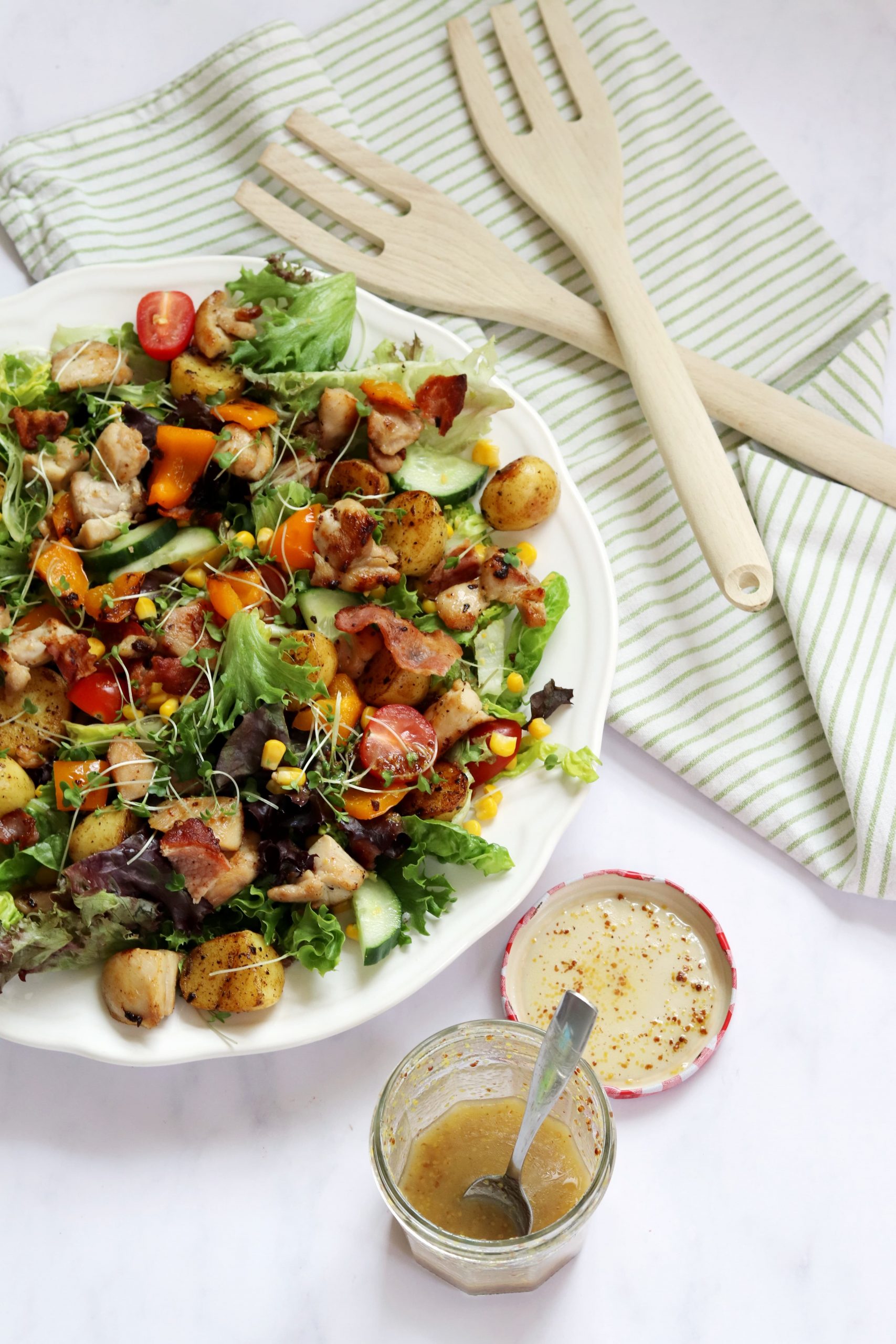 other recipes you might like
Pin for later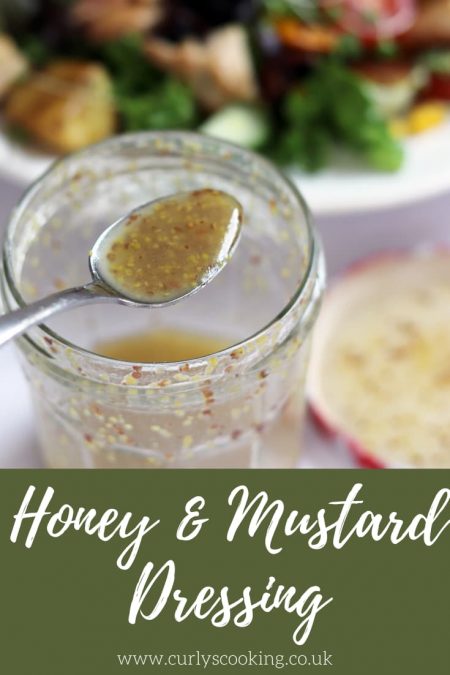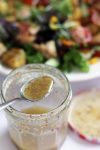 Honey & Mustard Dressing
Summer is all about salads so having a tasty dressing is essential. This Honey & Mustard Dressing is delicious drizzled over so many salads and is so easy to make.
Ingredients
4

tbsp

olive oil

2

tbsp

runny honey

2

tbsp

cider vinegar

pinch

sea salt

1

tbsp

wholegrain mustard

(heaped)
Instructions
Add all of the ingredients to a jar and shake to mix

Pour straight over your salad. Store in the fridge for 2-3 days shaking again before using
Nutrition Facts
Honey & Mustard Dressing
Amount Per Serving
Calories 159
Calories from Fat 126
% Daily Value*
Fat 14g22%
Sodium 43mg2%
Carbohydrates 8g3%
Iron 0.1mg1%
* Percent Daily Values are based on a 2000 calorie diet.