Everyone has heard of a Greek Salad but each version is slightly different. This Greek Style Salad is my version of this well known classic – you'll find no olives here!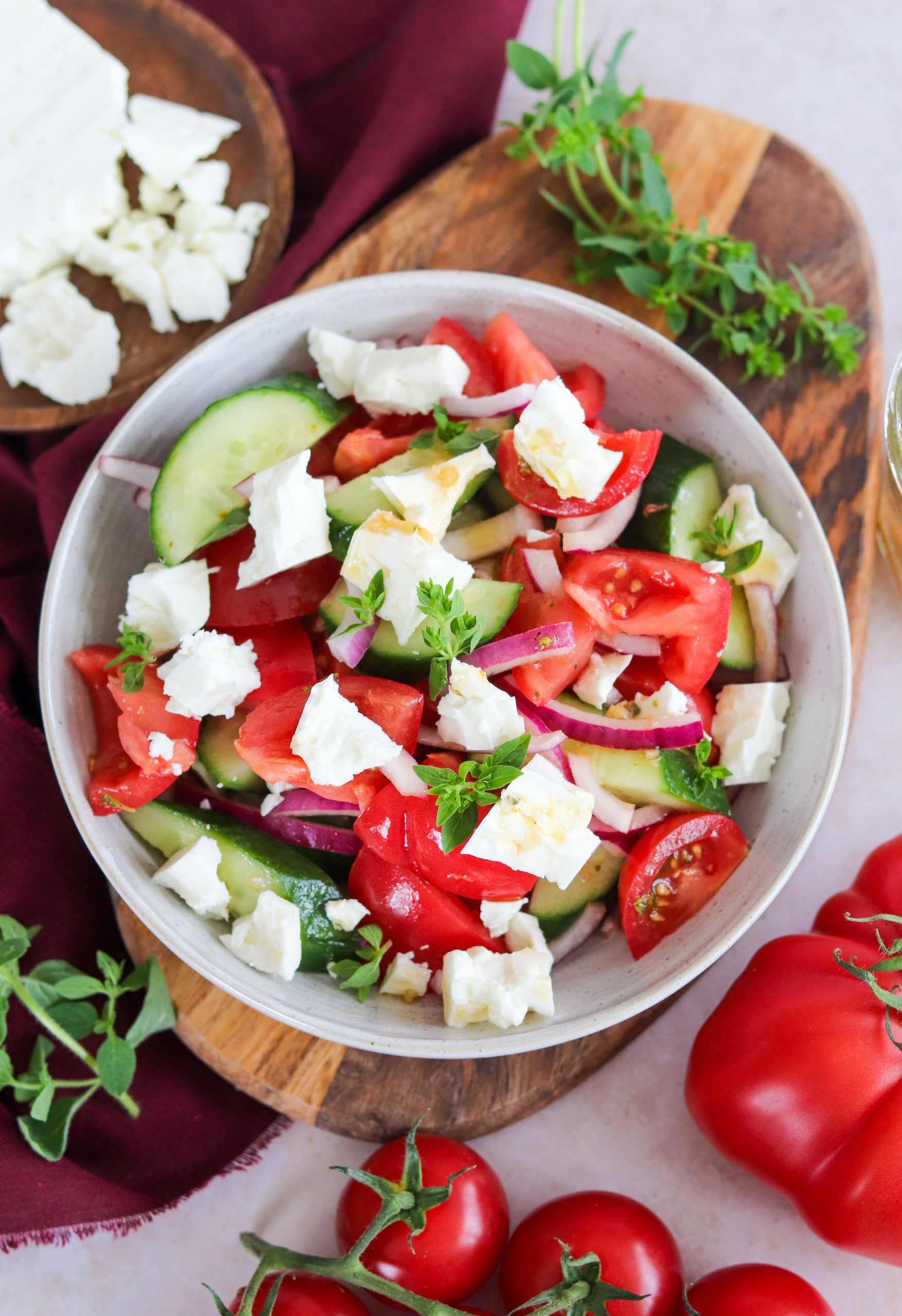 What is a Greek Salad?
A Greek salad or Horiatiki is a very popular and well-known Greek dish.
There are variations throughout Greece, but the basic salad is tomatoes, cucumber, olives and feta.
I have heard that there are a few rules to do with authentic Greek salads:
There should be no lettuce or leafy greens
The salad shouldn't be mixed before serving
Feta shouldn't be chopped or crumbled on top; instead served as the whole block
The cucumber and tomatoes should be in quite large pieces
And I'm sure the list could go on and on!
So now is the time that I should say my Greek Style Salad isn't completely authentic and is more inspired by the classic dish.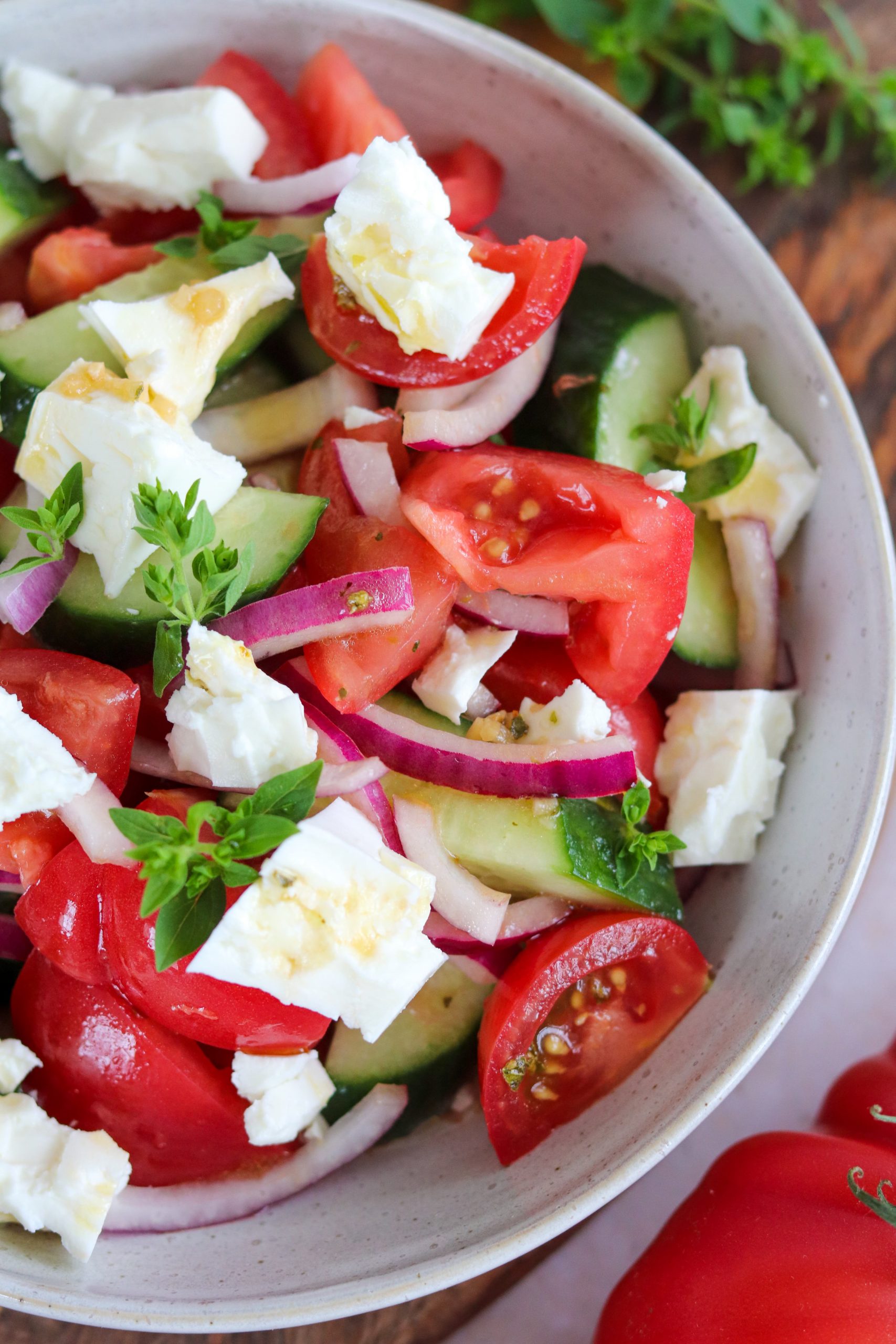 You'll find no olives here!
As I said, my Greek Style Salad isn't a completely authentic salad. And I think that's ok. When you are adapting recipes, you can take the bits you like of them and leave out the ones you don't.
I don't like olives so you will never see me adding them to any recipes! I have tried to like them but I just can't get on with their distinct flavour. If you like olives, feel free to add them to your salad.
I also like to crumble the feta on top. This is because I wouldn't use a whole block of feta for myself and Mr Curly. So I prefer to crumble it on.
I also mix the salad up because I like the ingredients to be evenly dispersed. But don't tell the Greeks that!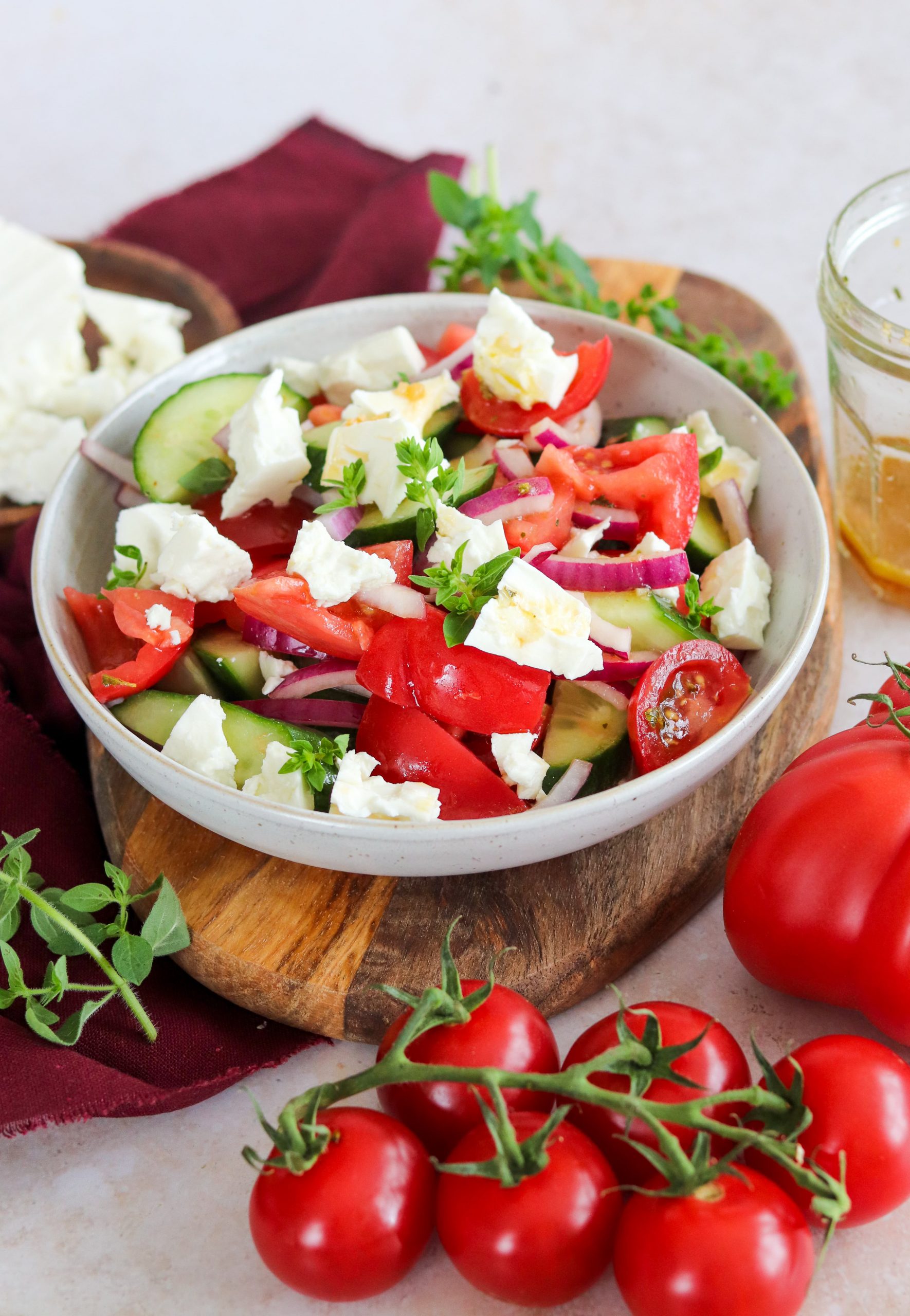 Who doesn't love a salad when the weather is warmer?
Summer is all about salads for me. They're light and fresh and just what I fancy when the weather is hot.
I do frequently make the standard salads with lettuce, cucumber and tomatoes with other varying ingredients added in; but these aren't always the most exciting.
One important thing to remember is that salads don't always involve lettuce. I know that sounds obvious, but something that is sometimes easily forgotten. Not by the Greeks however!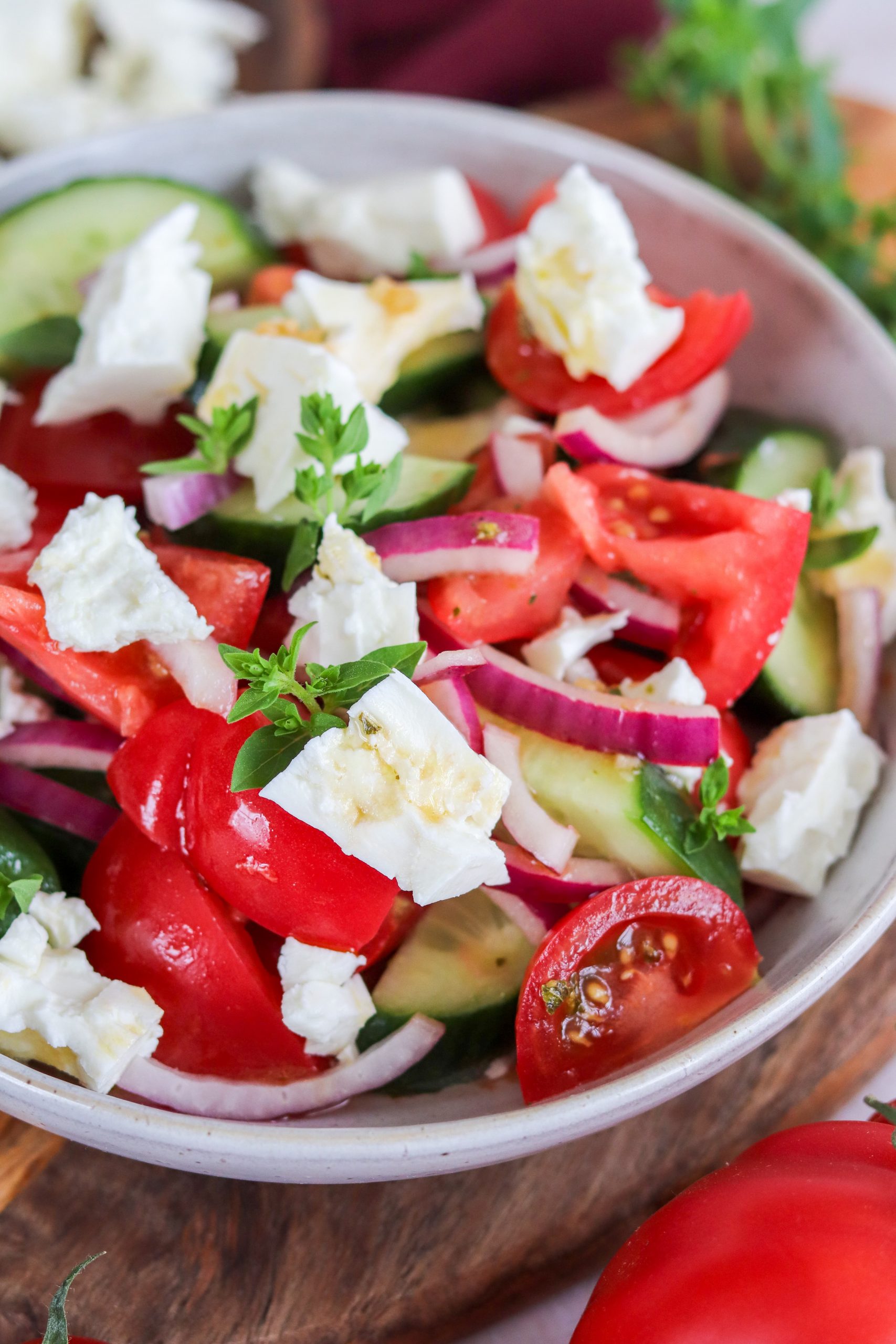 Use fresh, quality ingredients
It might go without saying, but try to use the freshest, best quality ingredients you can for this Greek Style Salad.
You will really notice a difference if you use delicious, ripe tomatoes. I like to use vine tomatoes because I find they are really flavoursome. You can use whichever tomatoes you see that are ripe and delicious.
This is also the recipe to whip out your nicest olive oil from the back of the cupboard. Extra points if it is Greek olive oil! A good quality olive oil will make all the difference to the dressing.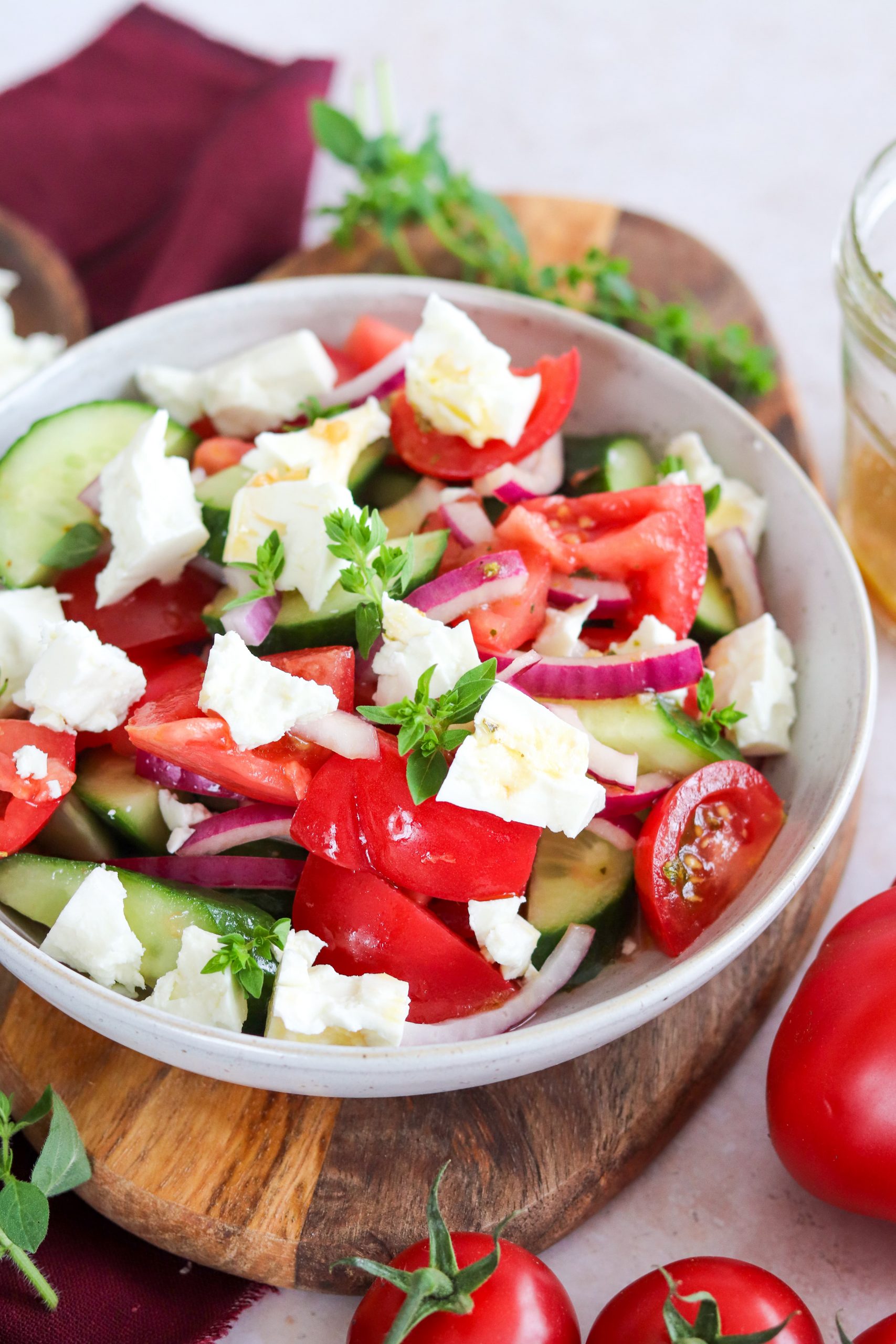 Can I use dried oregano instead of fresh?
Fresh oregano isn't one of the most common herbs in most supermarkets. It is one of my favourites however!
I have a small oregano plant in my garden, when it decides to last the winter! But if you don't have fresh oregano, you can use dried.
If you are using dried oregano, the flavour is a bit stronger so I would use half the amount.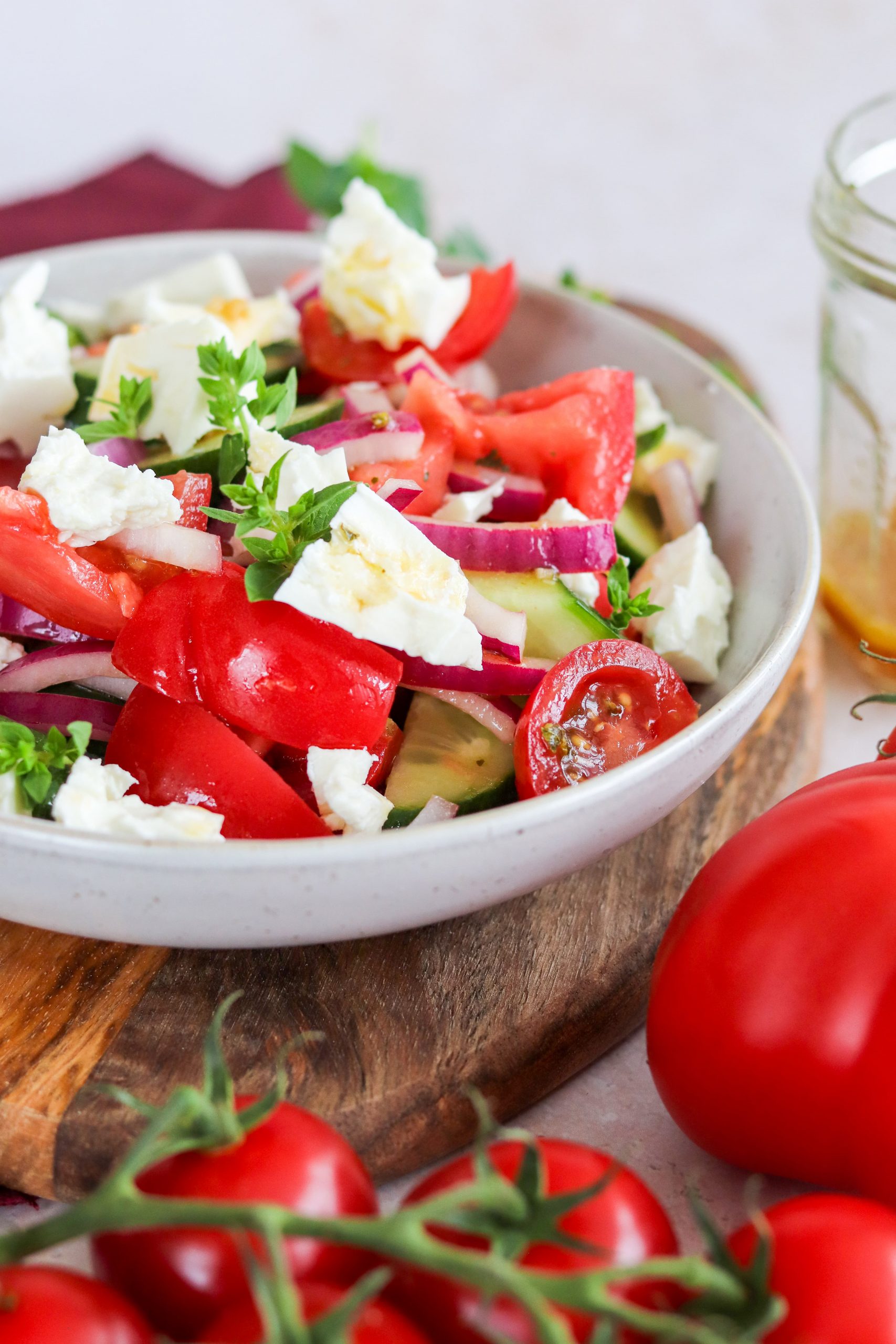 Can this Greek Style Salad be made vegan?
This salad is naturally vegetarian and gluten free and can very easily be made vegan too.
The only ingredient you need to swap is the feta cheese. Vegan feta style cheese seems to be available in most supermarkets so this is an easy swap to make.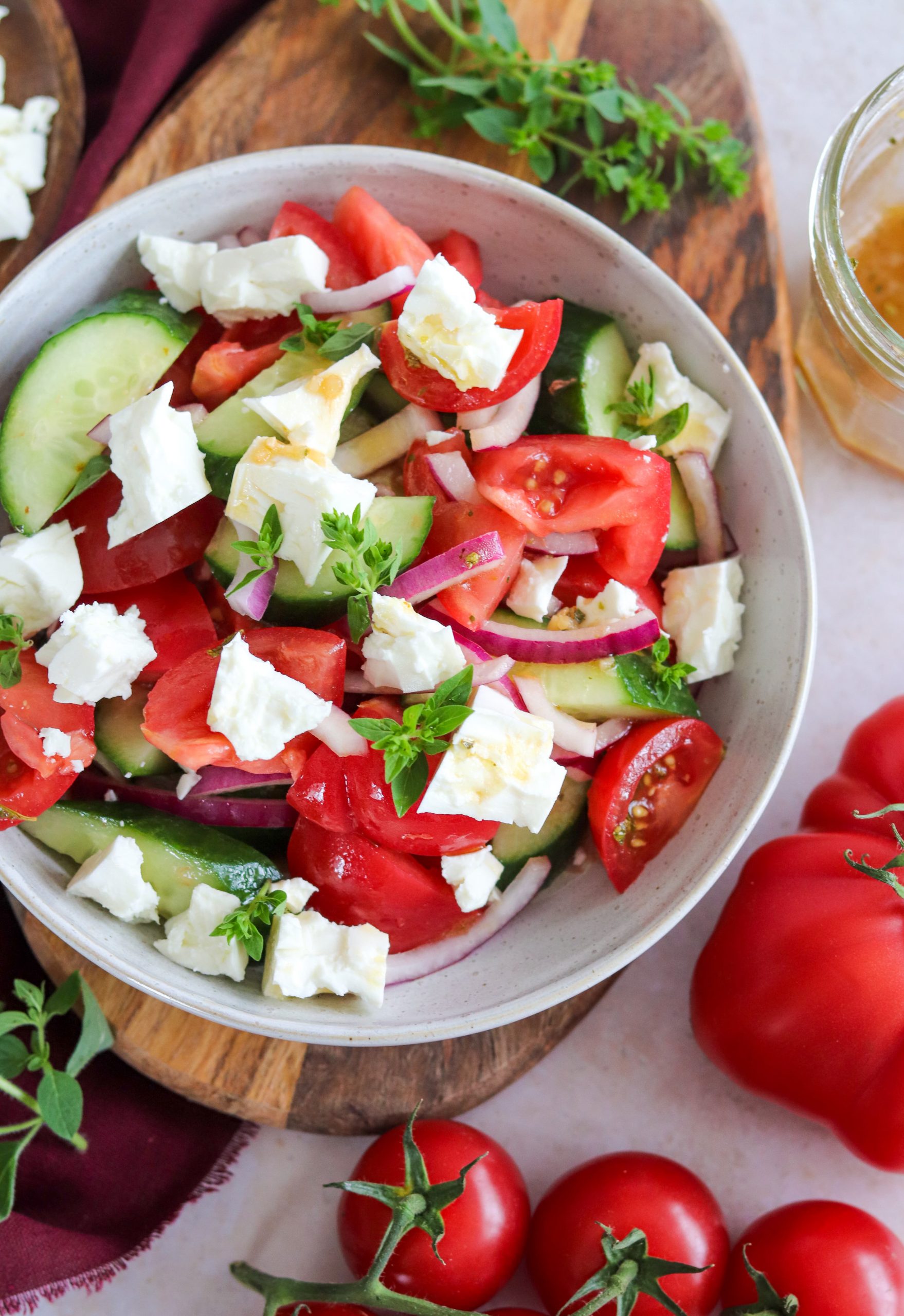 Can this Greek Style Salad be prepared in advance?
You can, but I would recommend keeping everything separate. This is because you don't want the juice from the tomatoes to be released.
If you are going to prepare this salad in advance, don't pour the dressing over it or put the feta on until you are are ready to serve.
Personally, unless you are really pushed for time I would prepare this just before you are going to eat it.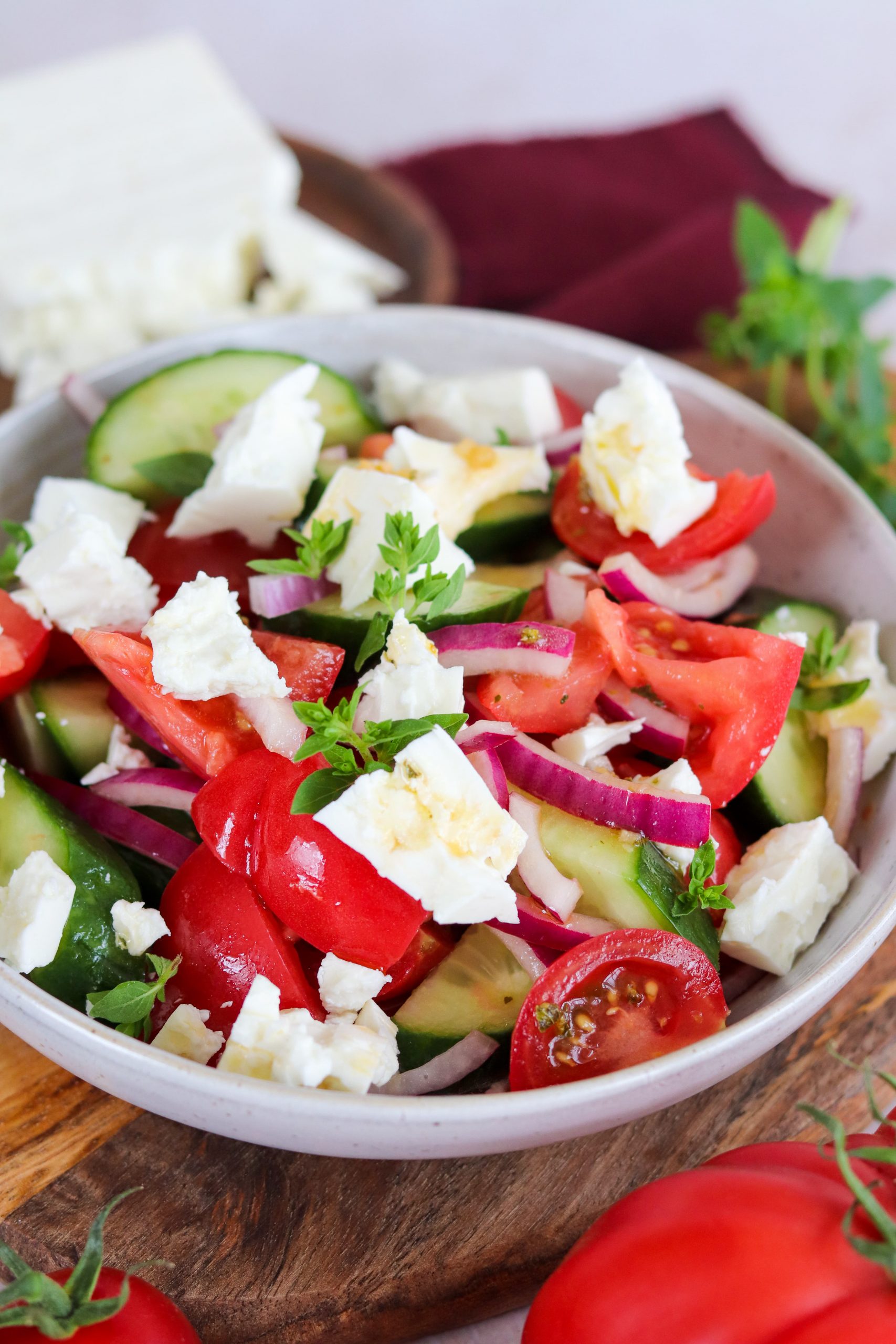 How long does this salad keep?
If you have made more than you are going to eat, this salad will keep for up to three days in the fridge.
The dressing and juice from the tomatoes will meld together and the vegetables may soften slightly. I don't mind this at all and find it quite pleasant!
Personally, I would try to refrain from adding more feta than you plan to eat as this would start to break down in the dressing.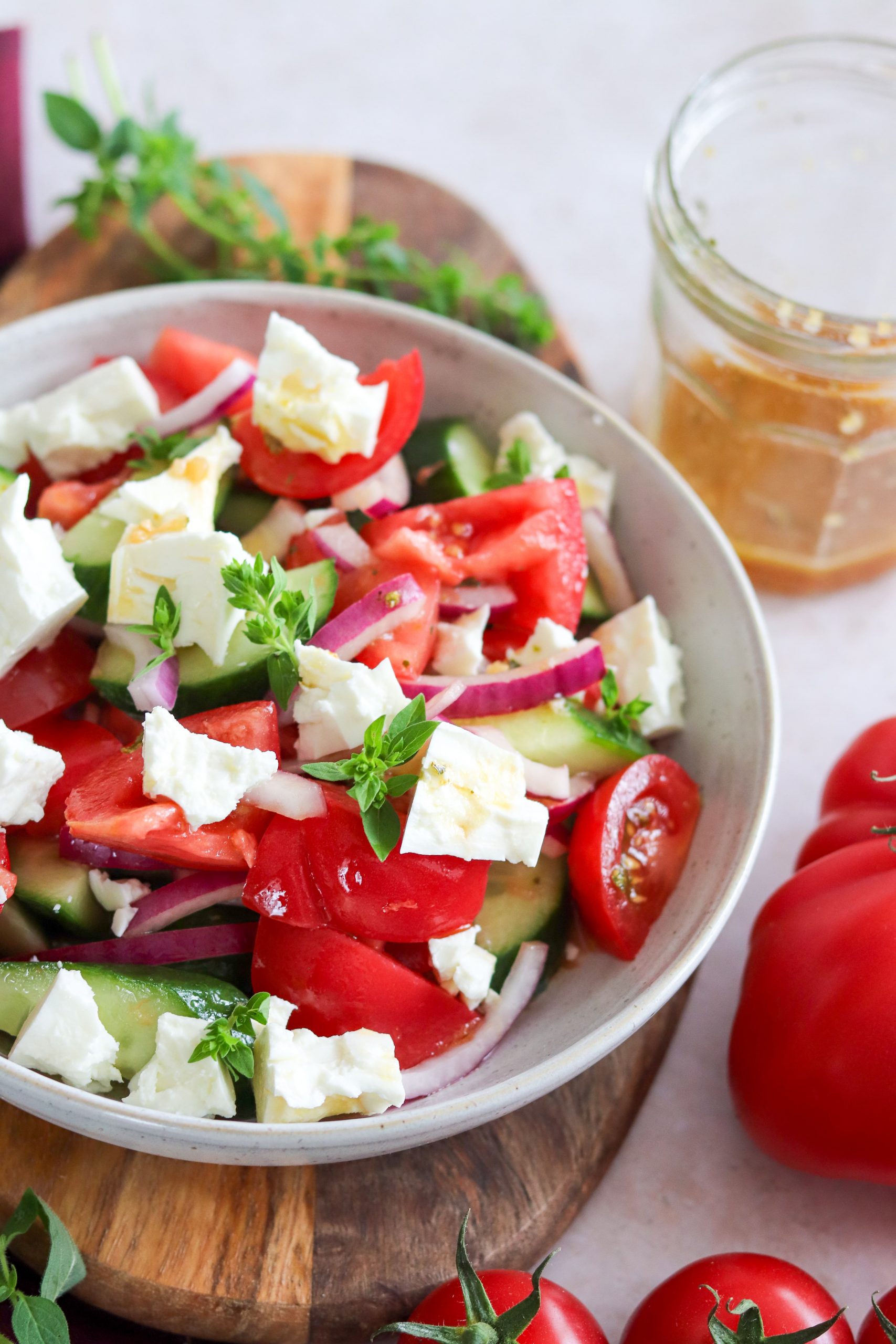 What do you eat with this Greek Style Salad?
It can, and often is eaten as a light meal in itself. If you did want to eat this as a meal, I would suggest it would be suitable for two people to share.
You could make some Easy Flatbreads or Rosemary & Salt Fougasse to eat alongside it to make it more substantial.
This Greek Style Salad also makes a great side dish to a number of meals. It is a great addition to any BBQ or summer spread. It would be delicious with something like my Garlic & Lime Chicken Thighs or Herby Turkey Burgers.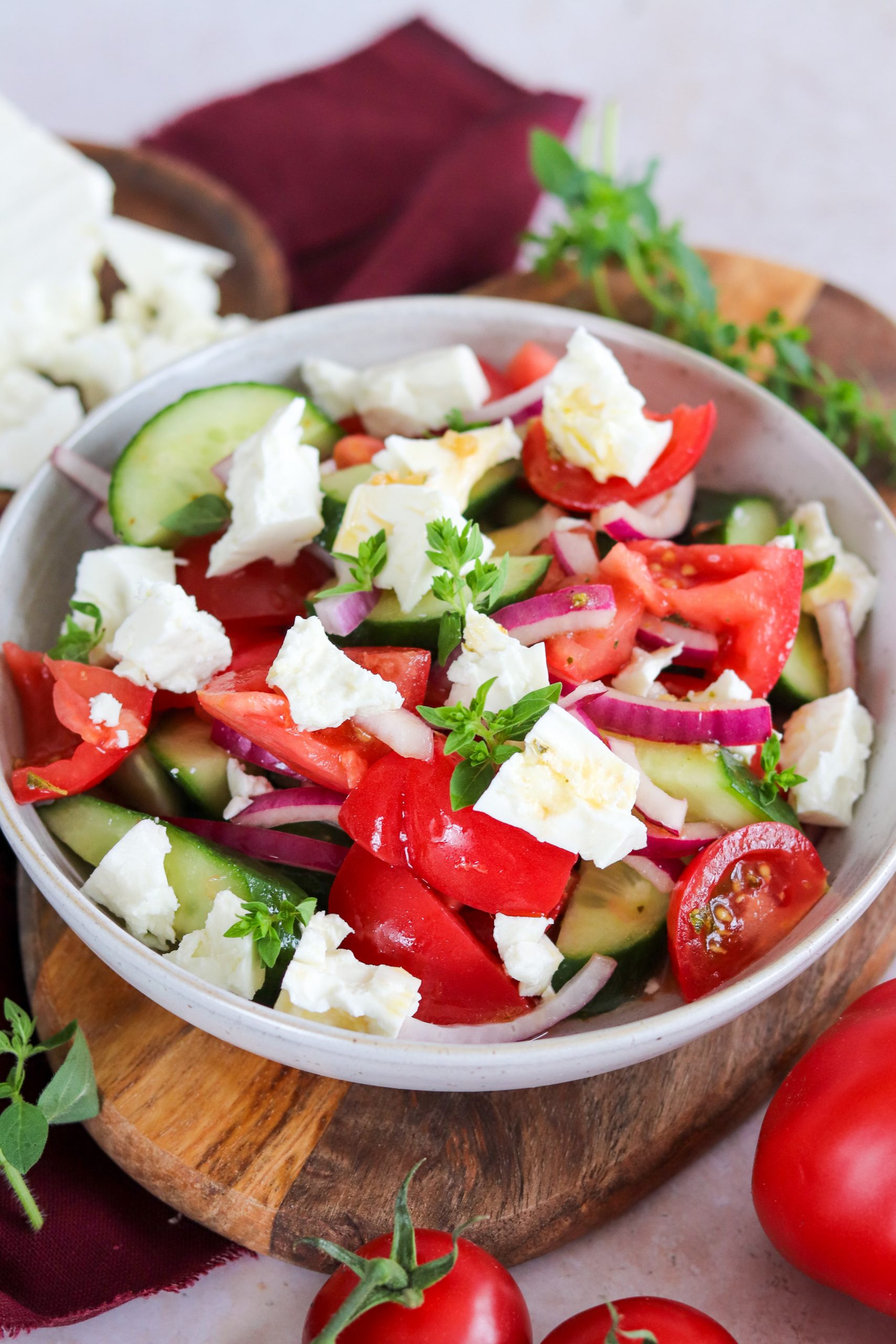 Other recipes you might like
Pin for later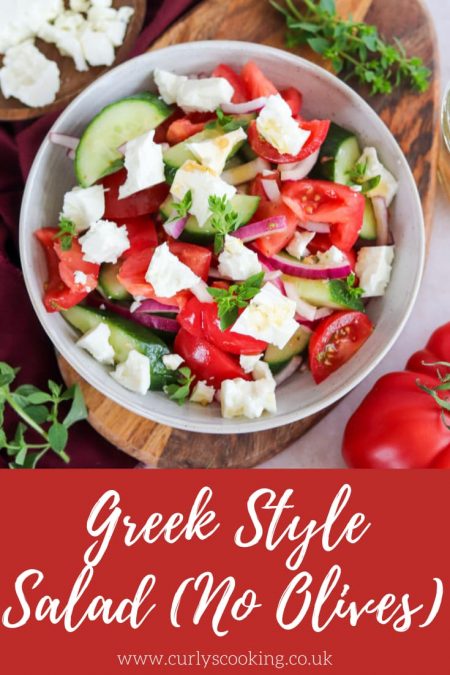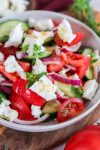 Greek Style Salad (No Olives)
Everyone has heard of a Greek Salad but each version is slightly different. This Greek Style Salad is my version of this well known classic – you'll find no olives here!
Ingredients
300

g

large tomatoes

300

g

cucumber

½

red onion

100

g

feta
Dressing
2

tbsp

olive oil

2

tbsp

red wine vinegar

½

tsp

sea salt

½

clove

garlic

minced

½

tsp

fresh oregano

(¼ tsp dried)
Instructions
Dice 300g tomatoes and 300g cucumber into large chunks and add to a bowl. Thinly slice ½ a red onion and add to the bowl

In a jam jar, add 2 tbsp olive oil, 2 tbsp red wine vinegar, ½ tsp sea salt, ½ clove garlic, ½ tsp fresh oregano and shake to combine

When ready to serve, pour the some of the dressing over the salad and gently stir. Add to your serving dish and crumble 100g feta over
Recipe Notes
Nutritional information is given as a guide only and my vary.
Nutrition Facts
Greek Style Salad (No Olives)
Amount Per Serving
Calories 144
Calories from Fat 108
% Daily Value*
Fat 12g18%
Cholesterol 22mg7%
Sodium 572mg25%
Potassium 137mg4%
Carbohydrates 4g1%
Protein 4g8%
Vitamin A 160IU3%
Vitamin C 3.4mg4%
Calcium 137mg14%
Iron 0.3mg2%
* Percent Daily Values are based on a 2000 calorie diet.