Light and fluffy cupcakes deliciously flavoured with vanilla. You can't go wrong with a good Vanilla Cupcake and that's what this recipe is!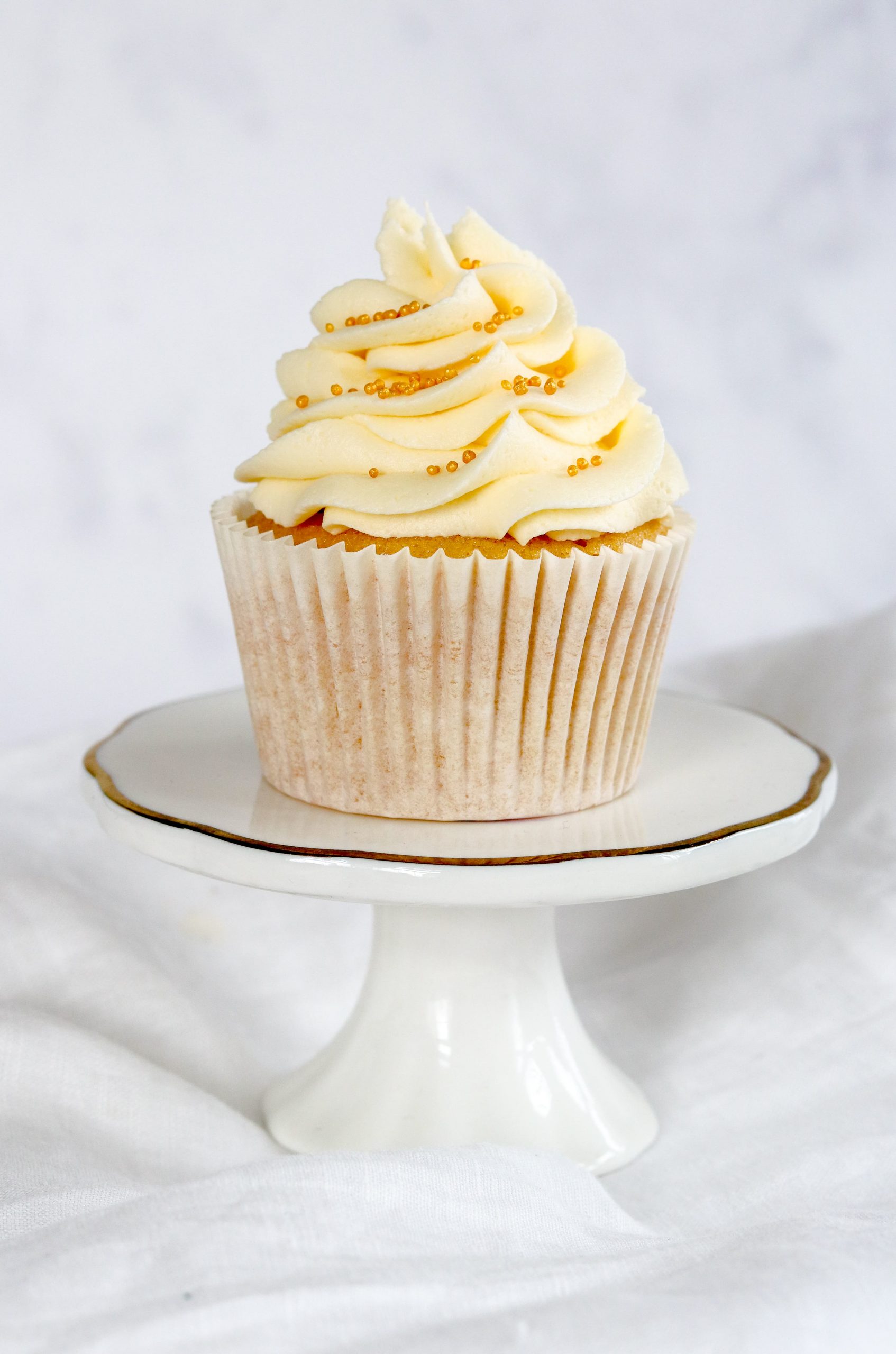 Simple but delicious cupcakes
This recipe is very simple and produces tasty cupcakes every time. Everyone needs a great Vanilla Cupcake recipe in my opinion. These Vanilla Cupcakes are so versatile and they are a fantastic base recipe to have.
As the recipe is easy to follow, it is great for baking beginners but they also make a perfect base cupcake to decorate and create something special.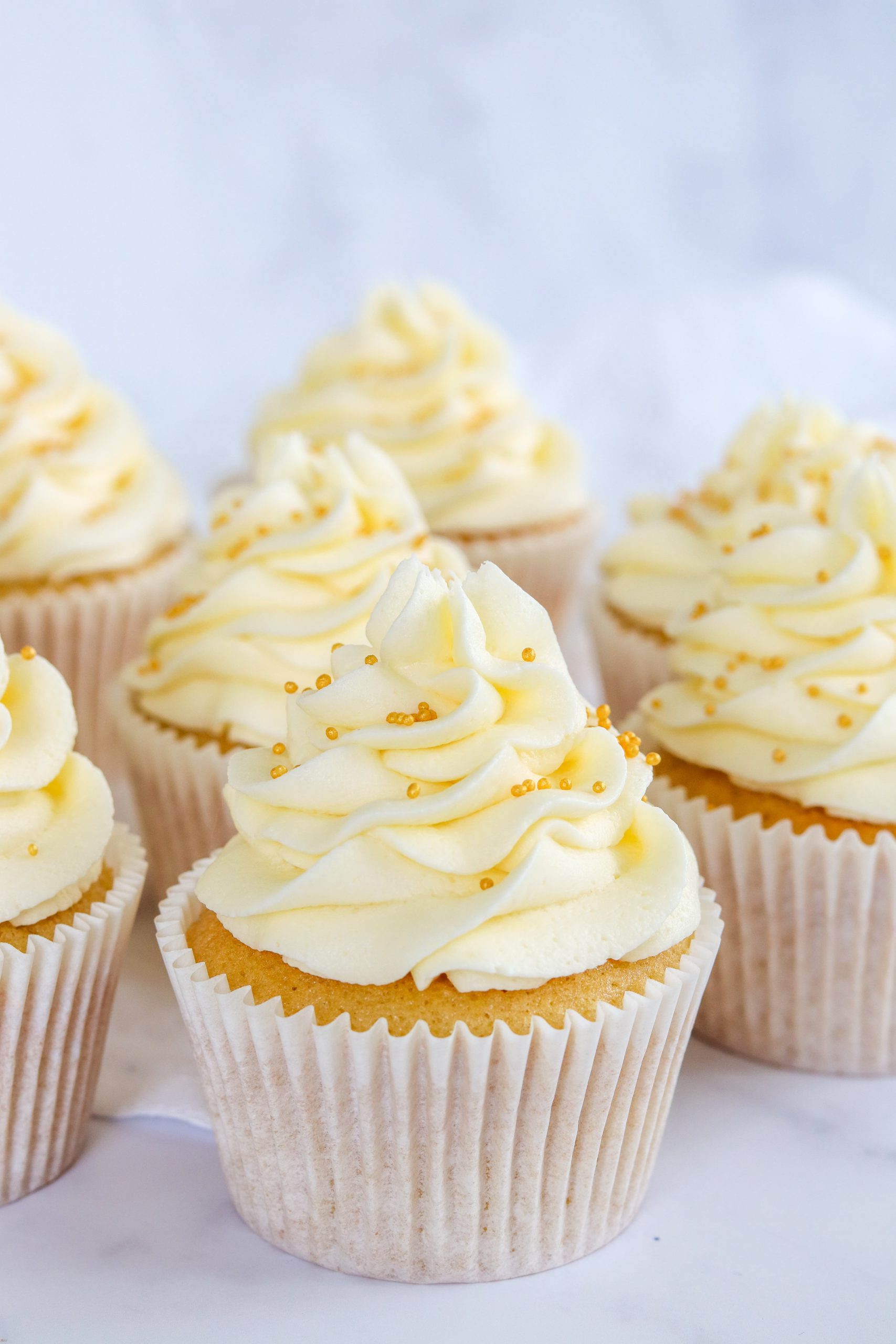 Are these Vanilla Cupcakes easy to adapt?
I have lost count of how many times I have made these cupcakes over the years as they are my go-to cupcake. I haven't met anyone that doesn't like a vanilla cupcake.
They are so easy to adapt to fit any occasion. A very simple way to do this is to use different cupcake cases and sprinkles etc to decorate them with. Another way to customise them is by piping the buttercream differently.
If you wanted to add a but of chocolate to these cupcakes, you could use Chocolate Cream Cheese Frosting instead. Or if buttercream isn't for you, try my Vanilla Cupcakes with Strawberries & Whipped Cream.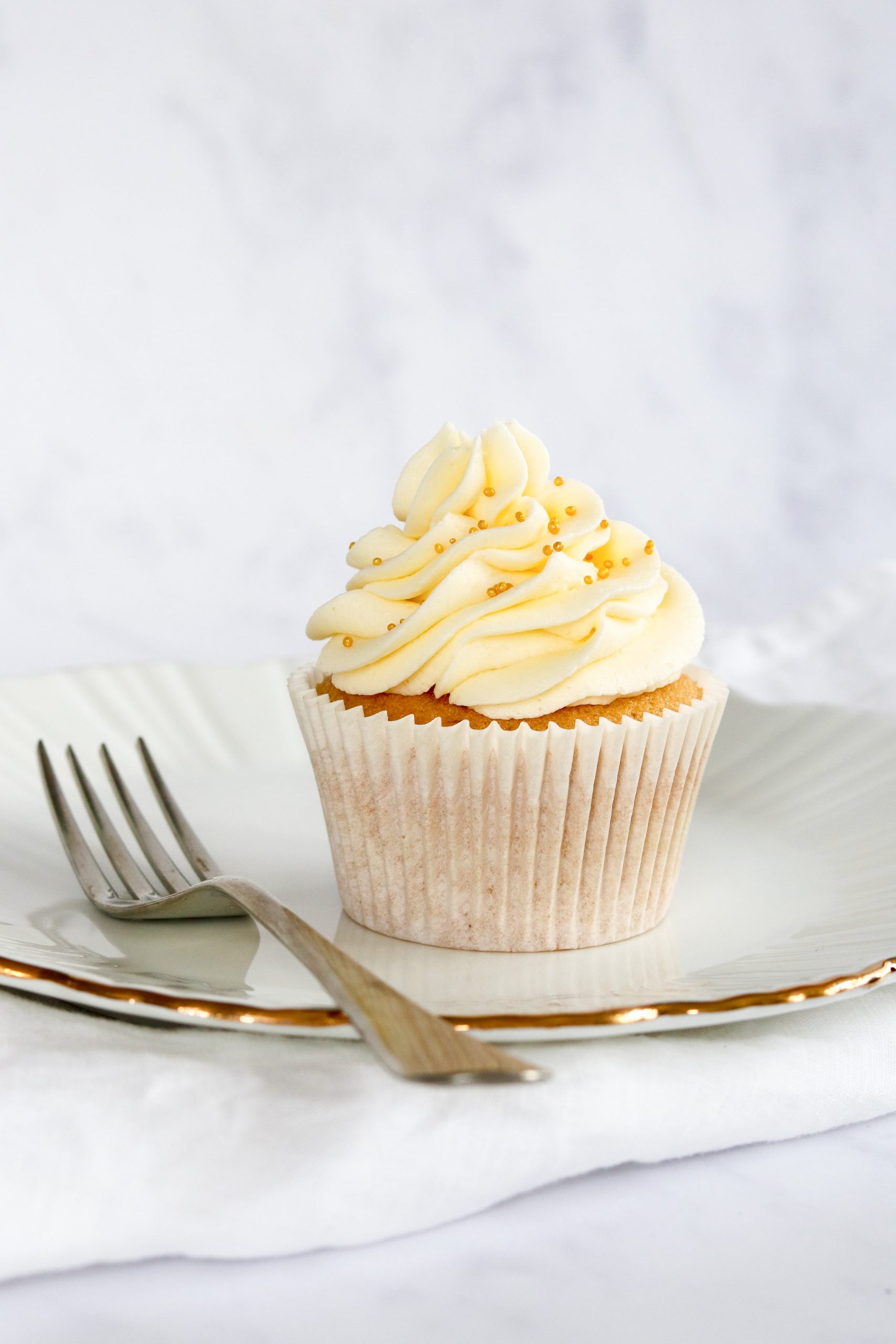 What kind of vanilla should you use?
You can use either vanilla extract or vanilla bean paste, depending on which you prefer. I really like the flavour vanilla bean paste gives the cupcake and I like the little black flecks it leaves in the cupcake.
Whichever vanilla you decide to use, try to buy a good quality vanilla. If you can, aim to buy pure vanilla extract as this has very few ingredients and doesn't have any additives or preservatives. This is usually brown in colour.
Pure vanilla extract will provide you with a stronger, deeper vanilla flavour which makes these cupcakes even more delicious.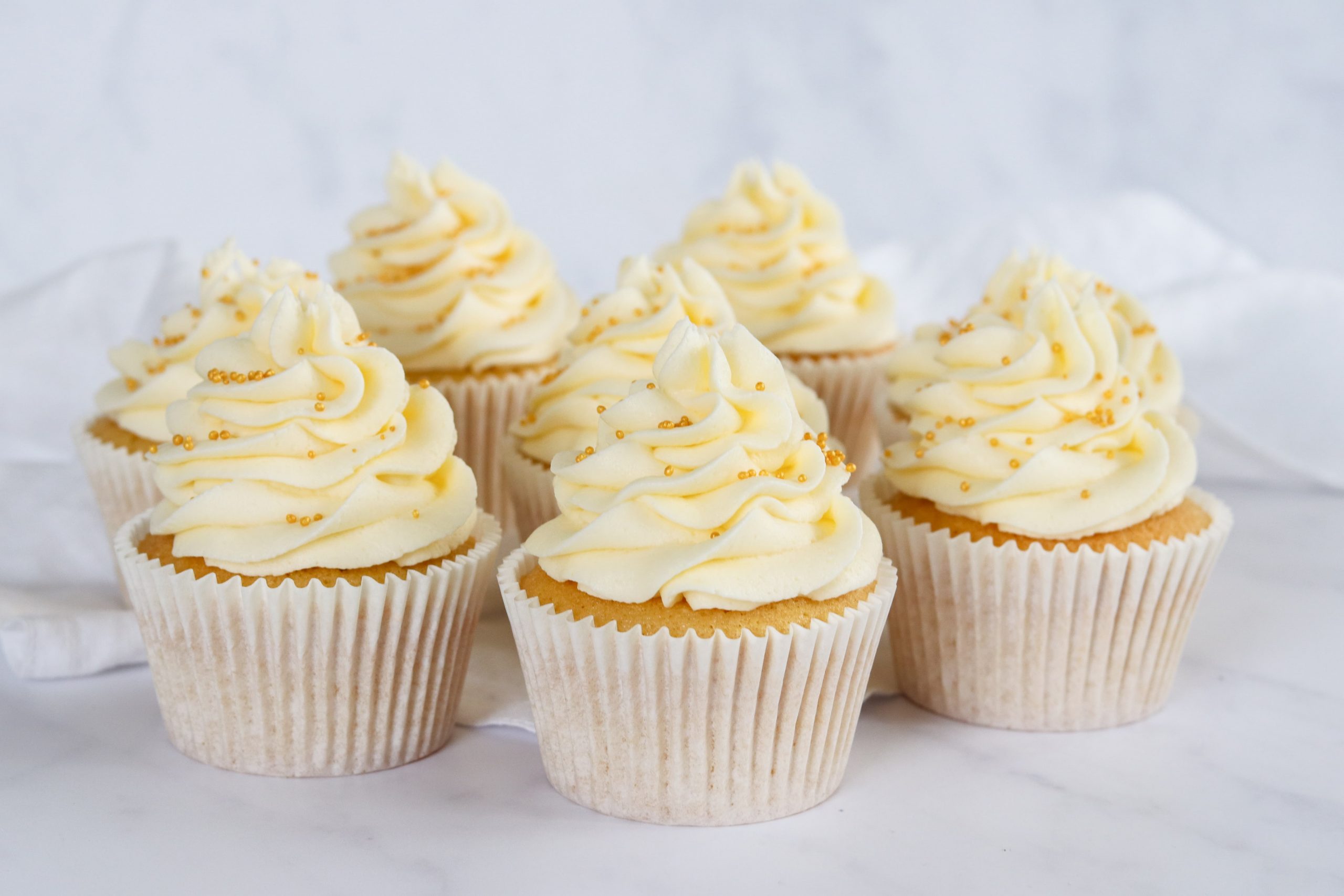 Vanilla bean paste is my favourite to use because of it's delicious flavour, but also because of the small flecks of black it adds to the cake. It is a bit more expensive than vanilla extract however so use which you prefer.
You can also add some vanilla to the buttercream for even more vanilla yummy-ness. Whichever you use will give you a delicious cupcake!
I would avoid using vanilla essence or flavouring if you can. These are more artificial in taste and won't give you as good a flavour.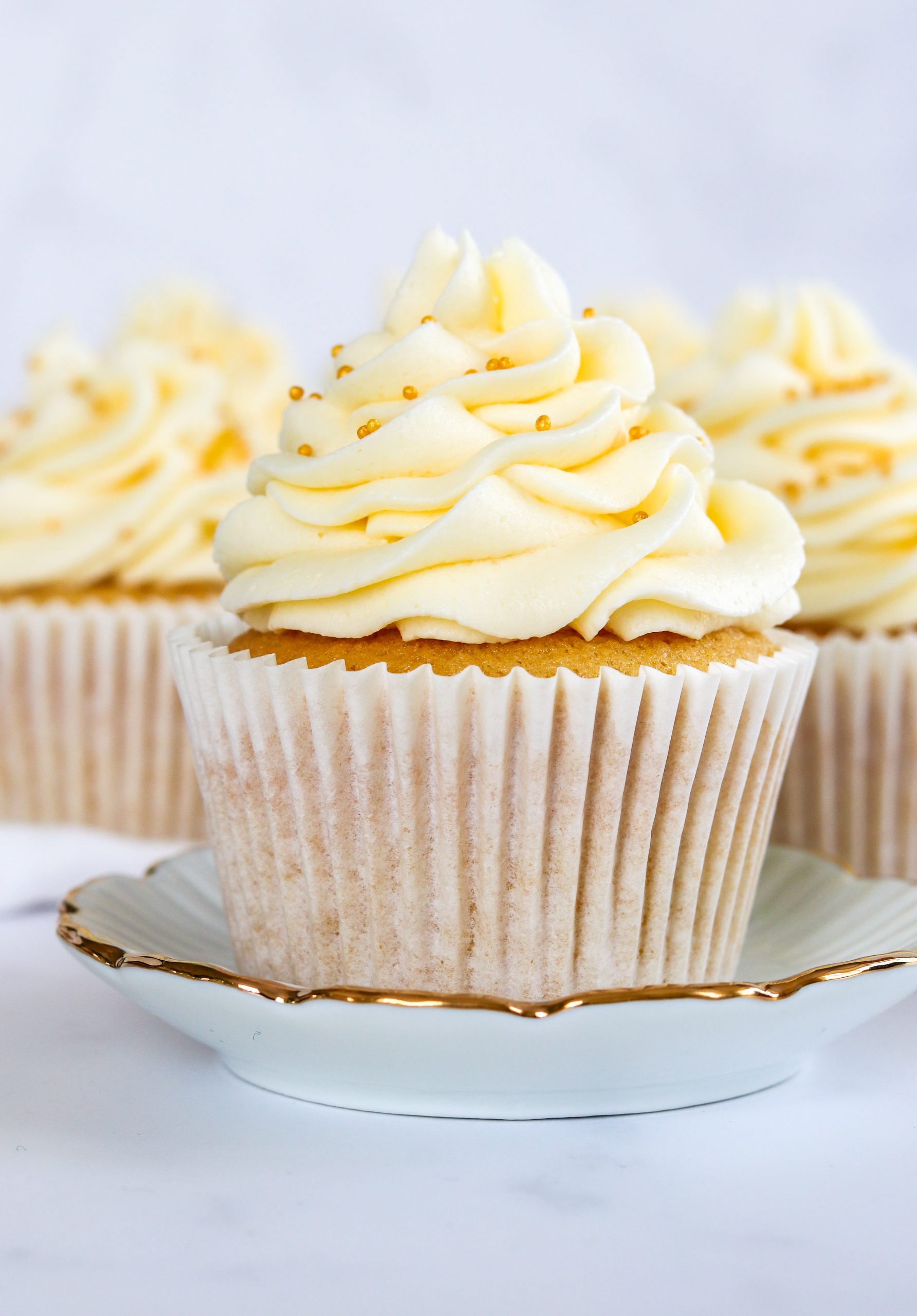 Should I use margarine or butter?
When I am baking cakes that require the fat and sugar to be creamed, I tend to use margarine.
This is because you can use it straight from the fridge and don't have to wait for it to come up to room temperature like you do with butter.
I have been using margarine in my cakes for years now and I have never had any complaints about their texture or flavour. You can absolutely use butter if you prefer but make sure it is unsalted butter.
When it comes to buttercream, you have to use unsalted butter. Margarine would not work in this instance.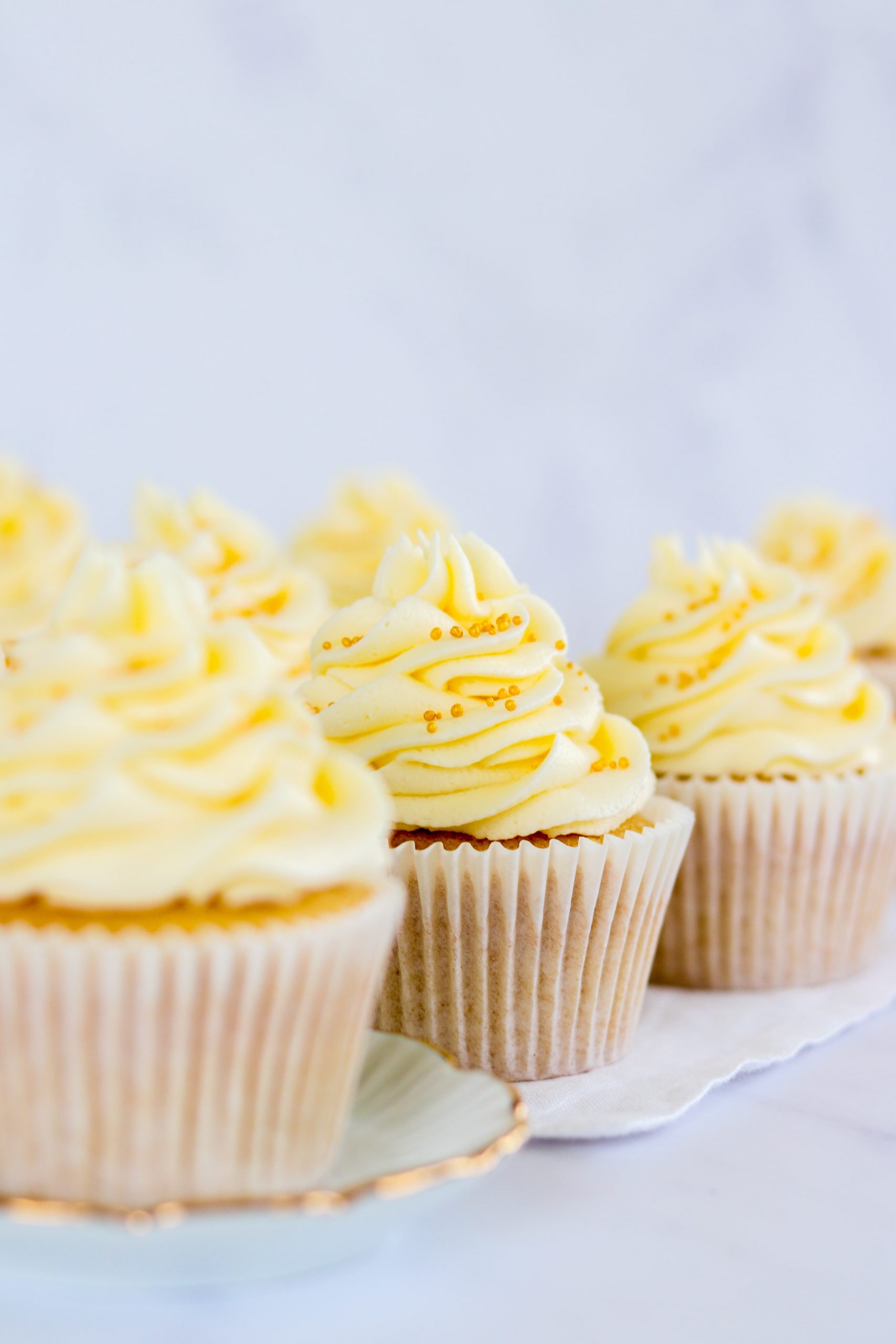 Different ways to pipe buttercream
There are so many different ways you can pipe the buttercream. The nozzle I used in the photographs was a star tipped nozzle, but there are hundreds of different nozzles and ways you can pipe the buttercream.
If you aren't a confident piper, you can use a standard round nozzle. Start in the centre of the cupcake and apply even pressure and you will get a lovely dome of buttercream.
If you don't have a piping bag and nozzle, don't panic. You can snip the corner off a sandwich bag and use this as a piping bag.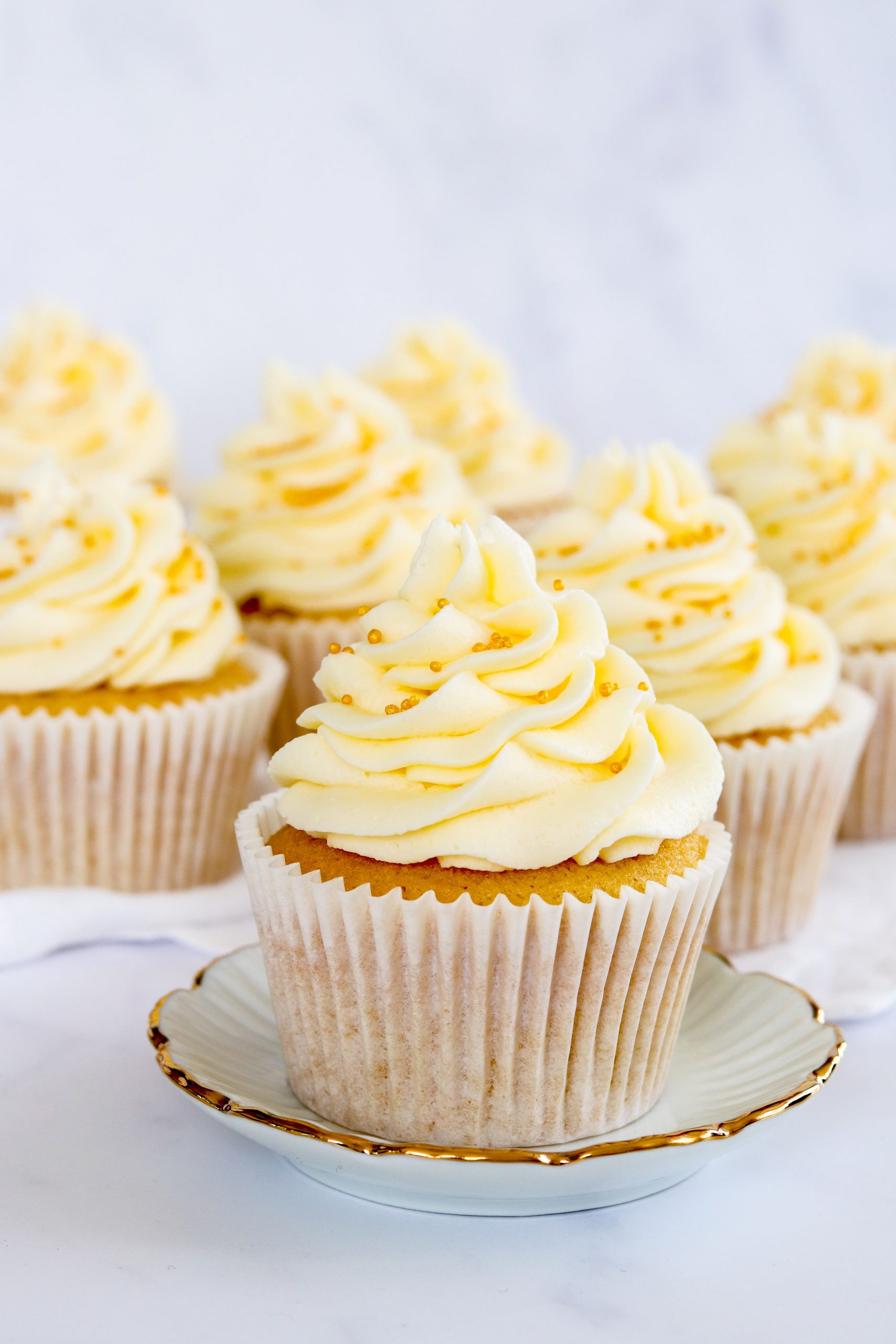 How can i decorate these cupcakes?
However you like! You can get as fancy or simple as you like with both your piping and your buttercream.
I have been piping buttercream for years so like to be a little fancy. You definitely don't need to be! You can even spoon the buttercream on and smooth it out with a knife if you prefer.
With decorations, do whatever you like. Keep them sophisticated and simple or get the children involved and have a colourful mess. It really is up to you.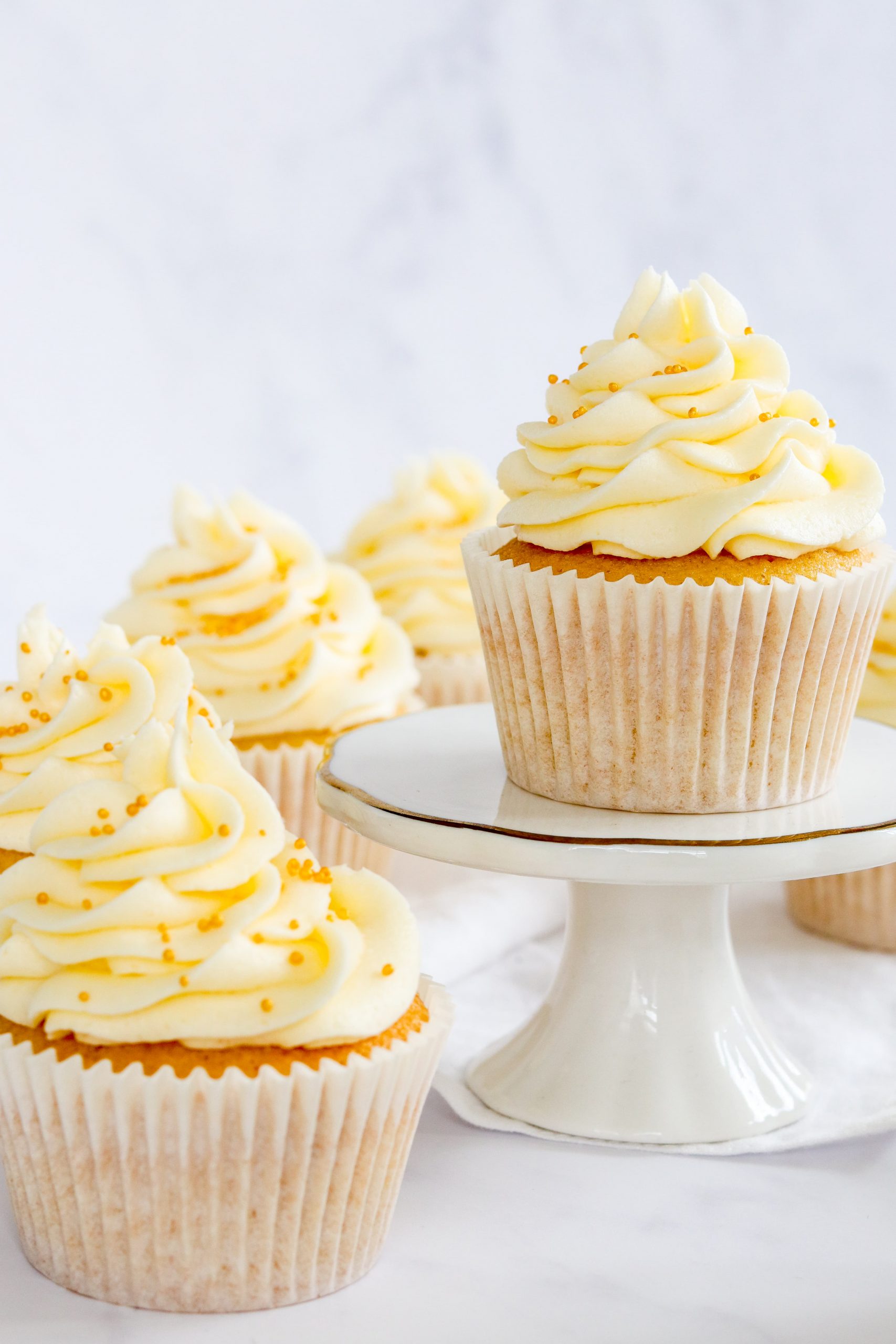 How many cupcakes will this recipe make?
This recipe makes 12 large cupcakes and I use muffin cases for this. You can obviously make more, smaller cupcakes. Whatever size cupcake cases you use, only fill them 2/3 of the way. Adjust the cooking time depending on the size of the cupcake cases you use.
If you would like to make cupcakes but don't need 12, check out my Small Batch Vanilla Cupcakes recipe. This recipe makes 6 delicious cupcakes.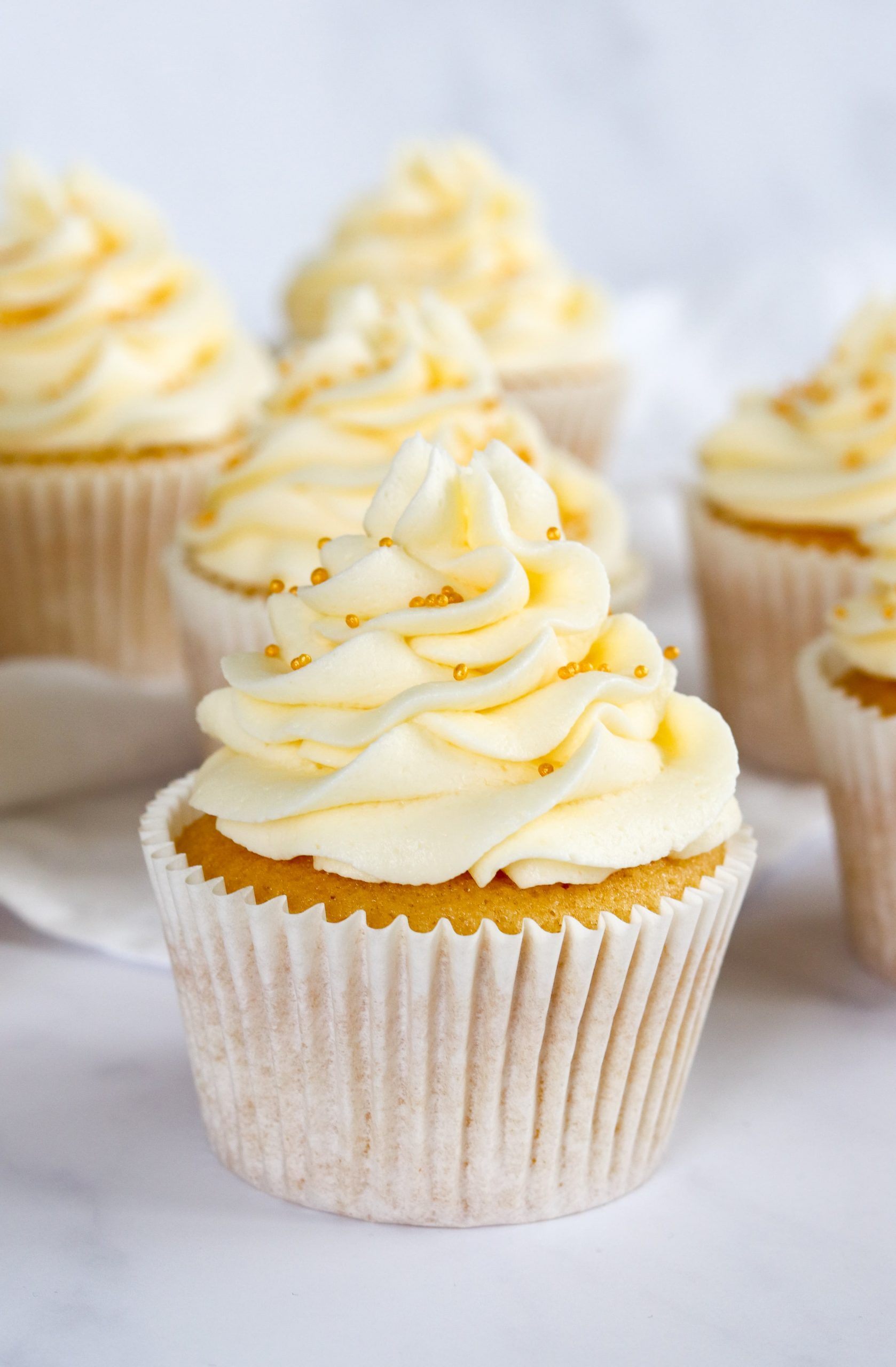 Vanilla Cupcakes baking tips
Vanilla Cupcakes are a simple cupcake to make but there are a few tips to make them even easier to bake.
When you are creaming the margarine and sugar together, make sure you do this for around five minutes until it turns pale and fluffy. This helps create a light and fluffy finished cupcake.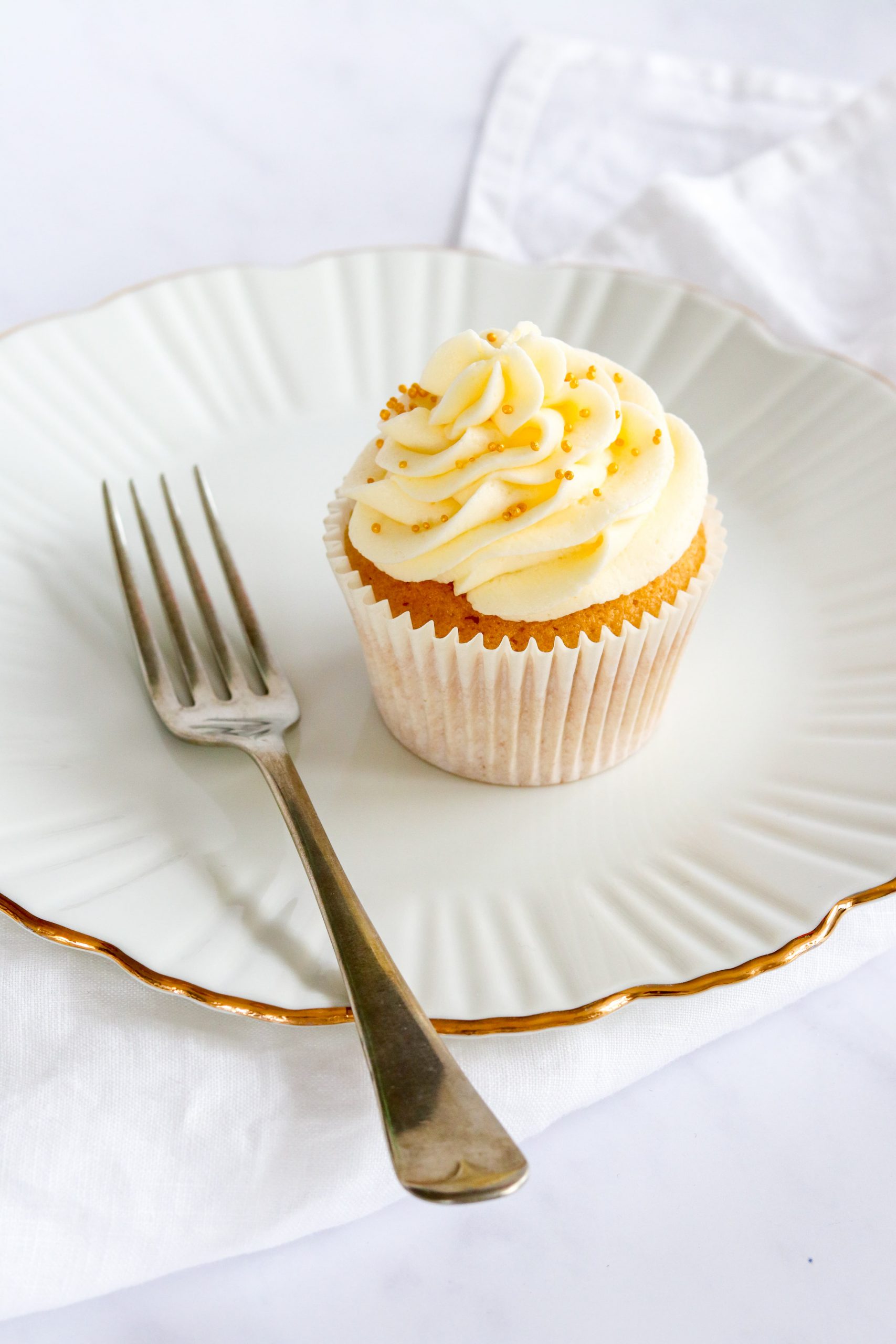 To make sure my cupcakes are as even in size as possible, I like to use a mechanical ice cream scoop. You can then plop an even amount of cupcake batter into each cupcake case.
Talking about cases, I prefer to use muffin cases rather than cupcake cases. These are larger cases with taller sides. The cases from my childhood were fairy cake cases and were quite small.
You want to make sure you only full the cupcake cases two thirds of the way. If you fill them right to the top you will get a tall and potentially pointy cupcake.
This isn't ideal for decorating. A flat, even cupcake makes piping the buttercream easier. Baking the cupcake at a lower temperature also helps create a flatter topped cupcake.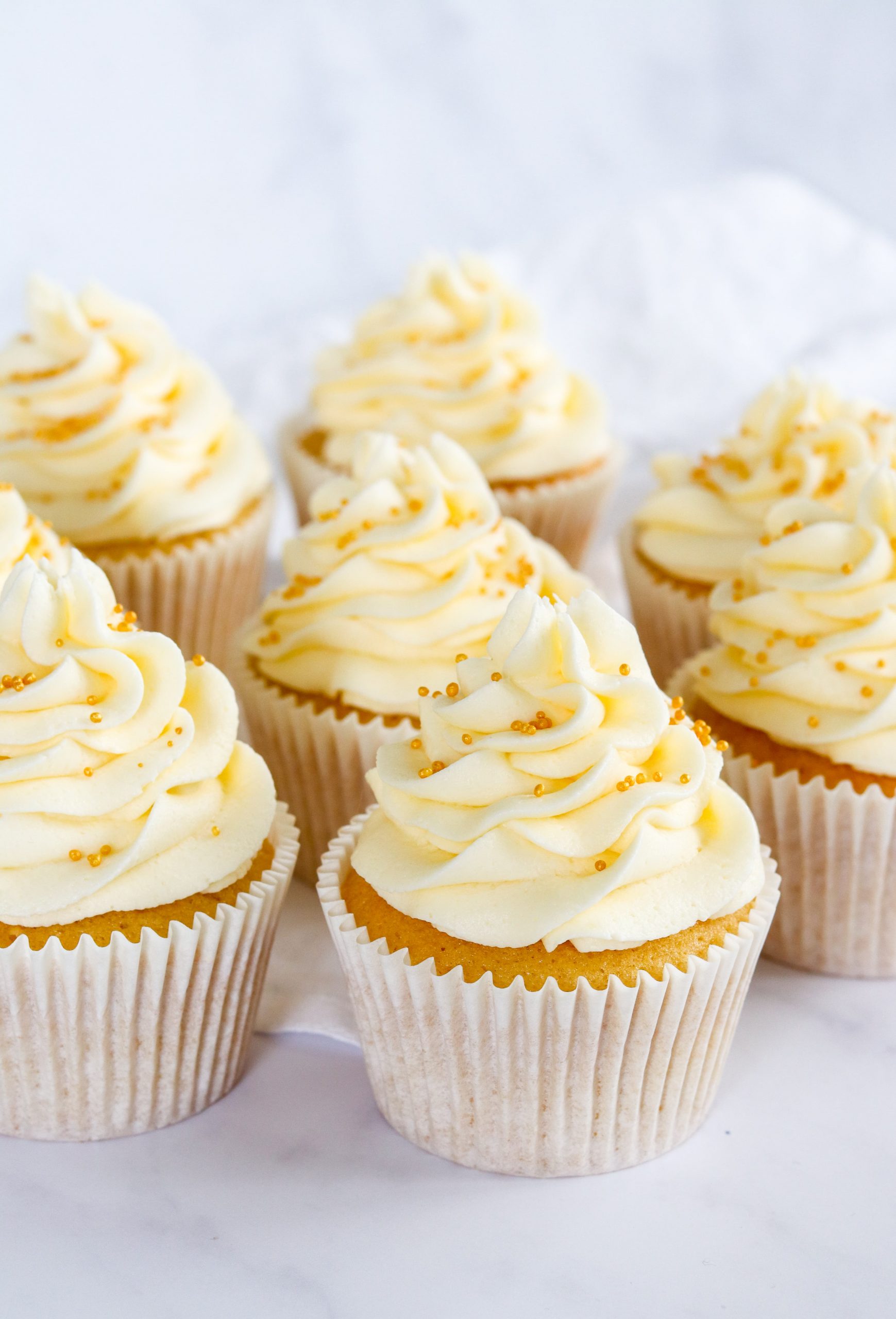 Bake the cupcakes until they are light in colour. They should be a light yellow colour and not brown.
When it comes to making the buttercream, room temperature butter is essential! If your butter is too cold, it will take a long time to beat into the buttercream.
It will also mean that you have a higher chance of seeing little flecks of butter in the finished buttercream that didn't mix in completely.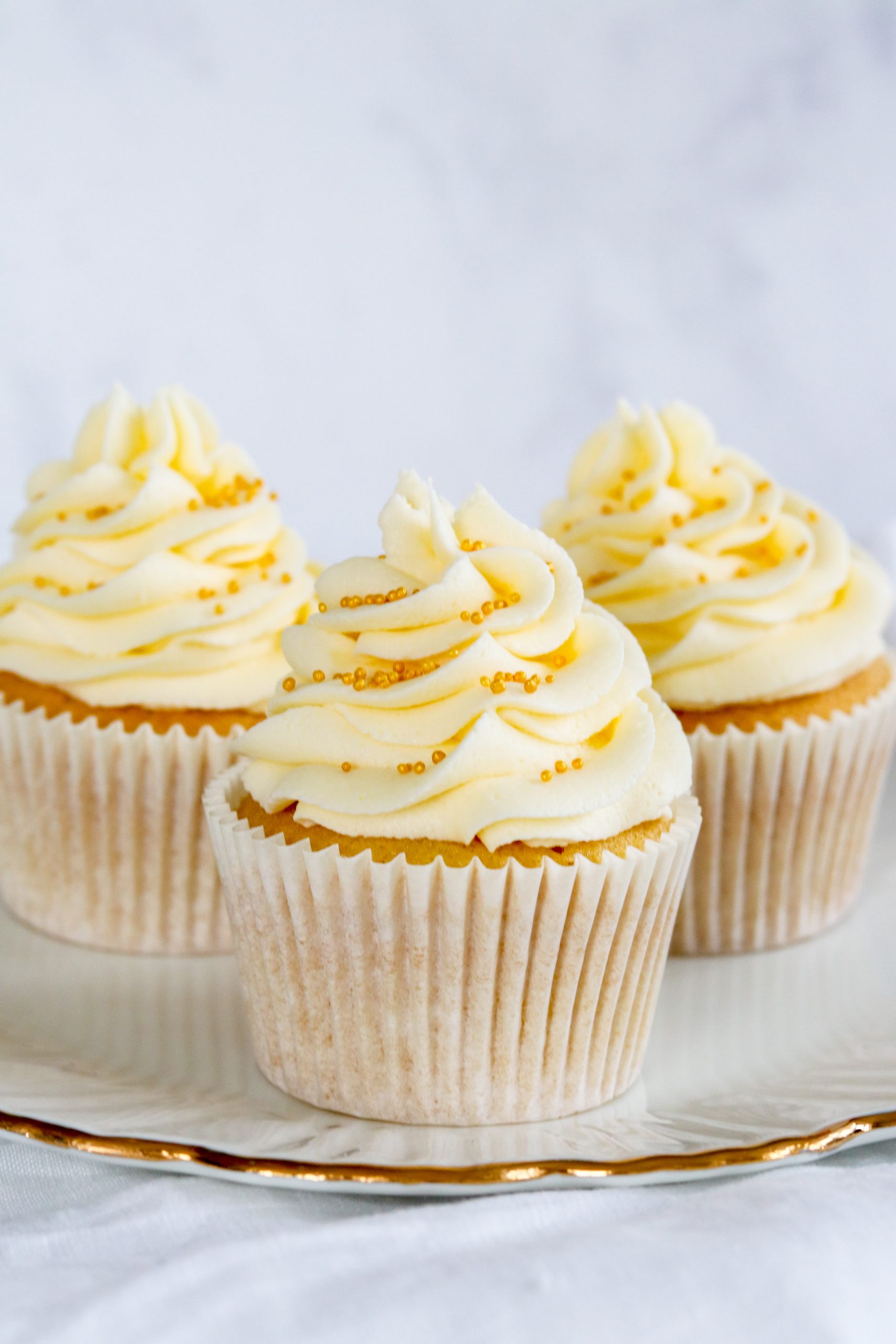 Other recipes you might like
Pin for later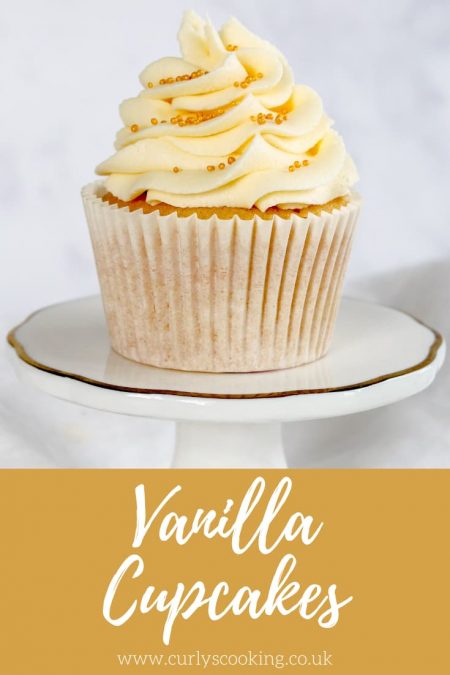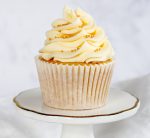 Vanilla Cupcakes
Light and fluffy cupcakes deliciously flavoured with vanilla. You can't go wrong with a good Vanilla Cupcake and that's what this recipe is!
Ingredients
For the cupcakes
175

g

margarine

175

g

caster sugar

2

tsp

vanilla extract or vanilla bean paste

3

eggs

175

g

self-raising flour
For the buttercream
140

g

unsalted butter

softened

280

g

icing sugar

1-2

tbsp

milk
Instructions
Preheat the oven to 160ºC (fan assisted, 180ºC non fan) and line a cupcake tin with paper liners

Beat the butter and sugar together for roughly 5 minutes until light and fluffy

Add the vanilla extract and eggs and mix again

Add the flour and mix until it is combined. Spoon into 12 cupcake cases filling each 2/3 full

Bake in the oven for 15-18 minutes. Check they are cooked by piercing them with a cocktail stick, if the stick comes out, clean they are cooked

Leave on a wire rack to cool completely

Once the cakes have cooled completely, make the buttercream. Start by beating the softened butter for a minute or two

Add in the icing sugar and beat until mixed

Gradually add the milk a little at a time until you get a smooth but still quite thick consistency

Spoon the buttercream into a piping bag and pipe onto the cupcakes. Finish with any decorations
Recipe Notes
Nutritional information is given as a guide only and may vary.
Nutrition Facts
Vanilla Cupcakes
Amount Per Serving
Calories 390
Calories from Fat 117
% Daily Value*
Fat 13g20%
Cholesterol 41mg14%
Sodium 154mg7%
Potassium 35mg1%
Carbohydrates 48g16%
Protein 3g6%
Vitamin A 580IU12%
Calcium 14mg1%
Iron 0.3mg2%
* Percent Daily Values are based on a 2000 calorie diet.