Incredibly delicious and will leave you wanting more. This Roasted Rhubarb Ice Cream is a simple no churn delight! You will love this!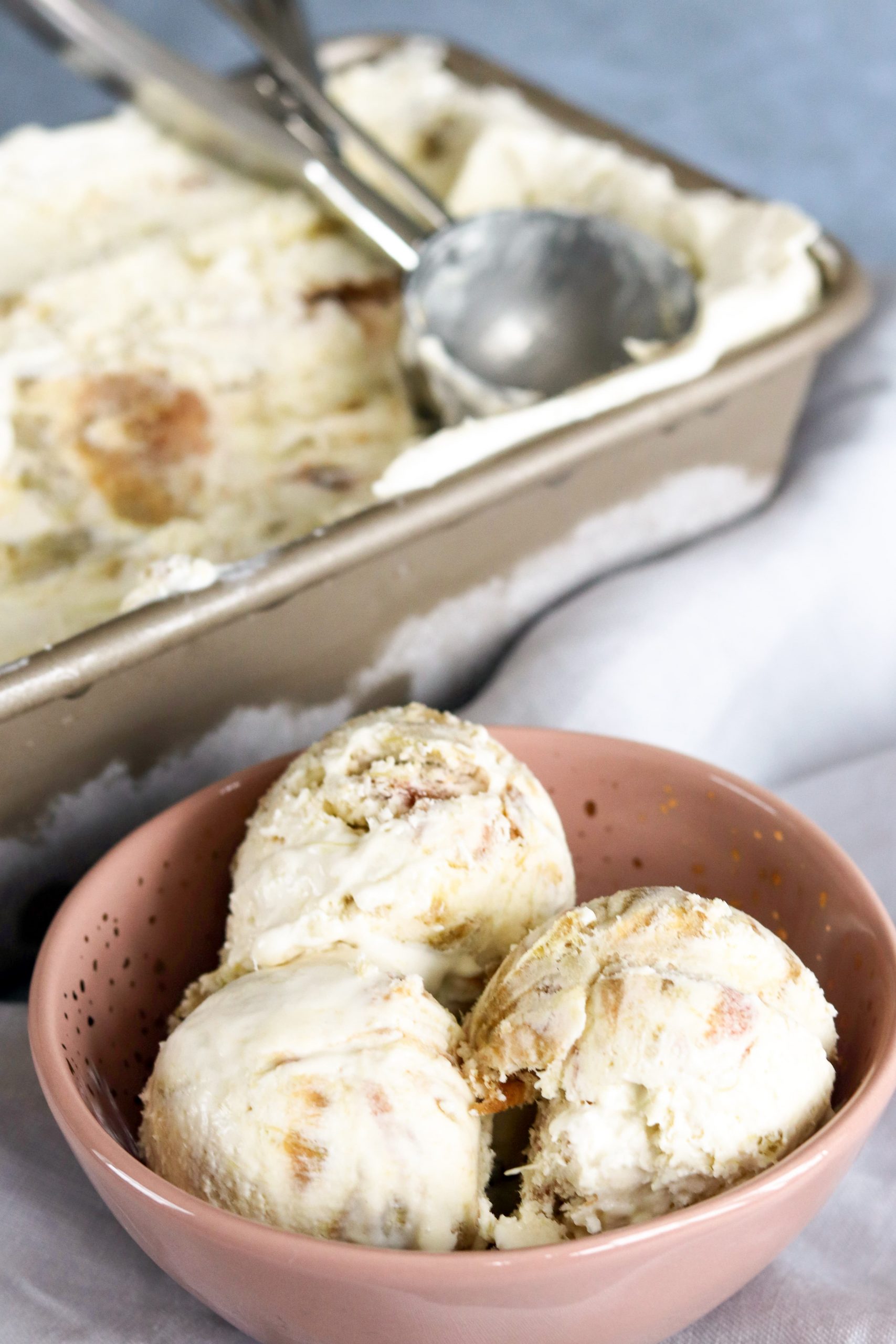 What is rhubarb?
Rhubarb is a leafy green plant with pink stalks popular in the UK. The leaves are inedible as they are poisonous so only the stalks are used. Technically rhubarb is a vegetable but it is largely considered a fruit because it is usually used in desserts and cooked with sugar.
You can grow and buy forced or unforced rhubarb. Forced rhubarb is grown in the dark which promotes the plant to produce lighter pink, sweeter stalks.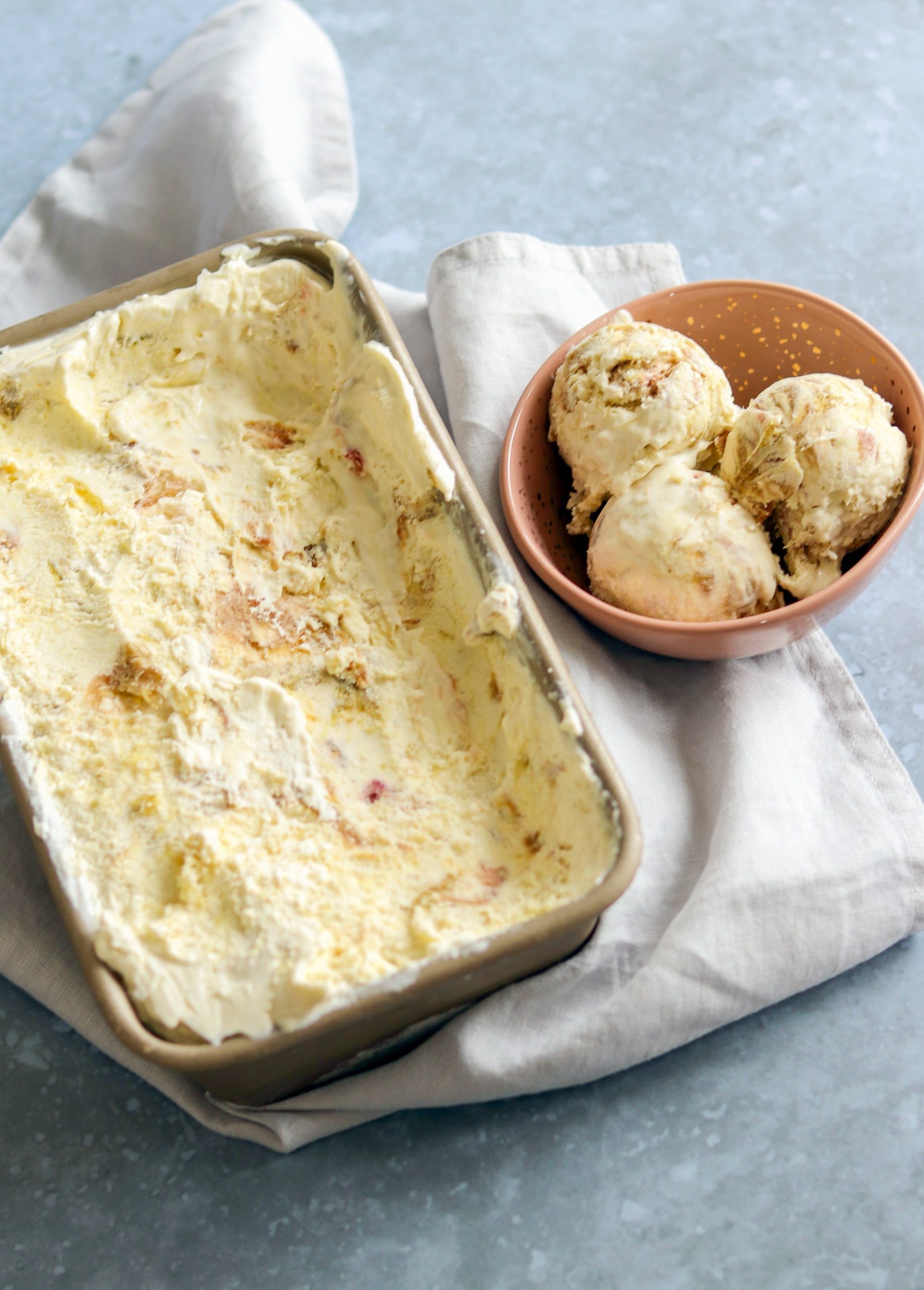 When is rhubarb in season?
Forced rhubarb is in season first, usually around mid January until March. This is popularly grown in Yorkshire in the UK and is well known for it's fantastic bright pink colour.
Rhubarb that isn't forced comes into season from March until September. This is the rhubarb that I use because my parents and Mr Curly's Nan both grow it.
When rhubarb is in season my vary depending on where you live. This information is based on the UK rhubarb season.
I love freezing rhubarb because it means I have a supply year round and can enjoy it when it isn't in season anymore. You also don't want rhubarb to go to waste so it is a great way to save it for later.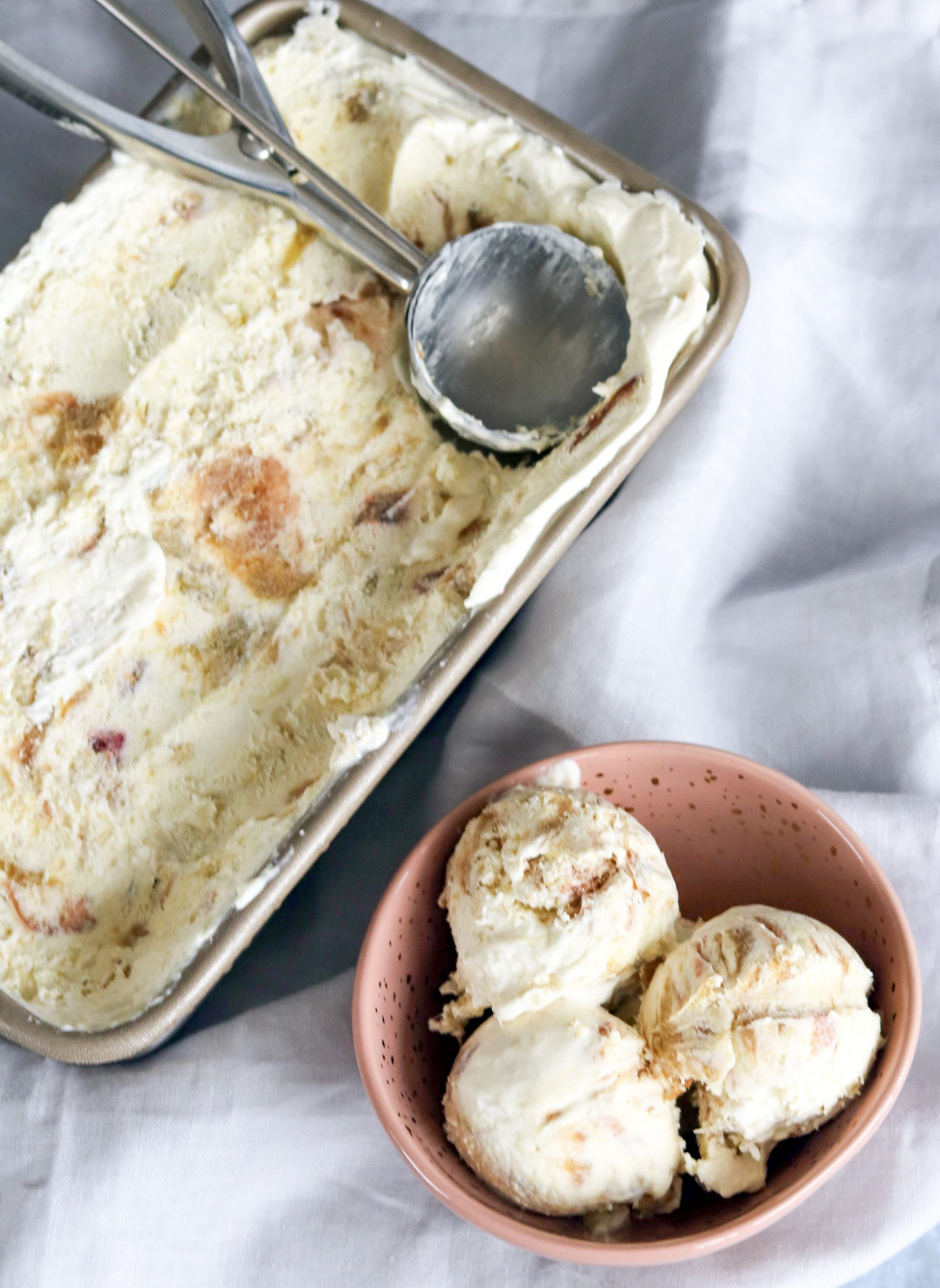 Why roast the rhubarb?
You may not have heard of roasting rhubarb, but it is my favourite way of using it in most of my bakes.
I really love roasting rhubarb because it enhances the flavour and makes it even more delicious. It also helps remove some of the excess liquid which you wouldn't really want in your ice cream.
Roasting the rhubarb is also an opportunity to add a little bit of sugar to it so it is sweeter. This means you won't get bites of tart rhubarb when you are eating the ice cream.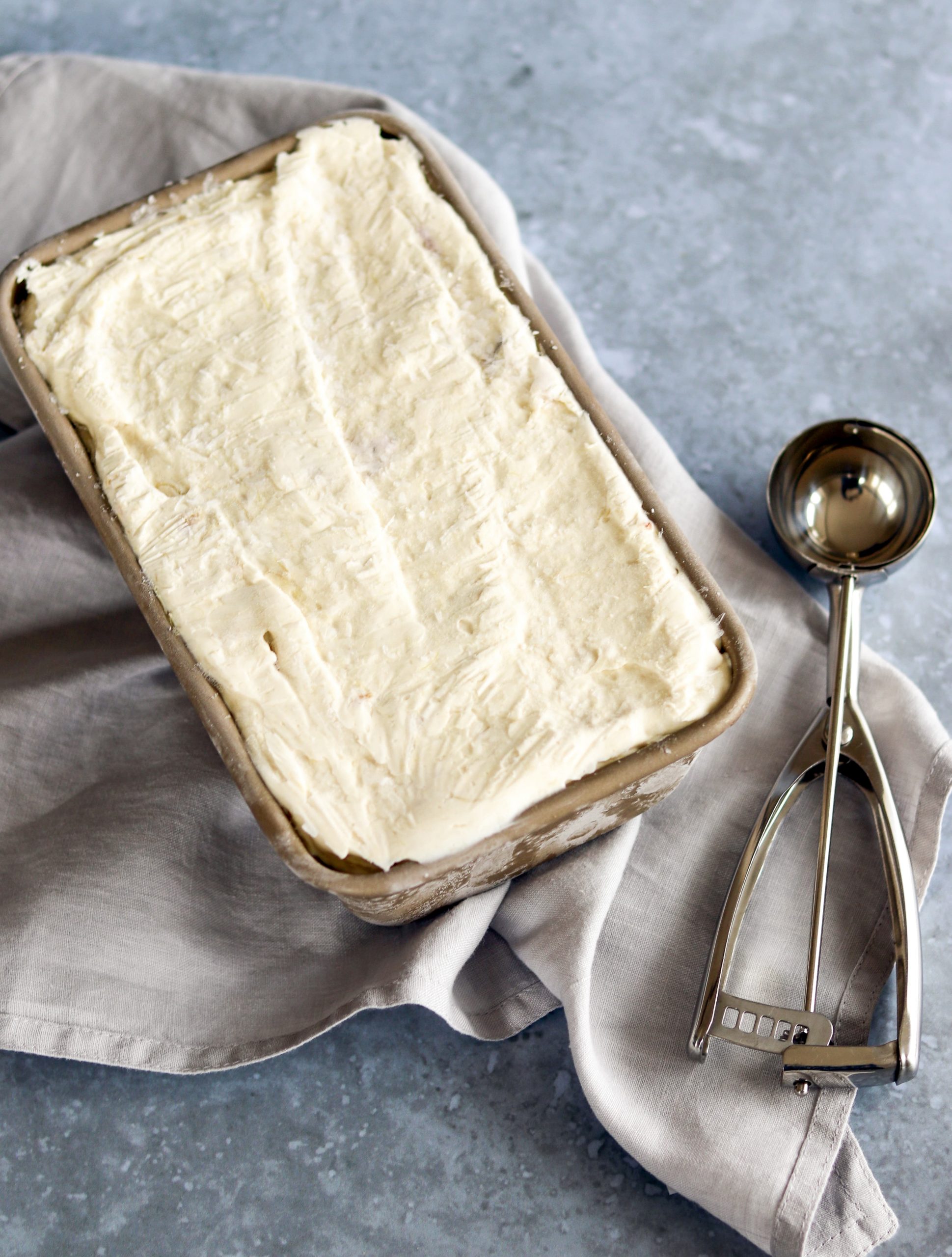 Do you like thick and creamy ice cream?
If you like your ice cream thick and creamy then this Roasted Rhubarb Ice Cream is for you. It is incredibly indulgent and delicious. I really love thick and creamy ice creams; they are definitely my preference!
If you prefer a slightly lighter ice cream, this might be a bit rich for you. This no churn ice cream is a little creamier than standard ice cream, but you can always just have a smaller scoop!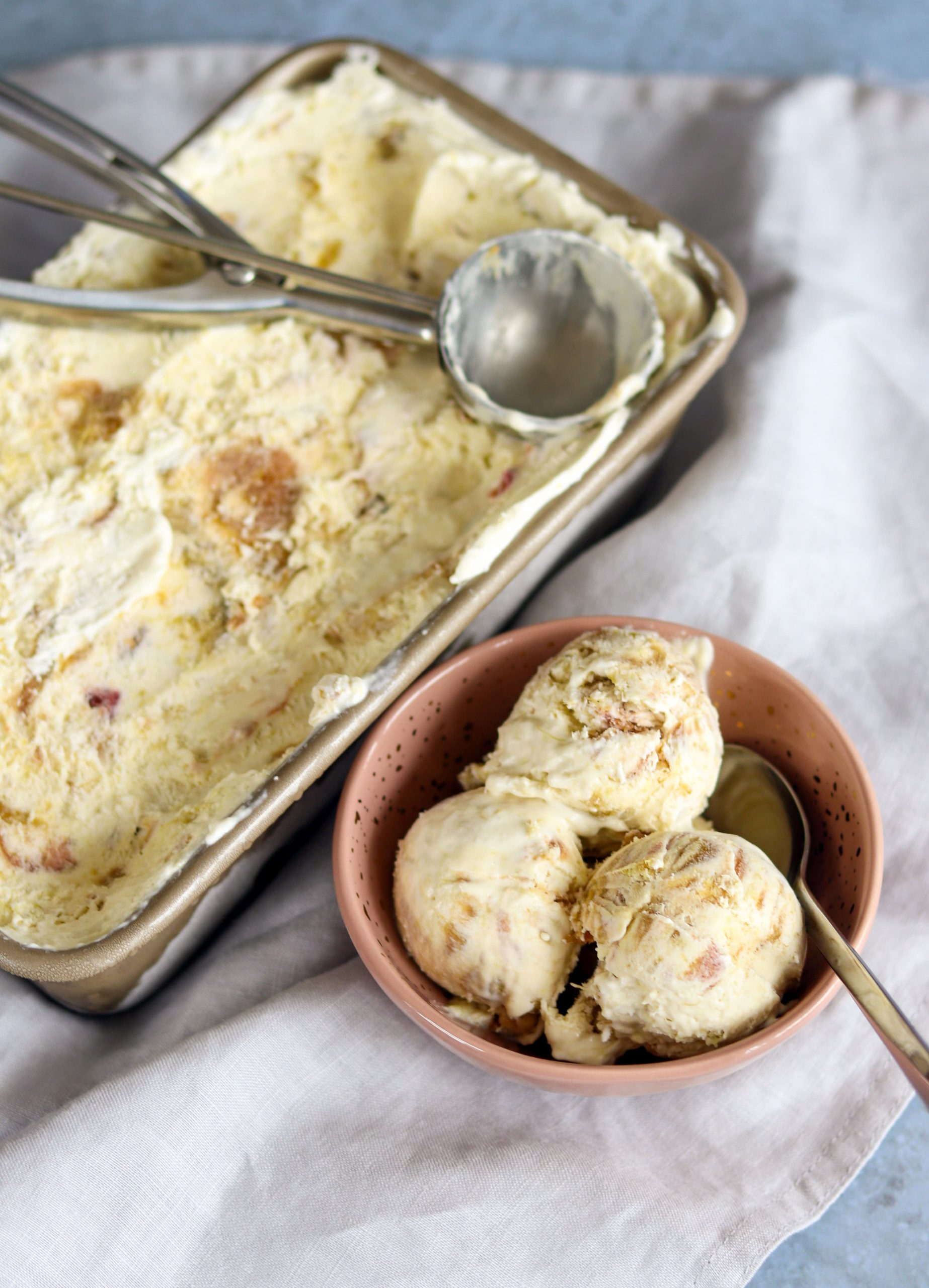 What is no churn ice cream?
No churn ice cream is ice cream that doesn't require an ice cream maker to make it.
I have so many kitchen gadgets that I have got to the stage where I need to be a bit selective when it comes to buying any more. I don't have an ice cream maker so no churn ice creams are perfect for me.
As the name suggests, no churn ice cream don't need anything doing to them to help them turn into ice cream. They just need to be mixed together and then left in the freezer to freeze.
You don't have to get them out of the freezer every few hours and stir them through. They are just left to do their thing. They really couldn't be more simple.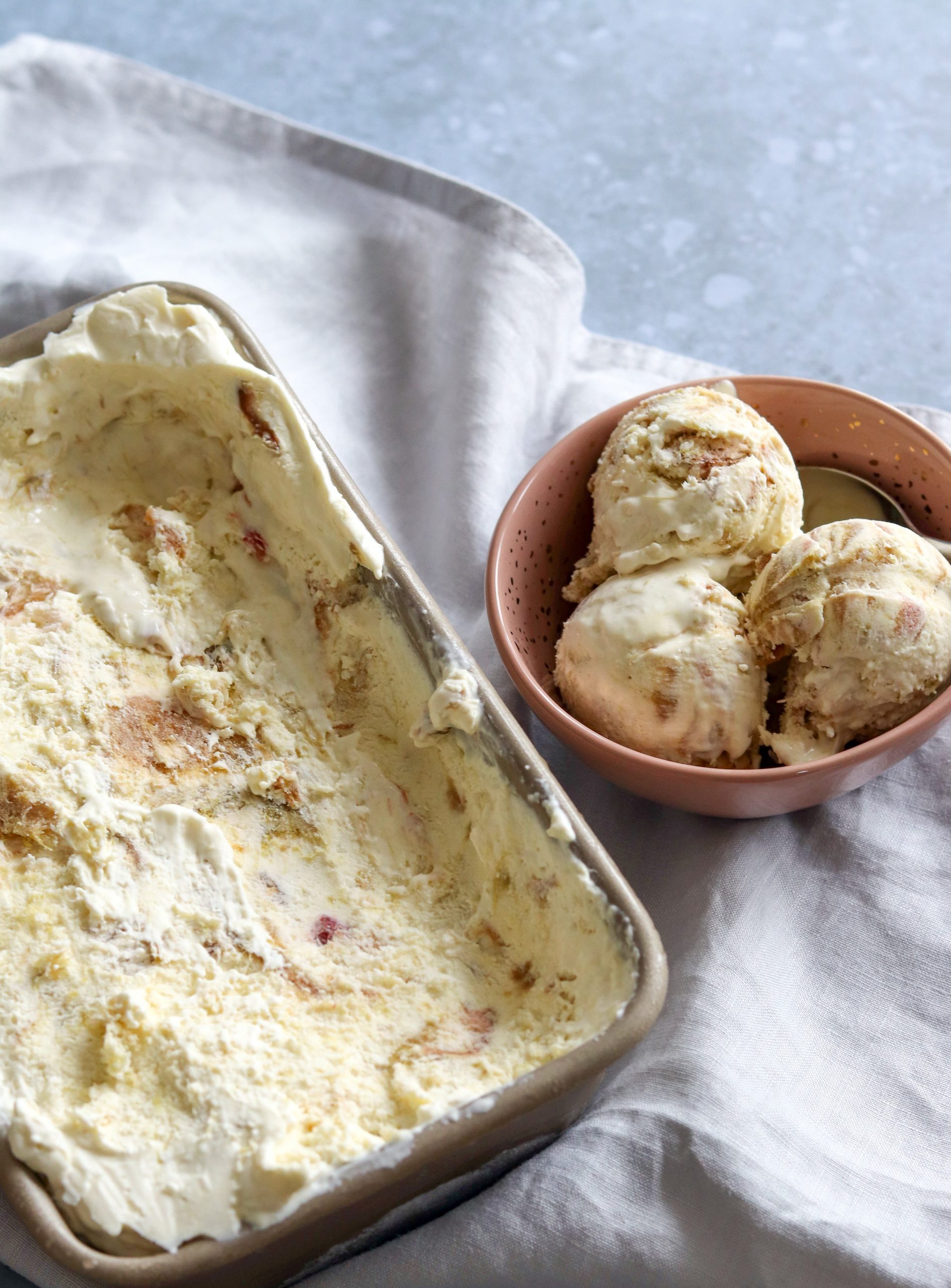 Why no churn ice cream is amazing
No churn ice cream is amazing for a two reasons. It is easy to make and only needs two ingredients. It really is as simple as whisking together the double cream and condensed milk; that's it!
You then add the roasted rhubarb to make it even more delicious. Then put it in the freezer overnight and as if by magic you will have an amazingly creamy Roasted Rhubarb Ice Cream.
You don't need any fancy machines or equipment. Anyone can make this at home which is fantastic. And aside from that it's so tasty!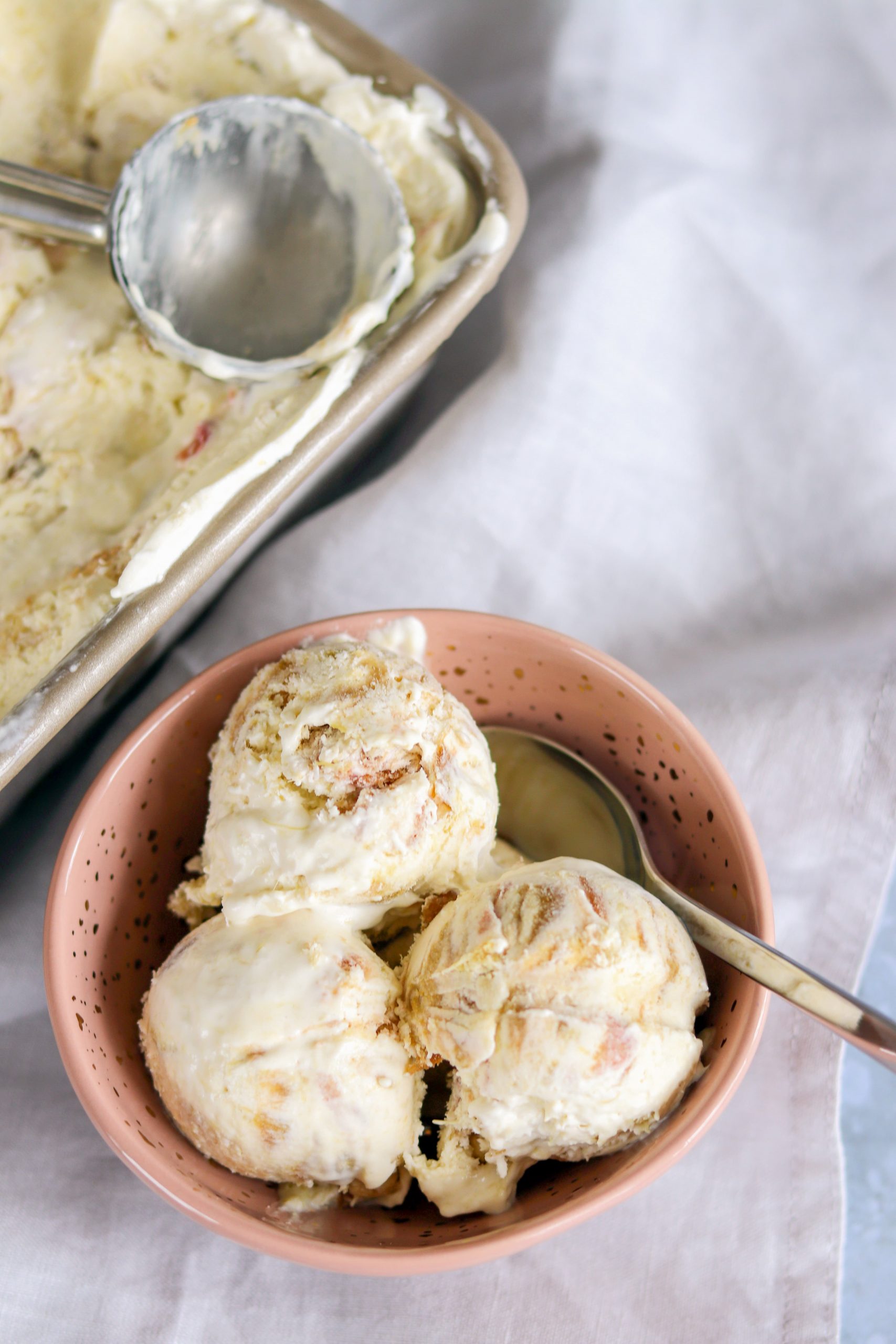 How to store the ice cream and how long can you keep it for?
If I was making this not to be photographed, I would tip the ice cream into a Tupperware container to freeze. Make sure your container has a 2lb (roughly 900ml) capacity.
You can also make it in a loaf tin like I did for these photos. Just make sure you cover it tightly with cling film before putting it in the freezer.
Unlike shop bought ice cream, homemade ice cream needs to be eaten more quickly. I would recommend eating this Roasted Rhubarb Ice Cream within 2-3 weeks of making it.
If you leave it much longer than this, it might start to crystallise which would change the texture.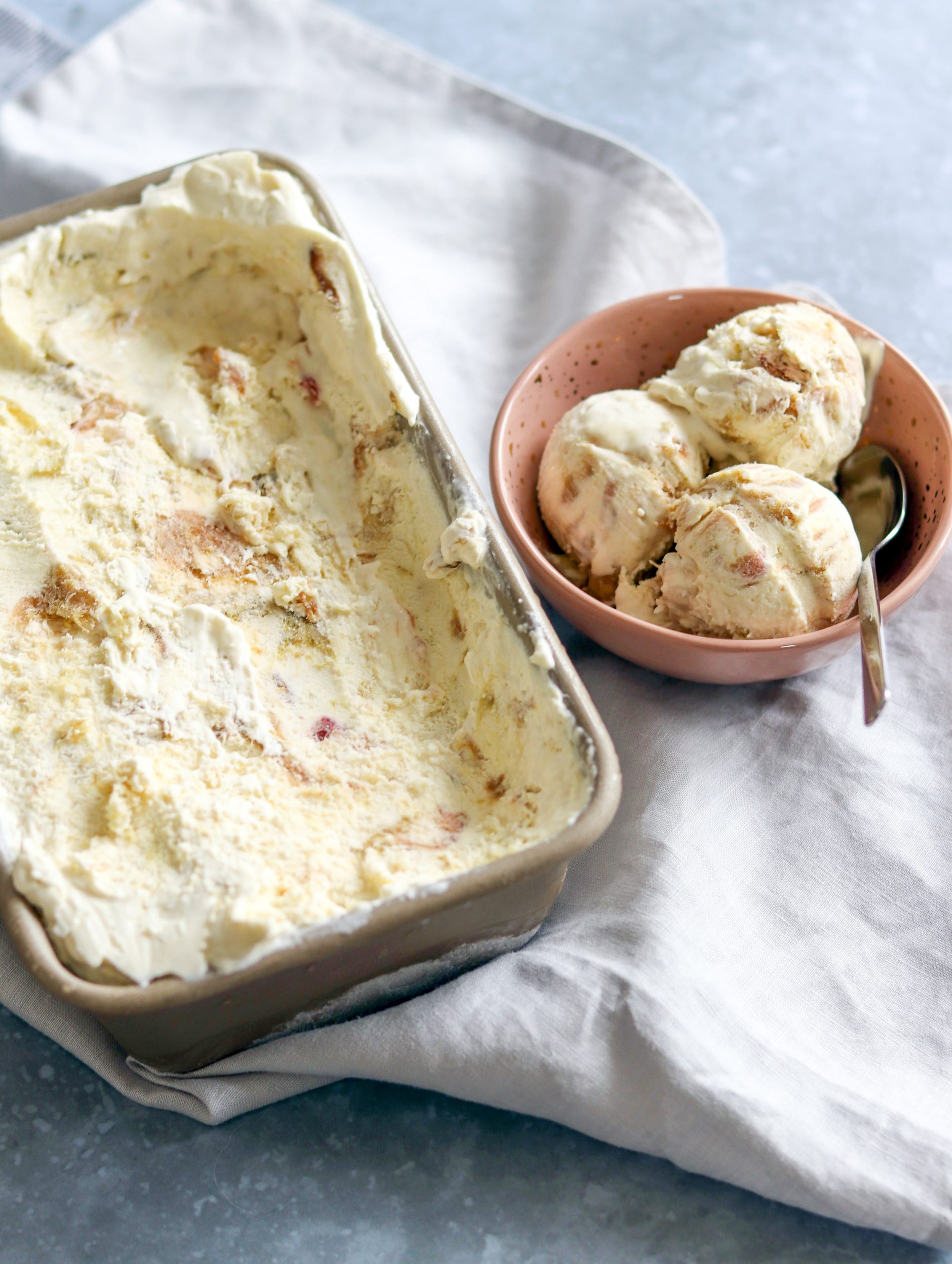 How many people will this Rhubarb Ice Cream serve?
Well that really does depend on whether you can stop eating it!
It also depends on how much you would like to eat. It is quite rich so I would say you would typically eat less than other ice creams. But I am not here to judge if you want to eat the whole lot!
I would say you could definitely get 12 portions out of the recipe but obviously this will vary depending on what you consider to be a portion of ice cream!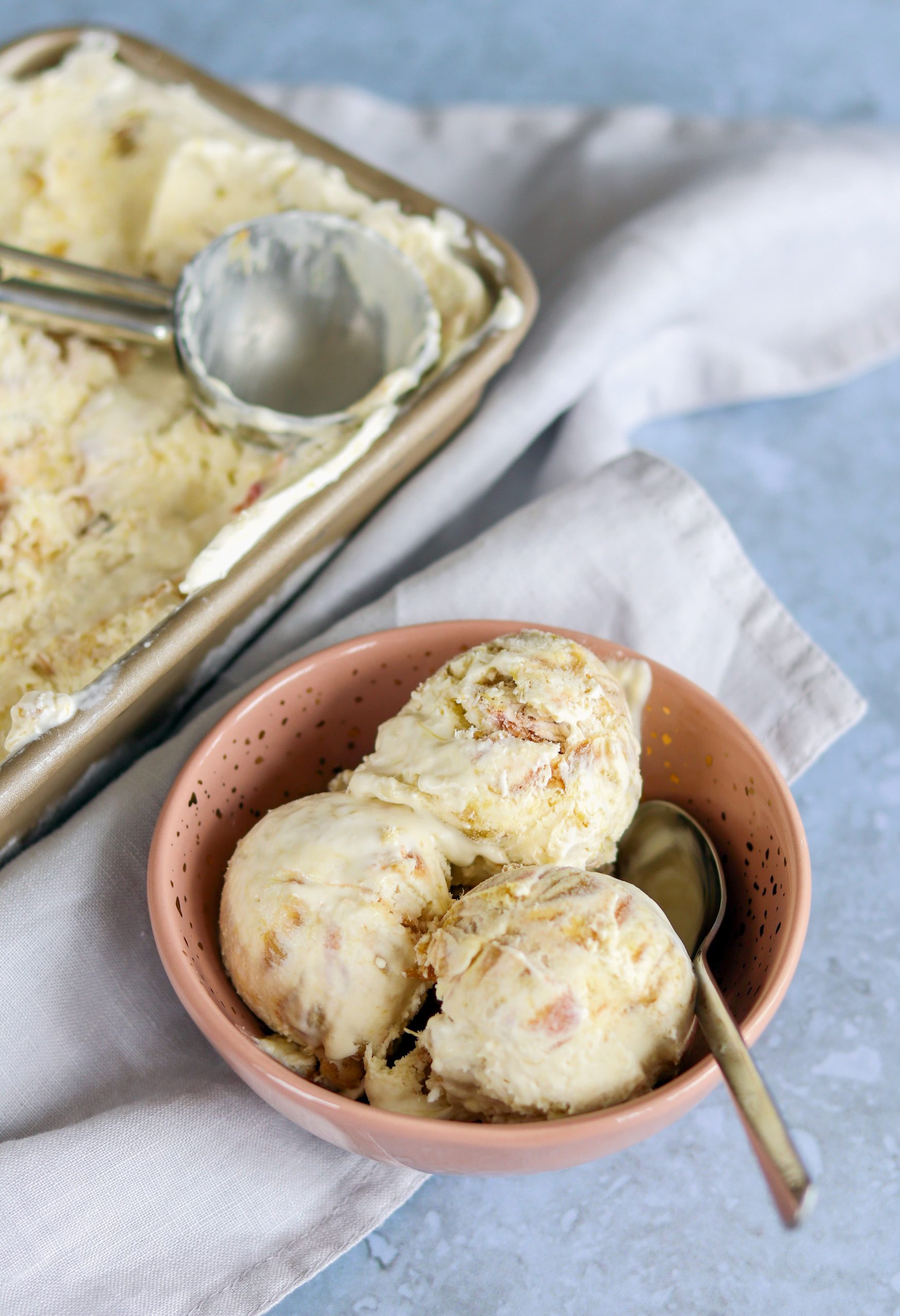 Other recipes you might like
Pin for later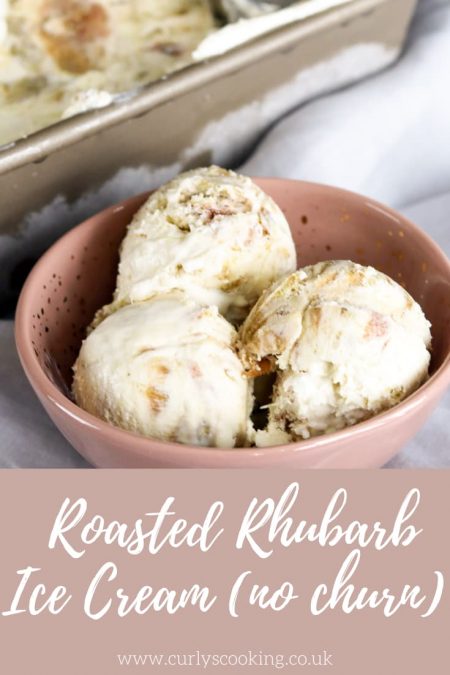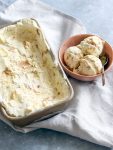 Roasted Rhubarb Ice Cream
Incredibly delicious and will leave you wanting more. This Roasted Rhubarb Ice Cream is a simple no churn delight! You will love this!
Total Time
12
hours
55
minutes
Ingredients
900

g

rhubarb

washed and trimmed

90

g

caster sugar

600

g

double cream

397

g

condensed milk

(one tin)
Instructions
Preheat the oven to 180ºC (fan, 200ºC non fan). Wash the rhubarb and cut into pieces roughly 3cm long

Add to a baking tray and sprinkle with the sugar. Toss to coat the rhubarb in the sugar and cover with foil. Roast for 20 minutes

After 20 minutes, remove the foil and roast for a further 5 minutes. Leave to cool completely

Add the double cream and condensed milk to a large bowl and whisk until it is thick

Spoon in the roasted rhubarb and fold it through the cream mixture

Tip into your container (2lb/900ml capacity) and leave to freeze overnight

Take out of the freezer 15 minutes before eating to make it soft enough to scoop
Recipe Notes
Be careful not to over whip the cream and condensed milk. Keep watching it and stop when it becomes thick. If you whip too much it will start to become butter!
Freeze and eat within 2-3 weeks to avoid crystallisation.
Nutritional information is given as a guide only.
Nutrition Facts
Roasted Rhubarb Ice Cream
Amount Per Serving
Calories 323
Calories from Fat 189
% Daily Value*
Fat 21g32%
Cholesterol 79mg26%
Sodium 64mg3%
Potassium 376mg11%
Carbohydrates 30g10%
Protein 4g8%
Vitamin A 900IU18%
Vitamin C 7.2mg9%
Calcium 191mg19%
Iron 0.2mg1%
* Percent Daily Values are based on a 2000 calorie diet.