My Oaty Rhubarb & Port Crumble is a twist on a British traditional pudding. The port helps bring out the sweetness in the rhubarb and the topping has an extra added crunch from the oats and almonds.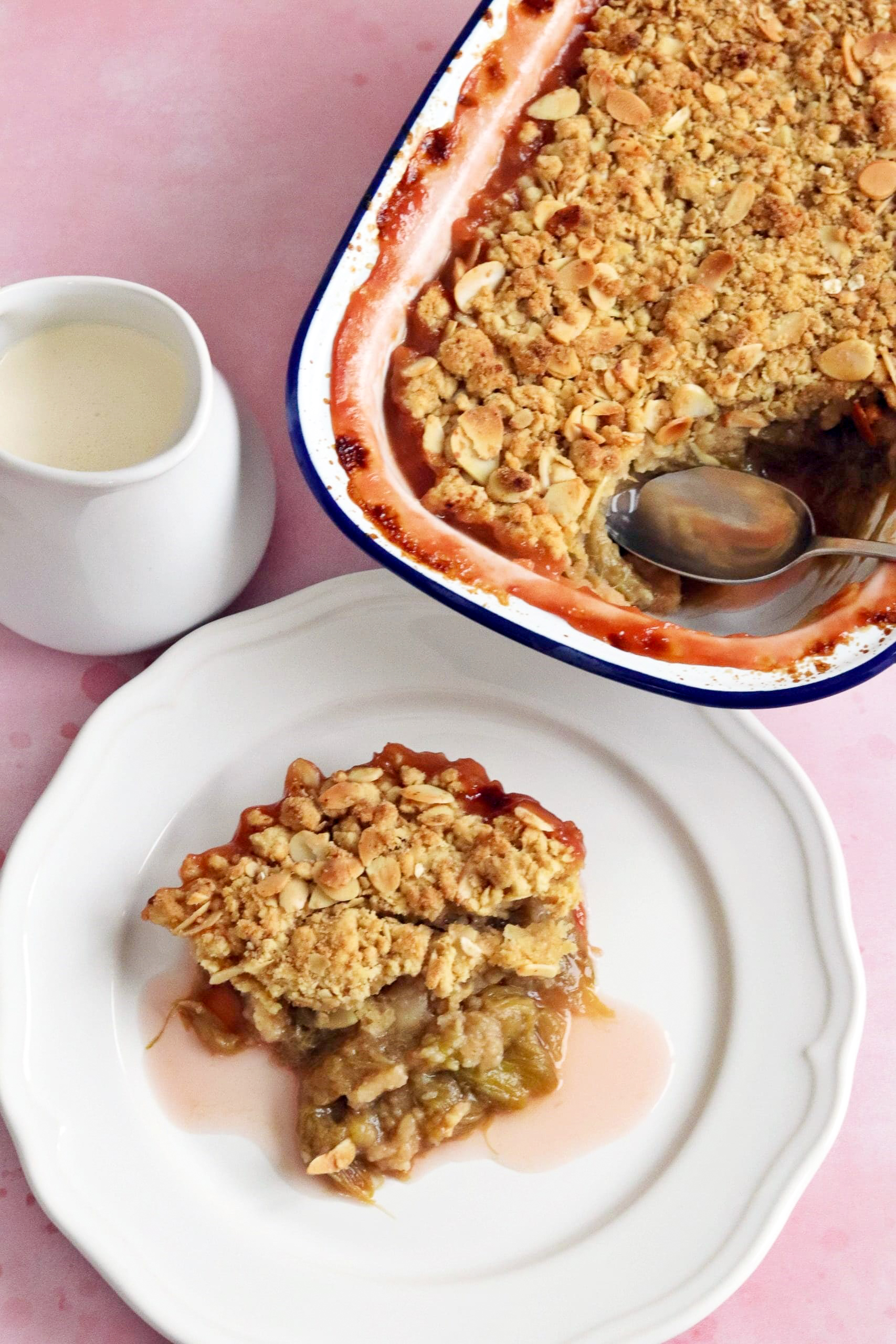 Who doesn't love a rhubarb crumble?!
Rhubarb crumble is a pudding we have had for years. It is comforting and delicious and really easy to make. Rhubarb has such a unique, tart flavour. I think of it as a very British and comforting flavour.
Here in the UK, we know crumbles to be a stewed fruit base with a crisp and crumbly topping. However if you are from the US or other countries, you might know this as a crisp.
Whatever you call it, it is delicious!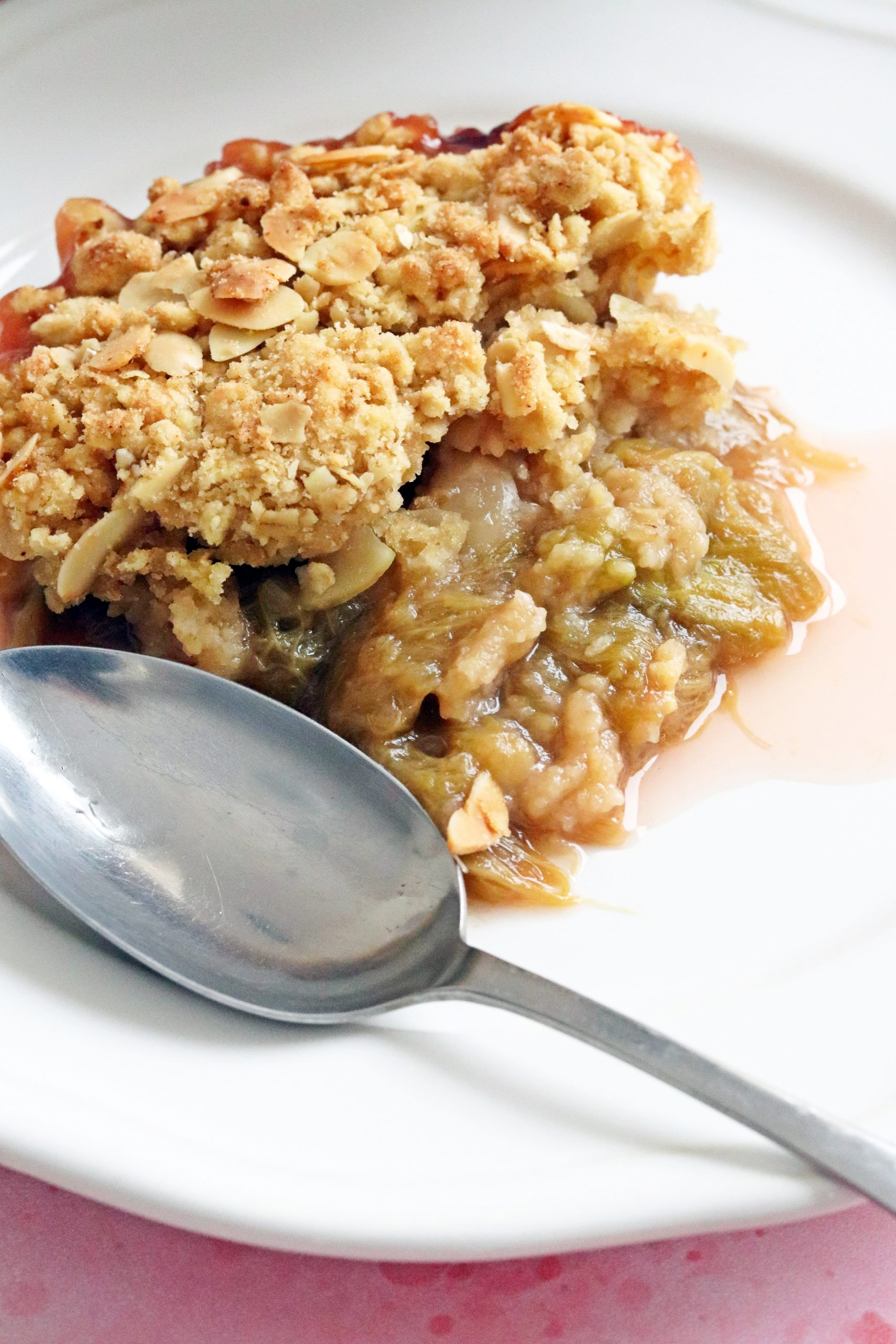 When is rhubarb in season?
There are two different types of rhubarb grown; forced and field grown rhubarb.
Forced rhubarb is grown with limited light to encourage it to grow earlier in the season. This type of rhubarb is available from late December to March. It is usually a lighter, brighter pink colour.
Field grown rhubarb then comes into season in April until September. As it is grown in fields with lots of light, the stems are more green in colour than forced rhubarb.
Some people consider forced rhubarb to be sweeter in taste but either would work well in this recipe.
My parents and Mr Curly's Nan both grow rhubarb so I do tend to to end up with quite a lot of it each year. As I receive more than I can eat, I freeze it so I can get it out and make a tasty rhubarb crumble at any time of year.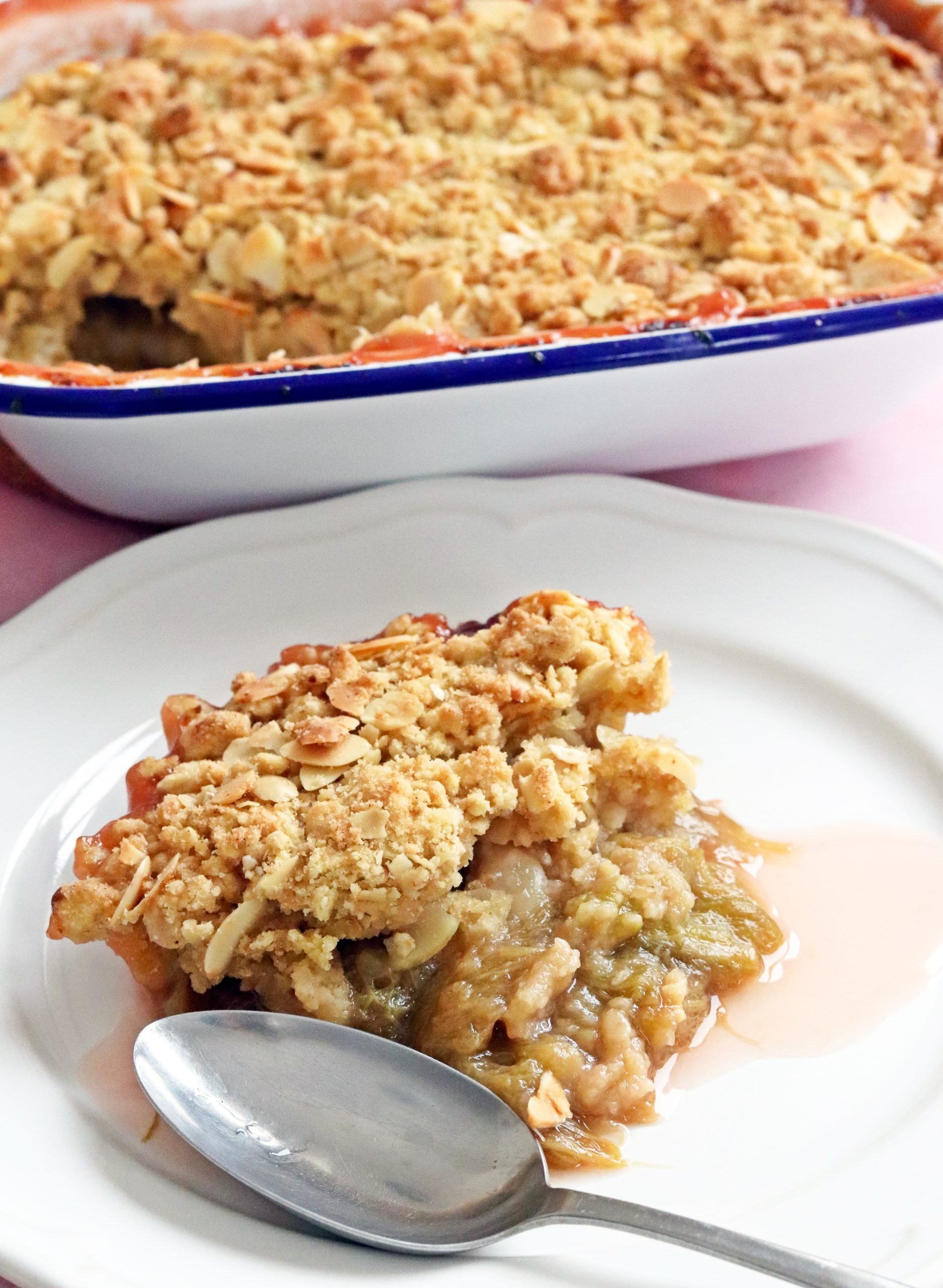 Why add port to the rhubarb?
Port is a delicious ingredient to add to the stewed rhubarb. The port helps bring out the sweetness in the rhubarb and tone down the tartness. It helps make this crumble even more delicious.
If you don't want to add port, you can leave it out. You could add the juice of half an orange instead to add some sweetness if you'd like.
Oaty Rhubarb & Port Crumble cooking tips
When cooking down the rhubarb, I quite like to make sure it is really soft which does make it go a bit mushy. If you would like more definition to your rhubarb, then cook it for slightly less time.
I find the easiest way to make the crumble is by hand. I use my fingertips to rub the butter into the flour.
It doesn't matter if you have some larger and smaller sized pieces of crumble as I think this gives the finished crumble a nice texture.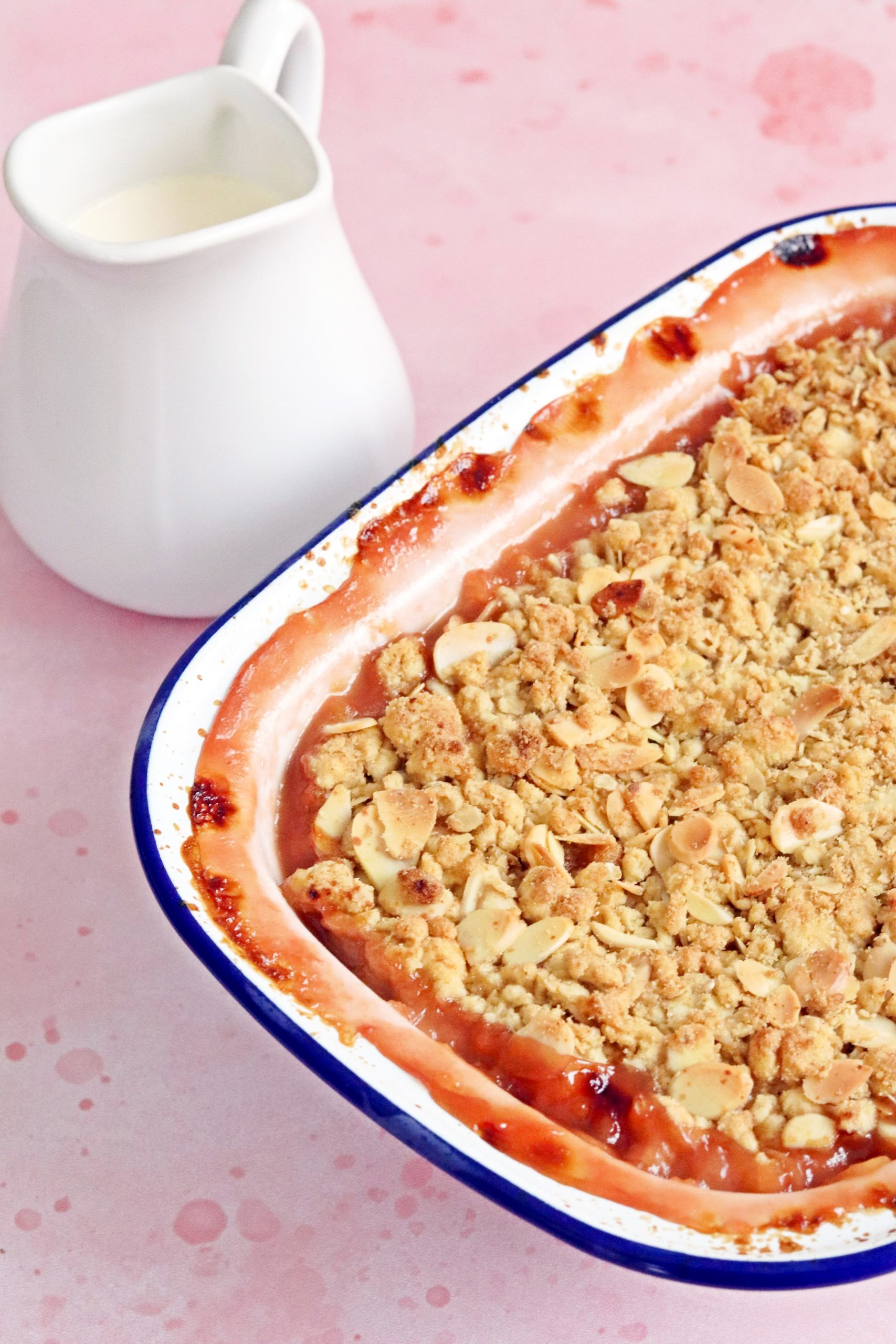 Using oats and almonds in the crumble topping
The idea for the topping came after I had made my Apricot & Almond Flapjacks. I really liked the taste of the almonds and the oats together and thought they would add a lovely texture to a rhubarb crumble.
If you would prefer to use different nuts instead, you could use whichever you like. I would recommend chopping them up if they are quite large as you would like some texture but not a whole nut.
Can this Oaty Rhubarb & Port Crumble be made gluten free and vegan?
You can easily make this dessert vegan by using dairy free margarine. I'm a fan of dairy free margarine and always have some in my fridge these days.
It works exactly the same as dairy butter in the recipe and you won't be able to tell the difference. It's readily available in most supermarkets.
You can also easily make it gluten free too by using gluten free oats and flour. Again, this doesn't change the flavour of the crumble so is a great dessert to make for everyone.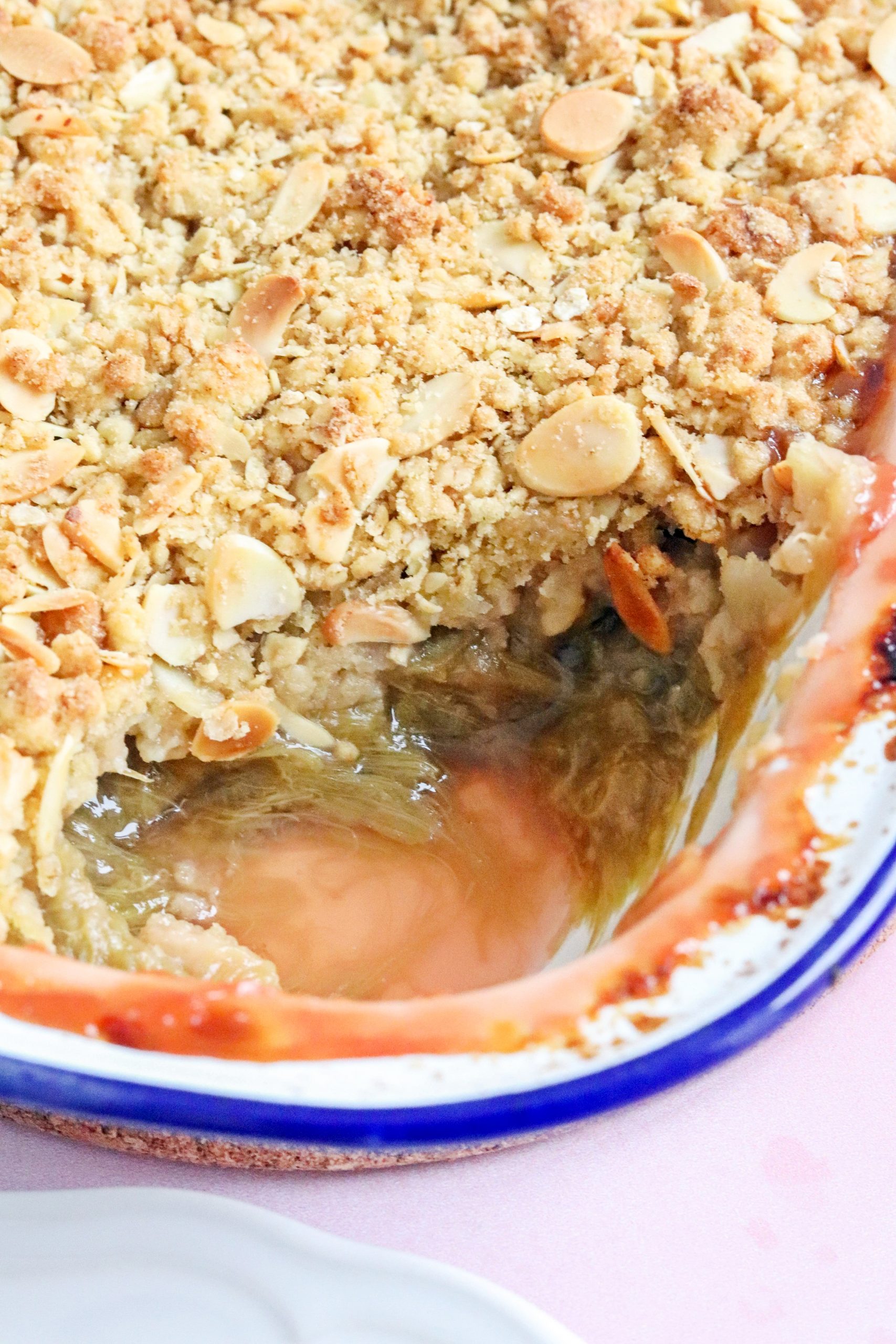 What to serve this Oaty Rhubarb & Port Crumble with?
My choice would always be to serve this with cold double cream. But I know lots of custard lovers so that would be a popular choice too!
I would always recommend making your own custard and Charlotte's Lively Kitchen has a lovely recipe.
A nice scoop of vanilla ice cream would be perfect too.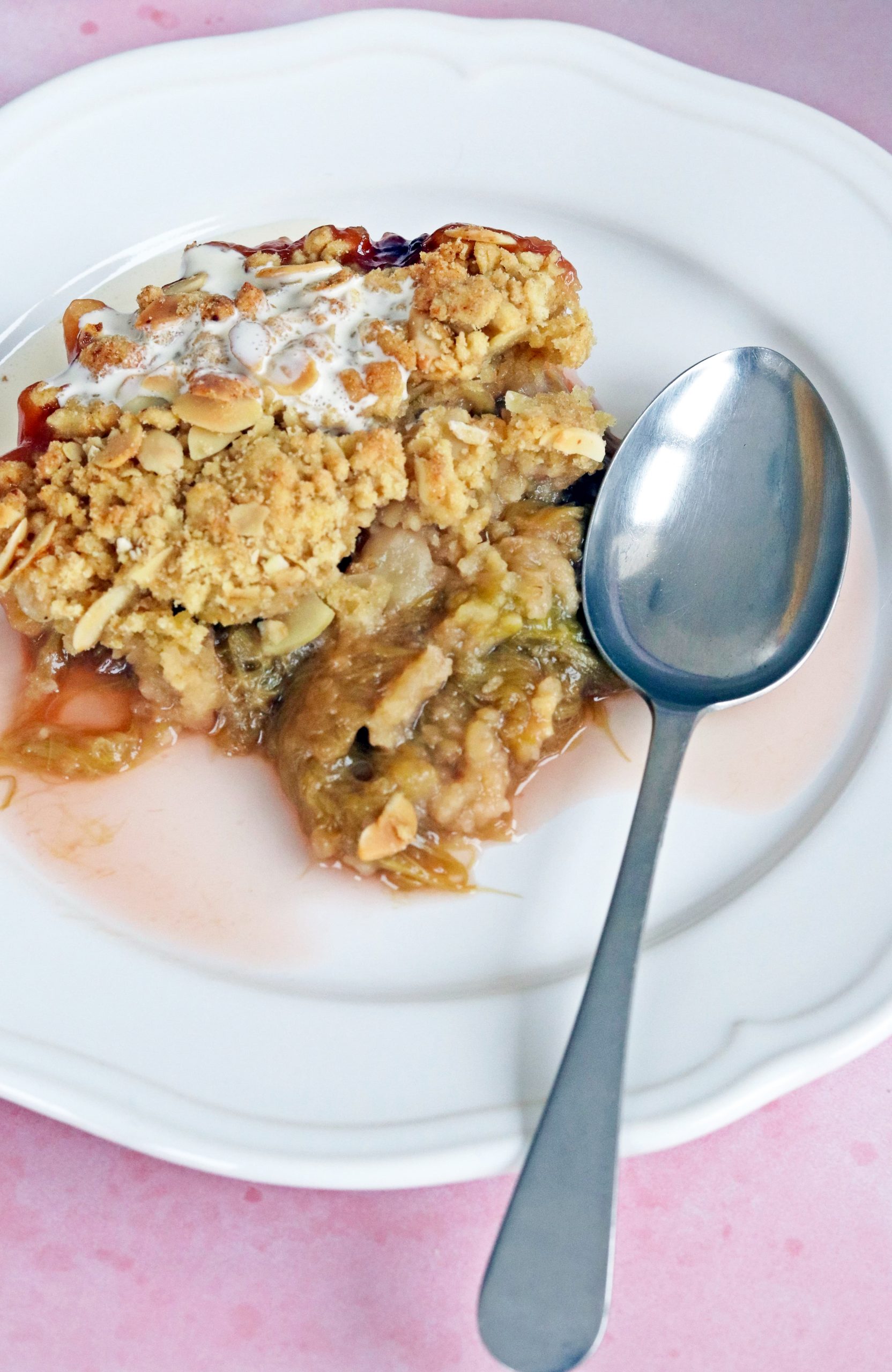 Can I make this in advance?
You can make this Oaty Rhubarb & Port Crumble in advance and keep it covered in the fridge for up to 24 hours.
This is great if you are serving this as part of a dinner party. You can do all of the preparation in advance and keep it until you are ready to cook it.
Can you freeze this crumble?
Yes this crumble would freeze really well.
Make it as the recipe states below but I would recommend assembling it in a metal takeaway container. You can then remove the cardboard lid and cook it in the foil container.
The crumble will keep for up to 3 months in the freezer. Defrost it thoroughly in the fridge for 8 hours or overnight.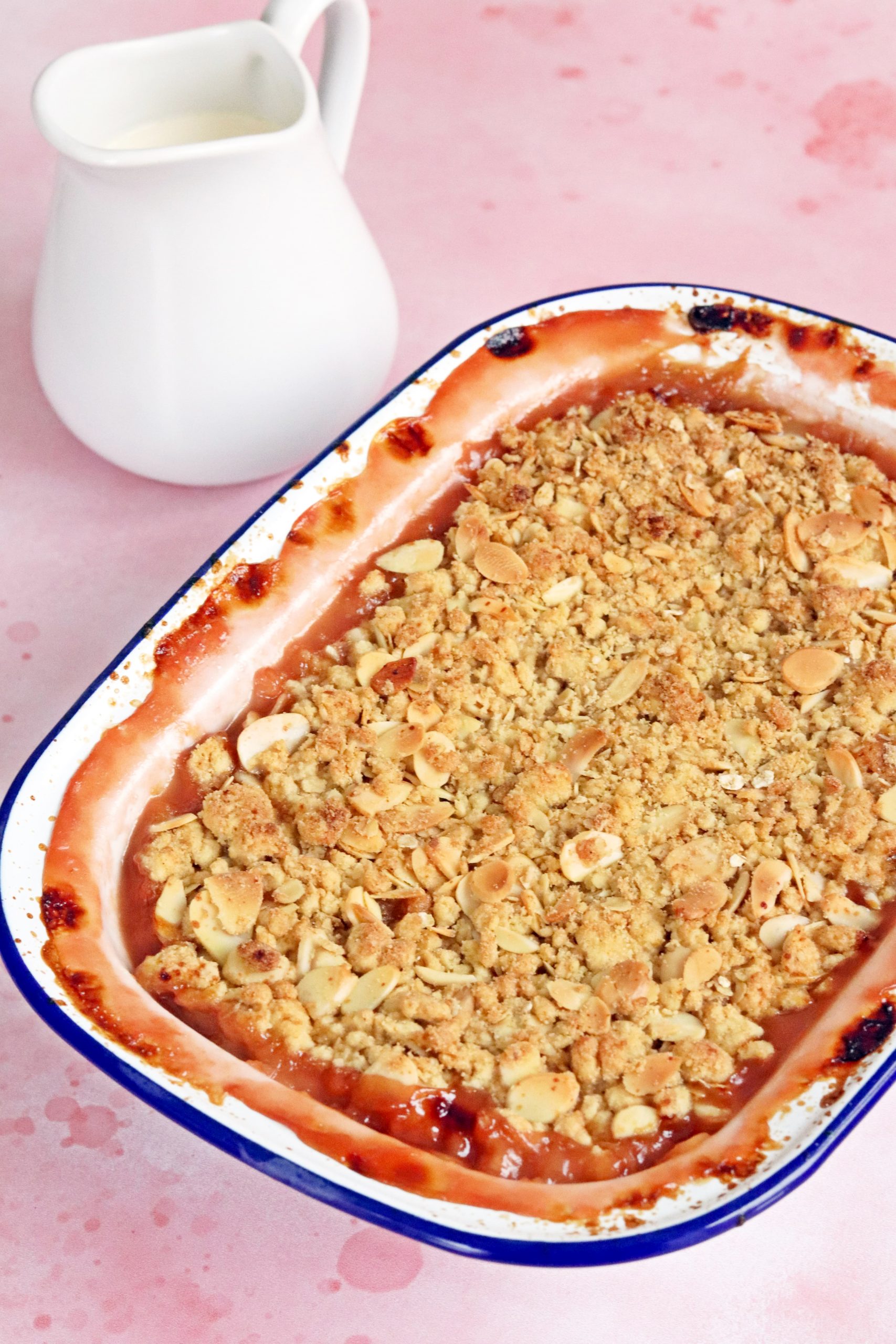 What to do with leftovers
Rhubarb crumble is great for leftovers. I make the quantities below for Mr Curly and I so we know we will have leftovers for the next day.
You can reheat the crumble in the oven or the microwave. I usually reheat ours in the microwave because I don't mind if the crumble topping becomes slightly soft.
If you would prefer to keep the crumble crisp, reheat it in the oven. Whichever method you use, make sure it is piping hot before serving.
other recipes you might like
Pin for later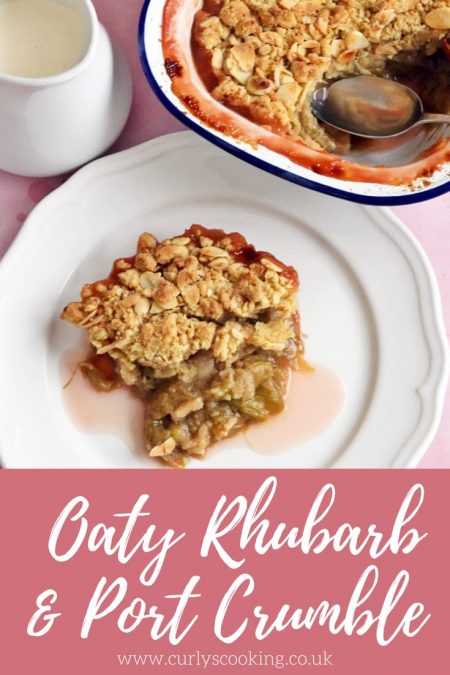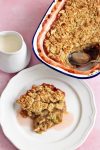 Oaty Rhubarb & Port Crumble
My Oaty Rhubarb & Port Crumble is a twist on a British traditional pudding. The port helps bring out the sweetness in the rhubarb and the topping has an extra added crunch from the oats and almonds.
Ingredients
For the rhubarb
600

g

rhubarb

100

g

caster sugar

3

tbsp

port
For the crumble topping
100

g

self raising flour

85

g

unsalted butter

use non dairy margarine to make this vegan

50

g

brown sugar

40

g

porridge oats

50

g

flaked almonds
Instructions
Cut the rhubarb into thumb length pieces and add to a saucepan along with the port and sugar

Cover and simmer the rhubarb on a low heat for 15 minutes. Taste and add some more sugar if it isn't sweet enough

When the rhubarb is soft, pour it into a medium baking dish

Preheat the oven to 180ºC (fan assisted, 200°C non fan)

Make the topping by adding the flour, butter and oats to a bowl and rubbing the ingredients together with your fingertips until you have a soft crumbly texture

Add the sugar and flaked almonds and mix together with your hands. Scatter the crumble topping over the rhubarb and bake for 30 – 35 minutes until the top is golden brown
Recipe Notes
Nutritional information is given as a guide only and may vary.
Nutrition Facts
Oaty Rhubarb & Port Crumble
Amount Per Serving
Calories 540
Calories from Fat 162
% Daily Value*
Fat 18g28%
Cholesterol 46mg15%
Sodium 13mg1%
Potassium 474mg14%
Carbohydrates 63g21%
Protein 5g10%
Vitamin A 684IU14%
Vitamin C 12mg15%
Calcium 148mg15%
Iron 1mg6%
* Percent Daily Values are based on a 2000 calorie diet.