A British classic, turned into a mini pie, what's not to love?! These Mini Rhubarb Crumble Pies are simple to make and so tasty. Great as a snack but also easily made into a dessert.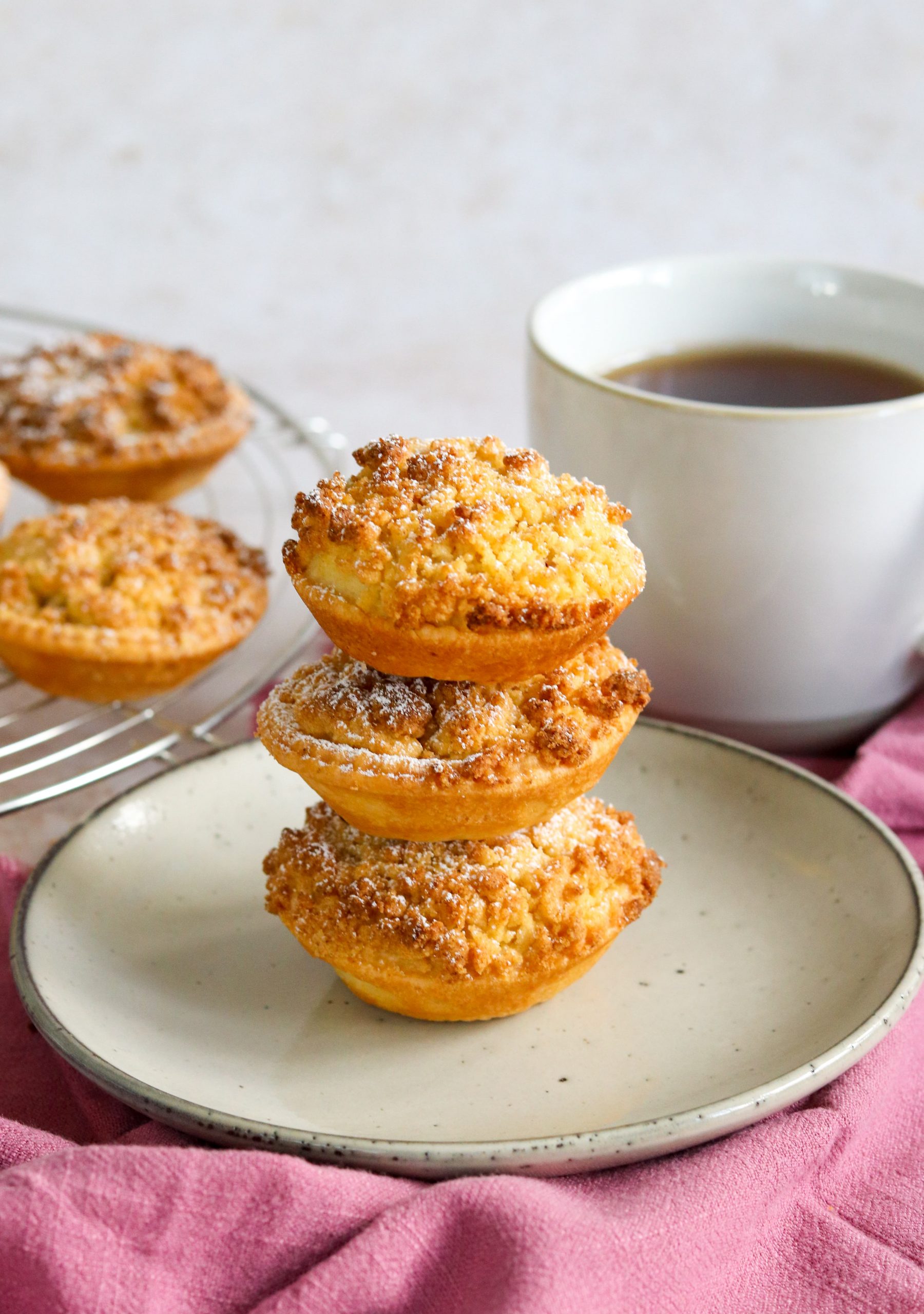 what are mini rhubarb crumble pies?
These lovely little pies are a twist on a popular British classic. They have a shortcrust pastry base, filled with a delicious rhubarb filling and then finished with a crumble topping.
I came up with the idea of these little pies when I was making my Crumble Topped Mince Pies (recipe coming soon). Of course rhubarb would work brilliantly with a crumble topping!
They are really simple to make and are a great afternoon treat. They are also easily served as a dessert with some custard, cream or ice cream.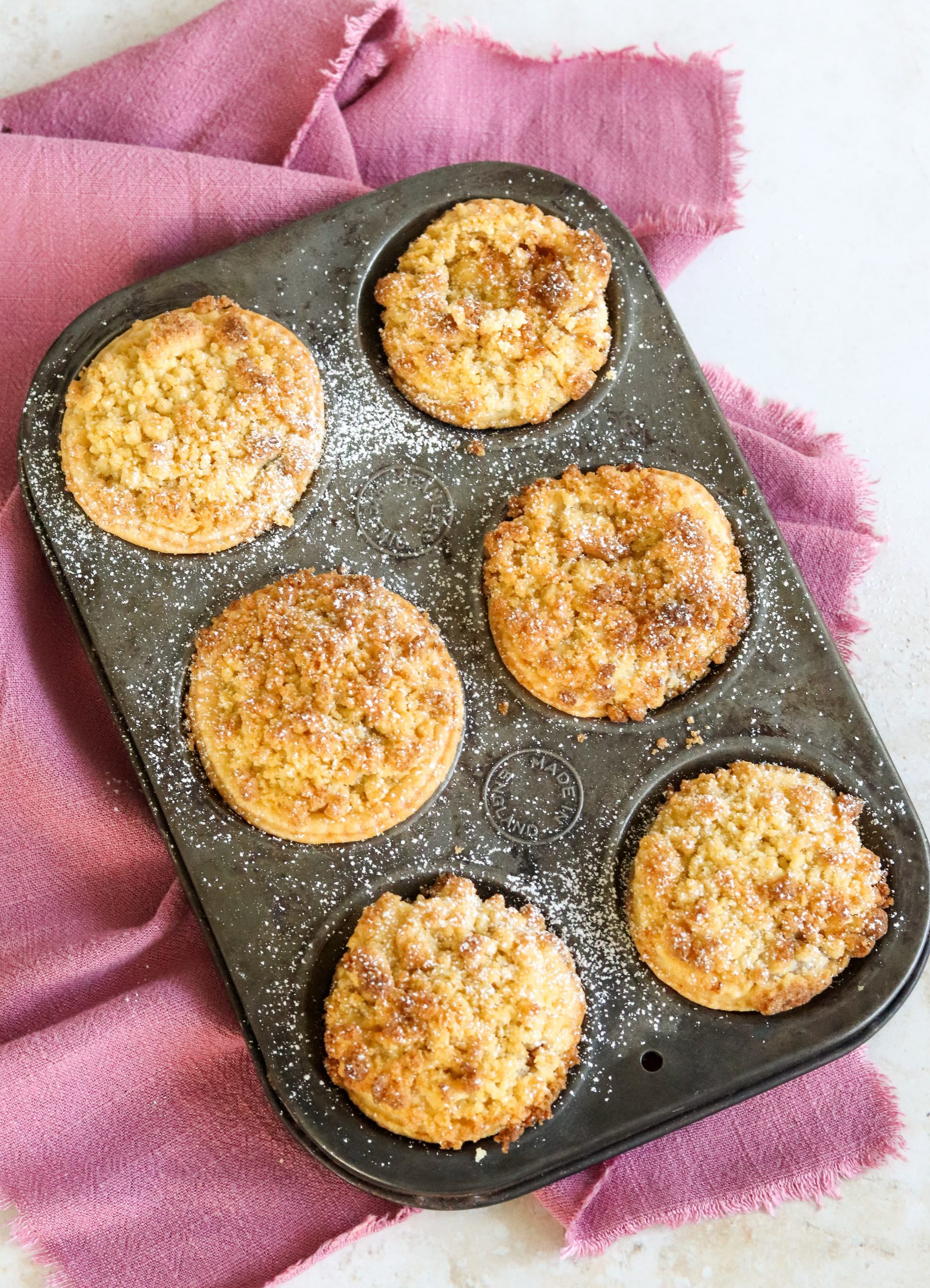 what is rhubarb?
Rhubarb is a leafy green plant with pink stalks popular in the UK. The leaves are inedible as they are poisonous so only the stalks are used. Technically rhubarb is a vegetable but it is largely considered a fruit because it is usually used in desserts and cooked with sugar.
You can grow and buy forced or unforced rhubarb. Forced rhubarb is grown in the dark which promotes the plant to produce lighter pink, sweeter stalks.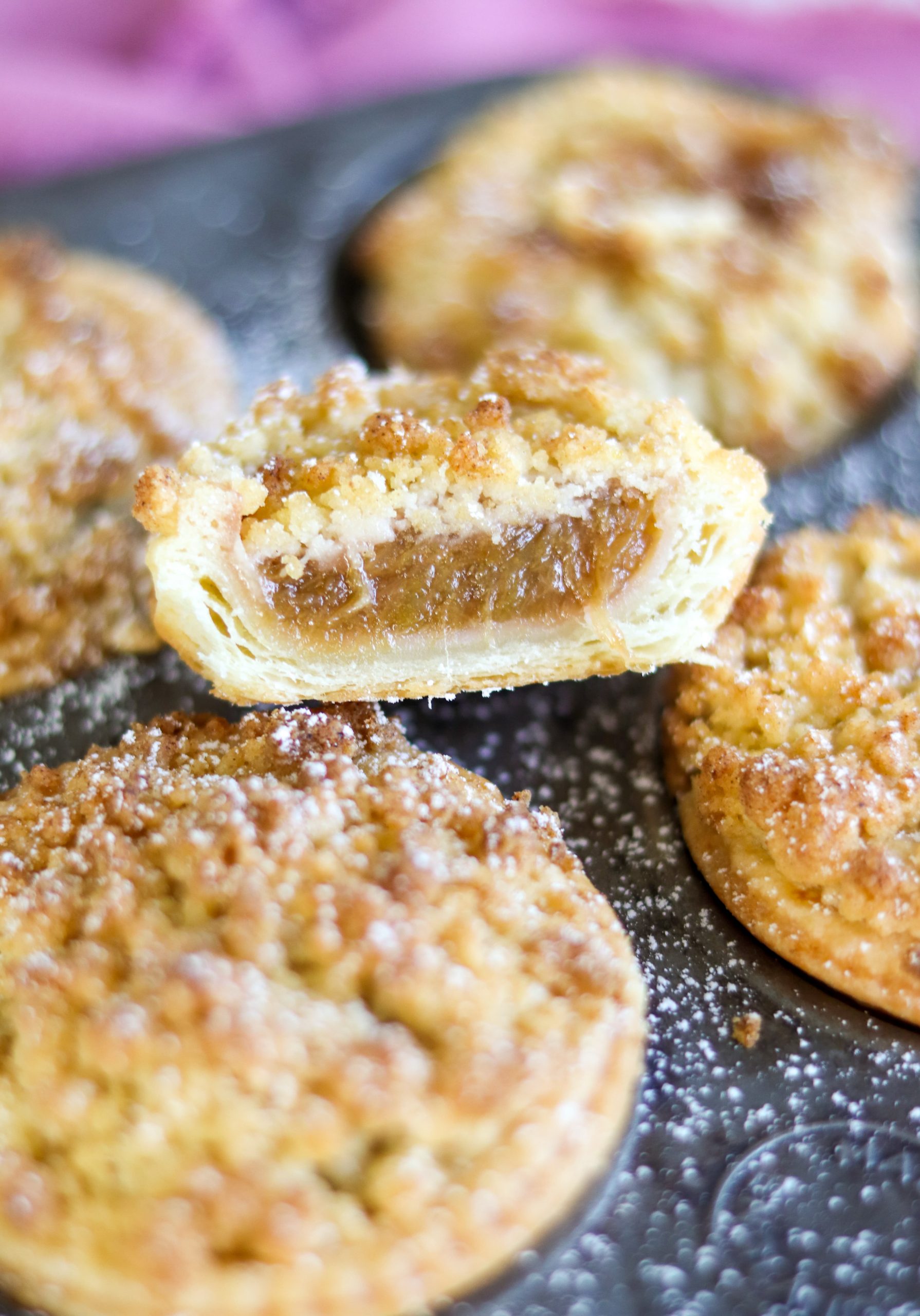 when is rhubarb in season?
There are two different types of rhubarb grown; forced and field grown rhubarb.
Forced rhubarb is grown with limited light to encourage it to grow earlier in the season. This type of rhubarb is available from late December to March. It is usually a lighter, brighter pink colour.
Field grown rhubarb then comes into season in April until September. As it is grown in fields with lots of light, the stems are more green in colour than forced rhubarb.
Some people consider forced rhubarb to be sweeter in taste but either would work well in this recipe.
is using shop bought pastry cheating?
I never think that using shop bought pastry is cheating! Yes there are recipes where I make my own shortcrust pastry like Bakewell Slices, but I absolutely love shop bought pastry.
I am a huge fan of ready rolled pastry. Some people may say this is even more lazy but I passionately disagree. I am not blessed with the skills of being able to roll out pastry into a perfect rectangle.
This is why ready rolled pastry is such a godsend for me! It makes recipes quicker and easier; which is great because you don't always want to spend hours in the kitchen baking.
I do think shortcrust pastry is easier to make than puff pastry. But I still have absolutely no problem buying shortcrust pastry either. I usually have some stashed in the freezer for ease.
You can of course make your own shortcrust pastry. When rolling the pastry out, you are looking for it to be approximately 4mm thick.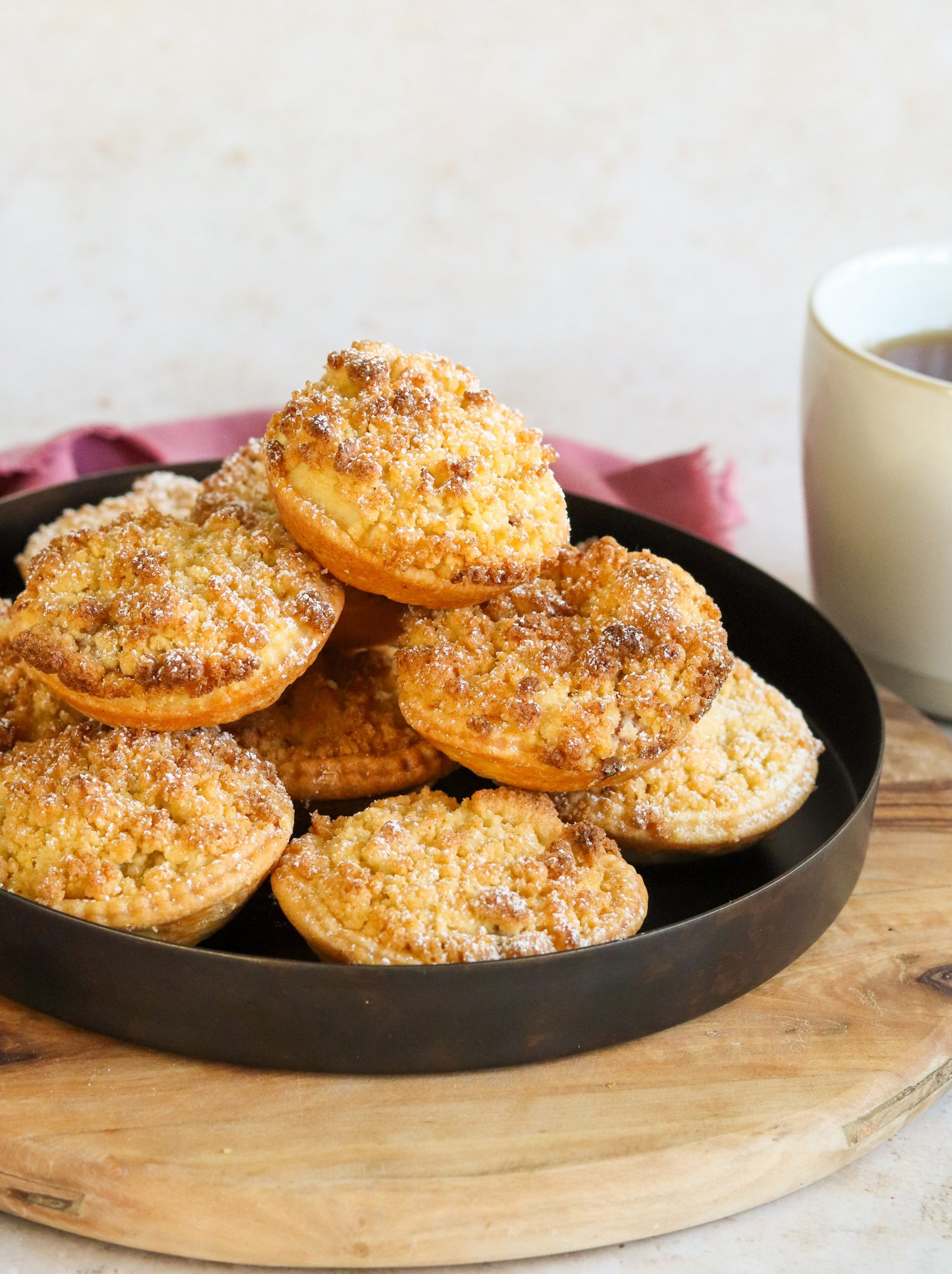 which tins do you need for these mini rhubarb crumble pies?
For these pies, you do need a shallow bun tin. I grew up referring to them as mince pie tins, but apparently they are commonly known as shallow bun tins.
These are basically, a shallow version of tins you would use for making cupcakes or muffins. The shallow tins provide a good ration of pastry to filling to crumble topping.
If you were to use standard cupcake tins, you would need much larger circles of pastry and a lot more of the rhubarb filling. I would imagine this would affect the baking time and this isn't something I have tested.
You also need a circular cutter to make these Mini Rhubarb Crumble Pies. The size I use is 3 inches or 7.5cm which is the perfect size for the shallow bun tin.
I use a fluted cutter but you can just as easily use a straight cutter. Usually the benefit of using the fluted cutter is to make the edges more decorative. But for these pies you are covering them with crumble so you can't really see the edges anyway.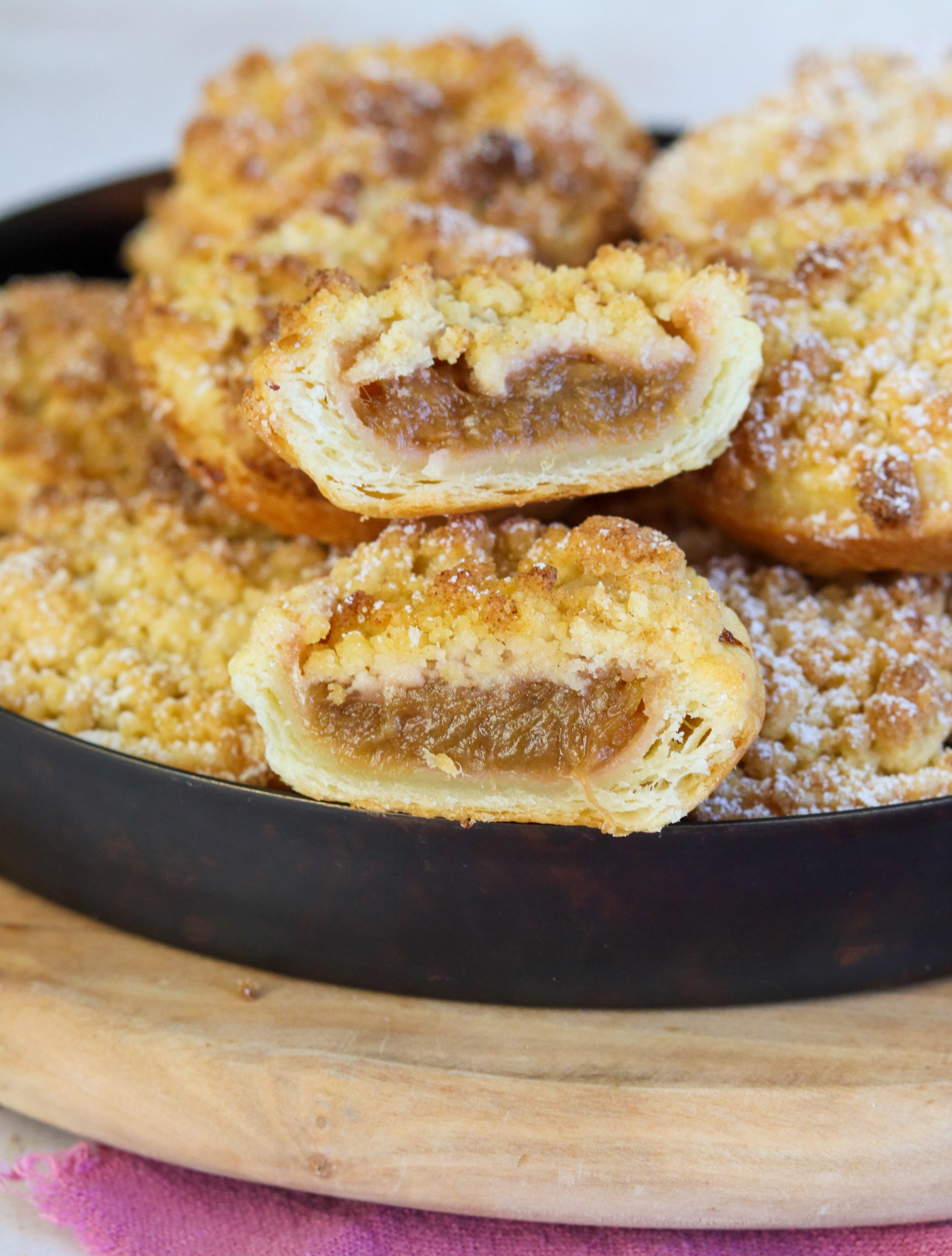 how to make gluten free Rhubarb Crumble Pie
These pies are easily made gluten free. Gluten free shortcrust pastry doesn't seem to be as readily available as puff pastry, but most large supermarkets should stock it.
Gluten free shortcrust pastry is more commonly found in the freezer section. It may be a block of pastry which you will need to defrost and then roll out yourself.
If you are rolling the pastry yourself you are looking for it to be approximately 4mm thick.
The crumble topping is easily make gluten free, just swap the self raising flour for gluten free flour. I have used gluten free plain flour for this and it works just as well, so use whichever you have in your cupboard.
The rhubarb filling is naturally gluten free.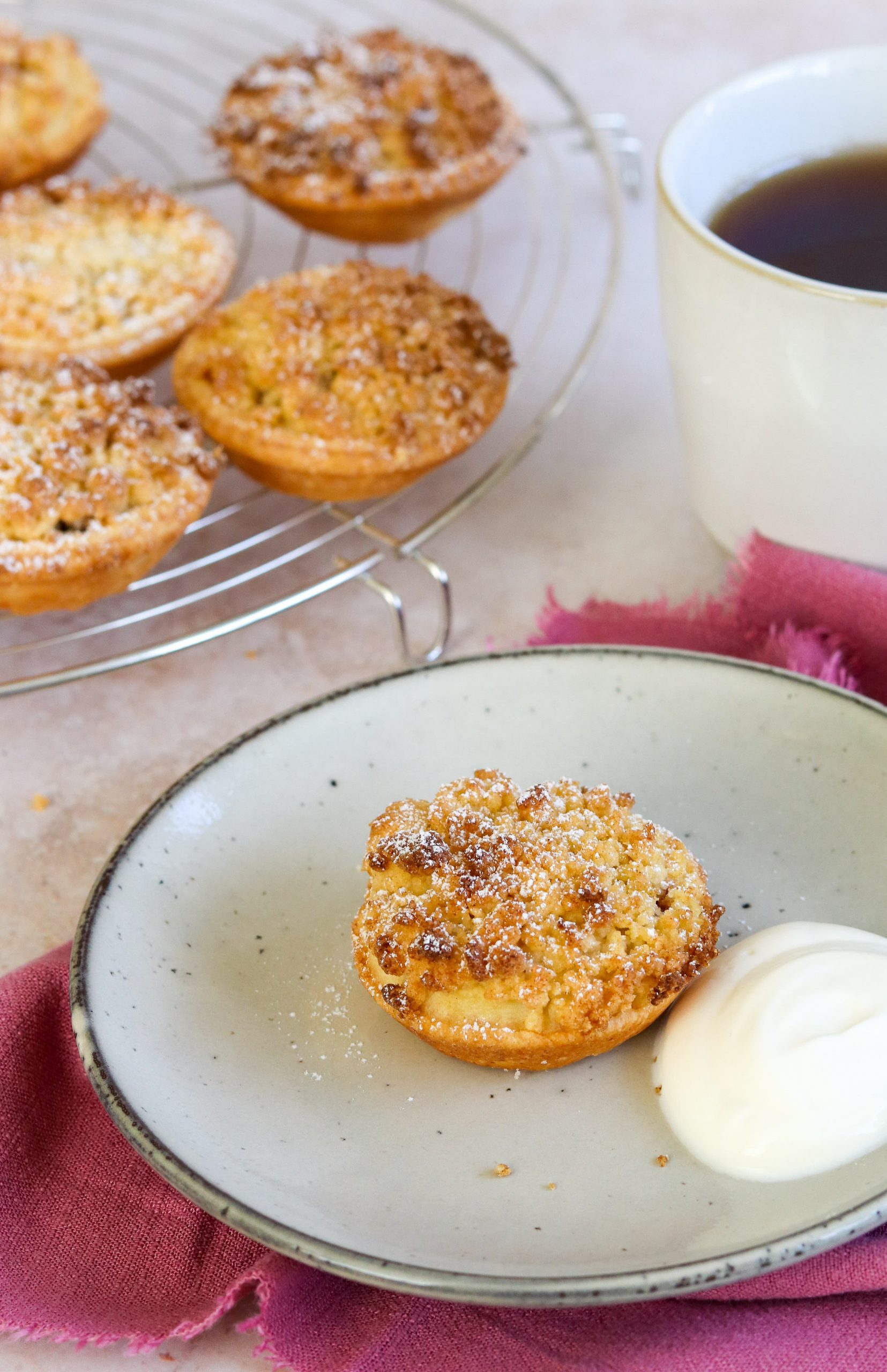 Adding additional flavours
These little pies are perfect for adding additional flavours to.
Starting with the crumble, you could substitute some of the flour for ground almonds. I would use 50g of ground almonds to add a lovely nutty flavour to the crumble.
You could also add in a couple of tablespoons of flaked almonds to the crumble topping to add texture and tasty flavour.
Ginger works really well with rhubarb so this would be a great addition to the rhubarb filling. I would add ½ tsp of ground ginger to the rhubarb along with the sugar. You can taste it and add more if you wish.
Another flavour that I love with rhubarb is port. I add port to my Oaty Rhubarb & Port Crumble and the flavour is so delicious. I would add 2 tbsp and possibly cook the rhubarb for a little longer so the moisture can evaporate.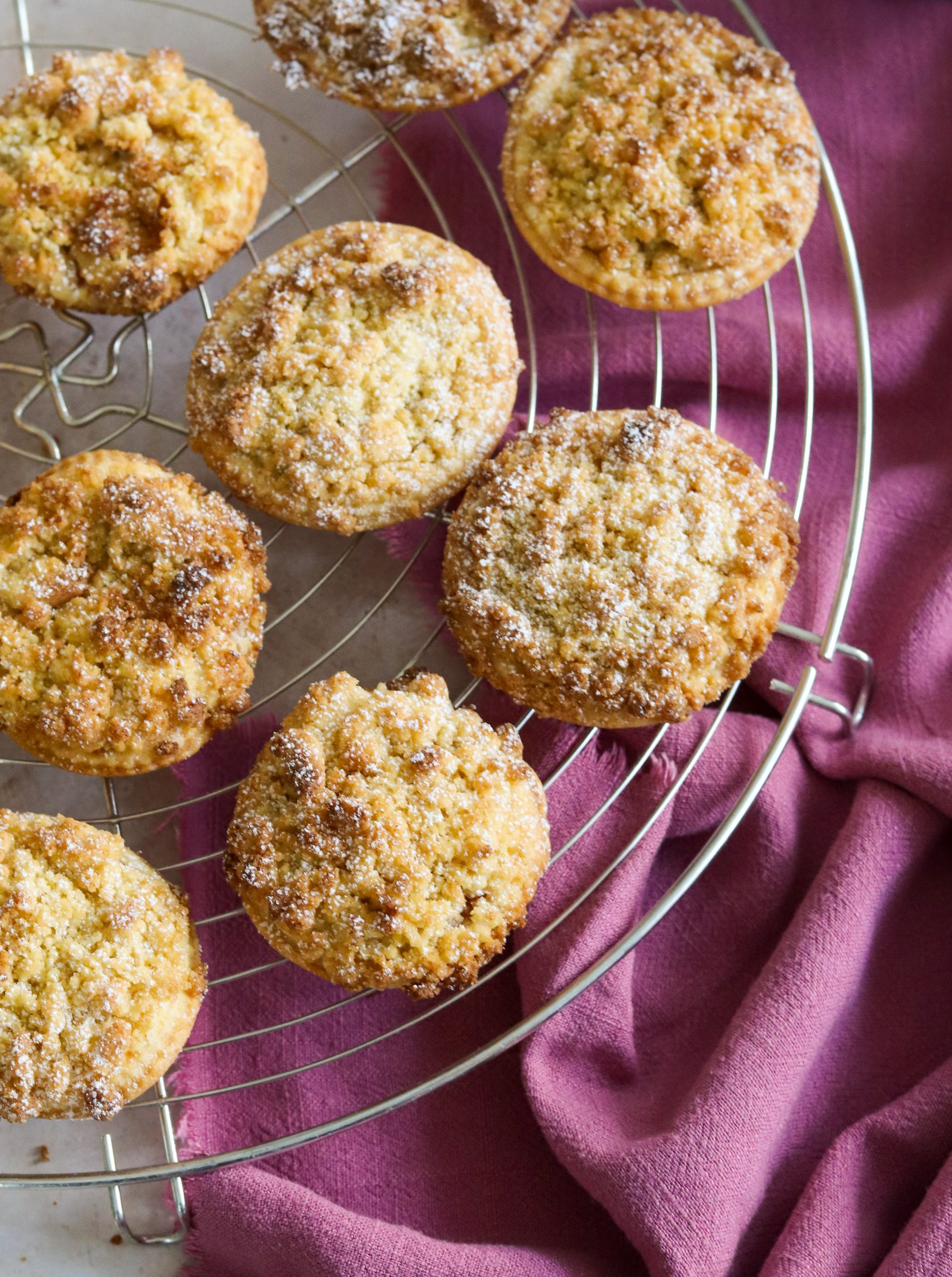 how many pies does this recipe make?
This does depend on how thick you roll your pastry and also which size of pastry you buy.
Supermarket own brand shortcrust pastry differs in weight compared to the British big brand. The supermarket versions tend to be 375g whereas Jus-Roll is 320g.
Depending on the thickness you roll the pastry, you should make between 23 and 24 pies with a 375g pack of pastry. Obviously if you buy the smaller pack of pastry you will make fewer pies.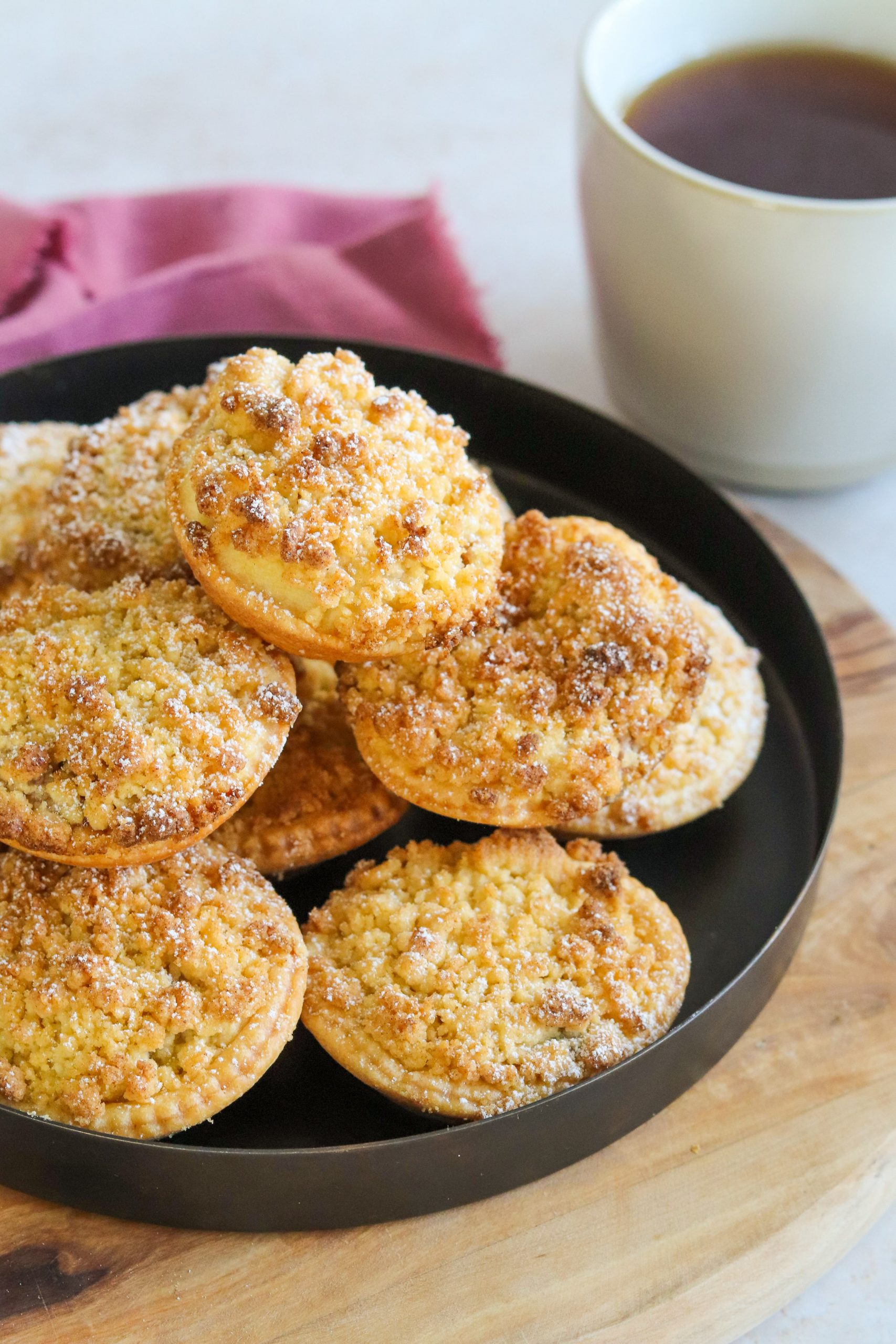 how long will these rhubarb crumble pies keep for?
These pies will keep in an airtight container for up to 5 days. You can reheat them in the microwave for 20-30 seconds if you like.
If you would like the pies to keep for longer I recommend freezing them.
how to freeze these pies
These Rhubarb Crumble Pies freeze really well. Once they are baked and completely cool, put them in a freezer safe bag or container and freeze for up to three months.
When you want to eat them, take out however many you want and let them defrost at room temperature.
This is great if you have a glut of rhubarb and you want to make these pies to enjoy later in the year.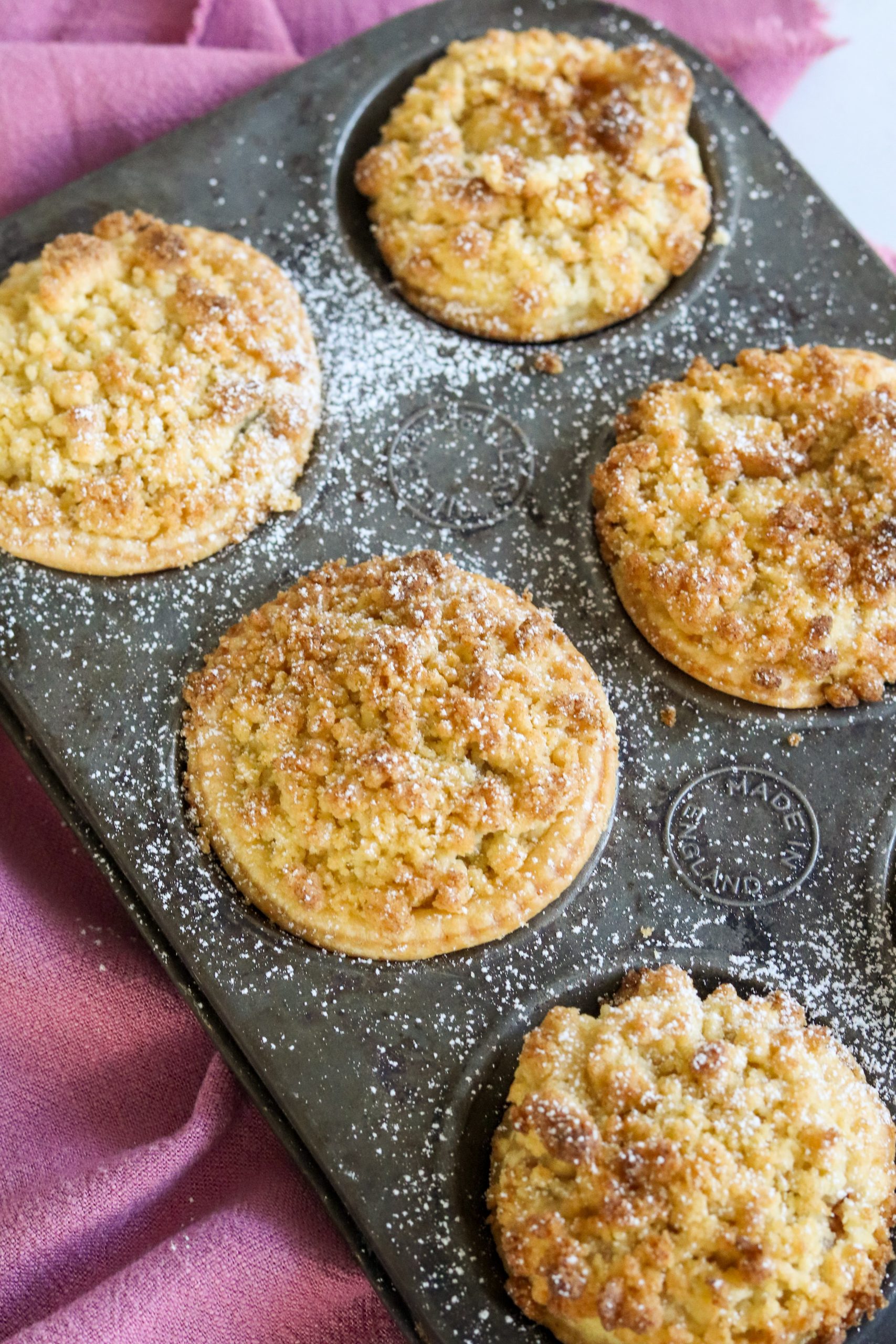 Other recipes you might like
Pin for later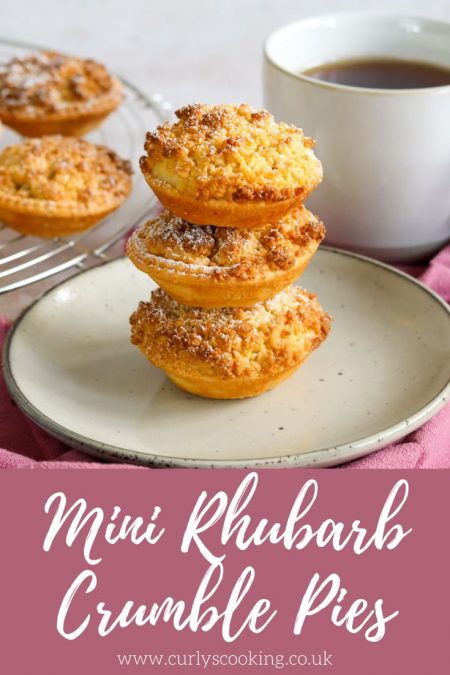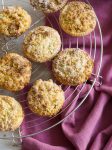 Mini Rhubarb Crumble Pies
A British classic, turned into a mini pie, what's not to love?! These Mini Rhubarb Crumble Pies are simple to make and so tasty. Great as a snack but also easily made into a dessert.
Ingredients
For the crumble
175

g

self raising flour

110

g

unsalted butter

65

g

caster sugar
For the filling
500

g

rhubarb

washed and cut into chunks

90

g

caster sugar

375

g

ready rolled shortcrust pastry

(1 pack)

spray oil

plain flour

for dusting
Instructions
Add 500g rhubarb to a pan along with 90g caster sugar. Cook on a medium heat for 5-10 minutes until the rhubarb has broken down. Leave to one side to cool slightly

In a large bowl, add 175g self raising flour, 110g unsalted butter and 65g caster sugar. Rub the ingredients together in your fingertips until you get a breadcrumb consistency. Set aside

Preheat the oven to 170°C (fan assisted, 190°C non fan) and spray two 12 hole shallow bun tins with oil

Unroll the 375g ready rolled shortcrust pastry. Using a 3"/7.5cm fluted cutter, cut as many circles into the pastry as you can

Gently lift the circles from the pastry and place them into the oiled tin

Gather up the remaining pastry and sprinkle with a small amount of plain flour before rolling out the pastry again. Try to get it as close to the thickness of the original pastry. Cut out more circles of pastry. Repeat until all of the pastry has been used

Once all of the pastry circles are in the tins, spoon a small amount of the cooled rhubarb filling into each pastry case

Finish by sprinkling the crumble topping over each pie making sure to cover the rhubarb

Bake in the oven for 18-20 minutes until golden brown

Remove from the tins and leave to cool completely on a wire rack
Recipe Notes
Keep the pies in an airtight container for up to 4 days.
Nutritional information is given as a guide only and may vary.
Nutrition Facts
Mini Rhubarb Crumble Pies
Amount Per Serving
Calories 151
Calories from Fat 36
% Daily Value*
Fat 4g6%
Cholesterol 10mg3%
Sodium 2mg0%
Potassium 69mg2%
Carbohydrates 13g4%
Protein 1g2%
Vitamin A 136IU3%
Vitamin C 2mg2%
Calcium 20mg2%
Iron 1mg6%
* Percent Daily Values are based on a 2000 calorie diet.