Who doesn't love tacos? My Pasilla Pork Tacos are simple to make but are packed with delicious authentic Mexican flavours.

My love of Mexican food is no secret, neither is my love of pork. So a recipe that combines the both had to be delicious.
My go-to Mexican recipe book is by Margarita Carrillo Arronte called Mexico: The Cookbook. It has hundreds of authentic Mexican recipes from all over Mexico. As they are authentic recipes, they tend to use ingredients that are more readily available in Mexico and America. They can also be quite lengthy recipes that although I don't mind spending hours in the kitchen, others may not!
I have adapted a recipe called 'Pork in chile marinade' to make it easier and also to make it a tasty taco filling. A lot of Mexican recipes say to toast the whole dried chiles, then soak them in boiling water. Then to blitz them up in a liquidiser before passing them through a sieve. Ignoring the fact that this can be a little time consuming, it also requires you to have the whole chiles which aren't readily available here in the UK. I'm sure if you live in Mexico or parts of America you can get hole of these without any problems at all, but that isn't the case here!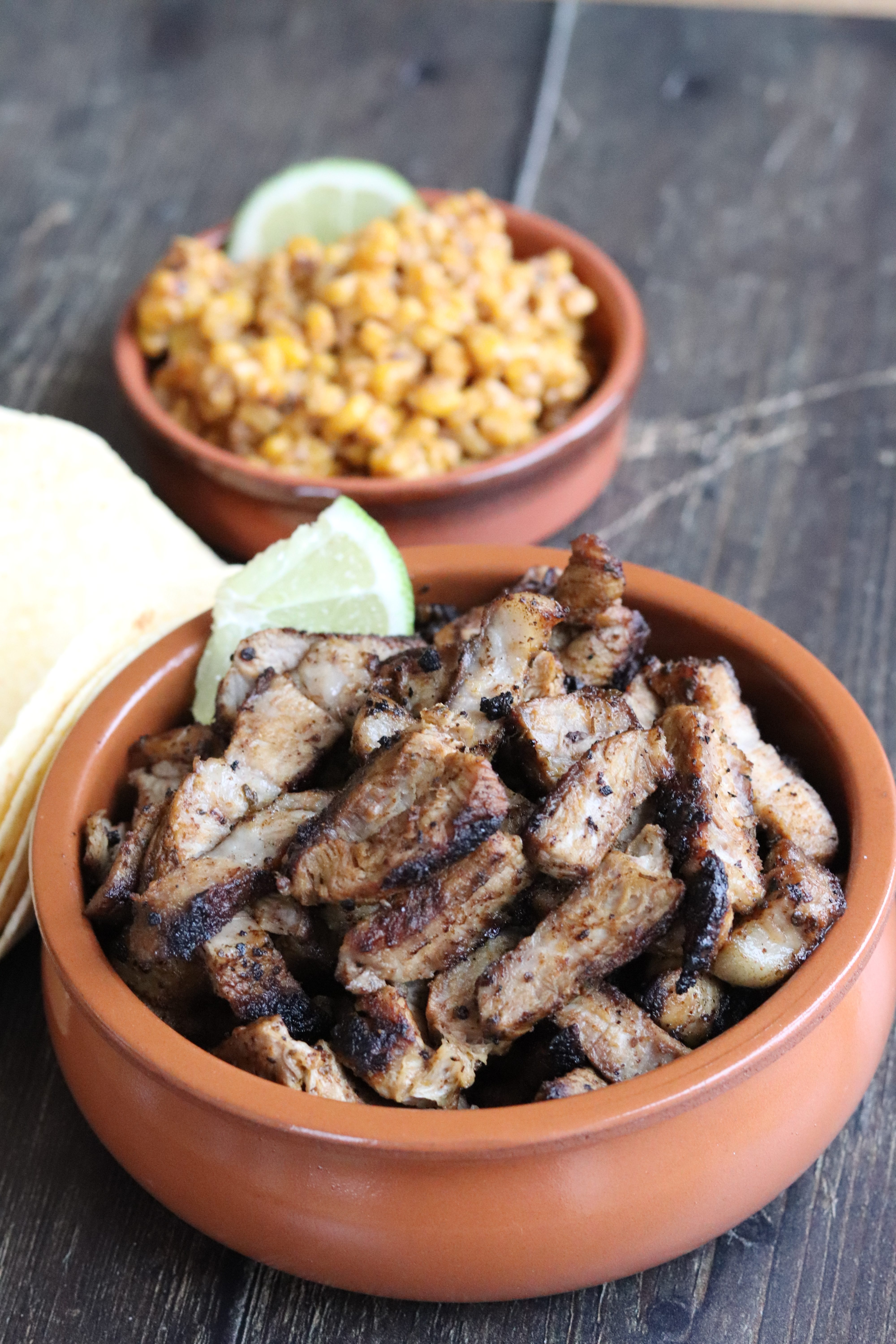 With that in mind, I decided to use pasilla chile powder instead. You can buy this online from Mexican suppliers such as Cool Chile Co, or even Amazon if you can't get it in your supermarket. I have noticed that supermarkets are expanding their Mexican products which is fantastic news!
Pasilla chiles are really great for this recipe because the flavour goes particularly well with red meat, oregano and garlic. If you really didn't want to buy pasilla chile powder, you could whatever chile powder you do have, but I really would recommend using pasilla chile powder. You can also use it in other recipes of mine such as Mexican Eggs and Chile Con Carne.
I love oregano in general, but Mexican oregano is especially tasty as it has a citrus note to it. Again, you can use normal oregano for this recipe and you probably wouldn't notice too much of a difference.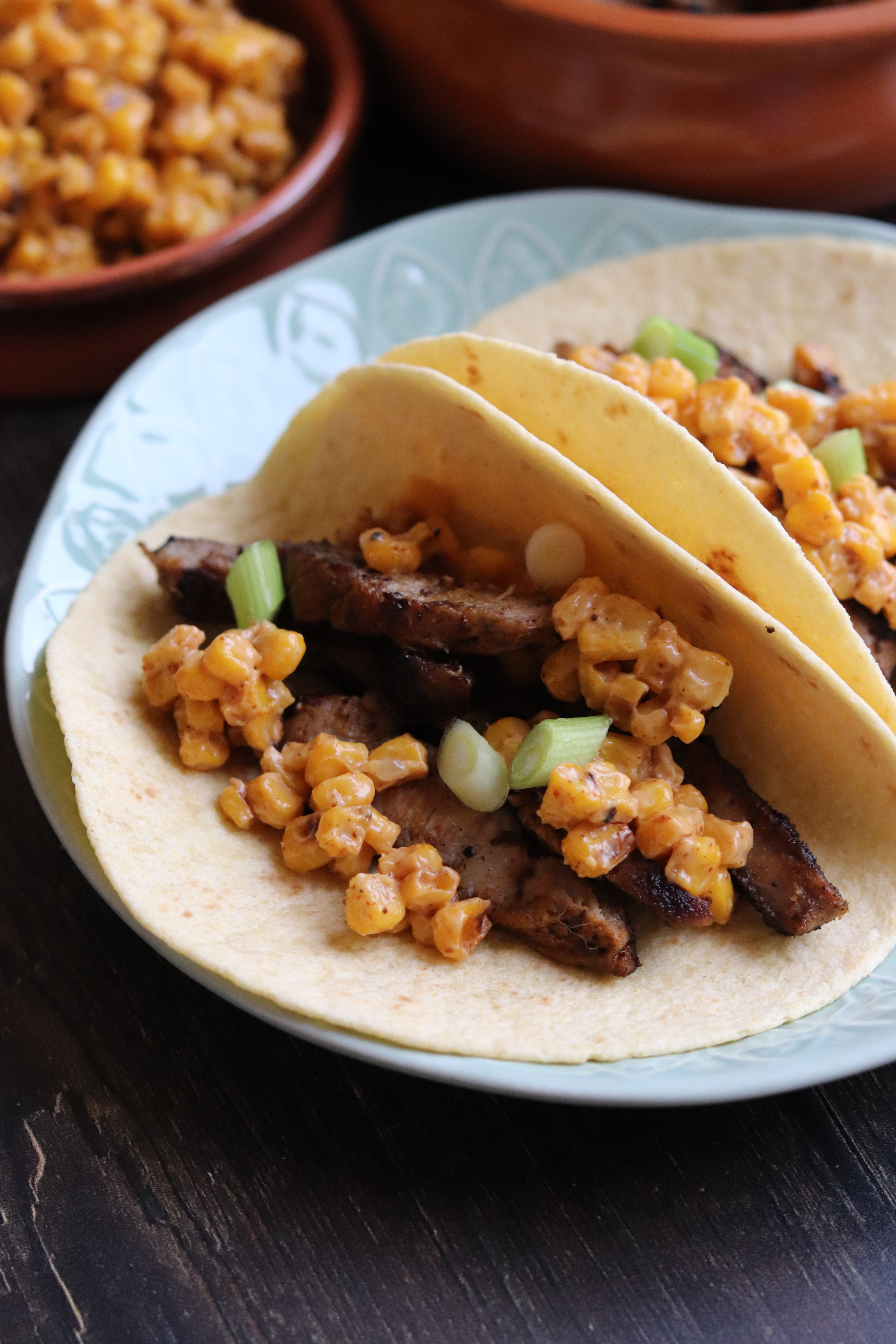 You really do need to use corn tortillas in my opinion. They add a delicious subtle corn flavour to the dish which goes so well with the pork. If you don't want to use pork, you could make these with beef. Corn tortillas are now readily available in most large supermarkets – and not even just in the Mexican foods section! Only a few years ago I remember the only place you could get these being in the Mexican section of the ethnic food aisle. They were only made by one brand and came in one size. Now you can find them with the rest of the tortilla wraps in the bread aisle and come in a variety of sizes!
For these tacos I would recommend the medium or small sized tortillas because if you get much bigger than that you may as well call these a fajita! Always use the soft corn tortillas and not those crisp shells which are Tex Mex and not Mexican. I think if you showed those to a Mexican person they may laugh in your face if you said they were a taco.
These Pasilla Pork Tacos are great as a tasty lunch, dinner or even a starter. If you use the medium sized tortillas, you will be able to make 10 generous filled tacos. For a starter, I would recommend using small tortillas which would make a lot more.
I like to serve these with my Mexican Sweetcorn Salad and a scattering of spring onions.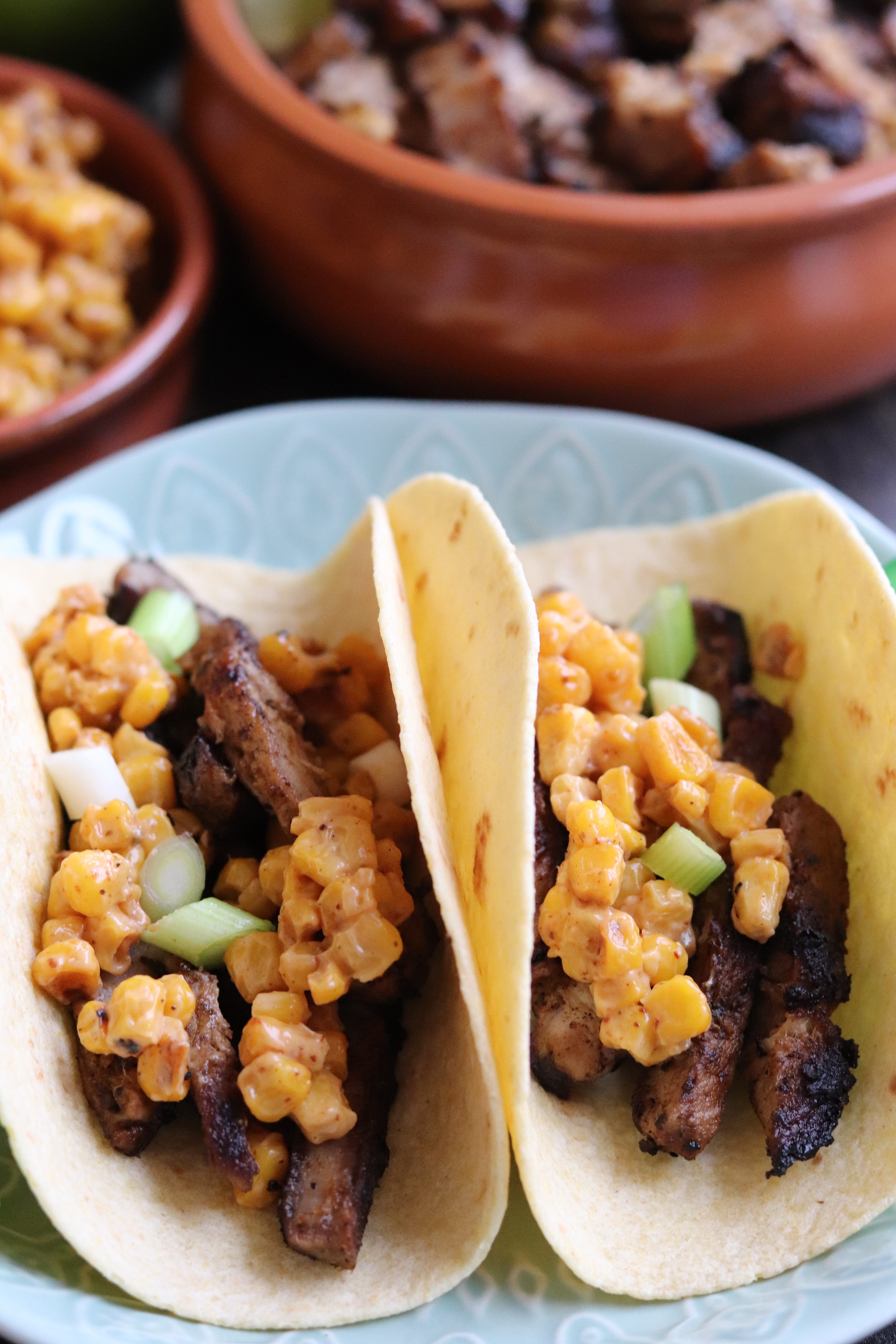 Makes 10 tacos
700g pork shoulder steaks
½ tbsp pasilla chile powder
1 tsp garlic powder
1 tsp sea salt
1 tsp Mexican oregano
2 tsp cider vinegar
2 tsp sunflower oil
1 tsp water
10 corn tortillas
Mix together the chile powder, garlic powder, salt, oregano, cider vinegar, 1 tsp oil and water to form a paste
Coat the pork in the spice paste and leave to marinate for at 1 – 3 hours
Heat the other tsp of sunflower oil in a large frying pan over a medium high heat. Cook the pork for 10-15 minutes on each side until browned and crisp in places and cooked through
Remove the pork from the pan and slice thinly
Serve in corn tacos with my Mexican Sweetcorn Salad and spring onions
Pin for later
Linking to