Oven Dried Apple Slices are a delicious and versatile ingredient that are incredibly simple to make. Plus they're a great snack that the whole family will love – you're going to want to make more than you think!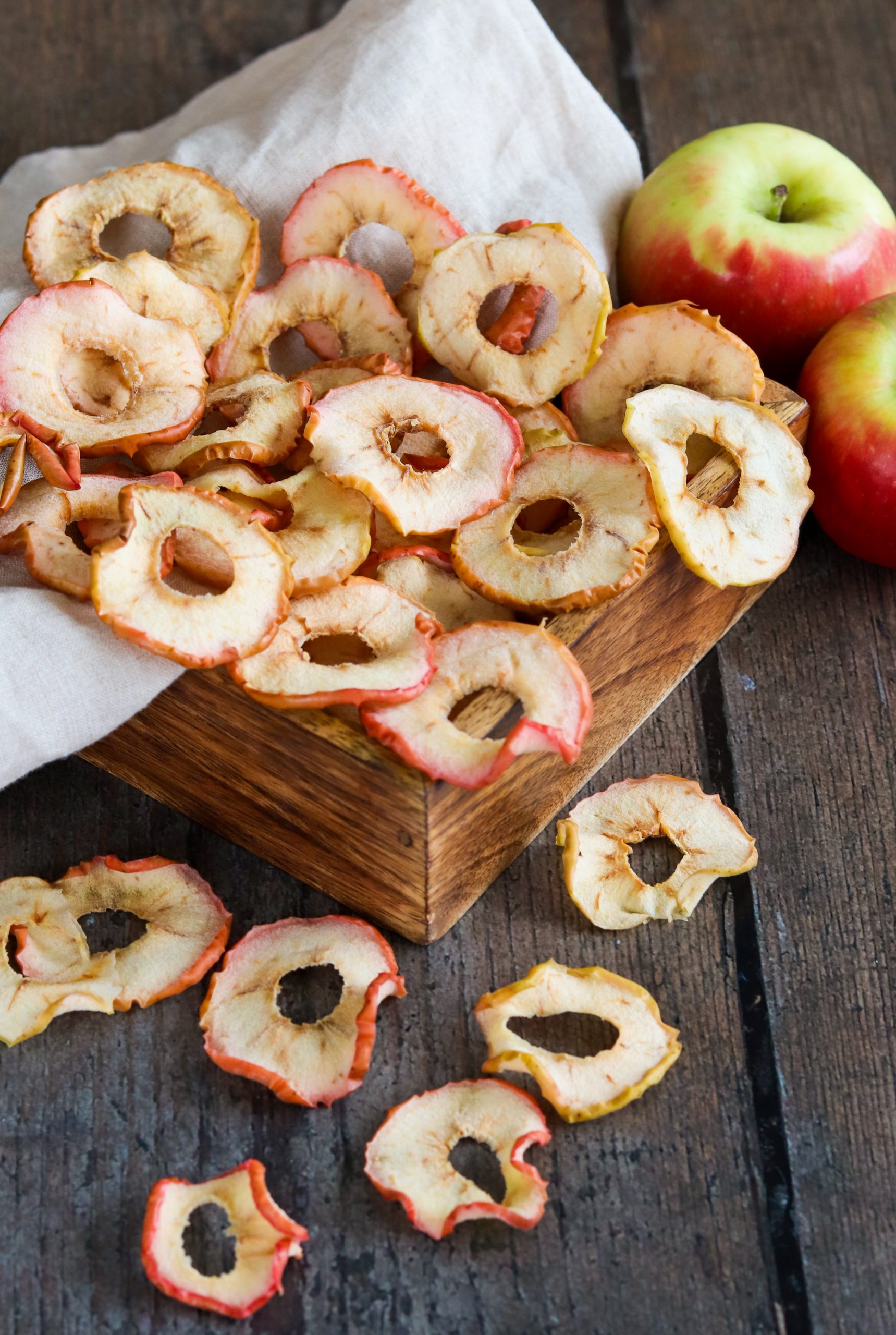 what are oven dried apple slices?
Oven Dried Apple Slices are an incredibly easy recipe that are as simple as they sound. They are just slices of apple that are dried out slowly in a low temperature oven.
By cooking them at a low temperature, the moisture is removed from the apples without making them crisp. What you are left with is a bendy, flexible slice of apple that has a chewy texture.
Dried apples are available to buy in most large supermarkets, but I wanted to make my own. For a start they are incredibly easy to make yourself. But also the supermarket ones are actually quite expensive.
With minimal effort you can make your own delicious Oven Dried Apple Slices at a fraction of the price.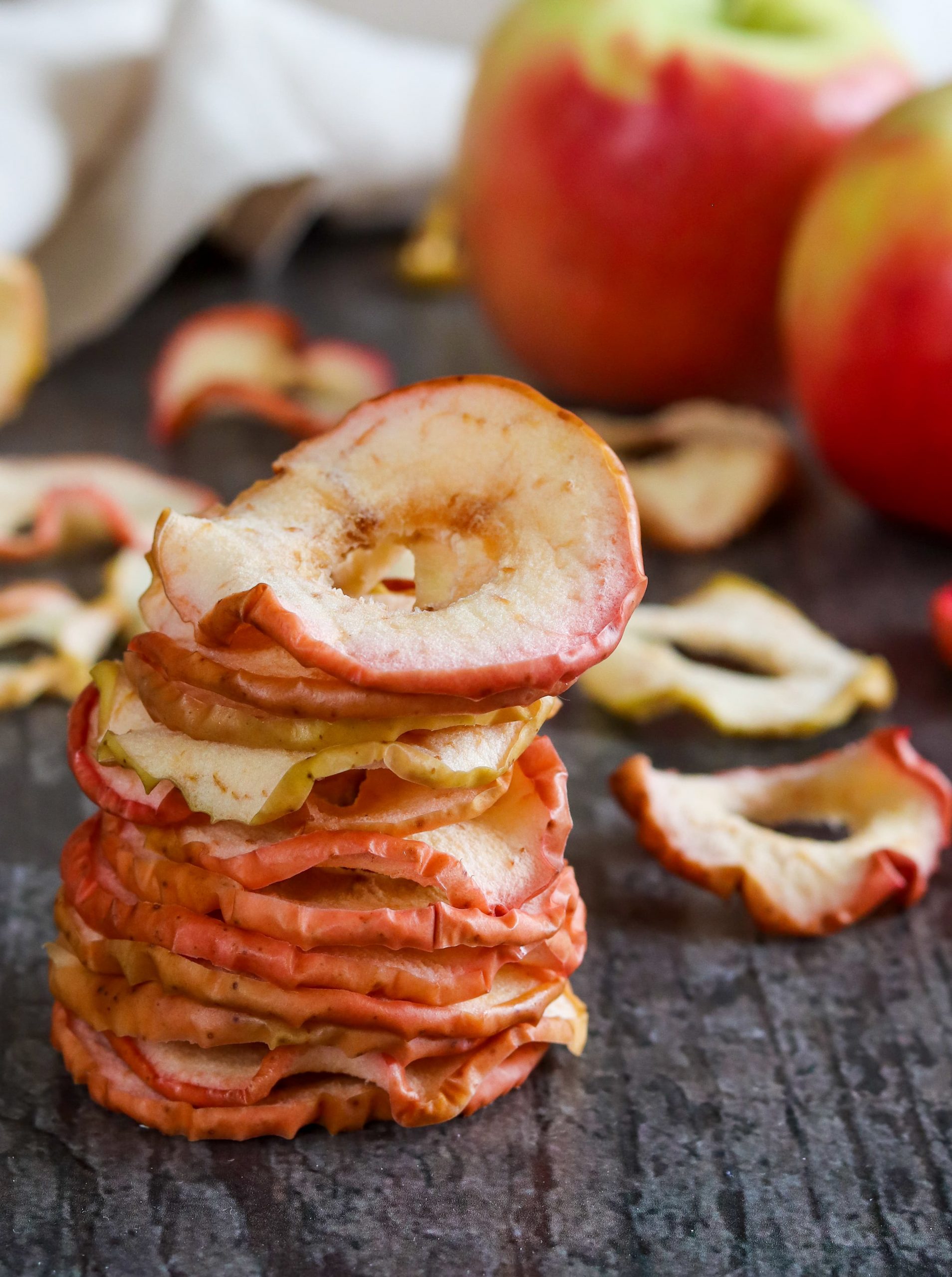 which apples are best to use?
Which apples to use does come down to personal preference. How sweet or tart do you want your apple slices to be?
Gala, Fuji, Honeycrisp and Golden Delicious are all great choices if you prefer a sweeter tasting apple. They hold their shape well and have a great taste.
If you prefer an apple that is more tart, Granny Smith would be a good option. I wouldn't recommend using cooking varieties such as Bramley apples because these are likely to be too tart.
However for a combination of sweet and tart, Pink Lady apples are a great choice. These are the variety I often use when making apple slices.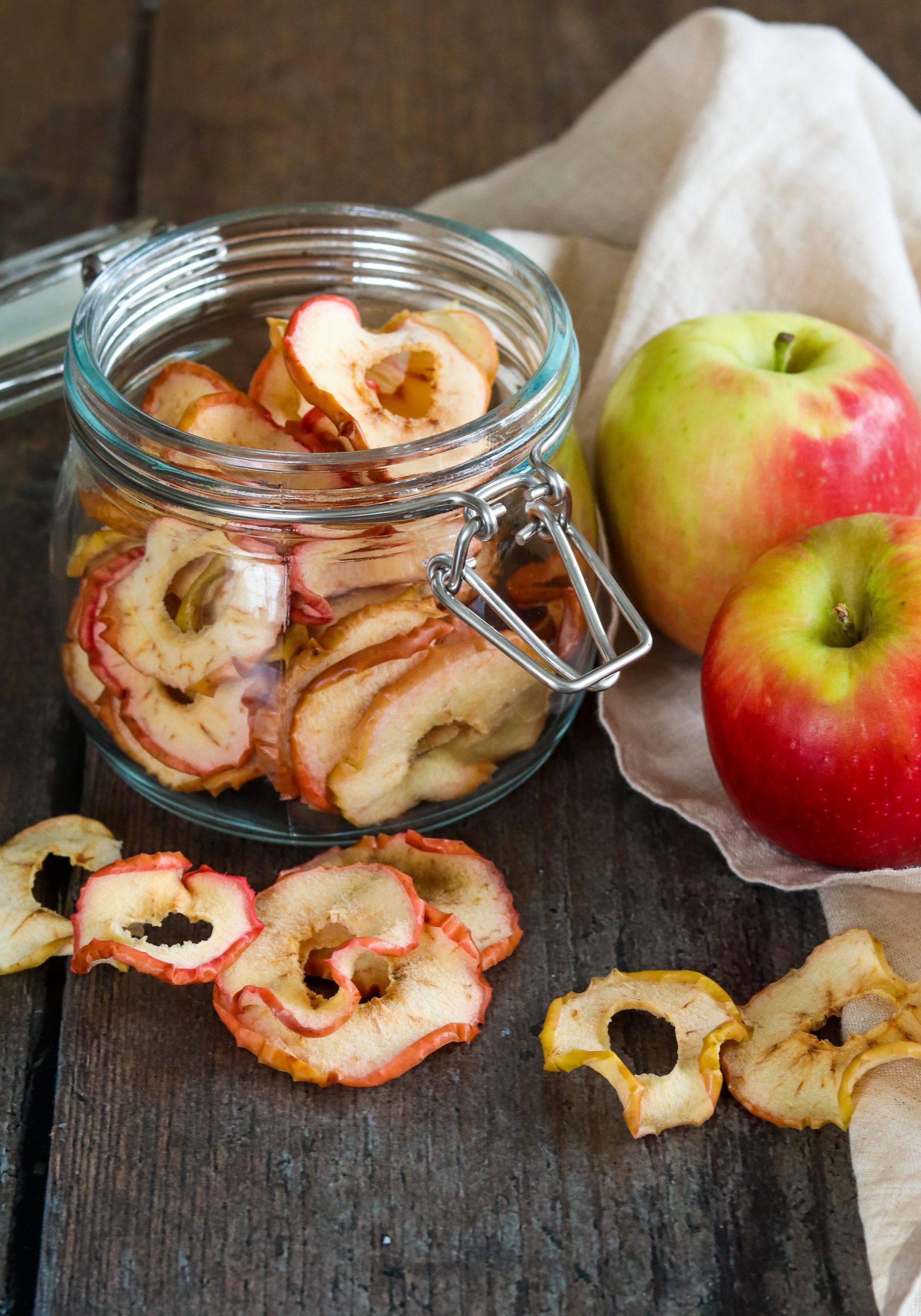 Do I need to peel & core the apples?
I have made these apples with and without peeling the apples. The apple skin adds a lovely hint of colour and texture to the apple slices.
It is also a lot quicker to make these Oven Dried Apple Slices if you don't peel them! However it is your choice whether you would like to keep the skin on or peel the apples.
I have always removed the core from the apples, but this is personal preference. I know other recipes leave the core in, so if you don't mind eating this then by all means leave it in.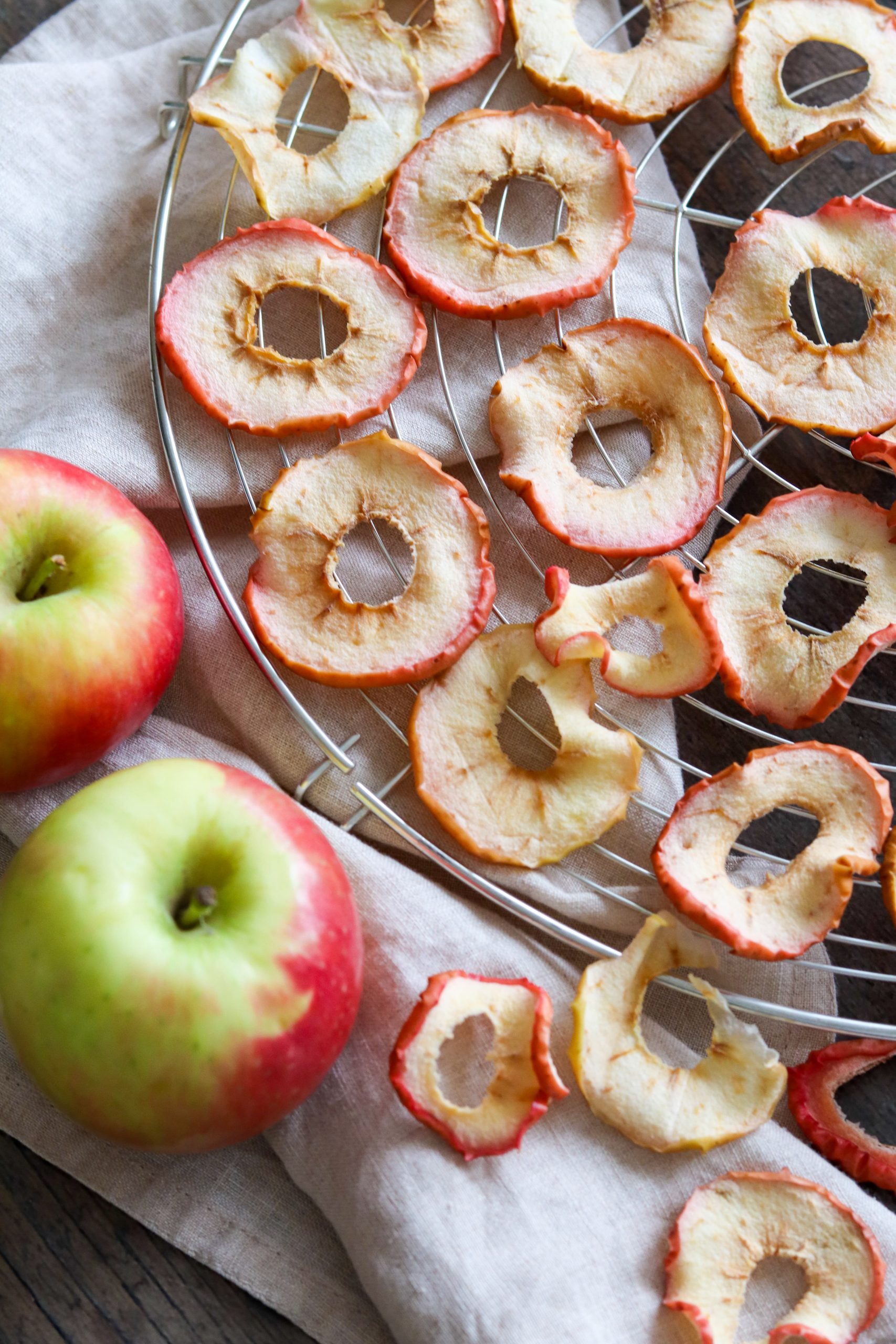 how to cut the apples
If you have a mandolin you can by all means use it to cut the apples in uniform slices. However this definitely isn't essential and I don't think using a knife takes too long.
I do recommend using a good sharp knife though so you can get nice clean slices. I like to aim for slices that are 3-4mm in thickness. However they don't all have to be perfect, apple slices are very forgiving!
If you cut your slices slightly thicker, they may take a little longer to dry out but that's not too much of an issue. Likewise, if you cut them thinner, they may dry out more quickly.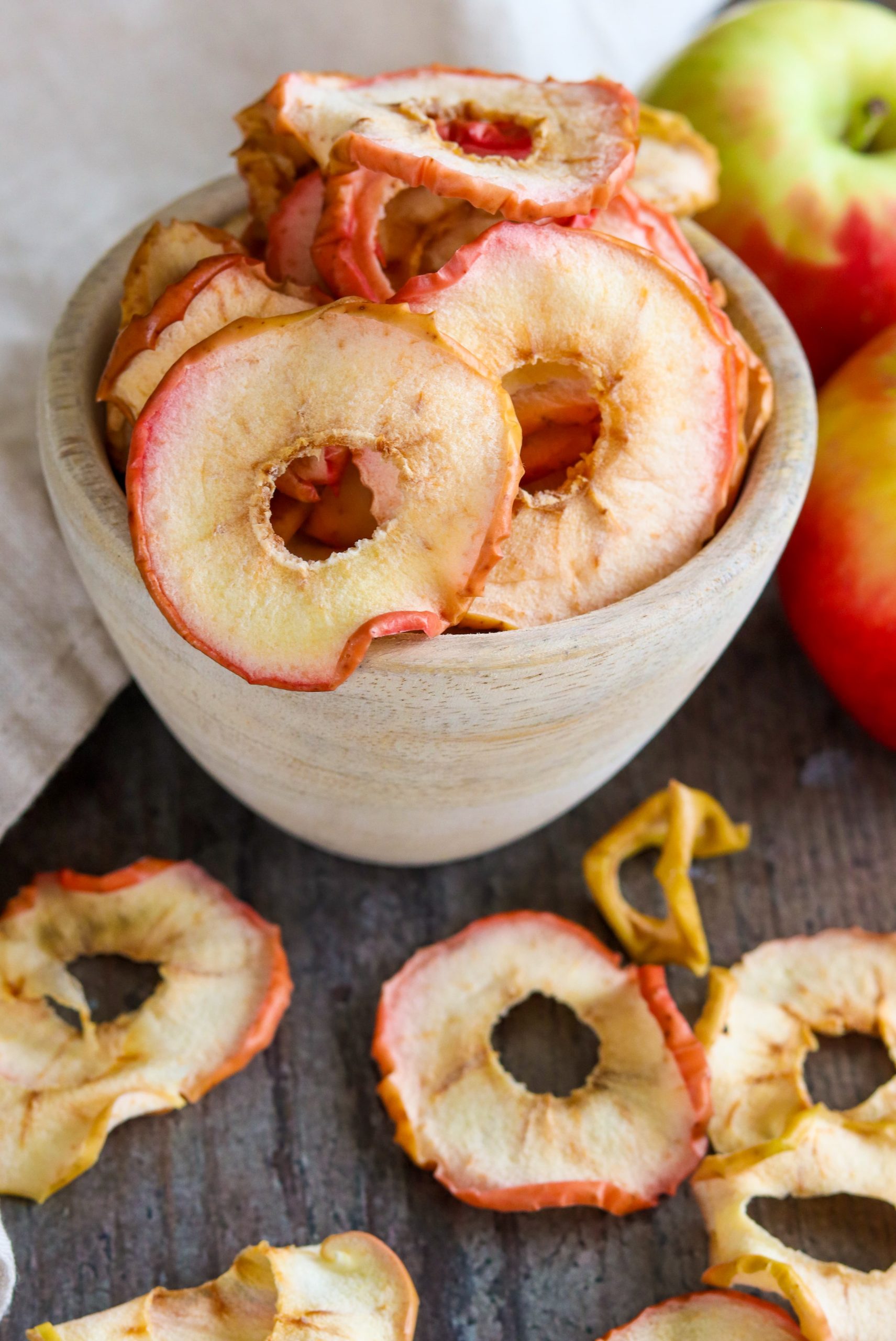 how long do the apple slices take to dry?
This does depend on personal preference. Do you like your apple slices chewy or crispy?
This recipe is really more of a guide and one you should adapt to your own tastes. I prefer my apples chewy and flexible to the touch.
Depending on how thick you have cut the slices, this should be achieved after 2-3 hours in the oven. It is always worth checking on your apples and even tasting one to see if they are done to your liking.
With the oven at this temperature it should be cool enough for you to just reach on in and grab one but care is always advised.
If you would prefer a crisper apple, keep cooking the apples until they are as you like them. Keep an eye on them though because you don't want to cook them for too long so they are completely brittle.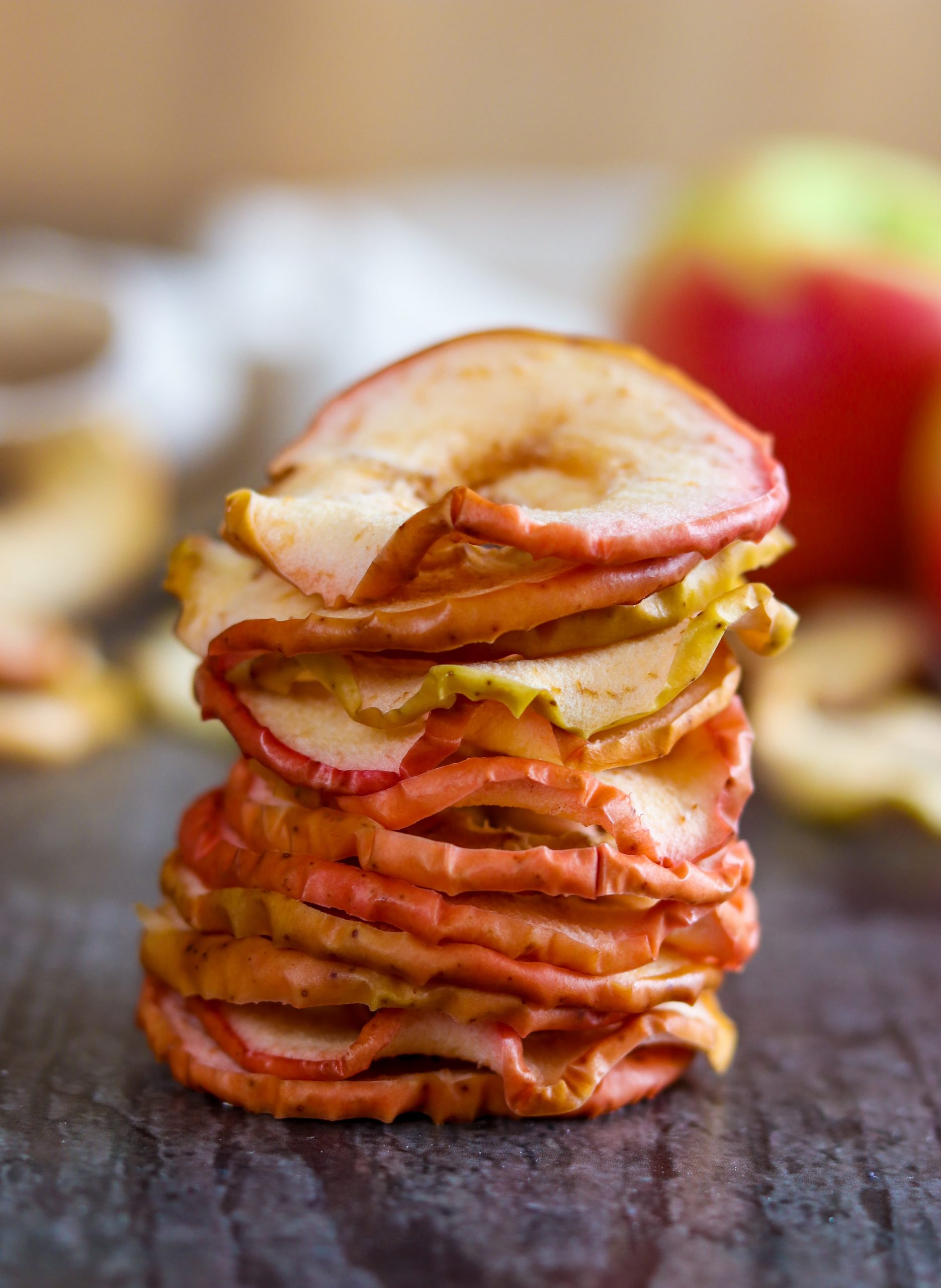 Use this recipe as a guide
It almost feels cheeky calling these Oven Dried Apple Slices a recipe as it is so simple. Think of it more as a guide which is extremely flexible.
It is very easy to scale up or down depending on how many apple slices you want to make. You don't have to be precise with the lemon juice. You just need enough acidity to prevent the apples from going brown.
I tend to use a bottle of lemon juice for this because it is always to hand rather than using a fresh lemon.
And with regards to how much water you need, it is just enough to cover the apples along with the lemon juice to prevent them from going brown whilst you cut the rest of the apples.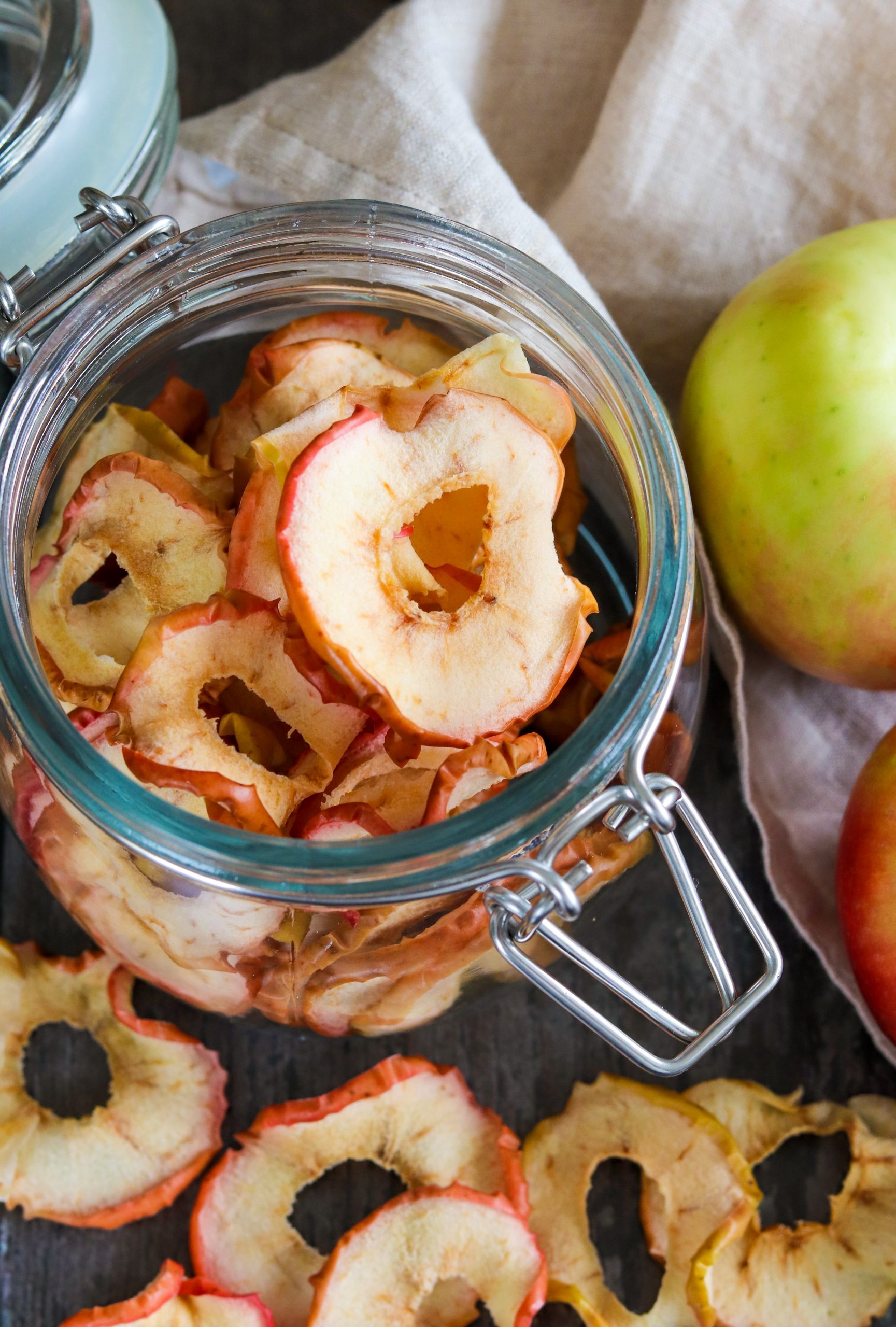 how to eat these apple slices?
These Oven Dried Apple Slices make a delicious snack just as they are. They are a great addition to a lunchbox.
For a more decadent way to enjoy them, you could dip them in some Caramel Sauce.
They are also a great ingredient to use in baking. Some of my favourite ways to enjoy them are in my Apple & Sultana Teacakes and Apple & Sultana Fruit Bread.
These apple slices would also be great in flapjacks, granola or Dried Fruit Compote.
You can also use these apple slices in savoury recipes too. I use them in my Pork & Apple Sausage Rolls to really enhance the apple flavour.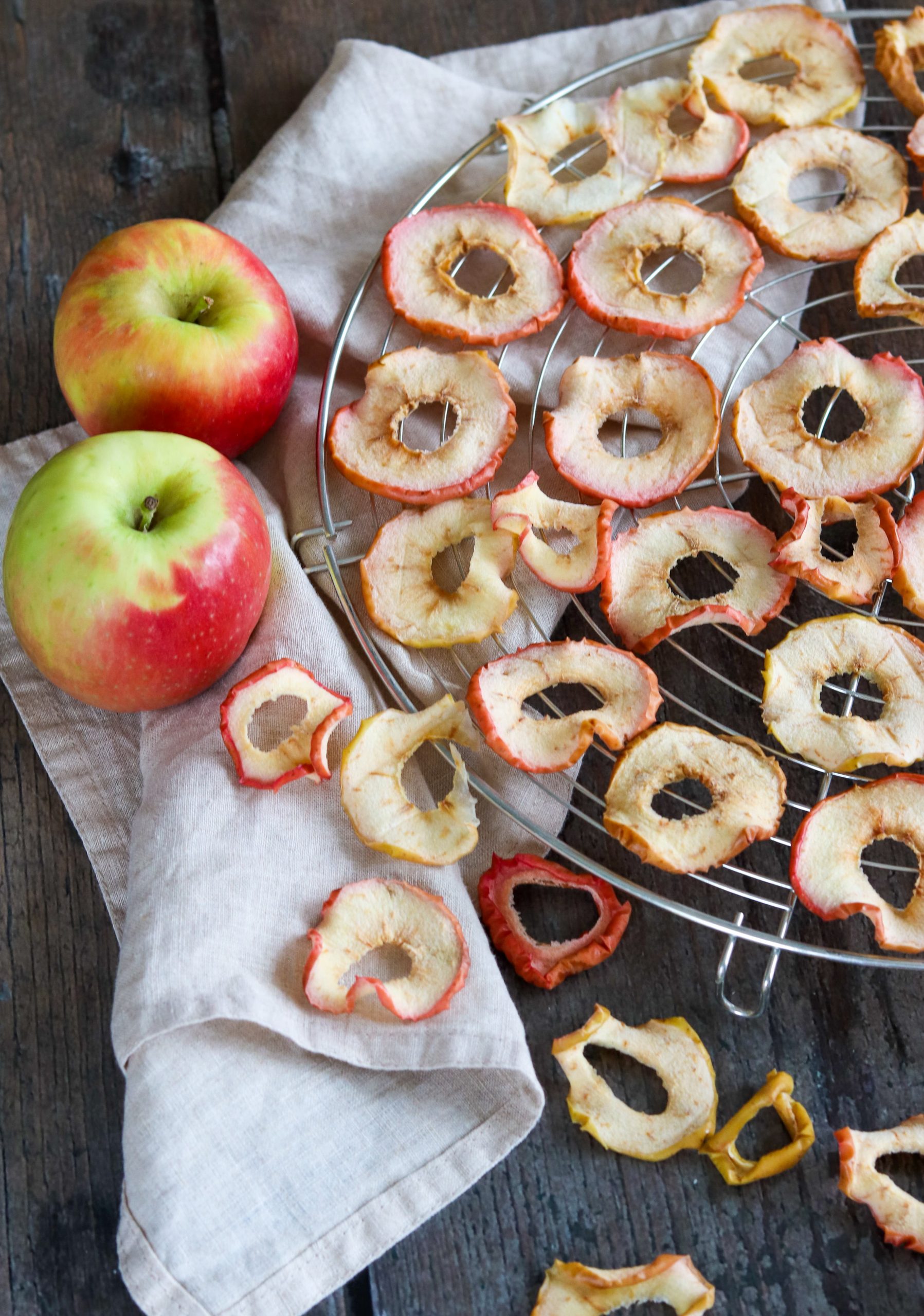 how long will these oven dried apple slices keep for?
As long as you have oven dried the apples so that a lot of the moisture has gone, these apple slices should keep in an airtight container for up to three months.
The apple slices can definitely keep for longer if they have been dried well. However this isn't the biggest batch so I'm sure you will have eaten them all way before they are past their best.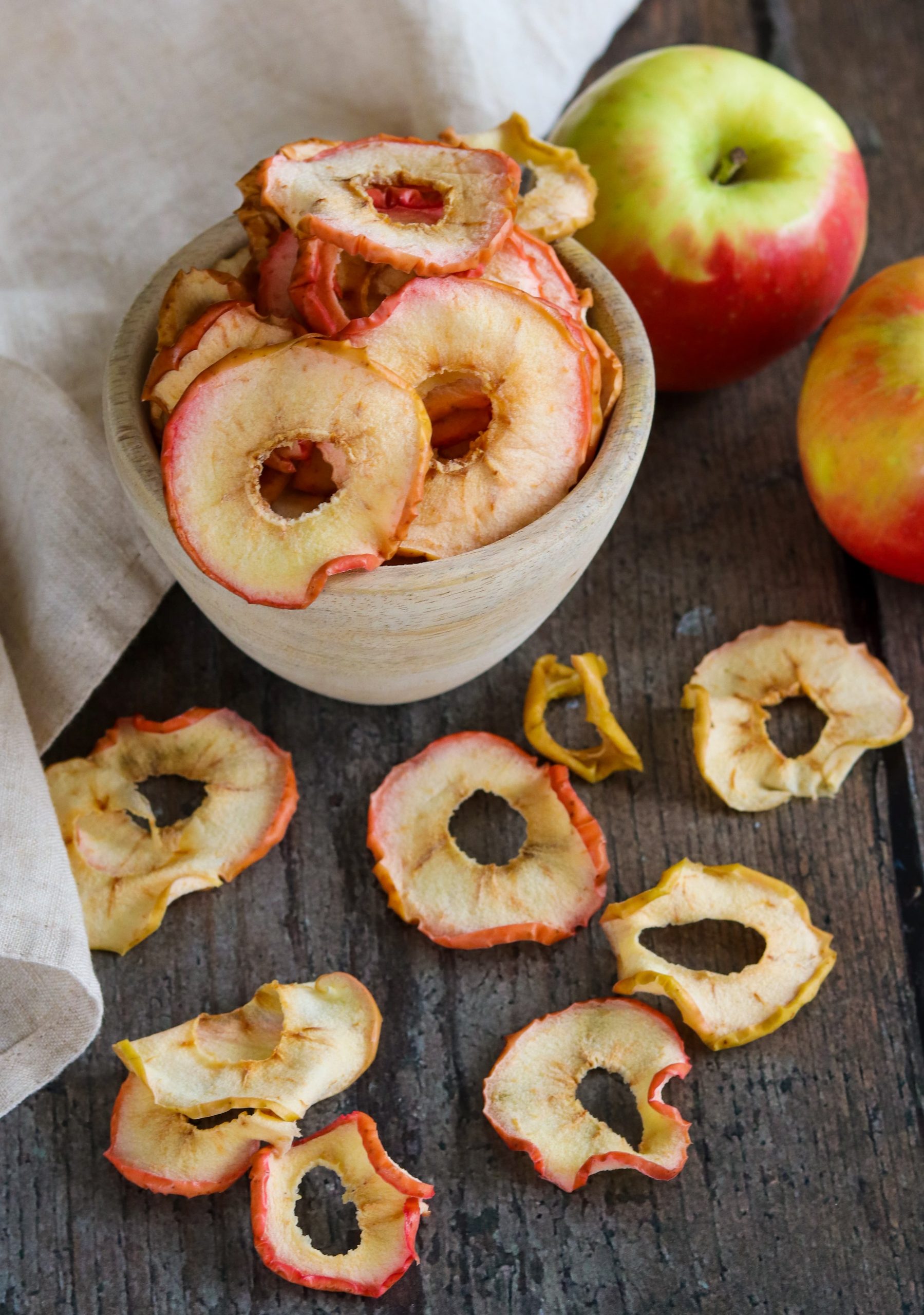 Other recipes you might like
Pin For later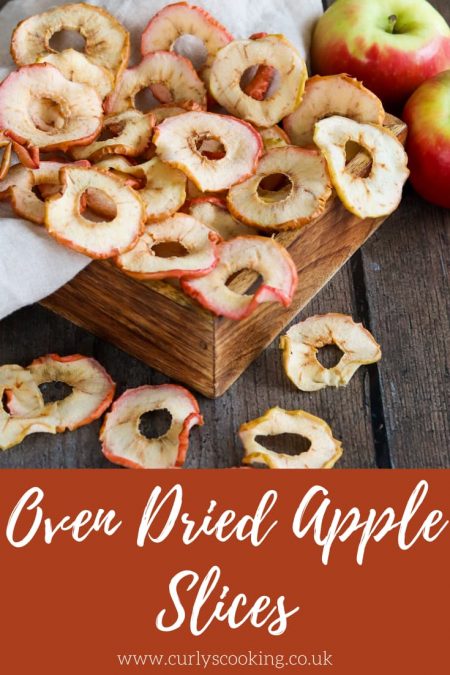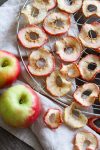 Oven Dried Apple Slices
Oven Dried Apple Slices are a delicious and versatile ingredient that are incredibly simple to make. Plus they're a great snack that the whole family will love – you're going to want to make more than you think!
Total Time
2
hours
20
minutes
Ingredients
4

apples

2

tbsp

lemon juice

water to cover
Instructions
Preheat the oven to 100°C (fan assisted, 80°C non fan). Put two wire racks over two baking trays and set aside.

In a large bowl, fill with cold water and add 2 tbsp lemon juice. Set aside

Wash and dry 4 apples. If you have an apple corer, remove the core from each apple before evenly slicing the apples approximately 3-4mm in thickness. Place the slices in the bowl of water as you slice them to prevent browning

If you do not have an apple corer, cut each apple in half before carefully removing the core with a knife. Cut the apples as above

Drain the apples and pat them dry with kitchen paper. Place them on the wire racks

Bake in the oven for 2-3 hours until the apple slices feel dry and flexible

Keep them in an airtight jar for up to three months
Recipe Notes
Keep in an airtight jar for up to three months.
Nutritional information is given as a guide and may vary.
Nutrition Facts
Oven Dried Apple Slices
Amount Per Serving
Calories 64
Calories from Fat 9
% Daily Value*
Fat 1g2%
Sodium 1mg0%
Potassium 135mg4%
Carbohydrates 17g6%
Protein 1g2%
Vitamin A 66IU1%
Vitamin C 8mg10%
Calcium 8mg1%
Iron 1mg6%
* Percent Daily Values are based on a 2000 calorie diet.