Crisp and chewy flapjacks packed with tasty almonds and apricots. My Apricot & Almond Flapjacks make the perfect snack at anytime of day.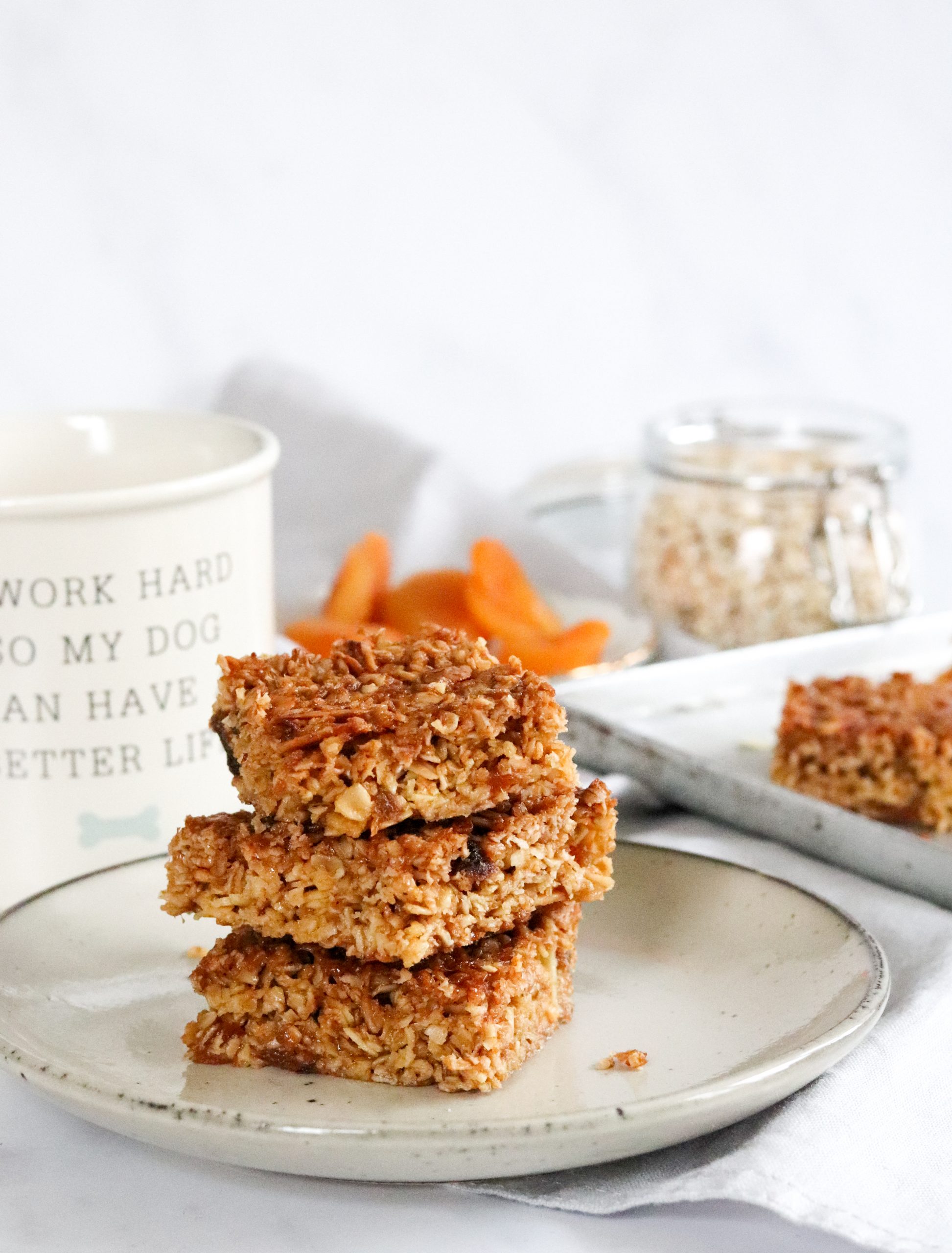 Apricot & Almond Flapjacks – a twist on a classic
Flapjacks aren't something I make very often because I find standard flapjacks a bit dry and boring. I know that may be an unpopular opinion, but I am quite fussy when it comes to flapjacks.
These Apricot & Almond Flapjacks are a different story however. They're soft, but chewy round the edges and the apricots and almonds work perfectly with the oats.
I also forgot how easy flapjacks are to make! They don't take very long at all to make and don't need any special equipment. This makes them great for children to help out with too.
What is a flapjack?
If you're not from the UK, you might not be familiar with what we refer to as a flapjack. They are baked oat bars usually involving golden syrup and rather a lot of butter!
They are similar to cereal bars, granola bars or oat bars. These may be more commonly found where you are from.
I also found out that flapjack is a term given to pancakes in America and Canada. If you have come here looking for a pancake recipe then you might be a little confused!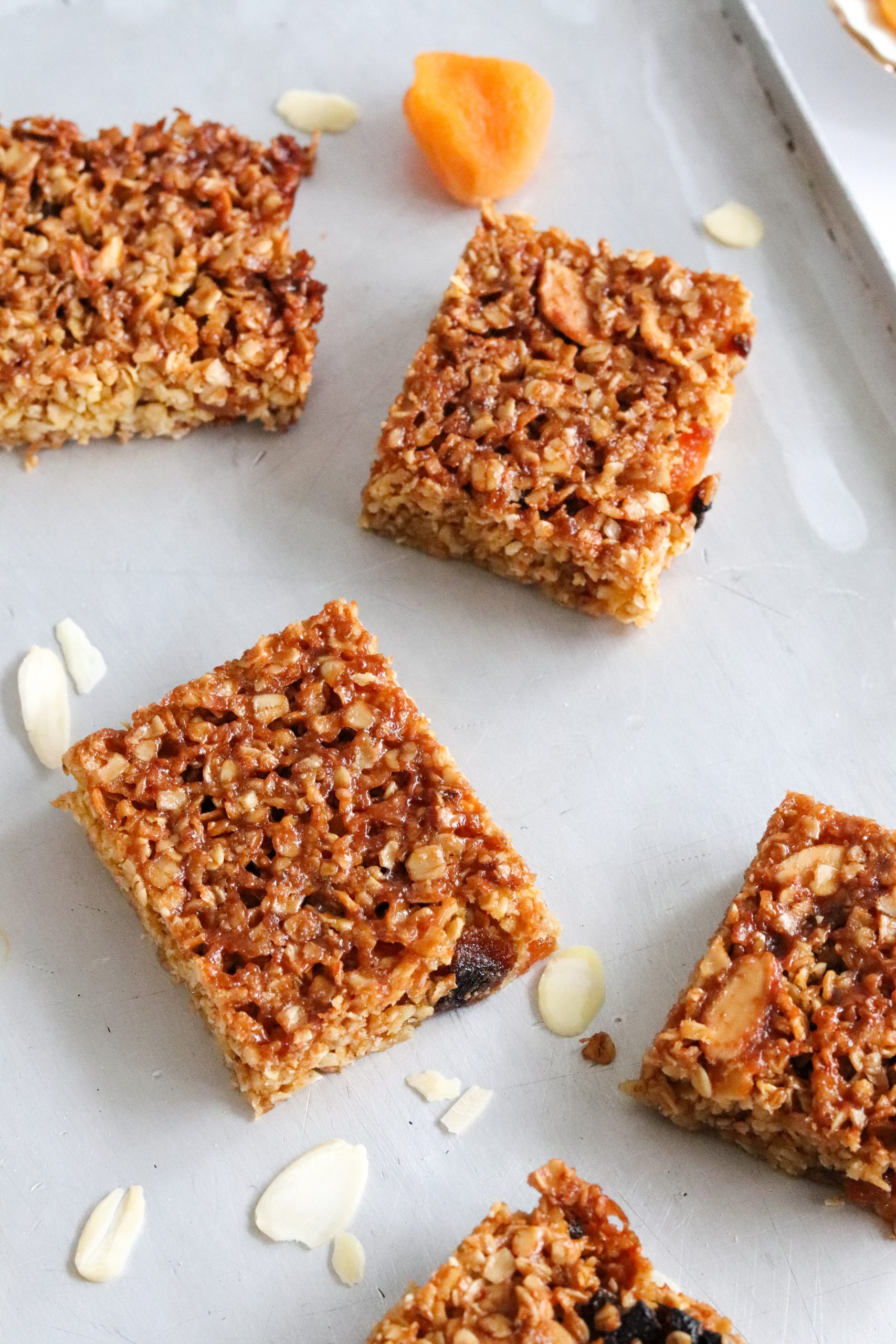 Which oats should be used for these flapjacks?
The most readily available oats in supermarkets tend to be rolled oats, porridge oats and jumbo oats.
Jumbo and rolled oats are a little larger and will provide a crumblier texture. Porridge oats will make a denser flapjack which is what I like.
I use porridge oats so try and ensure minimal crumbling when I cut the flapjacks. But please feel free to use the other varieties.
Flapjack purists might disagree with me, but I don't think any oats will result in a bad flapjack.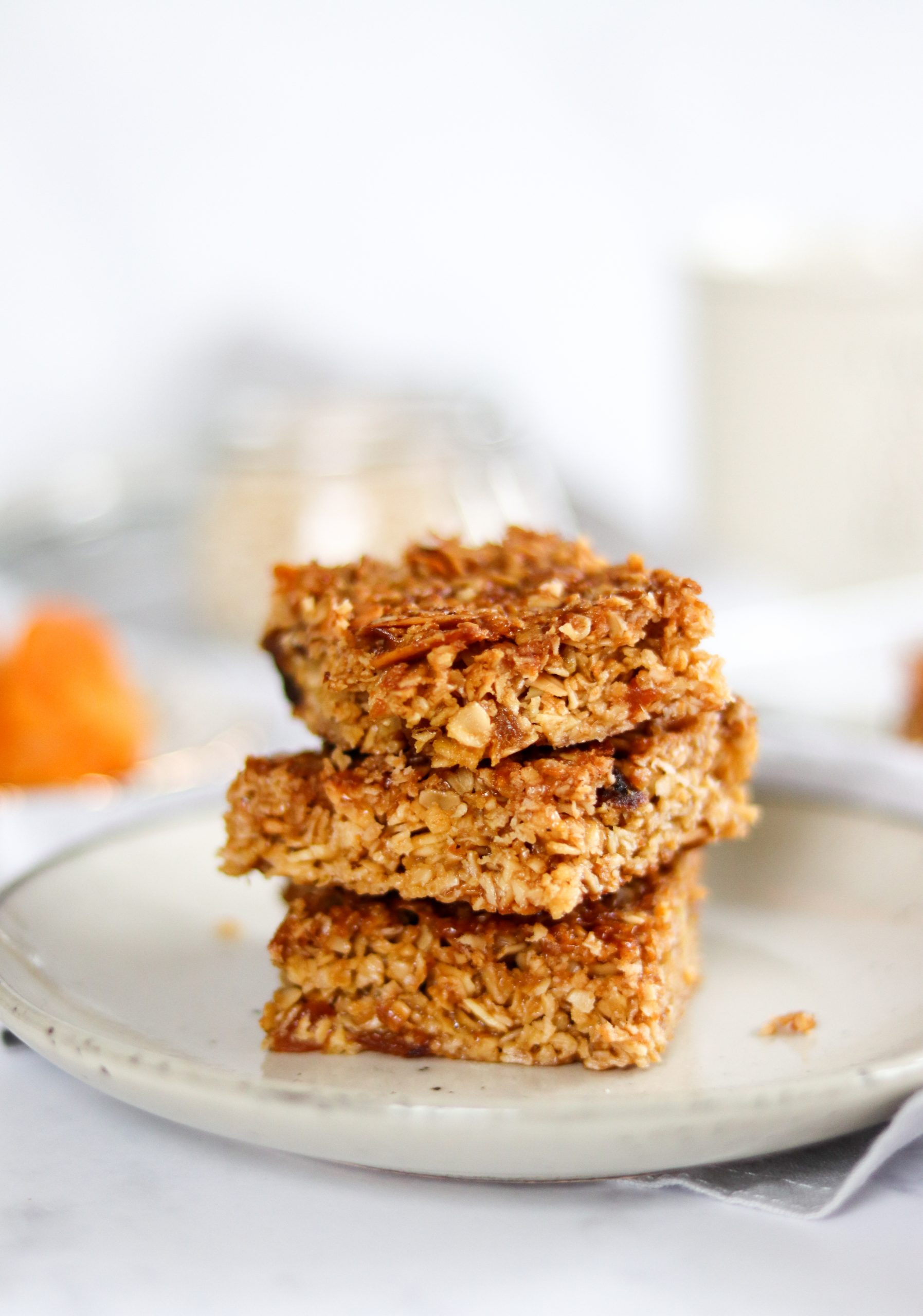 Do you prefer a soft or chewy flapjack?
With flapjacks they range from soft and sticky to crisp and chewy. Everyone has a preference to which they prefer. I have hopefully made a flapjack that will appeal to most people because it is in the middle.
It is still slightly soft but has a delicious chewy texture too. If you did want them to be softer, I would add another 25g butter and another tablespoon of apricot jam.
You can also alter their softness by how long you bake them for. If you prefer them softer, bake them for 30 minutes until they are a light, golden brown.
But if you prefer a crisper flapjack, bake them for 40 minutes until they are a darker brown.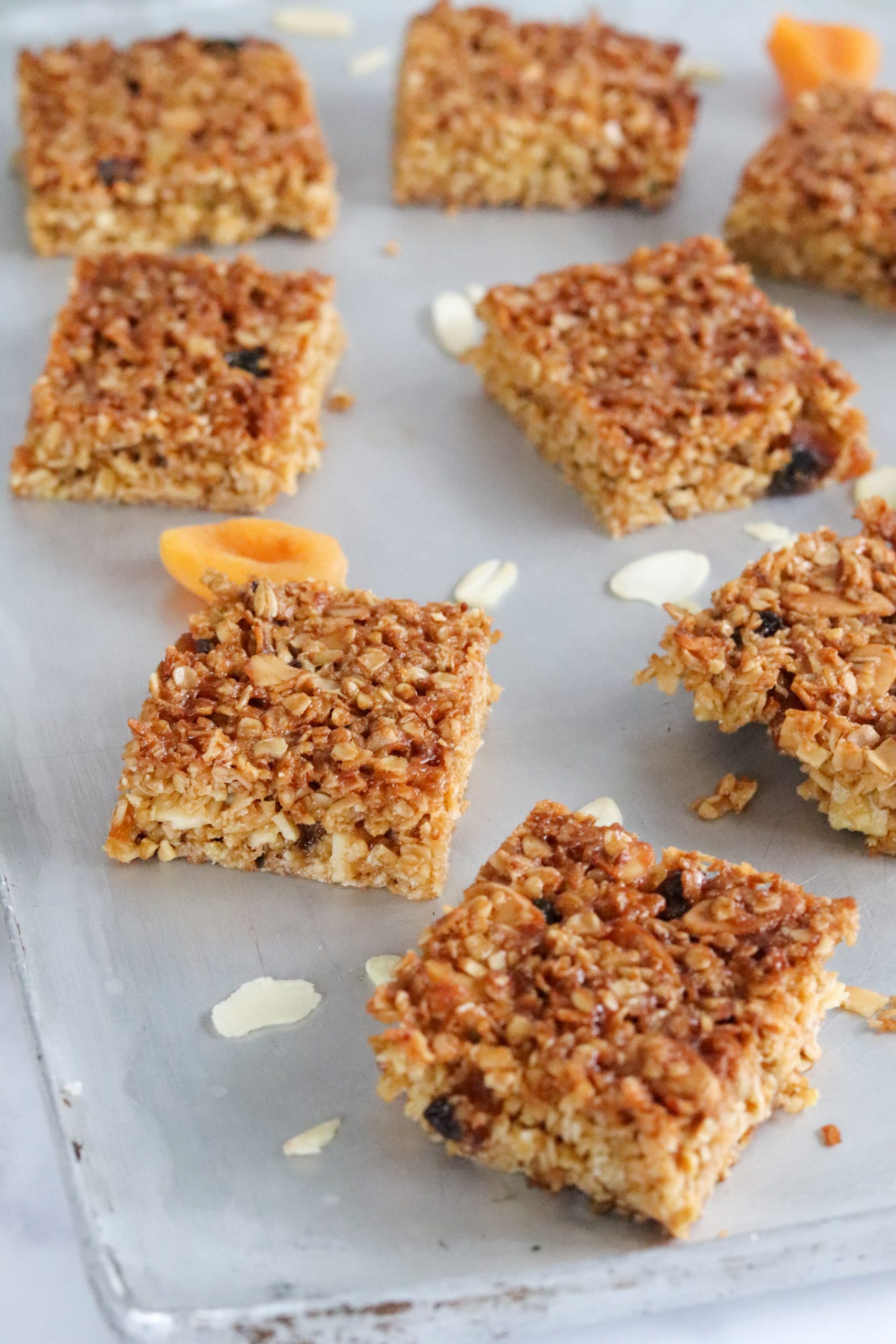 The perfect lunchbox snack
Flapjacks are so quick and simple to make. They are also great for getting the kids involved to make them.
You could whip these up on a Sunday evening ready for packed lunches or snacks throughout the week.
That doesn't mean they aren't perfect for adults too, my whole family love these. They are great with a hot drink to fight off hunger in the afternoon!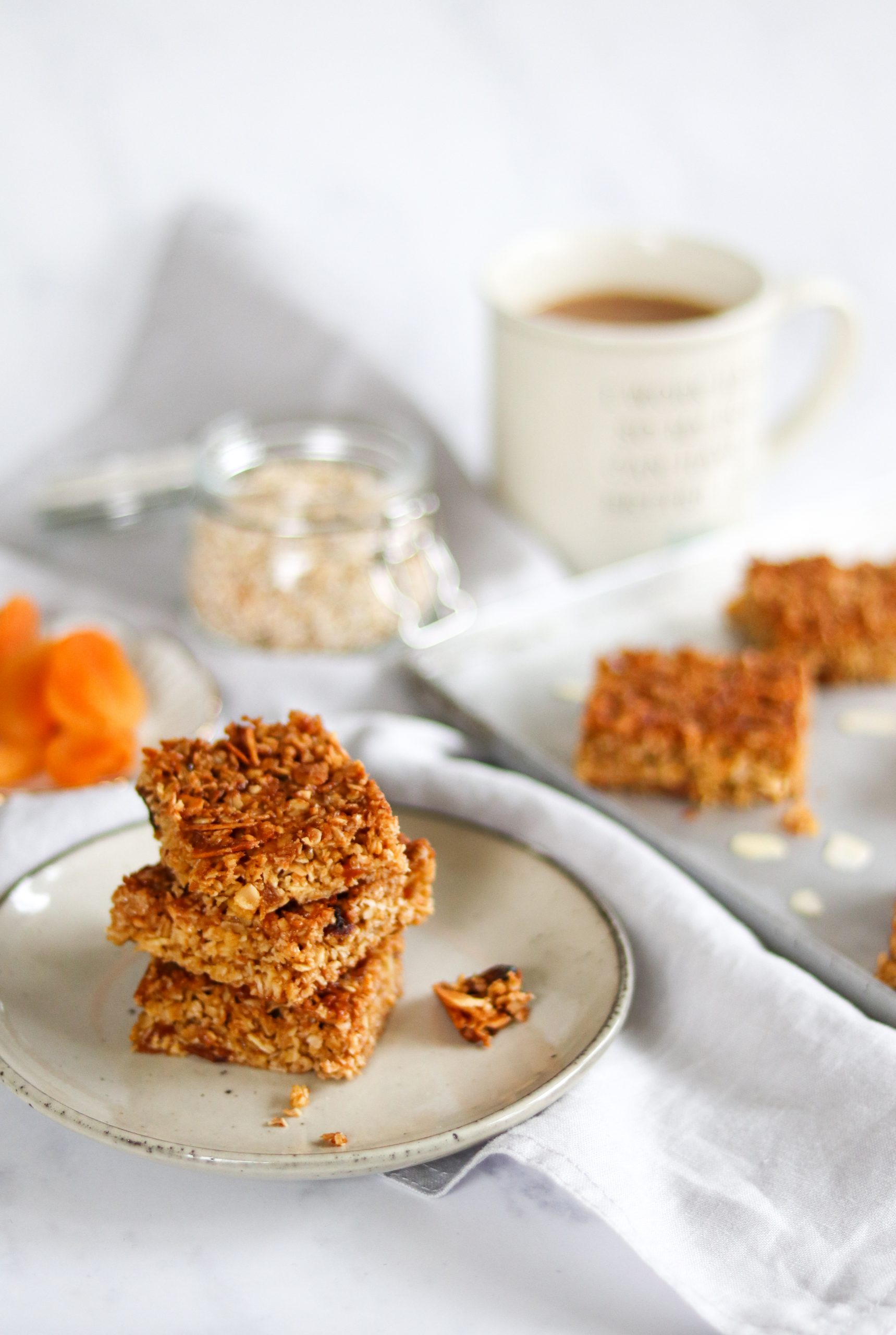 Naturally gluten free and easily made vegan
If you want to make these Apricot & Almond Flapjacks gluten free, make sure the oats you buy state that they are gluten free.
Although oats are naturally gluten free, some are prepared in factories that deal with gluten.
You can also easily make these flapjacks vegan and dairy free. Instead of butter, use dairy free margarine instead. This would then make the flapjacks gluten free, vegan and dairy free.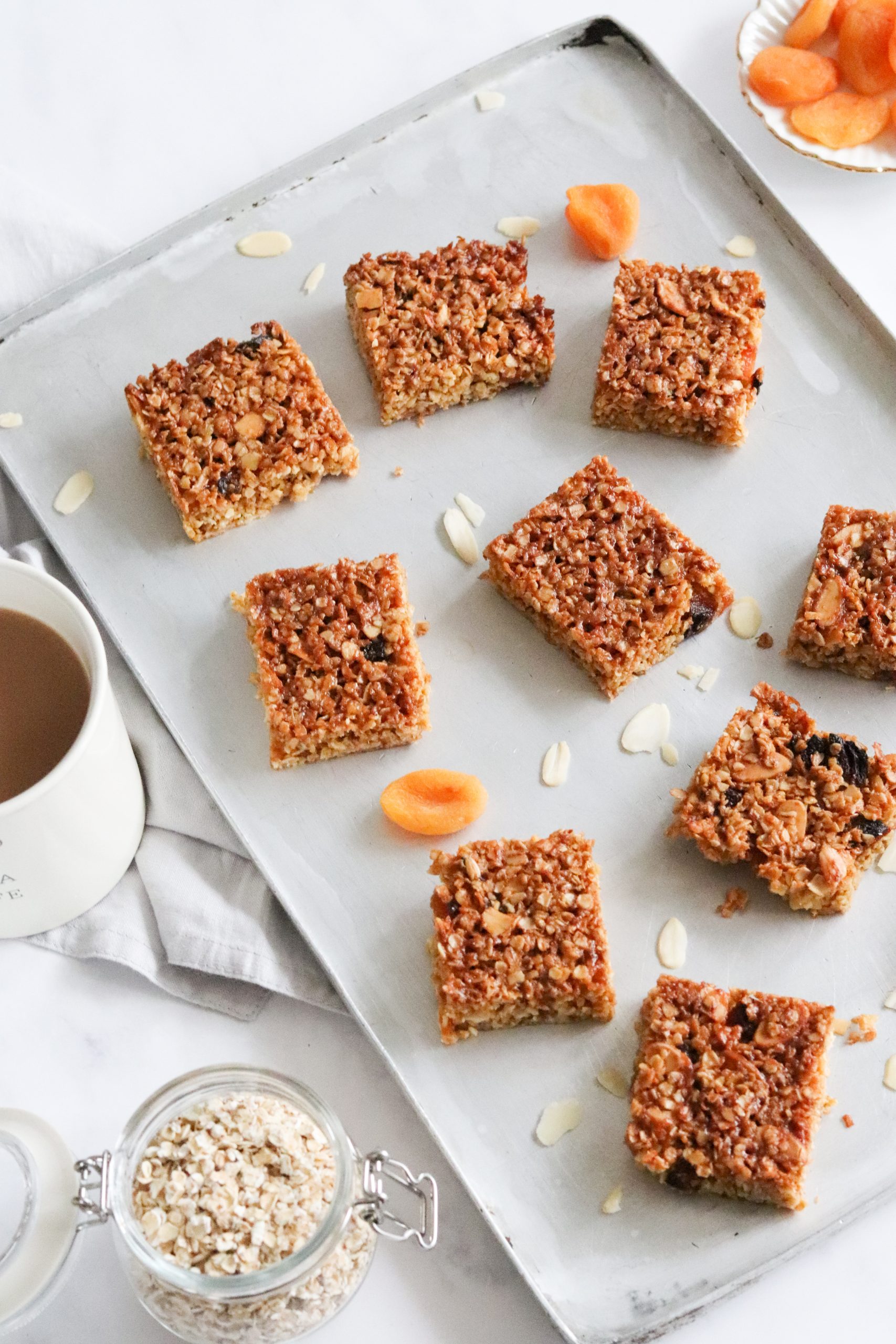 Try different flavour combinations
Although I think apricots and almonds are the perfect flavour combination, that doesn't mean you shouldn't try different options.
You can use whichever nuts and fruit you fancy. Here are some other combinations you might want to try:
Dried apple & hazelnut
Dried cherries & dark chocolate
Dried figs & almond
Dried cranberries & almond
Raisins & cashews
Dried mango & brazils
Dates & walnut
I'll stop there, but as you can see the list is endless!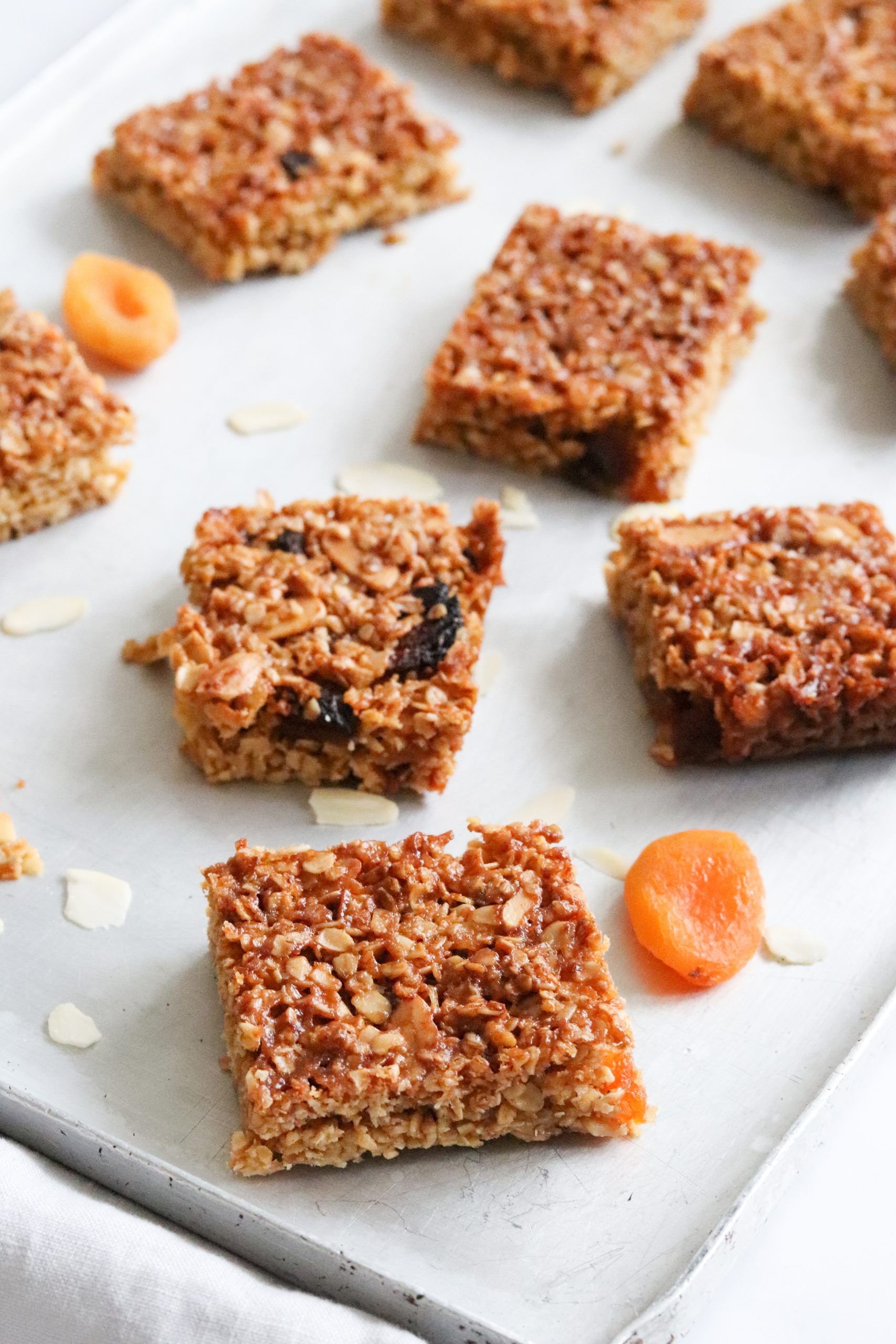 How long will these flapjacks keep for?
These Apricot & Almond Flapjacks will keep in an airtight container for up to a week.
According to Mr Curly, these get better each day. They become slightly softer and chewier and each day after baking. He prefers this as he is definitely in the softer flapjack camp.
I have sent him to work with one for the past few days and each day he comes home telling me that they were even better than the day before.
So if you prefer a softer flapjack and can resist eating them all on the day you bake them, leave them for a day or so for maximum yumminess!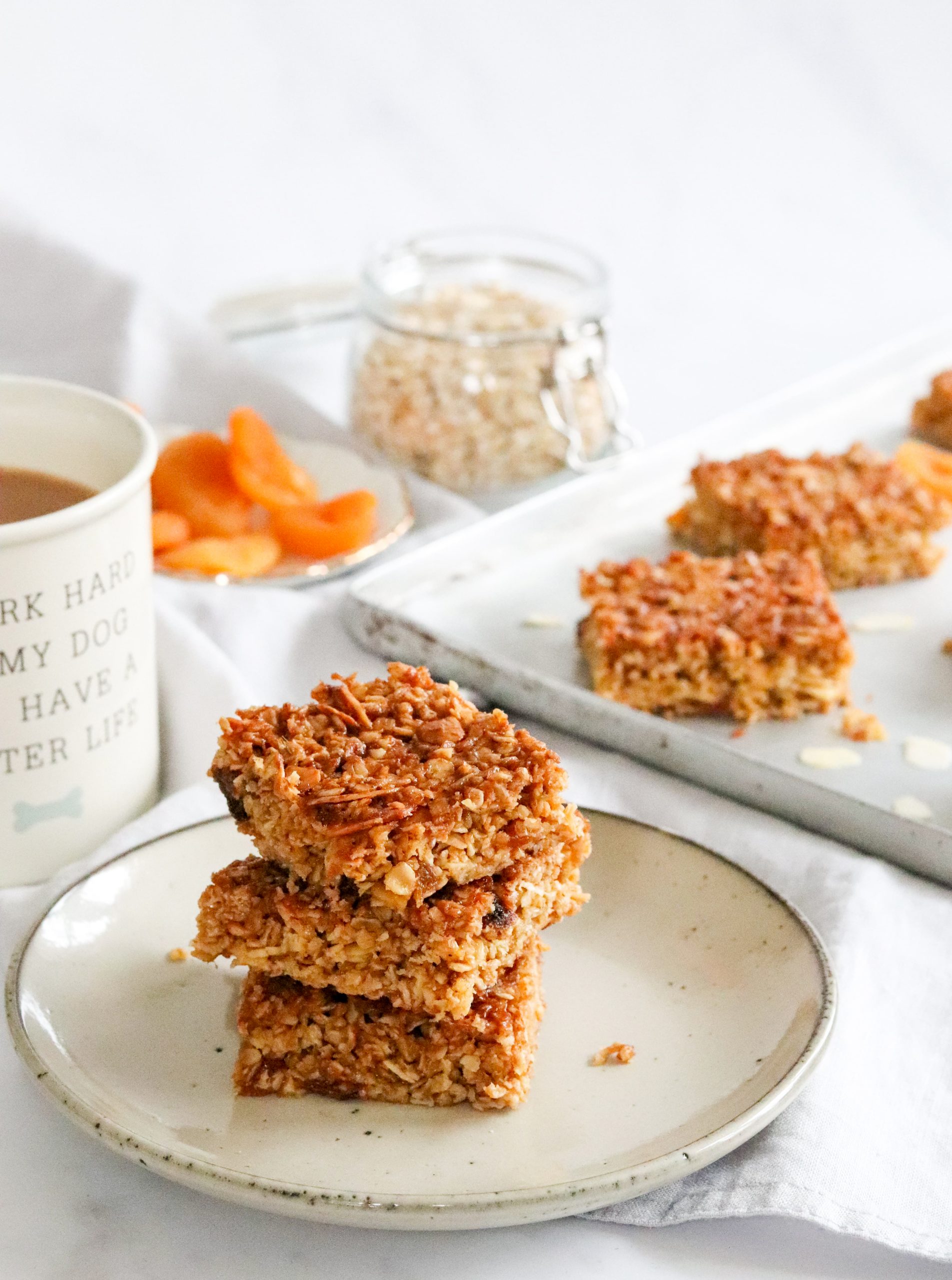 How many flapjacks does this recipe make?
That really does depend on how big you want to cut them!
I like to cut these into 24 squares because for me they are the perfect size when you want something sweet.
If you are making these for children, you could cut them into smaller pieces quite easily.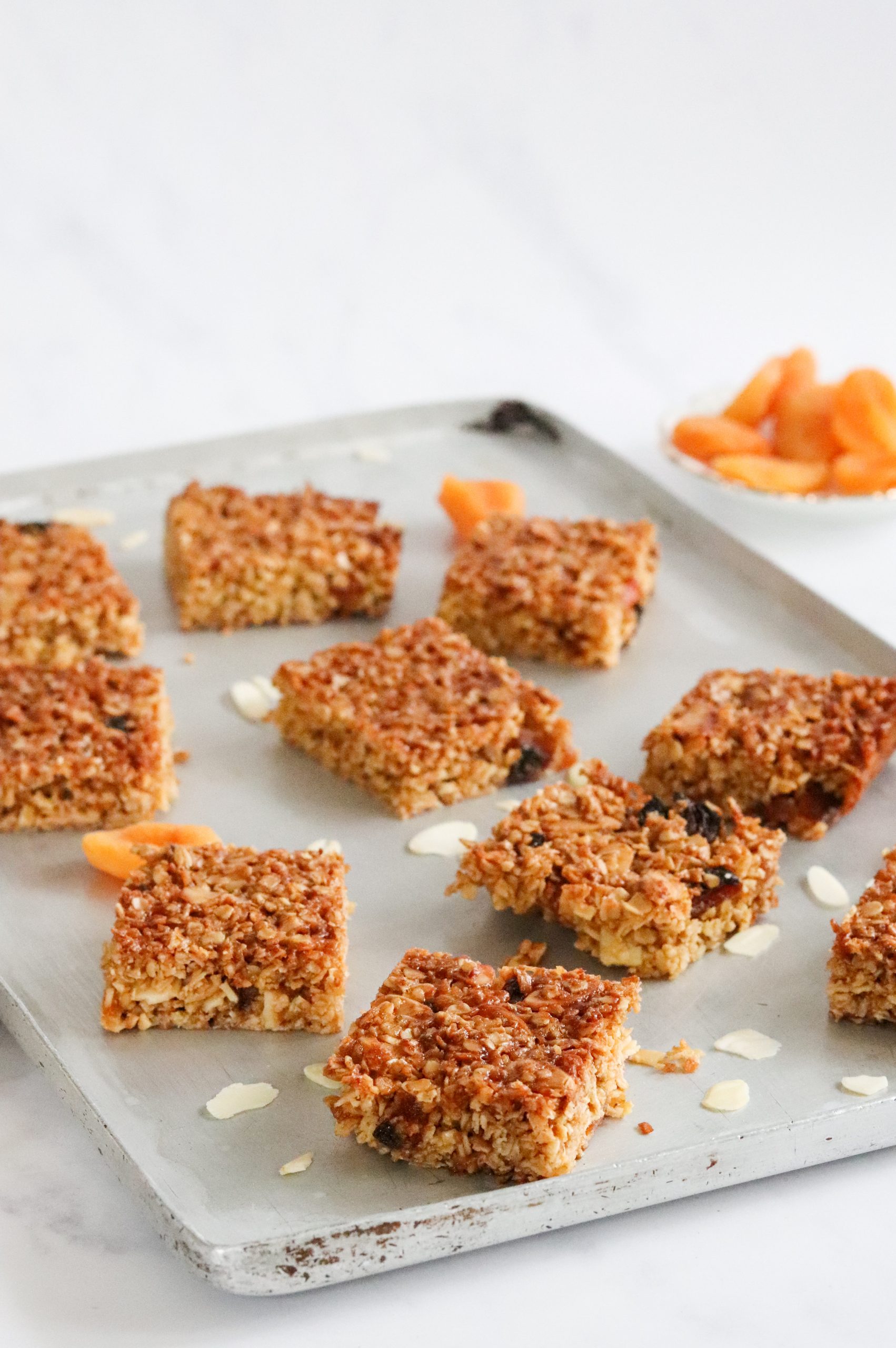 other recipes you might like
Pin for later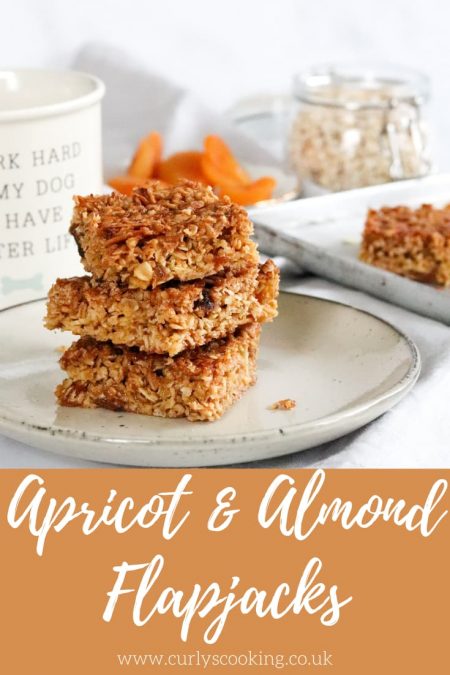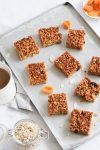 Apricot & Almond Flapjacks
Crisp and chewy flapjacks packed with tasty almonds and apricots. My Apricot & Almond Flapjacks make the perfect snack at anytime of day.


Ingredients
250

g

unsalted butter

150

g

light brown sugar

1

tbsp

apricot jam

1

tbsp

golden syrup

350

g

porridge oats

150

g

dried apricots

diced

50

g

flaked almonds
Instructions
Line a 20 x 26 cm tin with baking paper and set aside. Preheat the oven to 170ºC (fan assisted, 190ºC non fan)

Melt the butter, sugar, apricot jam and golden syrup together in a pan over a low heat

Once completely melted, add the porridge oat and diced dried apricots and mix thoroughly

Add the flaked almonds and mix gently to not crush the almonds

Tip into the tin and spread out

Bake in the oven for 30-40 minutes until golden brown

Allow to cool in the tin for around 20 minutes before cutting into squares
Recipe Notes
Nutritional information is given as a guide only and my vary.
Keep in an airtight container for up to a week.
Nutrition Facts
Apricot & Almond Flapjacks
Amount Per Serving
Calories 199
Calories from Fat 72
% Daily Value*
Fat 8g12%
Cholesterol 22mg7%
Sodium 4mg0%
Potassium 83mg2%
Carbohydrates 11g4%
Protein 1g2%
Vitamin A 486IU10%
Vitamin C 1mg1%
Calcium 11mg1%
Iron 1mg6%
* Percent Daily Values are based on a 2000 calorie diet.
Linking to