Sticky Sweet Chilli Chicken is quick, easy & delicious. The perfect midweek meal that packs great flavour & is on the table within minutes.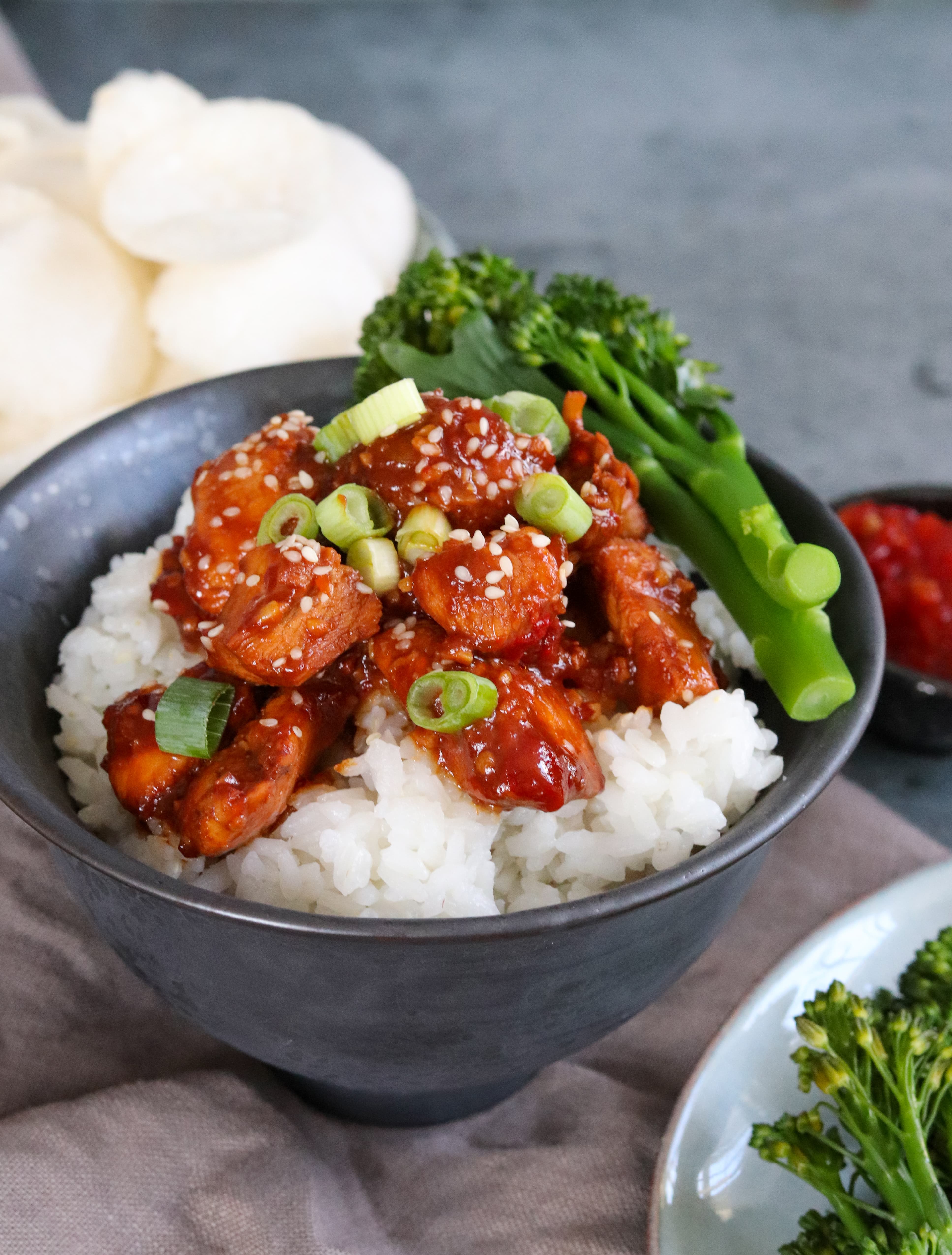 What is Sticky Sweet Chilli Chicken?
This recipe not only reminds me of my uni days, but it also reminds me of my lovely friend Zoe. We lived in the same halls at university and we would often cook meals together. Baked Sweet & Sour Pork was one of our favourites as well as this chicken.
I think we found the original recipe for this in a cookbook one of us had. Unfortunately I can't remember which book; but we have both adapted the recipe over the years.
So what is it? Sticky Sweet Chilli Chicken is chicken coated in a delicious, sticky and mildly spiced glaze. I say glaze because it coats the chicken rather than being a sauce.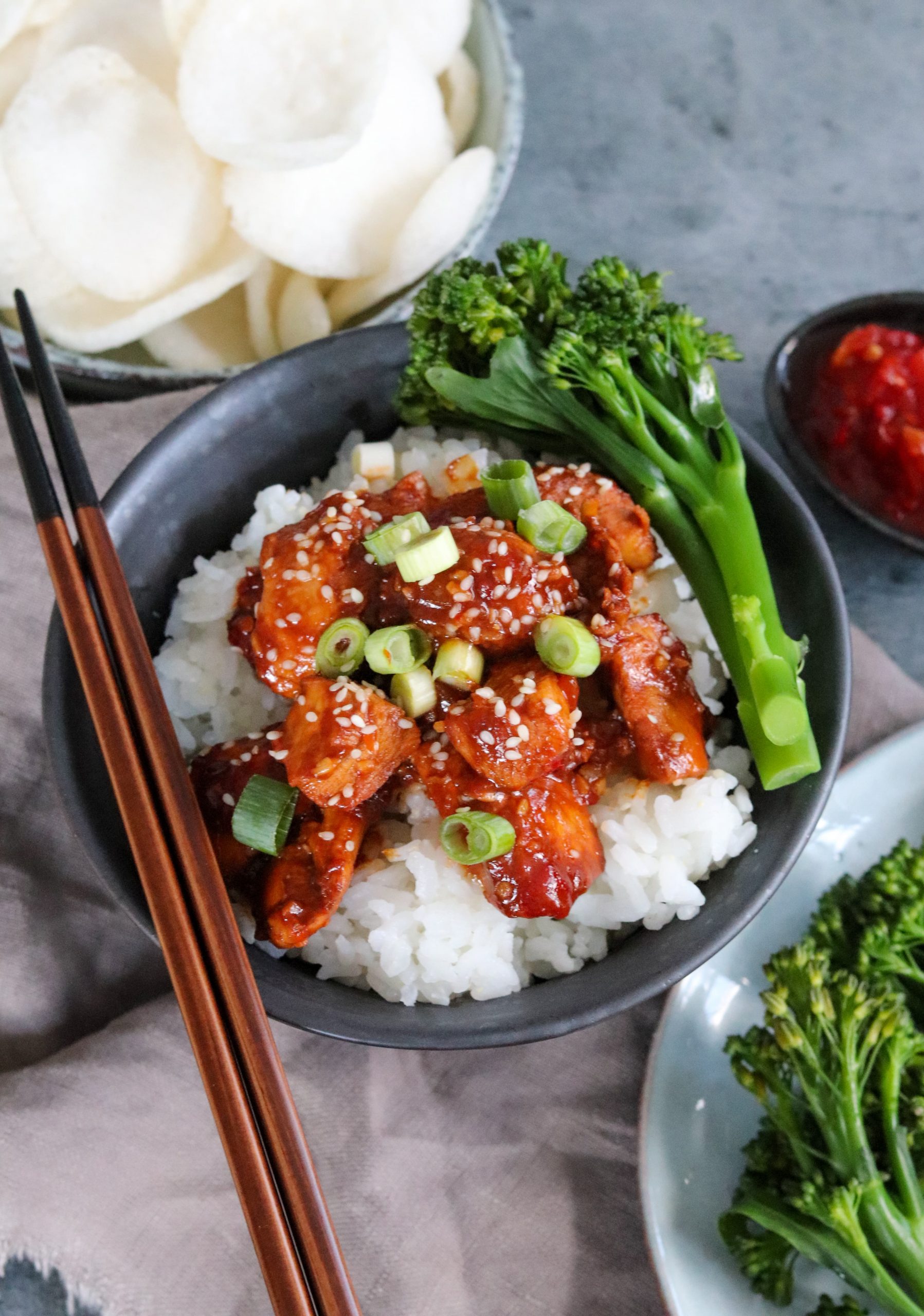 The perfect quick midweek meal
We all have those nights when you don't have a lot of time but you still want a delicious homecooked meal. This Sticky Sweet Chilli Chicken is the perfect recipe.
Even with the marinating time, this is still a super quick meal to make.
To make it even quicker and easier, you can use jars of minced ginger and garlic. These are staples in my kitchen and I am not ashamed to say it!
They are great because you don't have to waste time peeling the ginger and garlic. Peeling garlic is one of my least favourite kitchen jobs so I chose anything that gets me away from this!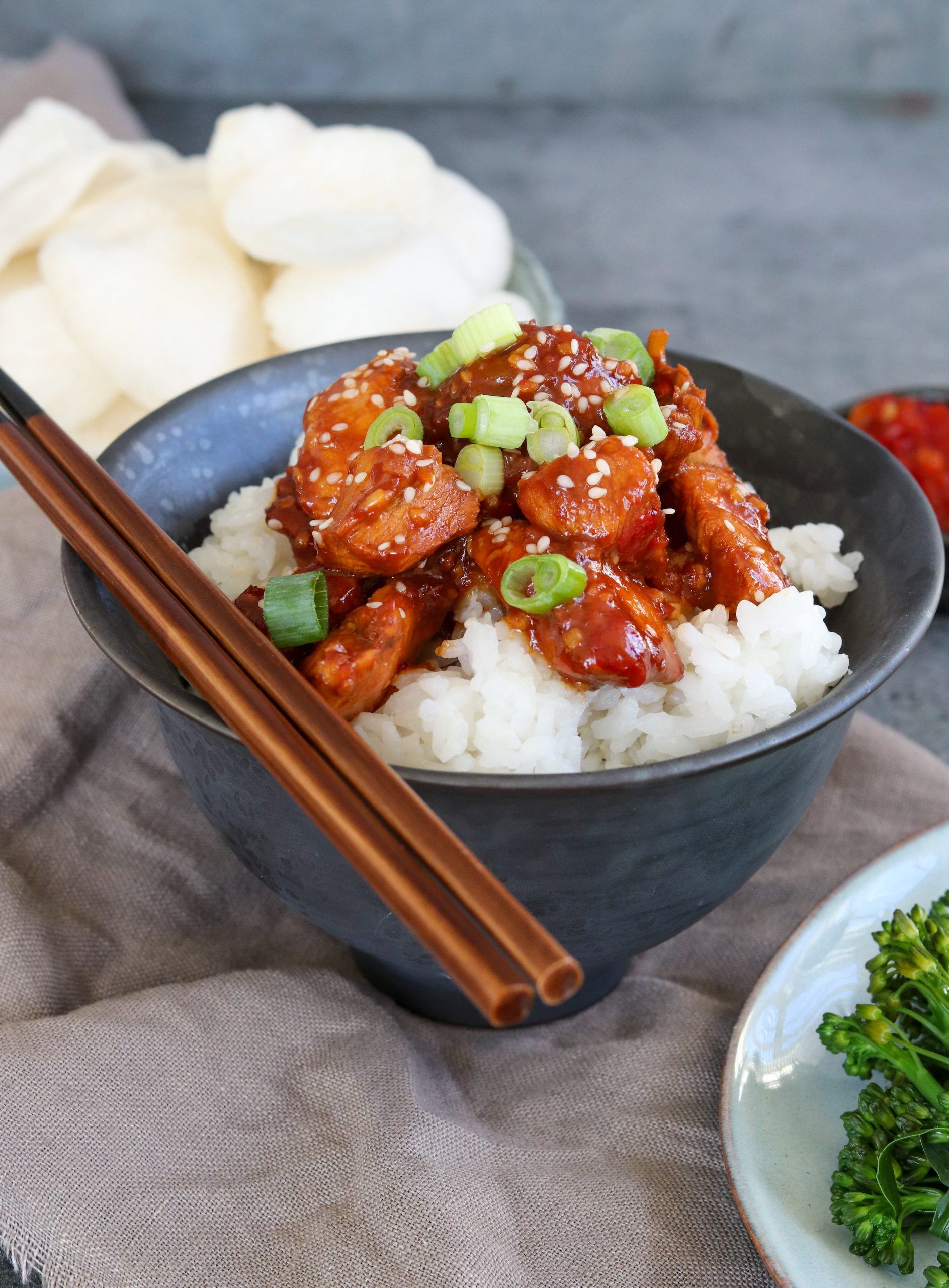 Which cut of chicken is best to use?
You can use breast of thigh meat for this recipe; either work really well.
I tend to use thighs a lot in my cooking because they tend to not dry out as easily when cooking. However this Sticky Sweet Chilli Chicken cooks so quickly, breast works just as well.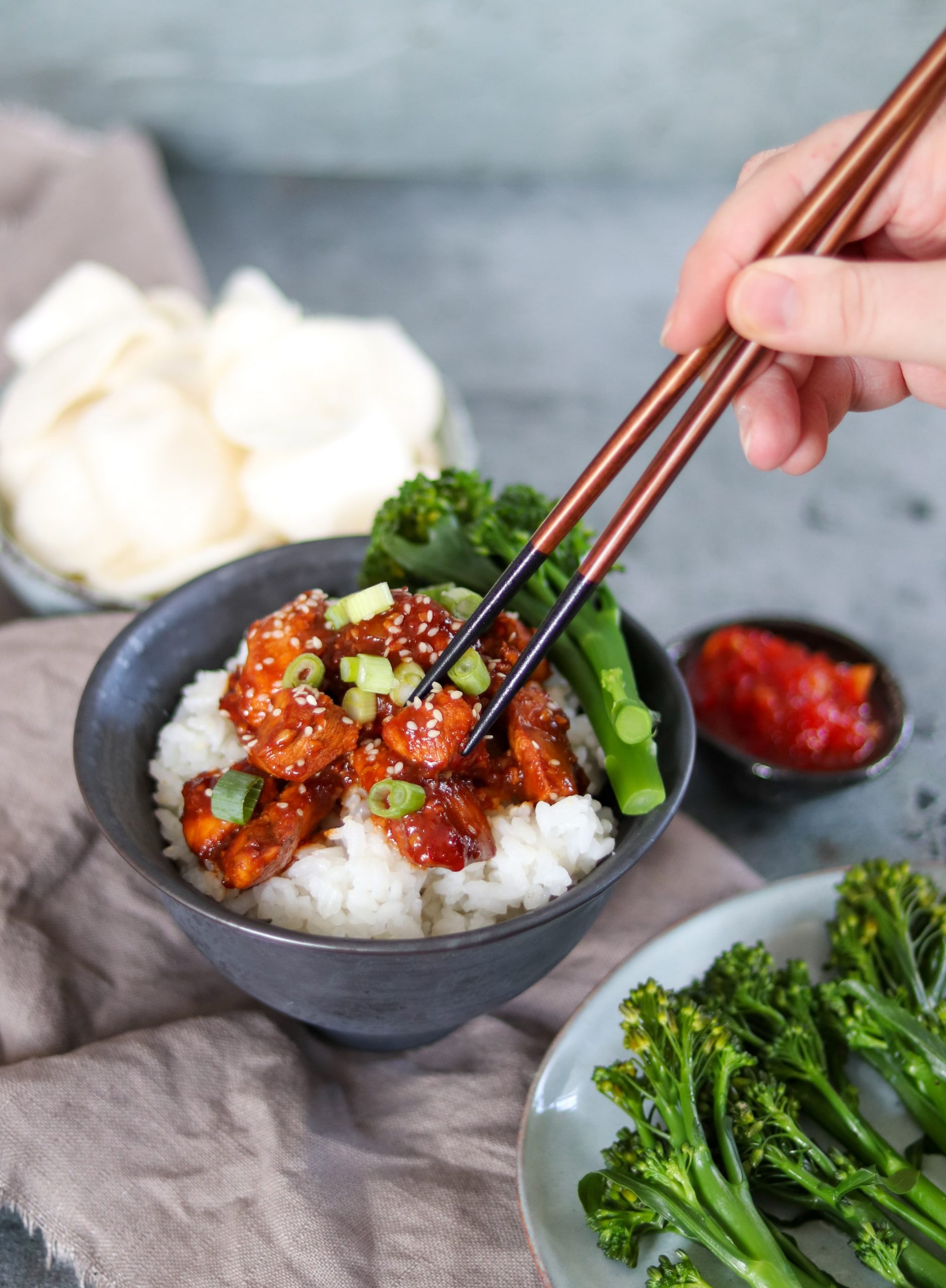 How spicy is this sticky sweet chilli chicken?
This is quite a mild dish and should suit most people's palates. Sweet chilli sauce has a mild warmth instead of a fiery heat.
If you do like your food a bit spicy, you can always add more sweet chilli sauce or even add a finely diced chilli.
If you're making this recipe for children or someone that is really sensitive to spice; you might want to add less sweet chilli and replace it with ketchup.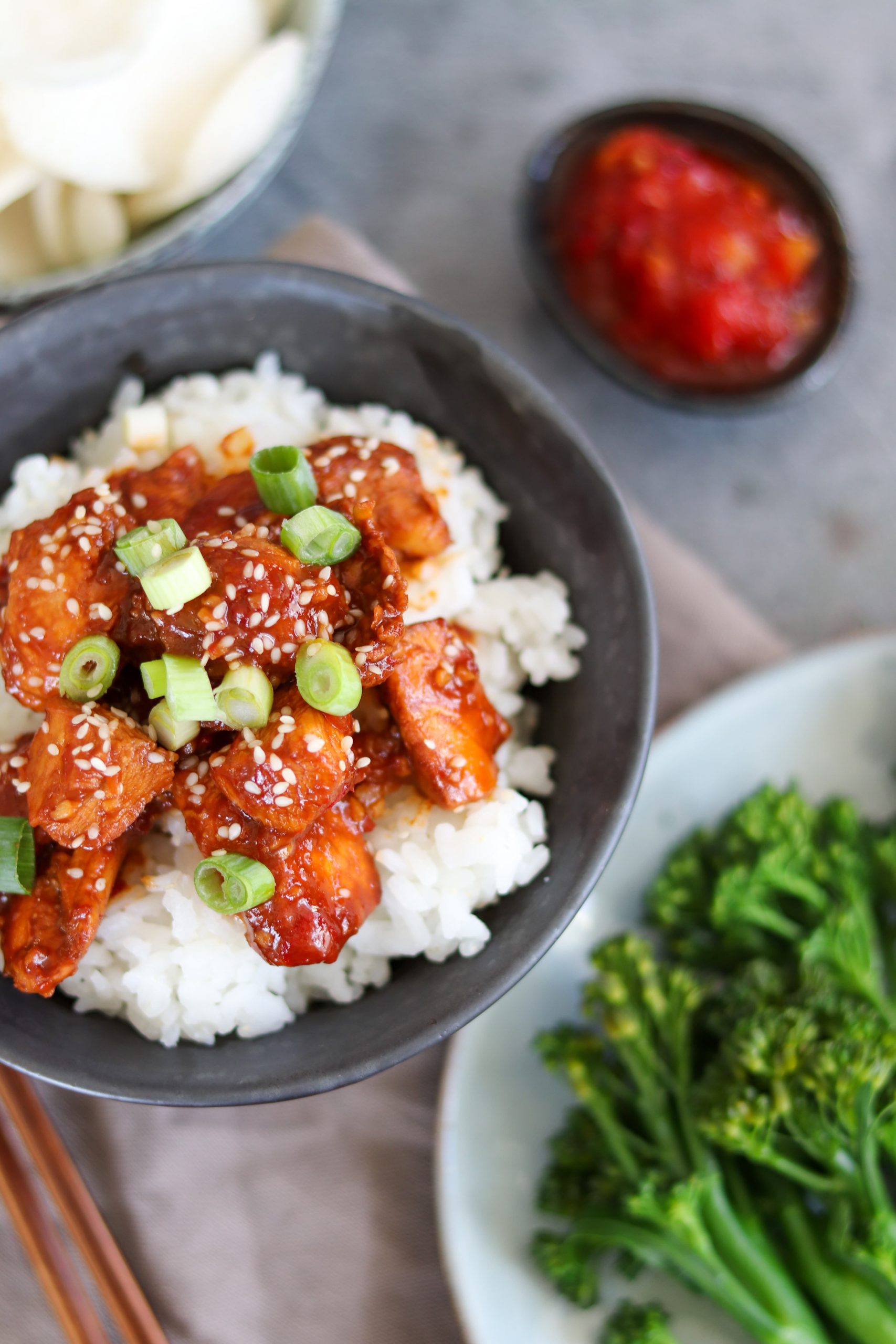 Which Sweet Chilli Sauce is recommended to use?
I use my Sweet Chilli Jam because I always have a jar of it in the fridge.
If you didn't have this, you can use your favourite shop bought chilli sauce. Chilli sauces can vary in heat, so if you are using a brand you haven't tried before, I recommend tasting it first!
You can then adjust how much you want to add depending on how spicy it is.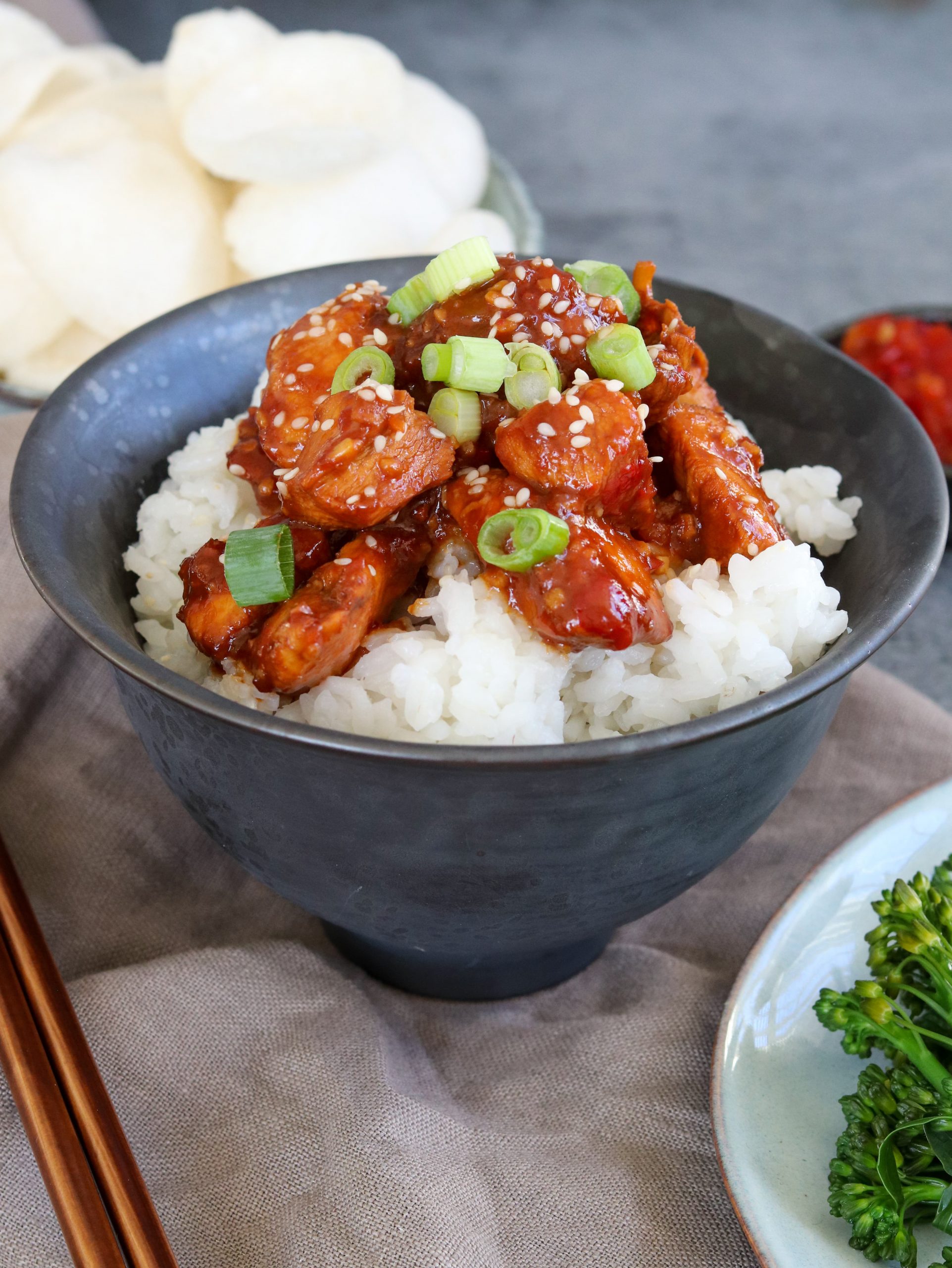 What to serve this sticky Sweet Chilli Chicken with
I absolutely love to serve this chicken with Sticky Rice. It is my go-to rice for any Asian food. If you didn't want to use sticky rice, Jasmine or long grain rice would also work well.
As well as rice, I like to serve some simple steamed broccoli alongside the chicken. It is also quite nice to serve some prawn crackers on the side – make it feel like a takeaway!
When it comes to serving, I like to scatter over some sesame seeds and sliced spring onions. These provide extra flavour and crunch to the finished dish.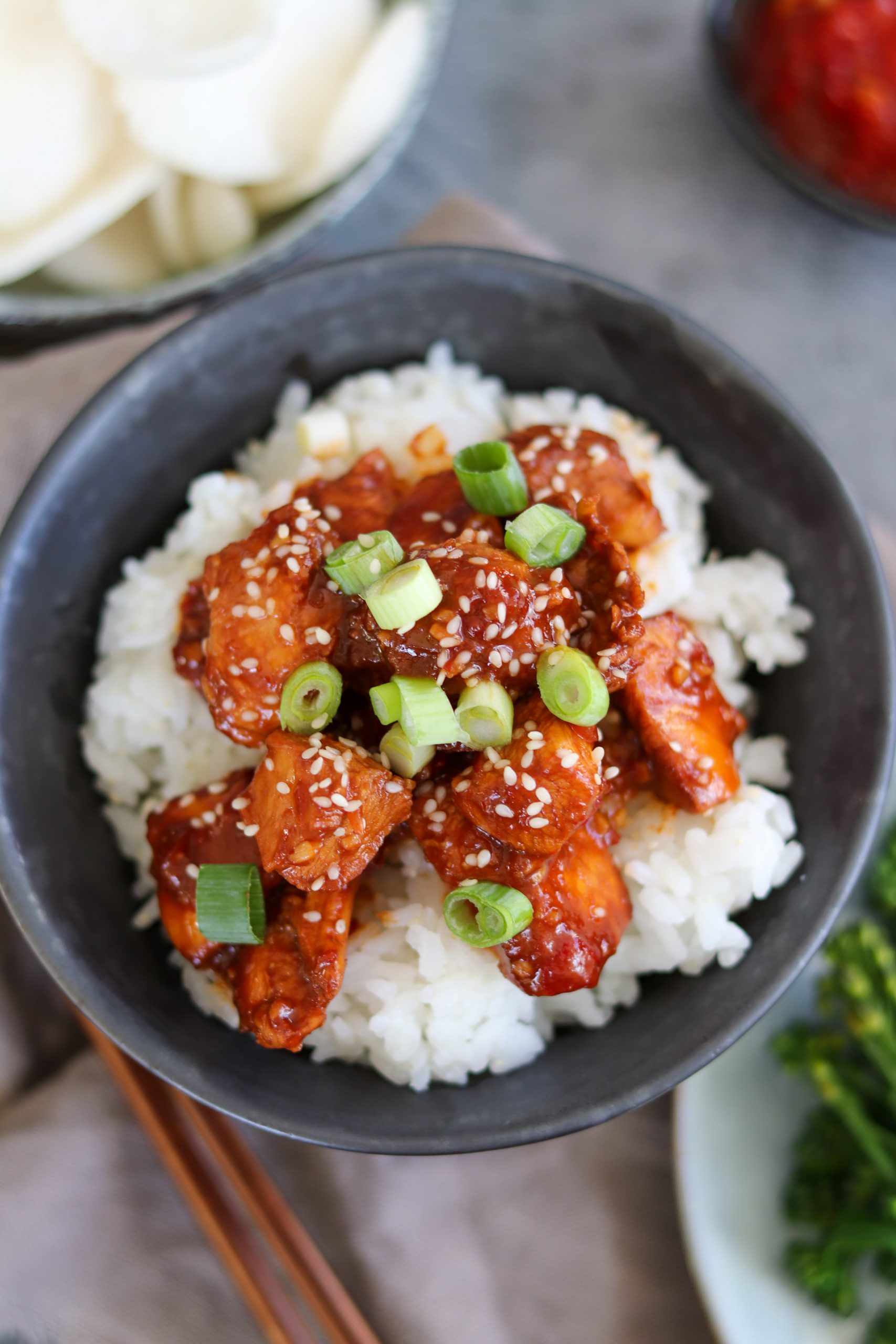 Sticky Sweet Chilli cooking steps
This really couldn't be easier, there are just a few easy steps to follow. Full instructions are in the recipe card further down.
Cut your chicken and add to a bowl with all of the marinating ingredients. Put it in the fridge while you get the rice on to cook
Prepare your rice and get it on to cook. Prepare your broccoli (or other veg of choice) as well as slicing your spring onion for garnish
Have a quick cup of tea/load the dishwasher/stop the kids bickering
Heat a frying pan over a medium heat and tip the chicken and marinate into the pan. Cook for 4-5 minutes before turning and cooking for another 4-5 minutes
Spoon your rice into bowls and top with the chicken, vegetables and garnish. Easy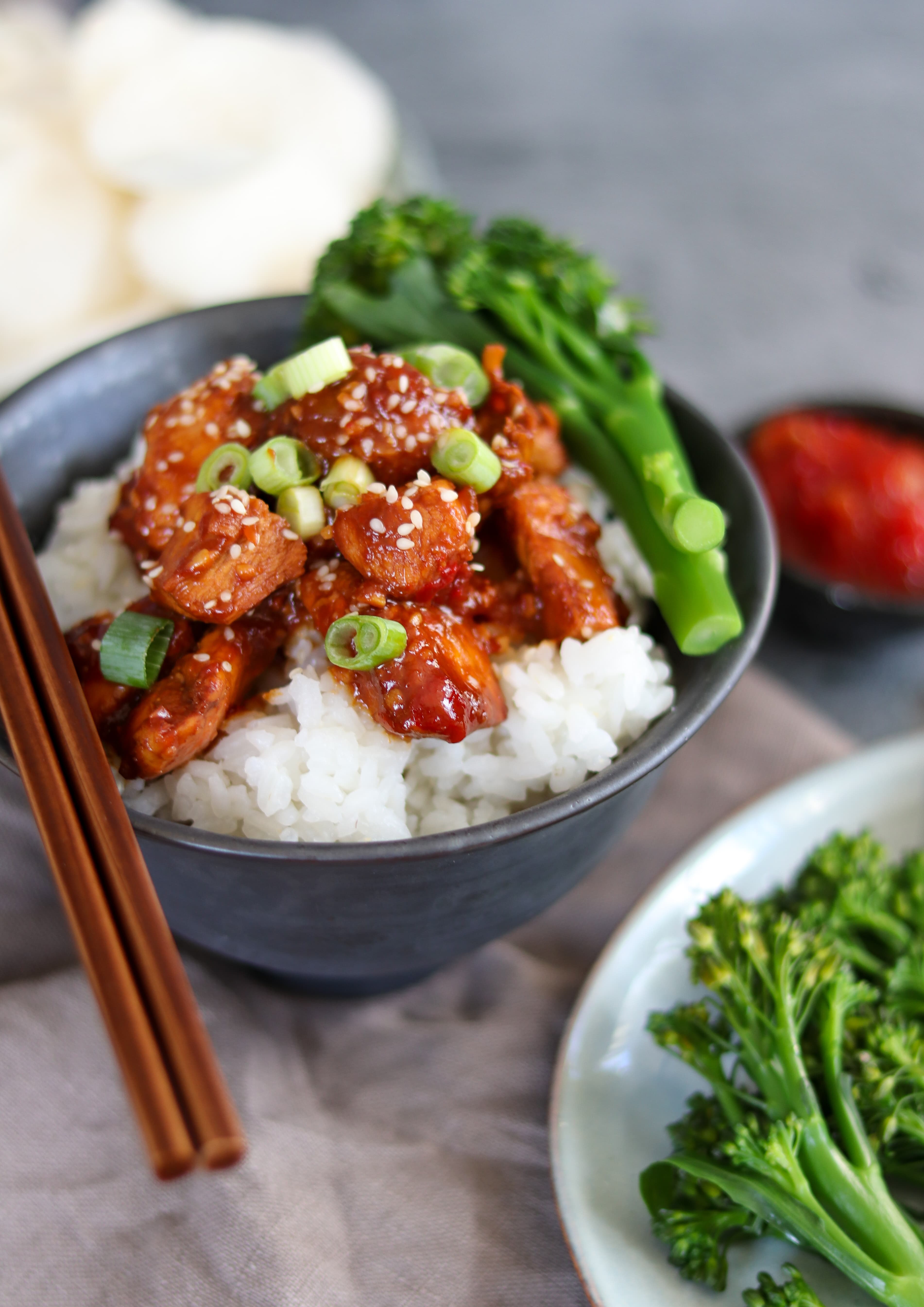 Be careful, the glaze can spit
When you are cooking the chicken, be careful as the glaze can spit. If this starts to happen, you just need to turn the heat down a little bit.
This might not be the dinner you want to cook straight after you have cleaned you hob because there is always the risk of a little bit of splattering.
The glaze spits because it has a high viscosity – simply put because it is thick and sticky! It doesn't spit a crazy amount, but I did just want to mention it as you don't want to get splattered with hot glaze.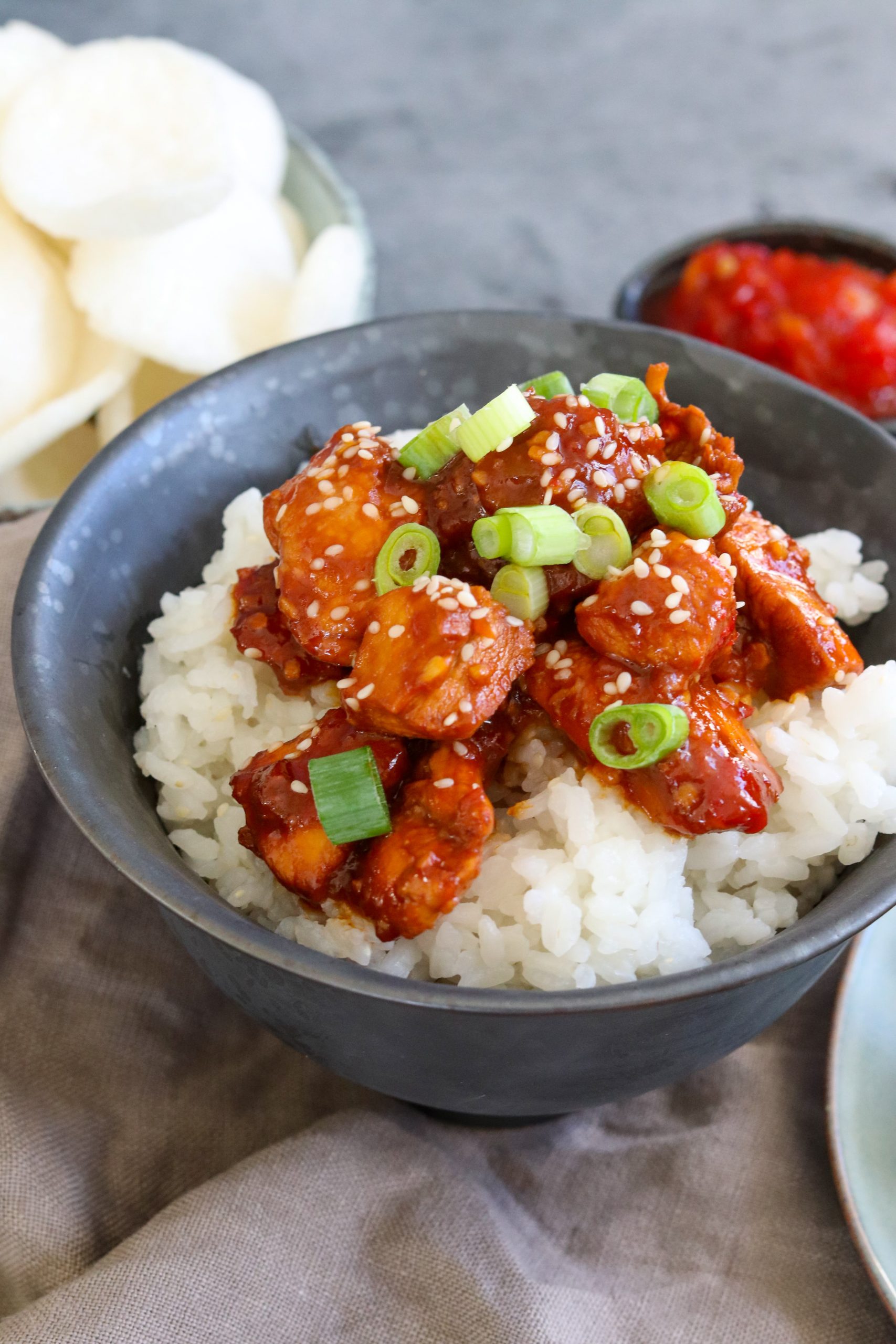 A naturally gluten free meal
One of the reasons we made this recipe so often at uni (apart from it being tasty) was because it is naturally gluten free. Zoe is a Coeliac so it was always an added bonus when we could make and eat the same meal.
Obviously you just need to check the soy sauce you're using is gluten free because not all are.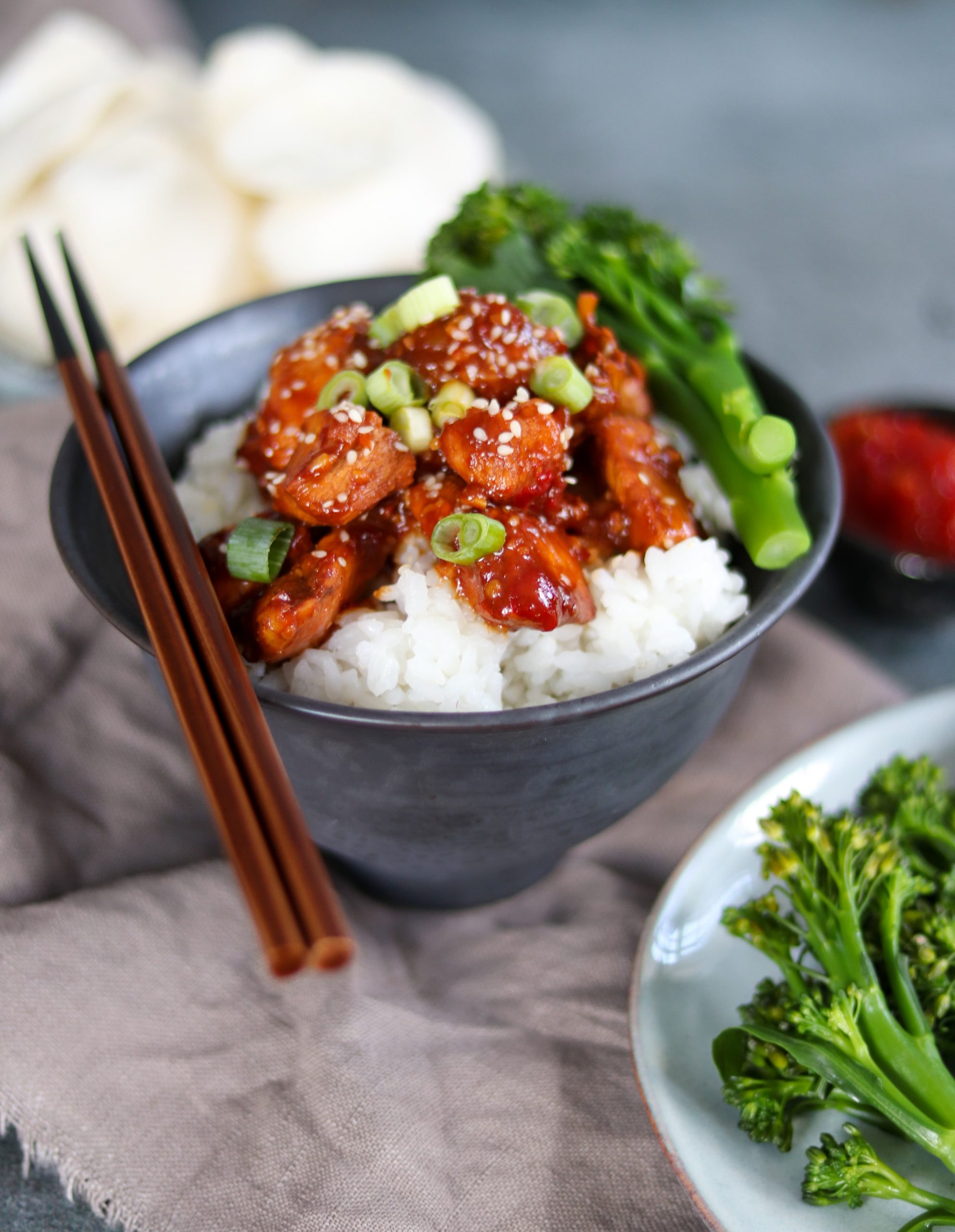 How to make this chicken vegetarian and vegan
This recipe is really simple to make vegetarian or vegan. Obviously you need to swap the chicken; but the rest you can keep as it is.
Instead of chicken, use your favourite meat replacement protein. You should look for the chicken style pieces that aren't breaded for this recipe.
You could also use tofu if you prefer. I would recommend using firm tofu and pressing it to get as much moisture out of it as possible.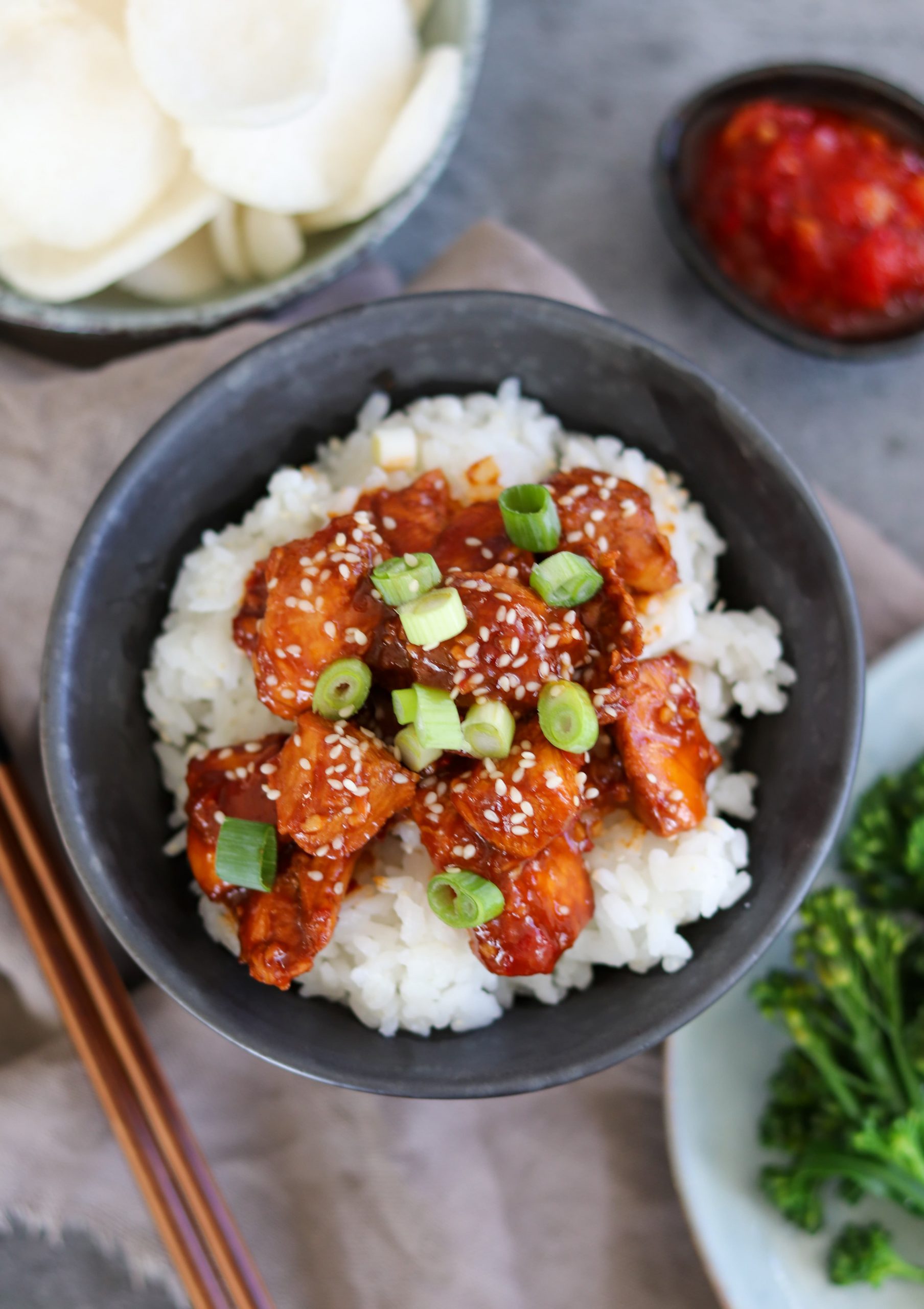 Other recipes you might like
Pin for later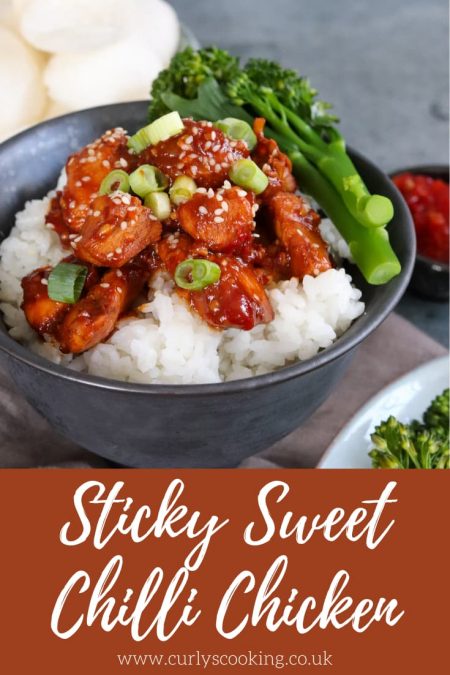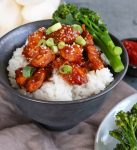 Sticky Sweet Chilli Chicken
Sticky Sweet Chilli Chicken is quick, easy & delicious. The perfect midweek meal that packs great flavour & is on the table within minutes.
Marinating time
30
minutes
Ingredients
2

chicken breasts

diced

2

tbsp

tomato ketchup

1

tsp

garlic

finely chopped

½

tsp

ginger

grated

2

tbsp

light soy sauce

2

tbsp

sweet chilli sauce

1

tsp

sunflower oil
Instructions
Dice the chicken and add to a bowl along with all of the ingredients apart from the oil

Cover and leave in the fridge for 15-30 mins

Heat a large frying pan over a low – medium heat and add the sunflower oil

Add the chicken to the pan and leave to slowly cook on one side before turning. If the pan starts to spit, turn it down

After about 10 minutes, the chicken should be cooked. Turn the heat up to high for 1 minute to let the sauce thicken slightly

Serve over sticky rice and an extra drizzle of sweet chilli sauce if you fancy it
Recipe Notes
Nutritional information is given as a guide only and my vary.
Nutrition Facts
Sticky Sweet Chilli Chicken
Amount Per Serving
Calories 345
Calories from Fat 72
% Daily Value*
Fat 8g12%
Cholesterol 145mg48%
Sodium 1592mg69%
Potassium 928mg27%
Carbohydrates 14g5%
Protein 50g100%
Vitamin A 155IU3%
Vitamin C 4mg5%
Calcium 11mg1%
Iron 1mg6%
* Percent Daily Values are based on a 2000 calorie diet.
Linking to