Deliciously moist Mincemeat & Almond Cake which is perfect served as an afternoon treat or warm as a comforting dessert. How would you eat yours?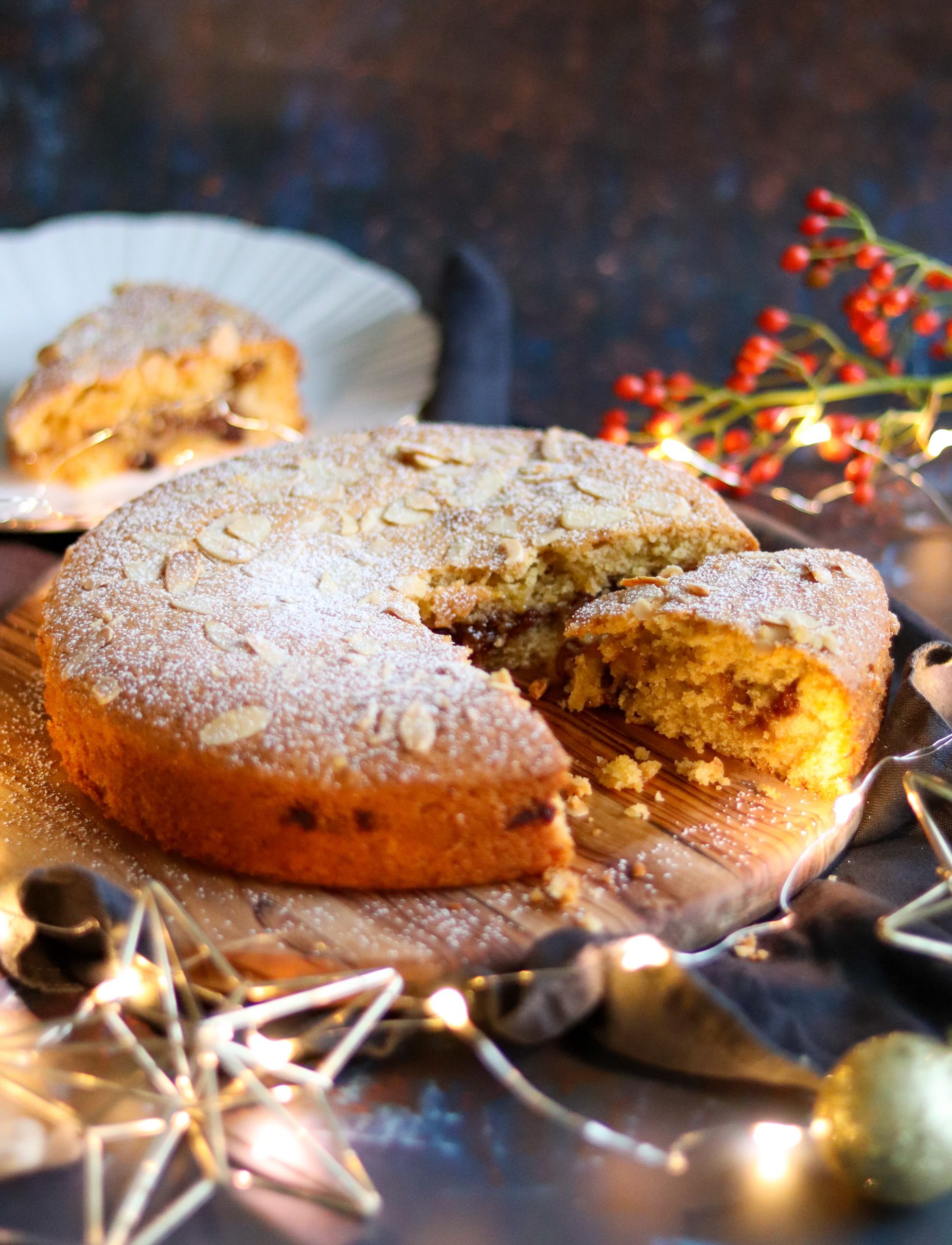 what is mincemeat?
If you're not from the UK, you might not have heard of mincemeat. It is a sweet mixture of dried fruits, spices and spirits.
So where does the name come from? Well back in the 12th century mincemeat was made using meat as a way of preserving it. Over the years the meat has been swapped for the fruit.
So don't panic, despite the name there is no meat in mincemeat anymore and it is really tasty!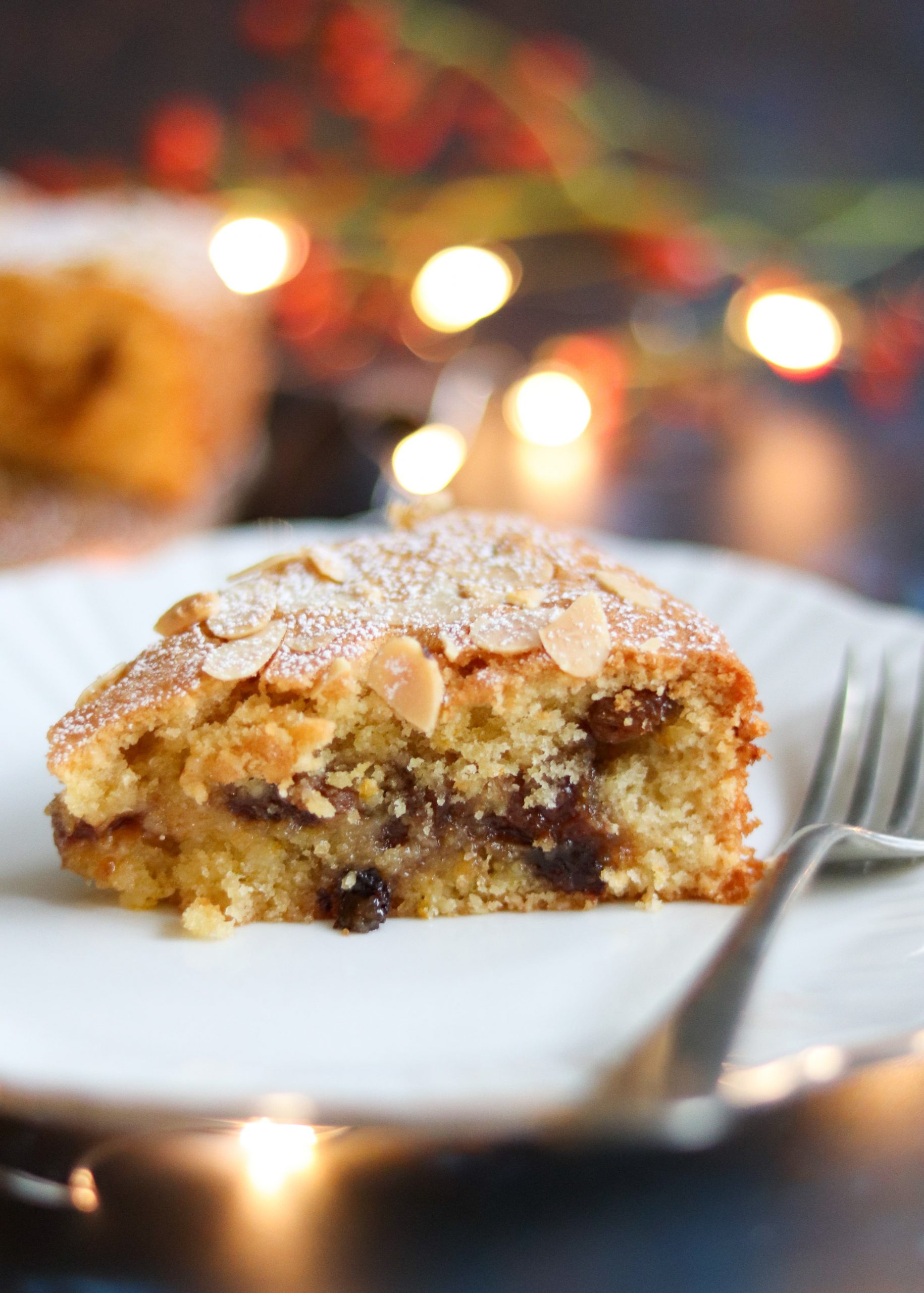 A different way of using mincemeat
The most common use for mincemeat is to make Mince Pies. They are shortcrust pastry filled with mincemeat and are eaten at Christmas time.
Although I love eating them, I am not a fan of making them – unless it is my Crumble Topped Mince Pies. With traditional mince pies I always get carried away and try to cram in too much mincemeat.
This means they inevitably spill over and I am left with a sticky mess of mincemeat and pastry. Because of this, I like to come up with alternative ways to bake with mincemeat that doesn't involve a mince pie.
My alternative bakes using mincemeat so far are:
And this year saw the creation of this Mincemeat & Almond Cake.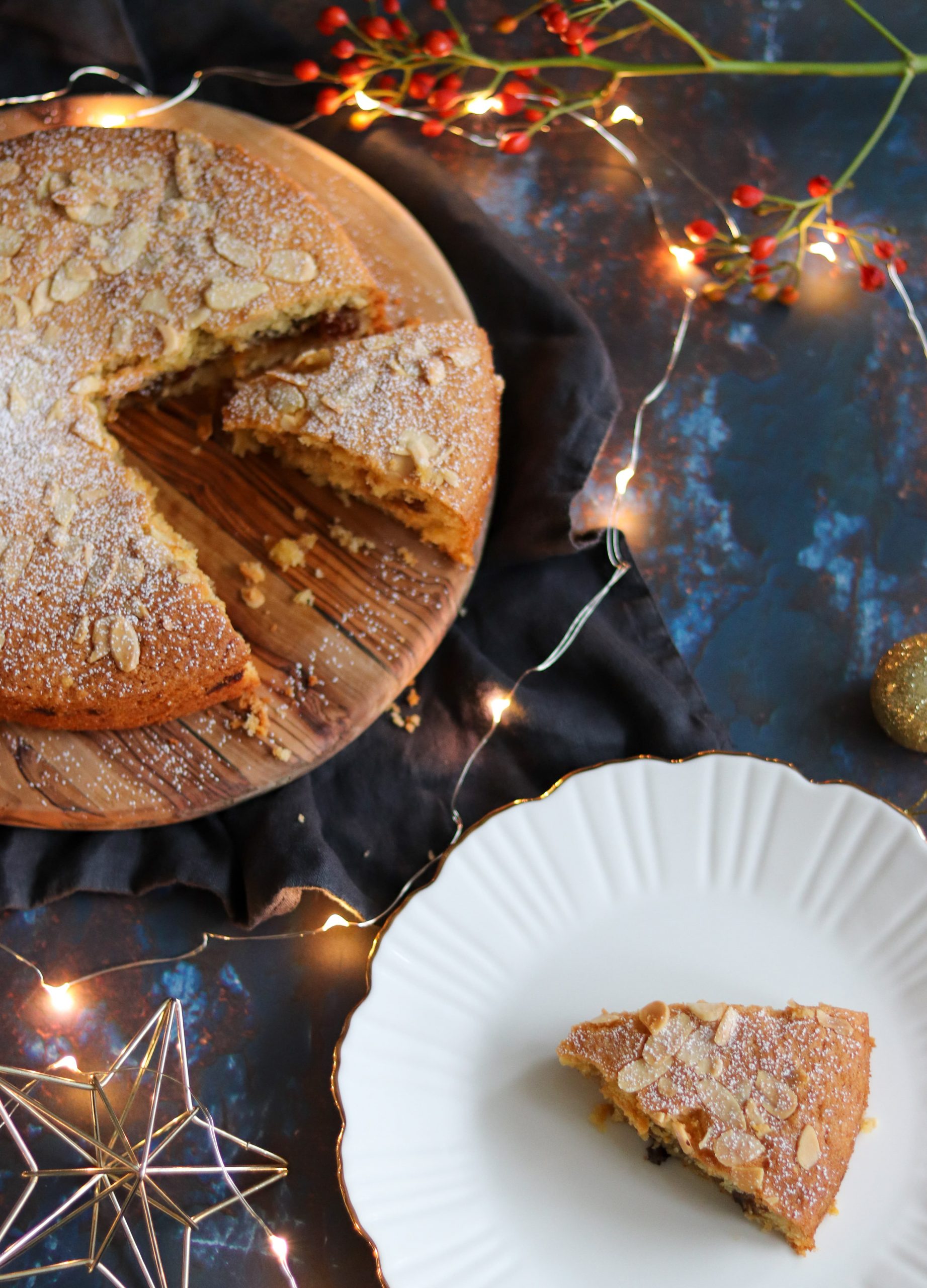 which mincemeat is best to use?
I would always recommend making my Quick Mincemeat because it is so delicious and easy to make. You can make a batch and have it ready to make festive treats.
I don't think there is anything wrong with using shop bought mincemeat. This is what most people tend to do and it is convenient.
I would recommend trying to choose a good quality mincemeat. There are quite a few choices; the fruits and spirits use vary and some may even include nuts. Pick one that appeals to you.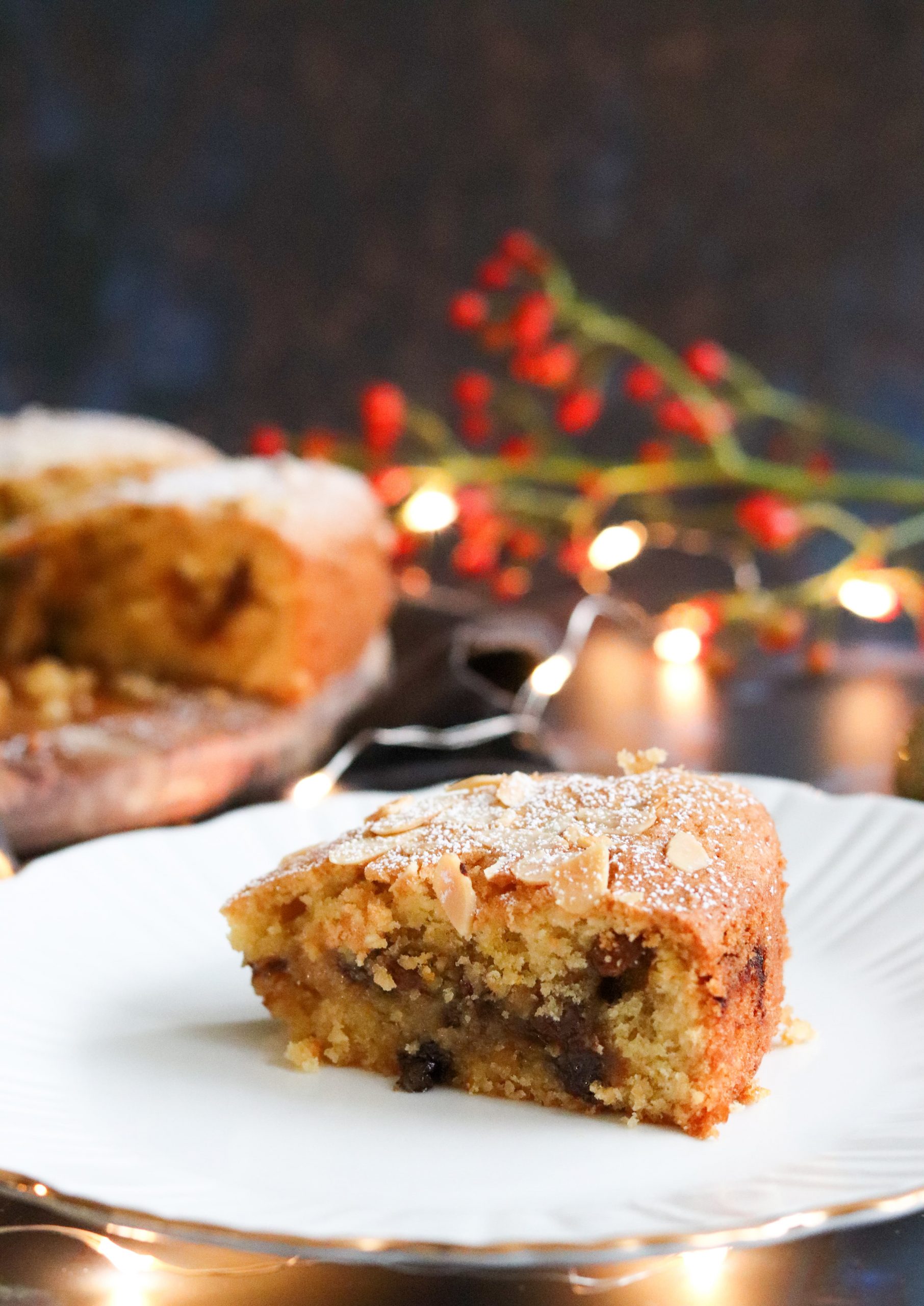 adding delicious almond flavour
I love mincemeat and almond together. The flavours work so well and it is just delicious!
There are ground almonds in the sponge mix as well as almond extract. The ground almonds not only add flavour to the sponge but keep the cake moist too.
The almond extract helps enhance the almond flavour further. If you don't want to include this you don't have to; but it is lovely!
Sliced almonds are then scattered over the top of the sponge. These add yet more almond flavour but also some texture too.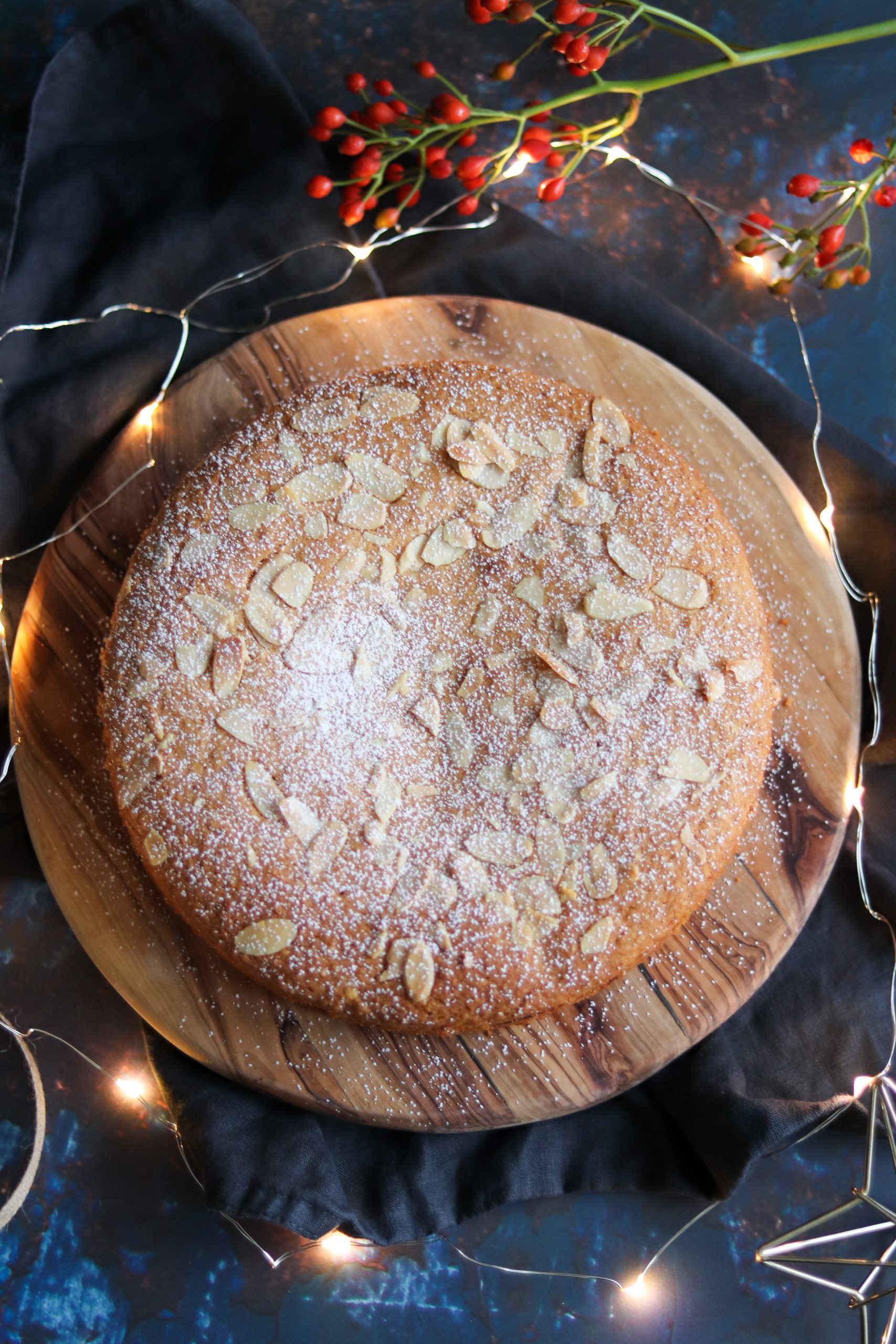 Is orange zest essential?
Adding orange zest to the cake adds an additional delicious flavour to the cake.
I like to add it to recipes with mincemeat because it really elevates the flavours that are already there.
Depending on the size of your orange, I would add the zest of between half and a whole orange.
If you really didn't want to include it, you can leave it out.
As it is Christmas, you could add a teaspoon or two of Cointreau. This is an orange flavoured liqueur which would be lovely in this cake.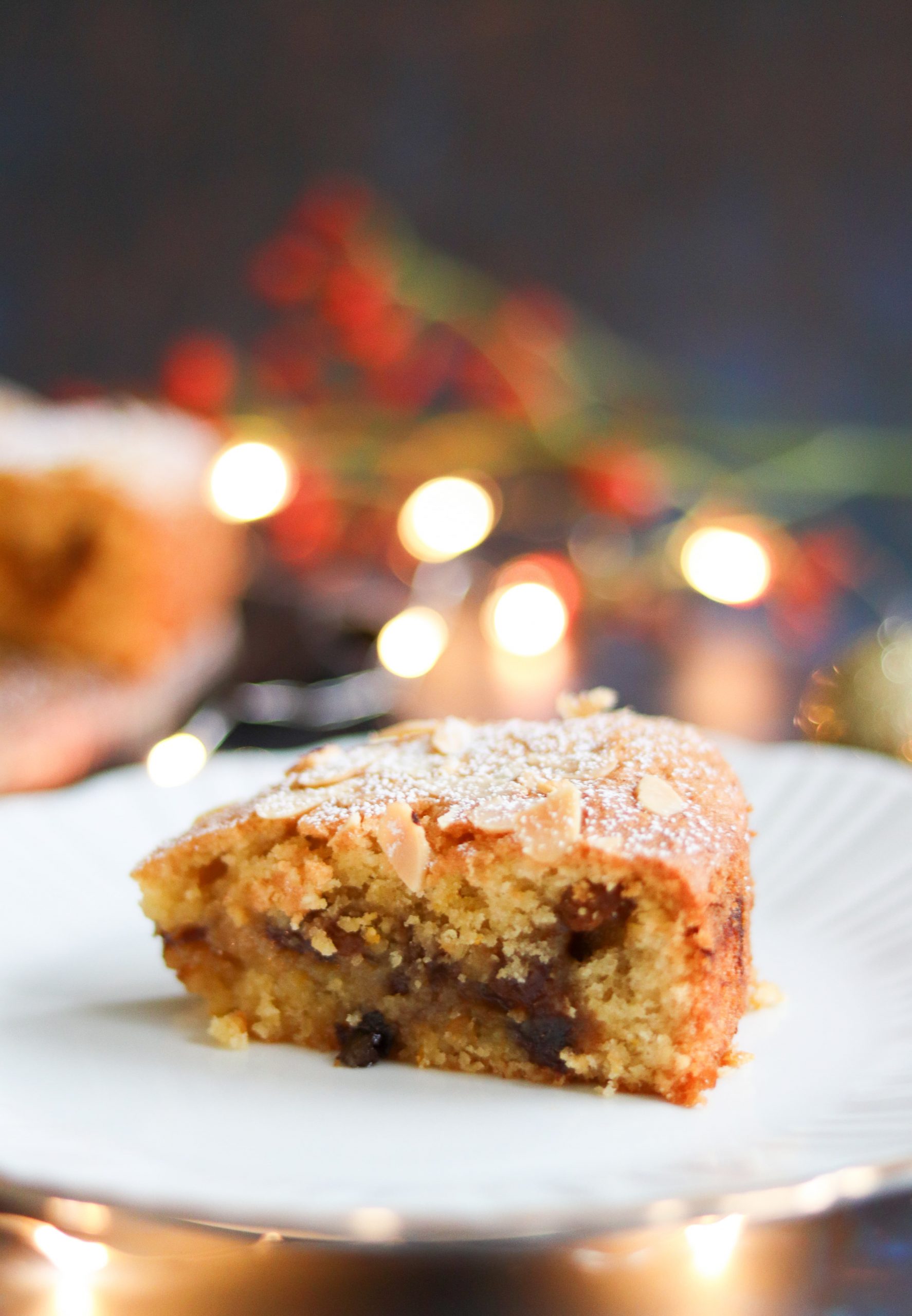 how to serve this mincemeat & Almond cake
This cake is delicious served as it is as an afternoon treat or for when guests pop over.
It is also great served as a dessert. You could warm it in the microwave for a few seconds and then serve it drizzled with double cream, homemade custard or even brandy butter.
It is Christmas after all so why not be a little indulgent!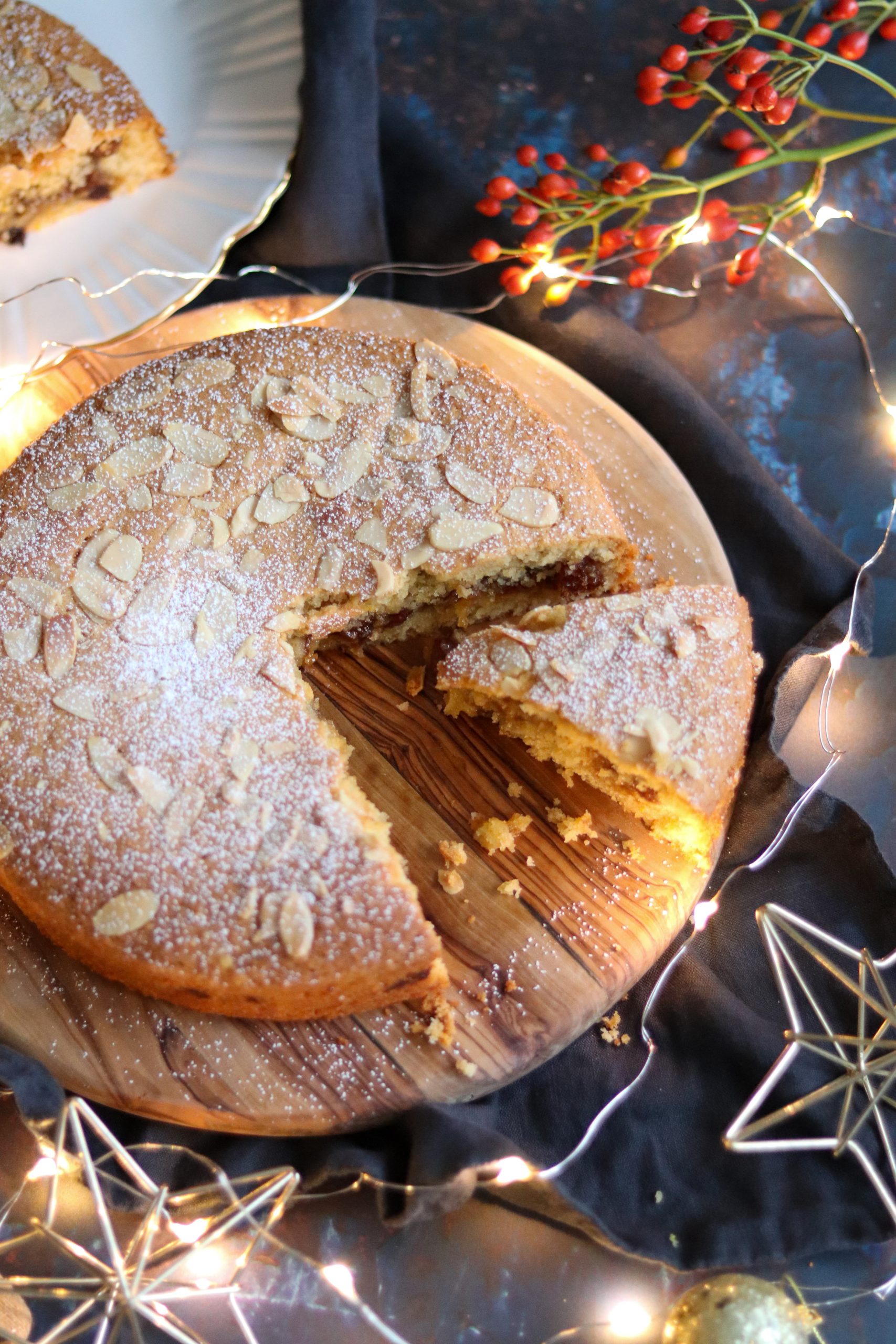 An alternative Christmas cake
This Mincemeat & Almond Cake would be a great alternative to a traditional Christmas Cake. These are a rich fruit cake often decorated with marzipan and fondant icing or royal icing.
People either seem to make them religiously each year or not bother with them at all. They are a labour of love and need to be made in advance and fed with spirits over the weeks before Christmas.
This cake would be a great alternative because it is so simple to make and doesn't need any extra decoration.
You could ice it with fondant or royal icing if you liked. But remember this is a sponge cake and isn't as robust as a dense fruit cake. Once iced it would still only keep for up to four days.
How many people will this mincemeat cake serve?
If you're anything like me you will want quite a large slice of this cake!
If you cut generous slices this Mincemeat & Almond Cake should feed ten to twelve people. But if you cut smaller pieces it will obviously feed more!
But who doesn't want a nice big slice of cake?!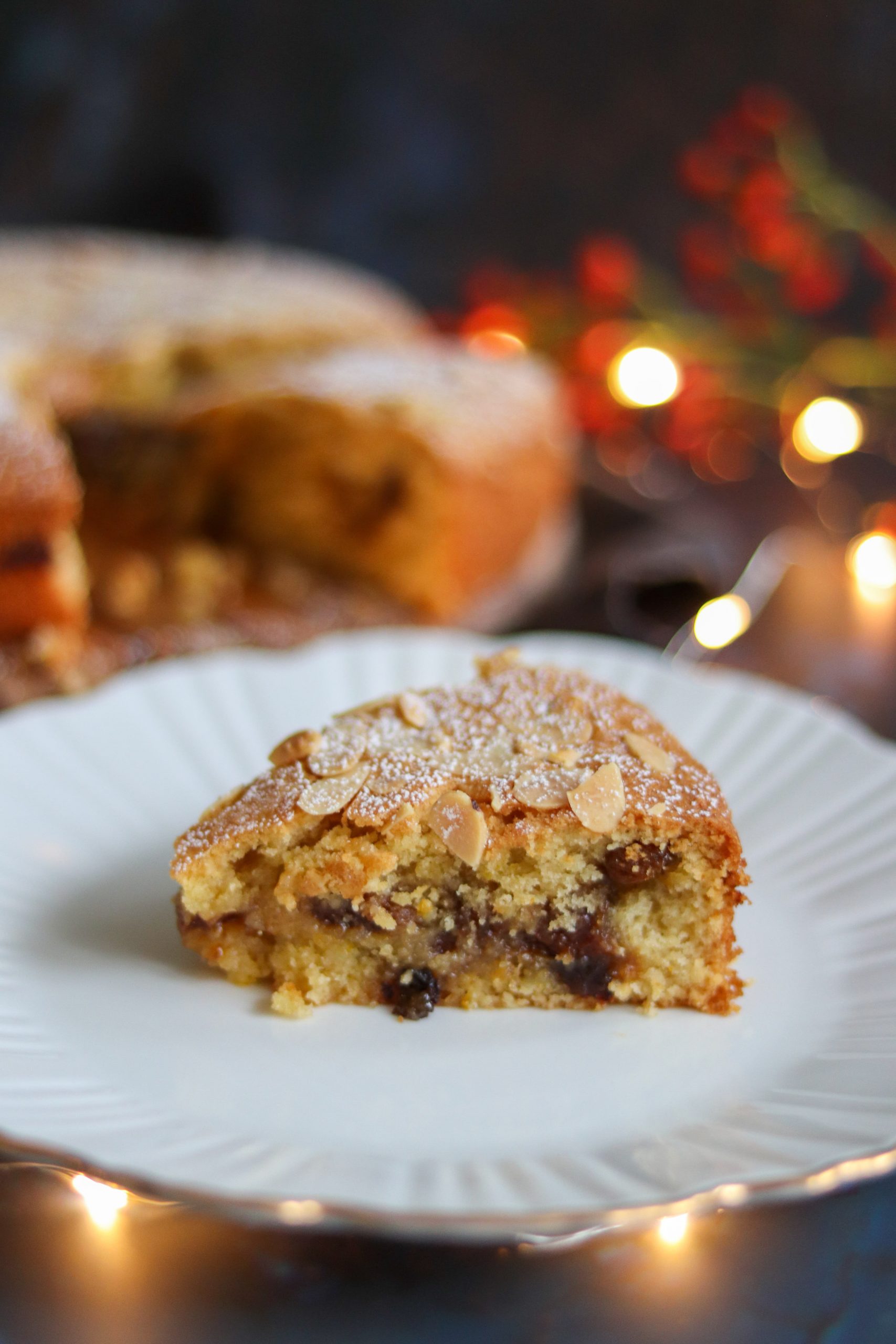 How long will this mincemeat cake last for?
The mincemeat and almonds in this cake help keep it moist. If you keep it in an airtight container this cake will keep for up to four days.
If you're looking for a mincemeat treat that will keep for even longer, my Mincemeat Christmas Flapjacks might be for you!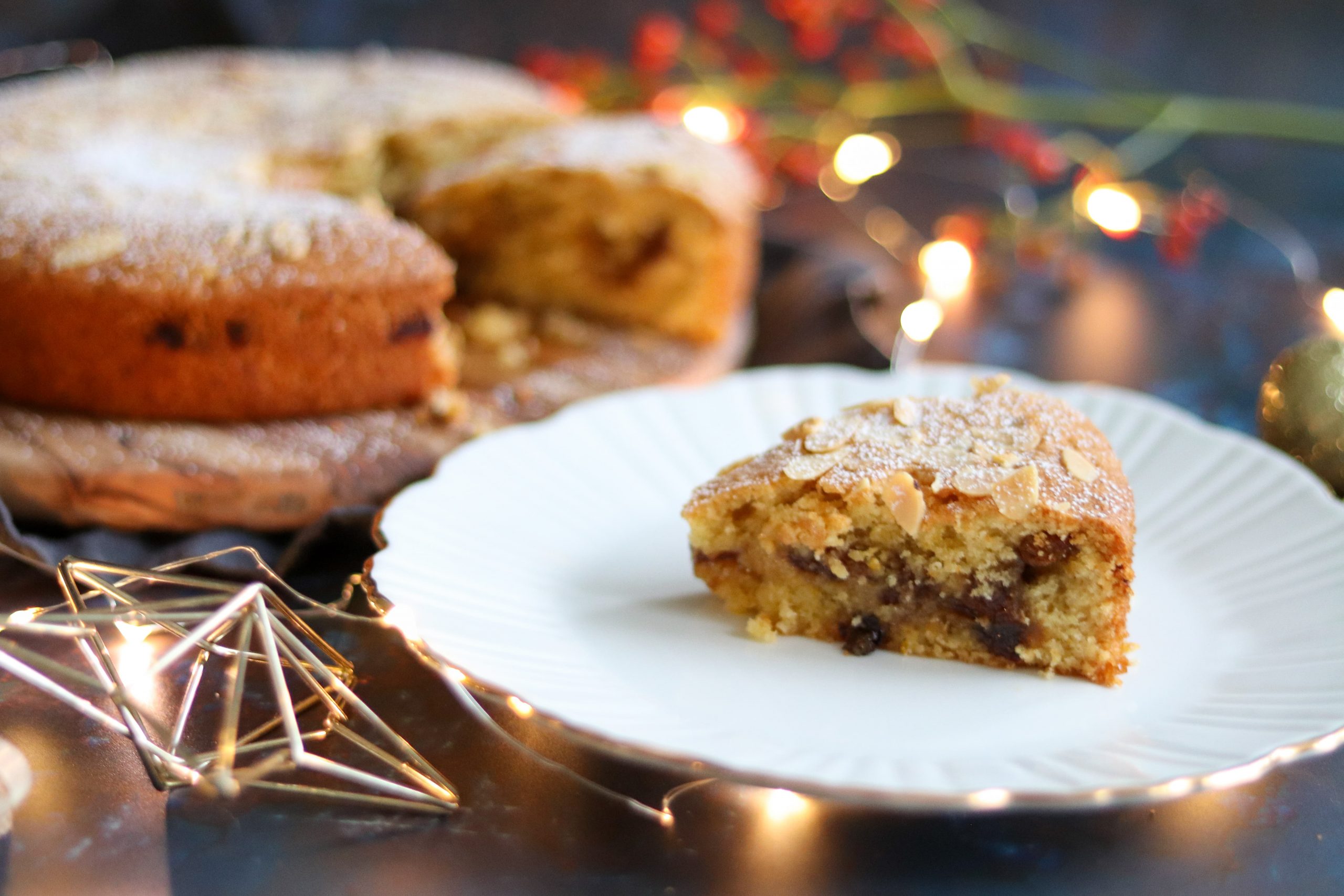 Other recipes you might like
Pin for later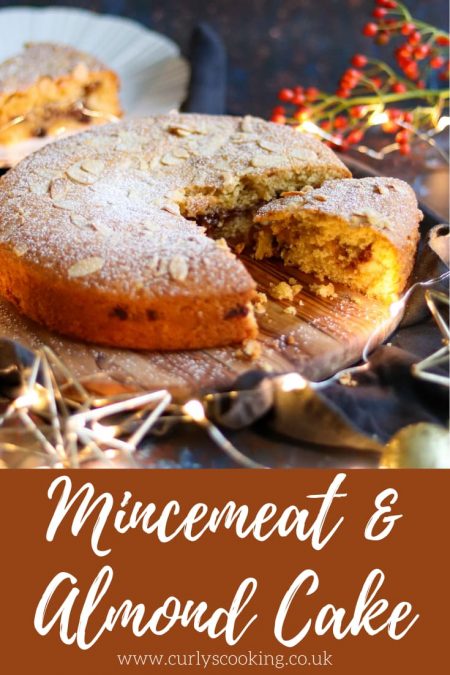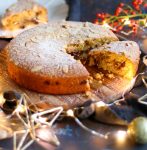 Mincemeat & Almond Cake
Deliciously moist Mincemeat & Almond Cake which is perfect served as an afternoon treat or warm as a comforting dessert. How would you eat yours?
Ingredients
140

g

margarine

140

g

caster sugar

2

eggs

140

g

ground almonds

140

g

self raising flour

¼

tsp

almond extract

225

g

mincemeat

1

orange

zested

2

tbsp

flaked almonds
Instructions
Heat the oven to 160ºC (fan assisted, 180°C non fan) and line a loose bottomed 8" cake tin

Mix the margarine and sugar until light and fluffy, at least 5 minutes

Add the eggs, ground almonds, flour and almond extract and mix together until combined

Add the orange zest and fold through

Spread half the mix into the tin and then add the mincemeat and spread out

Spread the rest of the cake mix on top of the mincemeat and scatter with flaked almonds. Bake for 45-50 minutes and check it's done by using a cocktail stick. If it comes out clean, the cake is done

Allow to cook in the tin for 30 minutes or so before turning out and leaving to cool completely on a wire rack
Recipe Notes
Keep in an airtight container for up to 4 days.
Nutritional information is given as a guide only and may vary.
Nutrition Facts
Mincemeat & Almond Cake
Amount Per Serving
Calories 318
Calories from Fat 144
% Daily Value*
Fat 16g25%
Cholesterol 27mg9%
Sodium 225mg10%
Potassium 46mg1%
Carbohydrates 38g13%
Protein 5g10%
Vitamin A 481IU10%
Vitamin C 6mg7%
Calcium 38mg4%
Iron 1mg6%
* Percent Daily Values are based on a 2000 calorie diet.