Cheese and bacon is a match made in heaven. These Bacon Wrapped Halloumi are salty, crisp and so delicious; you won't want to share! These are the perfect canape or nibble for any occasion.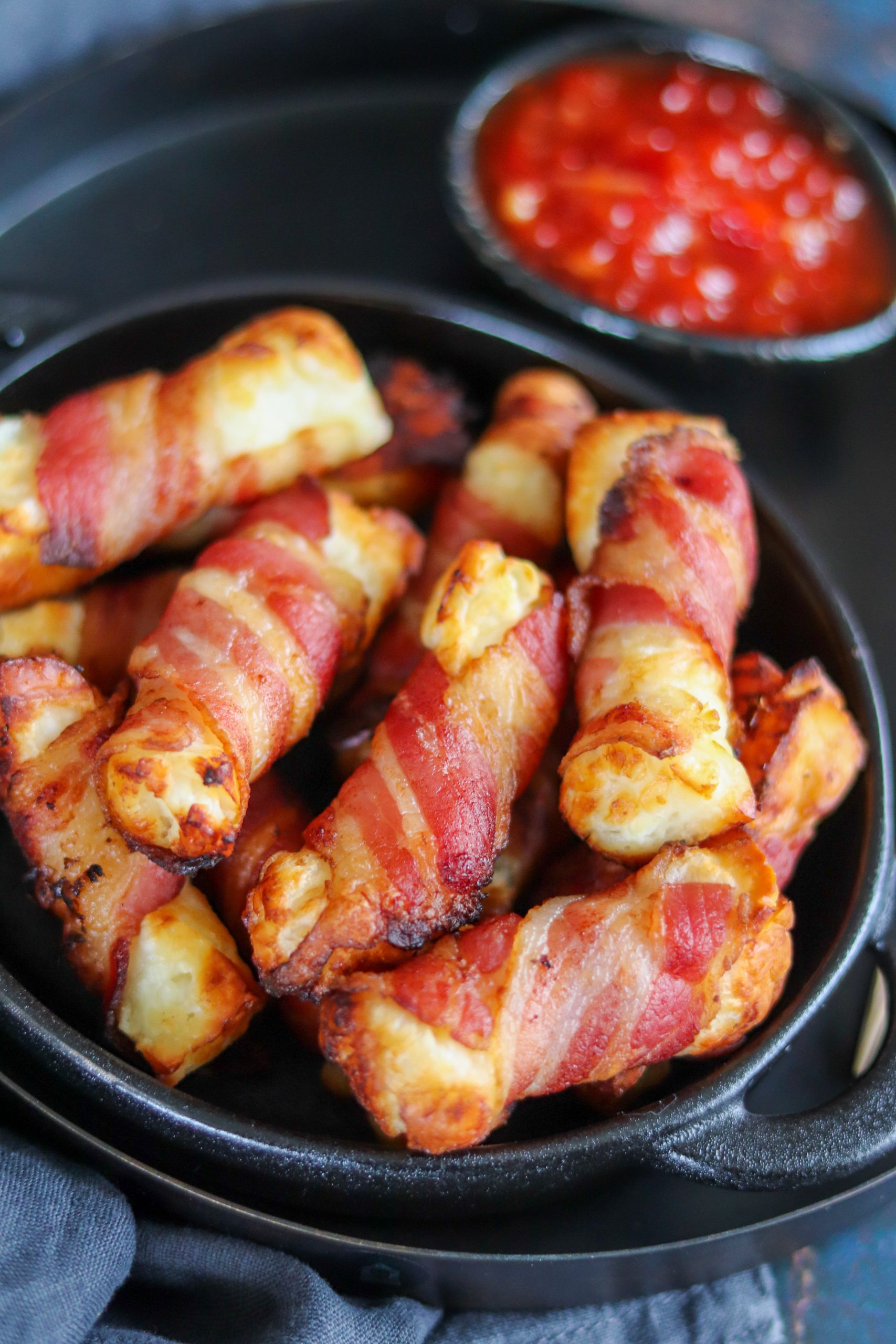 what is halloumi?
I know most of you will know what halloumi is, especially as it has become even more popular in the last few years.
Halloumi is a semi-hard cheese from Cyprus. It can be a mixture of sheep and goat's milk as well as cow's milk. It has a deliciously salty taste and an almost rubbery texture which is even more delicious when cooked.
One of the reasons it has become so popular is that it has a high melting point which makes it perfect for being grilled or fried as it holds it's shape. Although you can eat it without cooking it, it is so much better cooked!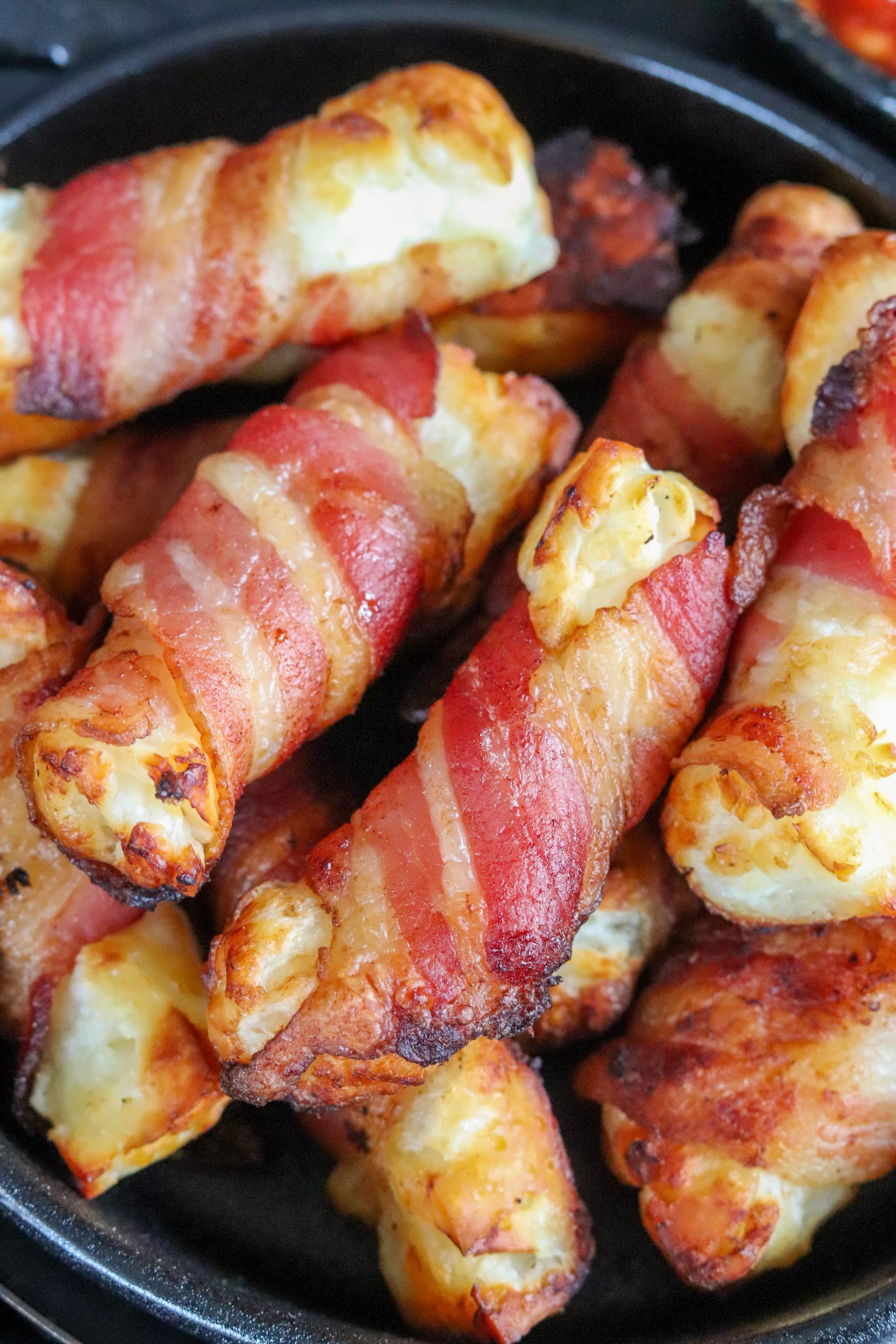 Bacon and cheese is a match made in heaven
I think most people would agree that bacon and cheese are a match made in heaven. The saltiness of the bacon goes perfectly with the creaminess of the cheese.
Bacon Wrapped Halloumi is especially delicious because the halloumi is salty as well as creamy. It is also the perfect cheese for this recipe.
Sometimes all you want is melty delicious cheese, but this isn't the occasion. You need the halloumi to keep it's shape so the bacon stays wrapped nicely around it and it's not just a puddle of cheese and bacon.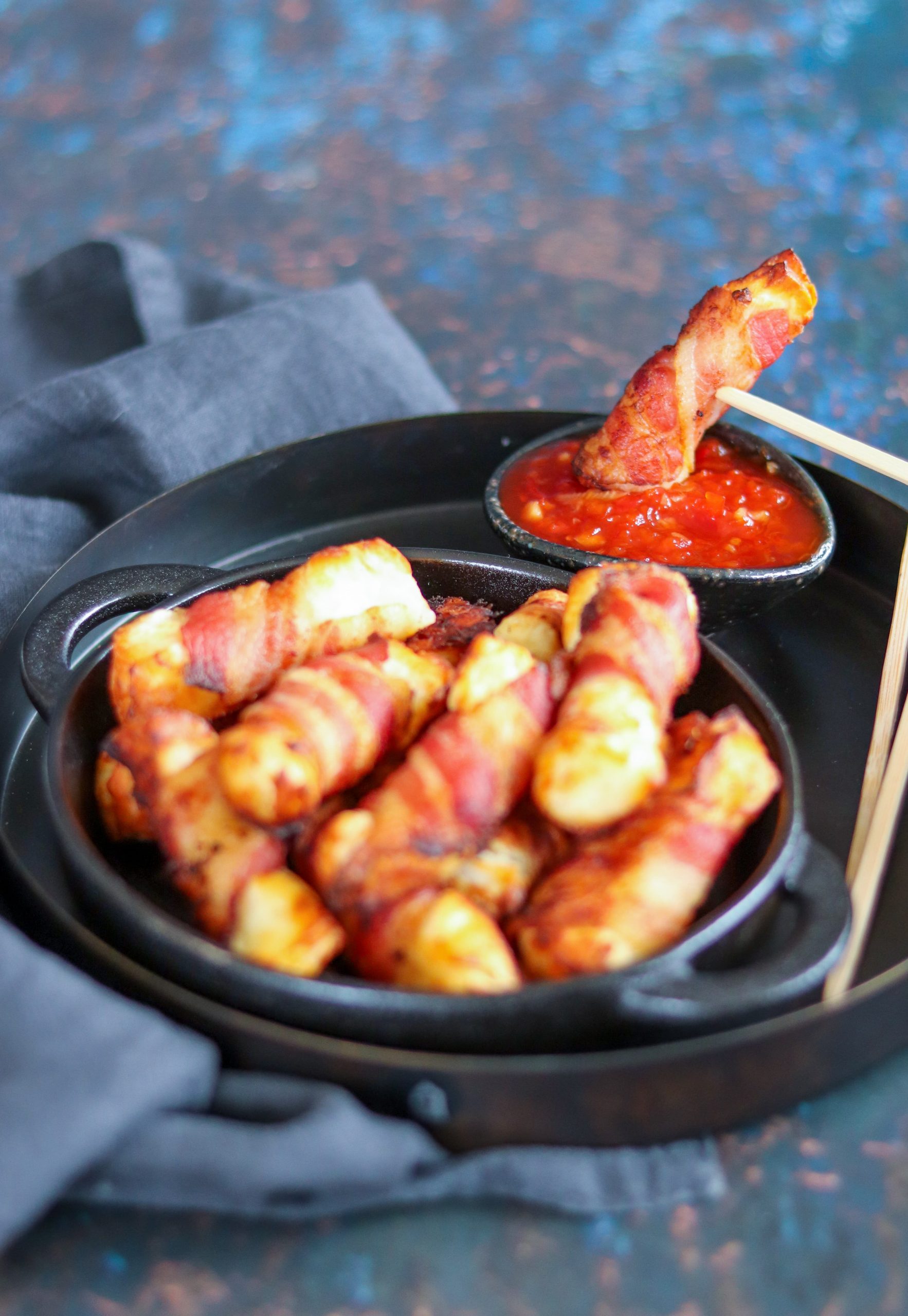 Bacon wrapped halloumi is Incredibly simple but delicious
These Bacon Wrapped Halloumi are as simple as they sound. They are literally pieces of halloumi wrapped in bacon.
I first attempted to make these last Christmas but I made the slices of halloumi too thick. I'd completely forgotten about them until I made my Bacon Wrapped Dates.
Despite what it looks like, I am not making it my mission to wrap everything in bacon! But the simplicity of wrapping food in bacon is incredibly delicious.
Plus what better cheese to use than halloumi? It holds it's shape, still goes slightly gooey in the middle and tastes even better when browned slightly.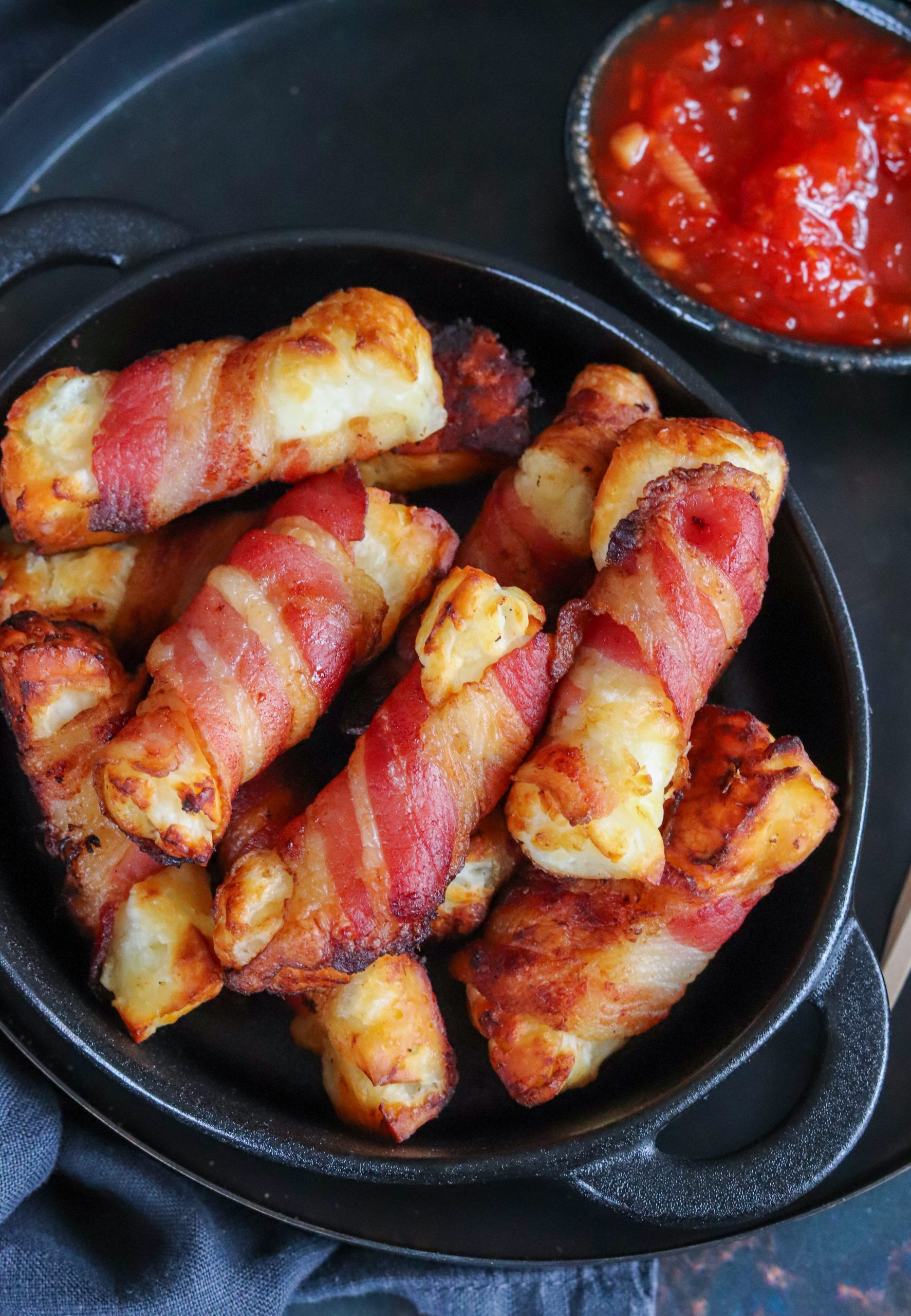 which bacon is best to use?
I recommend using streaky bacon because it is the easiest to wrap round the halloumi. You could try using back bacon and cut it in half if you really wanted to, but streaky bacon is easier to use.
I always use smoked bacon because personally it is the only bacon that should be bought! However if you want to break my heart, go ahead and use unsmoked bacon.
Alternatively you could use turkey bacon cut in half or a vegetarian/vegan alternative if you don't eat pork.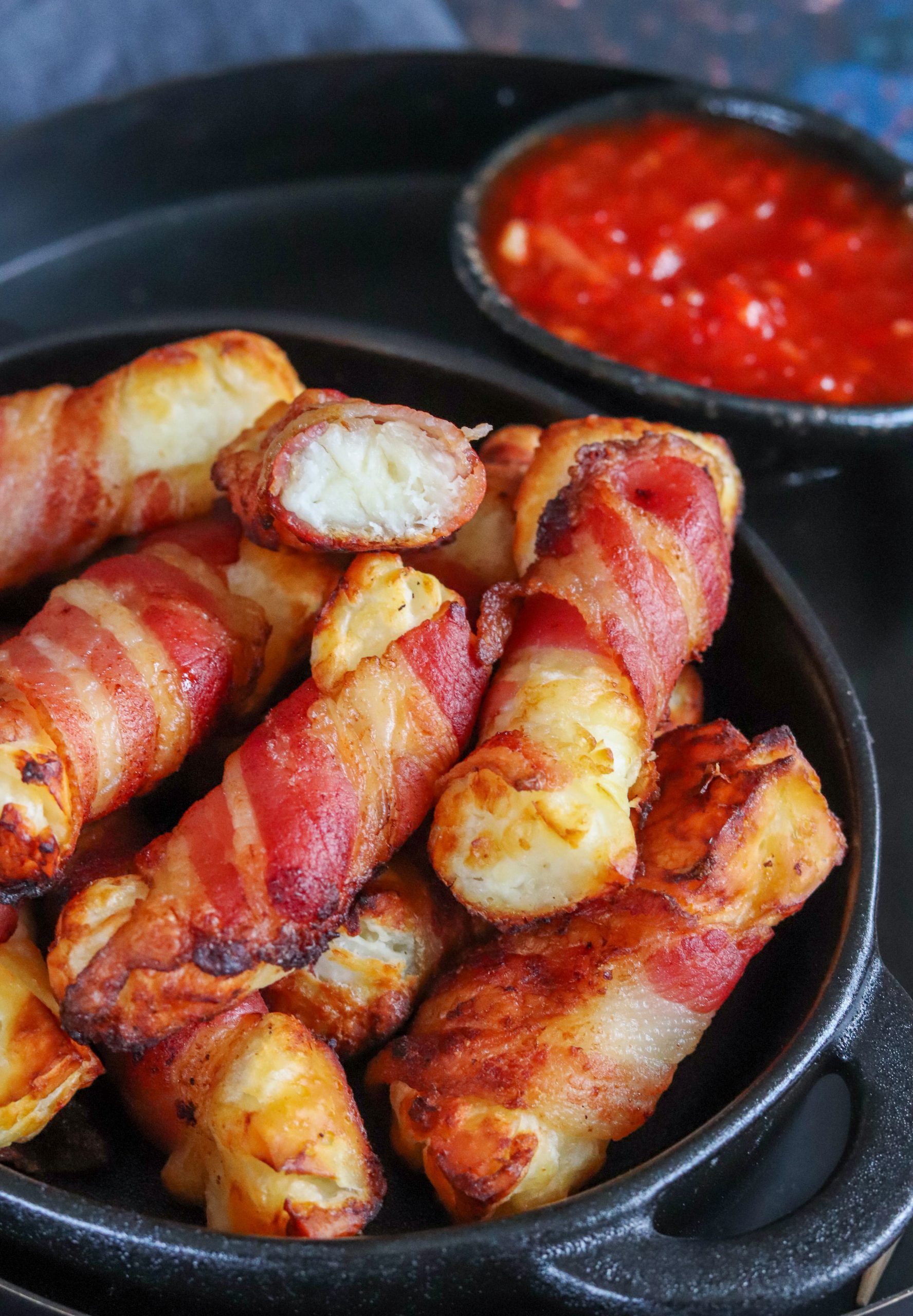 Air fryer or oven?
Air frying is a great way of making crisp and delicious food with little or no oil. And most people seem to have one these days.
The air circulates around the food so you may not need to turn them over, but check them just in case!
If you don't have an air fryer, you can cook these Bacon Wrapped Halloumi in the oven with exactly the same results.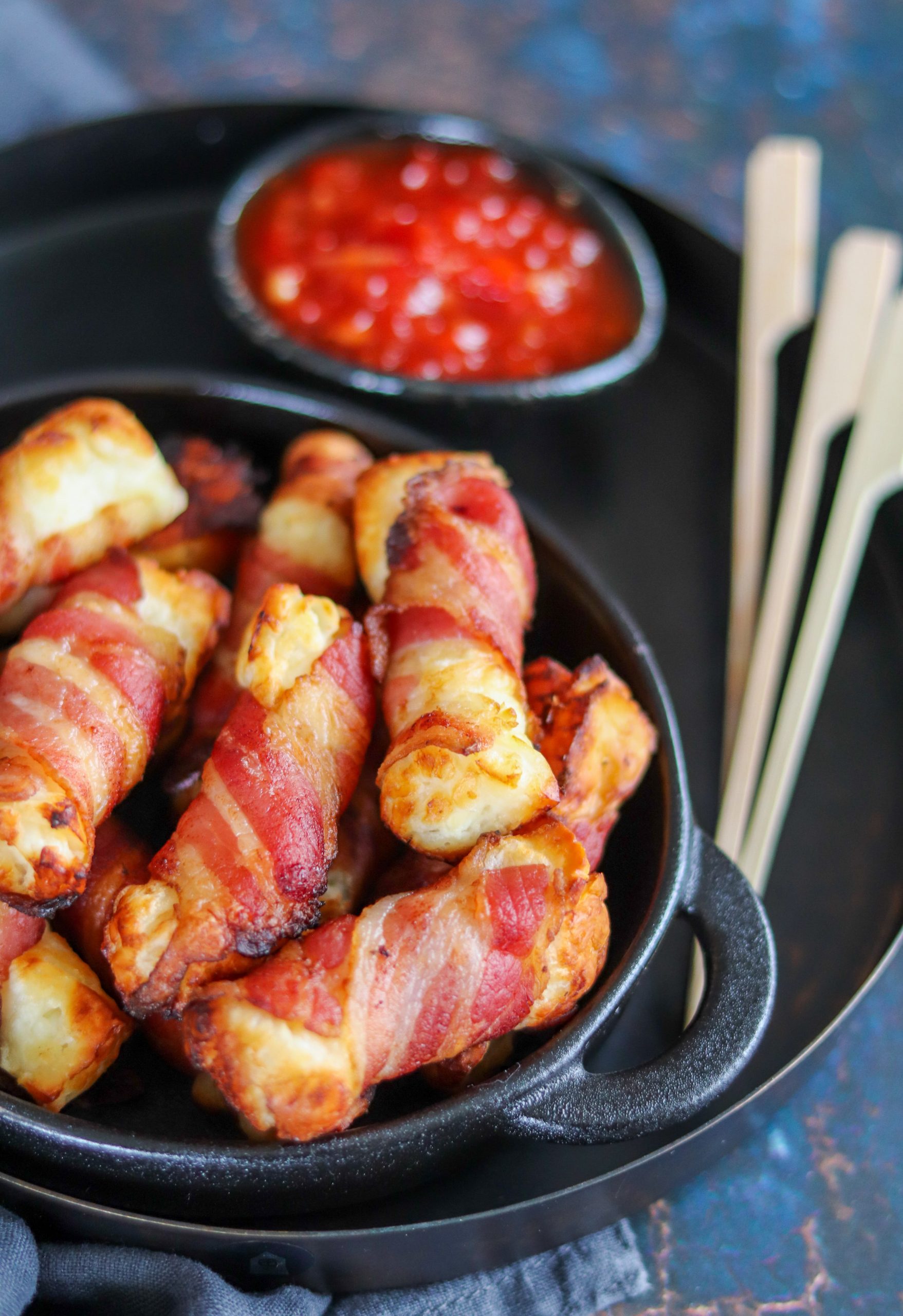 You will definitely need to turn them half way through the cooking time to make sure the bacon gets crispy on both sides.
Whether you cook them using an air fryer or in the oven, the instructions include a small range of times. This is because everyone likes their bacon cooked to different levels of crispness. Some people like it cooked but not that crisp; whereas if you're my sister you like it burnt!
You could also cook these Bacon Wrapped Halloumi on the barbeque. They will only take a couple of minutes to cook on each side; but cook them until the bacon is how you like it.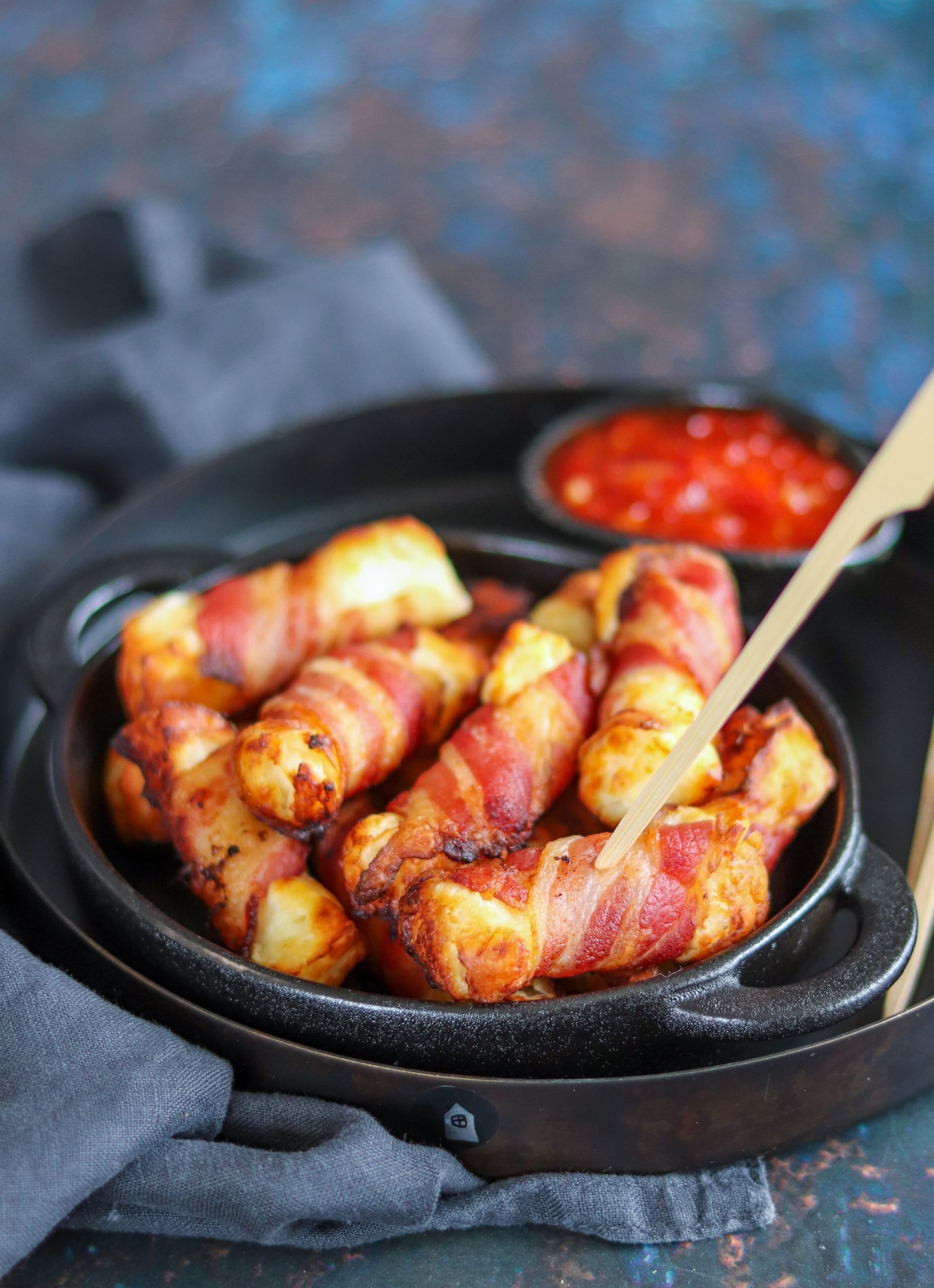 How to serve bacon wrapped halloumi?
They are particularly good as a canapé or nibble to have with drinks at a party or gathering. Serve these with my Honey & Mustard Cocktail Sausages & Cheese Straws as the perfect finger food.
These are about 2-3 bites in size so if you would like canapés that are a little more dainty, I would recommend cutting them in half once they are cooked. I think it would be a bit fiddly to try to wrap smaller pieces of halloumi in bacon.
I also think they would be a tasty hot element to a cheese board. People don't usually include halloumi in a cheese board but these Bacon Wrapped Halloumi would be a great addition! Especially dipped in some Sweet Chilli Jam or Caramelised Onion Chutney.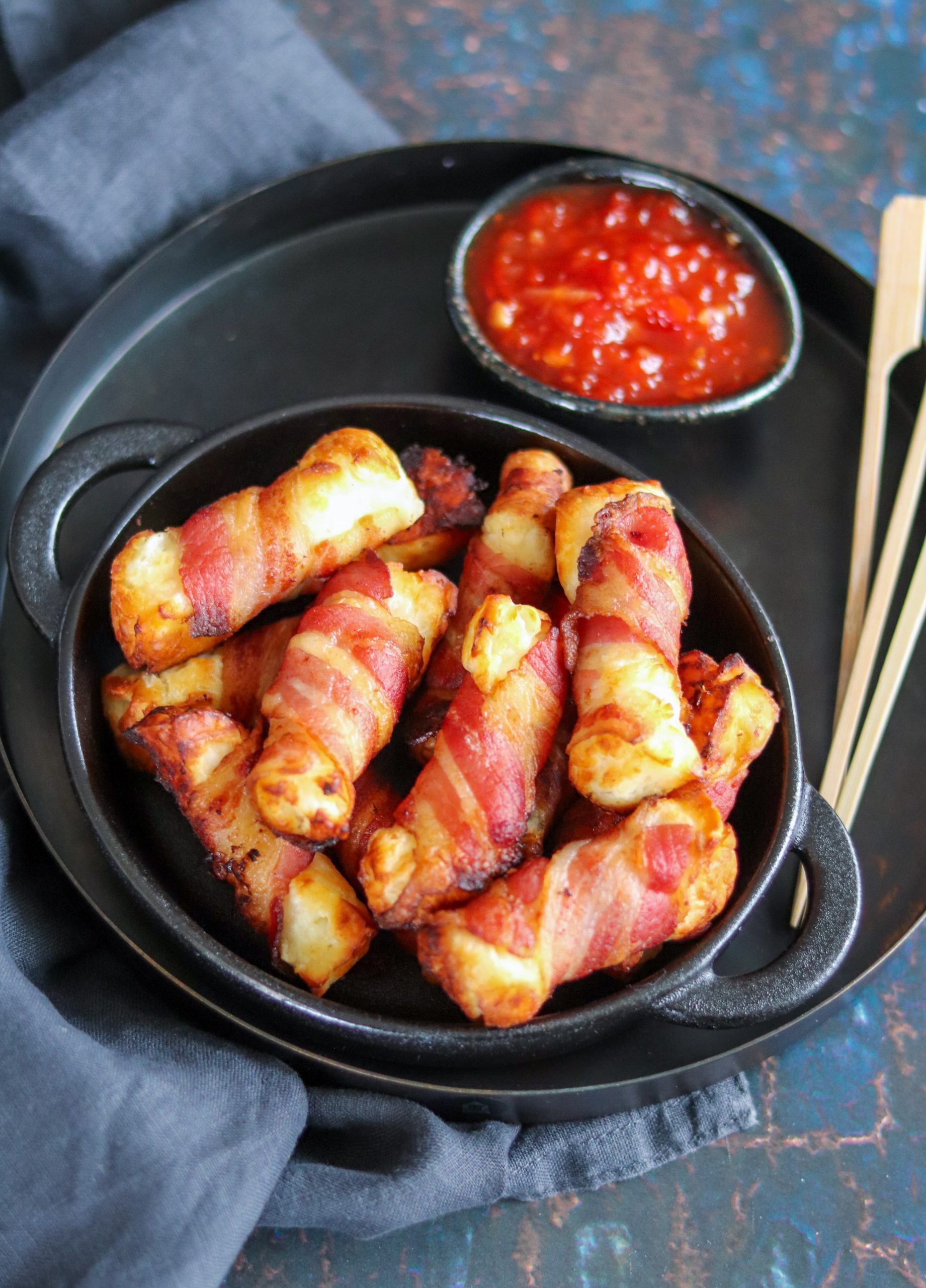 How to make these gluten free, vegetarian or vegan
These Bacon Wrapped Halloumi are naturally gluten free.
To make them vegetarian or vegan you will need to swap the bacon for a suitable alternative. The meat free bacon I have seen is usually the same sort of size as streaky bacon so this would be perfect for wrapping around the cheese.
Some halloumi isn't suitable for vegetarians as it can sometimes contain rennet which is an animal product. You will need to check the ingredients if you want to use halloumi.
There are vegan cheeses similar to halloumi available to buy. These are sometimes called halloumi style cheese or I have seen them referred to as coconut oil alternative to halloumi.
You need to make sure it is a semi hard cheese so that it won't melt when you cook it.
If you didn't want to substitute the bacon, you could just make my Air Fryer Halloumi Fries.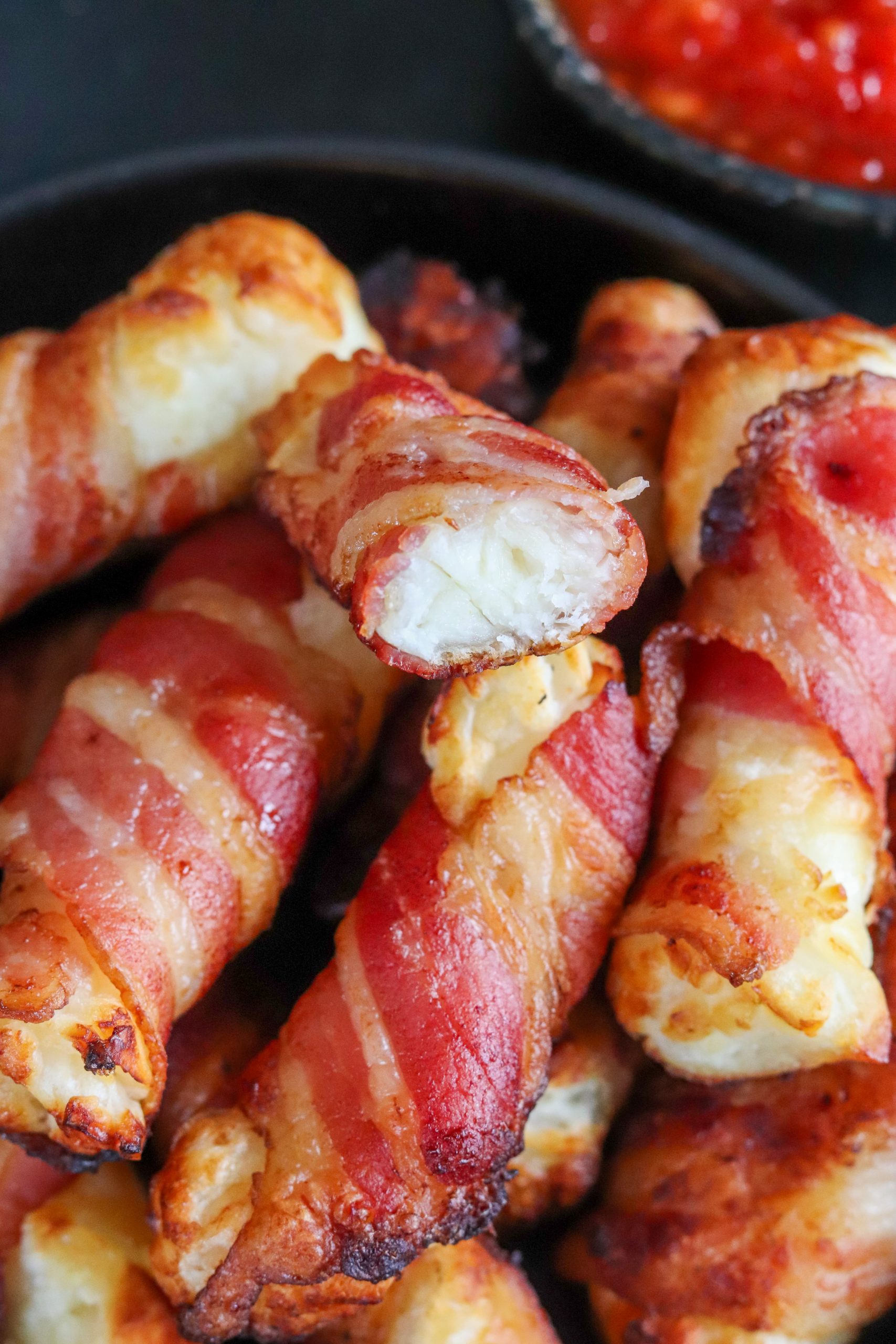 Can you make bacon wrapped halloumi in advance?
These Bacon Wrapped Halloumi bites are best served freshly cooked while the halloumi is still warm in my opinion.
You can assemble them ahead of time and keep them in the fridge until you want to cook them. This would be a good idea if you are serving them when you have guests. Although they take very little time to make, any time you are away from your guests isn't the best.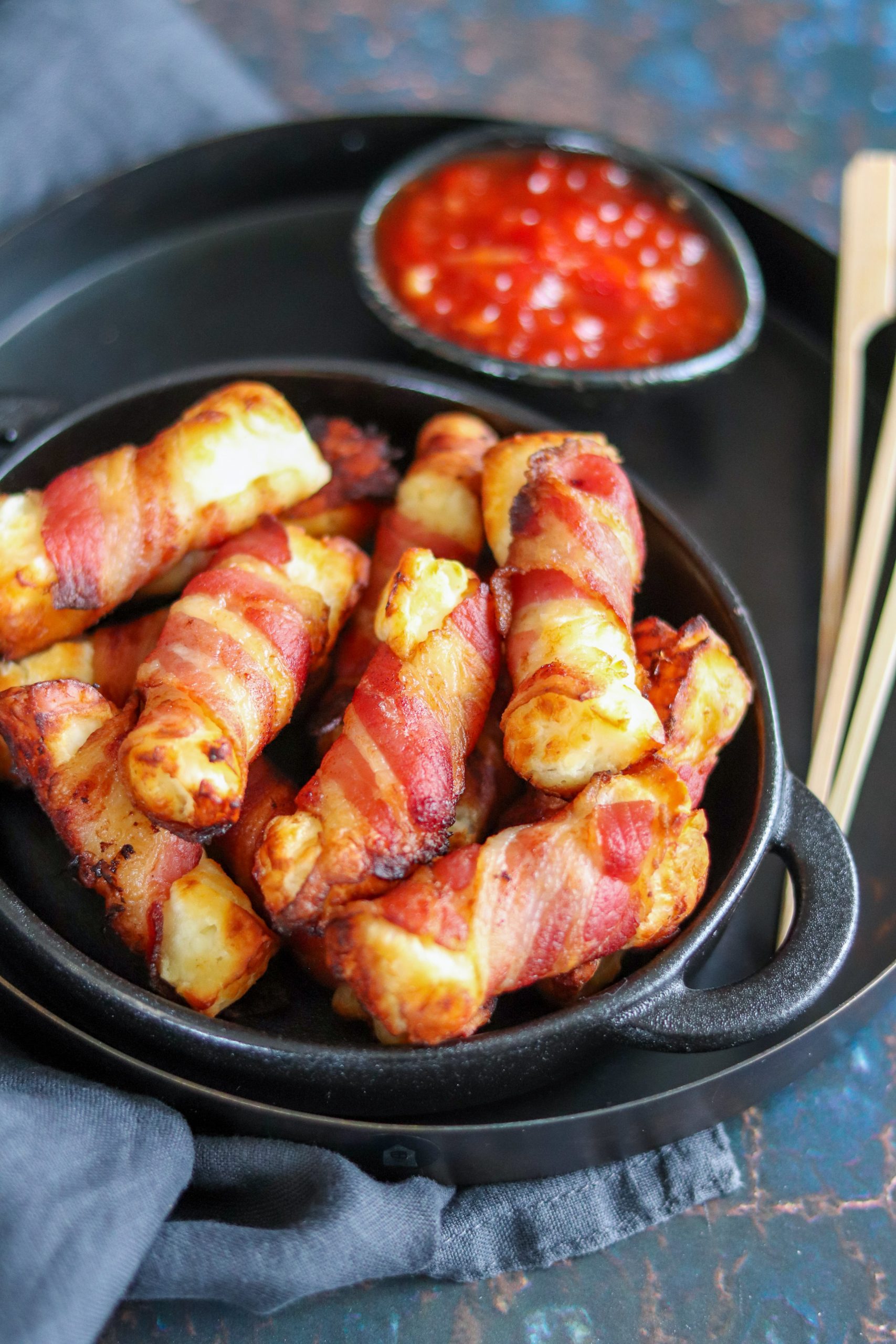 Other recipes you might like
Pin for later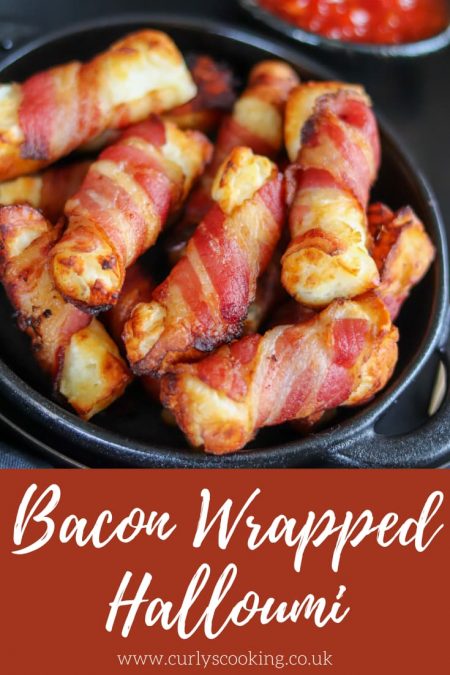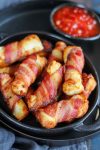 Bacon Wrapped Halloumi
Cheese and bacon is a match made in heaven. These Bacon Wrapped Halloumi are salty, crisp and so delicious. You won't want to share!


Ingredients
225

g

halloumi

(one block)

6

rashers

smoked streaky bacon
Instructions
If you are using an oven, preheat it to 190°C (fan assisted, 210°C non fan)

Cut a 225g block of halloumi in half down the longest side. Then cut each half into six even sized pieces

Lay 6 rashers of streaky bacon on a chopping board. Run the back of a knife along the rashers to stretch them slightly. Cut each rasher in half

Lay a piece of halloumi on each rasher and wrap it around the halloumi

Lay the wrapped halloumi either on a baking tray or into the basket of your air fryer

Cook for 10-12 mins at 200°C turning if you need to
Oven cooking instructions
If you would like to cook these in the oven, preheat your oven to 190°C. Place them on a baking tray and cook for 13-15 minutes turning half way, until the bacon is cooked to your liking
Recipe Notes
Nutritional information is given as a guide only and my vary.
Nutrition Facts
Bacon Wrapped Halloumi
Amount Per Serving
Calories 89
Calories from Fat 45
% Daily Value*
Fat 5g8%
Sodium 225mg10%
Carbohydrates 1g0%
Protein 4g8%
Calcium 188mg19%
* Percent Daily Values are based on a 2000 calorie diet.