If you're a Nutella fan, you need to try these Nutella Cupcakes. Not only is the buttercream flavoured with Nutella but the cake itself is too – the more Nutella the better!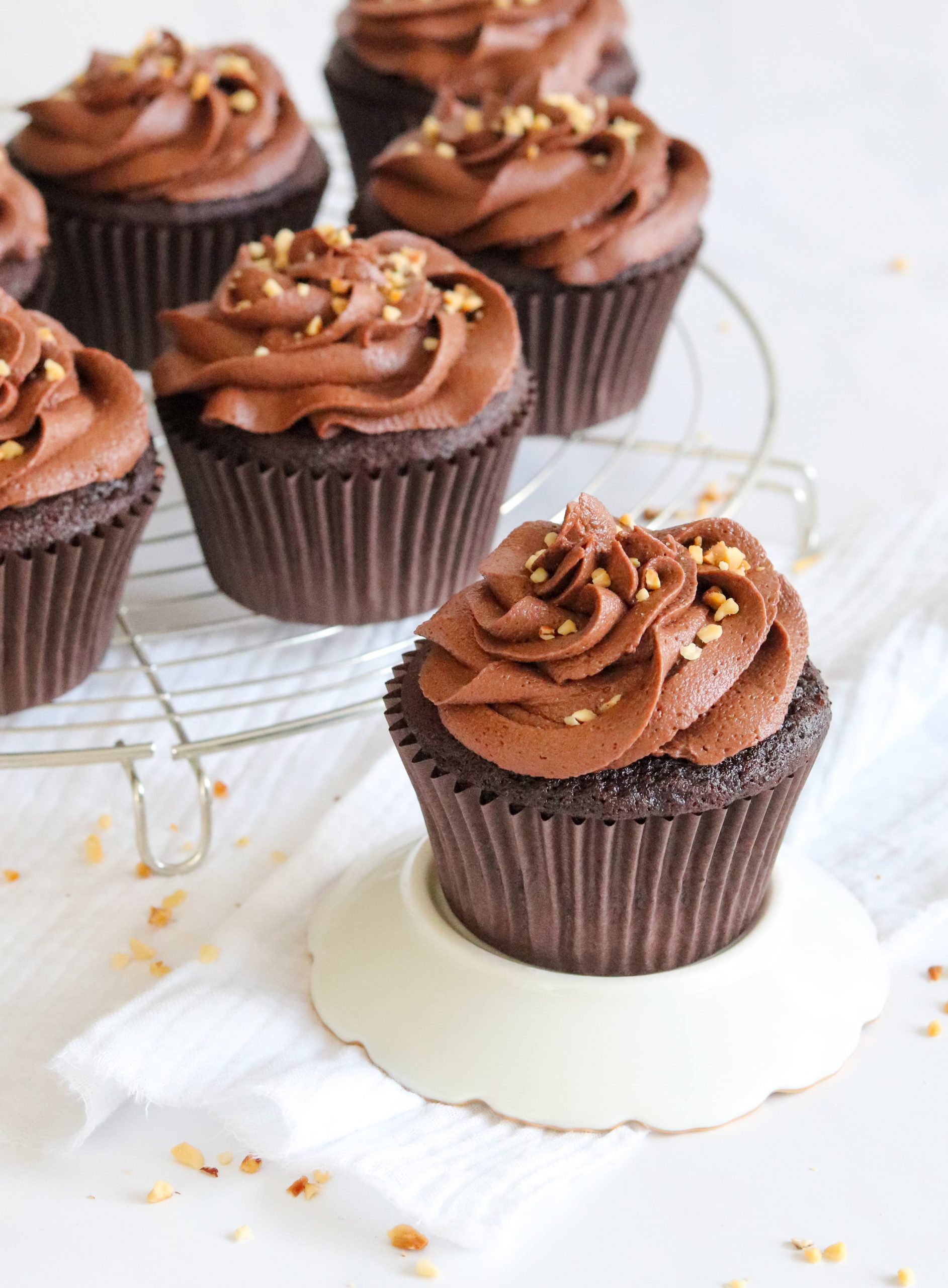 I am Nutella obsessed
There is no point hiding it. I am obsessed with Nutella. There is something about that chocolate nuttiness that I just can't resist.
Everyone needs a good Nutella Cupcakes recipe – me included; which is why I have developed one!
Some recipes work out straight away and others take a little bit more trial and error to get them perfect. This Nutella Cupcakes took a few attempts and several taste testers until I was completely happy with them.
And now, these are one of my favourite cupcake recipes ever!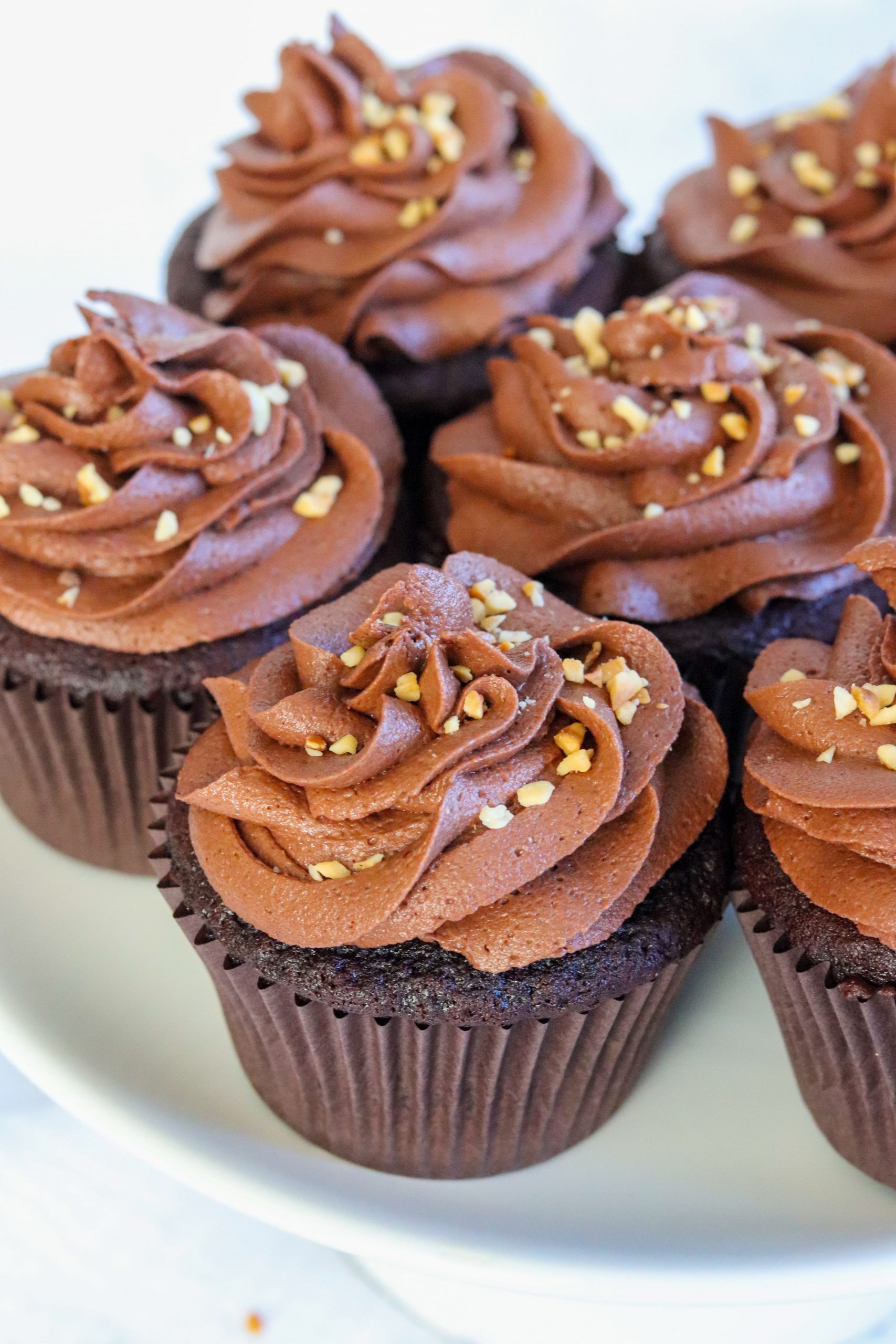 What is Nutella?
Nutella is an Italian branded sweetened hazelnut cocoa spread. There are lots of other varieties of chocolate hazelnut spread, but Nutella is the most well known.
I did realise a few years ago that Nutella contains palm oil. However, they have since changed their recipe and now only use sustainable palm oil.
If you don't want to use any products that include palm oil, then Gü have a delicious palm free version.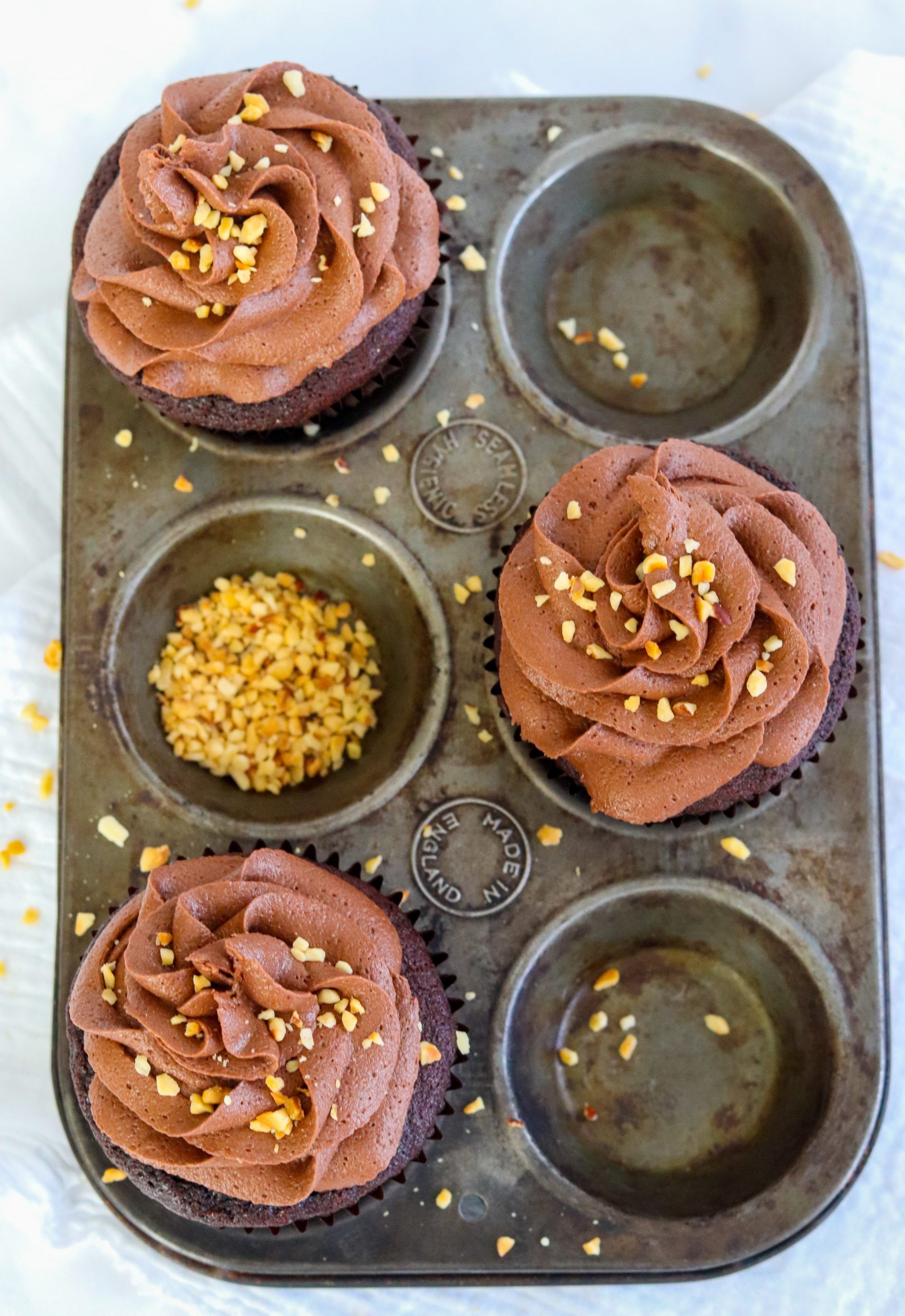 Nutella Cupcakes with a difference
My Nutella Cupcakes are a bit different to other recipes you might find.
Many of the recipes are either a chocolate cupcake with Nutella buttercream; or are a chocolate cupcake with Nutella piped in the centre with buttercream on top.
I wanted to make the sponge flavoured with Nutella as well as the frosting. A double hit of Nutella goodness. What could be better?!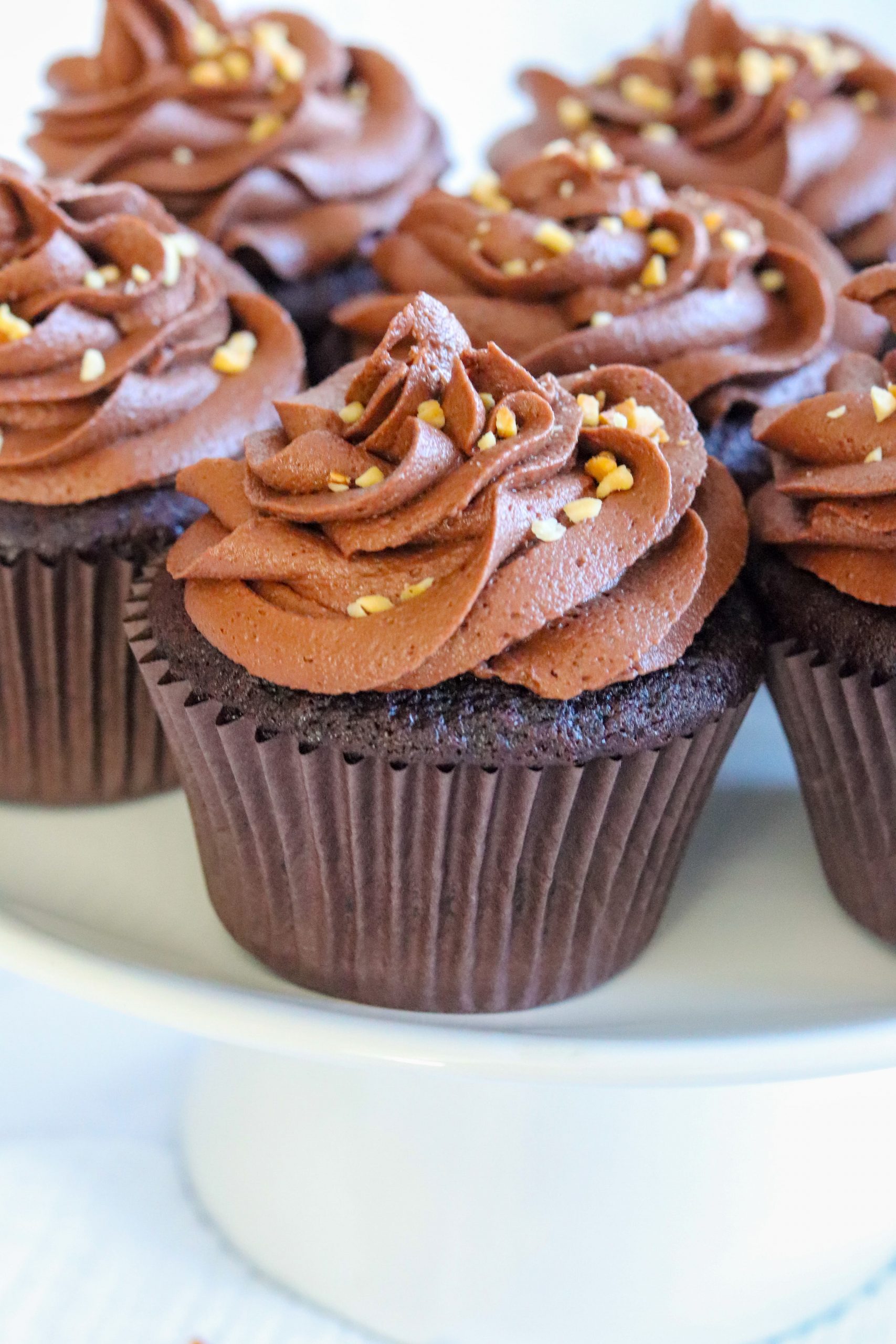 Super moist cupcakes
I know some people hate the word moist, but it really is the best way to describe these delicious cupcakes.
When it comes to chocolate cake, I think of two types. What I refer to as 'British' chocolate cake such as my Small Batch Chocolate Cupcakes and Chocolate Orange Traybake. These have a fluffier texture and don't use that many ingredients.
These Nutella Cupcakes are what I could class as 'American' chocolate cake. They typically use oil instead of butter as the fat element and often use yogurt, buttermilk or milk to make them super moist.
Both chocolate cakes are delicious and work better for different bakes.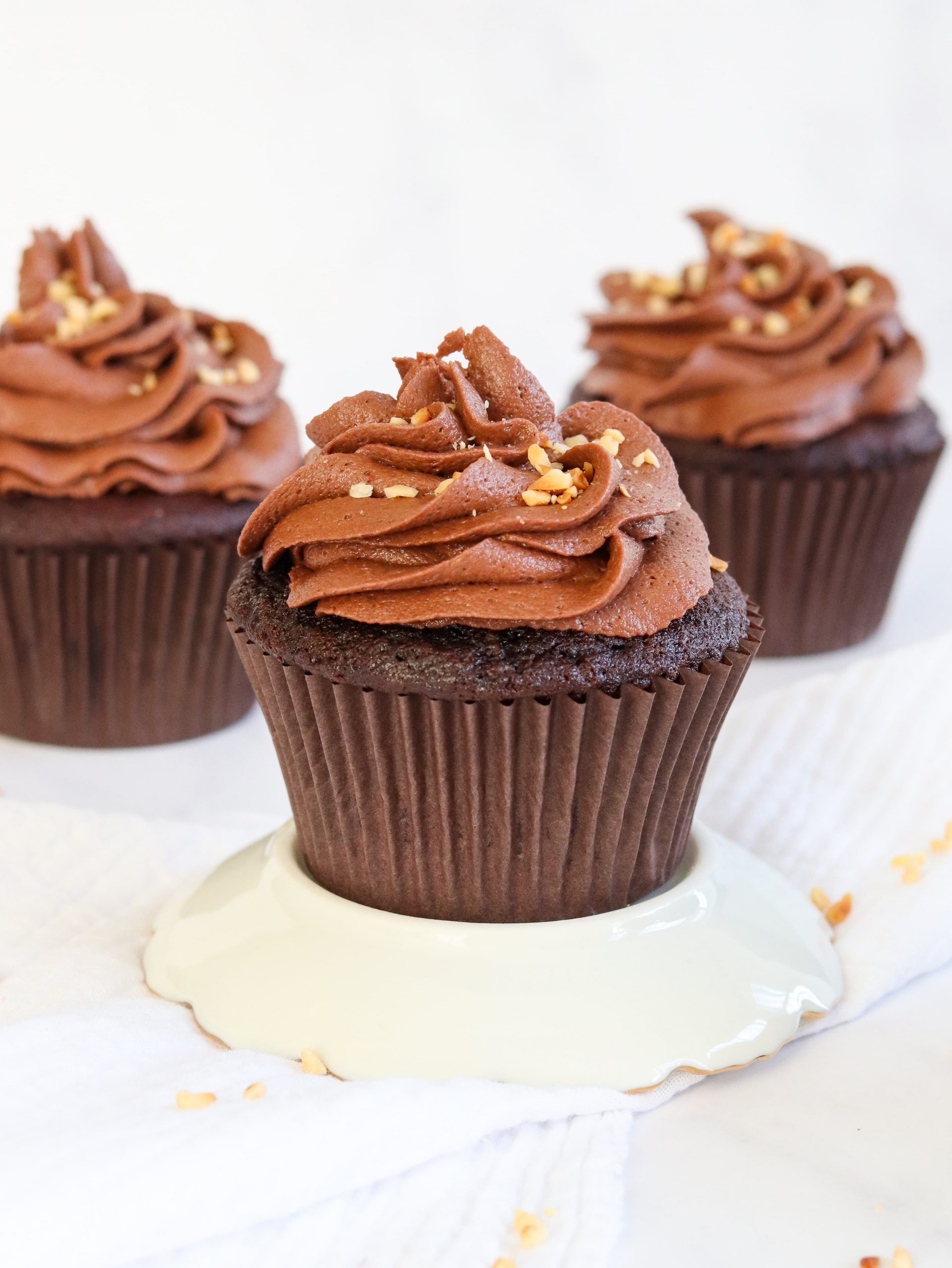 Which cocoa powder is best to use?
Depending on where you live, there are different types of cocoa powder available. The distinction is more obvious in the US where they have Dutch processed and natural cocoa powder.
When making Dutch processed cocoa powder, the cocoa beans are washed in an alkaline solution which reduces the acidity. This means that it doesn't react when mixed with bicarbonate of soda (baking soda).
Natural cocoa powder as the name suggests, is natural. It is acidic and bitter with a more concentrated chocolate flavour. Natural cocoa powder is often used in recipes with bicarbonate of soda as it reacts and gives bakes a good rise.
Here in the UK all of our cocoa powder is Dutch processed unless otherwise specifically stated. Natural cocoa powder only tends to be found in speciality and health food stores. So chances are, if you are buying cocoa powder,it is Dutch processed.
Just make sure you don't buy drinking chocolate and instead buy cocoa powder from the baking aisle.
I would recommend using Dutch processed cocoa powder for these Nutella Cupcakes. Read more about Dutch processed vs Natural Cocoa Powder over at Sally's Baking Addiction.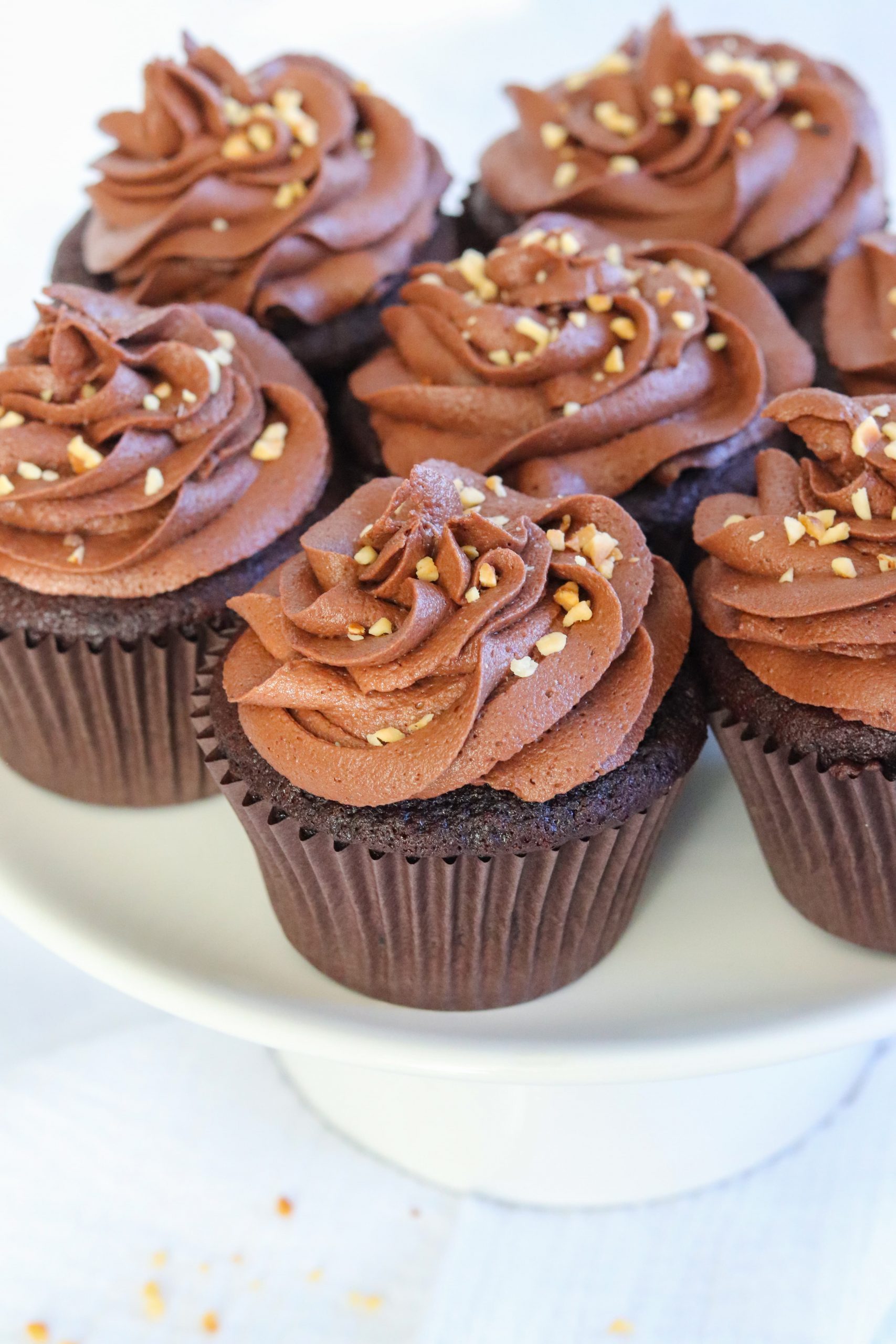 Do these cupcakes taste like coffee?
No, don't worry; adding coffee to the cupcakes does not make them taste like coffee.
Coffee is a flavour enhancer for chocolate so it helps make the chocolate taste even more chocolatey. The same applies for the salt, it doesn't make the cupcakes taste salty, but instead enhances the flavour.
I measure out my boiling water and then add the coffee granules to it. I then leave it to cool slightly while I get the rest of the ingredients together. It is only a small amount of coffee but it definitely does the trick!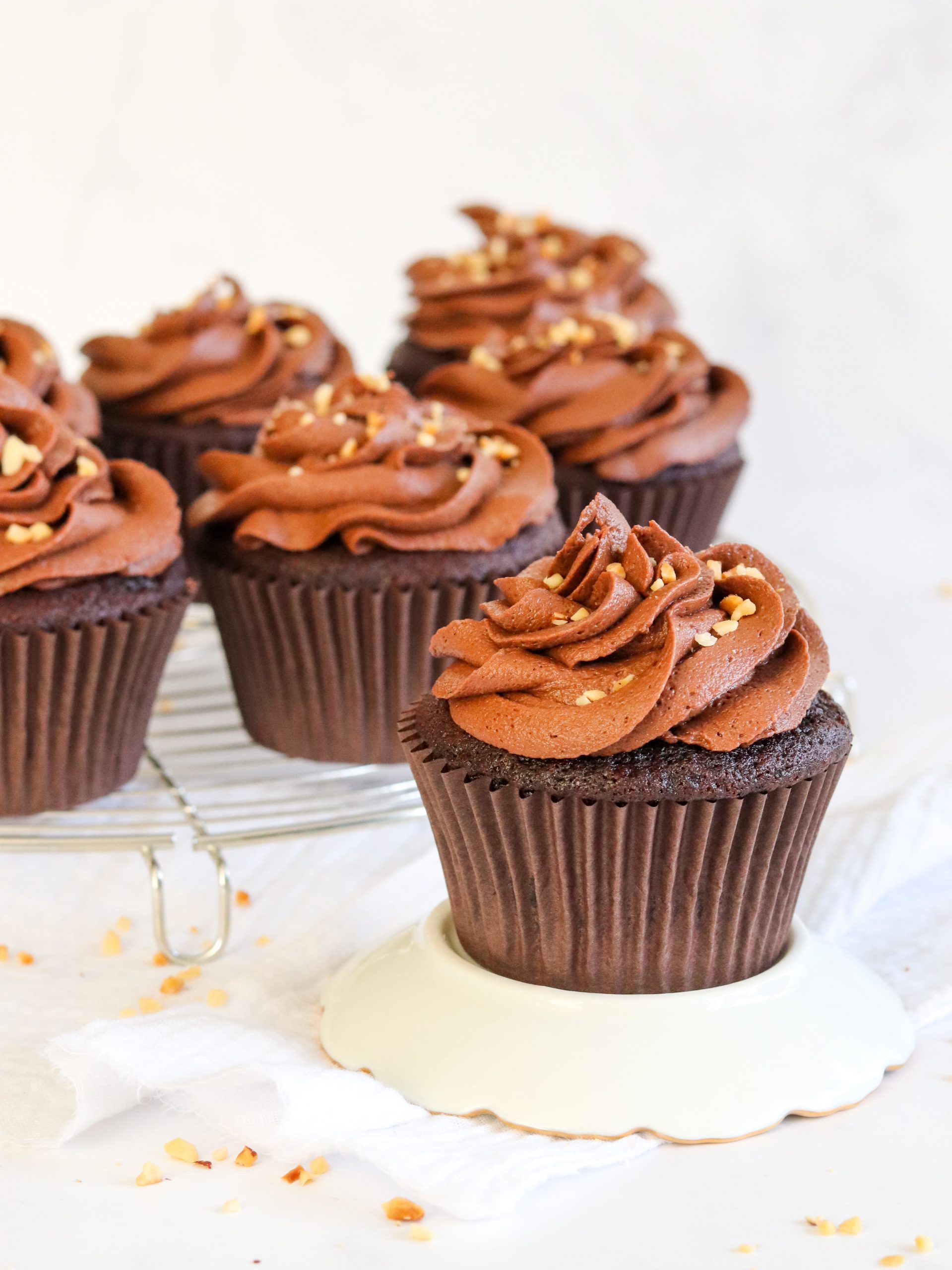 Which yogurt is best to use?
You can use any type of unflavoured yogurt in these Nutella Cupcakes.
Greek or Greek style yogurt tends to be a little thicker, but you can use natural yogurt just as easily.
I always use low or non fat yogurt which works perfectly in these cupcakes. You can of course use full fat if you prefer, it won't make any difference.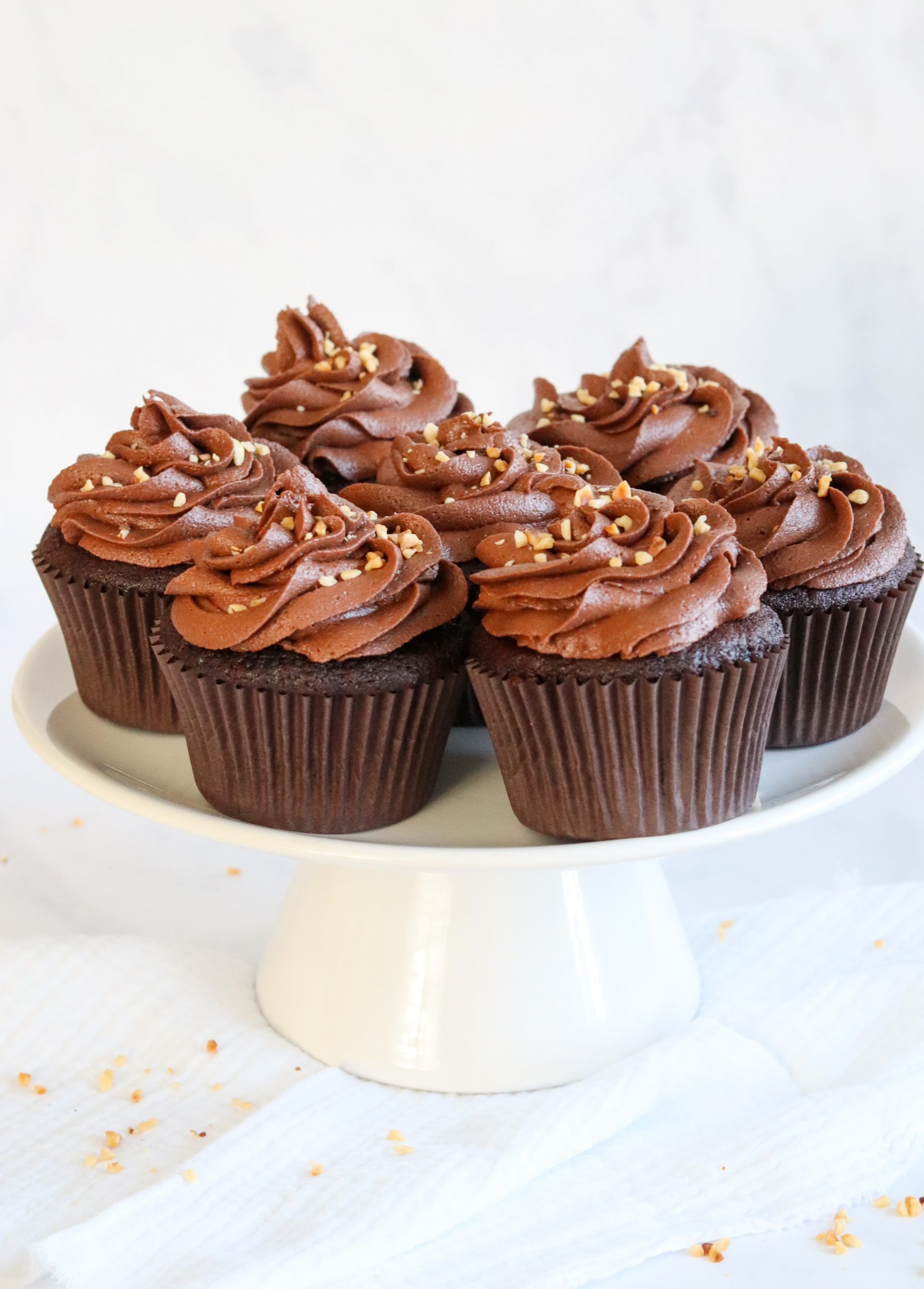 How to measure the ingredients correctly
Don't worry, I haven't made a mistake and written the units for the liquid ingredients incorrectly. I really do mean grams!
I don't trust my eyes using measuring jugs to measure out liquids. This is especially the case for recipes like these when it doesn't call for a round volume such as 200ml.
So instead I weigh the liquid ingredients in a jug on my digital scales. This way everyone should be able to get exactly the right ingredients.
I know it might seem a little different but it does work!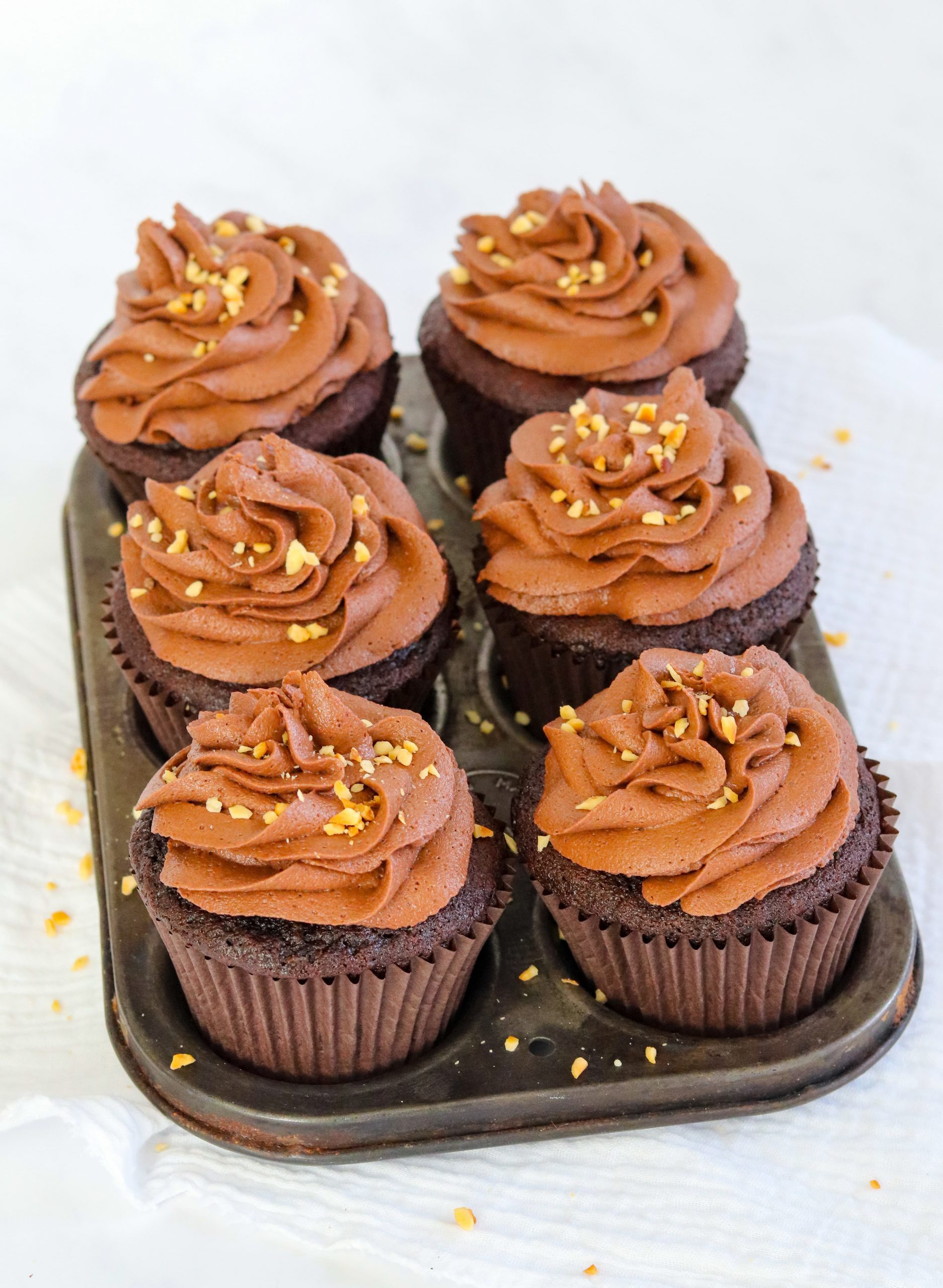 Buttercream tips
Whenever I make buttercream, I always make sure I use room temperature butter. It makes it so much easier to incorporate which means you are less likely to get lumps of butter in your buttercream!
I also always beat the butter separately first before adding the rest of the ingredients. If it wasn't already completely softened, this should help it along. I beat it for up to five minutes so it is really nice and soft.
You might not need to add all of the milk. Add a tablespoon at a time and beat well in-between. You're looking for a soft, pipeable consistency.
You can use whichever piping tips you fancy for these. My favourites are 1M and 2D tips which create piping like you can see in the photos.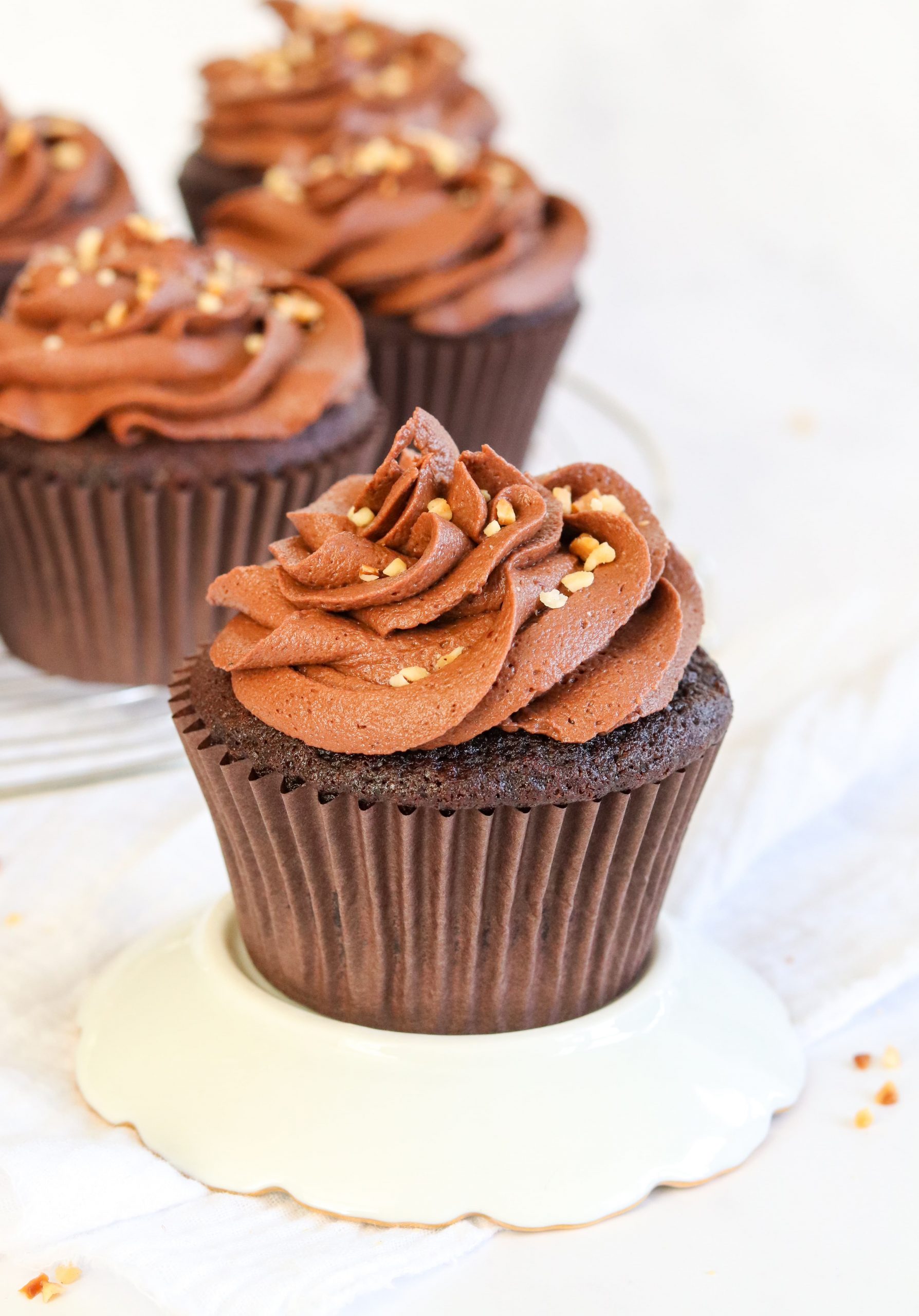 How long will these cupcakes keep for?
As with all cupcakes made with oil, they tend to keep longer. It helps them stay nice and moist for a few more days.
Keep these Nutella Cupcakes in an airtight container for 3-4 days. You don't need to keep them in the fridge unless it is a very hot day and you're worried about your buttercream melting!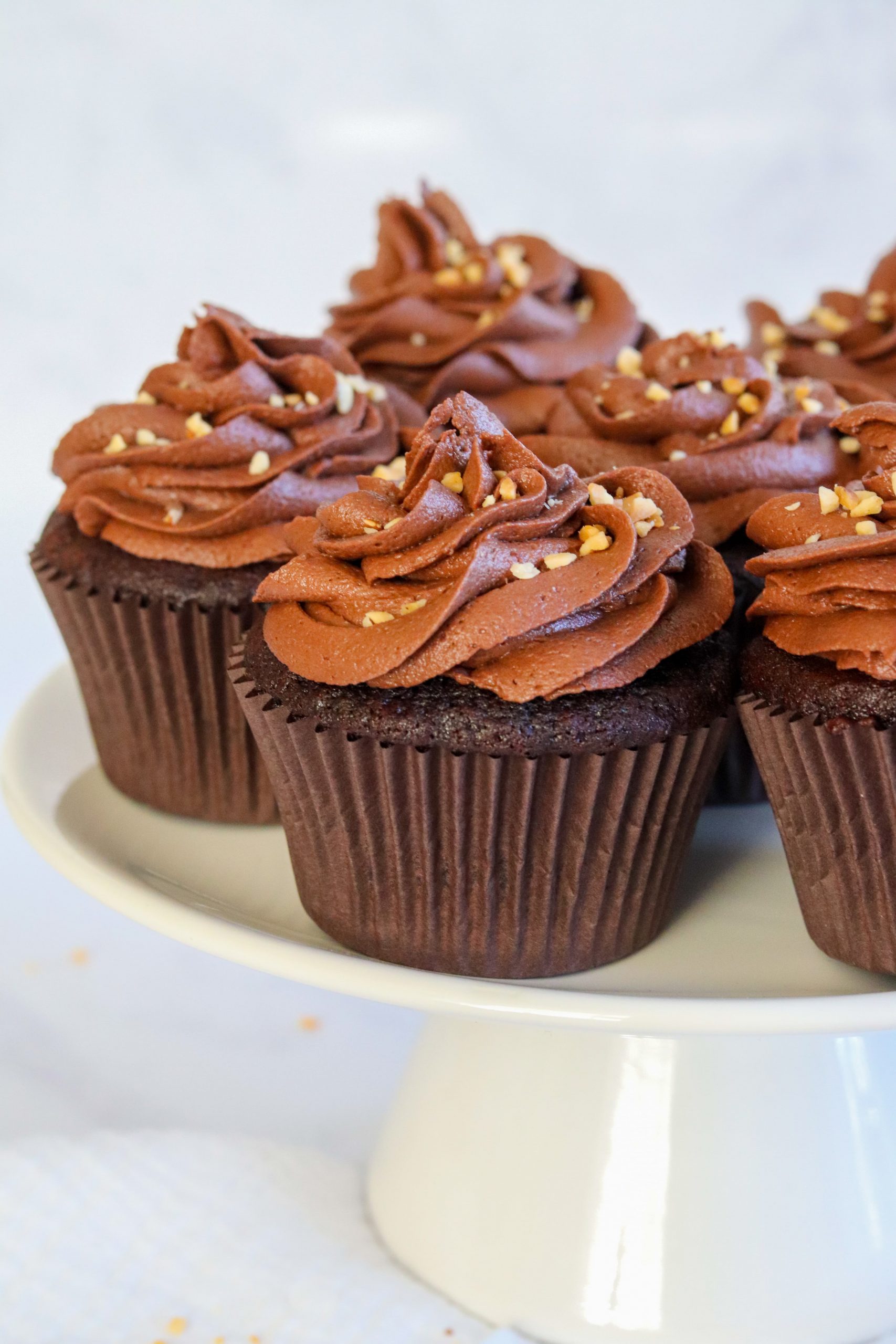 Other recipes you might like
Pin for later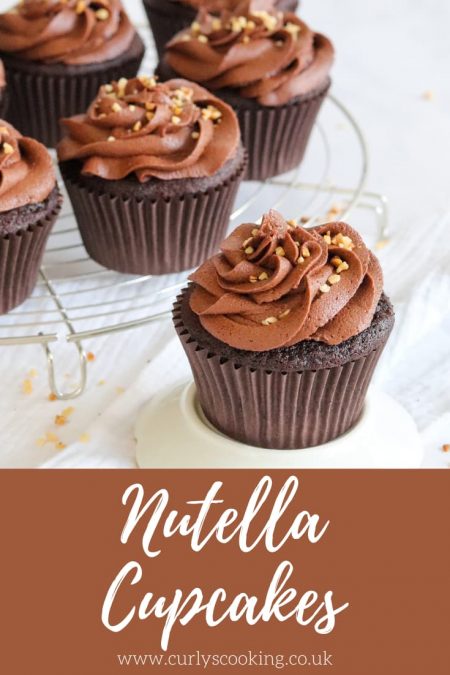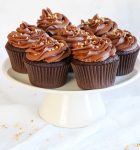 Nutella Cupcakes
If you're a Nutella fan, you need to try these Nutella Cupcakes. Not only is the buttercream flavoured with Nutella but the cake itself is too – the more Nutella the better!
Ingredients
For the cupcakes
145

g

plain flour

40

g

cocoa powder

130

g

caster sugar

1 ¼

tsp

bicarbonate of soda

½

tsp

baking powder

¼

tsp

table salt

75

ml

coffee

(¼ coffee granules in 75ml boiling water)

65

g

sunflower/vegetable oil

1

large

egg

125

g

Greek yogurt

125

g

Nutella
For the buttercream
75

g

unsalted butter

softened

200

g

icing sugar

1

tbsp

cocoa powder

pinch

table salt

150

g

Nutella

2-3

tbsp

whole milk

1

tbsp

roasted chopped hazelnuts

(optional)
Instructions
Preheat the oven to 160°C (fan assisted, 180°C non fan) and line a muffin tin with paper cases

Add 145g plain flour, 40g cocoa powder, 130g caster sugar, 1¼ tsp bicarbonate of soda, ½ tsp baking powder and ¼ tsp salt to a bowl and mix

In a jug, add 75g coffee, 65g sunflower oil, 1 large egg, 125g Greek yogurt and 125g Nutella and stir thoroughly

Pour the wet ingredients into the dry and mix until combined

Divide equally between the muffin cases

Bake for 16-18 minutes until a cocktail stick comes out clean. Leave to cool in the tin for a few minutes before transferring to a wire rack to cool completely

Once cool make the buttercream. Start by beating 75g unsalted butter until smooth

Add 200g icing sugar, 1 tbsp cocoa powder, pinch of salt and 150g Nutella and mix until smooth

Add 2-3 tbsp whole milk until your buttercream is soft enough to pipe

Pipe onto the cupcakes and sprinkle with roasted chopped hazelnuts
Recipe Notes
The liquids in the recipe are meant to be in grams and not millilitres. Weigh the ingredients in grams on digital scales.
Keep the cupcakes in an airtight container for 3-4 days.
Nutritional information is given as a guide only and may vary.
Nutrition Facts
Nutella Cupcakes
Amount Per Serving
Calories 390
Calories from Fat 162
% Daily Value*
Fat 18g28%
Cholesterol 30mg10%
Sodium 185mg8%
Potassium 209mg6%
Carbohydrates 54g18%
Protein 5g10%
Vitamin A 184IU4%
Calcium 57mg6%
Iron 2mg11%
* Percent Daily Values are based on a 2000 calorie diet.
Linking to