Fluffy baked doughnuts glazed in rich chocolate and decorated with Mini Eggs. These Mini Egg Chocolate Glazed Baked Doughnuts are the perfect Easter bake.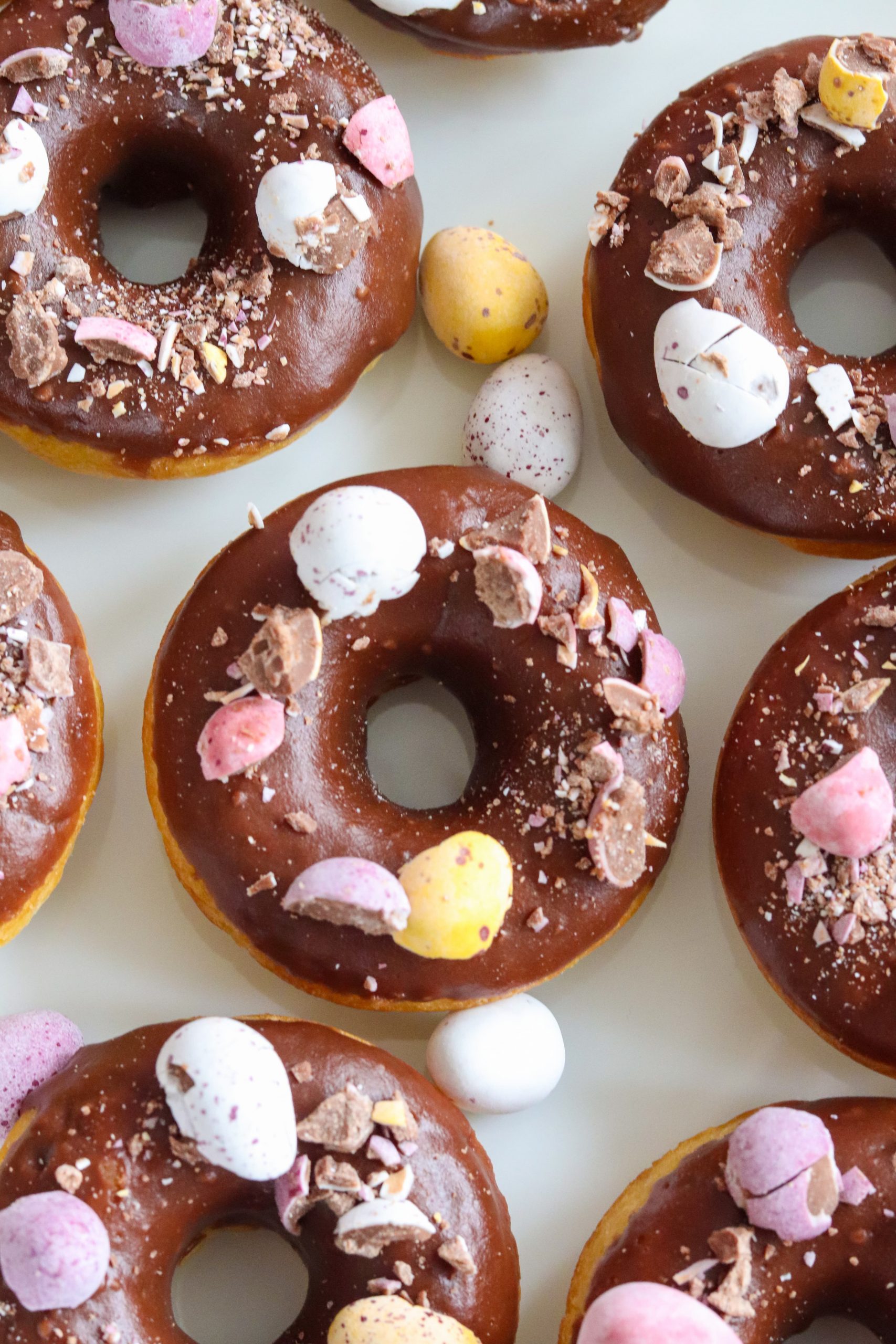 What are mini eggs?
Mini Eggs are milk chocolate shaped eggs encased in a thin, crisp sugar shell.
Not too long ago, they were only available to buy in the run up to Easter. However, now as soon as the Christmas confectionary is off the shelves, they replace it with Easter chocolate.
This is great news for Mini Eggs fans because you can buy them for a longer period of the year.
Cadbury Mini Eggs are very popular here in the UK and I know you can buy them in the US and Canada. They do slightly differ in colour however and the colours we have here in the UK are different to other countries.
I believe Mini Eggs are available in other countries too. However they can be bought online if you can't find them in your local shops.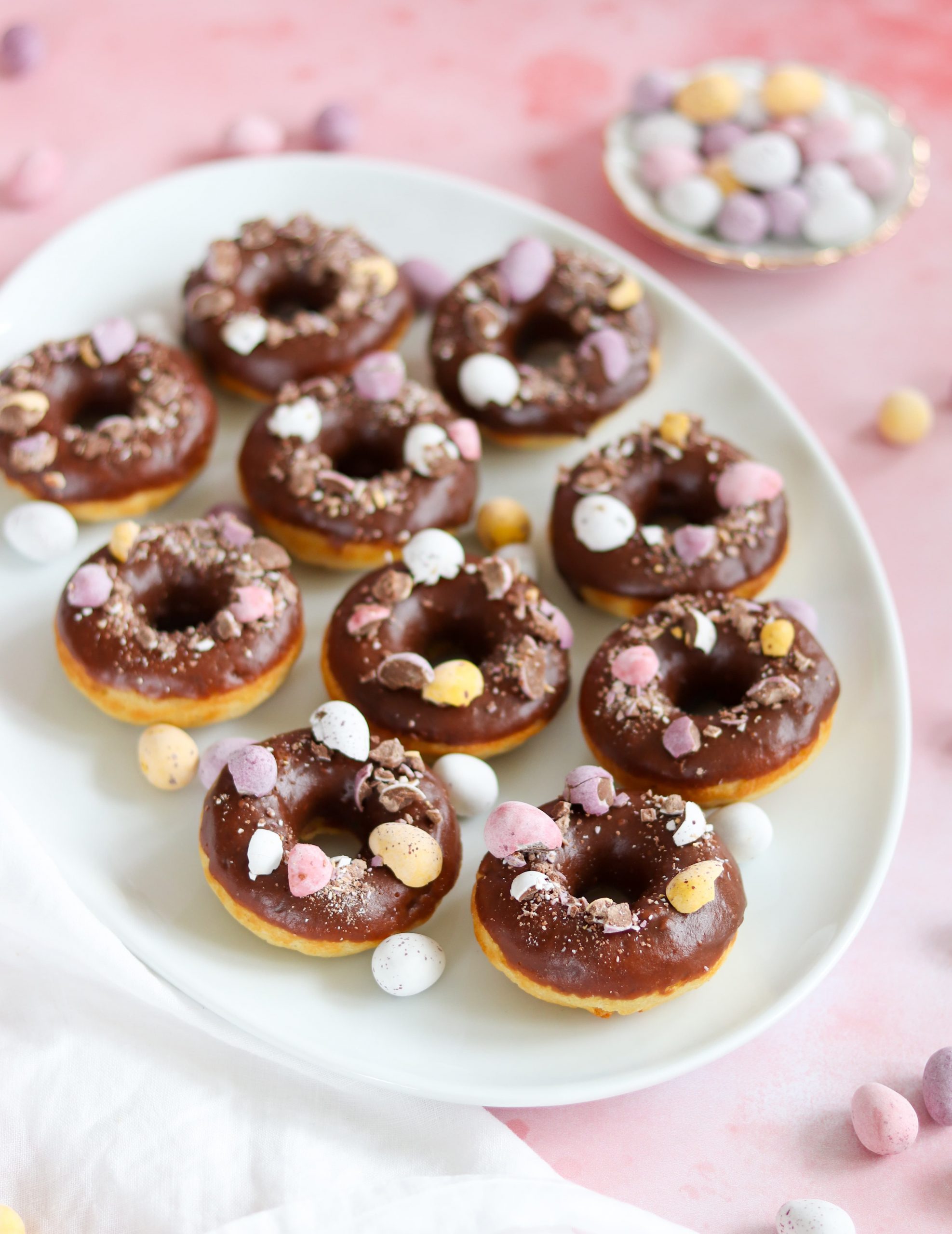 what are baked doughnuts
Baked doughnuts are quite different from fried doughnuts. Baked doughnuts are more of a light and fluffy cake batter. This differs from fried doughnuts that are more of a bread dough with yeast.
I absolutely love fried donuts, but I have never been brave enough to try them at home because I am not keen on deep frying.
Baked doughnuts are far more simple to make at home because there is no hot fat involved! I like to think this also makes them slightly healthier.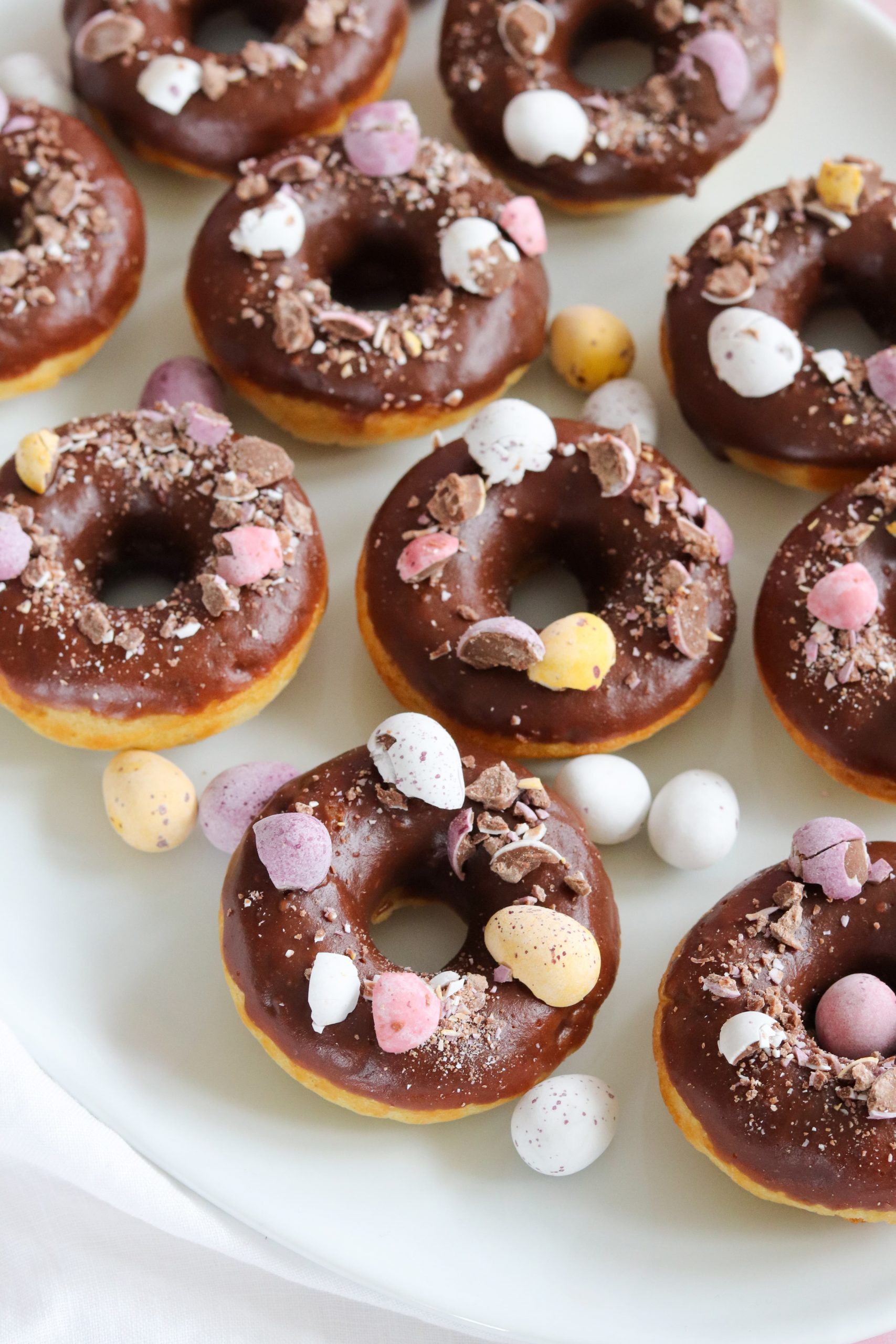 baked doughnuts are so simple to make
I think baked doughnuts are even easier to make than cakes. There is no creaming of butter and sugar involved – a bowl and a spoon is all you need!
Because these doughnuts use oil, the mix is very easily combined by hand. You don't need a mixer or electric hand whisk to make these. In fact it is more hassle to use them I think!
The ingredients come together so easily and quickly with just a wooden spoon which makes these super simple to make.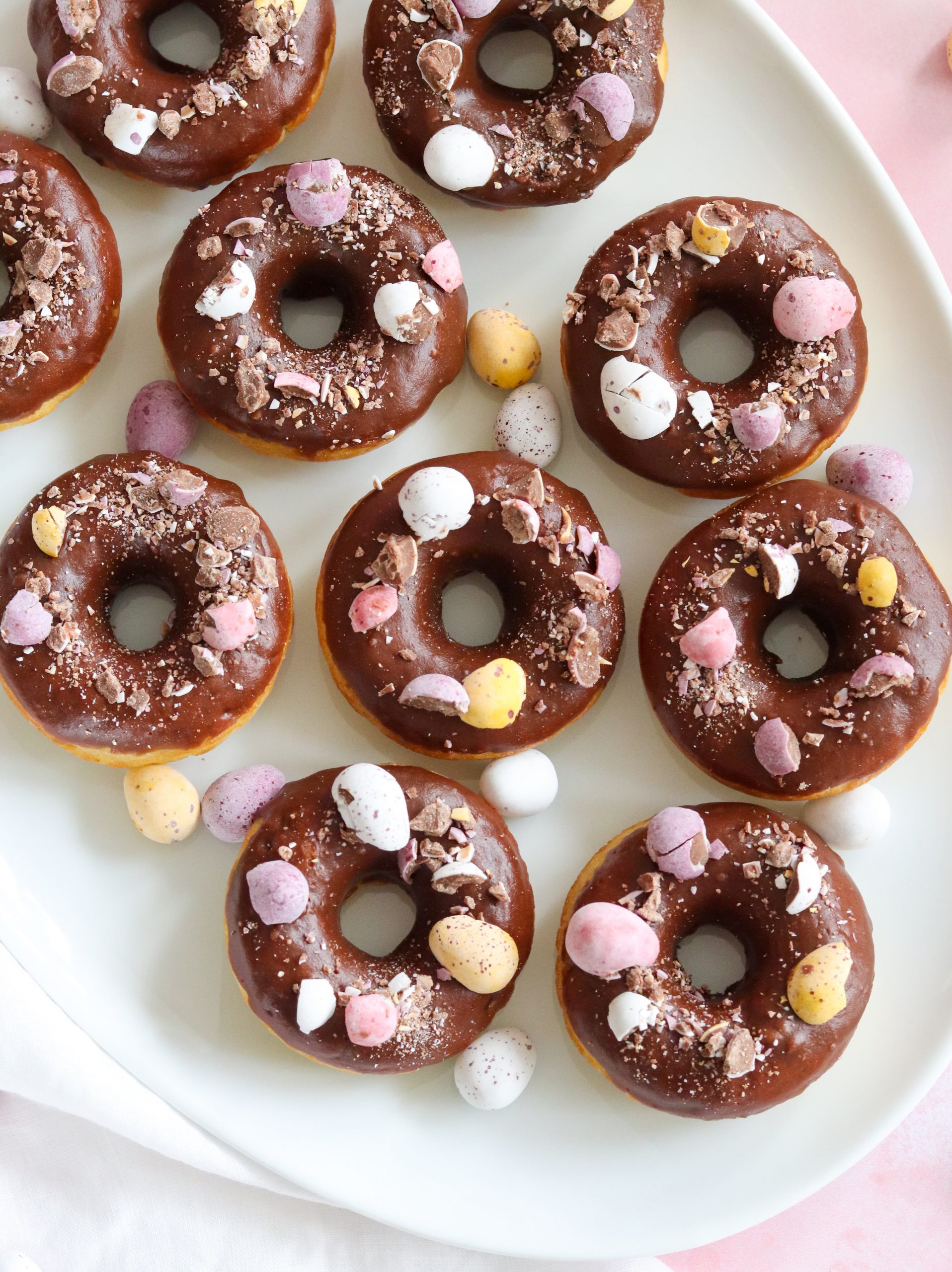 Do you need special doughnut tins?
You do need to buy specific doughnut tins to make these Mini Egg Chocolate Glazed Baked Doughnuts. Doughnut tins are quite readily available these days and aren't too expensive.
Try and buy a doughnut tin that is quite deep. There are some you can buy that are quite shallow so you will get a thinner doughnut.
Make sure you grease the tins well and the doughnuts should pop out very easily. I like to use spray oil for this.
If you really didn't want to buy the doughnut tins, you could use a muffin tin. Obviously they wouldn't be doughnut shaped but they would still be tasty.
Again you would need to make sure you thoroughly grease the tin before adding the doughnut batter.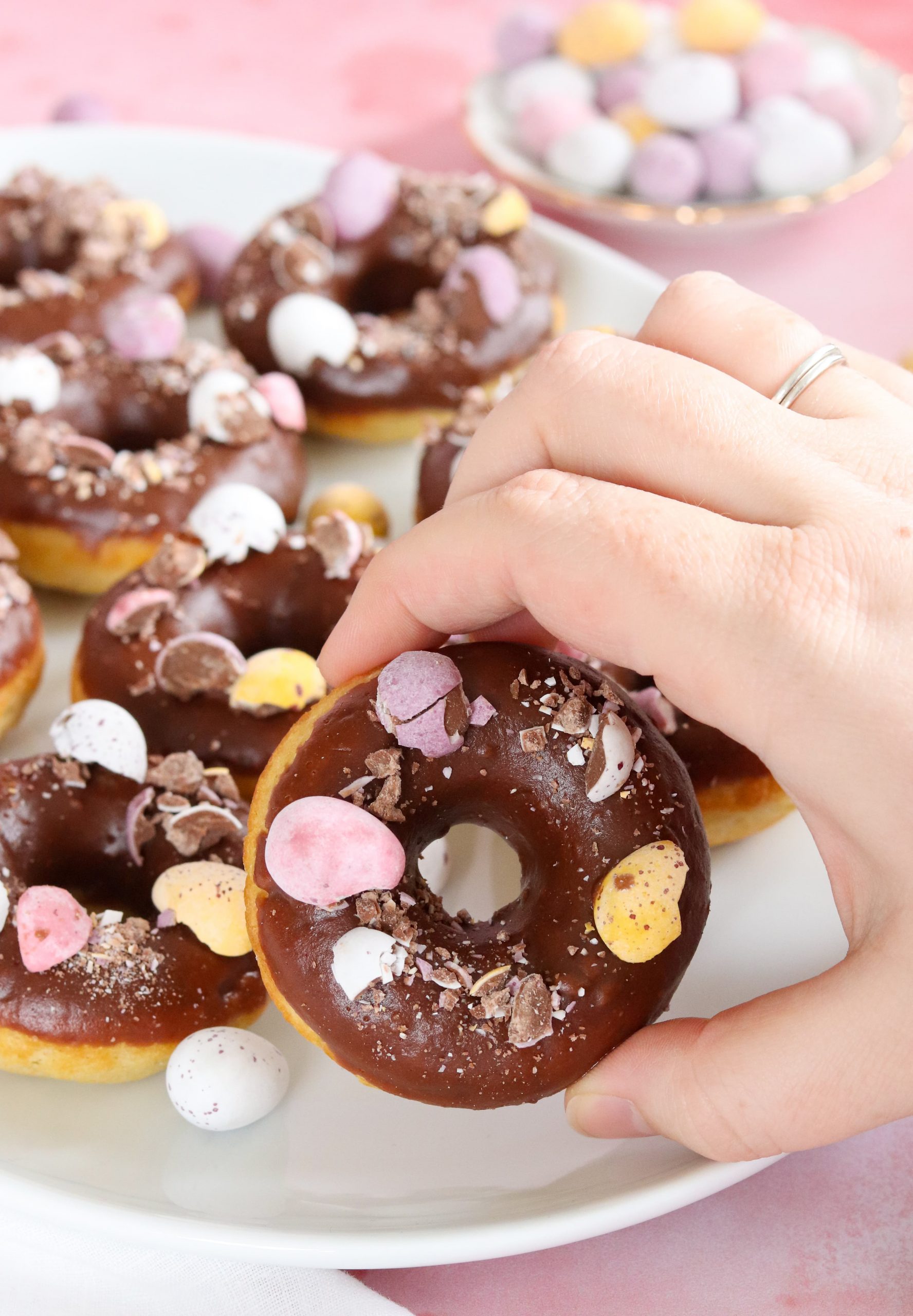 Don't over fill the tins!
These Mini Egg Chocolate Glazed Baked Doughnuts are simple to make, but there is one very important step. The only critical step in this recipe is to make sure you don't put too much batter into each doughnut hole.
Now you may think this sounds simple enough, but take it from someone who knows; you need less batter than you may think!
For example when making cupcakes, you are usually recommended to fill the cases three quarters of the way. With these baked doughnuts, just under half full is plenty. If in doubt, fill them less than you think.
Don't get me wrong, if you over fill them it is by no means the end of the world. The only difference will be that instead of having the hole in the middle that a doughnut should have, this will fill in and they will come out of the oven looking more like a muffin.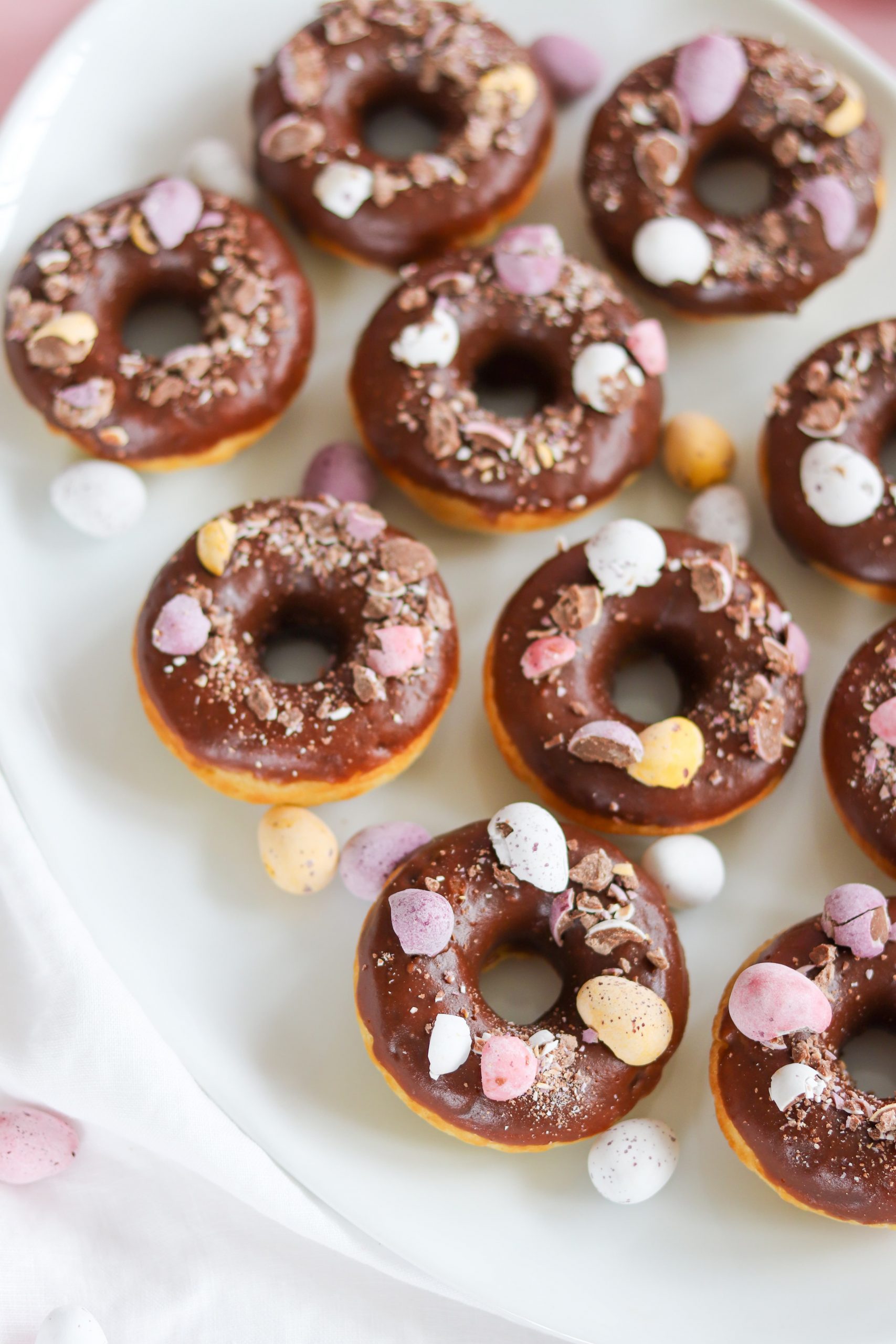 Do you have to use mini eggs?
Absolutely not, feel free to use any Easter decorations you like. There are quite a few chocolates similar to Mini Eggs that would work just as well. Some Easter chocolates you might like to try:
Galaxy Enchanted Eggs
Terry's chocolate orange mini eggs
Milkybar white chocolate mini eggs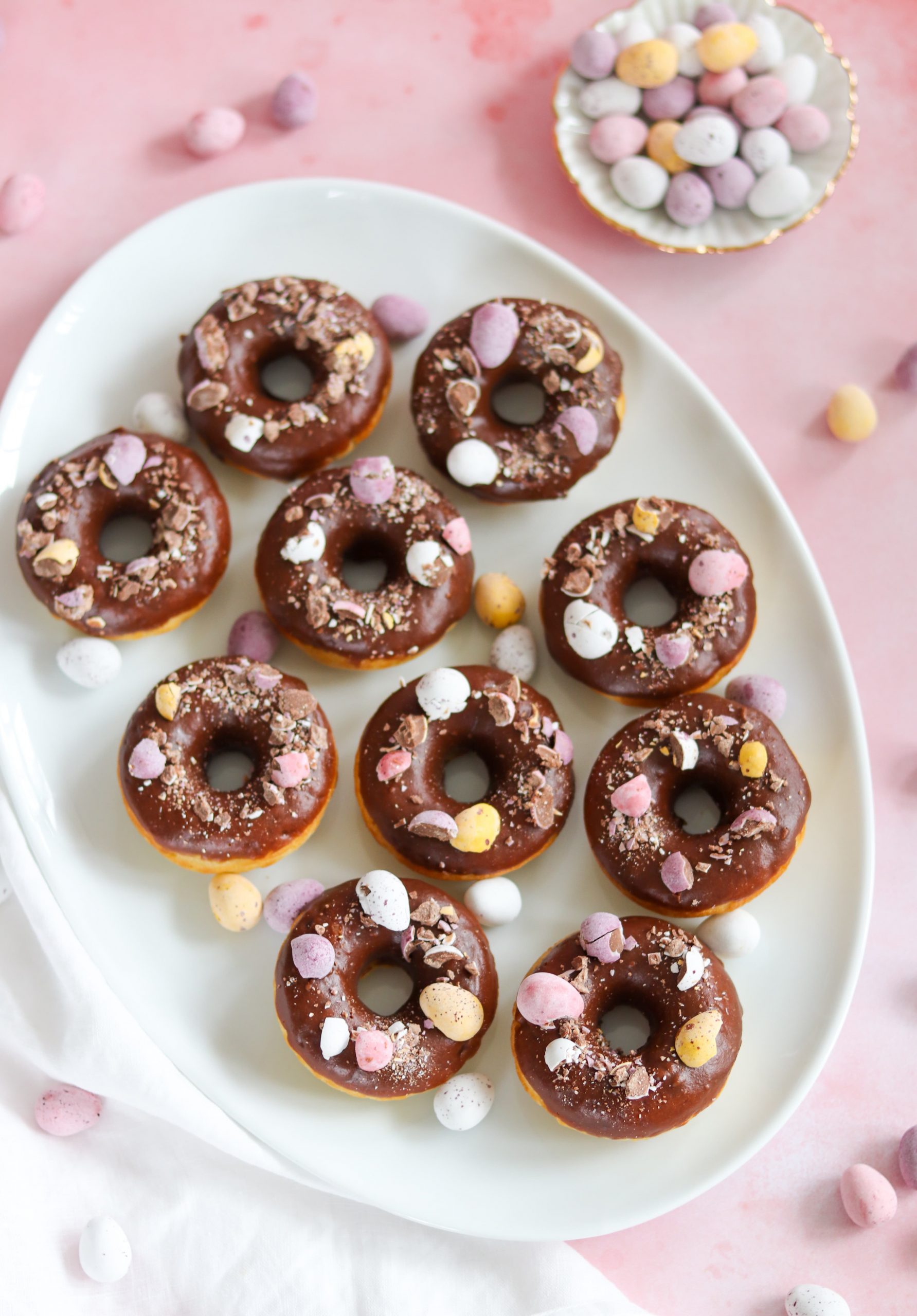 mini egg chocolate glazed doughnuts aren't just for easter
These doughnuts don't just belong at Easter! They are perfect to bake at any time of year.
Mini Eggs are usually available from January until Easter so there are a good few months you could stock up and make them.
You can also swap the mini eggs for anything else and make them at any time of year. It doesn't have to be chocolate. You could simply swap the crushed mini eggs for sprinkles.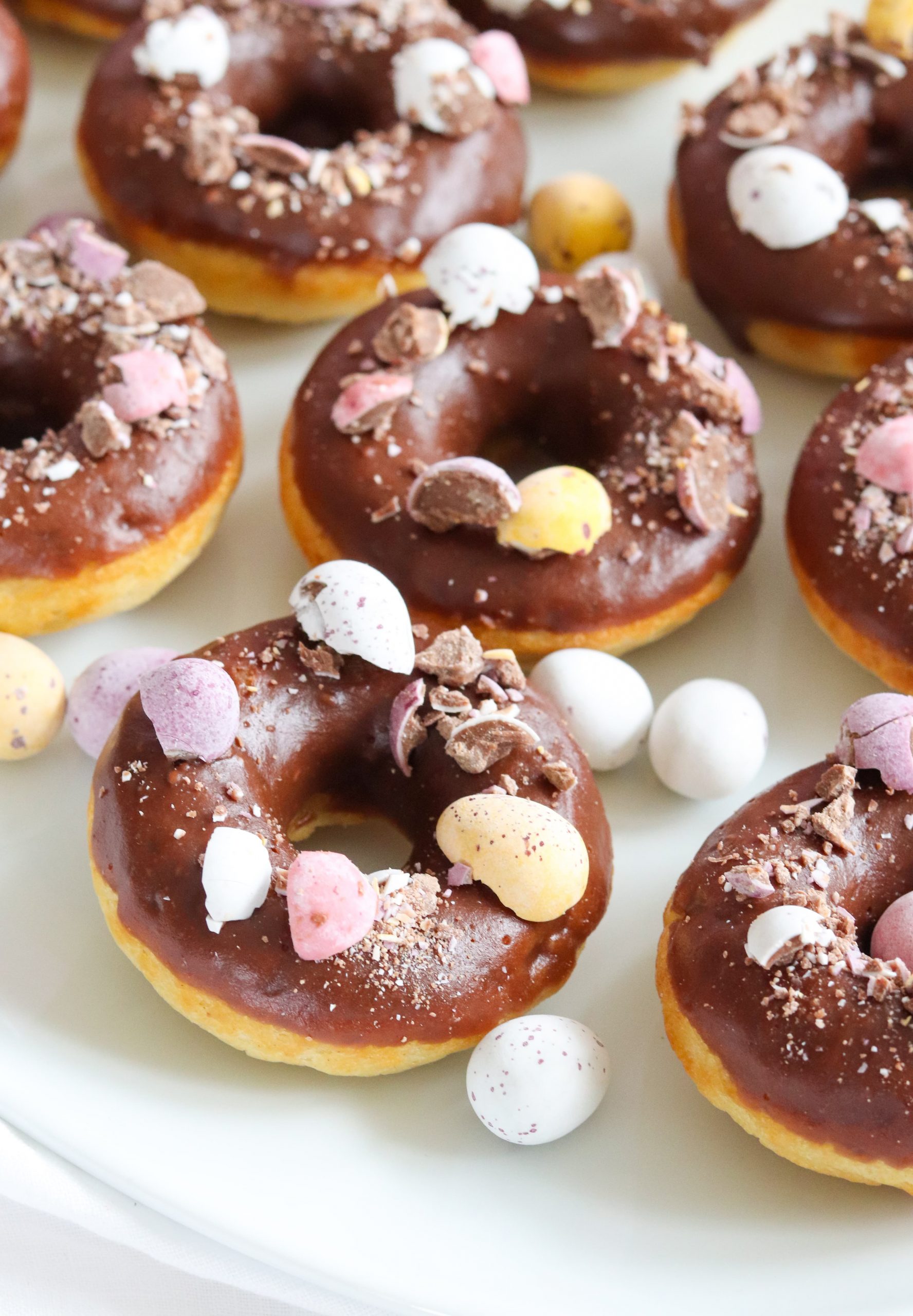 How many donuts does this recipe make?
Donut tins can vary in depth slightly. Some tins are shallower meaning your finished doughnuts will be thinner than if you have a deeper tin.
I think my donut tin is relatively deep and this recipe makes 12 doughnuts.
The main point to remember is you don't want to overfill the tin so if in doubt, make more doughnuts than try to use all the batter to make 12.
If you have a shallower tin you might be able to make between 14 and 16 doughnuts. The recipe has enough glaze for more than 12 doughnuts.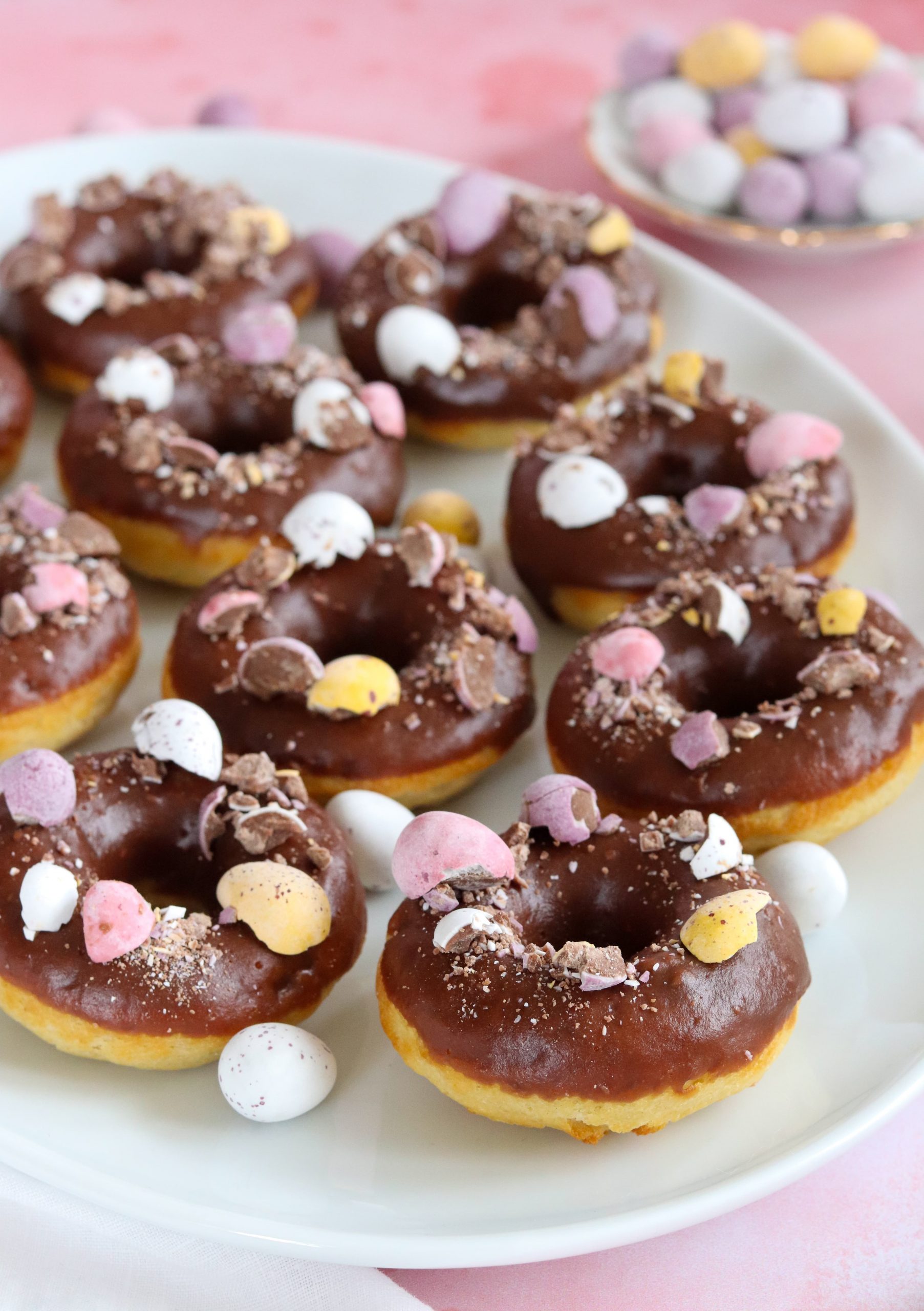 how to decorate the doughnuts
I make the glaze for the Mini Egg Chocolate Glazed Baked Doughnuts in a shallow bowl. This is because I find the easiest way to decorate them is to dunk them into the glaze.
I then twist the doughnuts in the glaze to make sure the top half of each doughnut is completely covered.
Once the doughnuts are all covered in the glaze, you need to work relatively quickly to add the mini eggs. The glaze will start setting and after about ten minutes it will be firming up and the mini eggs won't stick very easily.
I like to crush some mini eggs using a rolling pin to scatter over the glazed doughnuts. If you wanted to keep them whole, or cut them up so they are more uniform you can of course do that too.
Get as creative as you like with the decorating of your doughnuts!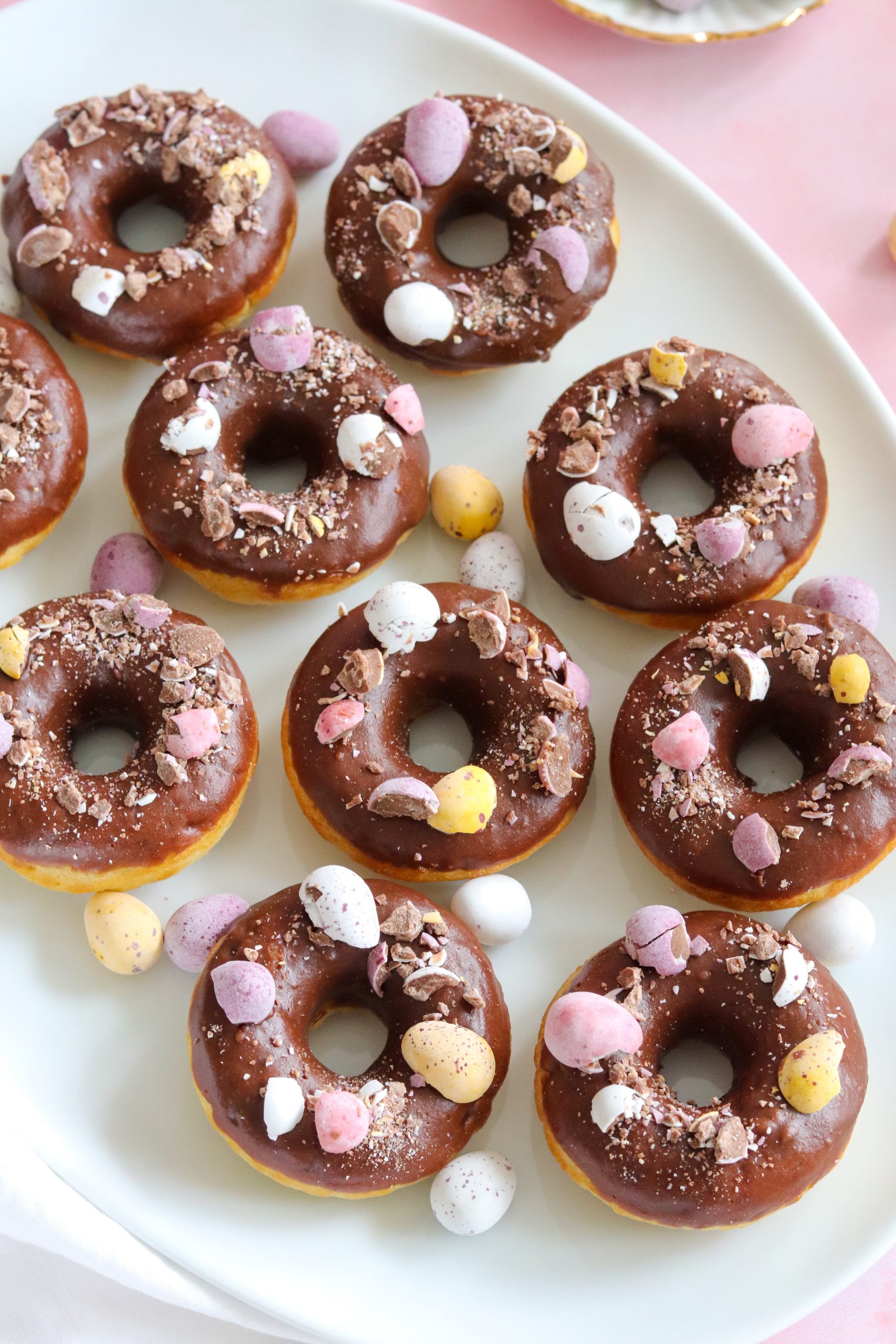 how long will these doughnuts keep for?
As with most doughnuts these are best eaten the day you bake them or the next day. They will still be ok for a couple of days longer but not as fluffy.
If you would like the doughnuts to keep for longer I would recommend freezing them.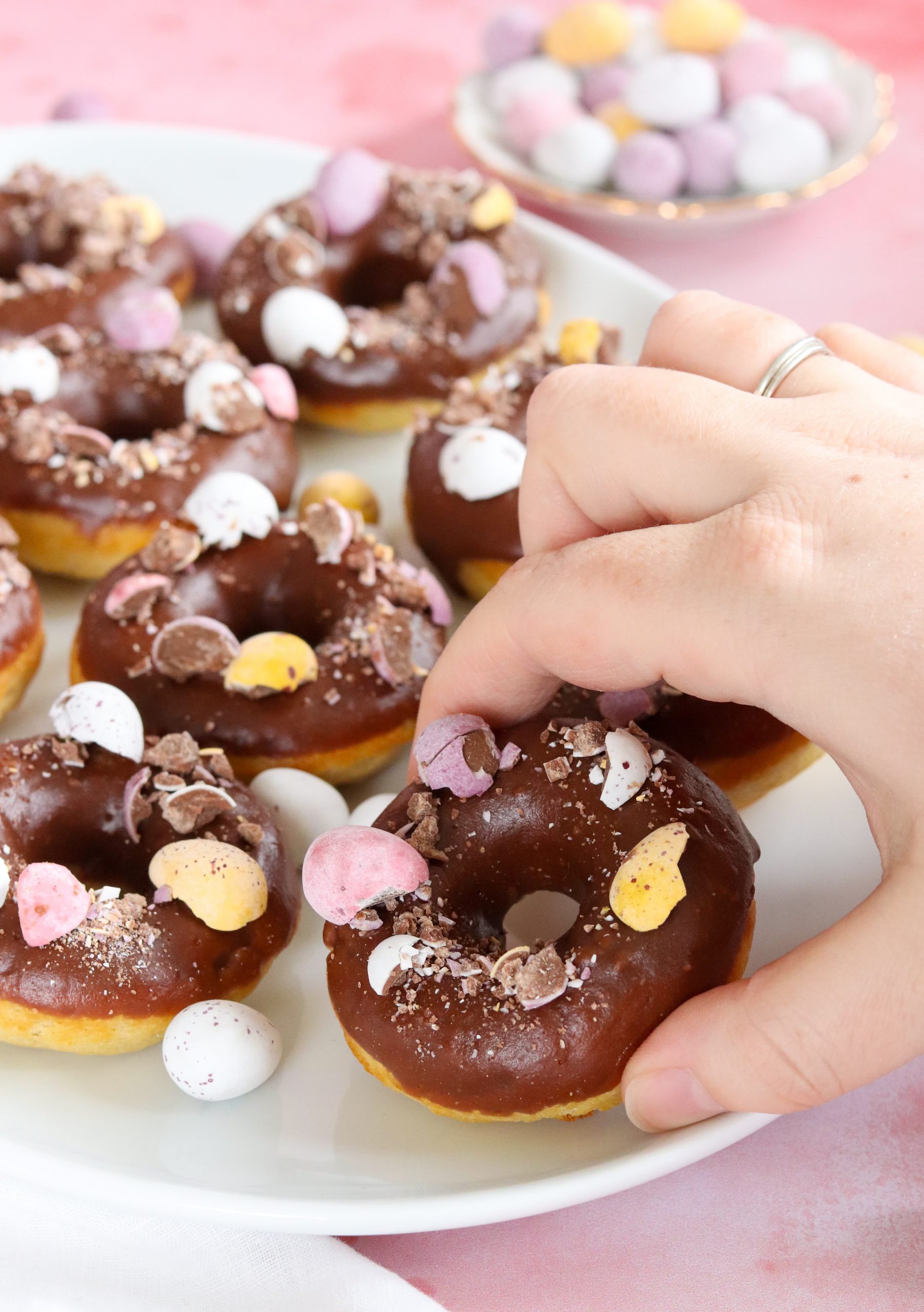 how to freeze the doughnuts
To freeze the doughnuts, let them cool completely to room temperature. Once they are cooled you can then transfer them to a container or bag and freeze un-iced.
When you want to eat them, leave them at room temperature for a couple of hours to defrost. Once they are fully thawed, you can glaze and decorate them as normal.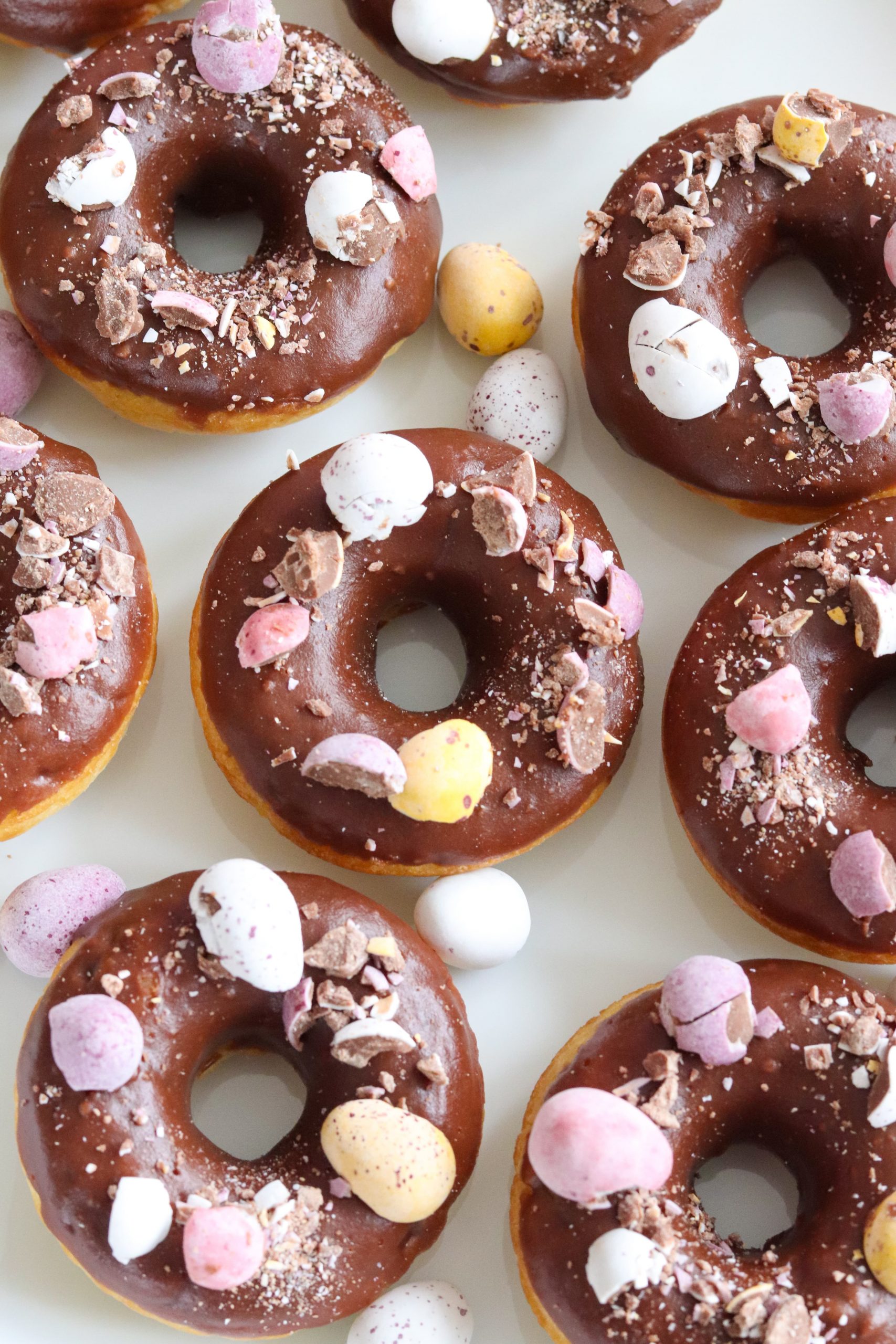 other recipes you might like
Pin for later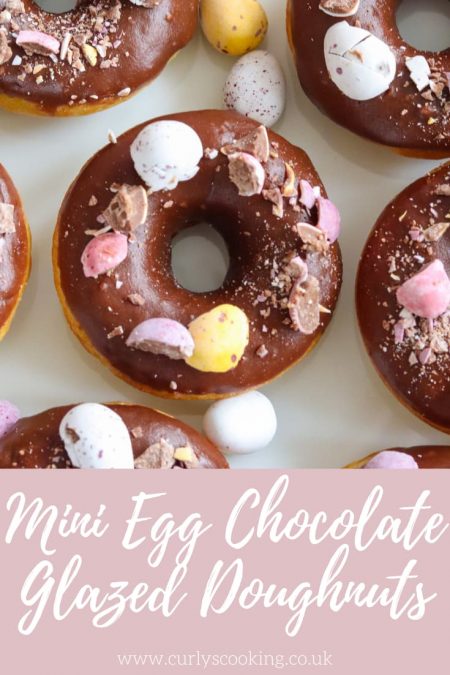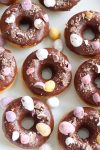 Mini Egg Chocolate Glazed Doughnuts
Light baked doughnuts glazed in rich chocolate and decorated with Mini Eggs. These Mini Egg Chocolate Glazed Doughnuts are the perfect Easter bake.
Ingredients
For the doughnuts
190

g

plain flour

¾

tsp

baking powder

⅛

tsp

bicarbonate of soda

¼

tsp

fine salt

30

g

unsalted butter

melted

95

g

caster sugar

60

ml

sunflower or vegetable oil

125

ml

semi skimmed milk

1

egg

1

tsp

vanilla extract

spray oil
For the chocolate glaze
120

g

milk chocolate

40

g

unsalted butter

2 ½

tsp

honey

2 ½

tsp

water
Instructions
Preheat the oven to 200ºC (fan assisted, 220ºC non fan) spray the doughnut trays with oil

Mix together the flour, baking powder, bicarbonate of soda and salt

In a separate jug whisk together the melted butter, vegetable oil, milk, sugar, egg and vanilla extract

Gradually add the wet ingredients to the dry, mixing to combine

Once all combined, spoon the doughnut batter into a piping bag and pipe into the prepared tin. Fill the tins half way

Bake in the oven for 8 – 10 minutes or until a cocktail stick comes out clean. Allow to cool on a wire rack

When the doughnuts are cool, make the glaze by adding the chocolate, unsalted butter, honey and water to a bowl. Melt in the microwave at 20 second intervals, stirring between each

Dunk each doughnut into the glaze and twist so that the top half of each is completely covered

Sprinkle with crushed Mini Eggs
Recipe Notes
These are best eaten on the day you bake them.
Nutritional information is given as a guide only and may vary.
Nutrition Facts
Mini Egg Chocolate Glazed Doughnuts
Amount Per Serving
Calories 259
Calories from Fat 81
% Daily Value*
Fat 9g14%
Cholesterol 27mg9%
Sodium 73mg3%
Potassium 94mg3%
Carbohydrates 28g9%
Protein 3g6%
Vitamin A 176IU4%
Vitamin C 1mg1%
Calcium 32mg3%
Iron 1mg6%
* Percent Daily Values are based on a 2000 calorie diet.
Linking to