If you think you don't like brussels sprouts, think again! These Air Fryer Brussels Sprouts with Bacon will convert any sprout hater due to their irresistible deliciousness.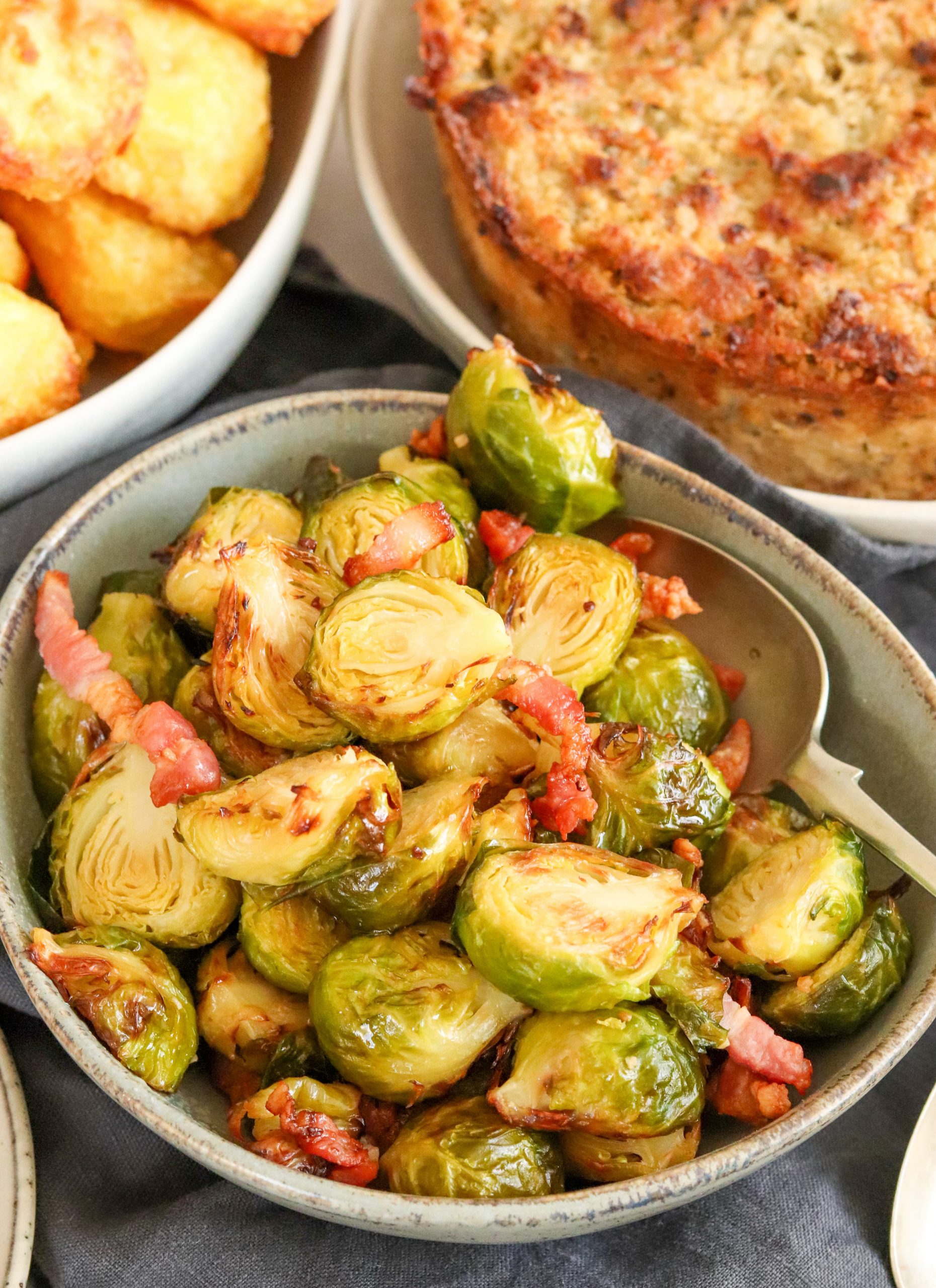 why cook these brussels in an air fryer?
For most of my air fryer recipes, I highlight the energy saving benefits as well as quicker cooking times they provide. And although air fryers do use less energy than gas and electric hobs, this recipe isn't particularly quicker when cooked in an air fryer.
For this recipe, I have adapted my much loved Brussels Sprouts with Bacon & Garlic. I have been cooking these almost weekly for years so I thought I would adapt it to cook in an air fryer because they are hugely popular at the moment.
Although this air fryer version takes a similar amount of time as the original recipe, there is less hands on time. Once you have bar boiled the sprouts you can put it all in the air fryer and let it do it's thing.
Air frying the brussels sprouts gives them a delicious crispness that it might be my favourite way to cook them!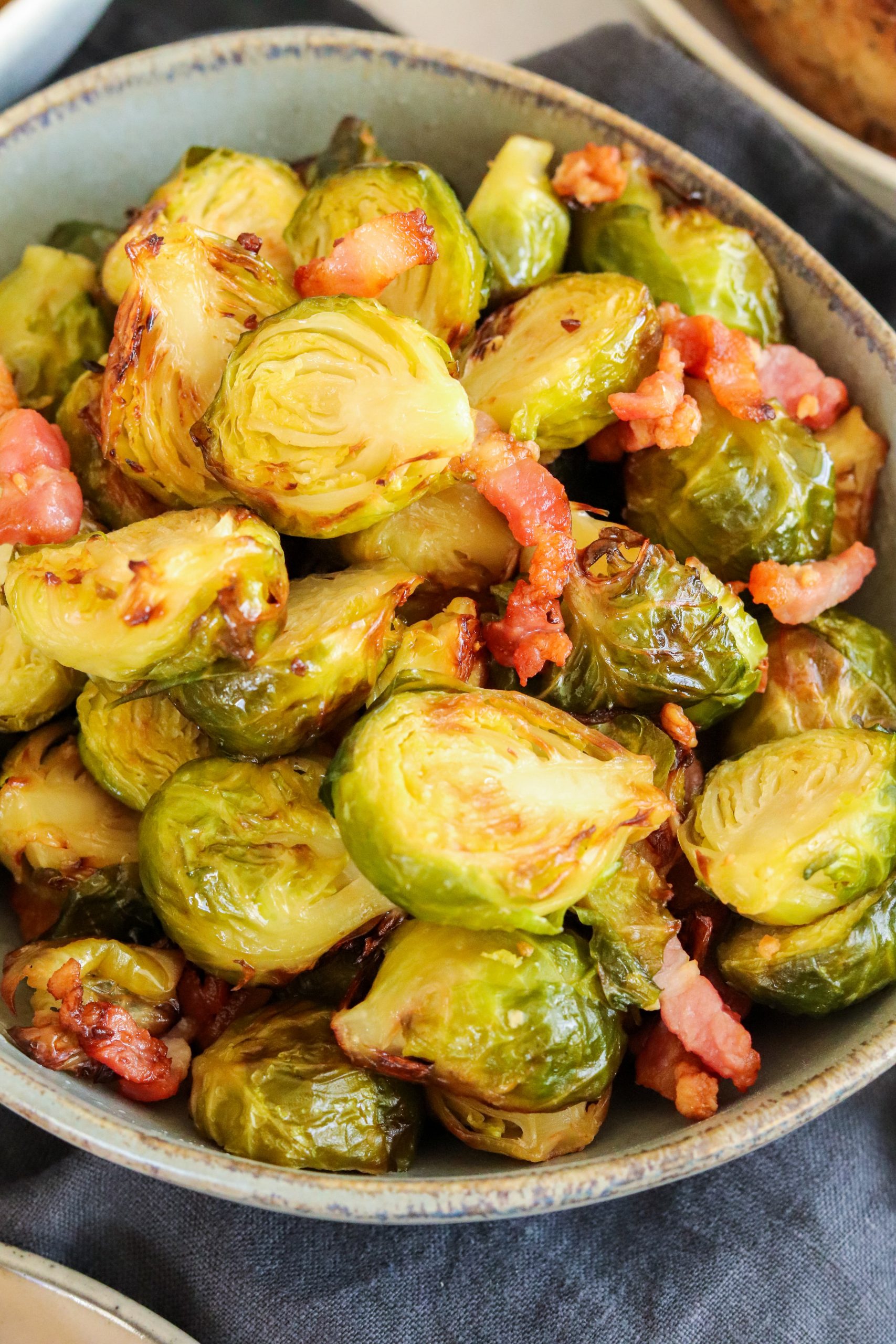 do you need to par boil the sprouts?
Personally I do prefer to par boil the brussels sprouts before air frying them. Parboiling them helps cook the centre of them and then the air fryer can crisp them nicely.
I like my brussels sprouts to be cooked through rather than al dente which is a big reason I par boil them first. If you were to cook them just in the air fryer, there is the risk they will start to burn on the outside before getting fully cooked on the inside.
If you like them to retain a bit of their crunch, you could skip straight to air frying them.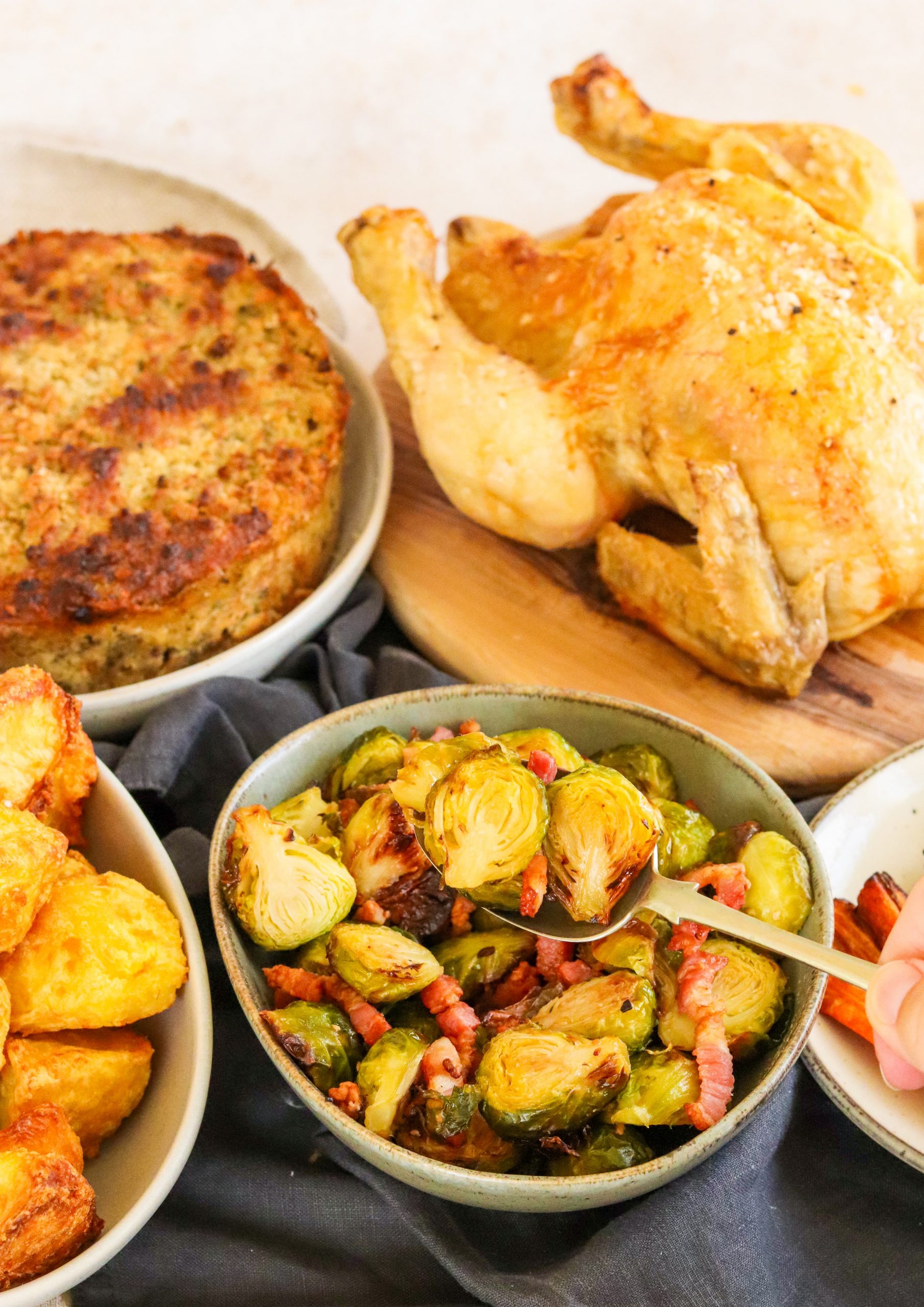 do you need to preheat your air fryer?
Well that depends on your air fryer, some require preheating whilst others don't. I have a Ninja 7-in-1 multicooker and I have never preheated mine.
If your air fryer does require preheating, check the brussels a few minutes sooner than the recipe states. If your air fryer is warm, food is likely to cook a few minutes faster.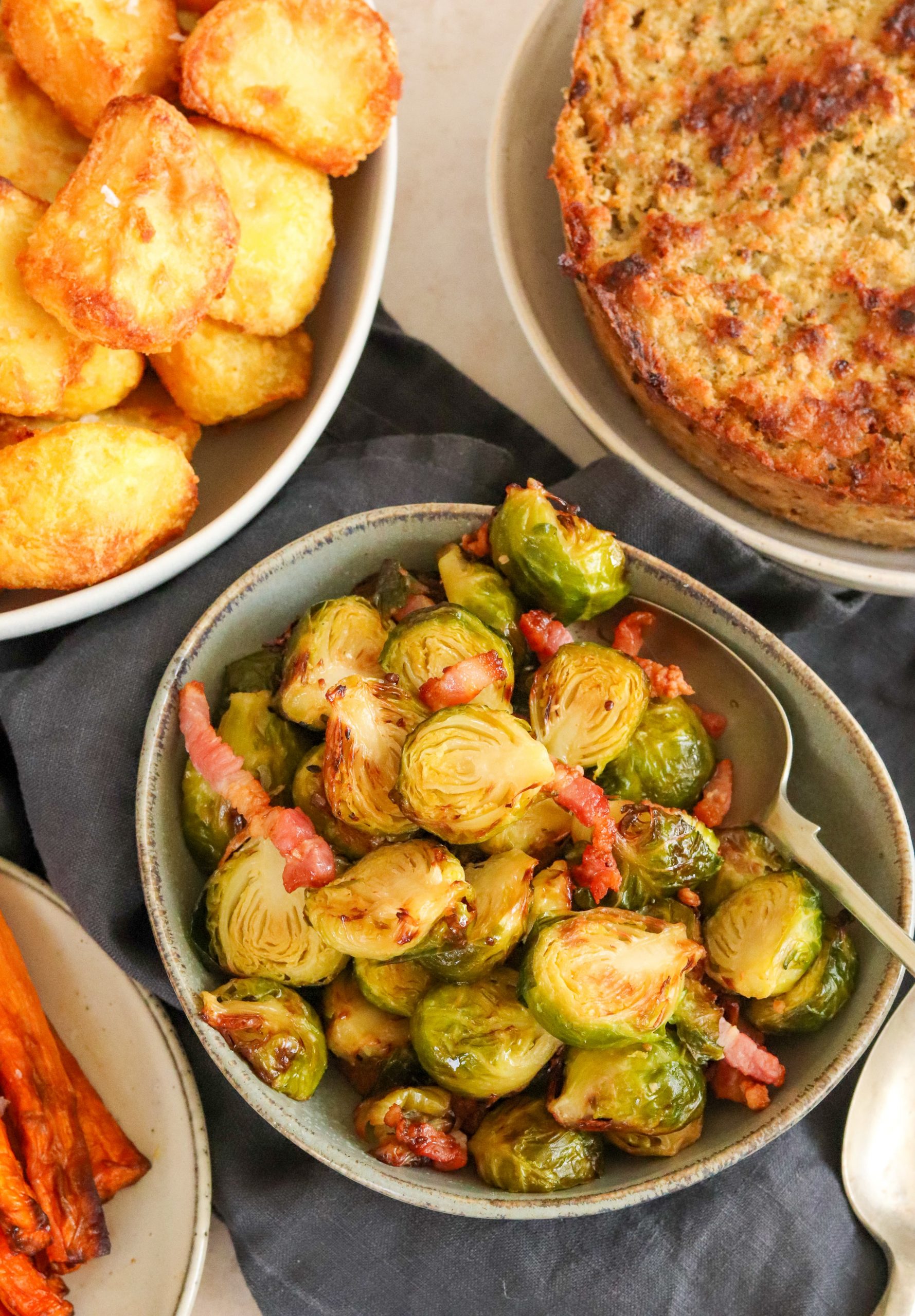 Can you use frozen brussels sprouts?
If you like frozen brussels sprouts you can absolutely use them. Personally I don't think they taste as nice but that is just my opinion.
If you are using frozen sprouts you obviously can't cut them before you parboil them as they are too hard.
Just cut them in half once you have parboiled them and carry on with the rest of the recipe.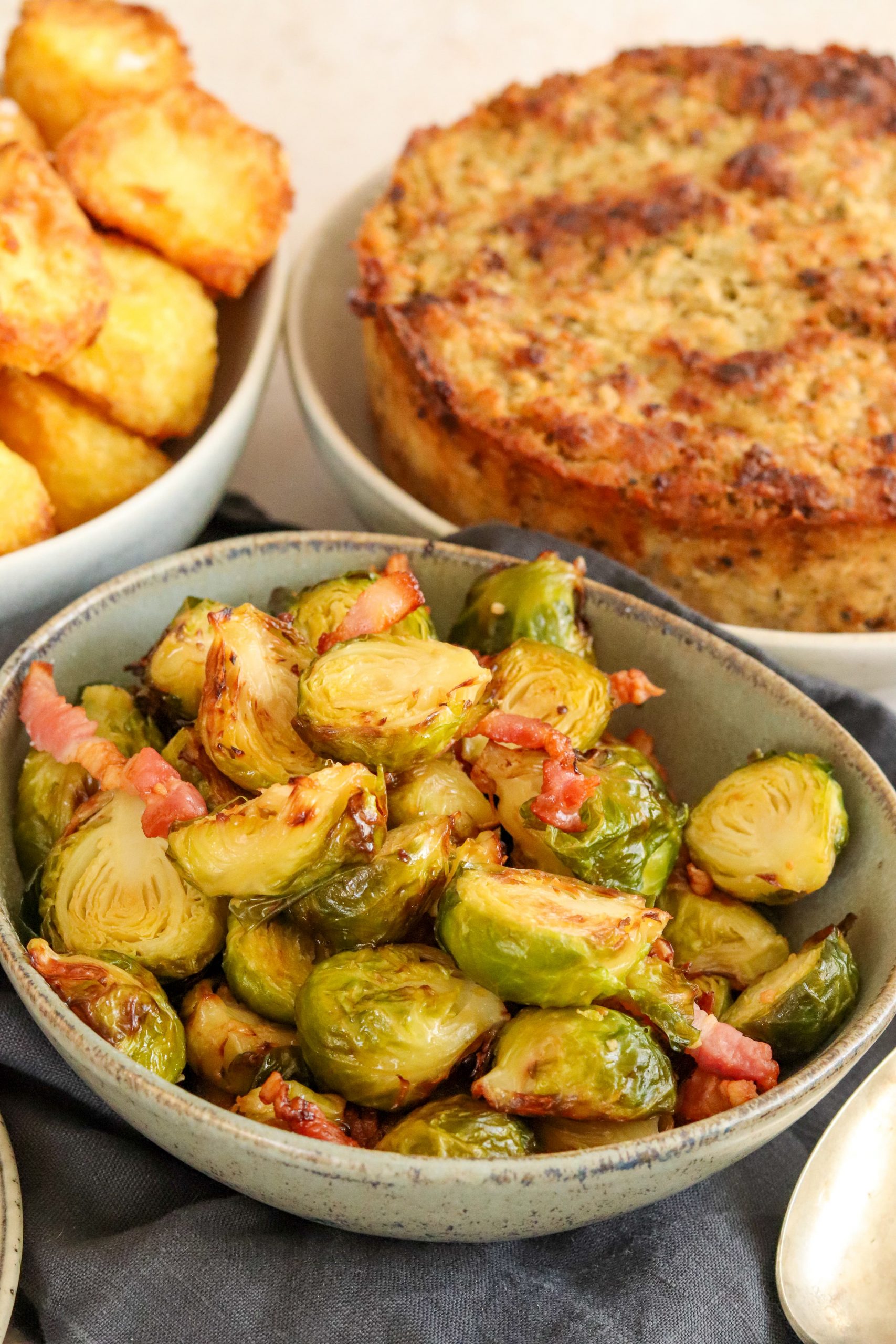 Which bacon is recommended to use for these air fryer brussels?
As with all bacon, I recommend using smoked because this is my preference. You can obviously use unsmoked if you would prefer.
I like to use bacon or pancetta lardons because they have already been cut into strips for you.
You could use streaky bacon, back bacon or bacon medallions and slice it into lardons yourself.
If you don't eat pork, you could use turkey bacon instead.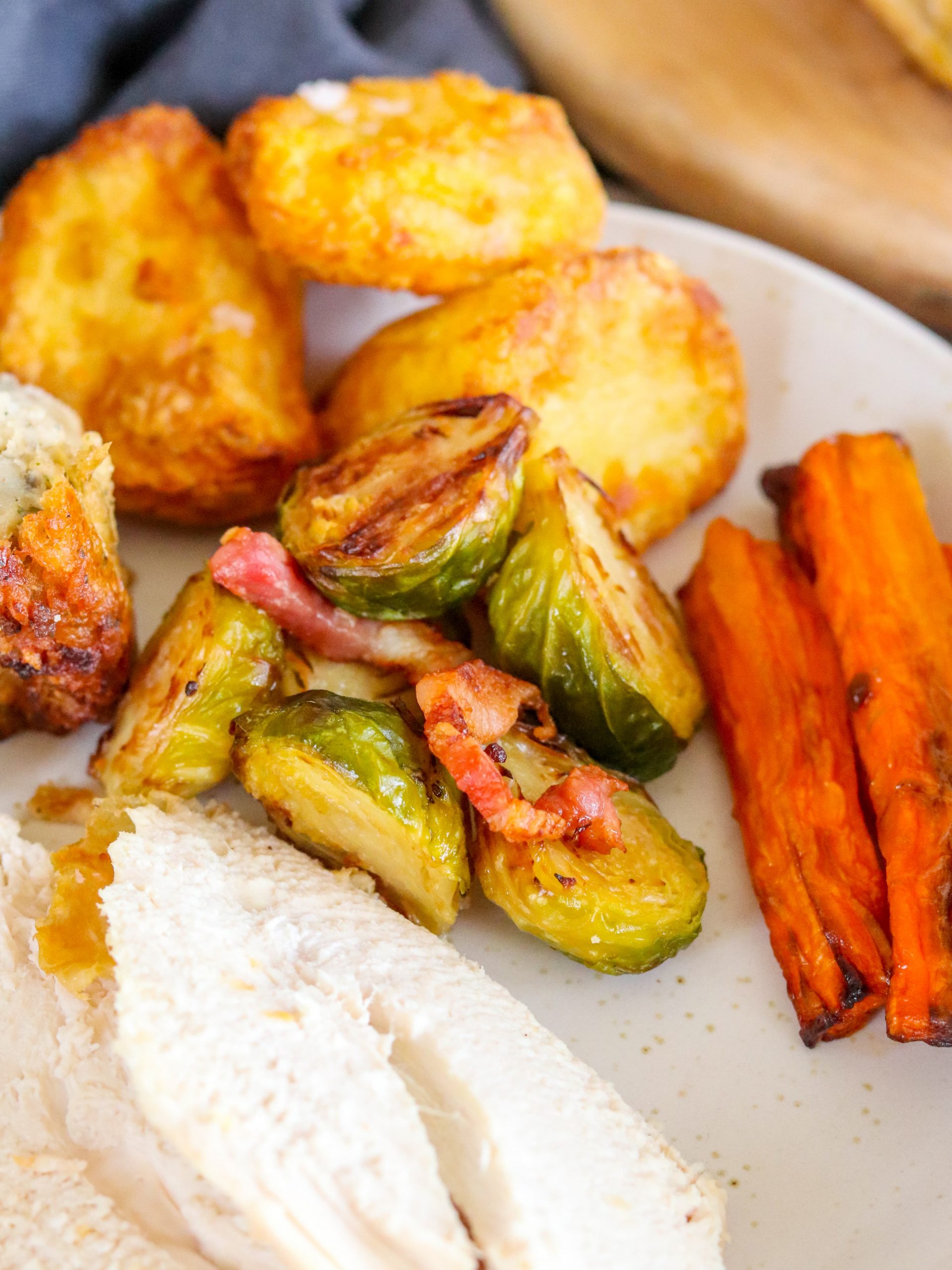 Can you prepare the sprouts in advance?
Yes you definitely can. The most time consuming part is trimming the sprouts and cutting them in half. You could easily do this the day before. I would choose to keep them in a pan of water so they don't start to dry out.
You could also par boil them the day before and leave them in the fridge overnight. The next day you then just need to add them to the air fryer with the bacon and heat them through.
I also think these air fryer brussels sprouts reheat really well too. If you'd like them crisp, I would recommend reheating them in the air fryer for 5-7 minutes. However I have been known to reheat them in the microwave as an even quicker option.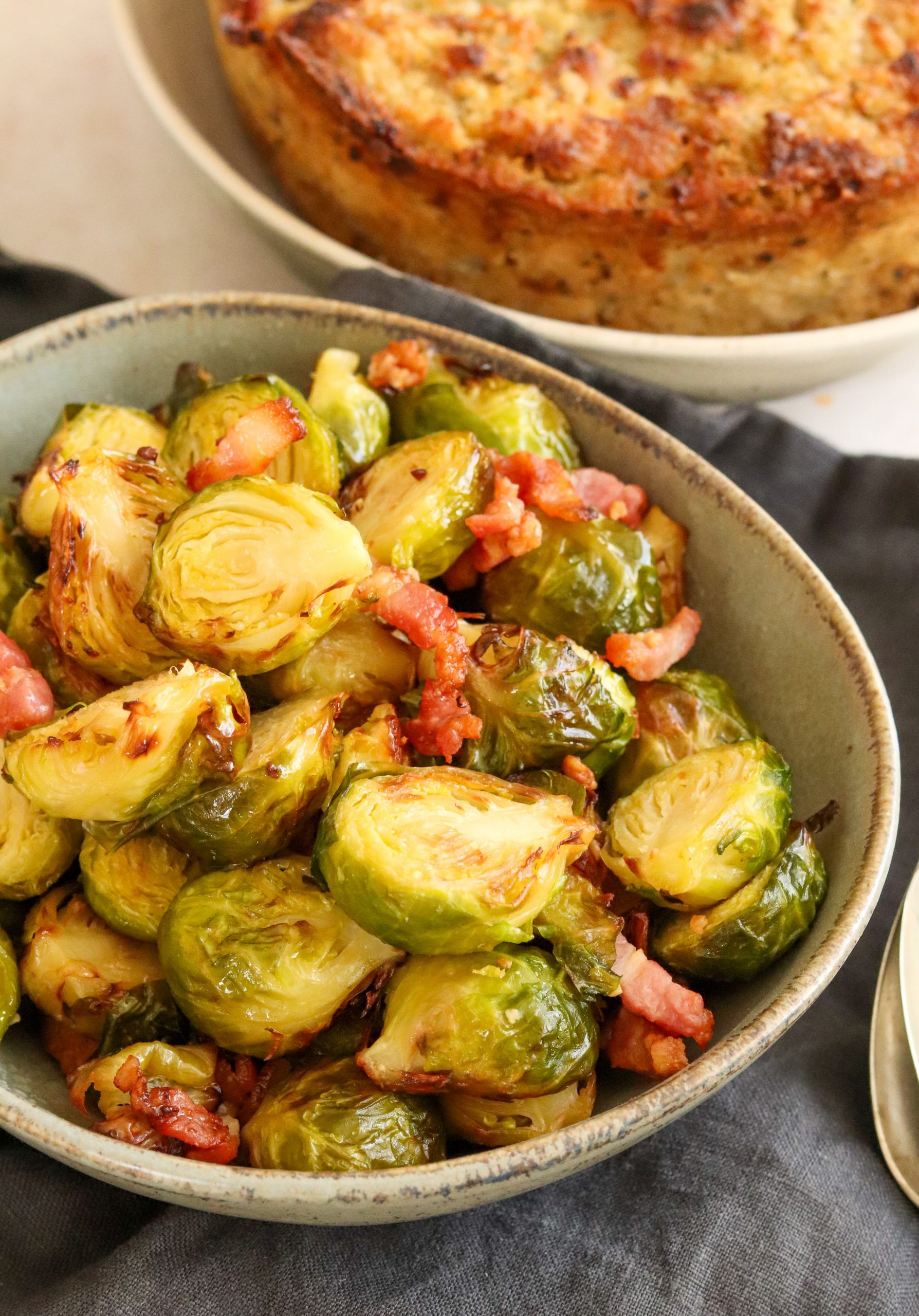 Can these sprouts be made vegetarian and vegan?
To make this recipe suitable for vegetarians and vegans, you just need to swap out the bacon. I do recommend replacing it rather than just leaving it out.
You can use vegetarian/vegan bacon which will add the smoky flavour pork bacon gives.
If you didn't want to use meat replacement products you could chop up some chestnuts instead. These are especially good if you're making these for Christmas.
This recipe is naturally gluten free.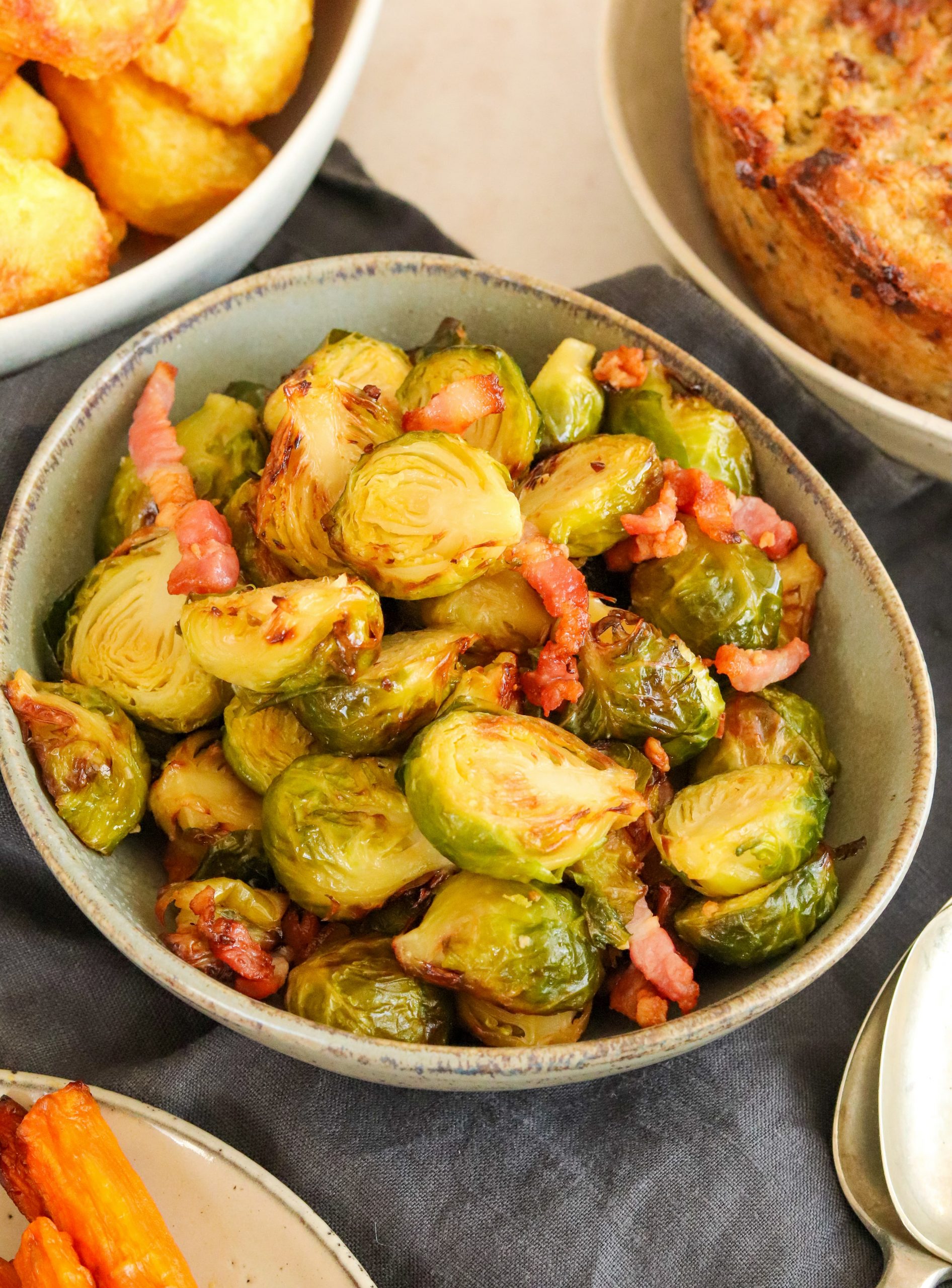 how to serve air fryer brussels sprouts with bacon
As I have mentioned previously, I cook these almost weekly. My favourite way to serve them is with a pork loin chop and Roasted Parmesan Tenderstem Broccoli.
The other obvious choice is to serve them as part of a roast dinner. You can reduce the amount of garlic if you are worried about the flavours clashing. Any of the following would make great accompaniments: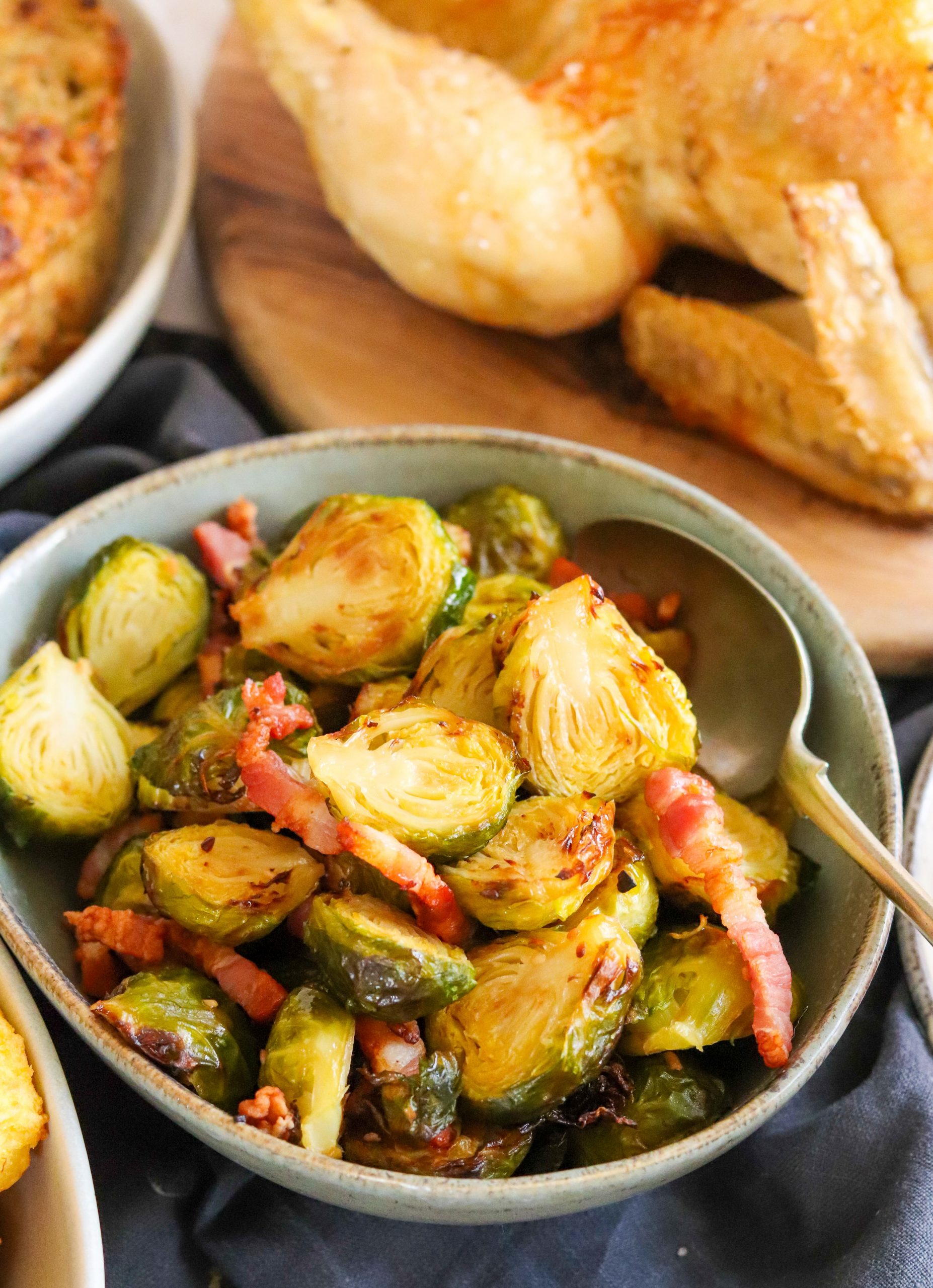 other recipes you might like
Pin for later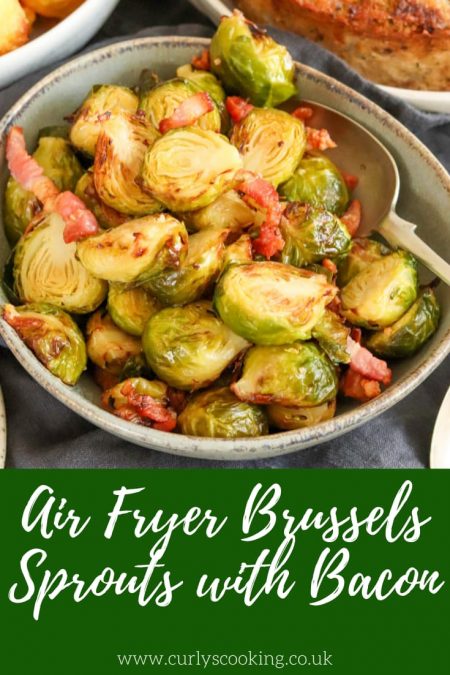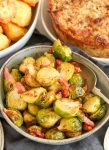 Air Fryer Brussels Sprouts with Bacon
If you think you don't like brussels sprouts, think again! These Air Fryer Brussels Sprouts with Bacon will convert any sprout hater due to their irresistible deliciousness.
Ingredients
500

g

brussels sprouts

200

g

bacon lardons

2

tsp

sunflower oil

½

tsp

sea salt

1

tsp

garlic

minced
Instructions
Remove any outside leaves of 500g brussels sprouts that don't look great. Cut each brussels sprout in half. Add to a pan

Par boil the brussels sprouts in boiling water for 7-8 minutes until just soft

Drain the brussels sprouts and leave to steam dry for a few minutes in the pan

Preheat your air fryer if needed

Add 2 tsp sunflower oil, ½ tsp sea salt and 1 tsp minced garlic to the pan. Stir gently

Add the brussels sprouts to the basket of your air fryer along with 200g bacon lardons

Cook at 190°C for 15-18 minutes, shaking a couple of times throughout
Recipe Notes
Cooking times may vary by a couple of minutes if your air fryer requires preheating.
Nutritional information is given as a guide only and may vary.
Nutrition Facts
Air Fryer Brussels Sprouts with Bacon
Amount Per Serving
Calories 134
Calories from Fat 18
% Daily Value*
Fat 2g3%
Sodium 322mg14%
Potassium 489mg14%
Carbohydrates 11g4%
Protein 4g8%
Vitamin A 943IU19%
Vitamin C 106mg128%
Calcium 54mg5%
Iron 2mg11%
* Percent Daily Values are based on a 2000 calorie diet.