Easy Sausage Meat Stuffing is the perfect side dish to any roast dinner. It is incredibly simple to make and will take your roast dinner to the next level.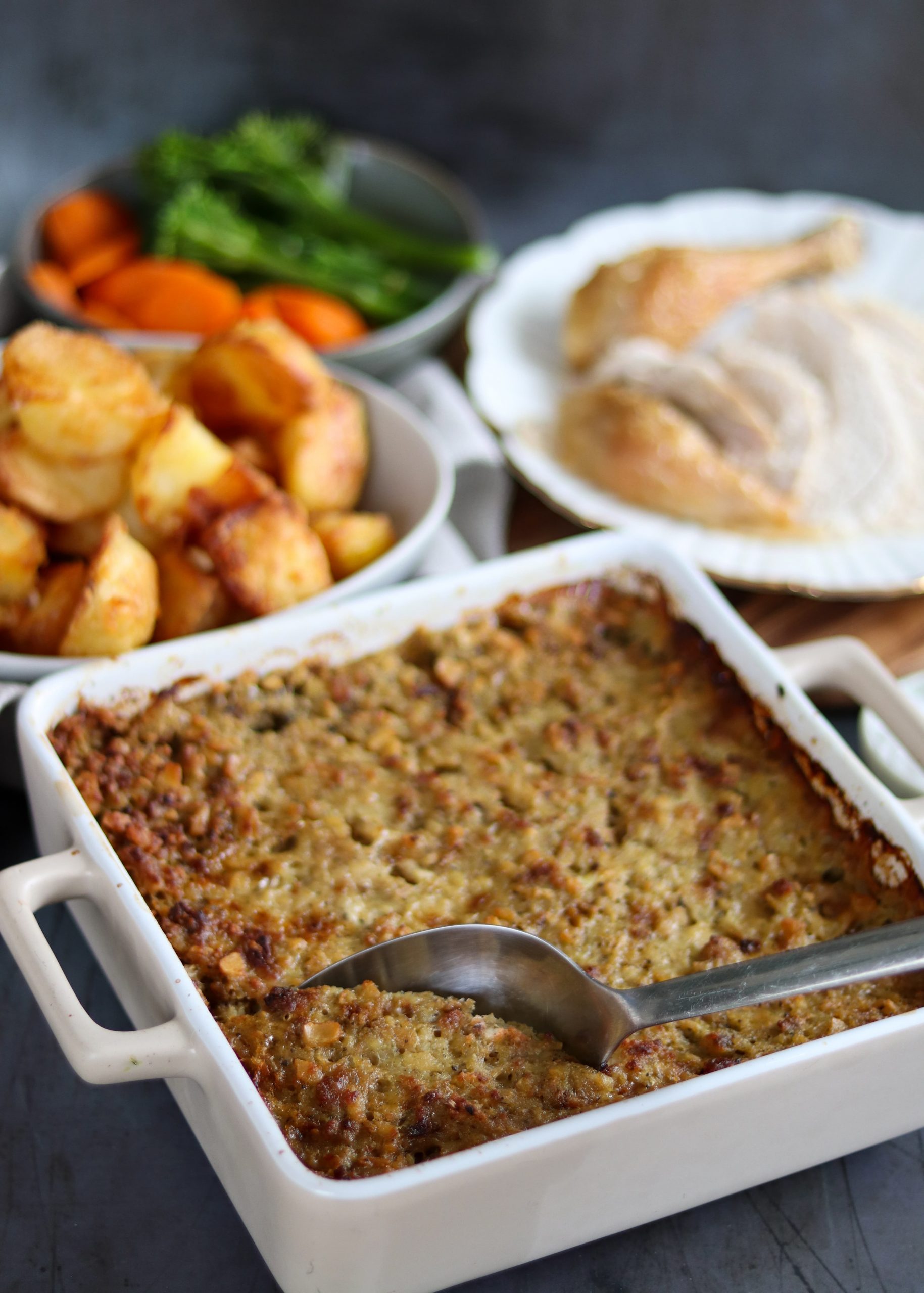 Do you love stuffing?
I was never really a fan of stuffing. It was something I would often rather not have on my plate when eating a roast to allow for more room for roast potatoes!
My view towards stuffing changed when I tried my Father-in-law's stuffing.
Mr Curly and I met when I was at university going my undergrad course and he was studying for his PhD. He had recently moved back home whilst studying which meant that at weekends I would travel down the motorway to see him.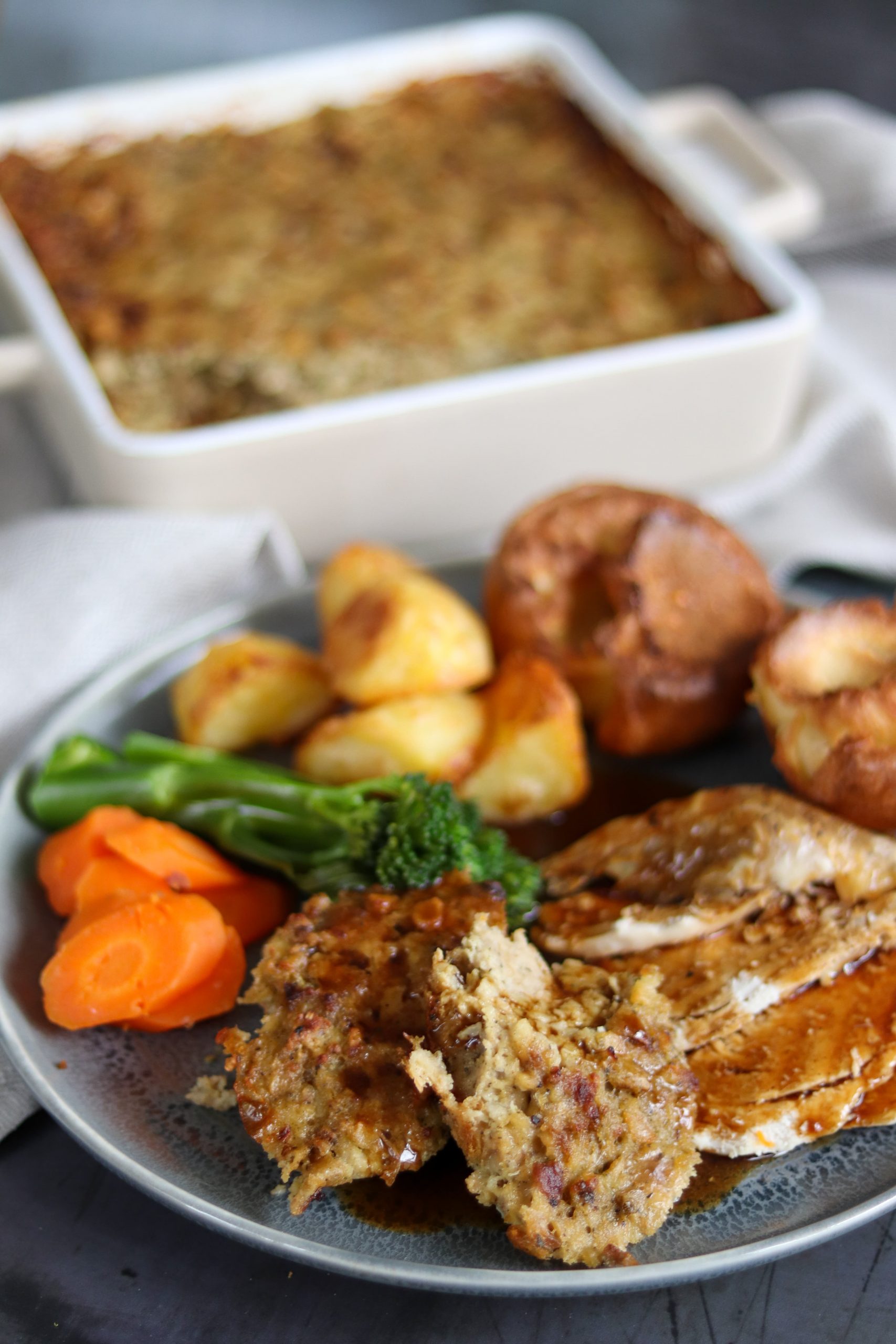 Easy Sausage Meat stuffing – a family recipe
Like lots of people, Mr Curly's parents would cook a roast on a Sunday. I remember always being offered the meat first (usually chicken); because they are lovely people and thought the guests should get the best meat.
The best meat in most of their opinions was the breast meat so I felt obliged to take some. It was months down the line that I told them I actually preferred the dark meat!
The most memorable part of these roasts was Mr Curly's Dad's stuffing. I don't remember having stuffing with sausage meat before.
My Mum made an oatmeal stuffing which is traditional in Aberdeen and sage and onion stuffing; but never stuffing with sausage meat.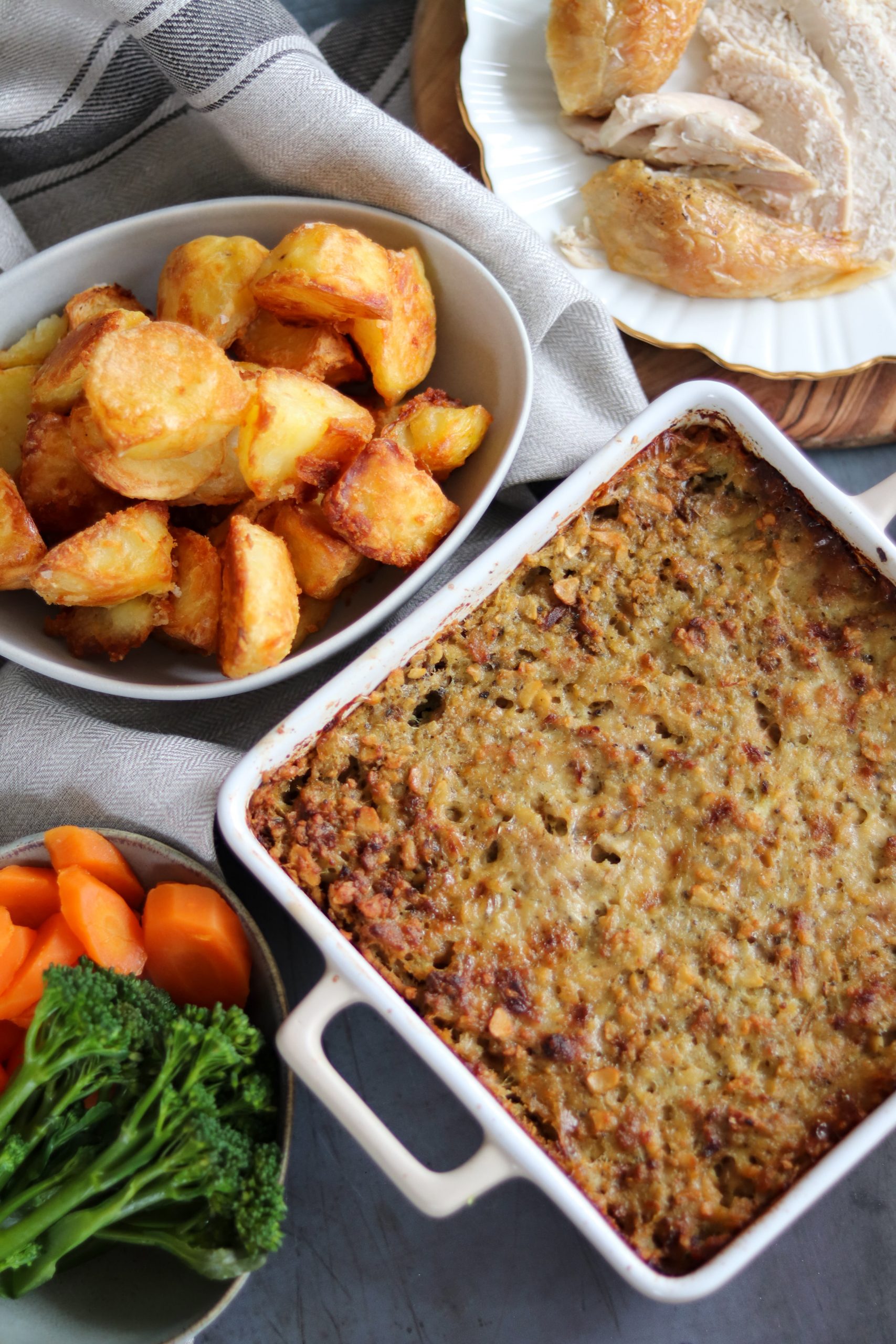 Delicious & so easy to make
The sausage meat not only adds flavour but also moisture. So many stuffing balls you see look so dry and like you'd need a litre of gravy to be able to eat them. This Easy Sausage Meat Stuffing is the complete opposite.
What makes this so easy is that you can mix it all together and let it cook in the oven. There is no need to form into balls which is vital time you can use doing something else when preparing a roast!
Plus you're going to want a lot of this Easy Sausage Meat Stuffing so a large spoonful is better than a small ball!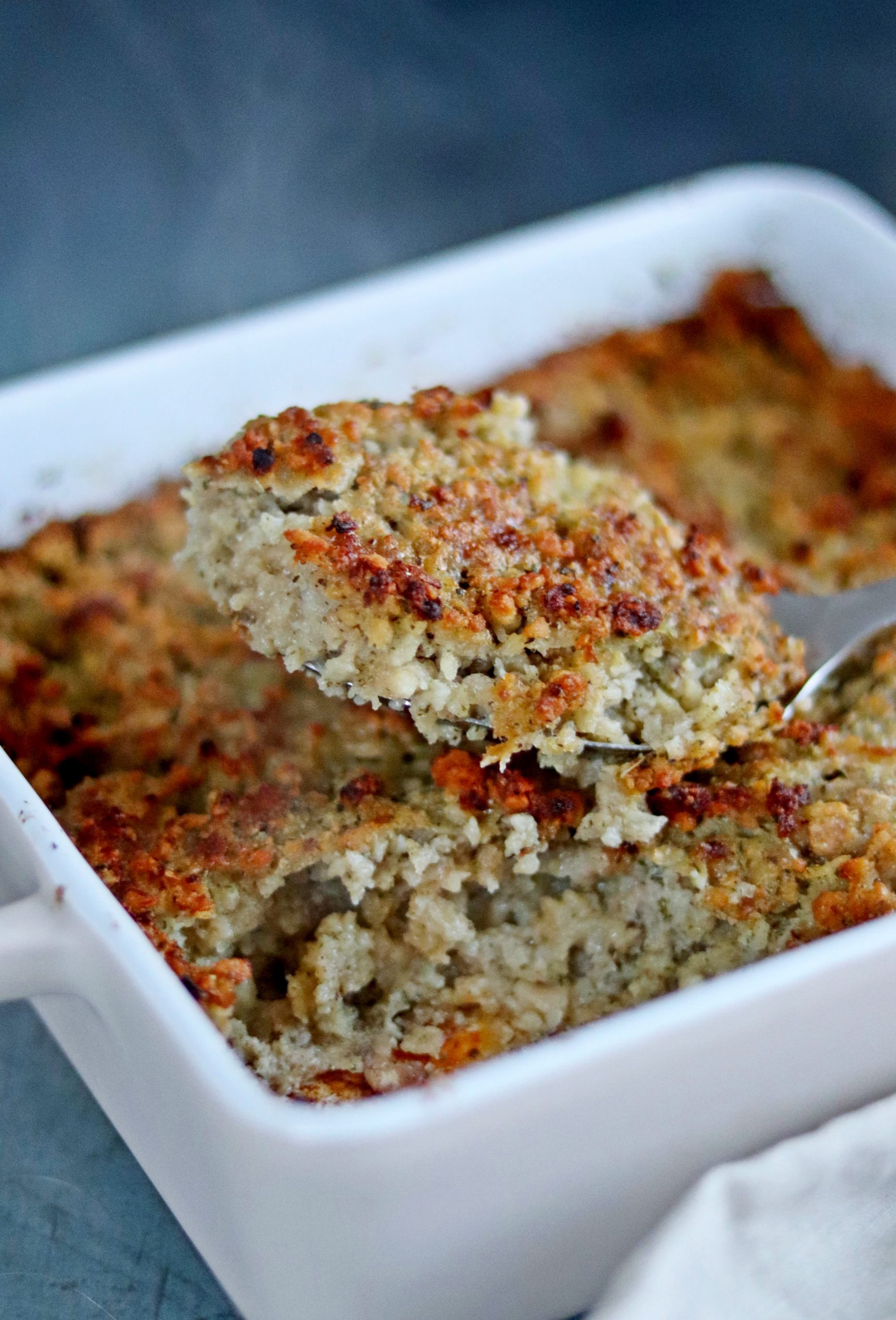 Shortcuts don't mean you're cheating!
The main outcome from cooking is to make a delicious meal. If this involves a few shortcuts then I don't think this matters at all.
This Easy Sausage Meat Stuffing uses ready made sage and onion stuffing as a base. It is a quick and easy way to add flavour without having to make the breadcrumbs and add the flavourings yourself.
I think this is especially invaluable when you are making a roast dinner. Surely it can't be just me that seems to get a little flustered when I have so many things on the go at the same time?!
I'm not saying buy frozen roast potatoes; but I think using the ready made sage and onion stuffing is shortcut worth taking.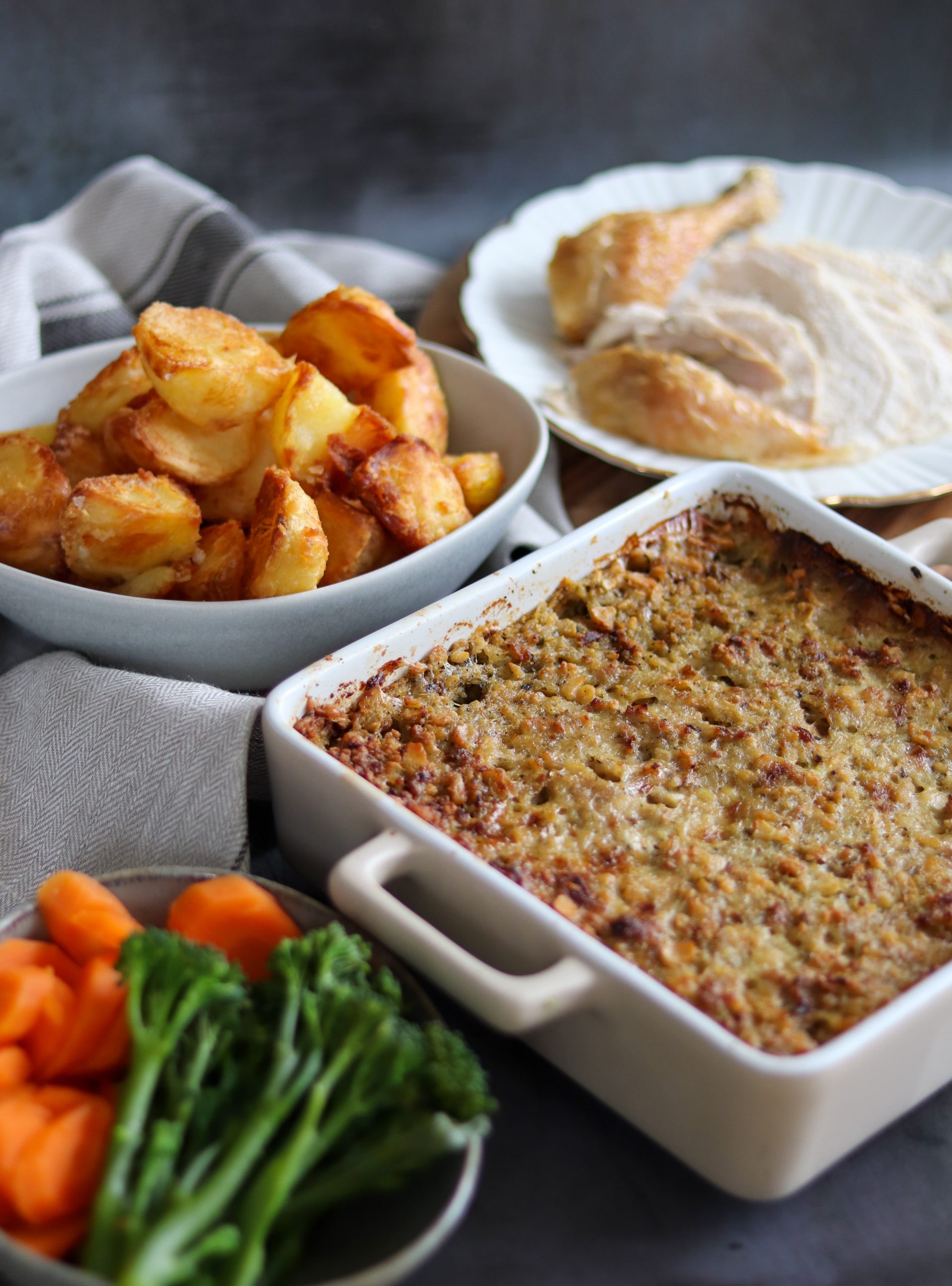 What to serve this Easy Sausage Meat Stuffing with
I'd serve this with any roast dinner, but definitely for Christmas lunch! My Simple Air Fryer Whole Roast Chicken screams out for this stuffing! Make sure you make enough stuffing for everyone to have plenty, plus leftovers for a cold turkey and stuffing sandwich!
If you're going down the roast dinner route, don't forget the following deliciousness:
Air Fryer Roast Potatoes
Air Fryer Brussels Sprouts with Bacon
Air Fryer Roast Carrots
Air Fryer Pigs in Blankets
This stuffing doesn't just have to be part of a roast dinner though. It is so quick and easy to make you could have it with any grilled meat or sausages any day of the week.
If you're having pork or just fancy a change, try my Pork, Apple & Sage Stuffing instead.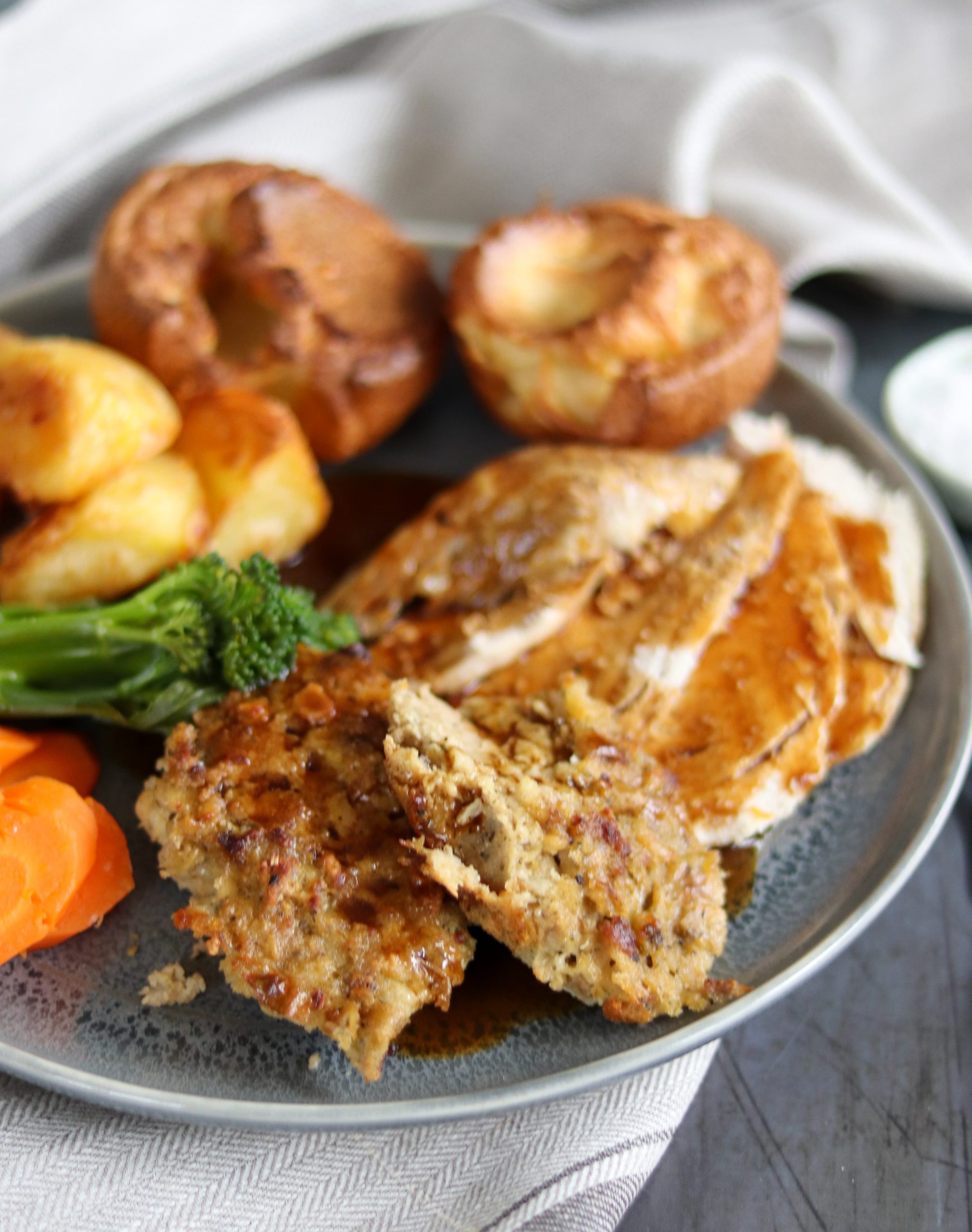 Easy to feed a crowd
If you're catering for people like Mr Curly who are stuffing fanatics, you can easily add another pack of stuffing mix to help stretch the sausage meat further.
This helps bulk out the stuffing without needed to add more sausage meat. I would also add another egg to help bind the stuffing.
If you are feeding a really big crowd, you can obviously add more sausage meat as well as more stuffing mix.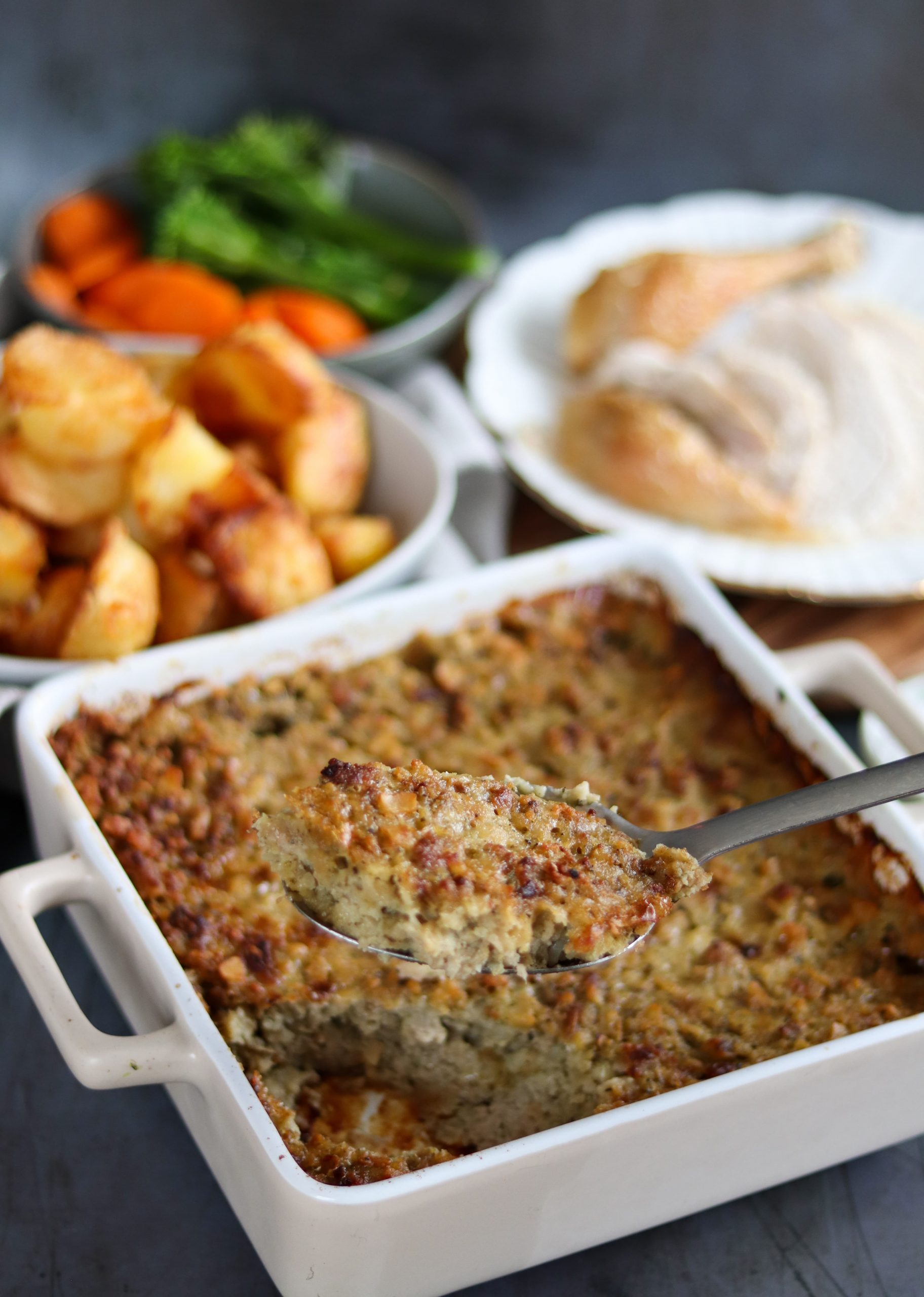 How much water should be added?
I have noticed that different packets of stuffing mix require you to add different amounts of water.
The well known brand Paxo, needs less water than some supermarket own brands. The recipe below shows the amount Paxo recommend adding but make sure you check the packet of the brand you have.
I noticed Lidl's stuffing mix needed over 500ml of water so it is definitely worth checking.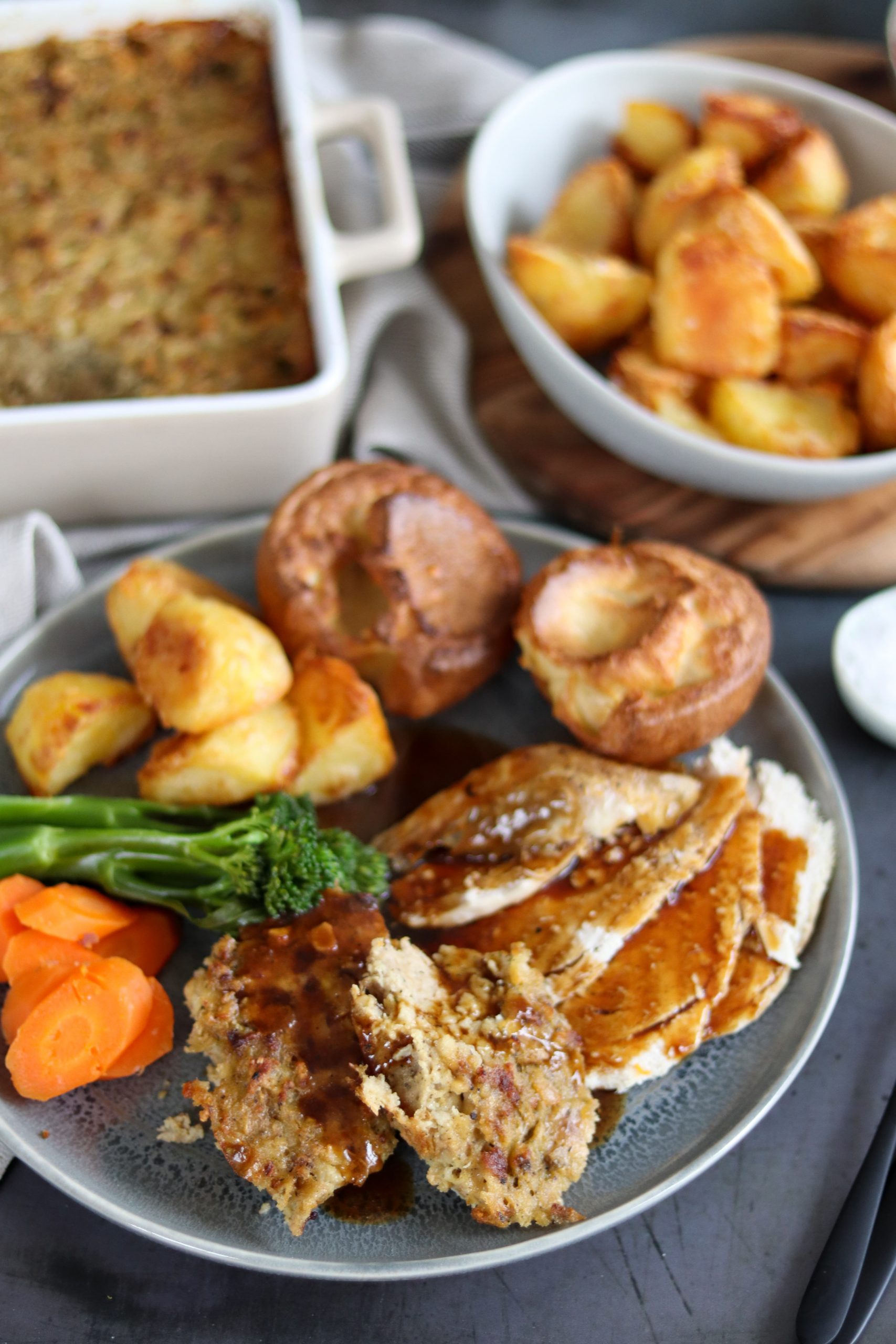 Can I add different flavours?
At Christmas especially, you can get some delicious sausage meats with added flavours such as cranberries and honey.
Obviously you could add these flavours yourself, but this is called Easy Sausage Meat Stuffing after all so you will be forgiven to buy the sausage meat with added flavours should you wish to.
My Pork, Apple & Sage Stuffing is an example of how you can add flavours to the stuffing to make it a bit more special.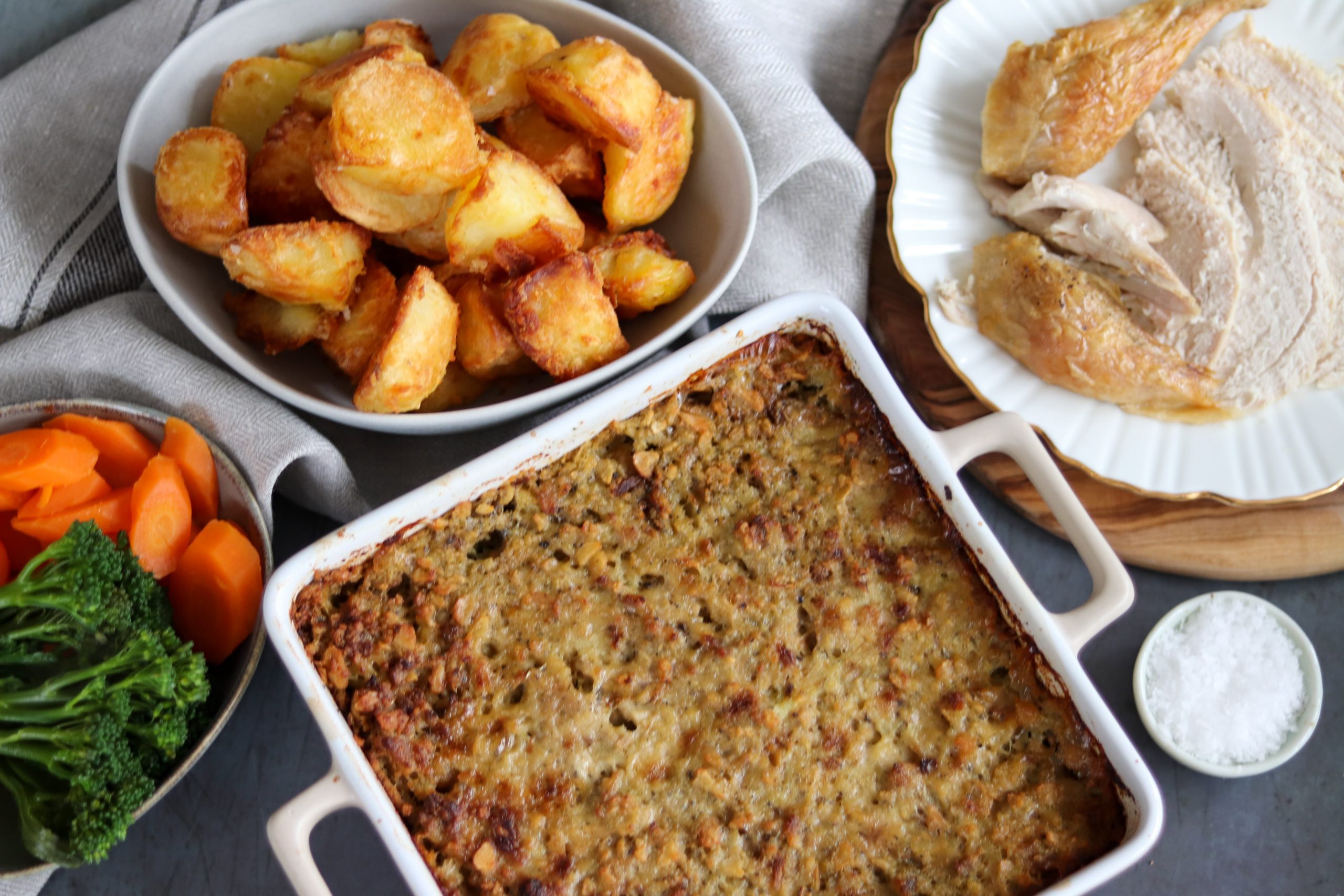 make your stuffing ahead of time
Roast dinners can get a little bit hectic as there are so many elements to prepare and cook.
To save yourself time and to get ahead, you can prepare this stuffing in advance.
Mix all of the ingredients together and keep it in the fridge until you are ready to cook. It will be fine in the fridge for two to three days.
You can also cook this delicious stuffing using your air fryer. It's quicker to cook and frees up valuable space in your oven.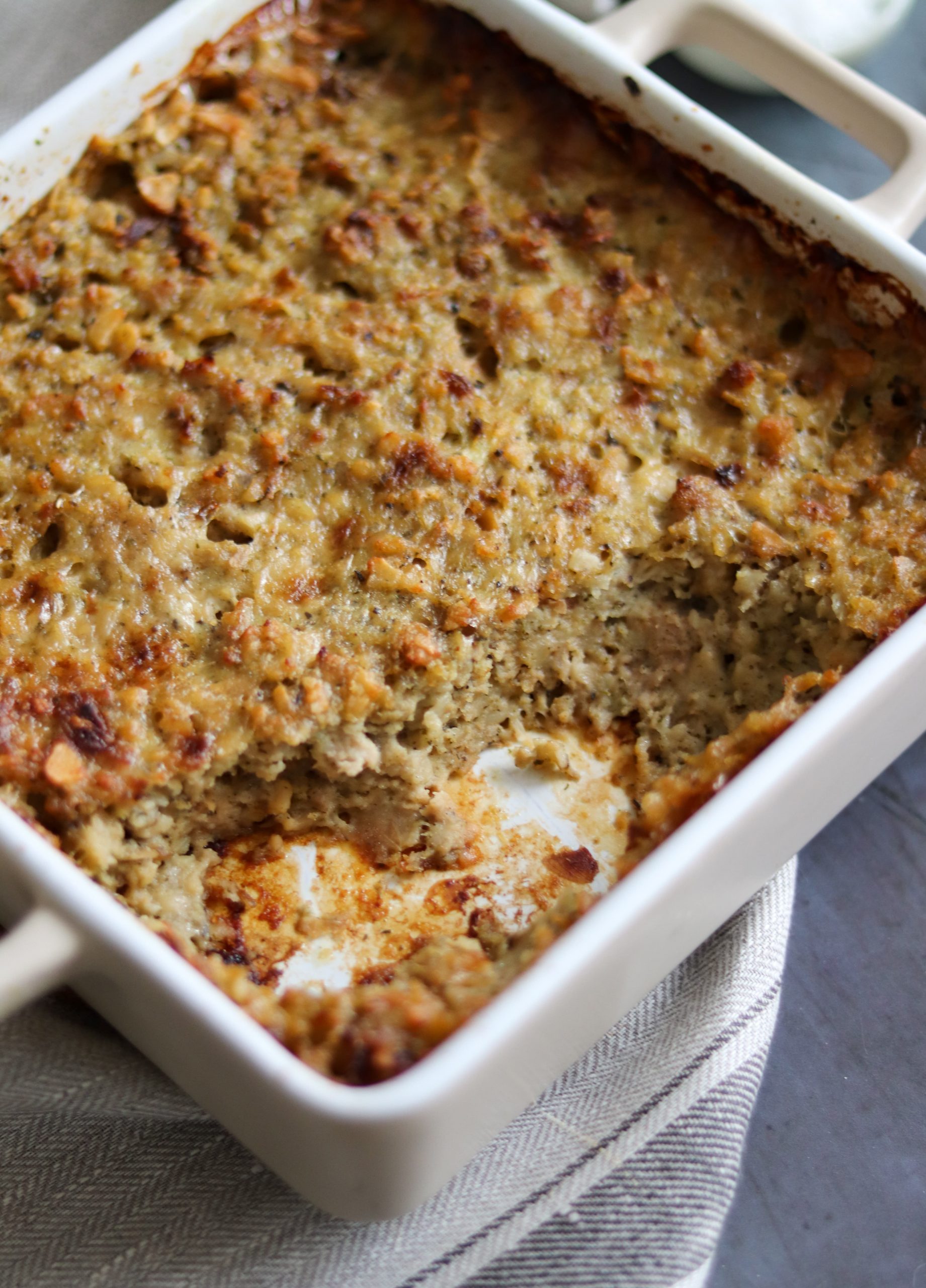 What to do with leftover stuffing
If you're lucky enough that everyone hasn't eaten all of the stuffing, it makes great leftovers. It is particularly tasty in thick white bread along with some leftover meat from your roast.
You don't have to worry about reheating it as it is delicious cold. Store it in the fridge for up to two days.
It would also be delicious the next day served with Bubble & Squeak.
How to freeze this stuffing
You can freeze the stuffing for up to three months. You can freeze either raw or cooked. This would one of the rare occasions I would recommend a foil disposable container.
If you want to freeze it raw, mix all of the ingredients apart from the butter on the top. When you want to use the stuffing, leave it to defrost in the fridge overnight. Add the butter to the top and cook as per below.
If you want to cook the stuffing before freezing it, cook exactly as per below. Put it in the freezer within two hours of it finishing cooking.
Defrost in the fridge overnight and cook in the oven until piping hot throughout. You might want to cover it with foil so it doesn't get too brown on top.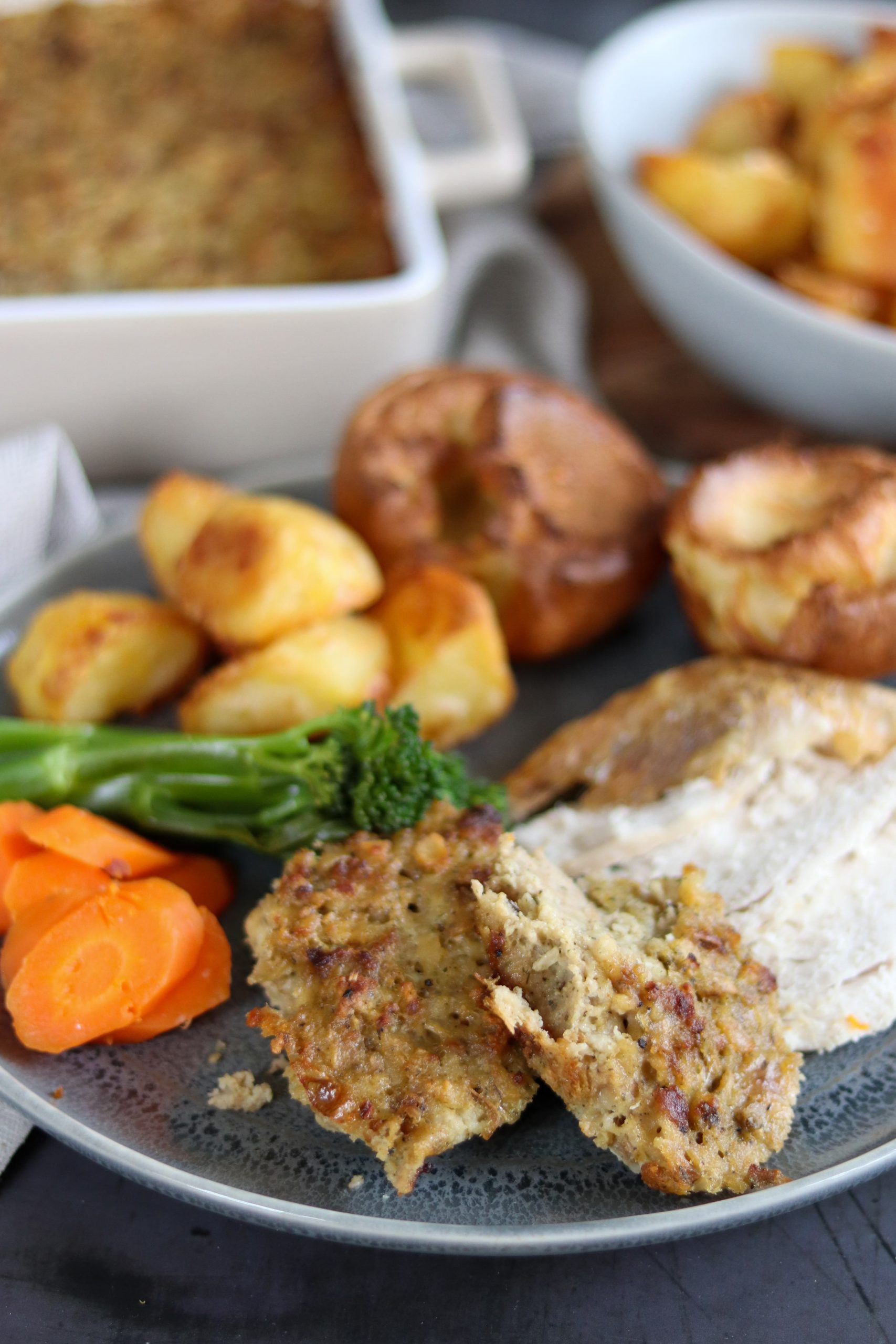 Can this stuffing be made gluten free?
Yes, very easily!
Make sure your sausage meat is gluten free. If you can't find gluten free sausage meat, you can remove the skins from gluten free sausages and add this instead.
Gluten free sage and onion stuffing mix should be easily available in your supermarket's free from section.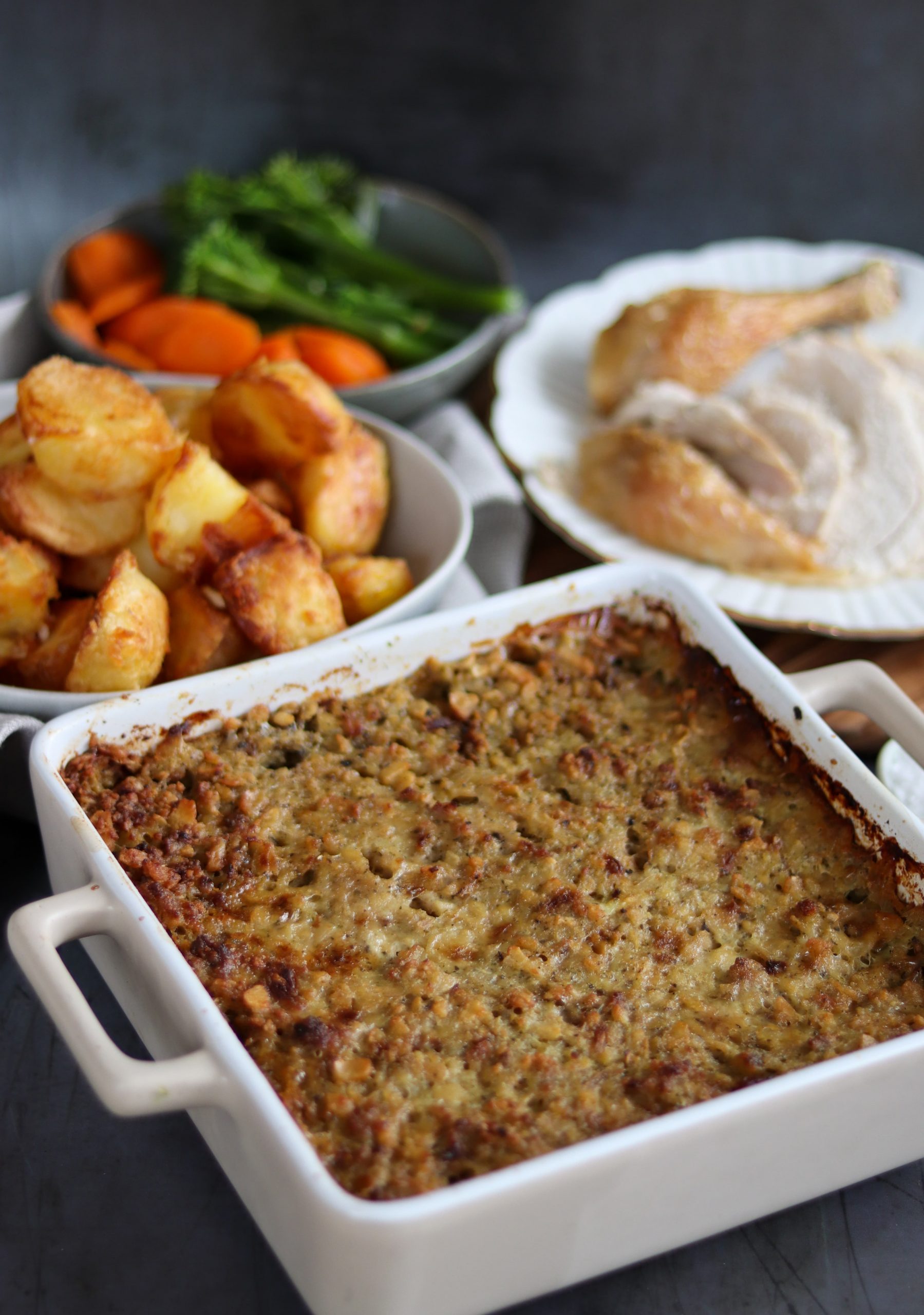 Other recipes you might like
Pin for later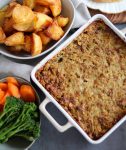 Easy Sausage Meat Stuffing
Easy Sausage Meat Stuffing is the perfect side dish to any roast dinner. It is incredibly simple to make and will take your roast dinner to the next level.
Ingredients
375

g

sausage meat

170

g

sage & onion stuffing mix

425

ml

boiling water

(follow the packet's instructions)

1

egg

30

g

unsalted butter
Instructions
Preheat the oven to 180ºC (fan assisted 200ºC non fan)

Add all of the ingredients apart from the butter into an oven proof dish (approximately 23 x 23cm). Stir until completely combined

Smooth out the top of the stuffing and add chunks of butter to the top

Cook for 50 minutes until brown on top
Recipe Notes
If the meat you are cooking requires a different temperature, adjust the cooking time for the stuffing. If the temperature is lower, cook for 10 minutes or so longer. If it is higher, cook on a lower shelf for 45 minutes or until the sausage meat is cooked through.
Nutritional information is given as a guide only and may vary.
Nutrition Facts
Easy Sausage Meat Stuffing
Amount Per Serving
Calories 211
Calories from Fat 144
% Daily Value*
Fat 16g25%
Cholesterol 62mg21%
Sodium 306mg13%
Potassium 124mg4%
Carbohydrates 1g0%
Protein 8g16%
Vitamin A 159IU3%
Vitamin C 1mg1%
Calcium 7mg1%
Iron 1mg6%
* Percent Daily Values are based on a 2000 calorie diet.