Crisp and flaky pastry filled with deliciously spiced chicken. These Chicken Balti Pies are a fantastic lunchtime treat that are simple to make.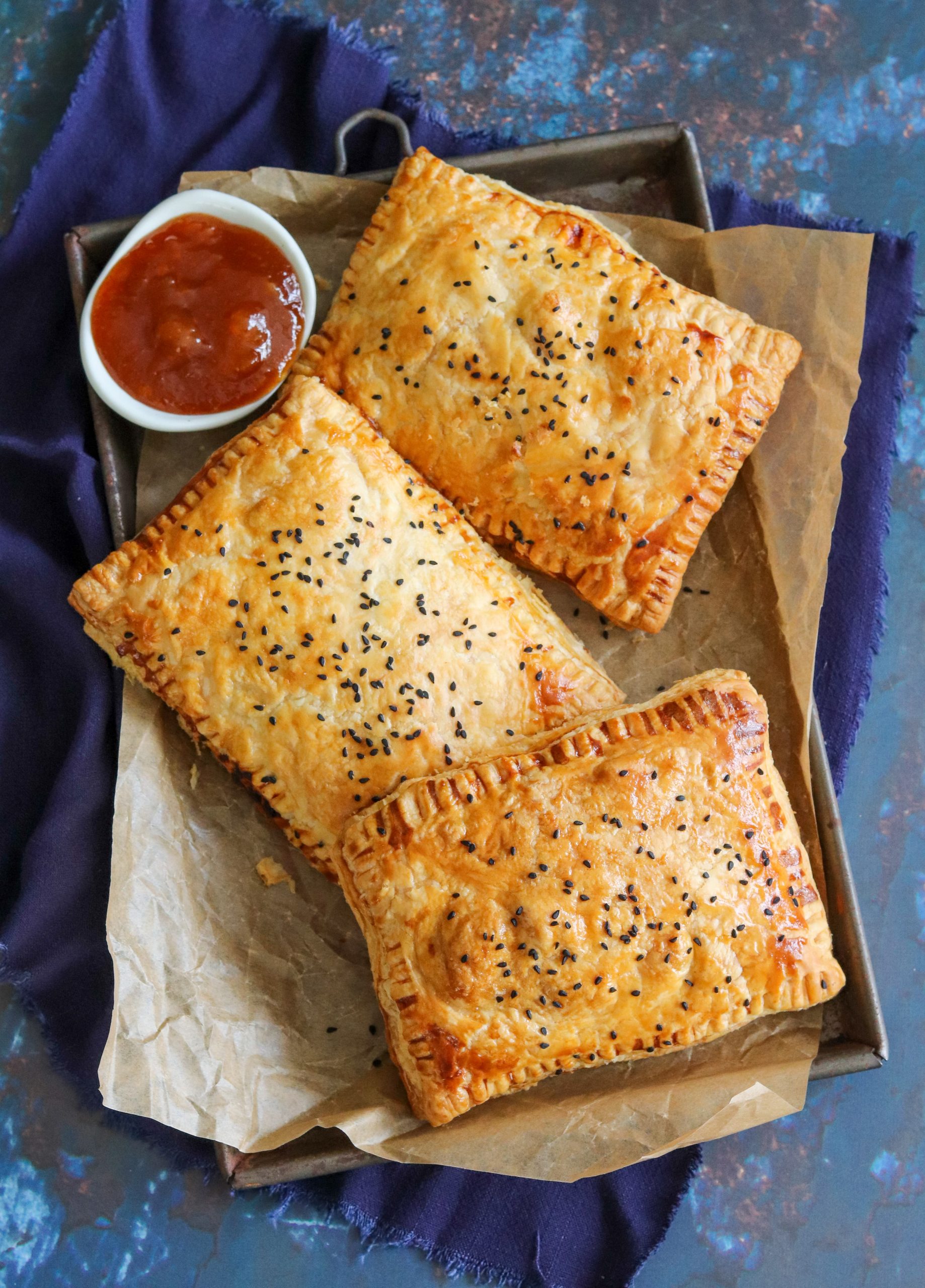 Chicken Balti Pies – a childhood memory
Years ago when I was still at school, I wonderful thing came into my life. A balti pie. This fantastic creation came from Morrisons and was so tasty! My Mum was a fan too and it used to be a treat for a weekend lunch for us.
We happily ate these for years; until one day. Morrisons decided to stop making them and ruin all of my hopes and dreams! I still haven't forgiven them for their terrible decision, but maybe it was just Mum and I buying them?!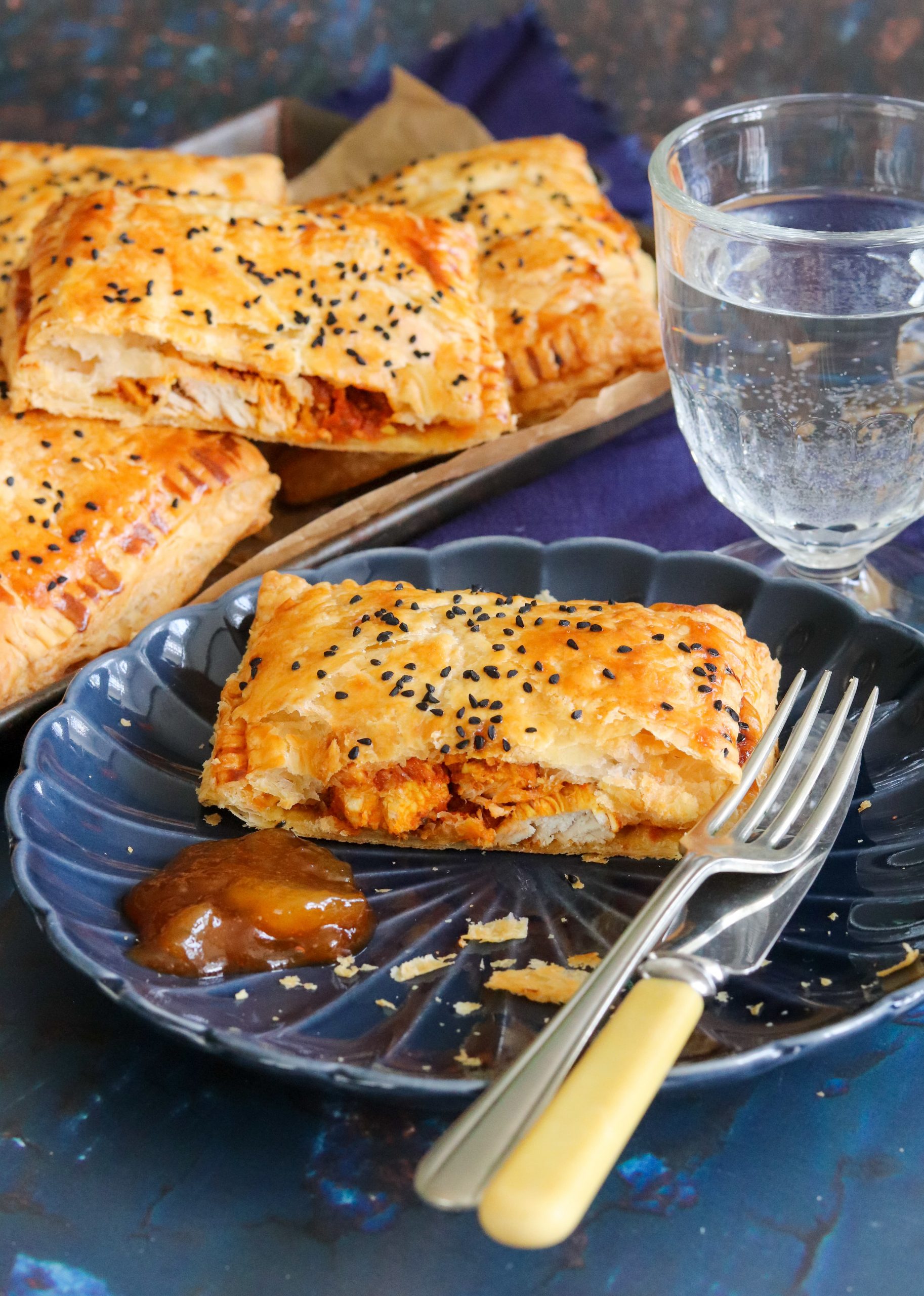 Recreating my beloved chicken balti pies
All these years later, the little cravings in my head became too loud for me to ignore and I had to have a go at making them myself. Obviously I didn't have their recipe, so I have made my own version.
Theirs was more of a suet pastry which the curry made deliciously soft. However that isn't as quick and easy as I was going for. So I used puff pastry instead.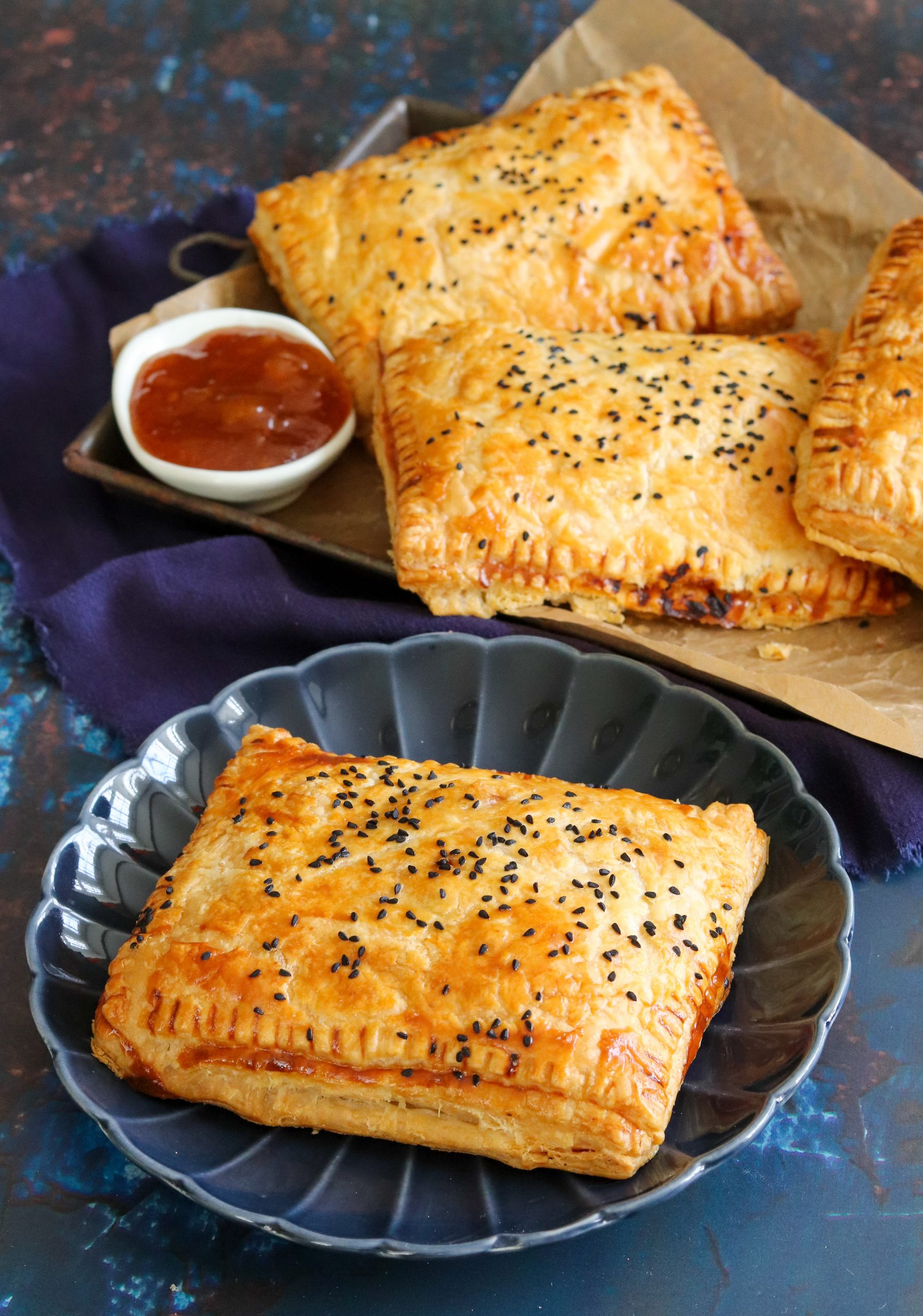 Using shop bought shortcuts
This is a bit of a cheat's pie as it used shop bought ready-rolled pastry and a curry paste mix. Neither of these I am ashamed of as they make these Chicken Balti Pies easy enough for anyone to make.
It also makes these pies a lot quicker to make. Puff pastry can be quite an involved process and by using shop bought pastry you can speed this up significantly.
Using a curry paste is also a great way to balance flavours. Indian spices can be tricky to balance and by using a curry paste you don't have to worry about this.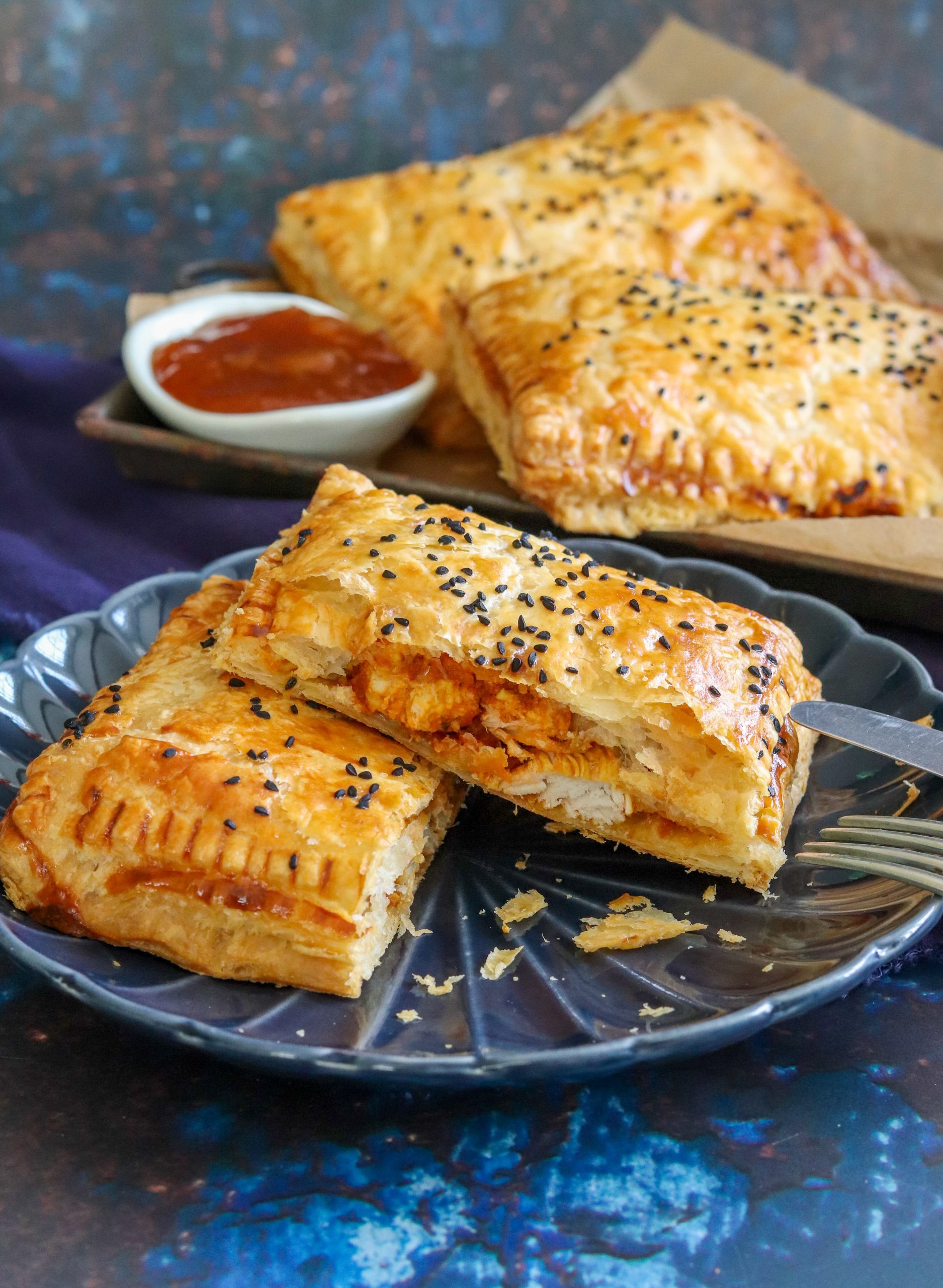 Chicken breast or thigh?
You can use either chicken breast or thigh for these pies; both will work just as well.
I tend to prefer to use chicken thighs because they hold their moisture better and are harder to overcook. Although the chicken isn't cooking for long in the pan, it is being cooked further in the oven.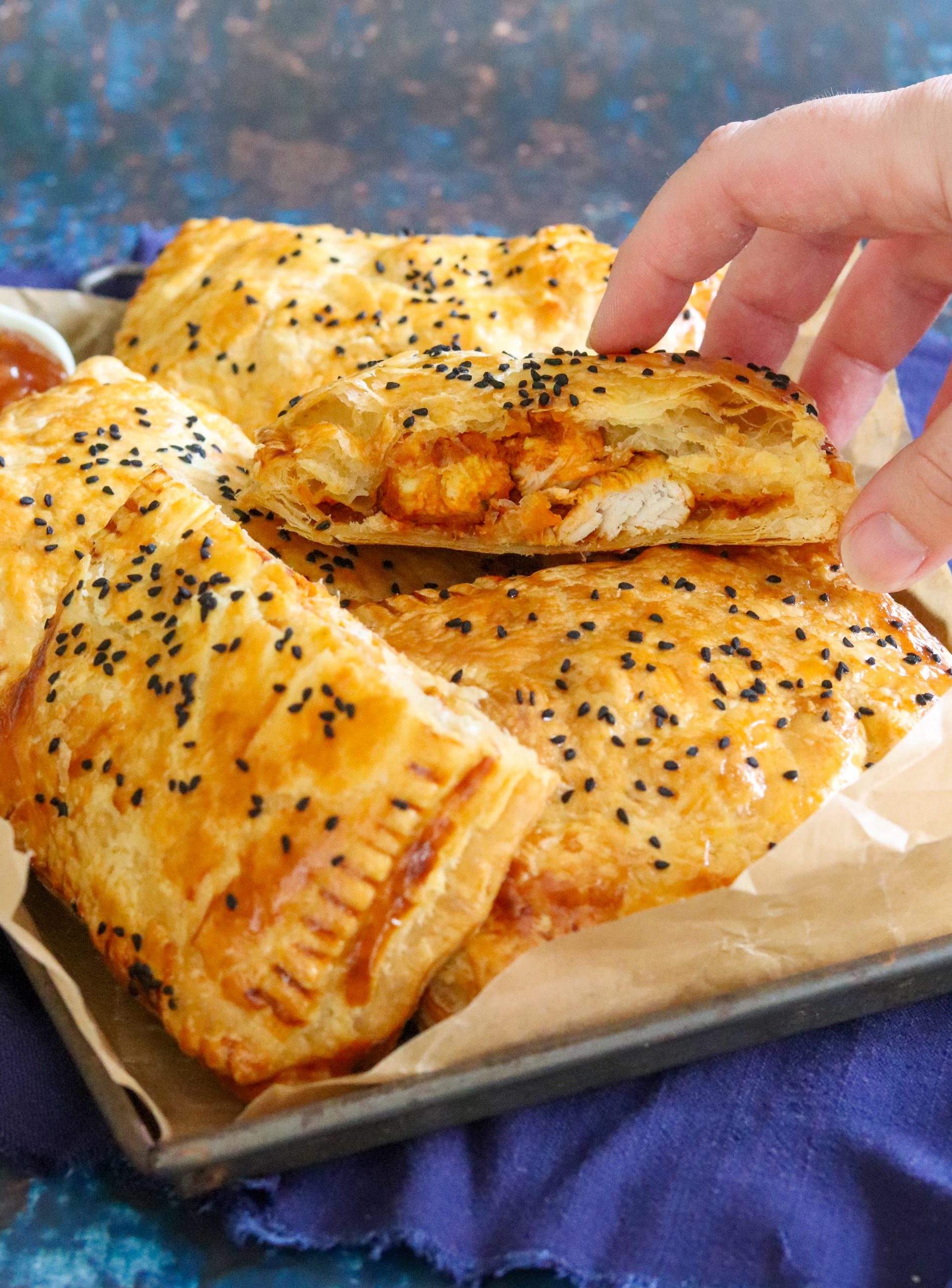 Which puff pastry to use
I recommend using shop bought pastry for these Balti Pies. You can obviously make your own if you're feeling up for it.
You can buy the blocks of puff pastry and roll it out, or the pre rolled puff pastry. The pre rolled pastry is definitely my preferred option because I wasn't gifted with the skills of being able to roll a block of pastry into a neat rectangle.
Ready rolled pastry is also even easier and quicker – win win!
You can use light or reduced fat puff pastry, but I maybe wouldn't recommend it for these pies. I haven't noticed a difference in the flavour in light puff pastry.
However I do think it is slightly harder to work with as it is a bit softer due to the reduced fat content. I think these pies would benefit from using standard puff pastry as it is slightly easier to work with.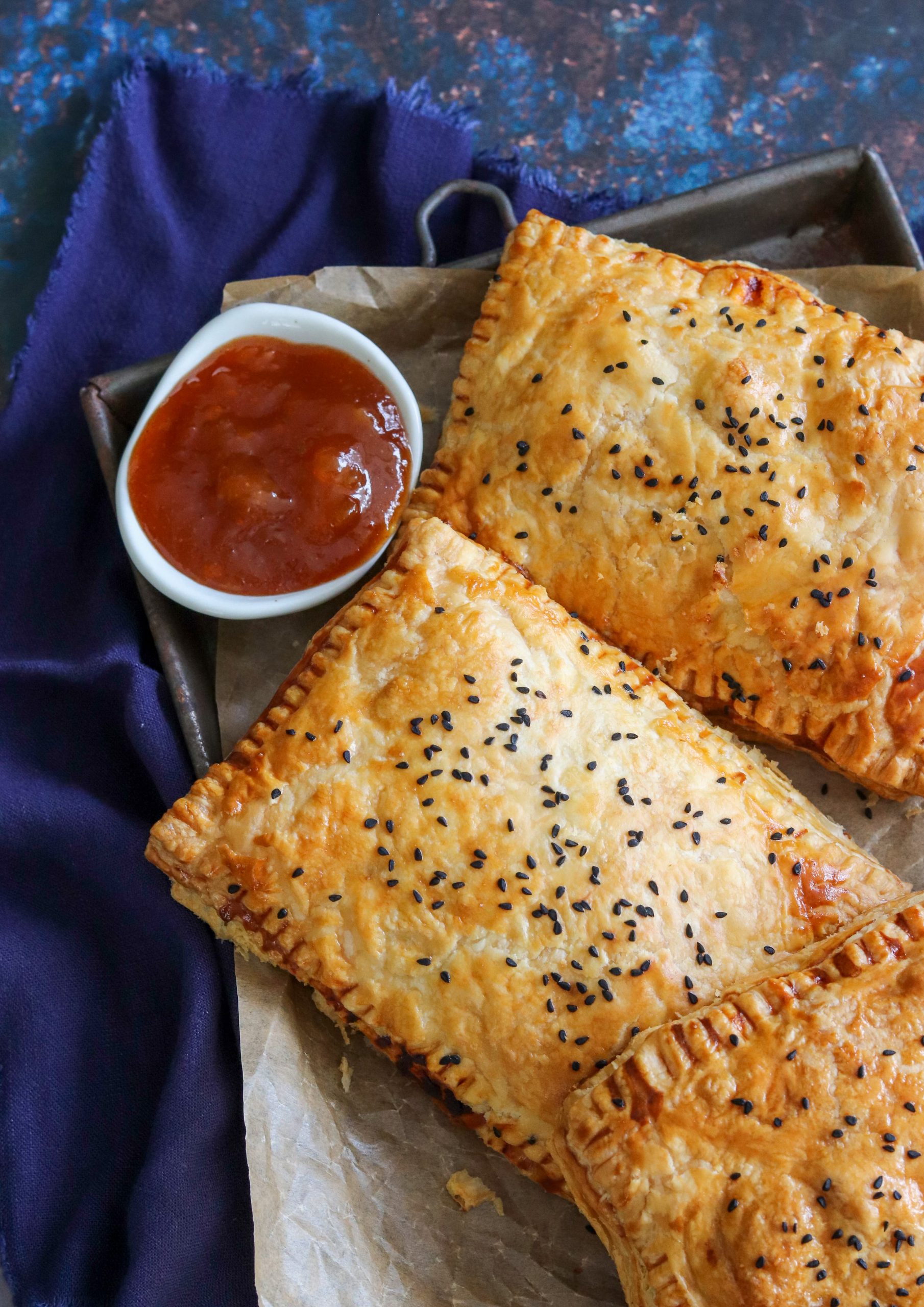 Which curry paste is recommended to use?
You can use any curry paste you like. I like to use a balti or tikka paste usually as these don't tend to be too spicy.
If you are looking for even more mild then I would suggest to use a korma curry paste. Alternatively if you want it a bit spicier, you can either buy a spicier curry paste or add a red chilli to the mix.
You can of course make your own curry paste to make these Chicken Balti Pies exactly how you like them.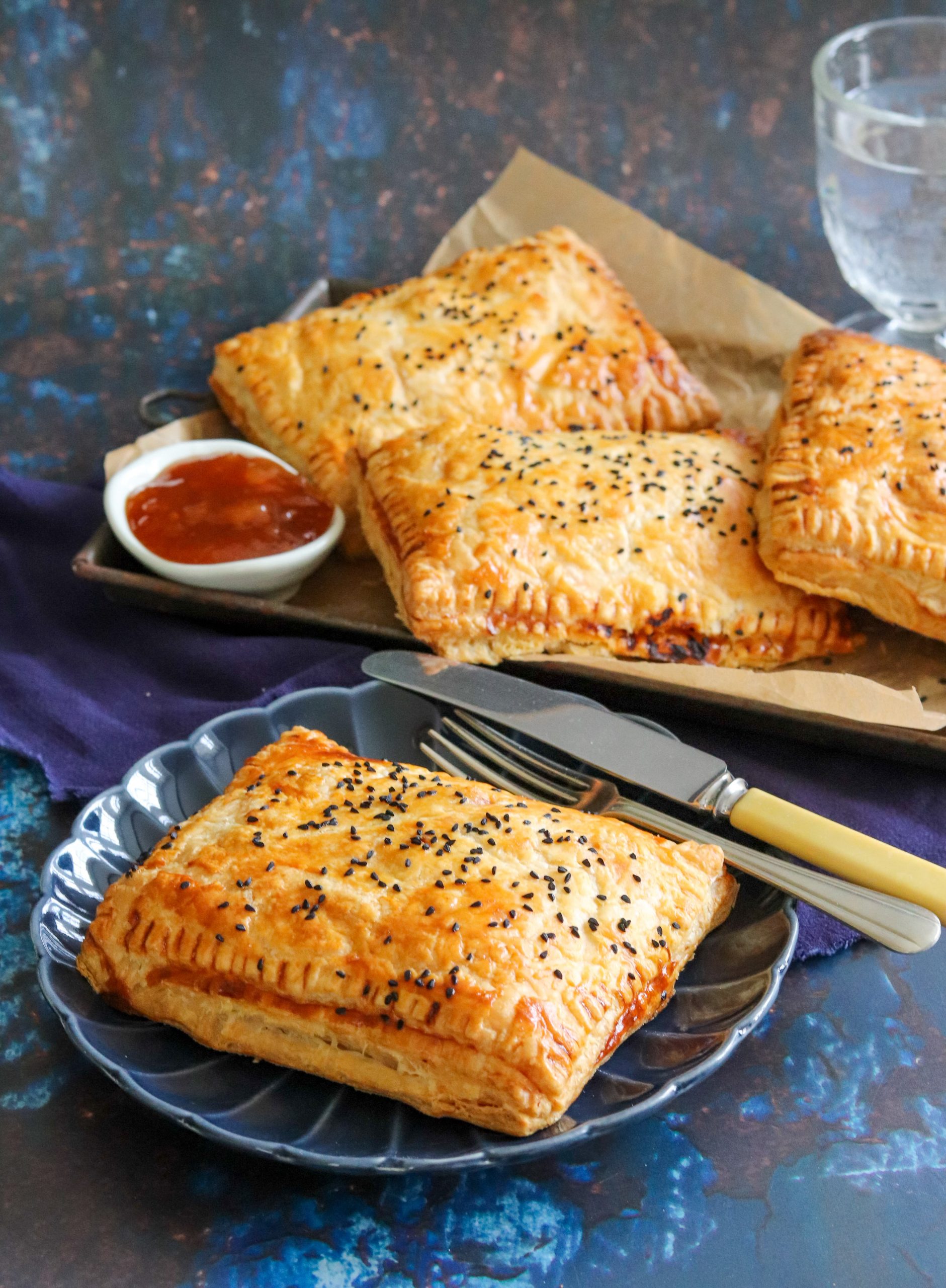 Do these pies have to be neat?
No, which is one of the great things about these! As you can see from mine, they don't look very neat before they are baked.
Puff pastry is very forgiving so don't worry if they look a bit rustic before you put them in the oven. When they're baked they'll be puffed up, bronzed and delicious looking.
Just don't get too excited and put too much filling into each pie as it might try to escape when you seal the pies. A little bit of sauce escaping is fine and very normal!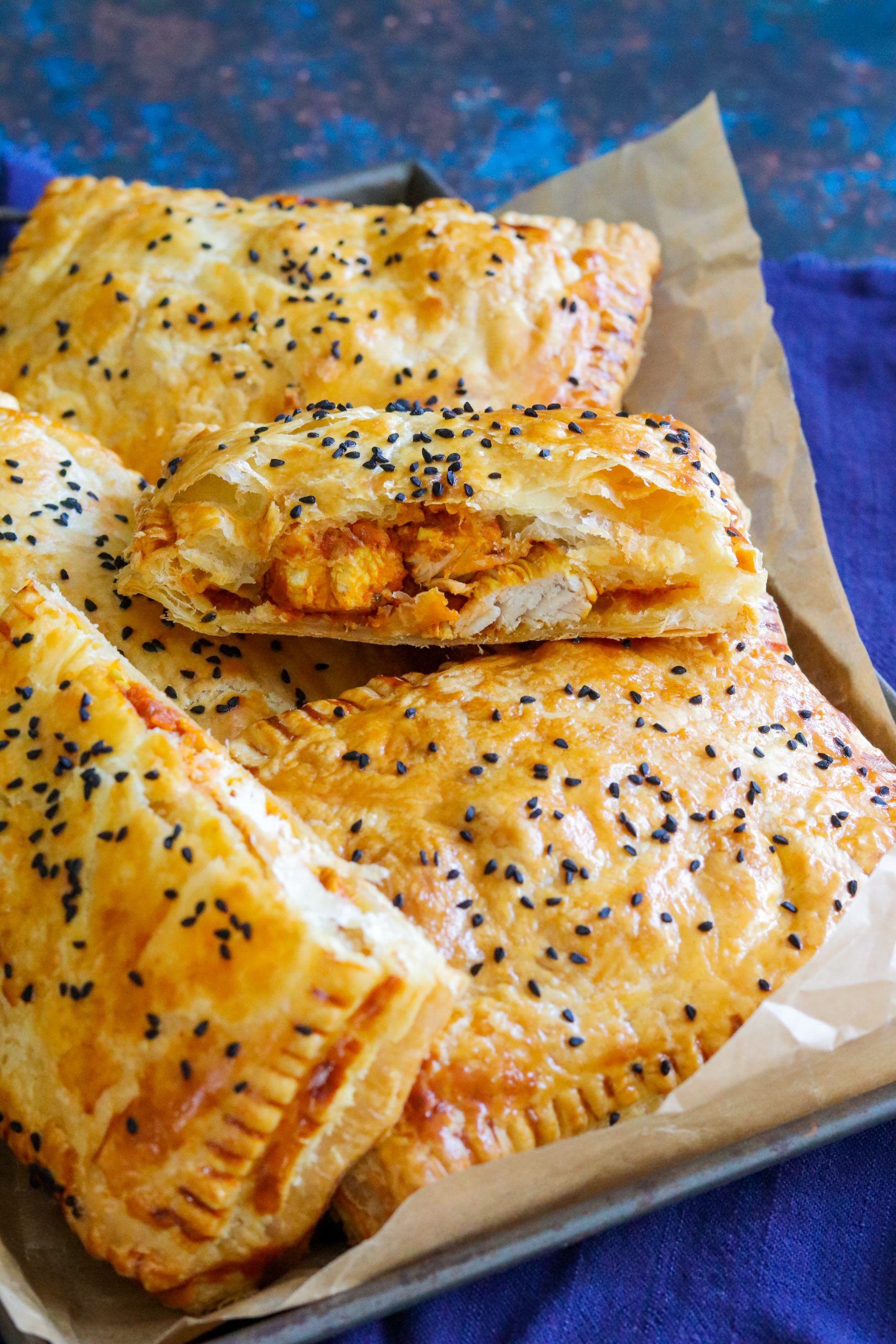 Can you use leftover meat?
Yes you can use leftover roast chicken or turkey for these pies. I would either shred it or cut it into cubes and add it to the sauce once it has reduced for 10 minutes.
These Chicken Balti Pies would also be great for the festive period. Swap the chicken for leftover turkey for a great way to use up Christmas dinner leftovers and add a bit of much needed spice.
Another great way to use up cooked chicken or turkey would be my Leftover Turkey, Cranberry & Brie Pastries.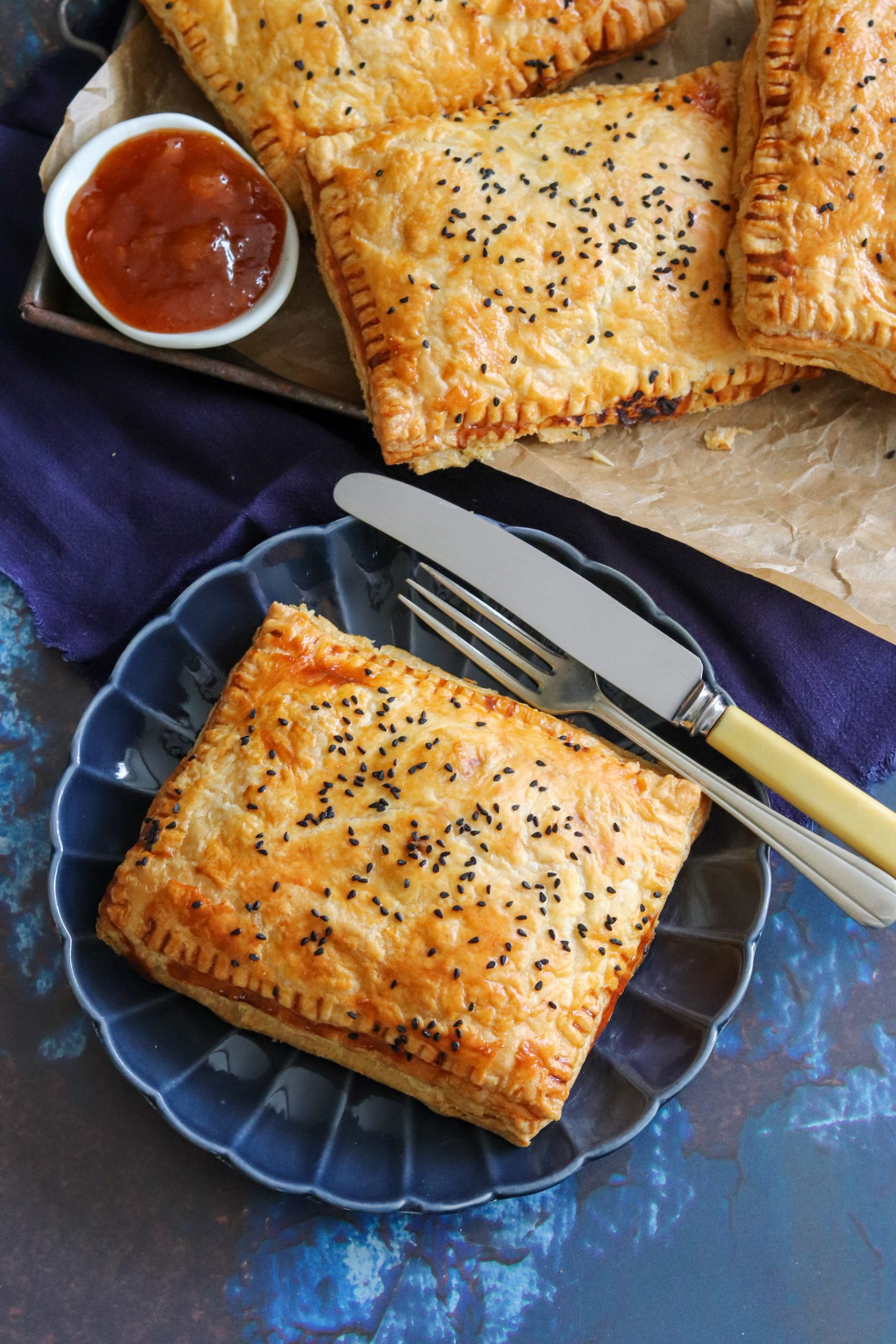 Can you freeze these balti pies?
Yes, assemble the pies and then place them on a tray without glazing them. Put them into the freezer for up to an hour to become firm.
Put them in a container and into the freezer to completely freeze. When you are ready to cook them, take them from the freezer and onto a baking tray. Glaze them and add the Nigella seeds. Bake them for an extra 10 minutes than the recipe below states.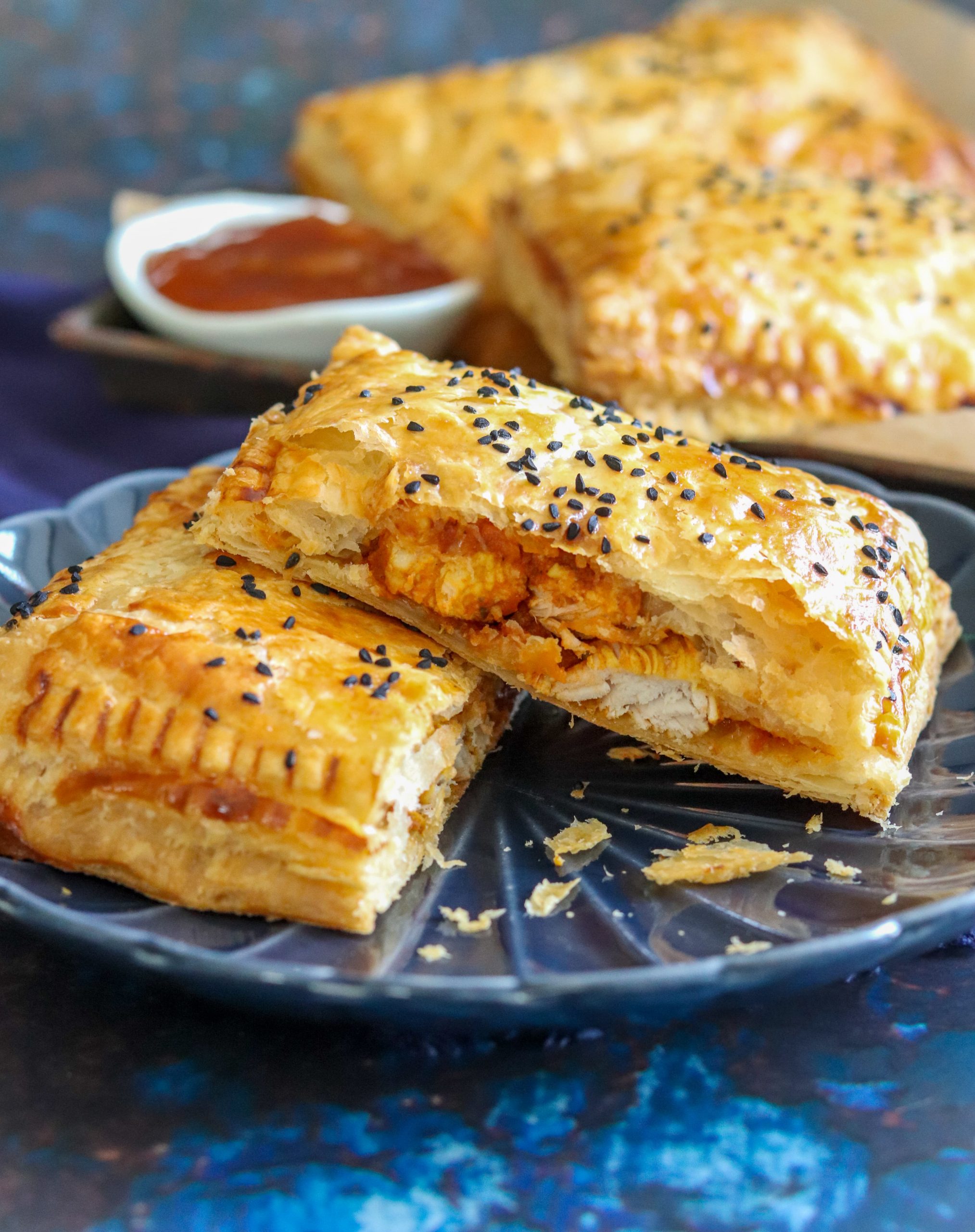 Can these Balti pies be made vegetarian, vegan or gluten free?
Making these Chicken Balti Pies is the easiest change to make. You need to swap the pastry for gluten free pastry which is readily available in most large supermarkets. If you can't find it in the fresh section, check in the freezer aisle.
Most curry pastes are gluten free, vegetarian and also vegan but just check the jar depending on which diet you are catering for.
For vegetarian and vegan diets, you can either use a meat substitute or add some vegetables instead. Cauliflower and courgette would be particularly tasty in these pies.
If you are making these vegan, use any plant based milk to glaze the pies.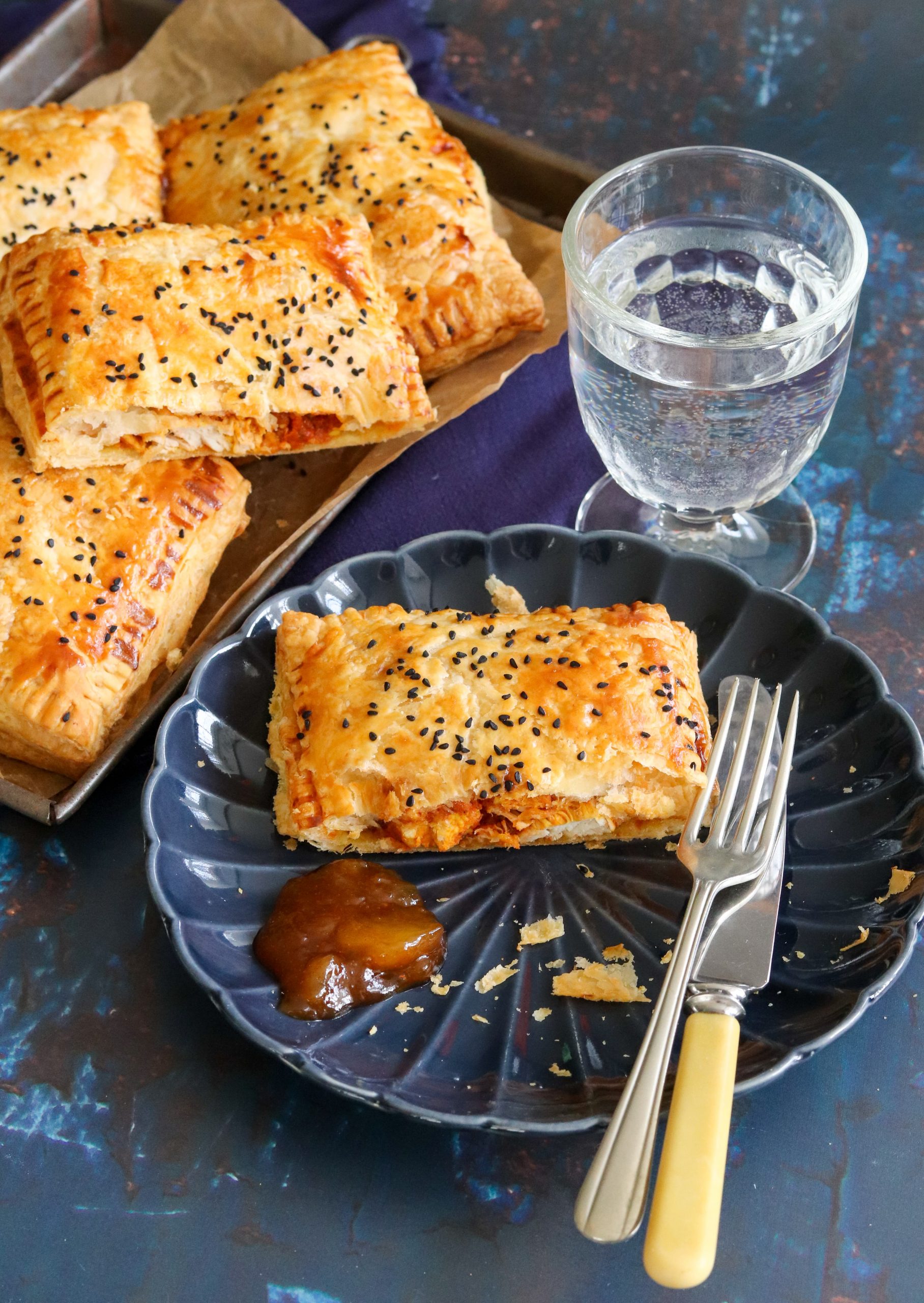 Other recipes you might like
Pin for later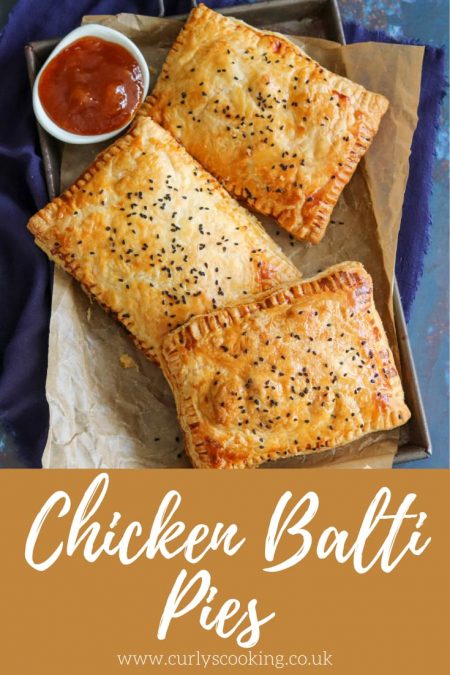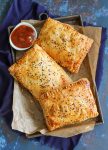 Chicken Balti Pies
Crisp and flaky pastry filled with deliciously spiced chicken. These Chicken Balti Pies are a fantastic lunchtime treat that are simple to make.
Total Time
1
hour
15
minutes
Ingredients
½

tsp

vegetable oil

1

small onion

finely diced

2

cloves

garlic

finely diced

¼

tsp

salt

6

tbsp

Balti curry paste

450

g

chicken

cut into small chunks

400

g

chopped tomatoes

50-100

ml

water

2

x 375g

packs ready rolled puff pastry

2

tbsp

semi skimmed milk

2 tsp

Nigella seeds

spray oil
Instructions
Heat the oil in pan over a medium heat. Add the onion to the pan along with the salt and stir for 2-3 minutes until softened. Add the garlic and curry paste and cook for a further minute

Add the diced chicken to the onions and cook for 2 minutes until the chicken has turned white

Add the chopped tomatoes and water. I add the water to the empty tomatoes tin as it helps get the last of the tomato juice from the tin

Leave the chicken to reduce on a medium-low heat for 15 – 20 minutes stirring occasionally. You want the sauce to become thick

Leave the chicken to one side to cool slightly while you prepare the pastry. Preheat the oven to 170ºC (fan assisted 190ºC non fan)

Unroll the pastry and cut each sheet into 8 rectangles so you have 16 rectangles

Add one large spoon of the chicken filling to the centre of 8 out of the 16 rectangles. Make sure you leave a small border around the outside of each rectangle

Brush around the edges of each of the pastry rectangles with filling with milk. Add a plain rectangle of pastry on top of each rectangle with filling. Gently press the who rectangles of pastry together. Using a fork, press the tines around the edges of the pastry to make a seal.

Carefully transfer the pies to baking trays sprayed with oil. Brush the tops of the pastry with milk and sprinkle with a few Nigella seeds. Bake in the oven for 30 minutes or until the pastry is golden brown
Recipe Notes
These Chicken Balti Pies will keep in the fridge for a couple of days. They may loose their crispness slightly so if you want to reheat them, use the oven rather than a microwave as this would make the pastry soggy. Make sure the filling is piping hot before serving. You can eat them cold if you would prefer.
Nutritional information is given as a guide only.
Nutrition Facts
Chicken Balti Pies
Amount Per Serving
Calories 552
Calories from Fat 9
% Daily Value*
Fat 1g2%
Cholesterol 36mg12%
Sodium 211mg9%
Potassium 307mg9%
Carbohydrates 2g1%
Protein 12g24%
Vitamin A 75IU2%
Vitamin C 5.5mg7%
Calcium 24mg2%
Iron 0.7mg4%
* Percent Daily Values are based on a 2000 calorie diet.