This Air Fryer Chicken Tikka recipe achieves the characteristic char we all know and love from a traditional tandoor but with minimal effort at home. Chunks of chicken breast are marinated in mild Indian spices and yogurt before being air fried to perfection.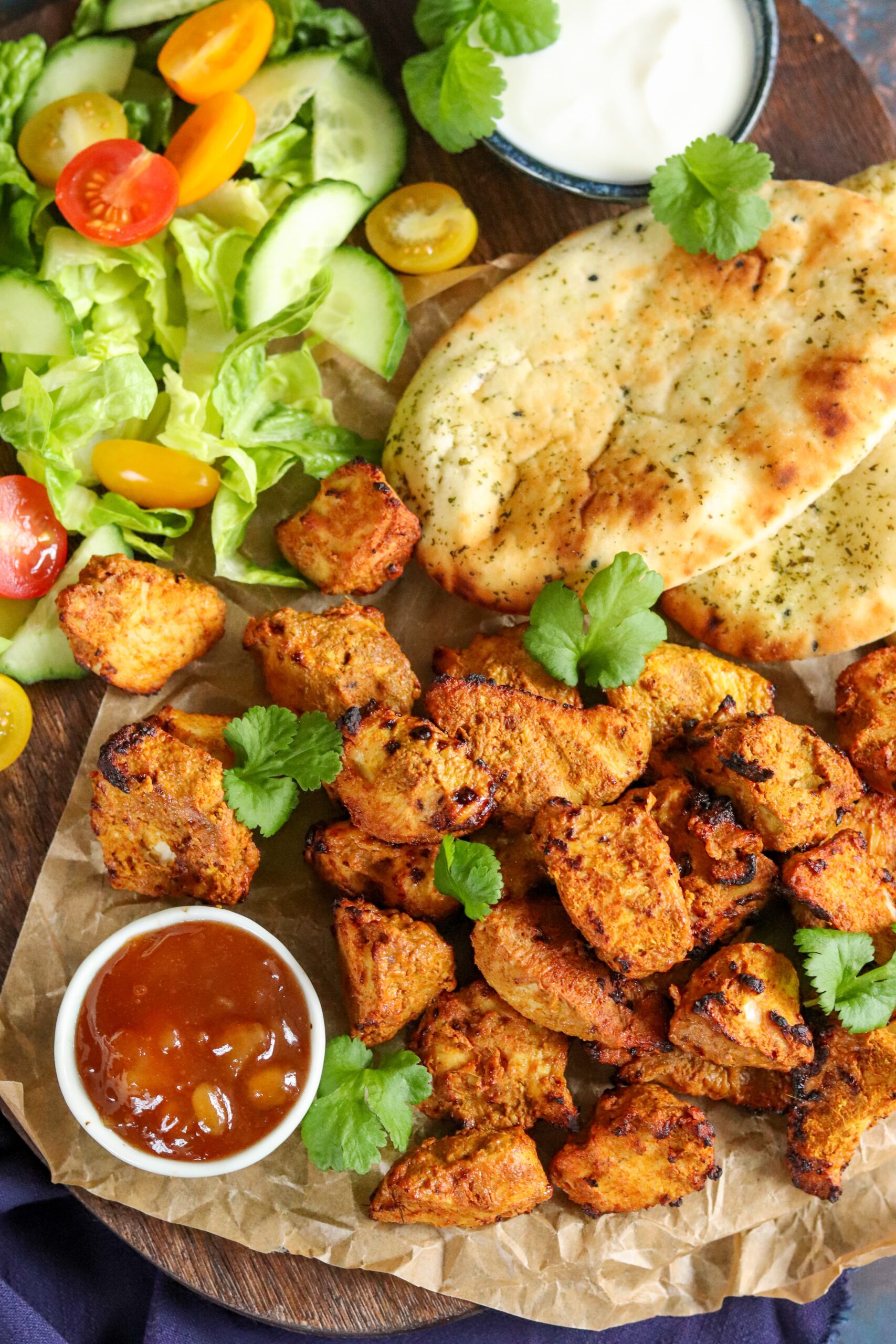 What is chicken tikka?
Chicken Tikka is a dish originating in the Indian subcontinent. It is popular in India, Pakistan and Bangladesh. It is small pieces of boneless chicken skewered and cooked at a high heat, usually in a tandoor.
The chicken is marinated before being cooked in a mixture of spices and yogurt to make it more flavoursome. It is traditionally brushed with ghee (clarified butter) whilst cooking to enhance the flavours further.
Chicken Tikka shouldn't be confused with Chicken Tikka Masala which takes traditionally marinated chicken pieces and serves them in a rich and creamy tomato based sauce.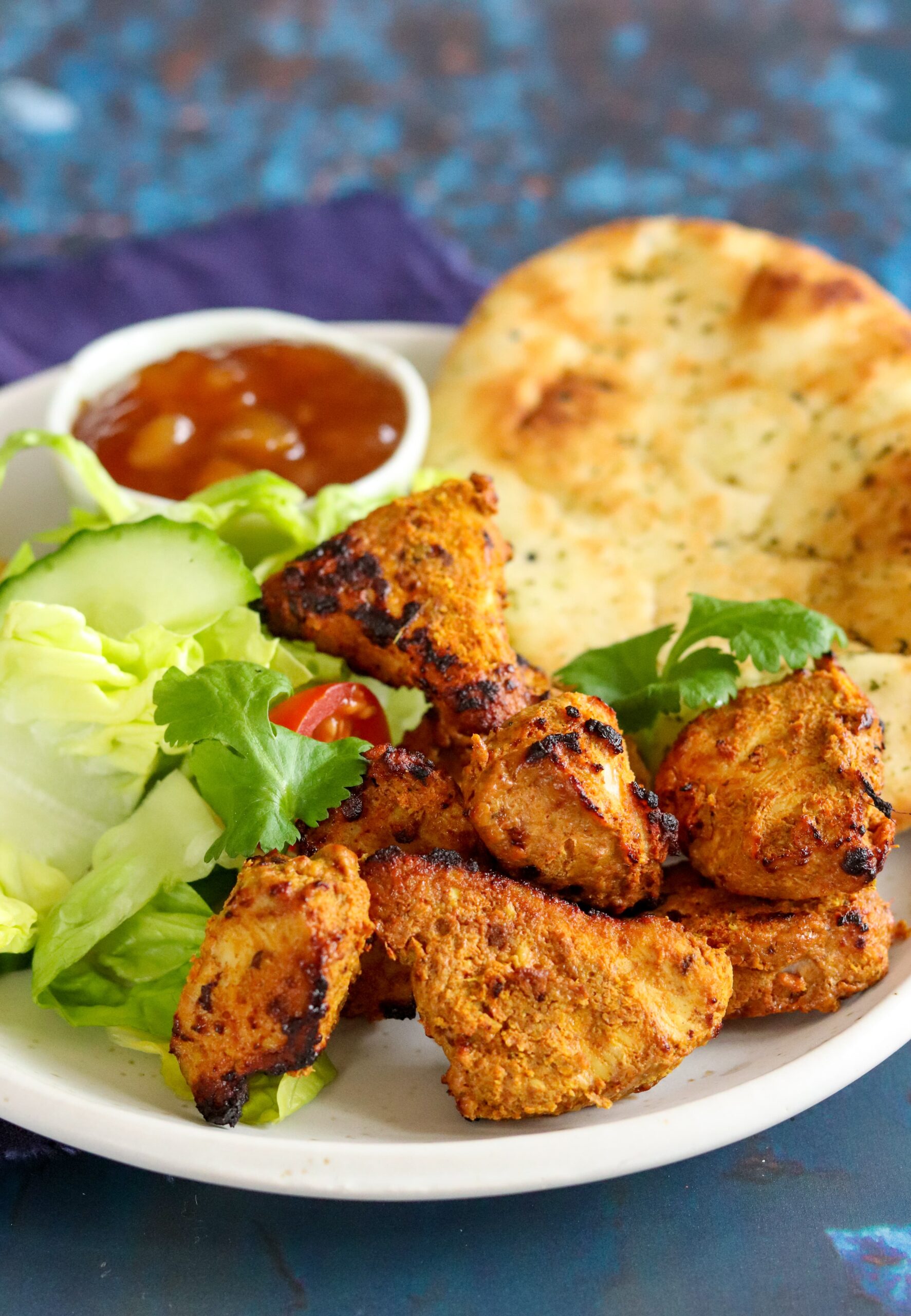 Why air fry the chicken tikka?
I have been making my Chicken Tikka recipe for years, but cooking it by either by using the indoor grill (broiler) or on the BBQ. I also even have a Slow Cooker Chicken Tikka recipe.
Adapting the recipe to be cooked in an air fryer was an obvious step. Cooking the chicken tikka in an air fryer is quicker than using a grill and you still get the iconic char marks.
The quicker cooking time is a great for reducing energy costs and therefore saving pennies. This version of my chicken tikka recipe also requires less hands on time which along with the reduced cooking time makes it great for busy families.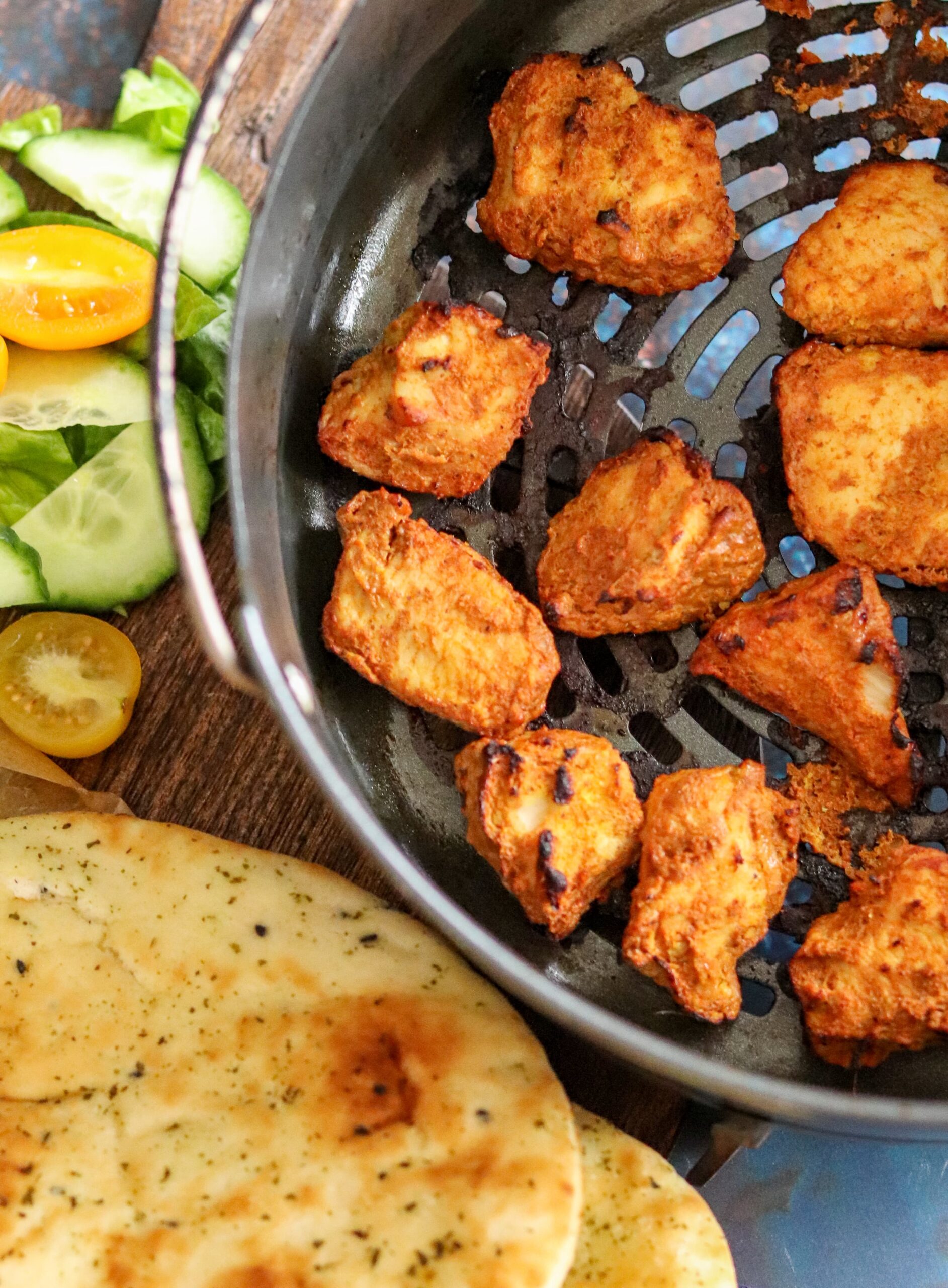 What is garam masala and tandoori masala?
Garam masala is a blend of spices commonly used in Indian, Bangladeshi and Pakistani cooking. Although the spices used can vary, when bought as a ready made mix in the UK it usually includes garam masala usually includes cinnamon, peppercorns, cardamom, coriander seeds, cloves and nutmeg.
It is an incredibly handy spice blend to use because you don't need to have all of the separate spices.
Tandoori masala is a spice mix which is commonly used in tandoori chicken. This is very similar to chicken tikka but uses pieces of chicken on the bone.
It is another spice mix that varies depending on region, but it usually includes garlic, ginger, cayenne. It has a bright red colour which is iconic in chicken tikka.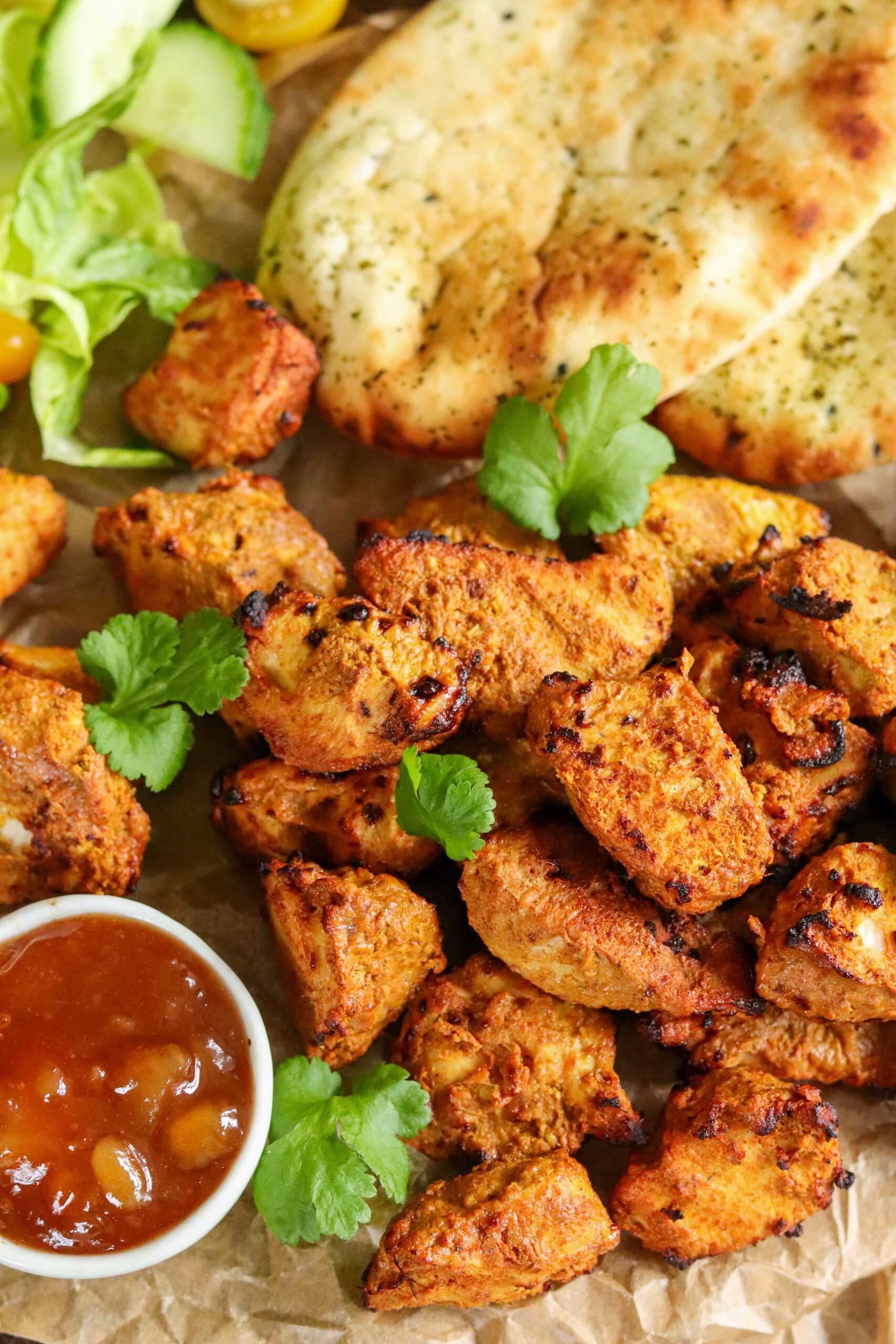 Where can you buy indian spices
You can buy all of the spices for this Air Fryer Chicken Tikka in most large supermarkets. They are widely available.
Some of the spices such as tandoori masala might not be located in the spice aisle though. But don't panic! Make sure you check the world food aisle as this is where you are likely to find it.
Also, although some of the spices can be found in the spice aisle in those little jars, you might find them cheaper in the world food aisle.
You can also find these spices at Asian supermarkets and grocers. Keep an eye open because you might also find them in your local corner shop.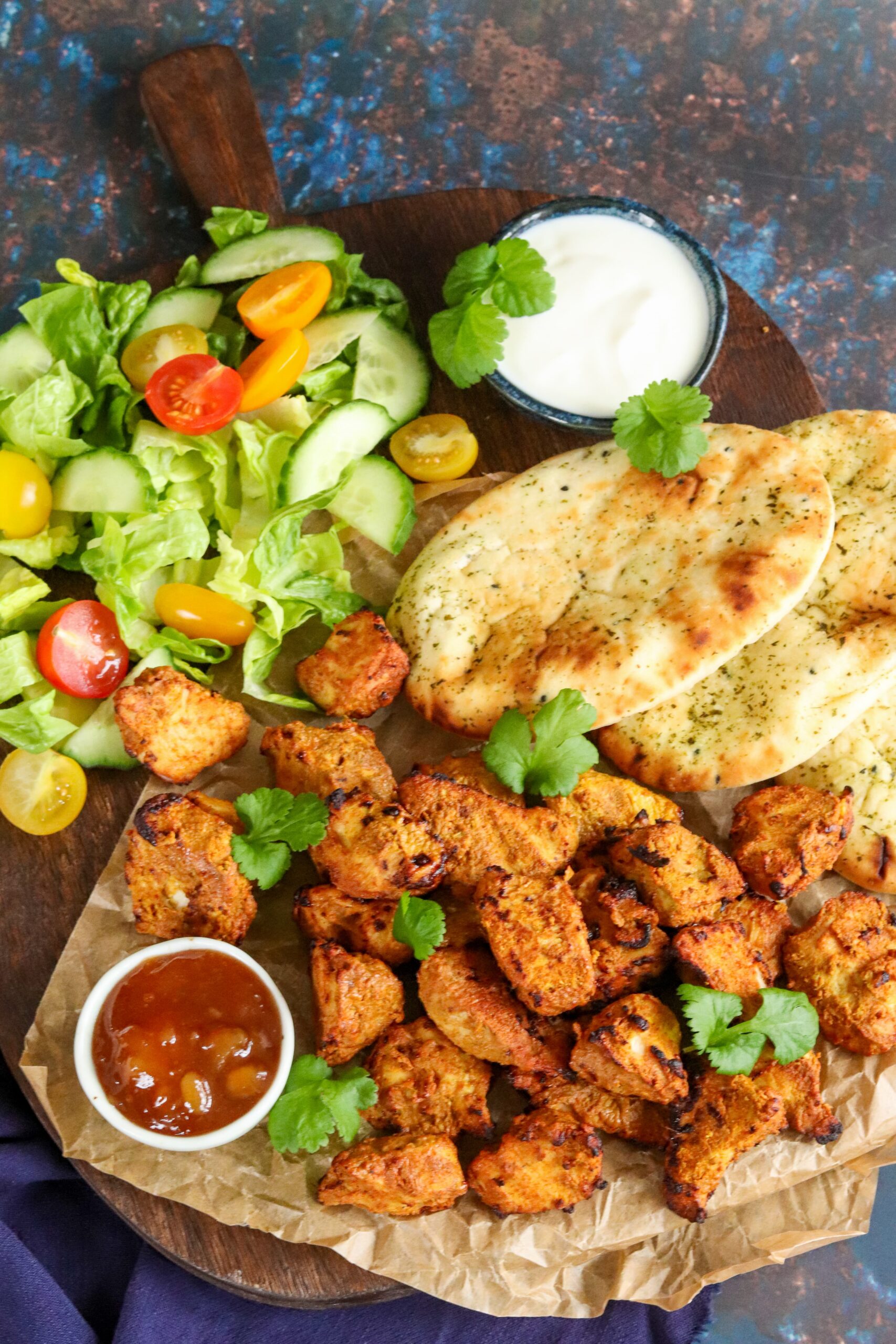 Which cut of chicken is best to use?
You can use chicken breast or thighs for this chicken tikka. I have used both thighs and breast for this recipe and both work really well.
Chicken thighs have slightly more fat which helps to keep the chicken succulent. However marinating the chicken and spraying it with oil during the cooking helps prevent the chicken becoming dry, so breasts would work just as well.
Use whichever you prefer, or even a mix of both.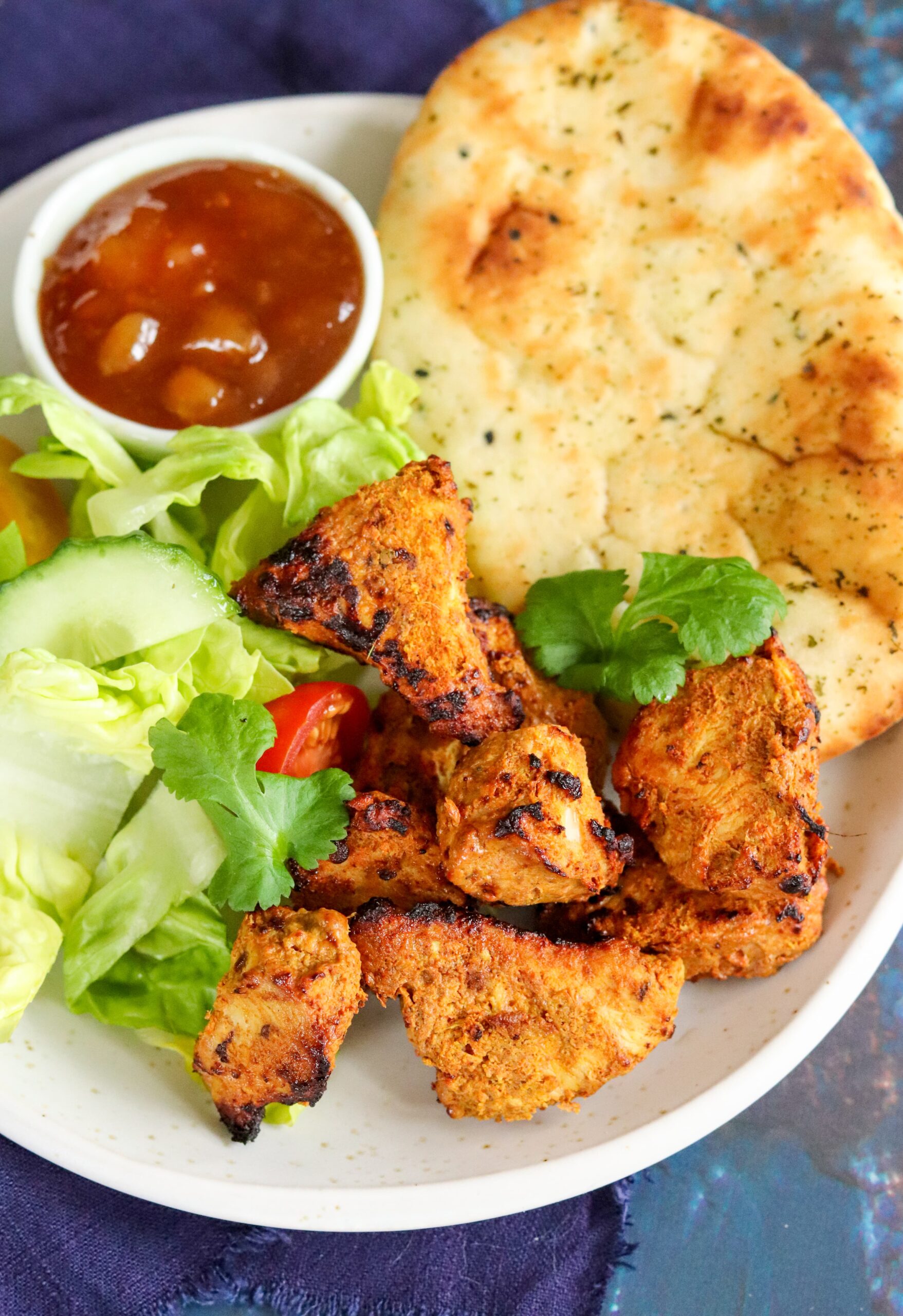 Resist temptation and allow the chicken to marinate!
I know you might be excited to get cooking, but the longer you leave the chicken to marinate, the more delicious your chicken tikka will be.
Every time you open the fridge you will be met by a delicious waft of spices. Trust me though – resist temptation and leave it for up to twenty four hours to get the best flavour.
Twenty four hours is the ideal amount of time for the flavours to really penetrate the chicken. I would say the minimum amount of time you would want to let the chicken marinade for is two hours.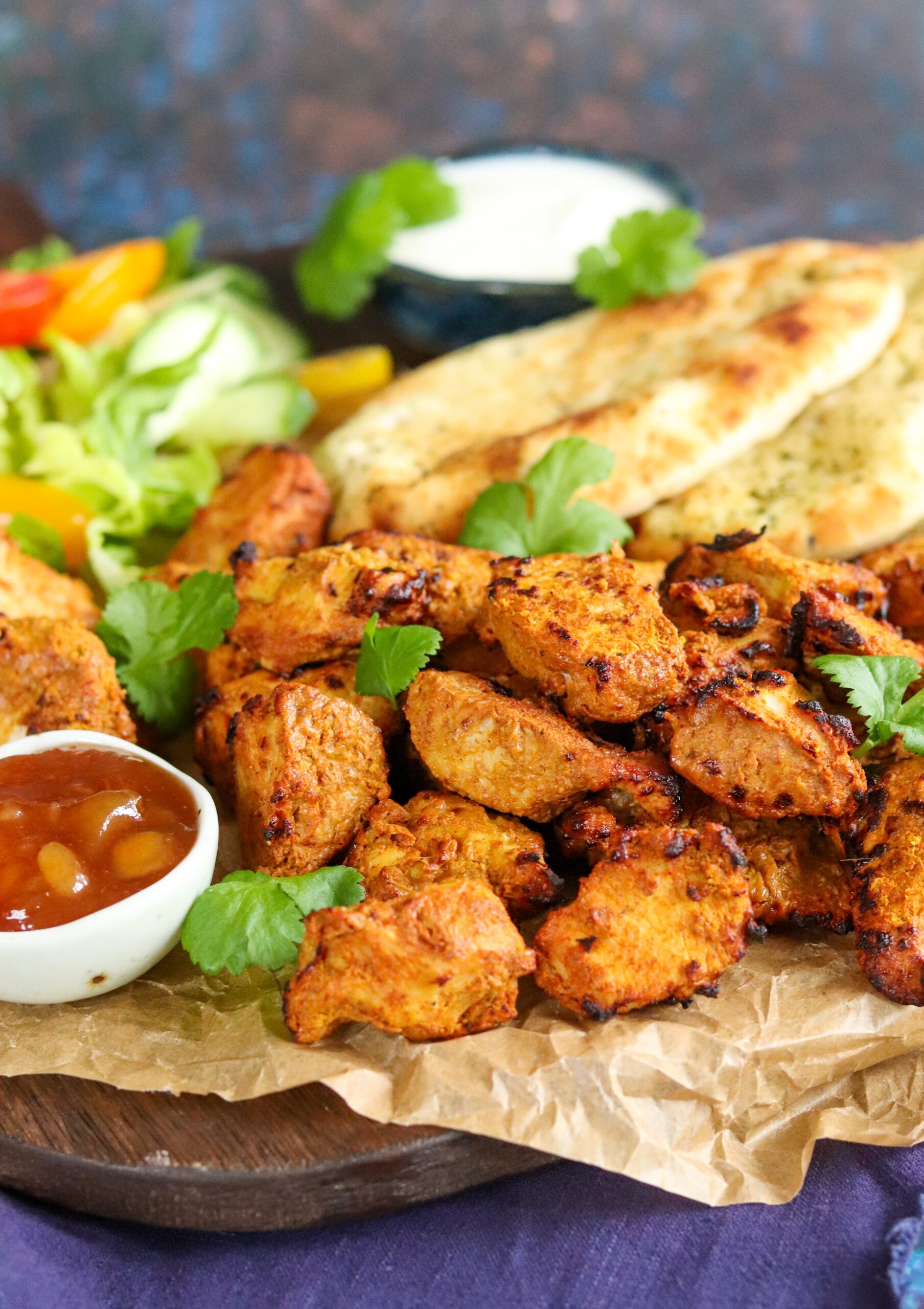 do you need to preheat an air fryer?
That depends on your air fryer, some require preheating whilst others don't. I have a Ninja 7-in-1 multicooker and I have never preheated mine.
If your air fryer does require preheating, check the chicken a few minutes sooner than the recipe states. If your air fryer is warm, food is likely to cook a few minutes faster.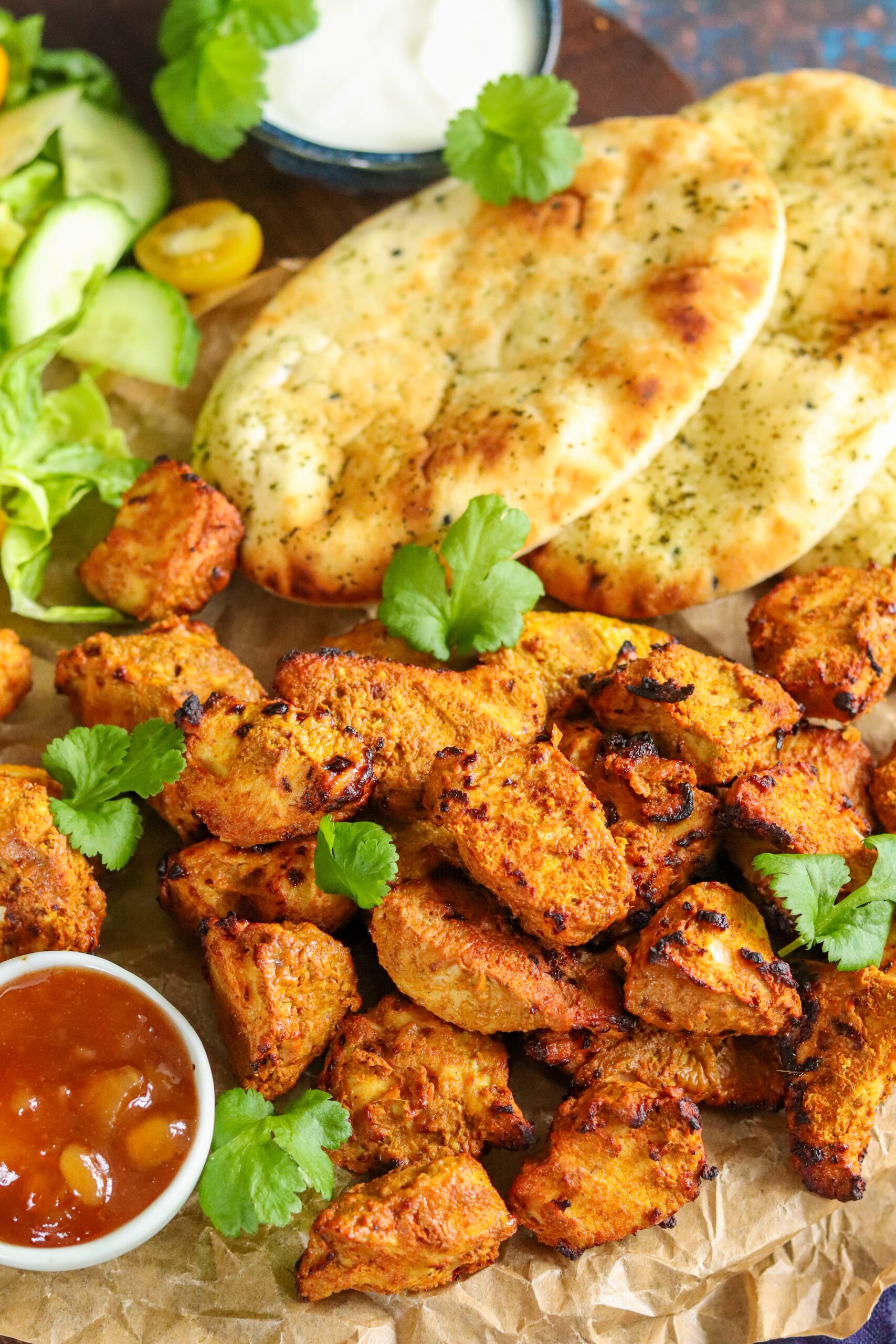 can you use an air fryer liner?
Air fryer liners are a great time saving addition because they are usually easier to wash than the basket of your air fryer.
Most reusable air fryer liners are silicone and although they are handy to have, I wouldn't recommend using them for all recipes.
Usually my advice is to use a liner if you want, but the food can take a little longer to become crisp. However with this chicken tikka recipe, if you do have a liner I really would recommend using it.
Due to the marinade on the chicken and the high cooking temperature, your air fryer basket is likely to get quite messy. If you are able to use a liner it makes the clean up much easier and is well worth the couple of extra minutes the chicken will take to cook.
I've written a whole post on whether you should use an air fryer liner, check it out for more information.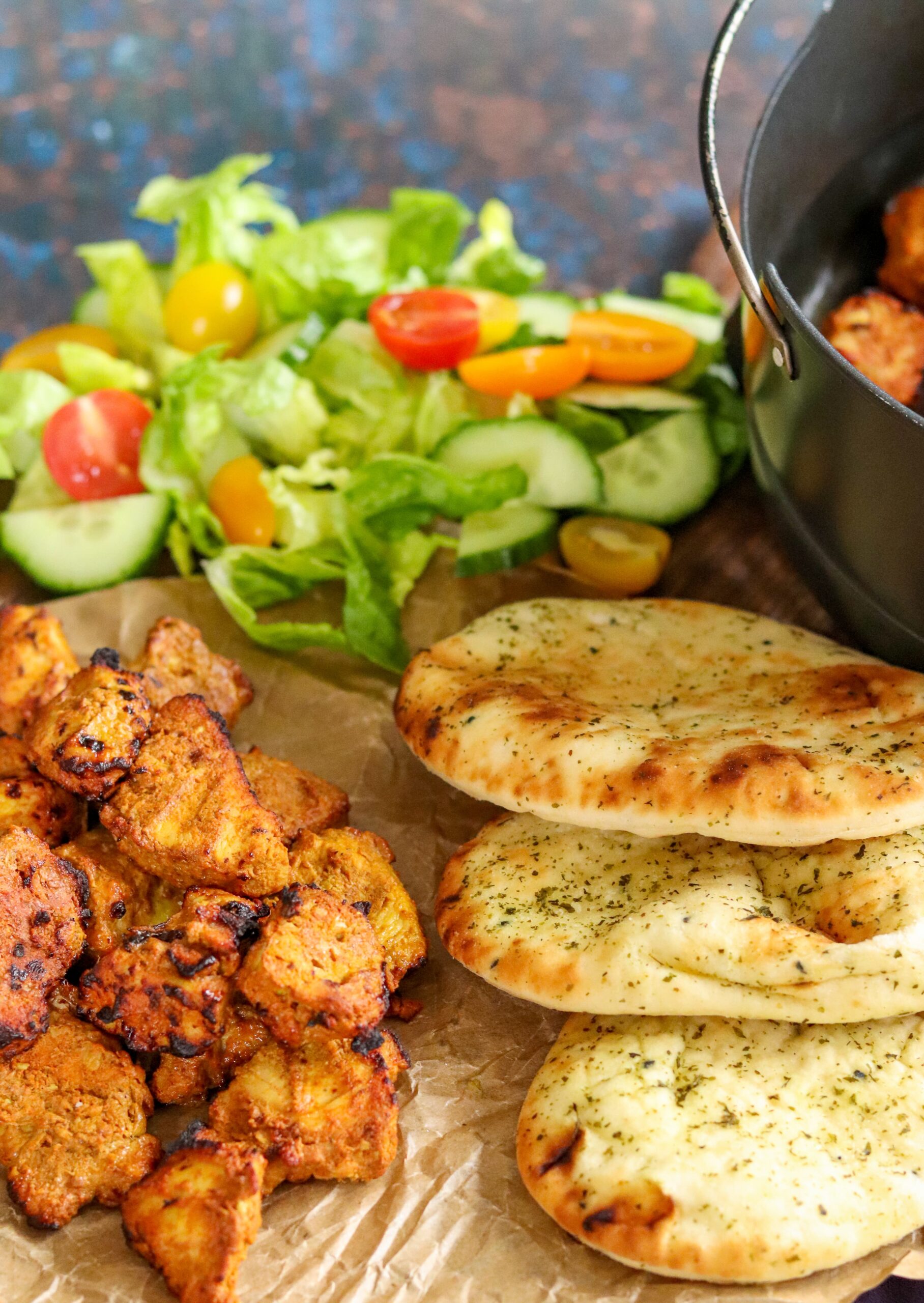 How long will this chicken tikka keep for?
Once cooked, you can keep the chicken tikka in an airtight container in the fridge for up to three days.
You can freeze the chicken in the marinade before it is cooked or once it is cooked and cooled. I'd defrost thoroughly before cooking as the recipe states below.
If you did want to reheat it, I would spray it with oil and put it in the air fryer for 5 minutes, or until it is heated all the way through.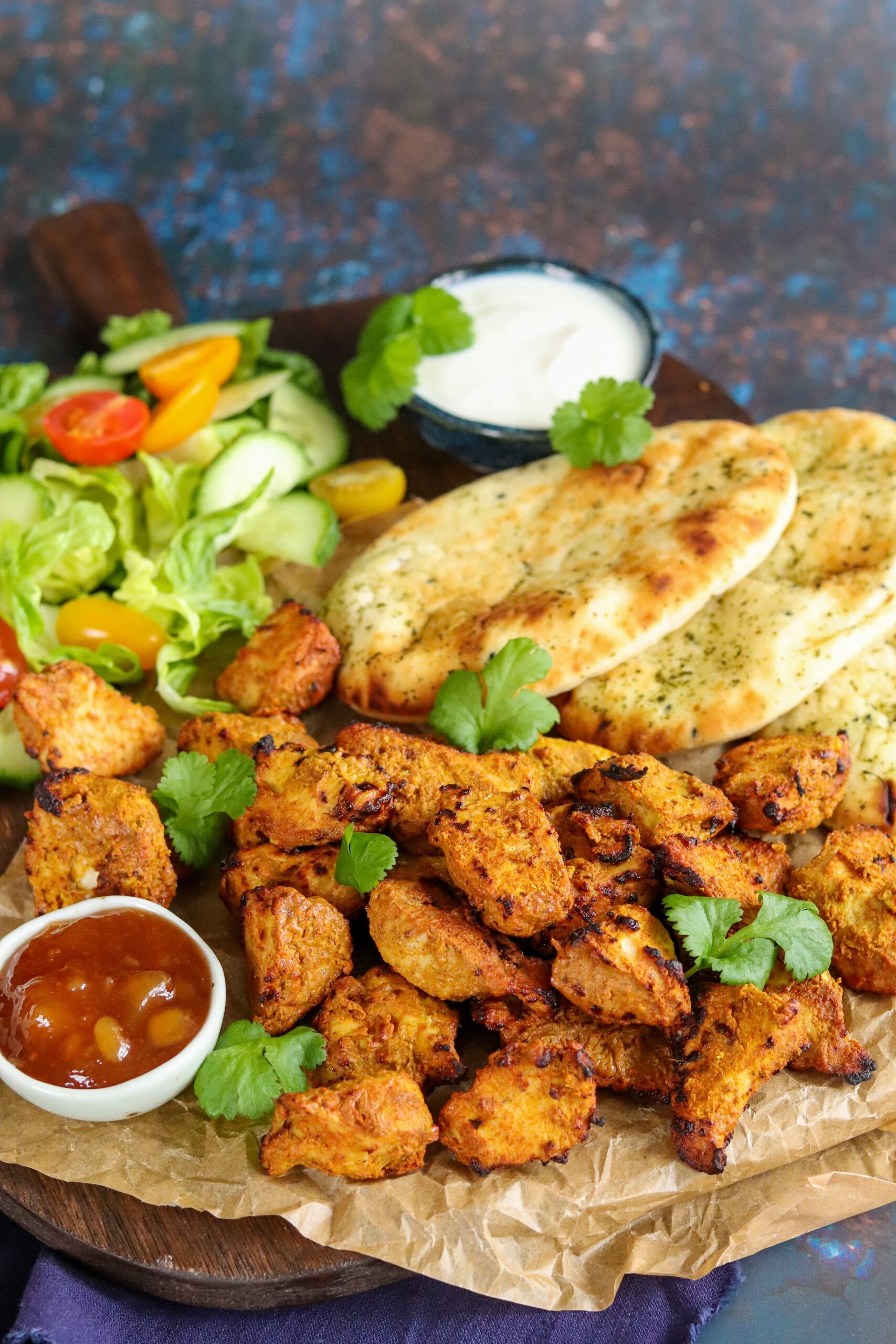 How to serve Air Fryer Chicken Tikka
This chicken tikka is delicious eaten hot or cold. I love to serve it in Easy Flatbreads or Naan with salad when it is hot or cold.
You could also serve it with my Vegetable & Lentil Curry, Sweet Potato & Chickpea Curry or coriander rice instead.
I really recommend serving it with some sort of sauce. All of the below would be perfect with this chicken tikka: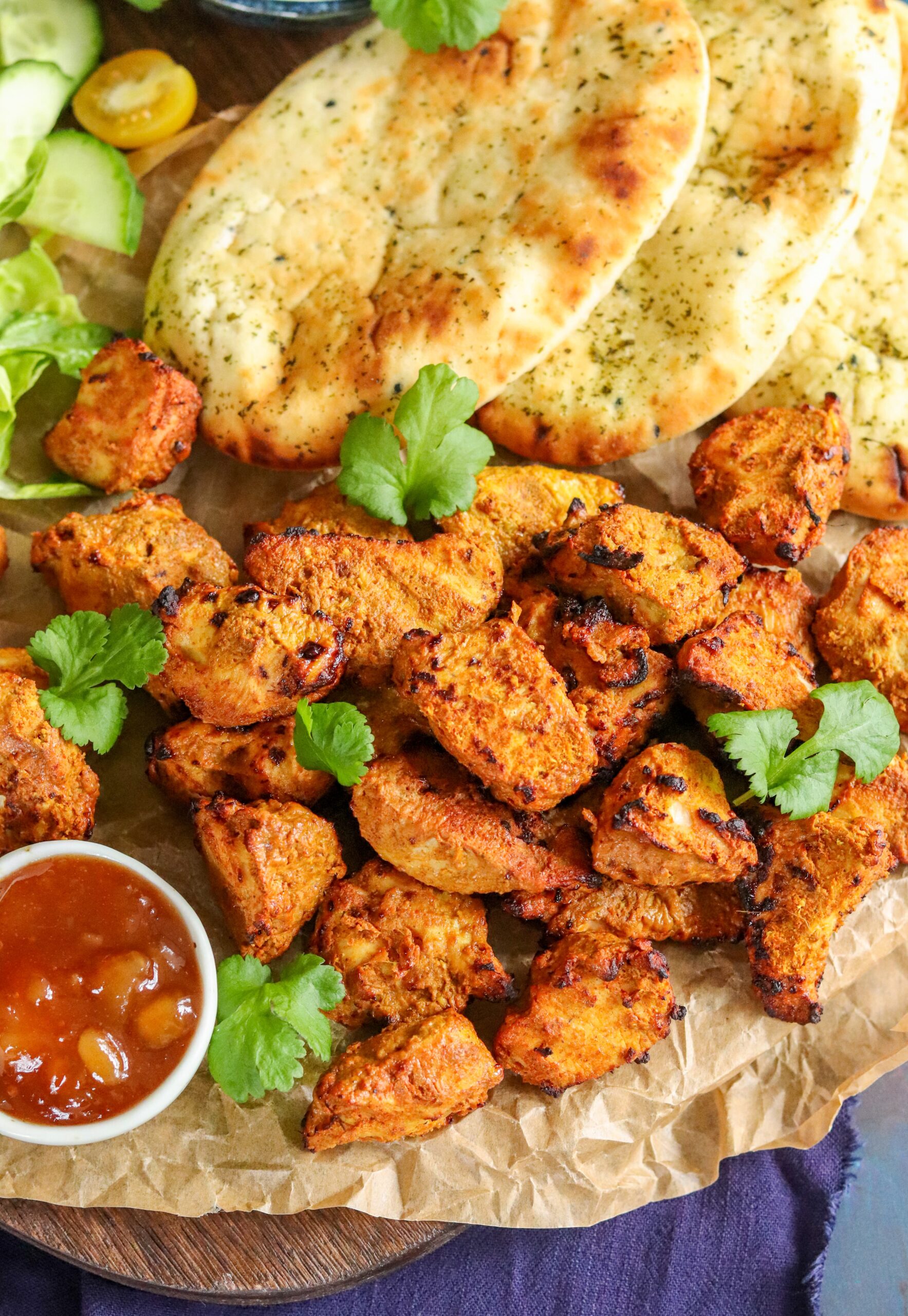 Other recipes you might like
Pin for later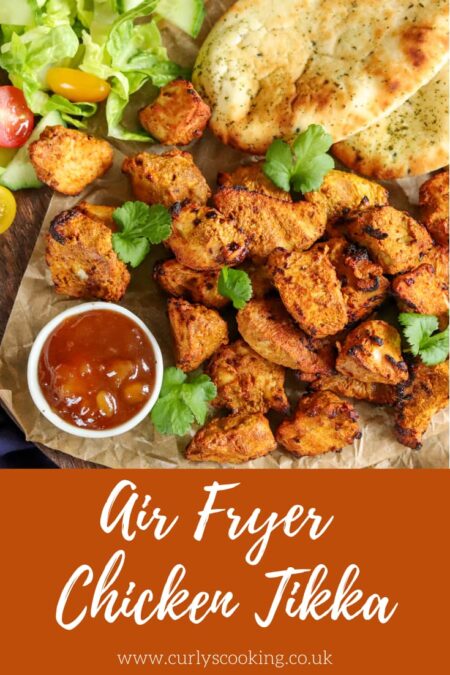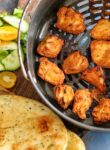 Air Fryer Chicken Tikka
This Air Fryer Chicken Tikka recipe achieves the characteristic char we all know and love from a traditional tandoor but with minimal effort at home. Chunks of chicken breast are marinated in mild Indian spices and yogurt before being air fried to perfection.
Total Time
1
day
27
minutes
Ingredients
500

g

chicken

½

tbsp

lemon juice

1

tsp

sea salt

½

tsp

caster sugar

125

g

low fat Greek yogurt

1

tbsp

garlic puree

1

tbsp

ginger puree

1½

tbsp

tandoori masala spice mix

½

tsp

tumeric

½

tsp

garam masala

½

tsp

ground coriander

¼

tsp

chilli powder
Instructions
Put 500g chicken cut into chunks into a large bowl. Add ½ tbsp lemon juice, 1 tsp sea salt, ½ tsp caster sugar, 125g low fat Greek yogurt, 1 tbsp ginger puree, 1 tbsp garlic puree, 1½ tbsp tandoori masala, ½ tsp tumeric, ½ tsp garam masala, ½ tsp ground coriander and ¼ tsp chilli powder to the chicken and stir until completely mixed

Cover the bowl and leave to marinate in the fridge for 2-24 hours

Preheat your air fryer if needed

Place the marinated chicken in your air fryer leaving space for the air to circulate – you may need to cook the chicken in a couple of batches depending on the size of your air fryer

If you are using a air fryer liner, cook at 200°C for 12-15 minutes turning half way

If you're not using a liner, cook at 200°C for 10-12 minutes turning half way
Recipe Notes
The chicken tikka may vary in cooking time depending on the size you cut the chicken. If in doubt, check the chicken is completely white or reaches 75°C.
If your air fryer requires preheating, check the chicken a couple of minutes before the recipe states.
An air fryer liner would be recommended for this recipe for ease of cleaning.
Nutritional information is given as a guide only and my vary.
Nutrition Facts
Air Fryer Chicken Tikka
Amount Per Serving
Calories 405
Calories from Fat 234
% Daily Value*
Fat 26g40%
Cholesterol 127mg42%
Sodium 913mg40%
Potassium 354mg10%
Carbohydrates 5g2%
Protein 36g72%
Vitamin A 308IU6%
Vitamin C 5mg6%
Calcium 80mg8%
Iron 2mg11%
* Percent Daily Values are based on a 2000 calorie diet.