Crisp puff pastry tart with new potatoes, herbs and cheese. This Puff Pastry Potato Tart is easy and quick to make and so delicious.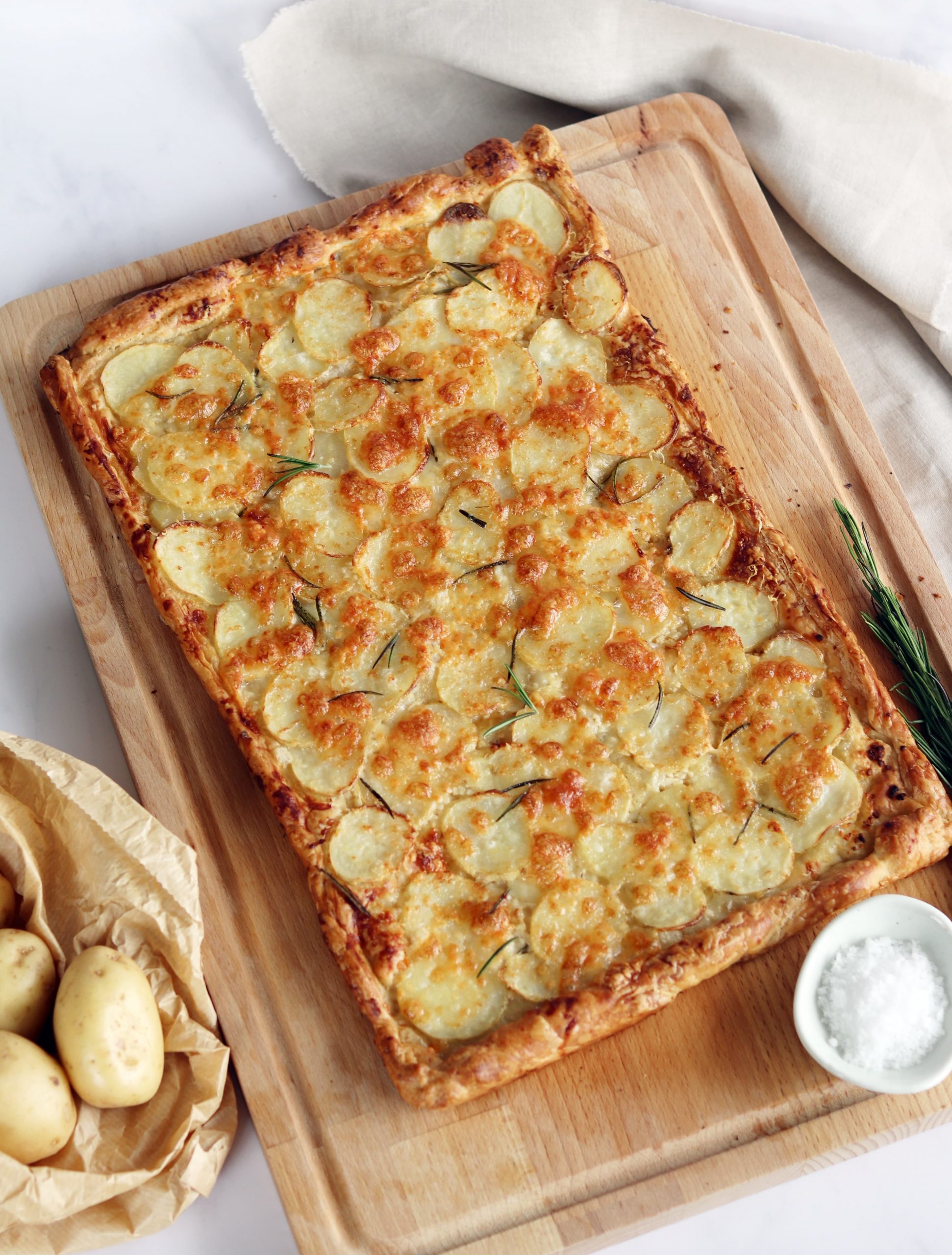 This Puff pastry potato tart is so simple and easy to make
There are quite a few different versions of puff pastry tarts topped with potatoes. I saw one version on Instagram not too long ago and instantly knew I wanted to create my own.
It is so incredibly easy to make this tart and takes very little effort at all. It's also easily customisable to what you have in your fridge; especially helpful in today's situation!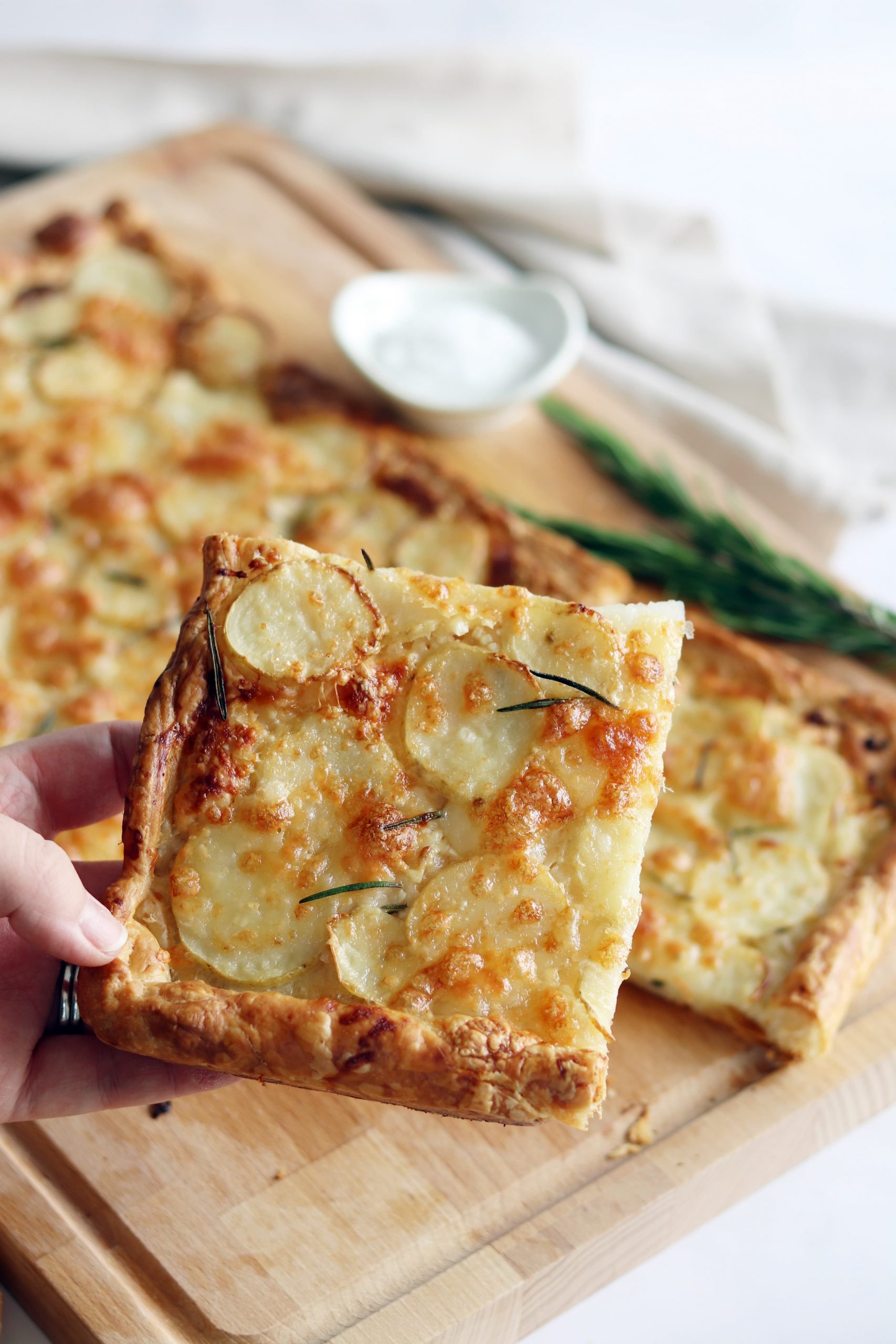 Which potatoes are best to use?
The best potatoes to use for this tart are waxy new potatoes.
New potatoes are simply any potato that is harvested while it is still young. This is before it's natural sugars and turned into starch. There are lots of different types of new potatoes, but the ones marketed in the UK are all typically firm, creamy and waxy.
It is the waxiness in the new potatoes that work best for this recipe. You need the potatoes to hold their shape and texture when cooking. The last thing you'd want it a floury potato that would turn to mush when cooking!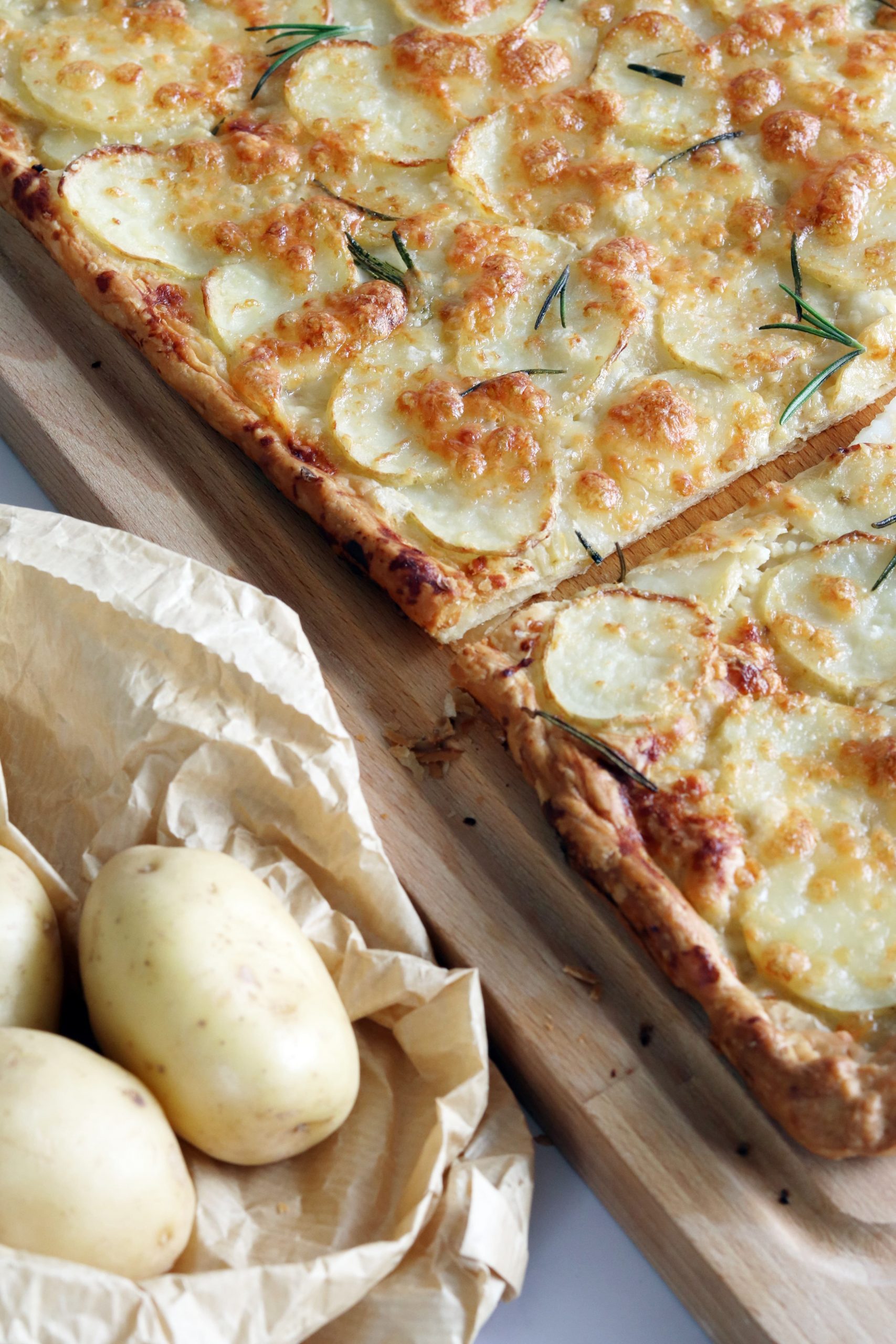 When are new potatoes in season?
Here in the UK, new potatoes are in season from April to July. However you can buy them year round.
New potatoes are sometimes labelled as just that. However they are also labelled according to their type.
Here are some types of new potatoes to look out for:
Jersey Royals – some of the most well known new potatoes in the UK. They are a unique potato with a subtle nutty flavour grown on the Island of Jersey in the English Channel.
Charlotte – these are another popular new potato in the UK often used for making potato salad
Anya – another nutty flavoured potato with a longer, more knobbly appearance
Baby – this is a generic name given to small new potatoes. They'd have the perfect texture but you would need a few more for this recipe because as the name suggests they are quite small!
Salad – another generic term for new potatoes. Charlotte potatoes are often labelled as salad potatoes
Fingerling – these are varieties of potatoes more commonly found in the US. They are longer and knobbly similar to Anya potatoes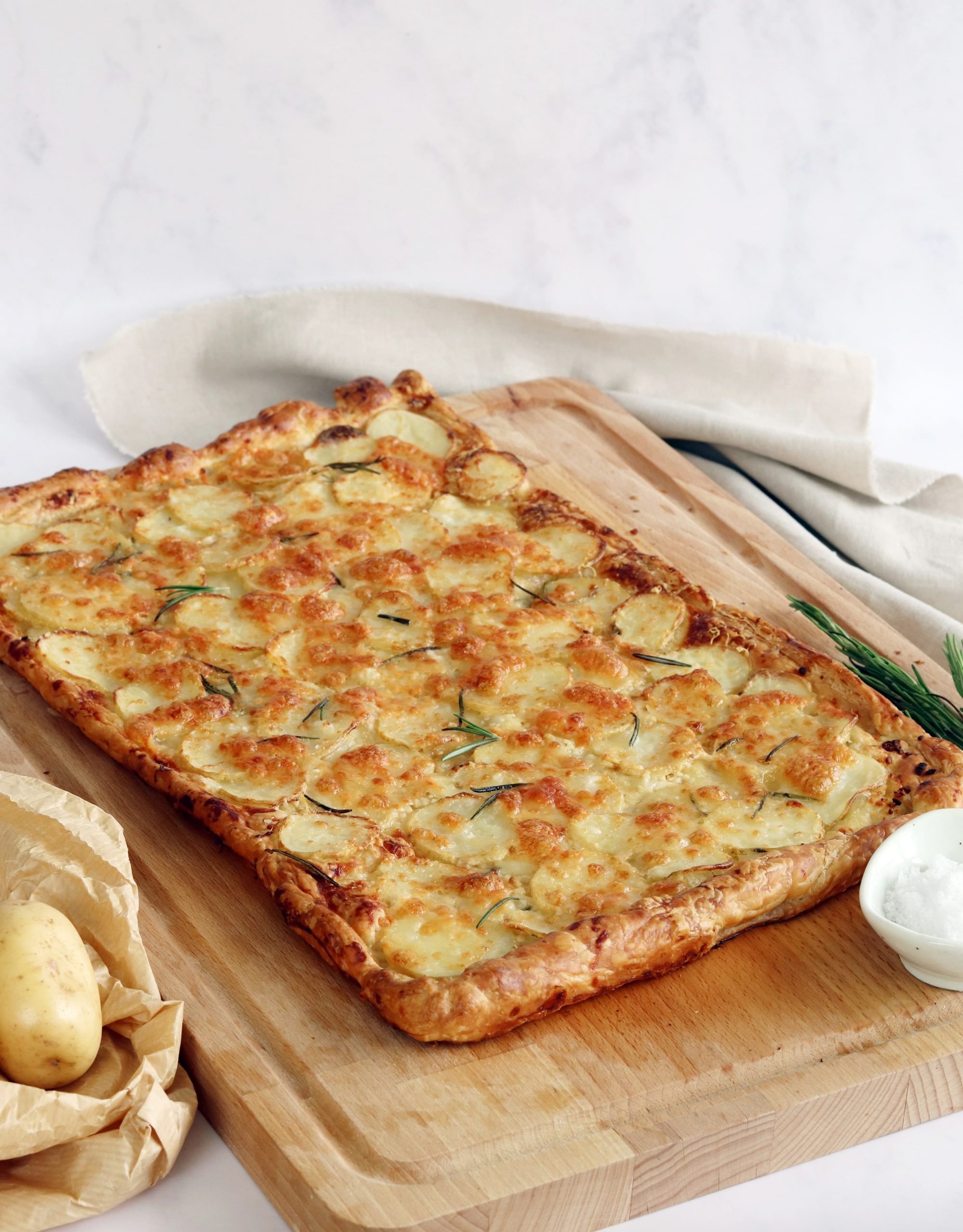 How is best to cut the potatoes so they are even?
Evenly cut potatoes are essential for this tart to ensure they all cook through.
You can do this by hand with a sharp knife but I think this would be the most time consuming and inaccurate method.
A mandolin, food processor with attachment or slicer would be my preferred methods. These will allow you to get perfectly even slices of potato approximately 2-3mm thick.
You want the potatoes to be thin so they cook through at the same time as the puff pastry. If they are too thick they will be under cooked when the pastry is cooked.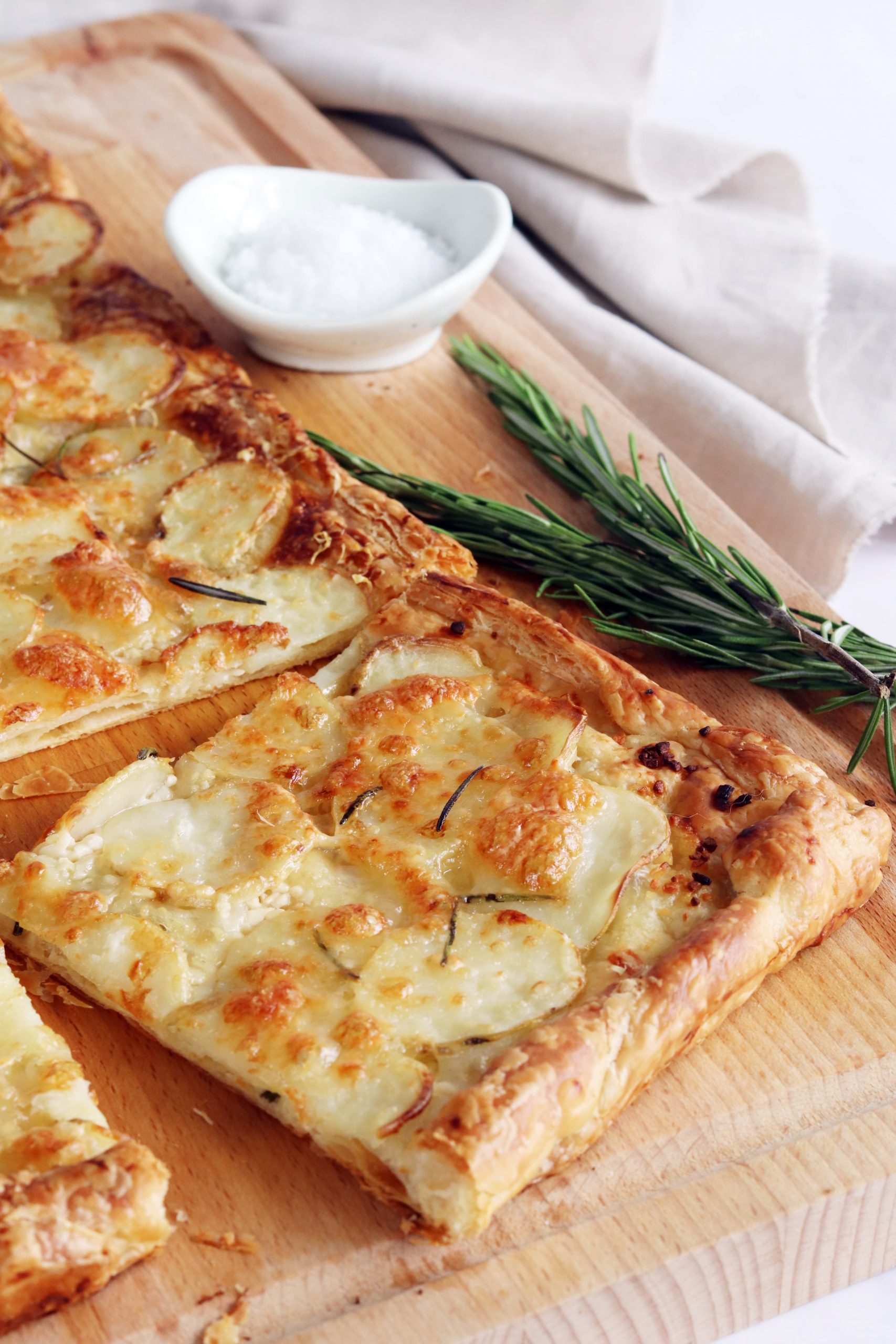 Ready rolled or block pastry?
Notice how I completely avoided the idea of making your own pastry there?
You absolutely can make your own puff pastry. But this is something I don't feel inclined to do.
Shop bought pastry is nothing to be frowned upon. Many cooks and chefs have owned up to using it because it is such a fantastic time saver.
You can buy pastry ready rolled or in a block. I have made this Puff Pastry Potato Tart with both. The ready rolled pastry is definitely easier…because there is no rolling.
If you are using a block of pastry and have questionable pastry rolling skills like me, don't worry. The edges are very forgiving because they get folded over.
And who really minds if the finished tart isn't perfectly rectangular?!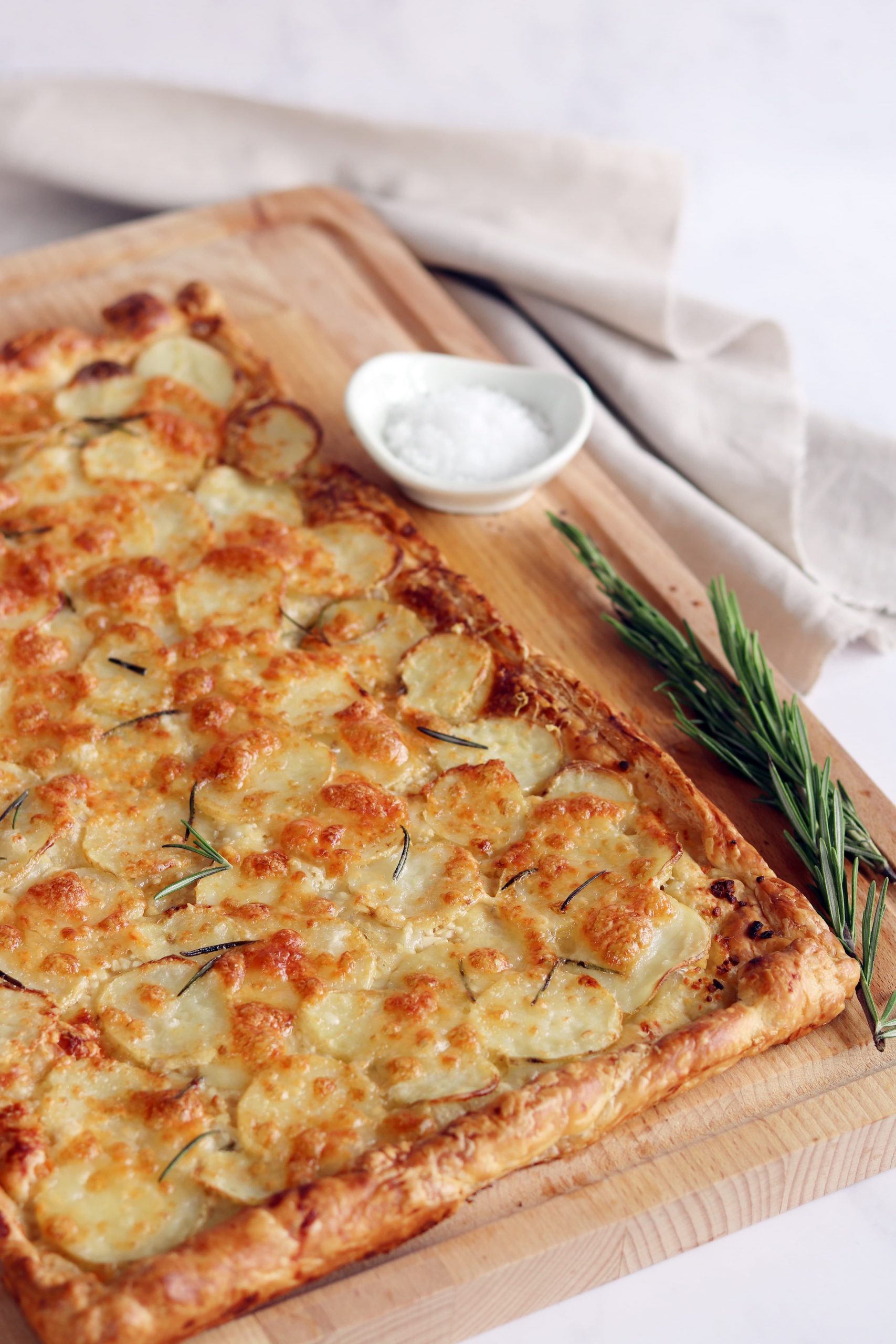 Can I make healthier swaps?
You can buy light pastry in the shop which is made with reduced fat. Personally, I think it tastes the same. But it does have a different texture.
I find it slightly harder to work with. I think the fat in it almost melts and the pastry becomes a lot softer and almost greasy. It also has a tendency to stick to the baking paper it comes with!
I'm not trying to put you off from using it – I used light puff pastry in the photos you can see. But if you aren't too worried about having less fat, I would recommend using standard puff pastry for ease.
I tend to buy reduced fat mozzarella because I find it very hard to tell the difference in recipes like this. You can use whichever you prefer.
As well as the mozzarella, I like to use Parmesan. Aside from the delicious flavour it adds, it is also a relatively healthy cheese. A little also goes a long way.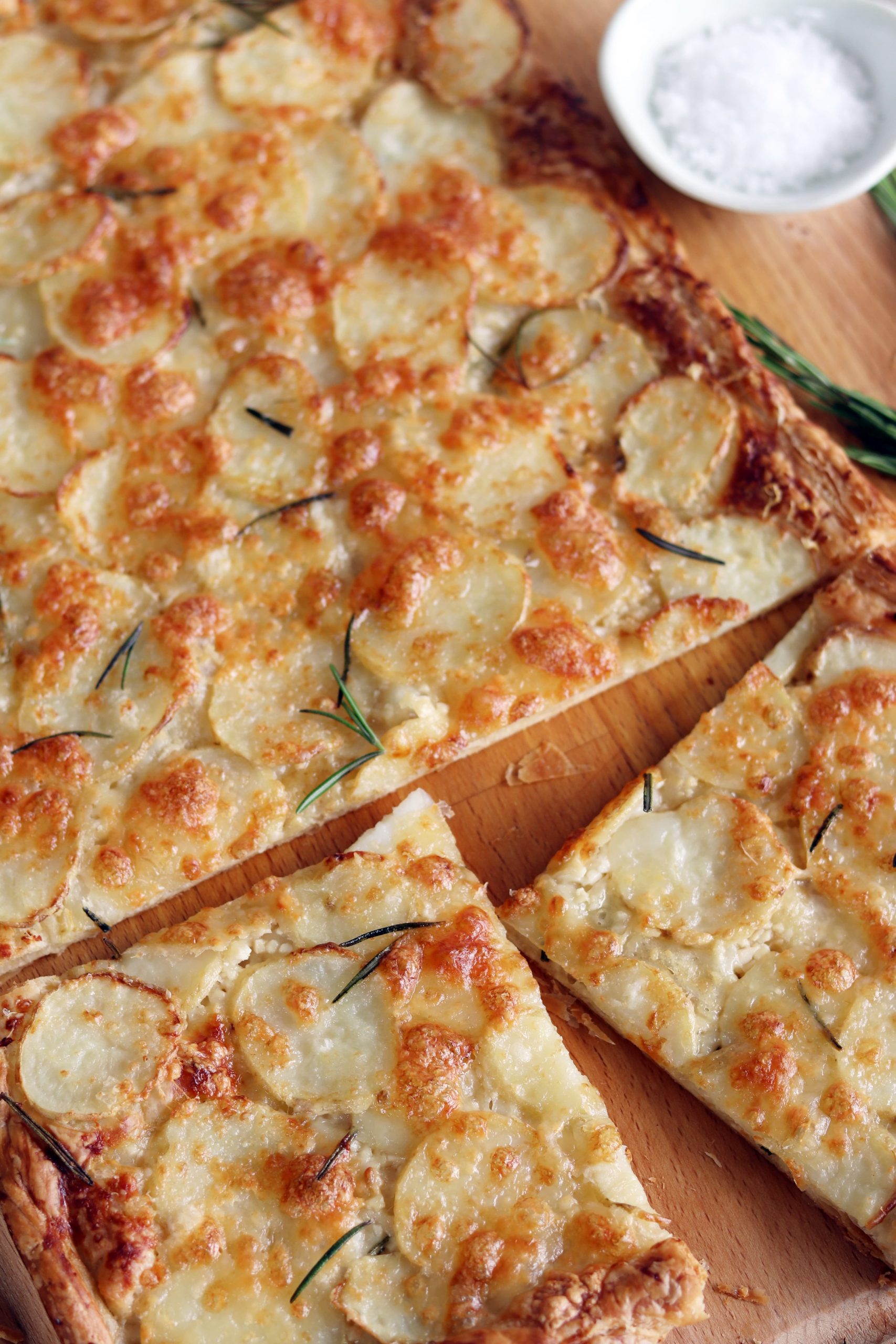 How do you serve this Puff Pastry Potato Tart?
This tart is delicious eaten hot or cold. It can be eaten as it is as a snack or made more into a meal. It would be great to take on a picnic too!
You could serve this tart with a simple salad or something a bit more exciting. My Fig, Prosciutto & Rocket Salad would be perfect when figs are in season.
My Feta Stuffed Peppers would also be a delicious accompaniment, especially on a warm summer's day.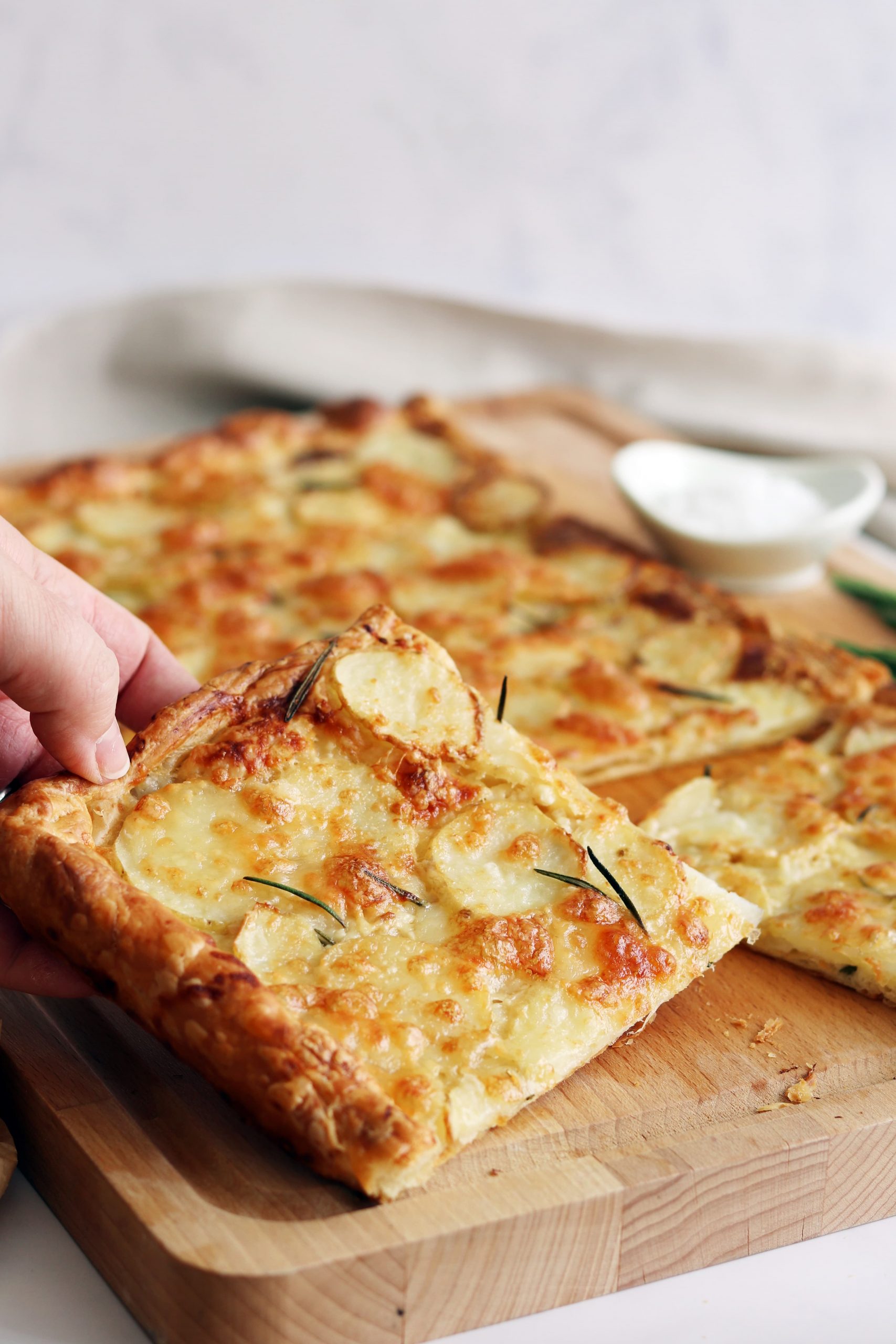 Can I customise this tart?
Absolutely! This Puff Pastry Potato Tart is so easy to customise.
If you don't have fresh rosemary, you can use thyme. If you don't have any fresh herbs, use a sprinkling of dried herbs instead.
I like to use the jarred chopped garlic because it is so handy to have. Fresh garlic doesn't keep as long so the jars of garlic are great. You could also use garlic granules instead.
Fancy making this but don't have mozzarella? Use whatever cheese you have in the fridge. Most people will have cheddar in their fridge and this would work well.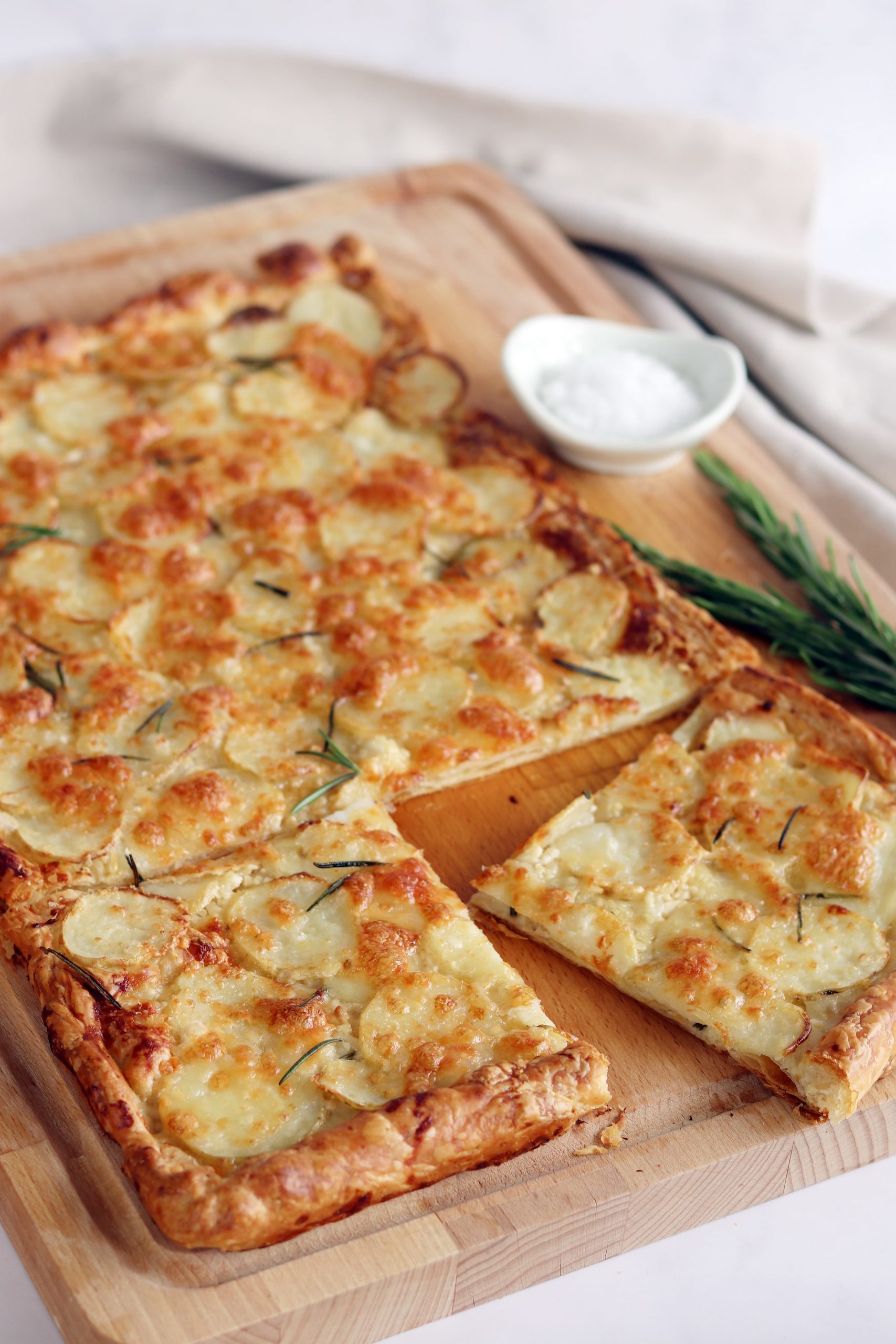 Use the recipe as a guide
Use the recipe below as more of a guide than something set in stone. Different supermarkets and brands use different quantities for their products.
Puff pastry and mozzarella tend to some in slightly larger packets if you use the well known brands. It will really make no difference which you decide to use.
It is also hard to give a precise amount of potatoes to use as new potatoes can vary so much in size. You need to use enough to create one layer of potatoes on the bottom of the pastry.
The potato slices can overlap slightly, but you don't want too many slices on top of each other.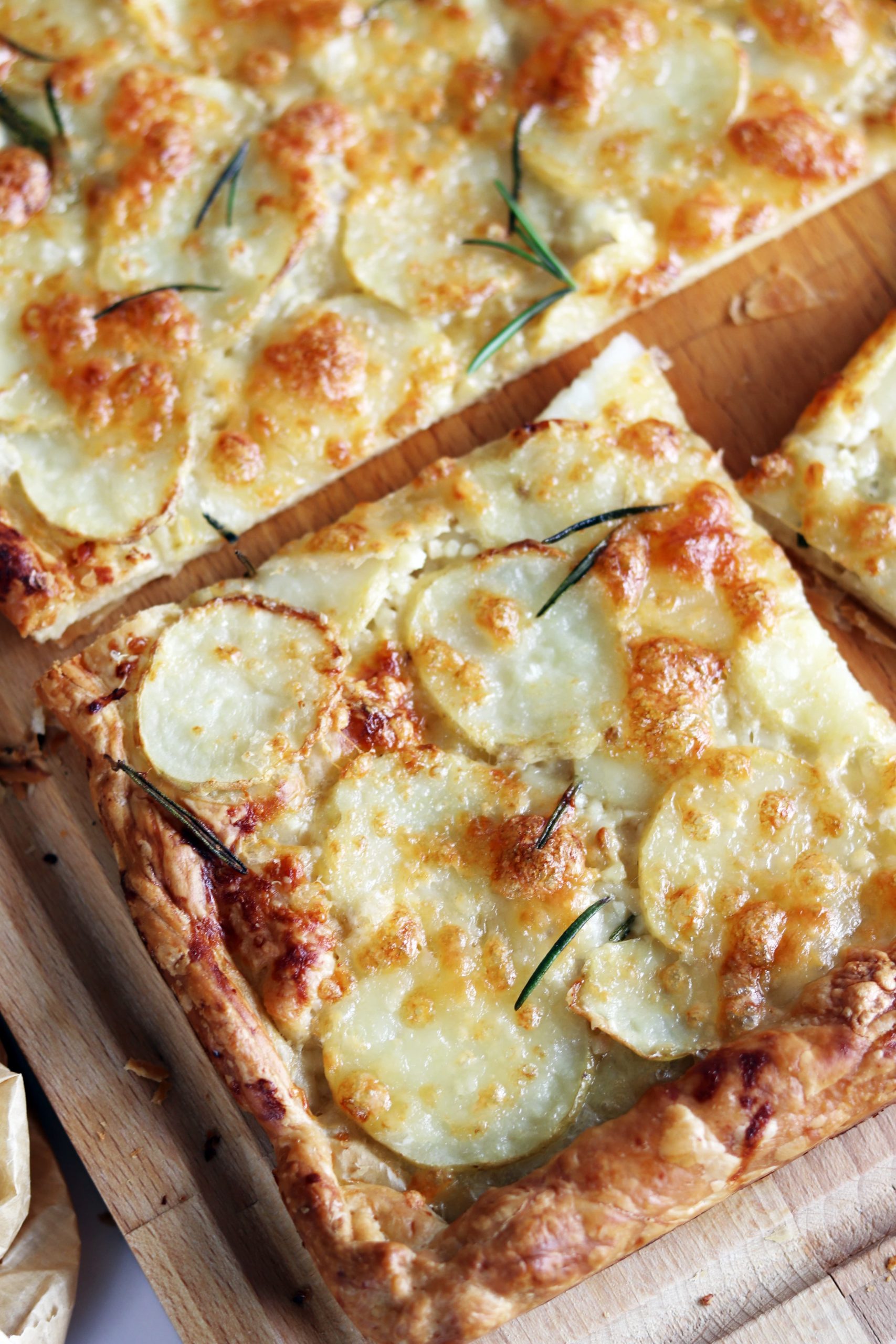 How can I make this tart vegetarian and vegan?
You may think this tart is vegetarian, but the Parmesan actually makes this tart unsuitable for vegetarians. It is incredibly easy to swap this to a vegetarian suitable cheese however.
You may not know that a lot of shop bought pastry is actually vegan. So this Puff Pastry Potato Tart is very easily amended to be vegan too.
Just swap the mozzarella and Parmesan to your favourite vegan cheese and you're good to go!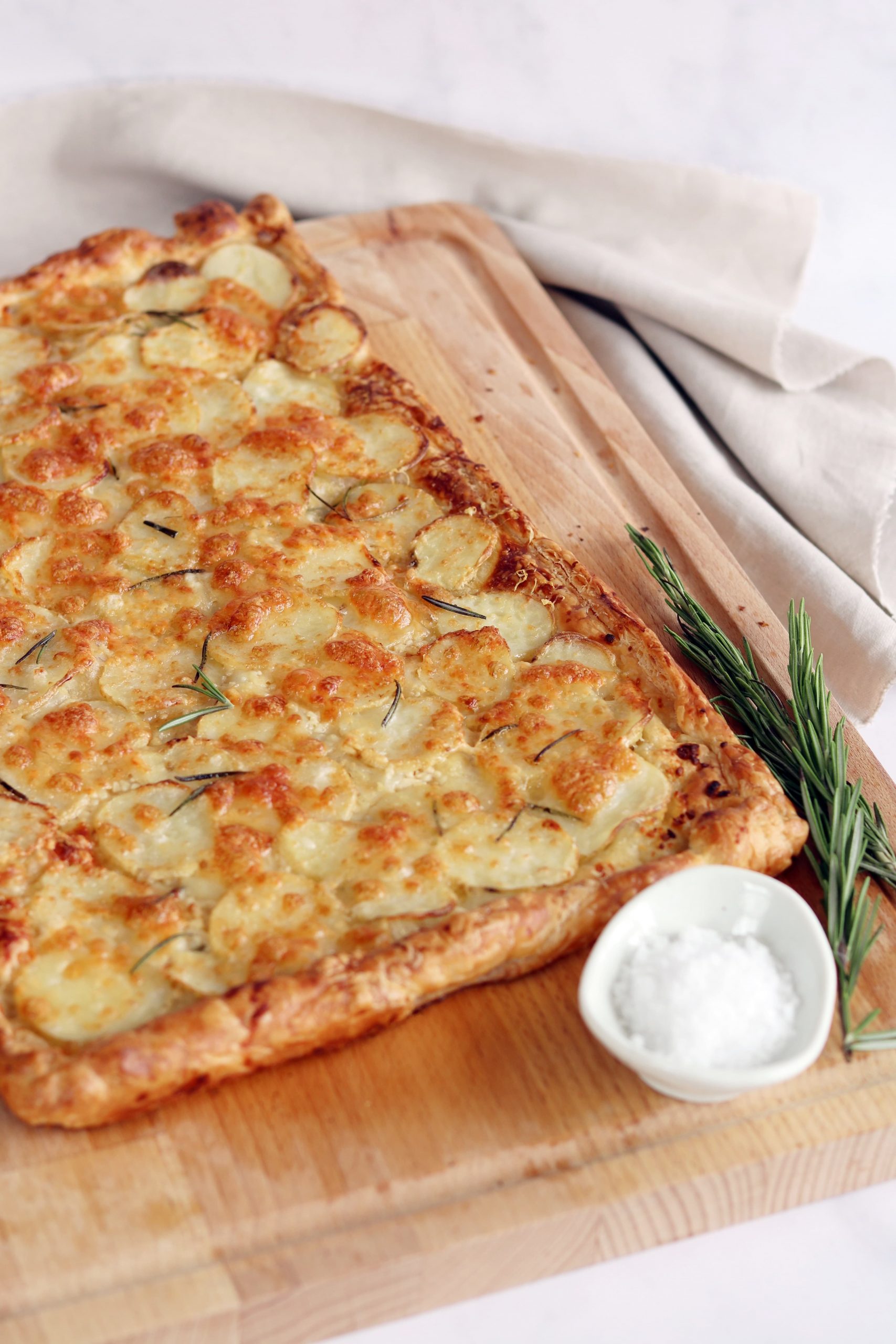 Other recipes you might like
Pin for later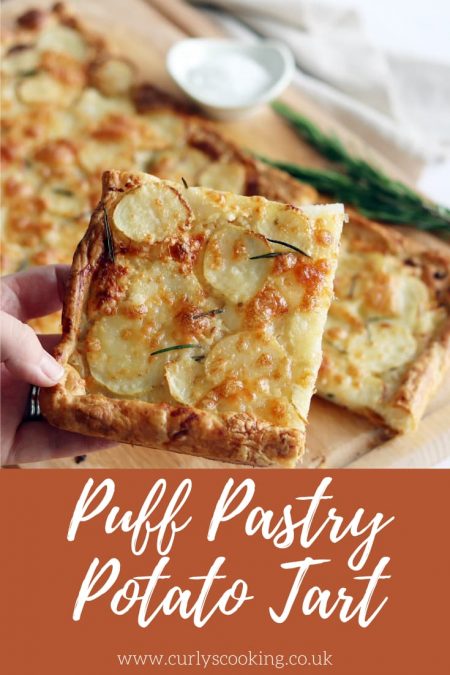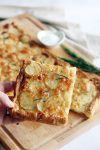 Puff Pastry Potato Tart
Crisp puff pastry tart with new potatoes, herbs and cheese. This Puff Pastry Potato Tart is easy and quick to make and so delicious.
Ingredients
375

g

ready rolled puff pastry

½

tbsp

olive oil

200

g

new potatoes

4-5 new potatoes

2

cloves

garlic

crushed

½

tbsp

fresh rosemary leaves

or ½ tsp dried rosemary

½

tsp

sea salt

210

g

mozzarella

20

g

Parmesan

grated
Instructions
Preheat the oven to 190°C (fan assisted, 210°C non fan)

Unroll the pastry and lay it on a large baking tray. Fold over the edges ½ cm to form a crust/border

Stab the base of the pastry with a fork before brushing with olive oil

Spread the crushed garlic and rosemary evenly over the base of the tart

Using a mandolin or grater, finely slice the new potatoes and scatter them evenly across the tart. Sprinkle over the sea salt

Tear apart the mozzarella and place evenly across the tart. Grate over the Parmesan and drizzle with a small amount of olive oil

Finish by brushing the folded edges with milk

Bake in the oven for 25 minutes or until it is golden brown
Recipe Notes
Nutritional information is given as a guide only and my vary.
Nutrition Facts
Puff Pastry Potato Tart
Amount Per Serving
Calories 443
Calories from Fat 90
% Daily Value*
Fat 10g15%
Cholesterol 30mg10%
Sodium 469mg20%
Potassium 167mg5%
Carbohydrates 7g2%
Protein 10g20%
Vitamin A 263IU5%
Vitamin C 7mg8%
Calcium 222mg22%
Iron 1mg6%
* Percent Daily Values are based on a 2000 calorie diet.
Linking to