Crisp flaky puff pastry filled with spiced chorizo and salty cheese. My Chorizo & Cheese Pinwheels are so addictive you'll find it hard to eat just one!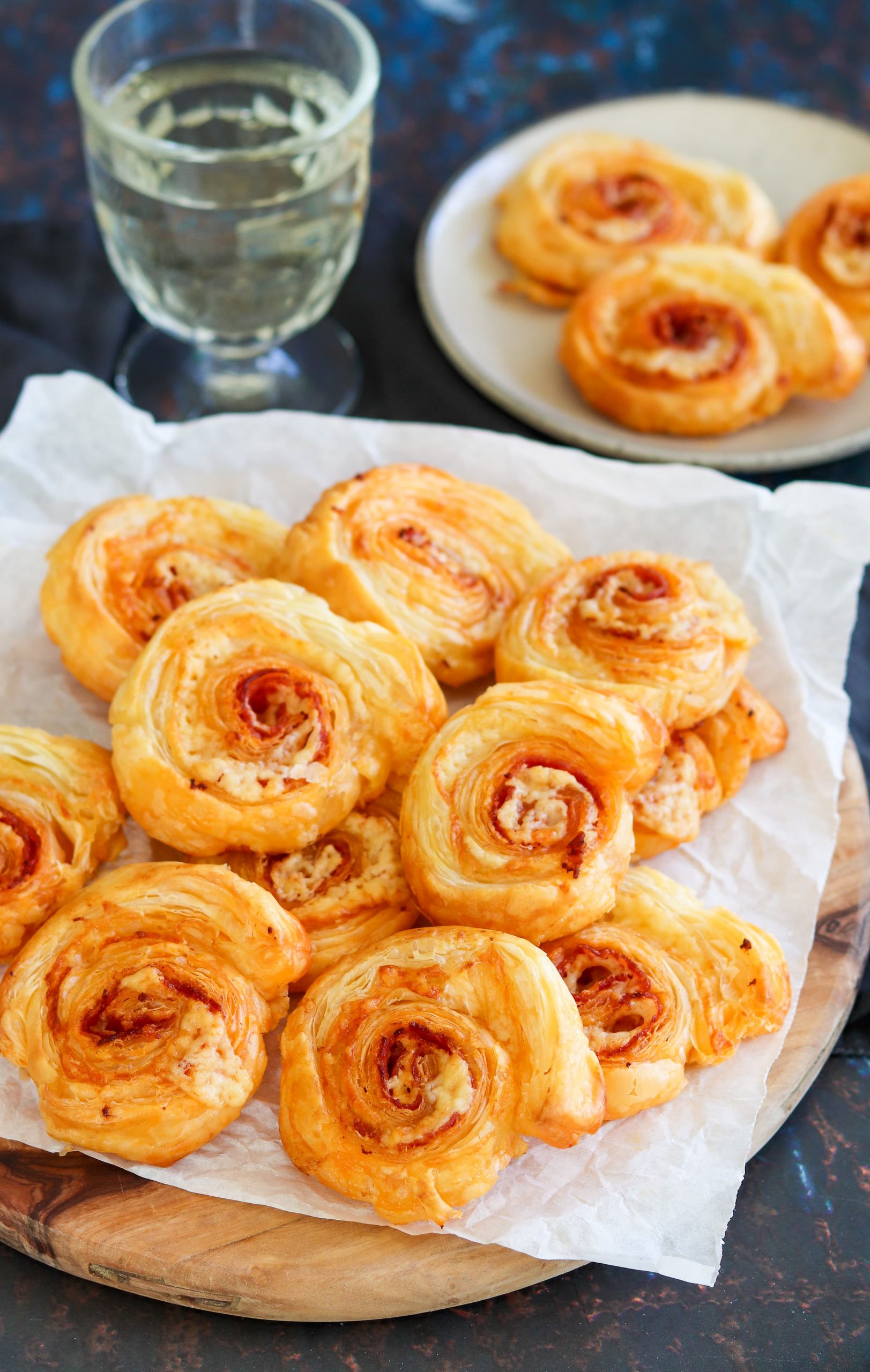 Delicious quick and easy snacks
I love pastry and pinwheels are a great snack to make with it. They are so incredibly easy, quick and most importantly delicious.
They are also very easily adapted to go with lots of great flavours. You may have already seen my Nutella Pinwheels and Cheese & Marmite Palmiers which are so tasty.
I wanted to make a meaty pinwheel to add to my collection and chorizo slices came to mind. Chorizo is great in any form, but chorizo slices really lend themselves to being used in a pinwheel.
I didn't completely cover the pastry with chorizo slices as it is naturally quite high in fat so I wanted to show some restraint. If you want to be indulgent you can add more chorizo.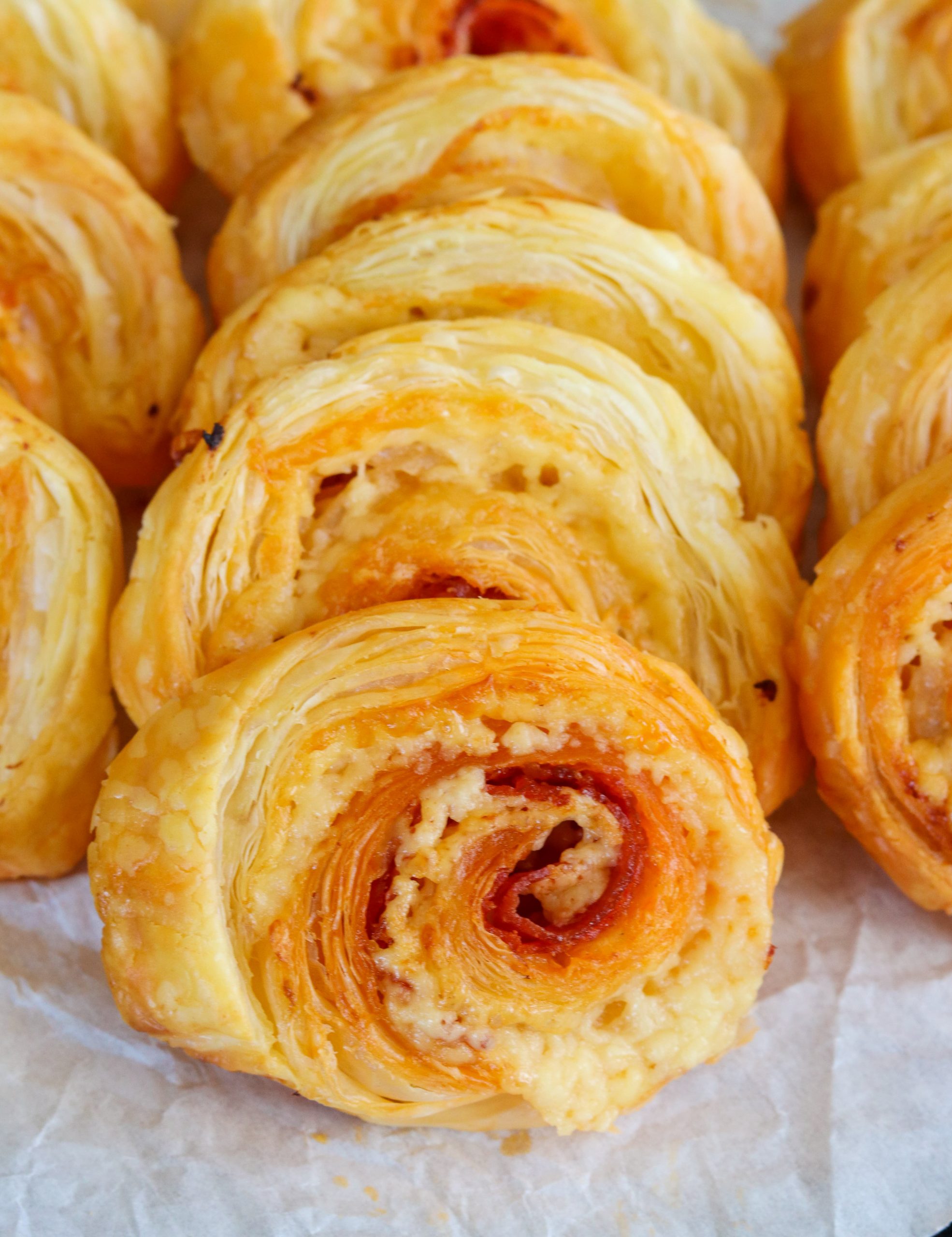 Using shop bought puff pastry isn't cheating!
I have and never will be ashamed of using shop bought puff pastry. There are some things I wouldn't buy and would always make myself, but puff pastry is certainly not one of them!
I not only buy ready made puff pastry but I also buy the ready rolled pastry! For something like these Chorizo & Cheese Pinwheels it is absolutely perfect.
You can of course buy the blocks of pastry and roll them out yourself. This is not a skill I have. I would end up with some unrecognisable shape that definitely wasn't a neat rectangle. So I save time and effort and buy the ready rolled pastry!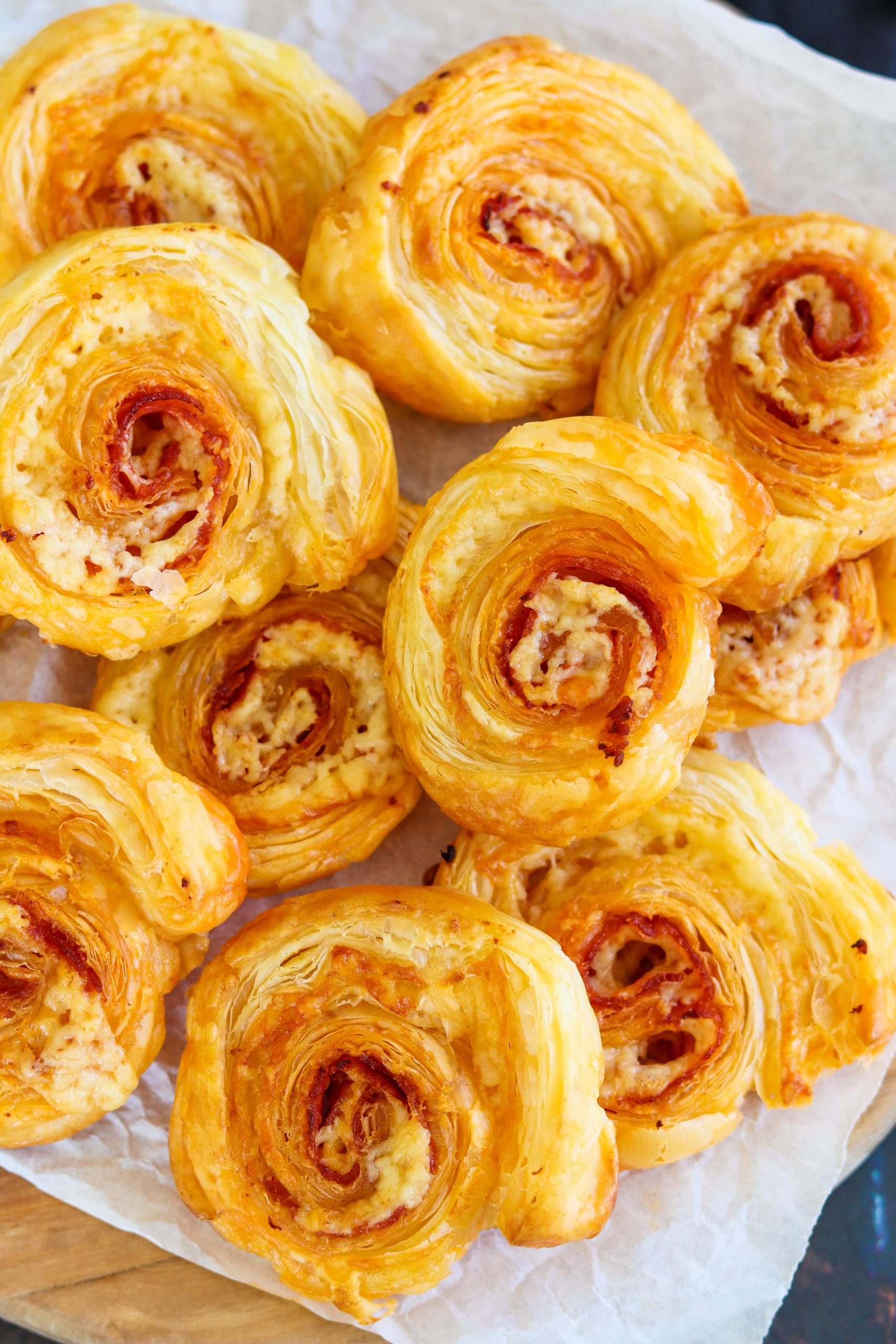 Can you use light puff pastry?
You can definitely use light puff pastry if you would prefer. Personally I think it tastes the same, but it does have a different texture before it is cooked.
I find it slightly harder to work with. I think the fat in it almost melts and the pastry becomes a lot softer and almost greasy. It also has a tendency to stick to the baking paper it comes with!
Standard puff pastry is definitely easier to use so this is what I would recommend.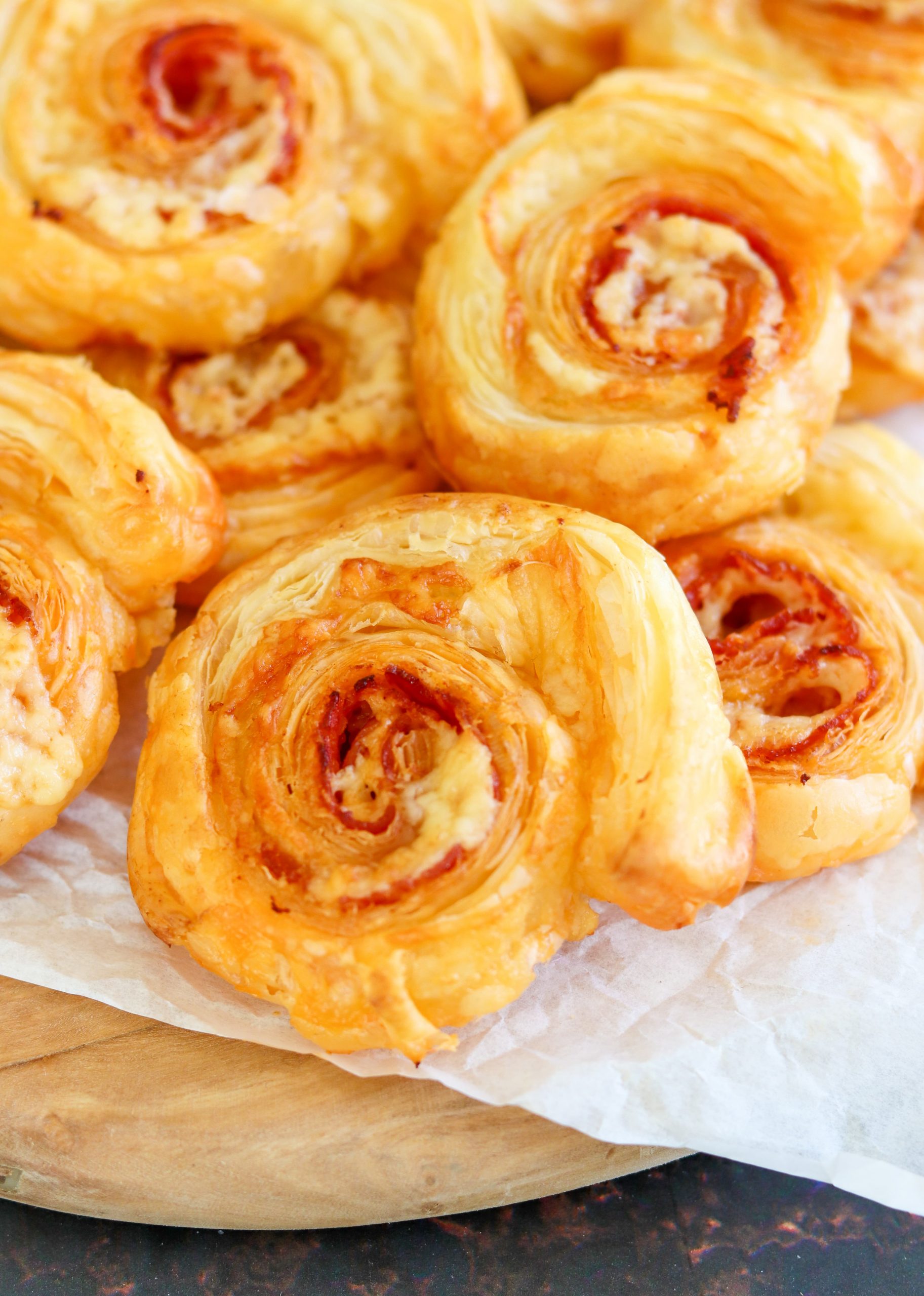 Which cheese is best to use for these Chorizo & Cheese Pinwheels?
You can use any cheddar you like, but I personally like to use extra mature cheddar because it has a delicious saltiness. Reduced fat cheese doesn't work so well however as it doesn't tend to melt as well.
Plus there are times to go all out and this is one of those times. You could use any other hard cheese that melts well if you wish. Gruyere would work well for example.
I would recommend lining your baking tray instead of just spraying the tray directly with oil. This is because they tend to stick slightly to the tray which means you may break the pastry slightly when you take them off the tray.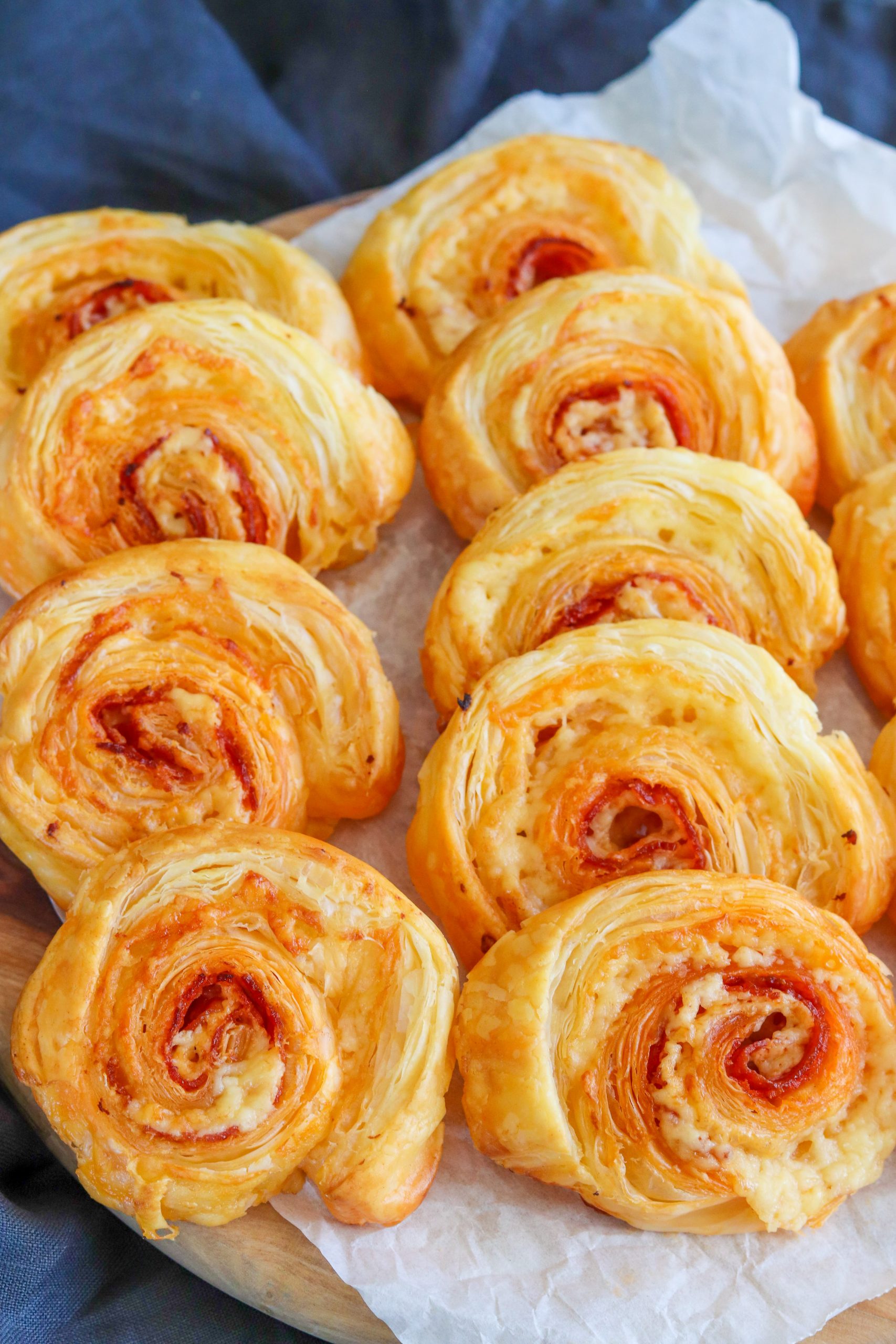 Which chorizo is best to use?
For these pinwheels, you want to use cooked and sliced chorizo. This can be found in the cooked meat aisle or on the delicatessen counter.
If you don't want to use chorizo, you could use any continental meat. Salami, pepperoni or even ham would all work well for these pinwheels.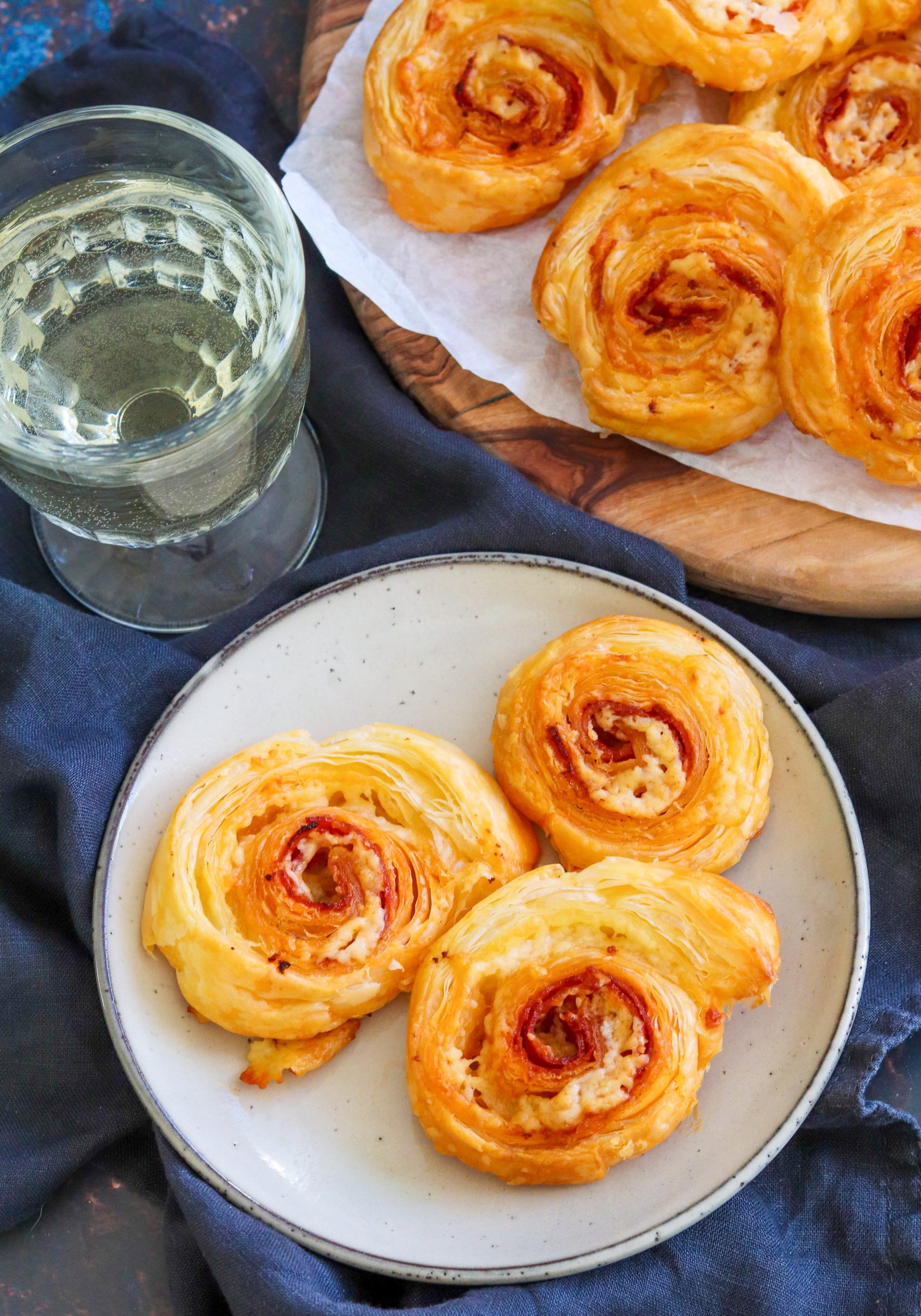 Why do you have to chill the pinwheels before baking?
Once you have added the filling to the pastry and rolled it up; it is best to let them chill in the fridge for at least ten minutes.
This helps the pastry firm up slightly and makes the pinwheels much easier to cut. It also helps them hold their shape better when they are cut.
If you don't chill them, they might squash slightly when cutting them. You also risk not getting as nice, neat cuts.
You can leave them in the fridge for longer than ten minutes if you prefer. They can be left in the fridge for at least a day before you cut and bake them.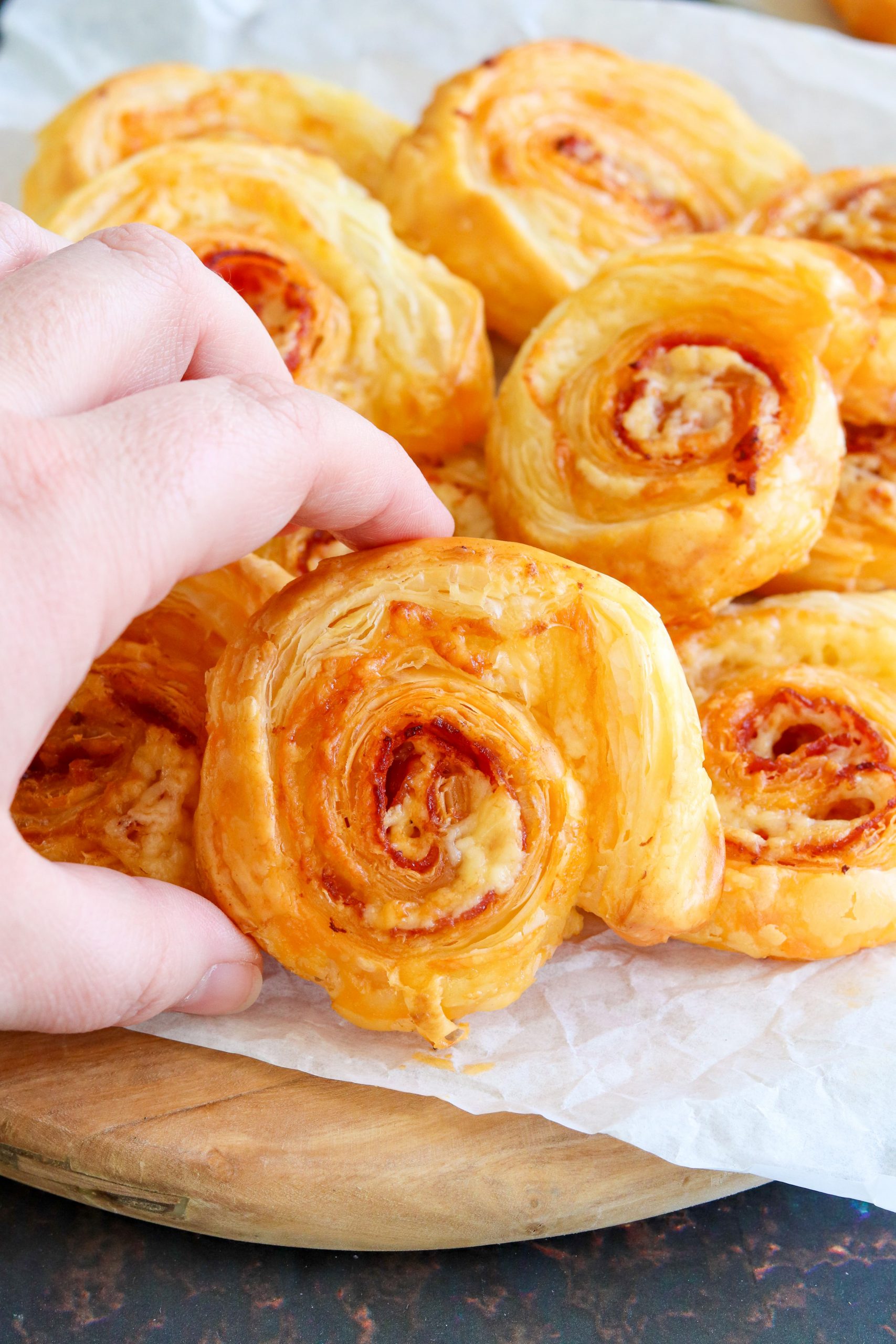 How long do these keep for?
These Chorizo & Cheese Pinwheels will keep in a airtight container for 3-4 days. You can reheat them in the oven if you would like but they are really tasty cold.
I wouldn't recommend heating them in the microwave because this would make the pastry soggy rather than crisp.
They are an easily portable snack or great for a picnic. They would be a great addition to a child's lunchbox.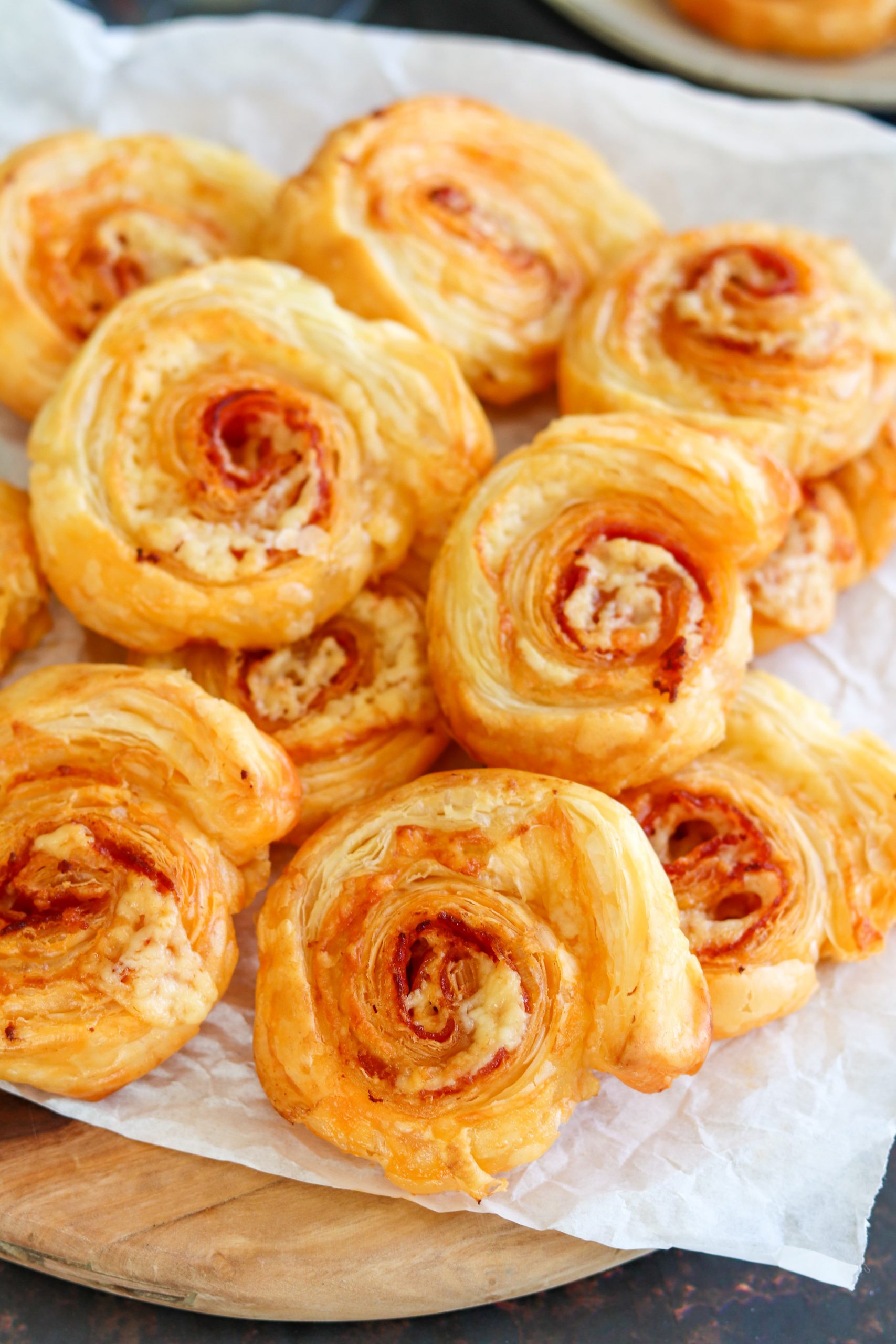 Can these Chorizo & Cheese Pinwheels be frozen?
Yes they can be. Cut them into pinwheels and lay them on a baking tray. Put this in the freezer for approximately 30 minutes.
After this they will be frozen enough to transfer to a container or bag and freeze completely. When you want to cook them from frozen, cook them as below but for an extra 10 minutes.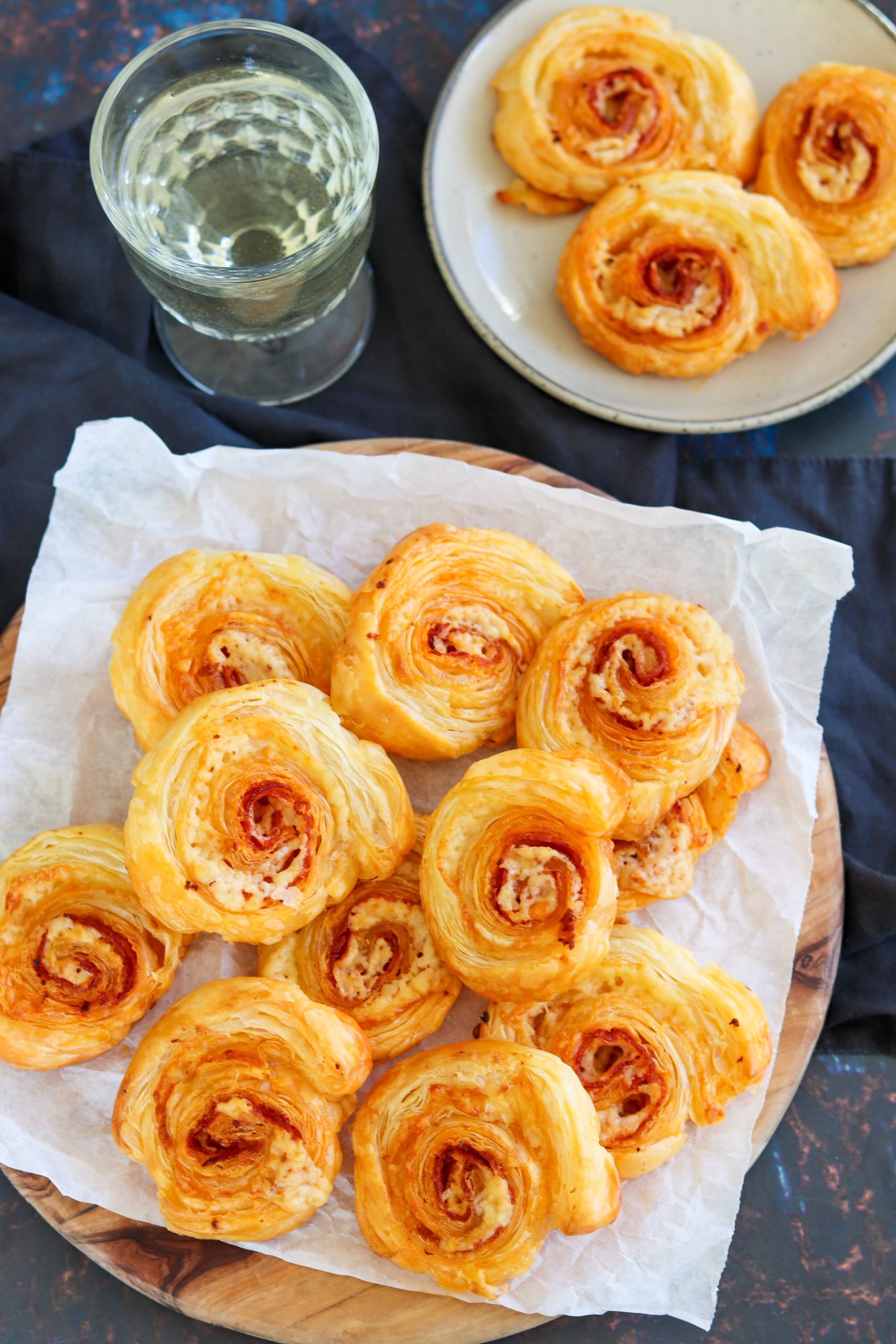 How to make these pinwheels gluten free, vegetarian or vegan
To make these Chorizo & Cheese Pinwheels gluten free, start off by using gluten free puff pastry. Most large supermarkets stock this in the freezer and they have started stocking it in the fridge section too.
You then just need to check that the chorizo you are using is gluten free. Most is, but it is definitely always worth checking.
Most shop bought puff pastry is accidentally vegan; unless you buy the all butter variety. Double check to make sure, but you shouldn't need to buy different pastry to make these vegan.
To make these vegetarian or vegan, you can use vegan chorizo. If this isn't something you can find, use whichever sliced meat replacement you like. Alternatively you can leave it out altogether and just make these cheese pinwheels.
If you're making these vegan, you will need to use a good dairy free cheese. Make sure it is one that melts nicely. Use whichever plant based milk you have to brush onto the pinwheels before they go into the oven.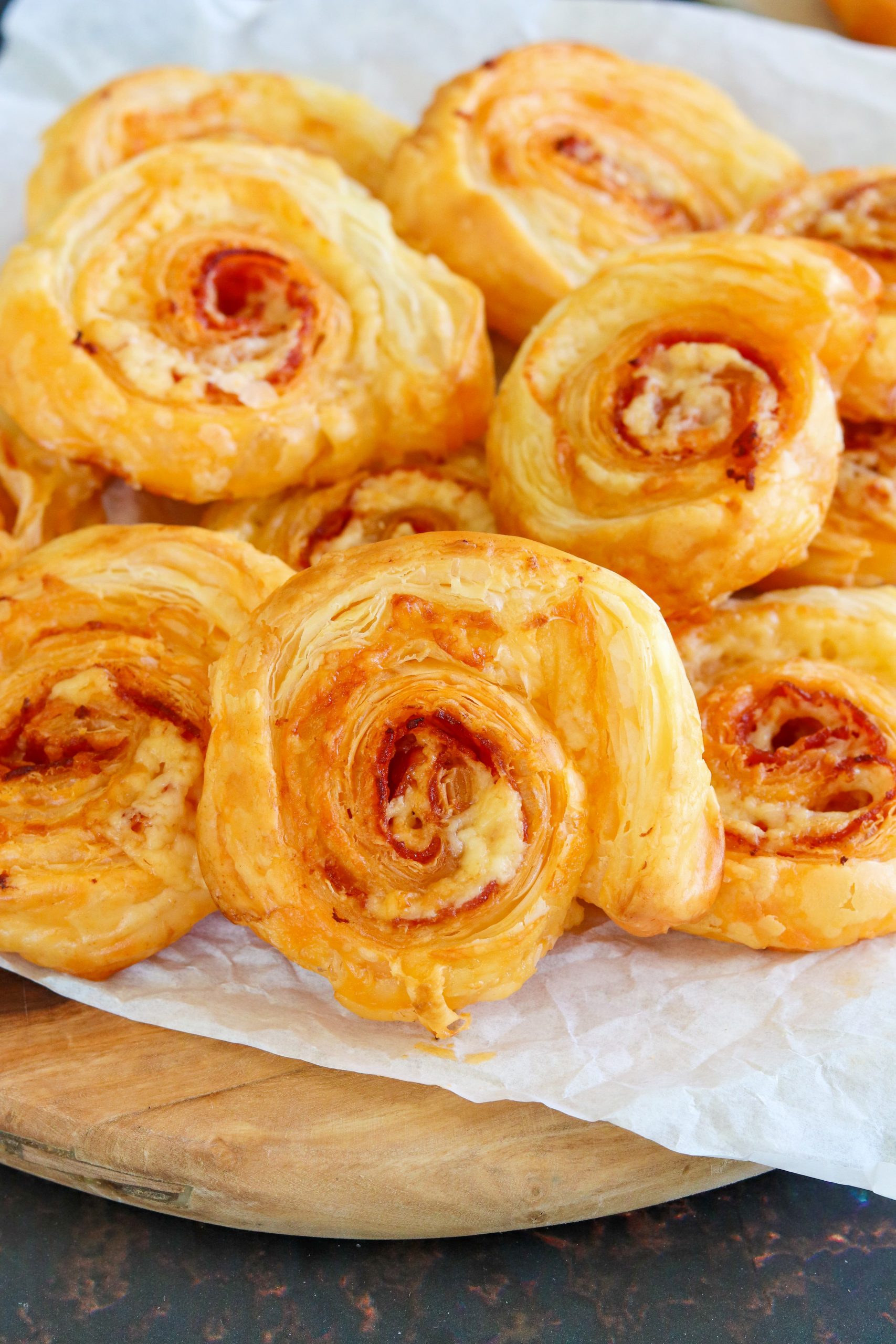 Other recipes you might like
Pin for later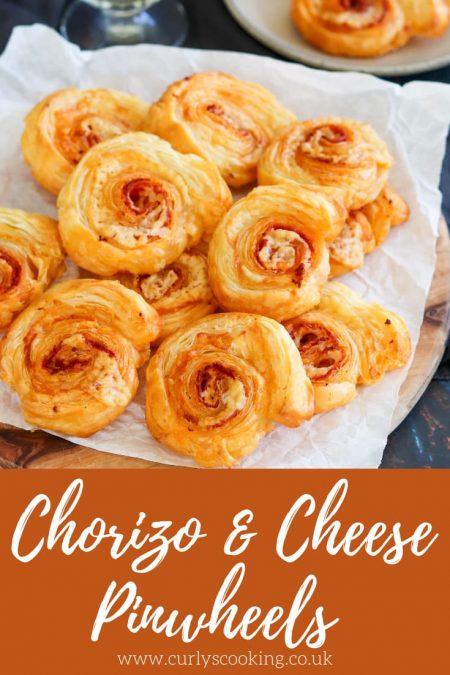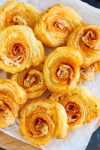 Chorizo & Cheese Pinwheels
Crisp flaky puff pastry filled with spiced chorizo and salty cheese. My Chorizo & Cheese Pinwheels are so addictive you'll find it hard to eat just one!


Ingredients
375

g

puff pastry

ready rolled

20

slices

chorizo

100

g

cheddar cheese

grated

1

tbsp

semi skimmed milk
Instructions
Unroll the pastry and keep it on the baking paper it comes with

Using the chorizo slices, make two lines along the longest side of the pastry

Scatter the whole of the pastry with the grated cheese

Starting from the long end closest to you, tuck the pastry over as tight as you can. Then using the baking paper roll the rest of the pastry up to create a long roll

Leave to chill in the fridge for 10 minutes

Preheat the oven to 190ºC (fan assisted, 210ºC non fan) and line two baking trays with a silicone mat or baking paper

Take the pastry out of the fridge and slice into slices around 1cm in thickness

Place the pinwheels on the oiled baking trays and brush with the milk or egg

Bake for 10-15 minutes until the pastry is golden brown
Recipe Notes
Keep in an airtight container in the fridge for 3-4 days.
Nutritional information is given as a guide only and my vary.
Nutrition Facts
Chorizo & Cheese Pinwheels
Amount Per Serving
Calories 142
Calories from Fat 81
% Daily Value*
Fat 9g14%
Cholesterol 5mg2%
Sodium 78mg3%
Potassium 16mg0%
Carbohydrates 9g3%
Protein 3g6%
Vitamin A 50IU1%
Calcium 38mg4%
Iron 1mg6%
* Percent Daily Values are based on a 2000 calorie diet.