Crisp, fresh vegetables coated in a tasty, punchy dressing. This Crunchy Asian Slaw not only adds a delicious flavour to so many dishes but a wonderful texture too.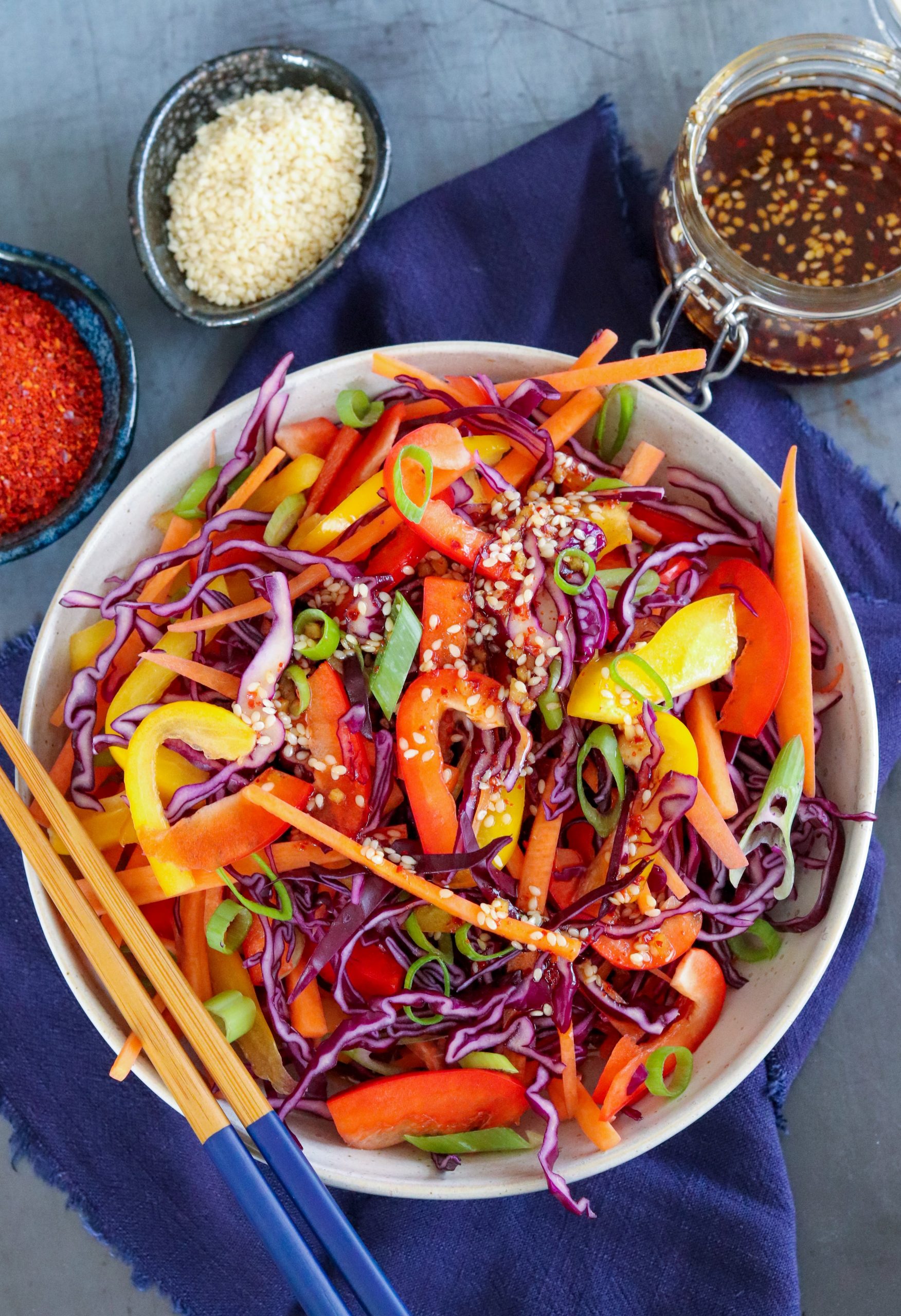 What is an asian slaw made of?
Slaws are known for being packed with crisp, crunchy vegetables. For Asian slaws, you're looking for vegetables that will work well with the flavours in the dressing.
I also like to use a variety of colours when making this slaw because the dressing doesn't distract from the colour of the vegetables like it can do in a mayonnaise based coleslaw.
For my Crunchy Asian Slaw I use:
Carrots
Red cabbage
Bell peppers
Spring onions
The recipe below is just a guide for how much of each vegetable to use. Don't treat this as gospel and use as much of each as you like.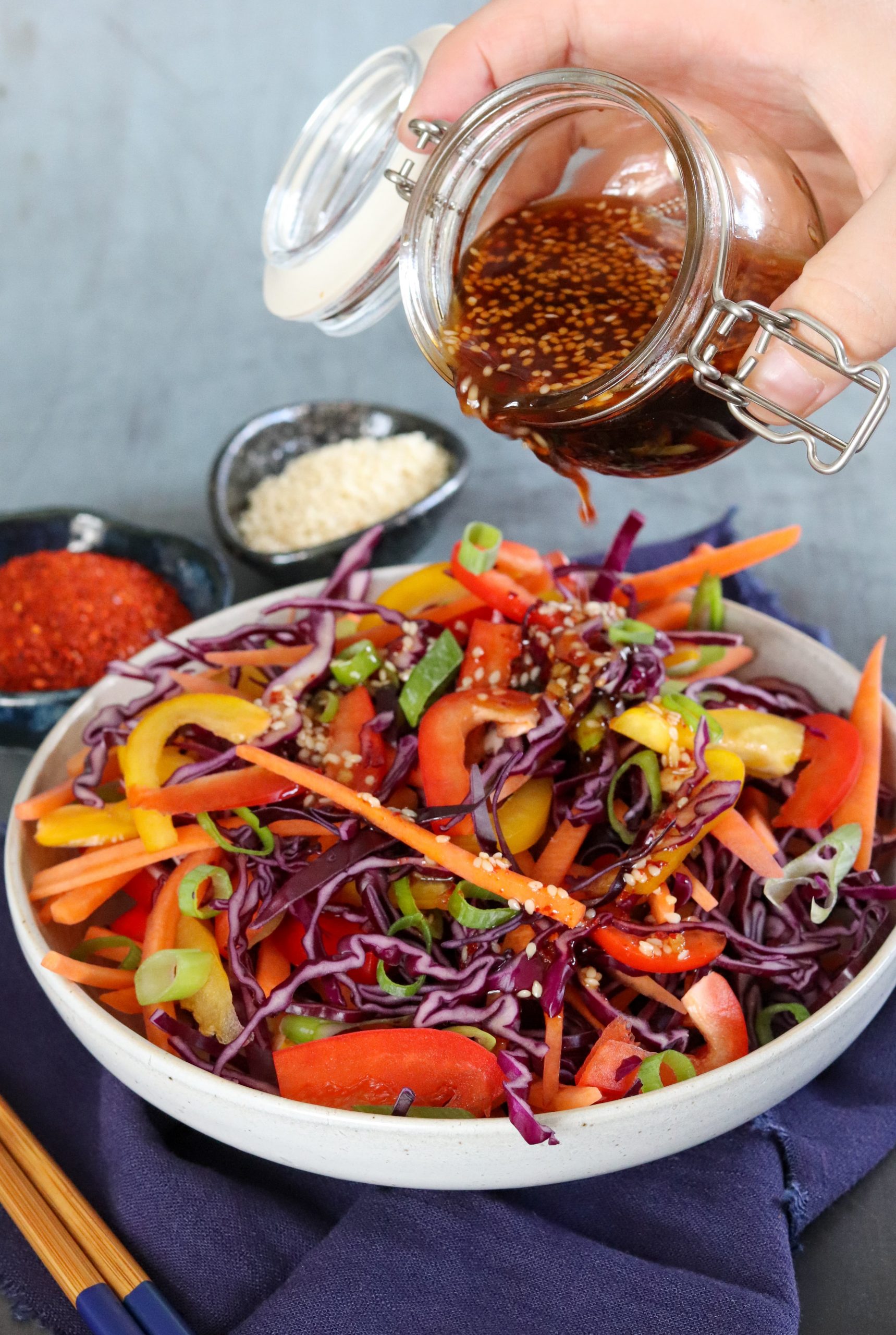 other vegetables you could add
A great advantage of this slaw is that you can switch up the vegetables. You can either add to the vegetables already in the slaw, or swap some.
Other great options are
White cabbage
Sugar snap peas
Red onion
Radishes
Edamame
Add as many different colours and variations of crunch as you like. This slaw is calling out to be customised!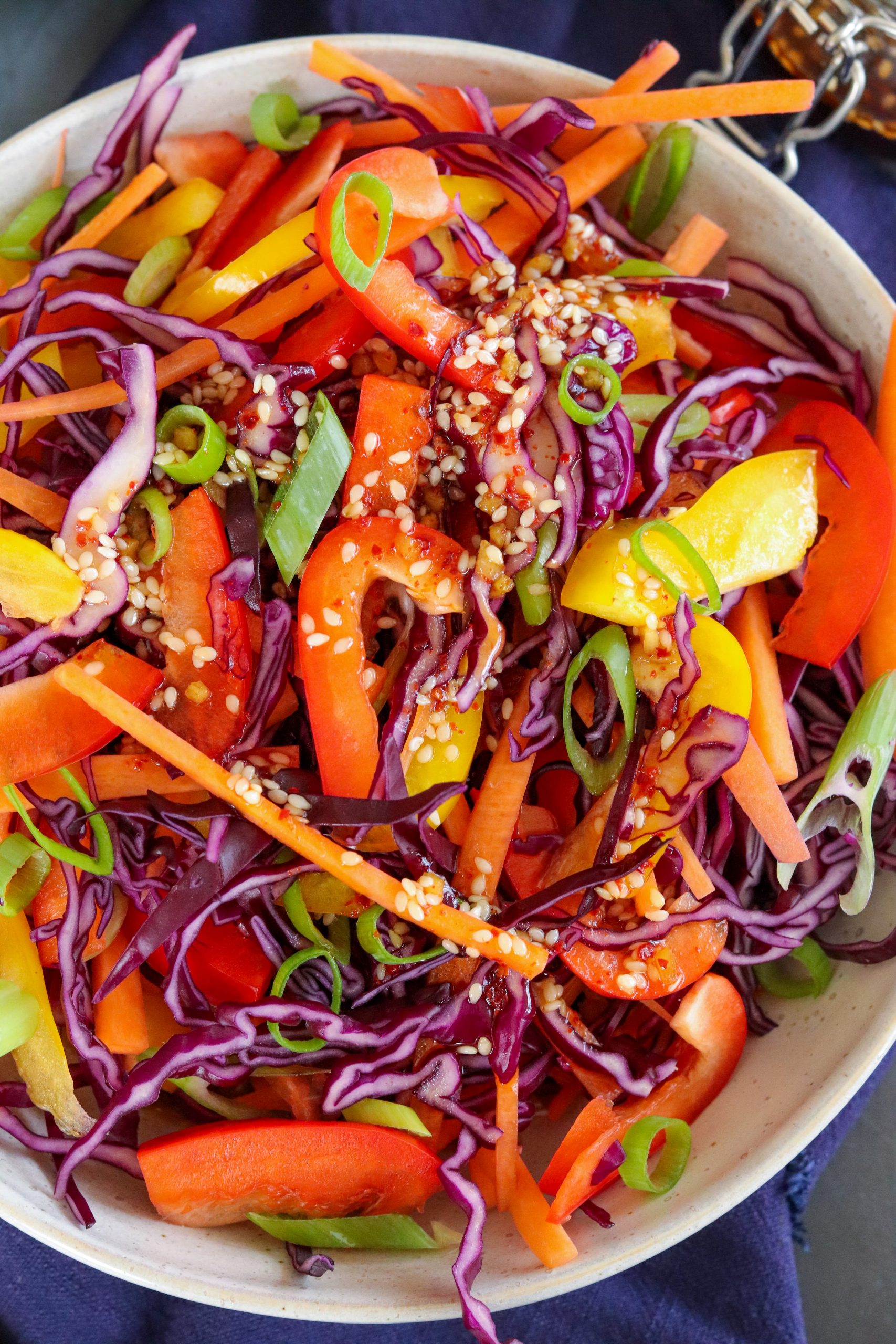 how to cut the vegetables
I keep it really simple and slice all of the vegetables by hand for this Crunchy Asian Slaw. There aren't that many vegetables to slice so I don't mind doing this by hand.
Personally, I like to slice the red cabbage quite finely because I don't want big chunks of cabbage. I cut the carrots into vertical slices and then julienne them (cut into matchsticks). I then just finely slice the peppers and spring onions.
You can obviously cut the vegetables however you like. Using a food processor with an attachment would definitely work and be a great time saving option.
Another quick option would be to use a bag of coleslaw mix. I think these are more readily available in the US, but I have seen them in Costco here in the UK.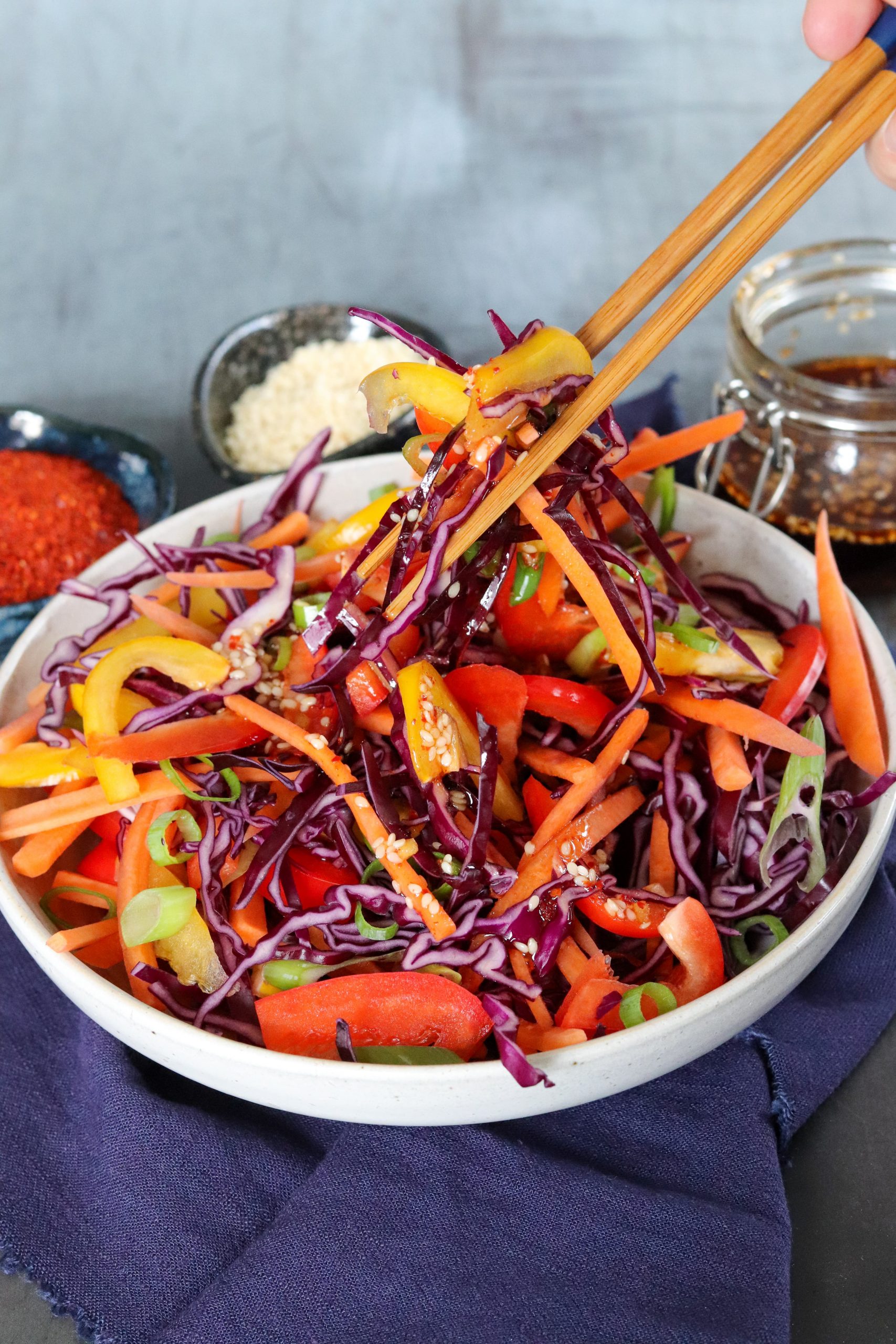 coleslaw with no mayo
I love a good coleslaw with a creamy mayonnaise dressing. But I know this isn't for everyone. My brother in law for example really isn't a fan so would prefer a slaw without mayo.
This crunchy slaw is perfect for people that aren't keen on mayo because the dressing has no mayo in sight! The light dressing is packed full of delicious Asian flavours.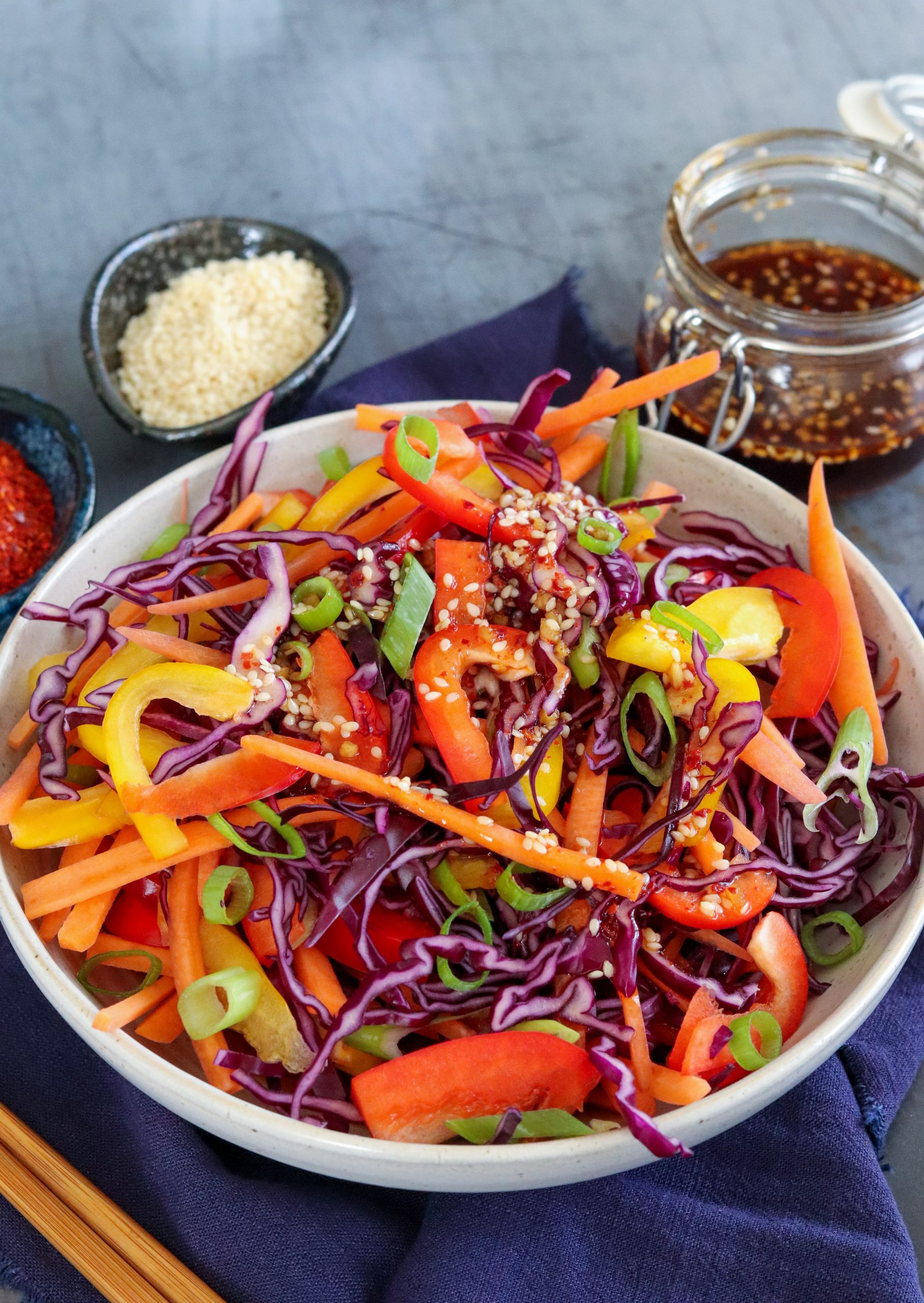 how long does this slaw keep for?
I think slaw works best when you add the dressing just before serving. If you add the dressing too far in advance it does tend to draw the moisture out of the vegetables. This doesn't affect the taste, but it makes the slaw lose it's crunch a little.
So if you are looking to keep this slaw, I would definitely recommend storing the dressing and vegetables separately.
If stored separately the slaw will keep in an airtight container in the fridge for two to three days. After this the vegetables may start drying out ever so slightly.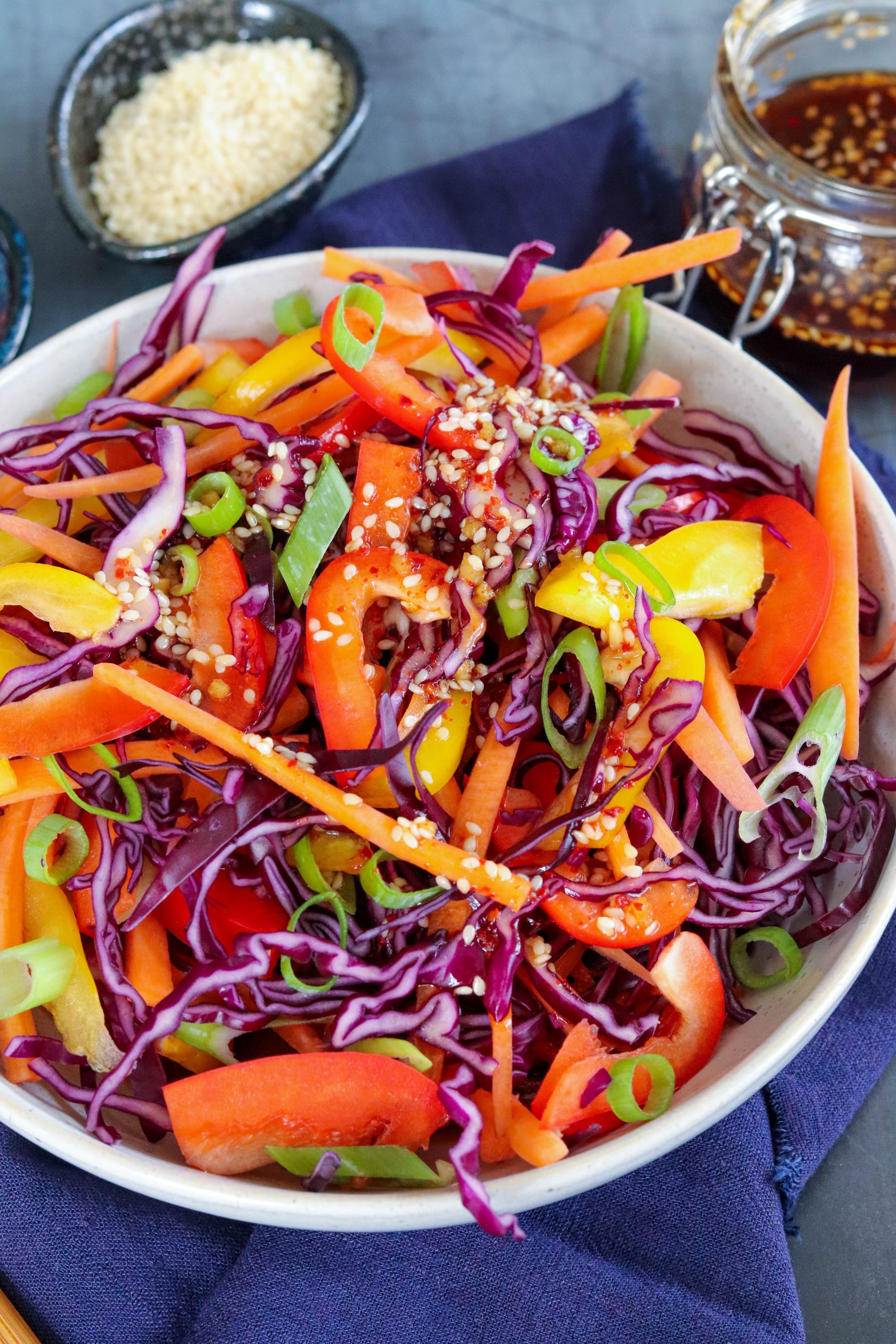 what to serve this crunchy asian slaw with
There are so many ways you can enjoy this delicious slaw. It is the perfect accompaniment for simple grilled meat like my Korean Chicken Wings.
It would also go really well with my Korean Pork Lettuce Cups either eaten on the side or piled into the cups for extra crunch.
I love to serve it as part of my Korean Rice Bowls (recipe coming soon). For presentation I don't mix the vegetables together for the slaw but display them separately in the bowl. But you can definitely serve it with all the vegetables mixed together.
It is also a great addition to a BBQ or pot luck. Although it is packed full of flavours, those flavours aren't too strong that they would be overpowering.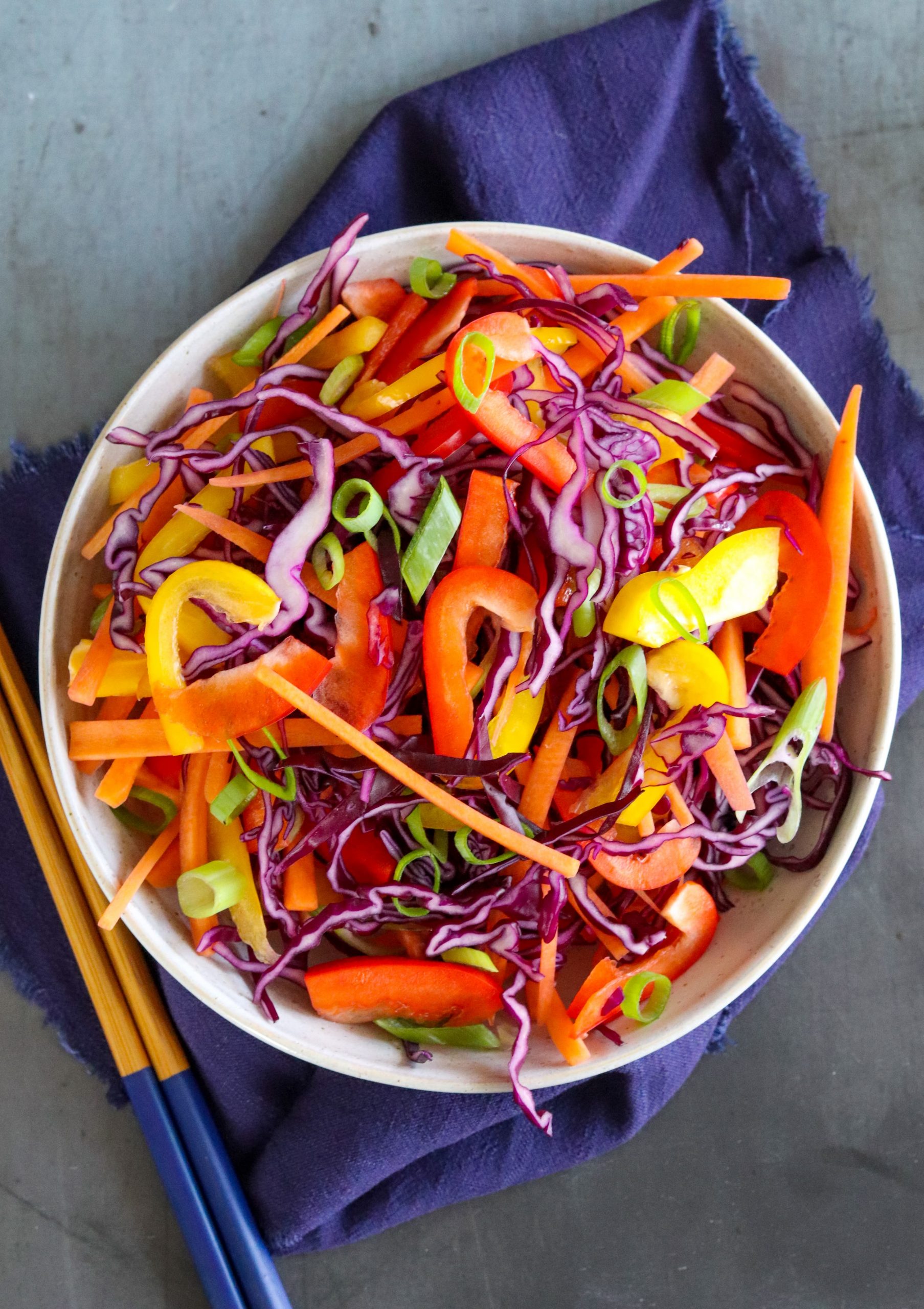 other recipes you might like
Pin for later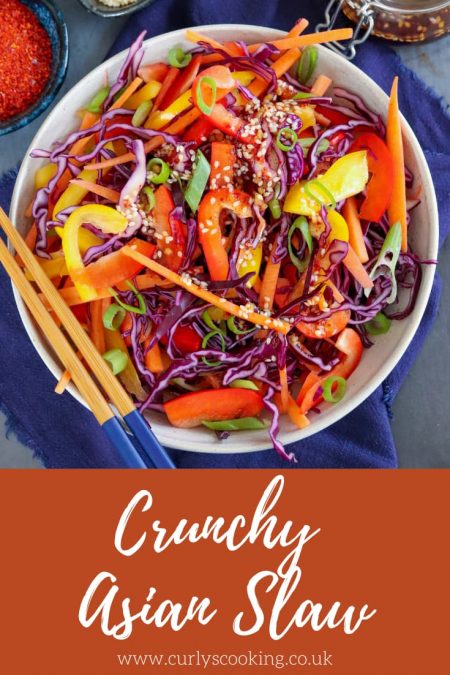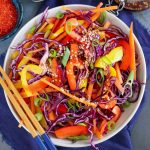 Crunchy Asian Slaw
Crisp, fresh vegetables coated in a tasty, punchy dressing. This Crunchy Asian Slaw not only adds a delicious flavour to so many dishes but a wonderful texture too.
Instructions
Finely slice 1 pepper, 1 carrot, 150g red cabbage and 3 spring onions. Add to a bowl
Recipe Notes
Add the dressing just before serving.
Store undressed in an airtight container in the fridge for 2-3 days.
Nutritional information is given as a guide only and may vary.
Nutrition Facts
Crunchy Asian Slaw
Amount Per Serving
Calories 139
Calories from Fat 9
% Daily Value*
Fat 1g2%
Sodium 23mg1%
Potassium 217mg6%
Carbohydrates 6g2%
Protein 1g2%
Vitamin A 3166IU63%
Vitamin C 48mg58%
Calcium 31mg3%
Iron 1mg6%
* Percent Daily Values are based on a 2000 calorie diet.