Light, fresh and with a subtle heat; these delicious Korean Pork Lettuce Cups have become my favourite quick and easy lunch. Packed full of flavour, these lettuce wraps are also perfect served as a starter.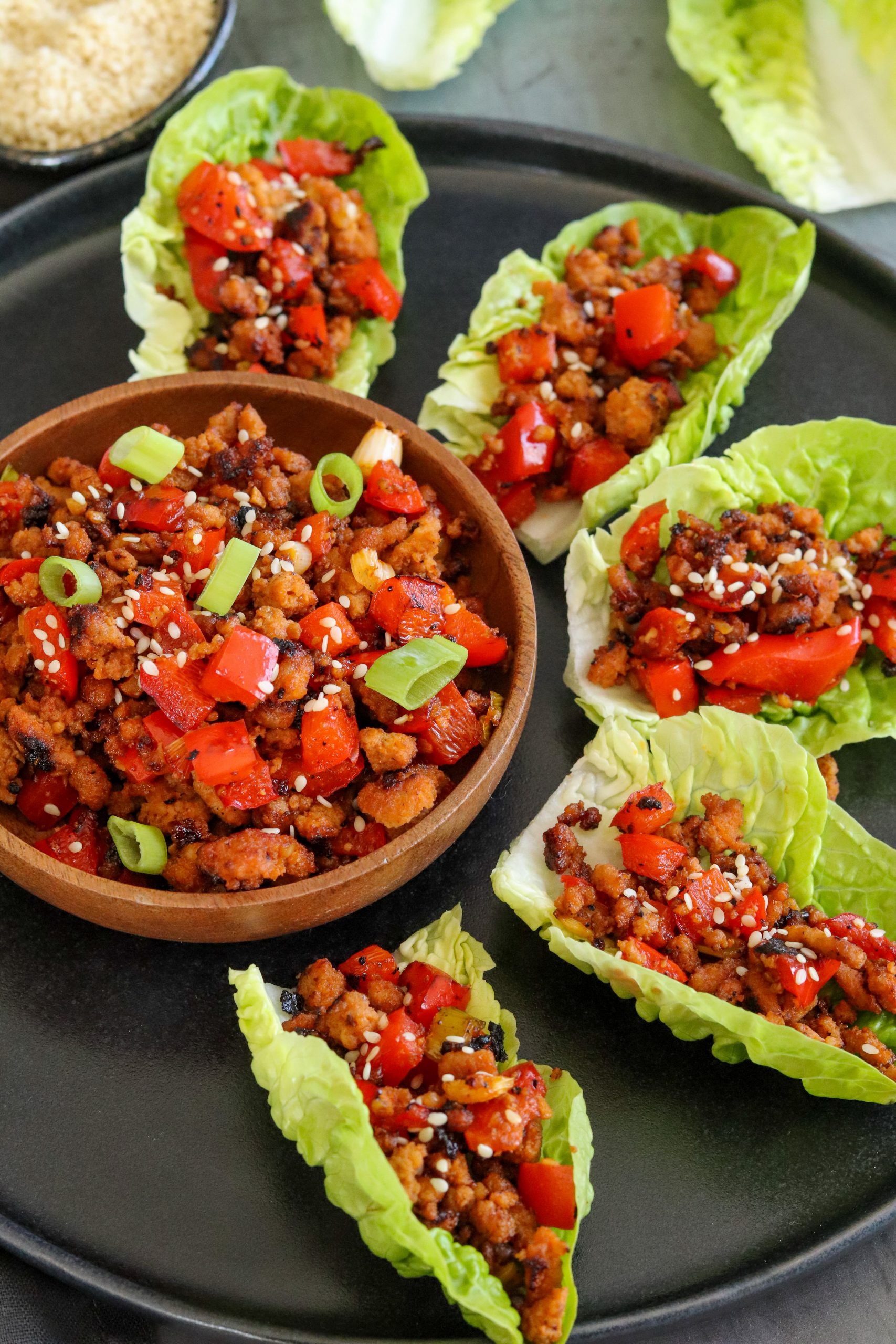 what are korean pork lettuce cups?
For this recipe I have used Korean flavours for my interpretation of lettuce wraps. The traditional Korean lettuce wraps are called Ssambap.
Ssambap has lots of variations but usually features seasoned meat, rice and vegetables. I wanted my version to be a lighter, quick recipe that didn't involve rice.
My pork lettuce cups might be more like a Korean version of San Choy Bow which are Chinese lettuce cups. These typically use minced (ground) meat with diced vegetables which is what I decided to use.
Although my lettuce cups are not necessarily authentic and have taken inspiration from a few different places, they use delicious Korean flavours and are definitely worth trying.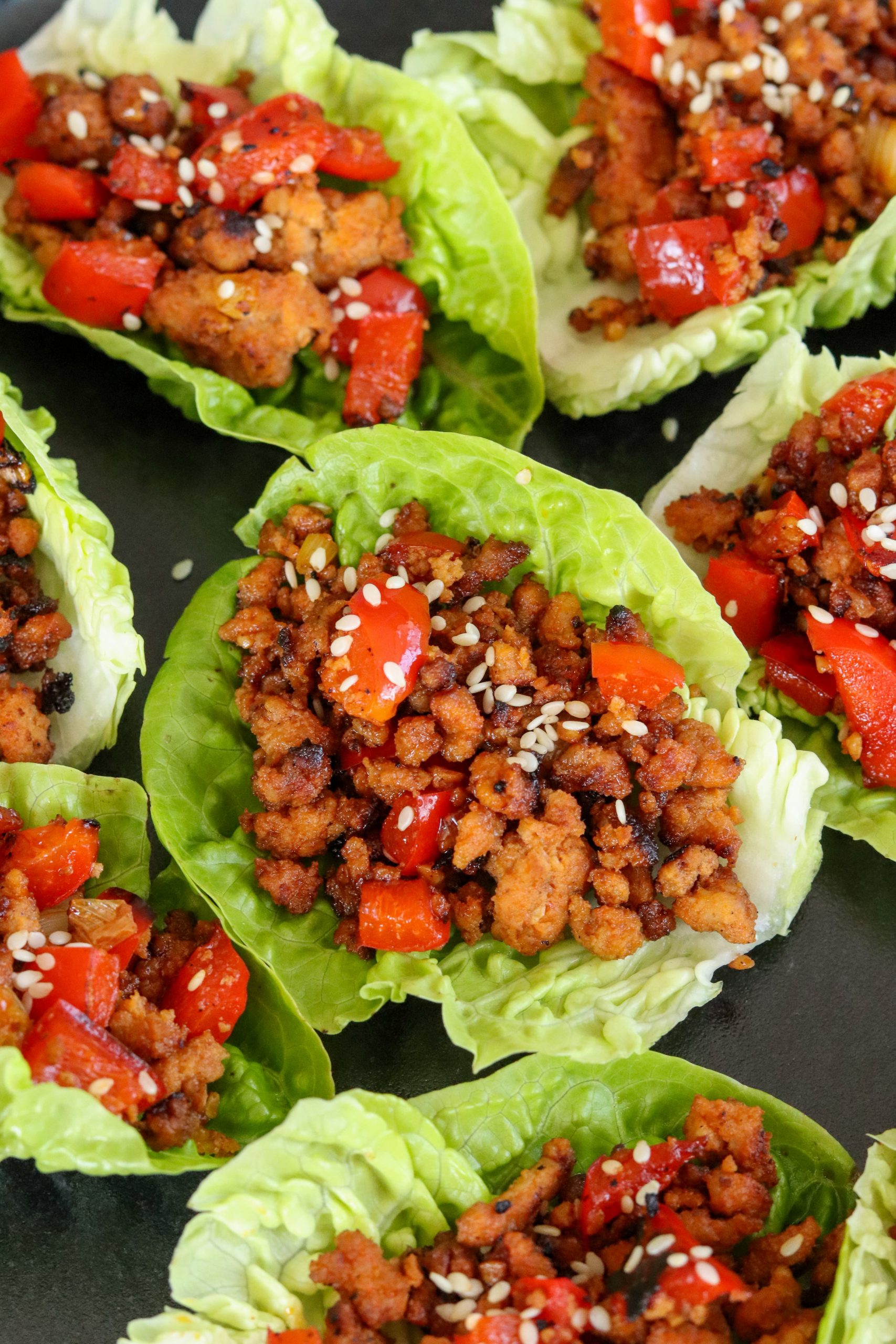 which pork mince is recommended to use?
I like to use pork mince (ground pork) that has a bit of fat in it as this adds flavour and keeps the meat moist.
Most supermarkets sell mince in three categories; 15%, 10-12% and 5% fat. For these lettuce cups I usually opt for the 10-12% option.
You can of course use the 15% fat option which is the least expensive. It might release more fat when cooking so you might want to drain some of it.
The 5% fat mince would definitely work, but you may find the pork is a little bit dryer as it has less fat to keep it moist. The flavour in the marinade and freshness of the lettuce will definitely mean you aren't missing out.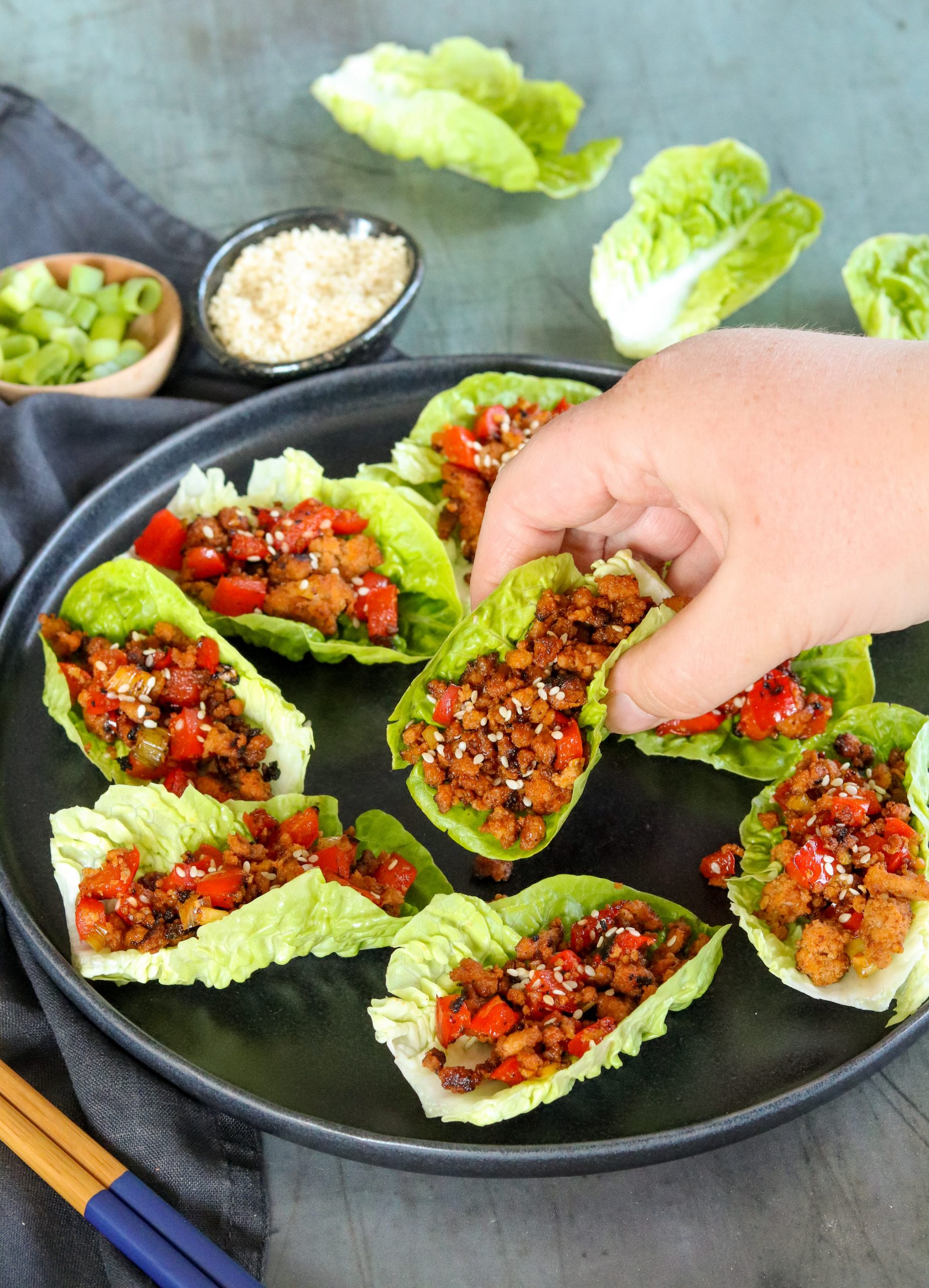 which lettuce works best for lettuce cups?
When choosing which lettuce to use, you want a variety which has relatively small leaves. You also want it to have a strong rib in the middle of the lettuce leaf to keep it sturdy.
My favourite lettuce to use is little gem lettuce. It has really good sturdy leaves and is the perfect size. The leaves do get smaller as you get closer towards the centre of the lettuce so you may need to use two lettuces to get the nice big leaves.
Butter lettuce would also work well although the leaves aren't quite as sturdy.
Whichever lettuce you use, give it a good wash and dry it thoroughly. They'll then be ready to be filled with the pork mixture.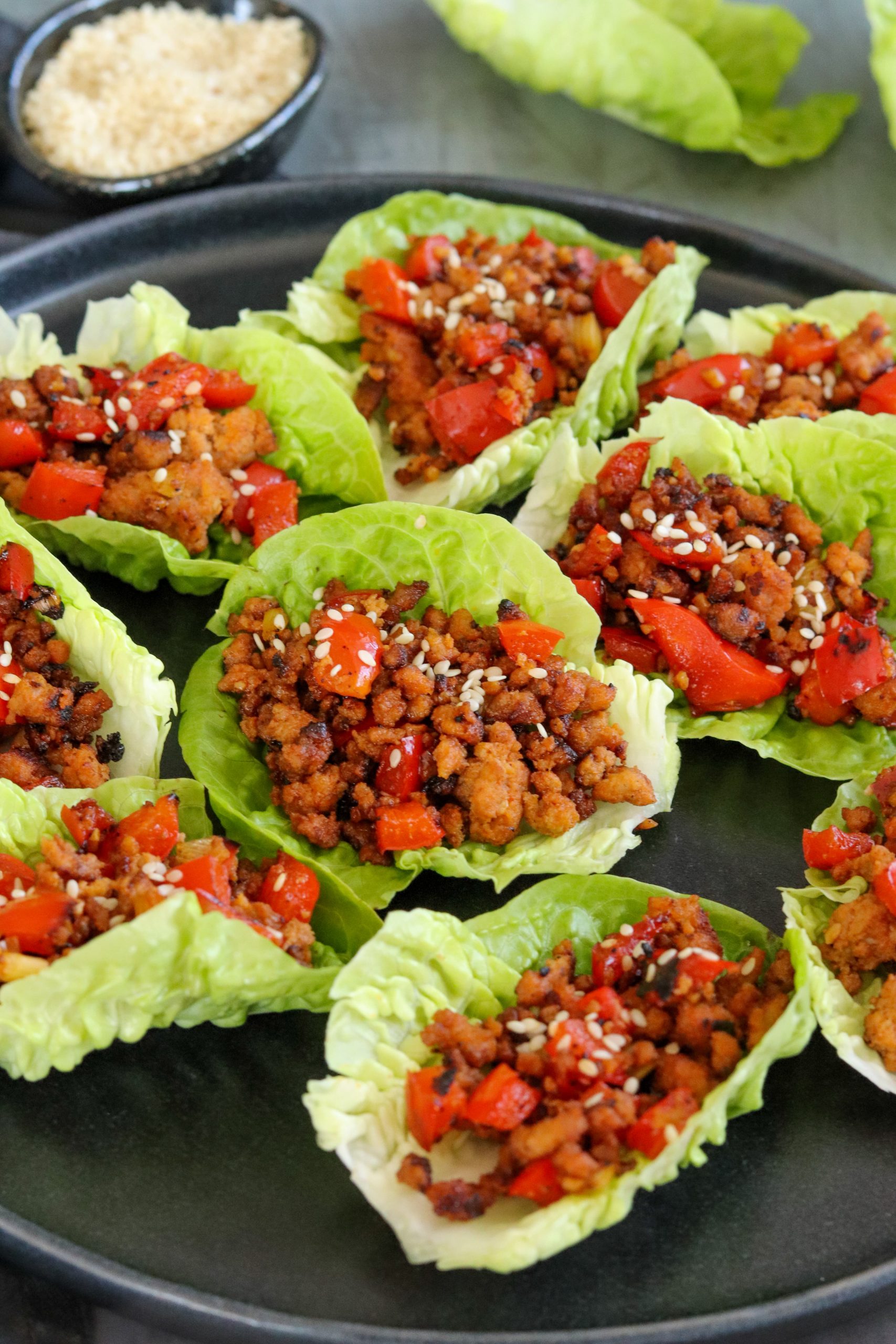 what is gochujang?
Gochujang is a fermented sweet and spicy red chilli paste made from chilli powder, glutinous/sticky rice, fermented soy beans and salt. It has a very thick, sticky texture with a vibrant red colour.
As it is quite spicy, I always recommend using sparingly until you know how spicy you like things. These Korean cocktail sausages are mild to medium but you can definitely adjust to your tastes.
Gochujang is becoming more widely available. It used to only be available in Asian supermarkets but I have seen it in the world food aisle of large supermarkets recently.
If you cannot find it where you live, you can always but it online at places like Amazon.
Once you have made these, you will also want to try my Korean Beef Bibimbap and Spicy Korean Pork Stew.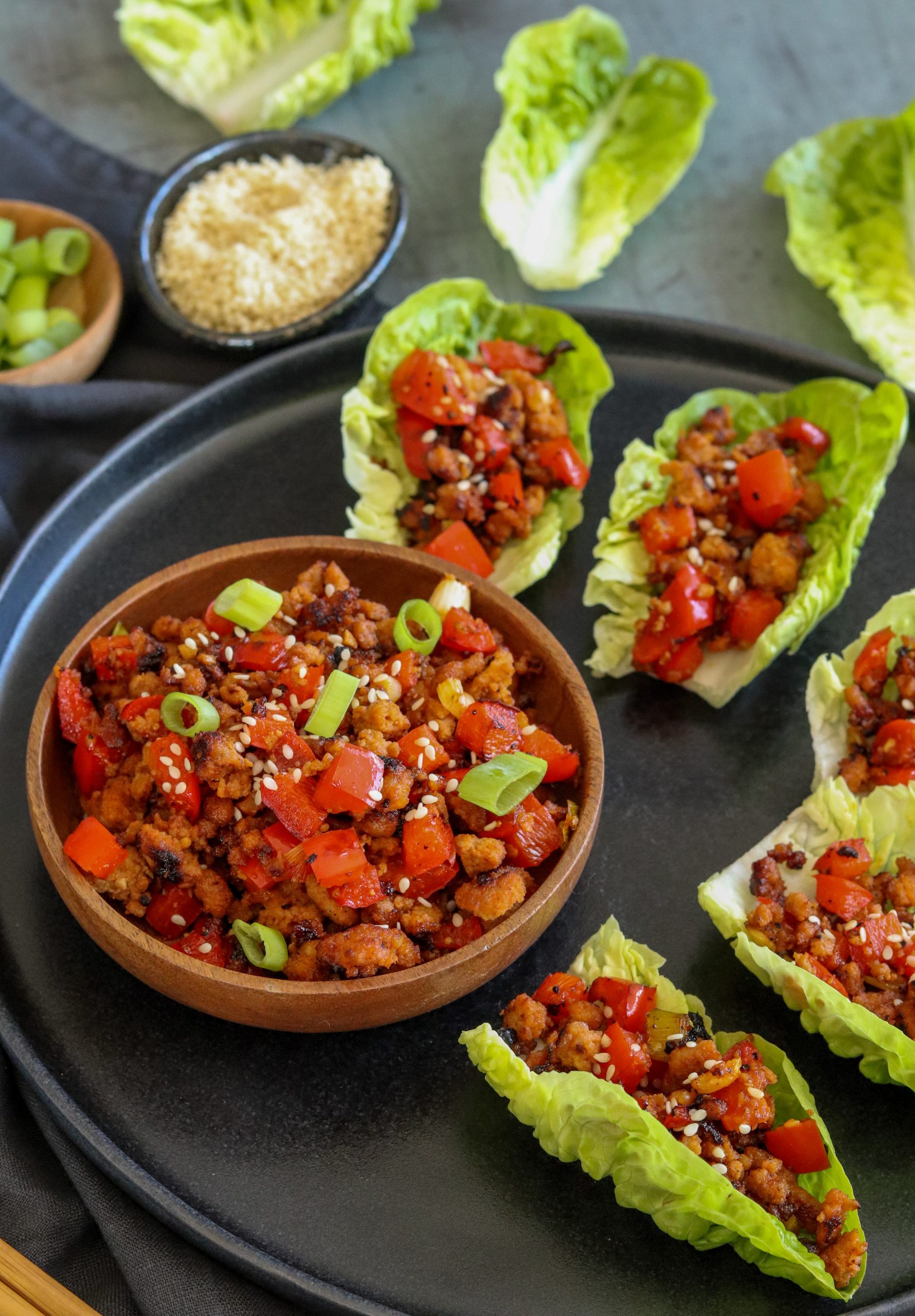 are these lettuce cups spicy?
Gochujang is relatively spicy but I haven't used too much in this recipe to ensure it isn't too spicy. Having said that there is a little bit of heat so I would call it mild to medium in spice level.
If you would like to make it more mild, use less gochujang. However I really wouldn't recommend leaving it out altogether because it really does add a delicious flavour.
Of course if you like things spicy, add a little more gochujang.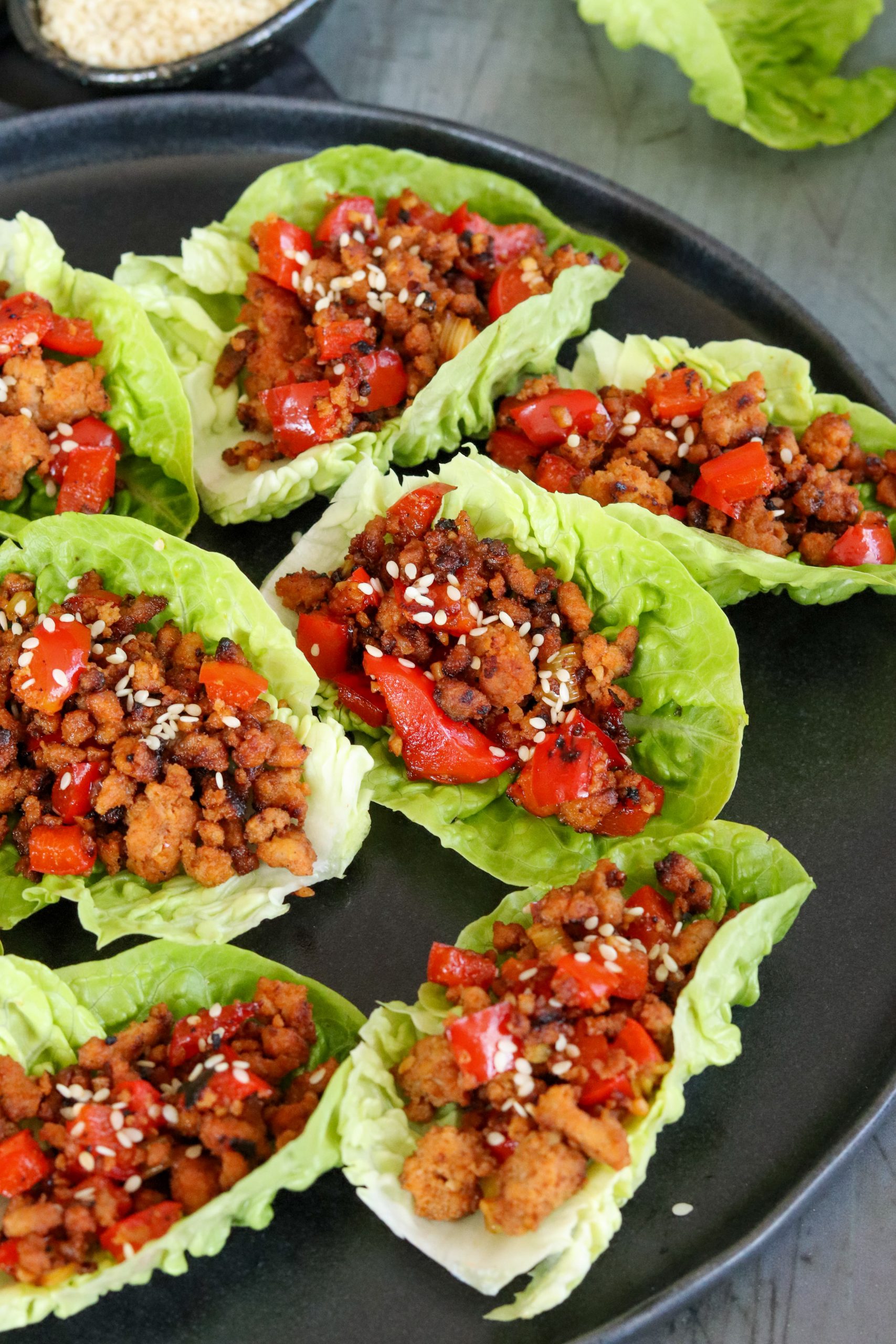 Do you have to use pork?
No, you can use turkey, chicken or beef mince if you prefer. If you don't want to use ground meat all all you could finely dice any of the above and use them in the same way.
If you wanted to omit the meat altogether you could add use tofu. You could also add more vegetables than just peppers if you like.
Mushrooms, courgettes and beansprouts would all work well in these lettuce cups. Green beans would also add a nice crunch. Play around with which vegetables are in your fridge and see which you like best.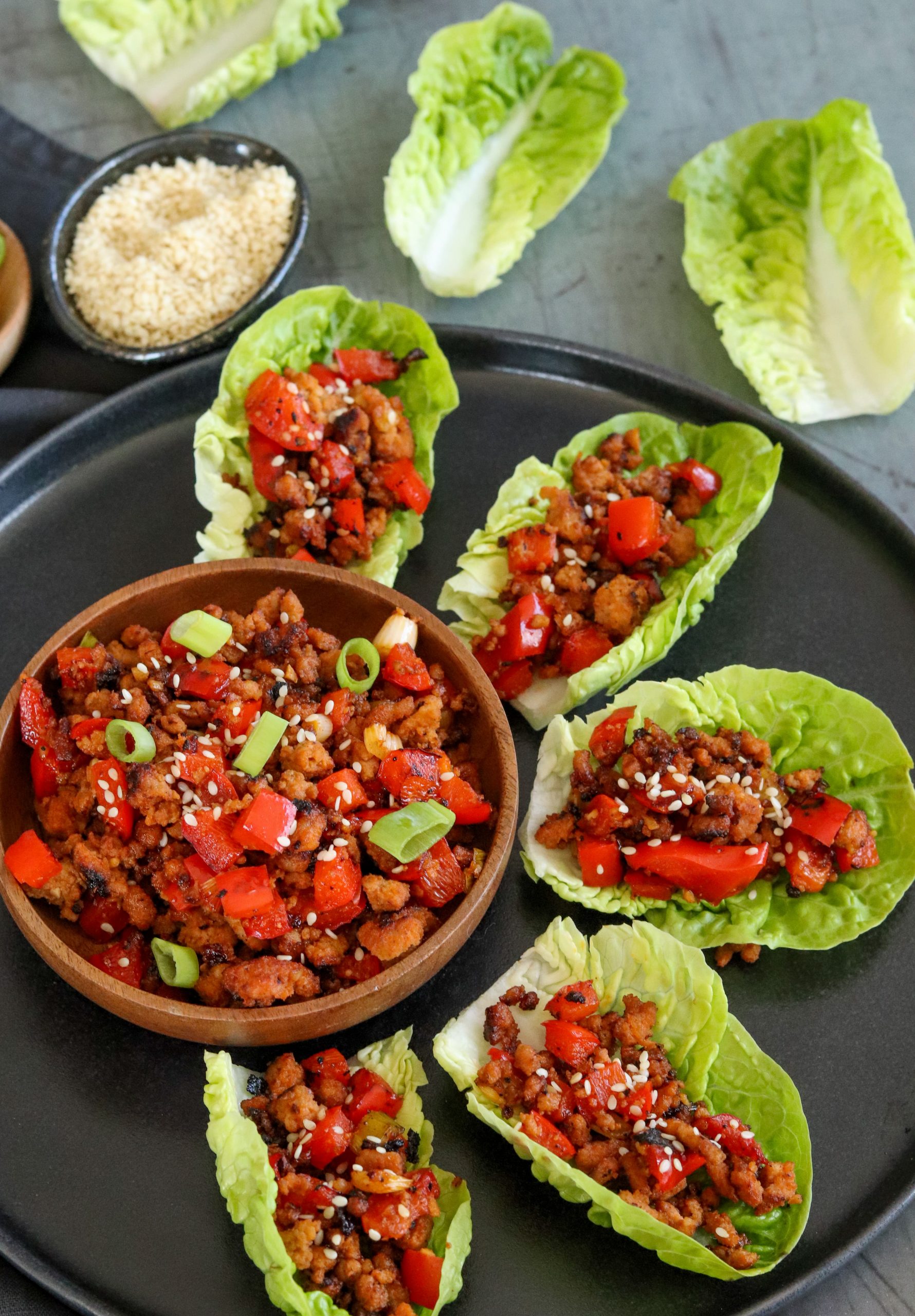 how to make these gluten free, vegetarian or vegan
The majority of gochujang isn't gluten free but there a few gluten free versions becoming available these days. If you can't find a gluten free option, I would probably recommend using something like sriracha. Although it isn't Korean, it has a similar heat which would be a suitable alternative.
To make these lettuce cups vegetarian I would recommend swapping the pork for tofu. This would be the same if you were making them vegan. However you would also need to swap the honey to make them vegan.
Instead of honey I would recommend using half a teaspoon of caster or brown sugar. This should provide a similar caramelisation as the honey would.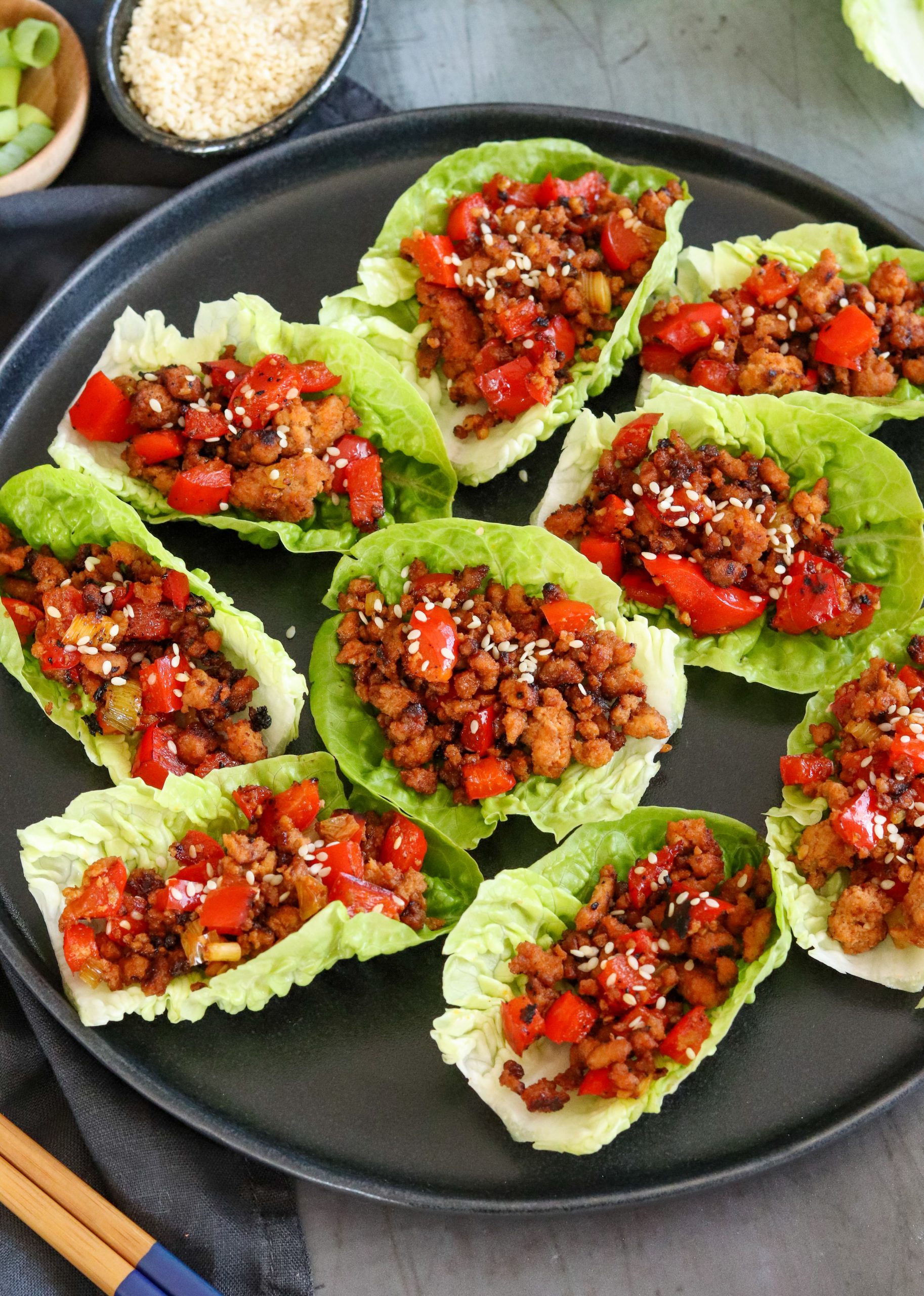 how many people will these Korean lettuce cups serve?
I like to have these Korean Pork Lettuce Cups as a very tasty lunch. In that case, I eat the amount below to myself.
However if you are serving them as a starter they could easily feed two to three people. The recipe is really easy to double if you are catering for more people.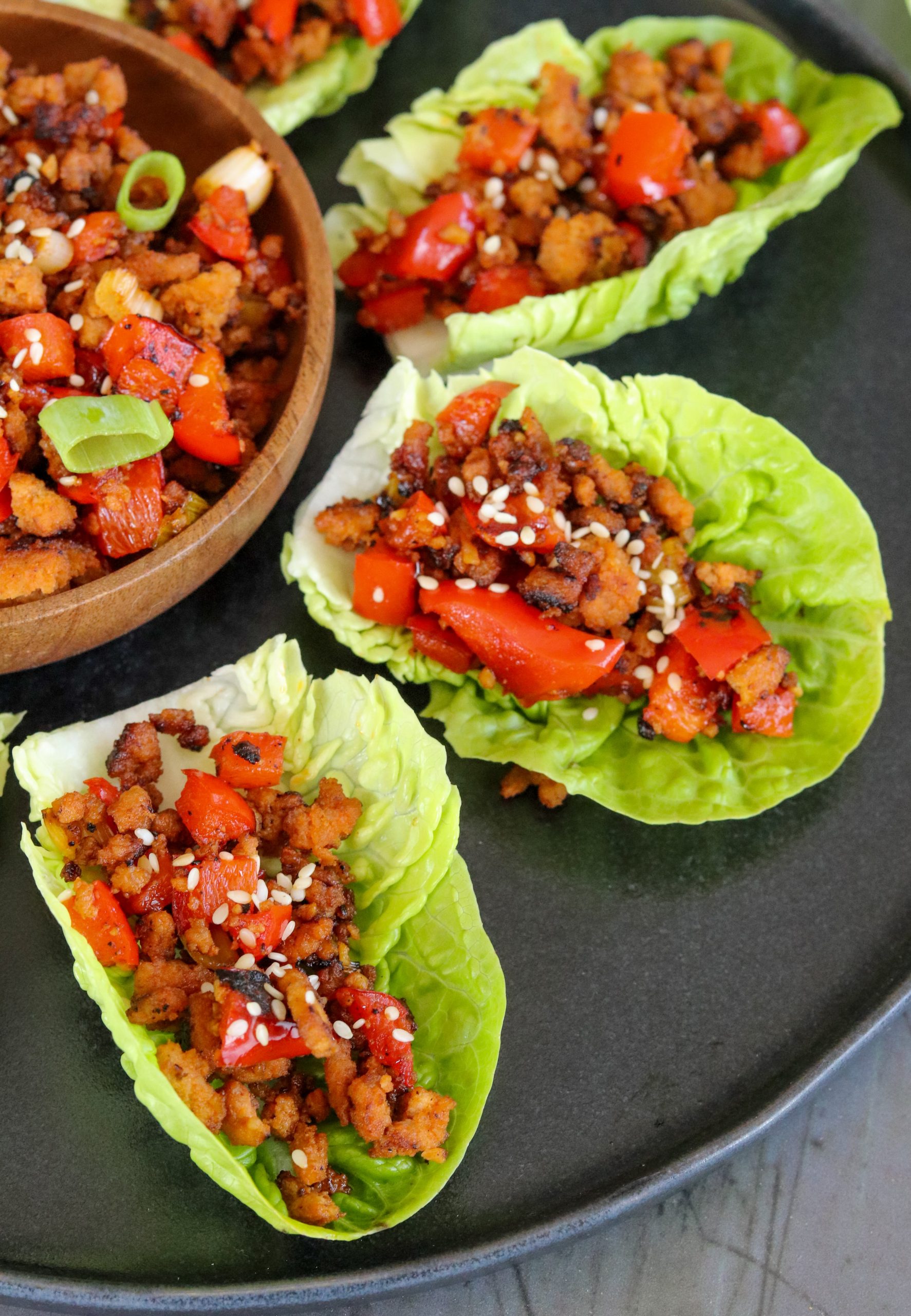 how to serve pork lettuce cups
As I mentioned, I like to eat these just as they are as a quick and easy lunch. However you could serve them as part of a Korean feast.
They would work well with my Korean Chicken Wings and Sticky Korean Cocktail Sausages. And I can't tell you how obsessed I am with my Korean Cucumber Salad so that is a must.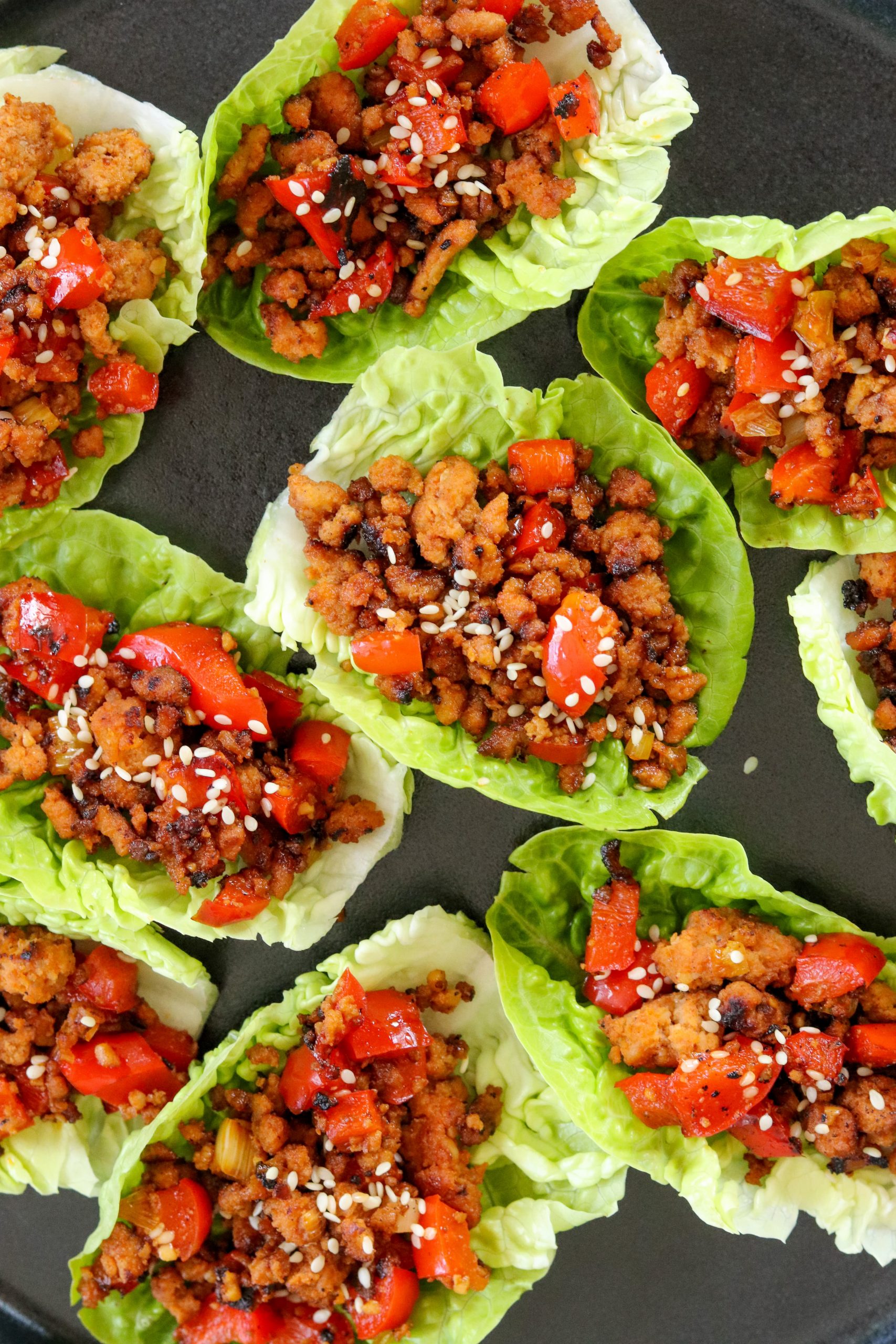 other recipes you might like
Pin for later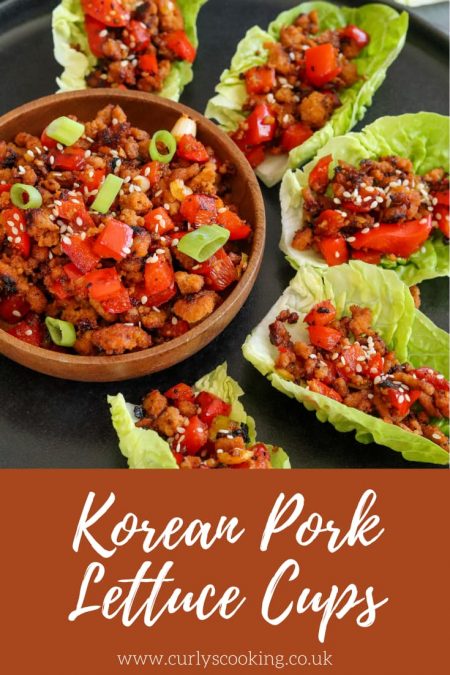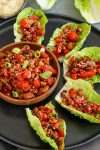 Korean Pork Lettuce Cups
Light, fresh and with a subtle heat; these delicious Korean Pork Lettuce Cups have become my favourite quick and easy lunch. Packed full of flavour, these lettuce wraps are also perfect served as a starter.
Ingredients
For the pork mince
125

g

pork mince

10-12% fat

1

tsp

minced garlic

1

tsp

gochujang

1

tsp

sesame oil

1

tbsp

runny honey

⅛

tsp

salt
½

pepper

finely diced

2

spring onions

sliced

1

little gem lettuce

1

tsp

vegetable oil

1

tsp

sesame seeds
Instructions
Add 125g pork mince to a bowl along with 1 tsp minced garlic, 1 tsp gochujang, 1 tsp sesame oil, 1 tbsp runny honey, ⅛ tsp salt. Mix until combined and set aside

Finely dice ½ pepper and slice 2 spring onions

Separate the leaves of 1 little gem lettuce, wash and set aside

Add 1 tsp vegetable oil to a pan on a medium heat. When the oil is hot, add the pork mince. Break the pork up into small pieces with a wooden spoon

Stir frequently for 2 minutes before adding the pepper and spring onions

Cook for 5-10 minutes until the pork is cooked through and has started to caramelise

Spoon the pork mixture into the lettuce cups. Finish with a sprinkle of sesame seeds
Recipe Notes
Nutritional information is given as a guide only and may vary
Nutrition Facts
Korean Pork Lettuce Cups
Amount Per Serving
Calories 232
Calories from Fat 144
% Daily Value*
Fat 16g25%
Cholesterol 45mg15%
Sodium 184mg8%
Potassium 284mg8%
Carbohydrates 12g4%
Protein 11g22%
Vitamin A 239IU5%
Vitamin C 27mg33%
Calcium 31mg3%
Iron 1mg6%
* Percent Daily Values are based on a 2000 calorie diet.