Rich dark chocolate fudge studded with cherries and almonds. This Dark Chocolate, Almond & Cherry Fudge would make a fantastic Christmas gift or you can always keep it for yourself!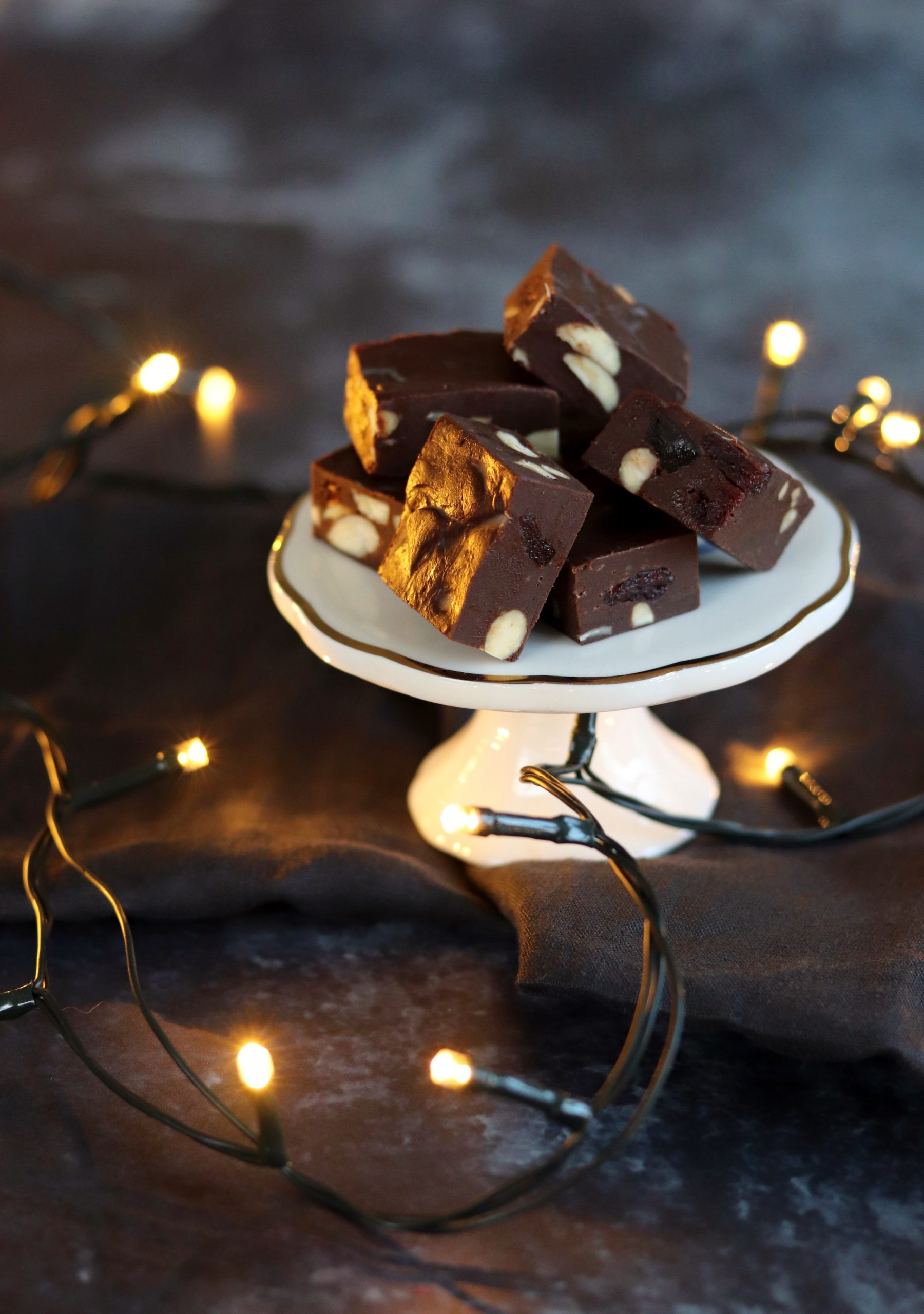 What is fudge?
Fudge is a sweet that is made by mixing sugar, butter and milk. These are then heated until they reach the soft ball stage. Once it reaches the desired temperature, it is beaten as it cools to get a smooth, creamy consistency.
Lots of flavours and additional treats can then be added to the fudge to create lots of different variations.
But you might realise – this fudge recipe doesn't include these ingredients. So how can it be fudge?! That is because it is cheat's fudge!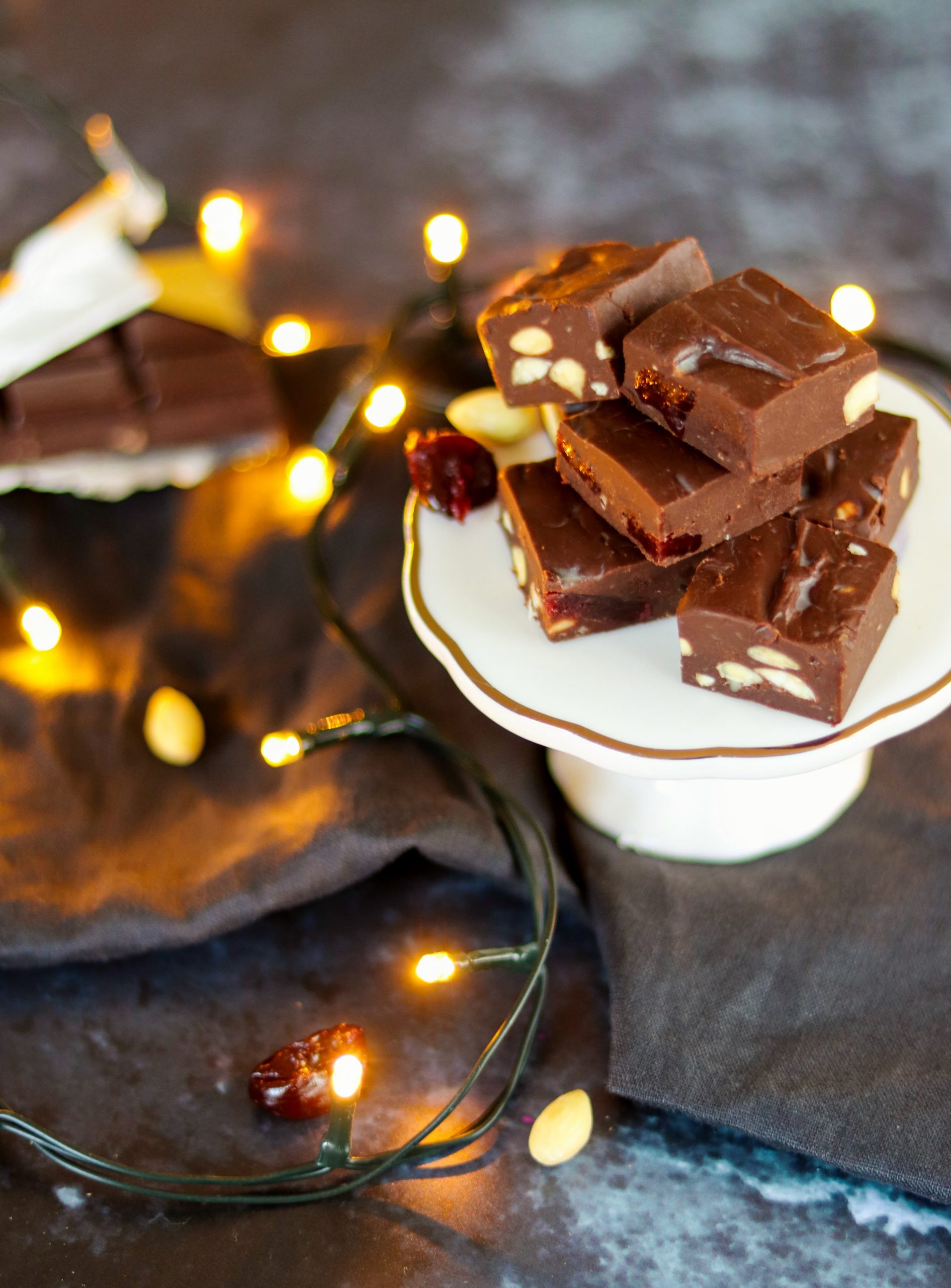 What is cheat's fudge?
Cheat's fudge is deemed by some as technically not fudge. However it is a lot more simple to make and is really delicious.
There is no boiling and definitely no soft ball stage! This makes it such an incredibly simple type of fudge that anyone can make.
It uses condensed milk as the essential ingredient to make this fudge as quick and easy as it is.
Use a good quality dark chocolate
For this fudge I really would recommend using a good quality dark chocolate. You should look for one with around 70% cocoa solids.
Personally I wouldn't pick a dark chocolate with more that 80% cocoa solids as this will become a bit too bitter for most people's tastes.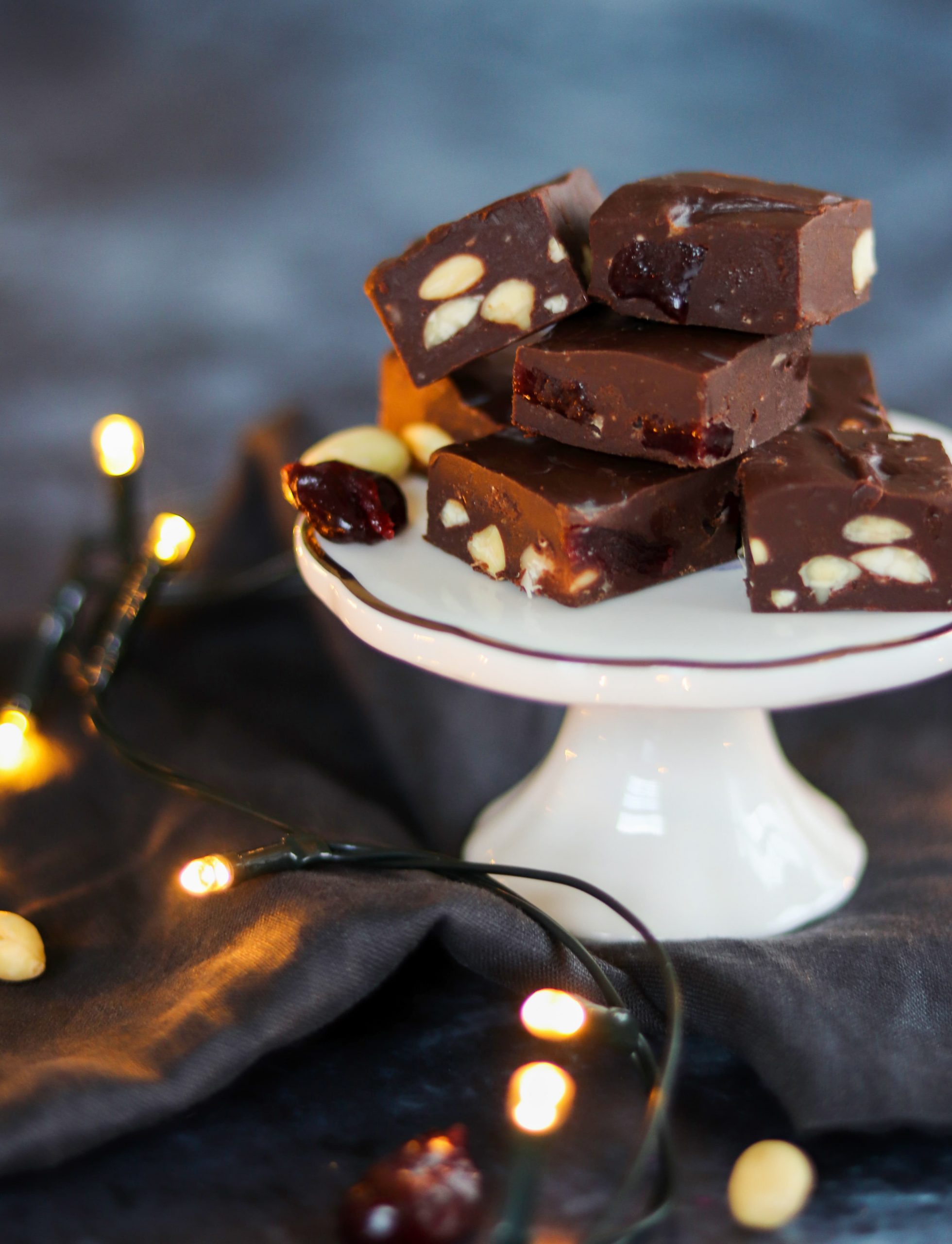 Which almonds are best to use?
For this recipe I prefer to use whole blanched almonds.
Blanched almonds have had the papery skins removed which is best for this recipe. You don't want bits of the skin in your fudge! You can buy un-blanched almonds and remove the skins yourself but this is an unnecessary step for me when you can buy them blanched.
I like using whole almonds as it gives a great texture and crunch to the fudge. You could use flaked almonds if you prefer, but they will have less crunch because they are much thinner.
Just make sure the almonds you use are unsalted.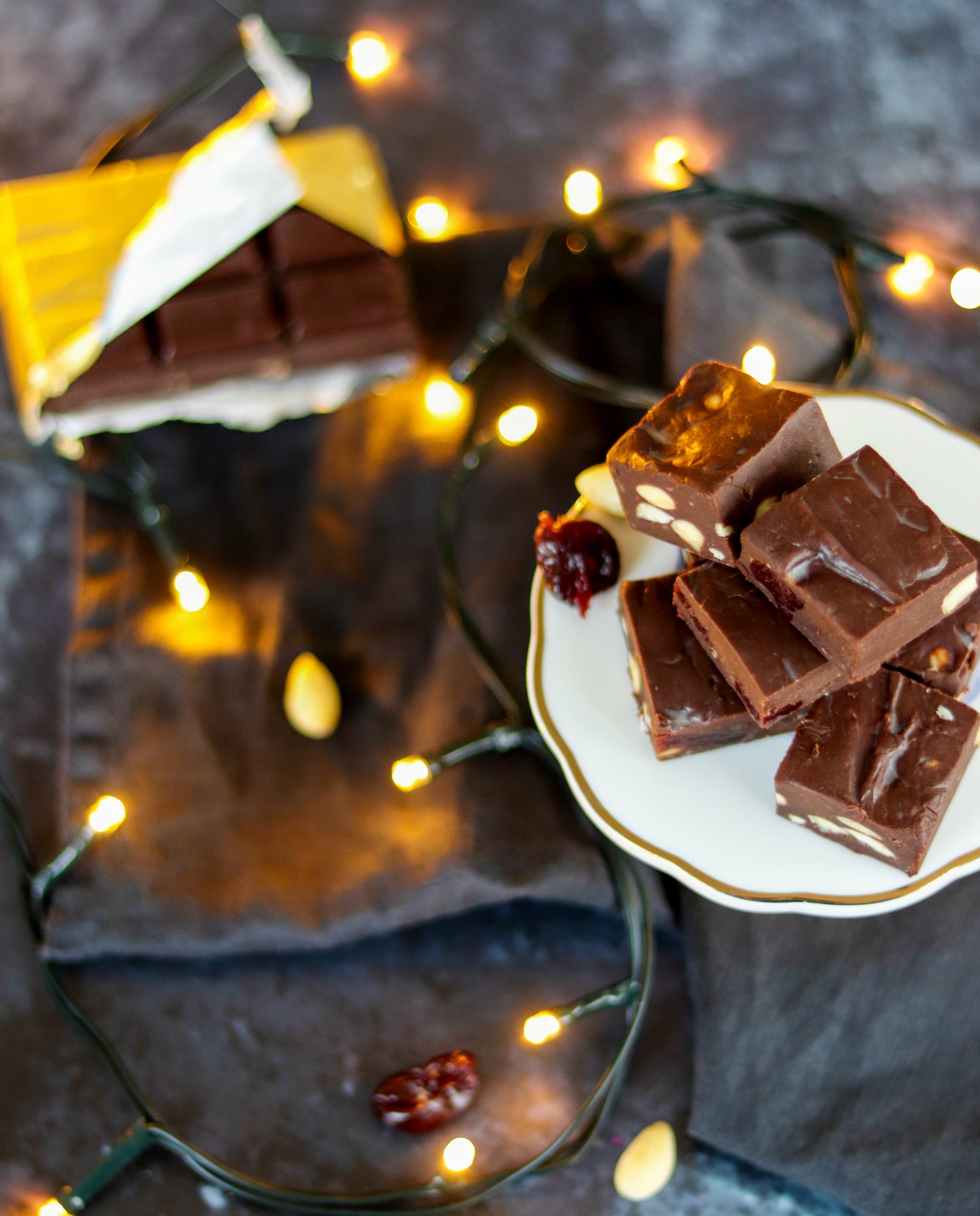 Which cherries are recommended to use?
You want to use dried cherries for this fudge. Fresh cherries or glace cherries will have too much moisture to be used.
Dried cherries aren't available in all supermarkets but I have seen then in Asda and Sainsburys.
If can't find or would rather not use cherries than you can use dried cranberries instead.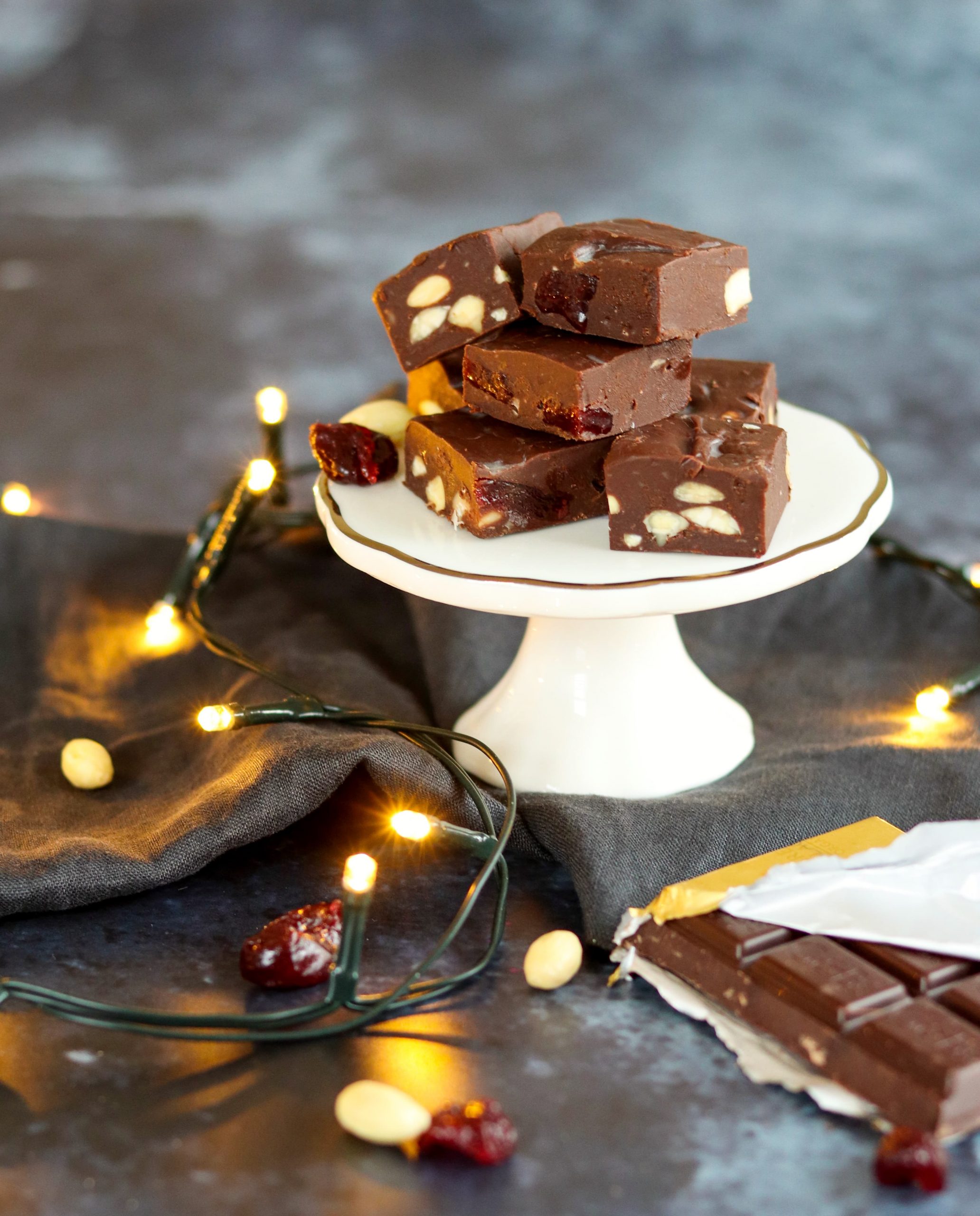 Freeze the fudge for a later date
One of the great things about this Dark Chocolate, Almond & Cherry Fudge is that you can make it well in advance and freeze it for later.
Once the fudge is completely chilled and cut into pieces it can be frozen. Wrap it tightly in parchment paper and put it in a Tupperware box.
When you want to eat it, you don't even need to thaw it. You can eat it straight from the freezer!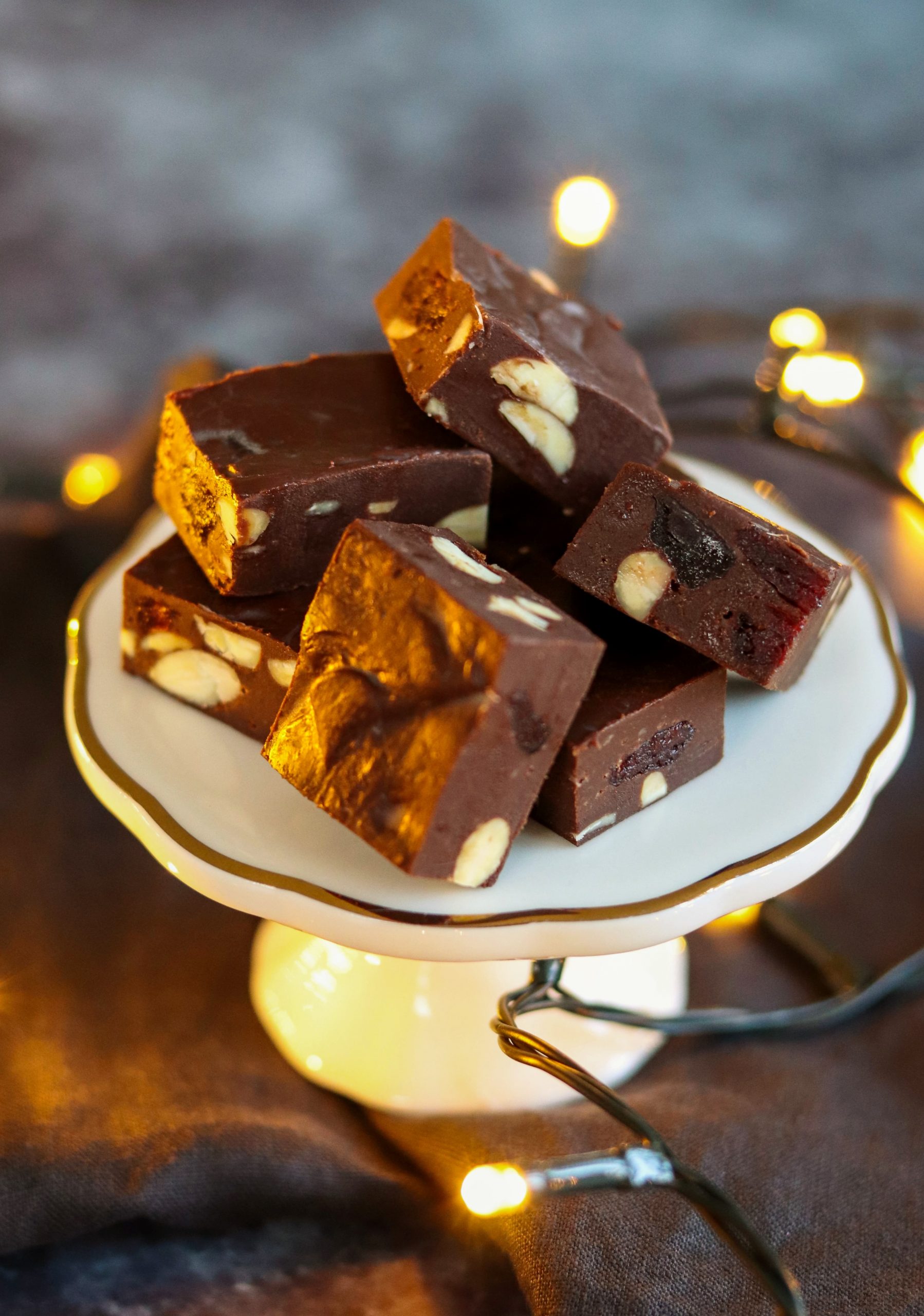 Customise the fudge to your tastes
I have chosen to use cherries and almonds for this fudge but it is really easy to customise it.
You could use a whole number of different flavours for this fudge. Any nuts would work well in this fudge. I would make sure they are unsalted and blanched so the skin is removed.
You could also use any dried fruit you like. There are so many different delicious flavour combinations that can be made. Have some fun and make flavours that appeal to you.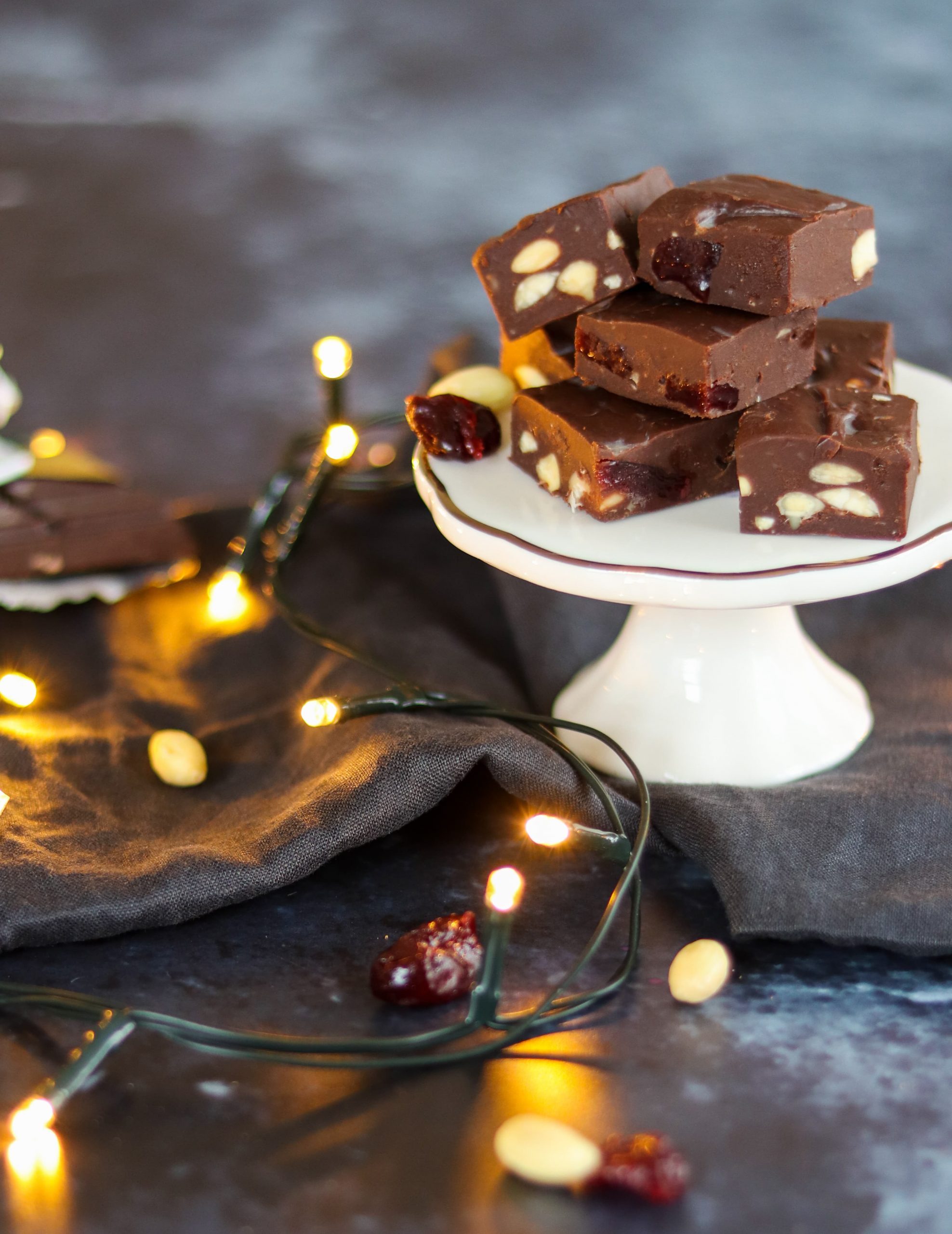 How many pieces of fudge does this recipe make?
There is no exact science of how many pieces you need to cut this fudge into. However it is quite rich so I would recommend smaller pieces rather than larger pieces.
I cut this fudge into 54 pieces because I think that feels like the right size.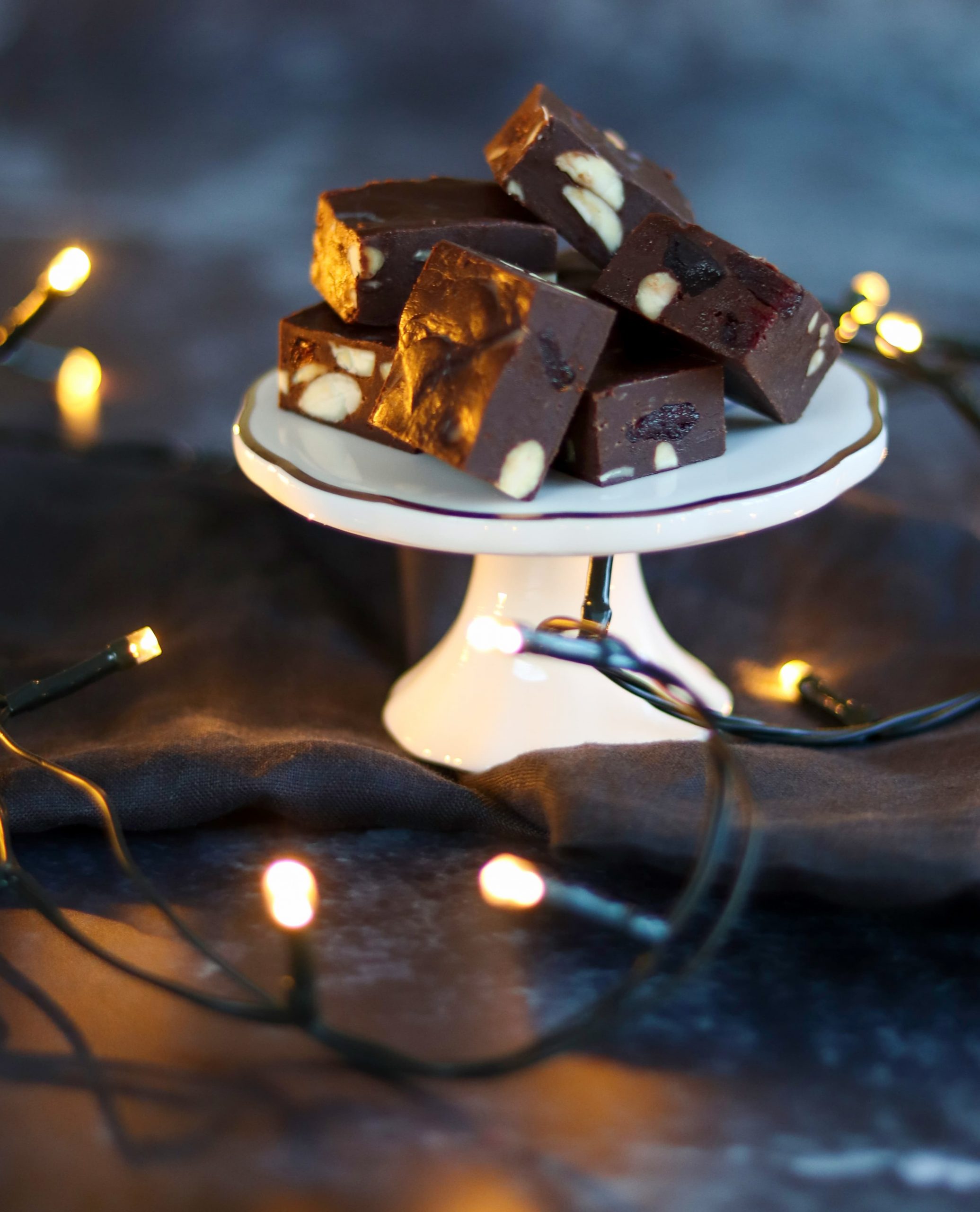 Can this Dark Chocolate, Almond & Cherry Fudge be made vegan?
This fudge is naturally gluten free and vegetarian and with a couple of small changes it can be made vegan too.
Recently, vegan condensed milk has become readily available in large supermarkets. It is just the popular brand here in the UK that offers it at the moment, but I am sure supermarkets will join in soon.
Use the vegan condensed milk along with your choice of dairy free margarine to make this fudge dairy free and suitable for vegans.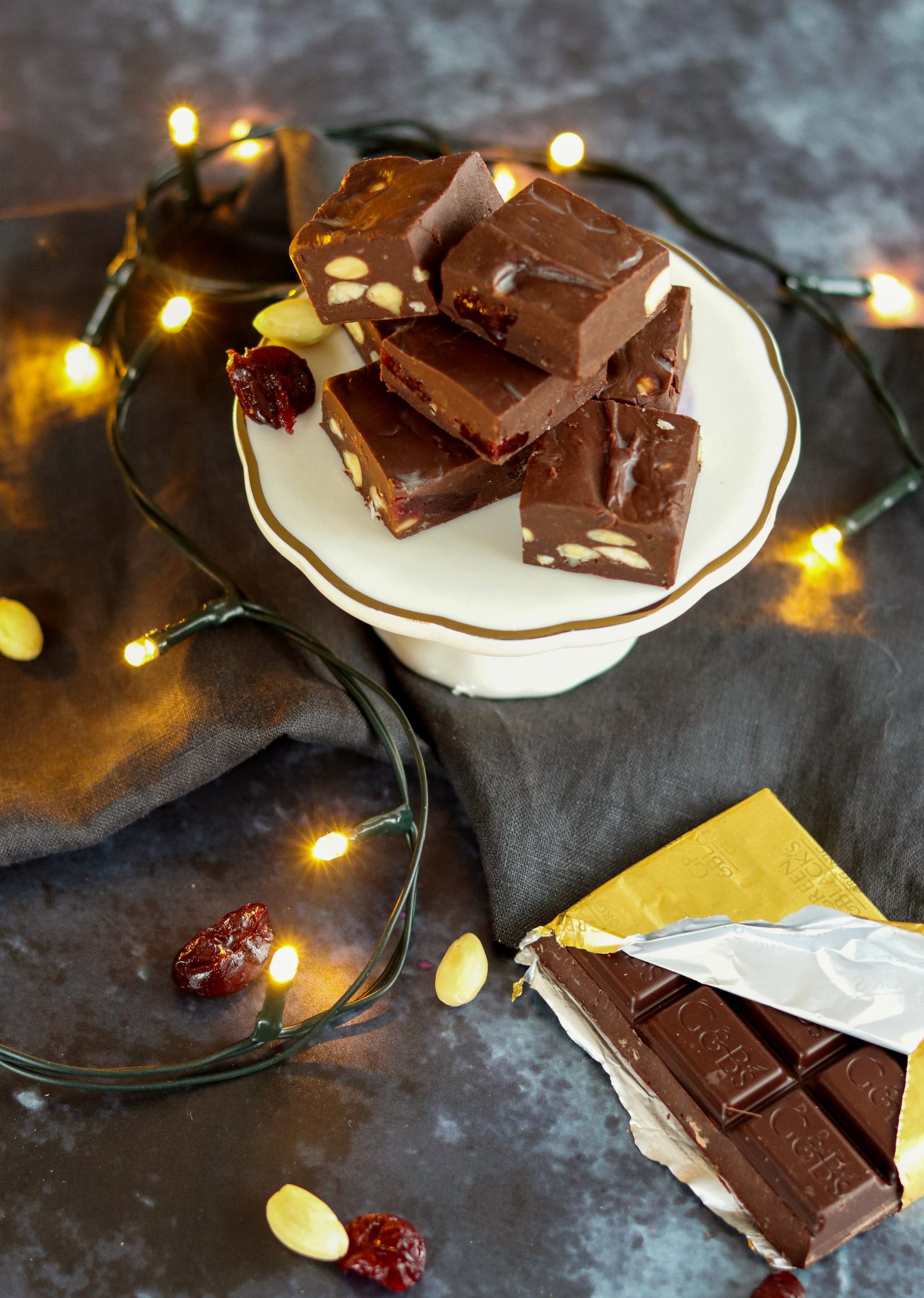 The perfect homemade gift
This fudge makes the perfect homemade gift. In recent years I have started making more presents that I give to people at Christmas. I think people really appreciate the extra time and effort you put into making a gift.
You can make this fudge weeks in advance and then get as much fudge out as you need as and when you want to give the fudge as gifts.
I like to put the fudge into clear bags and tie with festive ribbon. You can get biodegradable 'plastic' gift bags now so that makes me happy!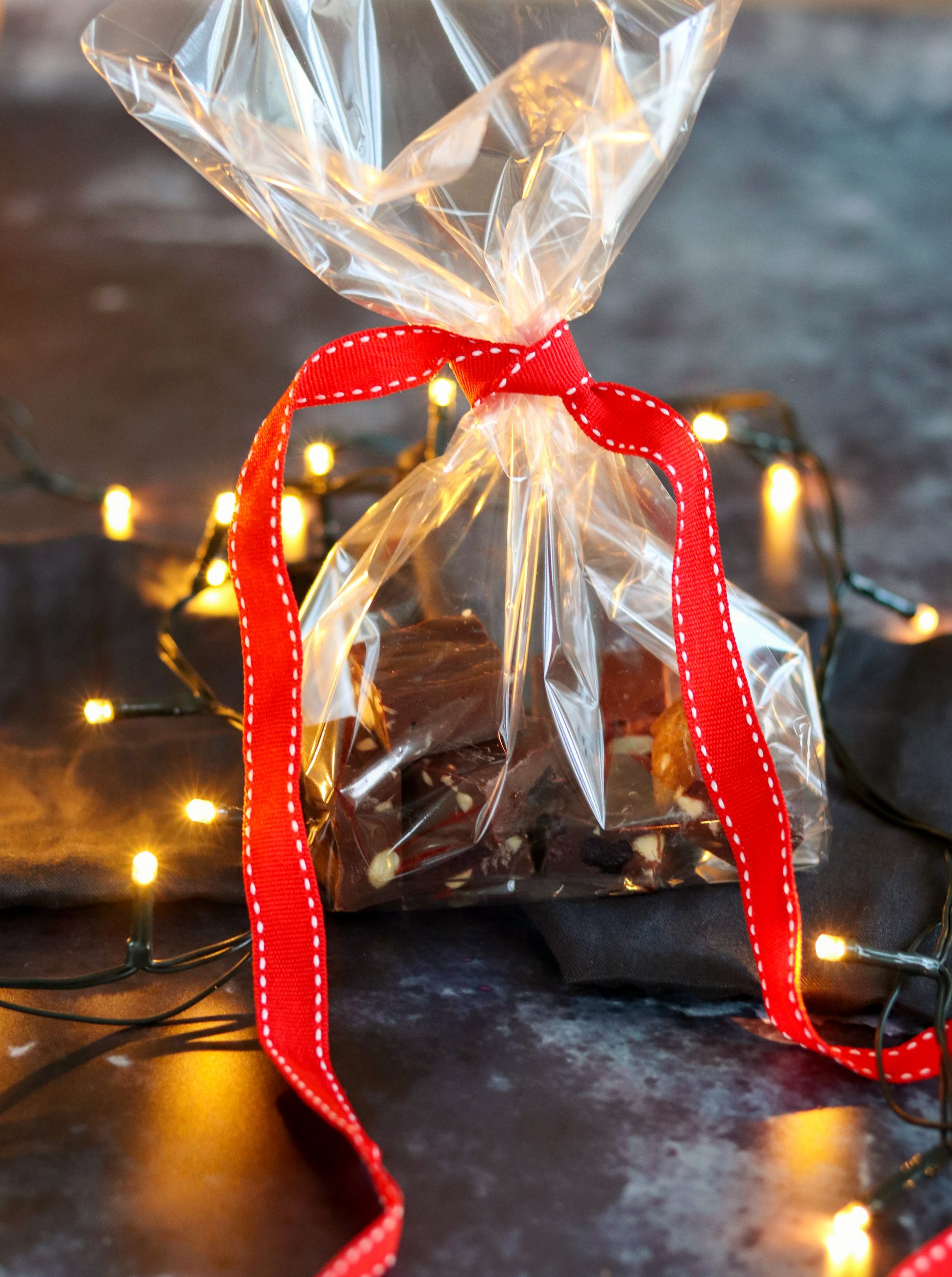 Other recipes you might like
Pin for later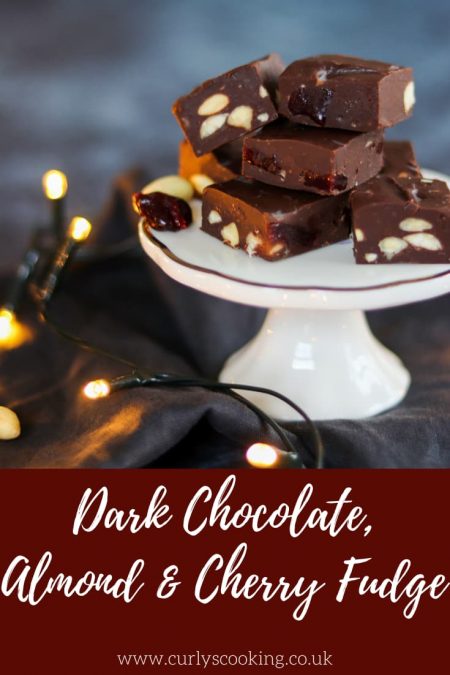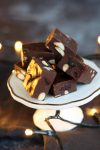 Dark Chocolate, Almond & Cherry Fudge
Rich dark chocolate fudge studded with cherries and almonds. This Dark Chocolate, Almond & Cherry Fudge would make a fantastic Christmas gift or you can always keep it for yourself!
Ingredients
350

g

dark chocolate

(70% cocoa solids)

1 x

397g

tin condensed milk

30

g

unsalted butter

pinch

sea salt

80

g

dried cherries

85

g

blanched almonds
Instructions
Line a 20x20cm tin with baking paper and set aside

Put the nuts in a bag and bash them with a rolling pin to break them up slightly so you have some smaller and larger pieces

Break the chocolate into a heavy bottomed saucepan. Add the condensed milk, butter and salt and melt over a low heat making sure you stir every so often

When everything is melted, add the dried cherries and crushed nuts. Stir until mixed through

Pour the fudge into the prepared tin and smooth the top until level. Leave to chill in the fridge for at least four hours but overnight is best

Once the fudge is completely chilled, cut it into equal sized pieces
Recipe Notes
Keep in the fridge for up to a week.
Freeze by wrapping in baking paper and then putting in a Tupperware box. Keep in the freezer for a couple of months.
Nutritional information is given as a guide only.
Nutrition Facts
Dark Chocolate, Almond & Cherry Fudge
Amount Per Serving
Calories 68
Calories from Fat 36
% Daily Value*
Fat 4g6%
Cholesterol 1mg0%
Sodium 1mg0%
Potassium 56mg2%
Carbohydrates 4g1%
Vitamin A 70IU1%
Calcium 10mg1%
Iron 0.8mg4%
* Percent Daily Values are based on a 2000 calorie diet.
Linking to