All the tasty flavours you'd expect from a mince pie but quicker and easier! These Mincemeat Thumbprint Cookies are the perfect treat to rustle up over Christmas.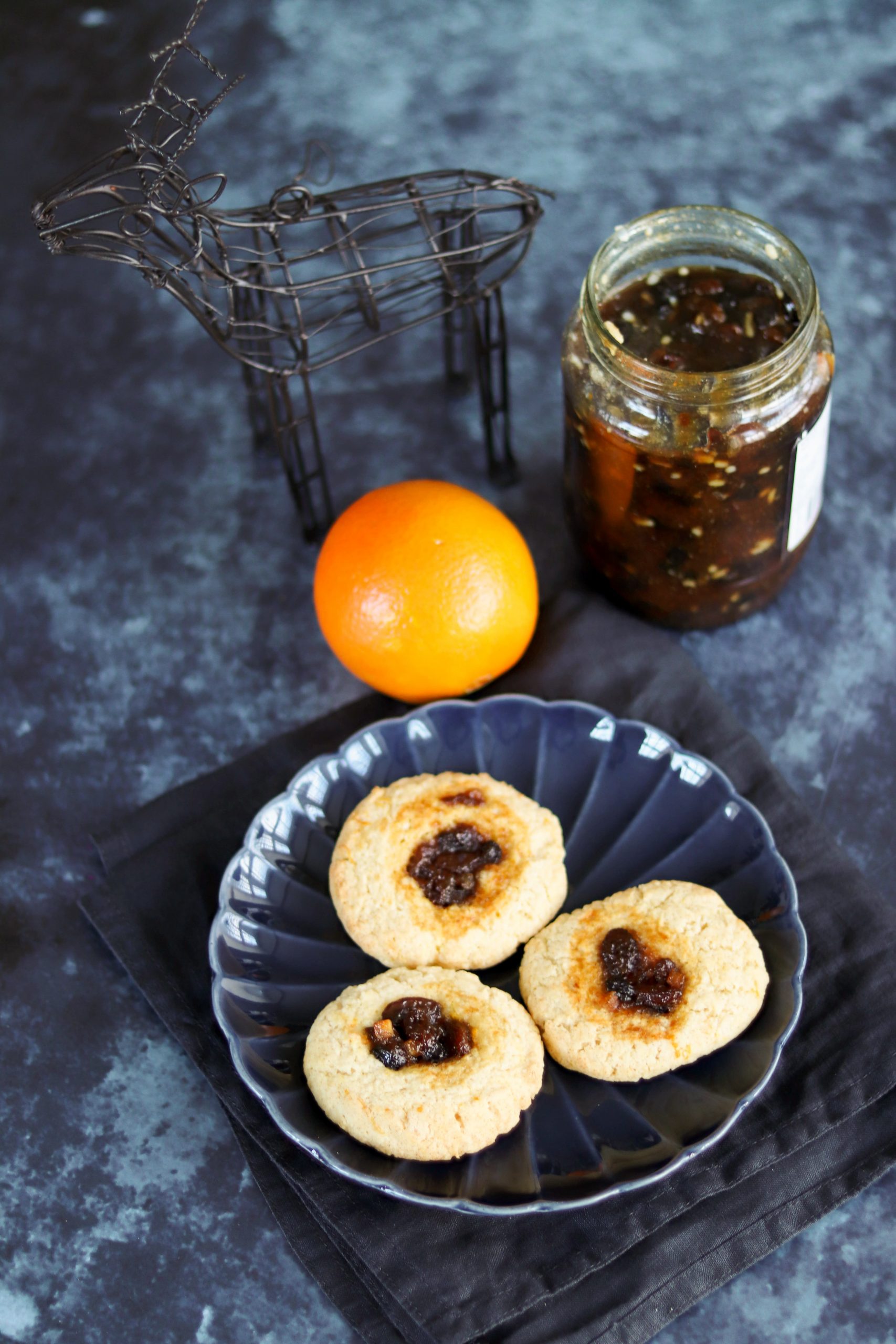 WHAT ARE THUMBPRINT COOKIES?
Thumbprint cookies I believe, are based on a Swedish biscuit that's name translated to 'raspberry caves'. Thumbprint Cookies was the name adopted by America and it is the most widely used name for them.
If you're from the UK, don't be confused. Although they are referred to as cookies, we would know them as a soft biscuit.
I already have my Jam Thumbprint Cookies and Lemon Thumbprint Cookies so a festive version was needed!
A new take on a mince pie
I love mince pies but whenever I make them I am always slightly disappointed. Traditional mince pies don't live up to my expectations. My Crumble Topped Mince Pies are the exception to this though!
This is probably because I always try and fill them with too much mincemeat and then they don't end up looking as uniform as I'd like!
Traditional mince pies also are quite fiddly with all of the rolling out and cutting of the pastry. Last year I made Frangipane Mince Pie Slices which were very popular and a great alternative to Mince Pies.
This year, I wanted to come up with an even easier recipe.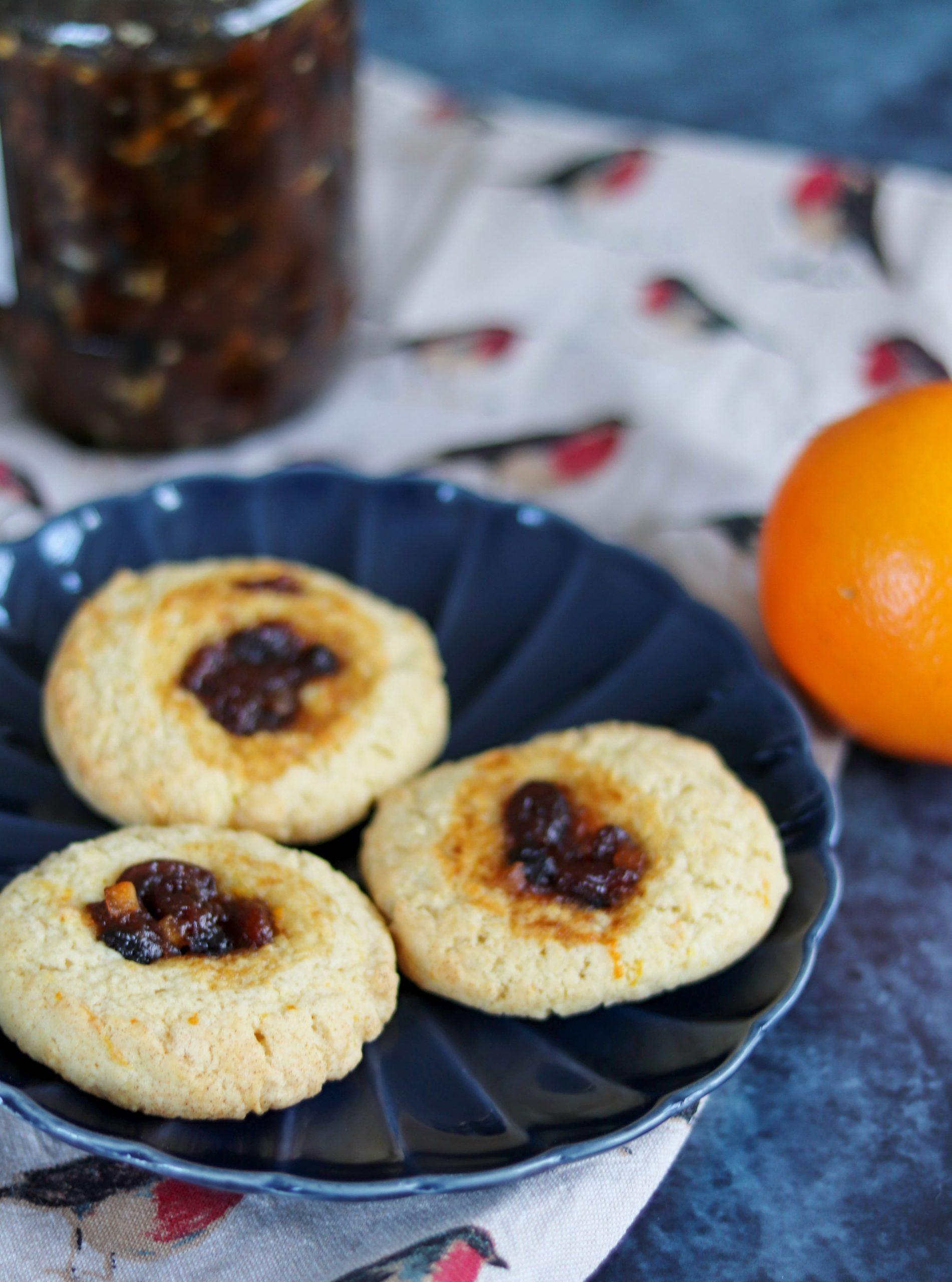 WHAT IS MINCEMEAT?
If you're not from the UK, you might not have heard of mincemeat. It is a sweet mixture of dried fruits, spices and spirits.
So where does the name come from? Well back in the 12th century mincemeat was made using meat as a way of preserving it. Over the years the meat has been swapped for the fruit.
So don't panic, despite the name there is no meat in mincemeat anymore and it is really tasty!
Mincemeat thumbprint cookies have all the flavour but without the faff
As we all know the build up to Christmas is such a busy time for everyone with the present buying and food prep. This is why any time saving Christmas recipes are always a win in my book!
These Mincemeat Thumbprint Cookies could not be easier. You don't need a mixer which means there's not even extra washing up! They aren't anything fancy, they are just simple and tasty.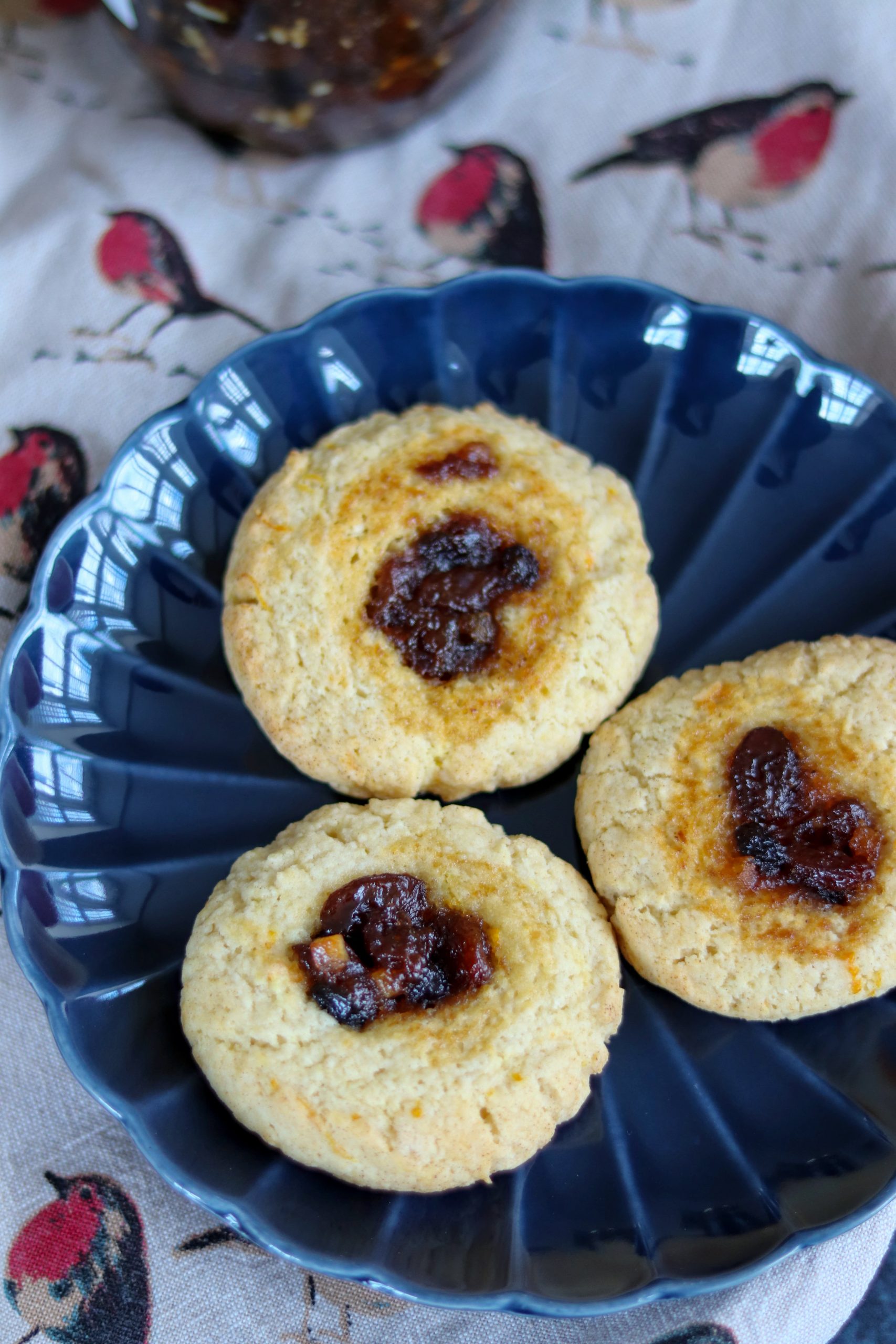 Which Mincemeat is recommended to use?
I would always recommend making my Quick Mincemeat because it is so delicious and easy to make. You can make a batch and have it ready to make festive treats.
I don't think there is anything wrong with using shop bought mincemeat. This is what most people tend to do and it is convenient.
I would recommend trying to choose a good quality mincemeat. There are quite a few choices; the fruits and spirits use vary and some may even include nuts. Pick one that appeals to you.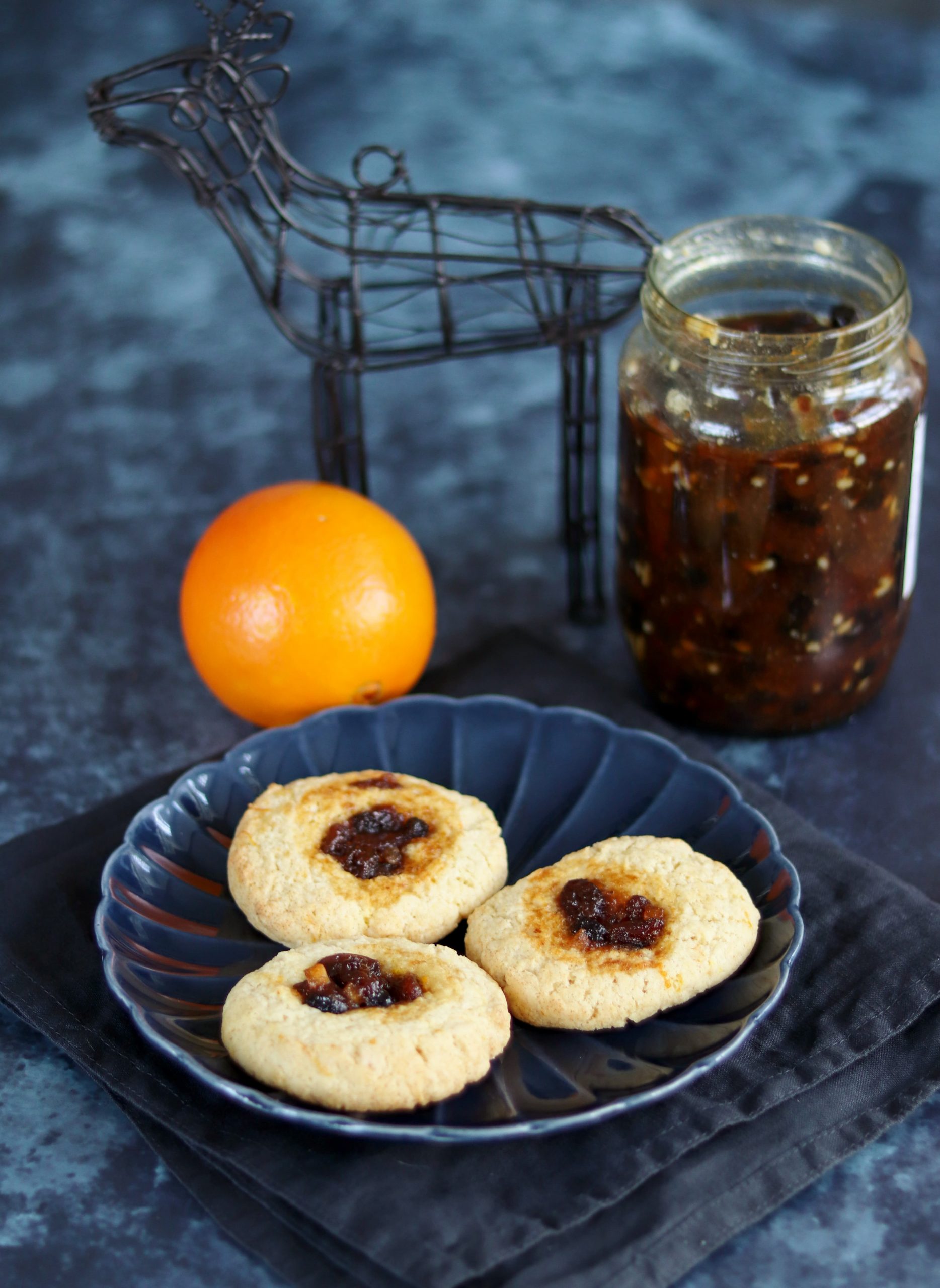 Don't add too much mincemeat
This is my biggest issue. I love mincemeat and want to add as much as I can. But if you add too much it just spills down the sides of the cookies.
Although this won't affect the taste of the cookies and they will still be delicious, it does make them look a little less pretty.
Such a simple cookie to make
These Mincemeat Thumbprint Cookies are really easy to make. This makes them great for children to help out with.
It is also a great bake for people who aren't very confident bakers. It doesn't matter if they look a bit rustic – mine often do!
If you're looking for simple festive bakes, check out my Mincemeat Christmas Flapjacks. Easy and super tasty!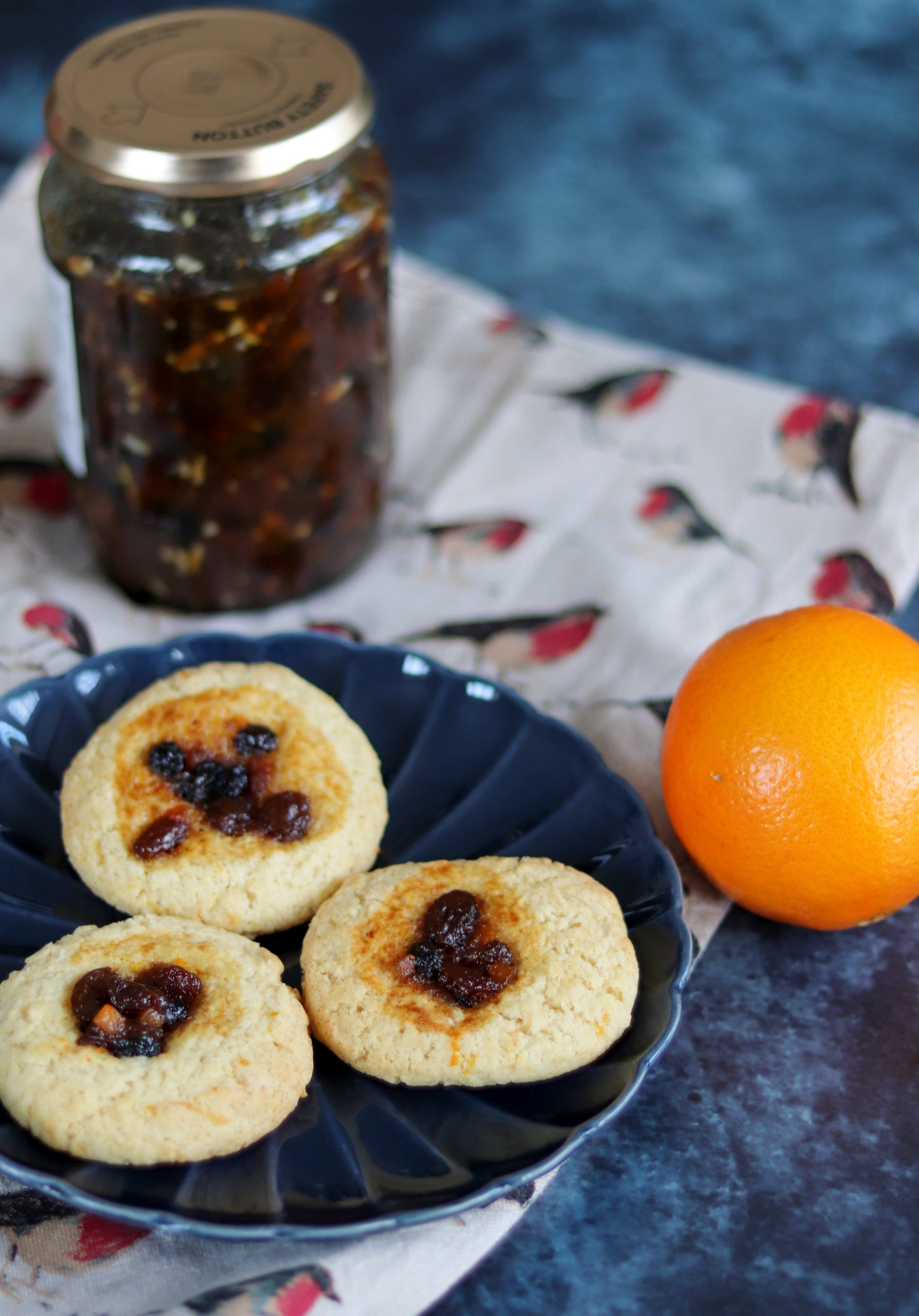 Is the orange zest essential?
The orange zest isn't essential, but I think it really enhances the flavour of the cookies and the mincemeat.
Orange and mincemeat is a delicious flavour combination and it really takes these cookies to the next level.
If you don't want to add it you don't have to; but I really would recommend trying it!
Can you freeze these Mincemeat Thumbprint Cookies?
Yes you can freeze these cookies.
I think the best way to freeze them would be to wrap them up tightly in baking paper and then cling film after you have rolled the dough into a cylinder.
When you want to bake them, leave them to defrost for an hour or so before cutting into slices and continuing the recipe as below.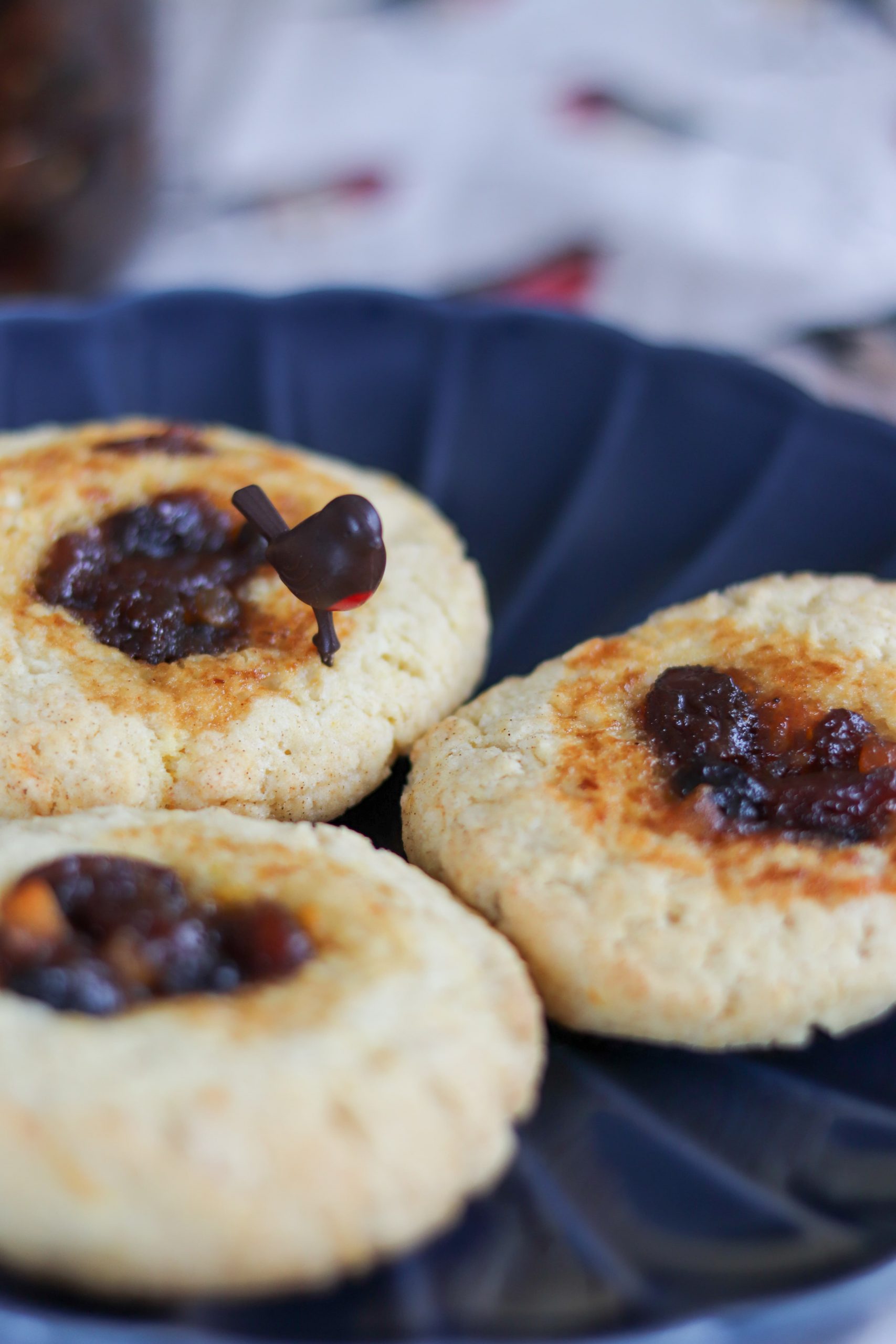 These cookies make a great gift
I love giving edible gifts at Christmas. People really love the extra thought and effort that goes into making them. Plus they are delicious!
I like to make little hampers for people including some cookies like this along with some Dark Chocolate, Almond & Cherry Fudge and Caramelised Onion Chutney.
Other festive recipes you might like
Pin for later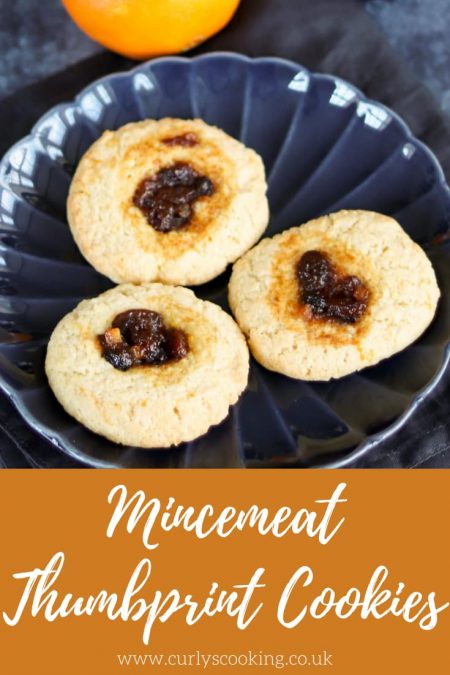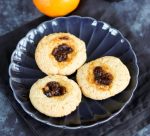 Mincemeat Thumbprint Cookies
All the tasty flavours you'd expect from a mince pie but quicker and easier! These Mincemeat Thumbprint Cookies are the perfect treat to rustle up over Christmas.
Ingredients
200

g

self raising flour

100

g

caster sugar

100

g

margarine

1

orange

zested

1

egg

beaten

¼

tsp

almond extract

4

tbsp

mincemeat
Instructions
Heat the oven to 170ºC (fan assisted, 190ºC non fan). Rub the flour, sugar and butter together until you have a breadcrumb texture

Add in the orange zest and almond extract before adding in enough egg to create a stiff dough – you may not need the whole egg

Shape the dough into a tube and cut into slices approximately 1cm thick

Put them on a baking tray lined with baking parchment make sure you leave enough space between each biscuit for them to expand when they bake

Make a small indentation in the middle of each biscuit with the back of a ½ tsp measure and spoon in a small amount of mincemeat in the centre of each cookie

Bake for 10-15 minutes until they are golden brown

Allow to cool completely on a wire rack
Recipe Notes
Don't be tempted to use too much mincemeat or else it will run down the side.
Keep for up to two days in an airtight container.
Nutritional information is given as a guide only.
Nutrition Facts
Mincemeat Thumbprint Cookies
Amount Per Serving
Calories 137
Calories from Fat 45
% Daily Value*
Fat 5g8%
Cholesterol 10mg3%
Sodium 91mg4%
Potassium 33mg1%
Carbohydrates 20g7%
Protein 2g4%
Vitamin A 255IU5%
Vitamin C 4.4mg5%
Calcium 9mg1%
Iron 0.2mg1%
* Percent Daily Values are based on a 2000 calorie diet.