Deliciously decadent cookies crammed with mini eggs. These Double Chocolate Mini Egg Cookies will make you want to stock up on mini eggs so you can make them all year!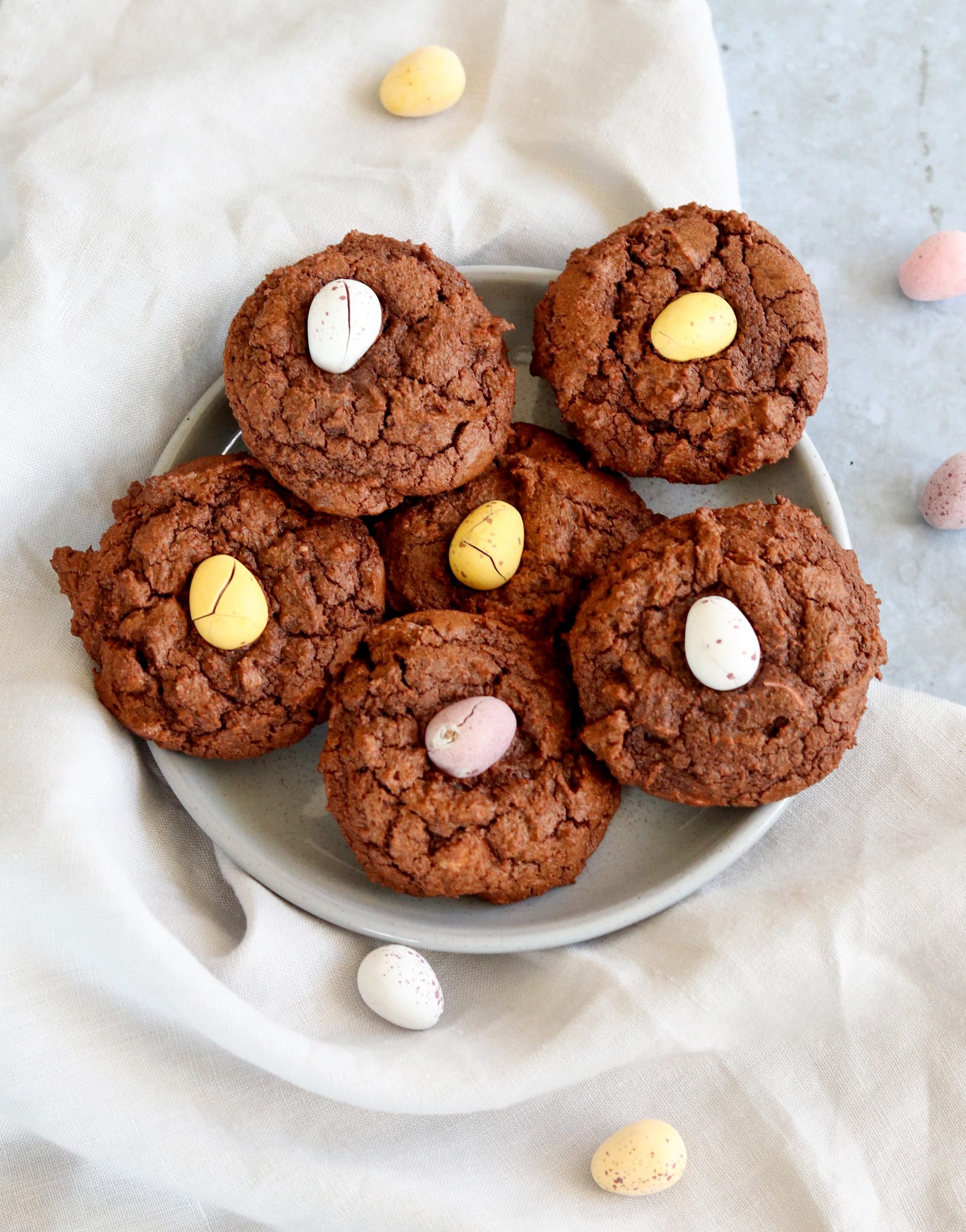 When should Easter Baking start?
Well that is a question I am sure people have different opinions on!
Supermarkets these days stock Easter chocolate as soon as the Christmas food is off the shelves; sometimes even before!
Some people find this very annoying and think that it shouldn't be sold until much closer to Easter. I must admit, it is helpful for me and other food bloggers that want to start making and photographing recipes!
Delicious baking is suitable for any time of year so you make these Double Chocolate Mini Egg Cookies whenever you like!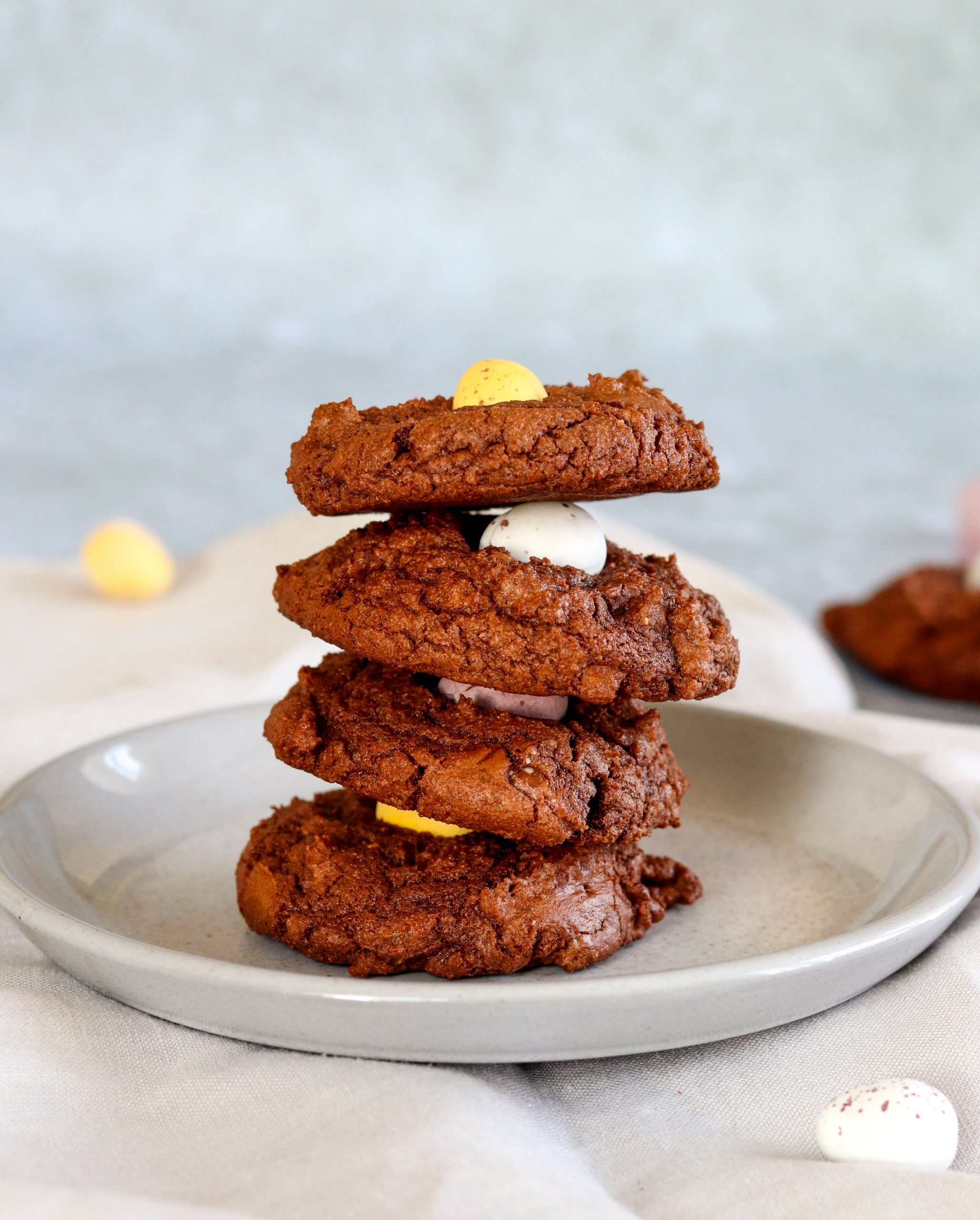 What makes these double chocolate mini egg cookies?
These are double chocolate cookies because they have cocoa powder in the actual cookie batter but also crushed mini eggs in the mix too.
If that wasn't enough these deliciously chocolatey cookies are then topped with a mini egg. Go as crazy as you like and add multiple mini eggs if you want!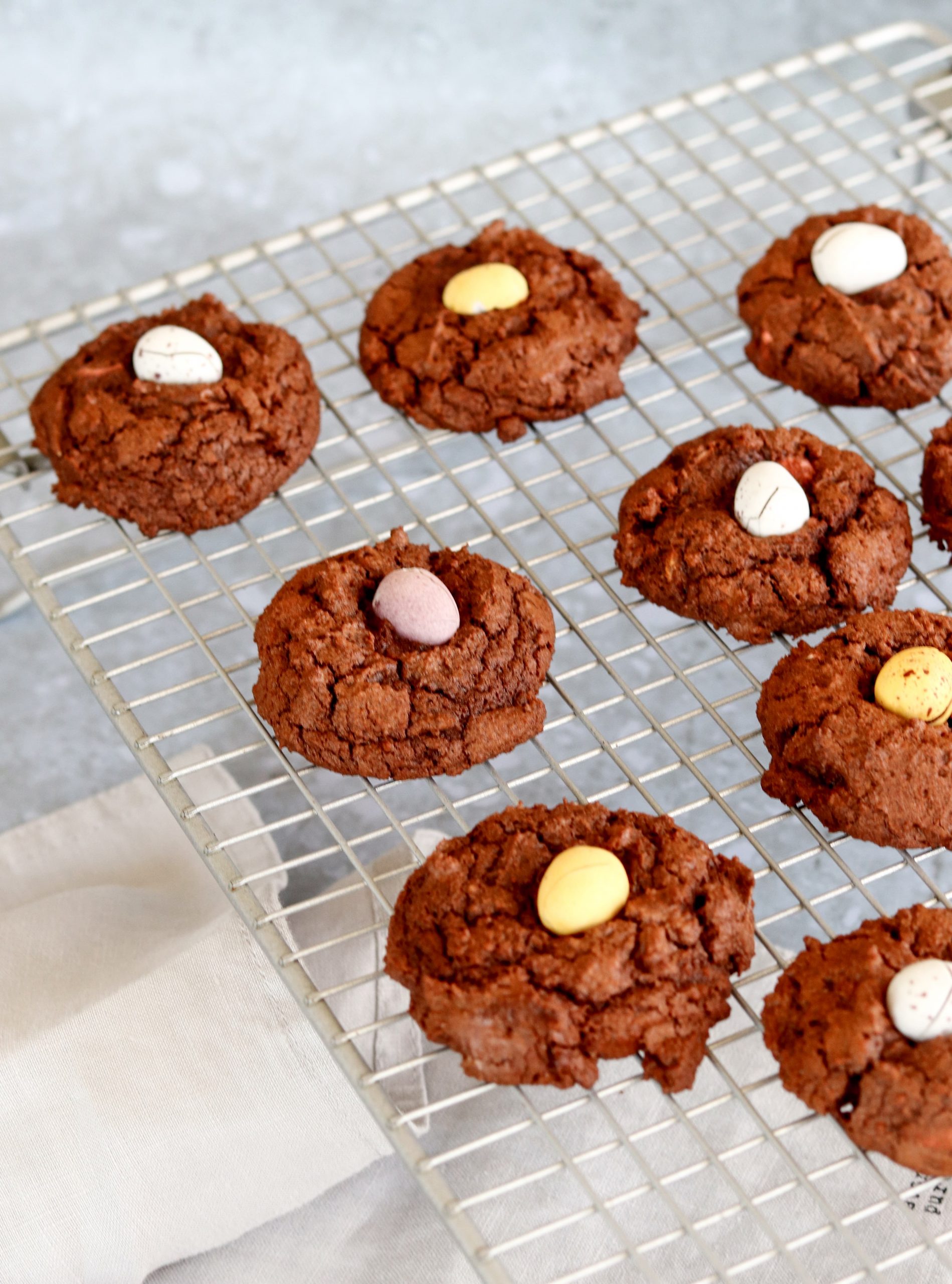 Do I have to use Mini Eggs in these cookies?
Absolutely not, feel free to use any Easter Chocolate you like. There are so many to choose from that you can make these cookies with your favourite.
Some Easter chocolates you might like to try:
Malteser Easter bunnies
Galaxy Enchanted Eggs
Terry's chocolate orange mini eggs
Milkybar white chocolate mini eggs
I haven't tried something with a gooey centre like creme eggs because I don't think they would work as well.
Also if you aren't making these at Easter you can use normal chocolate chips.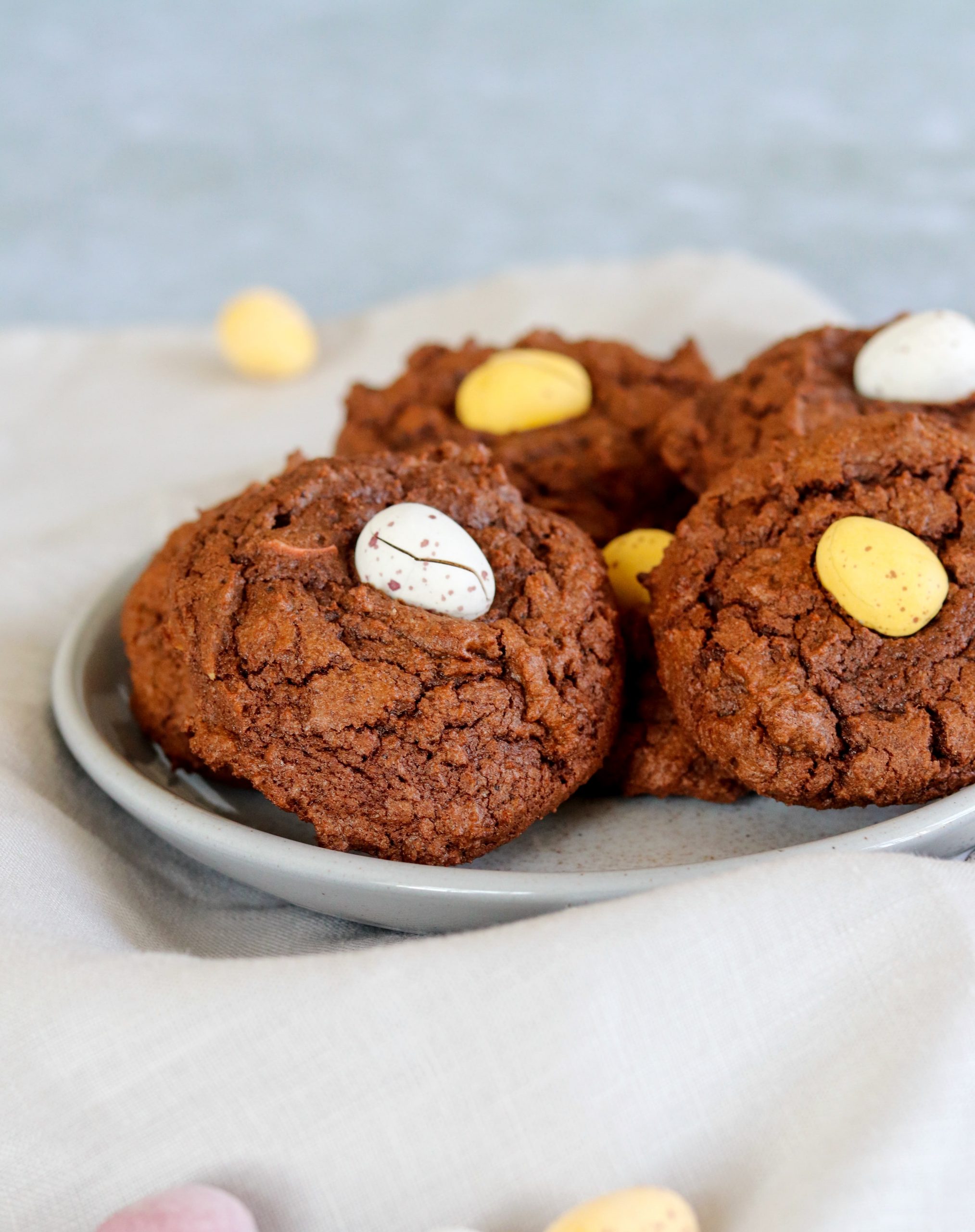 margarine or butter?
As with a lot of my bakes, I use margarine for these Double Chocolate Mini Egg Cookies. This is simply because it is softer and easier to cream with the sugars.
I'm impatient and I don't like to wait for my butter to soften before I can bake!
You can definitely use butter instead of margarine for these cookies. Just make sure it is softened or else it will be more difficult to cream.
If you are going to use butter, I would make sure you use unsalted butter. This is my preferred butter to use when baking.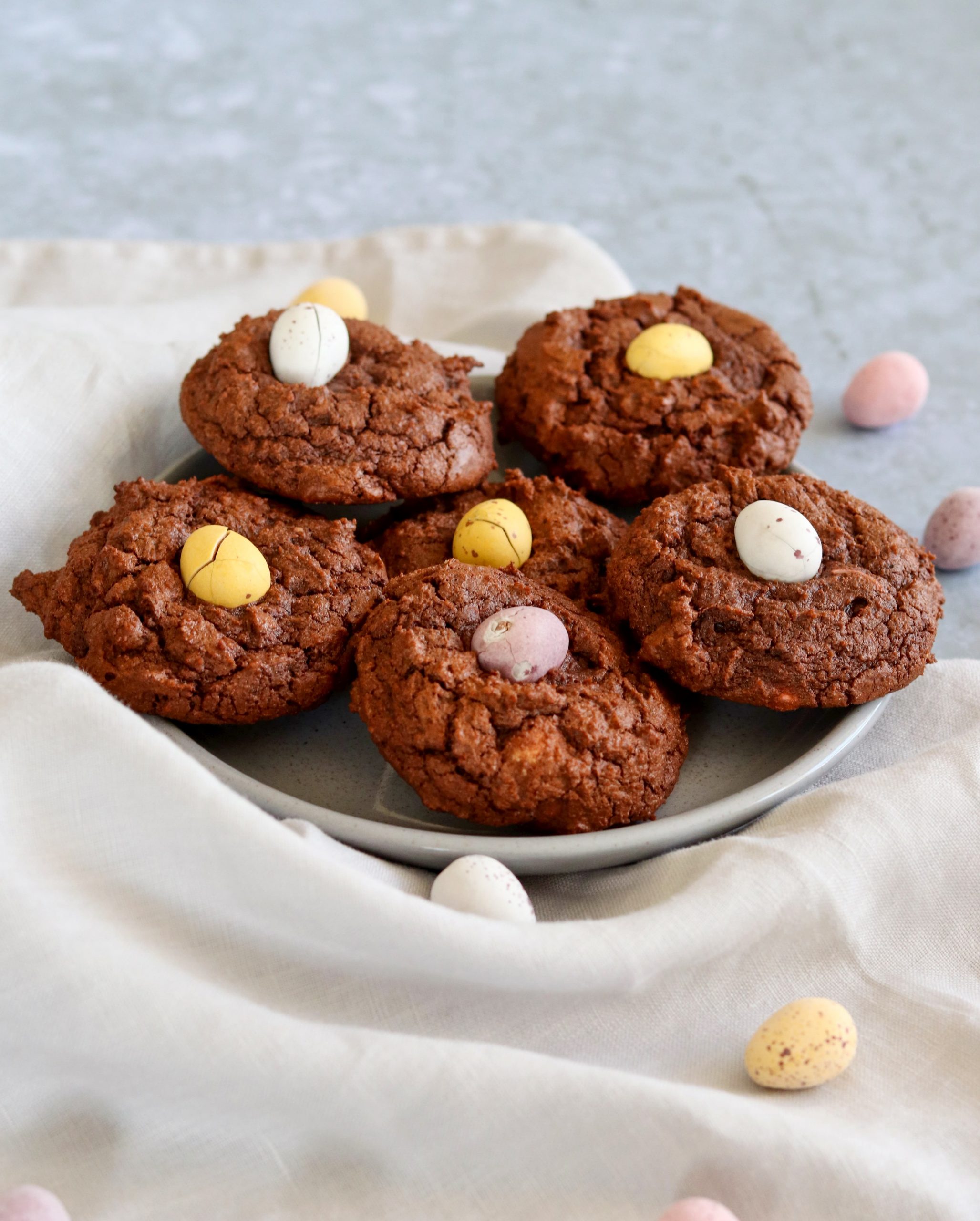 How many cookies does this recipe make?
I use my smallest mechanical ice cream scoop which is approximately 1 inch in diameter. This is roughly one tablespoon of cookie dough.
If you haven't got a set of scoops in varying sizes I really recommend adding them to your list. They make scooping out cookies, cupcakes and all sorts of things so much easier!
If you use a similar size measurement for your cookies you should make around 25.
If you want them to be a bit bigger, obviously you will make fewer cookies. Also note that they may take a couple more minutes to bake in the oven because they are a little bigger.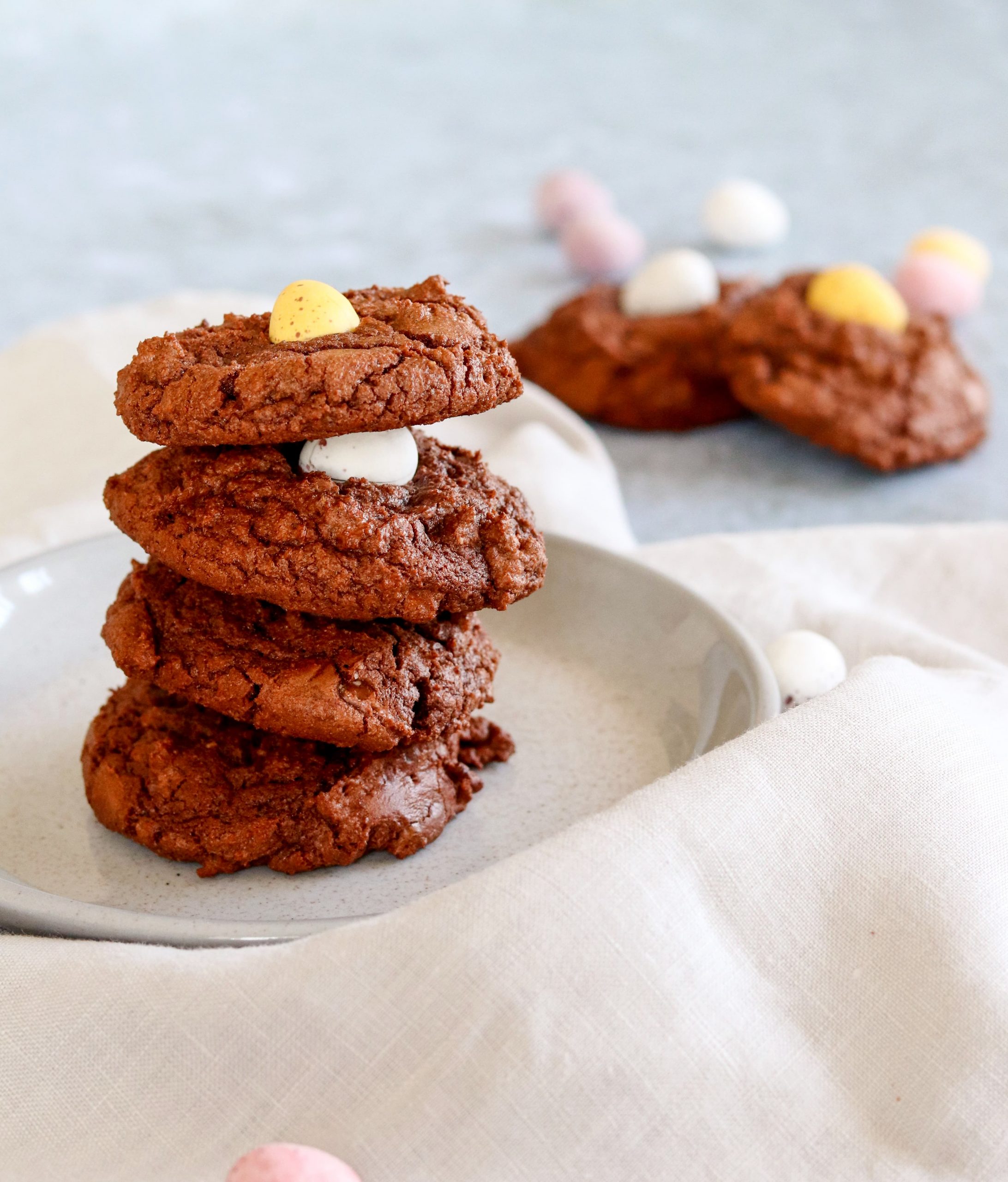 how long will these cookies keep for?
These Double Chocolate Mini Egg Cookies will keep for 4-5 days in an airtight container.
As they get older they do become a little less soft so bear this in mind.
If you don't want to eat the whole batch in a few days then I would recommend freezing some for another time.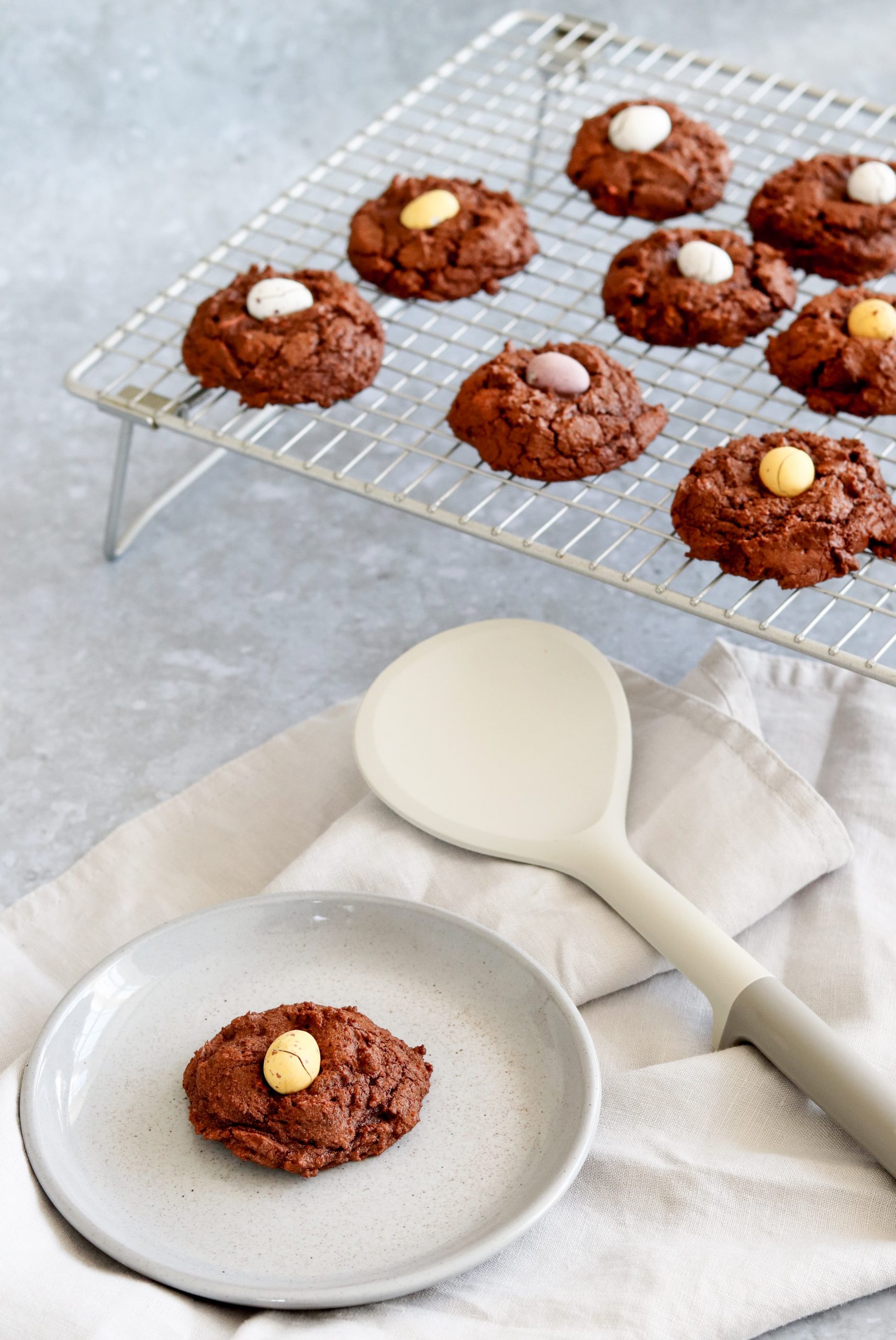 how to freeze the cookies
One of the reasons I love cookies so much is how easily they are to freeze.
If you want to freeze the cookies, make them as the recipe states below. Place them on a baking tray – you don't have to leave much of a gap between them, just enough so they aren't touching.
Don't add the mini eggs before they are frozen, add these when you come to bake them later.
Then put the baking tray in the freezer for around one hour until the cookies have become firm.
When they are firm, you can take the cookies off the baking tray and transfer them to a bag or container until you need them.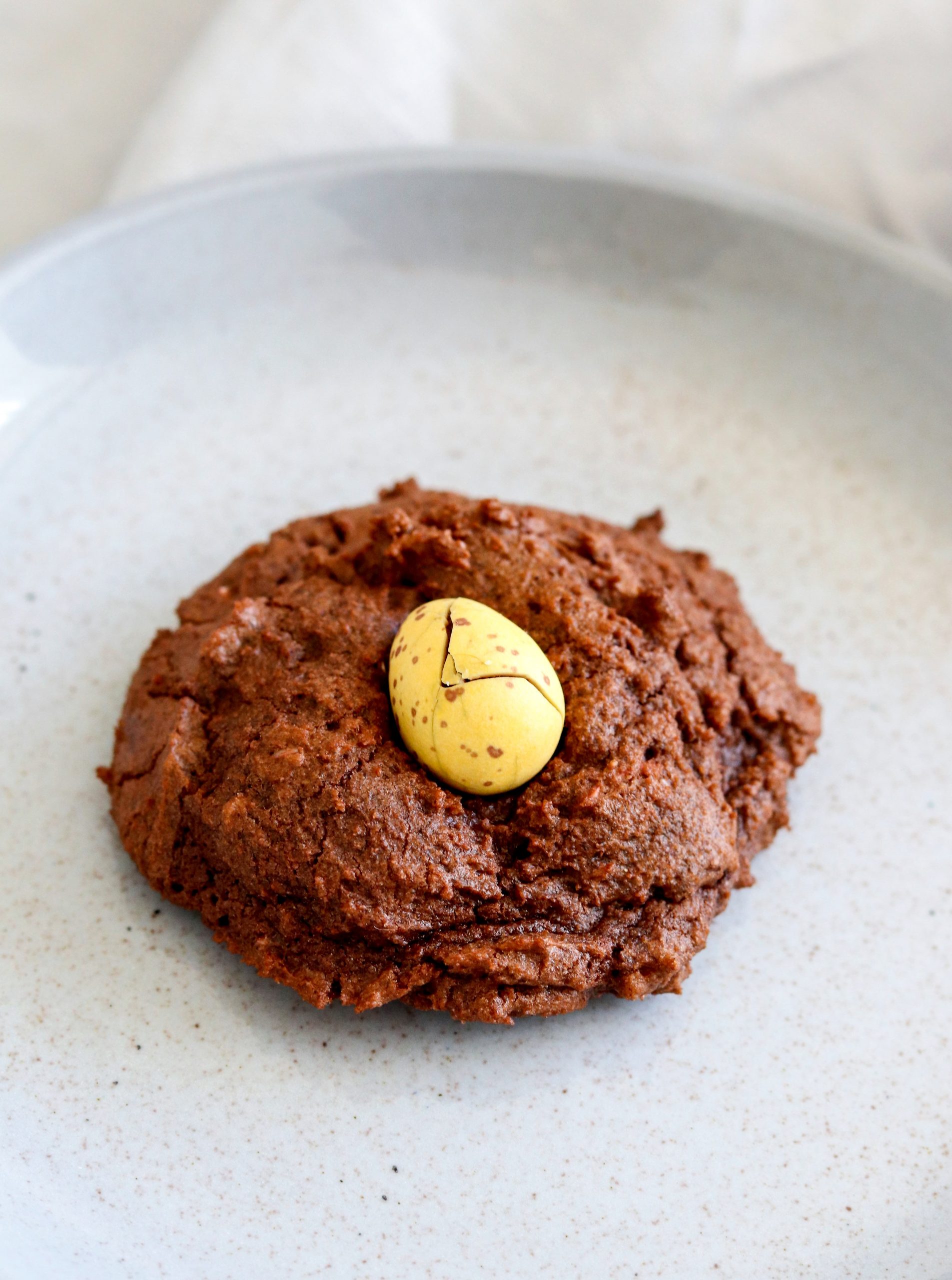 When you want to bake them you have two options. You can put them on a baking tray – making sure you leave room for them to spread; and bake straight away.
They will take up to five minutes longer than the recipe states if you bake them this way and you need to keep an eye on them.
If you aren't feeling confident with this method, leave them to warm up slightly for 10-15 minutes before you bake them. This way they should only need 10-11 minutes until they are baked until perfection.
Make sure you don't forget to add a mini egg to each cookie before baking!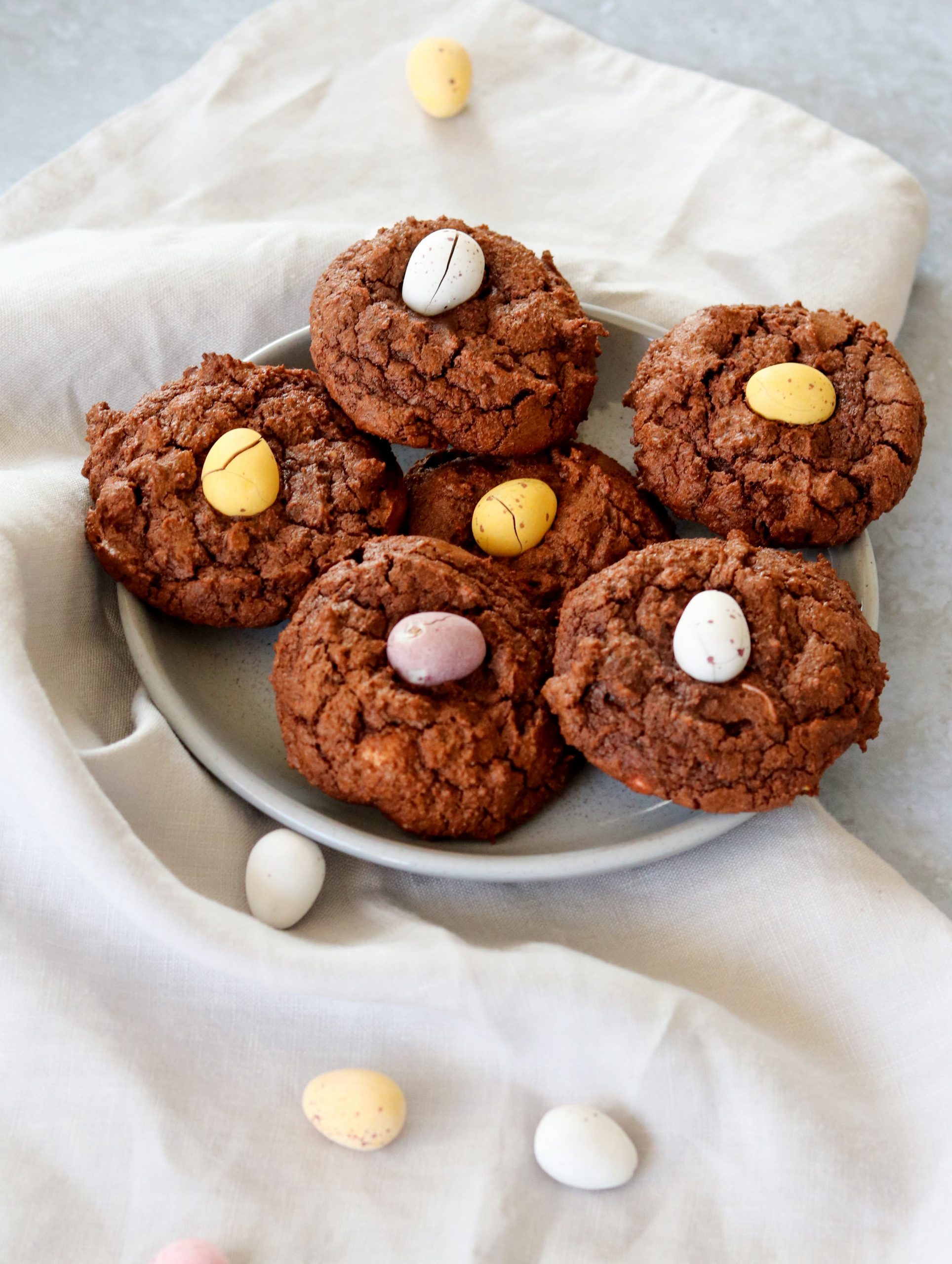 Other recipes you might like
Pin for later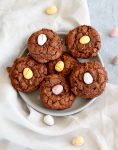 Double Chocolate Mini Egg Cookies
Deliciously decadent cookies crammed with mini eggs. These Double Chocolate Mini Egg Cookies will make you want to stock up on mini eggs so you can make them all year!

Ingredients
100

g

margarine

225

g

light brown sugar

1

egg

1

tsp

vanilla extract

185

g

self raising flour

40

g

cocoa powder

½

tsp

salt

200

g

mini eggs

lightly crushed
Instructions
Lightly crush the mini eggs so you have a mixture of small and large pieces. I do this with the end of a rolling pin

Preheat the oven to 180ºC (fan assisted, 200ºC non fan) and line three baking trays with liners or parchment paper

Cream the butter and sugar together until light and fluffy, this may take a couple of minutes. Add the egg and vanilla and mix until combined

Add the flour, cocoa powder and salt and mix briefly to combine before adding crushed mini eggs. Stir through until completed mixed

Add balls of the cookie dough onto the lined baking trays making sure you leave enough space to allow for the cookies to spread when cooking. I use a small ice cream scoop for this

Add a mini egg on top of each cookie

Bake in the oven for 10 minutes. When you take them out of the oven they should still be soft to touch in the centre. Leave them to cool for 5-10 minutes before gently lifting them to cool completely on a wire rack
Recipe Notes
Do not over cook these cookies! They will look soft but they firm up as they cool.
Nutritional information is given as a guide only.
Nutrition Facts
Double Chocolate Mini Egg Cookies
Amount Per Serving
Calories 151
Calories from Fat 27
% Daily Value*
Fat 3g5%
Cholesterol 6mg2%
Sodium 89mg4%
Potassium 25mg1%
Carbohydrates 15g5%
Protein 1g2%
Vitamin A 155IU3%
Calcium 11mg1%
Iron 0.2mg1%
* Percent Daily Values are based on a 2000 calorie diet.