These Cavolo Nero & Sweetcorn Quesadillas a delicious vegetarian lunch or snack. Who could resist a cheesy quesadilla with a hint of spice?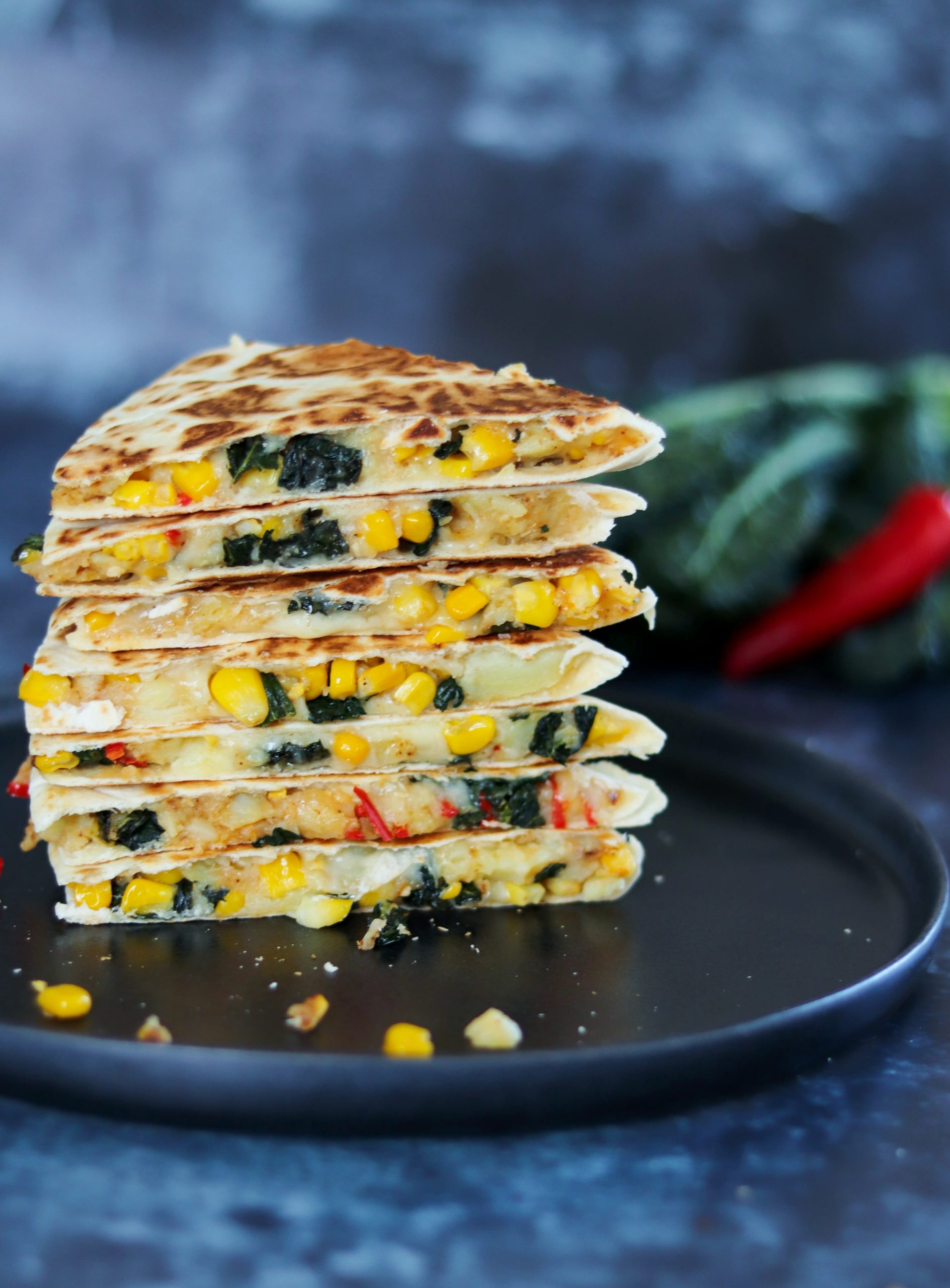 What is a quesadilla?
Quesadillas are a traditional Mexican food that are also popular in the United States.
They are made from tortillas filled with a number of fillings which can be meat and or vegetables. However quesadillas always include cheese. This is essential!
These Cavolo Nero & Sweetcorn Quesadillas are a vegetarian version of my Chorizo & Potato Quesadillas.
Why cavolo nero?
Cavolo Nero is my go-to vegetable at the moment. You may have already seen me use it in my Chorizo & Cavolo Nero Hash and Easy Chicken & Rice Soup recipes.
Cavolo nero is a type of Italian kale that is also known as Tuscan kale or dinosaur kale. It has quite a subtle taste which lends itself to being added to recipes with lots of flavour.
It is in season here in the UK from June to March and is becoming easier to find in supermarkets.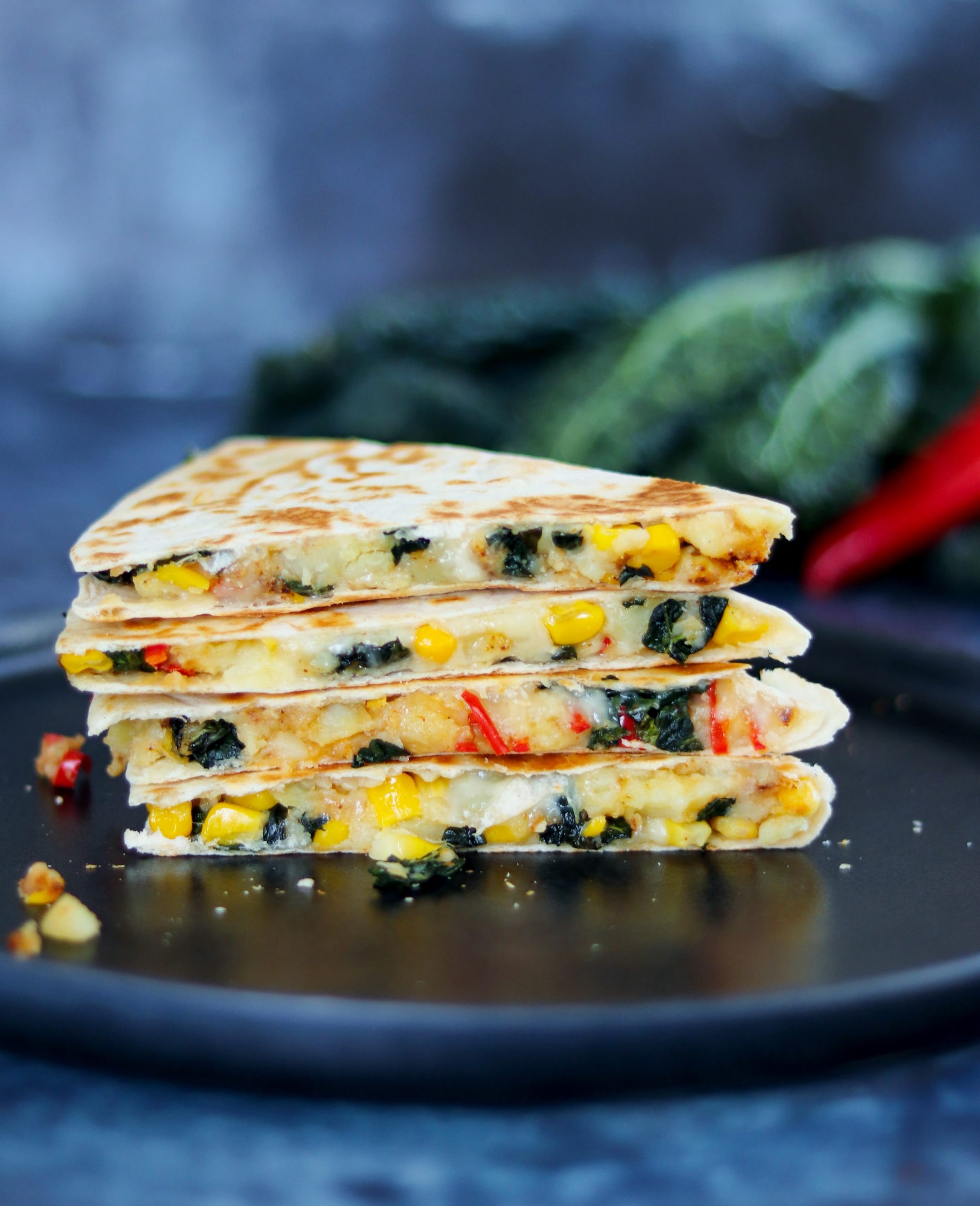 Be flexible with the ingredients
This recipe is more of a guide which should be adapted rather than something that should be followed to the letter.
If cavolo nero isn't in season, or you can't get hold of it you can use something else. Standard kale, spinach or even broccoli would just as well.
You can also add different vegetables that you have. Mushrooms, onions, peppers would all work well in these quesadillas.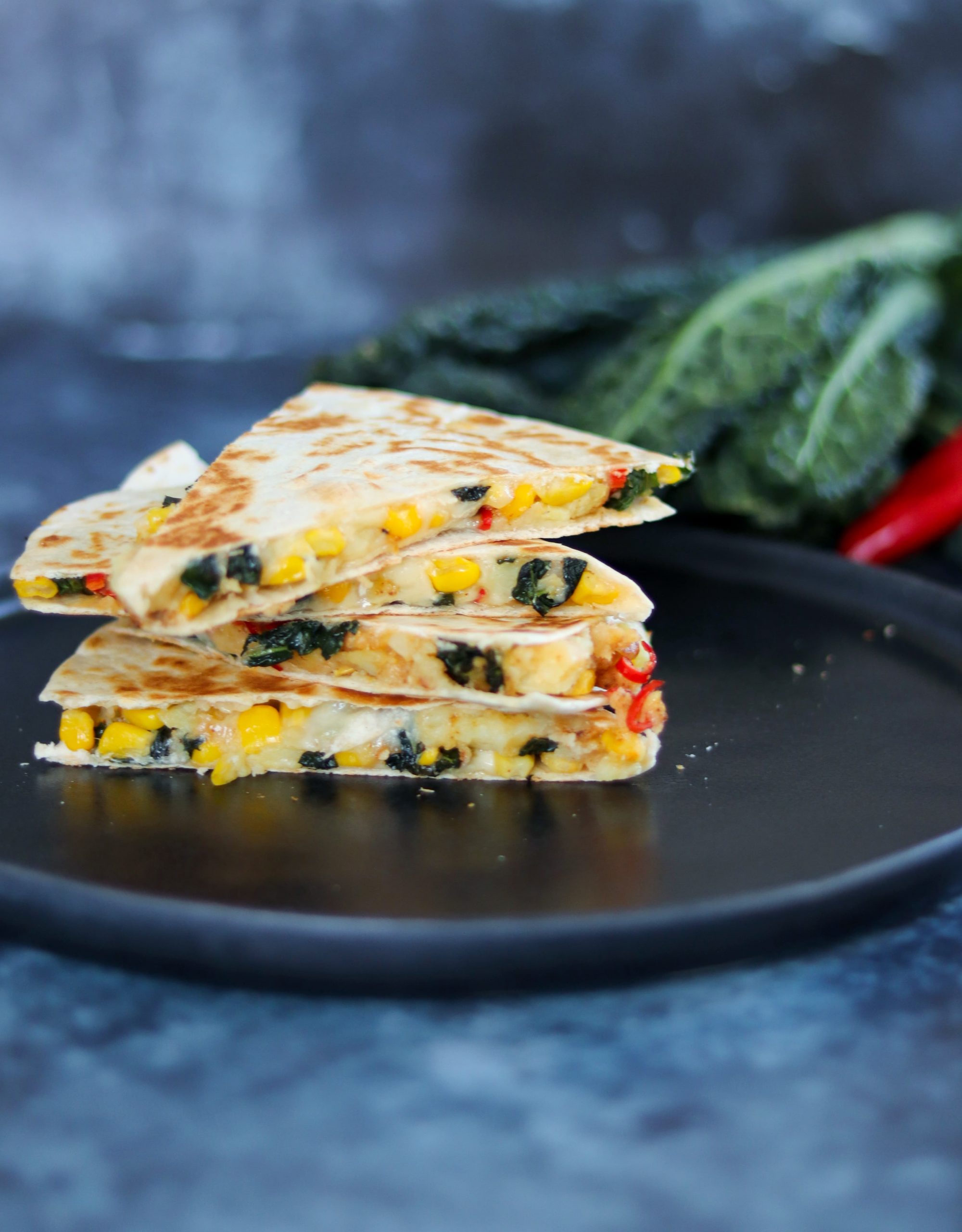 How spicy are these quesadillas?
I think these quesadillas are quite mild; even with the chilli.
If you remove the seeds from the chilli, it reduces the heat. I like the red flecks it adds to the finished quesadillas and mild heat. You can always leave it out if you would prefer.
I also add some chilli powder to add even more flavour. I like to add ancho chilli powder because it is one of my favourites. But you can use whichever chilli powder you have in your cupboard.
If you don't like spice or are making these for children; you can leave the chilli and the chilli powder out altogether.
Alternatively, if you love a bit of heat, keep the seeds in the chilli and add a bigger pinch of chilli powder.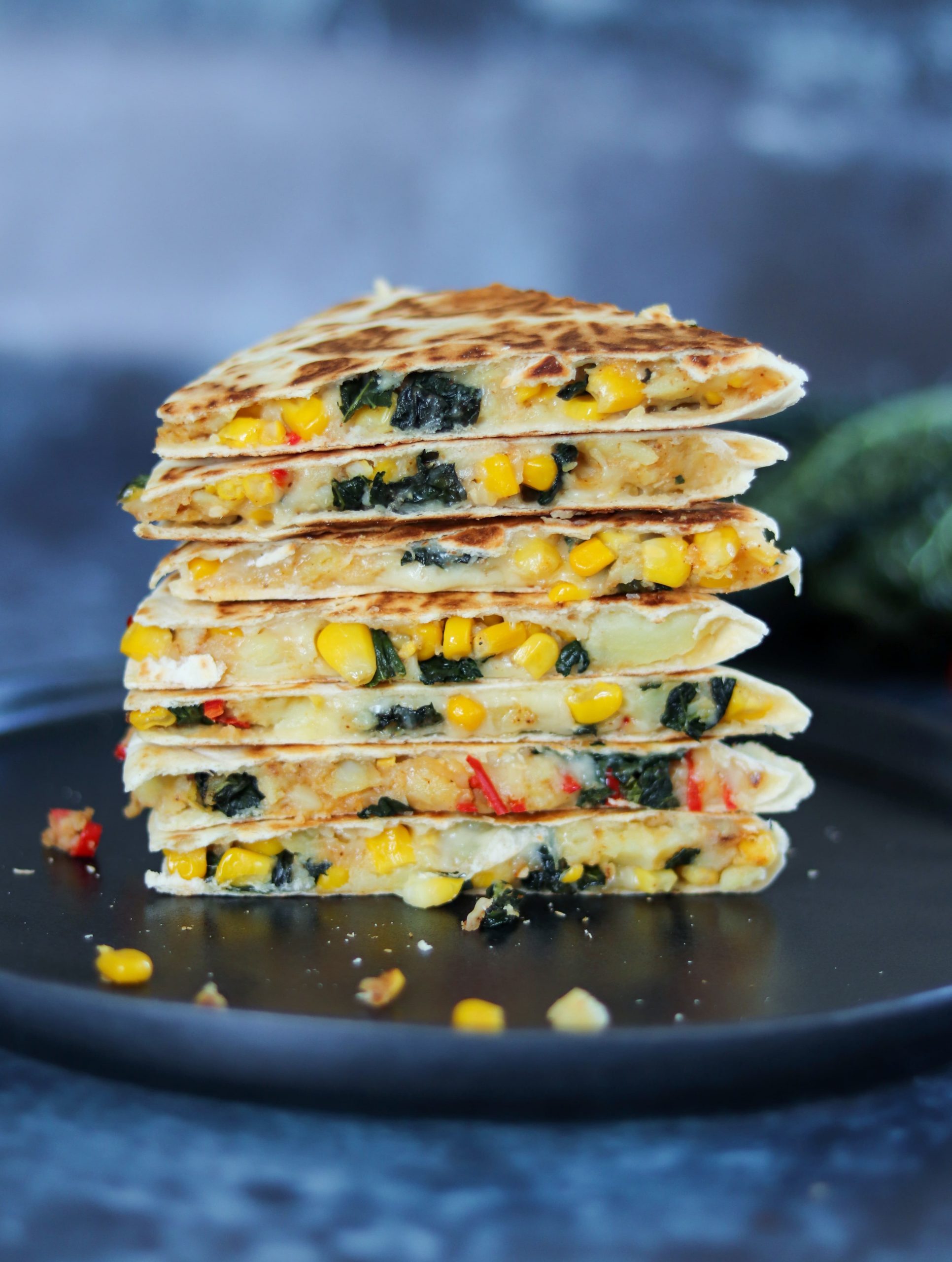 Which sweetcorn is best to use?
I always use tinned sweetcorn and I'm afraid I insist on Green Giant. I am yet to find an alternative I like!
If you don't have tinned corn, you can of course use frozen corn. If you're making these quesadillas when corn on the cob is in season, you can of course use this too.
If you're a corn fan, make sure you check out my Mexican Street Corn Quesadillas.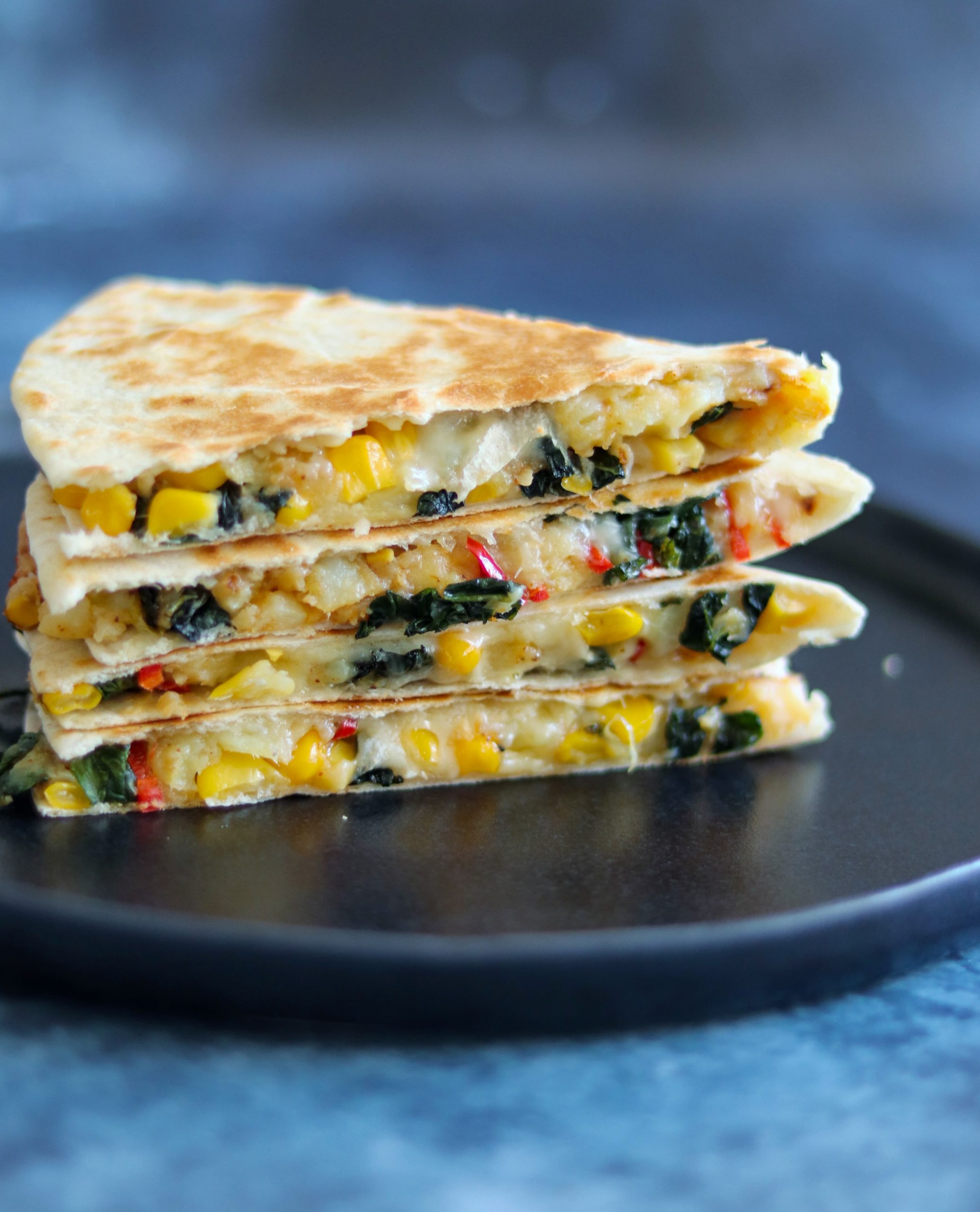 Which tortillas are recommended to use?
I typically use large flour tortillas for quesadillas. I pick the standard ones but you could use whole wheat ones or any other flavoured ones you like.
Corn tortillas are more authentic and you can definitely use these. Here in the UK these tend to be smaller so you will need more tortillas.
If you are using smaller tortillas, I would recommend using two tortillas for each quesadilla. completely cover one quesadilla with the filling and then cover with another tortilla. This is easier than folding a small tortilla in half.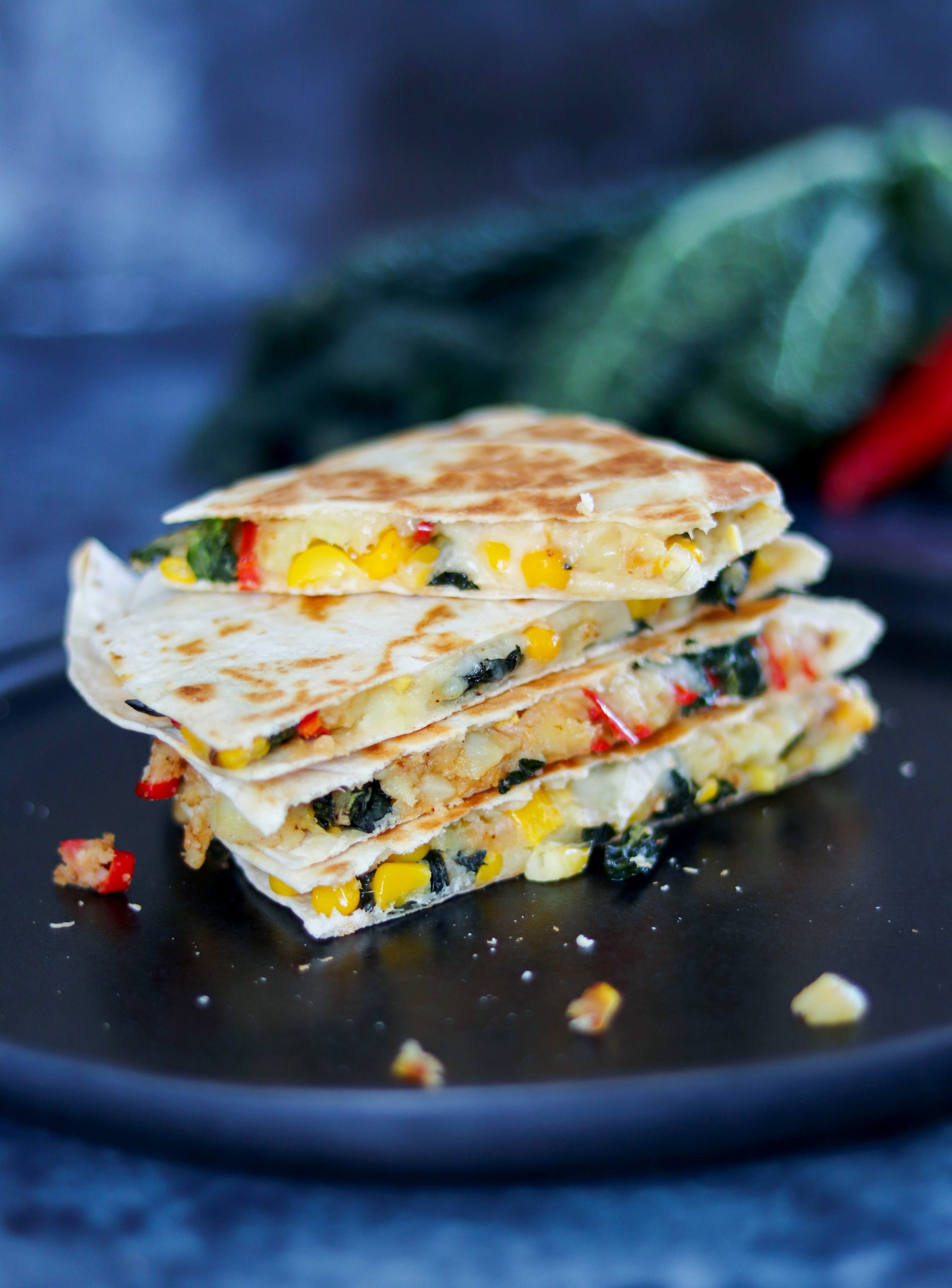 Do the quesadillas make good leftovers?
The recipe below makes enough quesadillas for two people. You can easily double the recipe when you are catering for more people.
I would also recommend doubling the recipe if you would like leftovers. These Cavolo Nero & Sweetcorn Quesadillas make a great lunch whether you eat them hot or cold.
You can reheat the quesadillas in a pan, the oven or the microwave. The microwave will make them a little soft whereas the oven or a pan will keep them crisp.
Keep any leftovers in an airtight container in the fridge for two days.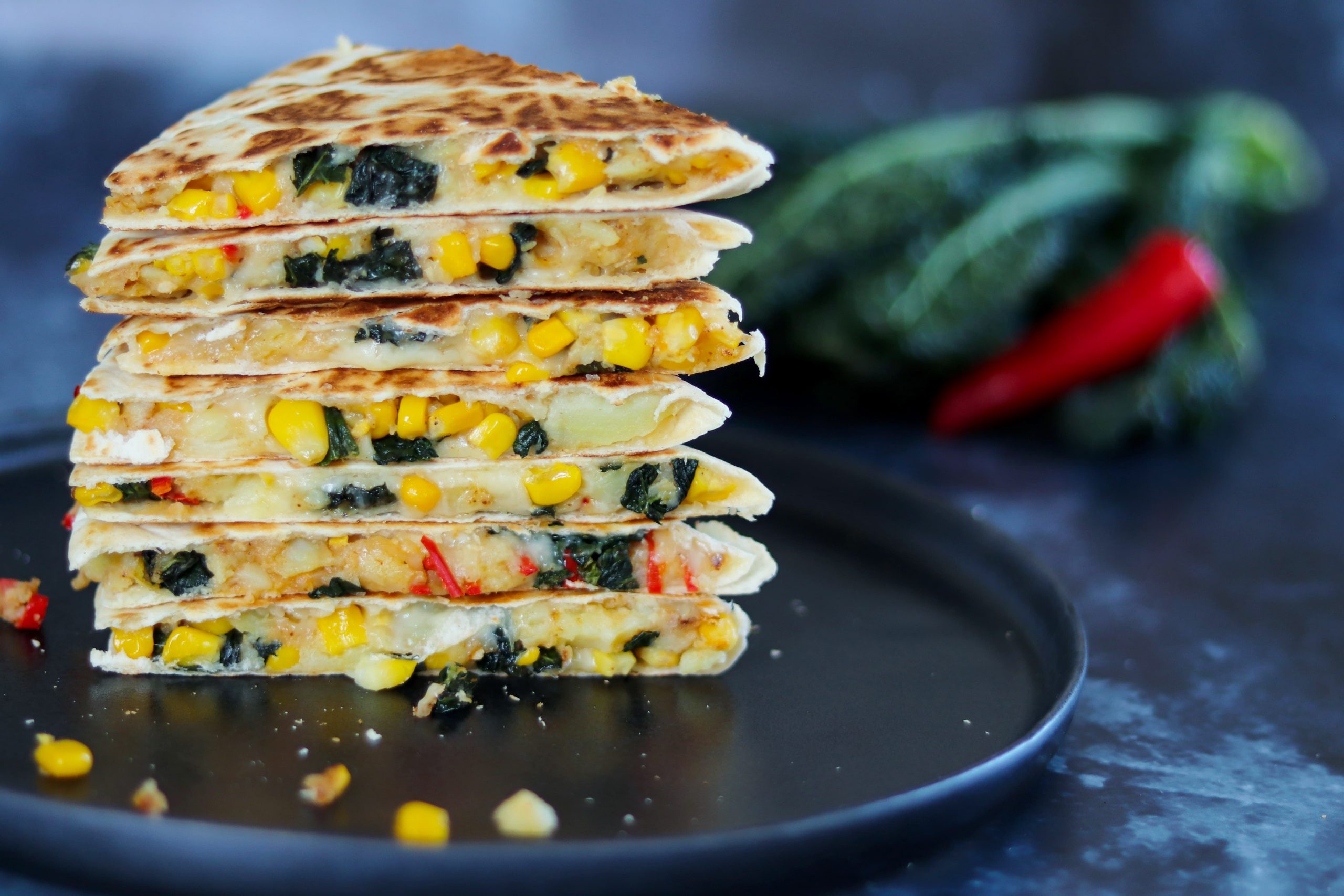 how to make these quesadillas gluten free or vegan
To make these quesadillas gluten free you just need to swap the tortillas. Instead of using flour tortillas, use corn tortillas.
As I mentioned before, corn tortillas are usually a bit smaller than flour tortillas. This means you will need a few more if you make the same amount of filling.
To make the quesadillas vegan you need to swap the cheese to your favourite vegan option. Most tortillas are naturally vegan but it is always worth checking the packet to make sure.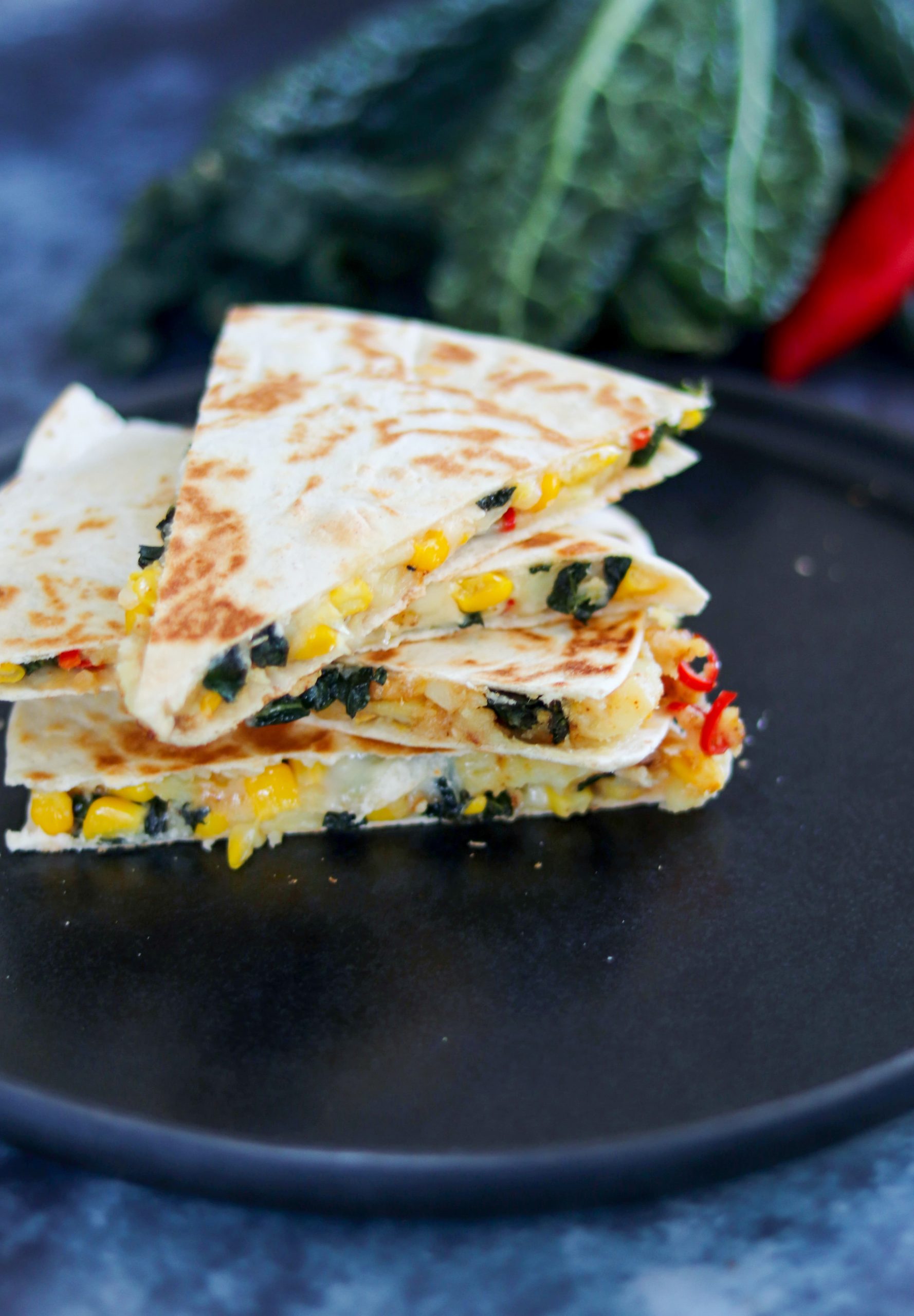 How to serve these quesadillas
I like to serve them as they are with a spoonful of soured cream, Pineapple & Corn Salsa or Guacamole.
You could also serve them with a simple side salad.
Other recipes you might like
Pin for later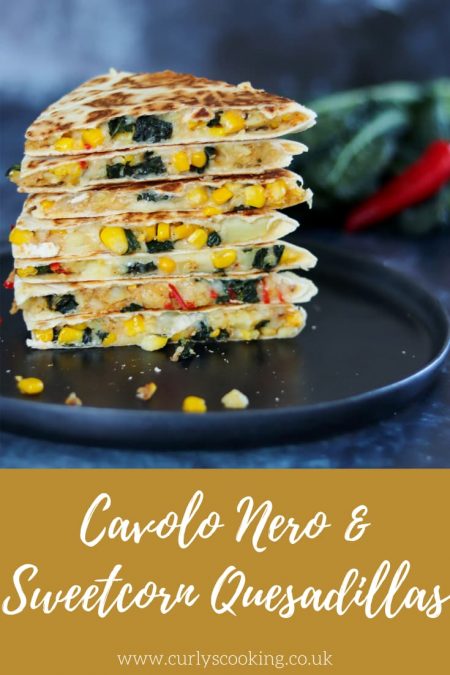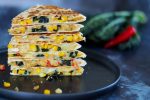 Cavolo Nero & Sweetcorn Quesadillas
These Cavolo Nero & Sweetcorn Quesadillas a delicious vegetarian lunch or snack. Who could resist a cheesy quesadilla with a hint of spice?
Ingredients
300

g

potatoes

1

tsp

sunflower oil

50

g

cavolo nero

washed and stems removed

1

red chilli

198g

tin

sweetcorn

drained

½

tsp

sea salt

pinch

ancho chilli powder

70

g

cheddar cheese

grated

2

large

flour tortillas

spray oil
Instructions
Peel the potatoes and dice. Boil in salted water for 10 minutes or until just tender

Add the oil to a frying pan over a medium heat and add the potatoes. Using a wooden spoon, smash the potatoes slightly before adding the cavolo nero, sweetcorn and red chilli

Cook for 5 minutes until the cavolo nero has wilted and the potatoes are broken down. Set to one side

Take one tortilla and scatter cover one half with a quarter of the grated cheese

Add half of the potato filling on top of the cheese and spread out until it is even and right up to the edge

Sprinkle with some more cheese and fold the plain side of the tortilla over onto the filled side

Heat a large frying pan on a medium/low heat. When hot spray with oil. Place the folded tortilla into the pan and cook for 2-3 minutes before it is golden brown

Carefully flip the tortilla over and cook for a further 2-3 minutes until both sides are golden and the cheese is melted

Repeat with the rest of the ingredients to make the second quesadilla
Recipe Notes
Nutritional information is given as a guide only and may vary.
Nutrition Facts
Cavolo Nero & Sweetcorn Quesadillas
Amount Per Serving
Calories 462
Calories from Fat 153
% Daily Value*
Fat 17g26%
Cholesterol 36mg12%
Sodium 1036mg45%
Potassium 1039mg30%
Carbohydrates 54g18%
Protein 18g36%
Vitamin A 750IU15%
Vitamin C 56.2mg68%
Calcium 329mg33%
Iron 6.8mg38%
* Percent Daily Values are based on a 2000 calorie diet.