A delicious salad with salty stilton, crunchy walnuts and sweet, crisp apples. This Stilton, Apple & Walnut Salad perfect accompaniment to any BBQ or as a light lunch.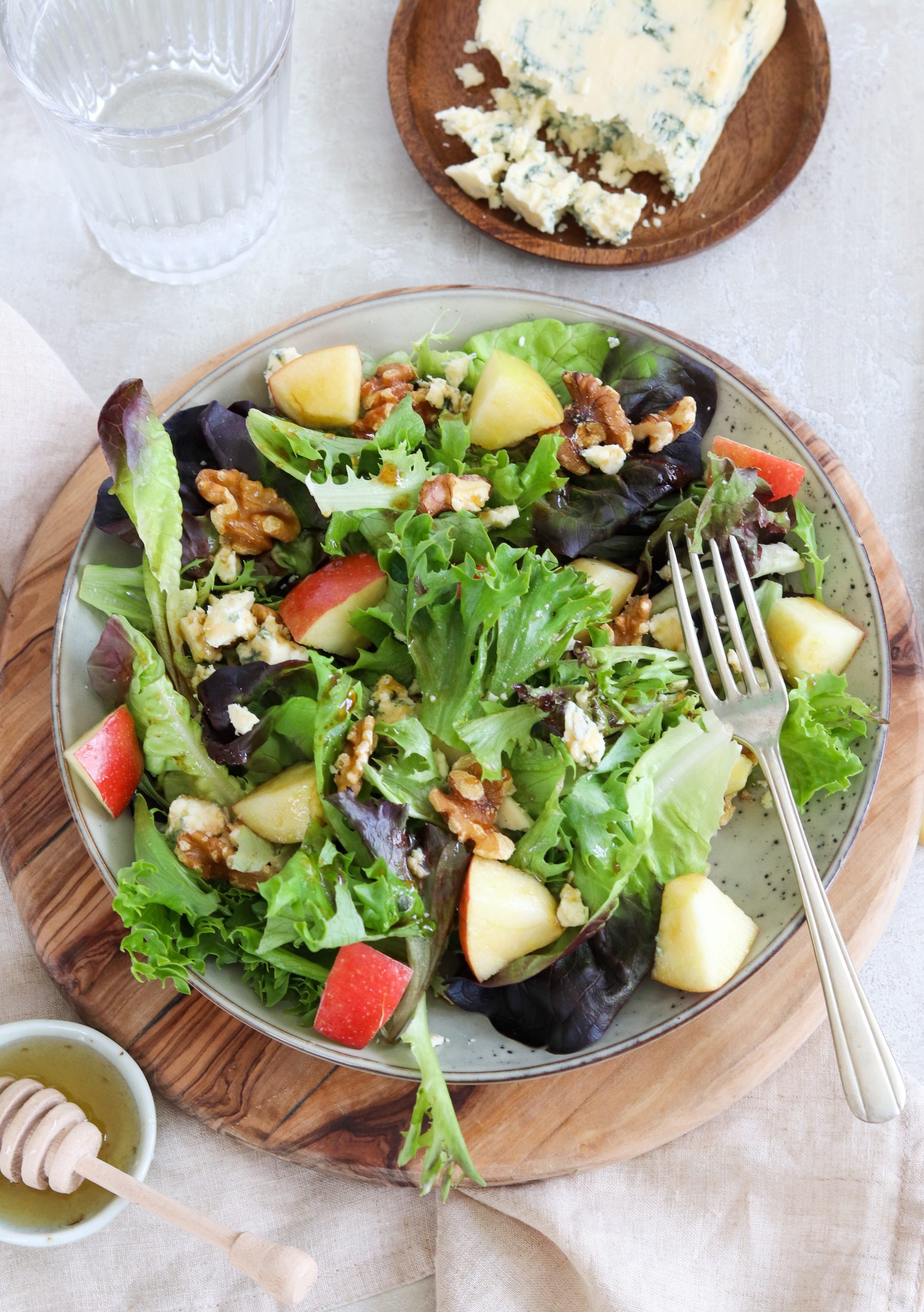 Stilton, Apple & walnut Salad – the perfect flavour combination
Stilton, apple and walnut is such a classic flavour combination. The creamy, salty stilton works so well with the crisp sweetness of the apple and then the walnuts add an earthy crunch.
On their own, I am not a stilton or walnut fan. But when you combine them in this salad along with the dressing, it is really delicious.
It looked so appealing I had to give it a try and I was definitely pleased I did. Separately I'm not still not sure how much I would like the flavours, but when you combine them they really compliment each other.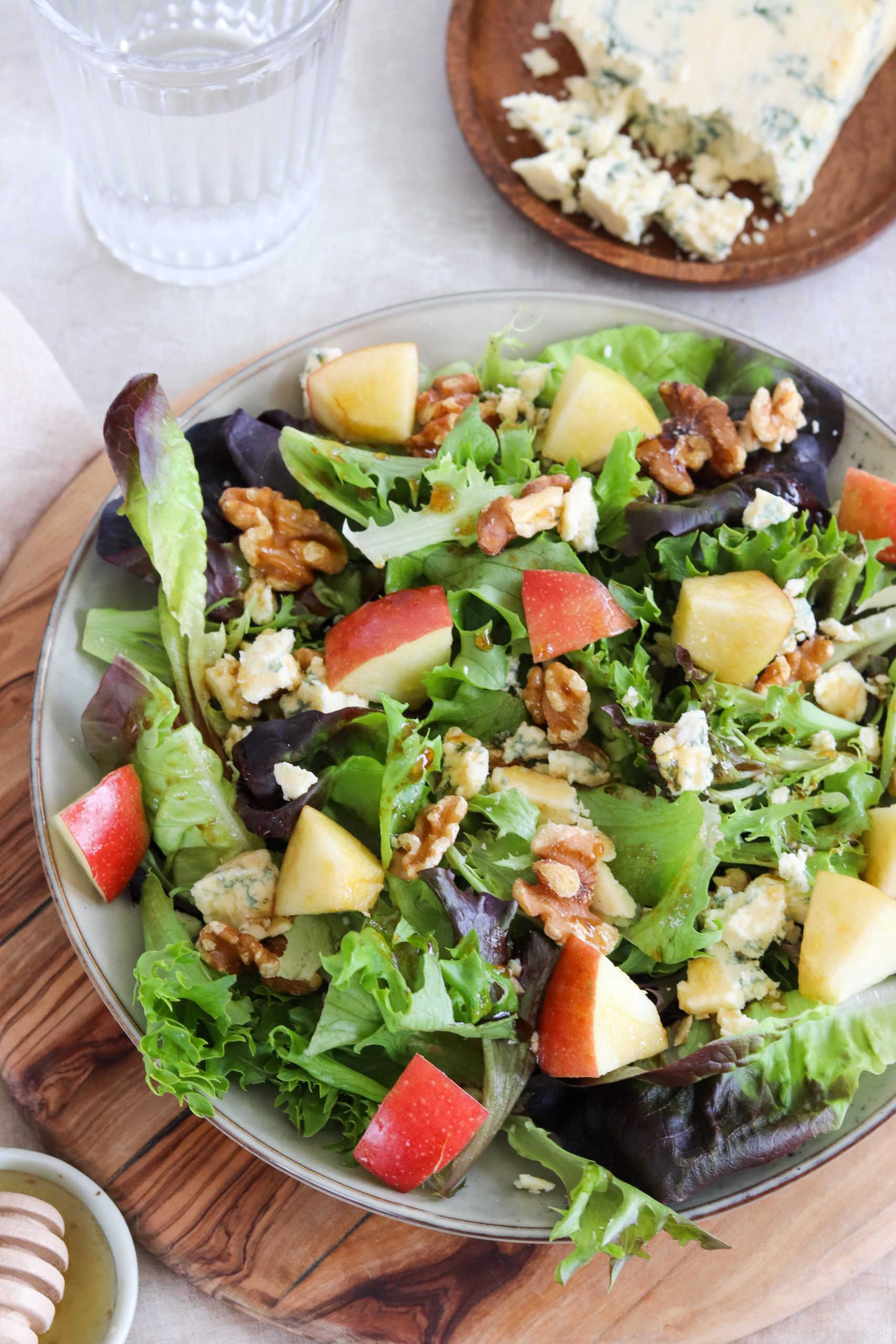 What is stilton?
Stilton is probably the most well known type of blue cheese. Recipes date back to the 18th century although I am sure the methods of making it have changed quite a bit since then!
In 1996 Stilton was assigned European Protected Designation of Origin (PDO) status. This means it is only licensed to be made in Leicestershire, Nottinghamshire and Derbyshire in the UK.
Stilton is a beautiful marbled cheese with a crumbly texture. It has a bold and rich flavour with hints of nuttiness and salt.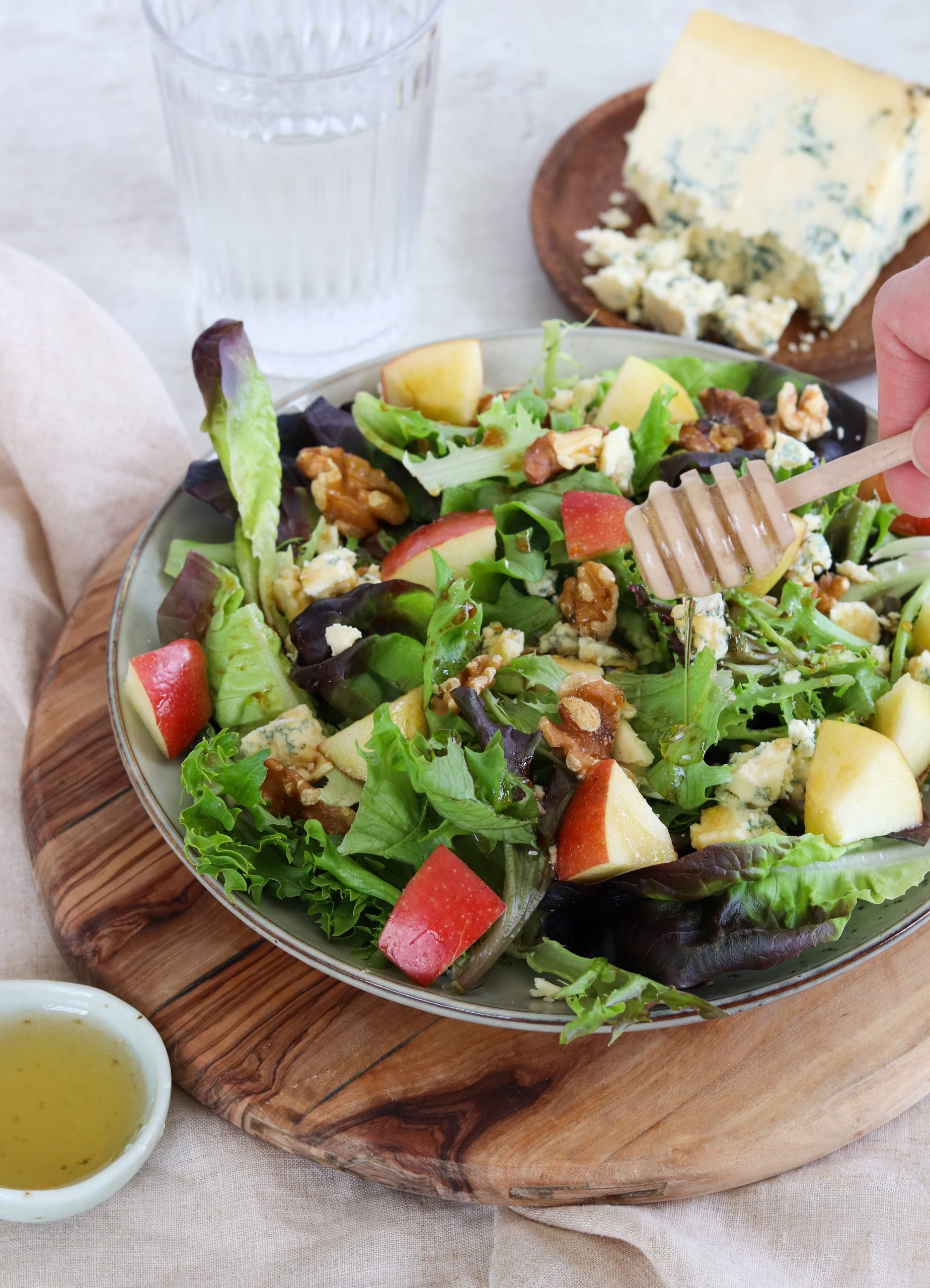 Do you have to use Stilton?
If you didn't want to use stilton, most blue cheeses would work well in this Stilton, Apple and Walnut Salad. This is because although they all tend to have a similar taste and texture, but have unique traits too.
Shropshire Blue is a very good alternative. It is very similar to stilton apart from it has a natural colourant which also adds a very mild spicy flavour.
Danish blue is a milder, creamy blue cheese which might be a good one to go for if you aren't usually a blue cheese fan.
Gorgonzola would also be a good, creamy alternative as would Roquefort if you would prefer a ewe's milk cheese.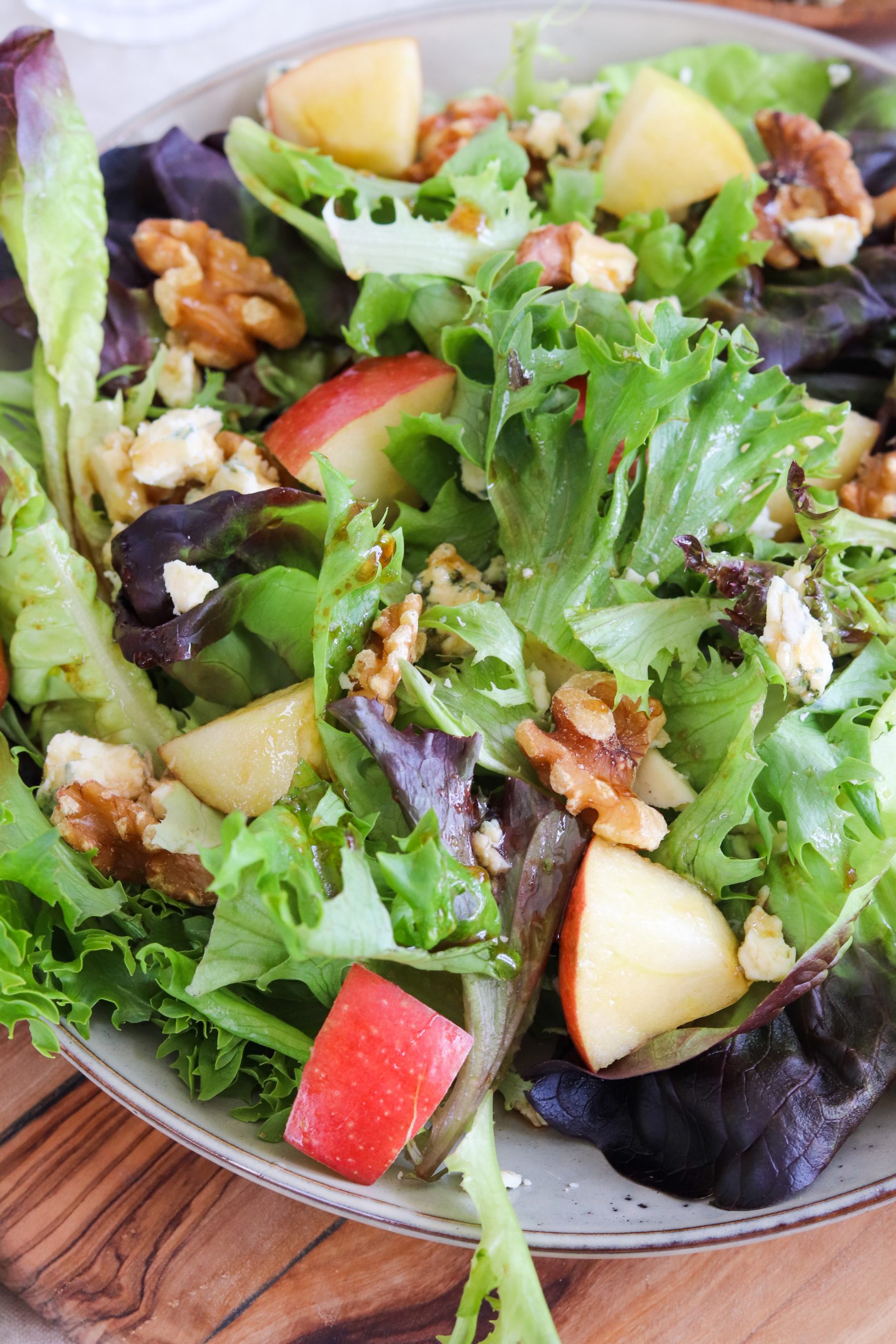 Which apples are best to use?
I would recommend using sweet red apples for this salad. Varieties such as Braeburn, Fuji or Empire would work really well as they are crisp and sweet.
Remember to coat the apples in the lemon juice once you have cored and chopped them. This helps prevent them from turning brown whilst you prepare the rest of the salad.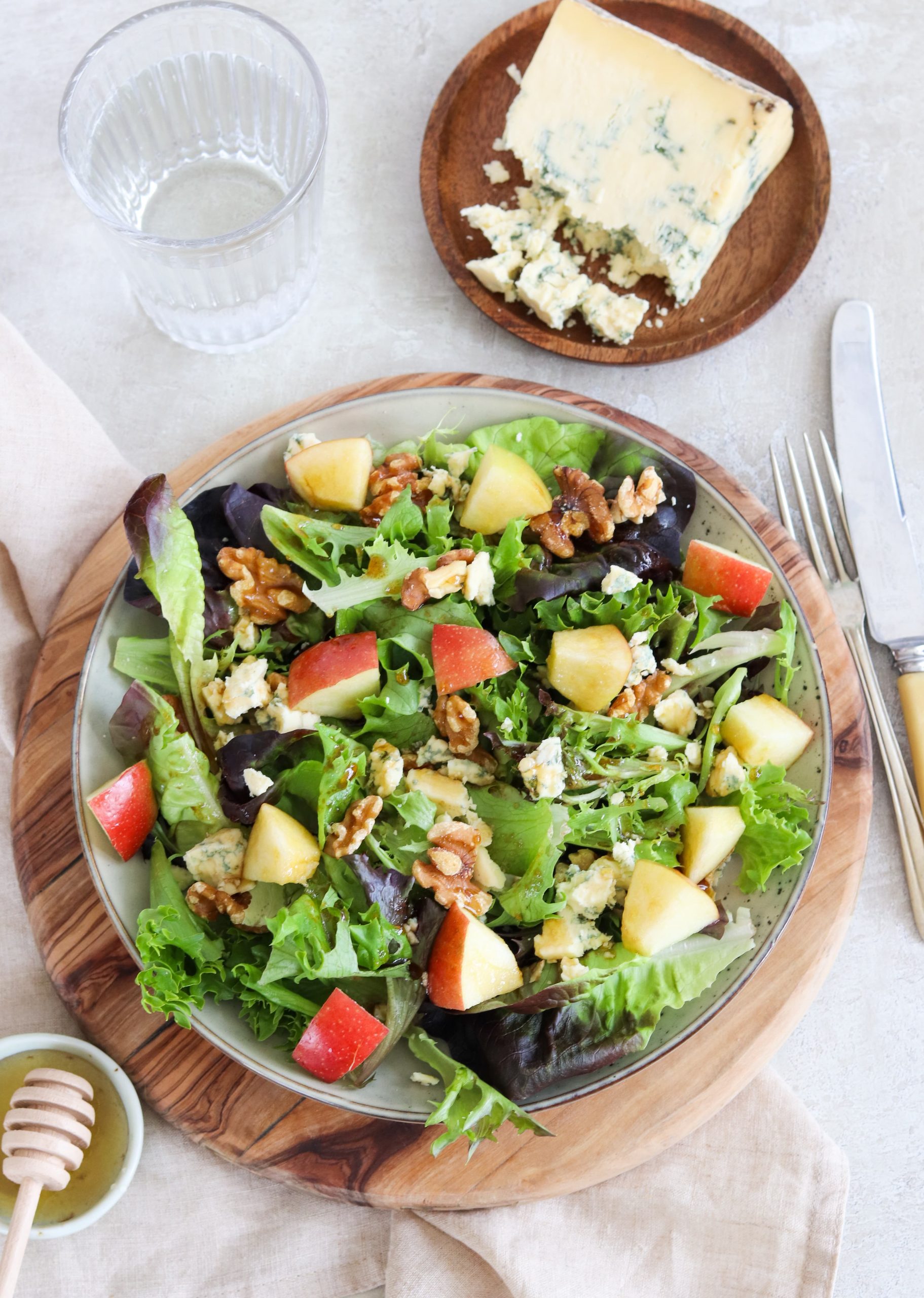 Which salad leaves are best to use?
You can really use whichever lettuce you like for this salad. I like to use mixed salad leaves as not only does it add a subtle difference in flavours, it also makes it look a bit prettier.
I would try and choose a mix of leaves that includes rocket or watercress. These add a lovely pepperiness that compliments the dish really well.
If you would prefer not to use a bag of mixed leaves, you can use something like baby gem or romaine lettuce.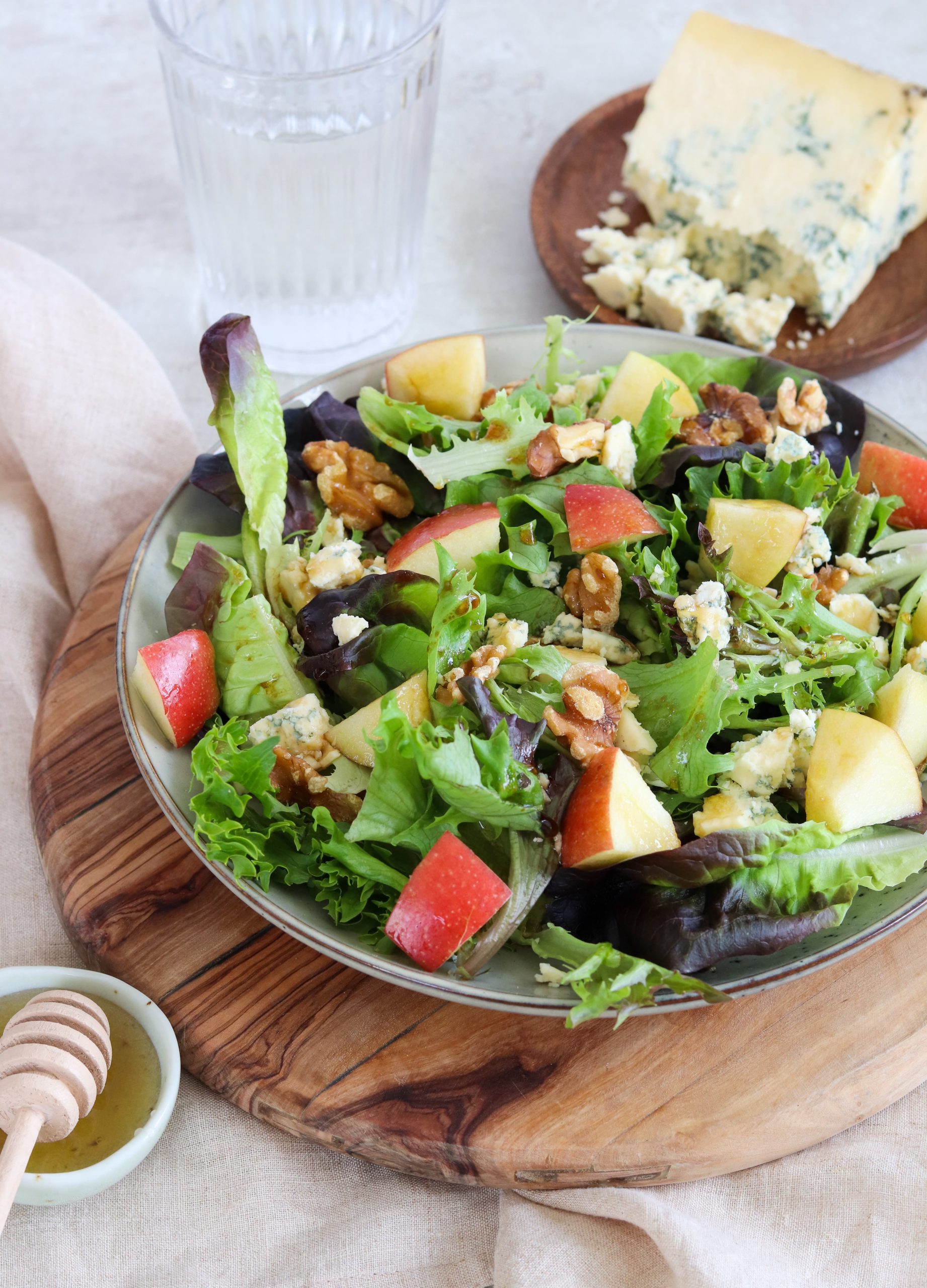 How to make the salad gluten free, vegetarian and vegan
The recipe as below is naturally gluten free.
A lot of stilton is now vegetarian but in the past it did include rennet which is an animal product. It is worth checking the stilton to make sure it is suitable for vegetarians.
To make this salad vegan, use your favourite vegan blue cheese. You will also need to swap the honey. I would recommend using maple syrup instead.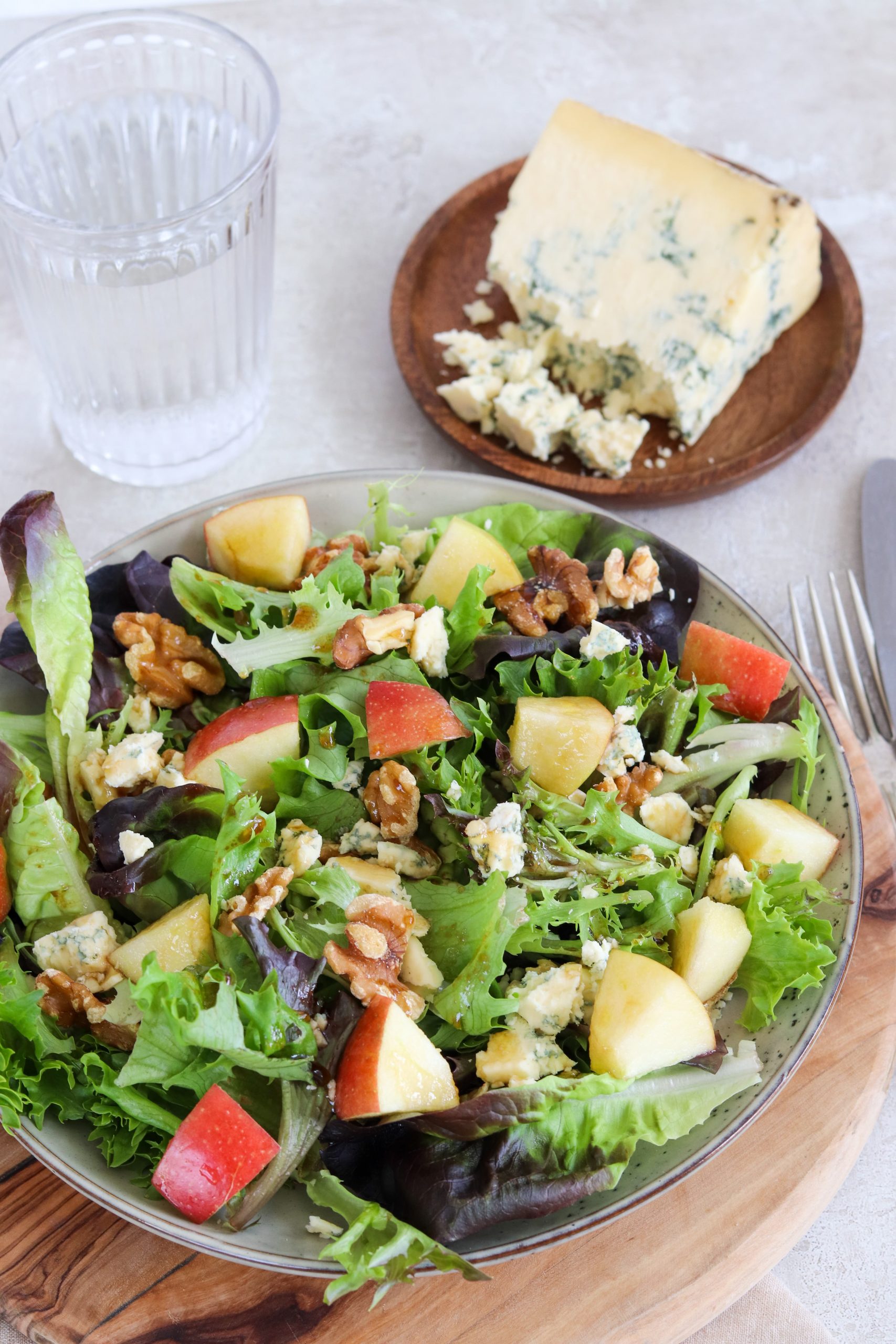 How long does this Stilton, Apple and Walnut Salad keep for?
I think this salad is best made just before you would like to serve it. Although you are tossing the apples in lemon juice, the longer they are left the higher the chance of them turning brown.
It only takes a couple of minutes to assemble the salad so I wouldn't bother trying to make it in advance. You could make the dressing in advance if you wanted and then drizzle over the salad when you are ready to serve.
This salad won't keep particularly well, especially once you have drizzled over the dressing. I would recommend only making what you are going to eat at that time.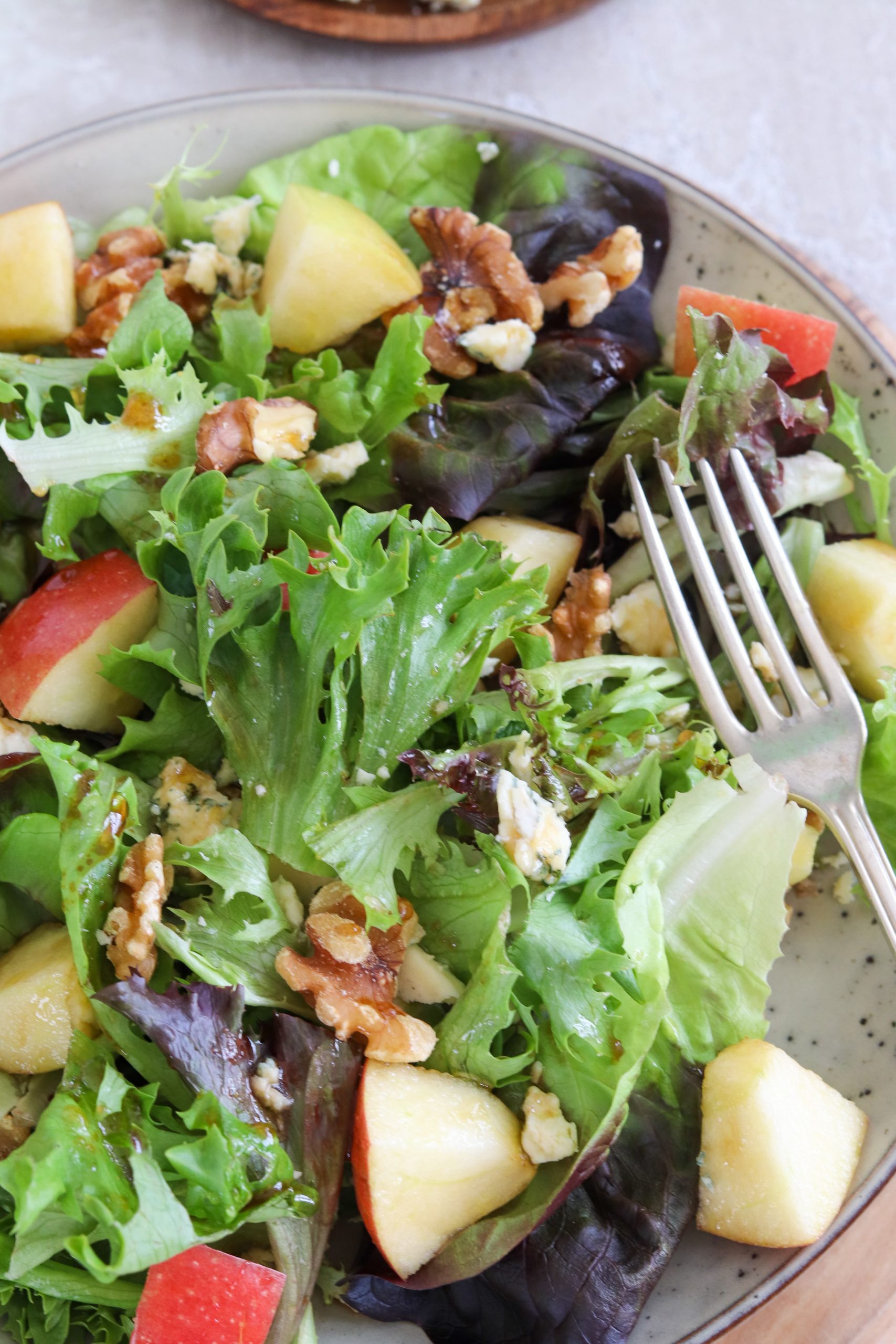 How to serve this salad
This Stilton, Apple & Walnut salad is a delicious light lunch as it is. But it also makes a delicious addition to lots of different meals.
It would be a great side salad served with my Puff Pastry Potato Tart and would make it into a more substantial meal.
It is also perfect served as part of a BBQ spread alongside my Ultimate Bacon Cheese Burgers, Herby Turkey Burgers or Garlic & Lime Chicken Thighs.
The apple in the salad would work really well in a sandwich with some Slow Cooker Pulled Pork. The possibilities are endless!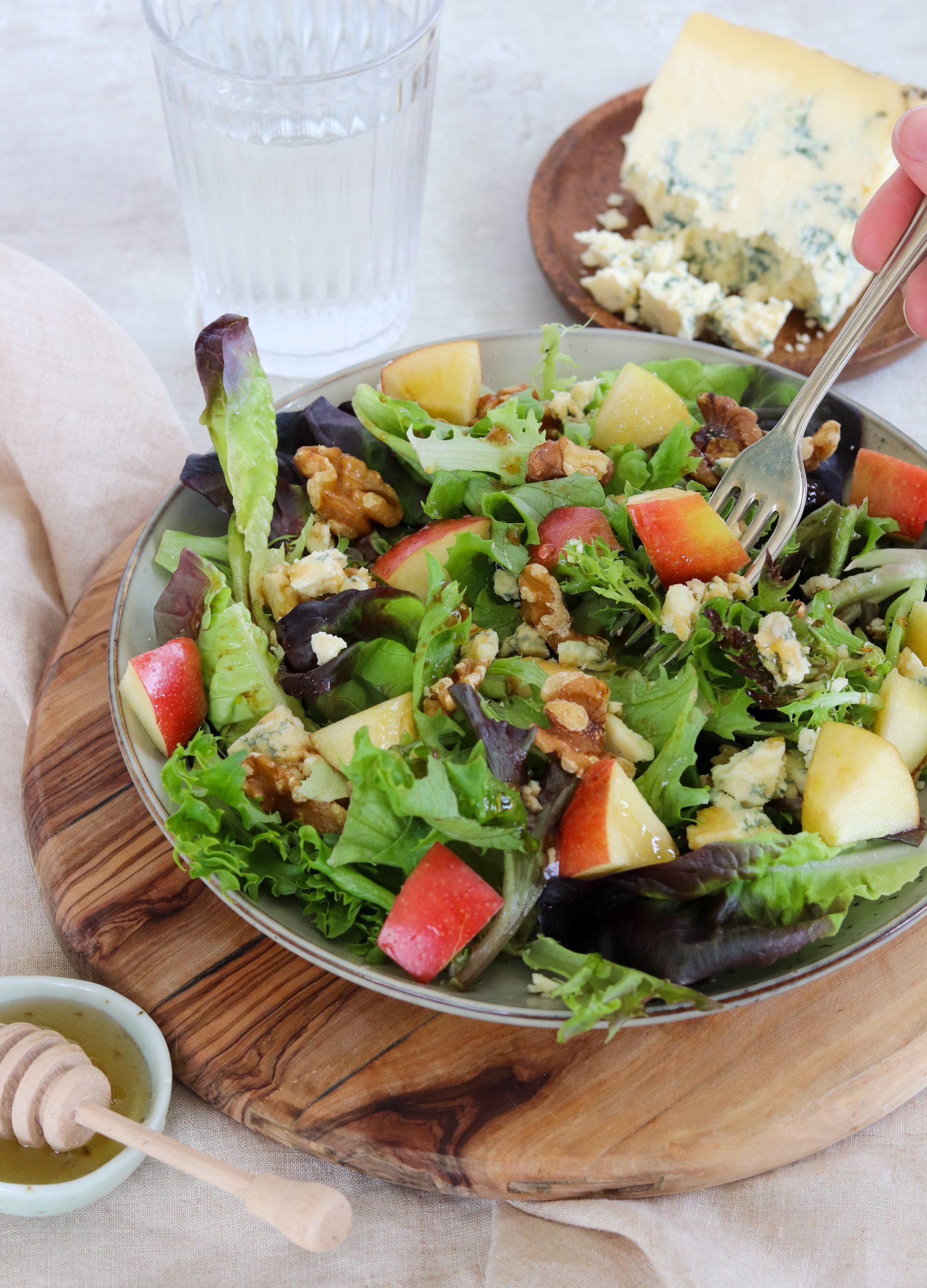 other recipes you might like
pin for later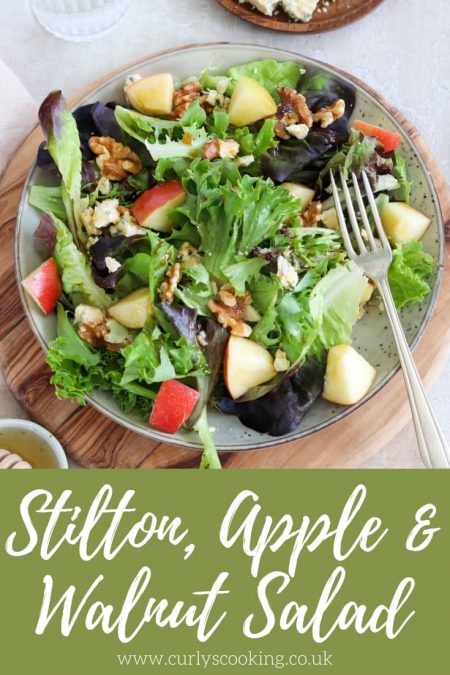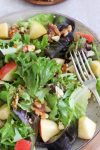 Stilton, Apple & Walnut Salad
A delicious salad with salty stilton, crunchy walnuts and sweet, crisp apples. This Stilton, Apple & Walnut Salad perfect accompaniment to any BBQ or as a light lunch.
Ingredients
bag of salad leaves

3

red

apples

cored and diced

½

lemon

juiced

150

g

chopped walnuts

150

g

stilton

crumbled

2

tbsp

extra virgin olive oil

2

tsp

honey

2

tsp

balsamic vinegar

pinch

salt and pepper
Instructions
Core 3 apples and chop into bite size chunks. Put in a bowl and add the juice of half a lemon, stir to coat

In a large bowl, add the bag of lettuce. Add 150g chopped walnuts and crumble 150g stilton into the bowl

In a separate small bowl, mix together 2 tbsp extra virgin olive oil, 2 tsp honey and 2 tsp balsamic vinegar. Season with a pinch of salt and pepper

Add the apples and dressing just before serving and mix
Nutrition Facts
Stilton, Apple & Walnut Salad
Amount Per Serving
Calories 523
Calories from Fat 378
% Daily Value*
Fat 42g65%
Cholesterol 28mg9%
Sodium 526mg23%
Potassium 412mg12%
Carbohydrates 28g9%
Protein 14g28%
Vitamin A 367IU7%
Vitamin C 7mg8%
Calcium 244mg24%
Iron 1mg6%
* Percent Daily Values are based on a 2000 calorie diet.
Linking to