Salads definitely do not have to be boring! This Simple Chicken & Bacon Salad is one we have been making for years and is a complete meal so you don't feel like you are missing out.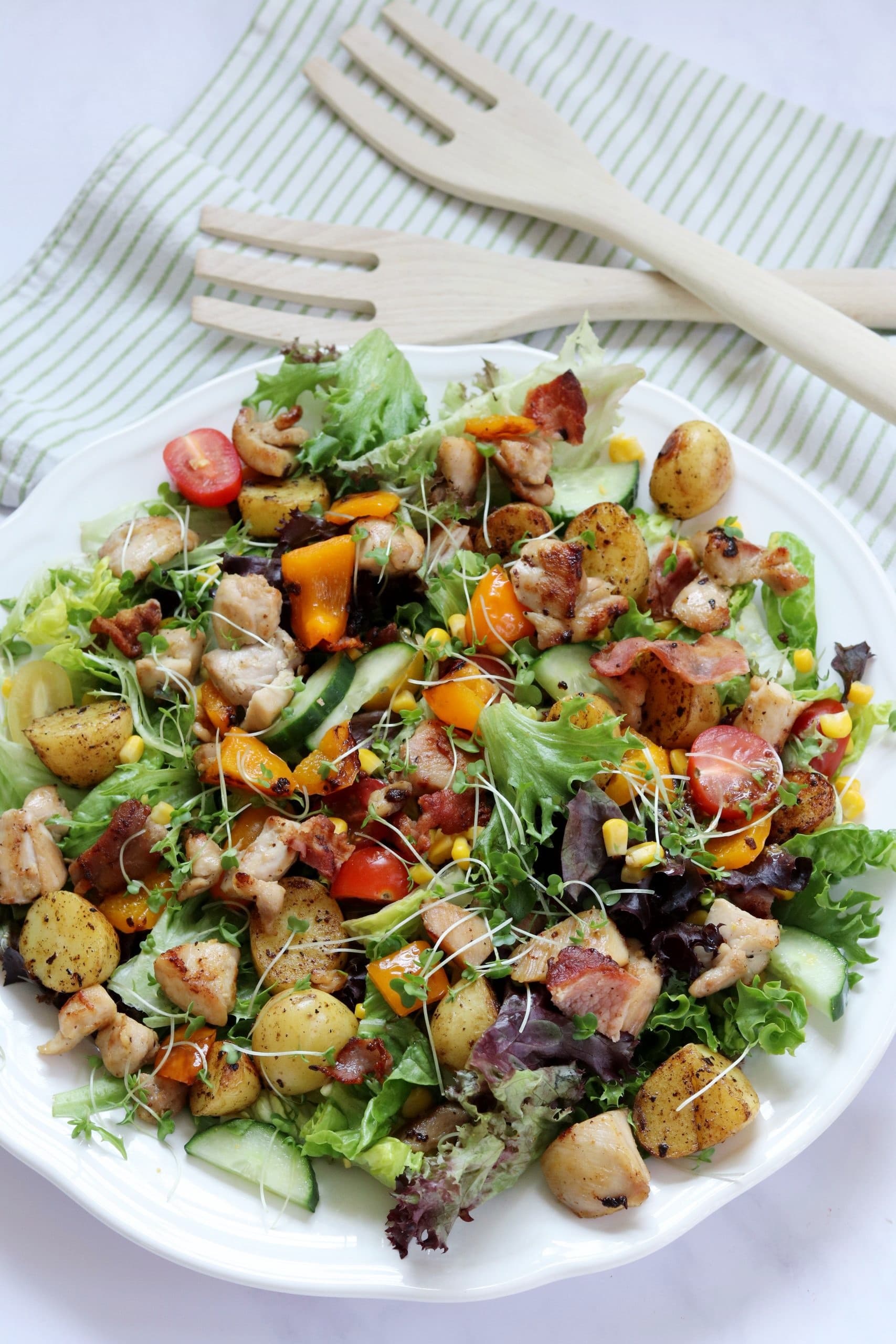 Salads don't have to be boring!
I'm not going to start saying simple salads are rubbish, because they're not. I often have a salad that is just lettuce, tomato and cucumber on the side of my dinner.
But that wouldn't be what I would want if the salad was my whole meal. There are so many ways you can make a salad that bit more exciting. This Simple Chicken & Bacon Salad is one of them!
Make sure you check out my Easy Couscous Salad and Beetroot, Red Pepper & Goat's Cheese Salad for more simple but definitely not boring salads.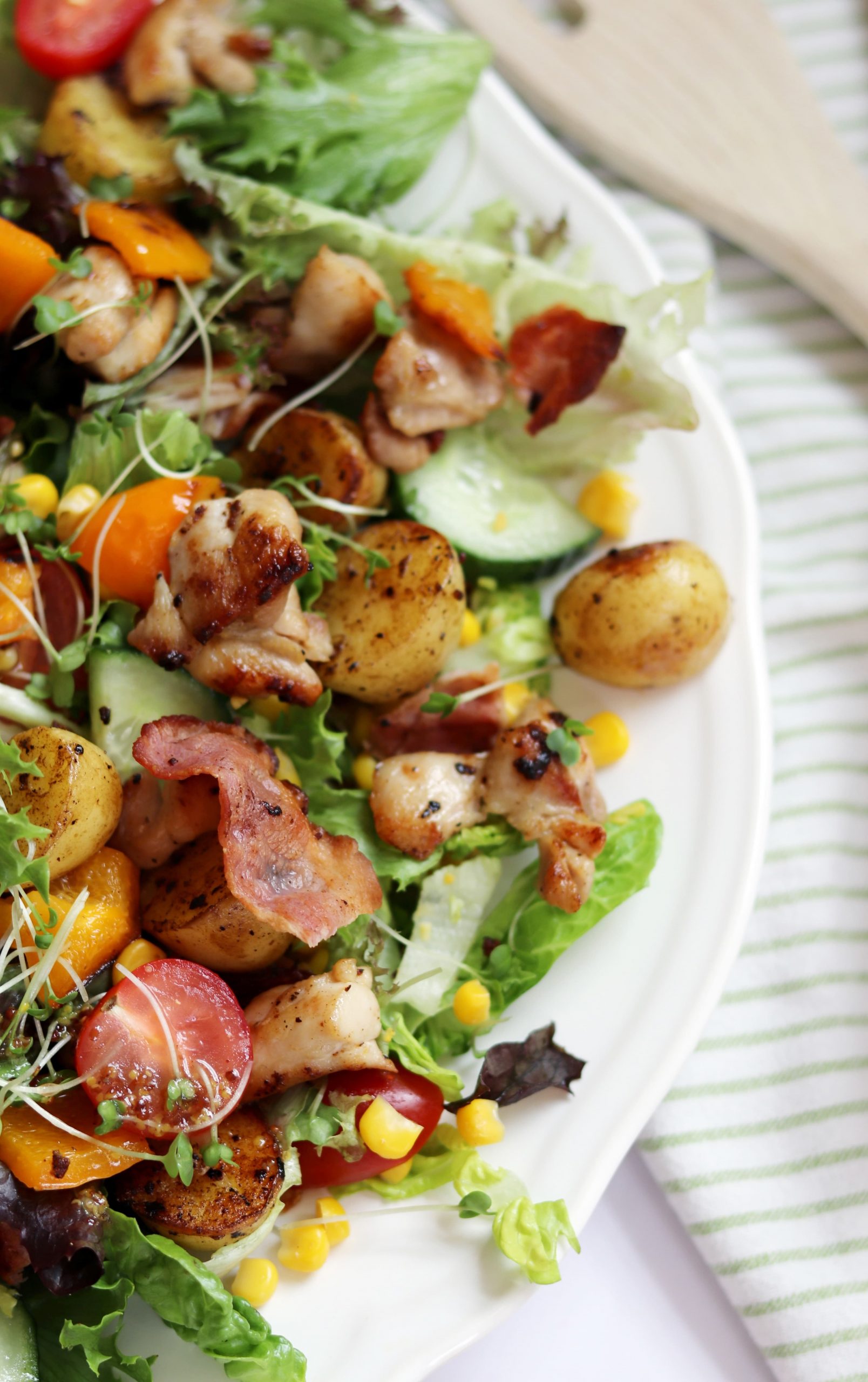 Simple Chicken & Bacon Salad is simple as the name suggests!
This Simple Chicken & Bacon Salad isn't anything fancy, it is just really tasty and easy to make. It is also very easy to adapt to your personal taste.
To make this salad even easier, I make it using two pans. The potatoes get boiled in one, and the other is a frying pan to cook the chicken, bacon and peppers.
I cook these together to reduce the amount of oil needed and to make it easier. The bacon gives of fat which helps to cook and flavour the rest of the ingredients.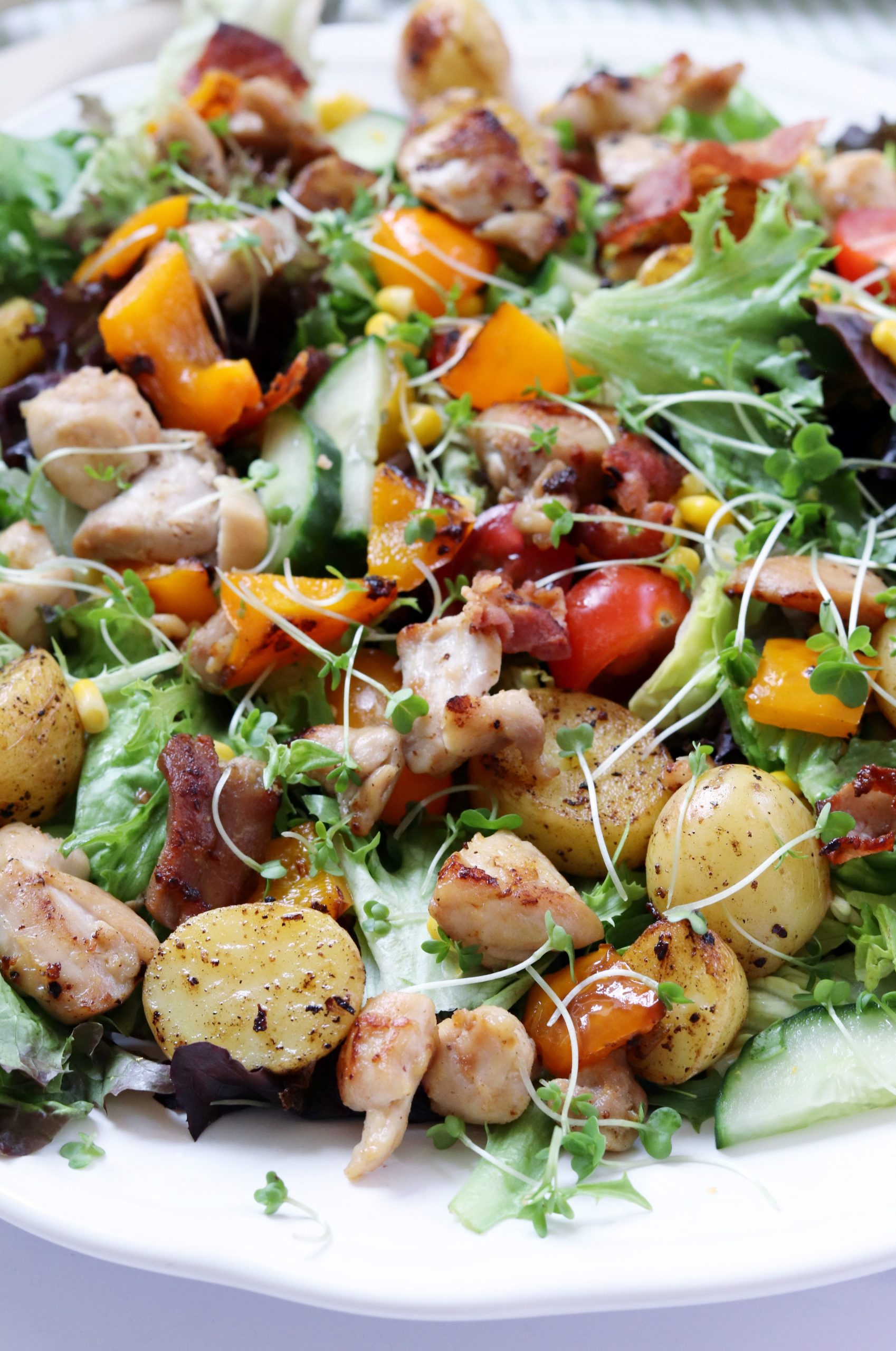 Why add potatoes to a salad?
Adding potatoes, or any carbohydrate to a salad really helps bulk it out. it also makes it feel like a more complete meal.
This is especially good for people like Mr Curly that think a salad isn't a very filling meal!
The potatoes add that filling aspect and also a crispness when they are fried.
You can add the potatoes to the salad just as they are when they are boiled. But I've never been a massive fan of just boiled potatoes. I think they're a bit boring.
I like to add them to the pan along with the bacon to crisp up slightly. You shouldn't need to add any more oil so this isn't making the salad unhealthier.
Which chicken & bacon is best to use?
I've always used chicken breasts for this recipe. I generally prefer chicken thighs because they are harder to overcook. However the chicken is being cooked quickly for this salad so shouldn't become dry!
You could definitely use chicken thighs if you prefer. Chicken thighs with their skin on would be another tasty addition.
If you have leftover roast chicken you could definitely use it in this salad.
When it comes to bacon, I like to use thick smoked back bacon. But this is purely personal preference. You can use unsmoked bacon, streaky bacon or bacon medallions.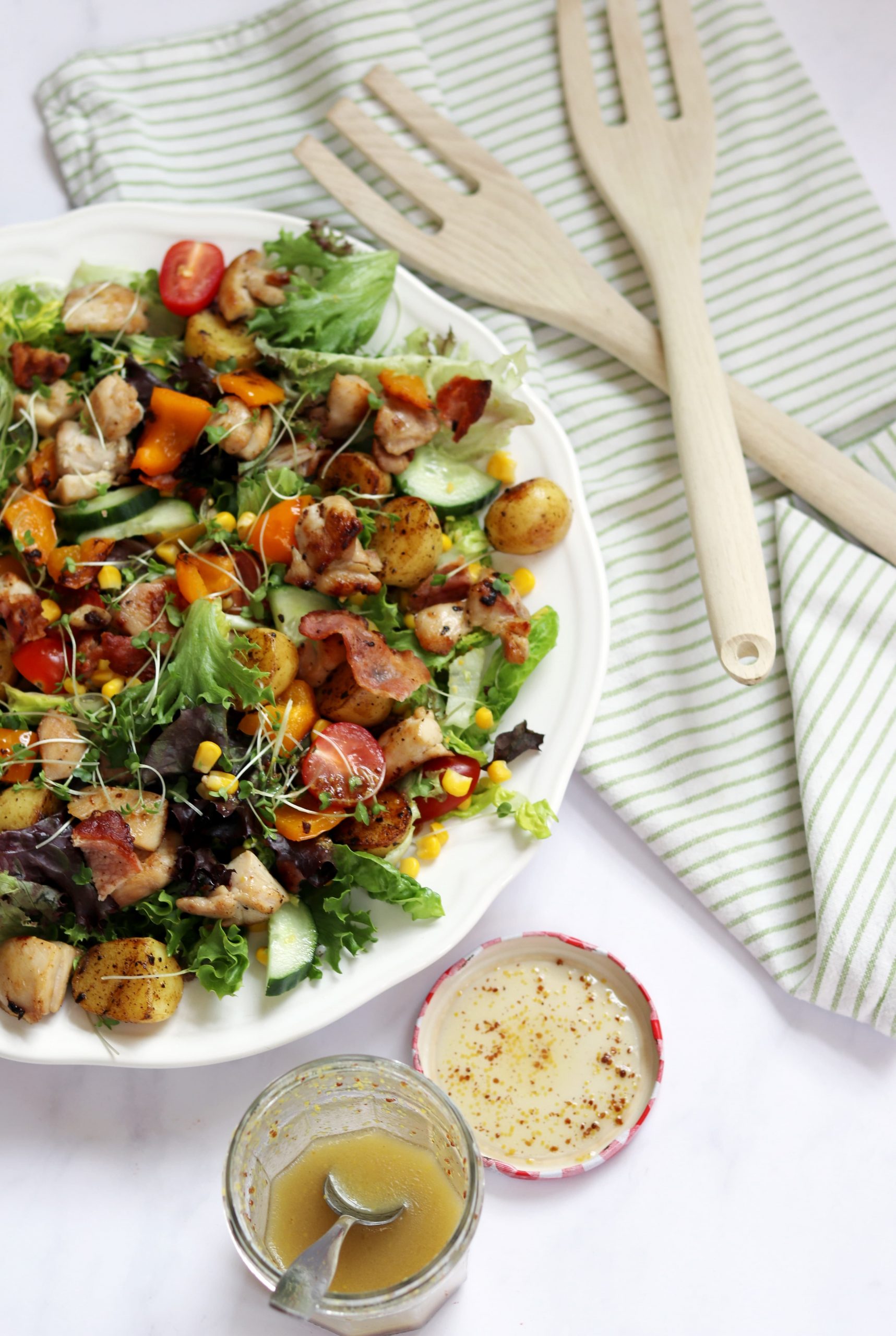 Can I adapt the ingredients in this salad?
Absolutely, I encourage you to do so!
The recipe below is just a guide for what you could use in your salad. They are the ingredients I usually have in my fridge and therefore like to use in my salad.
You can use any combination of salad leaves that you like. A bag of salad leaves is the quickest and easiest, but a lot of people don't like them.
I do recommend using a combination of a few different types of lettuce to keep the salad interesting. I also like to add some cress too!
When it comes to the rest of the ingredients, you can get as creative as you like. I like to add a grated carrot if I have one. Mr Curly likes spring onion in his but you could use any type of onion.
I like to cook the peppers because I prefer them slightly cooked rather than completely raw. This is personal preference and something you can skip if you prefer them raw.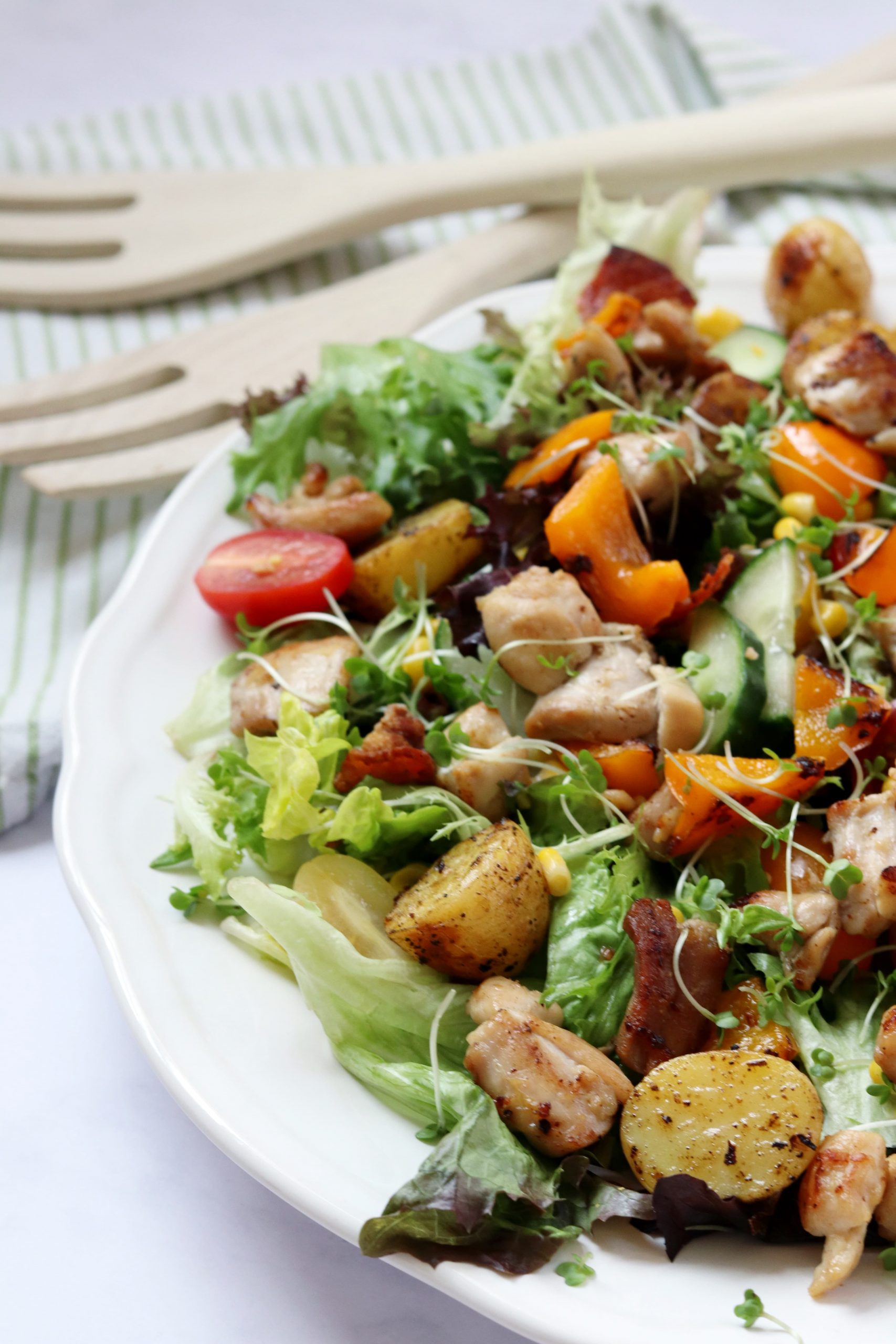 Which is the best way to cook the meat for this salad?
I tend to cook the chicken and bacon in a frying pan because I find this the easiest way.
Another great way to cook the chicken, bacon and peppers is on the BBQ. Obviously you would keep the chicken and bacon whole and cut the peppers into thick slices before grilling it.
Barbecuing the chicken and bacon gives the meat a delicious charred taste.
You could also cook the chicken and bacon in the oven.
Can I keep leftovers?
This Simple Chicken & Bacon Salad makes great leftovers. Keep any leftover salad in an airtight container in the fridge. They will keep perfectly in the fridge for two days – perfect for lunch the next day!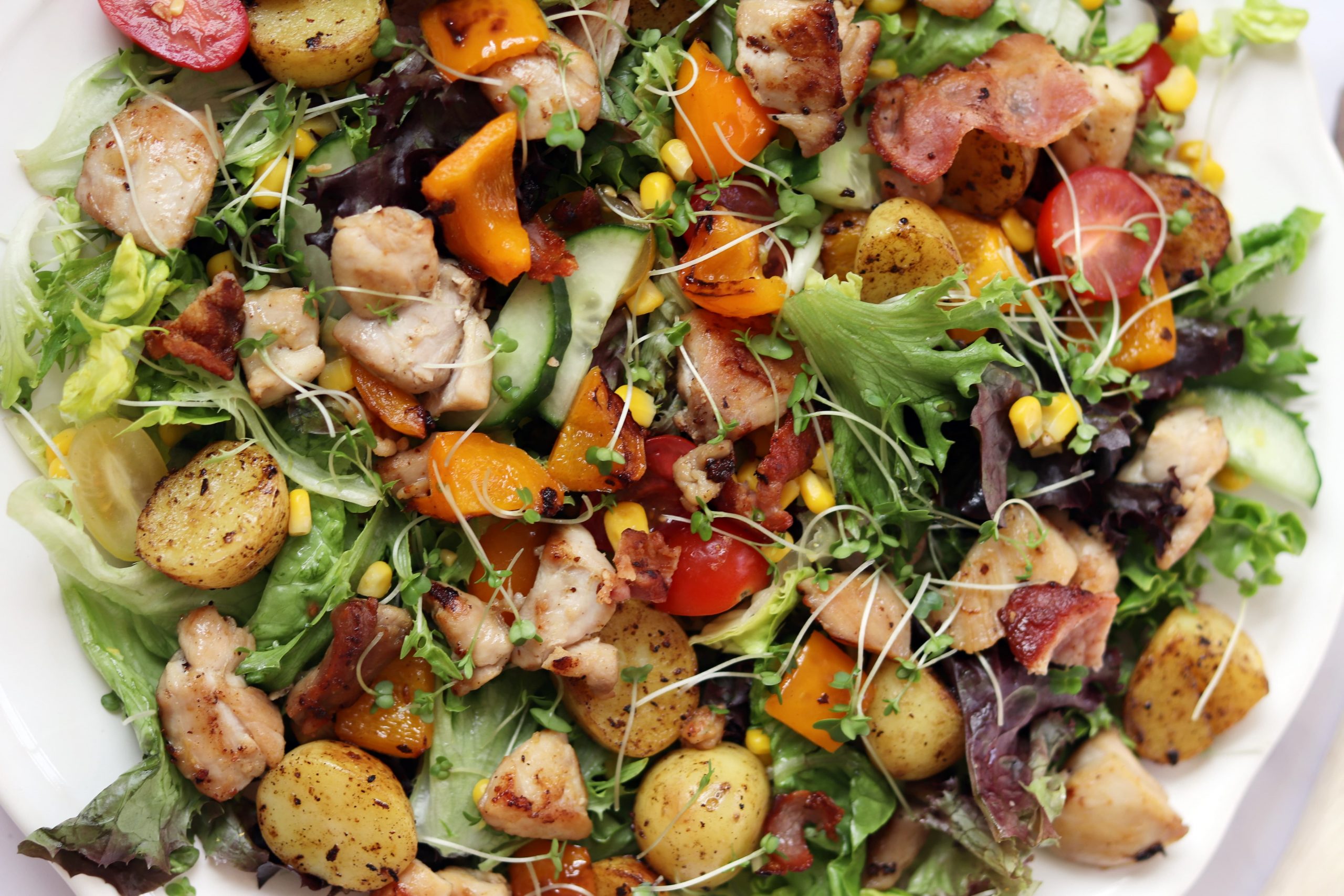 Can I make this Simple Chicken & Bacon Salad vegetarian and vegan?
This salad can easily be made vegetarian or vegan.
There are lots of chicken replacement products available these days. Many of these are vegan too – just make sure you check that they don't include egg white.
There is also a variety of vegan bacon available in most large supermarkets too. This would be a great replacement for the standard bacon.
This salad is also naturally gluten free so you don't have to adjust anything for gluten free diets.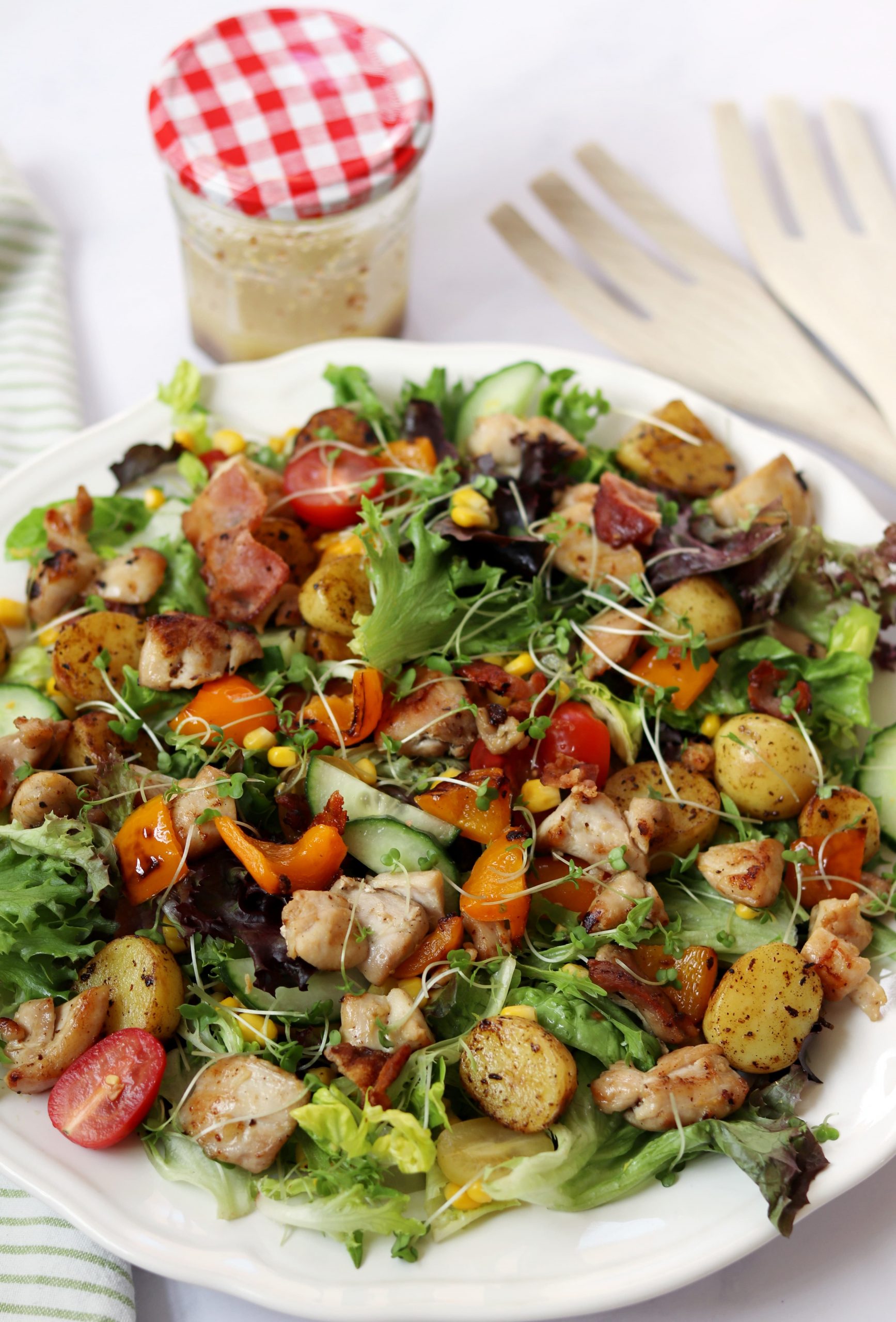 Do you recommend a dressing for this salad?
You can eat the salad as it is, but if you would like to add a dressing, my dressing of choice is my Honey & Mustard Dressing.
Honey and mustard compliments the chicken and bacon really nicely. The perfect match in my opinion!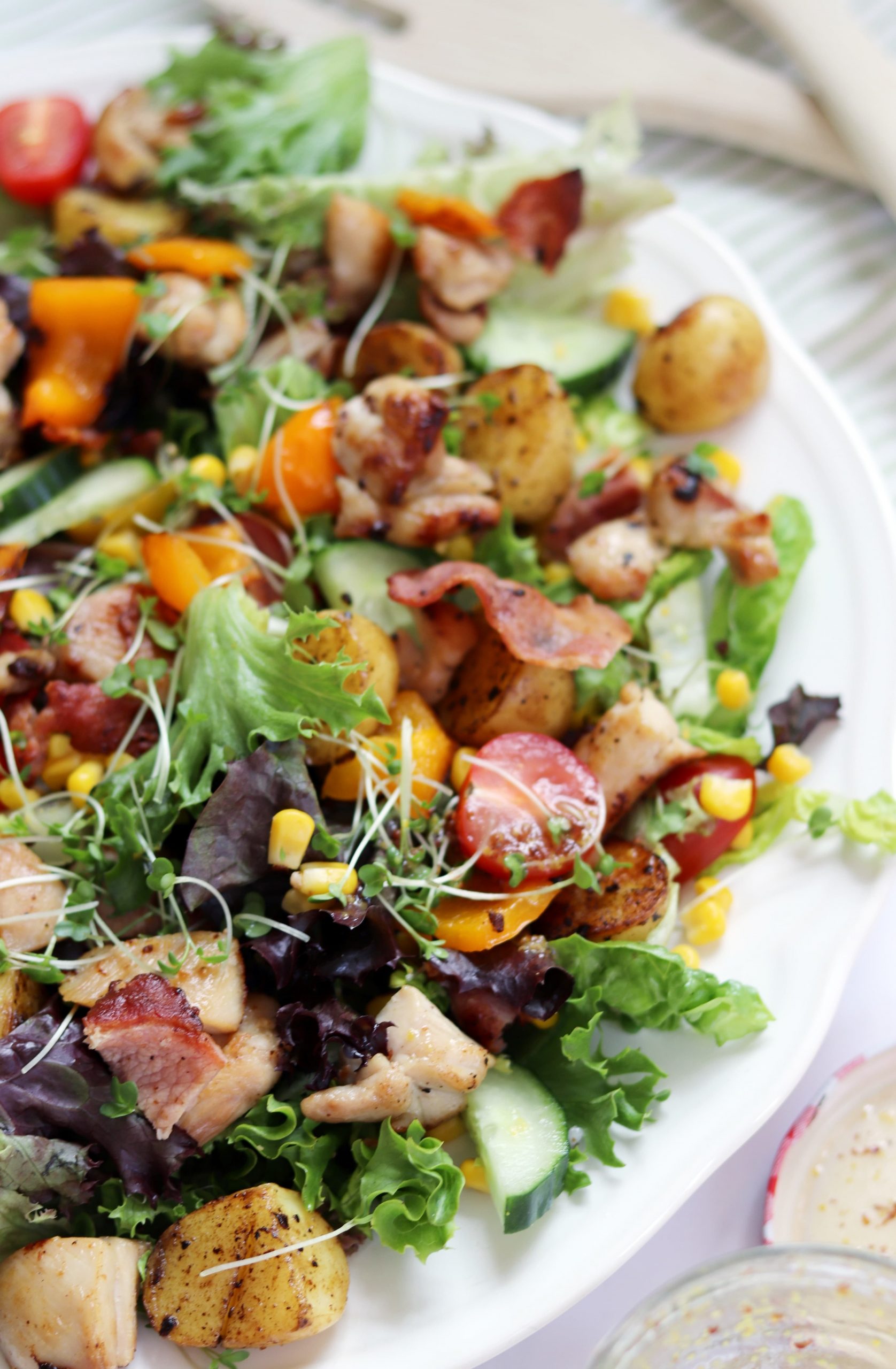 Other recipes you might like
Pin for later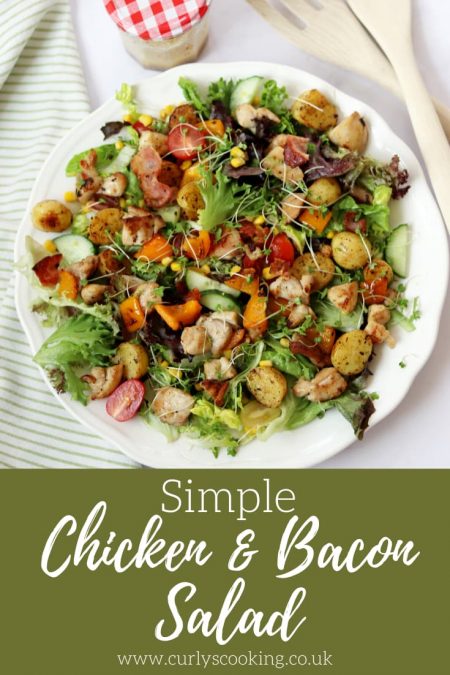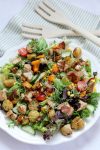 Simple Chicken & Bacon Salad
Salads definitely do not have to be boring! This Simple Chicken & Bacon Salad is one we have been making for years and is a complete meal so you don't feel like you are missing out.
Ingredients
500

g

chicken

breast or thigh, diced

400

g

new potatoes

1

(bell) pepper

diced

200

g

cucumber

1

bag

lettuce leaves

(approx 100g)

2

baby gem lettuces

1

pot

cress

340g

tin

sweetcorn

drained

250

g

plum tomatoes

8

rashers

bacon

diced

¼

tsp

sea salt

pinch

black pepper

½

tsp

sunflower oil
Instructions
Cut the potatoes so they are all roughly the same size. Cook them in a pan of salted boiling water until the tip of a knife goes into them easily. Drain and leave to one side

Dice the chicken into bite sized pieces and season with the salt and pepper. Warm a large frying pan over a medium to high heat before adding the sunflower oil

When the oil is hot, add the chicken and move around the pan occasionally for 5 minutes

Add the diced pepper to the chicken and cook for a further 2-3 minutes until the chicken is cooked through and brown and the peppers have softened slightly

Remove the chicken and pepper from the pan and add the diced bacon

Once the bacon has released some of it's fat, add the drained potatoes. Let them cook until both the potatoes and bacon have become crisp

While the ingredients are cooking, you can be preparing the salad. Wash all of the vegetables and cut them however you would like. Arrange them in a large salad bowl along with the drained sweetcorn

Once the hot ingredients have cooled for 5 minutes or so, add them to the salad and toss together so everything is mixed
Recipe Notes
Feel free to add any salad ingredients you like - grated carrot, spring onions and avocado would make good additions should you wish. You can also easily increase the quantities i.e add more cucumber.
Nutritional information is given as a guide only and my vary.
Nutrition Facts
Simple Chicken & Bacon Salad
Amount Per Serving
Calories 626
Calories from Fat 342
% Daily Value*
Fat 38g58%
Cholesterol 122mg41%
Sodium 547mg24%
Potassium 1189mg34%
Carbohydrates 37g12%
Protein 34g68%
Vitamin A 925IU19%
Vitamin C 37.6mg46%
Calcium 39mg4%
Iron 3.1mg17%
* Percent Daily Values are based on a 2000 calorie diet.